Our guide to the best vegan restaurants in Brooklyn features a guest contributor, Sonia who is based in New York and has been on a plant-based diet for years and a completely vegan diet for over a decade.
When I first went from vegetarian to vegan in 2009, I had to spell, literally, quinoa out to my local health food store and special order it weekly. Vegan options at restaurants were basically limited to wilted green salads, french fries, or vodka tonics.
Today, vegans are no longer a second thought sad salad, but a target customer base for many restaurants with options as diverse as your imagination. Chef's curate entire dedicated menus at many establishments, and with products like Beyond Beef, Impossible Burger, and Gardien, finding a plant-based burger to cap off a night out with friends has never been easier.
In fact, one of my absolute favorite parts of vacations is finding new and exciting vegan restaurants to try everywhere we go, not to mention trying all the best vegan restaurants in Brooklyn.
Vegan chefs have perfected the art of creating mock "meat" with setain. To those who may not be familiar, seitan is a "wheat meat" made with vital wheat gluten (flour rinsed to remove the starch, leaving only the gluten).
This versatile product has been used for centuries in Chinese cuisine. Chefs today have transformed this miracle product into nuggets, seasoned and sliced it into corned "beef" and serve it breaded and fried as incredible compliments to dishes like orange-glazed chicken (my favorite!).
One of the best parts of vegan cooking, and eating vegan food is learning all of the different ways vegans have found to replicate their favorite non-vegan food, in a compassionate way.
With no shortage of fine dining, casual fare, or grab-and-go options, there are some great vegan restaurants in NYC, a city known for its incredible food scene.
Whether you are visiting New York City to sightsee, check out a show, do some first-class shopping, or just to wander the streets pretending you are Carrie Bradshaw (please tell me I'm not the only one who's done this), be sure to stop into one (or more) of the best vegan restaurants in Brooklyn.
Best Vegan Places in Brooklyn
1. Modern Love
View this post on Instagram
Williamsburg
On the corner of South 1st Street and Union Avenue in Williamsburg, Brooklyn, you can't miss the massive mural welcoming you to Modern Love. Owned by famed vegan chef and cookbook author Isa Chandra, Modern Love charms visitors with their vegan comfort food.
From specialty Mac and cheese bowls and Mushroom Fried Chick'n, to Cauliflower or Seitan Wing buckets and Spiked Strawberry Swirl Shakes, come hungry and ready to tackle what one of the best vegan restaurants in Brooklyn has to offer.
The restaurant offers dine-in and take out options, and features a chill comfy dining area as well as a nice outdoor space. Stop in, hang out with a butterfly pea spiked lemonade, and enjoy a beautiful meal by one of the best vegan chefs around
2. The Vspot
View this post on Instagram
Park Slope (gluten-free & Kosher)
After an afternoon strolling through Prospect Park, or the Brooklyn Botanic Garden, you just have to stop into one of the best vegan restaurants in Brooklyn, The VSPOT.
This Latin, Vegan, and kosher café offers big flavors in a cozy setting. Founded in 2006 by a Brooklyn math teacher and his brother, the pair have made a name for themselves for offering a diverse array of appetizers, many with gluten-free options and even kosher friendly meals.
The café offers out of this world Nachos Supreme (topped with fresh guac, seasoned black beans, and amazing house made salsa roja), and burritos, and more. No matter what you choose, you simply can't walk out their door without picking up an order (or three) of their famous empanadas.
Their Philly Mushroom, Columbian Potato, and Spicy Jamaican Empanada are must-haves. Whether you stop in for takeout, or hang out with a pitcher of margaritas for a first-class dining experience, don't pass on this gem of this plant-based restaurant in Brooklyn.
3. Champs Diner
View this post on Instagram
Bushwick
If you are looking for casual, great diner fare at one of the best vegan restaurants in Brooklyn, look no further than Champs Diner in Bushwick, one of the best diners in New York City.
Classic black and white tile with 50's style booths and bar top, this little spot of heaven has character to spare. Featuring all classic diner favorites including fluffy pancakes, vegan chic'n and waffles, burgers, and shakes, Champs is a place vegan and nonvegans alike can get something delicious and comforting.
For brunch, try their Breakfast Slam, tofu scramble, soysage, hash browns and seitan bacon, all with a side of either pancakes or waffles. Or, dive into one of the best Philly Cheesesteaks ever – peppers, onions, grilled seitan, served on a hero bun.
4. Toad Style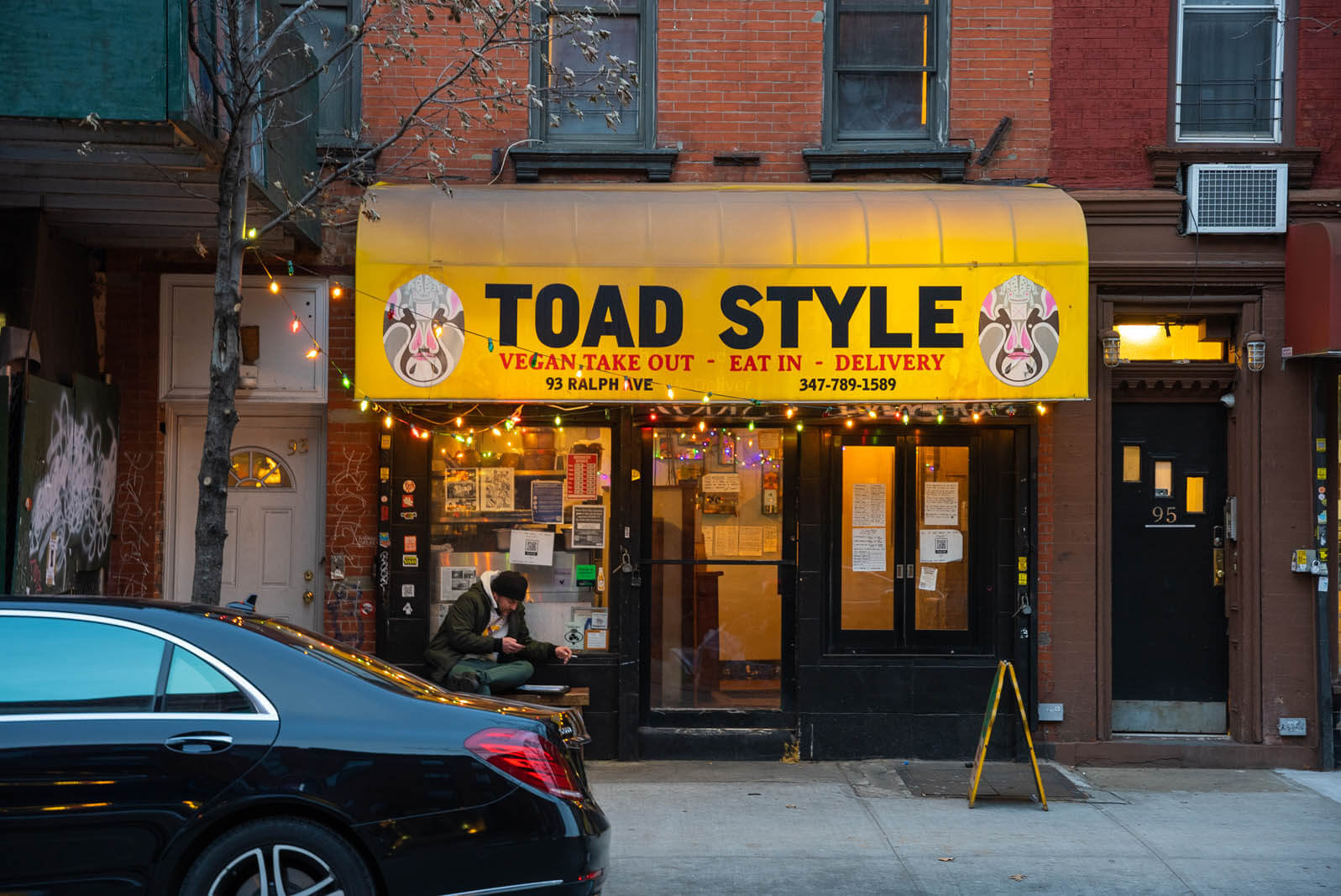 Bushwick
100% gluten free, soy free, and vegan? Could such a thing exist? It does, and you can find all that and some amazing burgers, fries, wraps and apps at Toad Style in Bushwick.
The owners of the cozy café have made both their ethics and the health of their customers a priority. The 14 seat space offers dine in, carry out and delivery options for those late-night cravings.
Try the BBQ Jackfruit sandwich (gluten-free on tacos or as a salad, their buns are baked locally) with hickory-smoked jackfruit, coleslaw, and house-made pickles. Or, share (or don't) a plate of their loaded chili cheese fries. Hop on in and see what makes Toad Style one of the best vegan restaurants in Brooklyn
5. Ital Kitchen
View this post on Instagram
Crown Heights
A celebration of life, vitality, and beautifully articulated dishes – Ital Kitchen embodies the joy found in Rastafarian cuisine. Chef and founder Michael Gordon believes "…happy food creates happy souls," and he imparts his deep love for health and flavor in every meal.
The cozy and heart-warming vibe is as welcoming as dining at a great friend's home. Stop in and try their famous iK Veggie Burger, with house made sundried tomatoes, mushrooms and chickpeas.
Or, check out the Ital Veggie Jerk Chicken, seitan marinated in Chef Mikes special island Jerk sauce. Whether you are planning an evening on their patio, or grabbing a Mushroom Burrito and green juice to-go, you will be happy you stopped at one of the best vegan and vegetarian restaurants in Brooklyn.
6. Greedi Kitchen
Bed-Stuy
Vegan comfort soul food – three of my favorite words – can be found at the next best vegan restaurant in Brooklyn, Greedi Kitchen. Founded by Latisha Daring, a lifelong vegan, she brings her passion for healthy and delicious food to your table every day.
The cozy space is a little tight for larger groups, but they offer take out or delivery options, and a wide range of gluten free choices as well.
No matter how you choose to enjoy this treat, be sure to try one of their famous sandwiches! The Cauliflower Po Boy Deluxe, served with either a sweet chili or buffalo sauce, cabbage slaw, sweet onions and a crazy chipotle and sweet chili sauce.
Or, grab the Jerk Chicken Bowl, loaded up with their Mac & Goodness, cabbage, carrots, or spinach, and topped with barbeque jerk eggplant.
Whether you are looking to support more Black and women-owned businesses, or just looking for a great spot for some beautiful and tasty food, make sure you stop by Greedi Kitchen for some of the best vegan food in Brooklyn.
7. Amituofo Vegan Cuisine
View this post on Instagram
Bushwick
If you are looking for some of the best vegan food in Brooklyn, that just may become your favorite neighborhood spot, check out Amituofo Vegan Cuisine in Bushwick.
Known for their friendly staff, fast service, and reasonable prices, Amituofo Vegan Cuisine serves fast-casual Asian and American cuisine.
With menu items ranging from seitan Spare Ribs and Potatoes to a massive and perfectly grilled Impossible Burger. Try their Kimchi Fries, smothered in spicy mayo, kimchi, scallions, and cilantro. Or, go big with some comforting Kung Pao Tofu (my all-time favorite Chinese dish!) with bell peppers, tofu, onions, mushrooms, and peanuts in a spicy kung pao sauce.
Order out or dine in and enjoy one of the best vegan restaurants in Brooklyn.
8. Screamer's Pizzeria
View this post on Instagram
Crown Heights & Greenpoint
What would a trip to NYC be without grabbing a slice of amazing pizza? This vegan restaurant in Brooklyn has two locations to cure your craving.
Screamer's Pizza – New York City's first all-vegan pizzeria- serves every kind of pizza from traditional supreme (house made tomato sauce, vegan cheese, seitan sausage, Uptons pepperoni, onions, peppers and cremini mushrooms), to more unique finds like the Artichoke Pie (pesto, vegan cheese, house made seitan sausage, artichoke hearts and roasted red peppers).
The team at Screamer's pizza works with local vegan cheese and plant-based meat makers to keep specials new, local, and interesting. Stop by, grab a slice, and enjoy!
9. Jungle café
View this post on Instagram
Greenpoint
Everything at Jungle Café is meticulously, and lovingly curated. From the reclaimed wood seating and tables, to the rotating cuisine buffet, Jungle Café strives to provide an environment of comfort and wellbeing.
With a mission focused on the health of their customers and community, Jungle Café has fixed itself as a staple in the neighborhood.
Try the Polish Mushroom Potato Tacos. These gluten free tacos have mashed potatoes, vegan cheddar cheese, mushrooms, vegan sour cream, avocado, pico de gallo, all served on corn tortillas. Or, give the Grilled Avocado Kimchee sandwich a try! Toasted white sourdough bread, garlic aioli, avocado and napa cabbage kimchee from local Kimchee Market.
Grab some friends and plan an afternoon on the patio at one of the best vegan restaurants in Brooklyn!
10. Brooklyn Whiskers
View this post on Instagram
Bushwick & Greenpoint
When thinking about the best vegan restaurants in Brooklyn, you would have to include at least one bakery – right? From cat décor and croissants, to tofu scramble and pancake stacks, Brooklyn Whiskers is sure to charm you.
With two locations, Bushwick and Greenpoint, you're never too far from a tasty vegan treat. Stop in their flag ship in Bushwick for The Carolina, a killer sandwich with Charleston BBQ style jackfruit and a cabbage carrot slaw on fresh focaccia.
Or, grab a box of treats for friends and family! Make room for their Cinnamon Roll with Candied Pecans, Jalapeno chorizo pinwheel, and their Dougssant (A doughnut croissant available on weekends!!).
No matter what you choose, you'll be happy you stopped by! Be sure to see more of the vegan bakeries in Brooklyn too!
11. Ras Plant Based
View this post on Instagram
Crown Heights
Some places make me wish I could eat out every day, and this vegan restaurant in Brooklyn is one of them. Ras Plant Based has it all: amazing décor, great cocktails, and outstanding Ethiopian food.
I'm a sucker for injera (Ethoiopian fermented flat bread made from teft), and the platters at Ras Plant Based. Try the Missir, a slow simmered red lentil stew with berbere sauce, or the Yatakilt; braised cabbage, carrots, and bell pepper.
Part of the fun is trying a bunch of different dishes, and dipping soft and warm injara into each and every one. For cocktails, try the Milka Minajj, a fun blend of fig vodka, mezcal, and black cherry juice.
Grab a group of friends and get ready to try everything on their menu!
12. Hartbreakers
View this post on Instagram
Bushwick
At the 70's inspired, fast casual and all vegan Hartbreakers, the chef provides an array of classic comforts with a revolving mix of made from scratch specials. Cheerful décor, eclectic lighting, and bright colors create a warm and inviting space.
Grab a booth and try the namesake sandwich, the Hartbreaker. A fried chik'n patty with cheese, pickles and hot honee (bee free honey – usually made from agave or apples) on a sesame seed bun. Or get a 3 Piece Chik'n Bucket to go, with waffle fries, coleslaw and mondo sauce.
No matter what you choose you will definitely be happy you stopped by this vegan restaurant in Brooklyn!
13. by Chloe
View this post on Instagram
Williamsburg
This 100% plant based restaurant in Brooklyn focusing on fast-casual fare brings everything to the table. This chain restaurant has several locations in New York, including one in Williamsburg.
No matter where you are, your never too far away from a fast, delicious, vegan burger and fries. Stop by and pick up the Guac Burger, their black bean, quinoa and sweet potato patty topped with guacamole, corn salsa, chipotle aioli and crispy tortilla chips.
Or, grab a fresh and crispy Cobb salad, with romain, tofu egg salad, shiitake bacon, avocado, tomato cucumber and hemp ranch dressing. They also offer great sides like mac and cheeze and 'chicky' tempeh strips and dippers. Fun, fast, and friendly, it's no wonder this is one of the best vegan restaurants in Brooklyn.
14. LuAnn's Wild Ginger All-Asian Vegan
View this post on Instagram
Cobble Hill
Established in 2005, Luann's Wild Ginger has become an absolute fixture for the vegan and vegetarian community in Brooklyn. Serving Pan-Asian fusion cuisine, this cozy space offers an amazing selection of traditional favorites like Sweet and Sour Sesame Soy Protein, Stuffed Wontons, and Curry Samosas, with plenty of unique surprises to keep you coming back again and again.
All their mock meats, sauces, and curries are made fresh in-house. Enjoy the warm and friendly staff and fast service while digging into the Malaysian Curry Stew. Mild, slow-cooked coconut curry, with soy protein, broccoli, carrots, potatoes, and pumpkin all served with fluffy brown rice and miso soup could be some of the best food you have ever eaten.
Do yourself a favor and check out Luann's Wild Ginger, one of the best vegan restaurants in Brooklyn.
15. Sol Sips
View this post on Instagram
Bushwick
Sol Sips founder and chef Francesca Chaney is on a mission to bring healthy soul food to Brooklyn, and she's doing big things in a little space. To her, eating fresh whole foods isn't some trend, it's a way of life.
And with options like the Jerk Jackfruit Panini (slow cooked jackfruit simmered in a sweet jerk sauce) or Stuffed Plantains (ripe plantains stuffed with stew beans, peppers, onions, and coconut cheese) eating plant based whole foods has never been easier or more fun. All of the breads and wraps are made in house from Chef Chaney's special turmeric and whole grain dough, and they are all delightfully flavorful and fluffy.
The restaurant also offers seven-day meal kits available for delivery – just open one of the pre portioned meals and warm on the stove or oven and voila! Perfect healthy food made right in your own home!
Pro tip – if you are planning on grabbing something delicious from this amazing vegan restaurant in Brooklyn, call or order online instead of ordering at the counter to save time.
---
Wait! That's not all, there are more vegan options sprinkled throughout our guide to the best pizza in NYC! Check it out!