Our guide to the best vegan restaurants in NYC features a guest contributor, Sonia who is based in New York and has been on a plant-based diet for years and a completely vegan diet for over a decade.
When I first went from vegetarian to vegan in 2009, I had to spell, literally, quinoa out to my local health food store and special order it weekly. Vegan options at restaurants were basically limited to wilted green salads, french fries, or vodka tonics.
Today, vegans are no longer a second thought sad salad, but a target customer base for many restaurants with options as diverse as your imagination. Chef's curate entire dedicated menus at many establishments, and with products like Beyond Beef, Impossible Burger, and Gardien, finding a plant-based burger to cap off a night out with friends has never been easier.
In fact, one of my absolute favorite parts of vacations is finding new and exciting vegan restaurants to try everywhere we go, not to mention trying all the best plant-based restaurants in NYC.
Vegan chefs have perfected the art of creating mock "meat" with setain. To those who may not be familiar, seitan is a "wheat meat" made with vital wheat gluten (flour rinsed to remove the starch, leaving only the gluten).
This versatile product has been used for centuries in Chinese cuisine. Chefs today have transformed this miracle product into nuggets, seasoned and sliced it into corned "beef" and serve it breaded and fried as incredible compliments to dishes like orange-glazed chicken (my favorite!).
One of the best parts of vegan cooking, and eating vegan food is learning all of the different ways vegans have found to replicate their favorite non-vegan food, in a compassionate way.
With no shortage of fine dining, casual fare, or grab-and-go options, there are some great vegan restaurants in NYC, a city known for its incredible food scene.
Whether you are visiting New York City to sightsee, check out a show, do some first-class shopping, or just to wander the streets pretending you are Carrie Bradshaw (please tell me I'm not the only one who's done this), be sure to stop into one (or more) of the best vegan restaurants in NYC.
Vegan & Plant-Based Restaurants in NYC
1. Modern Love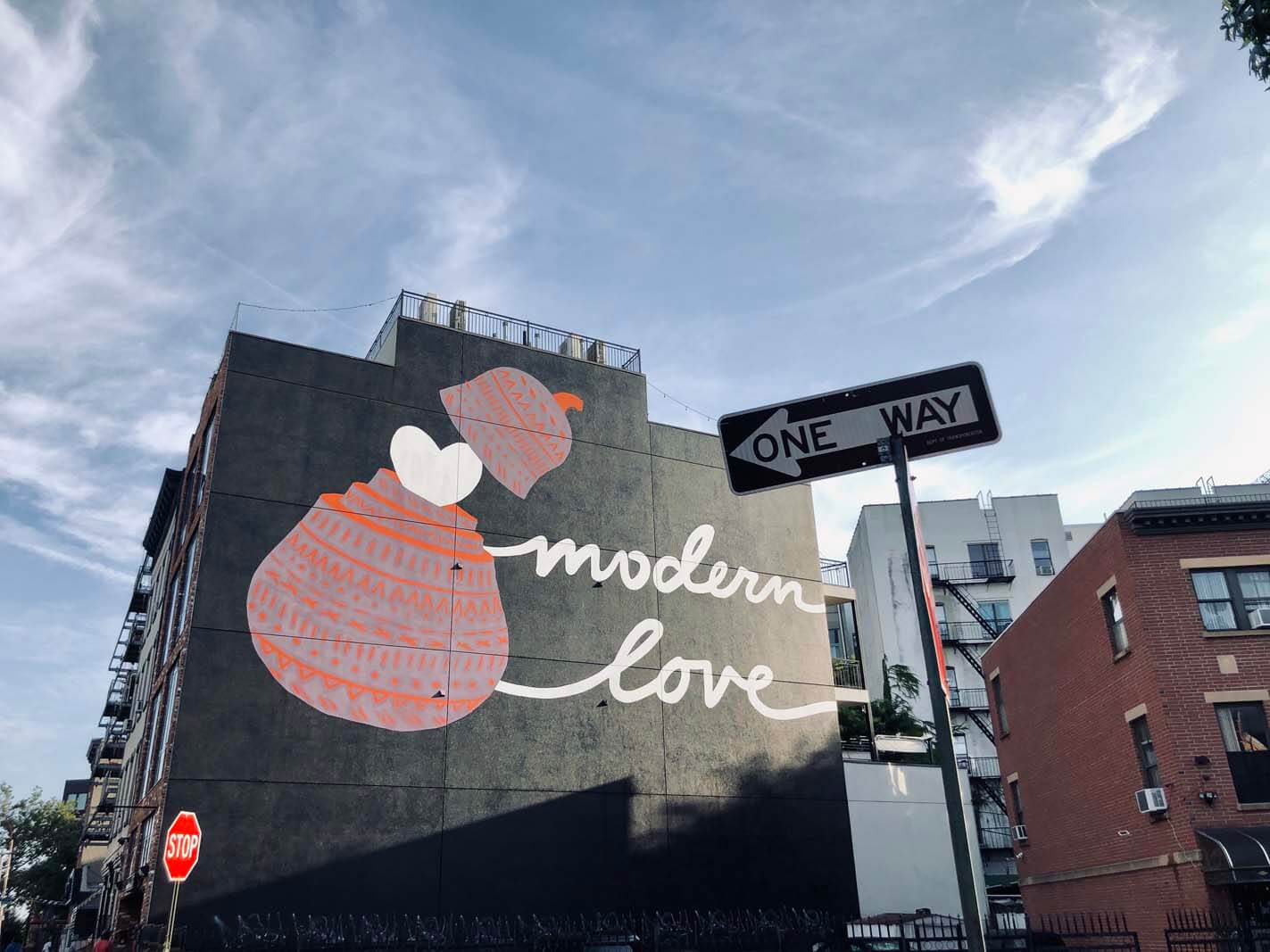 Williamsburg, Brooklyn
On the corner of South 1st Street and Union Avenue in Williamsburg, Brooklyn, you can't miss the massive mural welcoming you to Modern Love. Owned by famed vegan chef and cookbook author Isa Chandra, Modern Love charms visitors with their vegan comfort food.
From specialty Mac and cheese bowls and Mushroom Fried Chick'n, to Cauliflower or Seitan Wing buckets and Spiked Strawberry Swirl Shakes, come hungry and ready to tackle what one of the best vegan restaurants in New York City has to offer.
The restaurant offers dine-in and take out options, and features a chill comfy dining area as well as a nice outdoor space. Stop in, hang out with a butterfly pea spiked lemonade, and enjoy a beautiful meal by one of the best vegan chefs around.
2. The VSPOT
View this post on Instagram
Park Slope, Brooklyn
After an afternoon strolling through Prospect Park, or the Brooklyn Botanic Garden, you just have to stop into one of the best vegan restaurants in New York City, The VSPOT.
This Latin, Vegan, and kosher café offers big flavors in a cozy setting. Founded in 2006 by a Brooklyn math teacher and his brother, the pair have made a name for themselves for offering a diverse array of appetizers, many with gluten-free options and even kosher-friendly meals.
The café offers out of this world Nachos Supreme (topped with fresh guac, seasoned black beans, and amazing house-made salsa roja), and burritos, and more. No matter what you choose, you simply can't walk out their door without picking up an order (or three) of their famous empanadas.
Their Philly Mushroom, Colombian Potato, and Spicy Jamaican Empanada are must-haves. Whether you stop in for takeout, or hang out with a pitcher of margaritas for a first-class dining experience, don't pass on this gem of this plant-based restaurant in NYC.
3. Champs Diner
View this post on Instagram
Bushwick, Brooklyn
If you are looking for casual, great diner fare at one of the best vegan restaurants in New York City, look no further than Champs Diner in Bushwick, one of the best vegan restaurants in Brooklyn.
Classic black and white tile with 50's style booths and bar top, this little spot of heaven has character to spare. Featuring all classic diner favorites including fluffy pancakes, vegan chic'n and waffles, burgers, and shakes, Champs is a place vegan and nonvegans alike can get something delicious and comforting.
For brunch, try their Breakfast Slam, tofu scramble, soysage, hash browns and seitan bacon, all with a side of either pancakes or waffles. Or, dive into one of the best Philly Cheesesteaks ever – peppers, onions, grilled seitan, served on a hero bun.
This is also one of our favorite picks for NYC's best diners too!
4. Toad Style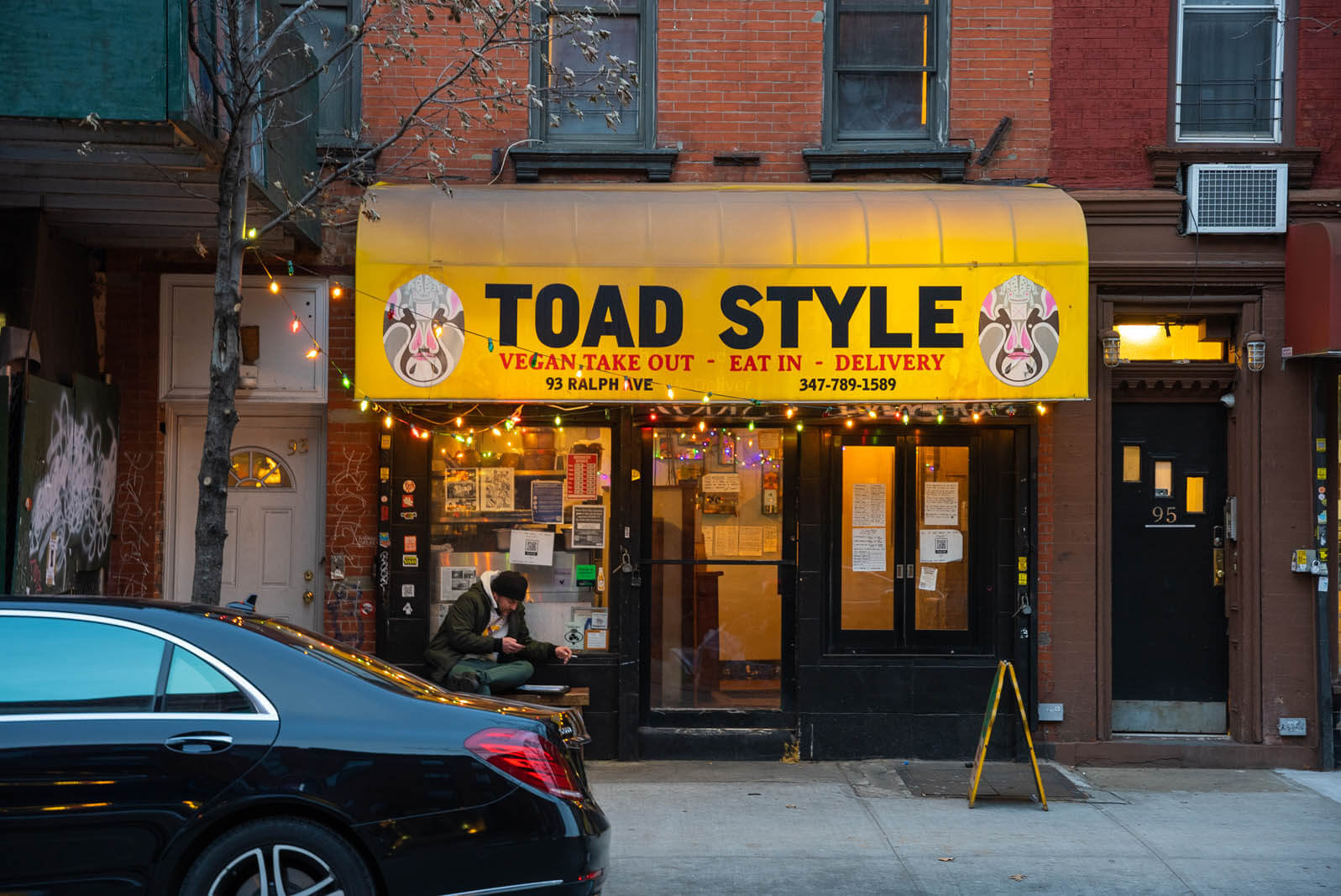 Bushwick, Brooklyn
100% gluten free, soy free, and vegan? Could such a thing exist? It does, and you can find all that and some amazing burgers, fries, wraps and apps at Toad Style in Bushwick.
The owners of the cozy café have made both their ethics and the health of their customers a priority. The 14 seat space offers dine in, carry out and delivery options for those late-night cravings.
Try the BBQ Jackfruit sandwich (gluten-free on tacos or as a salad, their buns are baked locally) with hickory-smoked jackfruit, coleslaw, and house-made pickles. Or, share (or don't) a plate of their loaded chili cheese fries. Hop on in and see what makes Toad Style one of the best vegan restaurants in New York City.
5. Avant Garden
East Village, Manhattan
When you think about what makes a place the best vegan restaurant in New York City, do you imagine an intimate space, with a full view of the working kitchen, shareable plates, and a first-class wine list? If so, imagine no longer and just get yourself to Avant Garden in Manhattan East Village.
Here, the staff knows their focus is on serving delicious food that just happens to be vegan. While you are there try their Roasted Beet Toast with hummus, date, sumac, and cucumber tzatziki or the Scorched Cauliflower with toasted garlic, fried capers, and cauliflower puree.
Either way, you simply can't pass up the star of the show, the Celery Root, with shiitake velouté and mushroom gremolata. So, stop in, slow down, and eat some really good vegetables.
6. Blossom on Columbus
Upper West Side, Manhattan
Are looking for the best vegan restaurant in New York City and you want a classy and spacious dining area, full bar, and a top-notch menu sure to cure any craving? Leave space in your itinerary for a visit to the place that ticks all those boxes, Blossom.
Both their location on Columbus and University feature unique specials, with a common list of shared fan favorites. No matter which location you choose, be sure to start with the Crispy Artichokes, (quinoa flour battered with lemon caper aioli, gluten-free but not suitable for celiacs, although they can make modifications).
For your entrée, try the Savory Seitan, pan-seared cutlets in a white wine and tomato sauce served with potatoes and haricot vert and topped with a garlic aioli.
But honestly, whatever you choose to start with – you literally can't walk out of this place without trying their Tiramisu. Everything you ever wanted in that desert is presented in perfect detail with espresso-soaked house-made ladyfingers and vegan coconut mascarpone, just waiting for you to grab a fork, and smile.
7. Urban Vegan Kitchen
View this post on Instagram
Greenwich Village, Manhattan
Finding vegan and plant-based restaurants in New York City is easier and easier every year, so finding standouts is very important. If you are looking for a chill, laid-back vibe, top-notch food, and friendly service at one of the best vegan restaurants in New York City, stop into Urban Vegan Kitchen, and immediately feel at home.
The eclectic décor, black and white graffiti, and cozy atmosphere set you at ease from the moment you walk in. While you are there, you must try their Crispy Brussel Sprouts in maple buffalo sauce. I've looked at recipes trying to recreate this magic, and so far, no success.
There is just something about cooking a simple vegetable perfectly that makes me so happy. If sprouts aren't your thing, you won't be sad you ordered the Po' Bo – with old bay popcorn fried seitan, shredded lettuce, tomato, pickles and house-made remoulade on a French roll- sandwich perfection.
If kicking it with some of the best people and best food in the city doesn't seal the deal for you, know that Urban Vegan Kitchen is part of Support + Feed, which helps to provide plant-based meals to individuals in need in marginalized communities in the area.
8. Dirt Candy
View this post on Instagram
Lower East Side
Listen. Don't let the name fool you. This place is absolutely one of the best vegan restaurants in New York City for its curated meals, attention to detail, and overall welcoming atmosphere. Dirt Candy has your fancy night out covered!
Guests rave about their special, five-course dinner menus. Start with a Thai Sausage salad, with galangal, cucumber, and mint, and move through Butternut Squash Tom Kha Kai soup, Winter Green Pad Thai, and Brussel Sprout Larb.
You can opt for a drink pairing and round out your evening with a beautiful flute of sparkling wine and a yellow curry doughnut.
If you don't want to spring for the whole affair, stop in and grab a Red Pepper Club – with red pepper bacon, tofu "turkey", and green pepper mayo. You may need a reservation for the weekend, but if you just want a quick bite on a weekday – just stop in and enjoy the beautiful patio.
9. Franchia Vegan café
View this post on Instagram
Midtown, Manhattan
Fresh vegan sushi and Korean cuisine can be found at one of the best vegan restaurants in New York City, Franchia Vegan Café. Located on Park Avenue, Franchia offers a beautiful and relaxing atmosphere with cozy candle lit tables, private booths, and outdoor seating.
Bring your friends and enjoy the Vegetarian 'Duck' Bibimbap – served in a luxurious ginger sauce with fresh vegetables and rice. Or, try the Shiitake Mushrooms 'Bulgogi' (my favorite!). Marinated mushrooms, broccoli, and asparagus are severed in a sizzling plate.
You can't really go wrong with any of their beautiful menu options but save room for one (or two or three) of their vegan sushi rolls. Considered some of the best vegan sushi in NYC, their Spicy 'Shrimp' roll, Volcano Roll, and Crispy Vegan 'Crab' roll all have to be tried to be believed.
10. Seasoned Vegan
View this post on Instagram
South Harlem, Manhattan
If you are looking to support more Black-owned businesses, have a love for southern comfort food, and want visit one of the best plant-based restaurants in New York City, look no further than Seasoned Vegan in Harlem.
Come for their baked mac and cheese, and BBQ Crawfish Sandwich – but come back again and again for everything else. When you stop in, be sure to order the sweet potato souffle as your side on whatever you choose. It's velvety, sweet but not overly so, and delightfully fluffy.
Just imagine all the best parts of Thanksgiving and Christmas, but on a plate and then in your mouth. The cozy and eclectic décor, bright windows, and rotating selection of cupcakes makes this space one of the most loved and most revisited restaurants in the area.
11. Ladybird
View this post on Instagram
East Village, Manhattan
Vegan tapas, wine bar, cocktails, flaming desserts, great music, and more can be found at one of the best vegan restaurants in New York City, Ladybird. Located at 111 E 7th street, this little slice of heaven enchants you as soon as you walk in with gorgeous boho chandeliers, colorful décor, and comfortable seating. While reservations are not required, they are recommended.
Try the KFB – tempura fried broccoli, gochujang and sesame seeds, and the Buffalo Maitake Buns served with pickled celery and ranch.
Their cocktails are bottled, so they serve you the whole bottle, and usually specialty ice for your drink.
The Dark Eyed Junco – Cocchi Americano, pineapple, lime ginger, agave, and a fresh cilantro garnish can't be passed up. Stop in, hang out, and try some of the best vegan food in New York City.
12. P.S. Kitchen
View this post on Instagram
Theater District, Manhattan
Being vegan for many people is much more than what you put in your mouth, it's an endeavor to consciously do as much good as you can for as many as you can. For the folks at P.S. Kitchen, their compassionate mission transcends their delicious food to their commitment to serving their community in truly selfless ways. 100% of the restaurant profits go to local charities and creating jobs for the marginalized in New York.
Their mission aside, stepping into the bright and beautiful dining space instantly gives you a feeling of comfort. Try the Thai Chicken Sandwich, crisp lettuce, onion, and tomato served with a to die for Thai Chili sauce on a pretzel bun.
Or, for a slightly lighter lunch option – check out one of their daily soup specials, like Truffle Artichoke. With friendly staff, a great wine list, and out-of-this-world food, there is no wonder this is one of the best vegan restaurants in New York City.
13. Le Botaniste
View this post on Instagram
Various locations in Manhattan
Stopping into one the four locations of Le Botaniste is sure to be a bright spot of your day. Originating in Belgium, the management team has perfected their brand – clean, healthy, and filling plant-based meals.
Operating by the motto "Let thy food be thy medicine, and medicine be thy food", the founders believe healthy food shouldn't be boring.
Try their Superseed Avocado appetizer, with red sauerkraut, turmeric onions, and a saffron aioli. Or check out their Tibetan Mama, with has steamed greens, kimchi, and a coconut peanut butter curry sauce all served on a bed of brown rice.
Whether you stop in for a great meal with friends or enjoy a slice of key lime pie and pinot grigio on the patio, you won't regret your visit to one of the best plant-based restaurants in New York City.
14. Jajaja Plantas Mexicana
View this post on Instagram
Various locations Manhattan & Queens
Just stop what you are doing and get to Jajaja Plantas Mexican as soon as you can. Moving from the south to New England has really made me appreciate how critical finding a fantastic Mexican restaurant is. Even more challenging is one serving beautiful, fresh, classic Mexican staples like Azteca Chile Relleno, Tamales, and street tacos.
Each of their four locations features gorgeous décor, impressive tequila lists, and many gluten-free options to check out. Try the Enchiladas Mole, with shredded palm carnitas, coconut queso, sour cream and Spanish rice.
Or order two or three (or four?) street tacos. You can't go wrong with the Chorizo, or Mezcal Mushroom. Jajaja Plantas Mexican will surely become one of your favorite vegan restaurants in New York City.
15. The Original Buddha Bodai Kosher Vegetarian Restaurant
View this post on Instagram
Chinatown, Manhattan
Founded in 2004, Buddha Bodai has maintained its commitment to providing high-quality vegan Chinese. Located on Mott St in Chinatown, Buddah Bodai has a wide selection of traditional favorites including General Tso Vegan Steak and Chinese Broccoli, and Chicken Lo Mein.
What really sets this place apart, is their large selection of dim sum options. Having the trays come out covered in an array of lovingly wrapped, rolled, and plated delicious pockets of goodness is sure to be a highlight of the trip.
Reasonably priced, impeccable quality and flavor, and friendly staff, there is no question Buddha Bodai has some of the best vegan food in New York City.
16. Hangawi
View this post on Instagram
Koreatown, Manhattan
Hangawi – a traditional harvest festival in Korea is a celebration of a bountiful growing season, sharing of food, and gratitude for the year. At Hangawi in Midtown East in New York City, experience the abundance and tradition of this beautiful holiday.
Be prepared to go barefoot! Shoes are removed before entering the restaurant, but heated floors make the experience as comfortable as possible.
Offering an assortment of lunch and dinner options, I suggest making an evening out of the experience and opting for one of their prix fixe options.
The 2021 menu starts with Green pea porridge, an avocado salad, and an appetizer plate featuring stuffed apple, sesame leaf pancakes, and kale dumplings. Next, you are offered a choice of two entrees: Spring Sprout & Avocado Stone Bowl Rice or Sauteed Burdock with Mixed Mushrooms.
Of course, save room for dessert – the chef's selection can include anything from Korean ice cream (black sesame, rose ginger, and green tea) to tiramisu. From the beautiful atmosphere to lovingly crafted plates, Hangawi is one of the best vegan restaurants in New York City.
17. MTHR Vegan
View this post on Instagram
Flatiron District, Manhattan
MTHR Vegan – vegan food fast. Standing behind the ideals that while traditional American food is problematic to say the least, we can still indulge and enjoy all our favorite foods in a kinder and healthier way.
In Midtown East, stop in to their cheerful and low-key space and grab a pretty life changing Nashville Hot Chicken sandwich. Slightly sweet and spicy fried chick-in with their Scorpion Sauce (what is this magic) and wing sauce slaw.
If spice isn't your thing, Try the Crispy Cauliflower Tacos served with chipotle aioli and cabbage slaw, topped with cashew cotija cheese. No matter if you order out, or dine-in, don't pass up a chance to grab a sandwich, nachos, or taco from one of the best vegan restaurants in New York City.
18. Beyond Sushi
View this post on Instagram

Various Locations in Manhattan
Two words that don't sound like they should go together (Vegan and sushi) but, at Beyond Sushi – they do. With a casual and modern bistro feel, this restaurant entices you to relax and enjoy.
The owners are passionate about maintaining a 100% vegan and kosher menu and have plenty of gluten free options as well. Serving beautiful food with fresh and natural ingredients, this fantastic plant-based restaurant in New York City, this little spot has something for everyone.
First, the sushi – of course. Unique ingredients like Spicy mango, with black rice avocado, cucumber and a toasted cayenne sauce. Or their Sunny Side roll, with fennel, sundried tomato, avocado, butternut squash, topped with a pumpkin seed pesto. If sushi isn't your thing, this chef-driven spot offers a casual menu with rotating specials and fan tested favorites including Grilled Kebabs, and Chipotle Seitan Skewers.
While their flagship in Midtown is their largest location with the most indoor dining space, they also have locations in the Upper East Side and on East 14th Street. So, no matter where you are – you are never too far from one of the best vegan restaurants in New York City.
19. Ginger Root Vegan
View this post on Instagram

Lenox Hill, Manhattan
What would a visit to New York City be, without calling in for some truly spectacular take-out and having a picnic in Central Park or even over at Roosevelt Island? While our next best vegan restaurant in New York City is considered a little cozy for a long luxurious dining experience, they are renowned for their speed and accuracy in getting delicious food ready for pick up or delivery.
To say Ginger Root Vegan has a cult following may be an overstatement, but only slightly. I've heard of people ordering their Curry Samosas, Orange Seitan, and Pad Thai every week or more.
Next time you feel like grabbing some delicious take out, try their Bi Bim Bap – a Korean-style coconut rice bowl with seitan, avocado, black seaweed, mango salsa and kimchee.
20. Divya's Kitchen
View this post on Instagram
East Village, Manhattan
While not strictly vegan, this vegan and vegetarian restaurant focuses on specialty curated authentic Shaka Vansiaya (SV) Ayurveda tradition. With the mission to provide food that can heal both the body and spirit, Divya's Kitchen is an absolute treasure.
Everything on the menu, from the bread to the almond milk is made in-house, from scratch. Try the Steamed Fennel and Beet Salad, with arugula, olives, and sunflower seeds, or the Vegan (and gluten-free!) lasagna, with brown rice pasta, sunflower milk bechamel, and an array of fresh veggies all lovingly layered with sunflower mozzarella and basil-parsley pesto.
This restaurant also offers catering services, an array of packaged supplements and snacks, and workshops to explore the art of Ayurvedic cooking.
Everything about this space and staff make it one of the best vegan and plant-based restaurants in New York City.
---
Wait! That's not all, there are more vegan options sprinkled throughout our guide to the best pizza in NYC not to mention a great guide to the best vegan bakeries in Brooklyn!