Looking for the best diners in New York City? We've got you covered! If you want to prove to someone that you're a true New Yorker, ask to meet them at a diner.
A diner meeting says I am unpretentious and knowledgeable (try the hash browns and a patty melt).
It says, I am loyal (I'm a regular here).
It says, I am fun and spontaneous (let's go to the diner after a long night out and people-watch).
It's all of these qualities which I believe are the very best of New Yorkers – we may not want crowds of tourists blocking the subway doors but we heartily welcome anyone to join us over eggs at our favorite haunt. Taking someone to a diner also means that you care about your dining companions – the menus are truly expansive enough that there is something for everyone to enjoy (just stay away from the lobster).
When I went to research this article, I spoke with some trusted New Yorkers over the finer points of NYC Diner Culture. We all agreed that there is a Venn Diagram of great experiences within classic, 24-hour NYC diners and the NYC luncheonette.
One offers the advantage of an always-open sanctuary for food, where the scene at 3 AM can be as lively and bustling as the next day's lunch. The other offers a distinctly professional vibe, where busy careerists dine solo and prepare for their next meeting over a cup of always-refilled coffee, or two screenwriters excitedly plot their next project over pancakes.
We agreed that as comprehensive and delightful as many diner menus are, there are some specialties that diners do better than anyone (omelets, club sandwiches, chicken fingers, and the aforementioned patty melt and hash browns).
We also agreed that the best diners will always offer free soda, coffee, and tea refills (a relic of bygone days amongst other restaurants!!).
There was a hearty and nuanced debate about the merits of all Tri-State area diners, particularly those of Long Island and New Jersey. However, we concluded that while we would be remiss not to applaud the quality of diners outside NYC (a personal shoutout to the On Parade Diner in Woodbury, Long Island), there is something specifically joyous about the energy of a city diner.
We at Your Brooklyn Guide have compiled a list of the best diners in New York City across the five boroughs. We've got luncheonettes, 24-hour joints, vegan diners, new diners that pay homage to old diners, old diners that pay homage to no one, and diners that have used the same grill since the Dawn of Time (it adds to the flavor, we swear!!!).
So grab a friend and let's try NYC's best diners – undoubtedly one of the most iconic things to do in New York City.
About the Guest Author
Sarah Beling is a playwright, New Yorker, and passionate food enthusiast who is always looking for her next meal. You can find her in an NYC park, enjoying a chopped cheese sandwich and reading about NYC's best new places to eat.
NYC's Best Diners
MANHATTAN
Tick Tock Diner
481 8th Ave
As a young actor, I used to celebrate the good, the bad, and the ugly auditions of the day with a trip to the Tick Tock Diner, one of the best American diners in New York. After all, nothing softens the blow of being rejected from yet another production of CATS more than a well-cooked grilled cheese with bacon and tomato.
And yes, while I realize this scenario may not apply to you (and maybe I should leave these kinds of stories to my therapist), the Tick Tock Diner is the perfect place to grab a tasty bite on your way in or out of town (it's adjacent to Penn Station and within walking distance from Port Authority Bus Terminal) or after a rousing game at Madison Square Garden (party with those Ranger fans!).
Try the Cheeseburger Deluxe or enjoy all-day breakfast with a crispy chicken and waffle. And if you do end up booking that tour of CATS, celebrate with a Steak and Eggs Benedict before you dance at the Jellicle Ball. Meow!
Hudson View Restaurant
View this post on Instagram
770 W 181st St
Nestled on the corner of 181st Street and Fort Washington Ave. (conveniently located outside of the A train entrance!) Hudson View Restaurant is one of the best diners in NYC and a low-key, quiet spot to meet a friend over omelettes before strolling the nearby greenway on Manhattan's West Side.
With speedy and unpretentious, friendly service, Hudson View offers a wide variety of diner classics like their fantastic Buttermilk Pancakes (get the chocolate chip variety!) the Hudson View Club (Grilled chicken with roasted peppers, lettuce, tomato and fresh mozzarella cheese on a choice of bread), and the aforementioned omelettes.
Be sure to try the Athenian Omelette or one of the many other Greek specialties on the menu such as the Chicken Souvlaki sandwich or Beef Gyro. After your meal, head west on 181st street to look out at the Hudson River itself and meditate on the simple joy of NYC's best diners.
Westway Diner
View this post on Instagram
614 9th Ave
If you've been visiting the city and find that your credit card is a little tired (WHY did I buy everyone in the bar a round last night?!), head straight to Westway Diner for some budget-friendly, delicious fare at one of the best American diners in New York.
Open for over thirty years, Westway has served the Hell's Kitchen, Midtown, and greater New York community with dependable and well-made dishes at reasonable prices (especially for the neighborhood!).
I recommend the cheese blintzes with sour cream, the Challah French Toast, or if you're feeling savory, the Matzo Ball soup or Grilled Cheese with Turkey sandwich.
And if you feel so inspired to buy everyone in the diner a round of coffees, you're in luck – Westway offers free refills. Bank account saved!!
If you're all about saving money on your trip, be sure to read our full guide to New York City on a budget for more money-saving tips and tricks for your trip!
Empire Diner
210 10th Ave
Open in Chelsea since 1976, Empire Diner has the metallic sheen of an old-school, roadside diner that's imbued with chic, contemporary takes on classic diner fare.
Chef Jestin Feggan (of New York's famous nighttime-diner haunt Cafeteria, more on them later) takes dishes like a classic egg scramble and throws in some cacio e pepe, and by offering the classic 2-patty diner burger with the option of Impossible (vegan) meat.
Additionally, don't miss out on the buttermilk biscuits baked in-house or the carrot walnut muffin. After chowing down at one of the best NYC diners, take a quick jaunt over to the High Line (the nearest entrance is at 23rd street and 10th ave), an elevated railway converted into one of New York's most popular parks and art exhibits.
Better yet, you have one of the gorgeous murals by Brazillian artist Eduardo Kobra right above the diner for a great photo opportunity!
Stardust Diner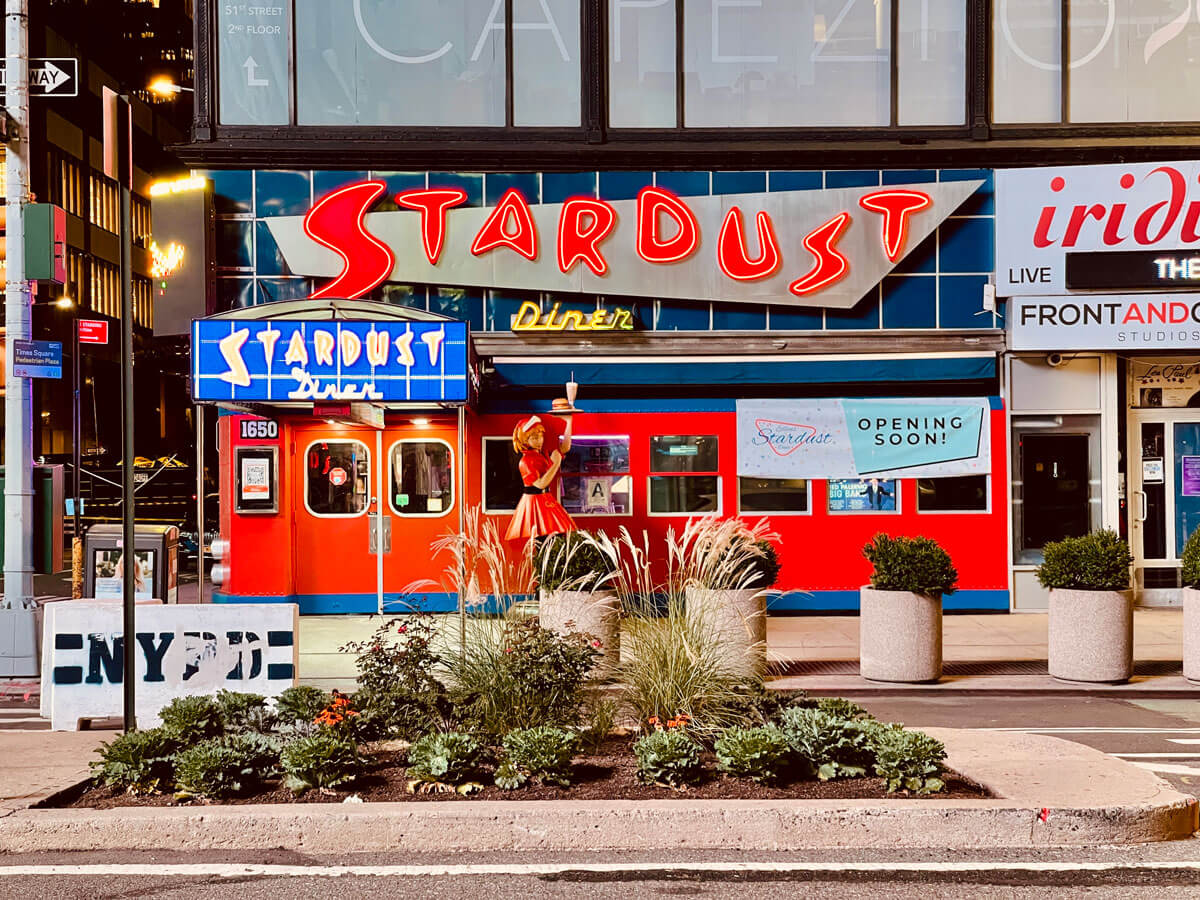 1650 Broadway
This is definitely one of the most well-known of NYC's best diners because this diner offers dinner with a show! Many moons ago, I visited Ellen's Stardust Diner on one of my first trips to New York City and left completely mesmerized. I had never before been to a place that so loudly gave off showbiz energy.
The singing waitstaff was incredible, and it felt like stepping into a scene from 42nd Street where servers were about to tap-dance their way to the stage door after a shift.
Years later, I grew up and knew some of the talented folks who perform here, and I can still recommend that you visit and support some of New York's most hardworking and gifted actors. Split some Stardust Nachos with friends while watching one of the waitstaff give Idina Menzel a run for her money with flawless delivery of "The Wizard and I".
And why not see one of the best Broadway shows in New York before or after?!
Metro Diner
View this post on Instagram
2641 Broadway #1
The Upper West Side is home to many excellent diners in NYC, and Metro Diner is one of the highlights of the area. Outfitted with a classic retro design, friendly service, and reasonably priced, tasty fare like the Lumberjack Breakfast (pancakes, two eggs any style, bacon, sausage, and ham) and Vegetarian Frittata (pan-fried omelette with zucchini, broccoli, carrots, and zucchini), the Metro Diner is a favorite amongst locals and is frequently busy.
I will also personally vouch for their Matzo Ball Soup to warm you up in the dead of winter, it's a treat. The Metro Diner is a great place to stop after a hearty recreational tennis match at the 96th Street Clay Courts, or if you need some time before you break out that winning serve, after a movie at the AMC on 84th Street and Broadway.
Lexington Candy Shop
View this post on Instagram
1226 Lexington Ave
Lexington Candy Shop is a quintessential New York luncheonette that's been family-owned and operated since 1925. A modest, brick-lined building with classic signage advertising soda and candy, the diner is a beloved neighborhood landmark on 83rd and Lexington.
In addition to excellent club sandwiches and burgers (try the Lexington Butter Cheeseburger), a trip to Lexington Candy Shop isn't complete without trying one of their signature floats or egg creams (which, for clarity, are not made with eggs but rather with milk, soda/carbonated water, and syrup flavor).
Lexington Candy Shop prides itself on using their in-house syrups and seltzers mixed by hand for a superior quality float – I recommend their Root Beer Float.
And if milkshakes/floats/egg creams aren't your jam, try one of their home baked pies or danishes! After you get your dessert fix, head over to nearby Museum Mile and spend an afternoon at the Metropolitan Museum of Art (1000 5th Ave), one of the best museums in NYC.
Cafeteria
View this post on Instagram
119 7th Ave
In the ancient times before internet food guides, Instagram, Twitter, and TikTok, one needed the Zagat guide and word of mouth to find out where the hot NYC restaurants were. Before moving to New York I had heard somewhere that Cafeteria was the cool diner-turned-after party where those who were in-the-know went to close out their night – so I gathered my 2007-era French Connection going-out top and my curiosity, and followed the crowds to Cafeteria.
And while you might think that I learned that it wasn't worth it and that following the crowd leads you nowhere, that's not true – the food is damn good.
Cafeteria prides itself on its contemporary, ramped-up takes on diner food that tastes as great at 12PM as it does at 12AM (though you should note that some of their breakfast classics are served well into the day but not the evening).
I am a longtime fan of their Truffle Mac and Cheese and Lemon Ricotta Pancakes – also notable are the Veggie Burger and the Green Eggs and Ham. Head to one of the best NYC diners after a night of revelry or after taking in an evening of dance at nearby The Joyce Theater (175 8th Ave), or both!
Wahi Diner
View this post on Instagram
3915 Broadway
In the heart of Washington Heights on 164th and Broadway sits one of the best American diners in New York. Wahi Diner offers first-rate diner fare with local ingredients made with care, to the longtime delight of uptown residents as well as students and staff at Columbia University's medical school.
Make sure to try their Patty Melt, their famous Chili, or one of several signature sandwiches – I recommend George's Sub (crispy chicken, american cheese, bacon on a toasted sub with french fries).
After dining at Wahi, head over to the Morris-Jumel Mansion and Museum (65 Jumel Terrace, New York, NY 10032), a homestead originally built for a British colonel and now a cultural center dedicated to amplifying the multicultural stories of the neighborhood, past and present, through event programming like BIPOC-artist focused music festivals and Bachata classes.
La Bonbonniere
View this post on Instagram
28 8th Ave
A West VIllage institution that has delightfully maintained its sovereignty from the neighborhood's sometimes expensive vibe, La Bonbonniere is an old school, cash-only haunt that is also one of the best diners in NYC.
Tuck into Challah French toast generously sprinkled with chocolate chips, their impossibly crispy bacon, or a perfectly-grilled cheeseburger cooked on their grill from the Dawn of Time (again, only enhancing the flavor!!).
Open from 7AM-5PM every day and usually busy (while you should be prepared to wait for a table, the food service is quite brisk!), La Bonnbonniere lives up to its self-styled slogan of "Unpretentious Normalcy" – and is worth a hasty jog to the ATM. You'll be fueled by all of the delicious griddled treats from La Bonbonniere!
PS this NYC diner was used as a filming location for Marvelous Mrs. Maisel too!
Tom's Restaurant UWS
View this post on Instagram
2880 Broadway
I don't know whether it's mandatory or cliché to include the famous "Seinfeld" diner, but honestly, it felt like a disservice not to. You know its neon exterior from episodes (Reruns? Streaming??? Dependent on your generation???) of the legendary sitcom, but you may not know that Tom's is a real live restaurant open since the 40s and run by the same Greek-American family ever since its inception.
Make sure to try their signature Grilled Cheese (available to add bacon, ham, turkey, or tuna) or their Crispy Chicken Finger Platter (served with fries and soup – yes, soup for you!!).
After checking out one of NYC's best diners, stroll over to nearby Columbia University to admire the architecture or read in verdant Morningside Park, one of the best hidden parks in NYC and you can even spot a rare NYC waterfall here too!
Pearl Diner
View this post on Instagram
212 Pearl St
Tucked away in the Financial District on the aforementioned Pearl Street, Pearl Diner has been serving grateful New Yorkers for over fifty years and is a rare standalone diner amongst the glossy, modern buildings that surround it.
Pearl Diner is home to many Greek and Mediterranean specialties like their excellent Falafel platter, Chicken Gyro sandwich, and Spinach Pie, as well as an impressive variety of Overstuffed Cheese Sandwiches. I also recommend their (regularly) Stuffed Baked Potatoes – the Broccoli and Cheddar Cheese option is an instantly satisfying lunch or dinner option.
After your meal at one of downtown's longest-running diners in NYC, walk across the street to the South Street Seaport Museum (12 Fulton St), dedicated to exhibitions on New York's historical identity as a port city.
EJ's Luncheonette
View this post on Instagram
1271 3rd Ave
On the corner of 73rd street and Lexington since 1992, EJ's is a diner that has both maintained an old-school, classic vibe while also innovating to include vegan and organic options.
Designed with the luncheonettes of the 1930s and 1940s in mind, EJ's is a recurring location for various film and TV productions for its cinematic atmosphere.
Be sure to try the Meatloaf with Mushroom Gravy, Power Greens Salad, or the EJ's Special (two eggs, Applewood smoked bacon or ham served with home fries Challah, Rye bread, tomatoes, or grits). Finish off your meal with diner-favorite Coconut Cloud cake, and revel in having tried one of the best American diners in New York.
And if you're here for the vegan options, check out our guide to the best vegan restaurants in NYC!
Landmark Coffee Shop and Pancake House
View this post on Instagram
​158 Grand St
Here's my SoHo shopping tip – go early to avoid crowds, always check out sample sales and pop-ups for the best deals, and save your money by heading to Landmark Coffee Shop and Pancake House afterwards for a meal at one of NYC's best diners.
Serving the neighborhood since 1962, Landmark offers perfectly cooked silver-dollar pancakes and generous helpings of coffee and blue-plate specials (on actual blue-striped plates).
In addition to their pancakes, other standouts include their Gruyere Cheese Omelette, Tomato Basil and Parmesan omelette, and German breakfast (3 eggs with onions, home fries, peppers, and bacon). Enjoy a laid-back meal to fuel you before heading back out into the joyous, slightly chaotic, SoHo shopping district.
Waverly Diner
View this post on Instagram
385 6th Ave
A Greenwich Village favorite for decades, Waverly Diner is known for being one of the best diners in NYC and for its reliably appetizing Greek, American, and Italian offerings amongst vinyl booths, gold chandeliers, and abundant plants, with food served 24/7.
Try their homemade Soup Du Jour, Pastrami with Cheddar Cheese sandwich, Pork Souvlaki sandwich, or their vaulted Malted Milkshake. Head to Waverly Diner after a day hanging out in Washington Square Park or a night at 3 Sheets Saloon (134 W 3rd St).
Washington Square Diner
View this post on Instagram
150 West 4th Street
Greenwich Village is a hotbed of excellent NYC diners – just down the way from Waverly Diner is the Washington Square Diner, another dependable and delicious joint for breakfast, lunch and dinner.
Also open 24/7 and a frequent choice for nearby NYU students (You can study there! You can cure your hangover there!),
Washington Square Diner serves up well-made breakfast classics like Romanian Steak and Eggs (aka skirt steak and eggs), Nova Scotia Lox Benedict, and sweet options like Banana Pancakes and Oreo (!) pancakes. Washington Square Diner also offers health conscious options like Whole Wheat Protein Waffles. Sounds like a great way to get your pre-workout in!
BROOKLYN
Kellogg's Diner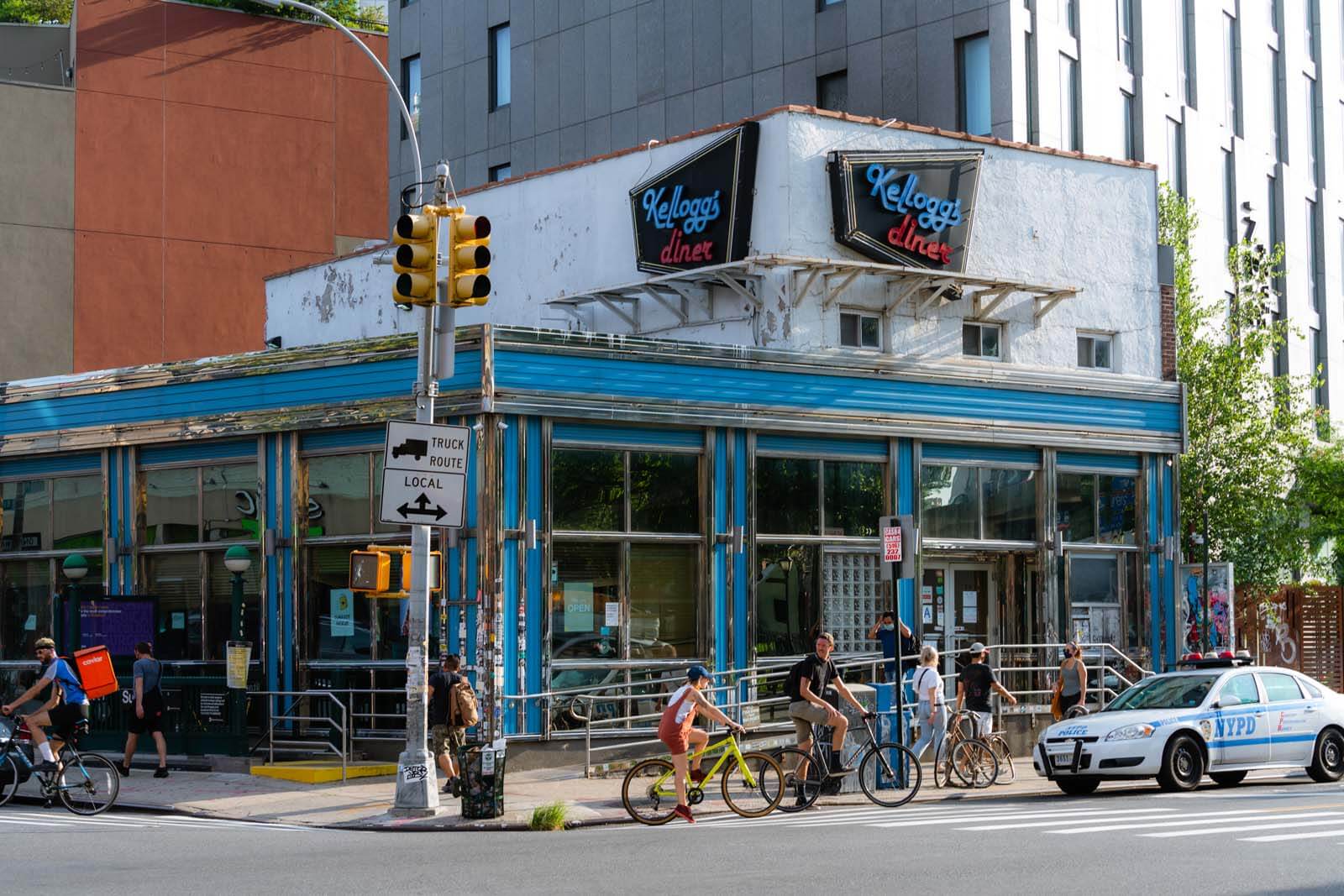 518 Metropolitan Ave
A welcoming neon and chrome bastion of community, Kellogg's Diner has been in business since 1928 and is undoubtedly one of the best diners in New York City.
Located in Williamsburg (right above the entrance to the G train at Metropolitan and very close to the L train at Lorimer), Kellogg's is the perfect 24/7 joint to end an evening out with friends over waffles and pancakes (note that gluten-free pancakes are also an option!). Other recommended dishes are the Brisket Tacos, Portobello Burger, and their homemade Mac N' Cheese and Spinach Pie.
Head to Kellogg's after a night enjoying craft cocktails at We Got Company (441 Metropolitan Ave) or the famous (infamous???) Union Pool (484 Union Ave). And for more on NYC diners in Brooklyn, be sure to check out our full guide, the Best Old School Diners in Brooklyn.
Neptune Diner and Neptune Diner II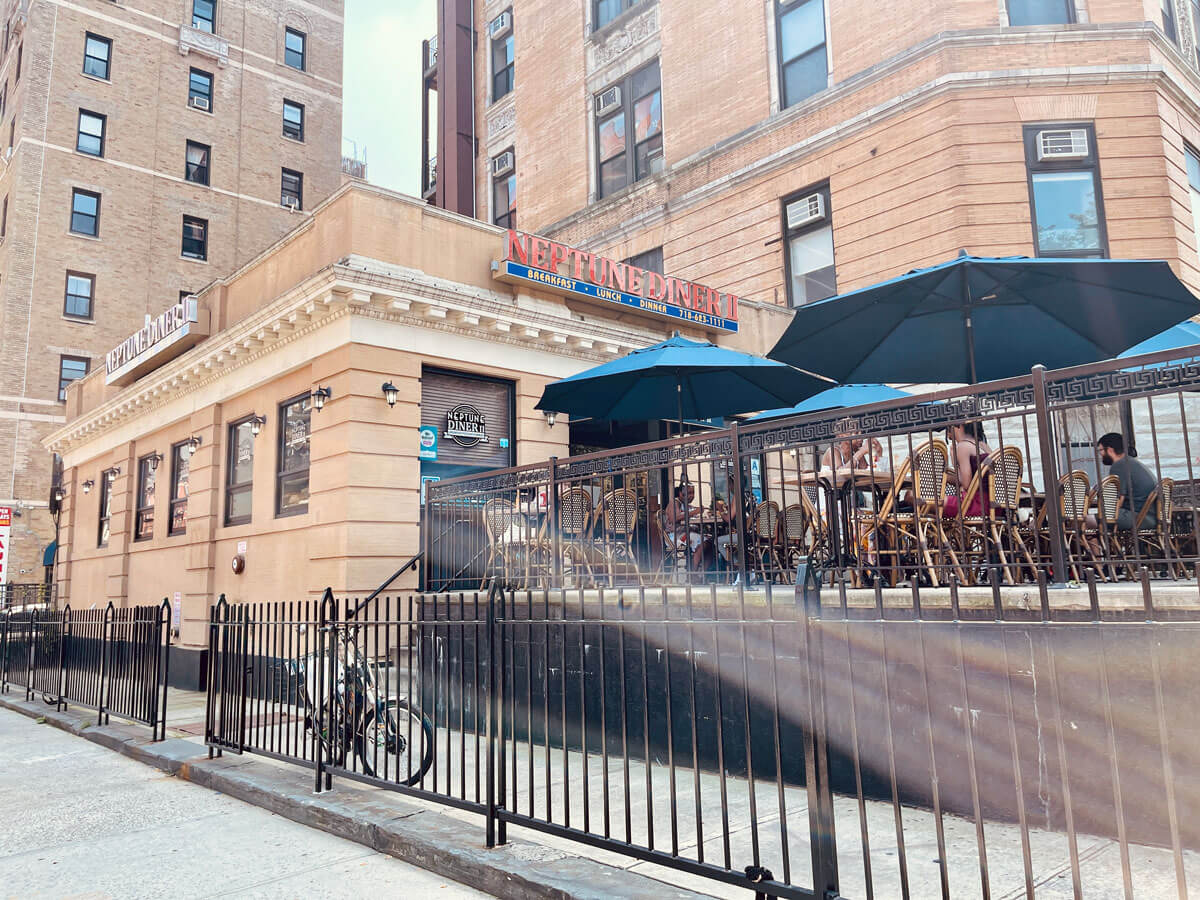 Brooklyn: 699 Classon Ave & Queens: 3105 Astoria Blvd N
Neptune and Neptune II are sister American diners in New York (located in Queens and Brooklyn, respectively). Neptunes I and II are all-around excellent NYC diners, but where I believe they really shine are their shared plates.
Summon your most enthusiastic eating buddies and split some Disco Fries (fries with gravy and melted cheese), Loaded Nachos, Chicken Fingers, Buffalo Cauliflower, and Fried Zucchini Sticks. And if you want a whole meal to yourself, try the Cheatday Sandwich (Bacon and Pulled pork on a grilled cheese sandwich!!!).
If you're near the Neptune in Astoria, chow down and then head to nearby Astoria Park for waterfront views of the East River and Manhattan. If you venture to the Classon Ave., Brooklyn location, try Neptune after an afternoon at the Brooklyn Botanic Garden (990 Washington Ave) or the Brooklyn Museum (200 Eastern Pkwy).
Champs Diner
View this post on Instagram
197 Meserole St
If you've gotten this far in the guide to NYC's best diners, you've probably noticed a pattern – there is a lot of well, meat, in diner food. And if there isn't meat, there's cheese!
But what if you are a vegan seeking the greatest diners in NYC?! Look no further than Champs Diner, an entirely vegan spot devoted to delicious "vegan junk food" – aka, tasty diner fare and one of the best vegan restaurants in Brooklyn!
Feel free and easy as you order Philly Cheesesteak (grilled Blackbird seitan, sautéed bell peppers, onions, mayo, cheese on a hero) or Nashville Hot Chik'n (hot chik'n steak, lettuce, pickle, mayo, on a bun) with the peace of mind that your food is not only completely vegan, but delectable!
Other standouts include the Reuben sandwich (Sliced seitan brined grilled with sauerkraut, cheese, Russian dressing and pickles on rye) and the Boulder Burrito (tofu scramble, home fries, chorizo, and shredded cheddar smothered in green sauce and sour cream).
The food at Champs is so well-made and inventive that whether you are a vegan, vegetarian, or omnivore, you'll find something to satisfy your craving for incredible diner cuisine.
Manhattan Three Decker
View this post on Instagram
695 Manhattan Ave
Like many nabes in Brooklyn, Greenpoint is an area known for the intersection of long-standing businesses and new ventures. Manhattan Three Decker falls into the category of the former, as it's been open for almost a century and has maintained its status as one of the best diners in New York City for decades.
Known for its eponymous triple decker sandwiches, I recommend trying the Roast Beef and Swiss Three Decker and the Bacon, Egg, and Cheese Three Decker.
Other sandwiches with fewer layers but that are just as tasty are the Greenpoint All Star series – named after New York sports teams (a particular highlight is the Rangers sandwich (turkey with bacon and swiss cheese on a roll).
After checking out Manhattan Triple Decker head over to the newly refashioned, sleek Greenpoint Public Library (107 Norman Ave) for an afternoon of leisurely reading.
Bridgeview Diner
View this post on Instagram
9011 3rd Ave
A great standalone spot in Bay Ridge, Brooklyn, Bridgeview Diner is one of the best NYC diners and an excellent choice for well-made, reliably tasty American and Greek-influenced fare.
Start your day right with some of their fresh coffee (ground daily for additional quality and taste) and throw in a set of golden buttermilk pancakes for a little carbo-load. Easily transition to brunch with an Athenian wrap (omelette with feta, tomato, and spinach on a wrap) or a Monte Cristo Panini. And for dinner, try a Greek specialty like the Moussaka.
After your meal, pass the aforementioned bridge (the Verrazano is visible from the street!) and head to Jacob Riis Beach for a lazy summer day of sunbathing (157 Rockaway Beach Blvd) at one of the best beaches in NYC.
QUEENS
Jackson Hole Diner
View this post on Instagram
69-35 Astoria Blvd N
If the Jackson Hole Diner in Astoria looks familiar to you, it may be because of its appearance in the legendary movie Goodfellas. A retro chrome-and-neon exterior leads to a bustling, lively restaurant serving the best NYC diner food in the area.
Try a Brioche Breakfast sandwich (Scrambled Egg, Smoked Bacon, Ham, Grilled Tomatoes, Melted Cheddar Cheese & Mayonnaise on Grilled Brioche Bun) or a Croissant Egg Sandwich for breakfast – the Greek Spinach Pie Croissant Sandwich (Two Scrambled Eggs, Sautéed Spinach, Fresh Garlic, Onions, Scallions, Dill & Feta Cheese) is a particular standout.
For lunch or dinner, make sure to sample one of Jackson Hole Diner's famous 7 ounce burgers (available in beef, turkey, or veggie patties) in innovative combinations like the Akaboura burger (Topped with Fried Onions, Mushrooms, Green Peppers & American Cheese on Hard Roll), Kaluba Burger (Topped with Fried Onions, Tomato, Ham & American Cheese), and Wyoming Burger (Topped with Bbq Sauce & Bacon).
Finish your meal at one of the best diners in NYC with one of their signature shakes, with highlights such as the Affogato Milkshake (Flavored Coffee & Vanilla Ice Cream topped with homemade Whipped Cream, Choice of Flavored Coffee: French Vanilla, Hazelnut or Caramel) or the namesake Jackson Hole Milkshake (Vanilla Ice Cream, Banana, Peanut Butter & Caramel Sauce).
So while you should refrain from meeting at the Jackson Hole Diner to plot crimes ala Robert DeNiro and Ray Liotta, you sure can put on your finest snazzy suit and snap a few photos outside this iconic stop among NYC's best diners.
Bel Aire Diner
View this post on Instagram
31-91 21st St
In your search for the finest diners in NYC, make sure to leave time for Bel Aire, located in the Southwestern corner of Astoria. Open since 1965, Bel Aire has something for everyone with a wide variety of classic diner fare, Greek, Mexican, and Italian specialties as well as vegan and vegetarian options.
On the vegan front, try the BBQ Tofu sandwich (Sliced and Grilled Tofu, topped with Fronions, BBQ Sauce and Jalapenos on a Hero). For the omnivore, check out the Pulled Pork Sandwich (slow-cooked for 4 hours and piled high on a Kaiser Roll).
For my fellow chicken enthusiasts, Bel Aire has an entire section of their menu devoted to grilled, breaded, and crispy fried chicken sandwiches – one particular highlight is the Bang Bang Chicken Sandwich (Fried Chicken Cutlet, Romaine Lettuce, Thai Chili Sauce, Homemade Ranch on a Cajun Roll). B
el Aire Diner prides itself on being one of the best NYC diners through it's homemade, high-quality cooking and friendly service – stop by before a visit to the nearby Noguchi Museum (9-01 33rd Rd) for incredible contemporary art and garden exhibitions from the late artist Isamu Noguchi.
Georgia Diner
View this post on Instagram
80-26 Queens Blvd
Standing strong in the Queens neighborhood of Elmhurst since 1978 and recognizable by its neon peach signage, the Georgia Diner is among the best diners in New York City.
Share some stuffed potato skins (topped with bacon, melted cheddar, sour cream, and scallions) or try a Fajita Omelette to start your day. Other favorites include their Chicken Saltimbocca panini, Reuben sandwich, and their Baklava.
While you're in the area, check out the Elmhurst Sculpture Garden (59-59 92nd St) where you can see outdoor exhibitions of NYC sculptors in a community-curated space.
Court Square Diner
View this post on Instagram
45-30 23rd St
A hop, skip, and a jump on the 7 train from Midtown, Long Island City is a fantastic place to check out another borough and the best diners in NYC. Court Square Diner has been a 24/7 spot serving New Yorkers since 1946.
Court Square Diner is a community-minded restaurant that is dedicated to giving back to local neighborhood organizations like the Long Island City Arts Open.
In addition to their commitment to keeping Long Island City flourishing, Court Square Diner is a local favorite for excellent fare – make sure to sample the Jumbo Buffalo Wing Appetizer, the Vegan Chicken nuggets, and the crispy Taquitos to start, and then go all in on the Firehouse Sandwich (Sliced Rib-Eye Steak Topped with Caramelized Onions, Mushrooms, Bacon and Melted Mozzarella Cheese, Served on a Hero with French Fries).
Walk off your meal along the East River at Queensbridge Park (Vernon Blvd, Long Island City) and take in having experienced one of the finest NYC diners.
BRONX
Bronx Riverdale Diner
View this post on Instagram

3657 Kingsbridge Ave
Reward yourself for riding to nearly the end of the 1 train line by stopping at the Bronx Riverdale Diner, serving the Kingsbridge and Riverdale communities for over 50 years!
This standalone, chrome-accented retro spot is known as one of NYC's best diners for not only its classic diner fare (like giant Chop House-style burgers) but also its pizza (a rarity among NYC diners).
Try a Latin Pizza (Mozzarella, Chorizo, Cilantro) or a Pile-Up Cubano Burger (Pernil, Ham, Pickles, Swiss Cheese on a Garlic Roll with Tostones). I can also vouch for their fantastic German Apple Pancake! Don't miss this gem among NYC diners at the top of the city!
Blue Bay Restaurant
3533 Johnson Ave
Located in the Riverdale neighborhood of the Bronx, Blue Bay Restaurant would be easy to miss altogether, but don't let that fool you – its unassuming exterior belies some truly superior diner cuisine.
Phenomenal omelettes, pancakes, and sandwiches (served at equally phenomenal prices) make Blue Bay a can't-skip option on your quest to find the best NYC diners. My favorites include the chocolate chip pancakes, Athenian Omelette, and the Hot Open Brisket Sandwich. Blue Bay Restaurant can truly feel like a trip to another era – to continue that feeling, take a walk around the Fieldston/Manhattan College area of Riverdale for some majestic estates still standing within official New York City limits!
STATEN ISLAND
J's on the Bay
View this post on Instagram
189 Bay St
An insider tip – the Staten Island Ferry is a great, free, water tour of lower Manhattan's skyline and the Statue of Liberty. But once you've arrived in Staten Island, it would be a mistake to simply turn around head back – make a stop first at J's on the Bay (a short cab ride away from the Ferry Terminal in St. George).
Known for its 50s-style, retro atmosphere and its gourmet take on American diners in New York, J's on the Bay is a reliable favorite for ramped-up versions of classic fare – try the BPA Grilled Cheese (Bacon, Pesto, Avocado with Mozzarella), the Open-faced Lobster Roll, or one of their specialty milkshakes like their Birthday (Funfetti!) shake. Ferries, fries, and a free waterfront ride – it's the perfect Staten Island afternoon!
---
As we come to the end of today's diner odyssey, let it be known – the best diners in New York City can be found on every corner, in every borough throughout our fair city. Whether you seek a chill daytime luncheonette vibe or a raucous late-night afterparty, there are diners in NYC for every occasion. Save me some disco fries!!
Did we miss your favorite pick for best American diners in New York? Let us know in the comments below!