Looking for the best brunch in Greenpoint? This guide has got you covered. Greenpoint is one of those neighborhoods that is packed with not only a great foodie scene, but also a great bar and nightlife scene. The northernmost neighborhood of Brooklyn before entering Queens and located along the East River with a jaw-dropping view of the NYC skyline.
Greenpoint is also home to a large Polish population, containing many Polish restaurants, markets, and businesses, and it is often referred to as Little Poland.
Whether you are a local to Greenpoint or you are just visiting, this guide will provide you with all the best brunch in Greenpoint. But don't stop with just the food in Greenpoint while you're in the area. Make sure you check out all the other best things to do in Greenpoint as well!
Best Greenpoint Brunch Spots
Chez Ma Tante 
Address: 90 Calyer Street
Kicking off this brunch guide with one of my absolute favorite spots for brunch in Greenpoint; the infamous Chez Ma Tante. Known primarily for their pancakes (which you should 100% order) this cute, minimalistic space should definitely be at the top of your list for the best brunch in Greenpoint. 
The building itself is very aesthetically pleasing, being all white and on a corner, but one of my favorite parts about the space is that there is very, very minimal decor. In fact, there is almost none at all, which really adds to the appeal of the space.
As for the food, the menu is simple and simplicity is key here. They do the standard dishes very well. Obviously, when you come for brunch, you should always order pancakes, they are among some of the best pancakes in NYC. Seriously.
There should be no exception to this rule at Chez Ma Tante. In fact, if you're with a group and people want to share, multiple orders of the pancakes should be on your table. They are made in a cast iron skillet for a perfect char and then topped with the perfect amount of butter and maple syrup. Trust me, you need these.
In addition to the pancakes, Chez Ma Tante has something called a potato tortilla, which resembles a cake with egg, potato, and caramelized onions and then topped with olive oil. Also, very delicious and also should be on your table. They also have a great ham sandwich and quiche and while I'm usually not a salad at brunch person, the cesar salad should not be skipped.
Chez Ma Tante is open for brunch on the weekends. They offer reservations through Resy and have both indoor and outdoor seating options available.
Frankel's Delicatessen & Appetizing
Address: 631 Manhattan Avenue
If you've read any of my other guides you know how important I think sandwiches are. Frankel's Delicatessen & Appetizing is definitely your go to sandwich shop in Greenpoint and a great spot for delicious Greenpoint brunch. 
Frankel's has all the perfect vibes from a small area with counter seating for great people watching to the bright, light space and the grocery goods in the corner. Now to the hardest part, what do you order?
Since this is literally right off the G train, I might frequent this place way too often (even though I don't live in Greenpoint) and I try to try something different each time but unfortunately (or fortunately) I'm always drawn back to the classic pastrami, egg and cheese on an everything bagel. The eggs are perfectly fluffy, the pastrami is perfectly cooked and the cheese is perfectly melted.
Other standout menu items include the classic lox bagel, referred to at Frankel's as Specialty Combo #1 (Pastrami Salmon, Dill Cucumber, Scallion Cream Cheese). Latkes are also a hit and do not leave Frankel's without getting a black and white cookie to go. They also have brunch kits, which are great to order to take to the park to meet friends. 
Open every day but Mondays from earlyish to late afternoon, or until sold out, Frankel's is the perfect spot to start your week or weekend of Greenpoint brunch. There is often a line out the door but don't let that scare you away. It moves fast and it is definitely worth the wait. They have a few indoor seats but the best part is that you can walk 50 feet and you're at McCarren Park, one of the best outdoor spots in Greenpoint.
Peter Pan Donut & Pastry Shop 
Address: 727 Manhattan Avenue
Another necessary neighborhood restaurant is your classic donut shop and Peter Pan Donut & Pastry Shop is not only one of the best in Greenpoint, it is definitely one of the top donut shops in the city. Needless to say, this needs to be high on your list for Greenpoint brunch. It is also great for an after brunch treat or really just delicious any time of day. 
Peter Pan has been around for over 60 years and the vibe of the small space matches the longevity of this Greenpoint brunch spot. They are known for their blueberry donuts and for very good reason. They are delicious and one of my favorites in the world. They have both cake and yeast options and you really can't go wrong with any of them. In fact, I always recommend getting some to go for later because you're going to want more than one.
If donuts aren't your thing but you still want something sweet, Peter Pan also has other pastries, breakfast sandwiches, and milkshakes. They also have coffee and all of your other diner beverage needs.
Peter Pan opens EARLY, like 4:30 AM early during the week so it is the perfect place to grab some donuts to take home or on vacation before that early morning flight. They are open every day and do have some indoor seating but it fills up pretty early. Just like Frankel's, there is often a line but it also moves quickly. Pro tip: be ready to order when they get to you.
Stowaway 
Address: 159 Greenpoint Avenue
If you've read any of my other guides, you know I'm a huge proponent of a good biscuit and a good Southern biscuit at that. Stowaway does just that with not only one of the best made-from-scratch biscuits but also some of the best brunch in Greenpoint. 
The vibes at Stowaway feel like grandma's kitchen, in the best way. The food matches those vibes with incredible biscuits (as mentioned above). They have many varieties including the classic with jelly or you can add eggs, bacon, sausage, etc. Fried chicken sandwiches are also an option if you want the real deal Southern experience.
If you love oysters, make sure these are also on your brunch table. They are all sourced sustainably from Long Island and taste extremely fresh.
Stowaway is open every day but Monday and Tuesday for breakfast, lunch and dinner. All are delicious but with biscuits as incredible as they have, you have to make brunch a priority. Reservations are not accepted. Indoor dining is available and there is one singular table set up outside.
Rule of Thirds 
Address: 171 Banker Street
The vibes at Rule of Thirds are unmatched with a giant glass canister of sake in the middle of the restaurant to the amazing outdoor space that transports you out of New York. They also have counter seating where you can watch the chefs go to work on your incredible Greenpoint brunch. 
There is no question as to what you should order for brunch and that is the Japanese soufflé pancake (hottokeki). It is melt-in-your-mouth amazing and worth a visit alone to Rule of Thirds. Other standout items are the Karaage (fried chicken), smashed potato and the rice with poached egg. They also have unique and very delicious cocktails that you should order and finish your meal off with some of their incredible sake.
Rule of Thirds is open for brunch on the weekends and offers both indoor and outdoor dining, they are also one of the best restaurants in Greenpoint to enjoy dinner too. They accept reservations through Resy, which I definitely recommend as they do get very busy on the weekends and for good reasons since it is some of the best brunch in Greenpoint.
Acre
Address: 64 Meserole Avenue
Only opening a couple years ago, Acre has quickly claimed its spot for brunch in Greenpoint as one of the new kids on the block. Not only do they have incredible Japanese cuisine, they also have one of the most beautiful spaces (both indoor and outdoor) around. 
They have all the best pastries around (including a matcha almond croissant, which is one of the best croissants I've ever tasted), as well as incredible Japanese bento boxes (the pork katsu is my favorite) and delicious egg sandwiches. They also have delicious coffee, wine and cocktails making this one of the perfect spaces for a solo Greenpoint brunch or a brunch with friends on the weekends.
Acre is open every day for breakfast and lunch as well as weekend brunch. As mentioned above, they offer both indoor and outdoor dining and while they do not accept reservations, it is worth it if you have to wait a little bit for a table.
Esme 
Address: 999 Manhattan Avenue
Esme is a very beautifully designed space. It's bright. It's colorful and is vibrantly light-filled, crisp and clean, all of the characteristics that make for an ideal location for brunch in Greenpoint for the space alone. But since this isn't a guide about space (even though Greenpoint has some of the best aesthetics around), it helps that Esme also has some of the best brunch in Greenpoint.
Another spot with delicious pancakes that cannot be skipped. They are different from your traditional fluffy pancakes, which usually I am not a fan of, but Esme does thin pancakes very well. They are great alone but even better when you add blueberries.
There are so many other great options to choose from for an amazing Greenpoint brunch at Esme but some of my other recommended favorites are the avocado toast (this is beyond your basic avocado toast because it's two large slices and actually fills you up), the savory french toast, the ricotta toast and the cinnamon french toast. So, I know that's a lot of bread but who doesn't love bread?
For those who don't resonate with the above, all the classics at Esme are well made including the two eggs breakfast and the grits and eggs.
Esme is open for brunch on the weekend. They have both indoor and outdoor seating and accept reservations.
Le Gamin Cafe
Address: 108 Franklin Street
You're probably seeing a trend and that trend is that there are some incredible spots for brunch in Greenpoint and most of those spots lie on Franklin Street. Le Gamin Cafe is at the top of that list for some of the best brunch in Greenpoint with its delicious food and incredible outdoor garden. 
The pastries are incredible and should definitely be on everyone's table. Staying consistent, their french toast is some of the best served on two thick pieces of brioche and topped with berries and whipped cream. For savory items, you can't go wrong with a Croque madame or Croque monsieur. For something unique, try the oeuf gamin, a poached egg in a potato with goat cheese on top of the ratatouille.
Le Gamin is open for brunch every day, opening an hour earlier on the weekends. They accept reservations and offer both indoor and outdoor dining.
Maman 
Address: 80 Kent Street
While I know Maman is not unique to Greenpoint, it is consistently one of my favorite places for brunch all over New York, making it also one of my favorite spots for brunch in Greenpoint. This is also one of the best locations with the swinging tables, their iconic floral blue wallpaper, and bunny vases throughout the space. 
I know this isn't "brunch" but one thing you cannot leave Maman without trying is the chocolate chip cookie. Oprah also has said for many years it is one of her favorite things and self-proclaiming myself as a chocolate chip cookie connoisseur, I would have to agree. For more brunch items, everything is amazing but I recently had the grilled cheese with roasted vegetables, aka the annabel sandwich, and it was incredible.
I also highly recommend any and all of their pastries, the breakfast sandwich, granola parfait and all of their coffee.
Maman is open every day for breakfast and lunch and the "best" aka the most Instagramable spots tend to go pretty quickly so I recommend getting here as early as possible if that is what you're after. If you just want delicious food, then they also have outdoor tables available and offer take away. They do not serve alcohol just as a forewarning so if that is the brunch vibe you are seeking, see the other recommendations in this guide!
Five Leaves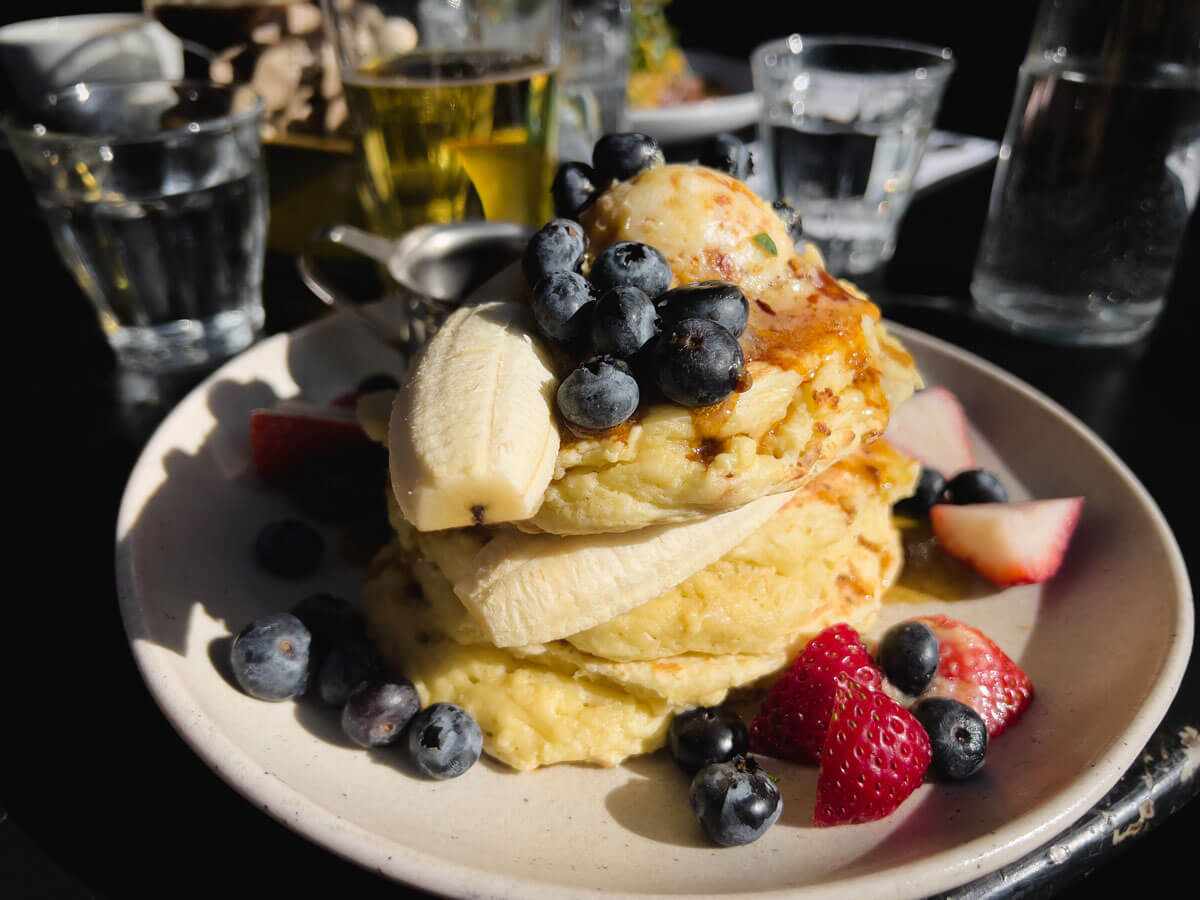 Address: 18 Bedford Avenue
Not going to lie that my initial reason for visiting Five Leaves was because it was owned by the late and great Heath Ledger. But everything about it proved that in fact, celebrities can own restaurants and they can make really good food in a really cool space. AND the best part is they allow dogs outside (and in fact encourage it) without some of the judgment that other dining places give. 
The restaurant itself has a nautical theme and is in the shape of a boat mass. The inside is rustic and casual and the outside is lined with wrought iron and flower boxes, making wherever you sit something to be desired.
The menu is big with plenty of options for everyone with an Aussie-inspired menu, including all of your basic brunch items but once again, pancakes shine and at Five Points, it is the ricotta pancakes that should be on every table. They also have a great french dip, sage scrambled egg sandwich, and all the brunch sides you could possibly ask for. The burger is unique and by unique I mean delicious so highly recommend trying if you are a burger person and willing to take risks.
Five Leaves is open for brunch in Greenpoint every day. They offer both indoor and outdoor seating and accept reservations. It does get crowded, especially on the weekends, so a reservation is recommended as this is one of the best Brooklyn brunch spots!
Glasserie 
Address: 95 Commercial Street
Glasserie is as far north as you can go before you leave Brooklyn and is located in a former factory space, giving it all the best Brooklyn neighborhood vibes and some of the consistently best brunch in Greenpoint.
The best thing on the brunch menu and a non-negotiable order is the mezze feast. It comes with seven different mezzes, each one more delicious than the one before it, and pita that seems to always be fresh out of the oven. The soft scramble with smoked salmon or the shakshuka are what I tend to lean towards for my mains, each one delicious depending on what you are more in the mood for. They also have some great brunch cocktails to round out your meal.
Glasserie offers both indoor and outdoor dining and delivery. They accept reservations and are open on the weekends for some amazing brunch in Greenpoint.
Milk & Roses Bistro 
Address: 35 Box Street
Another place that drew me in for the aesthetics was Milk & Roses, which if I'm being honest, sometimes the aesthetics doesn't always mean the food is going to be amazing. Milk & Roses defies those odds and creates some of the best brunch in Greenpoint in a very Parisian bistro romance vibe. 
The most important thing to know about Milk & Roses brunch menu is they do unlimited mimosas for one hour with the purchase of an entree. I say this is important because it seems like bottomless brunch is few and far between these days, especially at places that actually serve good food. As far as what to order, you know I'm going to recommend pancakes. For savory, they serve a delicious shakshuka and a great short rib and egg plate on the weekends. They also have great pastries and Italian doughnuts.
Important to note that Milk & Roses is cash only but they do have an ATM on site. They do not accept reservations for brunch and offer both indoor and outdoor dining.
Bakeri 
Address: 105 Freeman Street
Like Maman, Bakeri does not serve your typical alcohol brunch fare but like Maman, it also needed to be included because the space is great and they serve some delicious food and some of my favorite brunch in Greenpoint. 
The interior (and the facade) is something out of an English countryside with wooden tables, mismatched chairs and the best floral wallpaper around (you've definitely seen this floating around every food blogger's Instagram). They also have an exposed kitchen where you can watch all the incredible food being cooked while you enjoy a solo brunch or a casual brunch with a few friends.
For food, all of the pastries are worth a try and I always recommend taking a baguette to go. If you want something more filling, the biscuits and eggs, the sweet tartine or the scrambled eggs and trout are all equally delicious.
Bakeri has indoor and outdoor dining but if you want the coveted table with the floral wallpaper, plan to get here early. I have yet to get here in time for that seat to not be taken, which in part makes me keep coming back to this Greenpoint brunch spot. They do not accept reservations but are open every day for brunch.
Littleneck Outpost 
Address: 128 Franklin Street
Littleneck Outpost is the coffee shop version of their sister restaurant, Littleneck, in Gowanus (one of the best restaurants in Gowanus I might add), which means this is going to be some great Greenpoint brunch. 
Just like every other Greenpoint brunch spot on this list, the space is charming and minimalist with white walls and a little grocery store to the side where you can pick up essentials. They also have great La Colombe coffee that is served all day and delicious pastries.
For the more savory crowd, basically, any of the egg items are amazing but I tend to always go for the avocado and eggs, mostly in part to the hatch green chilis that accompany it. The egg and cheese is also incredible as well as the potato and egg that comes with house-made pistachio butter + yuzu strawberry preserve.
Littleneck Outpost is open every day for breakfast. They do not accept reservations but offer both indoor and outdoor dining. Note: they also do not serve alcohol.
Nura 
Address: 46 Norman Avenue
Just like so many other Greenpoint brunch spaces, Nura has taken over an old auto body shop complete with high ceilings and a bar in the middle of the restaurant, both unique and very practical. It is also covered in cool-toned light fixtures and plants in every corner and serves some of the best brunch in Greenpoint. 
Just like so many other places for brunch in Greenpoint, Nura offers their own spin on the classic and typical brunch cocktails. I recommend coming with friends so you're able to try them all. For food, start with the bread basket and split all the entrees with said friends. But really, they are all amazing and should not be missed. If you have to choose, the red curry pork and coconut grits is the most unique and you won't find it anywhere else, which is why you should definitely try it at Nura.
Nura serves brunch on the weekends and accepts reservations. They have both indoor and outdoor dining available.
Sereneco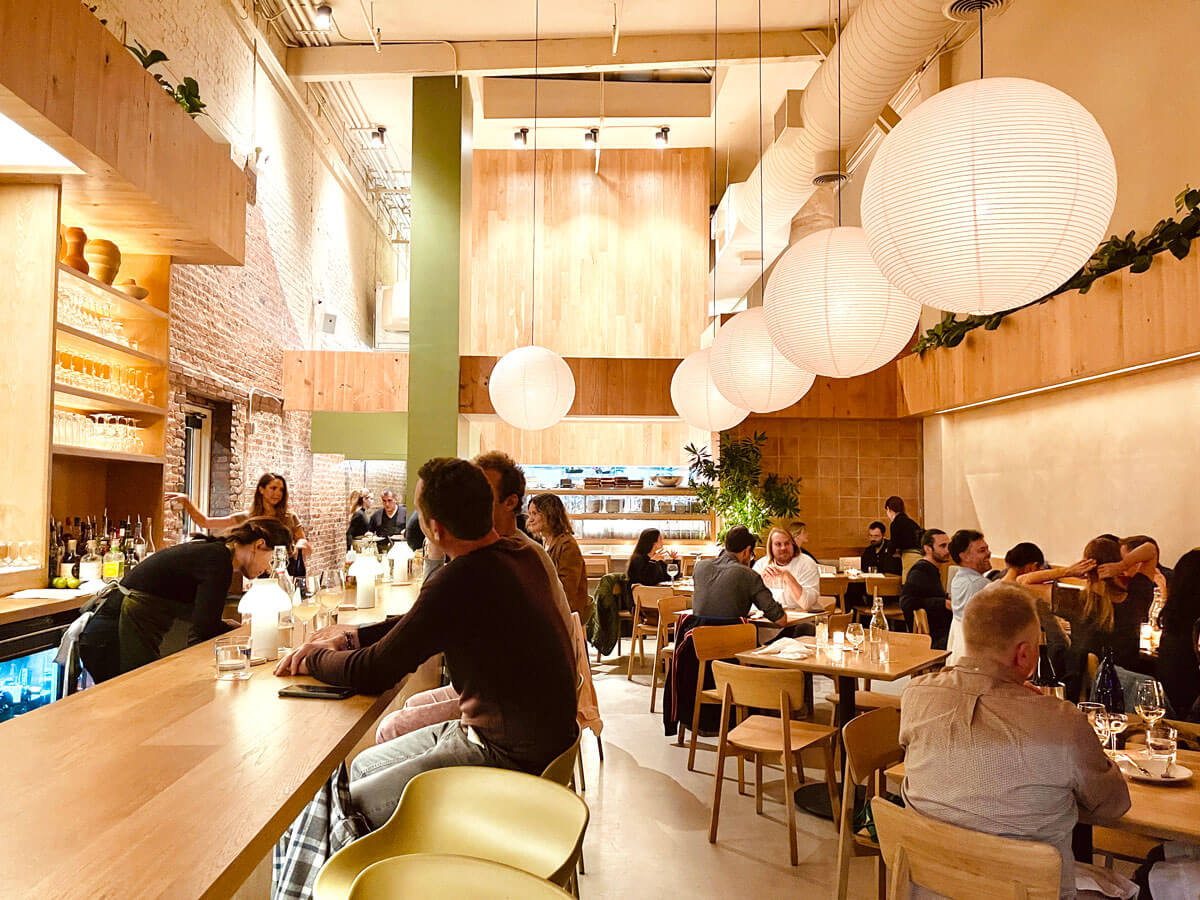 Address: 113 Franklin Street
Sereneco is another one of those places for brunch in Greenpoint that not only is beautiful but also has some amazing food. The space is light and airy with a long wooden bar, white paper lanterns and greenery lining the ceiling, it is the perfect environment for any occasion, including Greenpoint brunch. 
Brunch includes cocktails so I would be remiss to not mention how amazing the gin and tonics are at Sereneco. They are all carefully and craftily curated with a unique touch different to other places that serve the classic G&T.
For food, you guessed it, they have delicious pancakes! They also have a great breakfast burrito, a smoked salmon croissant and all the best sides to accompany your main course.
Sereneco offers both indoor and outdoor seating and accepts reservations. They offer to-go counter service every morning and serve brunch on the weekends. They are closed on Mondays.
---
Best Brunch Spots in Greenpoint (Post Summary):
Chez Ma Tante
Frankel's Delicatessen & Appetizing
Peter Pan Donut & Pastry Shop
Stowaway
Rule of Thirds
Acre
Esme
Le Gamin Cafe
Maman
Five Leaves
Glasserie
Milk & Roses Bistro
Bakeri
Littleneck Outpost
Nura
Sereneco
---
About Our Guest Author 
Molly Royce – Originally from Oklahoma, I moved to NYC for grad school and have had a hard time wanting to leave ever since. There really is no better borough than Brooklyn where I live with my boyfriend and our black lab, Frankie. There's no greater city in the world and I can't wait to share my love of the city, eating, and drinking with all of you.
---
Did we miss your favorite Greenpoint brunch spot? Let us know in the comments below and we will be sure to check out your picks for best brunch in Greenpoint!