Go nuts for donuts! Or, the best donuts in Brooklyn that is! From old-school mom and pop Brooklyn donut shops to the new kids on the block shaking things up with their artisanal donut flavors, this guide has rounded up a list of the best donut shops in Brooklyn that would have you channeling your Homer Simpson MMmmmmm….Donuts drooling and dreaming.
We recommend grabbing a few foodie friends so you can order and try multiple flavors at each of these spots, or just grab a box to go and enjoy them all to yourself. Either way, you're going to have a hard time leaving any of these Brooklyn donut shops with just a single donut.
Best Donut Shops in Brooklyn
Fan Fan Doughnuts
448 Lafayette Ave, Bed-Stuy
You can find some of the best donuts in Brooklyn at Fan Fan Doughnuts! This Bed-Stuy Brooklyn donut shop offers artisanal donuts that are made on-site in small batches by the same brilliant mind behind Dough Donuts, Mexican pastry chef Fany Gerson.
In addition, this donut shop has excellent tea, coffee, and uses Mexican techniques (used in making ice cream and churros) in her donut recipes including flavors like cinnamon tea donuts and citrus-based doughnutty desserts that are a great excuse for a sugar rush anytime of the day. One of their most popular donut flavors is yuzu meringue!
If you're looking for a donut shop that offers a wide variety of unique flavors you're not going to find at any donut shop, Fan Fan is the perfect pick. However, if you're on the hunt for a special donut that they serve, like guava cheese or yuzu meringue, be sure to go early in the day before the flavor sells out!
Similar to Dough, this donut shop serves large, light, and fluffy donuts. They also offer hot chocolate and sundaes during the winter that are great for pairing with your donuts! Also, watch out for their specialty donuts they release throughout the year for special events and holidays – another reason to come back besides the addictive sugary goodness in each bite.
Peter Pan Donut & Pastry Shop
727 Manhattan Ave, Greenpoint
Another iconic donut shop in Brooklyn is Peter Pan Donut & Pastry Shop. Located in Greenpoint, this old-school, family-owned, and operated donut shop is the place to get that classic Americana donut experience with a price that seems too good to be true in an expensive place like New York City.
Since 1905, this Brooklyn donut shop has been opening up at 4:30 AM on weekdays and 5 AM on weekends. There is typically a line during the later hours of the morning, so be sure to get there earlier if you want to avoid a crowd!
This classic donut shop serves coffee, milkshakes, and breakfast sandwiches that are great for enjoying at the counter. If you're making the trip to try a donut, be sure to try the red velvet or sour cream glazed donuts, which are some of their most popular flavors!
Fun fact, this is where MJ (played by Zendaya) in Spiderman: No Way Home worked! Check out our guide to other fun filming locations in Brooklyn if you're a fan of scoping those out!
Doughnut Plant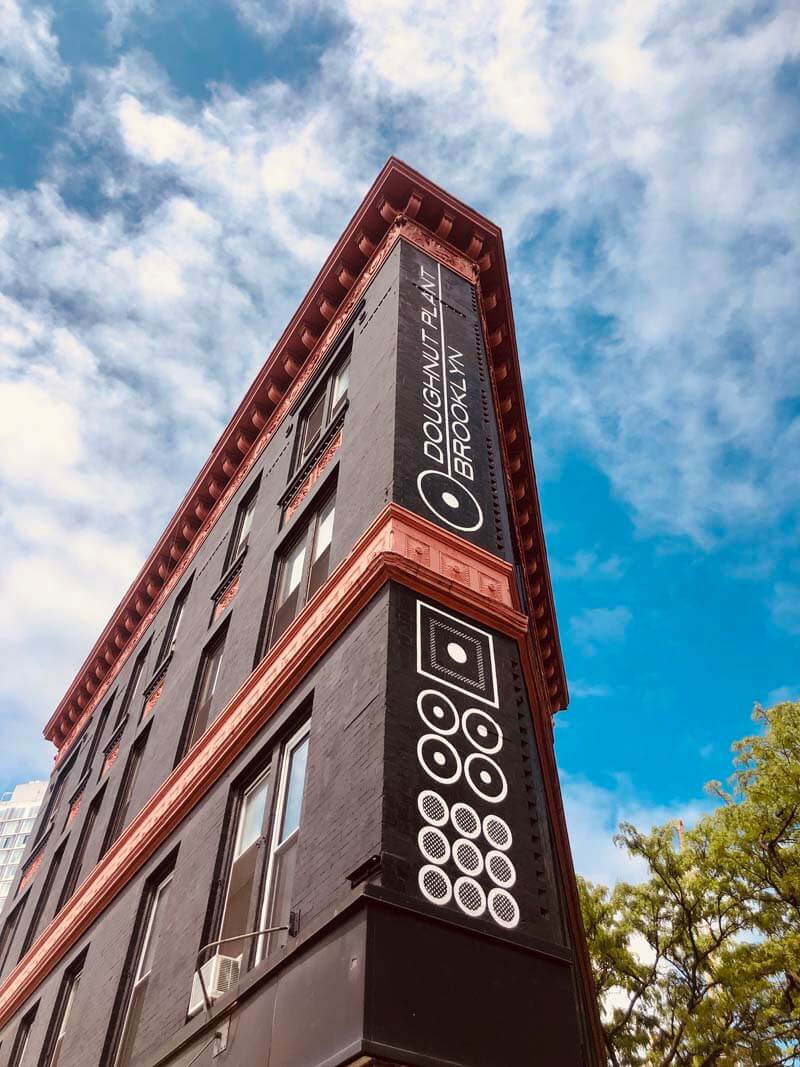 245 Flatbush Avenue, Downtown Brooklyn
Another great Brooklyn donut shop that has locations throughout Brooklyn and Manhattan is Doughnut Plant! This iconic donut shop is known for creating the first creme brulee donut!
They were also the first donut shop to use fresh fruits and nuts inside their glazes. You can taste the fresh, high-quality ingredients that they use in their donuts.
All of the donuts here are handmade daily. In fact, the owner of Doughnut Plant decided to create the store after years of making donuts all night long and delivering them on his bike in the morning! However, beware that their popular donuts can sell out quickly, so be sure to go early in the morning if you're after a particular flavor. They also often have flavors not listed on the menu, which is always a fun surprise and a reason to keep coming back.
If you're wondering what to order, coconut cream and Brooklyn blackout are two of their most popular donut flavors! But if it's your first time, you have to try the creme brulee donut!
Dough Doughnuts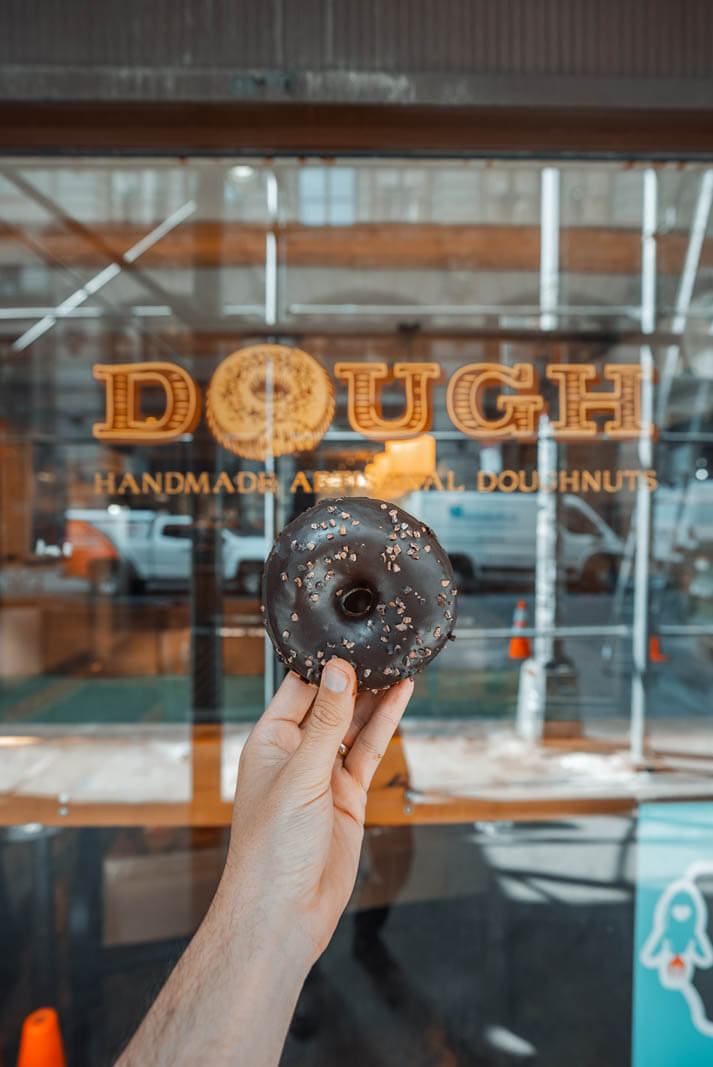 646 Vanderbilt Ave, Prospect Heights
Some of the best donuts in Brooklyn (and Manhattan) are at Dough Doughnuts. This delectable donut shop is known for its large and doughy donuts!
Dough is known for their brioche-style dough that they prepare multiple times throughout the day in small batches so you're always getting a fresh donut experience. Not to mention, all of their donuts are certified Kosher.
They have a few staples include their famous glazed, chocolate cacao nib, hibiscus, blueberry lemon, and passionfruit to name a few. They also have great seasonal specials like their dulce de leche and cannoli donuts.
There are also many vegan options for those looking for a plant-diet-friendly donut! (see our guide to the best vegan bakeries in Brooklyn for more treats!)
Dough also serves great coffee and lattes that come in a wide variety of flavors to pair with your delicious treat. Their donuts are larger and more filling! Not to mention, these photo-worthy desserts have delicious toppings and unique garnishes that look beautiful!
Mike's Donuts
View this post on Instagram
6822 5th Ave, Bay Ridge
Another great place to find some of the most loved and best donuts in Brooklyn is Mike's Donuts. This Bay Ridge neighborhood shop has been up and running since 1976 and opens at 5 AM every day!
In fact, the owner Mike and his wife are still on-site here, we love a good mom and pop family business. Recently, they made their son-in-law the new chef!
The Impractical Jokers also filmed a skit inside of this family-owned shop a few years back! These light and soft donuts are made fresh daily in the store. Some of their most popular flavors include the fruit-filled donut and the chocolate-dipped donut with sprinkles!
This laid-back spot opens up to be a lovely, quaint establishment on the inside. Its unique diner vibe makes it a great place to sit down in! You can also find other desserts and bagels being served here as well. However, keep in mind that if you are here for the donuts, their most unique flavors are likely to sell out by noon!
Dun-Well Doughnuts
View this post on Instagram
222 Montrose Ave, Bushwick
One great vegan donut shop in Brooklyn is Dun-Well Doughnuts in Bushwick. This fully vegan donut shop is known for its unique donuts, French-press coffee, and vegan ice cream.
With over 200 flavors to choose from that are constantly changing, this shop will always have what you're craving! Some of the most popular flavors here include the french toast donut and cinnamon roll donut.
The freshly made donuts here are crafted from only organic, vegan ingredients. These dense donuts are packed with flavor. On the inside, you can expect to find the large rotation of various donut flavors and a unique, vintage coffee shop feel on the inside of this hidden gem!
Fat Doughnut
View this post on Instagram
50 Malcolm X Blvd, Bed-Stuy
If you're on the hunt to find the best donuts in the heart of Bed-Stuy, Brooklyn, Fat Doughnut may be the perfect place for you!
This donut shop serves fresh, handmade donuts that are large and fluffy. This shop also serves paninis, omelets, crepes, bagels, coffee, and more for those looking to have a meal beyond donuts.
These very large donuts are under $4 each and have many unique flavors to choose from, including matcha latte and Boston cream, which are just a few of the many long-time customer favorites including the classic glazed donut.
Moe's Doughs
View this post on Instagram
126 Nassau Ave, Greenpoint
One sit-down Brooklyn donut shop worth checking out is Moe's Doughs. This colorful restaurant is known for its donuts but also serves burgers, sandwiches, and other meals! In addition, this shop has many seasonal specials, including pumpkin spice donuts, flavored coffee, and other unique treats.
Think the classic donut but with inventive flavors you won't find at an old-school donut joint.
If you're looking for exotic donut flavors that you won't find anywhere else, look no further than this family-owned hidden gem. These donuts are made fresh in-house daily.
The donuts here are soft, chewy, and easy to pull apart. They also have many other unique dessert options like a dossant: a glazed donut and croissant combined.
Or try their cake donuts, which they have an impressive selection of from red velvet to orange and strawberry cake flavors! They even have rainbow cake donuts. YUM!
7th Avenue Donuts & Diner
View this post on Instagram
324 7th Ave, Park Slope
If you're searching for a 24-hour donut shop in Brooklyn, look no further than 7th Avenue Donuts & Diner in Park Slope! This coffee shop is known for its delicious donuts and classic diner food. This classic, old-school diner is cash only.
These donuts are baked fresh daily and are a great bang for your buck. Grab a bakers dozen and you'll get 13.
They've got classic flavors from glazed to sugar, Boston cream, jelly puffs, and of course, their crullers are a customer favorite.
Brandon's Donuts
View this post on Instagram
451 Court St, Carroll Gardens
Some of the most fun DIY donuts in Brooklyn can be found at Brandon's Donuts. Based in Carroll Gardens, this Brooklyn donut shop offers customizable donuts that are freshly made.
Try one of their specialty donuts like strawberry shortcake, choc banana, birthday cake, or maple bacon to name a few or you can build your own!
Building your own donut is easy and fun for everyone as you can make the donut of your dreams. First pick out your flavor of donut then the creating begins as you get to choose things like your icing flavor and all kinds of candy toppings and flavored drizzles.
So if you're looking for over a dozen donuts or special desserts for a special occasion, this is the place for you. They've also got catering options if you have a special party coming up.
The only catch is, this donut shop in Brooklyn doesn't have your typical morning hours. They open at 11 am and are closed Mondays. So this is a great, laid-back and late morning spot for brunch in Carroll Gardens for those with a sweet tooth!
Nostrand Donut Shop
View this post on Instagram
1449 Nostrand Ave, Flatbush
Another classic old-school donut shop in Brooklyn is Nostrand Donut Shop in Little Caribbean. Nostrand Donut Shop has extensive breakfast and lunch menus but is known for its fresh donuts.
Located in the heart of East Flatbush, this affordable cash-only donut shop offers ten donut holes for $1, a dozen donuts for $8, and coffee & a donut for under $3 total!
People note how nostalgic this spot feels and we get it. Not only does it still have that old-school mom and pop charm to it that it's had for the past 40 years, but the prices also don't feel like they've been a victim of inflation like everywhere else, and they got the classics. The honey-dipped donut is a customer favorite, and we get why!
Cuzin's Duzin
View this post on Instagram
445 Albee Square W, Downtown Brooklyn
You can find some of the best donuts in Brooklyn at Cuzin's Duzin in the food hall at CityPoint in Downtown Brooklyn. This Brooklyn-based donut shop serves tiny donuts with a light, fluffy texture. Each donut here is made to order, and you can see them being made through the window!
This classic donut shop is known for creating the original hot mini donut. Today, they offer a variety of flavored drizzles, powders, and sugars that you can have put on your donuts after they are made. They even have liquor-flavored glazes for adults!
John's Coffee Donut Shop
View this post on Instagram
481 Myrtle Ave, Clinton Hill
John's Coffee Donut Shop is a neighborhood spot and breakfast staple that offers classic diner food and delicious donuts in Clinton Hill.
This casual, affordable diner has an old-school feel and great service. Their large, traditional donuts are extremely popular, which is why you should expect a wait in the morning!
Sunset Park Diner & Donuts
889 5th Ave, Sunset Park
Nestled on a corner between Green-Wood Cemetery and Sunset Park, Sunset Park Diner & Donuts offers an authentic diner vibe in both its ambiance and food, plus they've got some great donuts!
The Baker's Dozen option on their menu includes your choice of 13 donuts, from flavors such as marble twist, french cruller, chocolate glazed, jelly-filled and more.
For an extra special treat, their donut sundae is a can't miss, with a massive heaping of ice cream and whipped cream that's both Instagram-worthy and delicious!
---
Did we miss your favorite Brooklyn donut shop? Or did you have a donut in Brooklyn we have to try? Let us know in the comments below!