Are you looking for the best Park Slope brunch spots? We got you. Between myself and our foodie writer Molly, we have curated our favorite spots for brunch in Park Slope, one of the best neighborhoods to be brunching around on the weekends featuring some of our favorite Park Slope restaurants.
There's plenty to choose from in this famous brownstone neighborhood. With an array of global cuisines to try you'll need to come back weekend after weekend. Also, while you're at it, check out all the best things to do in Park Slope for some post brunch activities or walk it off in Prospect Park.
Best Brunch in Park Slope
Fonda
View this post on Instagram
434 7th Avenue
One of the most popular places for best brunch in Park Slope is Fonda. This popular Mexican restaurant has become so well known that it now has spread to the East Village and Chelsea, but this is the OG location.
Beyond having seriously great food – you need to try the queso fundido while you're here, they have a bottomless brunch option here as well which includes their savory or sweet dishes like Chilaquiles, omelets, burritos, carnitas, and banana custard to name a few.
But the fun doesn't stop with food, you can also get one of their signature drinks including margaritas, frozen hibiscus Rosalita, mimosas, bloody mary cocktails, and beer!
Located just steps away from Prospect Park, this bottomless Park Slope brunch spot is a hit and a great place to indulge then go on a weekend stroll in the park.
Couleur Cafe
View this post on Instagram
435 7th Avenue
A more casual Park Slope brunch spot is the cozy little haunt, Couleur Cafe. Besides being a great place to grab a coffee every day of the week, this is a great option for weekend brunch too!
Couleur Cafe has a romantic feel to it and serves up amazing dishes from its French-inspired menu. The ambiance, presentation, and vibe in here is perfection.
This smaller, low key brunch in Park Slope serves up different breakfast dishes including healthy options paired with fun cocktails like bloody marys and mimosas.
Couleur Cafe's brunch menu offers everything from classics like oatmeal and seasonal fruits to crepes, quiches, salads, and egg dishes along with cocktails, an impressive wine selection, and beer list. I personally recommend going for the crepes, but that's just me!
Read Next: Cozy Cafes in Park Slope
Miriam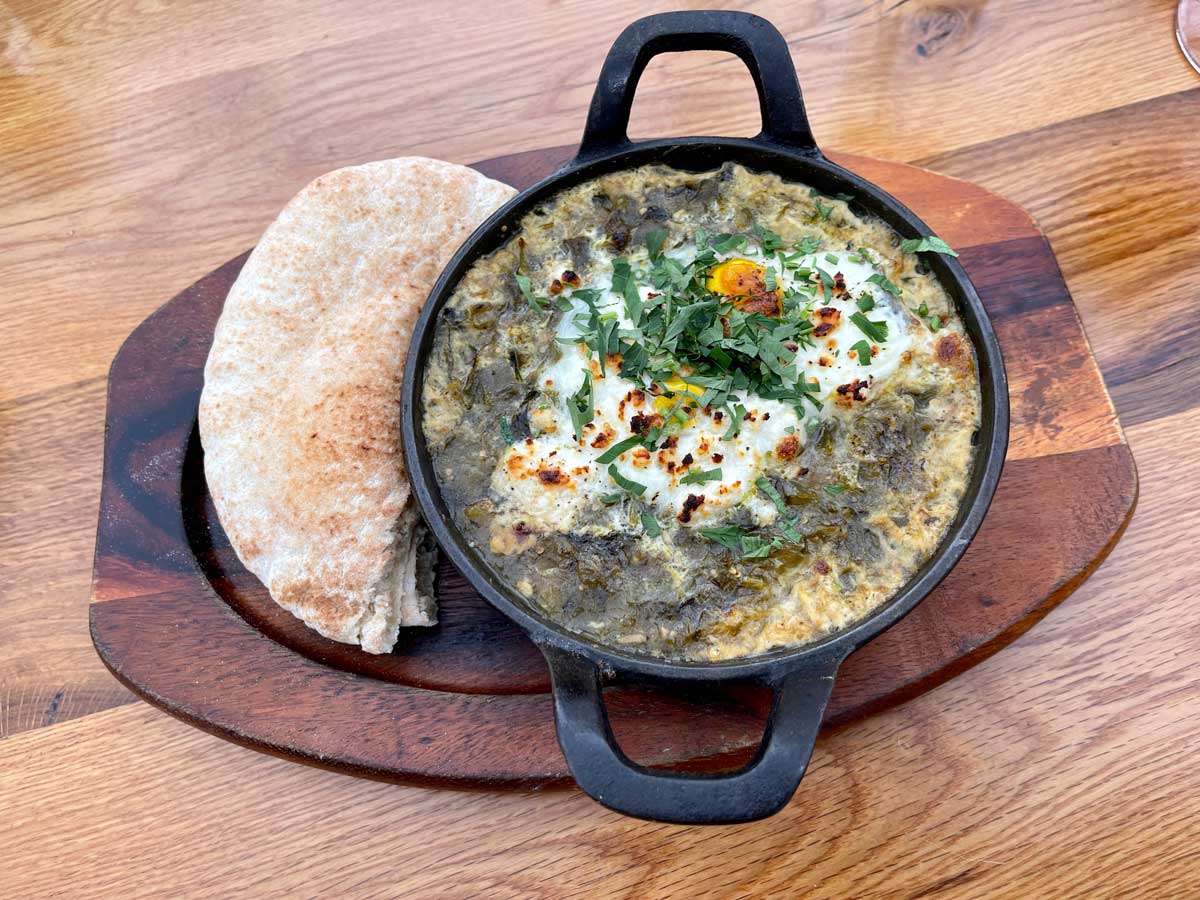 79 5th Avenue
A favorite among just about everyone for brunch in Park Slope is the Mediterranean and Israeli restaurant Miriam. Prep yourself for a weekend line and wait. What's even better, is that they don't offer brunch only on the weekends, they serve brunch daily! So if waiting in lines just isn't for you, try a weekday.
Miriam's brunch menu offers everything from traditional egg dishes to some of our favorite cuisine you can get in Israel like shakshuka. There are also other dishes like salads, sandwiches, and fried halloumi, YUM!
Even some of the ingredients they use are sourced directly from Israel. For those of you unfamiliar with Israeli cuisine, it's a beautiful blend of Mediterranian, Northern Africa, and Middle Eastern cuisine, so many mouthwatering flavors and one of my favorite places in the world to eat.
Except, thanks to Miriam, you don't need to travel far to try these flavors as they are in your friendly neighborhood of Park Slope, Brooklyn!
Read Next: Explore 5th Avenue in Park Slope Guide
Calexico
View this post on Instagram
278 5th Avenue
Another pick for best brunch Park Slope spots is Calexico on a happening section of 5th Avenue. This Cali-Mexi-inspired restaurant serves up brunch every weekend until late afternoon. Calexico serves up incredible savory brunch dishes like huevos rancheros, breakfast burritos, breakfast nachos, tacos, and quesadillas, as well as a selection of coffee drinks.
The fun doesn't stop there at this Park Slope brunch spot! Calexico offers a special two-for-one brunch cocktail menu on Saturdays and Sundays which includes mimosas and bloody marys!
South Slope Eatery
View this post on Instagram
486 5th Avenue
South Slope Eatery is another great option for Park Slope brunch. While there's no specific or set brunch menu, South Slope Eatery offers an all day breakfast menu and a great lunch menu. During their official brunch o'clock you can get mimosas, mango bellinis, and sangrias two for $10! That's dangerous right there.
Their breakfast options include traditional egg dishes with a selection of omelets and specialty breakfast dishes like huevos rancheros, eggs benedict, and avocado toast.
If you're more of a sweet person in the am there's also a selection of pancake dishes, yogurt parfaits, and a smoothie menu.
They also have a variety of wraps, sandwiches, bowls, and even fresh squeezed juices and smoothies to try. You can top off your savory bowls with a fried egg too – so good!
Alchemy Restaurant & Tavern
View this post on Instagram
56 5th Avenue
Another best brunch in Park Slope on the lively 5th Avenue is the friendly neighborhood pub, Alchemy Restaurant & Tavern. Their brunch menu serves up a variety of breakfast dishes and some fun takes on traditional breakfast dishes we all know and love like sweet Guinness pancakes.
There are also egg dishes and burgers along with sides from fried bangers with maple syrup to jalapeno grits! Being a tavern, they also have a full bar with a wine selection, craft beer, and cocktail selection.
Just note that Alchemy Restaurant & Tavern doesn't open until 10 am on the weekends but they do have brunch until 5 PM.
Bagel Pub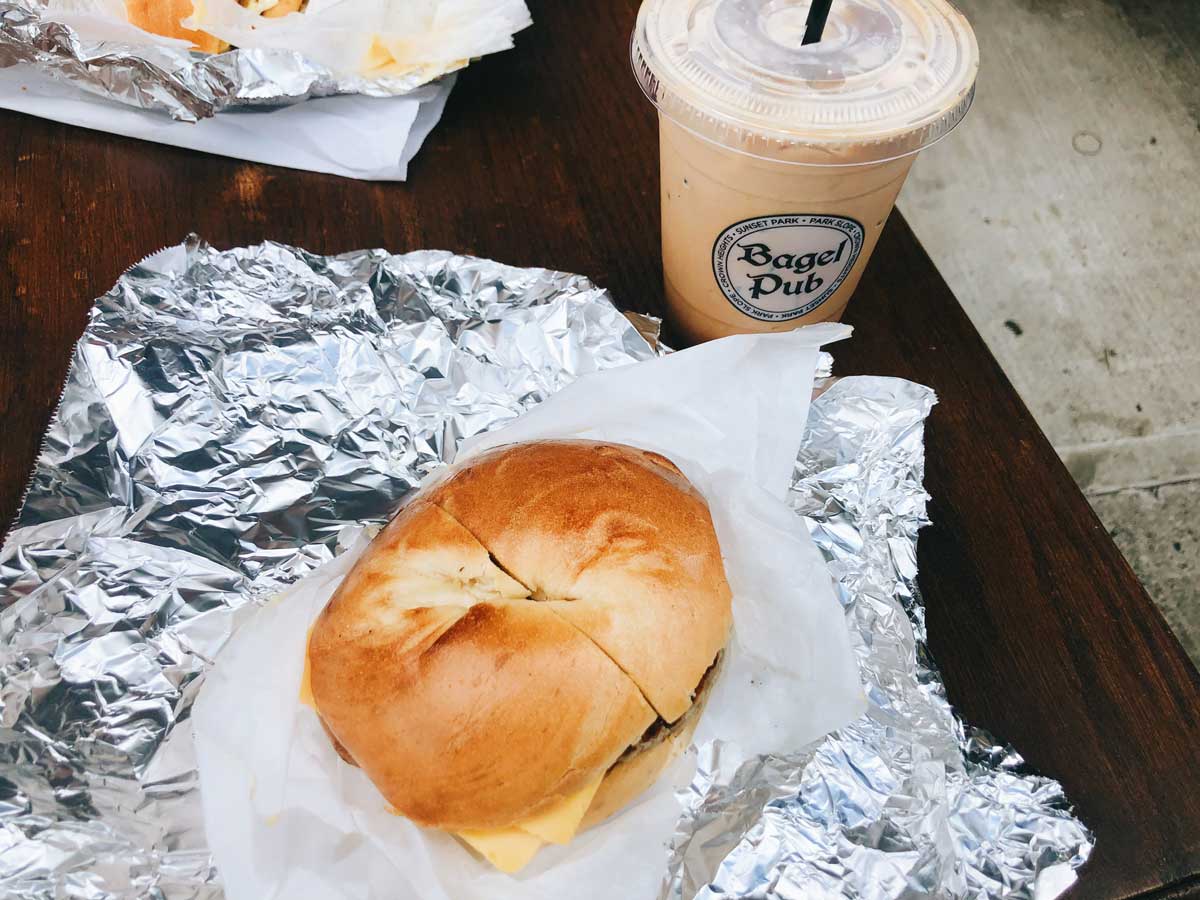 287 9th Stret
Probably my favorite bagel spot in Brooklyn and in the neighborhood and a really awesome low-key brunch in Park Slope option is Bagel Pub. Located on 9th Street you can find some of the best of New York bagels here in a variety of flavors accompanied by their array of cream cheese flavors ranging from sweet to savory and even spicy!
We love their classic bagels with cream cheese combo, but you can also opt for bagel sandwiches, bagels with Nova Scotia lox, salads, french toast, toasts, and more.
Better yet, they have an amazing coffee bar here with ahhhmazing nitro cold brew on draft.
This is not a boozy Park Slope brunch spot, but a great spot for a quick brunch. There's some seating inside and in the warmer months you can take advantage of their outdoor patio. Or take it to go and make your way to the J.J. Byrne Playground next to the Old Stone House, there's a small, quiet (believe it or not with the kids playground right here) garden area that has benches and even a table with chairs.
Chela
View this post on Instagram
408 5th Avenue
Another fun Mexican spot for brunch in Park Slope is Chela on 5th Avenue. With a menu offering a fiesta of flavors with their blend of breakfast egg dishes with Mexican dishes like egg and chorizo enchiladas to egg quesadillas.
There are also other great Mexican dishes on the brunch menu like Torta de Cochinita, amazing slow-cooked pork, and fresh-made guacamole.
Their menu is impressive but what's even more exciting and a steal of a deal are their brunch cocktail specials. You can get unlimited mimosas or Bloody Marias unlimited for 2 hours. There are also some other brunch cocktail and drink specials, like their award-winning Micheladas with Valentina hot sauce.
This is also one of our picks for the best tacos in Brooklyn!
Stone Park Cafe
View this post on Instagram
324 5th Avenue
Another staple and best brunch in Park Slope is Stone Park Cafe on 5th Avenue. Starting at 11:00 am on the weekends you can a selection of brunch dishes ranging from eggs any style, breakfast quesadillas, steak and eggs, omelets, to biscuits and gravy.
They also serve more lunch that makes brunch dishes like BLT's, Po'Boys, to salads. Drinks range from coffees, teas, and juices to boozy drinks from red, white, sparkling, and rose wines. There are also brunch cocktails and beers on draft.
Scottadito Osteria Toscana
View this post on Instagram
788 Union Street
Another incredible Italian restaurant and best brunch in Park Slope is at Scottadito Osteria Toscana. Offering brunch on the weekends with unlimited mimosas or champagne with your entree for 90 minutes!
Try one of their classic egg dishes or Italian inspired egg dishes like uova affagate, a baked egg dish with tomato sauce and focaccia bread. You can also find other brunch dishes like pasta, salad, and sweet dishes like french toast and pancakes!
Want something other than champagne or a mimosa? The brunch cocktails or only $5. If you're looking for a great boozy brunch in Park Slope option with excellent Italian dishes this is a must!
The V Spot
156 5th Avenue
One of our more unique Park Slope brunch spots is The V Spot on 5th Avenue, a Latin vegan and kosher restaurant. Serving brunch on the weekends through the afternoon, you can find flavorful vegan and kosher brunch options!
Their brunch menu includes dishes like tofu breakfast tacos, vegan pancakes, tempeh bacon, chilaquiles and more!
So if you have a friend, family member, or you're vegan or kosher this is the perfect brunch in Park Slope for you! Also, if you're on a plant based diet check out our guide to the best vegan restaurants in Brooklyn and the best vegan bakeries in Brooklyn for more ideas!
Read Next: Best Bars in Park Slope & Best Park Slope Happy Hour
Palo Santo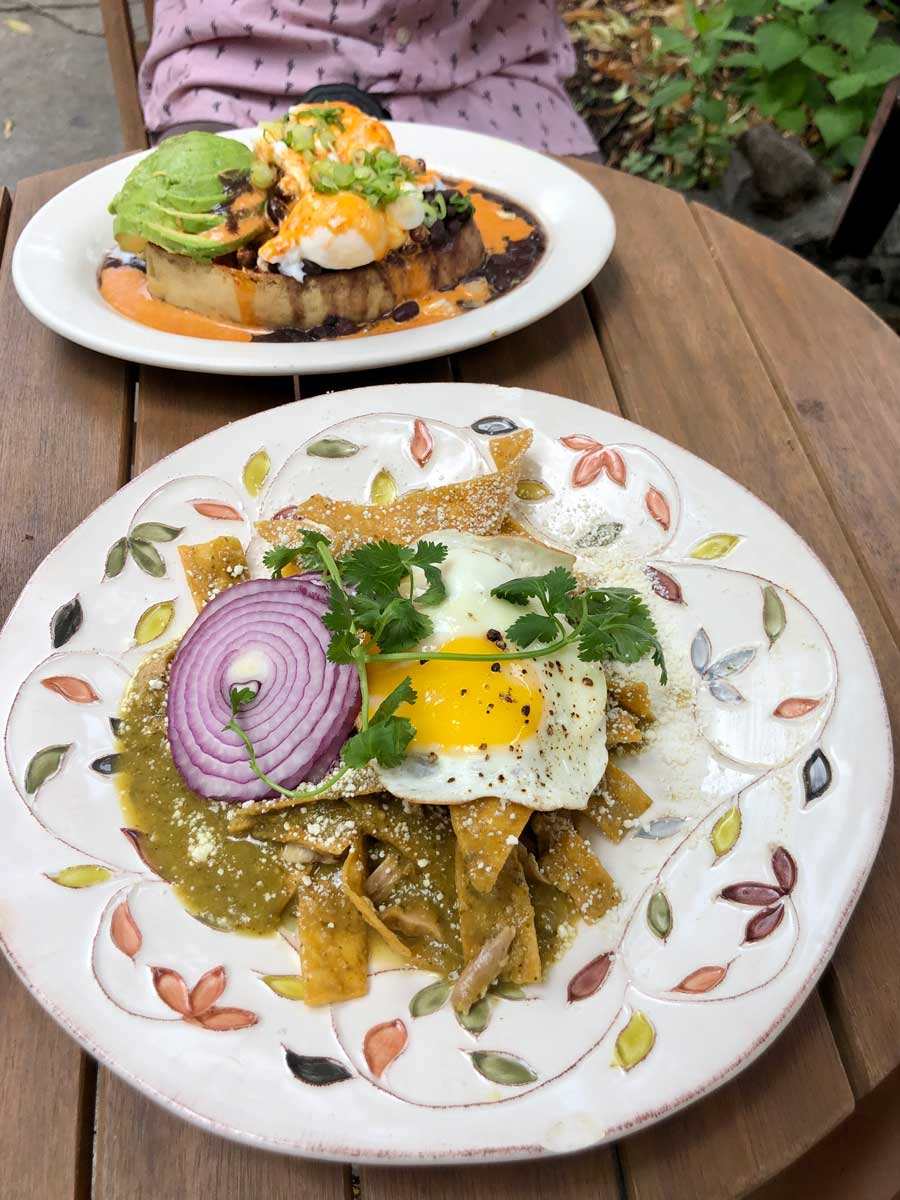 652 Union Street
Another amazing option in Park Slope for brunch is Palo Santo, a Pan-Latin restaurant on Union Street. Their weekend brunch offerings include a prix fixe deal where you get one main dish and one drink with premium boozy add ons for an extra cost.
They offer Pan-Latin flavors to all their dishes like the french toast served with pineapple, coconut, and whipped cream or bean and cheese pupusas with guacamole and hot slaw.
We really love how different the items on their menu are compared to other Park Slope brunch spots like other dishes including platano relleno with braised beef, skirt steak and eggs with chimichurri, huevos bañados which is traditional benedict with Latin flavors, or their squash quesadilla.
Giovanni's Brooklyn Eats
1657 8th Avenue
Another great brunch in Park Slope is at Giovanni's Brooklyn Eats on 8th Avenue. This brunch spot in Park Slope is famous for its bottomless brunch special including two courses with an option to add on unlimited mimosas and bloody marys, yes please!
For the bottomless brunch you get 90 minutes to brunch your heart out. The brunch menu here doesn't disappoint either, the brunch menu includes one anti pasti menu item and one secondi item. Their antipasti selections range from fresh fruit with yogurt to prosciutto and melon, or try the ricotta fritters with apple and carmel. Secondi selections include a great range of egg dishes to pasta dishes, it's honestly a tough call so come with friends who like to split things!
There are also gluten-free options available!
Nitehawk Cinema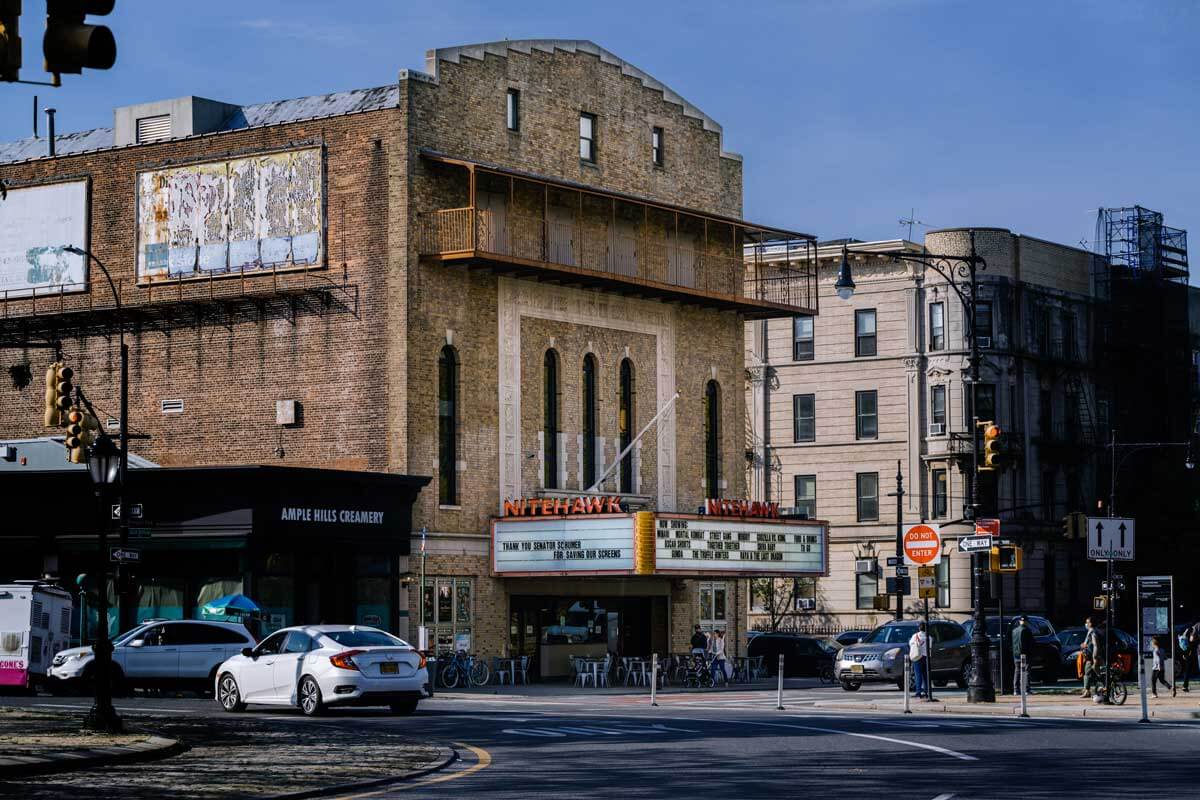 188 Prospect Park West
Surprise! This spot for brunch in Park Slope is not your traditional spot! We love Nitehawk Cinema, a boutique movie theater (one of the best movie theaters in Brooklyn) with a full bar and menu service as you watch your film.
Nitehawk Cinema is located by Prospect Park and always has fun events going on including Sunday brunch! They have a special cocktail list and menu for brunch movie go-ers until 3 PM on the weekends. Items include a Nitehawk B.E.C., breakfast burrito, french toast, and fun drinks like mimosas.
They have a special brunch movie every weekend which is usually a classic film or something nostalgic. Although, you can enjoy the brunch menu at any movie on the weekends before 3 PM.
How awesome is that?!
Provini
View this post on Instagram
1302 8th Avenue
Provini is just one of the several amazing Italian restaurants that line 8th Avenue in Park Slope but it also happens to be one of the best spots for brunch in Park Slope as well.
Provini sits on the corner, and has the perfect outdoor dining set up, with some tables that can be covered and some that are completely in the sun, depending on your preference. In the colder months (or during the dragon's breath summers in Brooklyn), the indoors is flooded with natural light and has a long bar that is great for solo dining.
As far as food goes at Provini, there isn't a bad thing on the menu but my favorite brunch items are the Italian ones. I get that some might say pasta isn't brunch, but I disagree because pasta should be eaten any time of day.
Provini has one of the best carbonaras in the city and all of their other pastas are handmade. If you want traditional brunch, they have amazing pancakes, egg plates, and a baked egg dish (uova al forno), that is one of the best I've ever had. They also have a sake bloody mary that is the perfect accompaniment to your meal!
Provini accepts reservations via phone and is open for brunch on the weekends and is a great place for brunch in Park Slope.
Zatar Cafe & Bistro
View this post on Instagram
1201 8th Avenue
Continuing down 8th Avenue, next up is Zatar Cafe & Bistro, a delicious combo of Mediterranean/Middle-Eastern cuisine and a great place for Park Slope brunch. The best part? They have brunch daily. The even better part? Zatar Cafe & Bistro is BYOB. They also have delicious coffee and other non-alcoholic beverages if you don't want to bring anything to drink!
I was immediately drawn to Zatar because just like most of the restaurants on 8th Avenue, it sits on a corner with brownstones on either side. It feels just like your classic neighborhood establishment and on top of that, it serves really good food.
For something savory, I recommend the shakshuka, egg sandwich (called eggs and cheese on the menu) or croque madame. For sweet, definitely go with the brioche french toast.
Zatar does not take reservations but offers both indoor and outdoor seating and offers one of the best Park Slope brunches!
Ottava
1123 8th Avenue
Located across the street from Zatar is another outstanding place for brunch in Park Slope, Ottava. Another very aesthetically pleasing Park Slope eatery, Ottava has a large wrap-around bar and beautifully tiled floors and some of the best pizza around, making this one of the best places for brunch in Park Slope.
Ottava has all your classic brunch items including delicious pancakes, eggs in purgatory (uova in purgatorio), egg plates and benedicts but my favorite brunch items are the breakfast pizzas.
They have three with eggs and then they also include all of their red and white sauce pizzas for brunch as well. My recommendation is to come with friends and order several to share but if you have to choose just one, my favorite is the buffalo mozzarella.
Ottava accepts indoor reservations for parties of 6 or more via phone. They offer both indoor and outdoor dining and should be high on your list for brunch in Park Slope.
Flora
View this post on Instagram
1021 8th Avenue
The 8th Avenue Italian tour continues with another great place for brunch in Park Slope, Flora. Like Zatar, they are also open for brunch during the week offering brunch Tuesday – Sunday.
Flora offers your traditional egg brunch items but with an Italian spin, which makes them even better than traditional egg dishes in my opinion. They also have pasta on their brunch menu, which is all made in house and is all equally delicious. If paninis are more your thing, they also have incredible panini choices for meat lovers and vegetarians alike. They are also served with a salad.
Flora does not take reservations for brunch and offers both indoor and outdoor dining. Tips are also included in the prices so Flora is a non-tipping establishment.
Blue Sky Bakery
53 5th Avenue
Blue Sky Bakery is more in the north part of Park Slope near Barclays and while it closes early, it has some of the best brunch in Park Slope if you're a huge fan of baked goods.
While all their pastries are good, you come to Blue Sky Bakery for the muffins. I used to take a workout class over here and every day I would stop by Blue Sky for a muffin (I earned it right?) and even at 9 or 10 AM the muffins were still warm, never too sugary or too sweet and stuffed with some of the best combinations of fruit around. They also have great coffee to go with it.
Blue Sky Bakery is open early and closes early (12 PM during the week and 1 PM on the weekends), so make sure you plan accordingly. Google says cash only but when I was in there recently they accepted credit card as well. Reservations are not accepted and they have some indoor seating for Park Slope brunch.
Lore
View this post on Instagram
441 7th Avenue
If you're familiar with Park Slope, you know Lore took over the old Camperdown Elm location ( a former favorite spot for brunch in Park Slope, womp womp) but the good news, Lore has not been a disappointment! They completely redid the space to create a modern vibe and bring on a menu of "uniting cultures" and what they do, works really well. Lore is definitely one of the best spots for brunch in Park Slope.
This Park Slope brunch menu is super unique and while I've only been for brunch once, I very much enjoyed what I ordered and will definitely be going back. I obviously got the pancakes that are an incredible combination of blackstrap rum, banana, maple, pumpkin seed praline, berries. I also obviously had to try the biscuits, which did not disappoint. They had cardamom in them, which I was hesitant about at first because why change a perfectly delicious biscuit recipe but it worked out well! The baked puff pastry samosas and steak and eggs were also worth having on your table.
Lore has both indoor and outdoor dining and accepts reservations. The food is great and very different, which is a welcome change to brunch in Park Slope.
Winner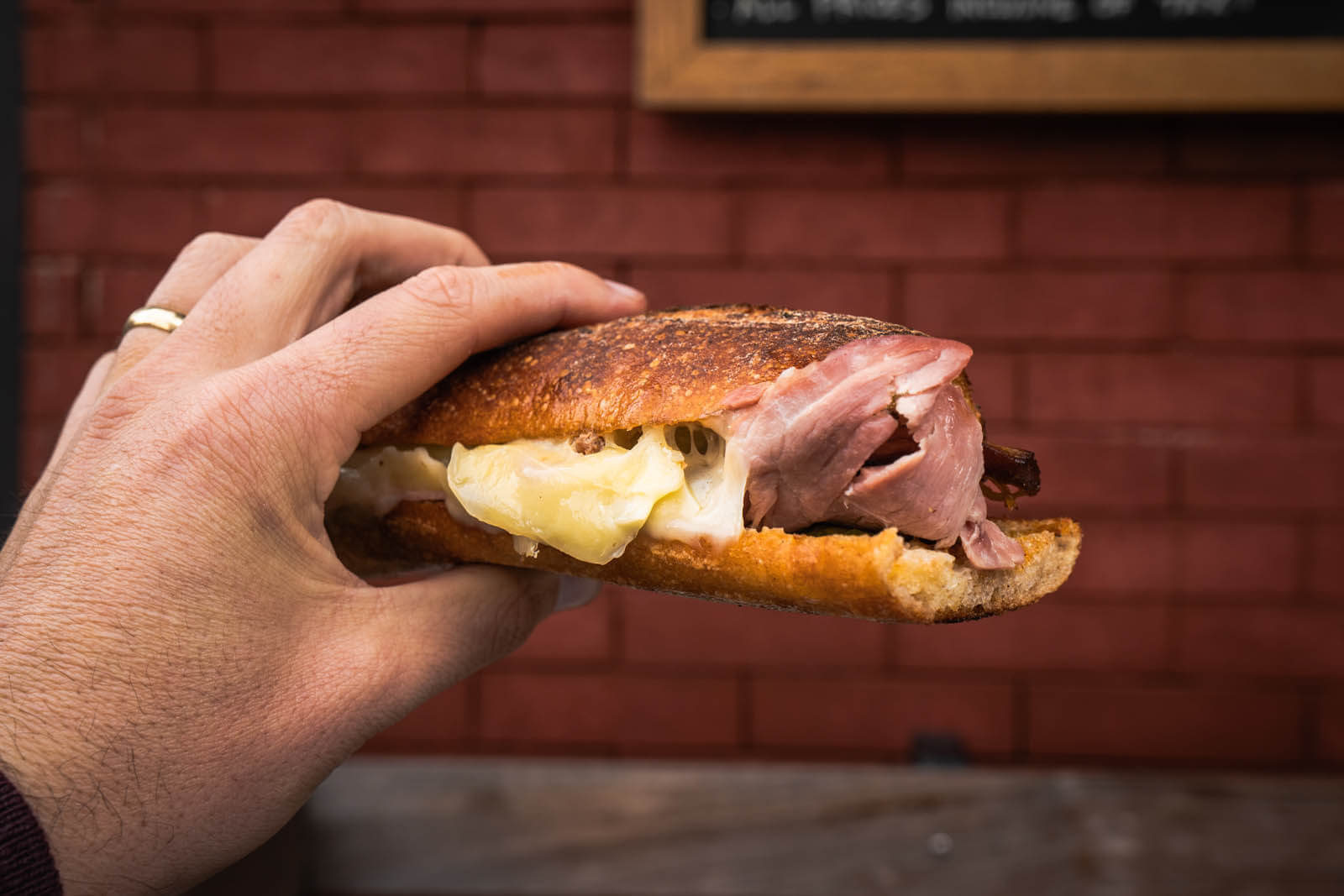 367 7th Avenue
If you haven't been to Winner in Park Slope I really don't know what you're doing with your life. I walk by Winner at least twice a day on the way to the train and it truly takes a lot of willpower to not stop twice a day for their delicious baked goods, sandwiches, or the best dessert ever: malted chocolate chip cookies.
The lines for Winner get very long on the weekends but the best news is they serve brunch daily! They open at 7 AM and most of the good stuff is gone by 10 or 11 AM, so just like the muffins at Blue Sky Bakery, plan accordingly. Try anything, it's all good and if you happen to be closer to lunch try the Cubano – hands down one of the best sandwiches in Brooklyn.
Winner does not take reservations but has outdoor seating. They also still have window ordering if you have your furry friend with you and is truly one of the best places to brunch in Park Slope.
Bricolage
View this post on Instagram
162 5th Avenue
Bricolage is the perfect mix of nice but not too nice, casual but not too casual, great place to go on the weekend or during the week for any kind of event. This just happens to be one of my favorite spots for brunch in Park Slope.
The owners come from the Slanted Door in San Francisco, which if you've been, you already know how great Bricolage will be. Not to mention, Bricolage has one of the best patio/garden/outdoor dining situations in the game.
If you want sweet, go with the coconut milk french toast. It's unique and maybe not the most original because it's french toast, but it's superior french toast nonetheless. If you crave sweet and savory (which, don't we all), go for the Bricolage breakfast that includes said french toast, eggs and meat. The banh mis are some of the best I've had and they also have amazing pho, pork belly buns and spicy garlic noodles if you want more Vietnamese style.
Bricolage accepts reservations through Resy and email. They offer some delicious Park Slope brunch in both an indoor and outdoor setting but please, sit outside.
---
Did we miss your favorite spot for brunch in Park Slope? Let us know in the comments below!