Looking for some of the best places to brunch in Williamsburg? Williamsburg has no shortage of amazing restaurants and honestly has some of the best brunch places in the city. From aesthetically pleasing crowd-pleasers to the newcomers to old classics, Williamsburg brunch has it all.
Whether you are a local or just coming for vacation to explore the best things to do in Williamsburg, this neighborhood is a true foodie destination and this guide will help you narrow down all the best places for everyone's favorite meal.
Best Brunch in Williamsburg
Sunday in Brooklyn 
Address: 348 Wythe Ave
Sunday in Brooklyn offers brunch and dinner but brunch is by far the standout option. Not only do they have a very aesthetically pleasing ambiance, but they also have amazing cocktails, and incredible food, and also I think it's one of the best spots for brunch in all of Brooklyn. The space feels similar to a log cabin, making it the coziest in the winter months with exposed food beams and a long wood bar at the entrance. 
Make sure you make a reservation through Resy for brunch. There are so many good options on the menu but you've probably seen the Sunday pancakes all over Instagram, and for good reason. They are so delicious and need to be on your table. Follow that with the egg & sausage sandwich, a couple of cocktails and you have the perfect meal.
Indoor and outdoor seating is available but I highly recommend the upper balcony if seating is available.
Juliette 
Address: 135 N 5th St
Juliette is probably one of the most beautiful restaurants in Williamsburg. Correction: one of the most beautiful restaurants in New York. Chances are you've been here because of aesthetics alone. It is a French bistro meets a plant shop so the Instagram opportunities alone are worth a venture here. It is also the sister restaurant to Tartine, which is equally delicious in the West Village. 
Like any classic French bistro, you must order the french onion soup. This could be a meal or an appetizer but I always prefer it as an app so I can try other things. Other standout items include the banana stuffed french toast, roasted beet salad, and shakshuka.
Juliette accepts reservations and offers indoor and outdoor sidewalk seating, with the best seating on the outdoor rooftop during the warmer months. They have happy hour every day and, bonus, brunch is offered every day, making this one of the best brunch places in Williamsburg.
Baby Blues Luncheonette 
Address: 97 Montrose Avenue
The list of great brunch spots in Williamsburg is never ending and somehow more and more keep opening. Baby Blues Luncheonette is one of those places. It feels like a diner mixed with a coffee shop and is covered in baby blue booths and old-school photos and memorabilia. 
The food is a mix of American and Greek food with a diner feel. Make sure you order the baklava banana bread. It is incredible. They also offer delicious and classic diner sandwiches and some Greek salads. If you want a traditional breakfast, there are lots of options there as well and sides of just about anything you can think of. 
Baby Blues Luncheonette is open every day for breakfast and lunch except for Tuesday and Wednesday. They have both indoor and outdoor seating but reservations are not available. 
Good Thanks 
Address: 374 Graham Avenue
Good Thanks is an all-day breakfast spot with Australian cafe roots and is a top spot for brunch in Williamsburg. The vibes are minimalistic and have the perfect mix of a restaurant and coffee shop vibe. 
For food, the breakfast is great including the star of the menu, the banana bread served with honey butter. They also have great eggs and labneh, avocado toast, and breakfast sandwiches. If you want more of a brunch vibe, they also have a great burger. 
Good Thanks is open every day for a late breakfast, lunch, and dinner. There is an additional location on the Lower East Side and is definitely one of the best places for brunch in Williamsburg. Breakfast is served all day long and both indoor and outdoor dining are available. Reservations are accepted. 
Diner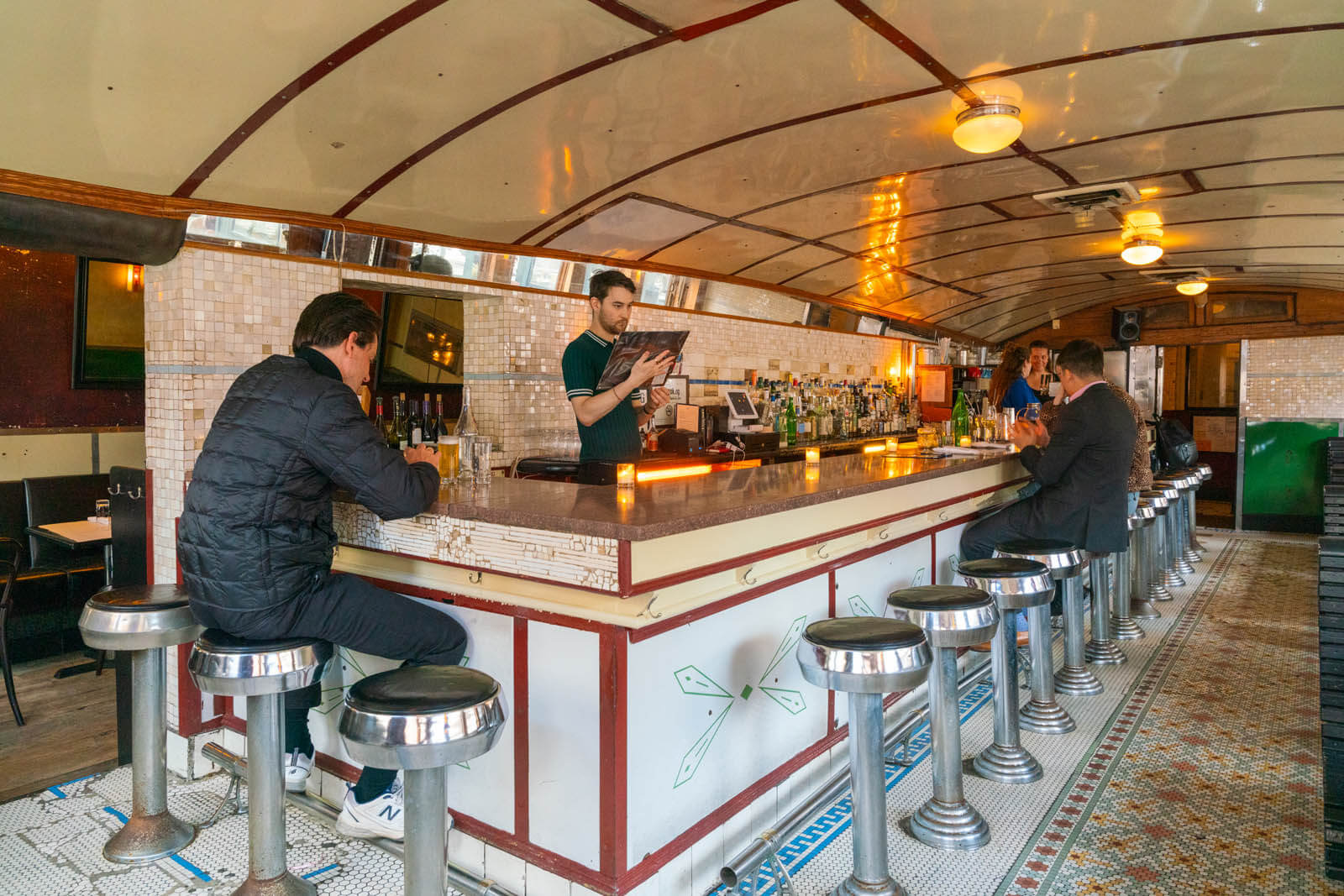 Address: 85 Broadway
Diner is a great choice for weekend brunch in Williamsburg. Not only is it located in a historic Pullman diner car under the bridge, the menu is a mix between elevated diner food and the classics. The burger alone is one of the best in the borough and worth ordering every time. 
Reservations are accepted for indoor dining and brunch is only offered on Saturdays and Sundays. The menu changes daily but several items are always on there, including the burger. All of the egg dishes are amazing as well as the pickle plate. Diner also has great cocktails, which should not be skipped.
Also, if you love old-school spots, check out our guide to the best diners in Brooklyn.
Le Crocodile 
Address: 80 Wythe Ave
Another incredible Williamsburg brunch spot is located within the Wythe Hotel. Le Crocodile oozes with the ambiance you'll find ain a Parisian cafe. The outdoor space gives all of those same vibes, making me want to visit this place over and over again. The best part? The food is also outstanding, making it some of the best brunch places in Williamsburg.
They serve lunch and dinner here also but brunch is by far the best. The chocolate croissant and other daily pastries might be the best on the menu. Other stand-out items include the French toast, croque monsieur, eggs royale, and the quiche.
Their coffee selection is also top-notch but if you're in the mood for a brunch cocktail you really can't go wrong with any of the classics.
Reservations are accepted and recommended.
Cafe Mogador 
Address: 133 Wythe Ave
While this is Cafe Mogador's second location (the original one is located in the East Village), this location is one of my favorites. They offer both indoor and outdoor dining (heated and unheated options), an outdoor oasis in the back, and have a very cozy indoor dining space.
Breakfast is served Monday – Friday and brunch is available Saturday and Sunday. Reservations are not accepted for weekend brunch but lucky for you, Bakeri is across the street to grab a coffee and pastry while you wait.
Cafe Mogador is Moroccan food so mezze is a must. Their Greek salad is also amazing and should not be skipped. As far as standout brunch items go, all of the egg dishes are incredible and the buttermilk pancakes are also delicious. Going for breakfast during the week? The country breakfast and the Middle Eastern breakfast are the best. 
Ainslie
Address: 75 Ainslie Street
Ainslie is a beautiful space and great for many meals, including bottomless brunch. They have a very large indoor space, sidewalk, covered and heated dining and a large open rooftop on the second floor.
For a great price, you get an entree and bottomless cocktails for 1.5 hours. Reservations are also accepted, which is an added bonus!
The pizzas and pastas are the best here but if you're looking for a more brunchy item, the french toast, avocado toast, and eggs in purgatory are delicious. Come hungry and ready to drink for one of the best bottomless brunches in Brooklyn.
Cafe Colette 
Address: 79 Berry Street
As you've probably guessed from reading this article, I'm a sucker for French cafes. Cafe Colette is one of the best in Williamsburg. They are open all day but the brunch is by far the best here. Another thing you've probably figured out from this article? I love a good burger and Cafe Colette's brunch burger is one of the best. 
Cafe Colette has a great space and is a walk-in-only restaurant. They serve breakfast throughout the week and offer a great space to drink coffee and get some work done. The best part is the weekend brunch on Saturdays and Sundays.
As I mentioned above, the burger is my favorite but other standard French items there are also great including the croque monsieur, quiche, and french toast. They also have great pastries if you're still craving something sweet after your meal!
Gertie 
Address: 357 Grand Street
I'm usually one for the minimalist, black, white, and gray color scheme but Gertie is anything but that and I love it. While it is open all day, nothing beats the morning time when the sun is shining on the colored walls and you are seated at the counter for a nice solo brunch. Don't get me wrong, this place is also great with friends, but there are always those restaurants that are best dined at alone on a slow Saturday morning and Gertie is one of those places. 
The food here is outstanding and a place you can keep coming back to over and over for a great brunch. The bacon egg and cheese sandwich is so good you forget it isn't on a bagel.
Served on either an English muffin or bialy but don't skip the hot sauce that comes with. The hash browns are also great, as well as any of their rotating daily pastry items. They have coffee, juices, cocktails, and wine as well.
Reservations are accepted for parties of 4 or more and both indoor and outdoor dining are available. There are no outdoor dining heaters so best to plan for inside dining during the winter months.
Edith's 
Address: 495 Lorimer Street
Edith's might not be your typical sit down, boozy brunch but it doesn't need to be with bagel sandwiches this delicious. Edith's originally started as a pop-up in Greenpoint, with lines around the block. I was one of those people that waited multiple times in said line because these bagel sandwiches are that good. 
Operating as both a deli and counter-service shop, Edith's has a small space for indoor dining so I recommend getting bagels to go. Their best bagel is the classic with a twist, BEC&L, but really you cannot go wrong with anything on the menu. The latkes are also perfect as well as the matzo ball soup.
Like I stated above, there is a reason this place went from a pop-up to a full-blown restaurant, which is why it is one of the best places to brunch in Williamsburg.
Kokomo
Address: 65 Kent Avenue
The best part about brunch at Kokomo? It's bottomless. The second best part? It happens on Friday, Saturday and Sunday. The bottomless brunch includes 90 minutes of bottomless mimosas plus an entree. Reservations are accepted and recommended and both indoor and outdoor dining are available. 
It's a Caribbean restaurant and the menu shines. The best things to order are the sweet plantain pancakes, the fish sandwich, and the egg frittata. The vibes here are great and it is a wonderful place for any occasion.
They even have live DJs on the weekends and the patio is one of the best in the borough, making this one of the best bottomless brunches in Williamsburg.
Strangeways 
Address: 302 Metropolitan Avenue
Best patio in Williamsburg? Hands down, Strangeways. Bonus points? It's not far off the train, making it even better if you're coming from another neighborhood. 
Strangeways is outdoor only so perfect for the warmer months. The cocktails are great and the space is amazing, making it great for any occasion. The patio looks like a plant oasis with large white picnic tables scattered throughout. Reservations are accepted and recommended, especially during weekend brunch, which gets very busy.
This won't be a surprise that their burger is simply amazing, and by simply, I mean simple. Lettuce, onion, tomato, and a secret sauce is all you need and Strangeways does it well.
They have some of the better semolina pancakes in the city and their egg sandwich is also great. I have never had a bad time at Strangeways, making it one of the best places for brunch in Williamsburg.
Sweet Chick 
Address: 164 Bedford Avenue
I generally don't get super excited about chicken and waffles but that is probably because before Sweet Chick, I hadn't had good chicken and waffles. Sweet Chick has multiple locations throughout the city but the Williamsburg location offers breakfast 7 days a week with both indoor and outdoor dining. 
Not only does Sweet Chick do chicken and waffles well, they also have some of the best biscuits in Williamsburg (and that's saying a lot competing with Pies 'N' Thighs and Commodore – which are also amazing).
They also have amazing breakfast sandwiches, which are on biscuits. They even have vegetarian fried chicken, which tastes *almost* as good as the original.
Come hungry and with friends so you can share because you're going to want to order everything on the menu.
Butler 
Address: 95 S 5th Street (South Williamsburg) & 101 N 8th Street (North Williamsburg)
Butler is so good it has two locations in Williamsburg. I prefer the South Williamsburg location because they have indoor dining and a larger menu but the North Williamsburg location is great for takeout and pastry items. 
Butler has some of my favorite coffee in the city, which is essential for brunch in my opinion. They also have a great matcha and a great variety of hot tea options. They also have one of the best breakfast sandwiches, avocado toast and oatmeals, making it one of my favorite places to brunch in Williamsburg.
I know, these are healthy options and might not sound like your typical weekend brunch options but sometimes we all need a break from heavy brunch and boozy cocktails and Butler is one of the best for that. But just in case you want the Saturday morning booze, wine and beer are also available.
Also, if you're exploring the best things to do in DUMBO, there's a Butler location there too!
Egg Shop

Address: 138 N 8th Street
For brunch in Williamsburg, do yourself a favor and check out Egg Shop, specializing in you guessed it – egg dishes! The ultimate brunch and breakfast spot throughout the week.
You can't go wrong trying any of their egg bowls or egg sandwiches. For the egg bowls you won't want to skip on their brisket chilaquiles or Turkish eggs. And for their sandwiches, be sure to try a classic BEC (bacon, egg, cheese) on their savory brioche buns. There are also other great options for sandwiches from fried chicken topped with a sunny side egg and a classic avocado and egg sandwich.
Craving something sweet? They do have breakfast down so you can find a few sweet options like their ricotta pancakes. And back to savory egg items – they got burritos too!
The space is also beautiful, airy, light-filled. Perfect for catching up with a friend or a brunch date. Open daily 8:30 AM – 3 PM.
---
Best Brunch Spots in Williamsburg (Post Summary):
Sunday in Brooklyn
Juliette
Baby Blues Luncheonette
Good Thanks
Diner
Le Crocodile
Cafe Mogador
Ainslie
Cafe Colette
Gertie
Edith's
Kokomo
Strangeways
Sweet Chick
Egg Shop
---
About Our Guest Author
Molly Royce – Originally from Oklahoma, I moved to NYC for grad school and have had a hard time wanting to leave ever since. There really is no better borough than Brooklyn where I live with my boyfriend and our black lab, Frankie. There's no greater city in the world and I can't wait to share my love of the city, eating, and drinking with all of you.
---
Did we miss your favorite Williamsburg brunch spot? Let us know in the comments below and we will be sure to check out your picks for best brunch in Williamsburg!