Looking for the best things to do in DUMBO, Brooklyn? You've come to the right place. This is one of the most desirable neighborhoods in the city to not only visit but to live in. And there's a reason why it's one of the most sought-after locations in NYC, the views from here are stunning!
Beyond the skyline views across the East River this neighborhood offers, it's also chocked full of cool things with a really cool setting. Not only does it offer one of the best waterfront parks in the city with views of iconic landmarks like the Brooklyn Bridge and Manhattan Bridge, but the architecture and history of DUMBO is also what people find alluring.
DUMBO is characterized by its old industrial architecture from the 19th century. Think old brick Federal-style warehouses that have been transformed to cool lofty spaces, stores, galleries, and shops.
Then you have remnants of the old Belgian block streets (not to be confused with cobblestones).
From the views, historic characteristics, and a plethora of insanely cool things to do in DUMBO, it's worth spending at least a full day here if not basing your NYC trip here.
This DUMBO travel guide will cover all the top things to do, curated by locals who understand what travelers are looking for when they visit plus some cool 'local spots' that you might not find on your own.
From iconic NYC pizza wars, historic landmarks, the trendiest spots, and the best views. We got your back when planning a visit to DUMBO, Brooklyn.
---
But first, where is DUMBO exactly? For the purpose of this guide and post on what to do in DUMBO, it would be helpful if you as the reader and traveler understood where DUMBO is exactly.
The DUMBO neighborhood has Brooklyn Bridge Park and the East River as a boundary to its north, while Brooklyn Heights acts as its southern border. Vinegar Hill borders DUMBO to the east, while the Brooklyn Bridge is its border to the west.
But wait, you might have some questions. Wondering what DUMBO stands for in Brooklyn? Check out our guide behind the name and how they got it!
Oh, and a common misconception are the names of the iconic bridges here. The Brooklyn Bridge is the pretty one that looks like it's made of stone and everyone walks over.
The Manhattan Bridge is the pretty blue bridge that people often take an iconic photo of from the streets of DUMBO. People mistake the Manhattan Bridge for the Brooklyn Bridge all the time. So hopefully this clears that up!
Getting Around DUMBO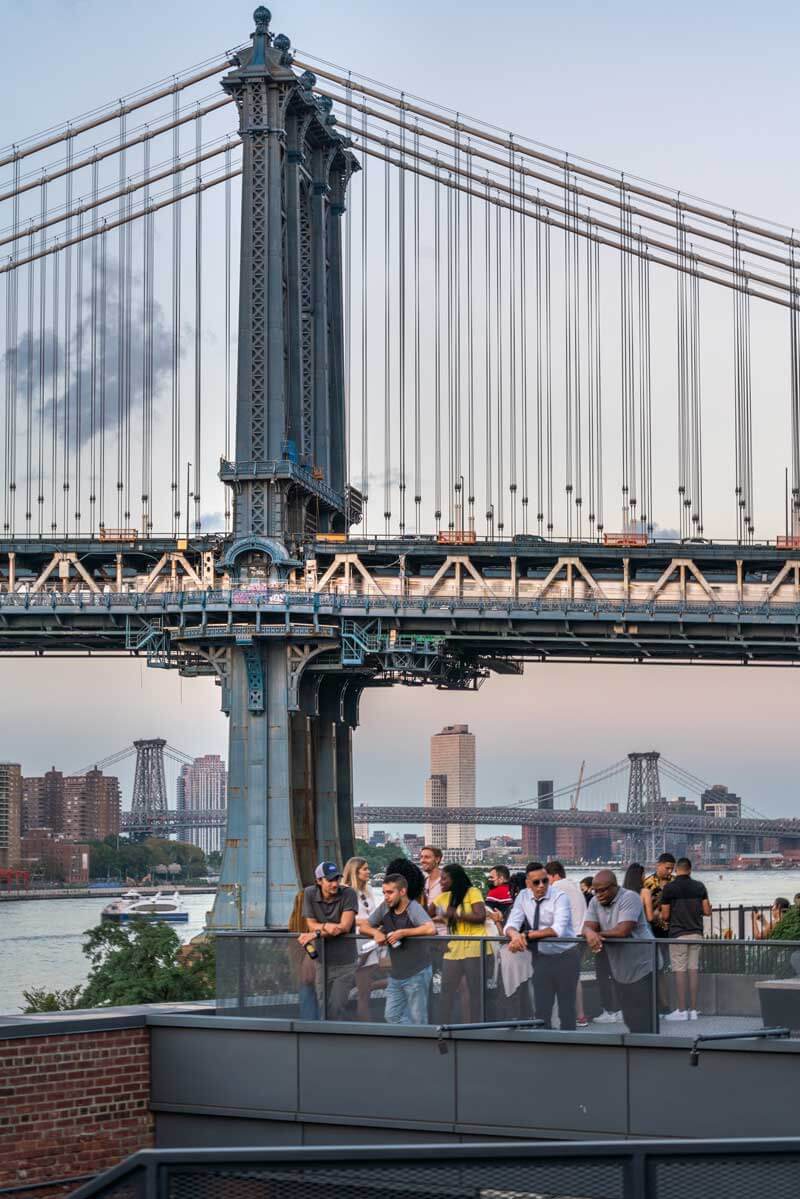 Getting around DUMBO is as easy as can be. Everything you'll want to see is within walking distance of each other. But if you find yourself wanting to bike ride through Brooklyn Bridge Park, there are plenty of Citibike stations around DUMBO. You just need to download the app.
A popular way to get to DUMBO is by crossing the Brooklyn Bridge (by bike on the lower level, or by foot on the upper level) which we cover more later in this guide from Manhattan. If you do this, you may need a break from being on your feet which is where alot of these suggestions will come in handy!
To get to DUMBO by subway you have two options. York Street Station (F train) or High Street Station (A or C trains) are the most common, both around an 8-10 minute walk from the waterfront and most DUMBO attractions featured on this guide. Not to mention this is the most affordable way at $2.90 a ride paying using tap payment with your credit card or a preloaded MetroCard.
Another option is to take the NYC ferry, which is actually featured on this guide as it's a cool way to see the city! The DUMBO ferry stop is at Fulton Ferry, which is along Brooklyn Bridge Park under the Brooklyn Bridge and just steps away from most of the things to do in DUMBO featured on this guide. There are two routes, the South Brooklyn Ferry route and the East River Ferry route which connect you to multiple stops in Brooklyn and Manhattan along with attractions like Governors Island.
To ride the ferry, you will need to download the NY Ferry App or buy a ticket at the kiosk in person. It's $4 for a one-way trip.
What to do in DUMBO, Brooklyn
Walk the Brooklyn Bridge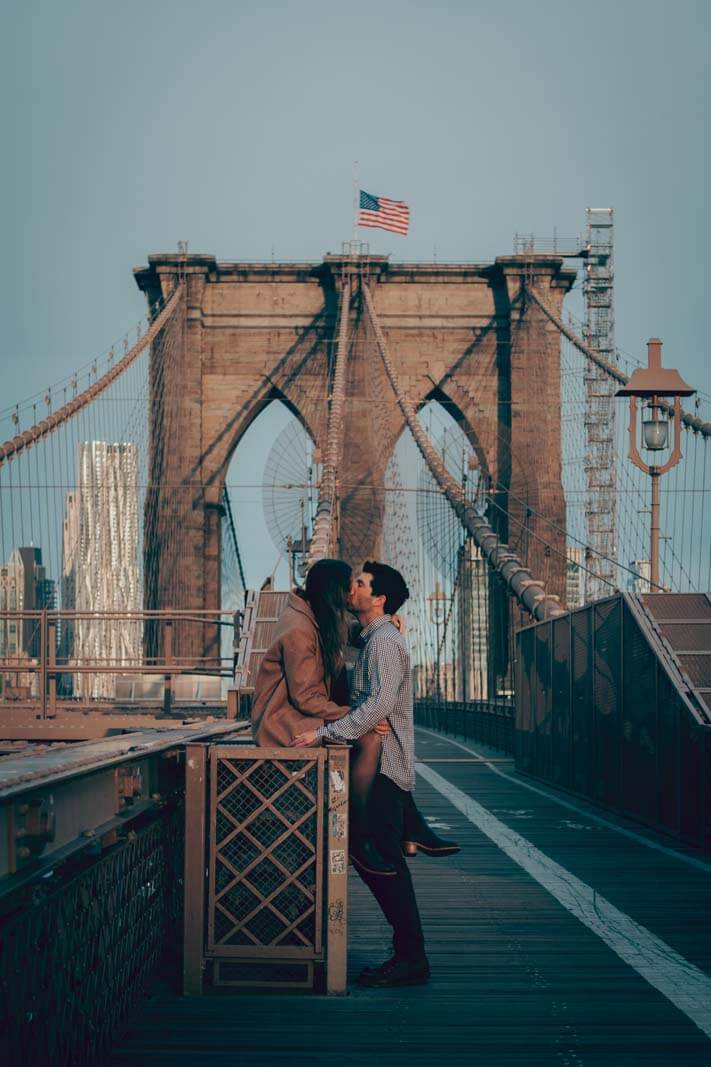 Address: enter the Brooklyn Bridge in DUMBO at Washington Street and Prospect Street Underpass Entrance
One of the most famous things to do in DUMBO and all of NYC is walking across the Brooklyn Bridge! You can easily access the Brooklyn Bridge pedestrian walkway from DUMBO for one of the most scenic walks and views in the city.
The best part about doing the walk starting in DUMBO is that you get the view of the famous NYC city skyline as you walk toward Manhattan.
This walk takes anywhere from 30 minutes with absolutely no stops, but plan on taking at least an hour for scenic stops and photo breaks as well as patiently weaving your way around the crowds.
Be sure to read our full guide for all the best tricks and tips for walking the Brooklyn Bridge to help you plan your experience, which is one of the most scenic walks in Brooklyn!
Also, check out the Manhattan Bridge walk for another scenic view and walk that's much less crowded than this one!
Brooklyn Bridge Park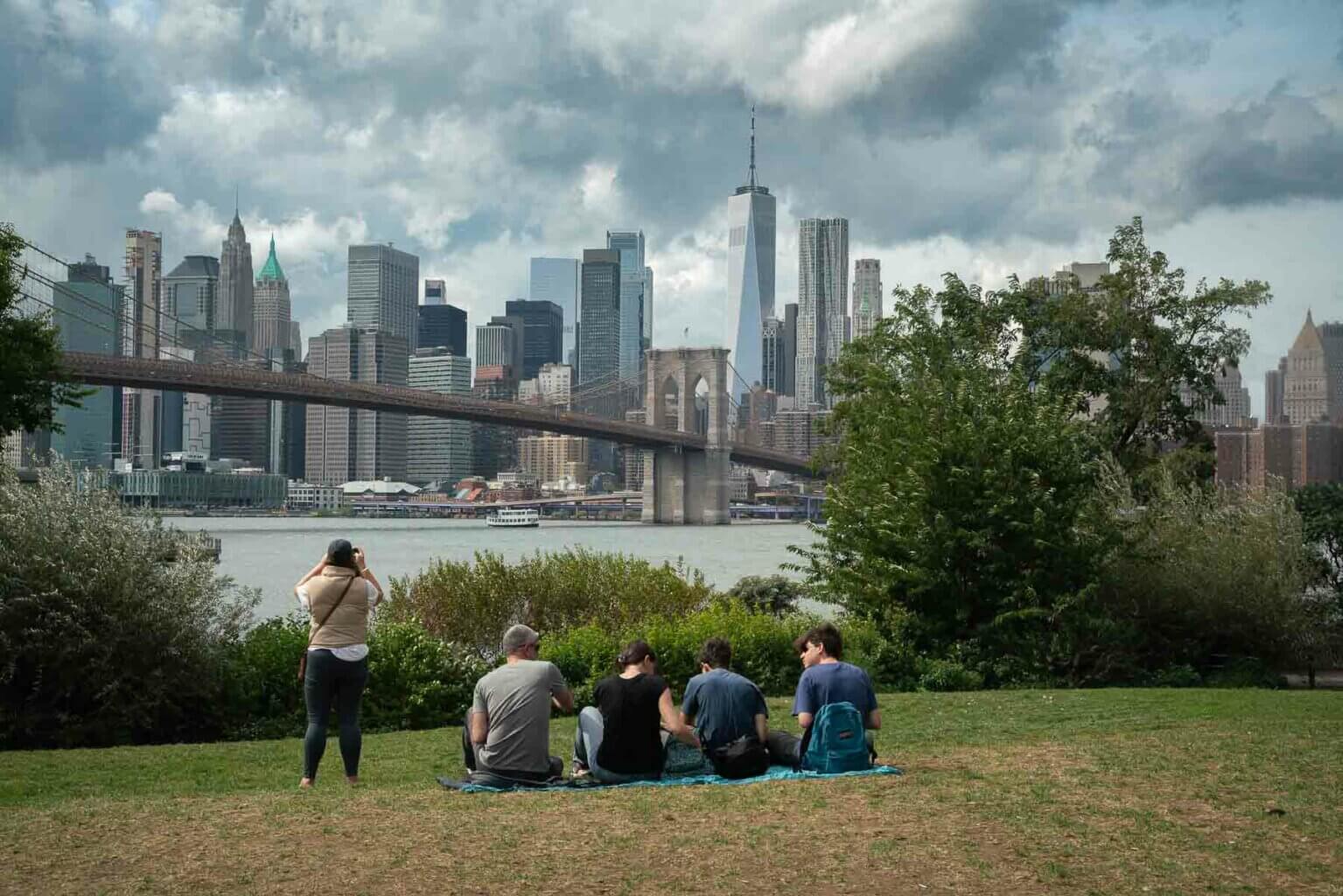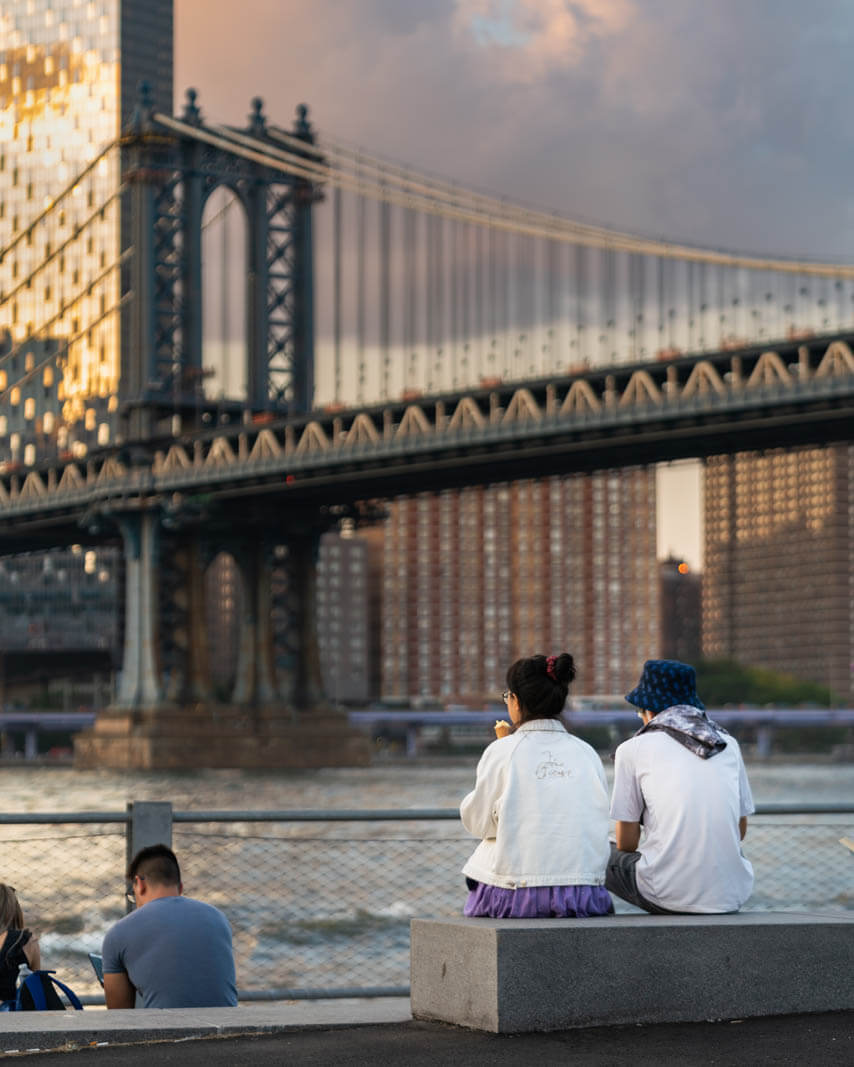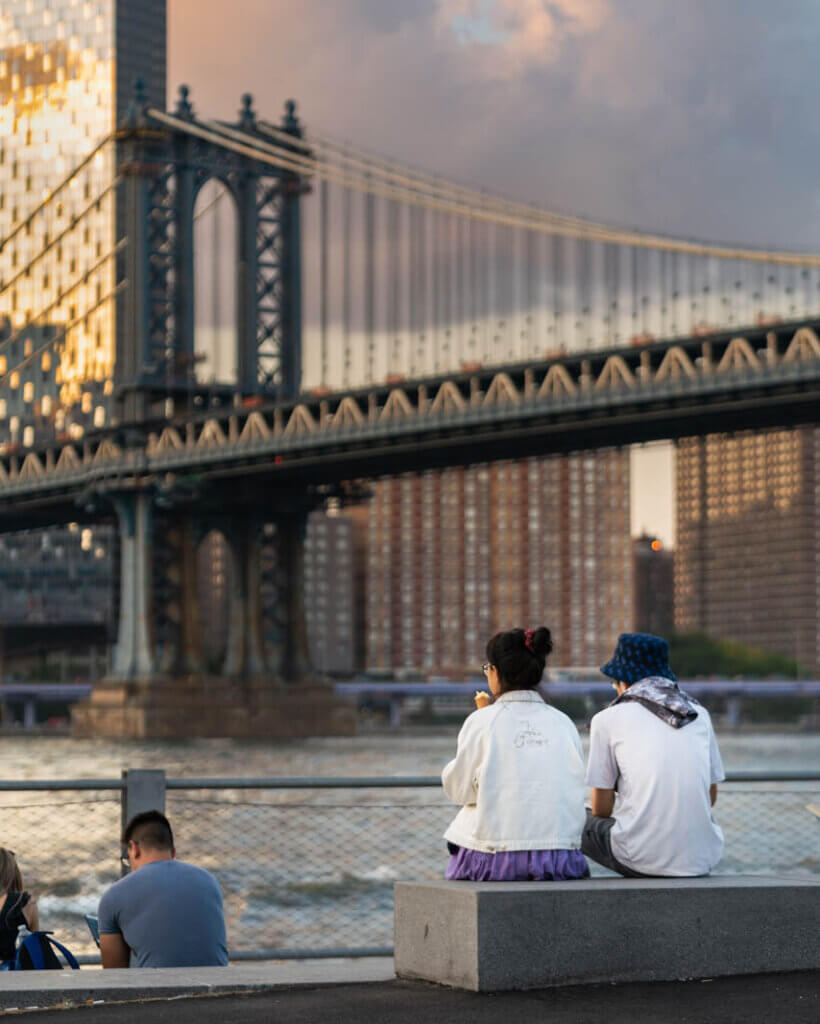 The list of things to do in DUMBO is endless when it comes to Brooklyn Bridge Park. The park actually includes many of the other things to do in DUMBO featured in this DUMBO Brooklyn guide.
You can easily grab a coffee or some food to go and find plenty of places to stop and take a walking break in the park while you're rewarded with some of the best skyline views the city has to offer.
It's broken down by Empire Fulton Ferry, Fulton Ferry Landing, Greenway, John Street, Main Street, many gardens, and six action-packed NYC piers and is easily one of the best parks in Brooklyn.
First, the Empire Fulton Ferry rests perfectly between the Brooklyn and Manhattan bridges. It's made up of a spacious lawn, Jane's Carousel and St. Ann's Warehouse to name a few notable landmarks.
Fulton Ferry Landing also has some attractions to be mentioned later, but this spot is one of the most historic and beautiful parts of DUMBO. This area is famous for being the first ferry service between Brooklyn and Manhattan, which dates all the way back to 1642.
Greenway and John Street are both for scenic strolls or bike rides along through the park.
Main Street consists of 3.5 acres that include the Main Street Playground and Dog Run, the Environmental Education Center, Pebble Beach, and the DUMBO boulders.
Lastly, Brooklyn Bridge Park has 6 piers over towards the Brooklyn Heights area of the park which is easy to visit from DUMBO, each serving a different purpose.
Pier 1 is best for the skyline panoramic view of Manhattan.
Pier 2 is best for pick up games and all kinds of physical activity. This pier has handball courts, basketball courts, a roller rink, fitness equipment, and more.
Pier 3 is full of beautiful greenery, which makes for a relaxing stroll or one of the best picnic spots in Brooklyn.
Pier 4 is the beach, which allows non-motorized boats and fun for all ages.
Pier 5 includes three soccer fields, a picnic area, a fishing station, and even an Ample Hills Creamery.
Pier 6 has beach volleyball courts, a dog run, playgrounds, and it also has Governors Island Ferry.
If you're not sure where to go, a walk along the waterfront is always a great way to see the park. Our favorite spot is sitting at the steps at Pebble Beach, which offers great views and a nice spot to take a walking break.
Read Next: Best Instagram Spots in DUMBO
DUMBO Archway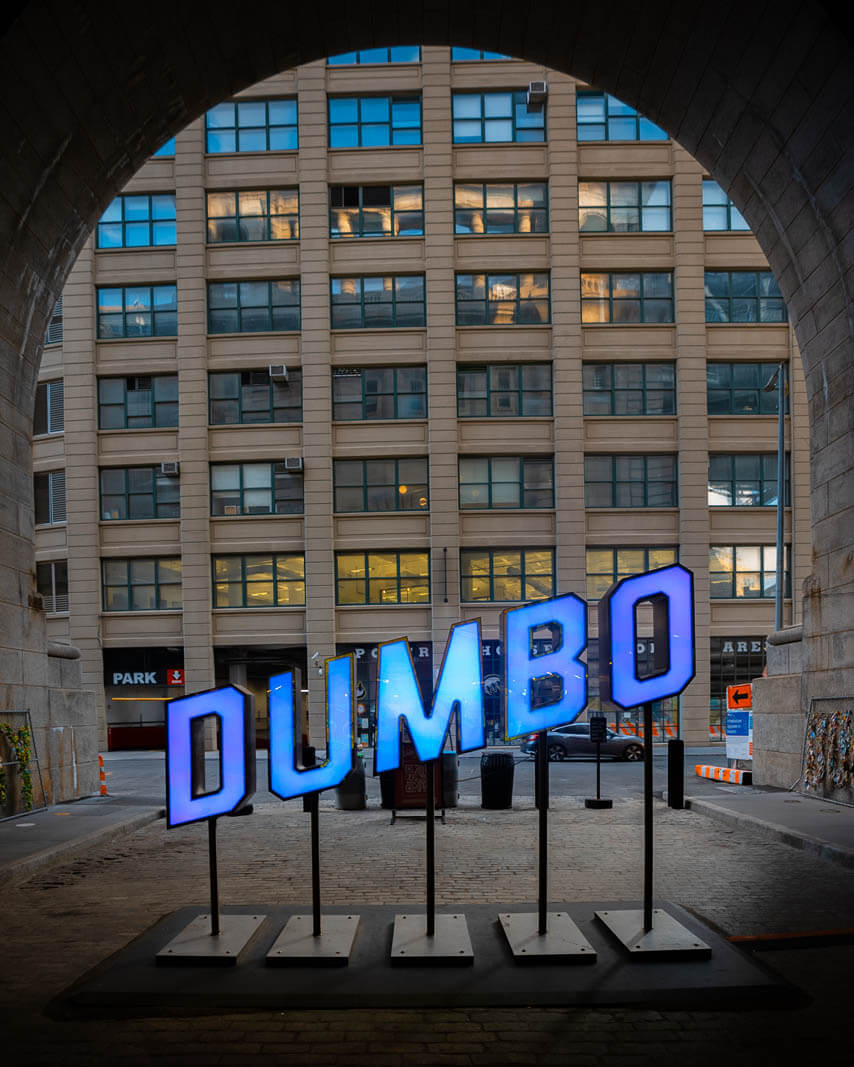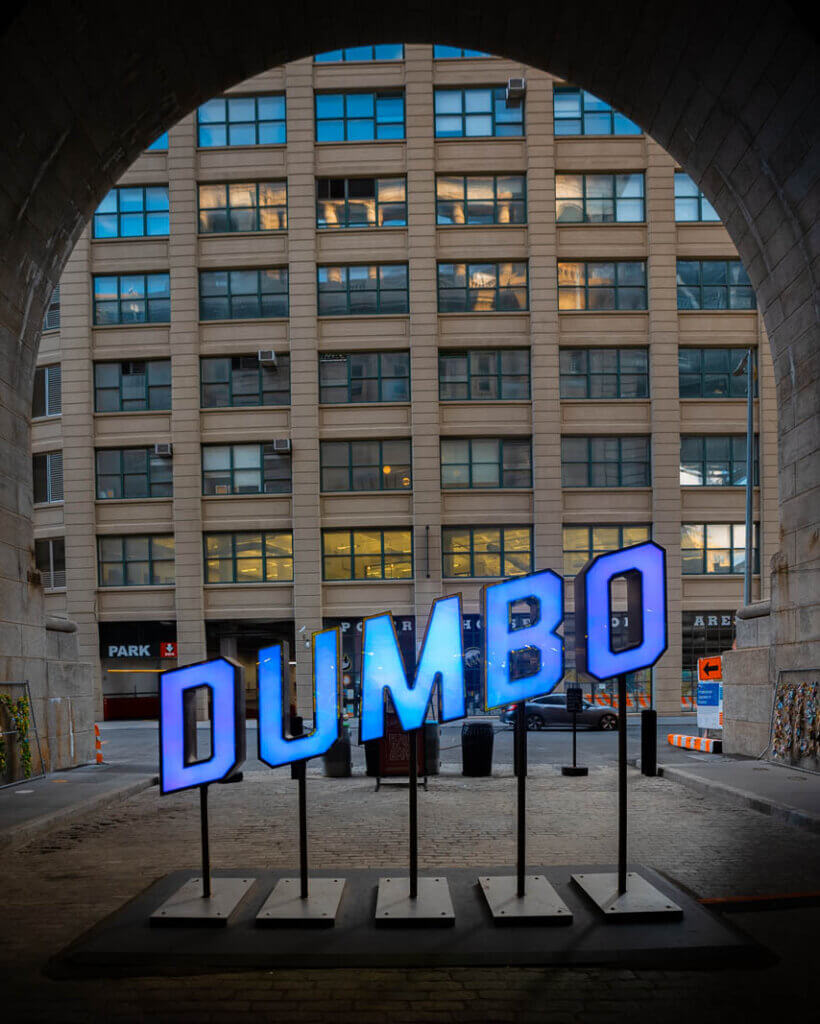 Address: 155 Water Street
One of the most fun things to do in DUMBO is head underneath the archway of the Manhattan Bridge (the blue bridge not to be confused with the Brooklyn Bridge. This fun spot is happening in the warmer months when Dumbo Station is open (April – October), a tiny seasonal wine and beer bar that often has live music sets for dancing and drinking with the occasional noisy train passing overhead.
This is also where you can find the fun light-up DUMBO sign that's a photo spot throughout the year. And the weekend location to Brooklyn Flea, mentioned later in this guide!
Jane's Carousel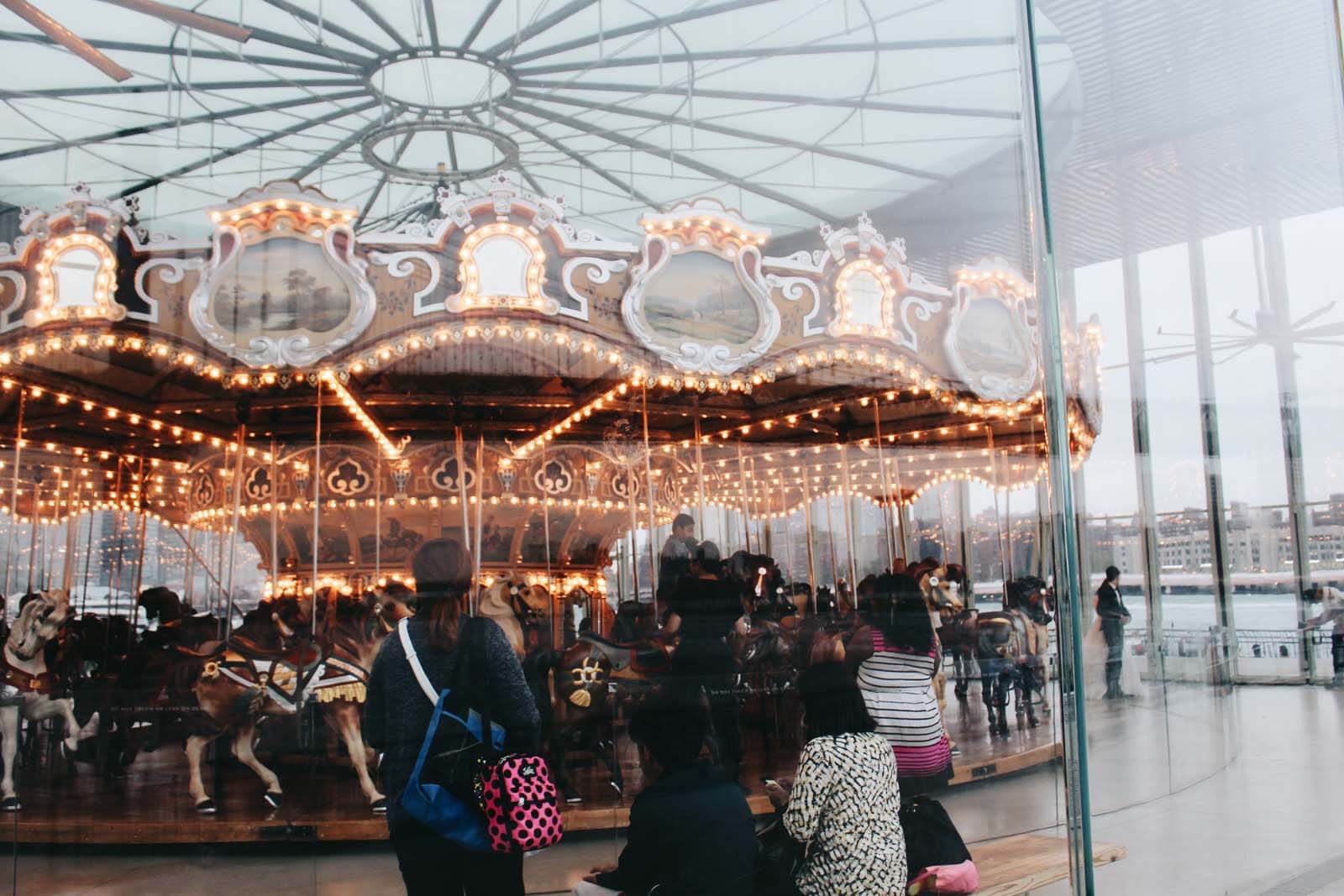 Address: 1 Old Dock Street
Jane's Carousel, located right along the river in Brooklyn Bridge Park, was built in 1922 by the Philadelphia Toboggan Company.
The carousel was originally placed in Youngstown, Ohio believe it or not. The carousel was later purchased by Jane and David Walentas at an auction in 1984.
Jane began to restore the beat-up carousel at her studio located in DUMBO. The beautiful renovation of the carousel prevented it from becoming piecemeal. It became open to the public on September 16, 2011.
Janes Carousel is one of the best things to do in DUMBO for kids, tickets to ride one of Jane's trusty steads is $2 per ride. The non-profit organization also offers 12 tickets for $20 and special group rates with prior reservations.
Their winter hours change seasonally and are always closed on Mondays. It's best to check before your visit!
That Famous DUMBO Photo Spot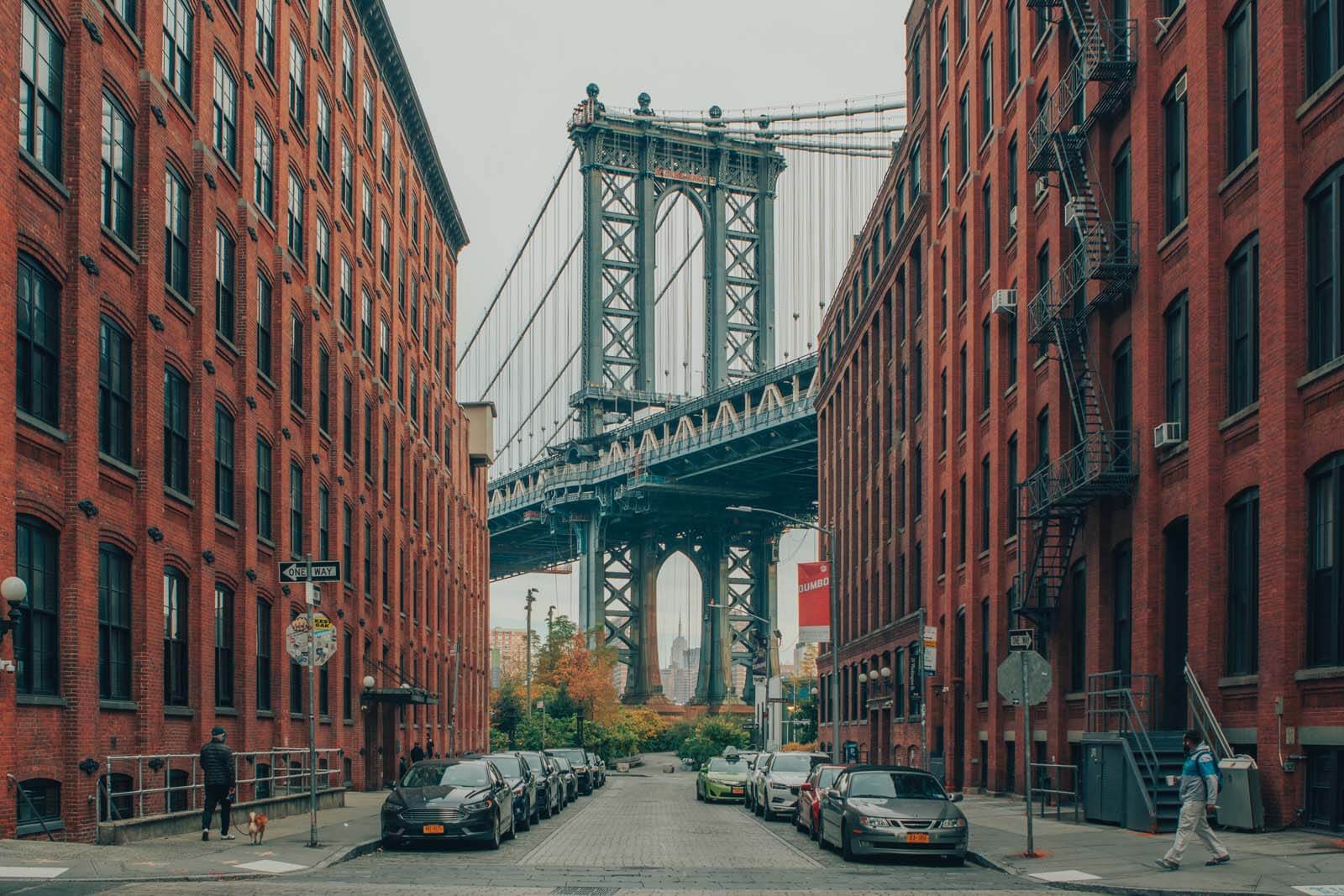 Address: Intersection of Washington and Front Street
Looking for the perfect Instagram picture to show off your vacation in NYC? One of the most iconic photos can be taken at the intersection of Washington Street and Front Street.
At all hours of the day, the street is flooded with Instagram hopefuls snapping pictures from all angles.
Make sure to plan this photo shoot accordingly. DUMBO is already a popular tourist attraction, and this spot is known to be full of people striving to be picture perfect.
You may spend 20 minutes trying to capture your vision because there will be other tourists in the background and you'll be dodging vehicles. The block between Front and Water Streets has been blocked off to traffic since this spot is so popular.
One thing is for sure, make sure you get in the center so you can see the Empire State Building perfectly lined and framed up in the lower section of the Manhattan Bridge!
TimeOut Market New York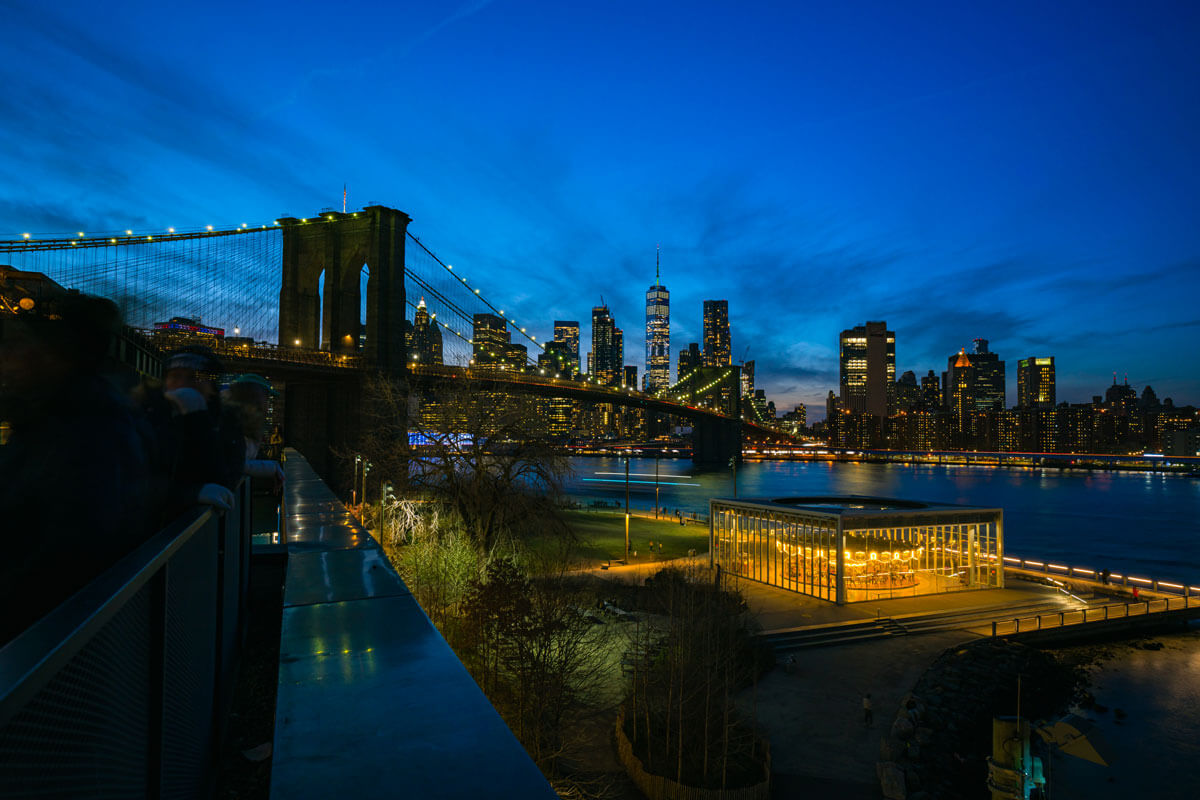 Address: 55 Water Street
Throughout your adventure one thing not to be missed on this DUMBO Brooklyn guide is this, add TimeOut Market to your list of things to do in DUMBO.
The market opened in late May 2019 and consists of 21 eateries and three bars that are considered to be some of the best bars in DUMBO and the best in New York, why? That's because from the upper level you get insanely gorgeous views of the Brooklyn Bridge, Manhattan Bridge, and NYC skyline!
TimeOut also has a food court on the lower level (with some options on the upper level where the larger bar and views are). The restaurants you can find here are secondary outposts of popular eateries in the city. This is a great stop for groups because everyone can order from a different place and eat at the same spot.
On a beautiful day, enjoy your meal on their outdoor terrace. As if the views aren't enough, TimeOut offers various events and entertainment in the upstairs space.
Be sure to see our entire guide to the best Time Out Market New York restaurants to check out!
Brooklyn Flea
Address: 80 Pearl Street
Calling all shoppers, this is one of the coolest things to do in DUMBO! Available seasonally (from April through December) at the DUMBO Archway (the archway under the Manhattan Bridge, that's the blue-colored bridge for those unfamiliar) on Saturdays and Sundays. 
The Flea includes around 80 vendors. The Brooklyn Flea website describes the DUMBO location as "part vintage bazaar, part old-fashioned town square, and part food bonanza."
Market-goers can find vintage furniture, clothing, and jewelry pieces all while enjoying delicious food the Flea has to offer. Most New Yorkers would say this is a must on the list of things to do in DUMBO and we couldn't agree more!
If you plan your trip accordingly, you will be able to visit the famous outdoor market during the most beautiful months of the year. If you happen to visit during any of the other months, there's an indoor Brooklyn Flea + Smorgasburg at 25 Kent Ave.
Try Two Iconic DUMBO Pizza Spots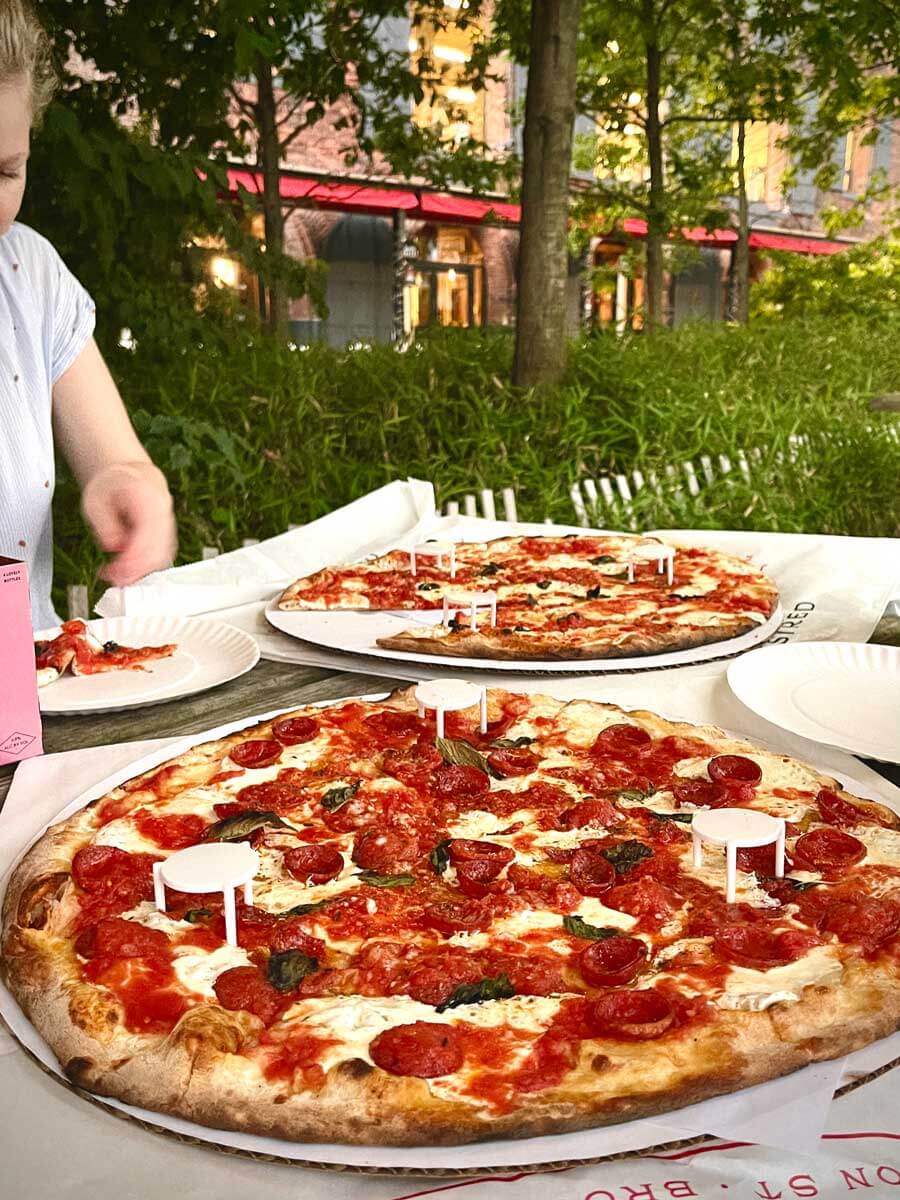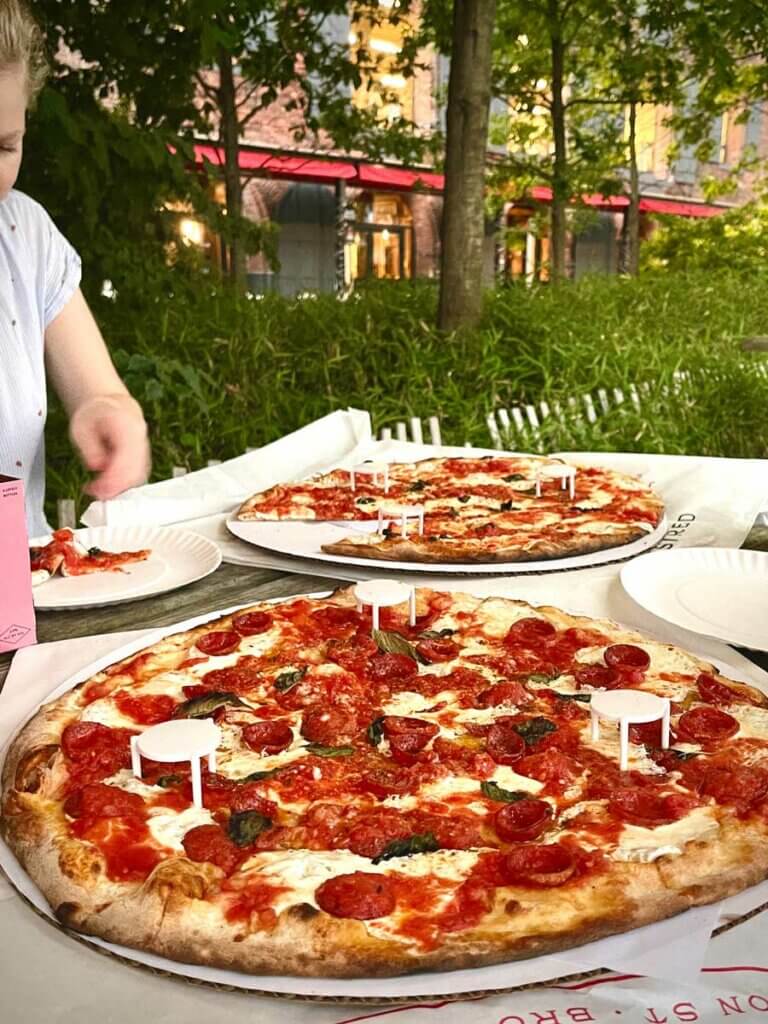 Address: Grimaldi's 1 Front Street & Juliana's 19 Old Fulton Street
This is one of the musts on the list of things to do in DUMBO. Not only because you can't miss having pizza while in New York, but there is a very storied past between these two popular eateries. Believe it or not, the pizza in DUMBO are two of the best places to eat in Brooklyn, but also the entire city!
So first let's start with Grimaldi's. Patsy Grimaldi started his coal-fired brick dreams in Brooklyn in 1990 since coal ovens were illegal in Manhattan. He comes from a pizza dynasty as he learned in 1941 how to make some of the best pizza at his uncle's restaurant in Harlem, Patsy's. (IYKYK, this is also one of the most highly coveted and historic places to have pizza in the city!).
After a few years in the pizza biz on his own, Patsy Grimaldi put DUMBO on the map as a famous pizza eatery under the Brooklyn Bridge. People came to Brooklyn for this pizza. After a few years of success, he decided to retire (prematurely) and sell his business to another pizza enthusiast, Frank Ciolli.
Ciolli successfully ran the business for a while (and there are even Grimaldi's locations all over the country). But in 2011 his lease was up on the historic Grimaldi's location and his lease renewal was declined.
Now here's where the juicy drama begins.
Patsy Grimaldi decided he wasn't ready to throw in the towel on the pizza biz quite yet. But he sold his name to Ciolli. So he decided to create Juliana's. And guess where his new pizza restaurant location was going to be? If you guessed his original location (and the same location Ciolli just had a lease renewal denied) you'd be correct.
As you may assume, Ciolli wasn't exactly thrilled about this, but got a location next door. And this pizza feud is well known in the food scene here.
The best part for us though? Both pizzerias make incredibly good pizza, in fact they make two of the best pizzas in Brooklyn. Don't be surprised if there are lines for both establishments.
So who has the better pizza? You'll have to decide. Since neither restaurant takes reservations and you can only buy a whole pizza (no slices here). You and a friend should try both.
We will let you in on a little secret on how to do this WITHOUT waiting in long lines.
You're going to call in your order for pick up at both establishments. While you're waiting for your order, grab any drinks or anything you want from one of the local bodega or grocery stores. Grab your pizza to go and take them to the benches or picnic tables in Brooklyn Bridge Park. The picnic tables near Jane's Carousel is my favorite spot.
Keep in mind Juliana's closes for stoking 3:15 PM-4PM daily.
St. Ann's Warehouse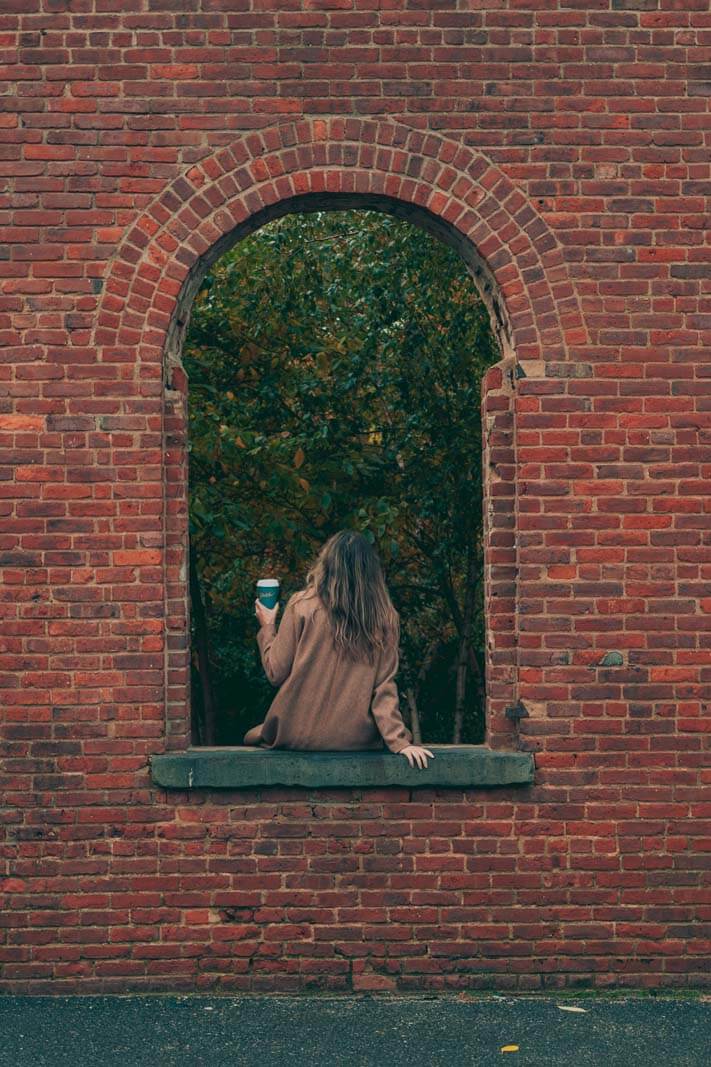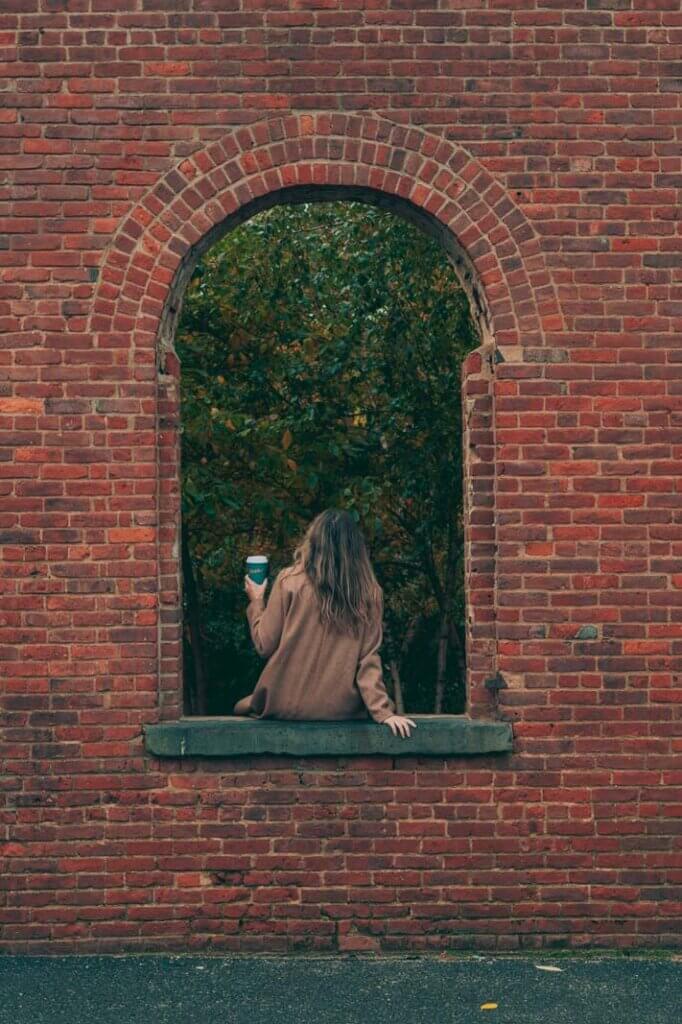 Address: 45 Water Street
If you're looking for what to do in DUMBO as far as the arts and culture scene go, this is a great spot for you! St. Ann's Warehouse is a performance venue located right below the Brooklyn Bridge.
St. Ann's is known for their variety of performances, ranging from dance, live music, and theater. To check for upcoming shows and ticket availability, visit their website.
If you can't catch a show at St. Ann's, they have a beautiful brick patio area that is picture-perfect and open to the public, it's also one of our favorite hidden gems in DUMBO. Think of a secret garden that's tucked away from all the noise and movement happening just outside it's brick walls. Plus there's a cool view of the Brooklyn Bridge from in here
Shop Around Empire Stores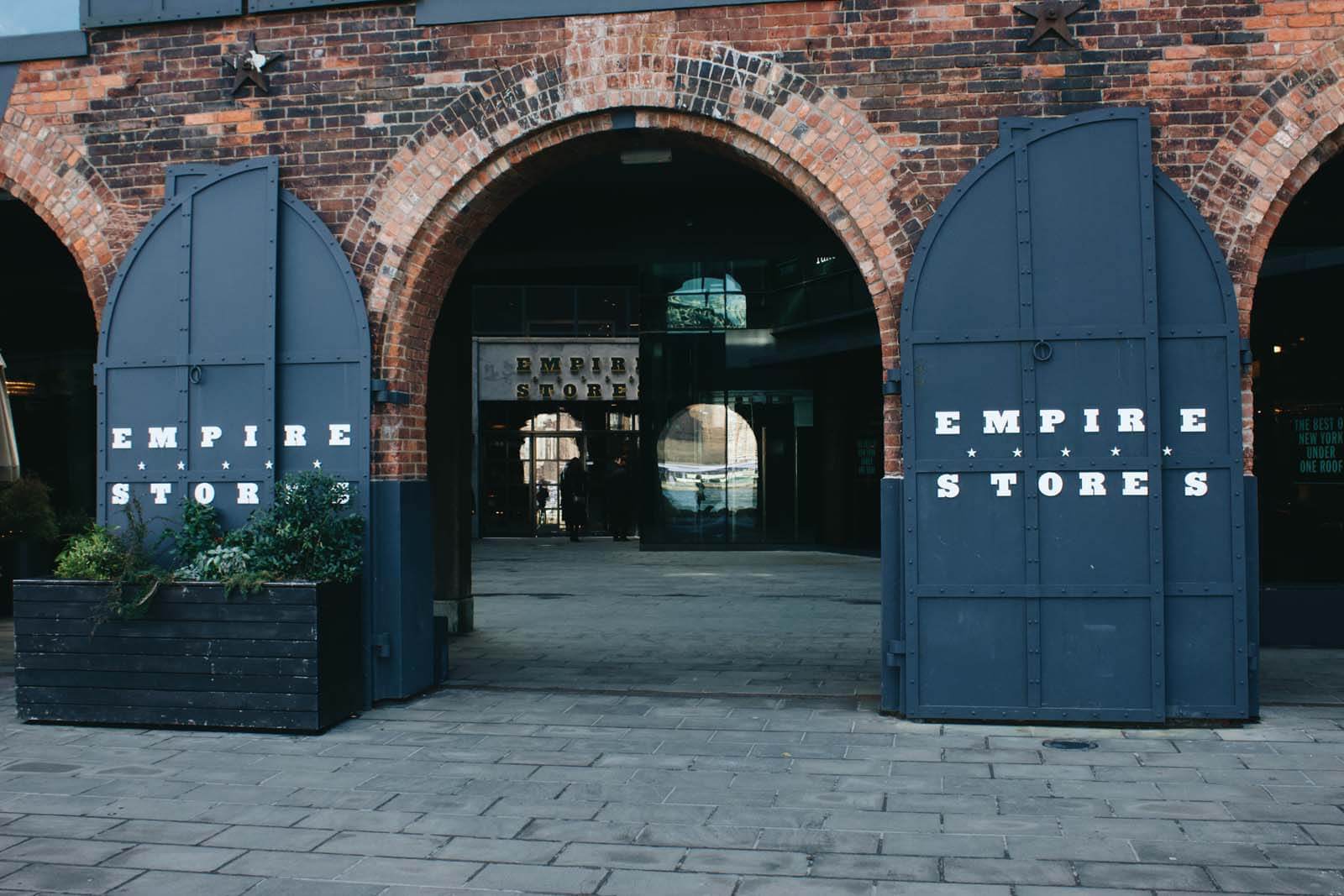 Address: 53-83 Water Street
When you picture DUMBO, Brooklyn you can easily imagine its iconic waterfront location and skyline views. But one of the most defining features of DUMBO is its iconic red-brick warehouses and factory buildings that date back to the 19th and early 20th centuries. These structures, with their intricate ironwork and large windows, harken back to the neighborhood's industrial past.
These historic buildings are now surrounded by modern and new architecture creating an interesting juxtaposition. But inside many of the cool old factories are stores, lofts, and galleries. One of the most recognizable is where Empire Stores is located (the same building as TimeOut Market is housed in).
The Empire Stores building history dates back to the 1860s and is proudly one of the last cargo warehouses standing along the East River. After years of abandonment and deterioration, it was decided in 2013 that it would finally be renovated.
In fact, it's home to a few of the best things to do in DUMBO like TimeOut Market, Cecconi's offers a great restaurant location (especially if you dine outside), and a few shops including West Elm, and cafes.
It's worth taking a lap in here and take advantage of the restrooms on the first floor (if there's a line, head to the restroom in Brooklyn Bridge Park at 99 Plymouth Street).
DUMBO Walls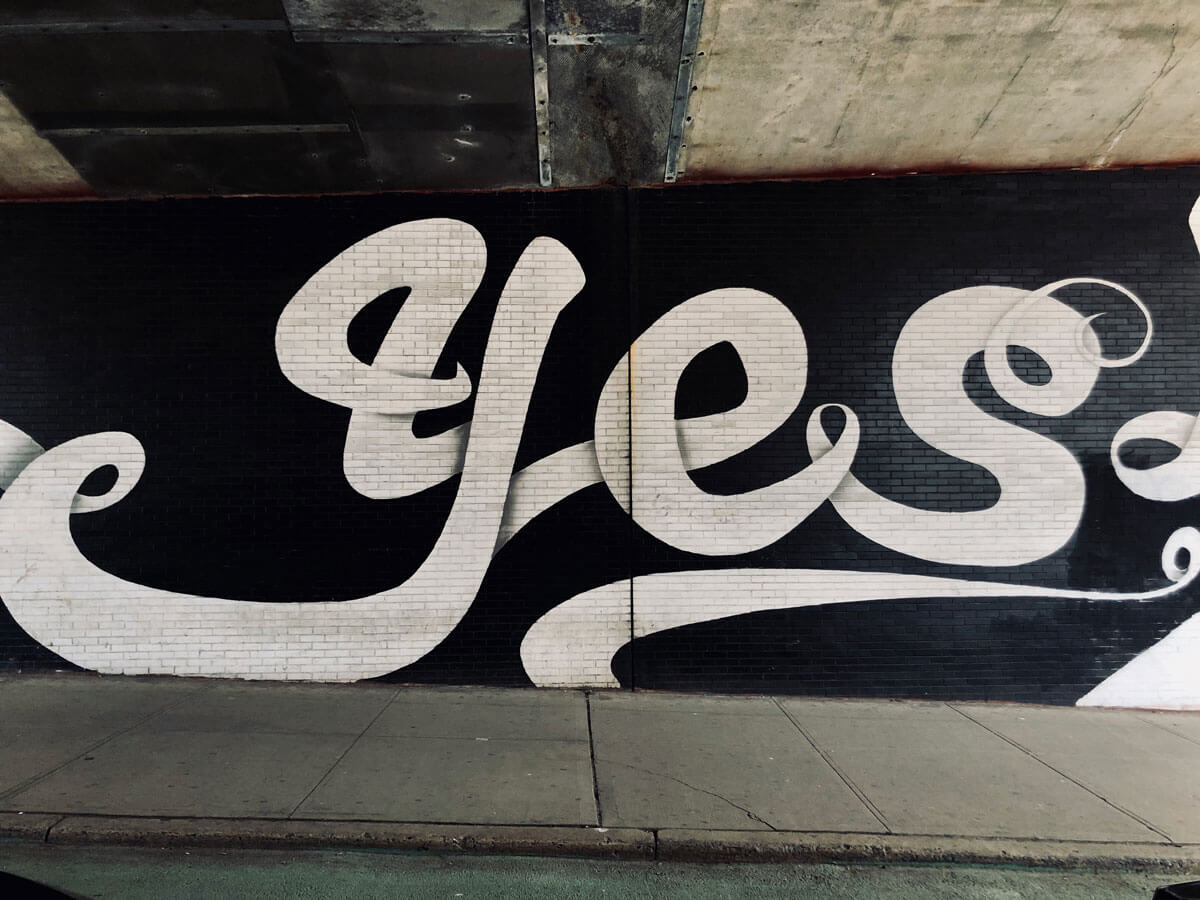 If you're an art person or looking for the perfect Instagram spots in Brooklyn, the DUMBO Walls are a must spot and spot to add on your DUMBO Brooklyn day.
Beginning in 2012, 8 artists from all over the world such as Eltono, MOMO, Faith47, Shepard Fairey, Yuko Shizimu decorated four blocks along the Brooklyn-Queens Expressway with beautiful murals in honor of the variety of artists that DUMBO attracts.
The Walls came to life because the Two Trees Management Company and The DUMBO Improvement District partnered with the NYC Department of Transportation Urban Art Program (NYCDOT).
If you're taking the subway from York Street or walking the Brooklyn Bridge from DUMBO, you'll likely come across a few!
Take Photos on Fulton Ferry Landing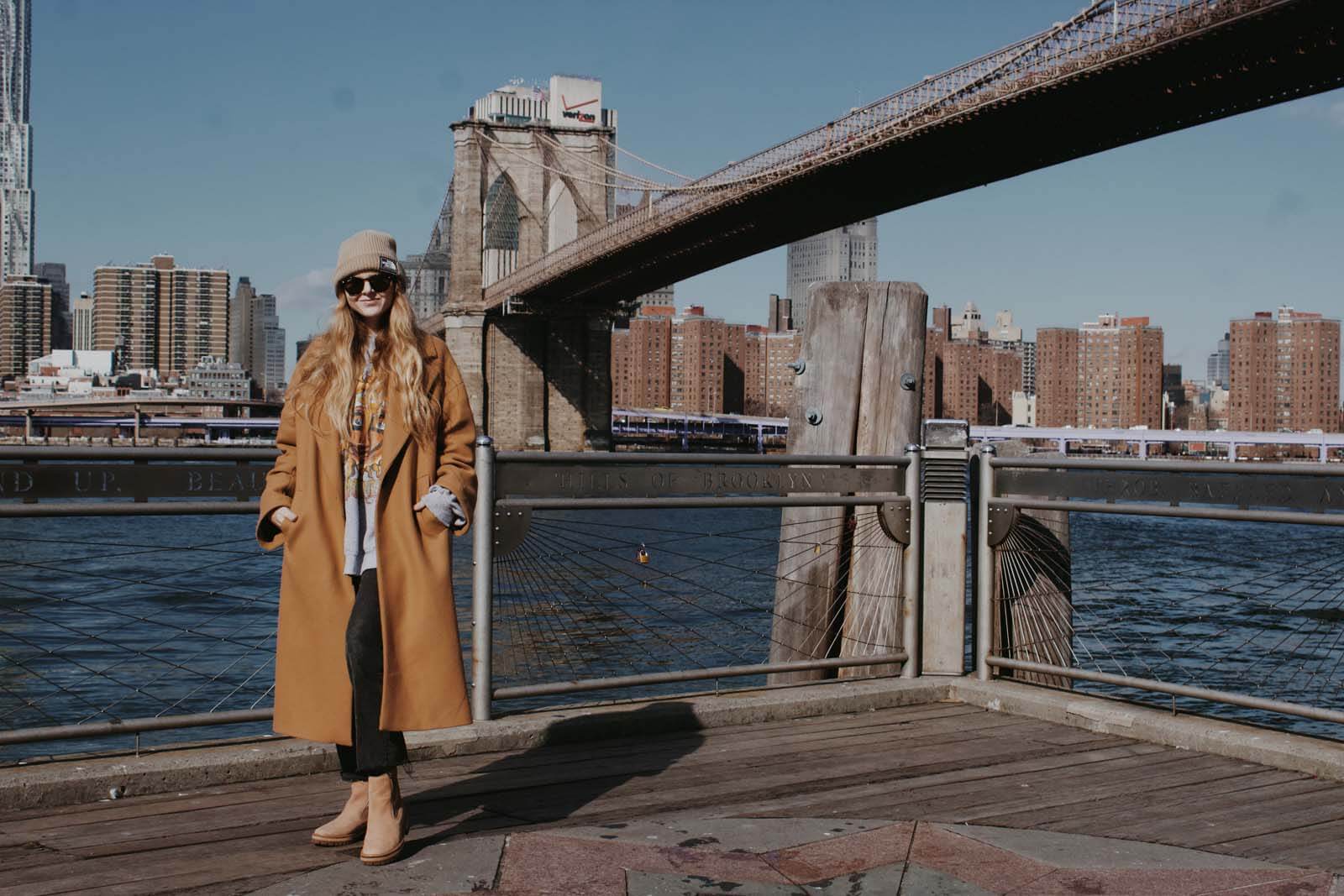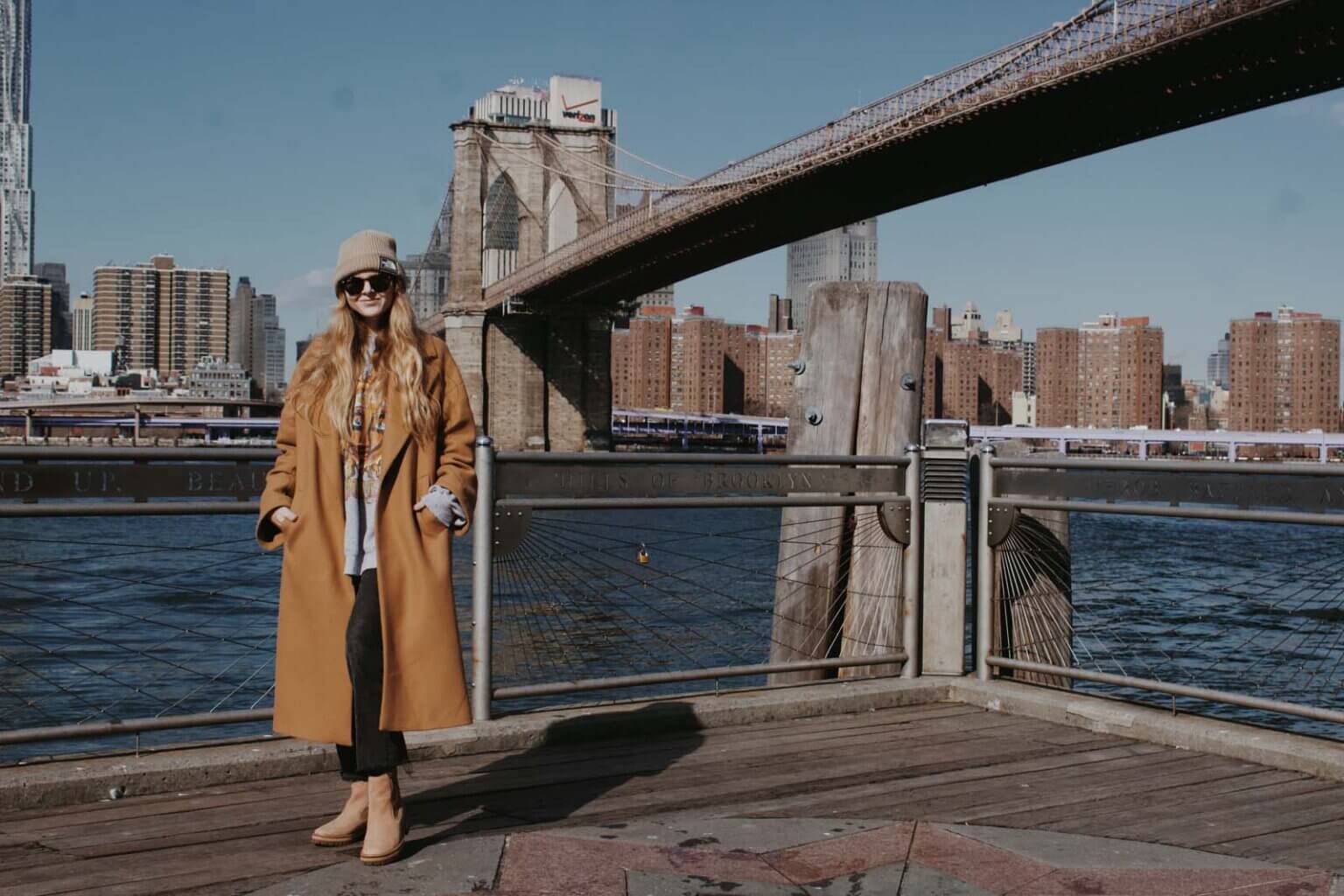 Address: 1 Water Street
One of the most historic spots in DUMBO, Brooklyn is the Fulton Ferry Landing. This location along the East River waterfront is deeply intertwined with the development of New York City. This was the location of the first commercially successful steam-powered ferry service between Manhattan and Brooklyn in 1814 (keep in mind the Brooklyn Bridge didn't start construction until 1869 and didn't open until 1883).
This made travel between the two quicker and launched the growth of Brooklyn as a commuter suburb of the city. For literary fans, Walt Whitman even wrote a poem in Leaves of Grass called Crossing Brooklyn Ferry which is about this spot. PSST…if you like his work, check out all the Walt Whitman Brooklyn spots to check out.
Fast forward to today and this historic location offers some of the best views in the city of the NYC skyline! Don't be afraid to keep coming back to this spot depending on the time of day. I would highly recommend taking your perfect picture right before sundown. The only thing that could make the picture more perfect is you.
Ride the Ferry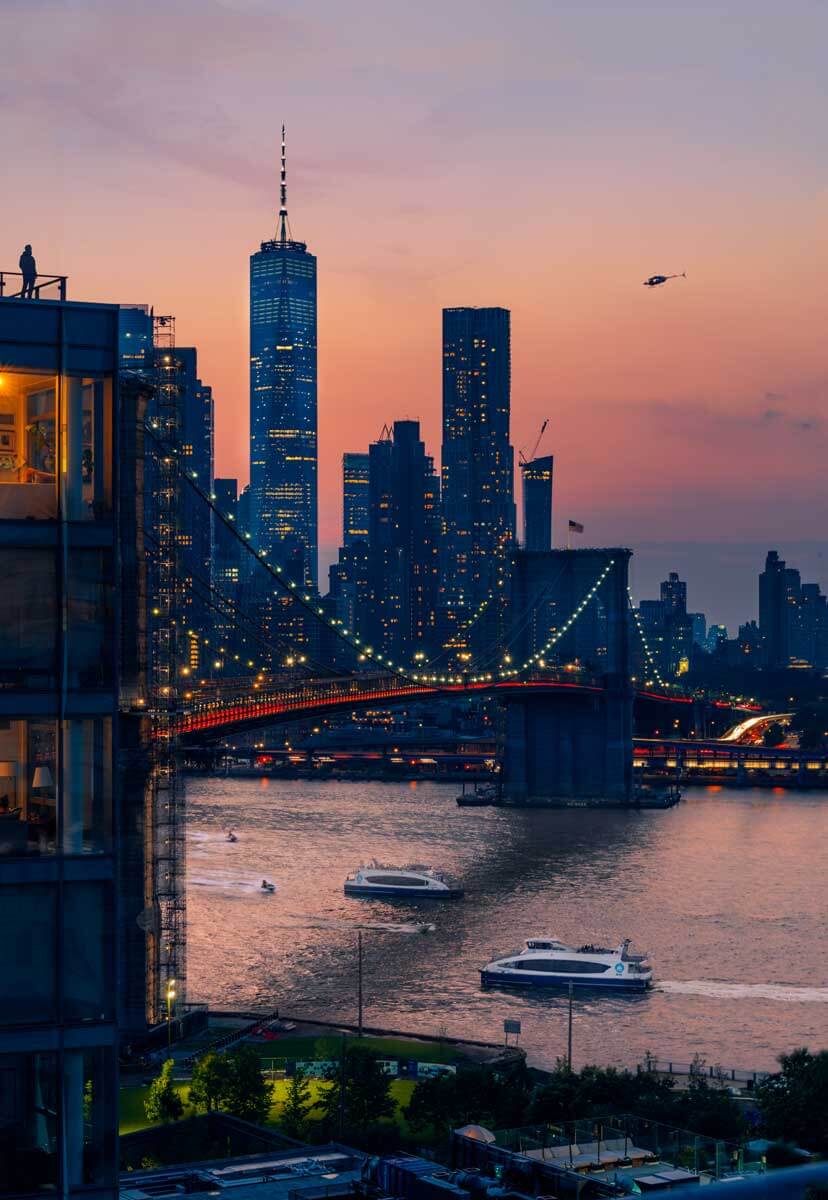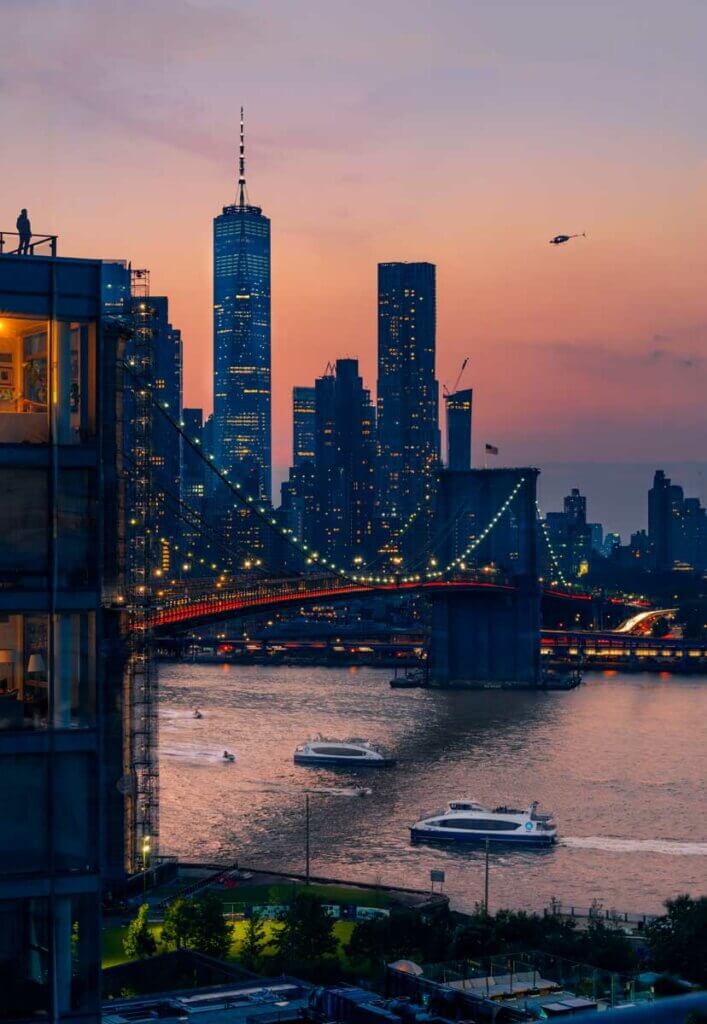 Piggybacking off our last recommendation for what to do in DUMBO at Fulton Ferry Landing's historic site is today's NYC ferry stop! The NYC ferry is one of the most underrated ways to get around the city. Google Maps doesn't really show ferry routes so it's easy to forget that this is an option to commute, not to mention you can save money on a scenic river cruise (a popular tourist attraction) by spending the $4 to ride the NYC ferry and get where you need to go while soaking up all the views on your trip.
Both the South Brooklyn and East River ferry routes stop at Fulton Ferry Landing.
The South Brooklyn Ferry route goes to:
The East River Ferry route goes to:
Grab a Beer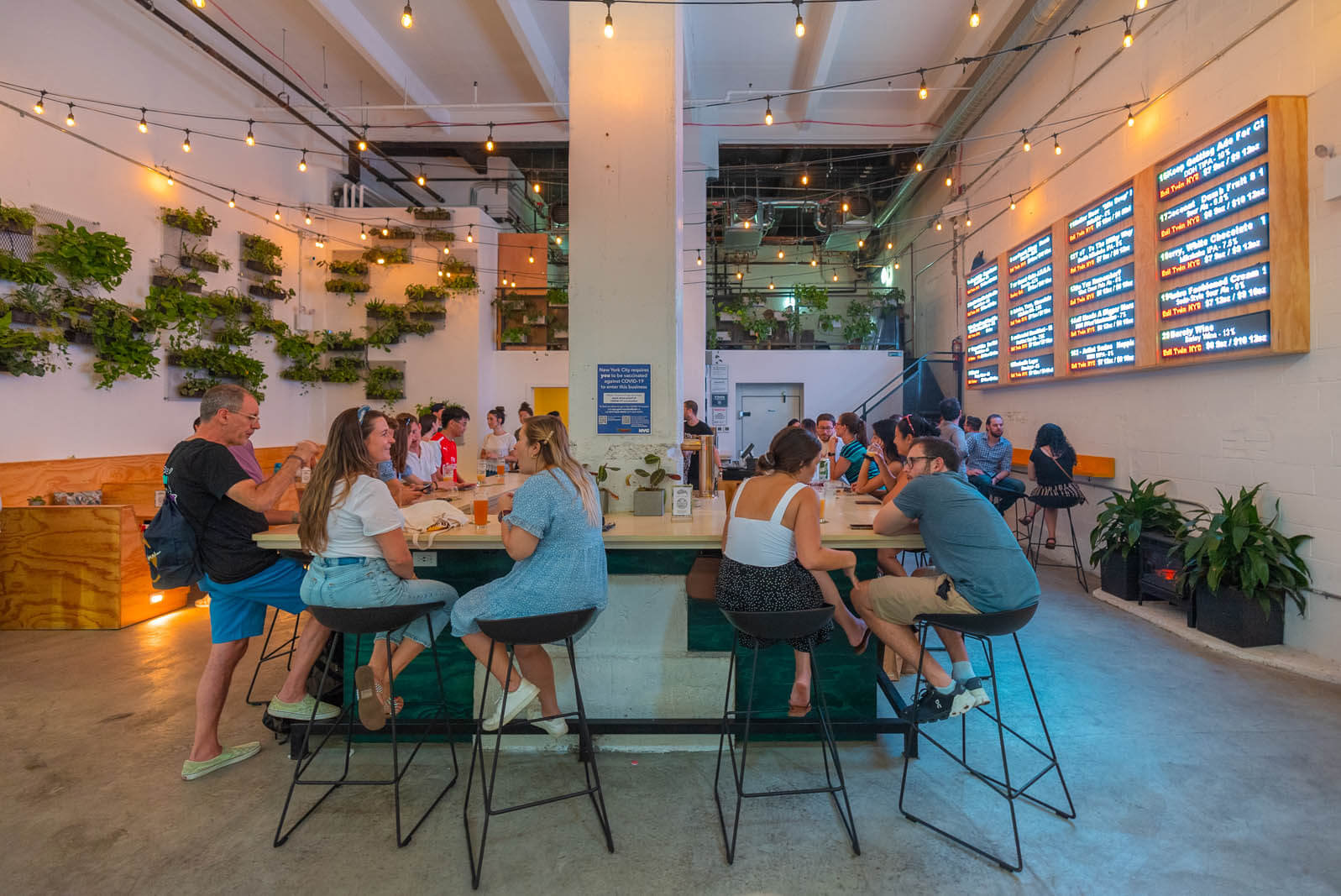 There are so many awesome breweries in Brooklyn worth checking out and two of them are right here in DUMBO. Don't miss Randolph Beer DUMBO on Prospect Street. This garage-style tap room serves up healthy fare and brews on draft with games and great communal tables perfect for gathering with a group of friends.
They also have a seasonal rooftop bar in DUMBO that offers excellent views of the Manhattan Bridge! Just check before your visit to make sure they are open and reservations are encouraged.
They also have some great menu items from their kitchen along with games like Belgian feather bowling!
Another awesome stop for excellent beer are the brews from Evil Twin Brewing on Main Street. If you're a fan of hazy and strong IPAs, they have a great selection in their tap room. During the day they also have a cafe.
Have a Cocktail at Gair

Address: 41 Washington Street
Ok, so if you're looking for another spot beyond TimeOut Market's rooftop bar for a nice cocktail, head to Gair, one of the best bars in DUMBO with an excellent location.
This is one of the best things to do in DUMBO if you want to take a break from sightseeing and be at a prime location. This cocktail spot is located at the most photographed cross streets in Brooklyn at Washington Street and Water Street (the iconic photo spot!).
Their cocktails are pricey, but really good and you can't beat the location. They also feature independent distillers' products and offer low-ABV options for those looking to have something not so strong. They also have some light bites here if you need a snack.
As far as nice cocktail bars go, this is one of the only good options in the neighborhood.
Powerhouse Arena
Address: 28 Adams Street
Powerhouse Arena is more than just a bookstore, and if you're a bookworm, this is a must on your list of things to do in DUMBO. The Arena was opened by the publisher Powerhouse Books in 2006.
Along with hosting an array of popular New York events, Powerhouse Arena speaks to the artists of DUMBO with a variety of design and photography books. They also offer non-fiction, lifestyle, New York-themed books, and much more.
Powerhouse is dominant for its jewelry, apparel, stationery, gifts, and more! If you're traveling with a child, or have one at home, make sure you check out their children's book corner, claimed to be the best in New York City. They are also one of our picks for best independent bookstores in Brooklyn!
See the Historic Belgian Block Streets & Railroad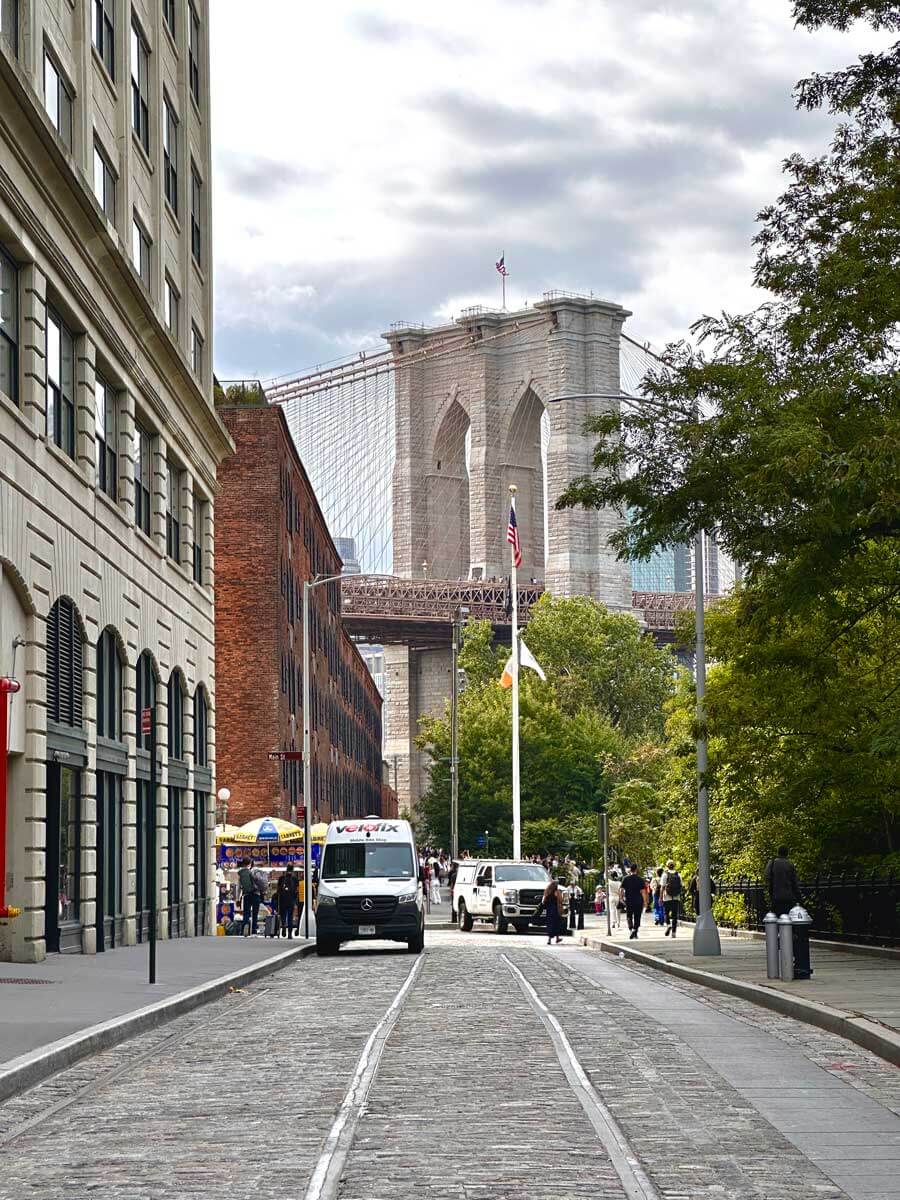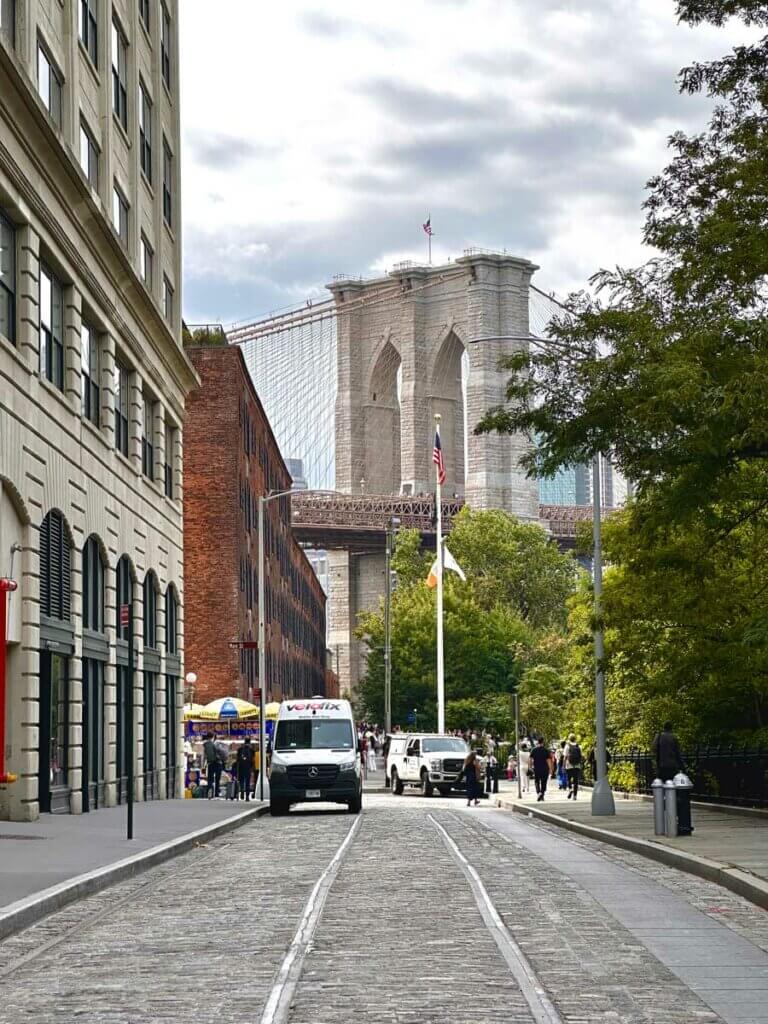 Take a moment to acknowledge the beauty of the Belgian block streets throughout DUMBO. Often mistaken as cobblestone, Belgian block streets used to cover around 140 miles of NYC.
Today, only about 15 miles remain and some can be found in DUMBO! The Belgian blocks are a historical part of DUMBO and have been in the process of being restored and preserved.
Within the blocked streets, are old train tracks that belonged to the Jay Street Connecting Railroad. These tracks are how goods were transported into warehouses in DUMBO. (The best spot to see these is Plymouth and Jay Streets).
Catch a Performance at Bargemusic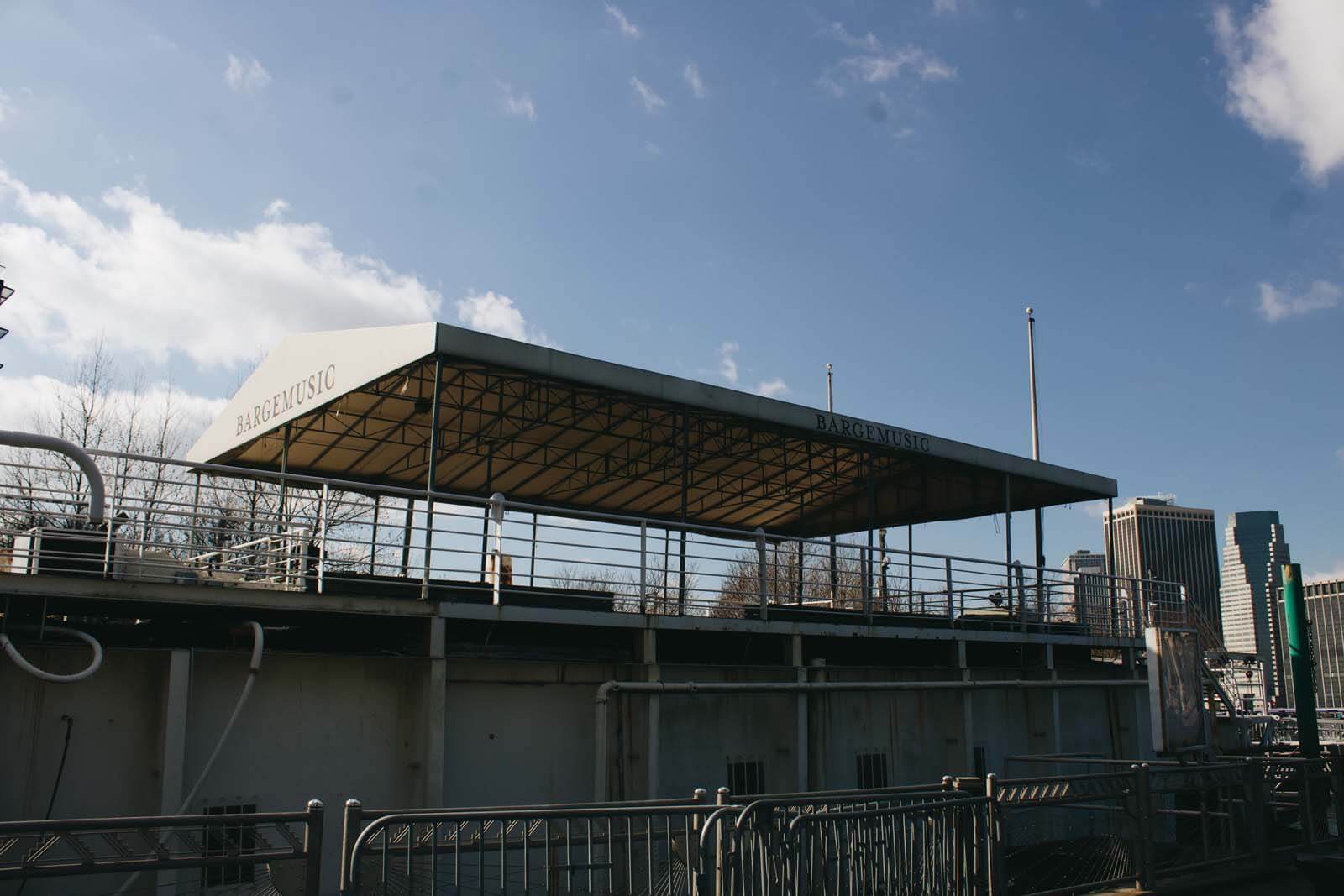 Address: 1 Water Street
One of the most unique things to do in DUMBO is catch a live musical performance aboard a barge at Fulton Ferry Landing just under the Brooklyn Bridge with skyline views!
Bargemusic has been presenting chamber music docked by the Brooklyn Bridge since 1977. Each year they host around 200 performances and even offer free tickets for certain groups and families on Saturday afternoons.
Bargemusic hosts well-established artists as well as up-and-coming ones. Each concert lasts 1-1.5 hours without an intermission. Since this is an outdoor thing to do in DUMBO the music venue is seasonal offering shows in the spring through summer months.
Note: If you're planning to catch a concert, there are no restrooms on the Barge and there is also no food or drink allowed. So plan accordingly!
See what shows are available during your visit!
Harriet's Rooftop & Lounge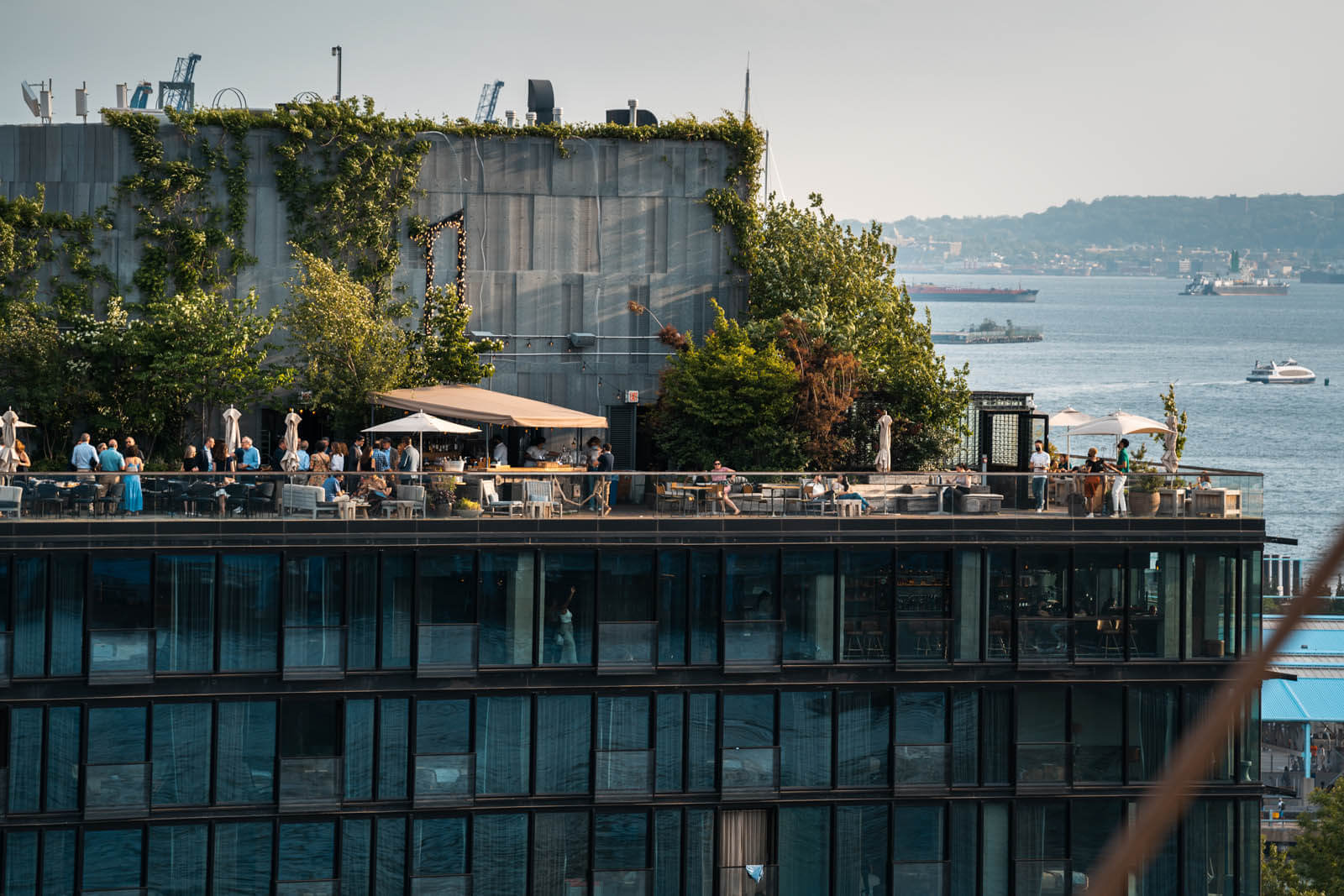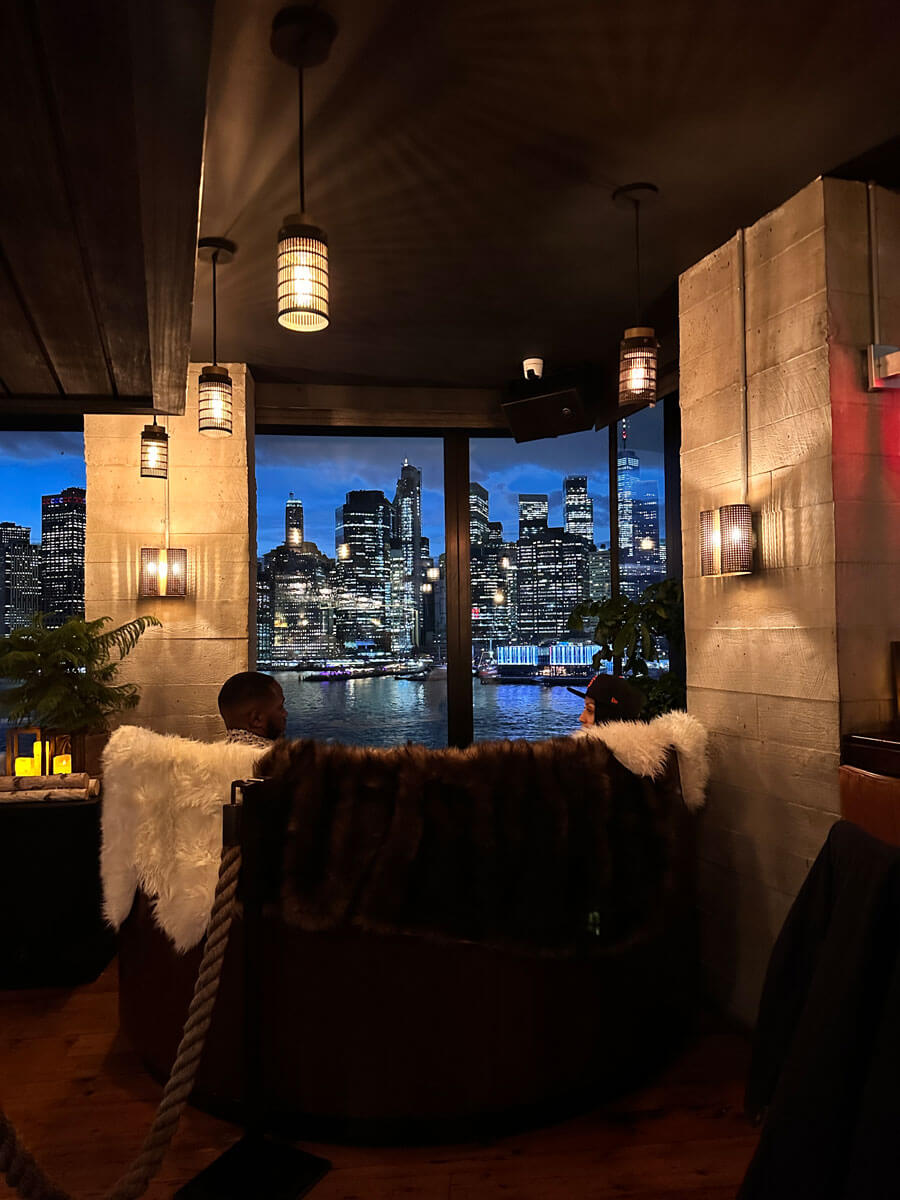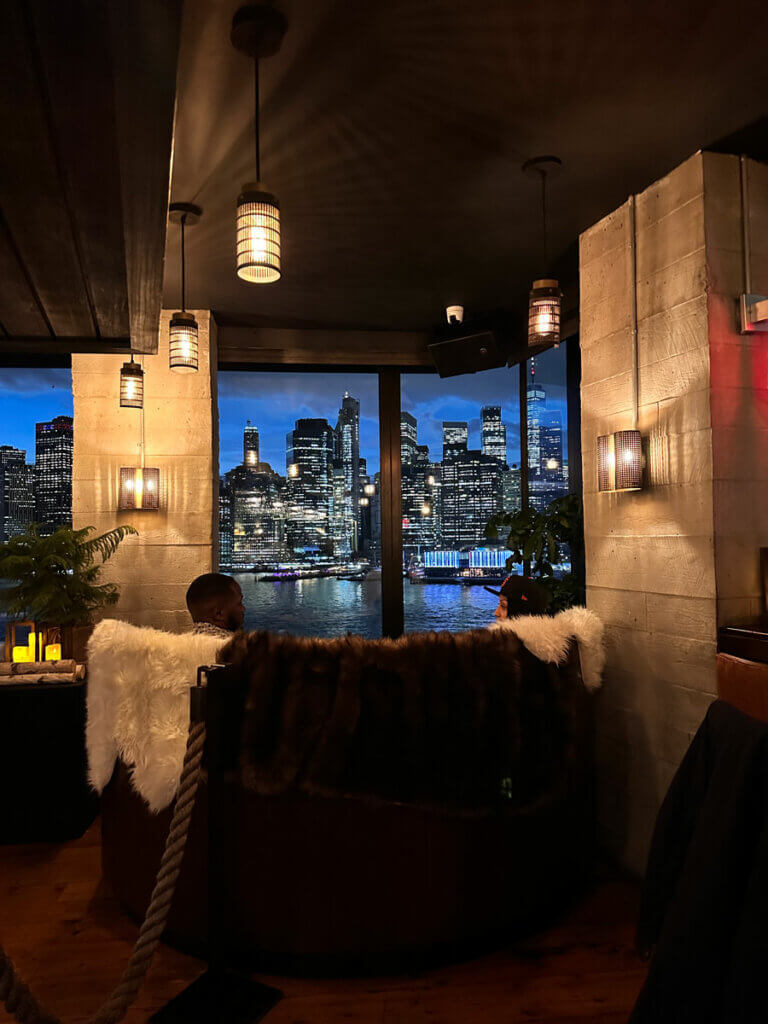 Address: 60 Furman Street
Located at the beautiful 1 Hotel Brooklyn Bridge, Harriet's offers an experience unlike any other at one of the best rooftop bars in NYC. There are two different areas you can enjoy year throughout the year.
First up is the outdoor rooftop which overlooks the New York Harbor and skyline with incredible views of the Brooklyn Bridge. This is open throughout the year and even has a cool wintery ice bar complete with ice sculptures and cocktails served in glasses made of ice!
Then you have the lounge. This is the indoor area that is perfect for cold or rainy days if you're not wanting to be outdoors as you have those same views, but from the comfort of an indoor setting behind large glass windows. This is also a great spot for a special date (you can make a reservation or request the best seat in the house which is a corner booth overlooking the skyline).
Oh, and while you're here. Pay a visit to the restroom. It has one of the best views in the city.
This is also one of the best places to stay in Brooklyn if you want a prime location with one of the best views in the city as well as one of our picks for best rooftop bars in DUMBO!
Check out Some Local Shops
Beyond Empire Stores, there are a few cool shops in DUMBO to check out while you're in the hood. First, there's Front General Store (143 Front Street) where you can find a mix of cool vintage pieces along with new items from clothing, home decor, and jewelry.
Aegir Boardworks (99 Water Street) is a really cool skate shop (yes, there's a skateboarding scene in NYC!) featuring apparel and skateboarding products. They also have you covered with most board sports and do repairs if you need to get your skateboard repaired while you're in town.
Two Kids and A Dog (65 Pearl Street) is the most adorable independent toy store along with clothing items for children!
The Grant (126A Front Street) features vintage, antique, and custom jewelry if you're looking for a truly one-of-a-kind gift for yourself or a loved one!
And if you love vintage shopping in NYC, you'll want to stop at Crowley Vintage (68 Jay Street, suite 303 on Fl 3). They are by appointment only, but you'll want to check out their amazingly curated selection of vintage apparel specializing in menswear, but plenty of options for women too as it turns out vintage menswear looks great on everyone!
Enjoy a Meal with a View at Celestine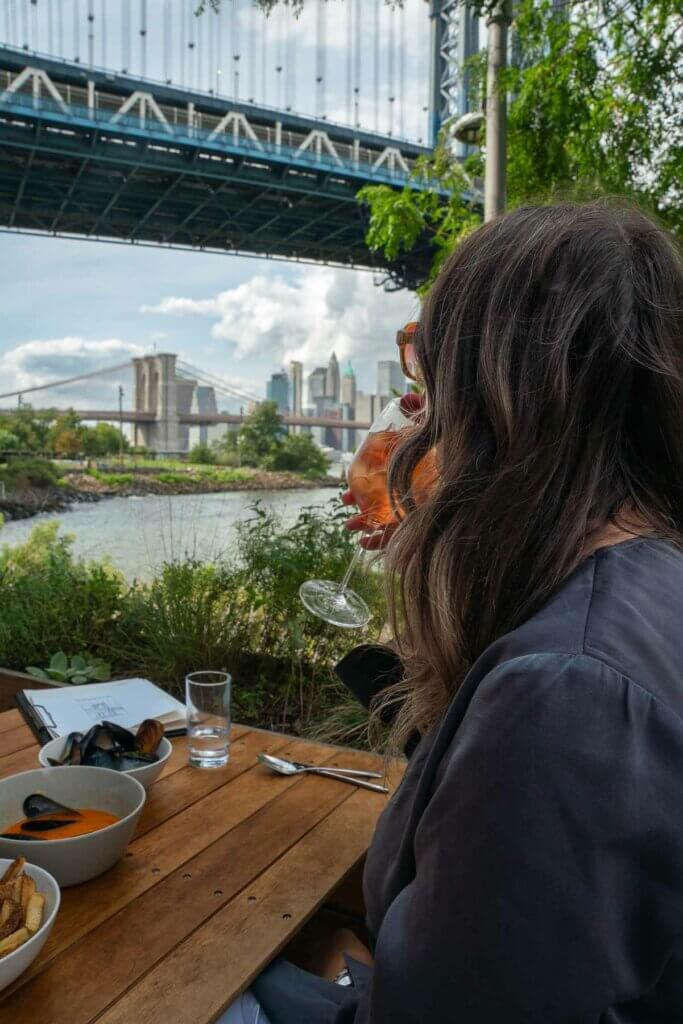 Address: 1 John Street
One of my favorite restaurants in Brooklyn can be found here on a quiet section of the East River waterfront right under the Manhattan Bridge. This is one of my personal favorite things to do in DUMBO, especially on a gorgeous day when you can take full advantage of the outdoor patio surrounded by the flora and fauna of Brooklyn Bridge Park.
Celestine features a menu of delicious Mediterranean fare, great cocktails, and even better views of both the Manhattan Bridge and Brooklyn Bridge.
Whether you dine inside or outside, the views here are immaculate and the food is phenomenal.
Explore Vinegar Hill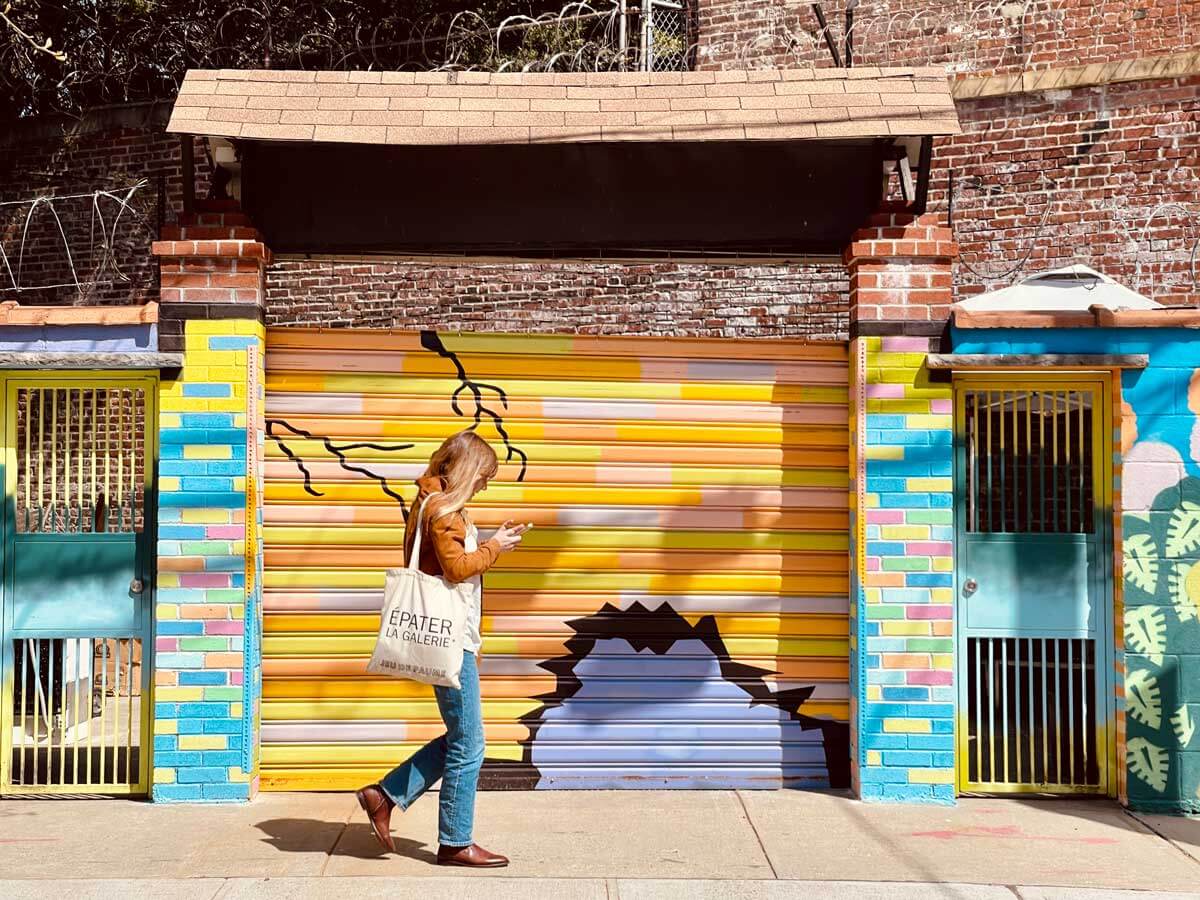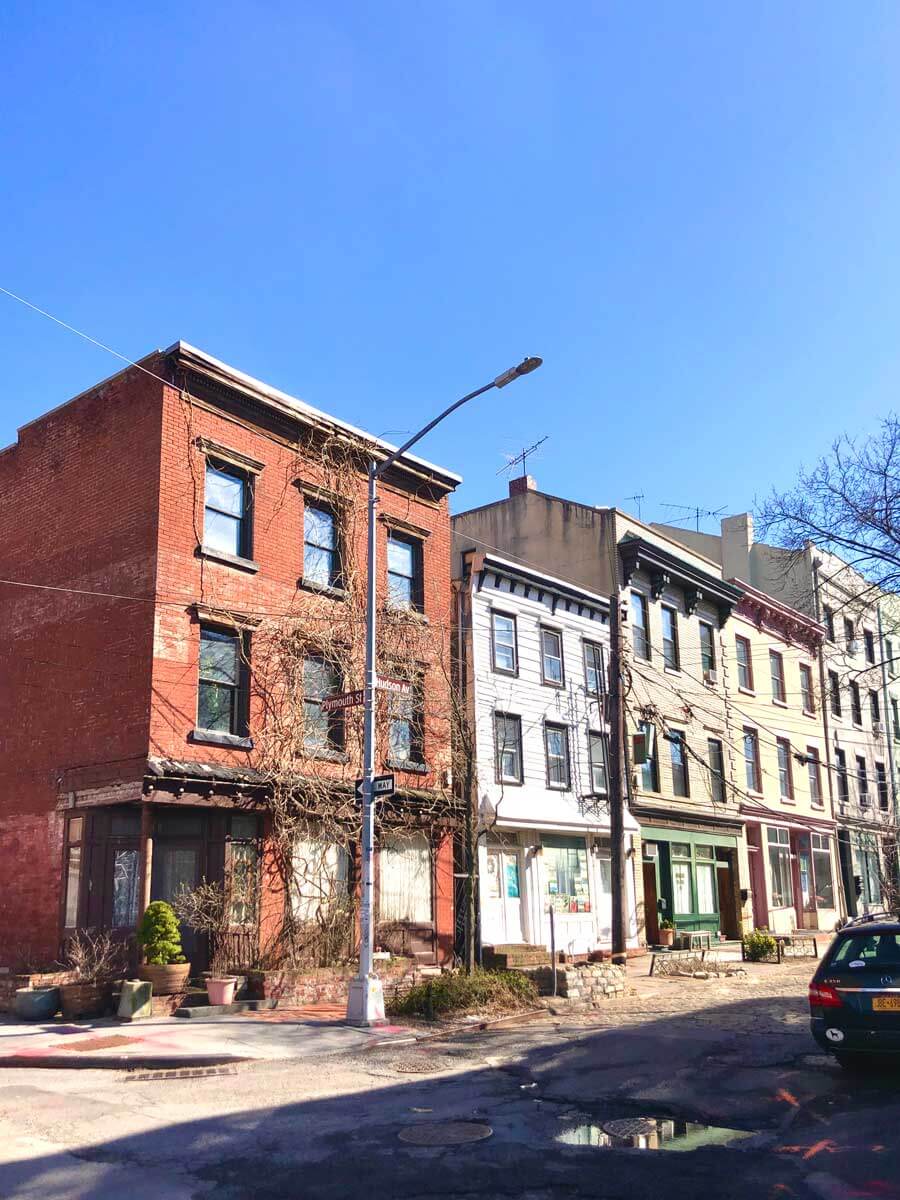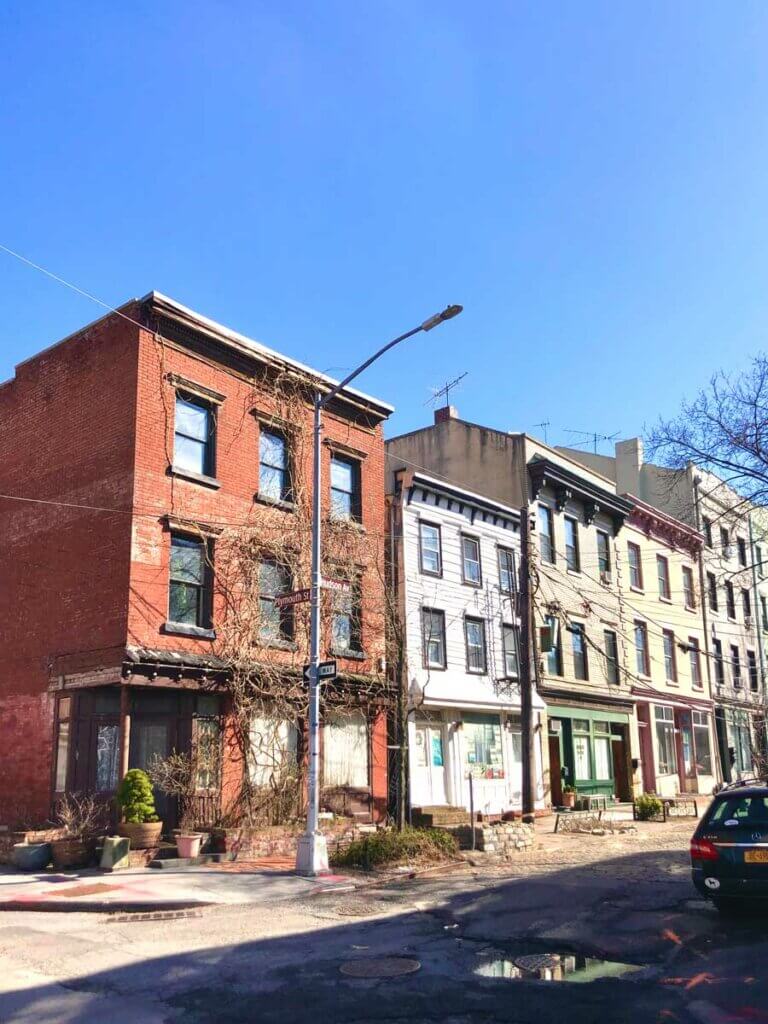 While not technically DUMBO, but easy to add on while you're exploring the best things to do in DUMBO (and quite honestly the only way to get here is from DUMBO anyway) is exploring the charming micro-neighborhood of Vinegar Hill. This is truly one of the best hidden gems in Brooklyn.
While there's not much to do here, it is a fun area to do a lap around. This neighborhood almost seems forgotten or stuck in time. You'll find old historic 19th-century buildings and homes in Federal and Greek Revival styles of architecture along Belgian block roads.
This was historically a rich Irish immigrant, working class neighborhood. The name of Vinegar Hill comes from a battle during the Irish Rebellion of 1798.
While you're here you'll spot a few places to take a peek in from the random shop or gallery, but the main star here is Vinegar Hill House. This is one of our favorite spots for brunch in Brooklyn as well as just being an overall great restaurant to eat at with a beyond charming ambiance and setting and a gorgeous outdoor patio that's perfect to hang out in the warmer months.
Berl's Brooklyn Poetry Shop
Address: 141 Front Street
If Powerhouse Arena wasn't enough for you, make sure to visit Berl's. This shop is New York's only all poetry book store and what to do in DUMBO if you're a lover of poetry!
Their goal is to provide an artistic and creative space for readers and poets of all ages. On their website, Berl's is described as, "A place to read, to hear poets read, to meet poets and readers, and to join a community."
Their hours often depend on their readings so it's suggested you check their calendar for any upcoming events and readings!
Pass by the Legendary Gleason's Gym
Address: 130 Water Street
Did you know that one of the most famous boxing gyms in the world is located in DUMBO, Brooklyn? That's right. In fact, legends like Muhammed Ali, Robert Duran, Mike Tyson, and Jake LaMotta all trained here. The iconic boxing gym has a deep history dating back to 1937 and played a pivotal role in the world and history of boxing as a sport.
And that's not all. Actors like Robert DeNiro and Wesley Snipes trained here to prepare for roles in films. Hilary Swank prepared for the role in Million Dollar Baby by training at Gleasons! And this famous boxing gym was no stranger to being the set and used as a filming location for many films including Raging Bull.
Walk by and you might catch a glimpse of some of the best boxers and amateur fighters in the game train. We don't recommend going inside though, this isn't a tourist attraction at all, but it is fun to peek as you're walking by!
Enjoy a Fancy Dinner at The River Cafe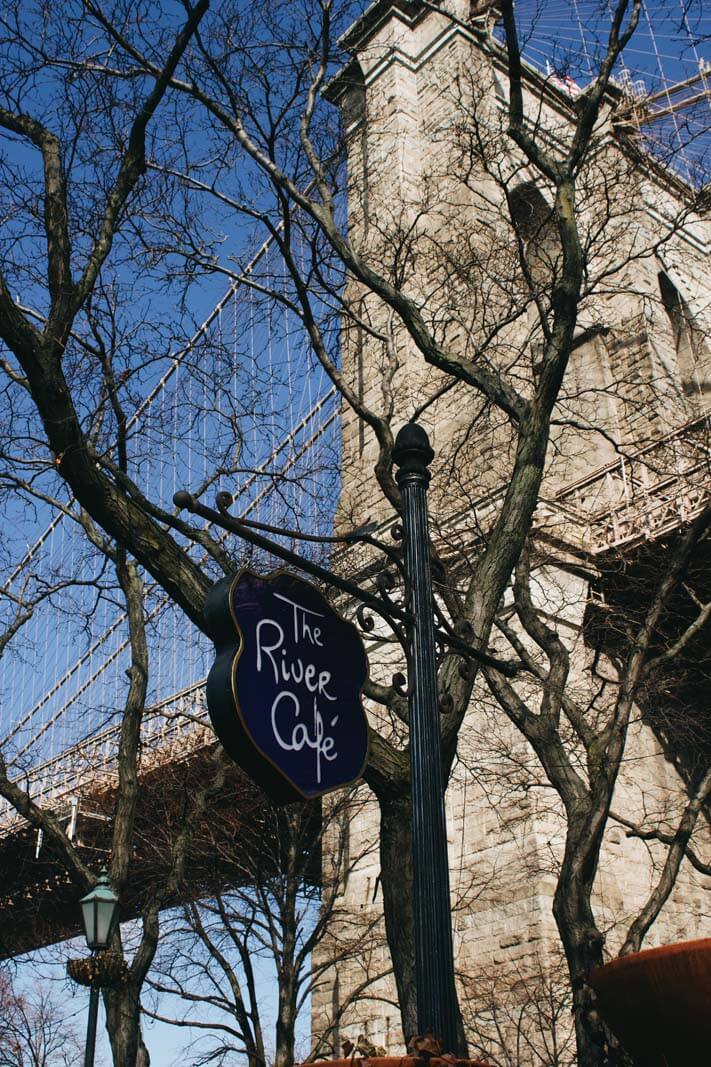 Address: 1 Water Street
Do you have a special occasion to celebrate? A romantic date you're trying to plan? Then this is what to do in DUMBO for you. One of the most romantic restaurants in the city, that even has a dress code (so be sure to brush up on that before visiting) is The River Cafe, located on a verdant pathway known as Jardin River tucked under the Brooklyn Bridge.
This is without a doubt one of the most romantic things to do in DUMBO or a place for celebrations. The River Cafe features wonderful flower arrangements, live piano, and overall elegant experience.
Since 1977 The River Cafe has been recognized for its breathtaking views and fine dining experience since it opened in 1977. They allow reservations on the same day and as far as one year away. Make sure to make the night formal requiring suit jackets for all gentlemen at dinner.
Hit up a Neighborhood Cafe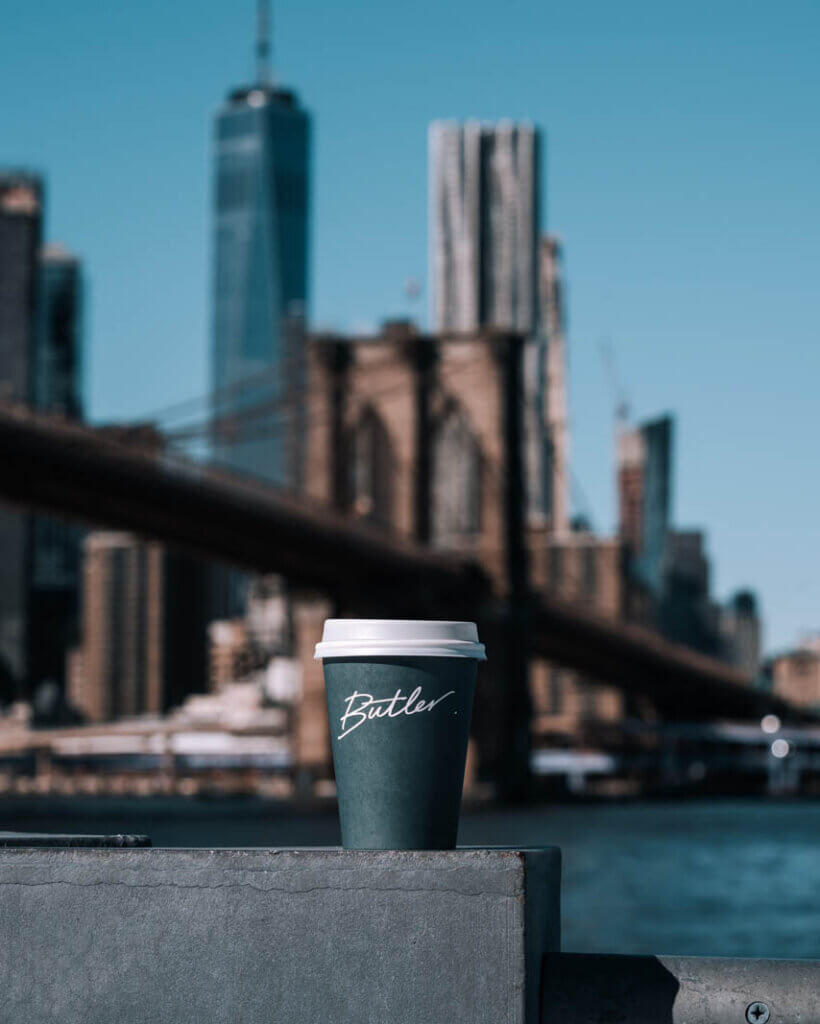 It's no secret that there are plenty of amazing cafes in New York City and pretty coffee shops in Brooklyn. I would argue that visiting neighborhood cafes is one of my favorite things to do whether I'm just grabbing a quick pick-me-up or want to sit down and take a walking break or have a space to hang out for a little bit.
Whatever you're craving, you have all those options. And what's even better is that all the cafes in DUMBO give you the opportunity to take away and have a coffee with some of the best views of Manhattan from Brooklyn with access to pathways and benches around Brooklyn Bridge Park!
A few of our favorites include Butler (60 Water Street) who not only has great coffee and light bites but one of the prettiest cups to photograph!
% Arabica (20 Old Fulton Street) serves up a seriously good cup of joe. This is actually a Japanese cafe that has two locations in the city, including DUMBO and Greenwich Village.
Almondine Bakery (85 Water Street) is one of the cutest bakeries (and delicious) with great coffee to pair with it. Featuring french pastries and an intimate setting, this is the perfect, small cozy cafe to hang out for a bit.
Cha Cha Matcha (55 Water Street) has a location within Empire Stores and is perfect if you're a fan of matcha! I personally LOVE their drinks and they are super colorful and fun looking at that.
Get a Sweet Treat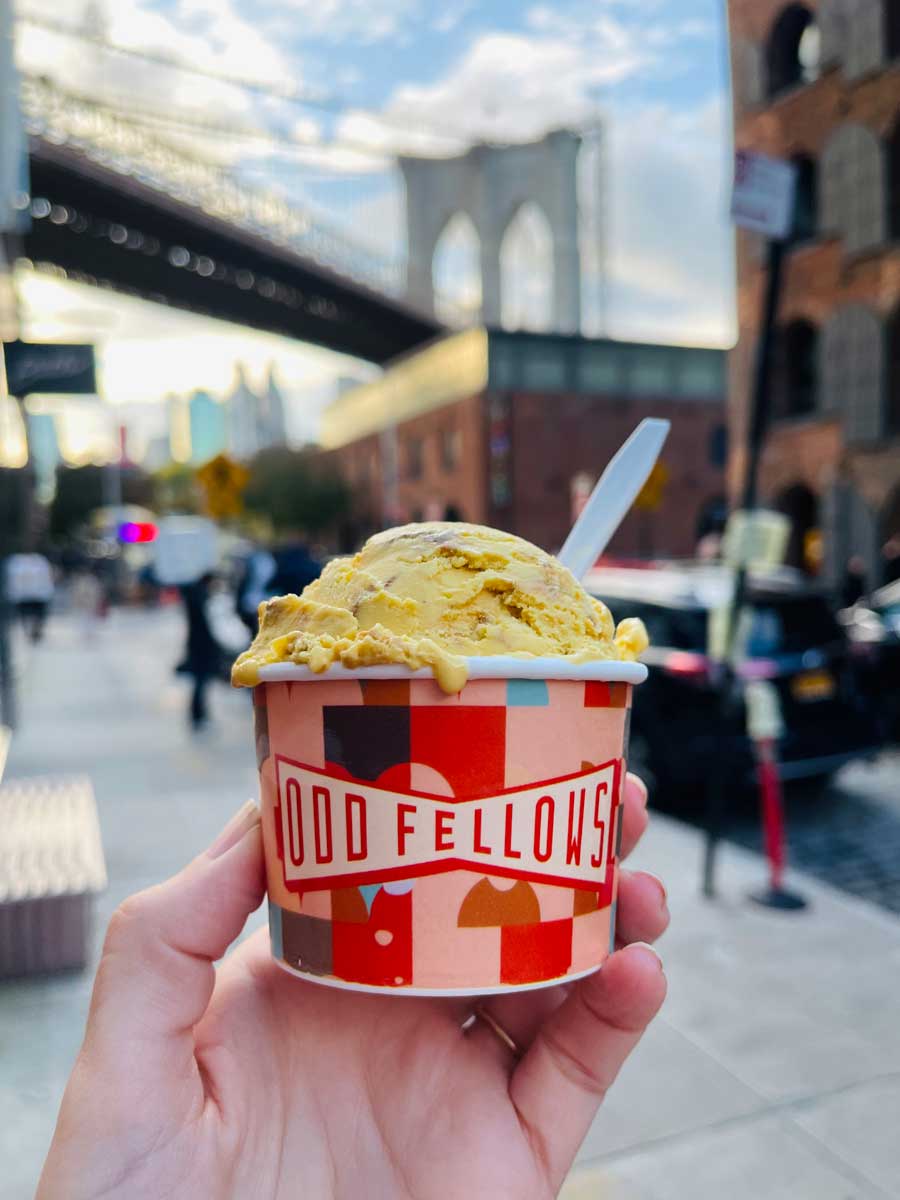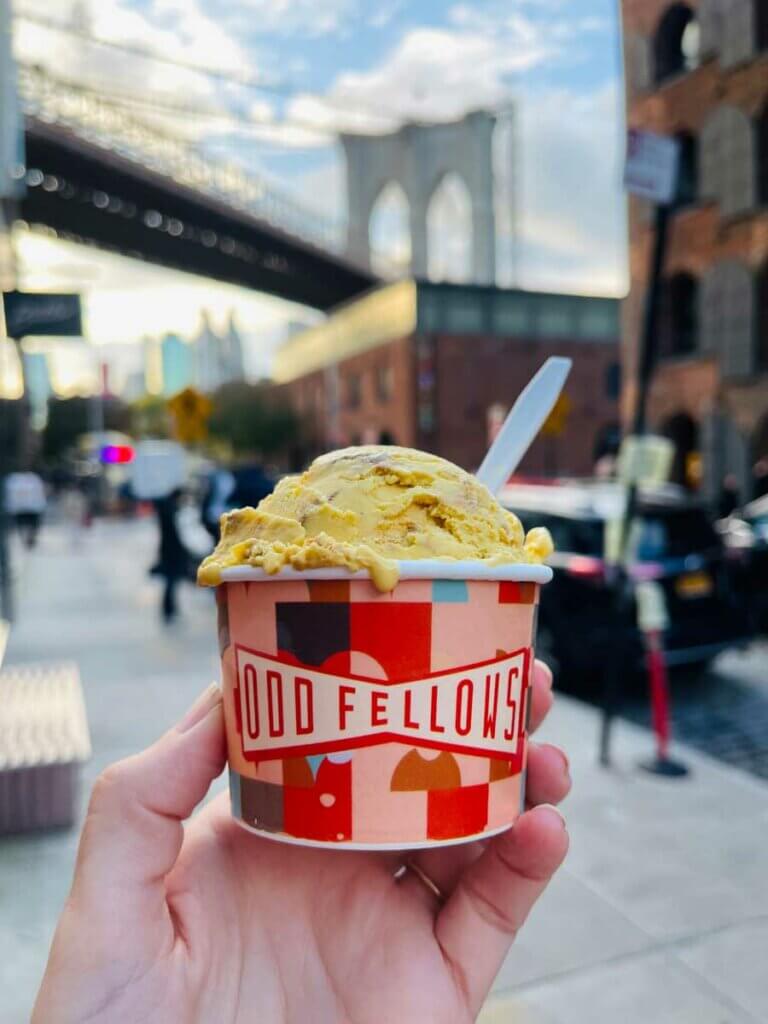 Some of the best things in life are sweet. That's why one of our favorite things to do in DUMBO is take advantage of the great sweet treats this neighborhood has to offer. While you can absolutely grab a pastry or sweet delight from one of the cafes mentioned above, there are also a few famous dessert spots in the neighborhood to visit too!
The most famous being Jacques Torres (66 Water Street). Maybe you've seen this famous French pastry chef and chocolatier on television, he has been on several of them including Netflix's Nailed It! On a cold day, nothing beats their signature hot chocolate (it's one of the best in the city) or some gourmet chocolates, in fact there are several great New York City-themed chocolate boxes if you're looking for a great gift to take home with you.
Or grab a whoopie pie from Dawn's Til Dusk (33 Main Street) at the former One Girl Cookie location. The owner behind the wildly popular One Girl Cookie decided she wanted to transform her bakeshop to also have savory items and reopen with a full on menu! So you can have a full meal here too, but you must try one of her famous sweets!
Lazy Sundaes (170 Front Street) features a popular Korean shaved ice dessert known as bingsoo along with bubble teas! Their bingsoo sundaes are a fun twist on the popular dessert and they have seasonal flavors that change out frequently! I love these because they aren't overly sweet.
Do you like ice cream? If so, you're in luck as there are several great ice cream spots in DUMBO, Brooklyn. Sadly, we lost Ample Hills in its iconic location in the old fireboat house at Fulton Ferry Landing, but another local ice cream shop took the place. Now you'll find Van Leeuwen here, famous for its artisinal ice cream flavors as well as having plenty of vegan ice cream options.
Across the street is Brooklyn Ice Cream Factory (14 Old Fulton Street) which opened right after the September 11th attacks in 2001 (in the old fireboat house actually!) and serves up classic flavors and makes everything small-batch.
And another standout spot for ice cream in DUMBO is OddFellows Ice Cream Co. (44 Water Street) which serves up inventive and creative ice cream flavors if you're feeling a little adventurous!
Check out More of the Food Scene in DUMBO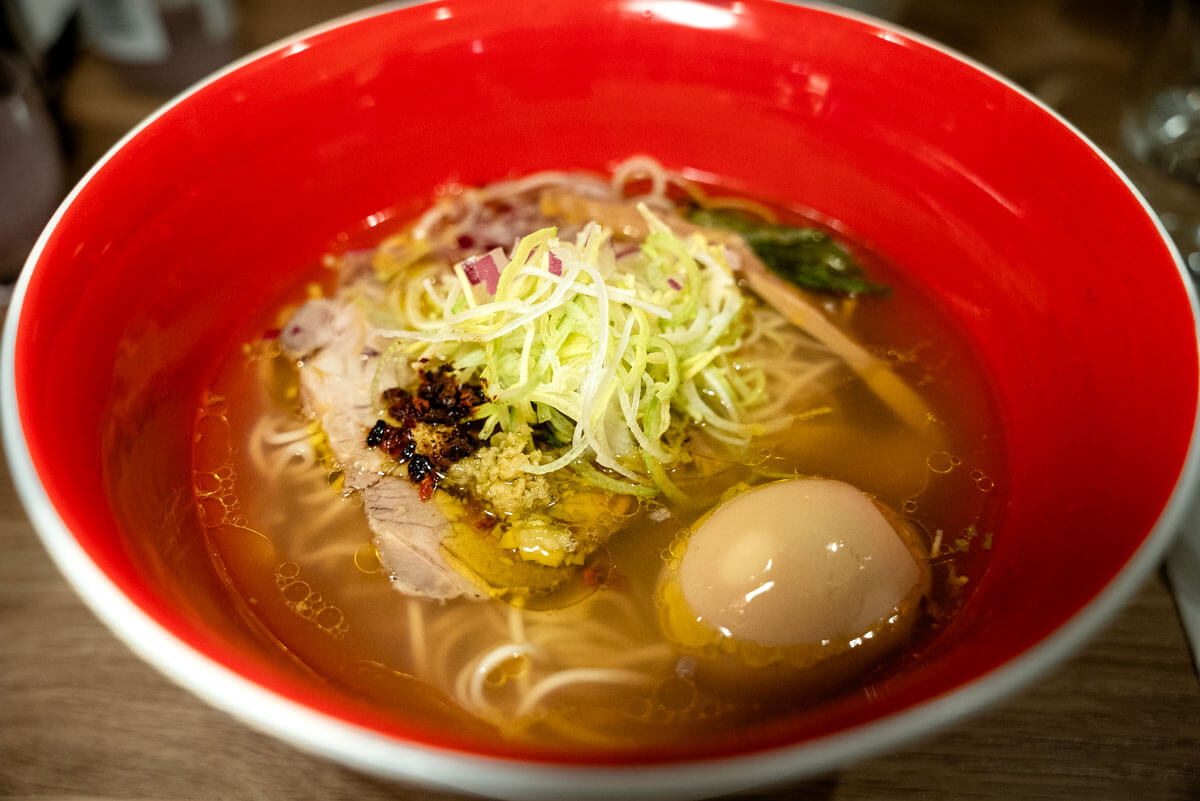 There are so many great restaurants in DUMBO beyond the legendary pizza feud spots and TimeOut Market. We don't want to overwhelm you with options, but if you're looking for something in particular and neither of those spots have it, here are a few of our other favorite places to eat in the neighborhood.
Tsuta Ramen (22 Old Fulton Street) serves up seriously good Japanese ramen. This is a famous Japanese ramen shop that claim to have been the first ramen restaurant to get a Michelin star. This is their NYC outpost and while New Yorkers and critics are hard to impress, they really do serve up a solid bowl of ramen.
Em's Vietnamese (57 Front Street) brings all the delicious, fresh flavors of Vietnamese cuisine to DUMBO. From the pho to bahn mi, everything here is great.
Gran Electrica (5 Front Street) is the perfect place if you're looking for a dimly lit dining experience or a pretty patio to dine at that feels a little more quiet and secluded from the crowded streets of DUMBO. They have great Mexican fare and great margaritas.
Cecconi's (55 Water Street) is a popular choice due to its location in the Empire Stores building. This swanky Italian eatery has a great outdoor dining section along the front of Empire Stores with a great view of the Brooklyn Bridge and Brooklyn Bridge Park (that's heated in the winter months too).
For a more grab-and-go option, head to Luke's Lobster (11 Water Street) directly under the Brooklyn Bridge for a scrumptious lobster roll to eat while you walk.
The MoDE – The Museum of Digital Experiences
Address: 65 Jay Street
For a unique museum and things to do in DUMBO indoors, check out The MoDE, short for The Museum of Digital Experiences. This is an innovative and interactive museum that explores the world of digital art and technology. It offers visitors a unique opportunity to immerse themselves in a variety of 14 digital artworks and installations, often blurring the lines between art, technology, and human interaction.
The museum provides a dynamic and ever-changing space for both artists and visitors to engage with cutting-edge digital creations, making it a fascinating destination for those interested in the intersection of art and technology in the heart of Brooklyn's creative scene.
Area 53
Address: 53 Bridge Street
If you're looking for more fun things to do in NYC indoors for a rainy or cold day, look no further than this fun spot in DUMBO. Area 53 is located in a former warehouse and offers a really fun laser tag!
They have two different versions of laser tag to choose from before getting let loose in their giant arena. This is really fun and after you're done you can hang out and play arcade games.
At night, the lounge area is 21 and over and becomes and adult-only playground.
Visit the Art Galleries
One of the best things to do in DUMBO is check out all the different art galleries the neighborhood has to offer. There are a few galleries tucked away and the first Thursday of every month, you can join DUMBO Gallery Walks where from 6 to 8 PM you can explore the neighborhood's art galleries that stay open late and often have special things going on.
There are over a dozen participating galleries but if your visit doesn't line up with the first Thursday of the month, don't worry. You can check out the galleries during regular hours.
The Klompching Gallery (89 Water Street) is a great gallery to buy contemporary photography from emerging and well-known artists. 
A.I.R. Gallery (155 Plymouth Street) serves as a permanent display venue dedicated to promoting open dialogue and encouraging women artists to take creative risks, ultimately offering them support and increased visibility showcasing the diverse works of numerous women artists.
Try a Tour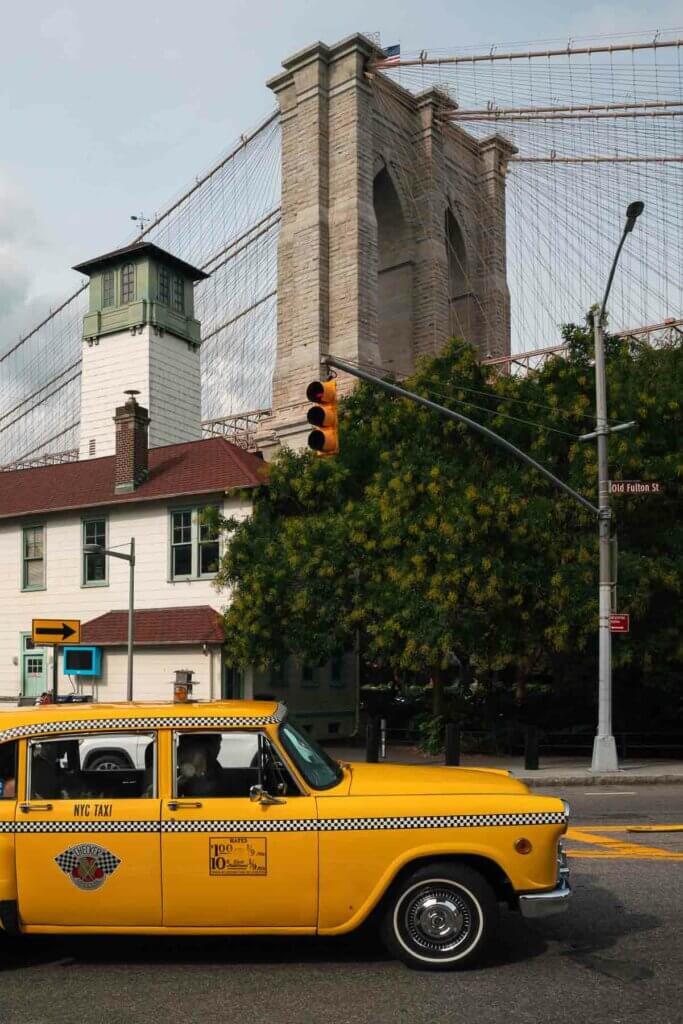 One of the best ways to see the best things to do in DUMBO Brooklyn is by joining a tour! Here are two amazing tours of DUMBO to check out during your trip. Be sure to check out our picks for all the best tours in Brooklyn too!
Enjoy a 2-hour walking tour of DUMBO and the Brooklyn Bridge uncovering the history of the borough's diversity and history including some of the most incredible views of the city!
Along the way, you'll learn about the history of the East River and the behind the scenes story and history of building the famous Brooklyn Bridge that's truly fascinating and actually full of drama as well as how it affected the relationship between Manhattan and Brooklyn.
You'll also learn about other important monuments and get an in depth tour of DUMBO and it's scenic views and history. Book your 2-hour walking tour of DUMBO here.
What to do Nearby DUMBO Brooklyn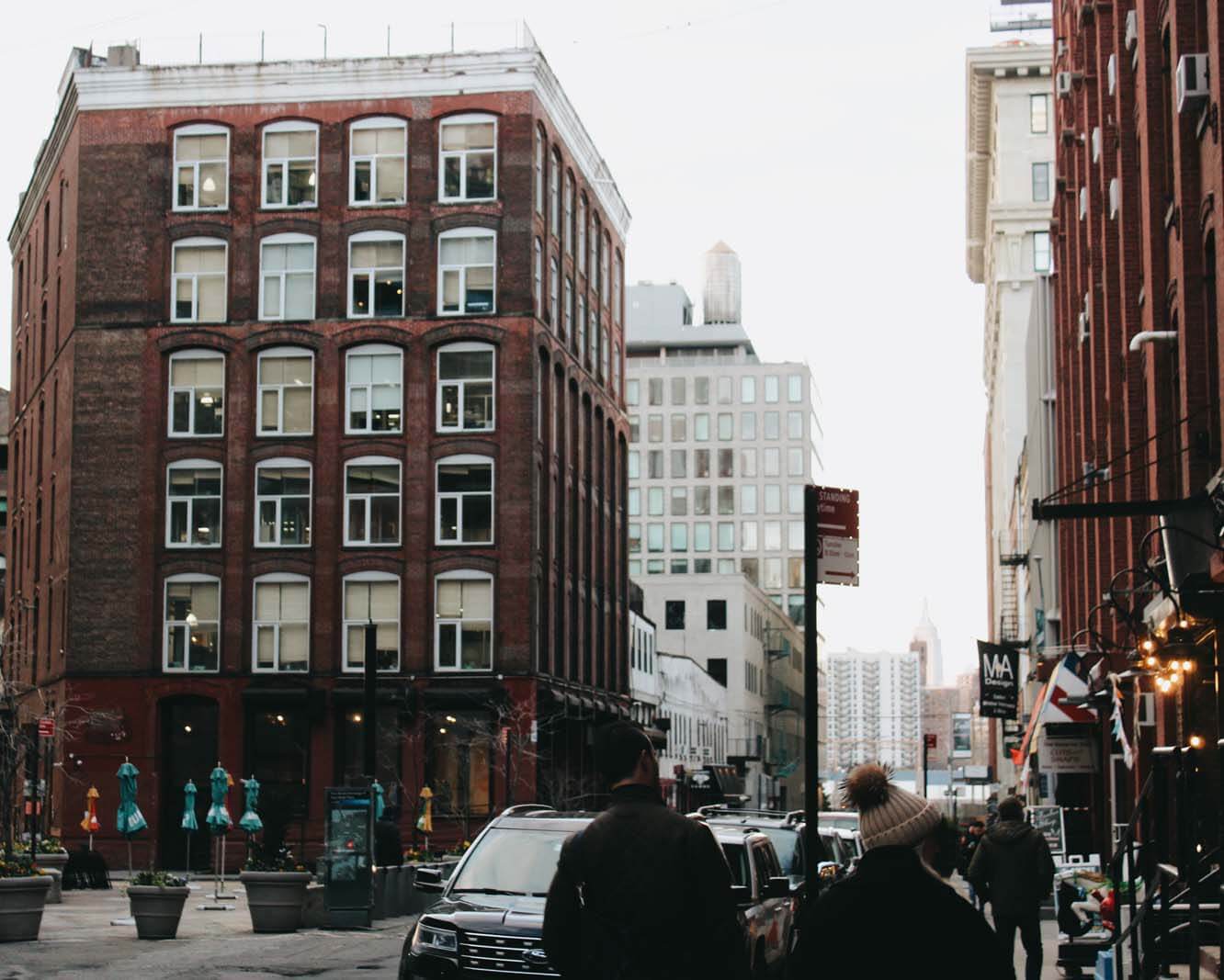 After exploring all the exciting things to do in DUMBO, you'll be pleased to know there are several cool things to do nearby. We already mentioned the adorable area of Vinegar Hill if you're looking for a sleepy little corner of the city to explore but there's more!
There are plenty of cool Brooklyn neighborhoods to explore and near DUMBO is the beautiful neighborhood of Brooklyn Heights. This high-end enclave has always been just that. Full of old mansions, brownstones, gorgeous architecture, and where many celebrities call home today.
You're also close to Downtown Brooklyn, which is very commercialized but has a lot of cool hidden gems and neat things to do. If you find yourself here around the evenings you won't want to miss one of the coolest themed bars in NYC at the Sunken Harbor Club.
You're also close to Fort Greene, one of the prettiest neighborhoods for brownstone architecture, the beautiful and active Fort Greene Park, and an insanely good food scene. I'm not kidding, there are so many good restaurants in Fort Greene.
And since you have access to the ferry, explore more of the best things to do in Brooklyn to help you plan more amazing things to do in the area!
Here are a few highlights and things to do near DUMBO too:
The Brooklyn Heights Promenade – Four stories above the Brooklyn Bridge Park, find a peaceful view of the Lower Manhattan skyline. We know you already can't get enough of the New York City views, so enjoy the pedestrian walkway or take a seat on a park bench and relax.
Montague Street – Take a stroll down Montague to see beautiful architecture, find fun shops, and more local haunts.
City Point/Dekalb Market— If you're in the area, you can't miss one of the hottest spots in Brooklyn. Stop in for a meal at the Dekalb Market Hall, the largest market hall in NYC. With 40 vendors, the possibilities are endless.
Junior's Restaurant— Eat like a real New Yorker at Junior's. Junior's has been making history on the corner of Flatbush and Dekalb since 1950. Dine in for breakfast, lunch, and dinner, but don't leave before you've had a slice of the world-famous cheesecake!
New York Transit Museum – Easily one of the best museums in the city located in a defunct subway stop featuring over a century's worth of old subway and train cars and exhibits dedicated to the history of transportation in NYC.
Kings County Distillery – located in an old armory building that looks like a castle, you can stop to have drinks here or join a distillery tour.
Rooftop Reds – enjoy wine tasting from the first urban/rooftop vineyard! You can try wine from grapes grown on the rooftop or from their partner in the Finger Lakes region with a backdrop of the NYC skyline!
Where to Stay in DUMBO
This DUMBO Brooklyn guide wouldn't be complete without picking out some of the best places to stay in the neighborhood while you explore what to do in DUMBO.
For more options check out our where to stay in DUMBO guide.
$ The Tillary Hotel
The Tillary is located right between the action in Downtown Brooklyn and all the beauty in DUMBO. Enjoy your view of the Manhattan Bridge right outside your hotel.
The Tillary provides a café, a bar, and even an outdoor terrace. The Tillary also offers complimentary wifi, 24/7 from desk, and soundproof windows (which can be a huge help when staying in NYC) with stylish rooms offering designer toiletries and fine Italian linens.
Besides having incredible views, you can find a great lobby lounge and beer garden here for a fantastic spot to hang out steps away from your room.
There is parking on the property as well for an added fee.
Book Now on Booking.com | Compare Prices for Later on Hotels.com | See Rates on Expedia.com
$$$ 1 Hotel Brooklyn Bridge
As mentioned earlier, this hotel is the home to Harriet's Rooftop & Lounge, a pick for what to do in DUMBO Brooklyn earlier in this DUMBO Brooklyn guide with one of the most stunning and spectacular views of the city and rooftop pool, undoubtedly one of the best rooftops in Brooklyn!
1 Hotel offers both Brooklyn and skyline views, which ultimately determine the cost of your stay. This is one of the finest properties and locations to stay in not only DUMBO, but also Brooklyn.
This 5-star hotel comes equipped with the bar/lounge, room service, complimentary wifi, and industrial-chic rooms.
Book Now on Booking.com | Compare Prices for Later on Hotels.com | See Rates on Expedia.com
Things to do in DUMBO NYC (Post Summary):
Walk the Brooklyn Bridge
Brooklyn Bridge Park- Pebble Beach
DUMBO Archway – Under the Manhattan Bridge
Jane's Carousel
That Famous DUMBO Photo Spot
TimeOut Market New York
Brooklyn Flea
Try Two Iconic Pizza Spots
St. Ann's Warehouse
Shop Around Empire Stores 
DUMBO Walls
Take Photos at Fulton Ferry Landing
Ride the Ferry
Grab a Beer!
Have Cocktails at Gair
Powerhouse Arena
See the Historic Belgian Block Streets & Railroad
Catch a concert at Bargemusic
Harriet's Rooftop & Lounge
Check out some local shops
Enjoy a meal with a view at Celestine 
Explore Vinegar Hill
Berl's Brooklyn Poetry Shop
Pass by the Legendary Gleason's Gym 
Enjoy a Fancy Dinner at River Cafe
Hit Up in a Cafe
Get a Sweet Treat! 
Check out More of the Food Scene in DUMBO
The MoDE – The Museum of Digital Experiences
Area 53 
Visit the Art Galleries 
Try a Tour
---
Is DUMBO Brooklyn worth visiting?
Yes, DUMBO Brooklyn is worth visiting for its historic charm, stunning views of Manhattan, vibrant art scene, unique shops, and delicious dining options along the waterfront.
What does DUMBO mean?
DUMBO stands for "Down Under the Manhattan Bridge Overpass." It's a trendy neighborhood in Brooklyn known for its artistic culture, scenic views, and revitalized industrial spaces.
How much time do I need in DUMBO?
A half-day to a full day is typically enough to explore DUMBO. You can visit the iconic spots, enjoy the art scene, dine at local eateries, and take in the stunning views of the Manhattan skyline and the Brooklyn Bridge.
What's the best time of day to go to DUMBO?
Late afternoon to early evening is ideal for DUMBO. You can enjoy the area's ambiance, and capture the sunset over Manhattan.
What is DUMBO famous for?
DUMBO is famous for its stunning waterfront views of Manhattan, the iconic Manhattan Bridge, creative arts scene, historic architecture, trendy boutiques, and being a hub for tech startups and artistic innovation.
What is the famous street in DUMBO?
The famous street in DUMBO is Washington Street, known for its iconic view of the Manhattan Bridge framed between historic brick buildings. It's a popular photography spot.
How do you enter the Brooklyn Bridge from DUMBO?
To enter the Brooklyn Bridge from DUMBO by foot, find the pedestrian walkway from the staircase located in the underpass on Washington Street/Cadman Plaza East and Prospect Street.
Liked this post about the best things to do in DUMBO Brooklyn or found this DUMBO Brooklyn guide helpful? Bookmark for later or share the love below on Pinterest.