Looking for the best restaurants in Williamsburg to try? The neighborhood, which could basically be its own city at this point, offers all the best food from tacos to pizza to upscale restaurants to dive bars and everything in between and has become a gathering point for foodies all over the city with its incredible dining scene and proximity to Manhattan.
While you're here, stick around and check out all the other cool things to do in Williamsburg, check out the Williamsburg street art scene, or just enjoy some of the best views of the skyline from Brooklyn along the East River waterfront.
Whether you are a neighborhood local or just visiting, this guide will provide you with all the best restaurants in Williamsburg! PS, got a plant-diet friend (or for yourself)? We've got a guide to the best vegan restaurants in Brooklyn, which include plenty of options in Williamsburg!
Where to Eat in Williamsburg
Llama Inn
View this post on Instagram
50 Withers St
Llama Inn is one of the best spots for food in Williamsburg and one of my personal picks for best restaurants in Brooklyn. It is Peruvian and has some of the most creative and unique dishes, not to mention some of the best cocktails.
The restaurant itself is also a vibe, with dimly-lit interiors and a wraparound bar in the center of the restaurant making it a great spot for a special occasion or a weeknight out with friends. There is also outdoor seating and a rooftop bar, which are both just as aesthetically pleasing.
While all their cocktails are amazing, your first drink should include anything made with Pisco. As far as the food goes, even though I've been several times, I always am tempted to order the quinoa and beef tenderloin entrée, or what is known in Peru as lomo saltado, which cannot be missed. The entire menu is incredible, making Llama Inn one of the best restaurants in Williamsburg.
Cheeseboat
View this post on Instagram
80 Berry St
The name says it all for this restaurant. Its standout dish is cheese in a boat (aka khachapuri, the signature stuffed cheese bread of Georgia), and who doesn't love both? Not to mention this place is a family-owned spot conveniently located on Berry & N 9th, providing you with ample places to explore after you fill up on your delicious meal!
I always love a classic, original cheeseboat, which is always a great option if this is your first time but the menu also provides options to include vegetables, meats, or seafood in your cheeseboat as well.
If you want to dine here, I recommend a reservation in advance which can be made on their website. Each time I've been without one, it has been pretty difficult to get in because of the popularity!
Birria-Landia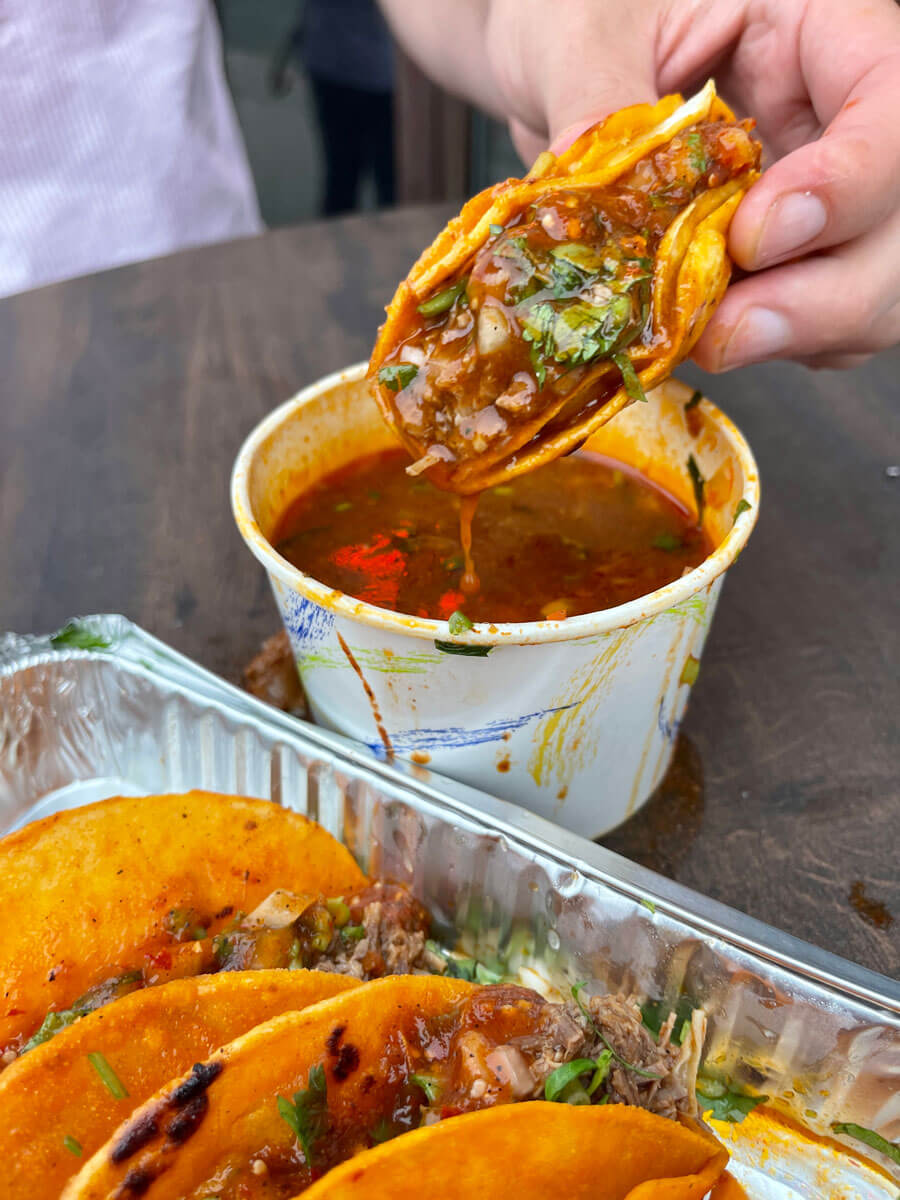 491 Metropolitan Ave
This is hands down one of the best taco spots in Brooklyn, which started after their Jackson Heights location sort of blew up in popularity. Over and over again I heard how incredible this place was, so much that I ventured out to Jackson Heights to give it a try. The line was wrapped around the block for the truck and once I was finally able to order and take my first bite, I understood why.
Now, if you're looking for the best food in Brooklyn, you don't have to go to Jackson Heights to taste these incredible tacos. The line still appears just as long in Williamsburg but trust me, it is worth the wait – and usually, the wait isn't that long. (If you go right when they open you can slide in and get your tacos quickly)
There are four items on the menu and while all are incredible, your first experience has to be the birria taco with a side of consommé. The tortillas are perfectly crunchy and the dip in the consommé makes for the absolutely perfect bite.
This is also one of the best places to eat in Williamsburg if you're looking for a quick, inexpensive meal.
Joe's Pizza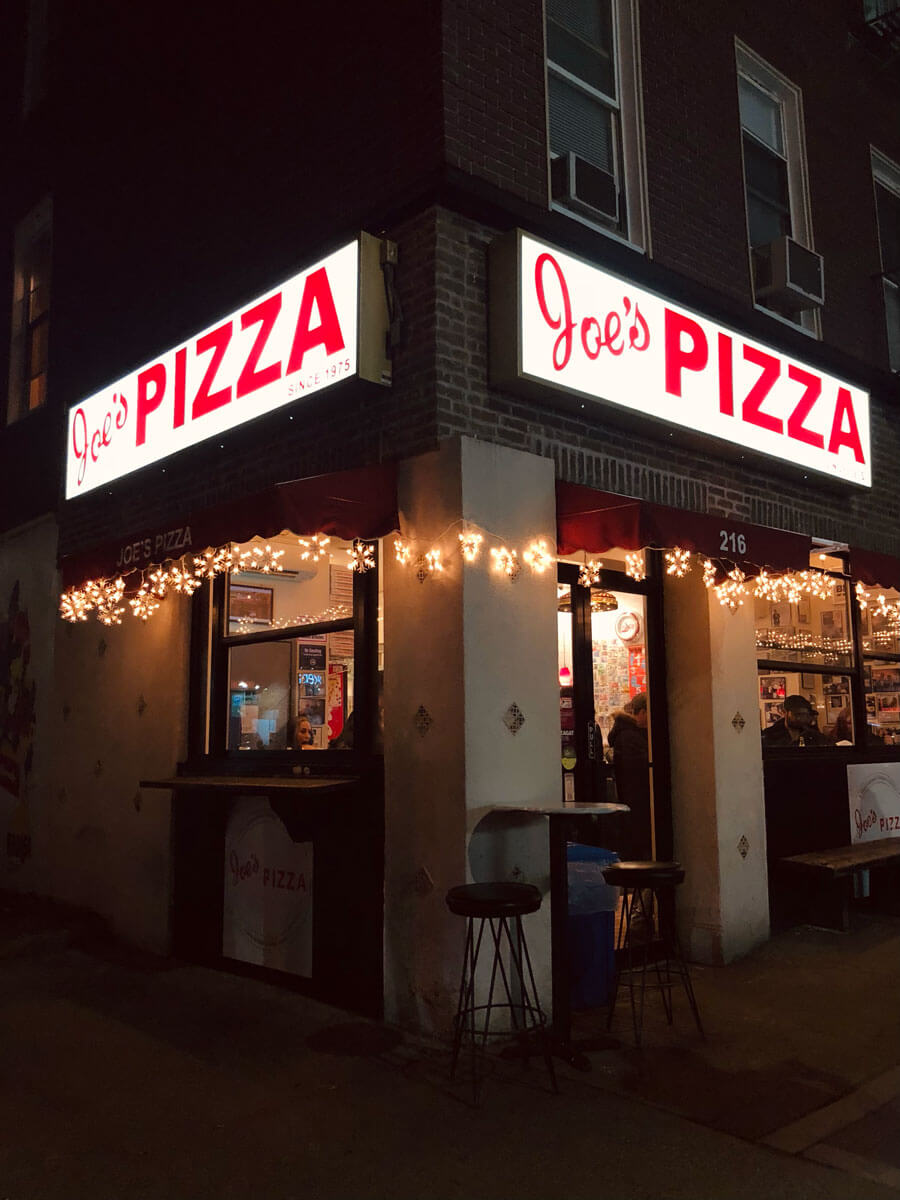 216 Bedford Ave
Another restaurant with several locations around the city, Joe's Pizza remains supreme as far as pizza goes. There is truly nothing better than a NY slice of za and Joe's makes the hands down best slice in the city, and dare I say, the world. In fact, I'm not the only one who thinks this. GQ recently named Joe's Pizza "Best 25 Pizzas on Earth!"
Celebrities and locals alike stop by Joe's on a regular basis (it was even featured on one of the original Spider Mans with Tobey Maguire) and for good reason. It has even become a spot where tourists flock when visiting NY. In fact, there has not been a single time when we've had out of town guests that a slice at Joe's has not been on the itinerary and more times than not, we go again because everyone loves it that much.
The menu is simple and for that reason, your first trip to Joe's should be ordering a slice of plain. The crust is perfectly crisp and perfectly thin for that classic NY fold. Once you've had your first bite, you will understand the addiction, which is when I recommend a slice of pepperoni or ricotta as your second slice.
Westlight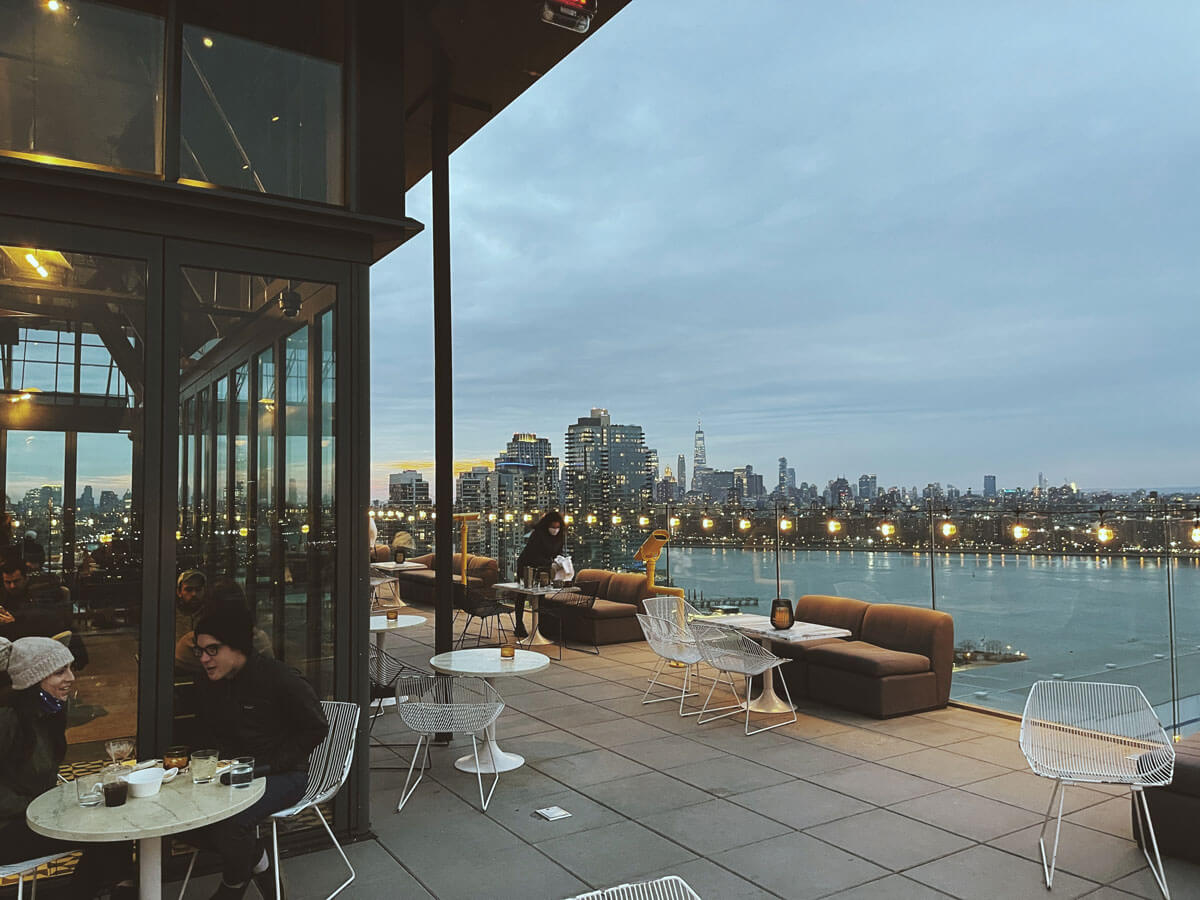 111 N 12th St
Is there anything better than skyline views of Manhattan while you are sipping a perfectly crafted cocktail and a delicious meal? Probably not, which is why it makes Westlight one of the best restaurants in Williamsburg and one of the best rooftop bars in Brooklyn and all of NYC!
Located on the 22nd floor of the very aesthetically pleasing William Vale, one of the best Williamsburg hotels with skyline views, Westlight offers 360 degree views of Manhattan. During the summer, yard games are set up and during the winter, there is an ice-skating rink, making this the perfect year round destination.
I was initially drawn to Westlight because of the views but immediately fell in love with the food. Their menu of small plates offers a wide variety of options that were all inspired by global street food.
They take reservations through their website and I highly recommend grabbing one before heading here! The best time to go? About an hour before sunset so you catch the daytime and nighttime views!
Modern Love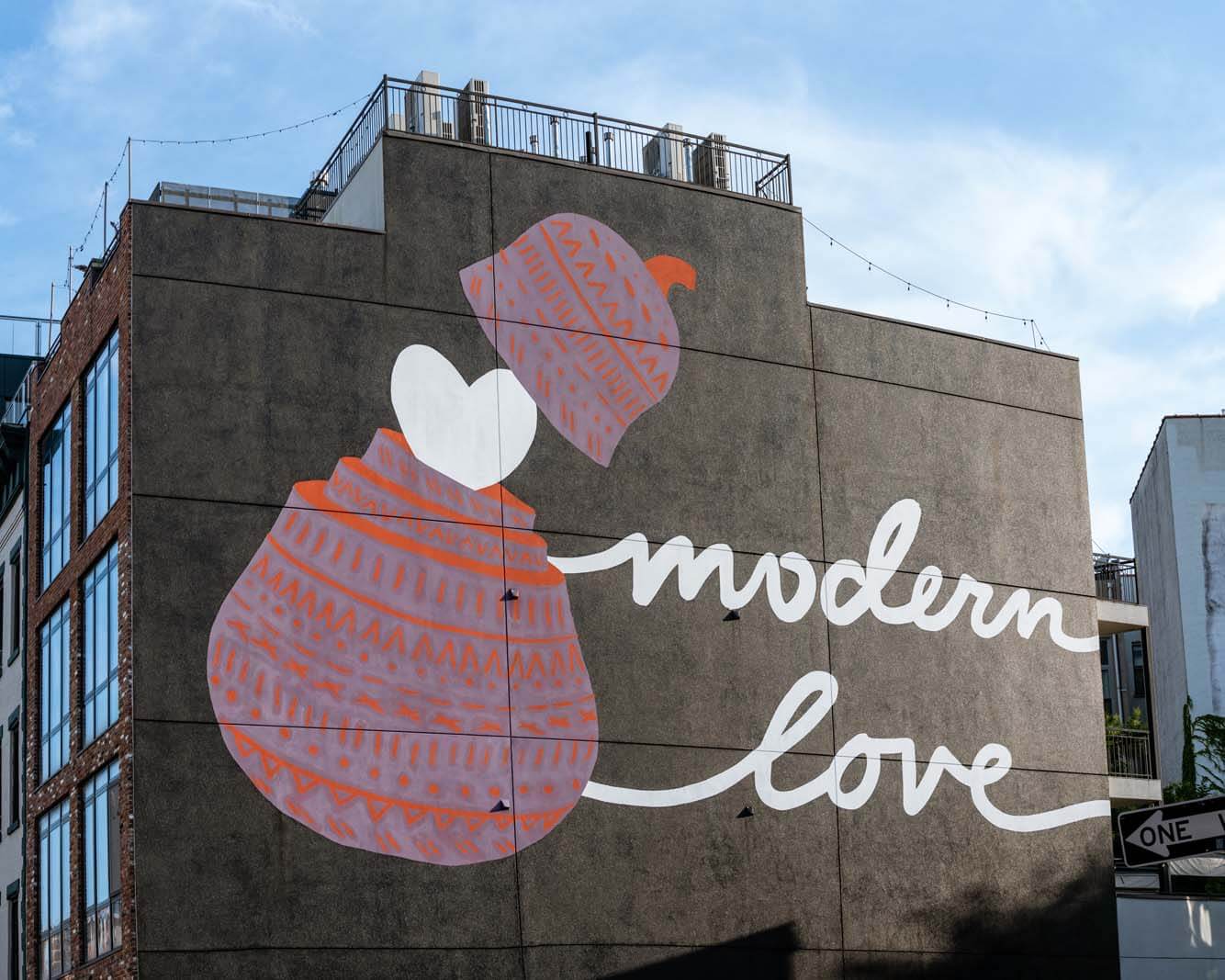 317 Union Ave
I can't help but think of the podcast turned TV series when I'm reminded of this great vegan spot in NYC and one of the best picks for where to eat in Williamsburg. And just like the podcast and show alike, this place is wonderful.
The restaurant is entirely vegan but you do not need to be on a plant-based diet to enjoy this food. The menu is made up of comfort food items including BBQ cauliflower wings, tempura stuffed avocado, a bacon cheeseburger and mac and cheese that tastes as good as the real deal.
The space is beautiful and they offer indoor and outdoor dining as well as take away options. Modern Love is great for groups, whether you are celebrating a special occasion or just celebrating great food, this is one of the best places to eat in Williamsburg.
Lilia
View this post on Instagram
567 Union Ave
There is no way you've googled best Italian food in the city and Lilia has not made it on that list. The waiters are dressed in clean whites to match the beautiful minimalist space that was once an old auto shop.
Being one of the best Williamsburg restaurants, it's hard to get a table so set your Resy notifications now. Don't be disappointed if you get the early bird reservation spot, the food is just as great and you're home in time to get through the pasta coma you've just eaten yourself into.
Gin and tonics are my all-time favorite cocktail and Liila has one of the best I've ever had. Follow that by the cacio e pepe frittelle and the grilled clams to start. Don't skip out on the salad either.
Now you've made it to the best part of the meal; the pastas. Come hungry and come with friends because you're going to want to order them all so you can try a bit of all of them.
Some of the standouts? The rigatoni diavola, malfadini, and sheep's milk cheese-filled agnolotti are all dishes that shouldn't even be a question. You'll order them and you're going to want more when they're done. Save room for dessert because the Italian Job, gelato with olive oil and the olive oil case are incredible.
Can't get into Lilia and still craving some of the amazingness of head chef Missy Robbins? Head over to Misi (at 329 Kent Avenue – another amazing Williamsburg restaurant) for a just as incredible experience.
Peter Luger Steak House
View this post on Instagram
178 Broadway
This wouldn't be a complete guide to the best restaurants in Williamsburg without including the infamous Peter Luger, one of the most famous steakhouses in NYC. It's your classic, old school, NY steakhouse complete with all the thrills that come with classic steakhouses; none, which in my opinion is half the charm.
Must orders? The wedge salad because really are you eating at a steakhouse without starting out with a Ceasar or wedge salad?
The porterhouse steak for two is the next thing to appear on your table. While the price tag is high, the quality is worth every penny. It's covered in butter and salt and arrives completely pre-cut.
Get the creamed spinach for your sides and you have yourself the classic American meal. Still craving more? You can't go wrong with their hot fudge sundae for dessert.
Keep in mind this Williamsburg restaurant is a cash-only establishment. Be sure to hit up the ATM in advance. Also, you'll want to make a reservation in advance.
Bamonte's
32 Withers St
If you're searching for some great Italian cuisine, then this is where to eat in Williamsburg for you! Italian is one of my favorite meals and Bamonte's does Italian so right.
Similar to Peter Luger, it's got all the old school vibes except this time it feels like you are stepping foot in what would have been the scene for the Godfather movies in the 70s, which is close to how long the restaurant has been around, plus or minus 50 years (this Williamsburg restaurant dates back to 1900!).
It's the classic red sauce establishment and has the decor to match. Old phone booths, photographs covering the walls and dirty martinis on every table. The waiters are still in bowties and expect your order all at once.
The cheese ravioli is one of the best. If you're dining solo, get an extra to take home because it's that good. The pork chop parmesan should be your main course followed by any of the desserts and a cup of coffee to finish off the meal.
Barano
View this post on Instagram
26 Broadway
The Italian scene continues to be some of the best picks for where to eat in Williamsburg and Barano is no exception to that. The restaurant features the cuisine of the region of southern Italy, which does not disappoint.
You really cannot go wrong with pizza or pasta but some of my favorites include the cacio e pepe ravioli, spaghetti chitarra, and maccheroni pastas and the nonna and classic margarita pizza.
Just like many of the popular spots for the best food in Williamsburg, Barano can get very busy and a recommendation is highly recommended. You can make reservations through Resy for either indoor or outdoor dining.
Sunday in Brooklyn
View this post on Instagram
348 Wythe Ave
Sunday in Brooklyn checks off everything. Not only do they have a very aesthetically pleasing ambiance, they also have amazing cocktails and some of the best food in Williamsburg.
The space feels similar to a log cabin, making it the coziest in the winter months with exposed food beams and a long wood bar at the entrance. Reservations are a must and while dinner is great, nothing beats their brunch menu, which is why this is one of our favorite Williamsburg brunch spots!
Start off with a cocktail and a matcha (or coffee or tea). If you're a fan of bloody marys, there is one of the best in the city. Mezcal is the base, making it even more unique.
You've probably seen the Sunday pancakes all over Instagram, and for good reason. They are delightful and an order should be on every table. Follow that with the egg & sausage sandwich and you'll have created the perfect meal.
The Commodore
366 Metropolitan Ave
While the Commodore hails as a bar with giant glasses of frozen pina coladas (it's one of our picks for best bars in Williamsburg too), you come for the fried chicken and biscuits.
It's from an alum from Pies 'N' Thighs (another contender for the best food in Williamsburg and neighborhood staple), so you already know they are going to be superior. Don't skip out on the nachos either. They are delightful.
I definitely recommend coming here during the day. While it is still one of the best places to eat in Williamsburg, it becomes a totally different vibe at night, and not in the good way.
The Four Horsemen
View this post on Instagram
295 Grand St
I'm not going to lie – the original reason we came to this popular Williamsburg restaurant is because my boyfriend is a huge LCD Soundsystem fan and so that's what originally brought us to this space. Now, it is a place we revisit over and over because it really is that good, celebrity-owned or otherwise. (If you didn't know LCD Soundsystem's James Murphy is the owner of this Williamsburg restaurant).
The natural wine selection is some of the best in Williamsburg and one of the best wine bars in Brooklyn – but the cocktails are also incredible.
The menu changes daily but some standouts that always reappear and should also be on your table include the warm house bread, crispy potato pave, and the fried chicken. Their fish appetizers usually change but each one I've tried has also been delightful!
As always, make a reservation. The bar is also a decent size and a great spot to sit!
Emmy Squared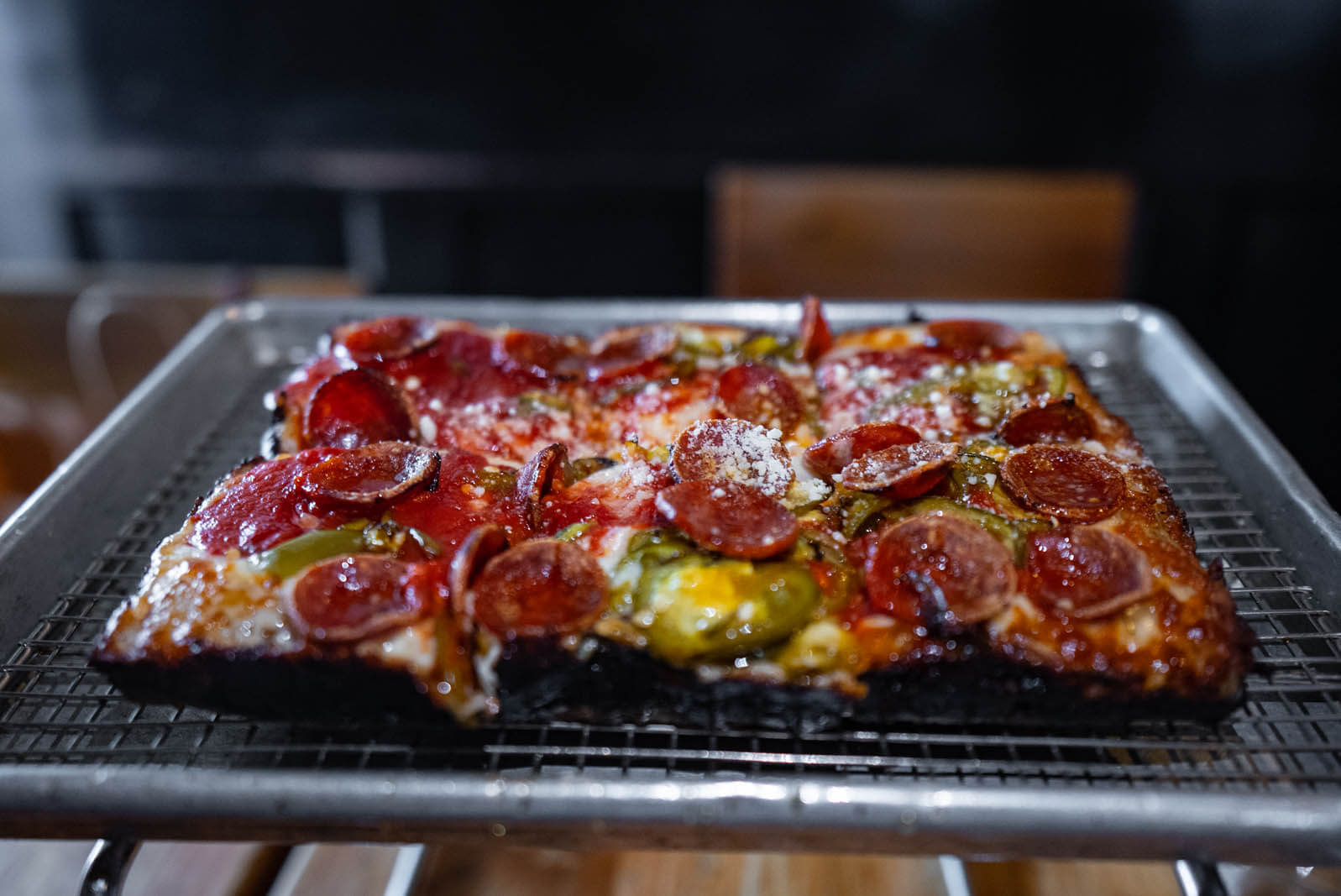 364 Grand Street
I know it feels like Emmy Squared is everywhere so it doesn't feel as special but it is still that special. The extra locations just mean it really is that good but the Williamsburg location still reigns supreme.
All of the pizza is made Detroit-Style and all of the pizza is incredible. Come with friends and share them all. Make a reservation because the space is small and sometimes feels a little cramped, but only in the best way.
Craving something other than pizza? The caesar salad is great as well as the crispy cheddar curds. Do not, I repeat do not, leave without trying at least a bite of the fried chicken sandwich and the Emmy Squared burger, a play on In-N-Out but on a pretzel bun. This is different from the Emily burger, so if you are burger fan, try them both!
And after you've had your fair share of some of the best food in Williamsburg you can head next door to play skee ball with drinks at Full Circle Bar.
Marlow & Sons
View this post on Instagram
81 Broadway
Marlow & Sons wins for one of my favorite Williamsburg restaurants based on ambiance alone. It's dark, candle-lit, cozy and similar to Sunday in Brooklyn, feels like you are in a log cabin.
The menu changes regularly but the chicken stays consistent and is consistently the best thing on the menu.
They also open early for breakfast and their biscuits are something to write home about. If you come for dinner order the oysters to start, the brick chicken, and the crispy rice bowl. Like everything I've mentioned in this guide to where to eat in Williamsburg, they have a good wine list and exceptional cocktails as well.
Reservations are recommended but I've been known to get a spot at the bar without one in the past.
Le Crocodile
View this post on Instagram
80 Wythe Ave
Another pick of the incredible Williamsburg restaurants in an amazing Williamsburg hotel. You walk in and immediately feel like you're in a café in Paris. The outdoor space gives all of those same vibes, making me want to visit this place over and over again. The best part? The menu is also outstanding, making it some of the best food in Williamsburg to try.
The menu is long, so as always, I recommend coming with friends and sharing. Brunch is my favorite meal here, probably because it goes so well with the Parisian vibes.
Start with a pastry of your choice but I always recommend a chocolate croissant. The one here reminds me of one from my favorite bakery that was around the corner from where we stayed on a trip to Paris a few years ago, so you know it has to be good. Other stand out items include the French toast, croque monsieur, eggs royale, and the quiche.
Their coffee selection is also top notch but if you're in the mood for a brunch cocktail you really can't go wrong with any of the classics.
Reservations are accepted and recommended.
Diner
85 Broadway
Diner is hands down one of the best restaurants in Williamsburg. Not only is it located in a real old-school Pullman diner car under the Williamsburg Bridge, the ever changing menu offers seasonal American fare. There are a few staples on the menu like the burger, which in my opinion is one of the best in Brooklyn.
Reservations are accepted for indoor dining. As mentioned, the menu changes daily and their portions are on the larger side, if you ever see the brick chicken on the menu – it's a must. They also do mussels well! Diner also has great cocktails, which should not be skipped.
Also, if you love old-school spots, check out our guide to the best diners in Brooklyn.
L'Industrie
254 S 2nd St
Surpise, surprise. Should it be a surprise that one of the best places for a slice of pizza in NYC is also one of the best places to eat in Williamsburg? L'Industrie is popular slice shop (you can get the whole pies too).
Be sure to try the burrata for one of the most perfect slices of pizza you'll ever try. This is one of their most popular slices and it is a classic featuring just a few ingredients done right, tomato sauce, mozzarella, and burrata.
For meat eaters, you'll want to try the pepperoni or spicy salami. Or spring for the New Yorker which has pepperoni, salami, mozzarella, ricotta, and tomato sauce.
For something a little different opt for the fig and bacon slice which perfectly combines salty and sweet flavors. You really can't go wrong here. This is one of the best quality cheap eats in the city.
---
About Our Guest Author
Molly Royce – Originally from Oklahoma, I moved to NYC for grad school and have had a hard time wanting to leave ever since. There really is no better borough than Brooklyn where I live with my boyfriend and our black lab, Frankie. There's no greater city in the world and I can't wait to share my love of the city, eating, and drinking with all of you.
---
Did we miss your favorite Williamsburg restaurants? Let us know in the comments below and we will be sure to check out your picks for best food in Williamsburg!