Looking for the best songs about NYC? We have you covered in this packed list of fun New York songs to add to your playlist before your next visit to the Big Apple. It's no surprise so much great music is written about this city, so much talent wan not only born and bred here, but talent is attracted to this city.
Check out all our favorite songs about NYC and extra New York anthems and New York songs to get inspired before your next visit or to listen to when you're missing this energetic city.
From classic jazz hits from the 1930s to famous Broadway hits, hip hop artists, to rock music, and today's biggest pop stars, we've got them all on our guide!
Our Favorite Famous Songs About NYC
New York New York by Frank Sinatra
This is single-handedly the most famous and well known of all New York songs! This was the last hit song that famous crooner, Frank Sinatra released in 1980 which is pretty surprising as we always assumed it was much earlier as he was one of the most popular singers of the 1940s and 1950s.
Believe it or not, but this song about NYC also wasn't originally recorded by Sinatra but by Liza Minnelli in a 1977 film by Martin Scorsese where she starred alongside Robert De Niro.
The song lyrics are from the perspective of a small town entertainer who moves to New York to make it in the city with a wholesome and positive attitude towards the challenges they may face in the big city.
The New York Yankees famously play this New York City anthem after each game at their stadium, win or lose!
Favorite Lyric: "If I can make it there, I'll make it anywhere, It's up to you, New York, New York"
Empire State of Mind by Jay-Z & Alicia Keys
Easily the other most recognizable songs about New York and New York City anthems is Empire State of Mind by Brooklyn rapper Jay-Z and fellow New York artist Alicia Keys. You can find this number on Jay-Z's Blueprint 3 album. This is one of those songs that really gets the crowd going and singing along which makes it one of our top picks for New York City anthems.
Initially, Jay-Z was going to record this song with Mary J. Blige but opted for Alicia Keys because of her talented piano playing skills.
In the song, Jay-Z even references our previous song about NYC in his lyrics, "Since I made it here, I can make it anywhere," referencing Sinatra's hit, another fellow New Yorker.
This New York song also won 2010 Grammy Awards for Best Rap/Sung Collaboration and Best Rap Song.
Bonus! We are going to include Ms. Keys additional version titled Empire State of Mind (Part II) with this as well!
Favorite Lyric: "Concrete jungle where dreams are made of, There's nothing you can't do, Now you're in New York, These streets will make you feel brand new, Big lights will inspire you, Hear it for New York, New York, New York"
New York State of Mind by Billy Joel
A classic hit and song about New York is by Billy Joel and was released in 1976. The song was said to have been influenced by his decision to move back to New York City after living in Los Angeles for four years and was really riding the Greyhound on the Hudson River line when he thought of the lyrics to this New York City anthem.
Billy Joel performed this in 2001 at the Tribute to Heroes telethon event and benefit to the victims of 9/11 while wearing a helmet of one of the firefighters on the rescue team who lost their life on that day.
Favorite Lyric: "I'm just taking a Greyhound on the Hudson River line, 'Cause I'm in a, I'm in a New York state of mind"
No Sleep Till Brooklyn by Beastie Boys
Here's another one of our favorite songs about NYC and songs about Brooklyn by the Beastie Boys dedicated to our borough, Brooklyn. And believe it or not, this New York song is actually a parody poking fun at glam and heavy metal music.
Because they needed the song to sound the part, they needed a guitar riff which was played by a guest guitarist Kerry King from the band Slayer. This was an odd pairing, as neither parties particularly liked eachother.
Jay-Z, another Brooklyn artist and no stranger to songs about NYC, performed this song as a tribute to the Beastie Boys at a music festival in 2009.
Favorite Lyric: "No sleep till, No sleep till Brooklyn! No sleep till Brooklyn! No sleep till Brooklyn! No sleep till Brooklyn!"
ABCs of New York by Princess Nokia
Hands down, this is one of the most fun songs about NYC that's easy to sing along to. The ABCs of New York by artist Princess Nokia is a love ballad to the city of New York, where the artist lived in East Harlem.
Unlike other New York songs, this one has no hook or chorus yet she covers all types of people and experiences you encounter in the city while she goes through the alphabet.
Favorite Lyric: "A is for the apple, take a bite and spit it out, B is for bodega, eatin' on your mama couch"
Alexander Hamilton by Lin-Manuel Miranda
My personal favorite of the sing-along New York songs thanks to the hit Broadway musical Hamilton by Lin Manuel Miranda in 2016. The entire production of this show is artistically incredible from the lyrics to the entire musical telling the story of founding father Alexander Hamilton to the lighting, choreography, and of course the Broadway stars who play the characters.
The opening song to Hamilton is Alexander Hamilton where most of the cast sings and introduces the audience to the musical chronicling Hamilton's existence to what he achieves in his lifetime from when he was born to his lovers to his role in the fabric of our country, to his death.
This is one of the most popular songs in the entire musical, and it's no wonder why. This piece is a New York City anthem, if you've already heard the song or seen the musical either in person or on Disney+, you can't help but read these lyrics and start singing along.
Favorite Lyric: "In New York you can be a new man (just you wait), In New York you can be a new man (just you wait), In New York you can be a new man, In New York, New York, Just you wait, Alexander Hamilton"
PS if you've never seen Hamilton before, be sure to check out our guide for
how to see a Broadway show in NYC
! We cover tips and tricks for how to get discounted tickets, lottery tickets, and a beginner's guide to seeing a show in NYC! This is by far still the best live performance we've ever witnessed!
Talkin' New York by Bob Dylan
Another oldie but goodie song about New York by legendary musician Bob Dylan. This song chronicles his journey as a musician arriving to New York City and having a difficult time finding gigs.
Anyone who knows this city knows pretty much any job exists here, but it can be a tough place to get by and get your foot in the door. Luckily, we know how this turned out for Bob Dylan, he had a very successful career with many hits.
Bob Dylan famously lived in Greenwich Village at 94 MacDougal Street, one of the most desirable neighborhoods to live in Manhattan and is mentioned throughout the song. This home is the more famous residence he had in the city, the first place he lived was just down the street and would have been around the same time he wrote about in this song about NYC.
Favorite Lyric: "Thought I'd seen some ups and down, 'Till I come into New York town"
Also, if you love vinyl, check out all the best record shops in Brooklyn!
Spanish Harlem by Ben E. King
A charming and classic love song about New York is Spanish Harlem by Ben E. King. For those unfamiliar with Spanish Harlem, it's a neighborhood in the city with a large Puerto Rican and Latin American population.
In the lyrics, you learn about a beautiful flower and the singer is dreaming of taking the flower to his garden, the flower represents a girl.
Ben E. King used to be in the band The Drifters, but he parted ways and this song about NYC was his first single released on his own as a solo artist along with other Spanish inspired songs like "Besame Mucho."
And believe it or not, this song about NYC wasn't just recorded by one artist, it was also performed and recorded by legendary "Queen of Soul," Aretha Franklin and the popular 1960s American folk-rock group Mamas and Papas.
Favorite Lyric: "There is a rose in Spanish Harlem, A red rose up in Spanish Harlem"
New York City by John Lennon
This song about New York City by legendary Beatles artist John Lennon was about his famous move to the city with his wife and partner Yoko Ono. Their move was in 1971, and it was in 1980 when Lennon was shot at his apartment building and passed away.
This NYC song is a reminder of his first impressions of people and city and some people refer to this song as a sequel to the Ballad of John & Yoko, a song he wrote and performed with the Beatles.
An incomplete version of the song was also used in the couple's film titled Clock. You hear more of the 'que pasa' lyrics featured in this version of the song about NYC than you do in the version we hear today.
Favorite Lyric: "Just a cycling through the Village, But found that we had left it back in London, Well nobody came to bug us, Hustle us or shove us, So we decided to make it our home"
Welcome to New York by Taylor Swift
We can't share a round up of famous songs about NYC and not include singer, songwriter, and performer Taylor Swift. Swift relocated to NYC in 2014 and lived in the city for a few years in Tribeca and Greenwich Village which make special appearances in her songs on her album 1989.
This song expresses her love to the city, which is no surprise. And she even has another song about NYC on this album dedicated to the city titled, Cornelia Street where one of her homes was located.
Some criticize that this is a gentrification NYC anthem the city didn't need. But good luck trying to tell that to Swift's hardcore fans.
Favorite Lyric: "Like any great love, it keeps you guessing, Like any real love, it's ever-changing, Like any true love, it drives you crazy, But you know you wouldn't change anything, anything, anything, Welcome to New York, It's been waitin' for you"
I Love NYC by Andrew W.K.
Another favorite fist-pumping New York City anthem is by the upbeat rock artist Andrew W.K. titled I Love NYC. Andrew W.K. started his career in his most of his childhood home state of Michigan before moving to New York City, where he draws his inspiration for this party anthem.
His NYC experiences include his early years before 'making it' working as a bubblegum machine sales person, ticket salesman, fashion photographer, and even a decorator for the windows at the famous NYC department store Bergdorf Goodman, its no secret with a resume like this that he is creative to the soul.
Favorite Lyric: "I love New York City, Oh yeah, New York City, I love New York City, Oh yeah, New York City, Oh, oh, oh oh oh oh, New York, oh, oh, oh, oh oh oh"
Take the A Train by Duke Ellington
Let's go back in history to the 1930s for this next popular New York song by American composer and jazz artist Duke Ellington. Take the A Train became one of the most famous songs about NYC and compositions of the swing era.
It's no secret that Ellington had a huge influence in the jazz music scene, and this composition is one fine example of that.
While this is mostly an instrumental number, there are a few lyrics to this New York song which was often used Ellington's opening song to his orchestra and became his signature song.
Billy Strayhorn is the mind behind the lyrics that go along with the music, but they were sung by Joya Sherrill and even performed by Ella Fitzgerald.
This song has also made an appearance several times in Hollywood cinema, one of my personal favorites is Catch Me If You Can with Leonardo DiCaprio.
Favorite Lyric: "Hurry, get on now it's coming, Listen to those rails a thrumming, All 'board get on the 'A' train, Soon you will be on Sugar Hill in Harlem"
New York Groove by Ace Frehley
Another fun New York City anthem by the original lead guitarist, occasional lead vocalist, and one of the founding members of the rock band Kiss, Ace Frehley.
Not only is this 1978 song a New York City anthem, but it has been quoted by Ace himself that this song is his own personal anthem. While he didn't actually write the lyrics, he resonated with them as he is from the city in the Bronx.
Out of all of the Kiss members who did solo albums, there were 4 by Ace Frehley, Paul Stanley, Gene Simmons, and Peter Criss, only this New York song was a hit single.
Favorite Lyric: "Here I am, and in this city, with a fistful of dollars, And baby, you'd better believe, I'm back, back in the New York groove, I'm back, back in the New York groove"
New York City Serenade by Bruce Springsteen
This New York City anthem this time by famed singer Bruce Springsteen. Unlike many of our other picks for songs about NYC, Springsteen actually never lived in New York, he visited often which some say gave him a nice detached point of view about the city as he mentions and references the city in more than this song.
This song was released on his 1973 album, The Wild, The Innocent & The E Street Shuffle. The song is about travelers and the people who live in New York City.
This track has more jazz influence than the rest of his music and he often played it live in concert throughout the 1970s. Oftentimes, his live performances were different so every time you saw him perform it live it would be a slightly different variation of the song.
Favorite Lyric: "Jackie's heels are stacked, Billy's got cleats on his boots, Together they're gonna boogaloo down Broadway and come back home with the loot, It's midnight in Manhattan, this is no time to get cute, It's a mad dog's promenade, So walk tall, or baby, don't walk at all"
New York, I Love You But You're Bringing Me Down by LCD Soundsystem
This next song about NYC is a bit of a slower, and a downer but that's what living in the city is about. The good and the bad.
New York, I Love You But You're Bringing Me Down is by the rock band LCD Soundsystem and was released as the final track on their 2007 album Song of Silver.
The band is from Brooklyn and this song is the band co-founder James Murphy's love letter to his home city going through the emotions of love and hate done poetically in this song.
Favorite Lyric: "New York, I love you, but you're bringing me down, Like a rat in a cage, pulling minimum wage, New York, I love you, but you're bringing me down"
More Great Songs About NYC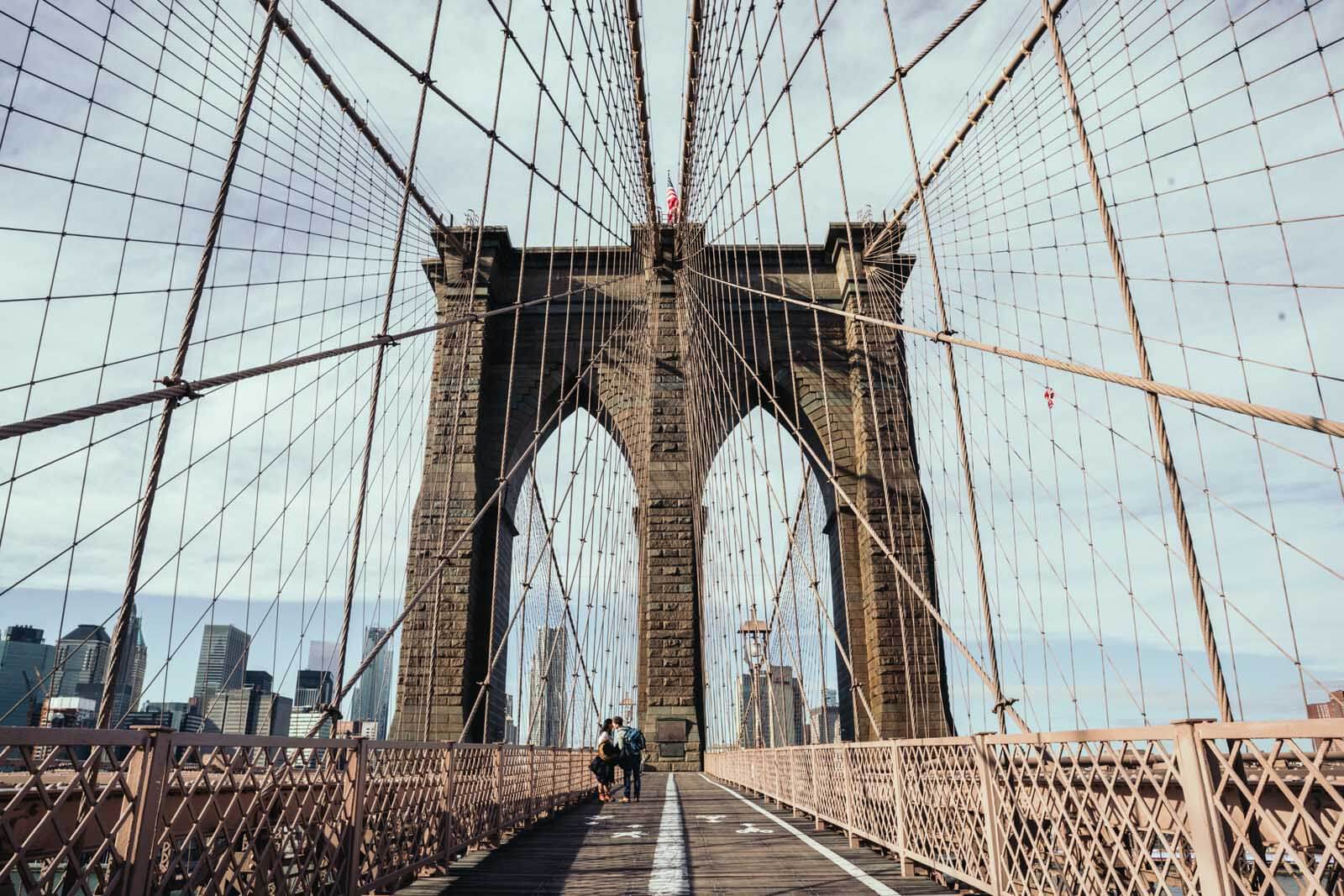 Now that we covered our personal favorite New York City anthems and songs about NYC in-depth, there are plenty of honorable mentions. Here are some more great songs about NYC.
New York City Cops by The Strokes
A Punk by Vampire Weekend
New York, New York by Ryan Adams
Tompkins Square Park by Mumford and Sons
NYC by Notorious B.I.G., Faith Evans, & Jadakiss
Heaven's in New York by Wyclef Jean
Autumn in New York by Billie Holiday
Thousands are Sailing or Fairytale of New York by The Pogues
Brooklyn Bound by The Black Keys
53rd & 3rd by The Ramones
Bells of New York City by Josh Groban
New Killer Star by David Bowie
Chelsea Morning by Joni Mitchell
Safe in New York City by AC/DC
Born in New York by Papoose
Ever Since New York by Harry Styles
Walk on the Wild Side by Lou Reed
New York by St. Vincent
Downtown Train by Tom Waits
Rockaway Beach by Ramones
The Only Living Boy in New York by Simon & Garfunkel
Englishman In New York by Sting
Drop Me Off in Harlem by Duke Ellington
Hello Broadway by Four Tops
In the Heights by Lin-Manuel Miranda
Subway Train by New York Dolls
Manhattan by Ella Fitzgerald
NYC by Interpol
Brooklyn on a Saturday Night by Neil Diamond
Cornelia Street by Taylor Swift
Hard Times in New York Town by Bob Dylan
Chelsea Hotel No. 2 by Leonard Cohen
Blue Belles O' Harlem (The Belles Of Harlem) by Duke Ellington
Fell in Love with New York by The Zolas
Central Park Blues by Nina Simone
East Side of Heaven by Bing Crosby
Cruise to Harlem by David Cassidy
Back to Manhattan by Norah Jones
Funky Apple by Dave Matthews & The Electric Birds
Back to the Bronx by 2 Live Crew
New York New York by Grandmaster Flash and the Furious Five
On Broadway by The Drifters
5 Boroughs by KRS-One with Bounty Killer, Buckshot, Cam'Ron, Keith Murray, Killah Priest, Prodigy of Mobb Deep, Redman, Rev. Run, and Vigilante
Another Rainy Day in New York City by Chicago
Grand Central Station by John Coltrane
All The Way From New York by Wilson Phillips
City Love by John Mayer
Harlem Blues by Nat King Cole
An Open Letter to NYC by The Beastie Boys
Angel of Harlem by U2
Big Man on Mulberry Street by Billy Joel
Avenue B by Iggy Pop
Back to Brooklyn by Neon
Goin' to New York by Jimmy Reed
Hello Brooklyn by Beastie Boys
Bleecker Street by Simon & Garfunkel
Bone to Bone (Coney Island White Fish Boy) by Aerosmith
Broadway by The Clash
Copacabana (At the Copa) by Barry Manilow
Brooklyn Blues by Barry Manilow
Dodgers Were in Brooklyn by The Great Divide
Going Back to Harlem by Mase
Brooklyn's Finest by Jay-Z feat. The Notorious B.I.G. – if you're a fan of Biggie, check out our Notorious B.I.G. Brooklyn Guide to landmarks and murals!
Chelsea by Counting Crows
The City by Fleetwood Mac
New York City Is Killin Me by Ray LaMontagne
Dance in a New York by Tristan Palmer
Girl from Harlem by Bandwagon
New York As A Muse by Yoko Ono
Coney Island by Death Cab for Cutie
New York City Rhythm by Barry Manilow
Leaving New York by R.E.M.
My New York by Irving Berlin
I Love New York by Madonna
Diana (From N.Y.C.) by Lee Moses
Empire State Building by Randy Newman
King of New York from the soundtrack to Newsies
Hotel Roosevelt by Augustana
A Letter to the New York Post by Public Enemy
Everybody's Shakin' Hands On Broadway by Luv'
Flatbush Avenue by Weird Al Jankovic
Get A Hold by A Tribe Called Quest
I Can't See New York by Tori Amos
Midtown by Tom Waits
The Girl From New York City by The Beach Boys
Harlem by Bill Withers
New York City by The Chainsmokers
Lovers in New York by Johnny Mathis
I'm Singing Broadway by Bette Midler
Jenny From the Block by Jennifer Lopez
L.E.S. by Childish Gambino
Macy's Day Parade by Green Day
New York by Ed Sheeran
The Night That the Lights Went Out in NYC by The Ataris
New York Minute by Don Henley
---
Did we miss any of your favorite songs about NYC? Let us know in the comments, we are always looking for new songs about New York to add to our collection and playlist!