Trying to visit Brooklyn on a budget? No problem, there are plenty of cheap things to do in Brooklyn and even free things to do in Brooklyn believe it or not. As a college student here in the city, I can attest that there are ways to enjoy the city without breaking the bank.
This guide to enjoying an affordable time in Brooklyn is separated into two sections, free things to do and cheap things to do. You'll quickly find that there's no shortage of sights to see, entertainment, and places to go! And if you need help planning your visit, check out our itinerary and guide to a perfect Brooklyn weekend.
Also, see our guide to how to enjoy New York City on a budget too for all kinds of money-saving tips and tricks, not to mention we also have a great list of other free things to do in New York City too! And for places to stay – we got you! Check out our guide to the best affordable hotels in Brooklyn under $200 a night!
Free Things to do in Brooklyn
If you're in NYC living on a budget, or you're a broke college student like me, you know how difficult it might sound to find completely free things to do in Brooklyn, especially with the costs of living in NYC being one of the highest in the world.
But after living here the past few years you get to know that there are still plenty of things to do that are actually completely FREE and no cost to you! Add that with a little creativity and you can really plan an awesome visit to the city, or if you live here like me, you can plan fun activities around the city without budget concerns.
Brooklyn Bridge Park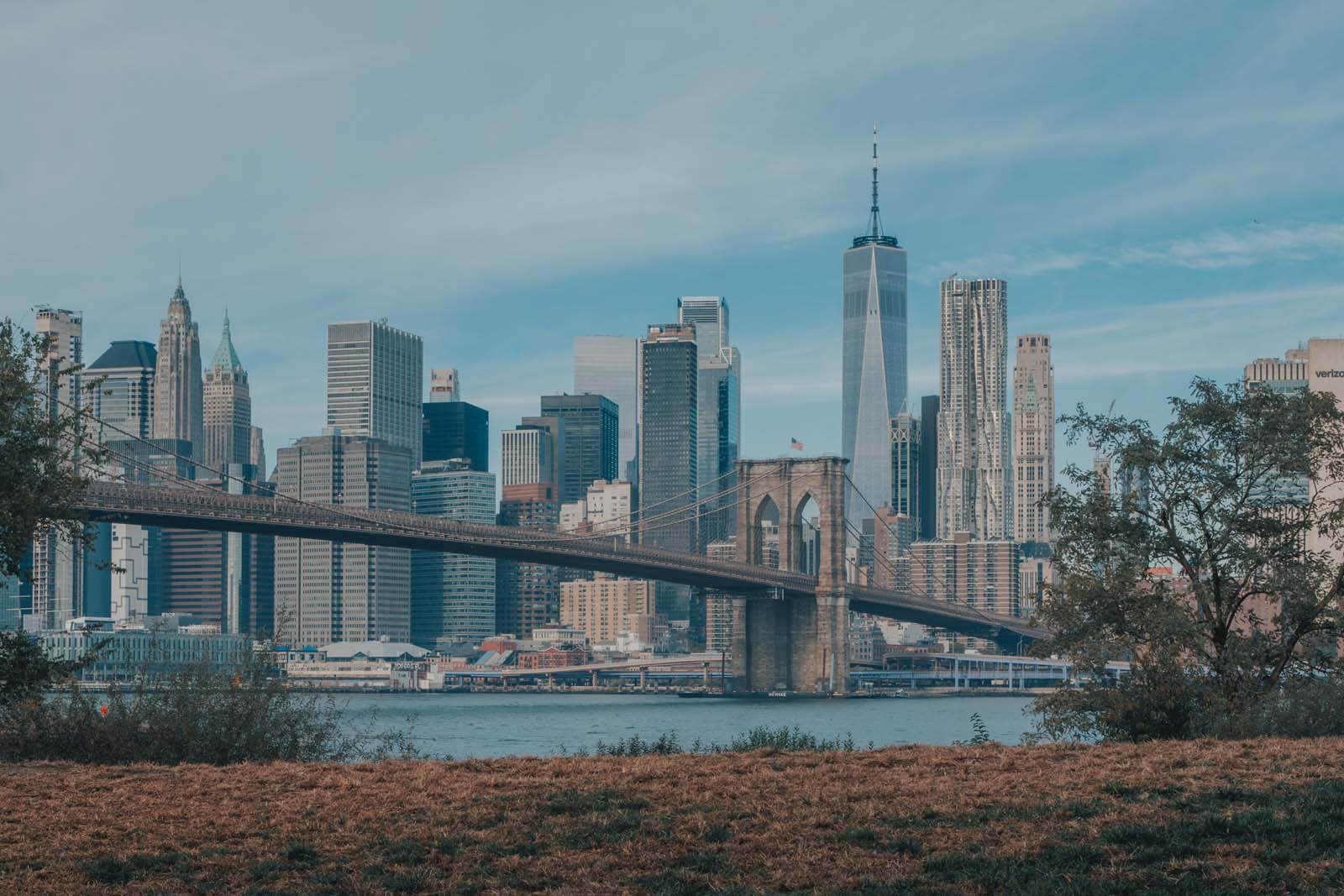 The Brooklyn Bridge Park is one of the best free things to do in Brooklyn! Located in DUMBO, this park has 6 of the best piers in NYC with so many different things to offer, not to mention this is one of the best picnic spots in NYC thanks to the views.
You can participate in a fitness class, check out the amazing views of the Manhattan skyline, or even soak up the sun with a picnic on the grass as this is one of the most scenic picnic spots in Brooklyn with arguably the best views of of the city skyline and if you're looking for the most prime location here, check out the lawn between Manhattan Bridge and Brooklyn Bridge.
There are endless things to do while exploring Brooklyn Bridge Park and STUNNING views – the best part is, it's free!
Also check out Prospect Park for another awesome park in Brooklyn!
Picnic in the Park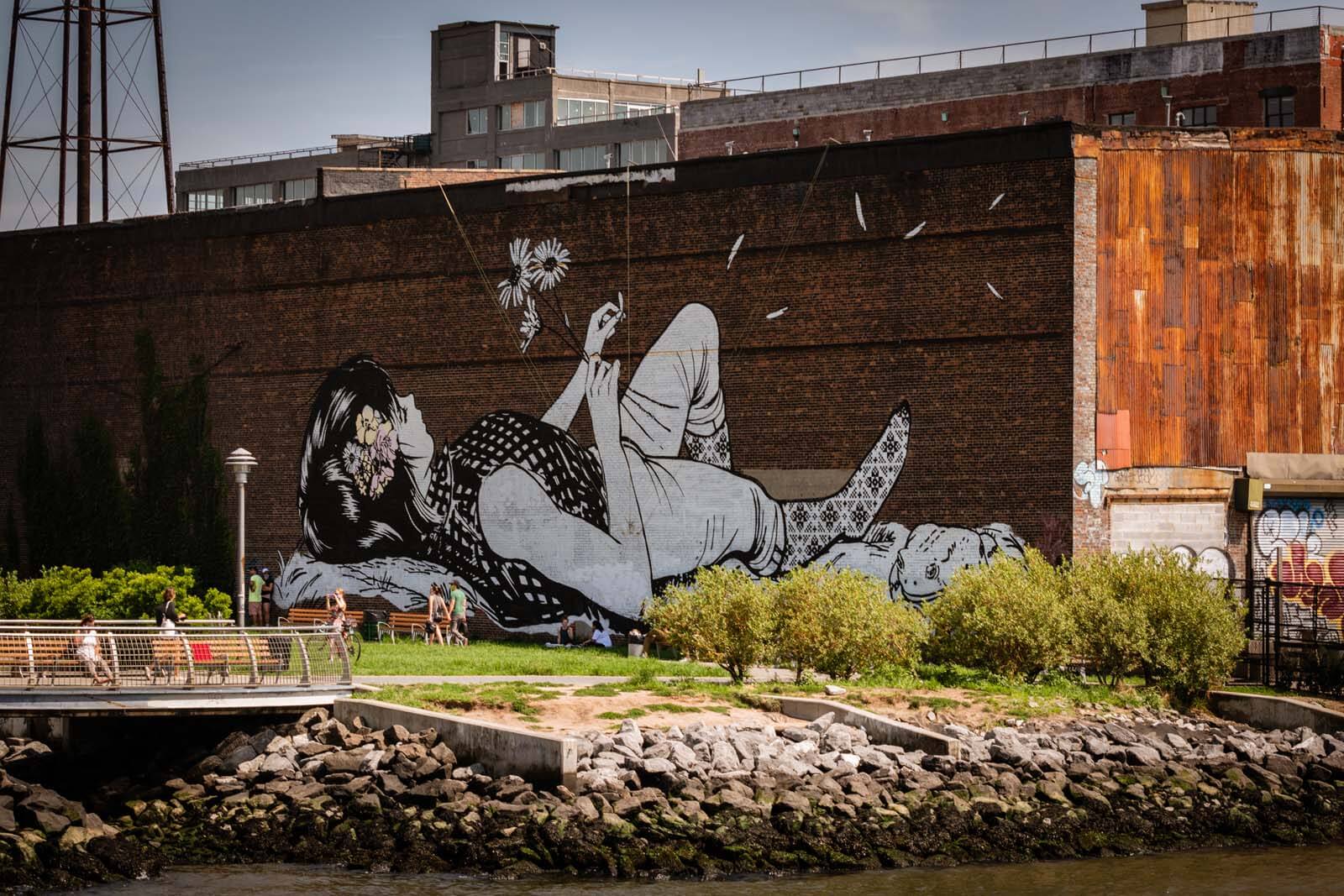 As previously mentioned above, a picnic in the park is one of the best free things to do in Brooklyn! With so many places to choose from, you are guaranteed to find a picnic spot in Brooklyn that is perfect for you.
Bring your own food, drinks, and something to sit on as you sit back and relax. Better yet if you pick a spot with a view, which there are ample waterfront spaces along the East River waterfront that offer great picnic spots with the best-unobstructed views of the NYC skyline and the popular bridges.
In addition to Brooklyn Bridge Park, I recommend Marsha P Johnson Park, WNYC Transmitter Park, and Domino Park for views along the East River.
But if you want to learn more, be sure to check out our guide to the best parks in Brooklyn for more ideas
Industry City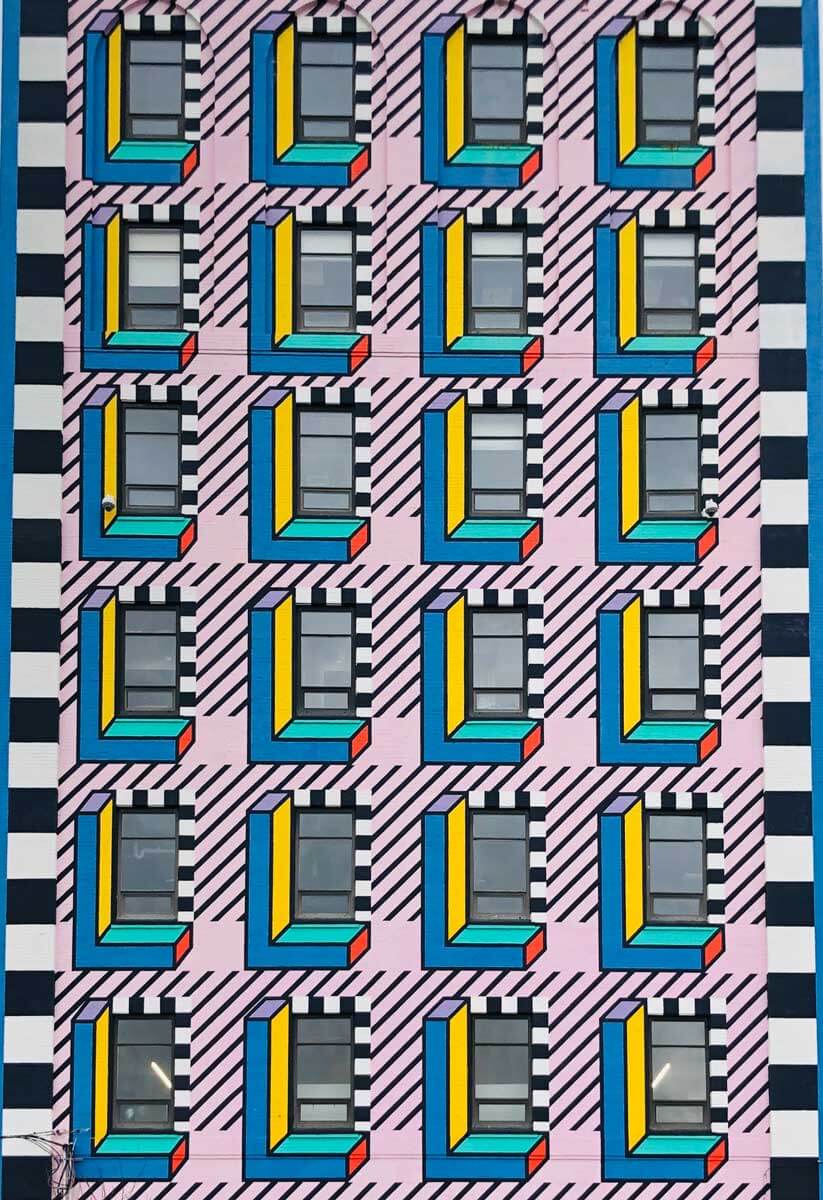 Industry City in Sunset Park is another spot to add to the list of best free things to do in Brooklyn. Located along south Brooklyn's waterfront is a complex of old industrial buildings that have been transformed and given a second life to with cool street art, outdoor art sculptures, and an overall creative space waiting to be explored!
Check out their free spirituality class on Monday evenings, as well as their yoga class on Tuesday nights. They also have free interactive art exhibitions that are on display all year long as well as seasonal displays that are constantly changing commissioned by artists.
And if you do have some moolah to spend, they have some great options for dining, including affordable options at Sahadi's and Japan Village as well as cool shops. If you love street art, check out our guide to the best Brooklyn street art.
Brooklyn Bridge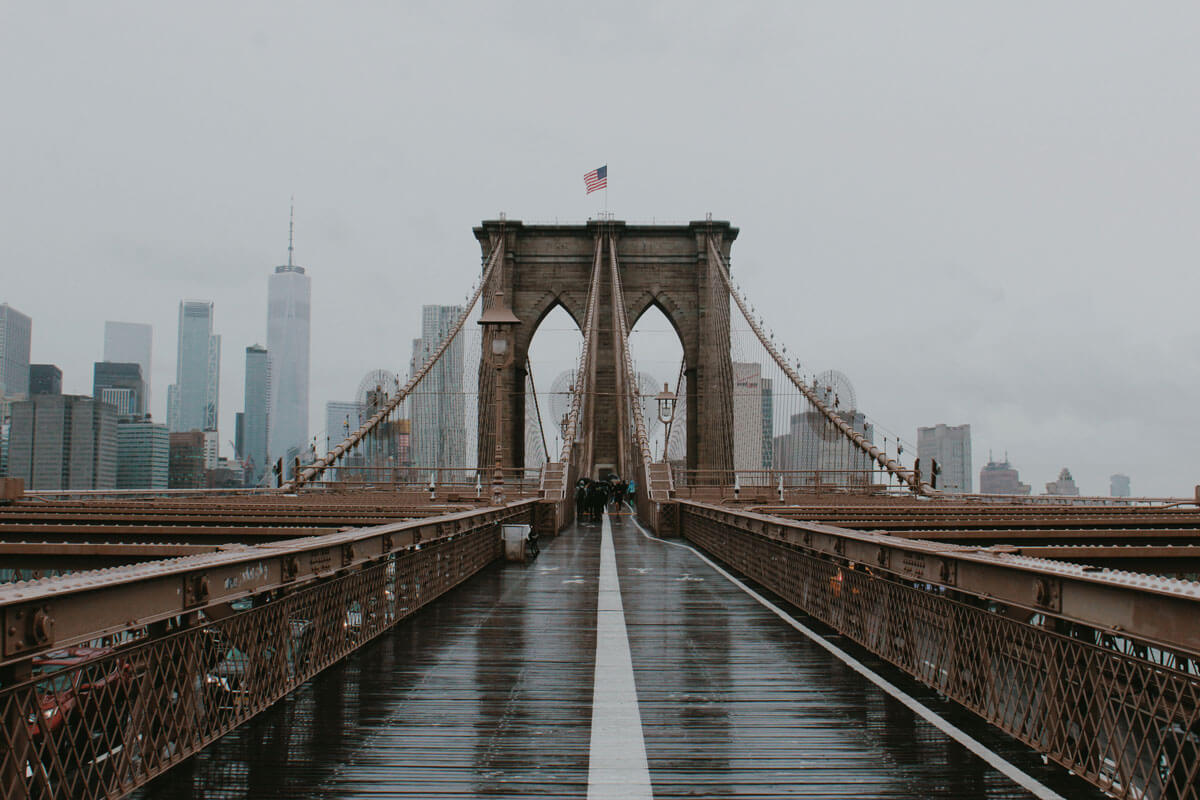 Not only is the Brooklyn Bridge one of the best free things to do in Brooklyn, but the views are also unmatched! You can walk, run, bike or drive across the bridge, but we recommend walking if you really want to take in the entire view!
Once you cross or walk the Brooklyn Bridge you can head to Lower Manhattan for the Staten Island Ferry which is the best way for how to see the Statue of Liberty for free! (You can even BYOB on the boat, so stop at a bodega on the way).
Also check out the walk across Williamsburg Bridge and the walk across the Manhattan Bridge for more free things to do in Brooklyn with amazing views and great photography opportunities.
And if you love a good love story, brush up on the history of the Brooklyn Bridge before!
Celebrate Brooklyn!
The Celebrate Brooklyn! Festival is another awesome free thing to do in Brooklyn and is one of Brooklyn's biggest summer attractions hosted by BRIC!
This free, outdoor performing art festival was created as a way to bring people into Prospect Park. After years of neglect, it has now brought over 250,000 people each year to the neighborhood and over 2,000 culturally diverse artists.
If you're looking for a cool summer hangout, check out this free festival in Brooklyn!
Brooklyn Botanic Garden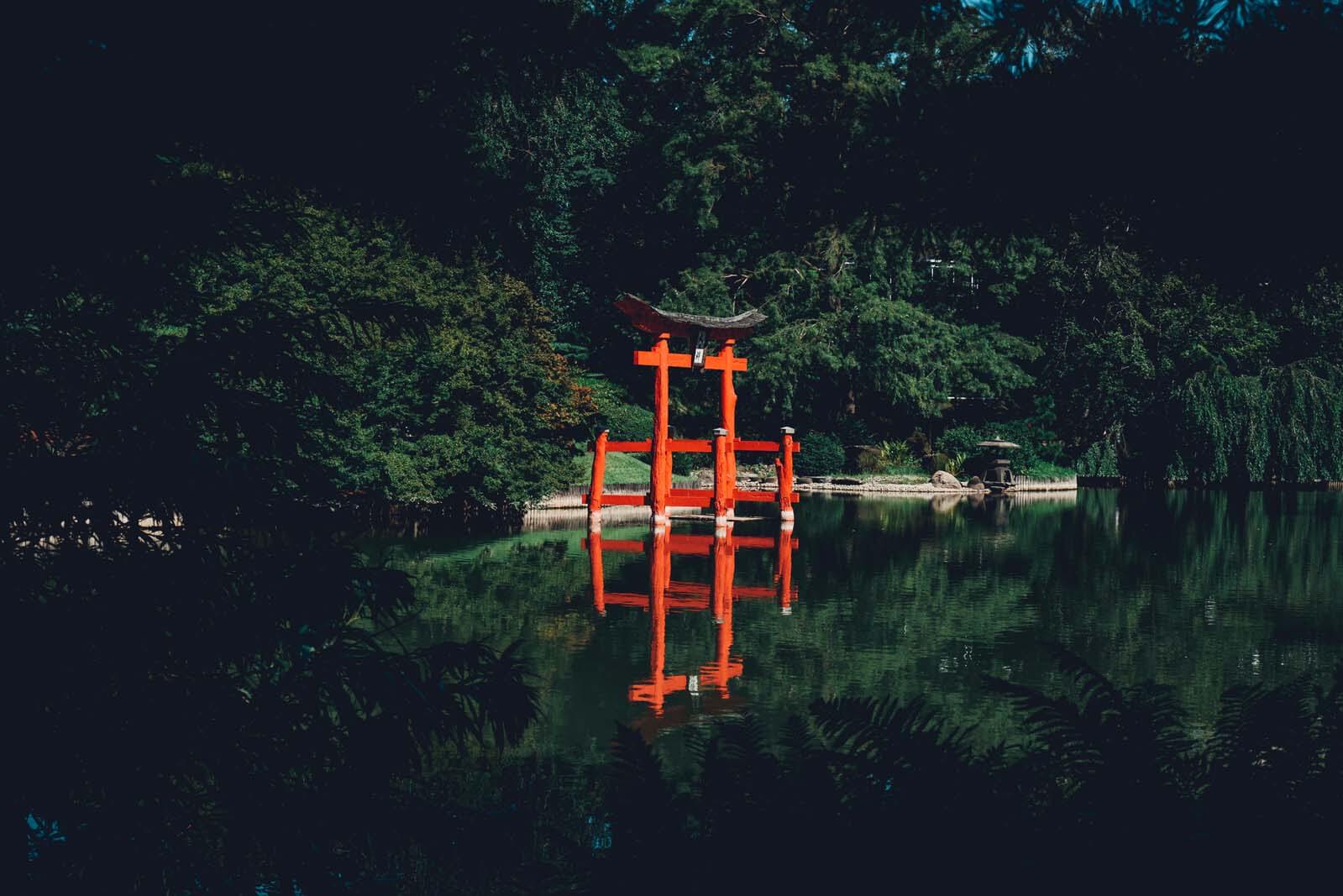 The Brooklyn Botanic Garden is arguably one of the best places to visit and things to do in Brooklyn! Stroll through the garden and check out all of the beautiful flowers and plants that bloom here.
The 52-acre garden is home to collections of native and exotic plants that bring in over 900,000 visitors each year!
Normally, the Brooklyn Botanic Garden is not free, but you can visit in for free every Tuesday as well as every Saturday from 10 AM to noon. From December through February you can get in for free every weekday.
If you like being surrounded by nature, this is one of the best free things to do in Brooklyn, and it is one the most perfect photo and Instagram spots in Brooklyn!
Brooklyn Brewery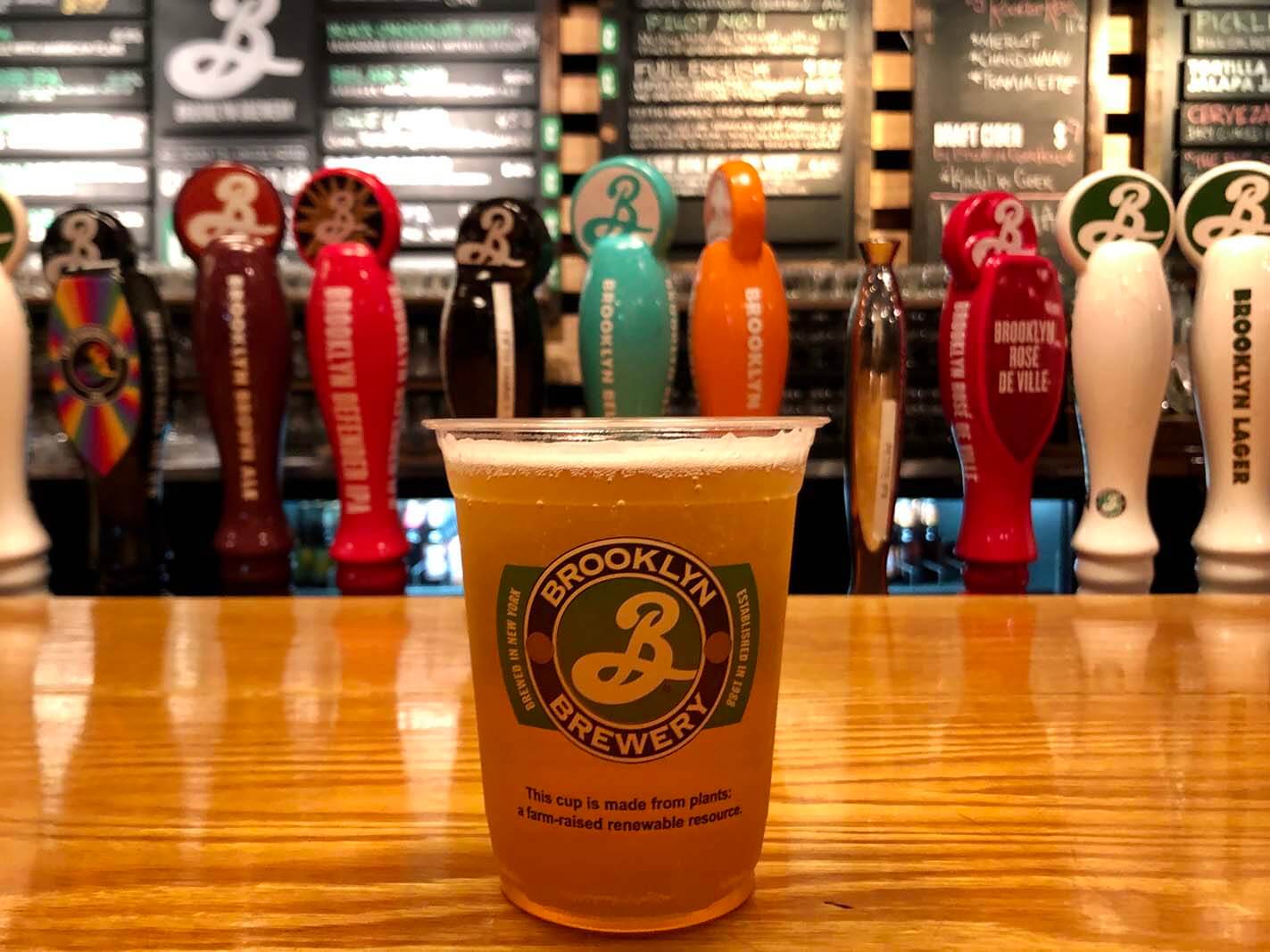 Looking for another free thing to do in Brooklyn? Take a free tour of the Brooklyn Brewery and learn all about the brewery's operations at their facility in Williamsburg.
The free tours are offered Saturdays 1 PM to 5 PM on the hour. During these tours you can get a taste of all the amazing beer the Brooklyn Brewery has to offer, one of the best breweries in Brooklyn!
Stopping by for a free tour is definitely worth it at this well-renowned micro brewery.
Waterfront Museum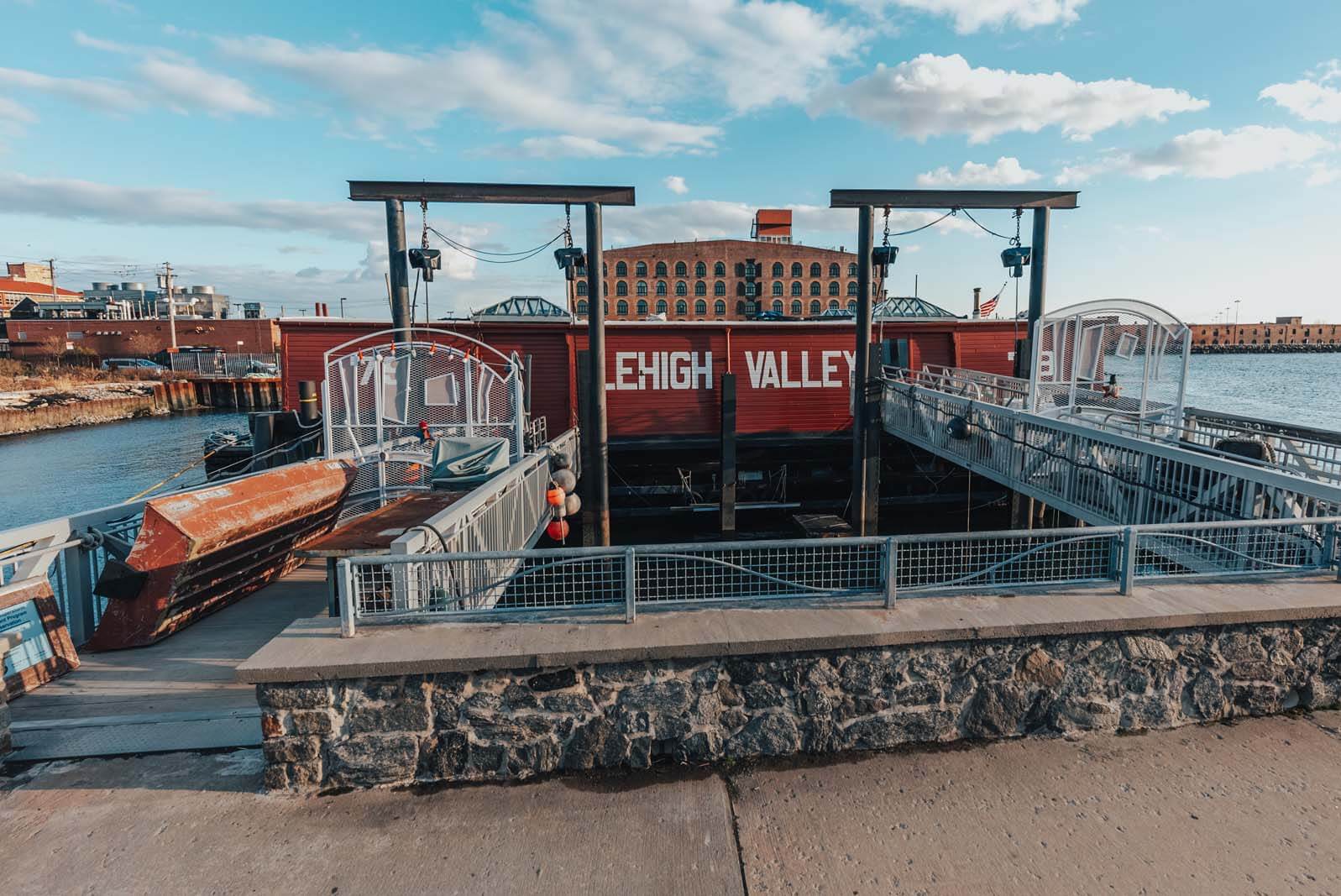 The Waterfront Museum is a maritime history museum that was constructed in 1914 and is one of the coolest free things to do in Brooklyn located on the waterfront in Red Hook next to some other cool waterfront hang out spots and good views of the Statue of Liberty.
This wooden barge is the last one standing in New York Harbor and you can tour it for free on Saturday afternoons from 1 PM to 5 PM.
There is also free special event programming that is open to the public as well as live performances. And if you want to see more museums in Brooklyn, we've got a guide for that too!
The Old Stone House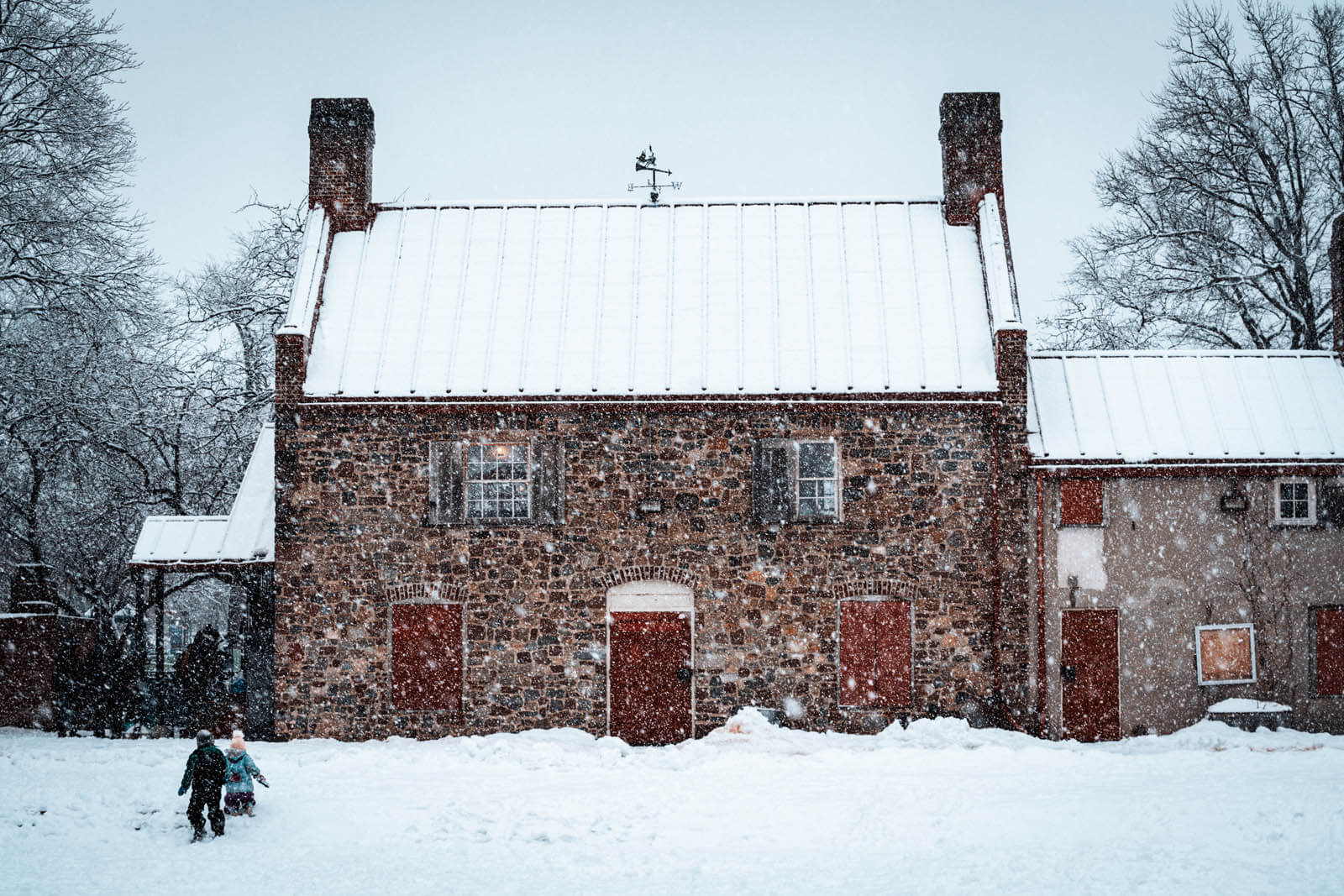 The Old Stone House was a very important landmark during the Revolutionary War. This historic spot which dates back to the 1600s is one of the best free things to do in Brooklyn and is definitely worth a visit!
If you're a total history buff, you have to check out The Old Stone House in Washington Park. You can learn all about the history of this site, which played an important role in the famous Battle of Brooklyn during the American Revolutionary War and is a significant spot for General Geroge Washington and his troops.
Another fun fact, The Old Stone House was also used as a clubhouse for the Brooklyn Dodgers.
Red Hook Trolley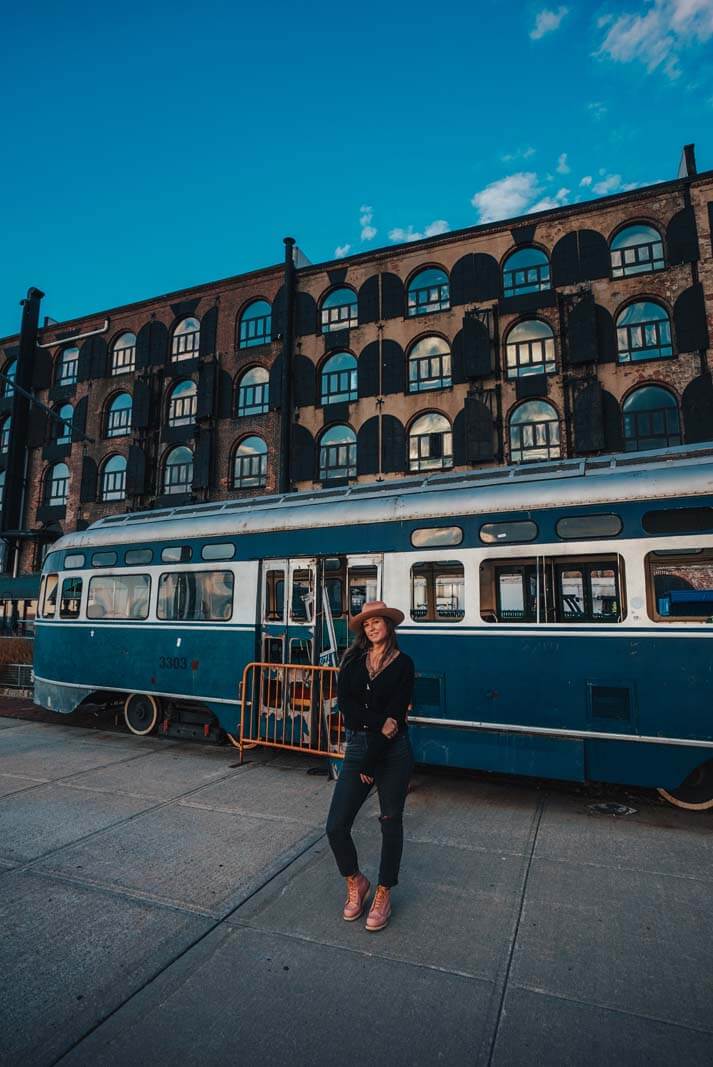 The Red Hook Trolley is one of the best-hidden gems in Brooklyn and is the perfect place to visit for free! This 1959 trolley car is the last remaining trolley and it is located between the waterfront and an old industrial building and the famous Fairway Market grocery store (where you can pick up picnic supplies!).
This is a great spot to come hang and take pictures at and on a warm day head over to a bench or grassy spot at Louis Valentino Jr Park where you can picnic and enjoy great views of Lady Liberty.
Dyker Heights Christmas Lights
We all know that NYC is known to be one of the best holiday destinations, but did you know Dyker Heights has some of the best Christmas lights in Brooklyn?
This residential neighborhood takes Christmas decorations to the next level! Dyker Heights gets over 100,000 visitors each year with millions of strands of lights for this annual, neighborhood tradition and the houses are absolutely beautiful!
This is definitely one of the best free things to do in Brooklyn and it's a must if you love Christmas time, be sure to check our our guide to everything you need to know about visiting the Dyker Heights Christmas lights to help you plan your visit.
Discover Murals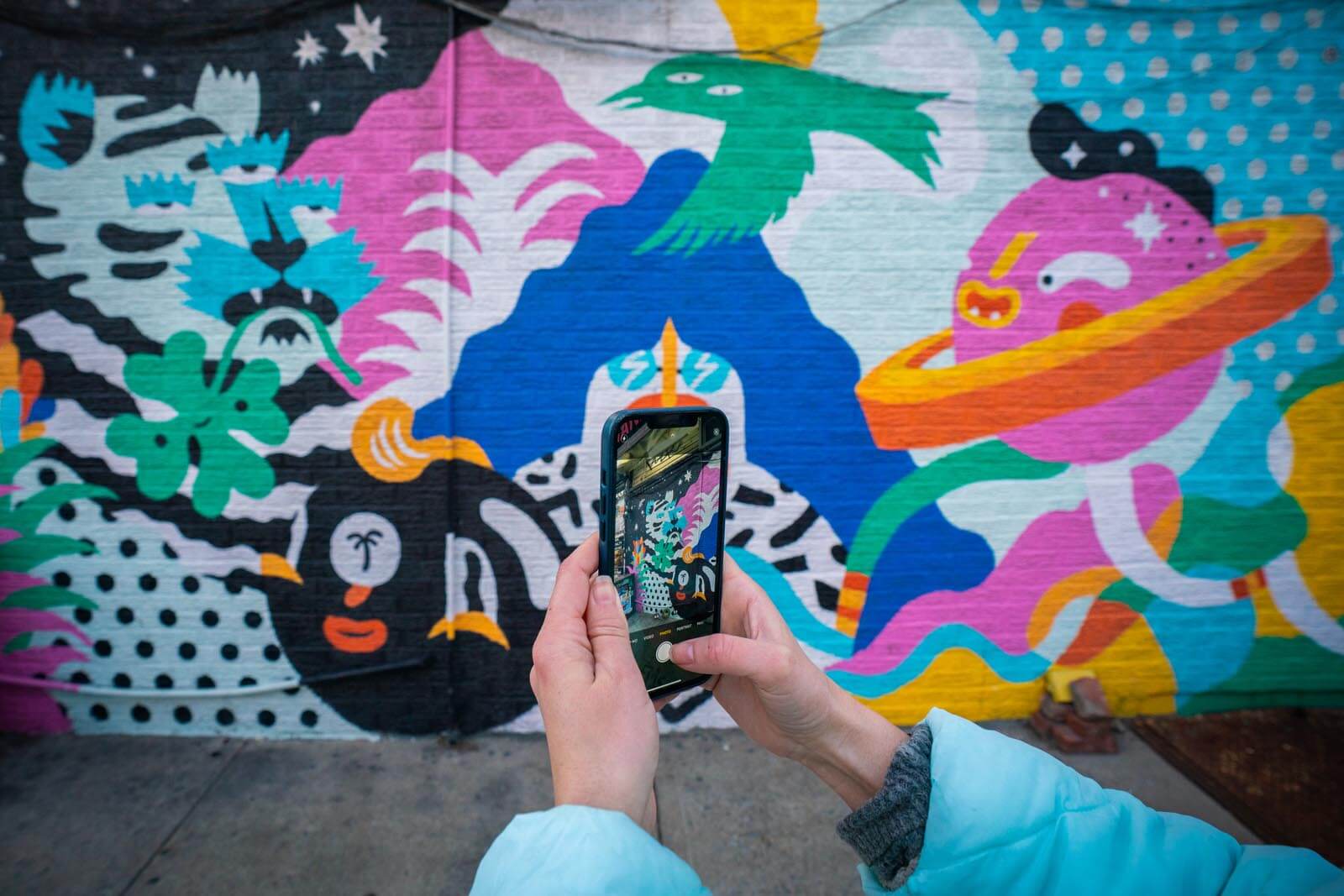 Another free thing to do in Brooklyn is explore all of the amazing murals throughout each neighborhood! Take a walk and discover all of the super awesome murals that flood the walls of Brooklyn. It seems like everytime we walk somewhere a new mural shows up and some are from the most famous muralists and street artists in the world.
Some of our favorite murals can be found in Bushwick where the entire neighborhood is covered in murals thanks to their annual festival bringing in artists to paint the walls of the Bushwick Collective and there are tons of great murals and street art in Williamsburg to name two of the most popular.
Admiring the amazing artist work on display for free to the public on our city's walls is definitely one of our favorite free things to do in Brooklyn!
Pioneer Works
One of the best free things to do in Brooklyn includes this under the radar museum located in Red Hook! Pioneer Works is the perfect spot because it's under the radar for most visitors to the city, so it won't be flooded with tourists.
This museum originates from Pioneer Iron Works which was used for creating railroad tracks and other iron products in 1866. Explore the exhibits that showcase the work done by other people OR take your own class to show the true artist you are!
Brooklyn Museum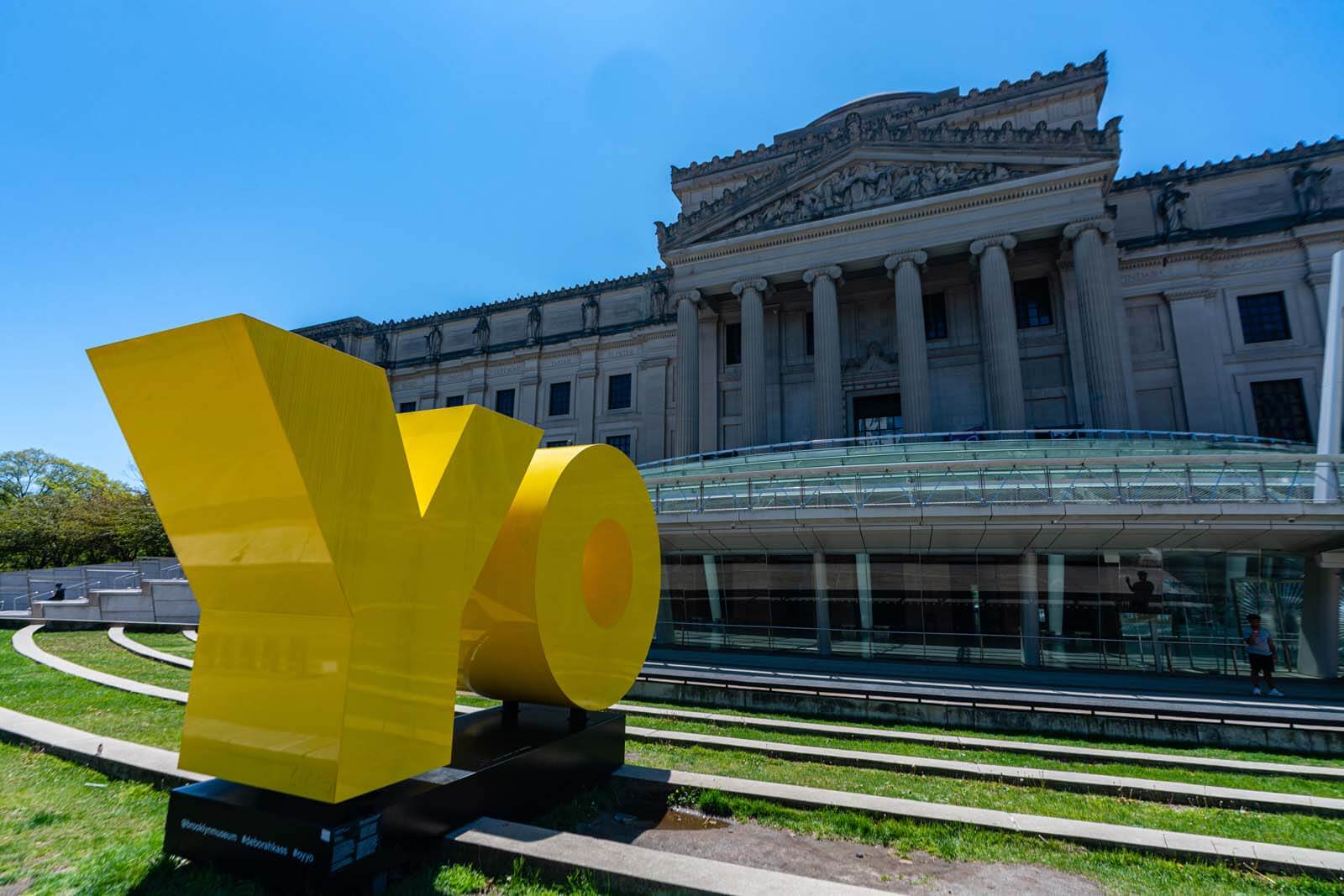 A great way to see one of the best museums in the city at the Brooklyn Museum is by taking advantage of their free admission days on the first Saturday of every month from 5 pm to 11 pm (except for the months of January and September).
But if that doesn't work out with your timeline, don't fret as you can still enjoy the museum as they have a pay-as-you-wish admission which makes art accessible to everyone, even if you're on a tight budget.
This museum is one of the best free and cheap things to do in Brooklyn for many reasons. Not only is this museum one of the top museums for art enthusiasts, it is the third-largest museum in NYC!
The Brooklyn Museum has collections from all over the world and displays artwork from many famous artists such as Georgia O'Keeffe, Norman Rockwell, and more!
Just note that some of the special exhibitions do require a special ticket purchase that isn't included in general admission!
NY Aquarium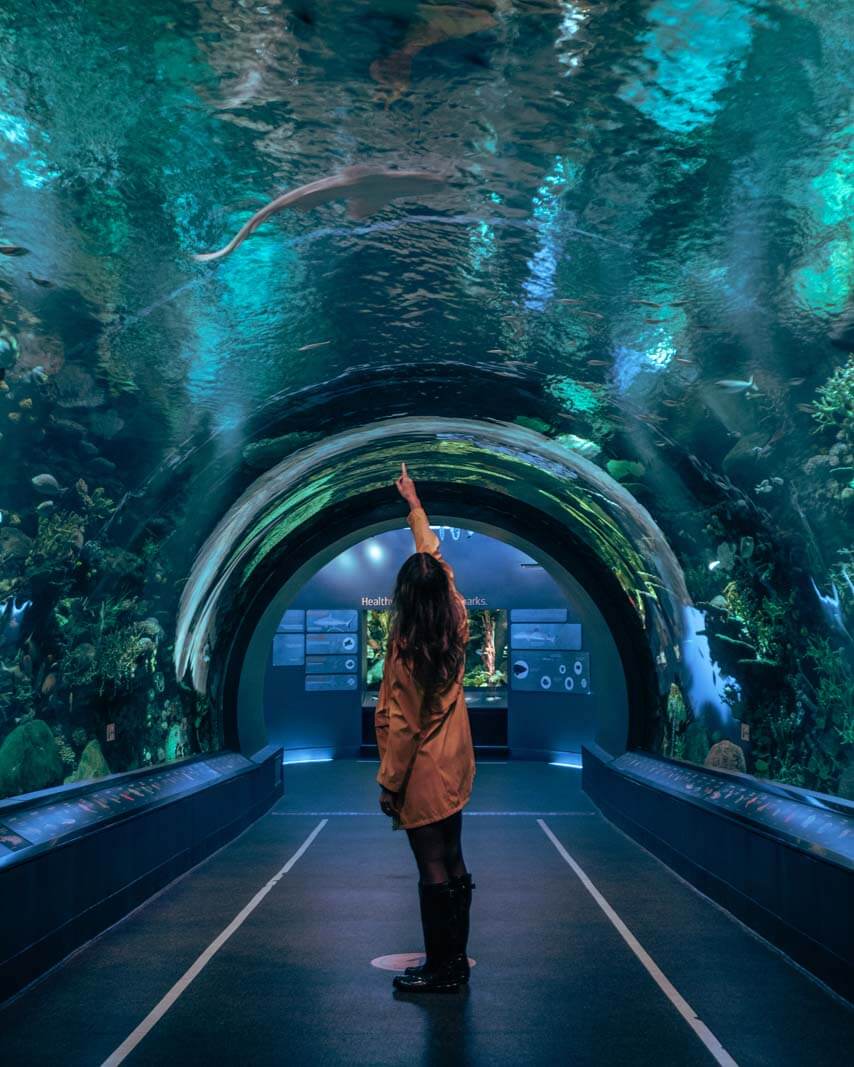 Head to Coney Island and enjoy another awesome free activity in Brooklyn after 3 PM on Wednesdays at the New York Aquarium.
They have over 266 species of marine life and even home a giant octopus! This aquarium is the perfect spot to learn more about environmental issues surrounding our ocean as well as education on the local marine and aquatic life and ecosystems.
The aquarium's main goal is to save wildlife through all different types of conservation programs, which you can learn about while you explore! You don't want to miss the shark tunnel either!
Afterward, you can walk up and down the infamous Coney Island boardwalk, and if it's a hot day you can enjoy both Coney Island Beach or Brighton Beach and soak up the sun! Also, if you're looking for a delicious cheap eats, head to Nathan's Famous for a classic Coney Island hot dog and a meal that won't break the bank.
Interference Archive
The Interference Archive is one of the best independently run museums and things to do in Park Slope and also one of the best free things to do in Brooklyn!
From activism to social movements, this community-run archive has all the historical information and artifacts you need to learn about important issues throughout time!
They do not have set admission but they are almost completely funded by donations so you can pay what you can. If you like really cool historical artifacts, check out this free gallery in Brooklyn!
Hit up the Beach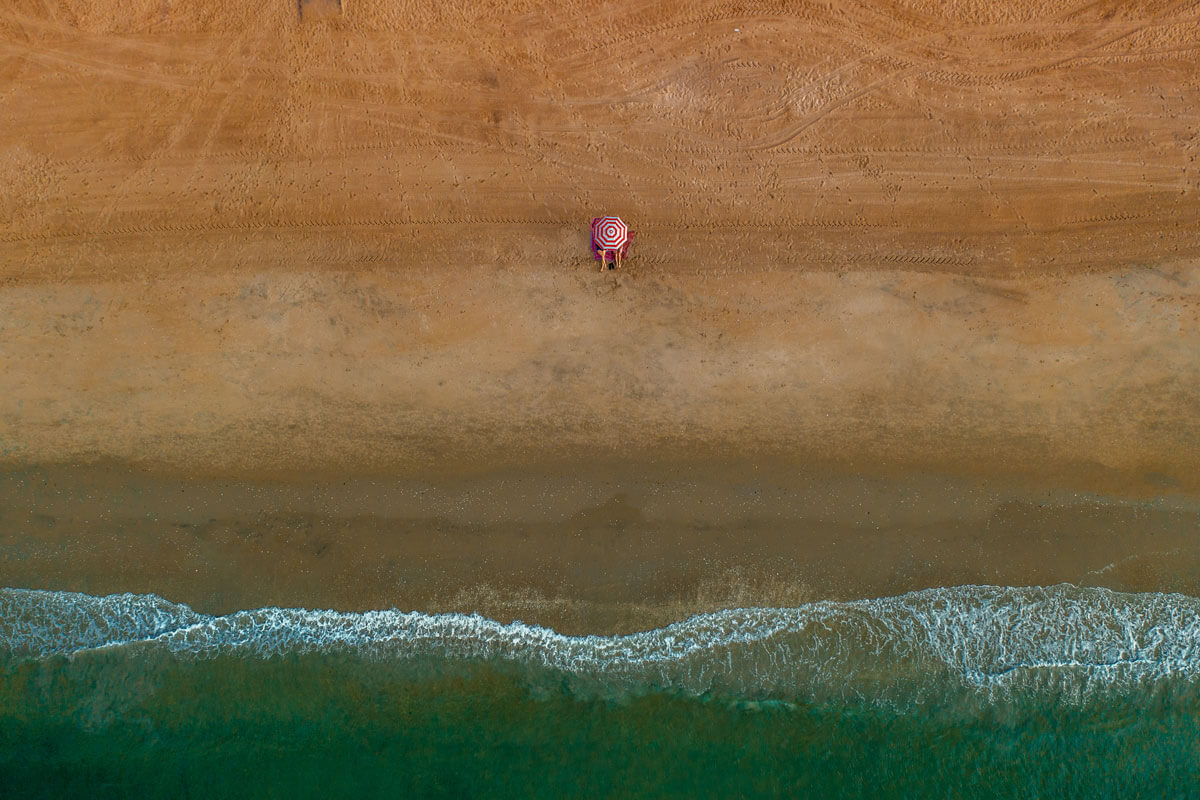 If you're looking for another free thing to do in Brooklyn, hit up one of the best Brooklyn beaches that will give you a cool escape from the summer heat, or a cool hang-out spot on the shoulder seasons.
Coney Island is probably your first thought that comes to mind when you think of beaches in Brooklyn, but there are also other beaches in Brooklyn that give you everything you need for a perfect beach day!
Brighton Beach is a more relaxed version of Coney Island, so if you're trying to stay away from the crowds check out this Brooklyn beach.
Another amazing beach in Brooklyn is Manhattan Beach and this one is very popular! You can participate in a ton of free activities such as barbecuing, soaking up the sun or even playing on the sports courts! Or check out some of the best-hidden gems in Coney Island too – most of which are free!
Going to the beach is a nice way to spend your day if you're looking for free things to do in Brooklyn!
Brooklyn Heights Promenade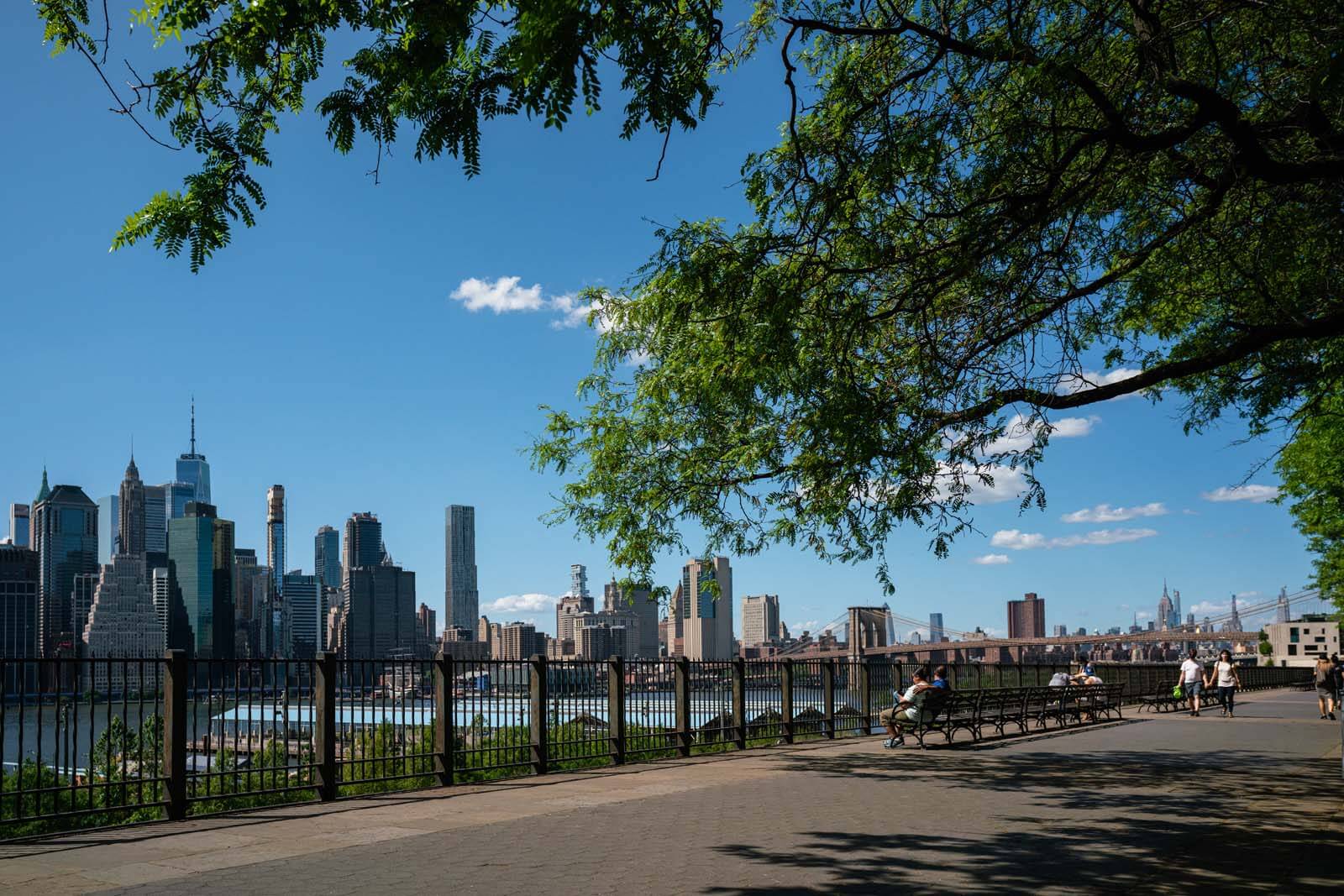 The Brooklyn Heights Promenade has amazing views of Lower Manhattan and the Brooklyn Bridge and is one of the best free things to do in Brooklyn located in the gorgeous neighborhood of Brooklyn Heights.
The unobstructed views of the skyline, Brooklyn Bridge, and Statue of Liberty are unbelievable and is the perfect spot to catch the sunrise or sunset, plus check out some of the best scenic walks in Brooklyn to see the route we recommend taking before/after stopping here!
Check out more amazing FREE spots to watch a scenic Brooklyn sunset.
Bushwick Collective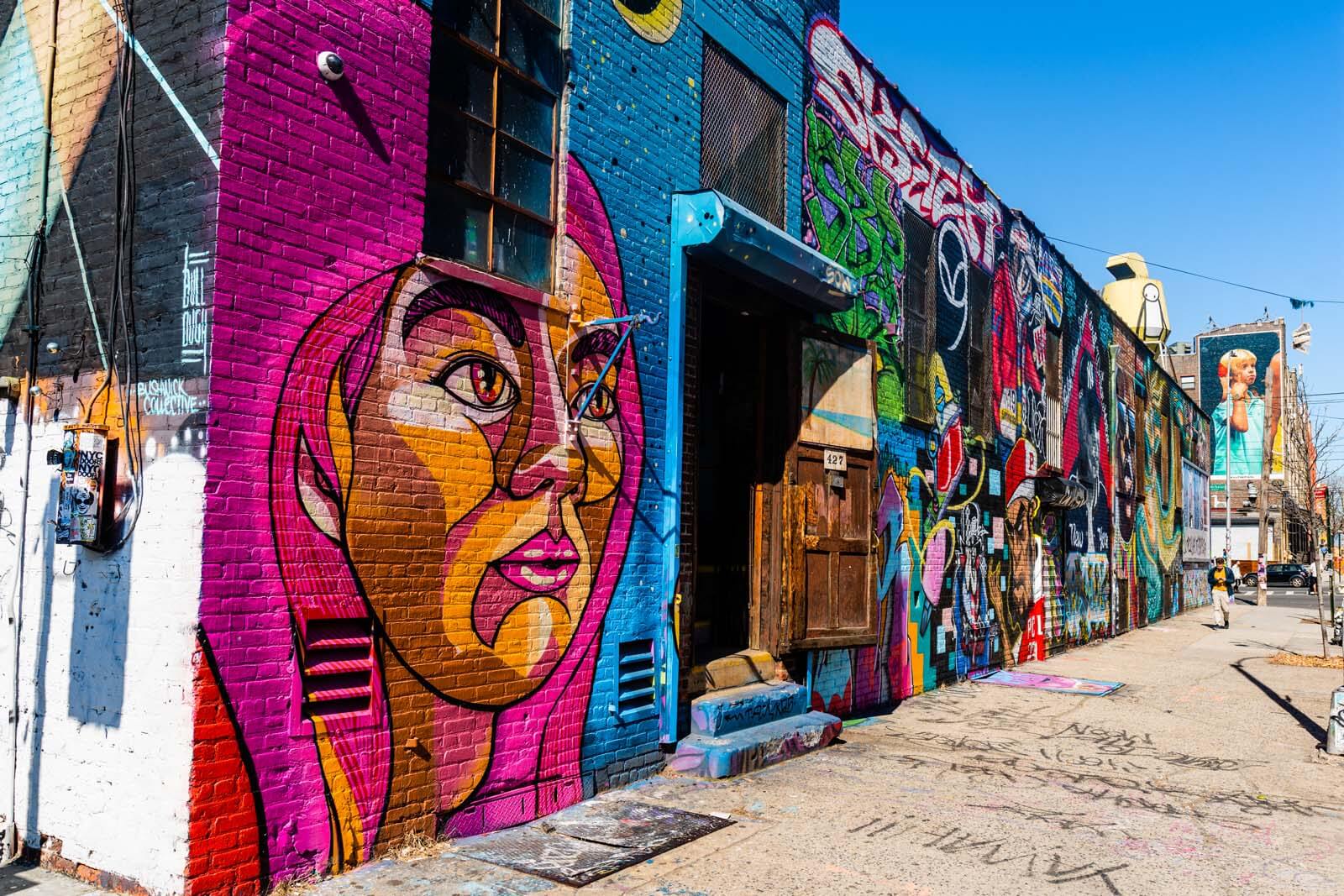 The Bushwick Collective is a collection of colorful murals that pave the walls of the once empty industrial buildings in Bushwick brought to life by a local who grew up here and wanted to brighten up the neighborhood inviting artists from all over the world to come here annually and change up the walls with murals and art.
Some of the murals feature really famous artists for those who are familiar with and follow the street art world. Walk up and down the streets and check out our guide to the best things to do in Bushwick to see the best route to take plus what to do before/after checking out these colorful walls!
DIY Walking Tour of Victorian Flatbush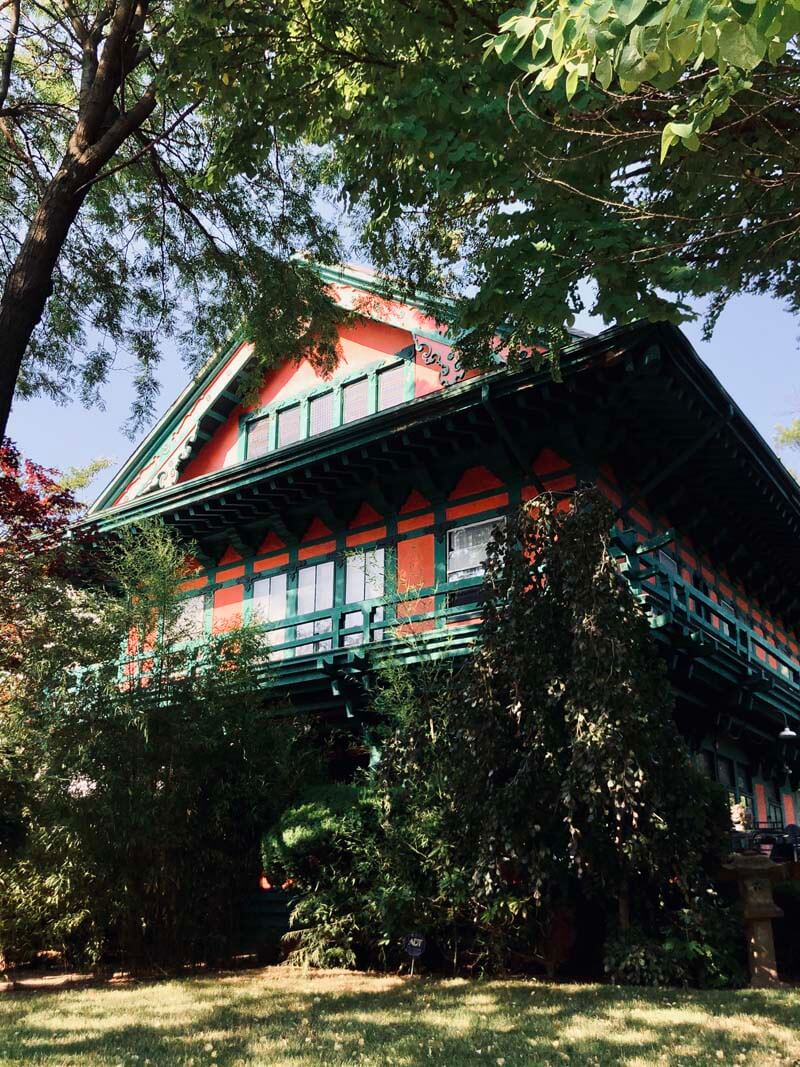 A DIY walking tour of Victorian Flatbush is one of the best free things to do in Brooklyn! Check out the gorgeous historic homes that fill this neighborhood also known as Ditmas Park. These homes are massive and it almost feels unbelievable that this suburb is tucked away in the middle of the city.
There are all different styles of architecture on these massive homes which makes it particularly interesting to walk around including homes in Japanese Pagoda style, Queen Anne, Greek Revival, and more! You don't have to be an architectural buff to appreciate this neighborhood though, it just really is a cool area to walk around.
Nearby you can check out the historic Kings Theater and one of the oldest churches in Brooklyn dating back to the 1600s can. befound here.
Brooklyn Grange
The Brooklyn Grange is a unique green rooftop garden located in Brooklyn Navy Yard they grow over 100,000 lbs of produce each year! They hold educational programs and events to spread knowledge about urban farming.
This is one of the best free activities to do in Brooklyn because the staff recognizes that everyone's situation is different and they want to ensure everyone has the opportunity to visit their farm! With this being said, they provide waivers or reduced fees on their site if the fee is a hardship for you.
The Brooklyn Grange holds free open houses from May to October so be sure to check when they have those dates available!
They also hold other events such as yoga classes and dinners.
The Brooklyn Book Festival
If you're a book nerd like me, The Brooklyn Book Festival holds free events throughout the year that highlights the work of over 300 authors!
This festival is one of the largest free literary events in NYC and you can find all sorts of cool things to do here! Attend a book reading, watch a comedy show or check out the live music this festival offers!
If you're looking for new book recommendations, check out this free festival in Brooklyn and if you want to pick up some good reads while in the city, check out our favorite independent bookshops in Brooklyn.
Fort Greene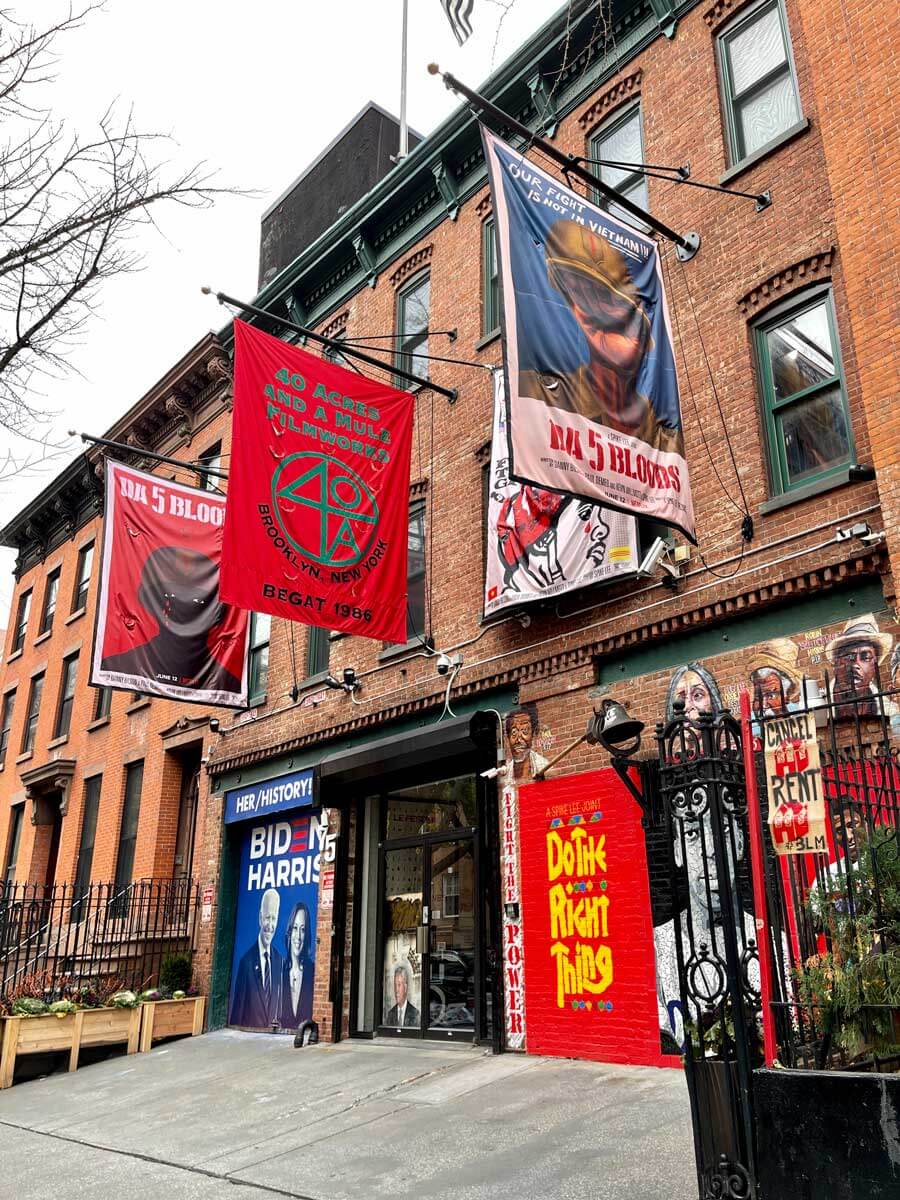 This next free thing to do in Brooklyn is technically an entire neighborhood for no other reason other than it's one of my favorites! Be sure to walk around all the best things to do in Fort Greene which is a great area to take a walk and be sure to visit Fort Green Park while you're here.
If you're lucky you'll run into one of the pop-up street dance parties that take place here, the best-known one is actually St James Place Block Parties (technically in Clinton Hill, but oh so close to Fort Greene as they neighbor one another).
As you explore Fort Greene, you may stumble upon Spike Lee's film studios, Forty Acres and a Mule Filmworks and that's because Spike Lee grew up in the neighborhood and his first feature-length film, She's Gotta Have It was also filmed here.
is and always will be about the arts. This Brooklyn neighborhood is filled with talented artists and it is also where famous filmmaker Spike Lee grew up.
Don't miss Greenlight Bookstore and even explore the Fort Greene Park Greenmarket while you're here!
Cheap Things to do in Brooklyn
Ok, now that we've gotten through all the free things to do in Brooklyn I am going to introduce you to the inexpensive and cheap things to do in Brooklyn that are almost free and still budget-friendly whether you're a college student like me or just want to save some money to spend your money elsewhere in the city.
Brooklyn Barge
The Brooklyn Barge is located on the East River in Greenpoint and offers great views of the skyline. This waterfront bar is the perfect cheap summer hangout spot if you want to grab a drink or bite to eat with friends.
The food is fairly inexpensive with everything around under the $10 price range and they have a number of drink options for you to choose from.
Free Pizza With a Drink
If you're interested in getting free pizza, that's right FREE PIZZA, check out the Alligator Lounge located on Metropolitan Avenue and the Charleston on Bedford Avenue in Williamsburg.
With every purchase of a mixed drink, the bar offers a free personal cheese pizza! Additional toppings are $1 each. Did we mention the mixed drinks are only $7?! There are very few places in the city where you can have dinner and a drink for under $10.
Both of these locations also have other entertainment going on with pinball machines, skeeball, random comedy shows, and they also have free karaoke if you feel like showing off your amazing vocals!
Currently, both of these popular cheap things to do in Brooklyn are temporarily closed, we hope they re-open soon!
Coney Island Boardwalk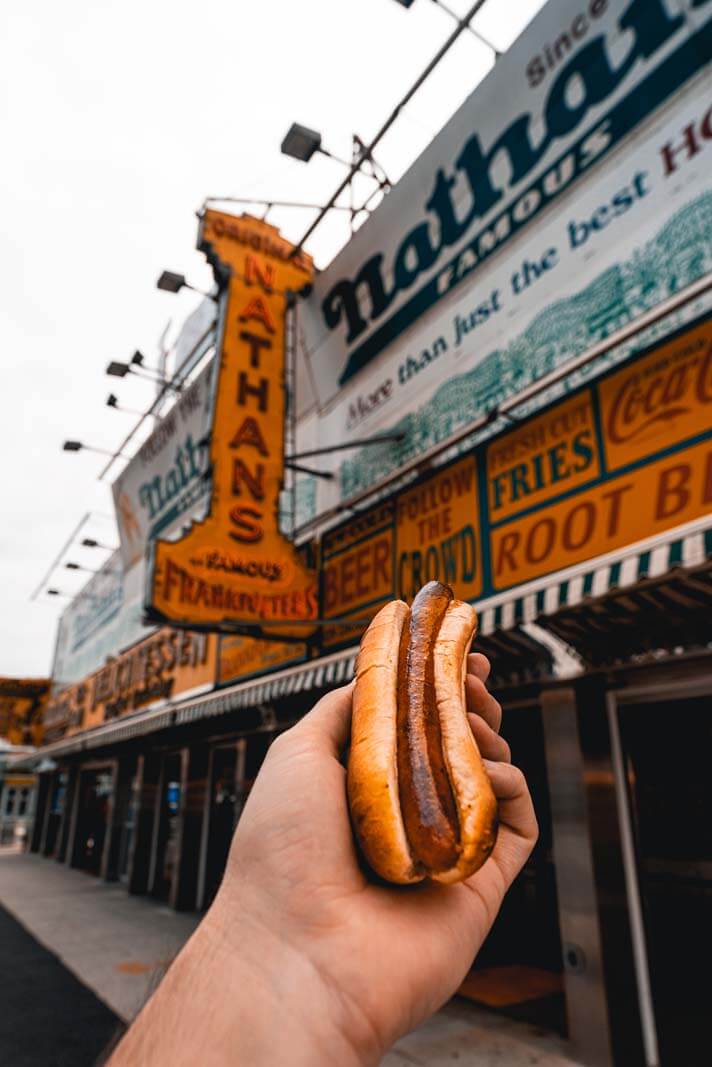 The Coney Island Boardwalk is one of the most iconic places for entertainment in the city and is where you can find most of the amazing things to do in Coney Island that it was a no-brainer that it had to add it to our list of best cheap things to do in Brooklyn!
Grab a bite to eat at Nathan's Famous, which is arguably America's favorite hot dog stand. If you do plan on visiting Coney Island, this place is a must as it's one of the most iconic places to eat in Brooklyn and all of NYC.
You can also visit the New York Aquarium which we previously mentioned but it is only considered "cheap" on Wednesdays after 3 PM when the entry fee is waived.
A lot of people enjoy walking the boardwalk because there are little shops along it and places to stop for a bite to eat, not to mention hanging out on the beach is free.
The restaurants and shops are fairly inexpensive making the Coney Island Boardwalk one of the best affordable areas to hang out and if you have extra budget, you can even get into the amusement parks!
Farmers Markets
Speaking of the Farmers Market in Fort Greene, the Fort Greene Park Greenmarket is one of the best cheap things to do in Brooklyn during the weekend!
Every Saturday the farmers market brings farm-fresh goods to the people of Brooklyn. They even have live music and cooking demonstrations! You can check out this amazing farmers market 8AM-4PM all year long.
Another great one to check out is the Greenmarket at Grand Army Plaza that takes place every weekend too!
In the summer, starting in May you can enjoy the flea market and food stalls at Greenpoint Terminal Market which also offers a stunning backdrop of the Manhattan skyline across the East River.
Spectacle Theater
Located in one of the most popular neighborhoods in the city, this is truly a hidden gem in Williamsburg and is the perfect cheap thing to do in Brooklyn if you love the movies. Spectacle Theater is a volunteer-run movie theater is known for screening rare and under-appreciated films every day of the week for a reasonable price of $5!
The location is small but the concept is what makes this theater stand out from the others. Spectacle Theater allows you to bring your own food and drinks which is a very rare occurrence in modern-day movie theaters.
What's pretty cool is that when rent prices were skyrocketing in the area, the community successfully ran a fundraising campaign to help continue this one of a kind theater and community project led by local volunteers.
The space is limited and can fit no more than 30 people so plan on getting there early to find a good seat. This is an awesome date night spot or just a place to check out if you're on a budget and want something cool to do!
Check out more of the best movie theaters in Brooklyn!
Explore Williamsburg
Williamsburg is one of the trendiest neighborhoods to explore in the city, and its no wonder why there are many incredible things to do in Williamsburg and honestly to enjoy this neighborhood, you don't have to break the bank (but you most certainly can spend as much as you want if that's also within your budget).
For the purposes of finding cheap things to do in Brooklyn though, I am going to focus on those budget-friendly activities.
Walk along Bedford Avenue where you can find tons of dining and shopping options, I recommend checking out the vintage shops in Williamsburg, while some are pricier and more luxurious than others, there are some affordable options. You will also spot some of the street art and murals along Bedford mentioned earlier.
Walk over to Domino Park where you can hang out in this unique park that was once the Domino Sugar Refinery, hence the name. This park has remnants from the past built into the public recreation area and you can even climb and walk around the ruins of the former factory not to mention the great views of the skyline and East River waterfront.
Another great free thing to do here is to walk across the Williamsburg Bridge which also is a cool spot for photography.
House of Yes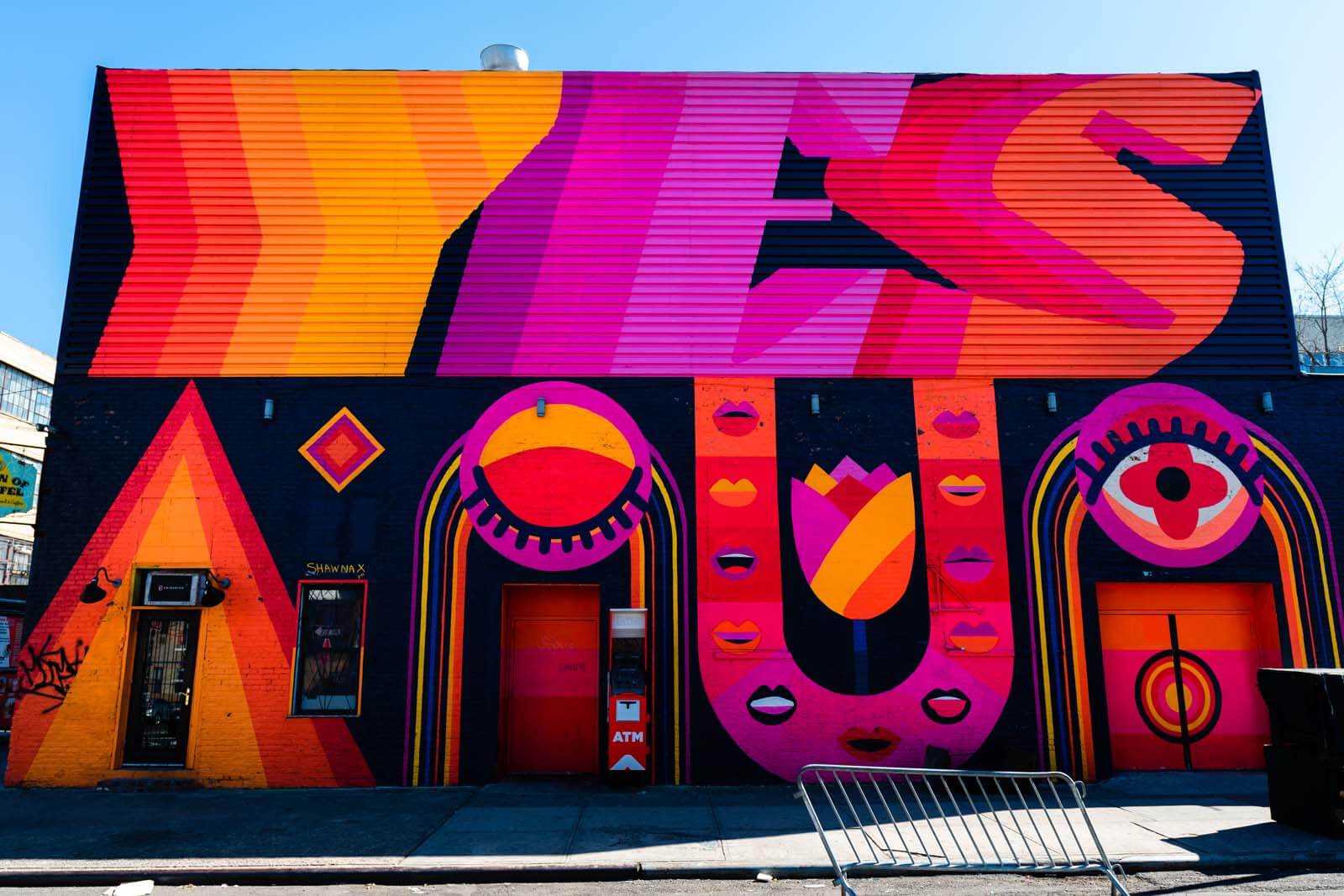 One of the best nightlife venues not only in the city but known around the world can be found in Bushwick at the House of Yes. This legendary nightclub is known for its themed nights and other events they host at this 'funky' venue guaranteed to keep you entertained!
Some nights are free if you make it before 11 PM but most of the ticketed events cost no more than $15-$30. If you plan on drinking, you'll want to plan that into your budget.
If wild, themed nightlife with aerialists and performers isn't your scene, don't worry they also host yoga classes and workouts too!
House of Yes is temporarily closed, however, check out their virtual events until they can safely reopen their doors.
New York Transit Museum
Another really cool museum that is included in our favorite cheap things to do in Brooklyn is the New York Transit Museum! This museum shows the history of public transportation from past to present day. The coolest part is that you can climb aboard 20 different subways and cars!
You can even check out exhibits showing the future of NYC transportation.
This museum is the perfect way to spend a cheap day in Brooklyn and you can even bring your own lunch to eat in their lunch room! Tickets are $10.
Temporarily Closed.
Governors Island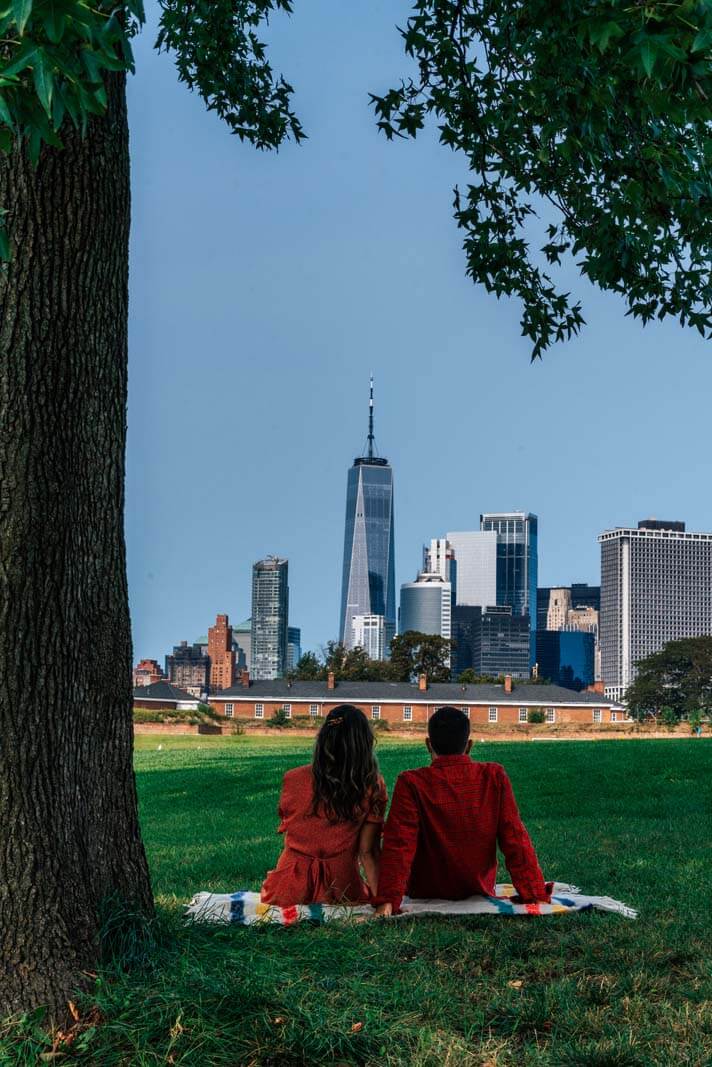 This incredible historic landmark is one of the cheapest things to do in Brooklyn and NYC as well as one of the best if you're looking to get awesome views, explore the old abandoned neighborhood once home to the military base, check out art installations, picnic, bike, and so much more.
The ferry ride is only 10 minutes which has departures from Lower Manhattan and in Brooklyn. The ferry fees are free on Saturdays and Sundays before noon, but all the other times are only $3 which is why it truly is one of the best cheap things to do in Brooklyn!
Governors Island is located in the New York Harbor across from Brooklyn. From the island you have incredible views of the city along with an amazing view of the Statue of Liberty.
There are also Citibike stations on the island if you prefer to get around by bicycle, but the island is totally walkable.
This spot is perfect for a peaceful getaway, see our full guide to what to do on Governor's Island to help you plan your visit.
Comedy Shows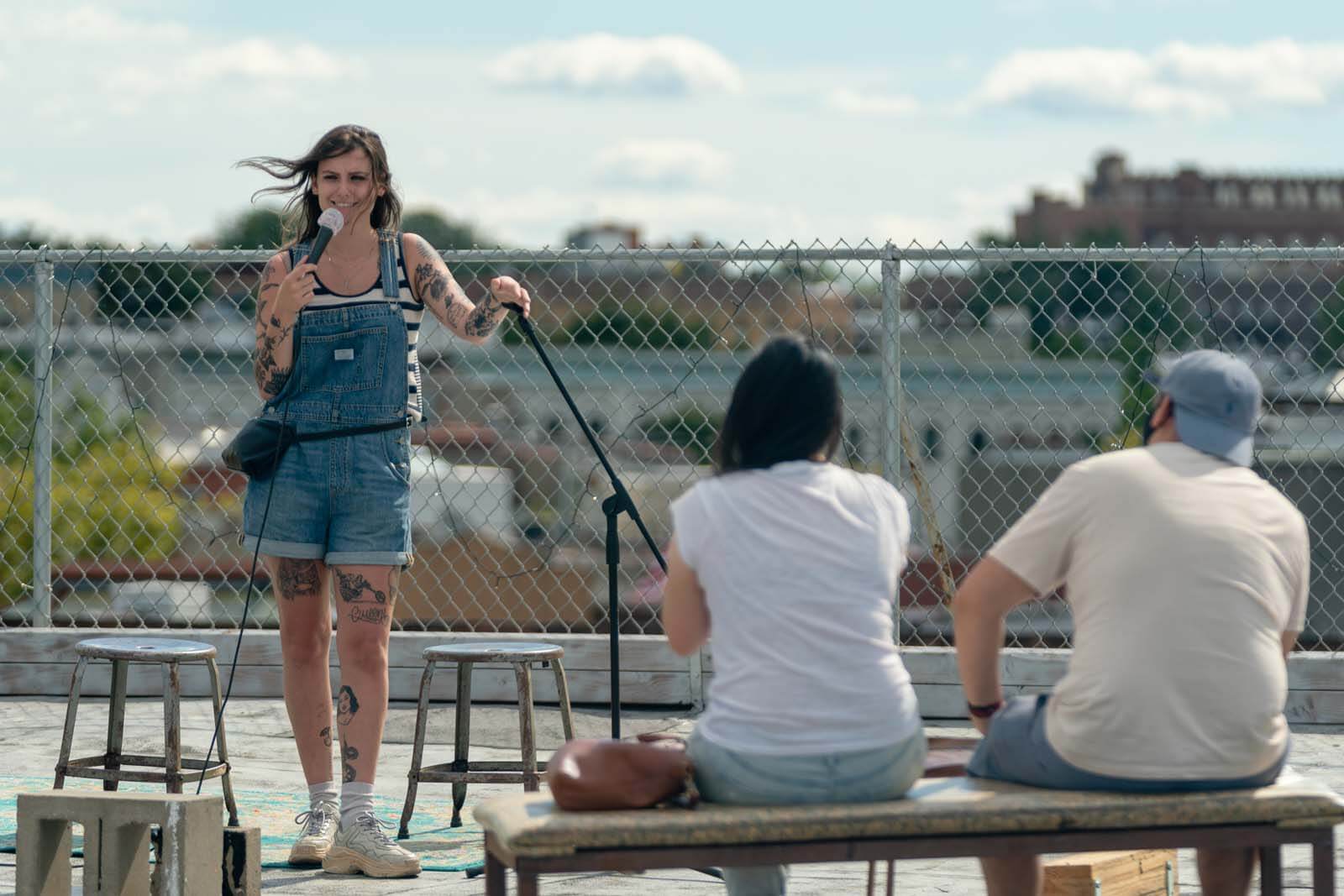 Looking for a good laugh? Check out a comedy show in Brooklyn! Even with the times we are in, there are still so many comedy shows being held outside!
This is one of our favorite cheap things to do in Brooklyn because you can grab a picnic blanket, get some food and enjoy the laughter of everyone around you.
Some, like the Tiny Cupboard in Bushwick, are located on a rooftop with a view and others are held in the parks across the city, and there's even backyard comedy hosted by Stand Up Ala Mode. Tickets are as little as $5 for some shows!
If you don't feel comfortable attending an outdoor show, a lot of comedy clubs have started doing their shows virtually!
Prospect Park Ice Skating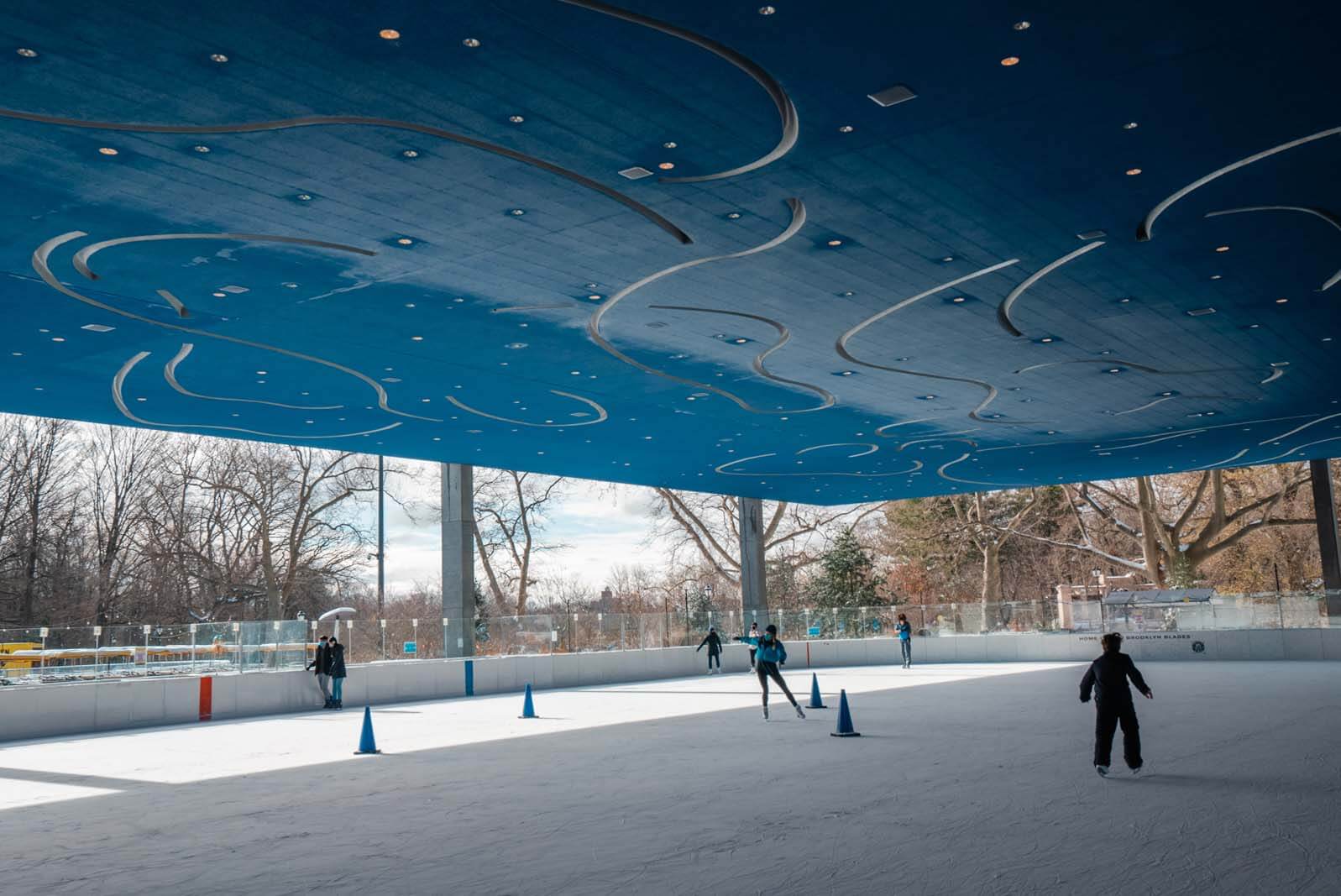 One of the best cheap things to do in Brooklyn in winter is to check out the ice skating at Prospect Park at Lakeside! This is one of the most affordable ice skating rinks in the city as the more famous and popular rinks in Manhattan at places like Central Park, Bryant Park, and Rockefeller Center are much more pricey.
There are two ice skating rinks here, one that is covered and another that is outdoor. They both connect to one another so you can skate between the two rinks.
It has a weekday admission of $7.50 and a weekend admission of $11.00.
You can order tickets online but you'll have to pay tax and a processing fee so if you're looking to save money, buy your tickets in person, but I don't recommend doing this on the weekends as they are more crowded so it's better to secure a ticket in advance online in this case.
There's a cafe here that also sells food and drinks if you work up an appetite, or you can bring your own food to enjoy around the picnic tables or benches surrounding the rink.
If you love to ice skate, be sure to check out the other ice skating rinks in Brooklyn, all of which are more affordable than Manhattan rinks.
Syndicated Theater
If you're looking for a fun date that doesn't break the bank, check out one of the coolest cheap things to do in Brooklyn located in East Williamsburg.
Syndicated Bar Theater Kitchen offers cool screenings of recent movies or cult classics at their indoor dining theater room and their sidewalk for outdoor movies as well as screenings of major events like the Grammy's and some popular shows like the Bachelor!
The indoor theater is $9 a pop and the outdoor sidewalk cinema is free on a first-come, first-serve basis but you'll be expected to order from the kitchen.
For more date ideas, check out our favorite date ideas in NYC.
Dekalb Market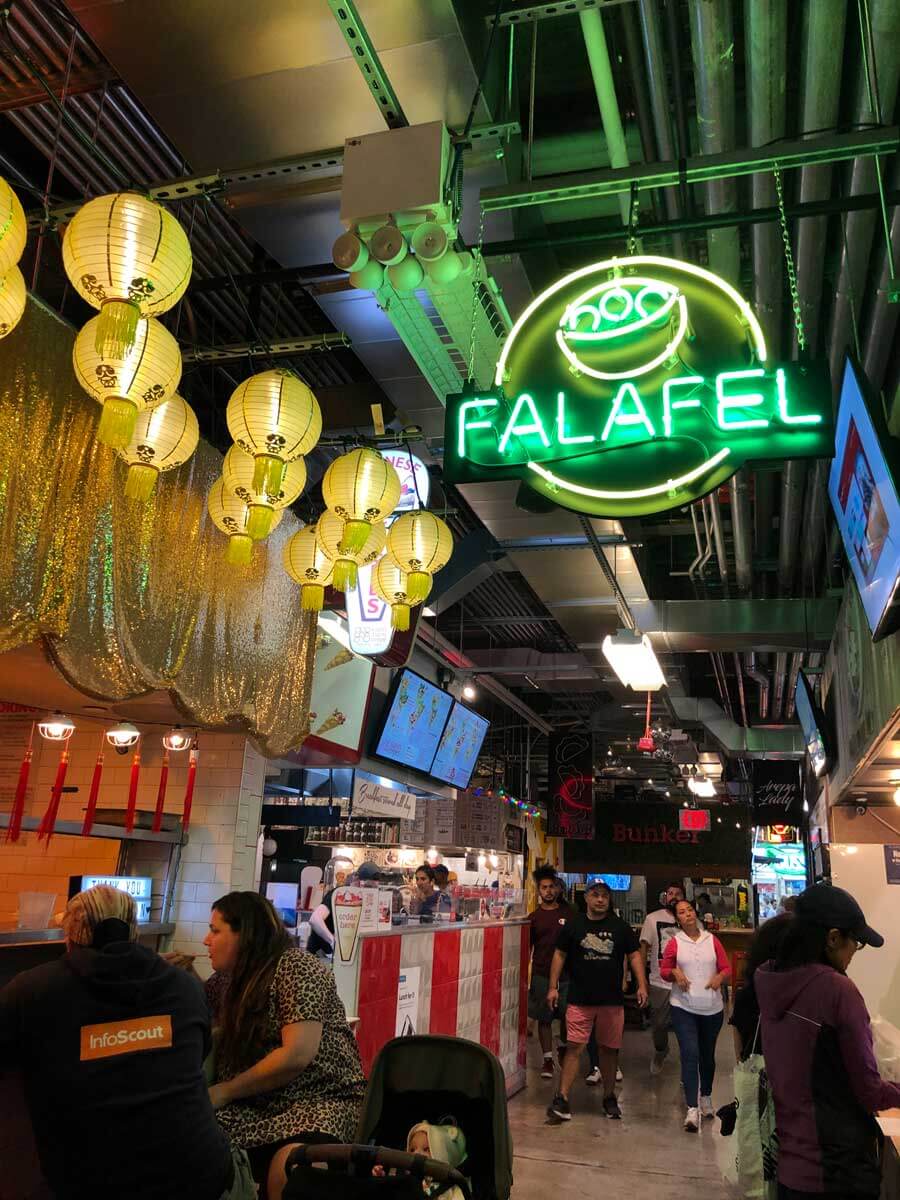 Dekalb Market is one of the best spots in Brooklyn to grab a bite to eat and catch some entertainment. Their speakeasy-inspired bar, The Understudy is one of the newest additions to this highly sought out market hall and entrance to the bar is free!
They even have live performances and other events so you won't want to miss out on this fairly cheap thing to do in Brooklyn.
If you want a place to hangout and get some drinks, check out Dekalb Market in the basement of City Point, which offers a ton of different food vendors and is the largest food market hall in Brooklyn. City Point also has a Target and other shops to check out plus a short walk to all the things to do in Downtown Brooklyn.
One of the best cheap eats in here are the soup dumplings at thankyou come again.
Thrift Shopping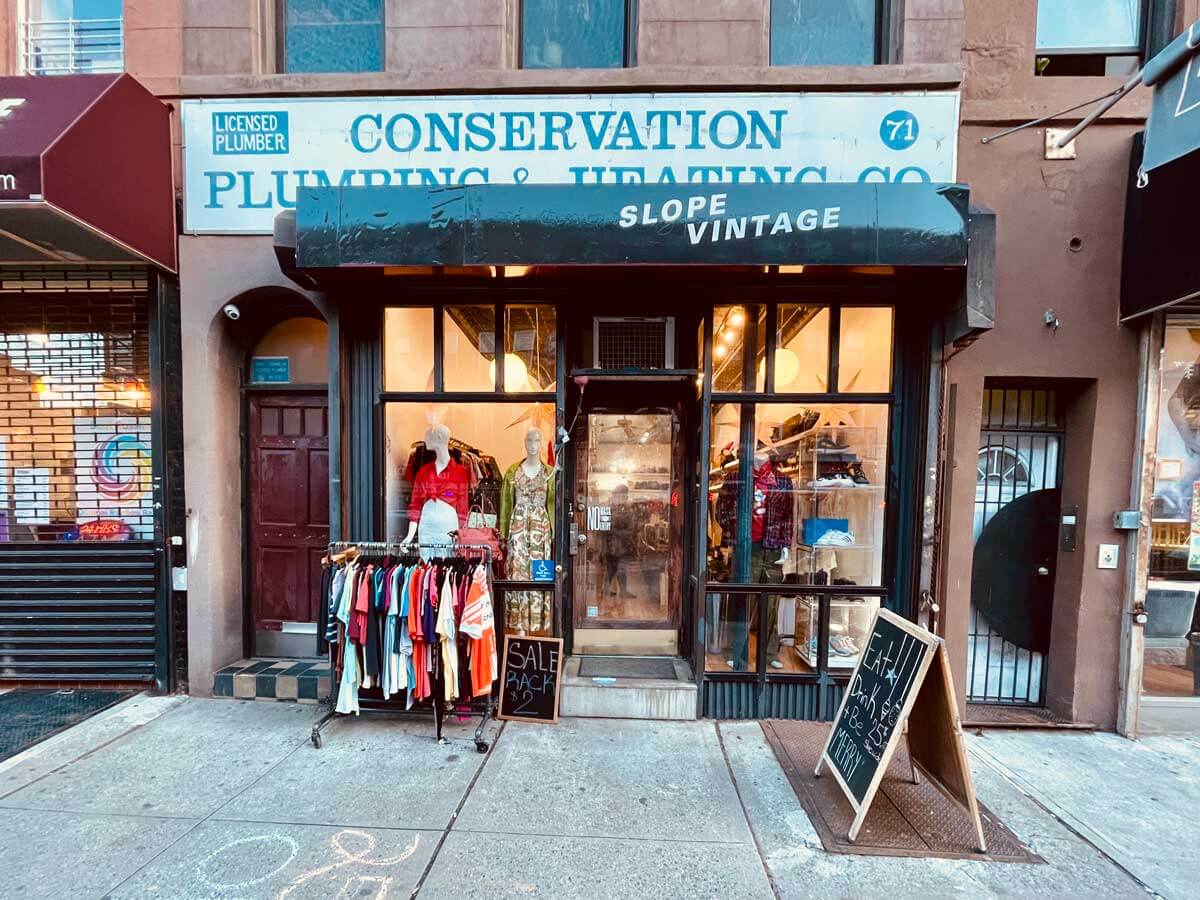 Thrift shopping is another cheap thing to do in Brooklyn and this borough is full of bargains waiting to be found. There are so many spots that have such cool items at such a reasonable price. Items range from kitchenware, clothing, handbags and more!
Being a college student, thrift shopping is such an easy way to save money! Some of my favorite thrift stores in Brooklyn for clothing are Beacon's Closet, L Train Vintage, Urban Jungle and Slope Vintage. A few of these even offer for you to buy, sell, trade clothing too!
If you're looking to find home goods check out Housing Works, which also has a great cause, and another great spot for thrifting just about anything is the Big Reuse in Gowanus.
Pizza Spots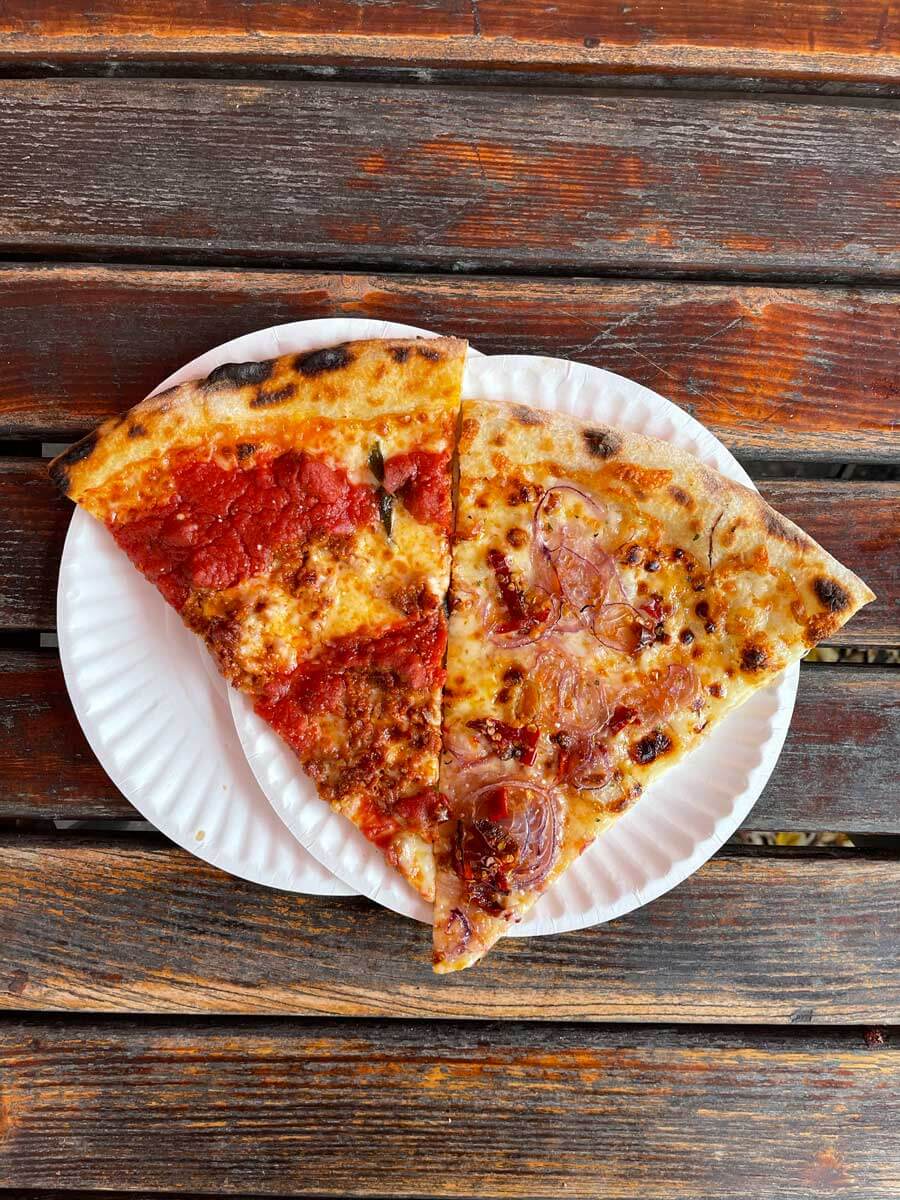 If you're in New York you have to grab a slice of pizza, we don't make the rules but we abide by them. There are so many pizza spots in Brooklyn that are fairly cheap and absolutely amazing!
You can find mouthwatering, and affordable slices at many places in Brooklyn but some of our favorite by the slice spots are Norm's, Artichoke Basille's, Joe's, and Best Pizza! If you are exploring by car, then you need to check out L&B Spumoni Gardens for one of their famous square slices.
Coffee Shops
Being a college student, you learn to find the best study spots as well as the least expensive coffee in the neighborhood.
There are so many coffee shops in Brooklyn that give you a super cheap way to hang out for a while. They can be a good study area or the perfect upcoming date spot, which is why it's one of my top picks for cheap things to do in Brooklyn.
Coffee shops are usually a very cheap way to relax and even better when the weather gets warmer and you can go out and sit on the patio.
Some of the best coffee shops in Brooklyn include Hungry Ghost who has multiple locations around Brooklyn, Konditori in Park Slope, Fiction BK in Williamsburg, and Dweebs in Bushwick.
Jane's Carousel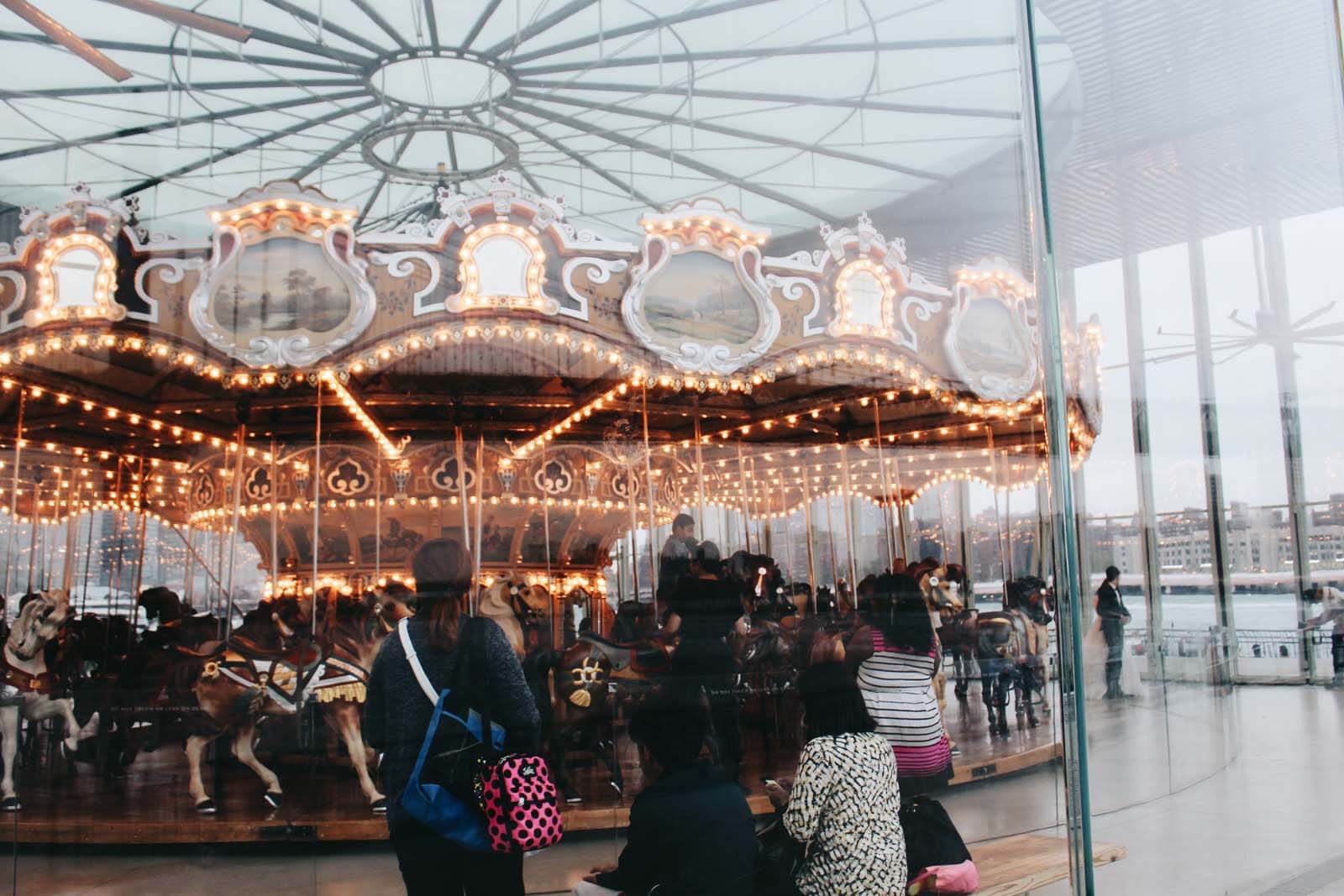 For just $2 you can ride the historic and pretty Jane's Carousel which is located right along the East River in Brooklyn Bridge Park. This is one of the best cheap things to do in Brooklyn because the views are absolutely amazing and it's super inexpensive, not to mention a great photography spot and a cute date spot!
If you want to relive your inner child, take a ride on one of Jane's trusty steeds!
Citi Bike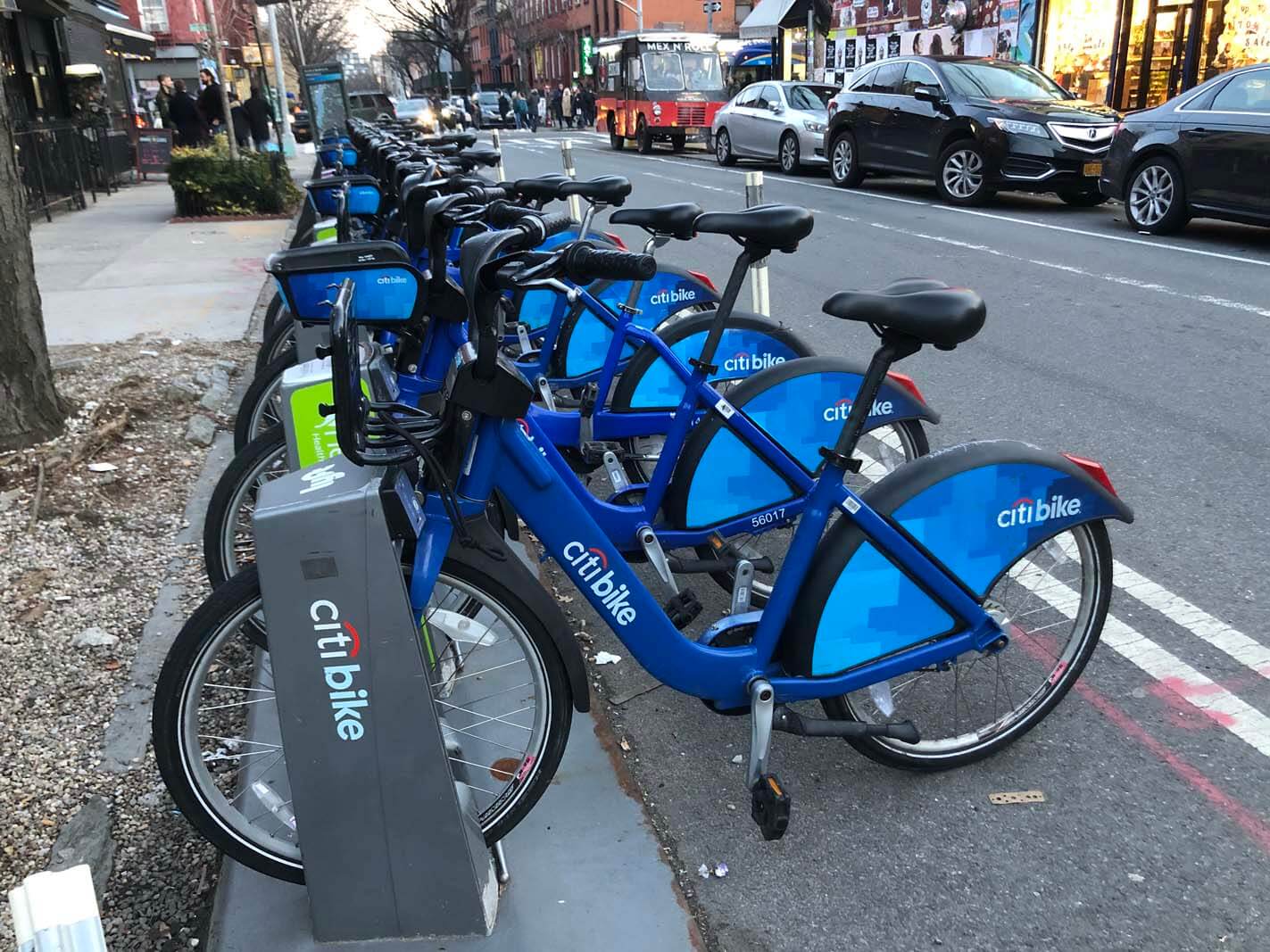 The next best way to get around and explore the great cheap things to do in Brooklyn besides walking is by renting a Citibike. Getting around the city has never been easier.
Citibikes are affordable as you can buy a day pass for $15 or if it's your first time, purchase a single ride for just $3. But keep in mind you need to dock the bikes every 30 minutes, and if you are doing a single ride you'll have to pay again, so just plan accordingly!
There are docking stations EVERYWHERE, but it's best to download the app and look at the map to plan around the docking every 30 minutes.
This is a cool way to get around because you can still see everything and explore neighborhoods making random fun stops along the way, something you don't get to do on the subway. Locals love these and so do visitors because you don't need to own a bike to get around anymore.