Recently finished your book on your way into town? No problem, luckily we've listed all the best independent bookstores in Brooklyn for that book addiction of yours.
From used bookstores to bookstores with bars and coffee shops, to everything in between, this guide will help you find the bookstore you've been missing in your life.
The bookstores on this guide are spread out all over Brooklyn so there's a good chance a great store is closer than you think!
We love supporting small businesses, so here's our complete guide to all the best bookstores in Brooklyn! Also if you love books, check out our guide to the best independent bookstores in NYC too!
Best Brooklyn Bookstores to Check Out
Greenlight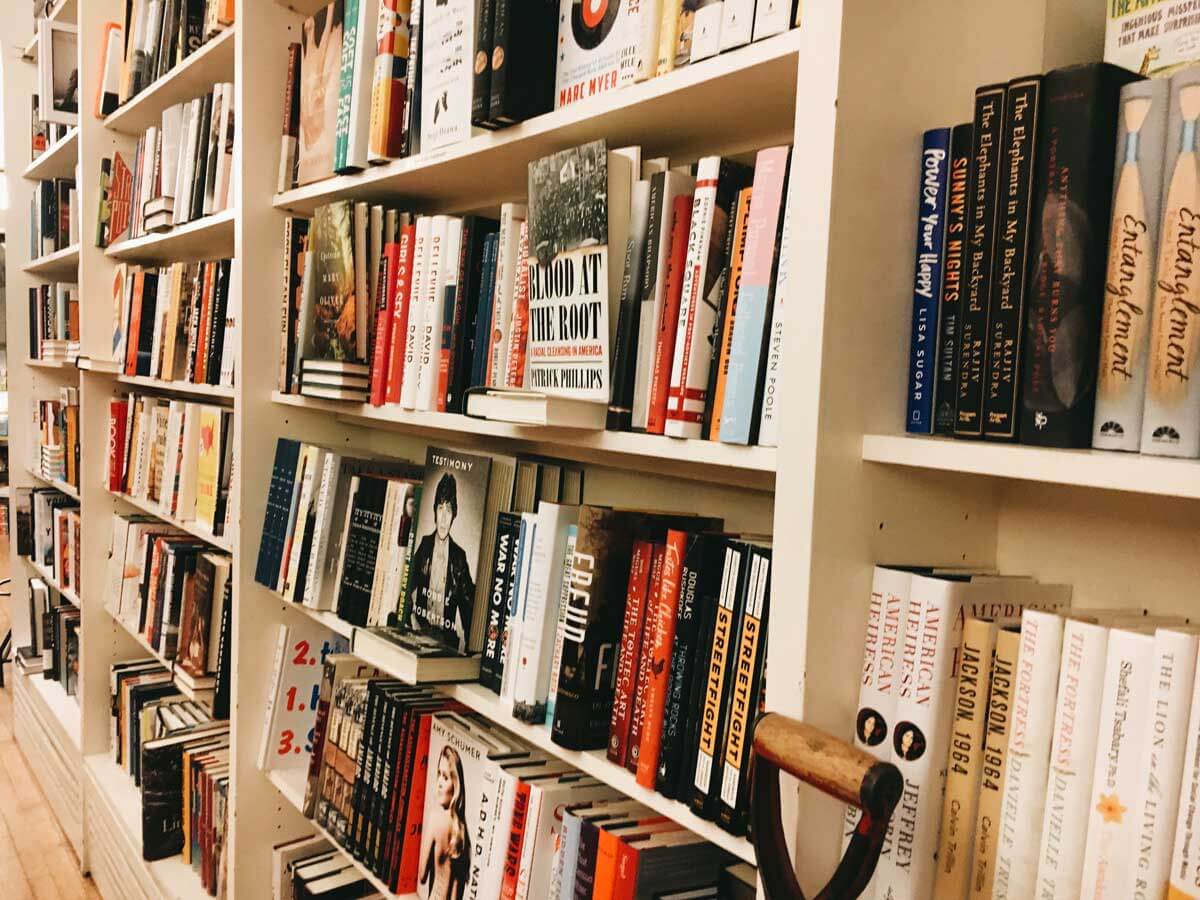 Fort Greene
Greenlight Bookstore is one of many independent bookstores in Brooklyn and you can find it on our guide of awesome things to do in Fort Greene!
We love Greenlight for their values, they encourage consumers to shop local and support independent businesses because the money spent at places like these bookstores in Brooklyn goes back into the local community.
They also pride themselves on handpicking books and improving their store space to cater to what their consumers want and need!
And if you aren't able to make it to their store in person, they have established an e-commerce site so their customers can buy books easily online! They offer their usual selection as well as Ebooks, audiobooks, and used & rare books.
If you do make it to their store, make sure to check our their events calendar! They constantly have something going on like author events, bookseller meetings, kids events, and more!
Books are Magic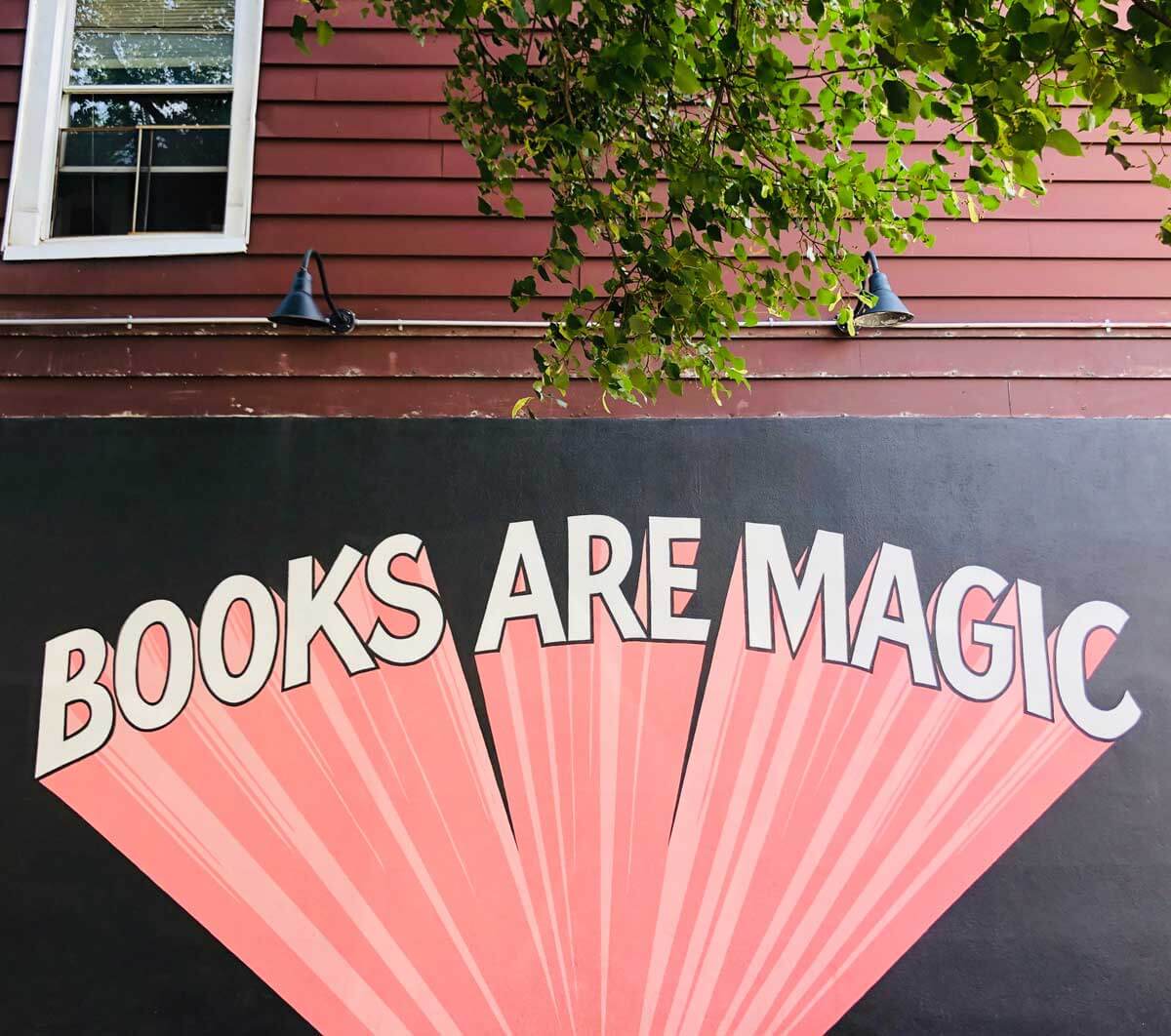 Cobble Hill
Books Are Magic in Cobble Hill is one of our favorite bookstores in the city, so much that its one of our picks for best things to do in Brooklyn! After novelist Emma Straub's favorite independent book shop didn't survive to see this resurgence in small independent book shops that we see today, it made her sad and want to start her own in Cobble Hill.
Books are Magic opened her friendly book shop took over the location of her favorite little book shop that didn't survive.
Selling everything from bestsellers to all different genres and rare books, Books Are Magic is a great place to visit if you're looking for your next read or want to see what a cool, independent book shop scene is like.
There are also events held here and the knowledgeable staff can help you pick out your next read! Don't miss the cute mural outside on the side of the building either! Plus their social media game is strong, you'll want to follow them on Instagram too!
Read Next: Amazing Brooklyn Boutiques & Gift Stores in Brooklyn
Quimby's Bookstore
Williamsburg
Most bookstores in Brooklyn have a unique vibe and personality and we would say that's absolutely true about Quimby's Bookstore in Williamsburg.
Although they don't have much about the bookstore on their website, you can see their bio on Twitter is, "Zines and underground books for freaks, outsiders, and nice people with a bad attitude."
If you're like me, you might be wondering what a "zine" is, cause I just thought it was an abbreviation for magazine. After a quick Google search, I learned a zine is actually a compilation of texts and images put together by individuals or small groups that get produced by a photocopier for circulation. In simple terms, it's almost like a DIY magazine that can cover a variety of topics and be created in multiple ways!
The bookstore itself has an incredible aesthetic and would make for some great Instagram photos. This is probably one of the best bookstores in Brooklyn if you're looking for something a little different compared to a standard bookstore!
Try grabbing a book from here and grab a coffee at some of our favorite Williamsburg cafes!
Spoonbill & Sugartown Booksellers
Williamsburg
Supporting small businesses is always important and especially when it comes to Spoonbill & Sugartown Booksellers! This spot was founded in 1999 is one of the awesome used bookstores in Brooklyn that also sells new books!
Spoonbill & Sugartown emphasizes literature and visual arts books but you can find many books here, whether it's new, second-hand, or rare, you'll walk out of here a happy customer!
You'll love the homey vibe of this bookstore. It has a great aesthetic and they also host some great events!
Read Next: Best Things to do in Williamsburg
Word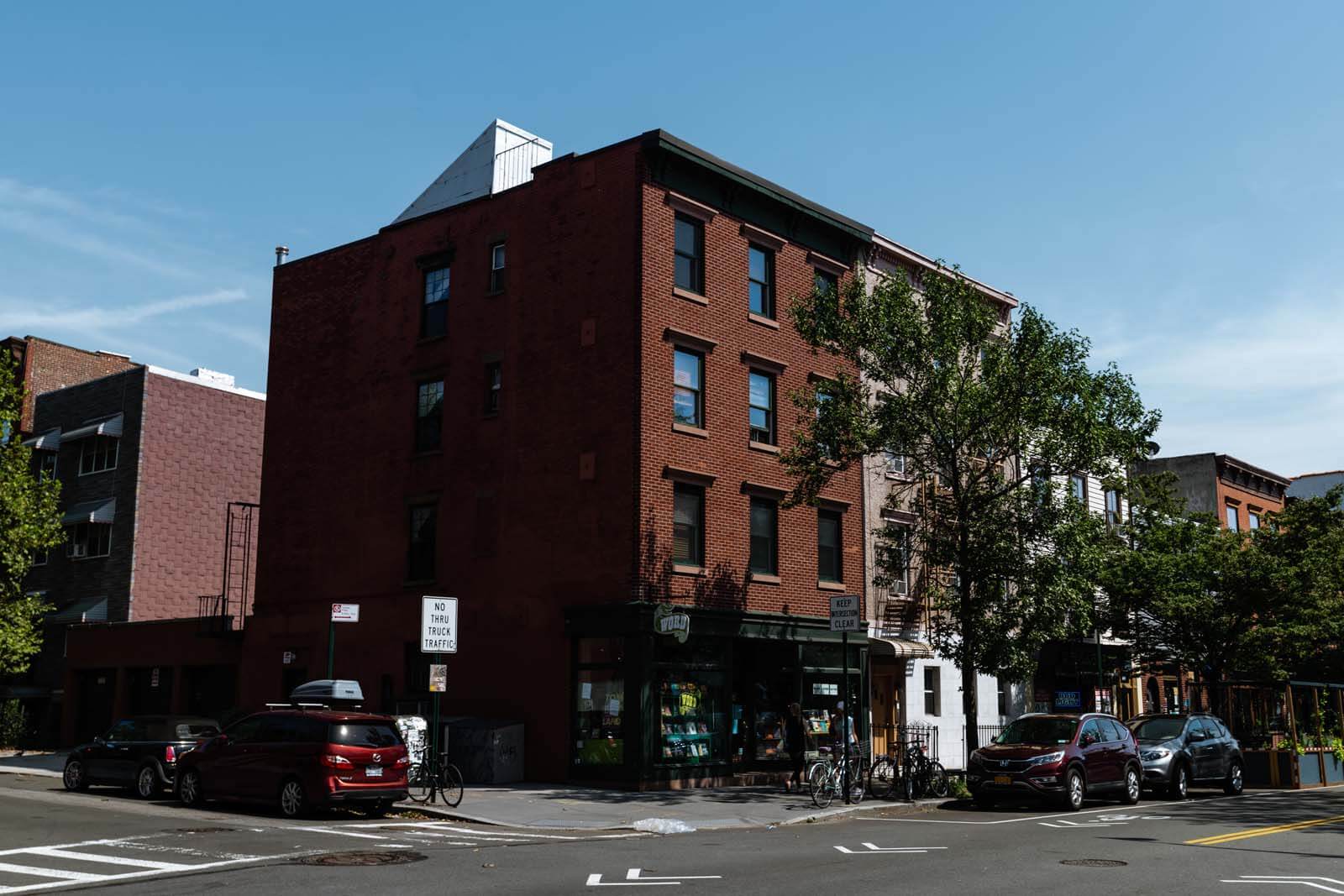 Greenpoint
Word Bookstores, located in Brooklyn, is one of its two locations, the other is in Jersey City.
We love what Word stands for. Since opening in 2007, their goal has been, "To be whatever our communities need us to be," and that's what is so great about small businesses! At Word, you know they're going to put you first!
They also love to host events and interact with their awesome customers.
Author Emily Gould, who used to live in Greenpoint, said, "I would attribute so much of that neighborhood's new vibrancy and desirability to that bookstore."
So if you're looking for a great sense of community with other bookworms, we would say this is your place!
It's also one of the open-late bookstores in Brooklyn! Open until 9 PM daily.
Also, be sure to check out all the best things to do in Greenpoint around your visit to this awesome bookstore!
Community Bookstore
Park Slope
Established in 1971, Community Bookstore has been serving book lovers in Brooklyn for almost half a century!
Community Bookstore has many great aspects that have attracted Brooklynites over the years. They are known for their great selection of new books, the friendly environment, their garden, and they even have a cat and a turtle! We're not sure you'll find that at any other bookstores in Brooklyn.
With their wide selection, there's a book for everyone at Community! They have books for adults, kids, and everyone in between. They also sell playing cards, puzzles, and more.
Just like most of the independent bookstores in Brooklyn, Community Bookstores hosts a full calendar of events worth checking out!
Terrace Books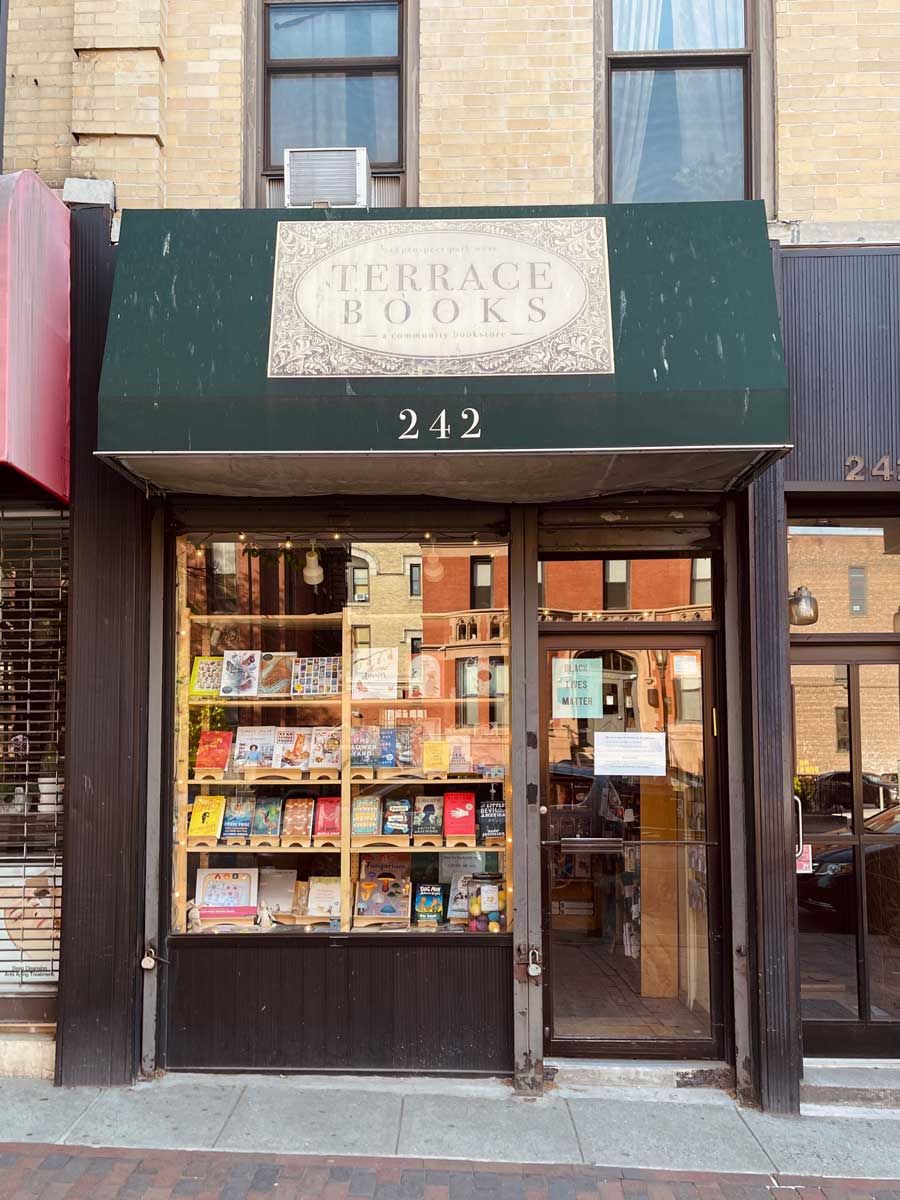 Windsor Terrace
This independent bookstore in Brooklyn is owned by the same people who own Community Bookstores! In 2013, the owners at Community decided to take over this shop and turn it into something special for the Windsor Terrace, South Slope, and Kensington neighborhoods.
Terrace Books is even considered one of the best used bookstores in Brooklyn. This shop sells new, used, and rare books!
If you check their inventory listing, you will find some interesting rare books! One of their rare finds is a first edition and signed copy of Not I by Samuel Beckett selling for $1,500!
At Terrace Books, they purchase books (by appointment) and they're always looking for vintage and rare fiction books that are in great condition, so this is a great Brooklyn bookstore to keep in mind if you are a rare book collector or you need the perfect gift for someone who is.
If you're in Brooklyn on the weekends, visit Terrace Books for storytime everyday Sunday morning at 11 AM.
Molasses Books
Bushwick
Okay so get this, a Brooklyn bookstore and a bar in one place. What more could you possibly need? Even if you're not in it for the books, Molasses Books is still an awesome place to hang out, and one of our favorite things to do in Bushwick.
This is hands down one of the most unique independent bookstores in Brooklyn and if you're a book/drink lover it should be added to your personal city bucket list.
In a nutshell, Molasses is one of the new and used bookstores in Brooklyn, they buy and sell books, they also offer beer and wine as well as coffee drinks. So if you have a stack of already read books laying around, you can swing by and trade or sell here!
As far as events go, Molasses is the place to be! They are open until midnight every night and they host readings, meetings, DJs, and they even have a happy hour!
Are we sure this is real? Sounds like a dream and it's right here in Brooklyn! And if you are as big as a fan as we are, you can stock up on their merch like T-shirts and cute reusable tote bags!
PowerHouse Arena
DUMBO
PowerHouse Arena is much more than an ordinary bookstore and it's one of the best independent bookstores in Brooklyn, which is why we include it on our guide to all the best things to do in DUMBO.
PowerHouse Arena was opened in 2006 by publisher PowerHouse books. They are known for their selection of design and photography books along with a wide variety of genres like non-fiction, lifestyle, New York-themed books, and more.
In addition to awesome books, PowerHouse hosts a variety of events. Once I was walking in DUMBO and there was a giant line down the street and they were all waiting for a book signing with Carrie Underwood at PowerHouse and tickets were only $30! That's just one example of the many events they put on!
PowerHouse also sells apparel, stationery, jewelry, and more. This is the perfect spot to snag some gifts for family and friends.
If you're visiting Brooklyn with some kiddos, we've heard their kid's corner is the best in NYC!
Unnameable Books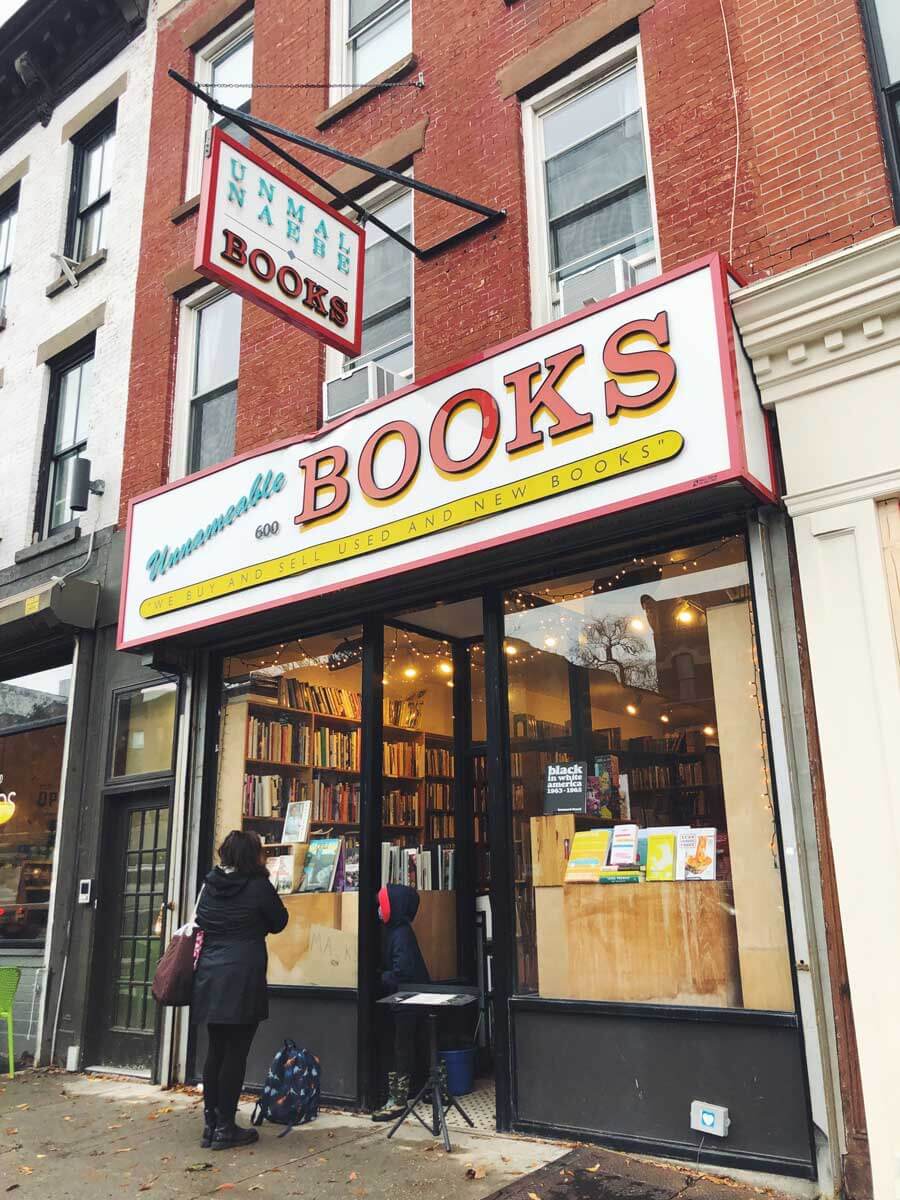 Prospect Heights
Another one of the intriguing and unique independent bookstores in Brooklyn is definitely Unnameable Books located in the Prospect Heights neighborhood.
They have such a wide variety of genres there's bound to be a book for you in this store! We love that Unnameable Books is also one of the used bookstores in Brooklyn, they sell both new and used books!
This bookstore is open daily until 11 PM, which makes it the coolest late night hang out if you're bored and wanting to check out some bookstores in Brooklyn.
Make sure you check out this Brooklyn bookstore for events and more!
McNally Jackson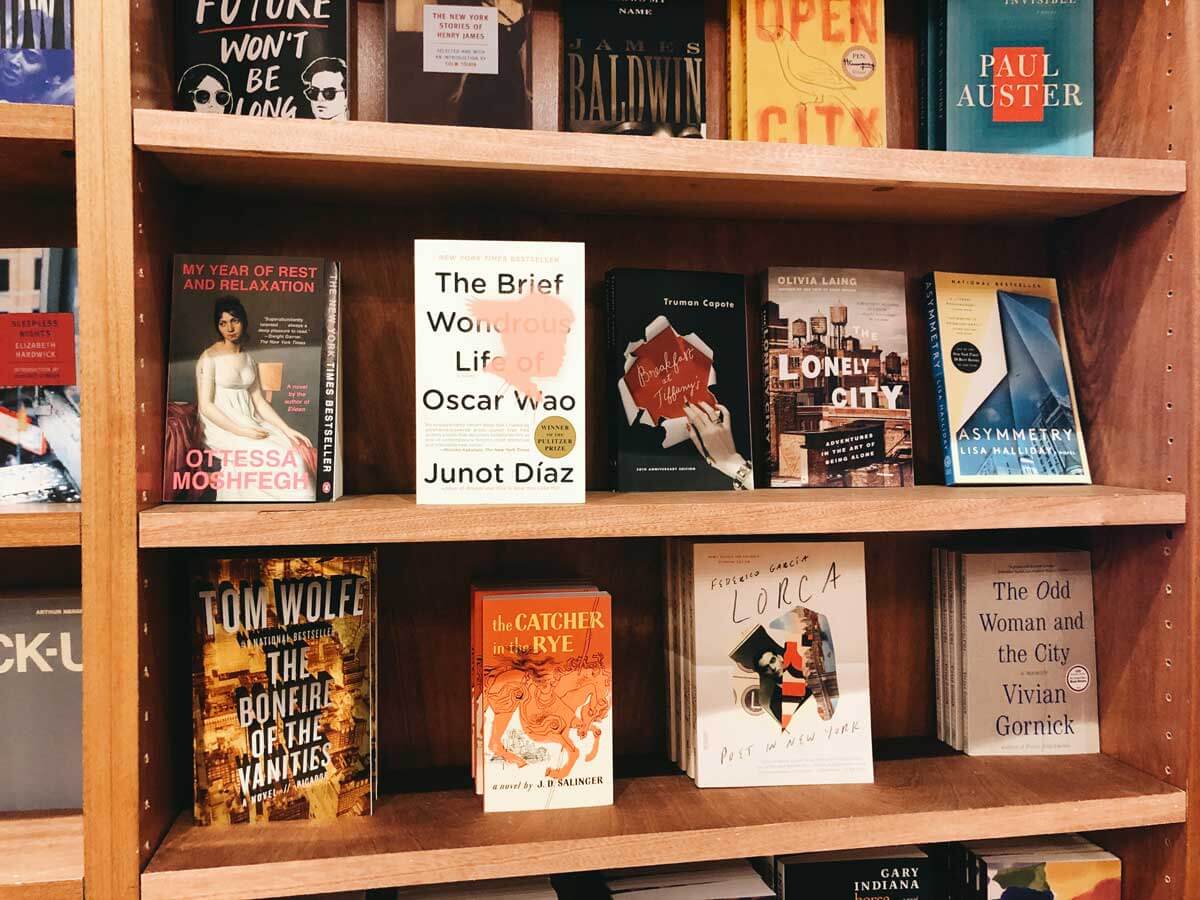 Downtown Brooklyn & Williamsburg
With 4 New York locations, two in Brooklyn, McNally Jackson is one of the great independent bookstores in Brooklyn.
I've personally been to the Downtown Brooklyn location in City Point, and it is amazing. There are two levels and the bookshelves go all the way up to the ceiling. At first, you may think, "How am I going to find a book in here?" But before you know it, you're completely consumed and have an armful of books you want to buy.
This bookstore has an endless amount of genres as well as some great stationery and gifts. You will find everything you need here from books for yourself and or gifts for someone else!
Make sure to check out their calendar for upcoming events while planning your visit to some of these awesome Brooklyn bookstores.
See more of the awesome things to do in Downtown Brooklyn while you're at it.
Berl's Brooklyn Poetry Shop
DUMBO
Berl's is another one of the awesome independent bookstores in Brooklyn and it's also one of my recommendations for things you have to do while you're visiting DUMBO.
Berl's Brooklyn Poetry Shop is a family-run poetry bookstore in DUMBO, and it's actually the only all poetry bookstore in New York! Their goal is to always provide a creative and intimate space for poetry lovers of all ages!
Other than being the only all poetry bookstore in Brooklyn, Berl's has a variety of limited edition and handmade books on display in their store.
While checking out bookstores in Brooklyn, keep this one in mind! Berl's host's many readings and events that you poetry lovers just won't want to miss!
Also, if you're just wanting to grab a book and find a quiet place to read, check out some of the best DUMBO coffee shops you can hit up after shopping!
Freebird Books & Goods
Cobble Hill/Carroll Gardens
Freebird Books is another used bookstores in Brooklyn that resides in between the gorgeous neighborhoods of Cobble Hill and Carroll Gardens.
This bookstore has been operating since 2004 and specializes in New York City history and culture. If you're anything like me and you're totally obsessed with all things New York City, then this is definitely the bookstore for you.
Freebird is a little different compared to most bookstores in Brooklyn. This one is only open on the weekends! Sounds crazy right? But they still show a lot of love to the community by hosting events, readings, and even book clubs.
This Brooklyn bookstore also operates a non-profit called Books Through Bars, which is a program that helps prisoners all across the country have access to books.
By donating books here, you can be eligible for store credit!
Catland
Bushwick
Wondering what kind of sorcery goes on at this Brooklyn bookstore? Get in touch with your inner witch when you stop by Catland in Bushwick for a magical experience beyond the typical bookstores in Brooklyn.
Catland refers to themselves as a premier metaphysical boutique and event space and they advocate for their customers to enhance their spiritual selves!
They do this by selling not only books that cover these topics, but they sell candles, local art, incense and oils, crystals, tarot cards, and much more!
So if you're feeling a little magical, which is expected when you're visiting Brooklyn, you should absolutely stop by Catland!
Melville Publishing House & Bookstore
DUMBO
Melville House is a publishing company that began in 2001 by writer and journalist Dennis Johnson. The company has published a variety of fiction and nonfiction books, but is well known for its fiction.
The Melville House Bookstore is actually behind the Melville Publishing House office but staff will often come into the bookstore to greet customers.
This bookstore also serves as an event space that offers free events that happen after closing! So keep an eye out for those while you're visiting.
Grab a cup of coffee from the Brooklyn Roasting Company next door and check out the wide variety of books!
There aren't many bookstores in Brooklyn with a location like this! It's very close to the waterfront in DUMBO and the perfect resting place in between exploring all the amazing things to do nearby like Brooklyn Bridge Park!
Book Thug Nation
Williamsburg
A lot of people in Williamsburg stop in this Brooklyn bookstore for the name. I mean, wouldn't you? What is a book thug? Are we one of those?
Let's find out!
Book Thug Nation was opened by three people who actually used to be sidewalk booksellers! Dreams really do come true here!
Something customers love about Book Thug Nation is the wide variety of books and the price point. Book Thug Nation is one of the used bookstores in Brooklyn and they even have two carts full of $1 books!
They're most known for their fiction, film, and philosophy options, but have a lot more to offer! This bookstore is a little on the smaller side, but that doesn't stop them from hosting gatherings and events.
Human Relations
Bushwick
Up next on our guide to the best independent bookstores in Brooklyn is Human Relations, which actually a joint venture of Book Thug Nation!
Human Relations is also another one of the used bookstores in Brooklyn, just like Book Thug Nation.
The inspiration for the name of this Brooklyn bookstore is interesting, their website reads,
"HUMAN RELATIONS ARE DIFFICULT, ESPECIALLY FOR BOOK PEOPLE. NEVERTHELESS, WE ARE BRINGING YOU THE BEST QUALITY USED FICTION, PHILOSOPHY, FILM, FOREIGN LANGUAGE, PULPY NOIR, HISTORY, ART, SCIENCE, FOOD, DRAMA, AND PRETTY MUCH EVERYTHING ELSE. (IN ORDER TO MAKE HUMAN RELATIONS EVEN HARDER.)"
In addition to their wide variety of books listed above, they buy used books and records as well as host events! Also, if you love vinyl, check out all the best record shops in Brooklyn!
Cafe con Libros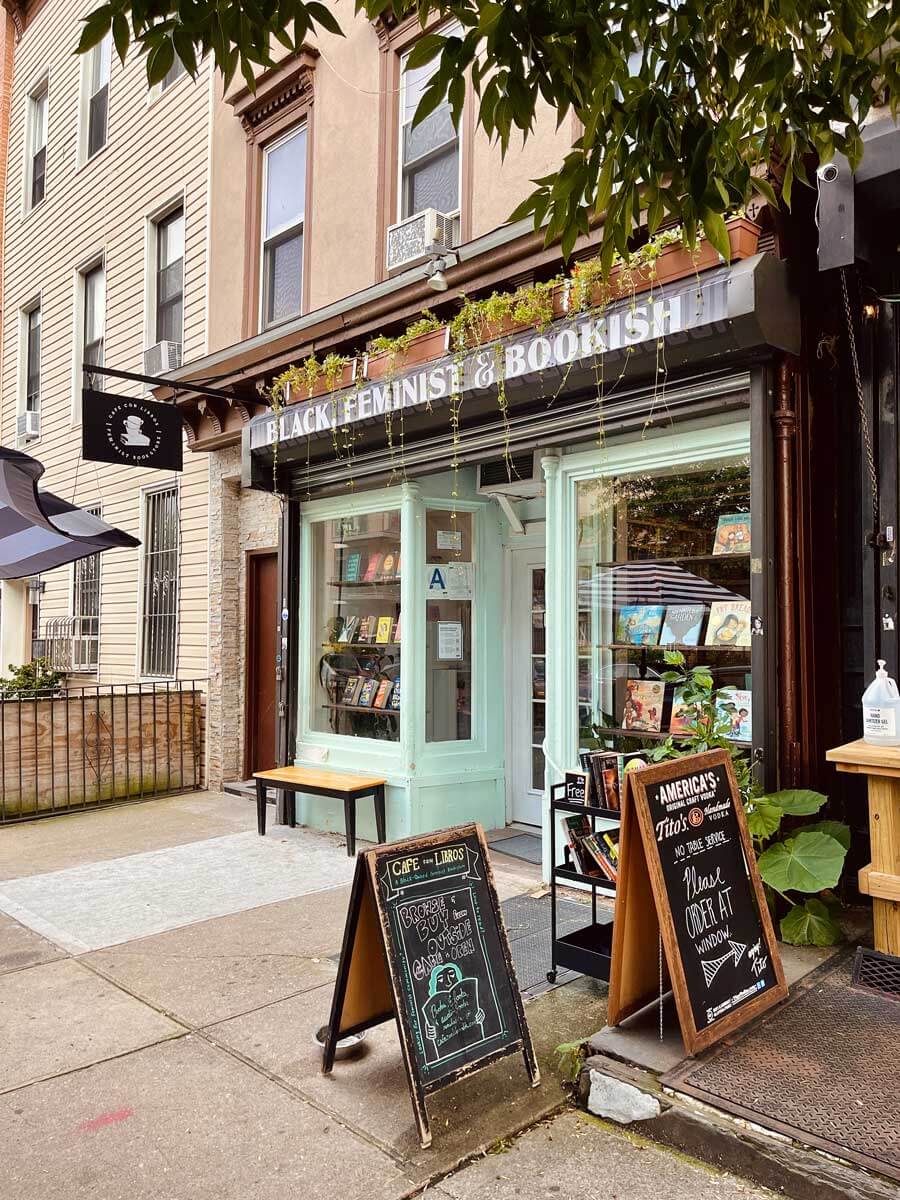 Crown Heights
Cafe con Libros, which means coffee with books, is an independent bookstore in Brooklyn that is a feminist/indie bookstore plus coffee shop, the only one of its kind in Brooklyn, not to mention one of the best coffee shops in Crown Heights!
If you're wondering where the idea for a space like this came from, it's simple, "To be honest, I also wanted space where my homegirls could hang out. No pressure. No expectations. All love," says the owner.
So grab all your friends and head over Cafe con Libros in Crown Heights for some great reads, a cup of coffee, and a pastry or two.
My favorite aspect of these Brooklyn bookstores is the merch! Snag some awesome tote bags, mugs, and more to represent the unique Cafe con Libros Brooklyn bookshop.
Note that during the week this spot is open until 1 PM during the week and 3 PM on the weekends!
Here's a Book Store
Sheepshead Bay
If you're a book lover and a beach lover, get the best of both worlds at Here's a Book Store, which is just a quick ride on the Q to Brighton Beach.
This Brooklyn bookstore is known for being family-run and friendly, which always makes a shopping experience sweeter.
Many customers say they've been going there for years, which makes sense considering it's been around since 1975.
The books are stacked to the ceiling and cluttered, but they've got every book you could possibly need. They also always work hard to help you find what you're looking for at Here's a Book Store.
Here's a Book Store has proven to be one of the best bookstores in Brooklyn since it has survived for over 3 decades for 35 years.
Sounds like something we've got to check out, right?
Better Read Than Dead
Bushwick
Talk about a hidden gem, Better Read Than Dead is one of the bookstores in Brooklyn you may not just stumble upon, but that's why you're here. We can guide you there!
This tiny bookstore is definitely worth your time to find it tucked away with all the other shops along the Bushwick flea market scene.
Another one of the used bookstores in Brooklyn, this one was founded by four book lovers who began their careers by selling books in the streets.
You won't believe the amazing books that this small space can hold. Time to find out for yourself!
A Novel Kitchen
Brooklyn Heights
One of the most interesting independent book shops in Brooklyn is A Novel Kitchen located on Atlantic Avenue in Brooklyn Heights. This bookstore is also a restaurant and even a record store in one of the coolest combinations the city has to offer!
Local restaurant owners lost their former business and by happenchance, through a note with a dent on a car, they were connected to the owner of Better Read Than Dead, mentioned above. They formed a friendship and also included the head of Academy Records to bring a unique trifecta of all three in one space.
The Bookmark Shoppe
Bay Ridge
This Brooklyn bookstore originally began its journey in Dyker Heights but moved to Bay Ridge after they outgrew its first storefront.
Like most of the bookstores in Brooklyn, this one has a lot more to offer than books! What I love about this shop are all the amazing little gifts they have. I know you're probably here for the books, but make sure you check out some of their adorable mugs, pins, tote bags and so much more.
Along with a variety of events like knitting classes, book signings, and book karaoke, The Bookmark Shoppe also offers a free book club that meets once a month!
This is a great bookstore for all ages and one of the must-see independent bookstores in Brooklyn!
Desert Island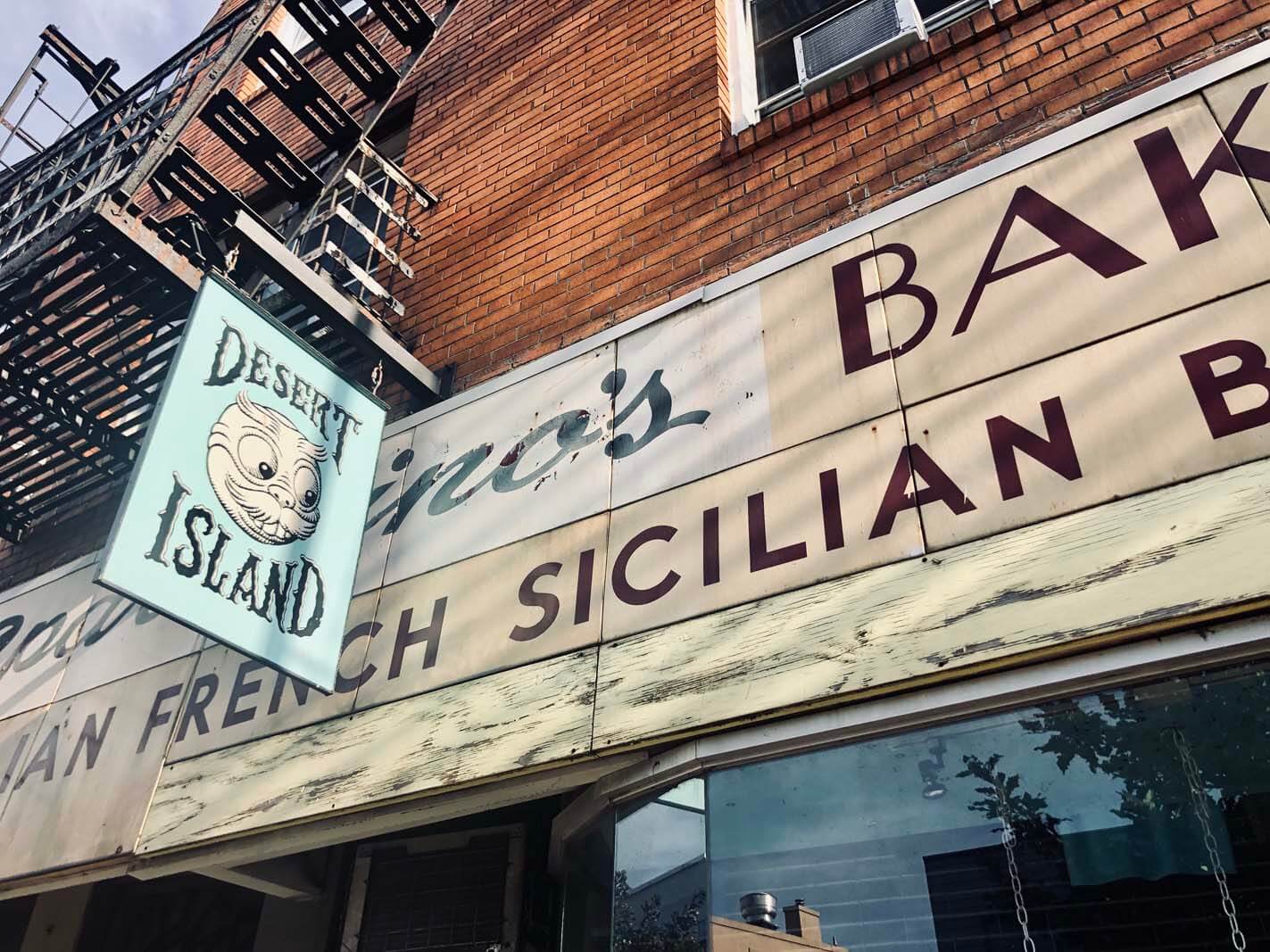 Williamsburg
Here's a Brookly bookstore we haven't really covered yet. comic books!
And before you say comic books aren't really your thing, this bookstore isn't just about superheroes (a common stereotype). It's okay to mix up your classic books with some graphic novels and comics!
Desert Island says they are an, "abstract idea of punk rock." This store has artists from all over the world shipping their work to be sold at this shop. Aside from self-published work, they have a bunch of classic and popular comics as well.
This is another one of the Brooklyn bookstores that are great for all ages!
Desert Island also publishes its own anthology of comics, called Smoke Signal and it's free! Check it out on their website.
Boulevard Books & Café
Dyker Heights
Boulevard Books is a simple and welcoming bookstore in the neighborhood of Dyker Heights, an area we have yet to cover!
Boulevard Books is another one of the great independent bookstores in Brooklyn for all ages. We especially love these bookstores with the cafes, leave the kiddos in the children's section and unwind with a cup of coffee and a good book.
The owner of this bookstore, Tatiana Nicoli, was actually a lawyer before turning into a bookstore owner. She actually received some advice about the industry from other bookstores in Brooklyn on this guide like Word and Greenlight.
Since following her passion in 2010 with Boulevard Books, she has turned it into a wonderful place for book-loving Brooklynites.
Archestratus Books + Foods
Greenpoint
Calling all food lovers (which is basically everyone in NYC), this Brooklyn bookstore is for you!
This is one of the most interesting bookstores in Brooklyn and it's an experience you can't miss while in Brooklyn.
Their books cover all the facts and fiction of food, which we could all learn a little bit more about I'm sure. Instead of just using cookbooks as a decoration for your kitchen (we all do it), we can actually learn some awesome things from the books offered here!
To add to your book shopping experience, Archestratus offers Sicilian goods, coffee, tea, and even beer & wine!
And it only gets better! This amazing bookstore also offers classes, readings, screenings, tastings, performances, dinner parties, book clubs, and more!
Definitely add Archestratus Books + Foods to your things to do in Brooklyn list.
The Center for Fiction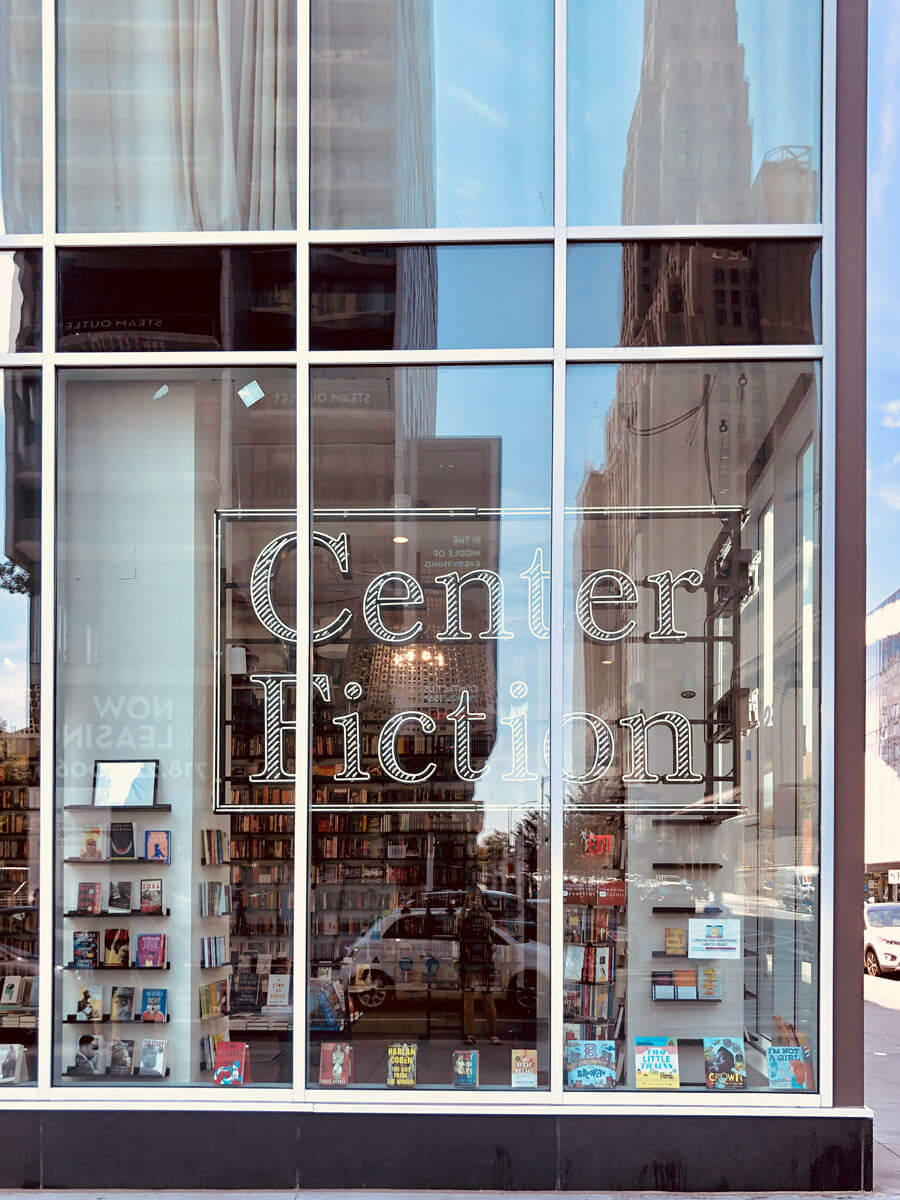 Fort Greene
One of the best bookshops in Brooklyn is not only a bookshop but also a coffee shop – gotta love those combos. This is not only a great place to browse and shop for your next title to read but also grab a cup of coffee and read or even get a little work done as they have an incredibly inviting atmosphere and the ambiance is light and bright with large windows letting in all that natural light.
The space is light with large open windows where you can see all the books on display passing by. They also have several events throughout the week, including a quiet reading hour where you can indulge in a nice cup of coffee or glass of wine.
Because of everything, this independent bookshop in Brooklyn has to offer, plus a stellar location, it's also one of our favorite coffee shops in Fort Greene!
Playground Annex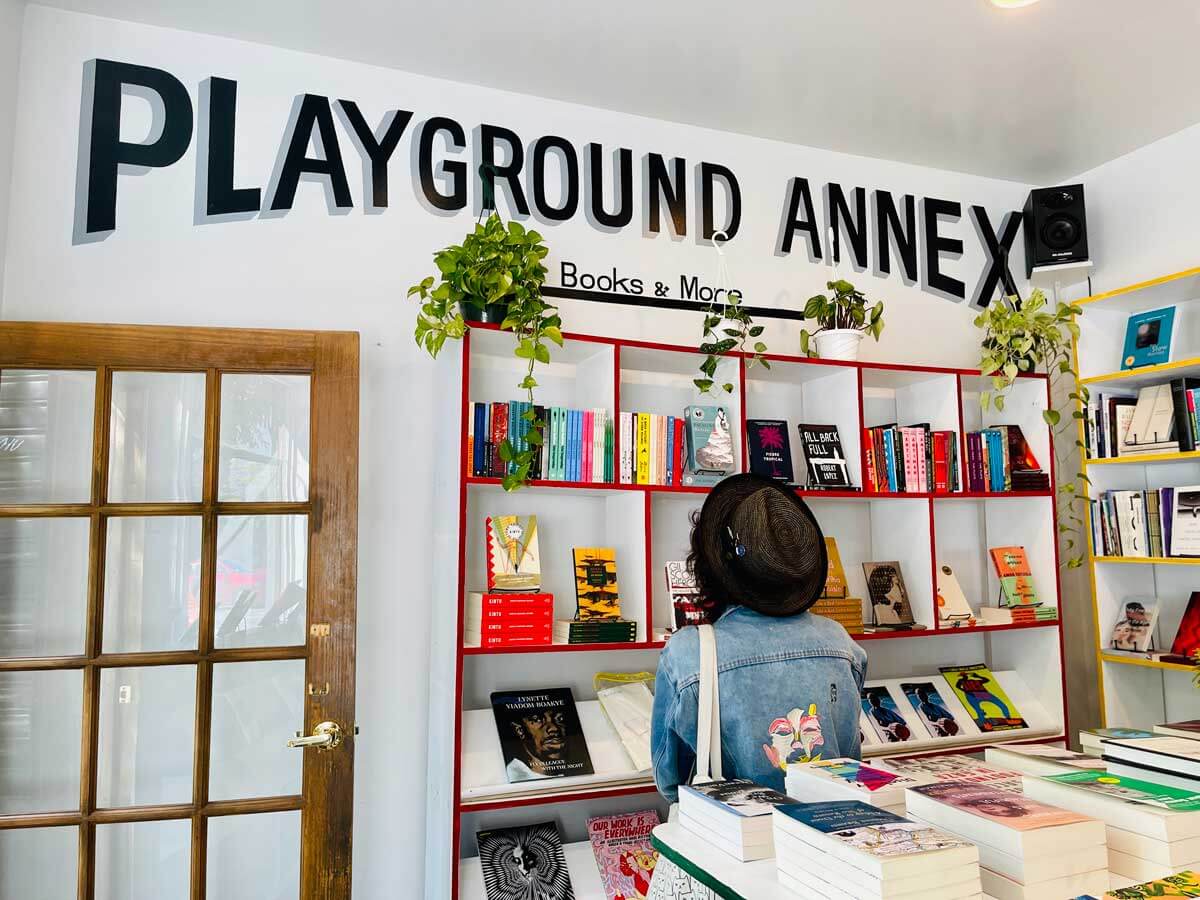 Bed-Stuy
This indie book store in Brooklyn is the 'annex' to the Brooklyn cafe, Playground Coffee Shop. Playground not only has a cafe and bookshop but the owner, Zenat Begum has created a community-driven hang out and event space, non-profit, and place that supports the Bed Stuy community.
This bookshop has an excellently curated selection of works from Black, Brown Indigenous, Latinx, AAPI, Trans+, Queer, and POC authors and artists.
They do have limited hours they are open, be sure to check before you visit!
Cups and Books
Prospect Lefferts Garden
This small, yet cozy book store and coffee shop hybrid is located in Prospect Lefferts Gardens on Bedford Avenue. This independent Black-owned bookshop in Brooklyn offers readers a selection of best sellers as well as books you may not have heard of.
There's something for everyone whether you're an avid reader or not, plus it's the perfect place to hang out and enjoy sitting back with your new read alongside a cup of coffee and hang out for a bit.
---
Liked this guide to all the best independent bookstores in Brooklyn and round of up of best Brooklyn bookstores? Bookmark for later or share the love below on Pinterest. Happy reading!