Buddy the Elf, what's your favorite color?! Check out some of the most famous Elf filming locations in NYC, one of the most beloved holiday classics and best Christmas movies set in NYC!
Are you a fan of the 2003 Christmas film Elf? Ever wondered where Elf was filmed? I'll tell you—right in New York City, with the exception of a few interior scenes filmed in Vancouver.
Of course, there are a lot of movies filmed in NYC, but few films have done such an excellent job of encapsulating what this city is truly like during the holiday season the way Elf has, which is probably why so many love this Christmas classic!
Without further ado, below we will give you the most notable NYC filming locations used in Elf!
Elf Filming Locations in New York!
Empire State Building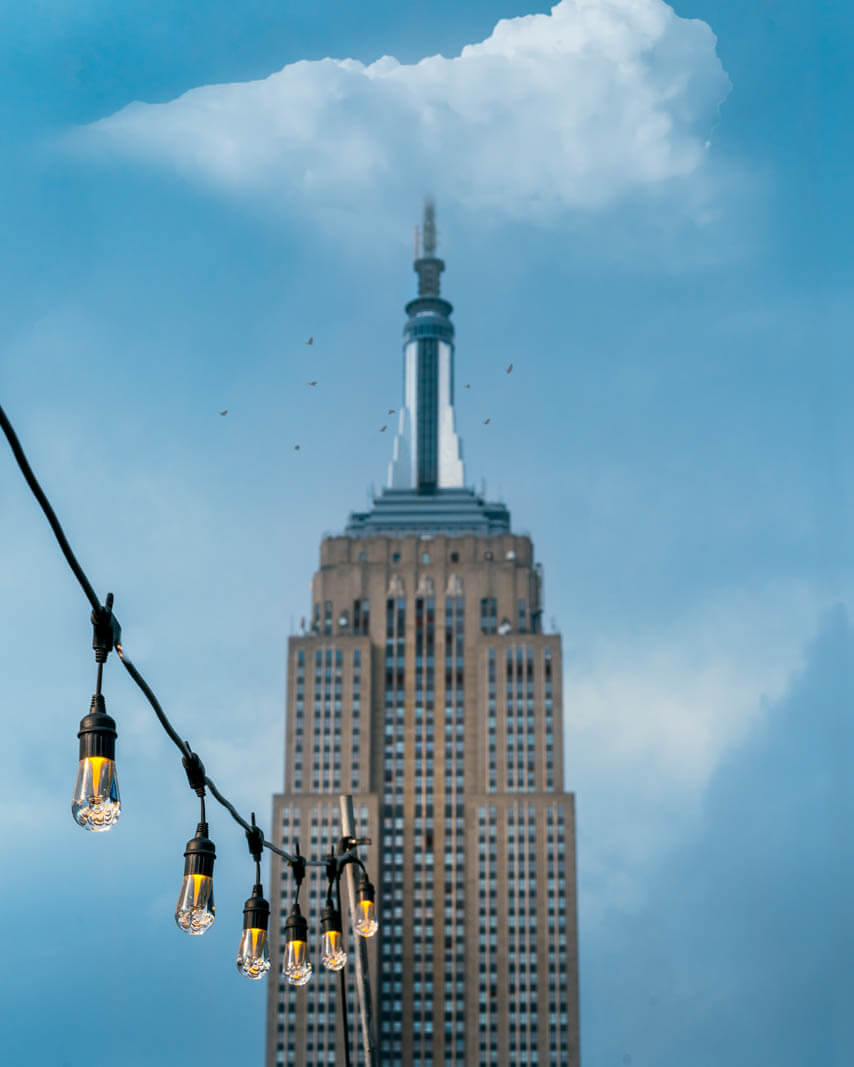 So, where was Elf filmed? Remember the scene where Buddy (Played by Will Ferrell) goes into his father's (played by James Caan) office with him, attempts to be a business-oriented adult, but his child-like personality can't help but seep through?
The company ('Greenway Press') where Buddy's father works, is located in the Empire State Building (2t 20 West 34th Street at 5th Avenue). It's one tall building, so be prepared if you plan on visiting!
When you watch the film you'll notice a few establishing shots of exterior views of the Empire State Building as well as scenes of Buddy going inside.
If you're planning a visit to NYC during Christmas, you can visit the Empire State Building and check out the observatory too!
Central Park West
View this post on Instagram
One of the most memorable scenes in the entire movie would have to be the dinner scene where Buddy is seen downing an entire liter of Coca-Cola, and then immediately scarfing down a bowl of maple syrup-covered spaghetti!
This scene was shot at the apartment building located at 55 Central Park West. For those who don't know, it was the same building used for Sigourney Weaver's character in 1984's Ghostbusters, another one of the best movies set in NYC of all time!
Pinebank Arch Bridge
View this post on Instagram
And not too far away, filmed at Pinebank Arch Bridge (Central Park at West 62nd Street) was the big snowball fight scene! After defeating the group of bullies, it's at this point in the film where Michael (Played by Daniel Tay) begins to see Buddy in a new light and starts to admire him!
As far as NYC filming locations go, this is a particularly popular spot as it's been used in other films like Great Expectations (1998) and Léon: The Professional (1994). As photogenic of a spot this is—who can blame them?
Lincoln Tunnel
Remember the scene where we see Buddy as he walks through the Lincoln Tunnel? Traffic looked pretty real, didn't it?
It was said by Jon Favreau (the director), that during the filming, there were a lot of close calls and fender-benders—due to the drivers being distracted by a grown man dressed up as an elf! Understandable.
Gimbel's
This famous mall (Located on 34th Street) was used for highly comedic section of the film. It's here we see Buddy enter the mall, spray perfume in his mouth mistaking it for breath freshener, struggle to figure out how to go up an escalator, and being mistaken for an elf that works at the mall.
Not to mention where Buddy the Elf works, decorates and meets Jovie not to mention the scene where Walter Hobbs finds Buddy sleeping in the holiday window display on his way to work.
Unlike most of Elf's NYC filming locations, this one more or less improvised. Apparently, the producers wanted to use Macy's (On 34th Street), but ended up settling for Gimble's which was a real department store that closed in the 1980s. Not too bad with all things considered, as it still ended up being a pretty fun scene!
5th Ave
Remember when Buddy the Elf is jumping across the crosswalk? This scene was along the popular 5th Avenue (where you can find many holiday displays) at the crosswalk between East 22nd and East 23rd Streets on 5th Avenue.
As is the case with a lot of the filming locations in NYC, 5th Ave can be pretty busy during the evening. Make sure to look both ways when crossing this street!
The Gimbels exterior scenes were also filmed along 5th Avenue and 30th Street. The moviemakers used CGI magic to bring this former department store back to life!
Rockefeller Center Plaza
On Jovi and Buddy's fun and romantic date, another landmark where Elf was filmed is Rockefeller Center Plaza, where we get to see both the Rockefeller Center Christmas tree and the ice rink.
This is not only one of the best Christmas trees in NYC (used in many movies and tv shows) but this is also one of the most famous ice rinks in NYC too!
In the movie, this is where we see these two characters start to fall for one another. For any couples in New York—don't be afraid to steal this as a date idea, this is always a popular proposal spot too.
Queensboro Bridge
At one of his lowest points in the film, we see Buddy climb the Queensboro Bridge (At 59th Street) as a way to escape his own sadness and loneliness.
Fortunately for him and the viewers, he sees Santa crash his sleigh before doing anything too rash. And of course the park that the Santa's sleigh lands in just so happens to be…
Central Park
Central Park. It's here where we see Buddy, with his newfound motivation to live, attempts to come to Santa's aid.
Here we get our grand finale, as Buddy is assisting Santa and while Michael convinces the crowd that Santa is real on live TV and has to work with Jovie and the rest of the crowd to get Walter to sing "Santa Clause is Coming to Town"—Granting Santa enough holiday spirit to get his sleigh up and running again!
This is also where we see the scary horseback Central Park rangers chase Santa and his sleigh! This Elf filming location in NYC is one of the most intense and suspenseful!
Bethesda Terrace
Another Elf NYC filming location in Central Park. As Santa's sleigh flies off, we get to see the Bethesda Terrace, one of the most iconic features of Central Park. When it comes to NYC landmarks being used as filming locations, Elf was right to at least briefly show this one.
It's a beautiful landmark that should be visited by everyone who visits Central Park—whether you're a New York resident or just visiting! Also, in addition to chasing down some of the best Elf filming locations in NYC, you can also visit the best-hidden gems in Central Park too!
---
About the Author
Eric Garner is a Brooklyn-based writer who was raised down south who loves talking about film, TV, hip-hop, and fashion.
---
Enjoyed these Elf filming locations in NYC? If you're visiting around the holidays be sure to check out more festive guides like the best Christmas restaurants in NYC, best NYC Christmas ornaments, and best Christmas lights in NYC!