Planning on visiting the annual Brooklyn Botanic Garden Cherry Blossom Festival aka Sakura Matsuri? We've got you covered for everything you need to know about the botanic gardens cherry blossoms from when you need to start planning your visit when the festival will be, and how to see the beautiful blooming cherry blossoms in Brooklyn not only during the festival but in general and other cherry blossom spots in the city!
Whether you're planning on going to the cherry blossom festival in Brooklyn or just seeing the cherry blossoms in Brooklyn, this guide is for you!
Everything You Need to Know About cherry blossoms in Brooklyn:
About Brooklyn Botanic Garden Cherry Blossom Festival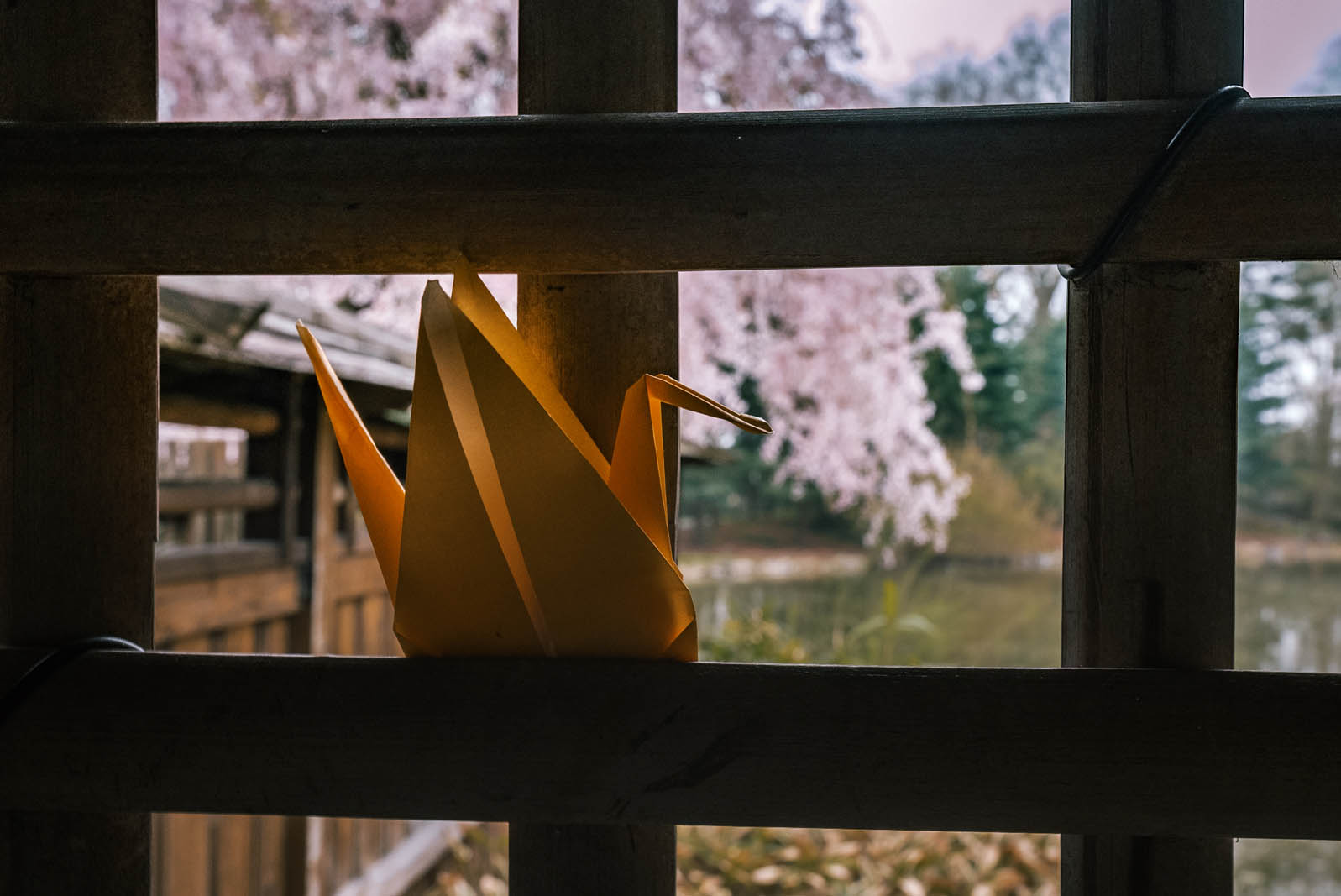 The Brooklyn Botanic Garden Cherry Blossom Festival, or the official name Sakura Matsuri, is a gorgeous, weekend-long celebration of Japanese culture, taking place right in the center of Brooklyn.
Past event-goers have enjoyed over 60 different events and performances per year: tea ceremonies, taiko drumming, martial arts, Japanese literature readings, Japanese abstract visual art, paper folding demonstrations, traditional dance, and much, much more.
There's also no shortage of activities and workshops geared towards kids, like the beet-dye fan decorating workshop, as well as modern twists on many facets of Japanese culture, like the anime and video-game-theme-inspired jazz show.
However, it's no surprise that the main attraction is the botanical gardens Brooklyn cherry blossoms, where 900,000 visitors per year are treated to the lovely pink and white flowers blooming on over 200 trees.
On these 52 beautiful acres, located just on the outskirts of Prospect Park, visitors can expect to get lost in the stunning landscape and the insight into Japanese culture.
With the exception of 2020, the Cherry Blossom Festival in Brooklyn Botanic Garden has taken place annually each spring since 1982.
The very first cherry trees here were actually a gift from the Japanese government and planted in the Brooklyn garden after World War I.
When are the Cherry Blossoms in Brooklyn?
For those excited to visit the Brooklyn Botanic Garden Cherry Blossom Festival or Sakura Matsuri, event calendars are usually released around mid-March of the given year and event dates.
Because the event hinges on the peak-blooming dates of the cherry blossoms in Brooklyn, visitors can expect the weekend-long event to fall at some point from late March to early May.
For those with less flexible schedules, the Brooklyn Botanic Gardens also encourages flower enthusiasts to stop by the park outside of the weekend of the Brooklyn Botanic Garden Cherry Blossom Festival, as the Brooklyn Botanic Garden's cherry blossoms change substantially throughout the blooming process.
The cherry blossoms in Brooklyn move through multiple, gorgeous stages, as well as multiple colors before reaching peak bloom.
Something to keep in mind, sometimes the cherry blossoms around the Japanese Hill and Pond garden bloom at a different time than the cherry walk or cherry esplanade. You may have to plan separate visits to see them all!
How to see the Botanical Gardens Cherry Blossoms
Those excited to visit the Brooklyn Botanic Garden Cherry Blossoms can book online for sessions from Tuesday-Sunday between 10 a.m. and 4:30 p.m.
Adults can visit for $18, Seniors and students for $12, and kids under 12 enter for free.
There are several different vantage points to enjoy the Botanic Garden's Brooklyn Cherry Blossoms, each with unique benefits and types of flowers in bloom.
The Japanese Hill-and-Pond Garden is an enclosed, peaceful garden with some of the Brooklyn Botanic Garden cherry blossom's earliest trees; these trees are known for their distinct, eccentric appearance, with zig-zagging branches and wide trunks.
The Cherry Cultivars Area, on the other hand, is often visited for its striking variety of tree species. Park-goers will spot a dozen different trees with ranging blossom-timelines as well as unique structures and color tones. Also found here is the Prunus, or "Okame" tree, which is the Brooklyn Botanic Garden Cherry Blossom's first to bloom of the year, ringing in the new season of cherry blossoms blooming.
Another super popular spot is the Cherry Walk, which, as the name suggests, is a walking path with tons of cherry blossoms hanging overhead. The Cherry Walk's foliage is actually made up of "Kazan" trees, which, unlike most other 5-petal cherry blossoms, has flowers with up to 28 petals per bloom.
Just west of the Cherry Walk, the Cherry Esplanade is a completely lovely, clear field, also dotted with "Kazan" trees for viewers to enjoy.
Tips for Visiting the Botanic Garden Cherry Blossom Festival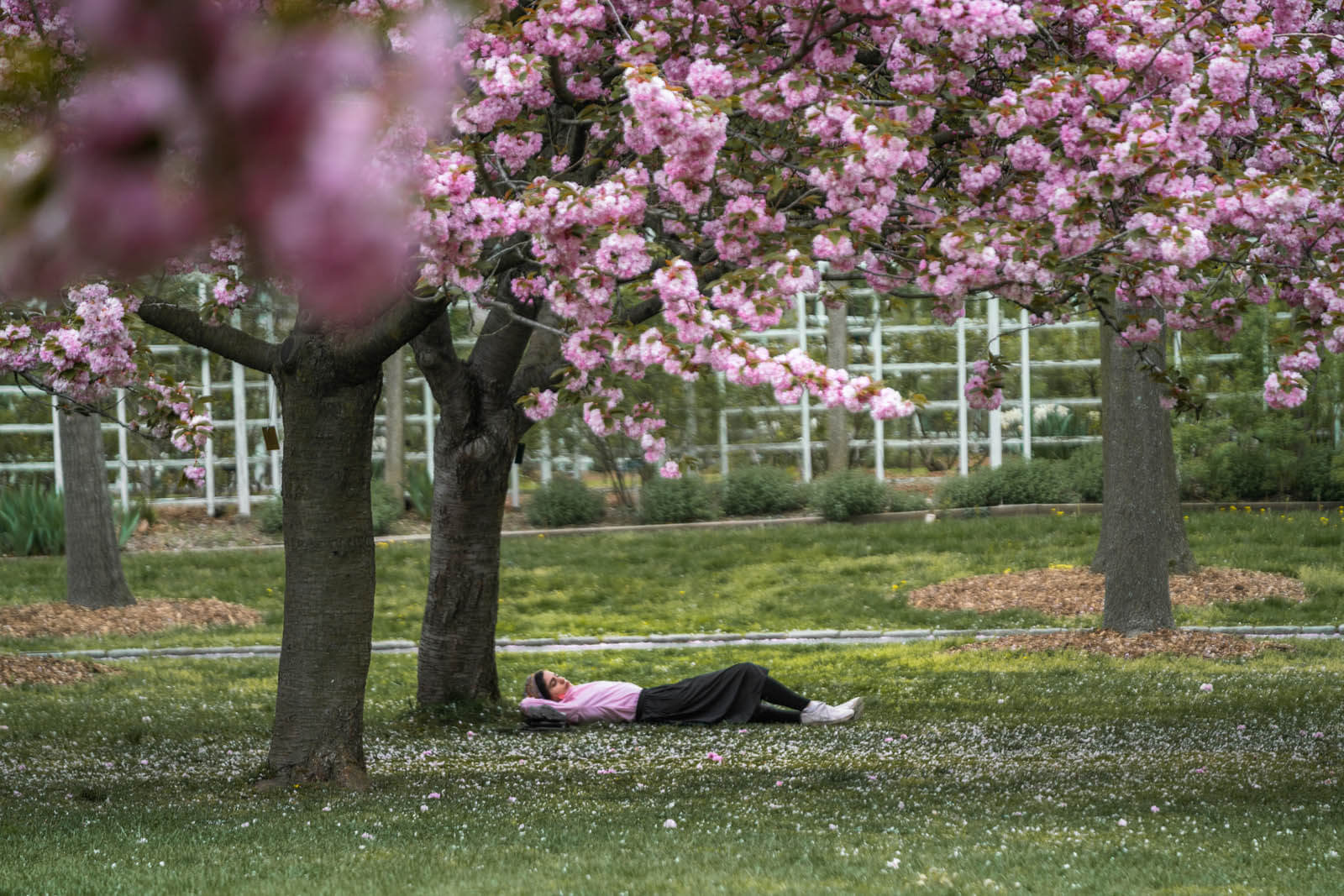 For those looking to join Botanical Garden's Brooklyn Cherry Blossoms for the annual Brooklyn Botanic Garden Cherry Blossom Festival, it's important that tickets are reserved as far in advance as possible. The festival sells out quite quickly. So you'll need to plan ahead!
Guests should also be aware that at the present moment, booking a ticket is required for all park visits, in addition to the Brooklyn Botanic Garden Cherry Blossom Festival.
Though on both days of Sakura Matsuri it's likely to be a completely booked event, visitors concerned about crowds shouldn't be all too worried as the garden itself is extremely spacious and, despite high numbers of guests, still allows for beautiful scenes in the peace and quiet.
Otherwise, if you are only hoping to see the cherry blossoms in Brooklyn, you can just plan your visit around the dates of the festival, but we still urge you to plan ahead and book in advance as these are also very popular and high in demand times to visit the botanic garden.
There are tons of unique gardens and conservatories to relish with friends after you've finished seeing the Botanical Garden's Brooklyn cherry blossoms.
If you're looking to learn about plant life, the gorgeous Plant Family Collection was designed for that exact purpose; I personally love getting to walk right next to plant beds, bridges, and green walkways, studying different plant species up close.
If you're looking for a quiet, tucked-away spot to relax, I'd suggest the Shakespeare Garden, where you'll find a collection of plants mentioned in his works, as well as a nice and comfy place to rest.
The lawns around the Cherry Esplanade are a popular Brooklyn picnic spot usually, while it is difficult to picnic here during the cherry blossom festival, you can avoid crowds and still have a chance of enjoying a picnic if you come on a weekday around the festival.
See our entire guide to everything you need to know about visiting the Brooklyn Botanic Garden for more tips for your visit including what else to see while you visit the botanical gardens cherry blossoms in Brooklyn.
The Brooklyn Botanic Garden is closed every Monday, keep that in mind when planning your visit!
What to do nearby the Botanic Garden Cherry Blossom Festival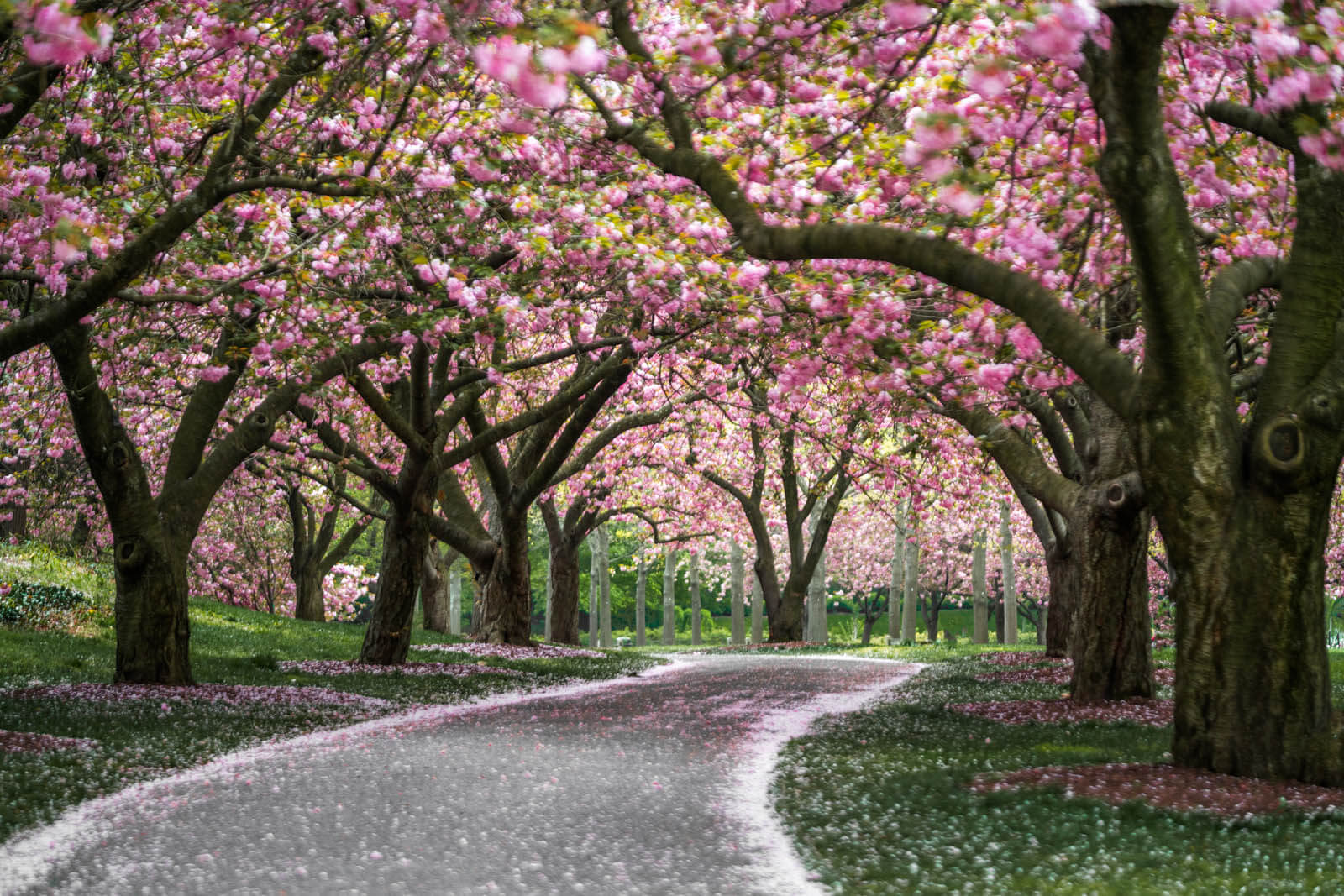 If you're ready to move on from the Botanic Garden's Brooklyn Cherry Blossoms, then luckily, you've got no shortage of activities close by to choose from for the rest of your day.
Prospect Park, for instance, is one of my all-time favorite parks in Brooklyn. Take a stroll around the best things to do in Prospect Park including the scenic arches, waterfalls (yep surprising, there are several waterfalls in NYC actually), hiking trails, and historic and beautiful structures around the park like the Picnic House, Prospect Park Boathouse, Litchfield Villa, and the Peristyle to name a few.
I'd especially suggest visiting the Prospect Park Zoo, located right behind the gardens too.
If you think you'd enjoy a mini-break from the city, Prospect Park is the only park in NYC with some building-less views (which can be a really strange and exciting experience inside the bustling city!).
There's also a great selection of food nearby, like the café Gather on 7th Ave in Park Slope, Barbancino for pizza or Chavela's for Mexican fare in Crown Heights, and, who could forget, the famous Grand Army Plaza Greenmarket, where a huge variety of different amazing food carts are available on the weekends.
Additionally, the Brooklyn Botanic Garden's cherry blossoms are right next to quite a few of the best things to do in Brooklyn, like the Brooklyn Museum, streets of classic Brooklyn brownstone apartments in neighboring neighborhoods like Park Slope and Prospect Heights, or if you love more cool architecture and want a break from brownstones you can walk around the historic mansions in all types of styles in Victorian Flatbush, aka Ditmas Park.
If you love shopping, be sure to stroll down 5th Avenue in Park Slope as well as 7th Avenue who have multiple independent boutiques and shops to explore.
Where Else to See Cherry Blossoms in Brooklyn & NYC?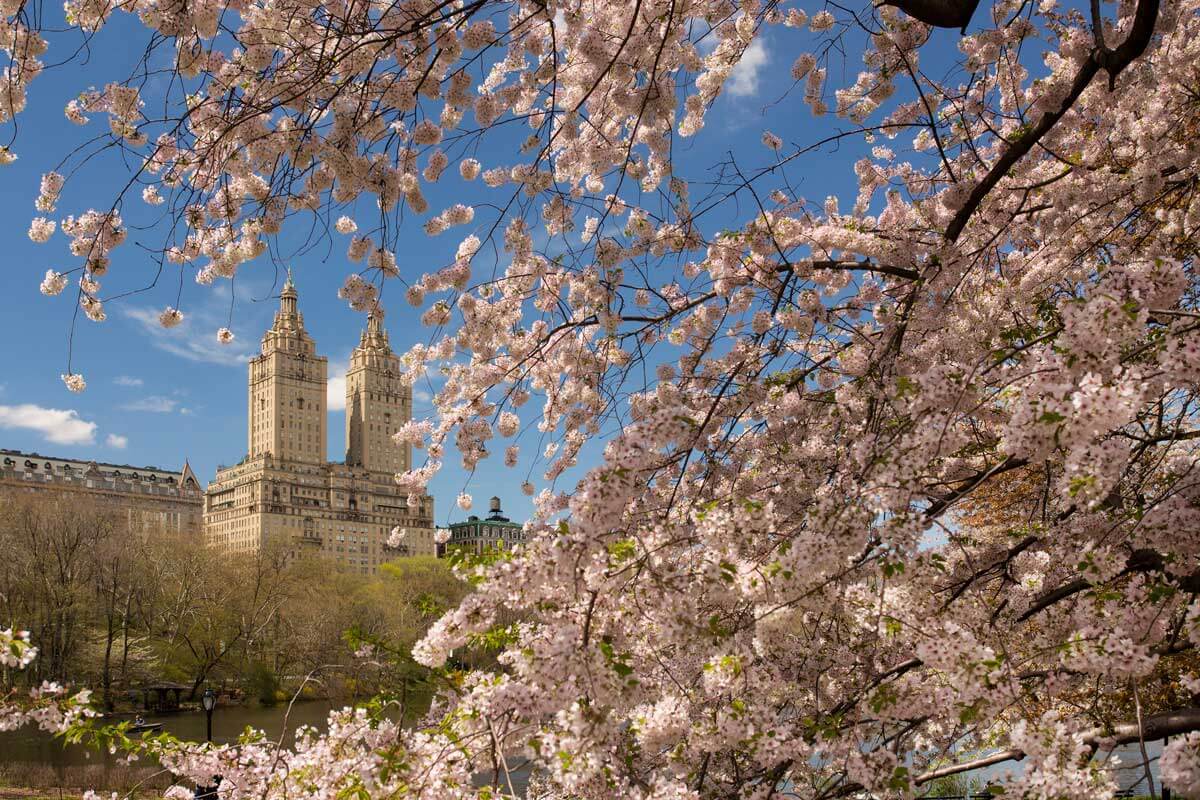 Of course, as mentioned earlier you can always come and see the botanic garden in Brooklyn cherry blossoms on the shoulder dates of the official festival dates. If, after visiting the Brooklyn Botanic cherry blossoms, you're still on the hunt for more cherry blossom scenes in NYC, there are quite a few spots to check out as the flowers blossom.
See our full guide to 10 places to see cherry blossoms in NYC or take our recommendations below!
Roosevelt Island, for instance, also hosts an annual cherry blossom event that began in response to the 2011 tsunami that hit Japan; the area banded together and created the event to help financially support rebuilding efforts.
If you're planning on an NYC trip, surely Central Park will make the list. At the lovely Jacqueline Kennedy Onassis Reservoir, cherry blossoms are abundant for guests, and the area has historically hosted guided tours as well.
At the Lewis Howard Latimer House located in downtown Flushing, guests enter free during museum hours, and, in addition to being educated on the inventor Lewis Latimer, they can also spot a collection of cherry blossoms in the backyard of the property.
My personal favorite, however, is Sakura Park in Manhattan. In 1912, Japan gifted New York 2,000 cherry blossom trees, many of which ended up in this extremely beautiful park. Sakura Park is a great place to sit and picnic, catch some shade in the gorgeous gazebo, and of course, soak in the incredible view of the Riverside Church behind it, as well as some lovely, blossoming cherry blossoms.
Getting to Brooklyn Botanic Garden Cherry Blossoms
The Brooklyn Botanic Garden is located at 990 Washington Avenue in Mount Prospect Park and adjacent to Prospect Park, as well as near some of the most popular attractions and museums in Brooklyn including The Prospect Park Zoo, The Brooklyn Museum, and Grand Army Plaza.
There are three main entrances to the Brooklyn Botanic Garden including 150 Eastern Parkway, 455 Flatbush Avenue, and 990 Washington Avenue.
The nearest subway stops that service the surrounding area of Brooklyn Botanic Gardens are:
Prospect Park Station (B, Q, S lines)
Franklin Avenue/Botanic Garden Station (4, 5 lines)
Eastern Parkway-Brooklyn Museum Station (2, 3 lines)
Grand Army Plaza Station (2, 3 lines)
To get to Brooklyn Botanic Garden Cherry Blossom Festival you can also use a Citibike bicycle rental using the downloadable app on your phone.
The app will use your location to tell you where the nearest docking station is with how many bikes there are available or how many stalls are open to re-dock your bicycle rental.
There are 3 Citibike stations near Grand Army Plaza and 3 Citibike Stations along Washington Avenue that are within a few minutes walk to any of the Brooklyn Botanic Garden entrances, if you do try this make sure that you check the docking stations on the map to make sure there are empty spots to park your bike, otherwise you may have to dock it at another station and walk a few blocks.
If you're driving a car you're going to want to know where the best parking is. The most convenient parking for seeing the cherry blossoms in Brooklyn is the paid parking lot at 900 Washington Avenue.
This parking lot and option opens at 6:00 am on weekdays and 7:00 am on weekends. No overnight parking is allowed. If you're a member, check which level you have because certain levels include complimentary parking.
This parking option is $7 for the first hour, $10 for 2 hours, $12 for 3 hours, $14 for 4 hours, $17 for 5 hours, with a maximum of $20, as mentioned, overnight parking is not permitted, but if you do leave your car for 24 hours its $32. If you lose your ticket it's also $32.
There are also other parking options as well:
You can find free parking along Flatbush Avenue, but during busier seasons or the weekends, this might be more difficult to find (not impossible, but it might take a little time).
To save you time and for convenience, you can choose to park your car at one of the nearby parking garages for a fee, typically between $18-30.
Jenuwen Parking Garage at 580-590 Flatbush Avenue is one great option, they have a valet parking garage with attendants on the east side of Prospect Park just a 10-15-minute walk to Brooklyn Botanic Garden entrances.
This option for a Brooklyn Botanic Garden parking also has overnight options with special directions, if you're parking for the day you will need to drop off and pick up your car between the hours of 8:00 am – 8:00 pm on weekdays and 8:00 am – 6:00 pm on weekends.
Another great option in a paid garage is at 906 Union Street on President Street near Grand Army Plaza. This is just a 15-minute walk to the Brooklyn garden entrance and offers quick valet service parking.
If you're only parking for the day, you will have to drop off and pick up your car between 7:00 and 11:00 pm all days of the week.
Note that this Brooklyn Botanic Garden parking garage and option does not allow exotic vehicles to park here, probably for liability and insurance reasons.
Tip: Check out online booking options for your Brooklyn Botanic Garden parking in advance with websites/services like Park Whiz. You can book a spot in advance for a quick and guaranteed parking option to save time and the process of having to find a spot during your visit!
---
Found this guide on how to see the Brooklyn cherry blossoms at the Brooklyn Botanic Garden Cherry Blossom Festival helpful? Bookmark for later or share the love below on Pinterest! Also, find Your Brooklyn Guide on Pinterest for more helpful guides for visiting Brooklyn and NYC!