Planning a visit to the Prospect Park Zoo, aka the Brooklyn Zoo? You've come to the right place. We have put together a very detailed guide of everything you need to know before visiting Prospect Park Zoo!
This Brooklyn Zoo, or a version of it, has been around since 1890 when the Menagerie opened in Prospect Park. It wasn't until 1935 when the current zoo replaced it as a part of the revitalization program of city parks by Robert Moses. This Brooklyn Zoo has been open since with the exception of a 5 year period starting in 1988 for reconstruction and updating facilities.
The Prospect Park Zoo is overseen by the Wildlife Conservation Society, or WCS for short, along with all 4 other NYC Zoos and the New York Aquarium in Coney Island. The Prospect Park Zoo is engaged in conservation, education, and restoration of endangered species populations programs. You can learn more about their conservation and breeding program efforts here.
The Prospect Park Zoo is 12 acres and has over 860 animals and over 176 species (more on some of those later).
Table of Contents
Prospect Park Zoo: Brooklyn Location
The Prospect Park Zoo or Brooklyn Zoo is located at 450 Flatbush Avenue on the eastern side of Prospect Park off of Flatbush Avenue near some of the most popular things to do in Brooklyn including museums and attractions like The Brooklyn Botanic Garden, The Brooklyn Museum, and Grand Army Plaza.
There are two main entrances to the Prospect Park Zoo one being the Prospect Park Entrance and the other is the Flatbush Avenue Entrance. The nearest subway stops that service the surrounding area of Prospect Park Zoo are:
Prospect Park Station (B, Q, S lines) ~10 minute walk
Franklin Avenue/Botanic Garden Station (C, S lines) ~16 minute walk
Eastern Parkway-Brooklyn Museum Station (2, 3 lines) ~16 minute walk
Grand Army Plaza Station (2, 3 lines) ~16 minute walk
To get to Prospect Park Zoo in Brooklyn you can also use a Citibike bicycle rental using the downloadable app on your phone.
The app will use your location to tell you where the nearest docking station is with how many bikes there are available or how many stalls are open to re-dock your bicycle rental.
There are 3 Citibike stations near Grand Army Plaza and 3 Citibike Stations along Washington Avenue that are within a few minutes walk to either Prospect Park Zoo entrance.
Read Next: Best Museums in Brooklyn
Prospect Park Zoo: Admission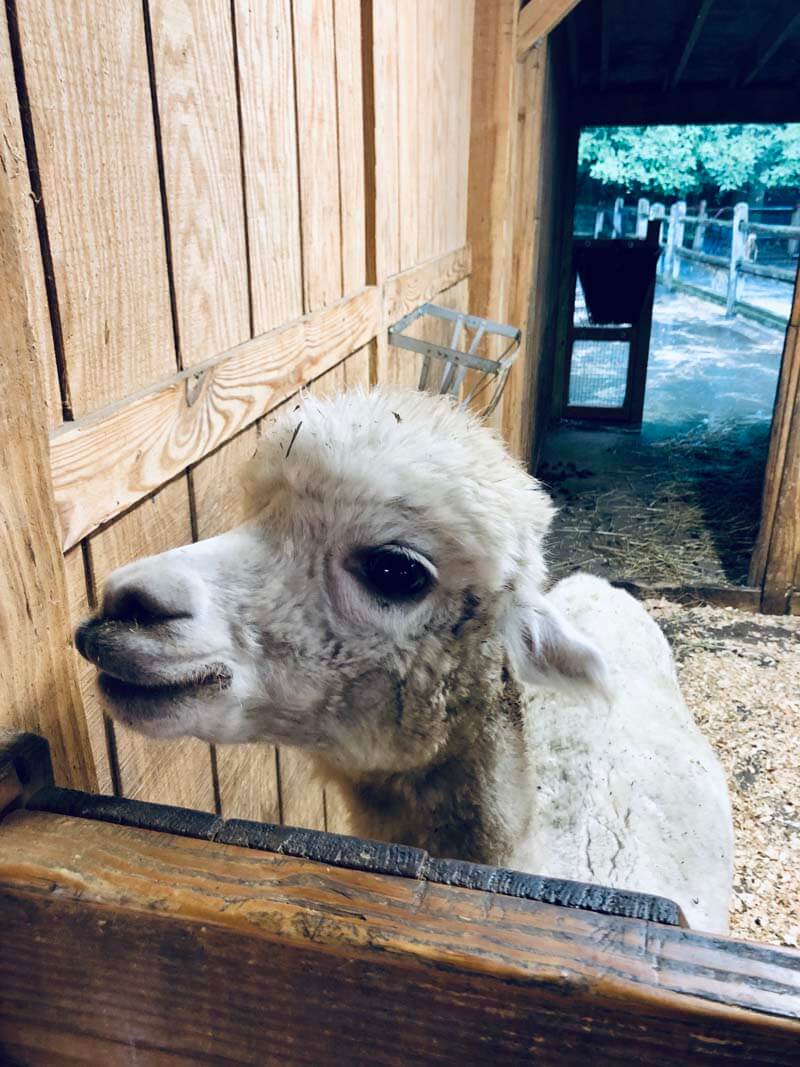 Regular Prospect Park Zoo admission is currently:
Adult

(ages 13 & over) –

$9.95
Senior Citizens

(65 & over) –

$7.95
Children ages

3 – 12 –

$6.95
Children under the age of 2 –

Free
Special Discounts to be applied to Prospect Park Zoo admission:
The Prospect Park Zoo offers discounts and specials for active military and veterans. Active military and veterans can get a free General Admission ticket to the Brooklyn Zoo and 50% off discount for General Admission tickets for up to 3 guests.
If you book your ticket online, the promotional code is MILITARYCITY for active military members and VETERANCITY for veterans, you also must present a valid ID on entry.
Prospect Park Zoo admission for Members:
You can become a member of the WCS, The Wildlife Conservation Society that will give you free admission to all four New York City Zoos and the New York Aquarium in Coney Island.
You pay an annual fee depending on which level you pick which vary by price and perks including admission to all zoos and aquarium for different size families or individuals, discounts to events at all of these places, discounts on food and retail in the parks, free Bronx Zoo parking if you visit that Zoo among other perks.
If you're wanting to contribute to more of the conservation efforts as a conservation patron, you can also donate more money and in the addition of getting the perks of being a member, you also get opportunities to meet the conservationists and specialists from the various programs with an insider look of WCS and their efforts along with special tours.
If you choose to do so, you can also get recognition for your donation. Learn more about the membership options, conservation options, and gifting this for a friend on their website.
Prospect Park Zoo: Hours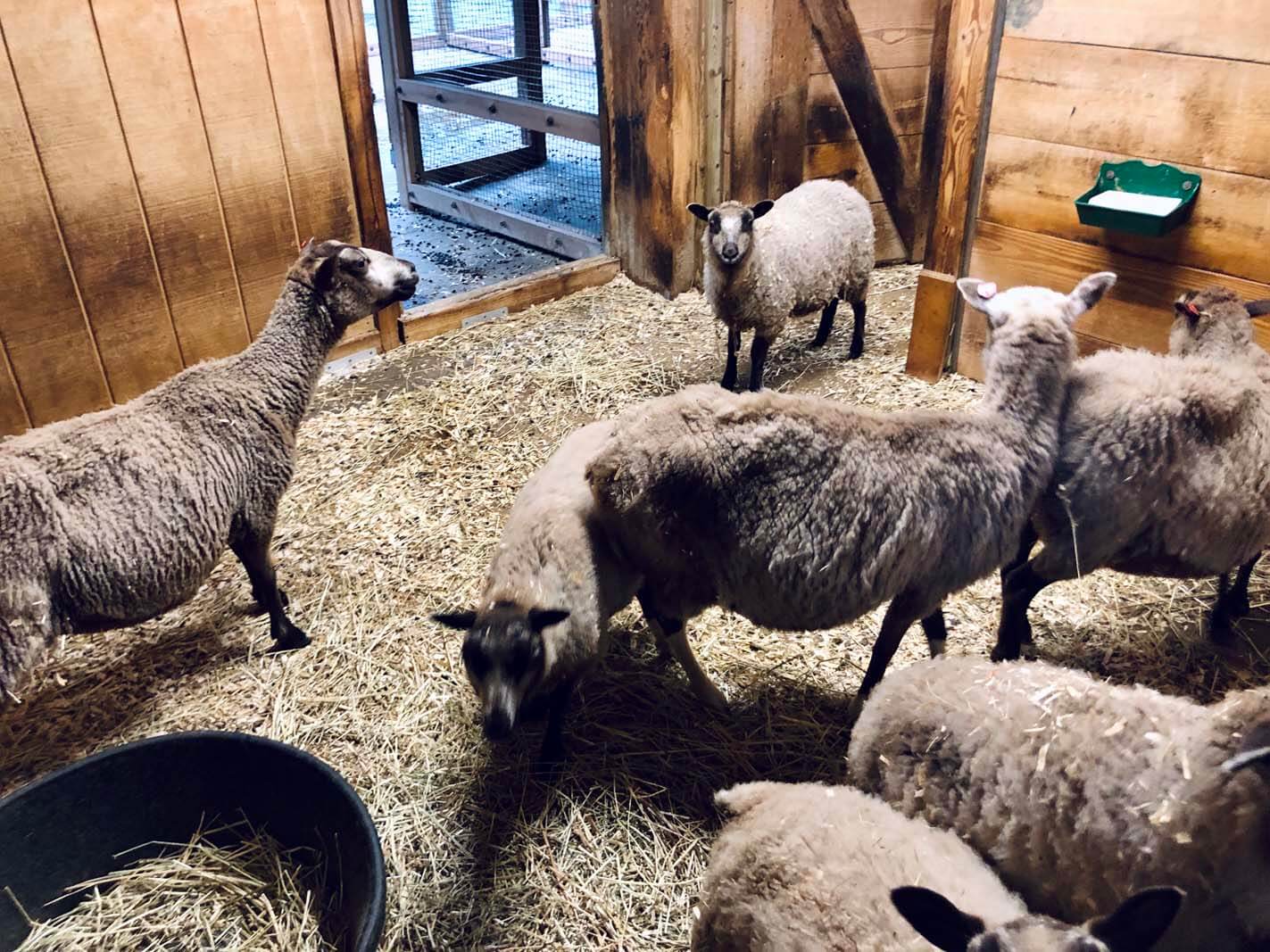 The Prospect Park Zoo hours vary depending on the time of year, but this Brooklyn Zoo is open 365 days of the year with all exhibits and animals available to see year-round, every season.
From April through the end of October, the Prospect Park Zoo hours are from 10:00 am to 5:00 pm on Mondays through Fridays, and extended to 5:30 pm on Saturdays and Sundays as well as holidays.
From November to April, the Prospect Park Zoo hours are from 10:00 am to 4:00 pm on all days. Note that the last admission is 30 minutes prior to the closing time.
Prospect Park Zoo: Parking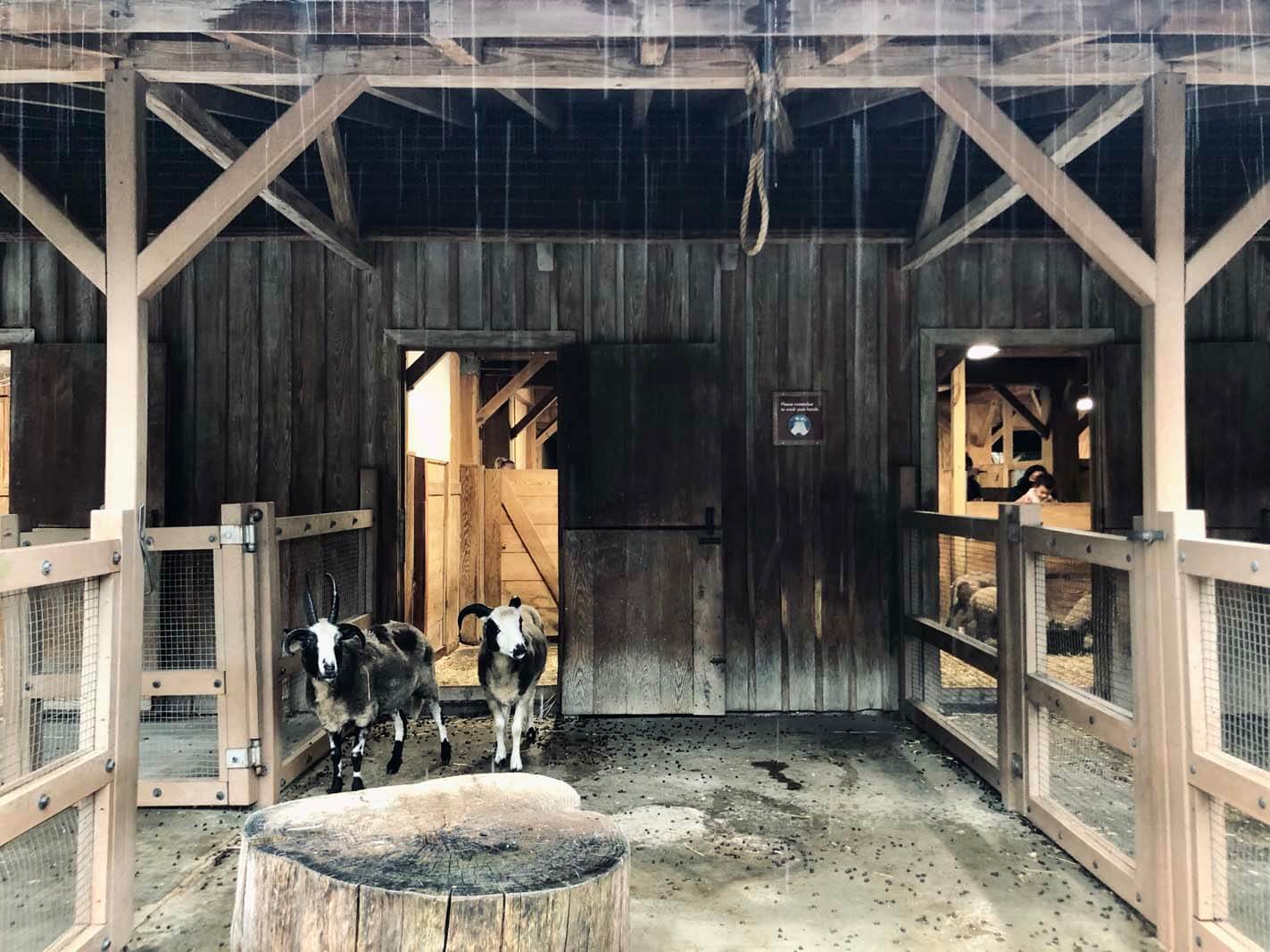 If you're driving you're going to need to know all about Prospect Park Zoo parking and the best place to leave your car while you enjoy a fun day of discovering and learning about all the different species of animals in the Brooklyn Zoo.
This is where it gets tricky because there is no official Prospect Park Zoo parking by the zoo itself.
You can find free parking along Flatbush Avenue, but during busier seasons or the weekends, this might be more difficult to find (not impossible, but it might take a little time).
To save you time and for convenience, you can choose to do your Prospect Park Zoo parking at one of the nearby parking garages for a fee, typically between $18-30.
Jenuwen Parking Garage at 580-590 Flatbush Avenue is one great option, they have a valet parking garage with attendants on the east side of Prospect Park just a 12-minute walk to the Prospect Park Zoo entrances.
This option for a Prospect Park Zoo parking also has overnight options with special directions, if you're parking for the day you will need to drop off and pick up your car between the hours of 8:00 am – 8:00 pm on weekdays and 8:00 am – 6:00 pm on weekends.
Another great option for Prospect Park Zoo parking in a paid garage is at 906 Union Street on President Street near Grand Army Plaza. This is just a 15-minute walk to the Brooklyn Zoo entrance and offers quick valet service parking.
If you're only parking for the day, you will have to drop off and pick up your car between 7:00 and 11:00 pm all days of the week.
Note that this Prospect Park Zoo parking garage and option does not allow exotic vehicles to park here, probably for liability and insurance reasons.
Tip: Check out online booking options for your Prospect Park Zoo parking in advance with websites/services like Park Whiz. You can book a spot in advance for a quick and guaranteed parking option to save time and the process of having to find a spot during your visit!
Prospect Park Zoo: Animals & Exhibits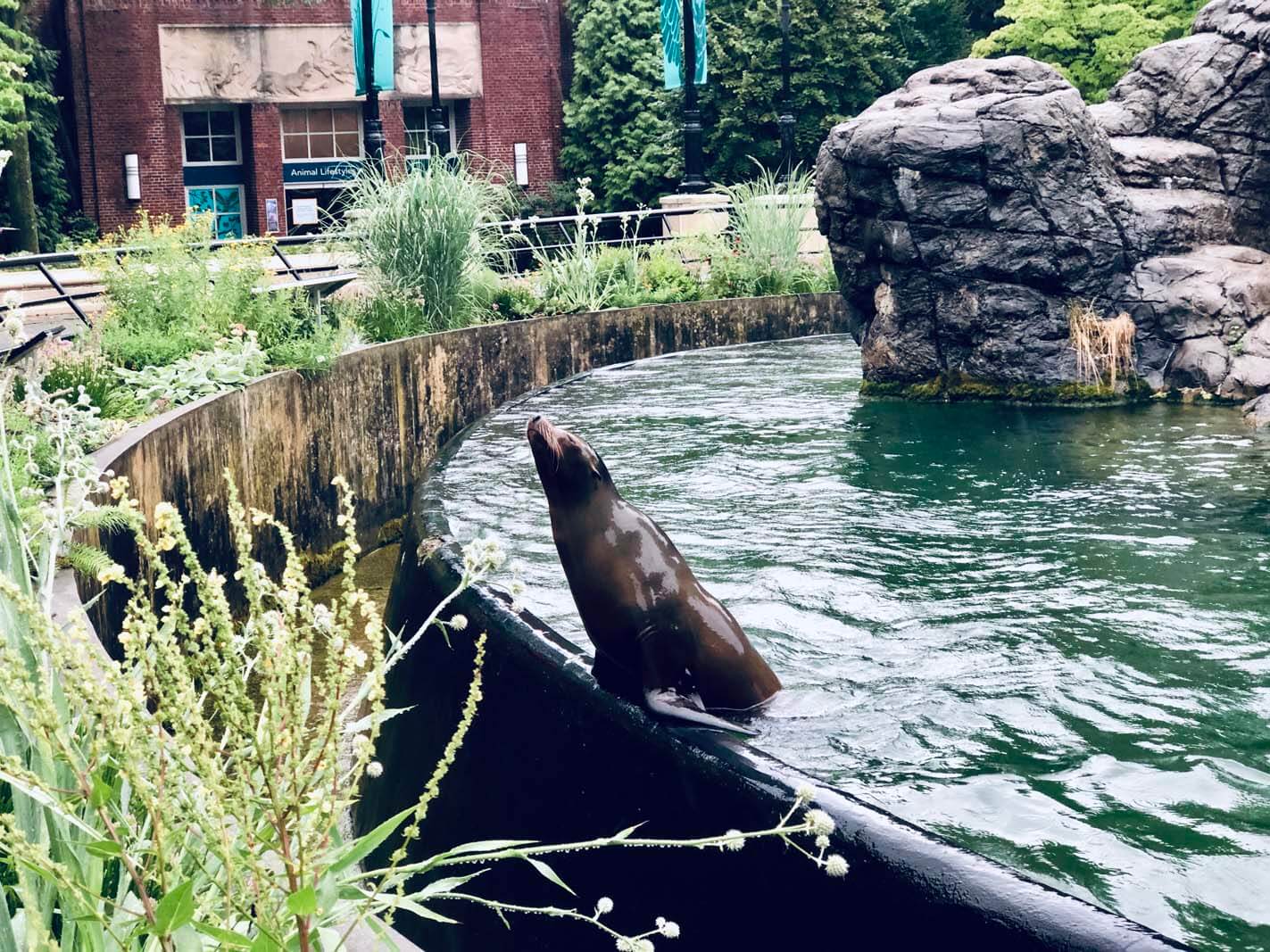 Alright, we've reached the point in this Prospect Park Zoo guide where we've gotten through all the nitty-gritty details to get you to and inside the zoo, now its time to go over the fun part, the Prospect Park Zoo animals and exhibits you can enjoy once you're inside!
See the Prospect Park Zoo Map to help you place where these animals and exhibits are located within the premise.
Discovery Trail
This outdoor path weaves through a wooded area of the Prospect Park Zoo where you pass waterfowl and birds while also passing animal enclosures like the Tufted Deer, Dingos, North American River Otters, and the popular Prospect Park Zoo animal to witness here is the Red Panda.
There's also a fun Black-Tailed Prarie Dog enclosure that has observation ports or 'plastic bubbles' for an alternative view of these animals!
Prospect Park Zoo Animals on the Discovery Trail:
Tufted Deer
Red Panda
Dingo
North American River Otter
Emu
Black-Tailed Prairie Dog
Porcupines
Animal Lifestyles
This indoor building has large glass windows around rocky outcrops and small caves allow you to observe the animals within the Animal Lifestyles exhibit. There are little caves that lead to interior burrows where animals can avoid wet or cold weather.
There's also a seated area where visitors to the zoo can watch the Hamadryas Baboons' behavior and interact with one another.
This is one of my personal favorite places for viewing Prospect Park Zoo animals because of the animals who call the Animal Lifestyles exhibit their home.
Prospect Park Zoo Animals in Animal Lifestyle:
Pallas's Cat
Golden Lion Tamarin
Hamadryas Baboon
Lettered Aracari
Geoffrey's Marmoset
Hall of Animals
Next up for Prospect Park Zoo animal viewing is in the Hall of Animals where you can find many of the smaller animals in the zoo in this indoor exhibit from small poison dart frogs and geckos to the adorable Fennec Fox and Black-Footed Cat.
Prospect Park Zoo Animals in Hall of Animals:
Dwarf Mongoose
Henkel's Leaf-Tailed Gecko
Poison Dart Frog
Red-Crested Turaco
Vietnamese Mossy Frog
Fennec Fox
African Straw-Colored Fruit Bat
Black-Footed Cat
Kinkajou
Wreathed Hornbill
Barn & Garden
The Barn & Garden is where you will find the Prospect Park Zoo animals that come from the barnyard all over the world. This outdoor area has barns with indoor and outdoor areas where you can find furry friends like alpaca, sheep, pigs, and other farm animals.
There is also a trail that winds around popping you out right on the other side of the Hall of Animals to the Sealion Court.
This is a really fun spot in the Brooklyn Zoo because this is a hands-on area where you can actually pet the animals and even purchase feed with a few coins to feed the sheep right out of your hands. So if you think you're going to want to feed the critters, be sure to bring some coins with you!
Prospect Park Zoo Animals in the Barn & Garden:
Alpaca
Shetland Sheep
Juliana Pigs
Zebu Cow
Miniature Horse
Sea Lion Court
The Sea Lion Court is what is considered the main attraction or the star of the Prospect Park Zoo animal sighting. Located in the center court of the Brooklyn Zoo is a pool with rocks with some playful California sea lions.
This area has plenty of standing room and if you need a break there are a few benches nearby as well as the gift shop and cafe where you can enjoy outdoor dining with the Sea Lions playing in the background.
There are also training sessions that take place throughout the day with the zoo officials to help stimulate the animals. It's really fun to witness this in the fall because the Sea Lions are fed more during this time to help them insulate for the colder weather coming into winter.
The Sea Lion sessions are at: Mondays – Fridays: 11:30 am & 3:30 pm Weekends: 11:30 am, 2:00 pm, & 3:30 pm
Discovery Center
The last exhibit in Prospect Park Zoo is the Discovery Center which offers hands on, interactive educational experiences for visitors to get close to the animals and shadow a zookeeper.
This indoor activity is only on the weekends from 11:00 am to 3:00 pm on the weekends only.
There are times where this space is rented out for private events as well, so if you want to make sure you enjoy this on your visit to the Prospect Park Zoo you will want to make sure you call ahead before your visit to see if they have any private events scheduled.
Prospect Park Zoo Brooklyn Tips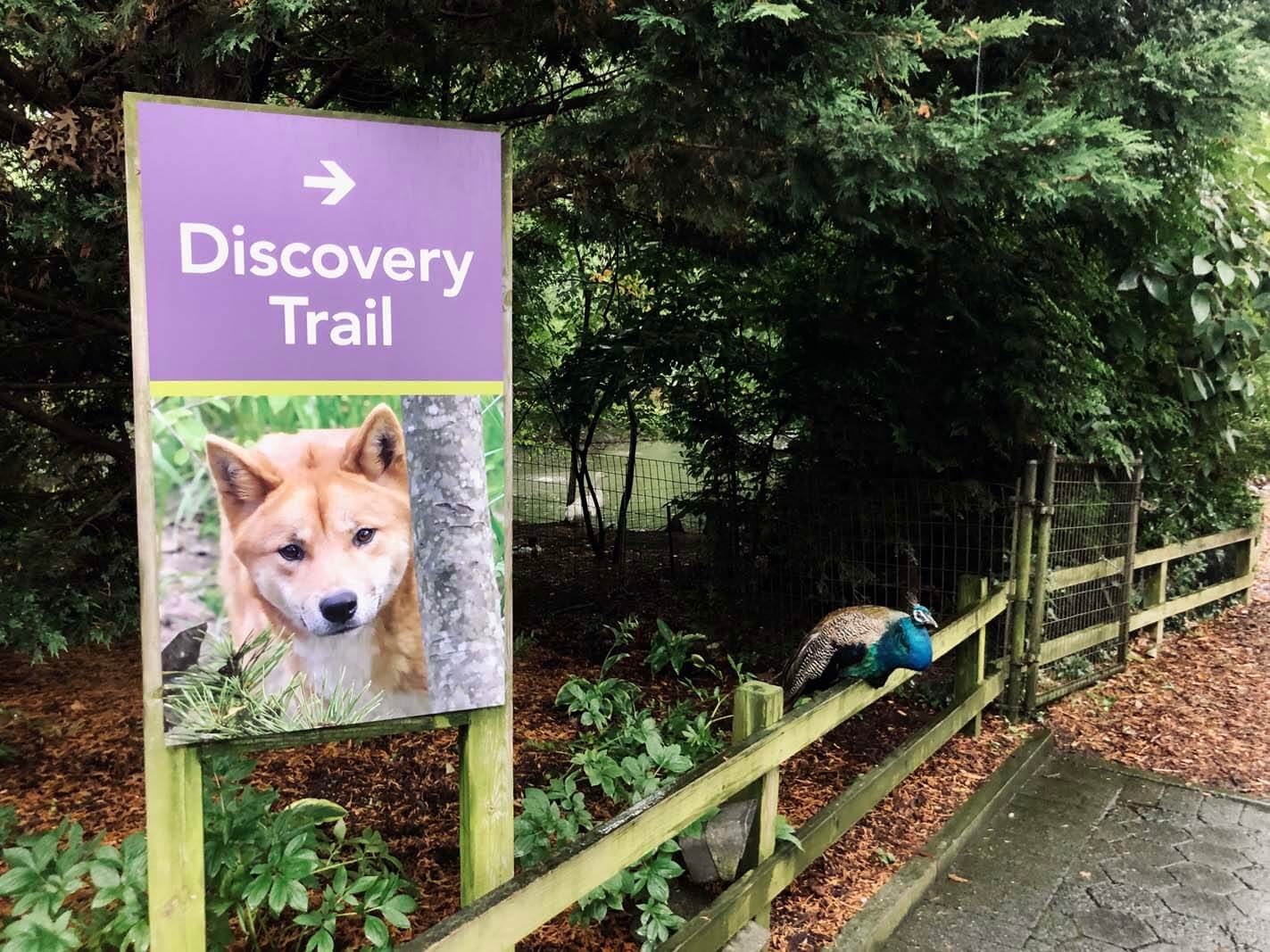 Check out some of these important Prospect Park Zoo tips and information that you will want to know before your visit!
We recommend planning a full 1.5 – 2 hours to enjoy at the Prospect Park Zoo, depending on how much time you spend at each exhibit or breaks you take you may want to schedule more time for your visit.
There are a few dining and snack options inside Prospect Park Zoo, The Sea Lion Store and Cafe offer sandwiches, salads, and other healthy snacks and outside around the Sea Lion Court you can find carts selling candy, coffee, and Dippin' Dots ice cream.
Children scooters are not allowed inside the premise, but strollers are.
The entire Prospect Park Zoo is wheelchair accessible including the paths and Prospect Park Zoo animal trails. The Brooklyn Zoo does have wheelchairs that visitors can use, but they are a first come first serve basis as they only have a few.
There are no lockers, we recommend bringing a backpack or daypack so your hands are free. See our Brooklyn packing list for some other great options for what to bring on your trip.
Service dogs are allowed in the Prospect Park Zoo that are in accordance with the American with Disabilities Act, the service animal has to be trained or work to perform tasks to assist a person with disabilities. However, therapy dogs are not allowed.
If you want to view some of the Prospect Park Zoo animals from home you can watch their series on Animal Planet or watch the Live Cams on the Sea Lions, penguins, and sea otters from all the New York Zoos.
What To Do Near Prospect Park Zoo in Brooklyn
Since you only need a few hours to enjoy all there is to do in the Prospect Park Zoo we recommend planning the rest of your day, either before or after your visit to the Brooklyn Zoo to enjoy any of these neighborhoods or attractions nearby! Not to mention there are several great restaurants near Prospect Park worth checking out too.
Brooklyn Botanic Garden
Located on the other side of the Prospect Park Zoo is the Brooklyn Botanic Garden, which is the perfect activity to enjoy before/after your visit to the Brooklyn Zoo.
The Botanic Garden covers 52-acres of different gardens and collections of plants. There are over 18,000 plants housed here as well as attractions like the three different plant pavilions at different climates housing different types of plants, and the C.V. Starr Bonsai Museum.
The garden has both indoor and outdoor areas to explore. Outside there is the Japanese Hill-and-Pond Garden, Cranford Rose Garden, Shakespeare Garden, Water Garden, and more.
In the spring, between late April and early May, you don't want to miss the 200 cherry trees when they blossom. Be sure to read our guide on planning your visit to the Brooklyn Botanic Garden cherry blossom festival to help you plan your visit.
Get the New York Pass which gets you access to 100+ attractions, including this one, for up to 10 days or up to 45% off savings on normal admission prices all with this mobile pass!
Admission free on Tuesdays, other days it's $15 for adults, $8 for seniors and students with IDs, free for children under 12. Closed Mondays.
Brooklyn Museum
Just a few steps away from the entrance to the Prospect Park Zoo is the Brooklyn Museum which houses 1.5 million pieces of work. The Brooklyn Museum is the third largest museum in NYC and has a notable permanent collection from all over the world.
Each collection is organized by culture, geographic locations, or time period. A few of the popular collections include the Egyptian, American Art, Arts of Africa, Arts of the Pacific Islands, Arts of the Islamic World, and European art sections of the museum.
Famous artists on display include Norman Rockwell, Edward Hopper, Edgar Degas, Georgia O'Keeffe, and Mark Rothko to name a few.
Get tickets here or get the New York Pass which gets you access to 100+ attractions, including this one, for up to 10 days or up to 45% off savings on normal admission prices all with this mobile pass!
Admission is suggested but not mandatory, a $10 admission is suggested for adults. Closed Mondays & Tuesdays.
The first Saturday of every month there is free admission from 5-7 pm and special exhibitions.
Prospect Park
Since you're already here, it would be a shame to skip out on some of the best things to do in Prospect Park. This green oasis is one of the best parks in Brooklyn for anyone looking for a bit of green space or a hangout location to run, bike, sunbathe or have a picnic.
Designed by the same creators of Central Park in Manhattan, Prospect Park is the outdoor space for your recreational activities as well as sites to see around the park.
It's also fun to explore Prospect Park by bicycle, you can rent one at any of the Citibike stations around the park. We will warn you though if you plan to bike, there are hills! So be sure to watch out for the signs that warn you when they are coming and provide exit routes to avoid the treacherous hills.
Park Slope
Just on the other side of Prospect Park from the Zoo is one of our favorite neighborhoods to explore. Check out all the best things to do in Park Slope from shopping, dining, drinking, cafes, and even historic landmarks.
We recommend planning one of your meals around here since there are plenty of great options along 7th Avenue just a few blocks down from Prospect Park or if you're feeling like exploring further, check out 5th Avenue in Park Slope for all the dining, shopping, and entertainment options.
Don't miss the historic and gorgeous brownstone-lined streets either while exploring through here too!
Downtown Brooklyn
If you're looking for more great food options, we recommend heading towards Downtown Brooklyn nearby. You can even check to see if there are any shows, performances, or sports playing at Barclays Center if you're looking to make a whole day extravaganza out of your Prospect Park Zoo visit.
We also recommend checking out DeKalb Market Hall if you're looking for a fun place for food. This spot is family friendly because it has tons of eateries from some of the most famous restaurants in New York all under one roof.
You will want to take the subway here though as it might be a bit too far for a walk!
Flatbush
We also recommend exploring a bit of Flatbush if you're up for exploring a neighborhood near Prospect Park Zoo, our top pick would be the Victorian Flatbush and Ditmas Park area where you can admire the giant mansions in all different styles of architecture, explore some of the oldest settlements in the city dating back to the 1600s and Dutch settlement, and find plenty of delicious restaurants to eat at.
---
Found this guide to everything you need to know about visiting the Prospect Park Zoo in Brooklyn helpful? Bookmark for later or share the love below on Pinterest. Also, be sure to come back and let us know what your favorite Prospect Park Zoo animal was!