Looking for a great Brooklyn picnic spot? We've got you covered, with tons of great parks in Brooklyn, beaches in Brooklyn, and other locations perfect for a picnic, date, or place to lay down a blanket and read a book, or just a relaxing space to sun-bathe on a warm day.
Each of these has information to help you choose your next picnic spot in Brooklyn including nearby facilities like bathrooms, activities to do around the area, views, and nearest public transportation.
Picnic Spots in Brooklyn
Domino Park
Situated just north of the Williamsburg Bridge, this modern and scenic park spans along the East River waterfront, at the location and site of the iconic former Domino Sugar Refinery.
Its convenient location makes it perfect to grab lunch at many local restaurants nearby, or perhaps rewarding yourself with a Brooklyn picnic after a walk across the Williamsburg Bridge.
Along with plenty of grassy lawns perfect for sitting and picnics, the park also features a spacious walkway with a clear view of the Manhattan city skyline from Brooklyn across the East River, a dog park, courts for beach volleyball and bocce ball (available on first come first served basis), and even a playground for children!
There's even a Tacocina location right here in Domino Park in case you didn't BYOP, bring your own picnic.
Closest Subways: J, M, Z to Marcy Avenue Station, or L to Bedford Avenue Station.
Ferry: East River Ferry to South Williamsburg or North Williamsburg Landing.
Bushwick Inlet/Marsha P. Johnson Park
Another great Brooklyn picnic spot near Domino Park on the East River waterfront is Marsha P. Johnson Park/Bushwick Inlet, only 15 minutes by foot away from Domino Park on the Williamsburg waterfront, also offers a clear view of the NYC city skyline, and is often less crowded with families and tourists coming for the view.
The park is still currently in development but has one large plot of land currently opened, located in the artsy neighborhood of Williamsburg and at the cusp of Greenpoint.
This picnic spot in Brooklyn is near music and entertainment venues such as the Music Hall of Williamsburg and Brooklyn Bowl, as well as the "Artists and Fleas" weekend flea market, along with many local dive bars and trendy cafes/brunch spots. Not to mention all the best things to do in Williamsburg and things to do in Greenpoint nearby.
This park is a great picnic spot in Brooklyn for its open green spaces, and the inescapable great view.
Those who come during the summer can also catch Smorgasborg, a food festival serving a multitude of street food vendors.
Public restrooms are also available towards the entrance between N. 10th and N. 9th street.
Subways: L to Bedford Avenue Station, or G to Nassau Ave Station.
Ferry: North Williamsburg Landing
McCarren Park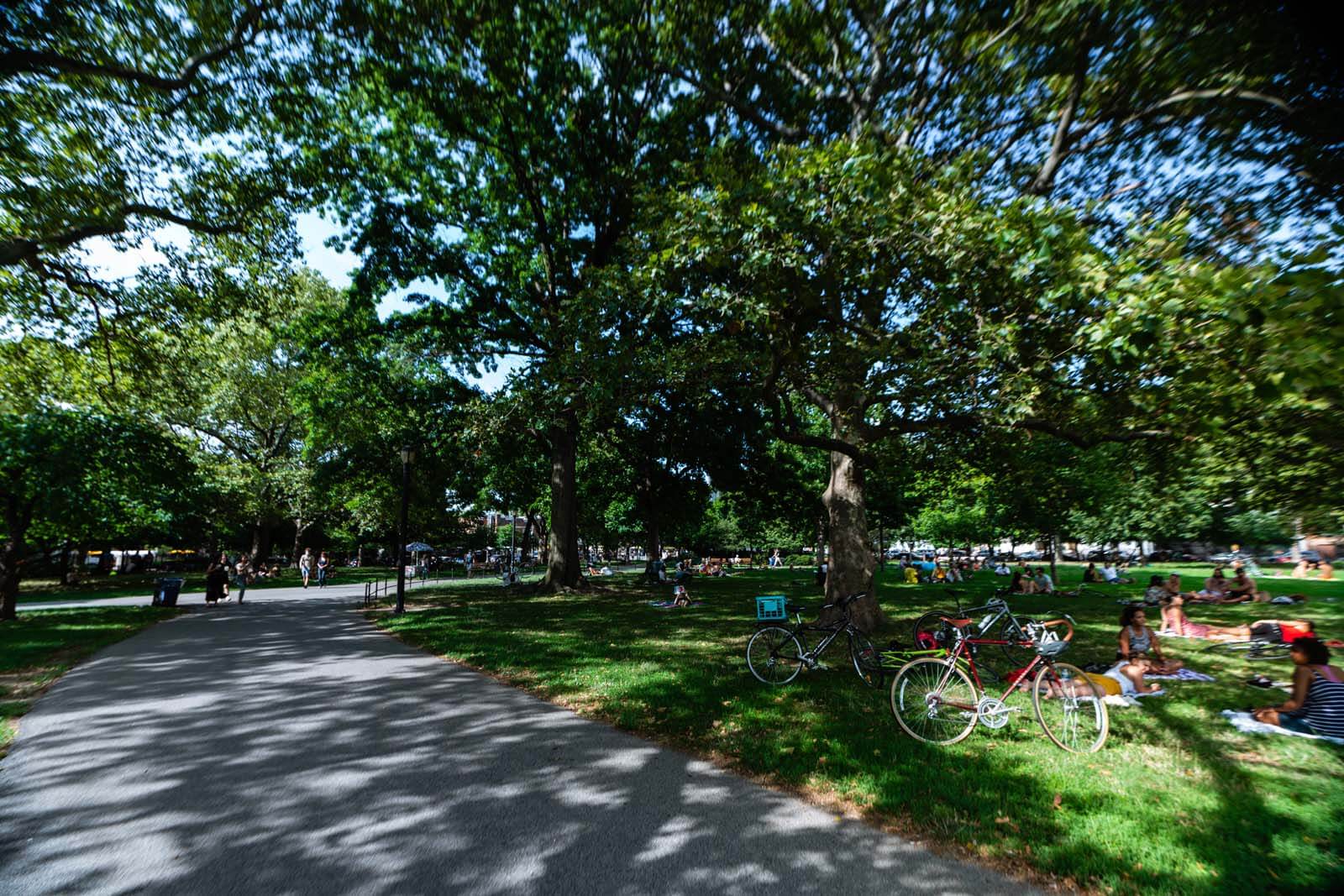 Another great picnic spot in Brooklyn in the Williamsburg/Greenpoint area well worth a visit is McCarren Park! While this park may not have the same panoramic views of the city, it is often preferred by locals for a convenient hangout and great place for a picnic spot in Brooklyn.
In the summer, the park hosts free outdoor movie nights and is the venue for music festivals and concerts, such as Northside Festival.
It's easy to find a quiet place to set up a blanket and unwind in one of the many spacious lawns, especially after visiting nearby grocery stores for food and drinks or visiting the farmers market on Saturdays.
While in the area, be sure to head over to Berry Park, one of the most popular rooftop bars in Brooklyn with a view of Manhattan across the street from the tennis courts, or The Gutter, a dive bar and bowling alley within 5 minutes away on foot.
Brooklyn Brewery is also a few blocks away, offering free weekend tours and has a tasting room as well and one of our favorite breweries in Brooklyn!
Another small greenspace in Greenpoint, which can be seen in our featured photo of this article, is the waterfront WNYC Transmitter Park which is small but offers waterfront views of the skyline and a great spot for a picnic in Brooklyn.
Subways: L to Bedford Avenue Station, or G to Nassau Ave Station.
Check out more free things to do in Brooklyn in our guide to Brooklyn on a budget!
Brighton Beach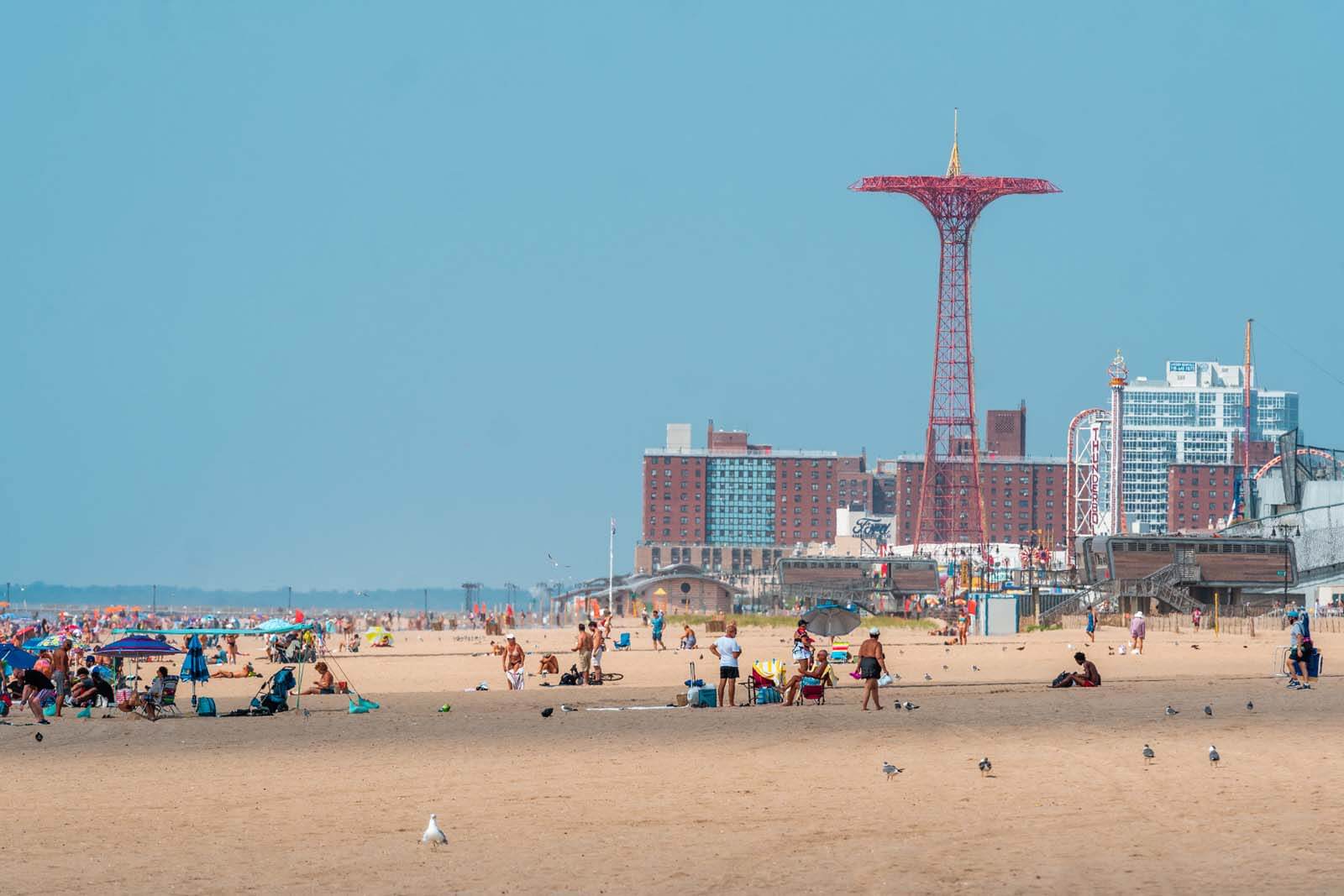 Grab some beach towels and sunscreen for a Brooklyn picnic at the beach often preferred by New Yorkers for an atmosphere that's quieter than its more famous neighbor, Coney Island.
While there are lots of daily visitors in the summertime, it's still not hard to find nice a place to set up anywhere along the long stretch of sand, especially compared to neighboring Coney Island beach.
Also in the neighborhood, you'll find the most authentic Russian, Ukrainian, and Eastern European/Central Asian restaurants anywhere in the city.
Restrooms can be found in several locations throughout the beach, and snacks for your picnic can be picked up on the walk from the subway making it one of the best beaches in NYC because it's so easy to get to!
A memorable beach day at Brighton often includes a picnic in the sun, followed by a stroll along the sand over to see the best things to do at Coney Island to see the bright amusement park and carnival lights on the boardwalk at dusk.
Subway: B, Q to Brighton Beach Station.
Brooklyn Botanic Gardens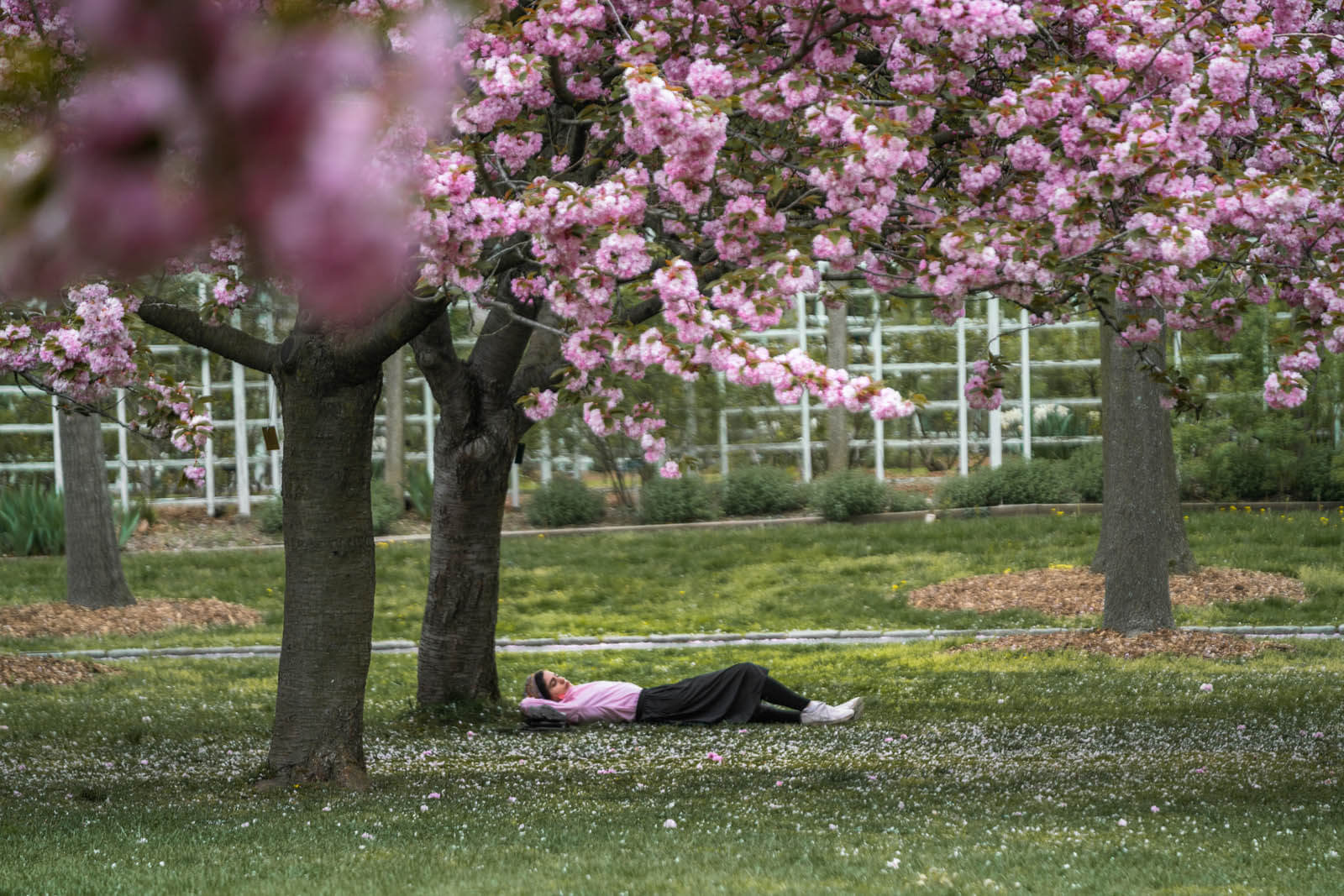 So this one is technically not a Brooklyn picnic spot, but because they do allow you to sit on the lawn we are going to include it!
The Brooklyn Botanic Garden stands as a treasure trove of nature for folks wanting to find nature in the city. The Cherry Esplanade is one of the many conservatory gardens within the BBG, designated for relaxing on its green lawn–an ideal location for sitting and enjoying the gorgeous scenery around you.
This specific spot gets its name from the abundance of cherry and red oak trees, and the best time to go is during the cherry blossom season in the springtime, around April.
Tickets are required to enter the Botanic Gardens, allowing entrance to all 15 gardens and 6 conservatories. It is recommended to plan ahead before your visit to the Brooklyn Botanic Garden as well as check out their website prior to visiting to see which plants are currently in bloom.
There is a restaurant inside the Botanic Garden, just check to make sure its open during your visit, if not there are many great restaurants within walking distance in Prospect Heights and Crown Heights from the gardens!
Subway: 2, 3, 4, 5, Franklin Avenue Shuttle (S) to Botanic Garden Station, B, Q, S to Prospect Park Station.
Note: The current rules now indicate that no outside food or beverage besides water is allowed in the Botanic Gardens. However, every time I visit I still see people picnicking on benches with outside food. Use your best judgment.
Brooklyn Bridge Park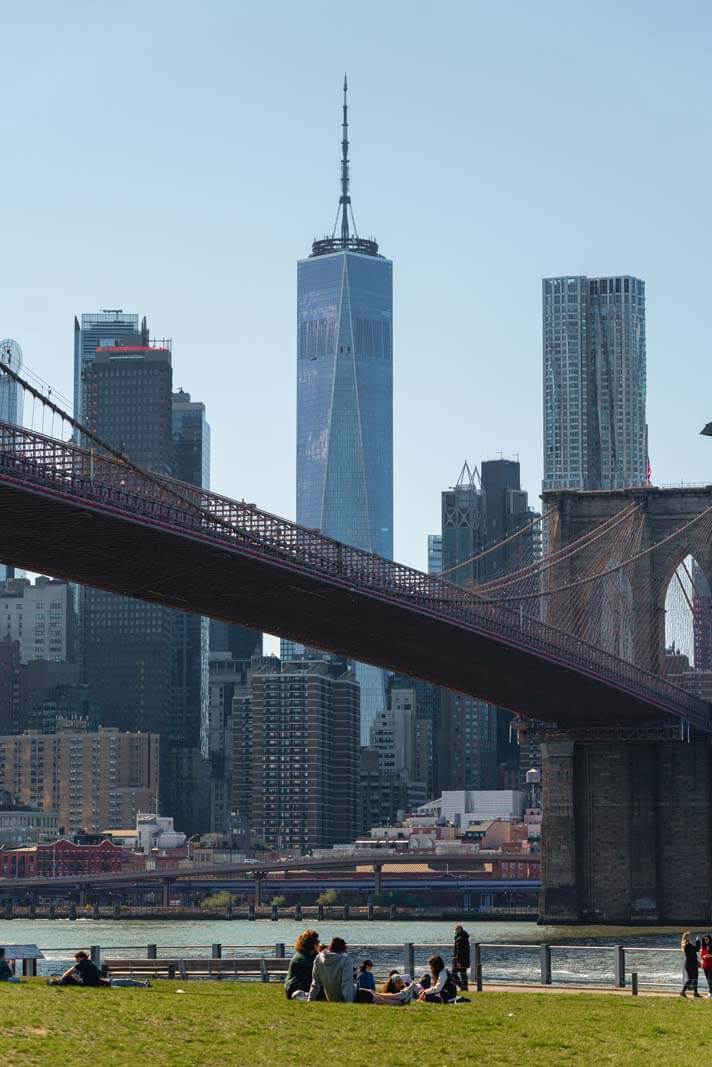 This park is one of the most popular picnic spots in Brooklyn for its location and all its facilities. Brooklyn Bridge Park is great to come for all occasions–whether it's with friends, acquaintances, or on a date.
Several picnic areas can be found on several of the piers, such as the Picnic Peninsula Barbecue Area at Pier 5 (where it's also possible to fish!), with provided grills and cozy shaded tables.
Public restrooms can be found throughout the long stretch of land, especially on the many piers. Feel free to bring your own food to sit on one of the many lawns between the Brooklyn Bridge and Manhattan Bridge, or grab some takeout at many of the dining options right by the water or check out restaurants with a view in DUMBO.
In July and August, "Movies with a View" screens films on Pier 1 by the water, where you can have a picnic with entertainment and watch a beautiful Brooklyn sunset simultaneously. This picturesque park is a great opportunity to bring your camera to visit Jane's Carousel, a fun atmosphere in a scenic surroundings.
Similarly, Pebble Beach is a short walk away from the carousel and is equally worth checking out for great views of the Manhattan skyline and Brooklyn Bridge, especially at sunset (you might even catch a proposal or photoshoot going on!).
Also, if you're looking to do a little stroll after your picnic in Brooklyn, consider walking the Brooklyn Bridge or walking the Manhattan Bridge!
Subway: A, C to High Street Station. F to York Street. 4, 5 to Borough Hall. 2, 3 to Clark Street Station (It's possible to take it to Borough Hall as well, but it's further away).
Ferry: Fulton Ferry Landing
Sunset Park
This quaint park located in the neighborhood of the same name is not as big as the other popular picnic spots in Brooklyn but offers unique views as well as lots of great options for a picnic.
The Manhattan Skyline is clear in the distance, and from the park's peak, it is also possible to see a panoramic view of the Statue of Liberty, as well as parts of Manhattan, Brooklyn, Staten Island, and New Jersey.
For fans of the late New York artist (and Brooklyn native) Jean-Michel Basquiat, his grave can be found in the nearby Green-Wood Cemetery.
Because of the diverse population of people living within the Sunset Park neighborhood, it is possible to try foods from around the world all within walking distance of the park.
There is a rich food truck scene around the neighborhood and in close proximity to the park entrances, as well as plenty of restaurants, delis, and a supermarket across the street to stock up before your Brooklyn picnic. Clean restrooms are also available within the park.
Industry City is also nearby where you can find art installations, shopping, and more dining and drinking options in this converted former warehouse space that's popular among locals and one of our personal favorite things to do in Brooklyn.
Subway: N, D, R to 36th Street Station (If taking R, get off at 45th St. Station for a shorter walk).
Highland Park
Located on the border of Brooklyn and neighboring Queens, Highland Park is the place to go if you're looking to forget you're in the city for a day.
The park is also home to the Ridgewood Reservoir, walking trails, and various birds and wildlife can be seen if you're lucky. This park makes for the perfect Brooklyn picnic location for those inclined to be surrounded by nature, but made accessible by subway too.
Barbecuing is available in the picnicking area of Highland Park, and is also conveniently located next to the public restrooms.
Subway: J, Z to Norwood Ave Station (If taking J, get off at Cleveland St. Station for a slightly shorter walk), A, C to Shepherd Ave Station, L to Halsey St. Station (longer walk).
Commodore Barry Park
This park can be found in the Fort Greene neighborhood, next to the Brooklyn Navy Yard and 5 minutes away from Fort Greene Park.
This open green park is home to music festivals and events such as Afropunk in the summer months. The park has playgrounds, sports fields, and a (free) public swimming pool open in the summer.
The park is great for a Brooklyn picnic before or after a visit to the adjacent Brooklyn Grange, a local urban farm that hosts events such as seasonal tours, workshops, and summer dining events.
Additionally, a unique rooftop vineyard nearby, Rooftop Reds, is a great place to kick-off/follow the picnic with a drink on a rooftop wine bar with terrific views.
Subway: B, D, N, Q, R to Dekalb Ave. Station, A, C, F, R to Jay St-Metrotech Station, 2, 3 to Hoyt St. Station.
Fort Greene Park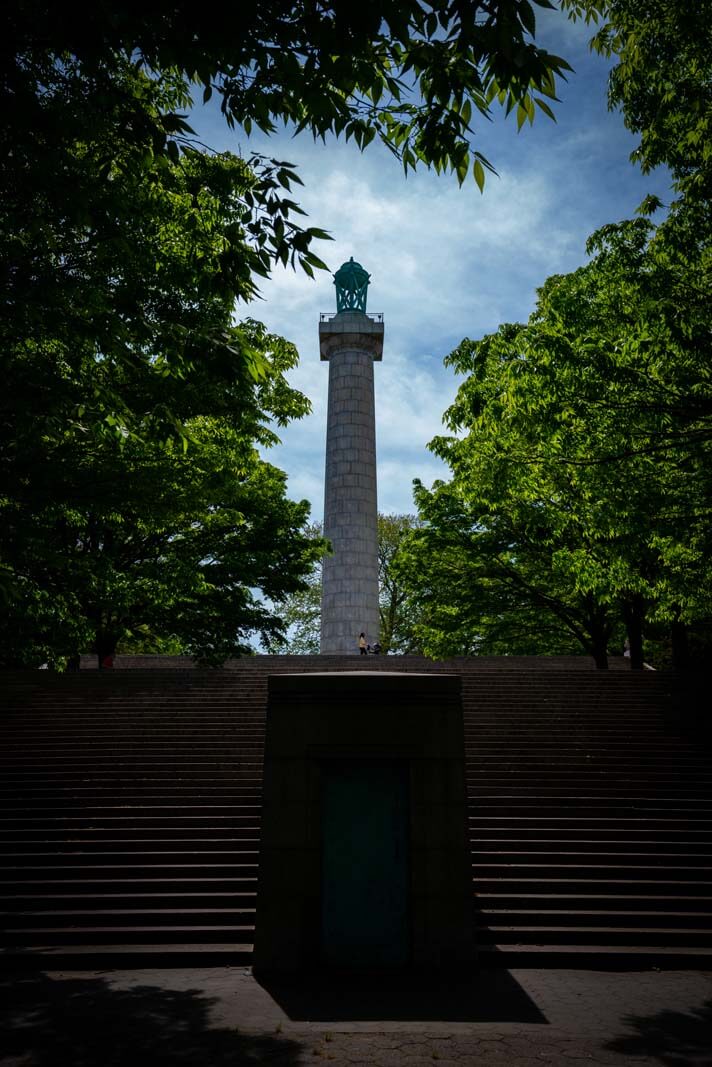 This historic landmark is located in the neighborhood of the same name, Fort Greene, and is a popular picnic spot in Brooklyn for its cascading hills, open green spaces, and the steps leading up to the towering Prison Ship Martyrs Monument.
This park is a favorite amongst locals for its clean and scenic landscape not to mention it's one of the best parks in NYC. The park hosts events throughout the year, such as outdoor films at Myrtle Hill, and other various concerts, festivals, and even impromptu street dance parties.
Facilities of the park include a designated barbecue area, public restrooms, sports fields, and areas to connect to free wifi.
While here, it is recommended to head over to Dekalb Market Hall, the largest food hall in Brooklyn about 10 minutes away by walking and don't miss all the best things to do in Fort Greene either!
Subway: Any of the subways going to Atlantic Avenue-Barclays Center (2, 3, 4, 5, B, D, N, Q, R, LIRR), C to Lafayette Avenue, G to Fulton Street.
Erie Basin Park
This humble park can be found right next to (and owned by) the Brooklyn Ikea in Red Hook. This space lacks the large grassy lawns and barbecue grills that most think of when they think of a picnic, the experience Erie Basin offers is unique and sure to make a memorable Brooklyn picnic nonetheless.
Industrial relics line the park, leaving the park true to its Red Hook harbor and seafront roots. Seating can be found up and down the boardwalk, with spacious, but private benches and a few stretches of grass to spread yourself out for an intimate picnic.
The aesthetic of the park and surroundings are distinctive, and unlike other places mentioned here, and worth checking out for a picnic that's off the beaten path. One can easily make a great picnicking day by catching the water taxi from Manhattan's Wall St. pier (free if you spend $10 at Ikea!), bringing some snacks (grabbing some meatballs and Swedish juice boxes), and heading down to the water. For restrooms, head into Ikea, just next door.
Shuttle Bus: Free shuttle busses to Ikea run from 4th Ave/9th St and Court St/Borough Hall
Ferry: Ikea Water Taxi runs from Pier 11 near Wall St.
Subway: (Not recommended, as there are long walks from all stations): F, G to Smith-9th Street station, N, D, R to Prospect Av Station – but you can always Citibike the rest of the way!
Owl's Head Park
This Bay Ridge gem sits right along the riverfront with a panoramic view of the Manhattan skyline, and the Verrazano Narrows Bridge. Well-trimmed trees line the pathways, surrounded by rolling hills and open green spaces right along the water that are perfect for a Brooklyn picnic!
The park has a spray pool, great for cooling off in the summer. Other facilities include a skate park, dog park, and basketball courts.
At some point during your visit to Owl's Head, be sure to walk over to the Old Glory Lookout, a historical monument of Bay Ridge and great viewpoint for the Verrazzano Bridge and lower Manhattan across the water.
Subway: R to Bay Ridge Ave Station.
Ferry to Bay Ridge Landing.
Shore Road Park
This secluded getaway is a picturesque haven for joggers, cyclists, and those who want to stroll, but the scenery and its peacefulness are why many locals choose this location for a picnic spot in Brooklyn.
This park is also located in Bay Ridge, directly adjacent to Owl's Head Park. The park and its promenade stretches along the water, where you get glimpses of the Verrazzano Bridge, Manhattan, New Jersey, and Staten Island throughout the walk, especially at the Old Glory Lookout towards the north.
A must-see in the area is the Narrows Botanic Garden, right inside the park. This garden is home to various exotic plants and flowers, a zen garden, and even a turtle sanctuary.
You can easily set up a picnic at this spot in Brooklyn on any of the plenty stretches of greenery, but visitors should plan accordingly, as there is only one public restroom towards the center of the park.
Subway: R to Bay Ridge Ave Station.
Ferry to Bay Ridge Landing.
Prospect Park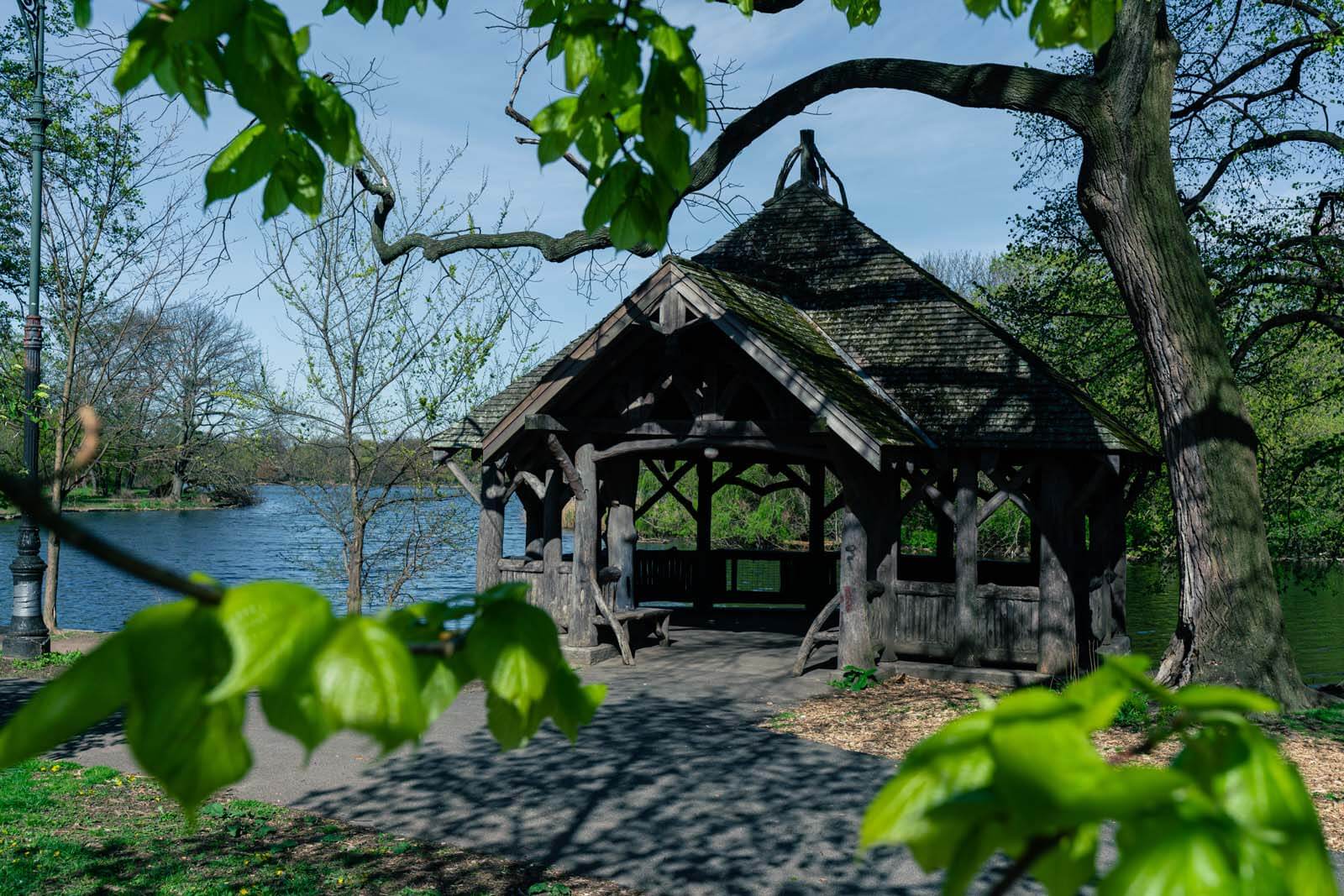 There is no shortage of grassy real estate in this popular picnic spot in Brooklyn, at the intersection of several Brooklyn neighborhoods. There are tons of things to do in Prospect Park including the Prospect Park Zoo and many trails, historic buildings and tunnels, and even hidden NYC waterfalls!
Its sheer size and multitude of meadows make for anywhere in the park to be a great spot to have a picnic. Additionally, there are provided grills in the barbecue and marked picnic spots scattered throughout the park.
The Long Meadow is a mile-long stretch of grassy fields, popular for picnics, gatherings, and outdoor recreational activities.
Nethermead is also a popular choice for picnics since it's spacious and size, but perhaps less crowded than Long Meadow.
Within the park, there are other notable features and monuments to check out on your walk through the park including Lookout Hill, the Vale of Cashmere, the Boathouse, and Binnen Bridge.
Several bathrooms can be found throughout the park (mostly on the edges of the park!), and can be located on their website.
Want to pick up your meal for your picnic in Brooklyn on the way? Check out Krupa Grocery in Windsor Terrace who offers picnic-packed lunches to take into the park as well as brunch picnics!
Subway: B, Q, Franklin Avenue Shuttle (S) to Prospect Park Station. 2, 3 to Grand Army Plaza.
Columbus Park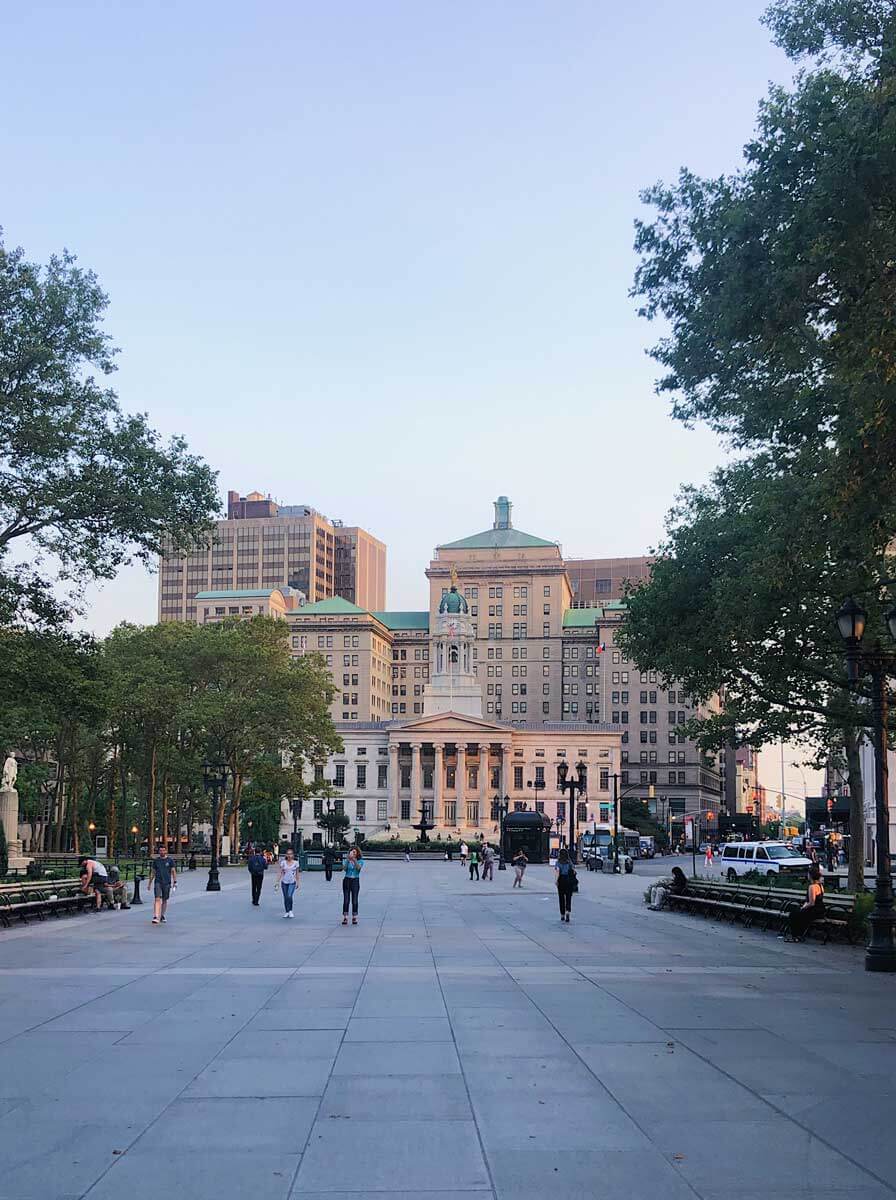 While there are no lawns or barbecuing areas like other Brooklyn picnic spots mentioned on this list, Columbus Park still is a great spot for a picnic for those who may not have the time to commute, but want to enjoy some fresh air and not travel far to do so.
Its location is in Downtown Brooklyn right by Borough Hall and offers a casual meetup location for anyone working or living in the area.
On Tuesdays and Saturdays between 8 am-6 pm, fresh produce can be found in the green market inside the park.
There is no shortage of other food options nearby at all other times, and picnic tables around the park. Free wifi is also available within the park. Be aware that it may be hard to find a seat on a bench on a warm workday during lunchtime!
If you're looking for a lawn, walk 5 minutes to Cadman Plaza Park where there are ample greenspace and more benches.
Subway: 2, 3, 4, 5, N, R, W to Borough Hall, A, C, F, R to Jay St. Metrotech Station, N, R to Court St. Station.
---
For more places to enjoy a good time outside with friends, check out our guide to the best picnic spots in NYC featuring Manhattan spots too!