From iconic attractions to one-of-a-kind experiences, there are countless things to do in NYC with kids of all ages! I've done it all, first as a transplant and a nanny on the Upper East Side, all the way to today as a Brooklyn-based mom. As a mom in New York City, I am always looking for the best kid-friendly activities in NYC, which is why I curated this guide.
After 12 years in New York City, playing tourist is still one of my favorite things to do! As a Brooklyner, I also love exploring NYC and finding things to do that you won't find anywhere else in the world. Now, with my 2-year-old, it's exciting to see the city all over again through her eyes, so I'm always looking for creative NYC activities.
Whether you're visiting NYC with kids for the first time or just looking for something special to do across the 5 boroughs, I've got you covered. Below you can read about a variety of things to do in NYC with kids, both indoors and out, both educational and indulgent. And don't miss checking out our New York City with kids itinerary too for those who want a little extra help planning their family trip.
Fun Family Things to Do in NYC
New York Public Library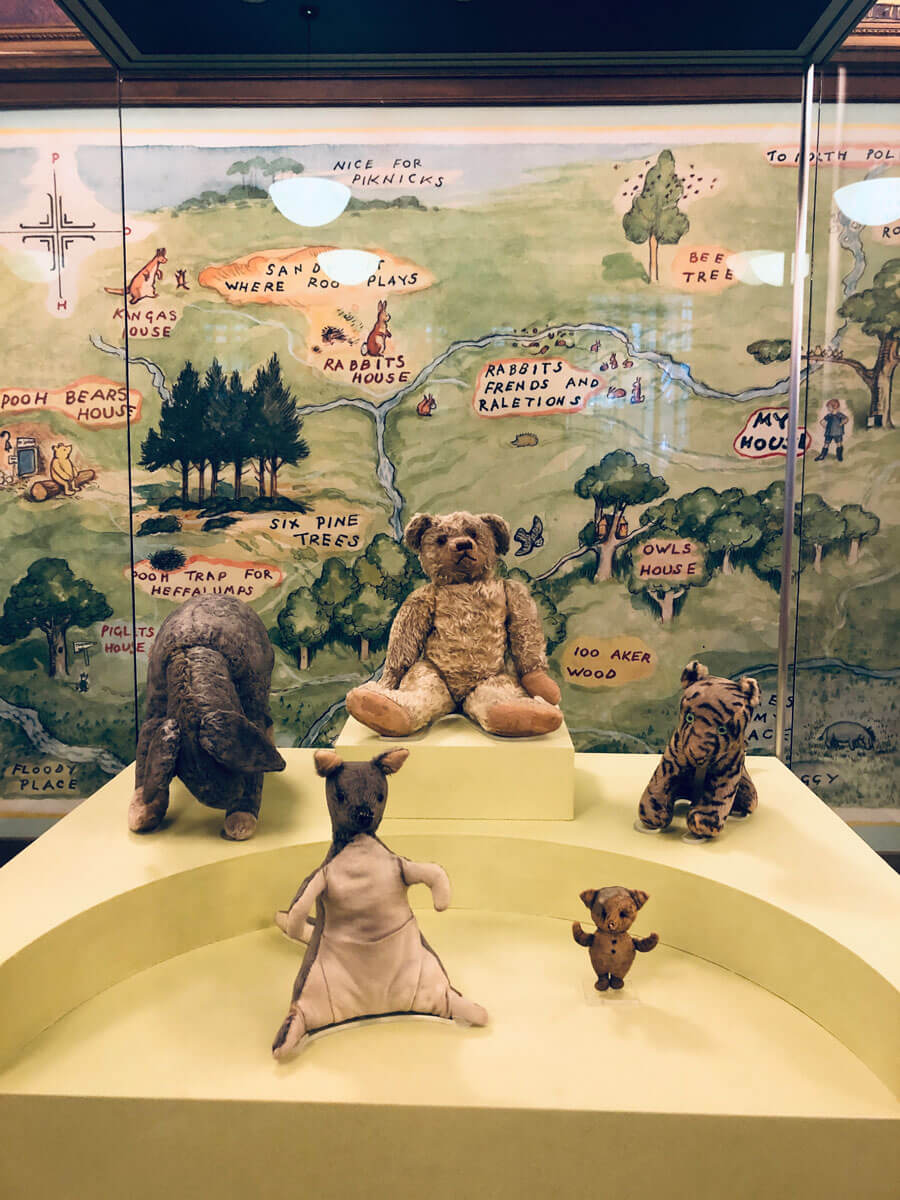 Our favorite rainy-day activity is visiting a branch of the New York City Public Library. It's truly one of the best things to do in NYC with kids, with every single location offering a unique experience!
The gorgeous Stephen A. Schwarzman Public Library Building on 42nd Street has a beautiful kids' area with the original Winnie the Pooh stuffed animals! Queens Central Library has a modular children's wing is called the Discovery Center and cool interactive exhibits all throughout!
Most NYC public libraries have great weekly programs geared towards different ages for free throughout the week. Just make sure to check the times of each location before heading out. Especially in the last few years, some branches have limited hours on different days.
New York Transit Museum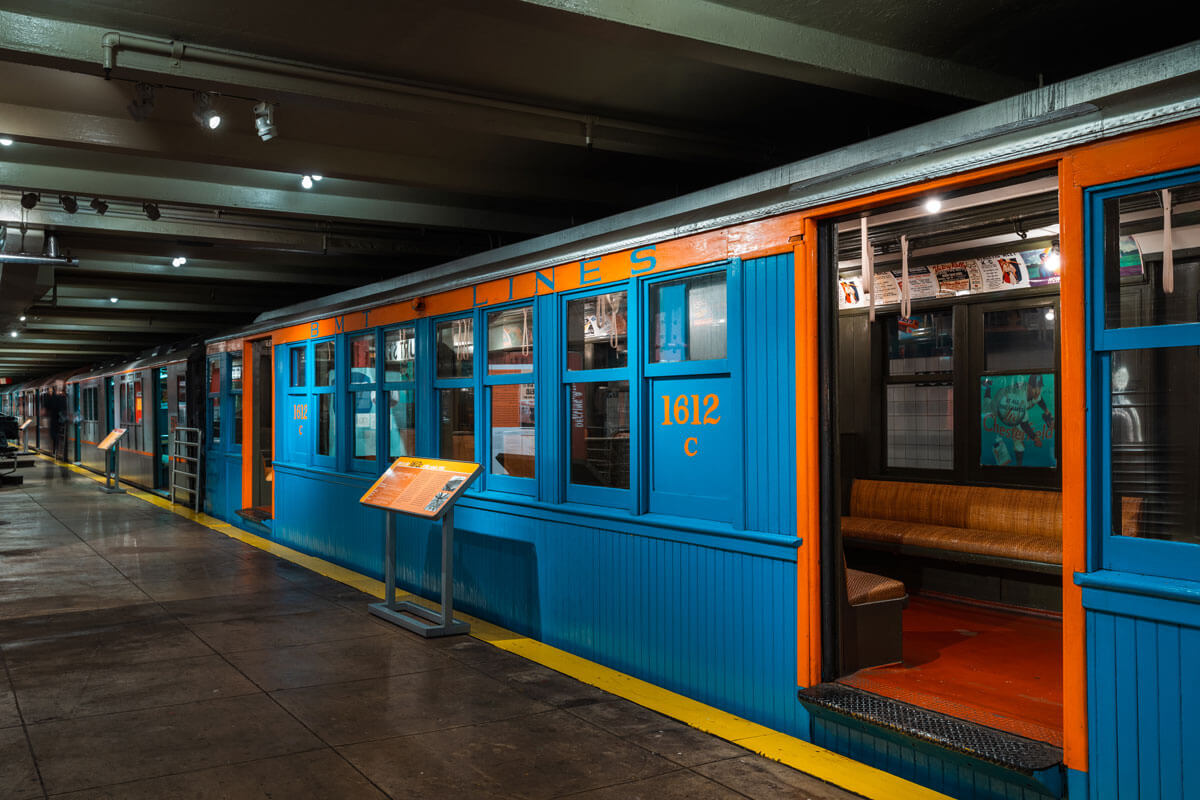 You don't have to be a kid to appreciate the New York Transit Museum, but it's definitely my favorite place to take little ones who are obsessed with trains. This cool little museum is actually inside an old subway station in downtown Brooklyn!
It's fascinating to learn about the long history of the New York City subway system and this is without a doubt one of the best museums in NYC. There are cool model trains, old subway signs, and admission tokens. You'll get to walk through old subway cars and transit buses from every era.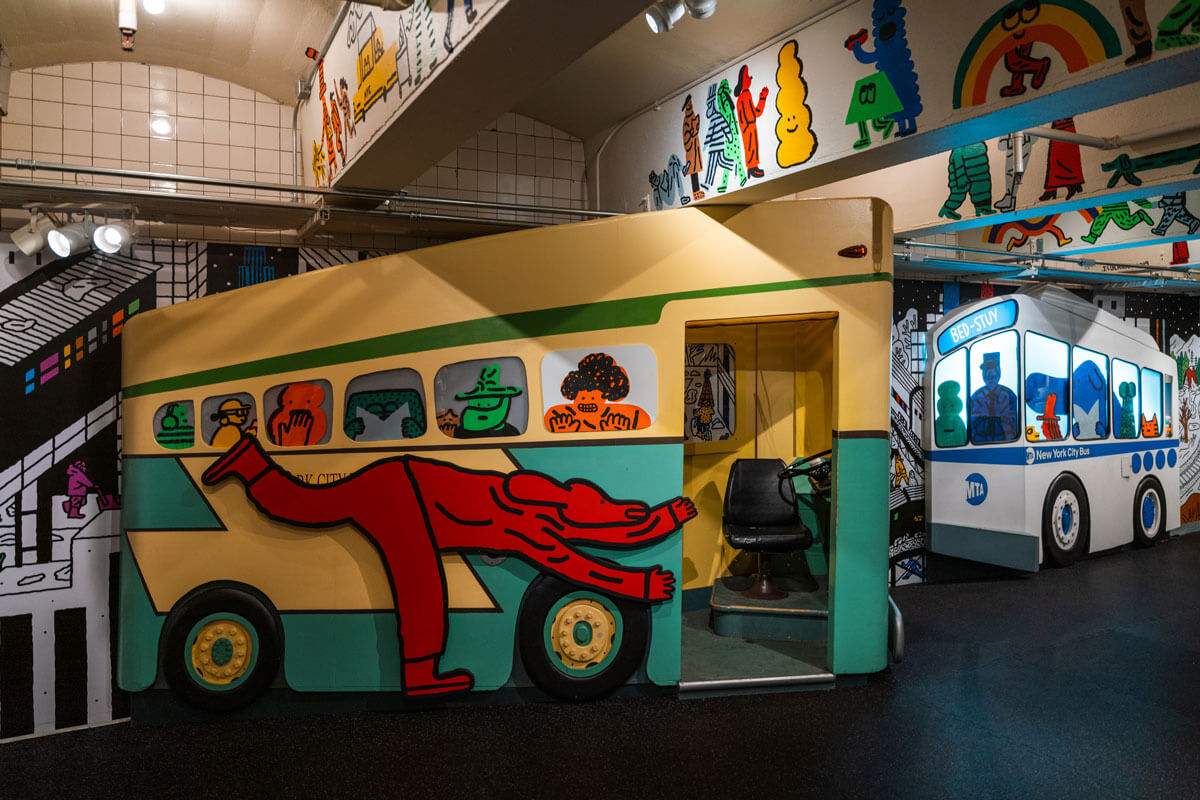 They also have a kids section where they can climb inside fun busses and trains and play.
The New York Transit Museum is open Thursday through Sunday from 10 AM to 4 PM. You're encouraged to purchase tickets in advance, they also have a QR code outside you can scan and purchase on your phone. And if you need an accessible entrance, you'll need to contact the museum before you go so they can make arrangements.
Go Ice Skating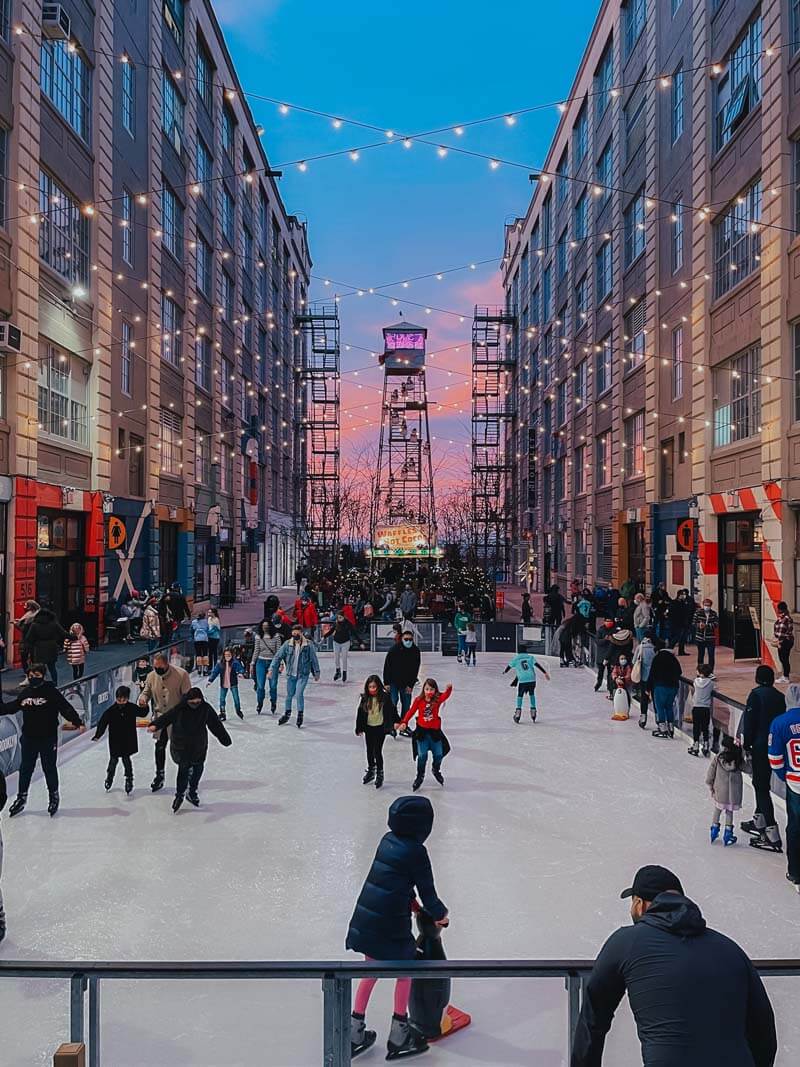 For a timeless winter activity and a fan-favorite outdoor activity in NYC, go ice skating at one of the best skating rinks in NYC. From November through February, you can find outdoor rinks across the 5 boroughs. And there are even more indoor rinks open year-round!
Skate inside a winter wonderland at Wollman Rink in Central Park or visit Runway Rink at TWA Hotel for a fabulous time! SkyRink in Chelsea Piers is a great indoor spot. And if you want to go ice skating in Brooklyn, the new Lefrak Center on the east side of Prospect Park has two beautiful outdoor rinks.
One of the best kid-friendly rinks in NYC can also be found at Industry City in Sunset Park, Brooklyn. There's an adorable small rink with skate aids, fun hot chocolate stand, and other family-friendly activities including dining options and more available at Industry City.
Different locations have different amenities including live music, food vendors, lockers, skate aids, and shoe rentals. You can warm up with a hot chocolate or a cocktail under the heaters, or book a skating lesson.
Museum of Natural History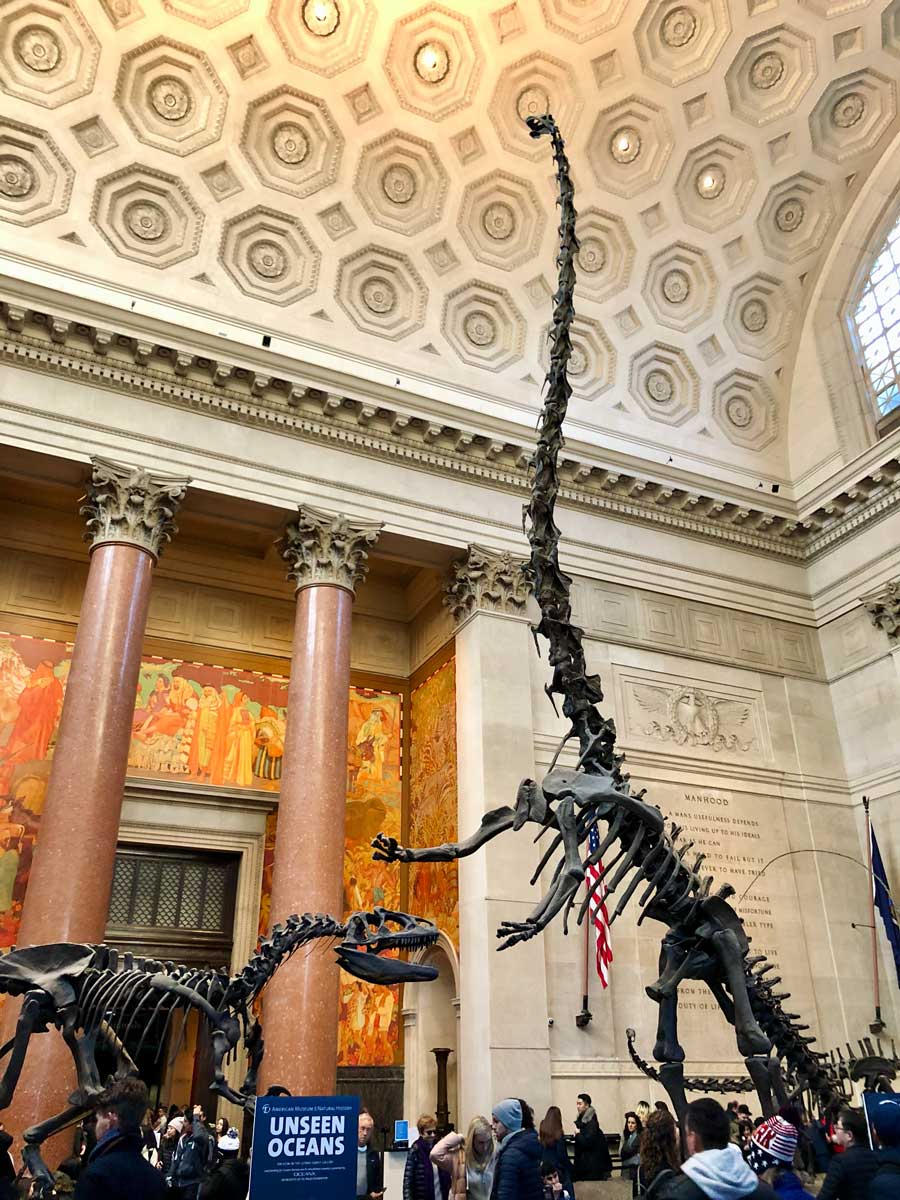 One of my all-time places to visit in NYC with kids is the Museum of Natural History. I suggest taking an entire day and eating at one of the top-notch restaurants in the neighborhood before you go. Inside, there are 5 floors and you'll need energy!
See the famous blue whale inside the Hall of Ocean Life. The Hall of Biodiversity is absolutely beautiful, and it's fun to see the massive dinosaur skeletons in the fossil halls. And if your kids are interested in space and planets, the Rose Center for Earth and Space is a must (you can start out with this exhibit at the north entrance).
While the museum has a suggested donation, you can visit for free. However, you still have to book timed reservations in advance.
Coney Island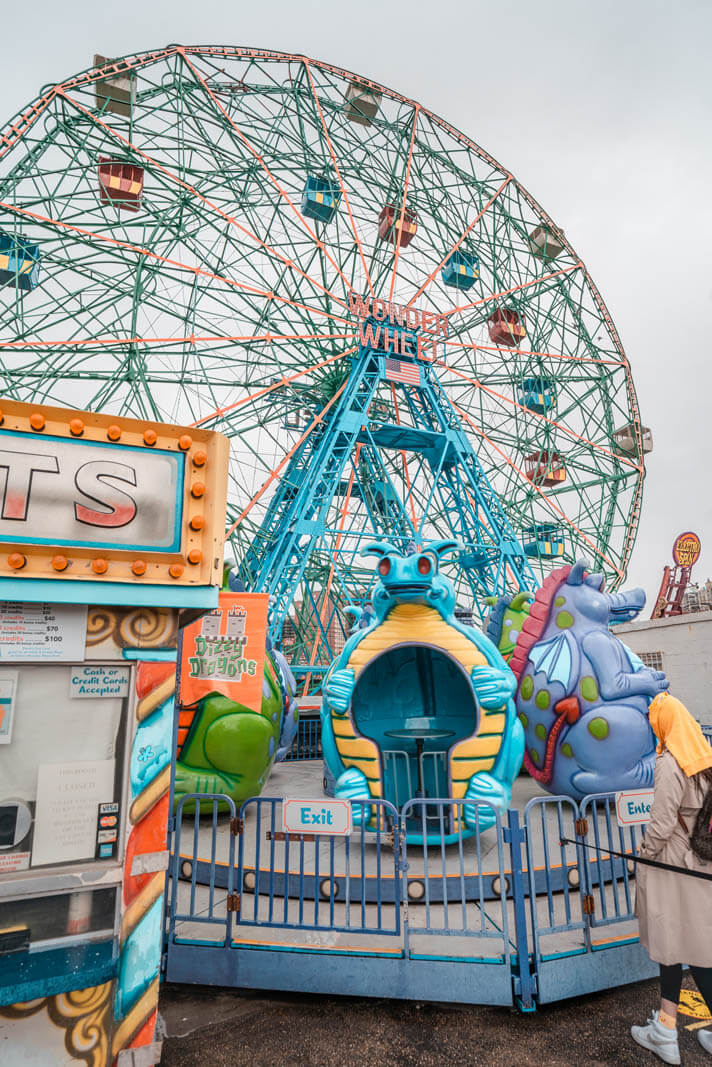 New York City has some top-notch beaches, but we keep going back to Coney Island in the southeastern part of Brooklyn. That's because of the classic Luna Park with its famous Wonder Wheel and the Coney Island boardwalk. But that's just the beginning!
Coney Island is wonderful for swimming in the summer with over two miles of soft, sandy beaches. There are always lifeguards, outdoor showers to rinse off, and even a few playgrounds for the little ones.
I recommend enjoying all the incredible things to do at Coney Island during the day as night is a different scene and less kid-friendly feeling. Out of the water, there are fun museums and art galleries, Nathan's Famous hotdogs, pizzerias, gift shops, and more.
Also, don't miss the New York Aquarium here either! There are all kinds of educational exhibits plus you can get up close to sea creatures! The best part has to be the shark tank tunnel you can walk through, which is one of the most fun places for kids in NYC to take a photo!
Go Bowling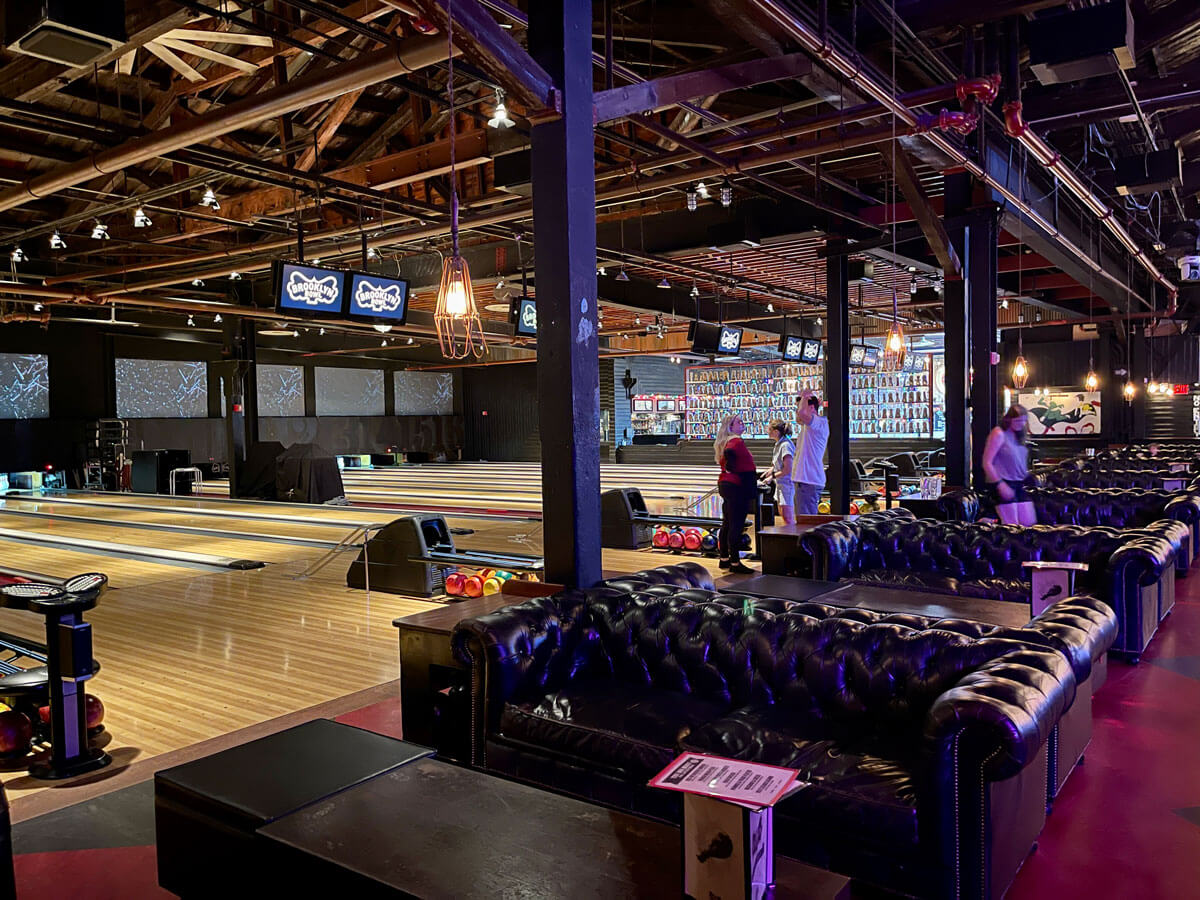 Another one of the best things to do in NYC with kids of all ages is bowling. You can enjoy some healthy competition at about a dozen different bowling alleys across the city. I'm talking everything from the gritty, no-frills lanes playing 80's classics to flashy sports lounges/bowling centers with neon lights and arcade rooms.
In Manhattan, there's Bowlmor and Frames, where you can order a drink and enjoy fresh twists on the classic fried foods you typically find in a bowling alley. Or if you want that classic, family-friendly bowling experience, go to Melody Lanes in Sunset Park or Family Bowl hours at Brooklyn Bowl in Williamsburg, which takes place from 11 AM to 5 PM on the weekends where they have a more family-friendly atmosphere and play kids movies on the tvs.
Just keep in mind that lanes that double as a lounge, like Bowlero, become 21+ on Fridays and Saturdays and Brooklyn Bowl does after 5 PM on the weekends.
New Victory Theater
View this post on Instagram
A great way to expose your kids to performance art without spending an arm and a leg is to visit the New Victory Theater. This New York City treasure is an affordable children's program housed inside a beautiful historic theater in Midtown Manhattan.
All the shows at New Victory Theater are geared towards children with fun performance art shows from all over the world. There are interactive activities before and after the show, and cast members spend time talking to guests, too!
Plus, they thoughtfully offer different run times and include regular intermissions. So, if you have younger children, this is one of the most fun places for kids in NYC as they can still come and stay engaged.
Visit a Zoo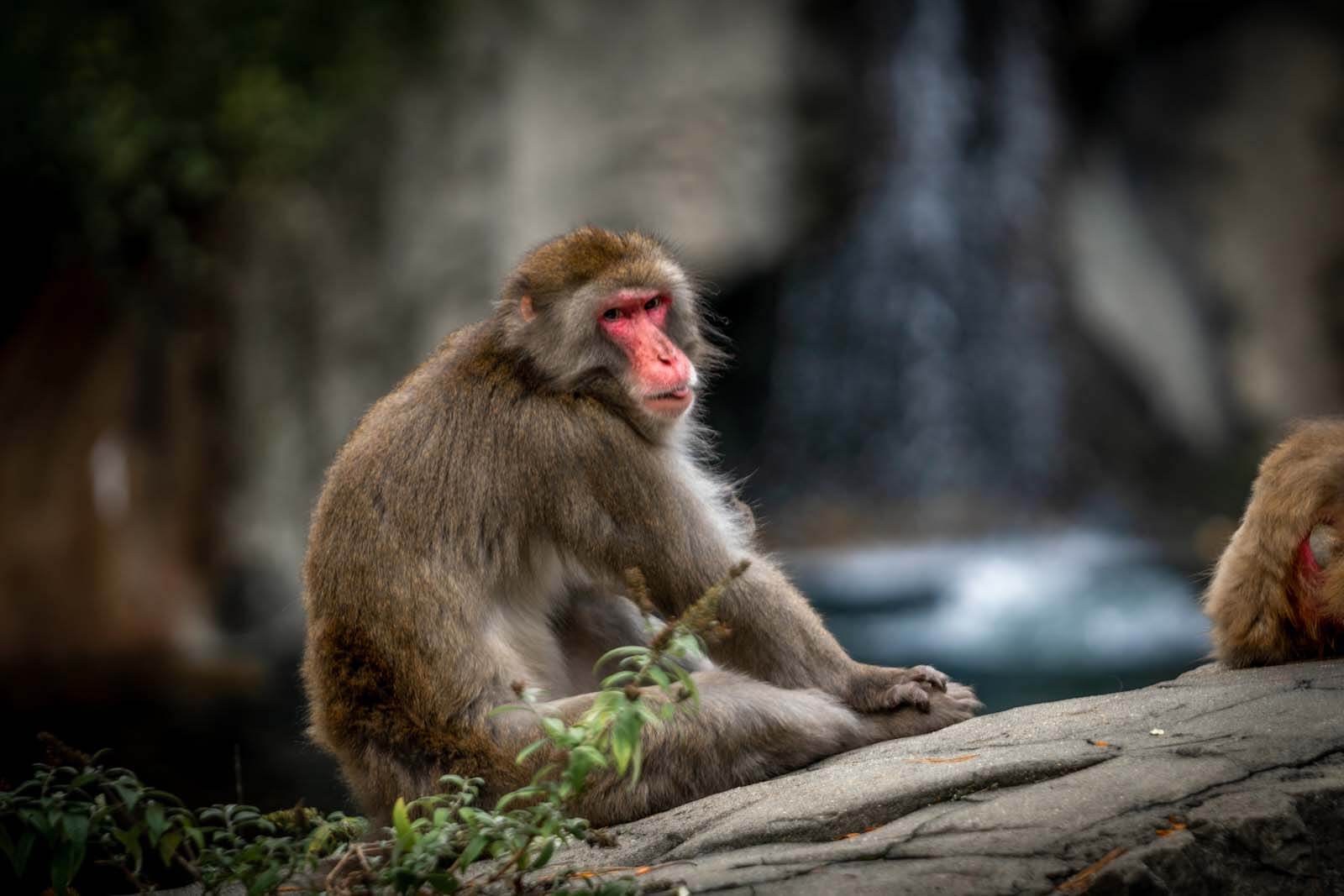 Living in the concrete jungle, I'm always looking for opportunities to expose my daughter to the natural world. NYC has excellent zoos all across the city that are involved in animal conservation, starting with the famous Bronx Zoo. This one is gigantic, so plan on eating there and spending at least half a day.
If you have younger kids, you might want to go to one of the smaller zoos instead, like the Staten Island Zoo. I love the petting zoo and nature paths at the Prospect Park Zoo, but make sure you book your ticket well in advance.
The Central Park Zoo is stunning and a must-visit for any visitor to NYC! Both the Bronx and Staten Island locations have free admissions on Wednesdays, but tickets are limited. And children under 2 are free to all locations.
Queens County Farm Museum
Visiting the Queens County Farm Museum is one of the coolest things to do in NYC with kids any time of the year. Did you even know there was a working farm inside the city limits? It's a historic site that's been a continuously active farm since 1697!
Queens Farm is free to visit every day from 10 AM to 5 PM. Come drop off compost, buy fresh eggs, or visit the farm store. Come feed hay to the sheep and goats or visit the teaching gardens. The free hayrides are a great way to see the farm. And you can attend wonderful events and educational programs (for a fee) throughout every season.
And in the fall they have one of the best pumpkin patches in NYC!
South Street Seaport
On a different note, a very NYC way to spend time with kids is to visit the South Street Seaport. The entire historic district is unlike anywhere else in the city with cobblestone streets, 19th-century storefronts, and historic wooden ships on the pier.
You'll find street performers, luxury and boutique shops, and museums, all in the shadow of the Brooklyn Bridge. It's a popular place for seasonal events, including an ice rink in the winter.
There's the Titanic Memorial Park outside the South Street Seaport Museum. And I love the new Imagination Park. Grab some food from one of the restaurants nearby, sit in the shade, and watch the kids play.
Also, don't miss the fun places for kids in NYC to take photos with the installations like the Smiley Face and Heart sculptures with a backdrop of the Brooklyn Bridge!
Take the Staten Island Ferry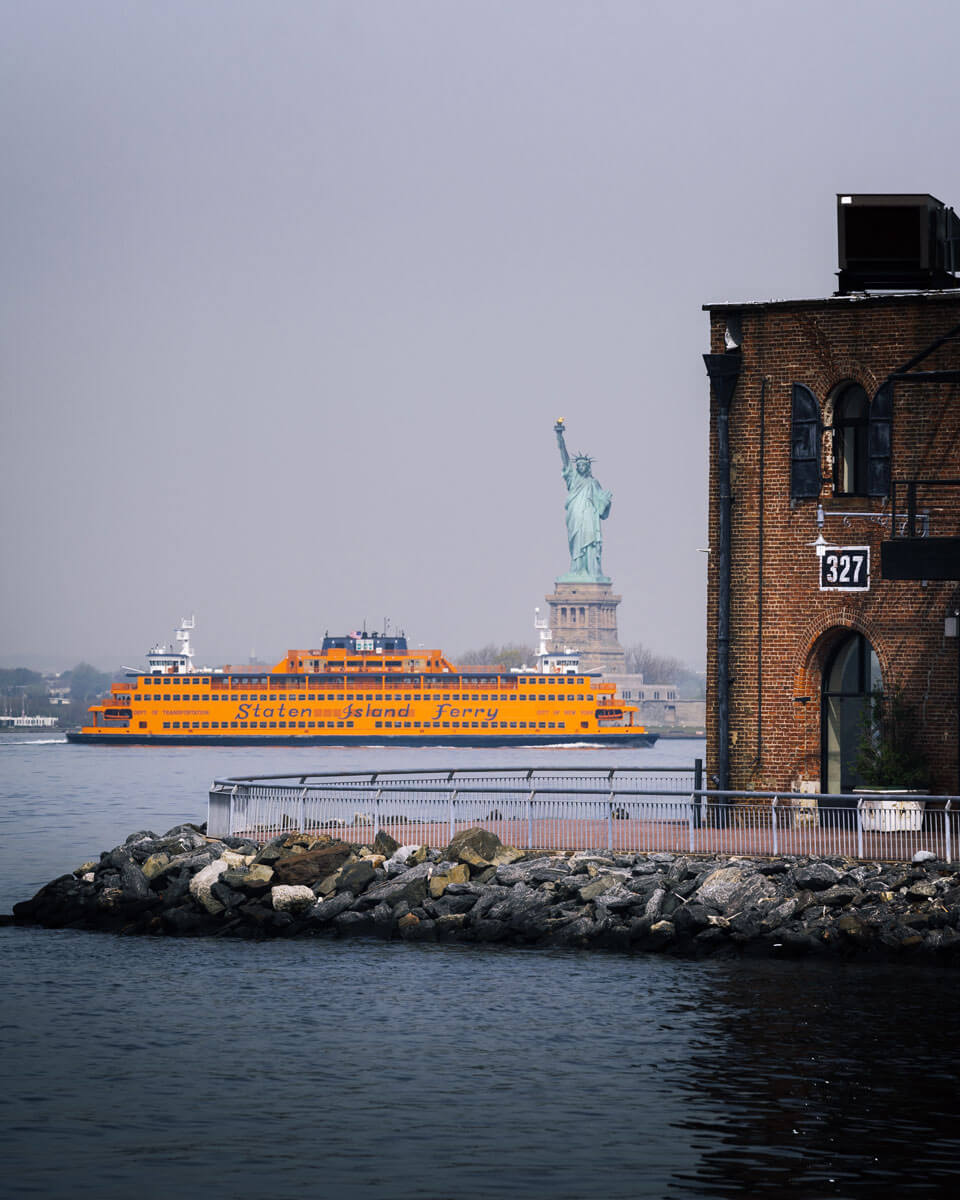 Don't underestimate the excitement of riding the State Island Ferry with kids! It's a great way to spend 50 minutes and see NYC for free. From the start, it's fun to see the massive Whitehall Ferry Terminal in Lower Manhattan.
Once you're on the iconic orange ferry, it's all about the views. Sit inside or stand on the deck and check out the Manhattan skyline and enjoy some of the best views of the Statue of Liberty. When it docks in St. George, hang out for 15 minutes and wait for it to head back.
The ferry runs 24/7, every 15 minutes during the week and every 30 minutes on the weekend. I don't suggest going during rush hour between 6 and 9 AM and 3 and 7 PM. And if you go between September and May, it can get cold on the water, so bring layers for everyone!
Go to a New York City Playground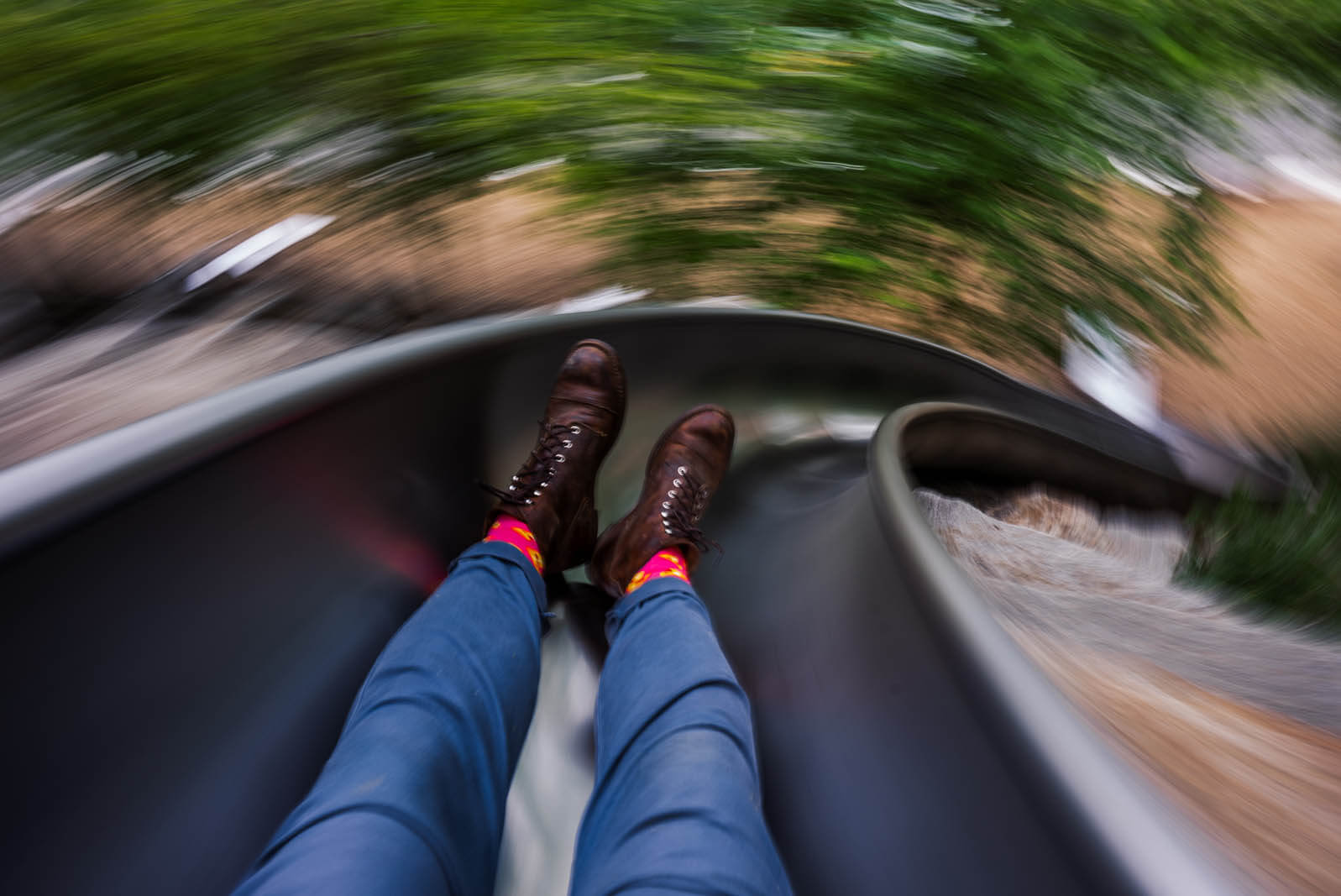 This past summer, I made it my mission for us to visit as many NYC playgrounds for toddlers as I could get to. It barely made a dent on my list! If you're looking for fun places for kids in NYC, just head to one of the amazing playgrounds.
Chelsea Waterside Playground in Hudson River Park has the coolest structures. Main Street Playground in Brooklyn Bridge Park is MASSIVE and fun for all ages. Toy Park on Amity Street Cobble Hill, Brooklyn is an adorable playground for littles filled with donated toys. And I haven't been yet but Slide Hill on Governor's Island sounds like fun for older kids and adults, too!
Socrates Sculpture Park
View this post on Instagram
The Socrates Sculpture Park is in Astoria, Queens, along the East River. Formerly a landfill, today it's a lush park that centers around a fun collection of curated art installations! Take the kids to walk the nature trails, relax on grassy lawns, and pose for pictures in front of the cool sculptures.
It's a bit of a walk if you're not driving or taking the bus, but it's a nice way to enjoy some time outdoors. There's a visitor's center and a sculpture studio that hosts summer art programs for local kids. Also, you can find a field guide of current exhibits on their website.
Visit a Farmers' Market
One thing NYC does very well is create green spaces. Farmers' markets in the city are natural community spaces and also very kid-friendly places. Besides produce vendors from all over the Hudson Valley and Long Island, it's a great place to find baked goods, jarred goods, fresh meat and dairy, and arts and crafts.
I love going to the Union Square Greenmarket, which is open 4 days a week. But you can find a different farmers market every day of the week in NYC! There are markets of every shape and size. It's a lot of fun on a Saturday morning to grab some fresh bread and artisan cheese and listen to live music while you watch people shop.
Attend a Street Fair or Cultural Event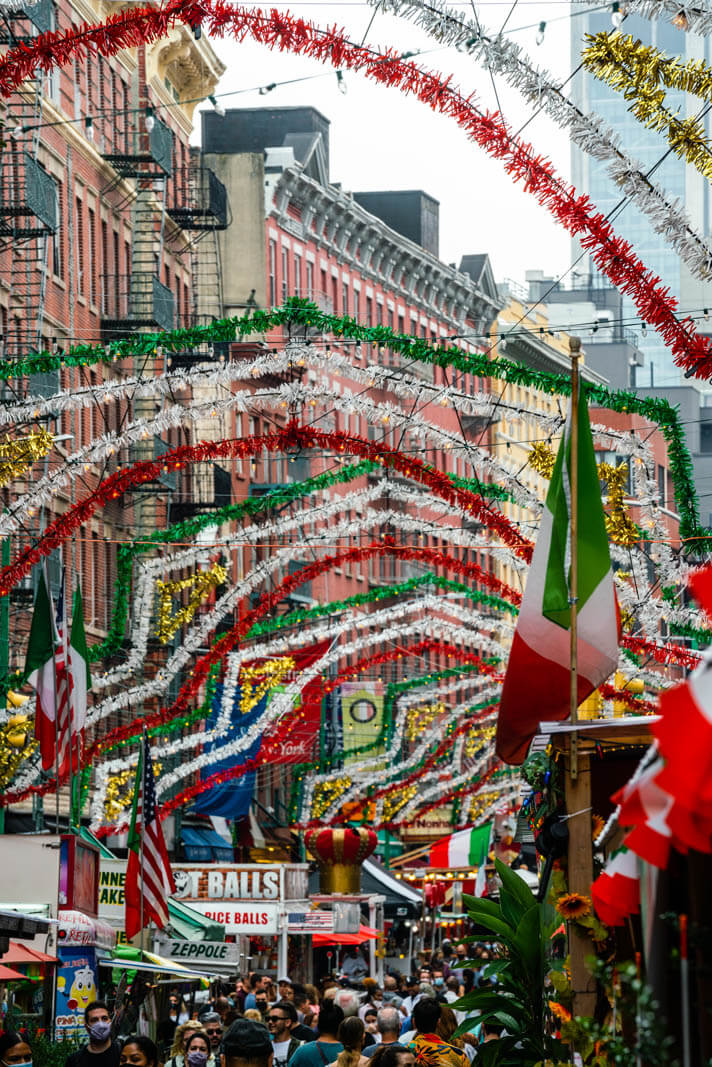 If you're looking for affordable things to do in NYC with kids, consider one of the many street fairs occurring every month. They might be celebrating a specific culture or the larger local community as a whole.
In February, I recommend going to Chinatown for the Lunar New Year Parade and Festival. In September head to the Feast of San Gennaro in Little Italy. And especially in the summer, the hard part is narrowing down all the many choices!
Across Manhattan, Queens, and Brooklyn, community fairs mean entire blocks are sectioned off for pedestrians. They'll line the sidewalks with vendors, games, and entertainment. There are usually hands-on activities for the kids, too.
Central Park
Seeing Central Park is at the top of the list for everyone visiting the city because it's one of the best things to do in NYC, for locals and visitors, and there are a variety of things to do with kids. Of course, my favorite thing is the 21 different playgrounds that span the entire length of the park! But there are all kinds of activities just for families.
Go for a hike through The Ramble or The North Woods. And April through October you can rent rowboats on The Lake or rent remote-controlled sailboats at Conservatory Water (like Stuart Little!).
And a visit to the Charles A. Dana Discovery Center near the Harlem Meer offers endless educational fun for kids all year. They have Discovery Kits you can borrow with things like maps of the park and child-sized binoculars!
Bryant Park
Next to the New York Public Library Main Branch, Bryant Park is a grassy 4-acre park with a lot going on. On a warm day, it's nice to sit at one of the outdoor tables on the 6th Avenue side and play a game of chess, dominoes, or another tabletop game. Or go for a ride on Le Carrousel. On the weekends there are free magic shows next to the carousel, too!
During the holidays you can go ice skating or shop at the Winter Village. In the summer there are free movies on the green. And from April through September, come visit the Bryant Park Reading Room. They host outdoor story times for kids 2 to 8, or you can just come read a book in the park.
See a Free Show
With a little digging, you can find a long list of free things to do in NYC with kids. For kids who are a little older, one of my favorite things taking them to one of the many summer shows across the 5 boroughs.
Parks in every borough participate in the Movies under the Stars program (including Bryant Park). Or you can reserve free tickets to the Central Park Shakespeare in the Park performances. And Summerstage famously started their free concert series in Central Park's Rumsey Field.
Today, parks across the 5 boroughs participate in the Summerstage program. Some of the shows are even meant just for kids! This is another free show but you need to reserve tickets in advance for anyone 4 and up.
Visit a Local Food Hall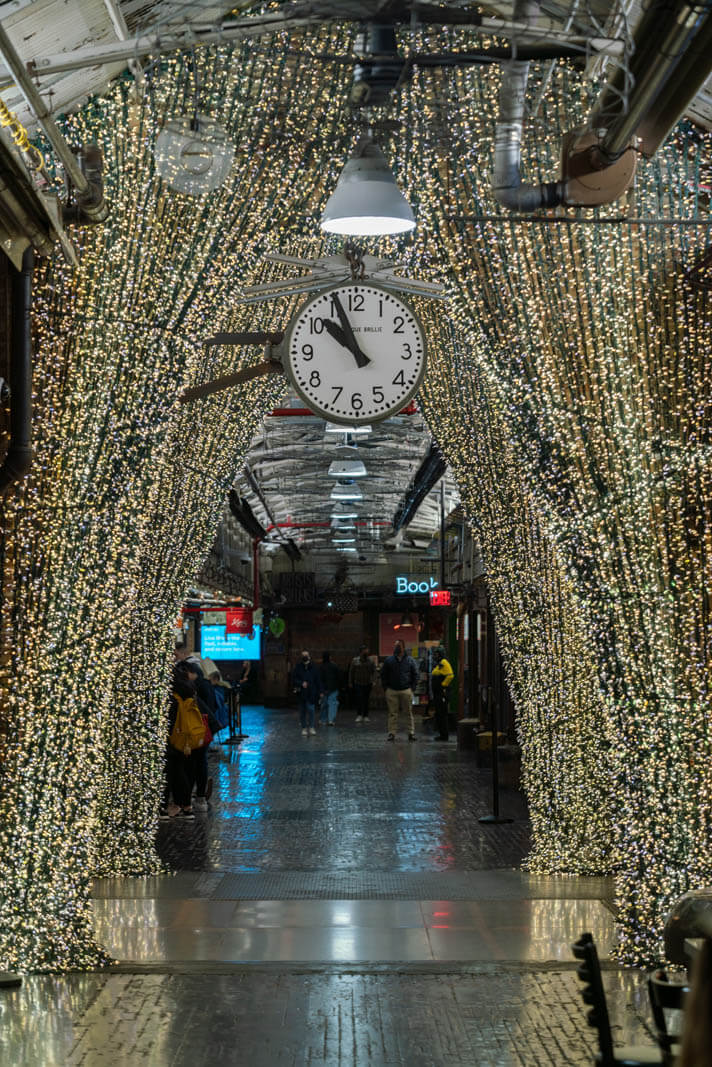 Checking out food halls has recently become the biggest trend, but NYCers have understood the appeal for a long time. Rain or shine, it's a fun way to enjoy a meal with your littles while making sure everyone finds something they like to eat!
Chelsea Market is a fabulous mishmash of boutique shops, cafes, restaurants, dessert spots, and supply stores inside a historic factory. There's also The Hugh, a new food hall offering a chic Midtown setting and free children's events on the weekend).
Dekalb Market Hall in the basement of the City Point has a laid-back feel and fun places to try something new. And Mercado Little Spain is a beautiful food court in Hudson Yards. It's full of Spanish food choices including restaurants and stalls.
Eat at a Themed Restaurant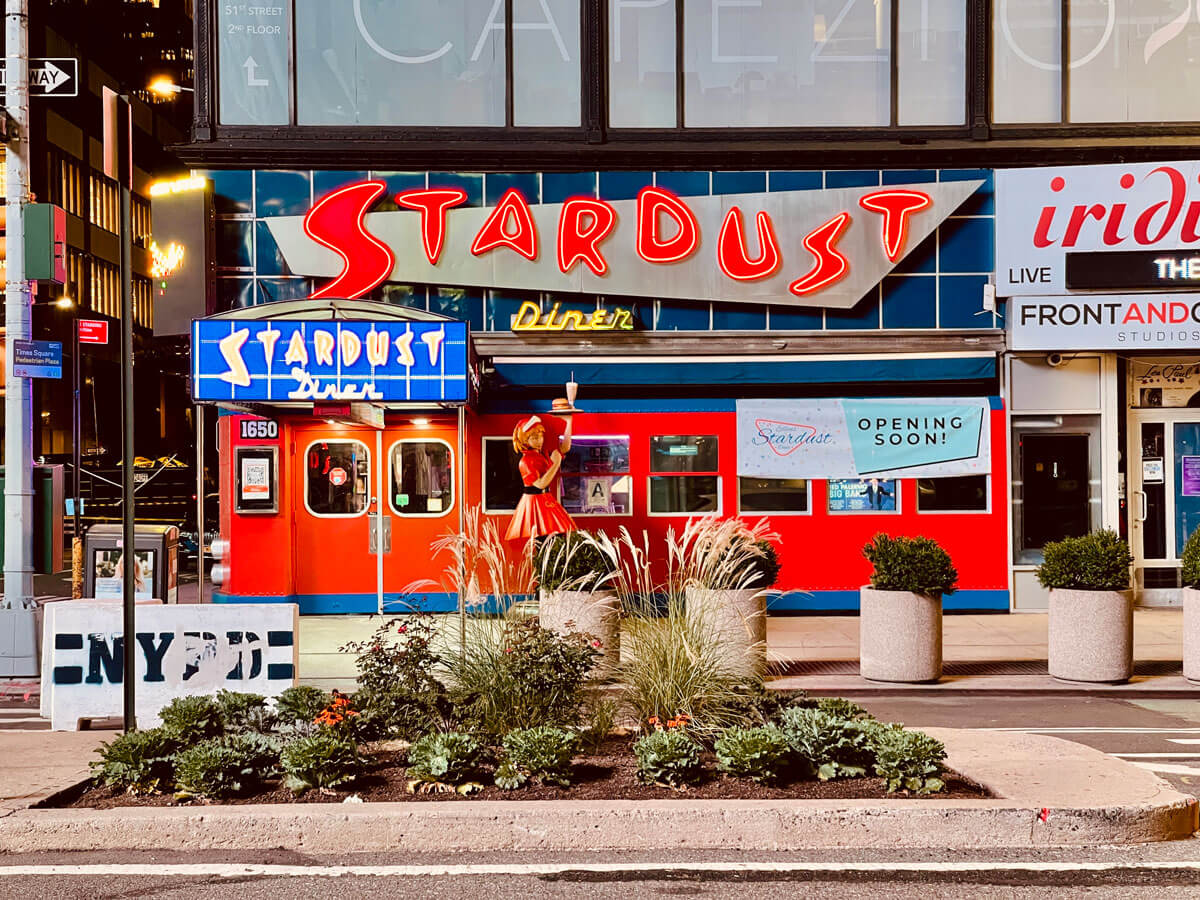 When you're stumped on what to do in NYC with kids, you can't go wrong with food. For more places to eat, go with one of the most famous NYC restaurants. From gaudy to elegantly themed restaurants, you have plenty of options that will please kids of all ages.
No place is cooler than Ellen's Stardust Diner, the 50s-themed diner with singing waiters who moonlight as stage actors, not to mention there are tons of cool old-school diners in NYC that are great to take the kids to! Or take your little sir or madam to Alice's Tea Cup for tea, sandwiches, and scones in a book-themed setting.
Max Brenner even smells like chocolate, but it's not over the top. Even the hardest-to-impress teen will love coming to this hip chocolate-themed restaurant. Or go all out at a desert heaven like Serendipity 3. It's cliché, but their Frrrozen Hot Chocolate is a must!
Times Square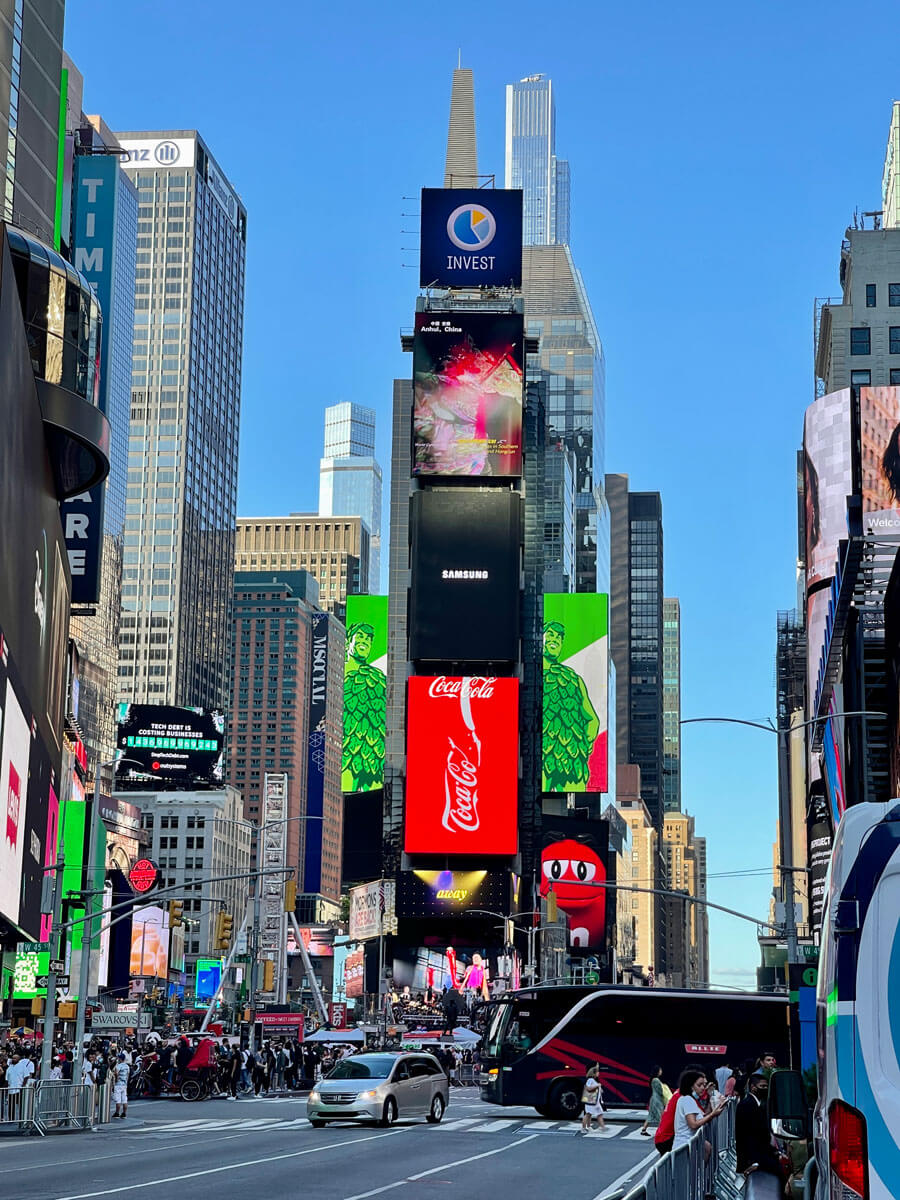 I visit Times Square maybe once a year and I'm satisfied, but we always end up going back to this classic New York destination! If you're okay with heavy crowds and flashing lights, it can be a lot of fun! And believe it or not, there are actually alot of fun things to do in Times Square!
Visit the mega stores, enjoy the rush, and watch people interacting with the characters on the street. The kids will love checking out places like the Disney Store or Hershey's Chocolate World. And I suggest grabbing some dollar pizza, sitting on the steps in Times Square, and enjoying the neon signs as the crowds walk by.
Grand Central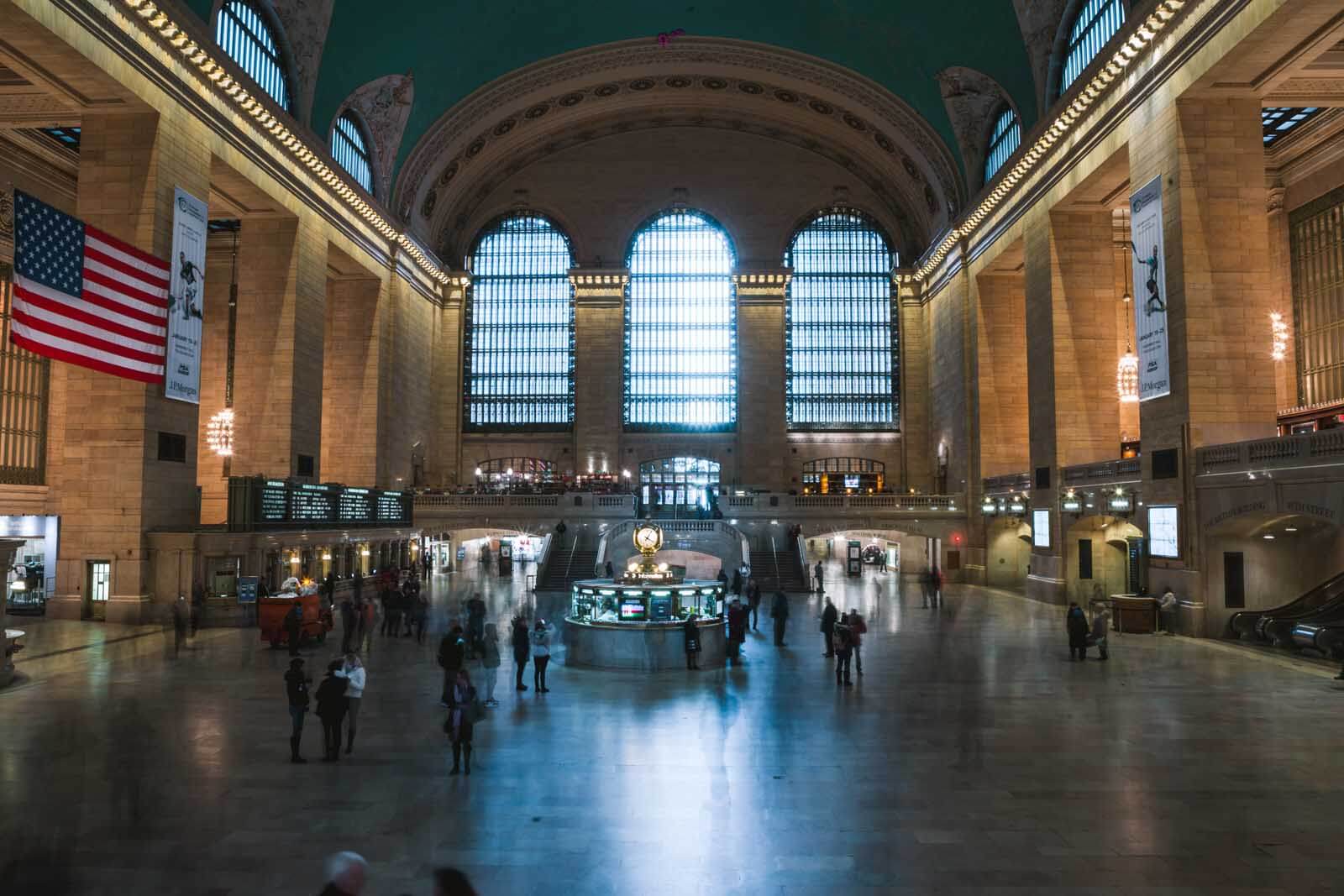 The historic Grand Central Terminal is an exciting place to visit, no matter your age. There's stunning architecture, interesting attractions, and intense energy from all the people coming and going.
It's one of my favorite places to take kids obsessed with trains! Sneak a peak at the trains in the station or visit the Transit Museum shop. There's also a sprawling food court in the basement and a beautiful market upstairs. Or go from mid-November through Mid-December to shop the vendors at the Holiday Fair.
Empire State Building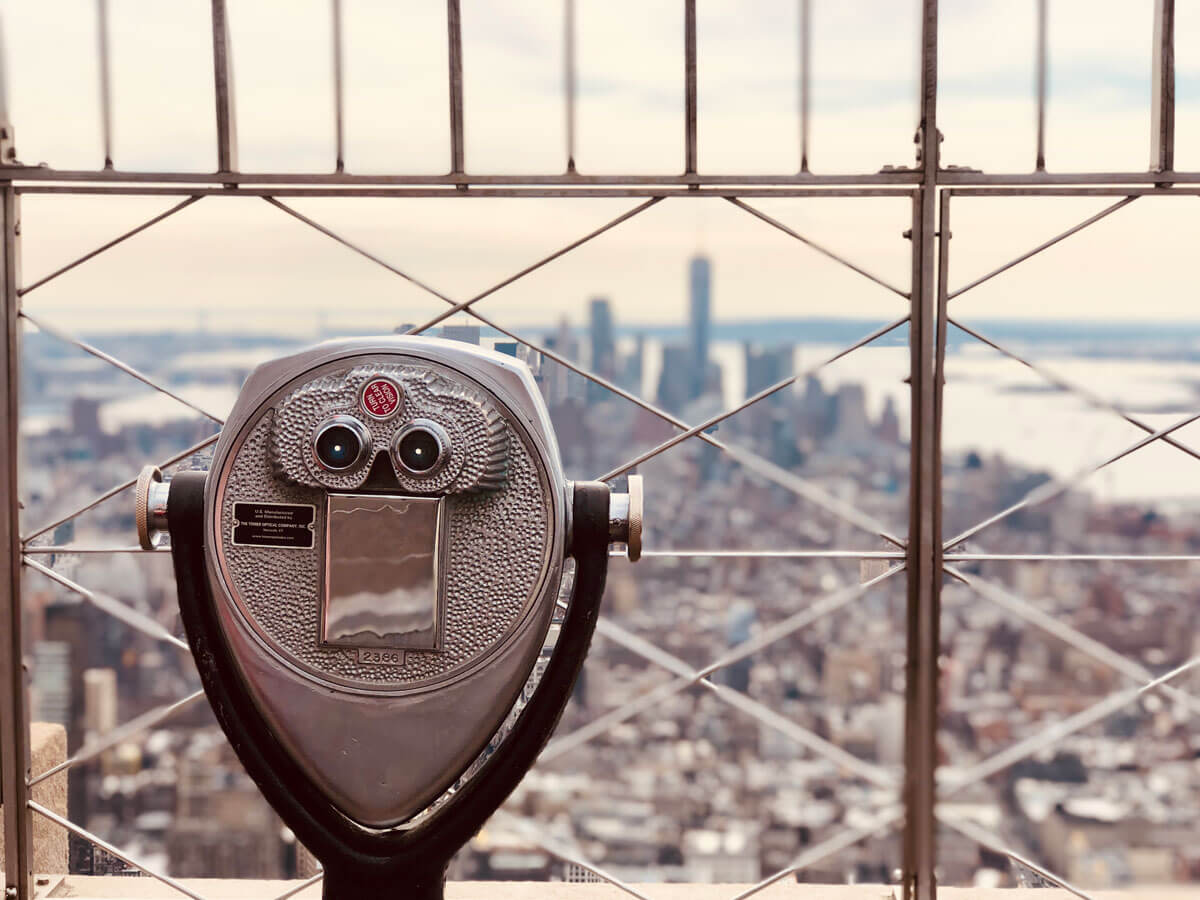 Visiting the Empire State Building is one of the top things to do in NYC with kids and everyone should go at least once! Make core memories when you visit one of the tallest NYC skyscraper with a museum and observation deck.
You'll ride an elevator to the 80th floor where you can walk through fun, interactive exhibits about the history and construction of the Empire State Building. Then ride up to the 86th-floor open-air observation deck with viewfinders and 360-degree views.
If you're not afraid of heights, there's the 102nd-floor deck for an interesting look at the island of Manhattan from above. Make sure to visit the gift shop on the 86th floor. Also, kids under 6 are free to visit the Empire State Building.
Children's Museum of Arts
There's nothing better than an institution that takes children's play seriously. That's what it feels like at the Children's Museum of Arts. You'll walk through art exhibits across every genre. And most of it can be touched and interacted with by kids!
Plus, there's a huge emphasis on the way kids learn, through playing and creating. As you walk around, there are different stations where you can make clay sculptures, paint, draw, 3D art from found objects, and even a neat stop-motion animation studio.
Visit the sound lab, sign up for a music class, or move your body on a fun modular spinning chair. For littles, there's not much else besides a play area with foam shapes you can build with. I'd say this museum is best for ages 5 to 12.
The Color Factory
View this post on Instagram
The Color Factory is an immersive exhibition around colors and everything to do with them. This is a great way to spend an hour with a tween or teen who has a thing for selfies! You walk one way through different rooms. Each room is a different color and theme, with selfie stations along the way!
You get free digital copies of all your photos with your admission. Learn about color in nature, in history, and in culture. There are fun treats along the way, like gelato and macaroons. The silent disco room is one of my favorites, but kids especially love the massive ball pit and the confetti room.
National Museum of Mathematics
View this post on Instagram
For more fun educational things to do in NYC with kids, I recommend a visit to the National Museum of Mathematics. It's another small museum that you can get through in about an hour, but it's totally worth a visit! It's all geared towards 4th- to 8th-grade math.
Explore 2 floors of hands-on activities that connect math to other areas of study, like science and art. Solve puzzles by only making left turns or using musical rhythms or create a unique 3D printed form that you create while learning about symmetry.
It can get really busy on the weekend, but the museum is open 7 days a week from 10 AM to 5 PM. And make sure to visit the gift shop which has some really nice math- and puzzle-themed products.
Go to a Children's Museum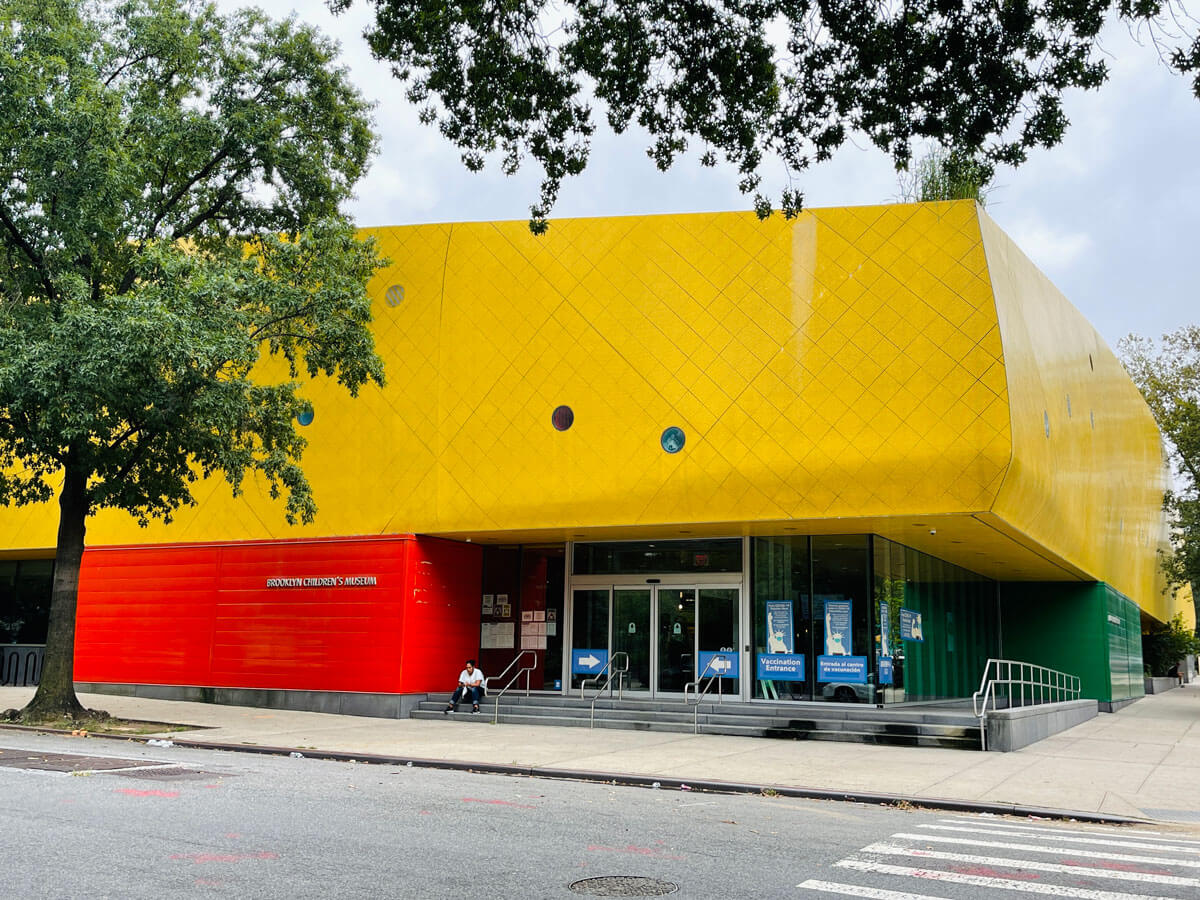 There are 3 different children's museums in NYC and they all offer a great time indoors for multiple ages. They all include a variety of play spaces around themes like different cultures, local flora and fauna, and service workers.
The Children's Museum of Manhattan is the largest and most impressive with different floors that focus on different ages. I love that they have larger themes that are introduced in kid-friendly ways. Dora the Explore teaches kids about Latin American cultures and a superhero pigeon guides you through New York City.
The Brooklyn Children's Museum is my favorite, but it's a very different feel. It's low-key and has hardly changed in 10 years! I love this one for younger kids because everything is very simple with lots of pretend play areas, and it's just a great example of all the great things to do in Brooklyn with kids too!
And I haven't been to the Staten Island Children's Museum, but I've heard wonderful things. It's absolutely beautiful with both indoor and outdoor spaces, sculptures, and elaborate exhibits. There's tons of light, as well as just great play areas where kids can move their bodies.
The Cloisters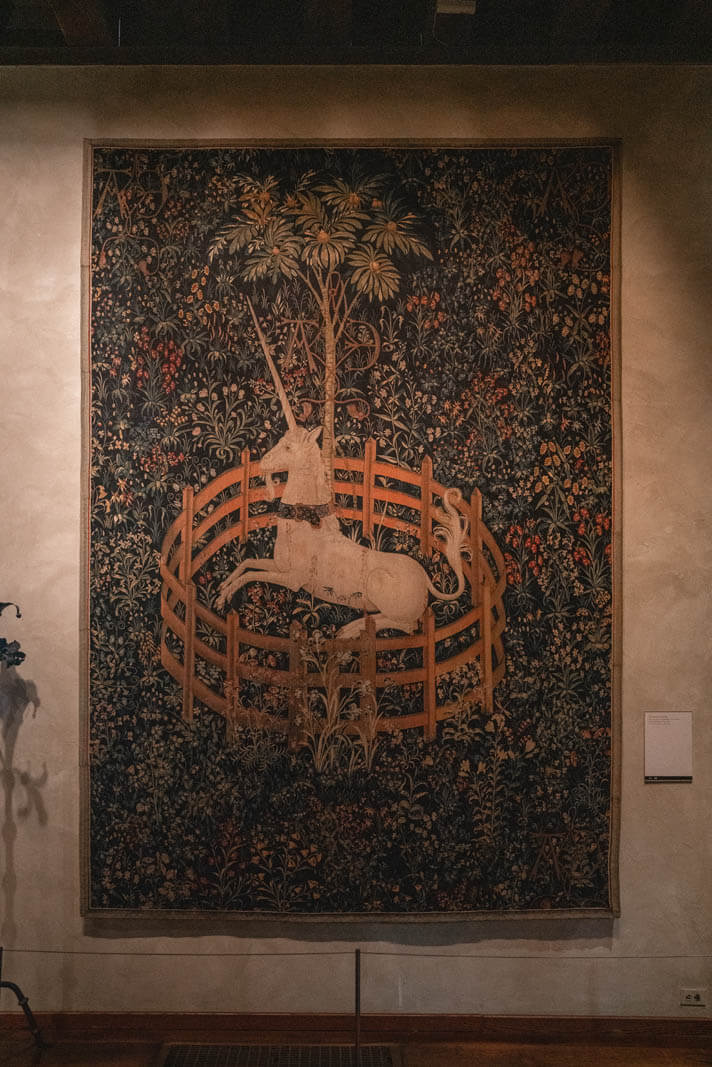 For a change of pace, take a day and visit the Met Cloisters. As you come into Fort Tryon Park, it feels like you're leaving the hustle of the city behind and going to a magical castle! The story behind the reconstructed medieval halls is fascinating, and each of them features different exhibits from around the same time period.
Make sure to take any unicorn-loving children to the unicorn tapestry room! I took my toddler recently and it was nice to walk through the gardens and the different exhibits with her.
The Cloisters actually offer a variety of accessible children's programs at different times throughout the year with themes around the current exhibits. There's also a café if you get hungry. And everyone under 12 years is free at the Cloisters.
The MET
Another space I love taking kids to that isn't specifically made for kids is the Metropolitan Museum of Art. The MET is a great way to introduce kids to art from different cultures and eras. It's interesting to see their reactions to things, and it's nice when you can find something you both can enjoy. There are 4 floors of galleries with everything from ancient to modern art.
The MET always makes for a long walk, so when I go with kids, I usually take time to visit one of the 4 cafes inside. There's also a restaurant and a bar lounge inside. Before or after, you can take your littles to the Ancient Playground right next door. And while the MET has a suggested fee for admissions, kids under 12 are always free.
See Macy's Windows Display During the Holidays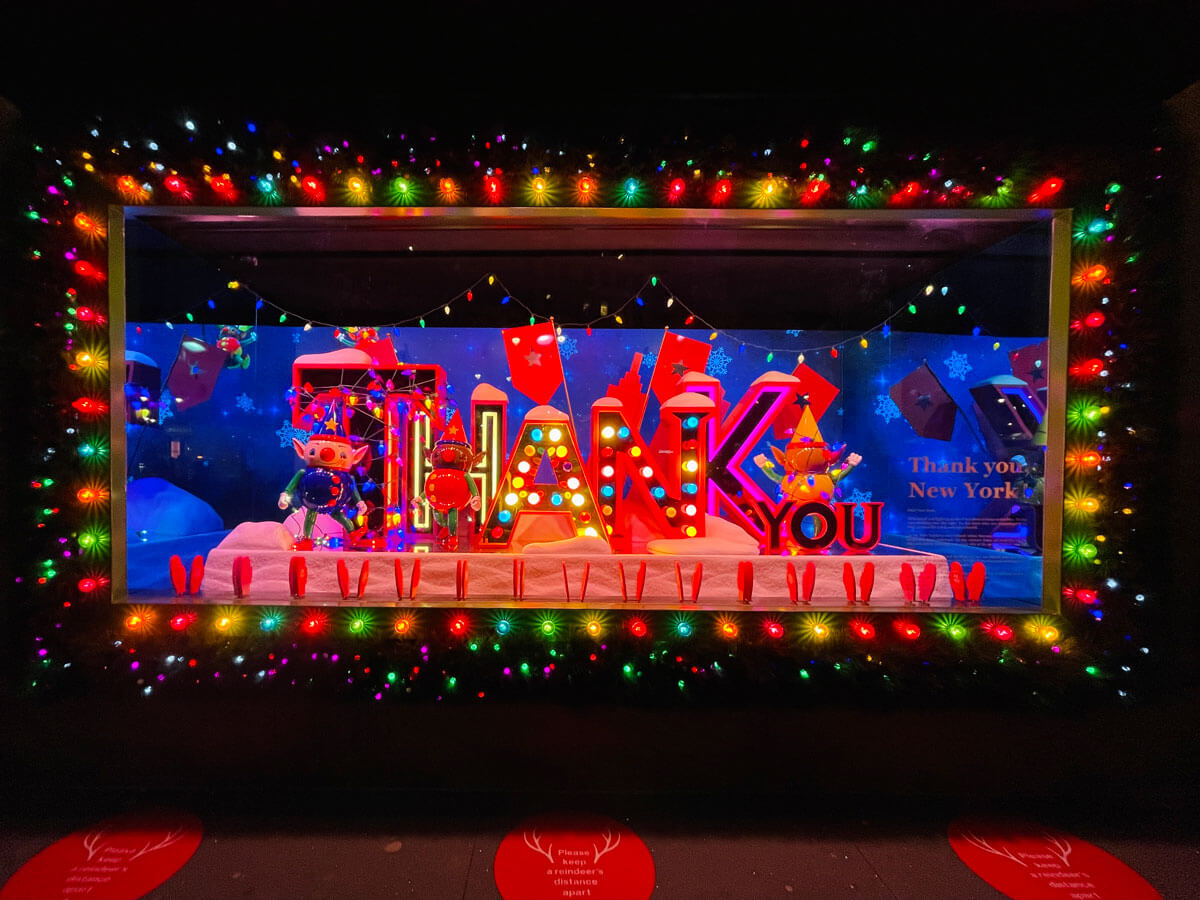 If you're in NYC with kids during the holidays, a must-see is the famous holiday window displays. Macy's is the most iconic (and the original), but you could also check out other Midtown stores for more holiday window displays in NYC, like Bloomingdales and Bergdorf's.
These days each of the stores try to outdoor each other with light shows and music. Macy's continues their yearly holiday window displays as they have since 1874! Kids love the Macy's windows with the animated characters, Christmas themes, and beautiful images.
If you make a plan to see the windows (especially when they go up right before Thanksgiving), I recommend reading "Balloons Over Broadway" with your kids. This children's book by Melissa Sweet is a true story about the man who invented the balloons in the Thanksgiving Day Parade! But he started out being hired to create window displays and you'll learn a lot about them.
And check out more of the fun things to do in NYC at Christmas that are family-friendly too like the Dyker Heights Christmas lights in Brooklyn!
---
About the Guest Author
Elizabeth Ramos – I moved to Brooklyn from my hometown in Texas in 2010 when I was dating my husband. It was a major transition going from the South to NYC, but I quickly learned to love it! There's really no other place like it. I've spent a decade in the Bensonhurst and South Brooklyn area during my career as a writer, artist, and preschool teacher. Today, I work from home as a content writer in the areas of beauty, lifestyle, education, parenting, and travel so I can stay home with my 1-year-old daughter. When I'm not writing, you'll probably find my little family exploring fun things to do around Brooklyn!
---
Enjoyed this guide for the best things to do in NYC with kids and a family-friendly NYC guide? Bookmark for later or let us know your favorite fun places for kids in NYC!