There's no better way to get in the holiday spirit than to watch the best Christmas movies in New York City! Whether you're visiting New York City at Christmas or just want to get in the holiday spirit, these are some of the best Christmas movies set in New York City!
If you are planning a visit to the Big Apple during the holidays see our suggested NYC Christmas itinerary along with many of the best things to do during the holiday season including some of the best Christmas bars in NYC and best holiday window displays in NYC!
Grab your egg nog and cozy up – some of these NYC Christmas movies are classics, some of the most popular Christmas movies of all time, and a few lesser known Christmas movies to check out!
If you're anything like me and like filling your whole holiday season with the films of the season, you'll want to add these to your list!
Best NYC Christmas Movies
Elf (2003)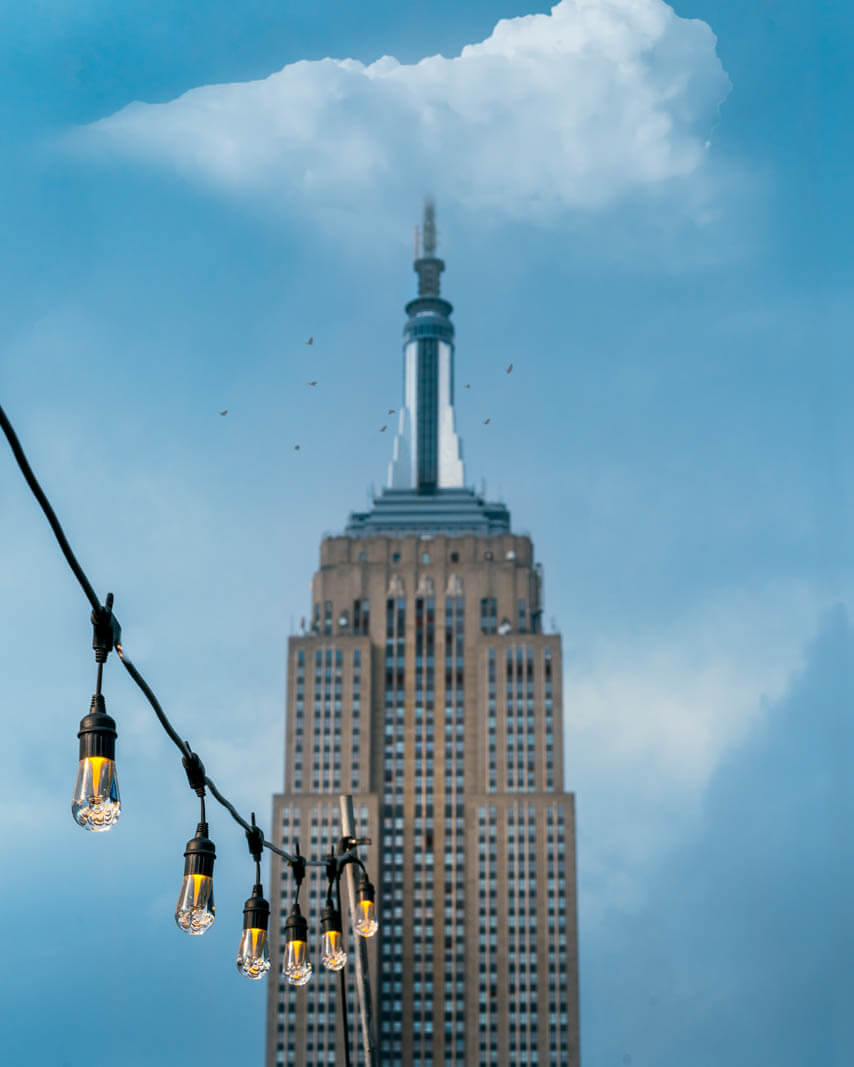 Widely considered to be one of the best New York Christmas movies of the 21st century, Elf is a 2003 Christmas comedy directed by Jon Favreau and stars Will Farrell.
The story follows a human raised as an Elf in the North Pole who travels to New York City to meet and connect with his biological father. As one of the best Christmas movies set in New York, the film showcases many different parts of Manhattan.
In one particular scene, where Will Farrell's character attempts to cross the street and gets hit by a yellow taxi, but there are several notable Elf filming locations in NYC that you can go scope out for yourself as many fans of this holiday cult classic do.
Perfectly cast as the titular Elf, Will Ferrell's performance provokes both laughter and sympathy in equal measure. It is a warm-hearted holiday film that is well worth the watch! Watch Elf here
Home Alone 2: Lost in New York (1992)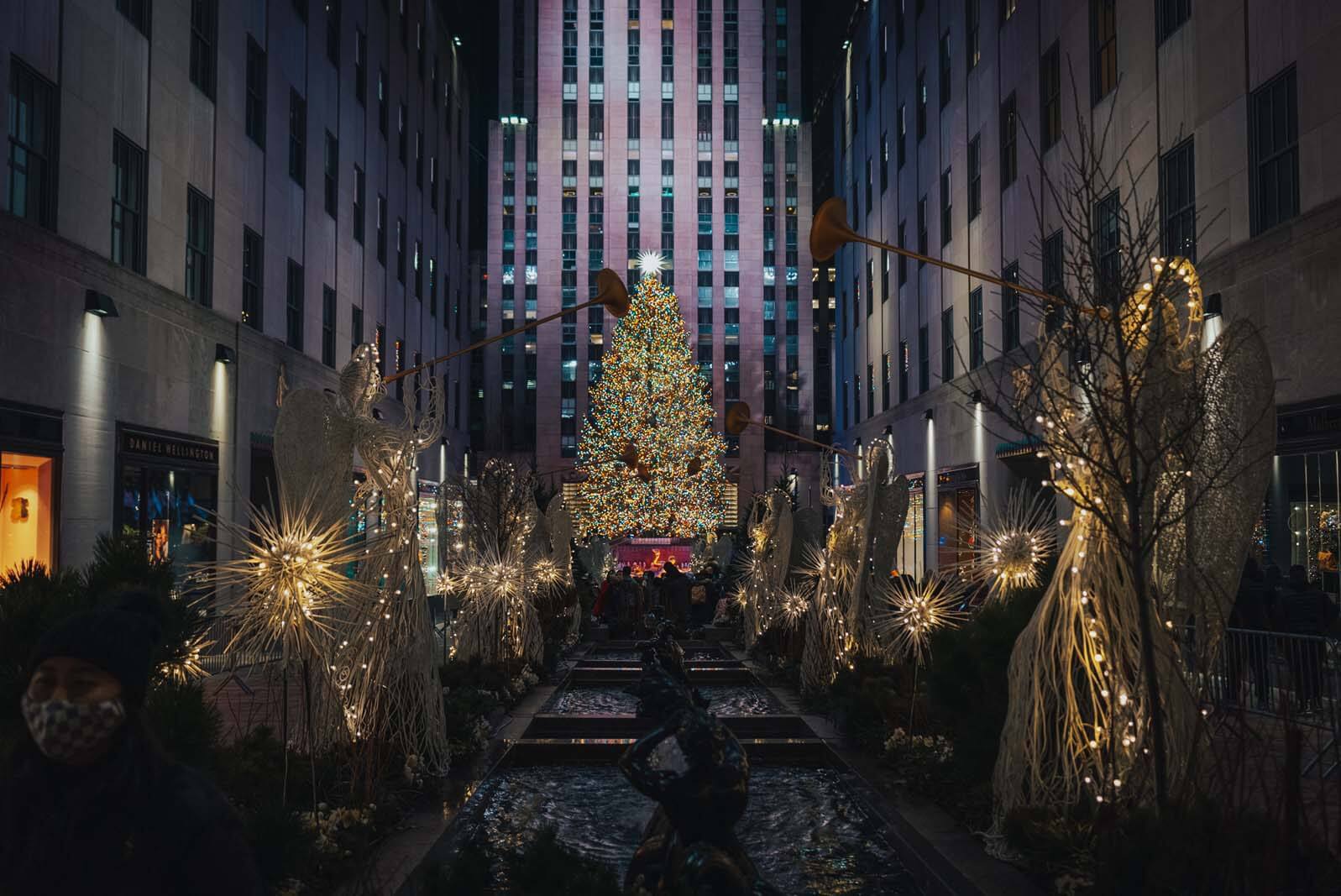 Another holiday favorite and classic! Home Alone 2: Lost in New York is a 1992 comedy and sequel to 1990's Home Alone.
The second film of the Home Alone franchise follows Kevin McAlister, a year after the events of the first film, lost in New York and once again facing off against the same burglars from before.
As with many Christmas movies in New York, this film was set and shot all throughout Manhattan. Many New Yorkers will be able to spot such landmarks as Radio City Music Hall (located at 1260 6th Ave), Central Park, and the famous Rockefeller Christmas tree, the most famous Christmas tree in NYC, plays a huge role in the film.
Home Alone 2 does a very good job at capturing one of the most festive holidays in one of America's busiest cities. We experience the chaos and festivities right alongside the young protagonist—and for that it's easy to see why this is considered a holiday classic!
And due to its popularity after all these years, people still like to search out some of the best Home Alone 2 NYC filming locations in the city! Watch Home Alone 2 Lost in New York here
Miracle on 34th Street (1947)
Speaking of classics, 1947's Miracle on 34th Street is an oldie, but absolute goodie! This Christmas comedy-drama centers on a department store Santa clause who claims to be the real Santa—which subsequently leads to a court case questioning his sanity.
As the title suggests, this movie was set and filmed in New York and serves as one of the more pleasant NYC Christmas movies. In the film's opening, we can see the Kris Kringle character walking on East 61st Street from Madison Avenue to Central Park and the climactic court scene takes place at the New York County Courthouse (at 60 Centre Street).
Miracle on 34th Street is another great example of a good-natured comedy done right. While the 1994 version is definitely more popular and well known, I would have to recommend that everyone check out this certified Christmas classic at least once! Watch Miracle on 34th Street here
Scrooged (1988)
Scrooged stars Bill Murray in a more modern take on Charles Dicken's timeless tale (A Christmas Carol). This 1988 Christmas comedy follows an incredibly successful, but selfish TV executive who is visited by a series of ghosts, who try to convince him to change his ways.
This film was mostly shot in New York City where the story was set. One particular building that was used pretty frequently was the Seagram Building (located at 375 Park Avenue, between 52nd Street and 53rd Street) in Midtown.
While this film may feel a bit mean-spirited when compared to other New York Christmas movies, it is an excellent alternative for those looking for something a bit different in tone than some of the other perennial classics on this list! Watch Scrooged here
Serendipity (2001)
This 2001 flick starring John Cusack and Kate Beckinsale is not only a rom-com but a Christmas film as well! During the holiday season in New York, the two leads meet and fall for each other, only to eventually be separated.
The rest of the story follows the two kindred spirits, years later, in search for one another. The movie definitely lives up to its title, as a series of coincidental events continue to bring our protagonists together.
The Bloomingdale's, at which the couple meets, is located in Manhattan (1000 3rd Avenue and East 59th Street). Also, the restaurant the two are seen eating at (Serendipity III) is located in Upper East Side (At 225 East 60th Street between 2nd and 3rd Avenues).
Although, there other movies that may have arguably tackled the themes of fate and soul mates a bit better (The Before Trilogy, When Harry Met Sally)—this is definitely one of the most entertaining of NYC Christmas movies that is pulled off mostly due to the charm of its two leads! Watch Serendipity here
The Family Man (2002)
The Family Man is a fantasy comedy-drama that stars Nicholas Cage as a career-driven New York City investor who wakes up one Christmas morning with his college girlfriend and two kids in a suburban lifestyle.
While some of the film was shot in New Jersey, a pretty good amount of the movie's screen time is dedicated to the Manhattan area.
Jack's (played by Cage) penthouse is located in Manhattan (641 5th Avenue between East 51st & East 52nd Streets) and the office he works at is located in Midtown (375 Park Avenue and East 52nd Street).
The formula for this film has been seen before, but rarely with such a charming and star-studded cast (Nicholas Cage, Téa Leoni, Don Cheadle, and more). If you're looking for a fun, easygoing holiday film—The Family Man should get the job done! Watch The Family Man here
Dash & Lily (2020)
This 8 episode rom-com series was released on Netflix in 2020 and has been pretty well-received by critics and audiences alike. It centers on a holiday romance between the titular duo as they venture New York City—completing a series of dares from a Bookstore notebook.
As most Christmas movies in New York only have a limited runtime, this Netflix series gives us nearly four hours with these characters and New York City as a whole.
Some of the places we get see include Union Square, Two Boots (Located at 42 Avenue A), and The Strand Bookstore (At 828 Broadway) where Dash finds the notebook.
Not to mention the famous Dyker Heights Christmas lights make an appearance along with some of the other best spots for New York City Christmas lights around the city!
For those in need of some holiday spirit, Dash & Lily has plenty of that and more! Currently, there is no official news as to whether the show has been renewed for a second season or not, but there's always hope.
Eyes Wide Shut (1999)
Eyes Wide Shut is a strange entry for this list, but still belongs in the upper echelon of Christmas movies set in New York! This 1999 is about a New York doctor who, after hearing his wife reveal a painful secret, goes a night-long journey of self-discovery.
This movie has a lot on its plate genre-wise. Part psychological drama. Part erotic-thriller. Part mystery. You can also add Christmas movie to that list, as the film takes place in New York during Christmas time.
Unlike most Christmas movies in New York, most of this film was shot in the United Kingdom. However, some scenes were shot in New York including scenes for the Harford's (played by Tom Cruise and Nicole Kidman) apartment in Manhattan (located at 146 Central Park West between 74th & 75th Streets).
This film delivers some pretty great performances from Cruise and Kidman, but it's Stanley Kubrick's intense mesmerizing direction that steals the show! A seemingly odd choice for NYC Christmas movies—but an interesting watch nonetheless. Watch Eyes Wide Shut here
The Night Before (2015)
The Night Before is a 2015 Christmas comedy about three lifelong friends who, after believing this will be the last year they'll be able to hang out together, spend Christmas Eve night searching for the best holiday party in New York City.
As is the case with many Christmas movies set in New York, we get see a couple Manhattan landmarks throughout the movie including The New Yorker (located at 481 8th Ave) and The Rink at Rockefeller Center (located at 600 5th Ave).
This film is the kind of stoner comedy we've come to expect from stars like Seth Rogen—but it does deliver on the laughter and it's never boring. If you're looking for some easy entertainment, The Night Before is a great movie to watch during the holiday season! Watch The Night Before here
When Harry Met Sally (1989)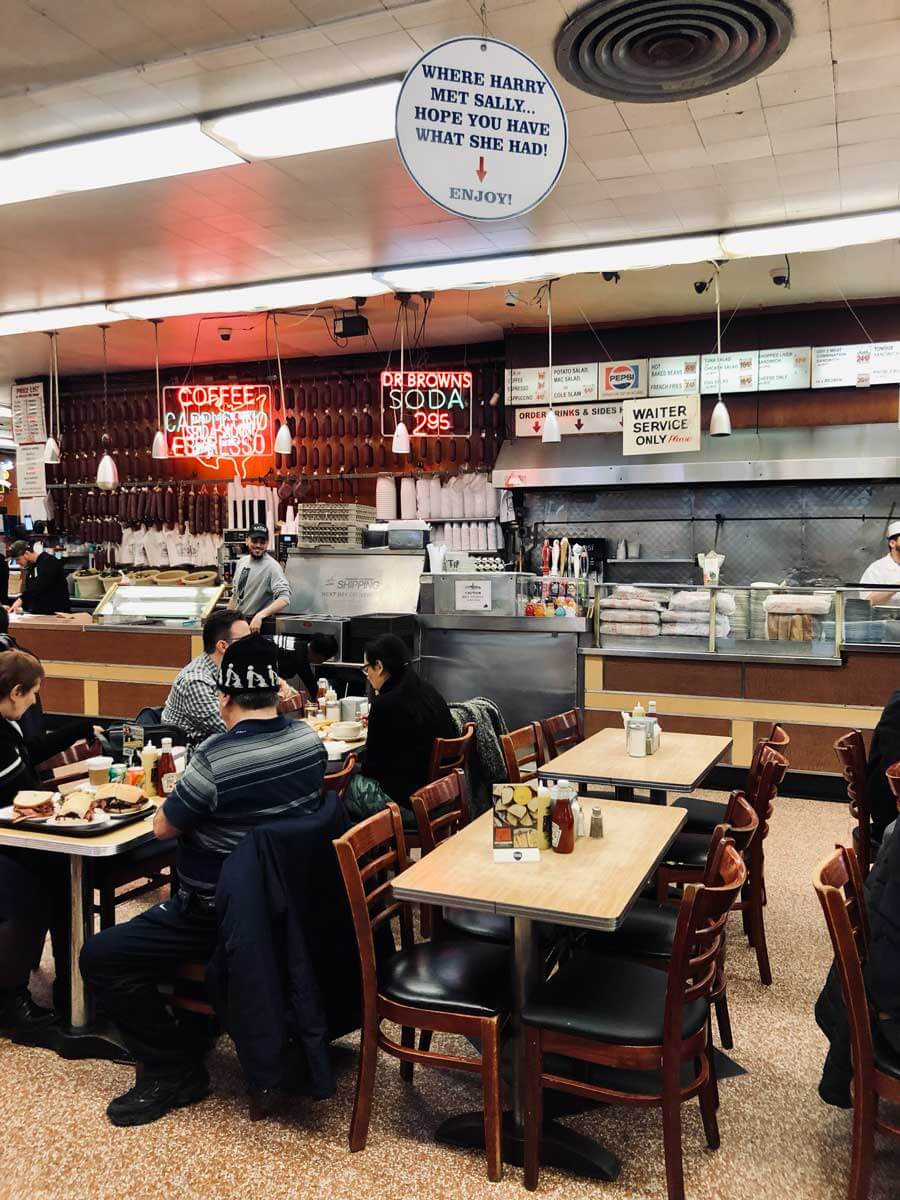 Released in 1989, this rom-com set a new standard for its genre. But, not only is When Harry Met Sally one of the greatest romantic comedies of all time, but also serves as one of the greatest New York Christmas movies too!
This movie follows two titular characters as they try to maintain a platonic friendship throughout different seasons of their lives—the holiday season included. As we watch their journey, we not only get an intimate look at the character's personal lives but New York as a city too.
One of the film's funniest scenes occurs at Katz's Delicatessen (located at 205 E. Houston Street) in Lower East Side Manhattan.
A true touchstone for romantic-comedies and NYC Christmas movies as well—When Harry Met Sally is one of the top must watch movies about New York City! Watch When Harry Met Sally here
Thin Man (1934)
This mystery-comedy was released in 1934 and was one of the first of its kind! Thin Man is about a retired detective visiting New York for the holidays with his wealthy wife—and together they try to investigate a murder. While most Christmas movies set in New York are filmed in NYC, this film was shot mostly in California.
But the set was designed to look like New York City including the MGM's Grand Central Terminal (The New York Terminal being located at 89 East 42nd Street and Park Avenue).
Arguably one of the most entertaining couples ever put to screen; William Powell and Myrna Loy performances make this one holiday romp not to be missed! Watch Thin Man here
Trading Places (1983)
Trading Places is a 1983 screwball comedy that has often been recognized for its revitalization of the genre. It stars Dan Aykroyd and Eddie Murphy, an upper-class investor and a poor con artist who finds that their lives have been switched at the whim of two wealthy brothers, engaged in a bet to see which of the two would make the best of their situation.
This film is not only considered a great comedy, but one of the best Christmas movies in New York as well as the story takes place during Christmas time. Even though most of the film was set and filmed in Philadelphia, the story's climax was shot at the World Trade Center in Manhattan.
There a lot of great performances in the film (Ralph Bellamy, Don Ameche, Jamie Lee Curtis, Denholm Elliott), but it's really Saturday Night Live alums Murphy and Aykroyd who steal the show.
Even though some of the humor hasn't aged all that well, this still a fun satire that doubles as a Christmas movie! Watch Trading Places here
It Happened on 5th Ave (1947)
Another holiday film about class issues—It Happened on 5th Ave is a 1947 romantic comedy about two homeless men who decide to live in a vacant New York City home owned by a rich businessman in Virginia.
Things become more interesting when the daughter of said businessman shows up and decides to take residence there herself.
Set in New York City during the holiday season, there are several landmarks that make an appearance in the film such as the Indian Hunter Statue at Central Park, as well as the Waldorf-Astoria Hotel (Located at 301 Park Avenue between East 49th & 50th Street) in Manhattan.
While this film feels much smaller in scope compared to other Christmas movies in New York, lovers of more intimate and low-stakes drama will find plenty to enjoy in Roy Del Ray's It Happened on 5th Ave! Watch It Happened on 5th Ave here
A Very Murray Christmas (2015)
This 2015 Christmas musical comedy is one of the most interesting NYC Christmas movies to be sure! A Very Murray Christmas stars Bill Murray (As himself) as he waits for several guests to arrive to his New York City suite for a live TV special—but an untimely snowstorm makes it seem less likely that people will show up.
A risky premise, but if any star can pull it off; it'd be Murray with his dependably entertaining screen presence. The majority of the film was shot at The Carlyle Hotel (35 East 76th Street) in Manhattan making this story feel like the most secluded of the New York Christmas movies on this list.
With Bill Murray's enjoyable performance, some amusing musical numbers, and the huge roster of guest appearances (George Clooney, Paul Shaffer, Amy Poehler, Chris Rock, Miley Cyrus, Maya Rudolph, Jason Schwartzman, Jenny Lewis, & Rashida Jones)—it's hard not to find something to love about this Netflix comedy!
The Apartment (1960)
This classic rom-com from 1960 was very shocking to audiences at the time of its release. The Apartment follows a New York insurance clerk who, in an attempt to climb the corporate ladder, lends out his apartment to co-workers in need of a place to commit adultery in.
Definitely doesn't sound like your typical rom-com, right?
That said, the film has since been regarded as not only one of the greatest films of all time, but one of the best New York Christmas movies also, as most of the story takes place during the holiday season.
Despite the festive time the story is set in, the movie can be pretty poignant. In one specific scene, Baxter (Played by Jack Lemmon) gets stood up by Miss Kubelik (Played by Shirley McLaine), which was filmed in front of the Majestic Theater (Located at 245 West 44th Street).
One of the best-executed tragic-comedies of its era; Billy Wilder's The Apartment is one of the best Christmas movies set in New York as well as one of the best movies period! Watch The Apartment here
---
About the Author
Eric Garner is a Brooklyn-based writer who was raised down south who loves talking about film, TV, hip-hop, and fashion.
---
Did we miss your favorite Christmas movie set in New York City? Let us know in the comments below and happy holiday season!