Looking for some great NYC Christmas photo spots this season? We got you! There are so many reasons to celebrate during the holidays in New York, this is one of the most magical times of year to be in the city, and in addition to all the holiday cheer are the cheery holiday displays from Christmas trees, holiday lights, glammed up hotels with seasonal decor, and festive displays only available during the winter holidays you can imagine that there are several photo opportunities around the city to get that perfect memento this season.
Whether you're looking to take a great photo for grandma or for your friends on social media, we have curated this guide to the most beautiful NYC Christmas photo spots to get your postcard-perfect photo this season!
Disclaimer: This post contains affiliate links.
Where to Take Christmas Photos in New York
Rockefeller Center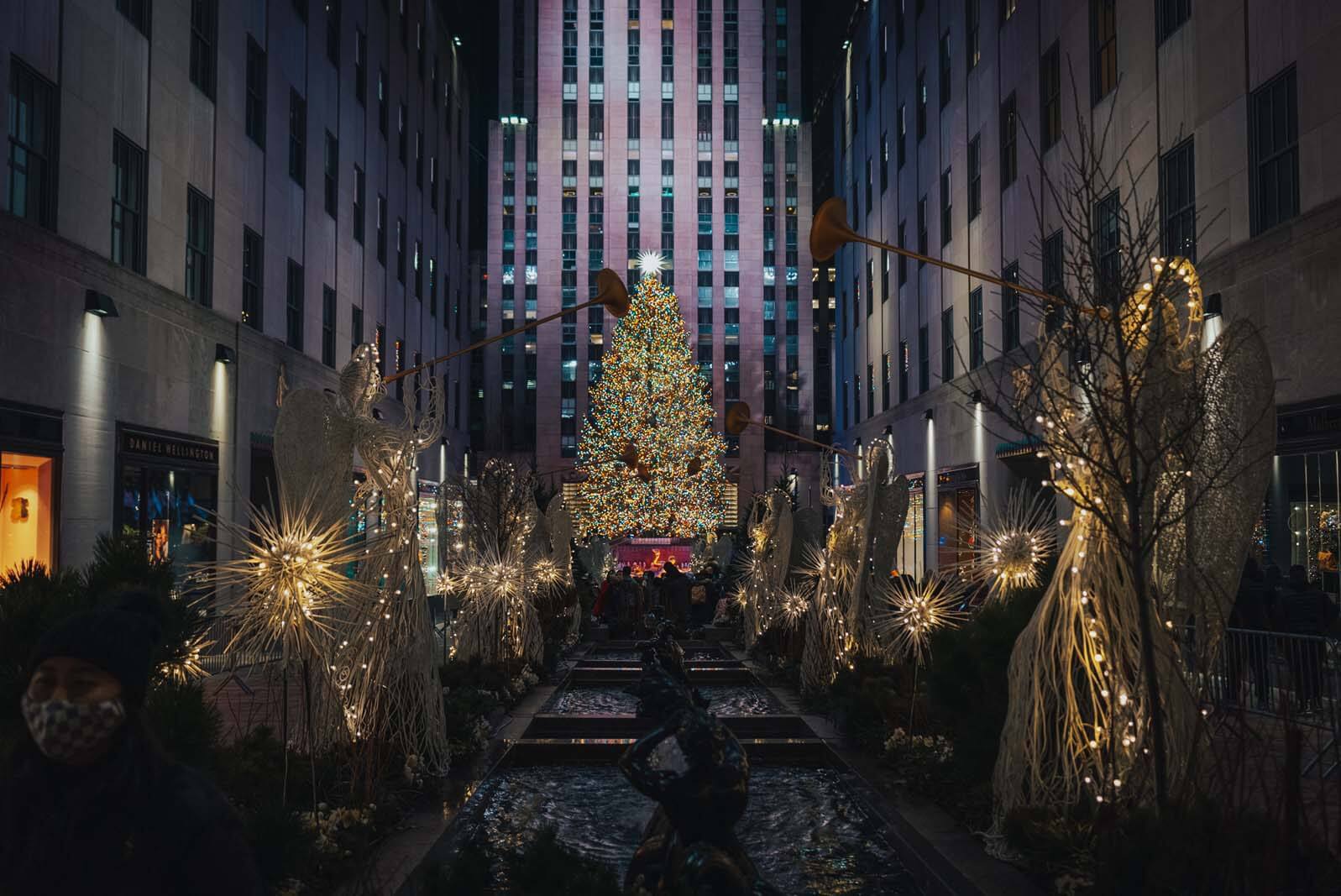 Starting off with one of the most famous NYC Christmas photo spots, Rockefeller Center is the place everyone wants their picture taken during the holidays. The number one attraction here is the Rockefeller Center Christmas Tree that makes for the most magical backdrop.
Or it makes you feel like Kevin McCallister! Yes, this is probably the most famous Home Alone 2: Lost in New York filming location in New York City. Not to mention, many Christmas movies set in New York have all been filmed here too, so when you get a photo here, it feels straight out of a scene you've seen in TV and movies since a child!
Because this is one of the Christmas photo spots in New York at the top of everyone's list, visitors can expect to take on heavy crowds while trying to capture photos. Some tips can be to visit Rockefeller Center on weekdays and possibly later in the evenings when crowds seem to simmer down, although that all goes out the window closer to Christmas Day in New York.
Even with the crowds, it's possible to get photos. I've done it several times and it just requires a little patience to wait for an opening if you don't want too many people in your photo.
The immediate area at the base of the Rockefeller Christmas Tree makes for great photos as well as heading over to the Channel Gardens and getting the line of illuminated angels leading to the Rockefeller Christmas Tree in the frame as well.
Walk over to where you can see the Rink at Rockefeller Center to get photos with the ice skaters below and the Rockefeller Christmas tree overlooking everyone.
Better yet, this photo spot is close to some of the other best things to do in NYC at Christmas too! Like the Saks Fifth Avenue holiday light show, the elaborate holiday window displays along 5th Avenue, the 6th Avenue attractions like the Fox News Christmas Tree, Radio City Music Hall, and of course you're not a far walk from Byrant Park Winter Village – all of which are excellent choices for where to take Christmas photos in New York!
Dyker Heights Christmas Lights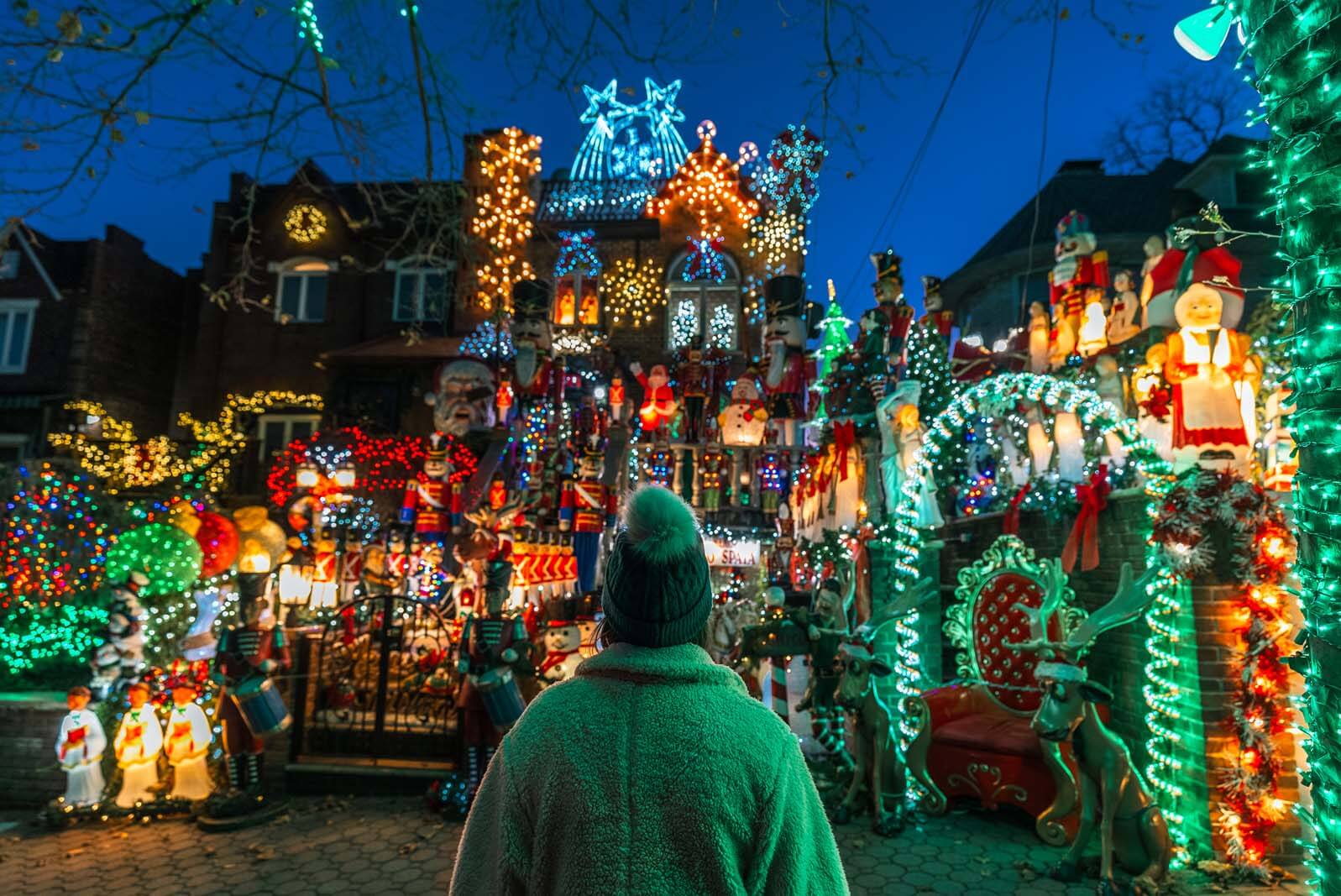 Venture into Brooklyn for one of the best residential displays of Christmas lights in New York City and dare I say in the country? Dyker Heights in Brooklyn is easily one of the most whimsical and picturesque Christmas photo spots in New York. Each year, the neighbors in this affluent Brooklyn neighborhood string hundreds of thousands of lights and decorations in a friendly neighborhood competition of the best holiday display!
The neighborhood has so many over-the-top homes with holiday decor on display that it attracts over 100,000 people annually!
Each year, the Dyker Heights neighborhood has been known to transform into a complete winter wonderland, which has become a very popular spot for where to take Christmas photos in New York. Some of the best stretches for picture taking are between 11th to 13th Avenues and 83rd to 86th Streets.
Our biggest tip for getting the best possible photos at Dyker Heights is to arrive at dusk before the big crowds start to roll in. This would require you to visit on your own, which is easy to do using the subway via (86th Street Station from the R train or 79 Street Station from the D train), you will have an estimated 15-minute walk to the neighborhood from the station.
Now, you can still get photos even with the crowds, but just as any other popular spot, it will require patience. If you don't want to try to venture this far into Brooklyn on your own, you can try a Dyker Heights Christmas lights tour that departs from Midtown Manhattan by bus and includes a guided tour of the most extravagant light displays.
Either way you decide to go, it's worth it and we have a full guide on the best tips and tricks for visiting the Dyker Heights Christmas lights worth checking out to plan your visit.
Lotte New York Palace
One of the most beautiful hotels during the holidays that's really popular to get a Christmas photo in New York City is at the Lotte New York Palace. As featured in Gossip Girl, 30 Rock, 27 Dresses, and more, Lotte New York Palace is not only beautiful enough to be featured on screen in several shows, but their outdoor courtyard has one of the most beautiful Christmas trees open to the public for photos!
Visitors can pop into the courtyard and find a towering Christmas tree with gold and red bulbs and the surrounding are is decorated to the nines with garland.
Step inside the lobby to find even more Christmas trees and decorations guaranteed to take your breath away—the elegant staircases make for the perfect New York Christmas photo moment.
We recommend trying to get here early if you can as this does get to be one of the busier photo spots in New York at Christmas. This is a very popular family photo spot since the tree is big and it really stands out in the backdrop in photos! This Christmas tree also is a great day photo along with night photos, because of the amount of Christmas ornaments it really pops and stands out even in daylight!
The Cartier Bow!
Located at 52nd and 5th Ave is where you can find one of the most iconic NYC Christmas photo spots! The Cartier flagship store in Manhattan screams Christmas spirit with its big red bow wrapped around the building along with complementary lights and garland around the windows below.
You can expect large crowds along 5th Avenue during the holidays as it is one of the most popular Christmas photo spots in New York. To get the best photos that include the entire building and all the extravagant décor, it is best to stay across the street rather than being directly underneath Cartier. Consider arriving around dusk, photos turn out perfect with just a little sunlight!
Be sure to plan enough time (and wear comfortable shoes) so you can walk up and down 5th Avenue to see some of the best holiday window displays in NYC while you're at it!
Bryant Park Winter Village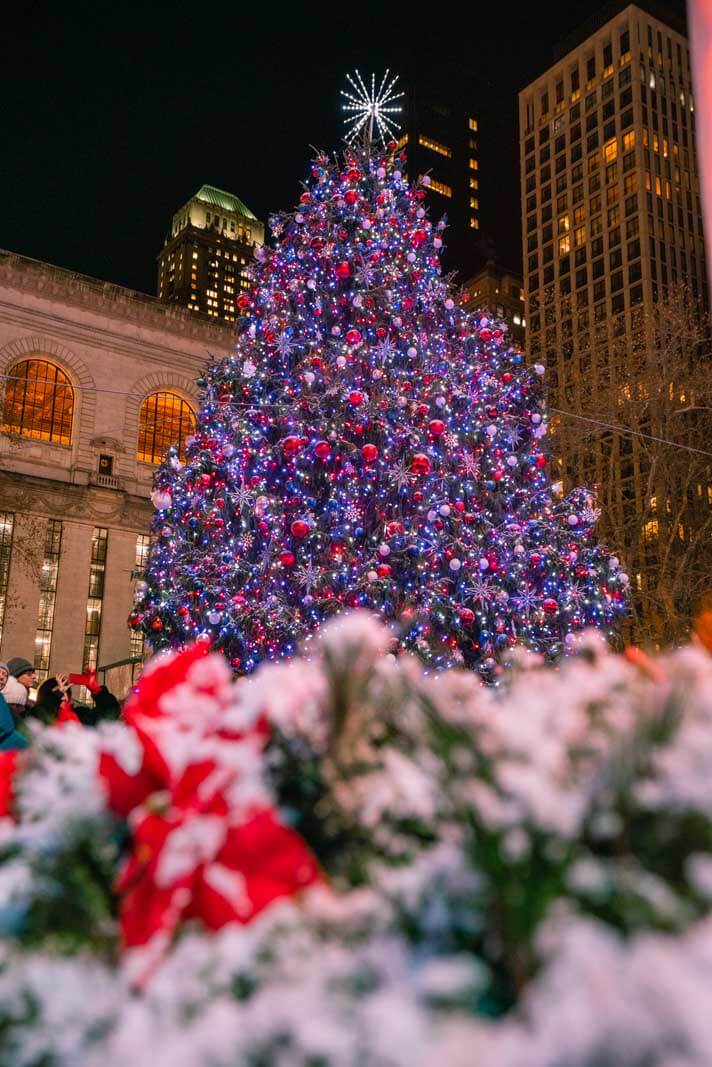 One of the most whimsical things to do during the holidays and one of the best NYC Christmas photo spots is Bryant Park Winter Village! This was named the best Christmas market in the world this year (I'm not going to argue that) and it probably has alot to do with how magical this park is every holiday season!
Starting in early November, this is one of the earlier places to celebrate the holidays. Find the ice skating rinks, rows of interesting vendors selling goodies, the bubble igloos for dining, the lodge which has all kinds of goodies (and a crazy hot chocolate!), and come closer to the end of November/early December for the gorgeous Christmas tree here too!
There are plenty of spots for where to get Christmas photos in NYC here and it's best to come with at least two hours to spare so you can walk around and really take in the seasonal ambiance here!
Rolf's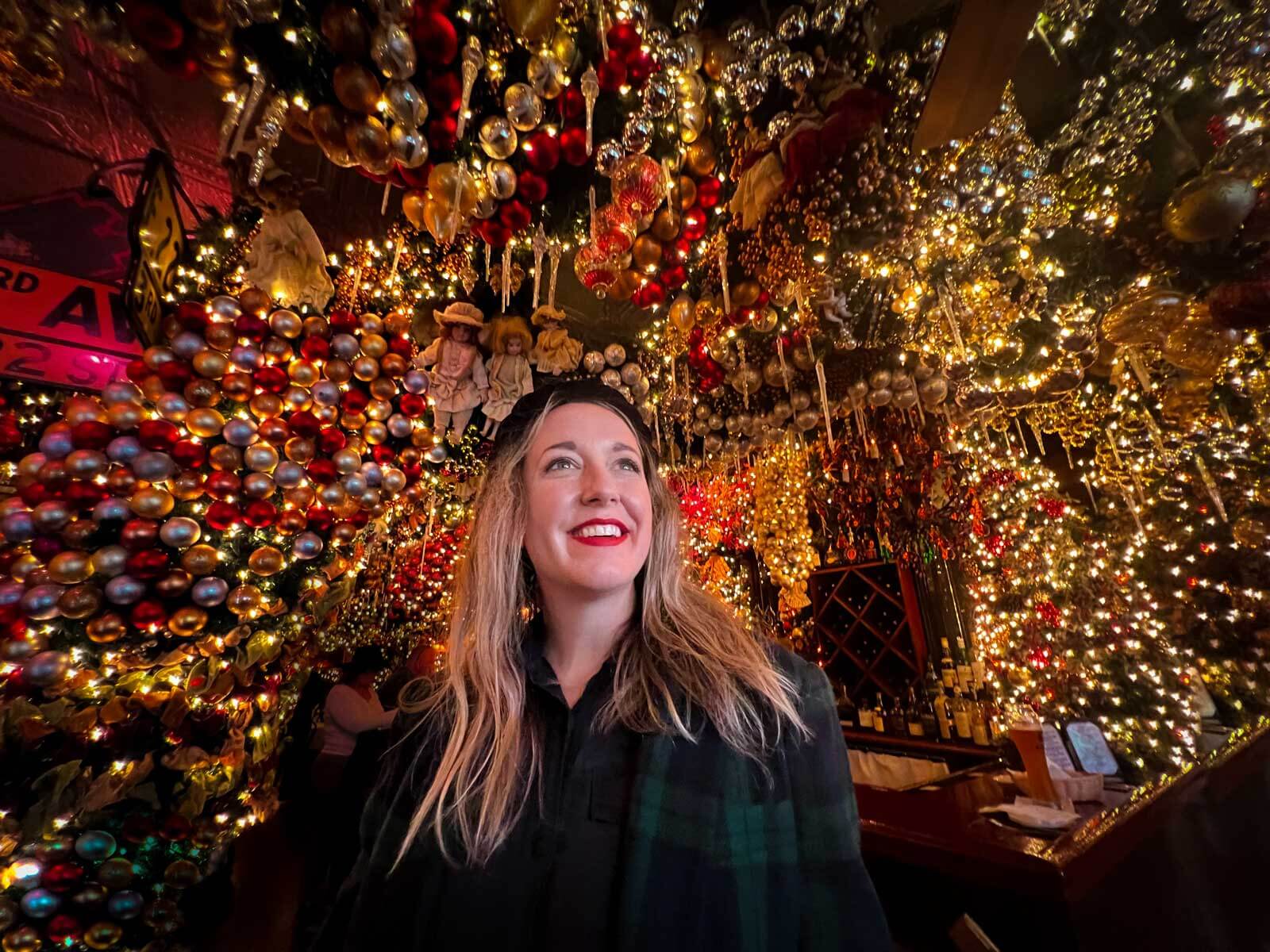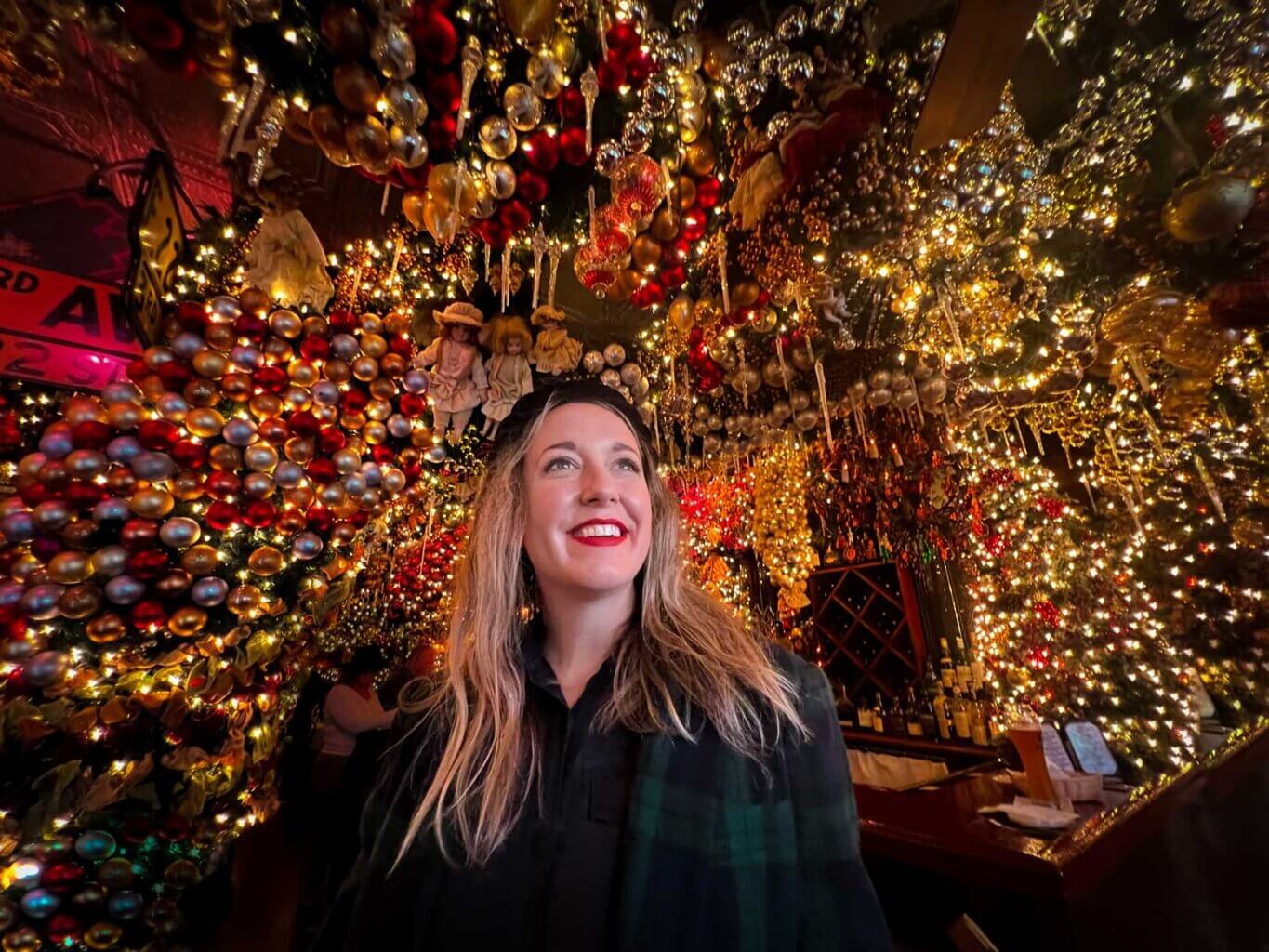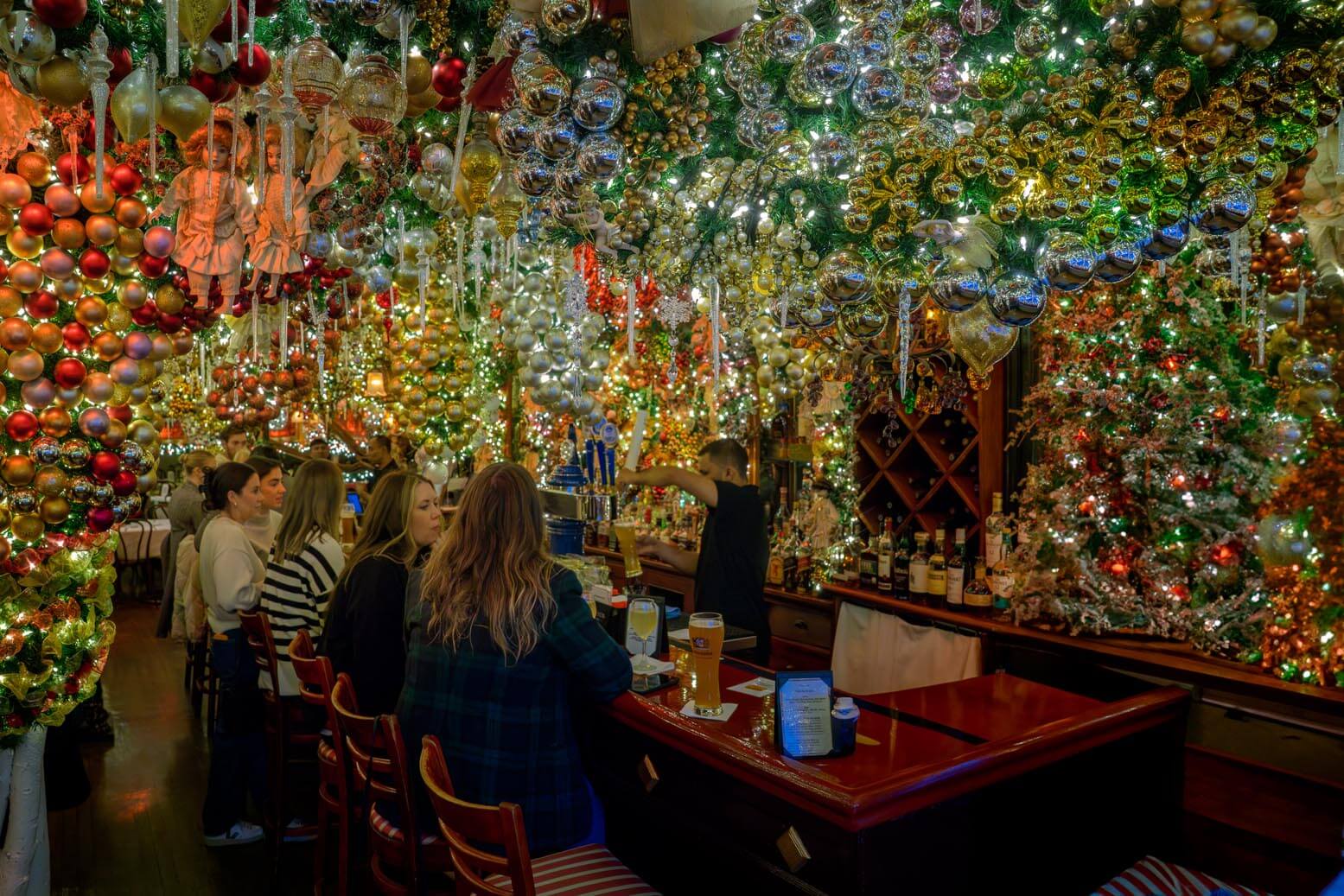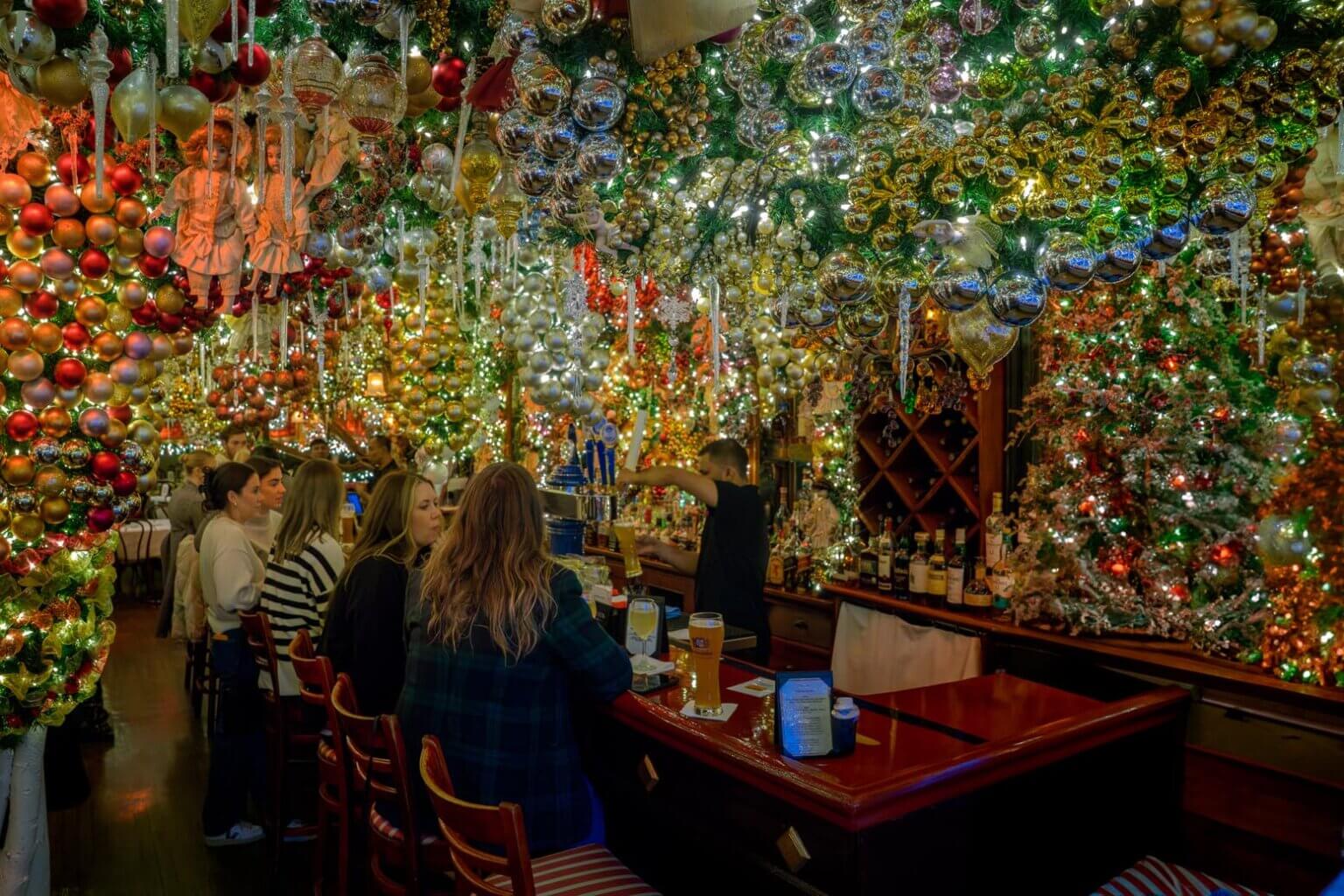 Easily one of the most famous, if not THE most famous Christmas restaurants in New York is Rolf's German Restaurant in Gramercy. The key to this popular Christmas photo spot in New York City is to come earlier in the season! Otherwise, it will be a bit crowded and difficult to get that photo you're looking for here.
Each year in late September, Rolf's turns into a Germanic winter wonderland decked out with intricate ornaments, lights, and Kris Kringle(s). Oh, and a few creepy dolls. But you barely notice those because their entire ceiling is covered with Christmas ornaments!
Because of its popularity, the earlier in the season you can go, the smaller the crowds will be! If you are lucky to snag a reservation during the holiday season closer to Christmas, you're lucky! Usually, a line wraps around the block to get in the whole month of December.
If you want to try to make a reservation, if you have to do so by phone and they don't always answer. So try your luck and have a little patience (and persistence) and you might get one!
But, what I do every year is just go around Halloween time to start getting amped up for the holiday season. And if you get your Christmas photo done as early as late September, your secret is safe with us! No one needs to know that you got your iconic holiday pictures taken months earlier! All that matters is that you cross Rolf's off your NYC Christmas photo spots list!
Lillie's Victorian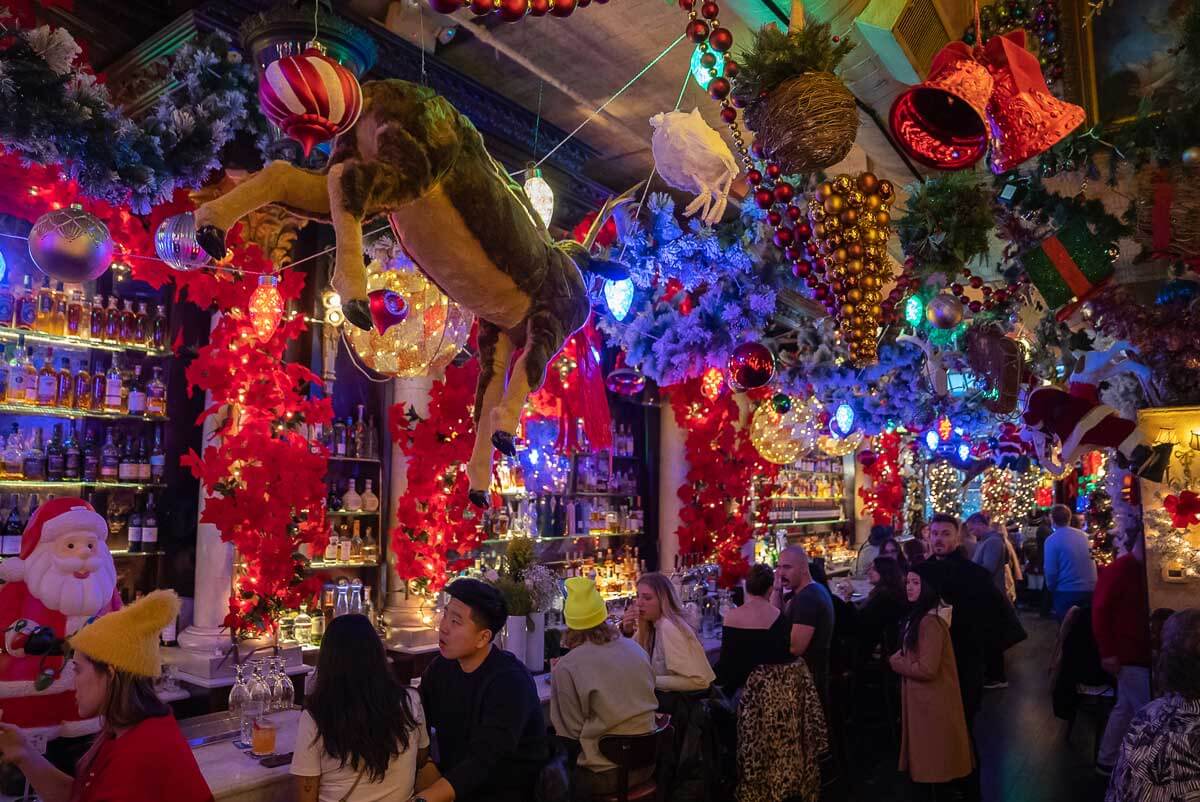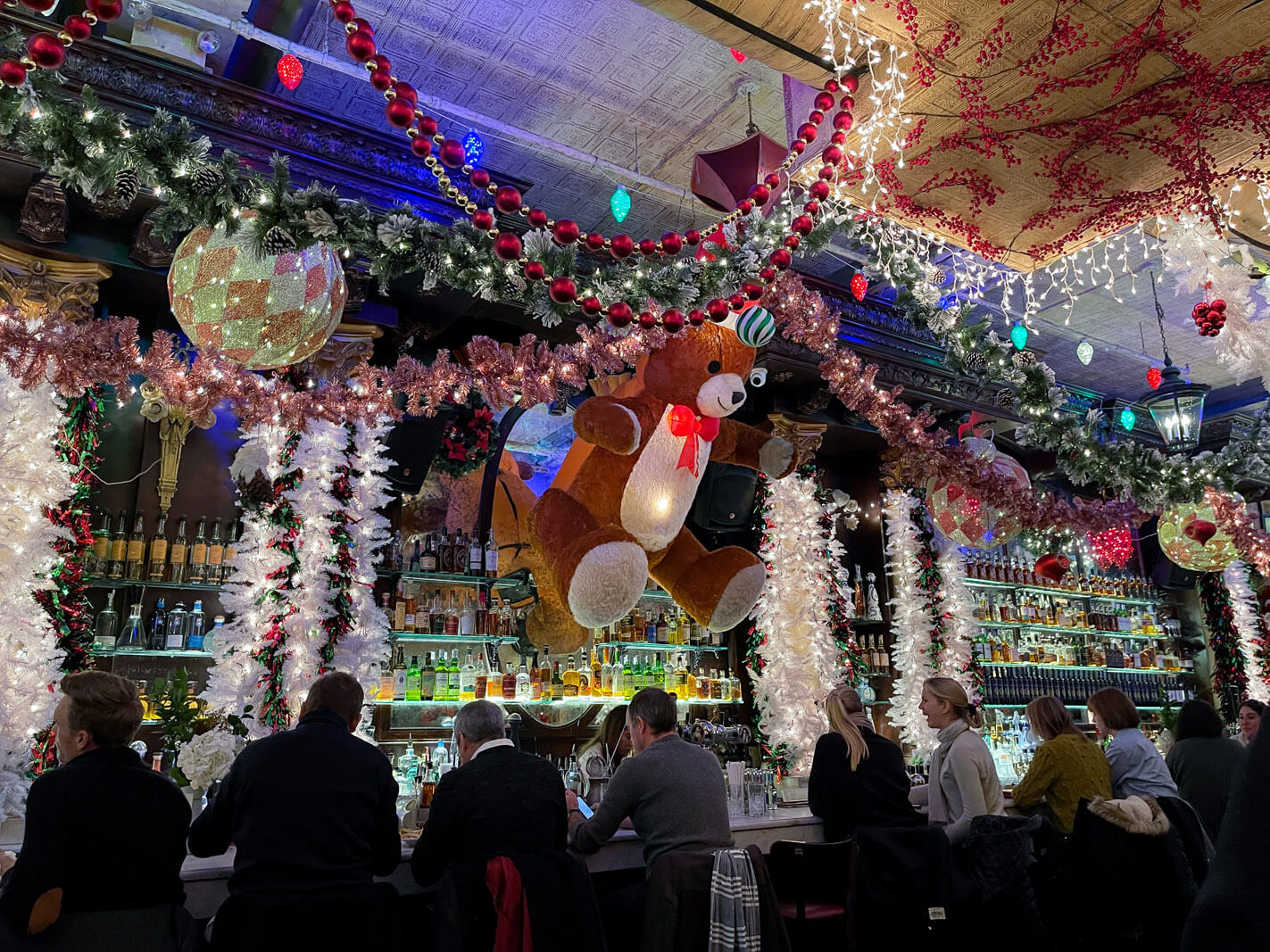 Another one of the can't miss restaurants that famously decks the halls each year is Lillie's Victorian Establishment with two different Manhattan locations, in Times Square and Union Square.
This Victorian-themed restaurant and bar actually decorates ror several holidays throughout the year, and somehow each year their holiday decor changes. The restaurant and bar literally gets decked to the halls from floor to ceiling, sometimes you can barely tell there are all kinds of Victorian antiques and decor underneath it!
This is one of the most fun NYC Christmas photo spots since you can also sit down and enjoy a meal or some fun cocktails while you're here.
Oscar Wilde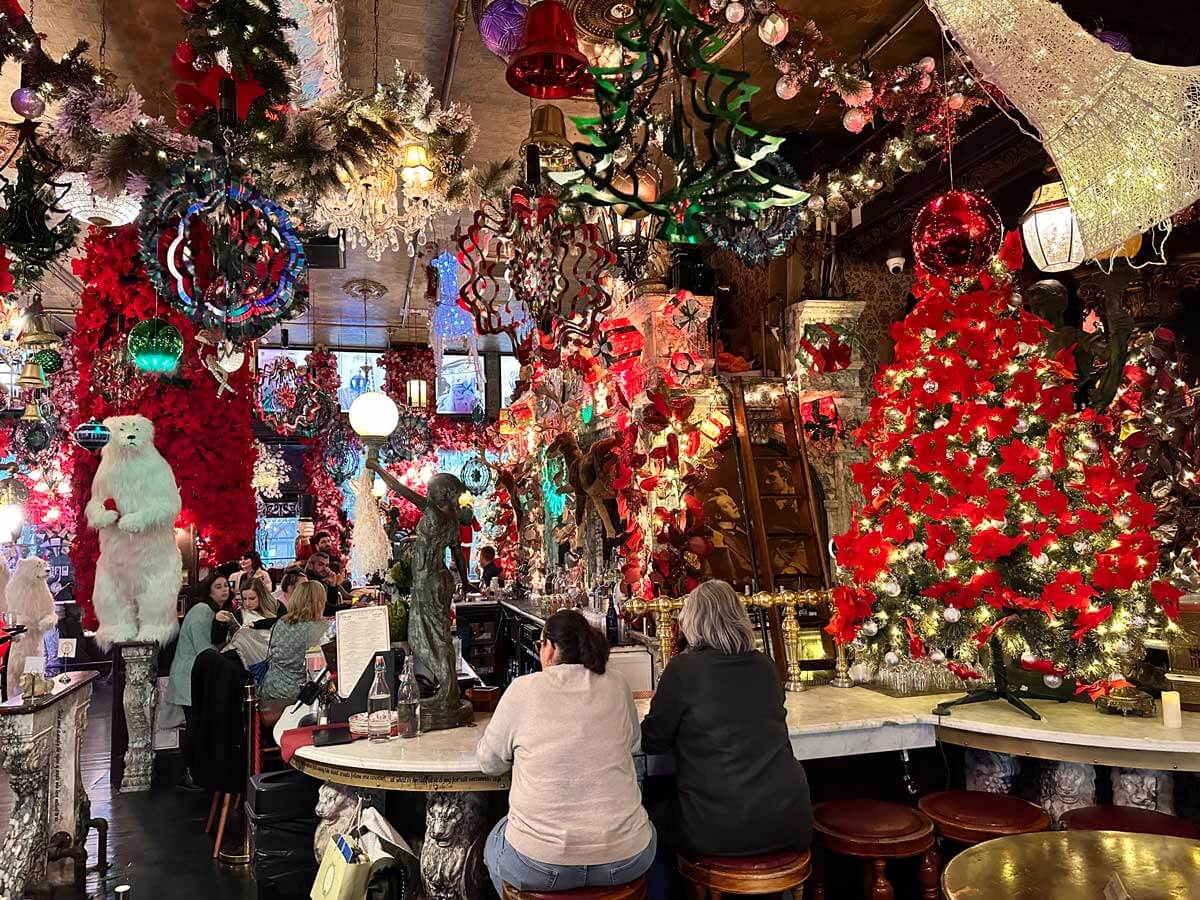 Another Victorian-style bistro, it's actually from the same parent company as Lillie's and totally worth checking out. Oscar Wilde is a bar/restaurant themed after Wilde himself and it's home to the longest bar in the city! During the holidays you can bet that this space fills up with holiday decor (each year it's different) making it one of the best NYC Christmas photo spots!
Nearly every square inch of Oscar Wilde is decked out in over-the-top Christmas décor. Lights, ornaments, and garland hanging from the ceiling, life-size nutcrackers, trees, and in 2022 they had a fun polar bear display.
Dining in or grabbing a cocktail at this Midtown bistro will set your Christmas spirit aglow! You won't need to wonder where to take Christmas photos in New York when places like Oscar Wilde take holiday cheer to a whole new level.
Papillion Bistro & Bar
Another restaurant that gets decked to the nines during the holiday season is Papillion Bistro & Bar, which also doubles as one of the best NYC Christmas photo spots! Papillion is a French bistro in Midtown that goes above and beyond to spark Christmas spirit in New York and is also a great place to eat.
Decorated from floor to ceiling, Papillion is one of the most vibrant Christmas photo spots in New York. From twinkling lights, stockings galore, life-size teddy bears and nutcrackers to one of the most beautiful and picturesque staircases in the city, Papillion is where to take Christmas photos in New York this holiday season!
While nearly every square inch of the interior is dressed in the name of Christmas, the exterior is also worth a photo op. With lights and angels aglow, it will be nearly impossible to walk by without snapping something postcard-perfect!
Radio City Music Hall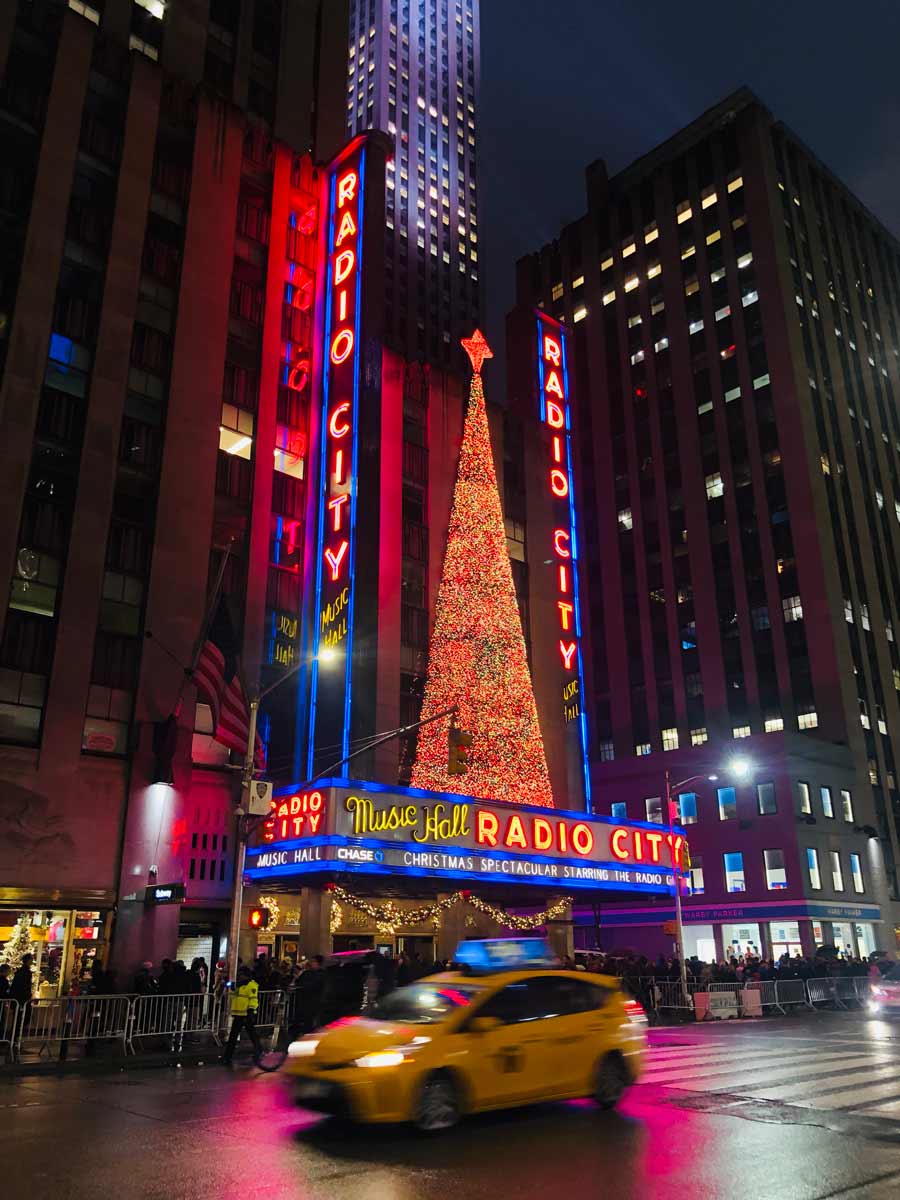 One of the most iconic Christmas photo spots in New York is without a doubt, Radio City Music Hall. What is already one of the best places to take photos all year long, turns into one of the most beautiful backdrops the city has to offer during the holiday season.
The multi-color, 65-foot electrical Christmas tree wedged between the famous Radio City Music Hall illuminated signs has become a staple for New York City Christmas and makes for one of the best NYC Christmas photo spots.
For some of the best angles and opportunities, stay across the street from Radio City, I find that the far side of the fountain offers a cool vantage point of the giant Christmas bulbs and Radio City in the backdrop. Or from just across the street, you may even get some yellow cabs in the background to add a little extra New York City spice to your photos.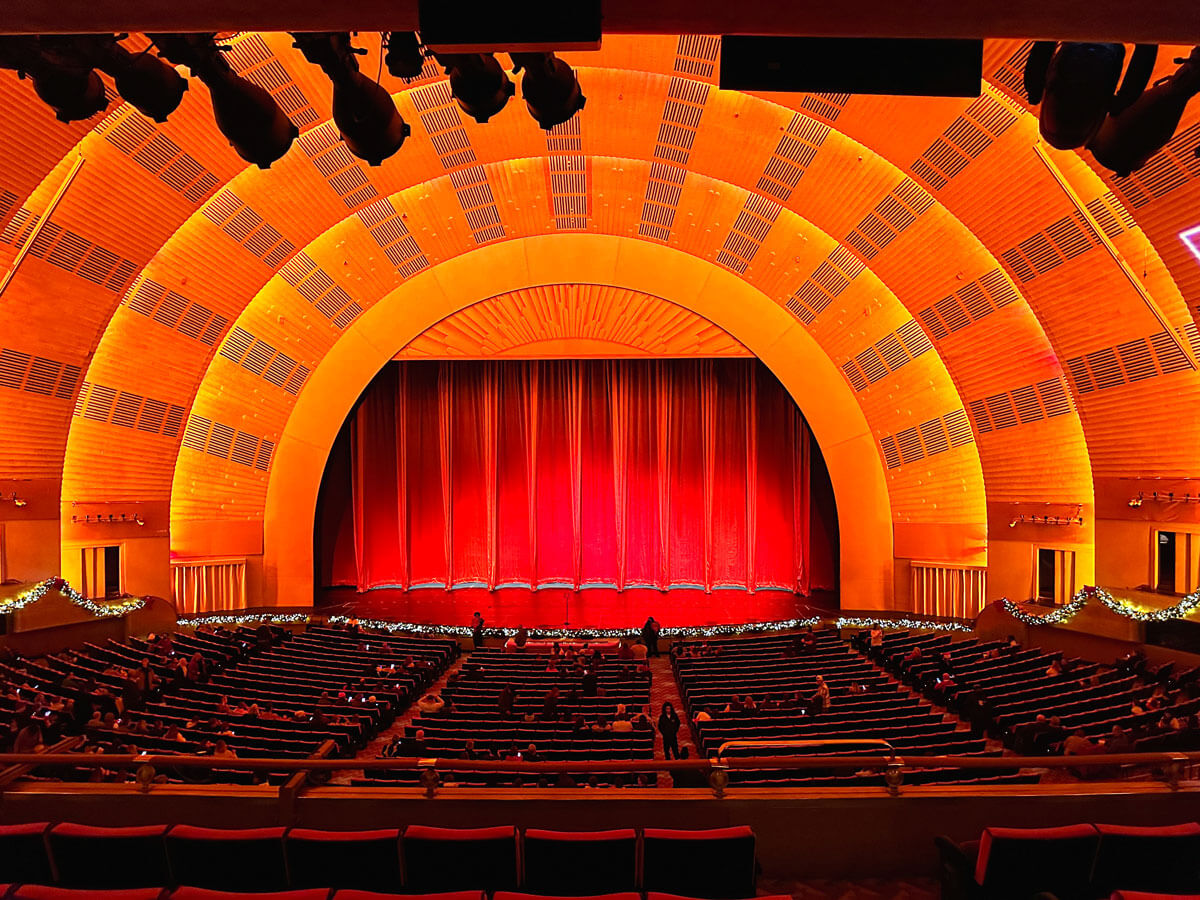 You can get tickets for the Radio City Christmas Spectacular on SeatGeek, and when you add our promo code BROOKLYNGUIDE to your SeatGeek account, you receive $20 off your first ticket purchase. (We receive a small commission at no extra cost to you)
Another great option and addition is to take a behind-the-scenes tour of Radio City Music Hall where you get to meet one of the Rockettes too!
Psst…we also have some really cool New York City Christmas ornaments you can shop including cool Radio City Music Hall and Rockette's ornaments!
Giant Christmas Decorations of Sixth Avenue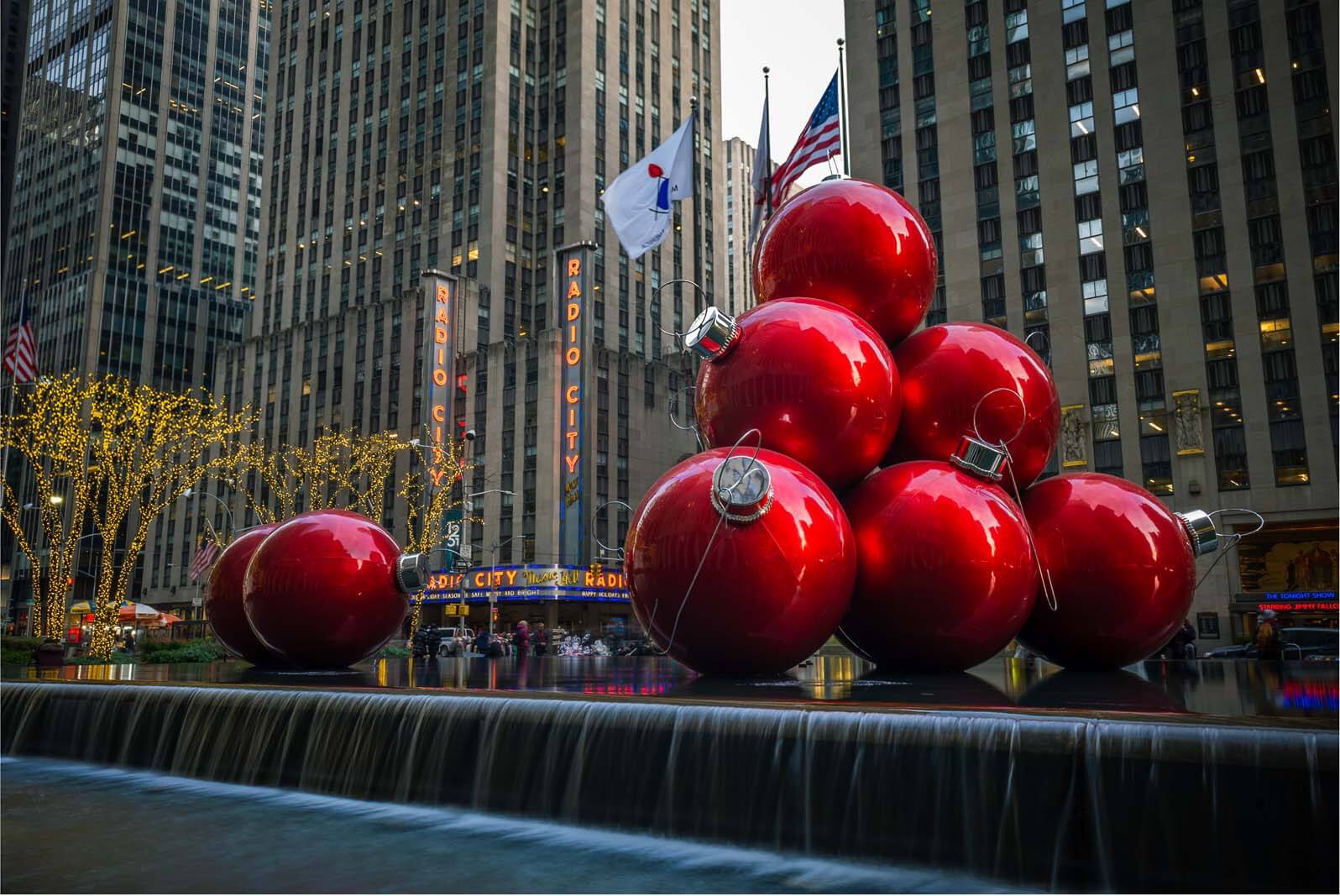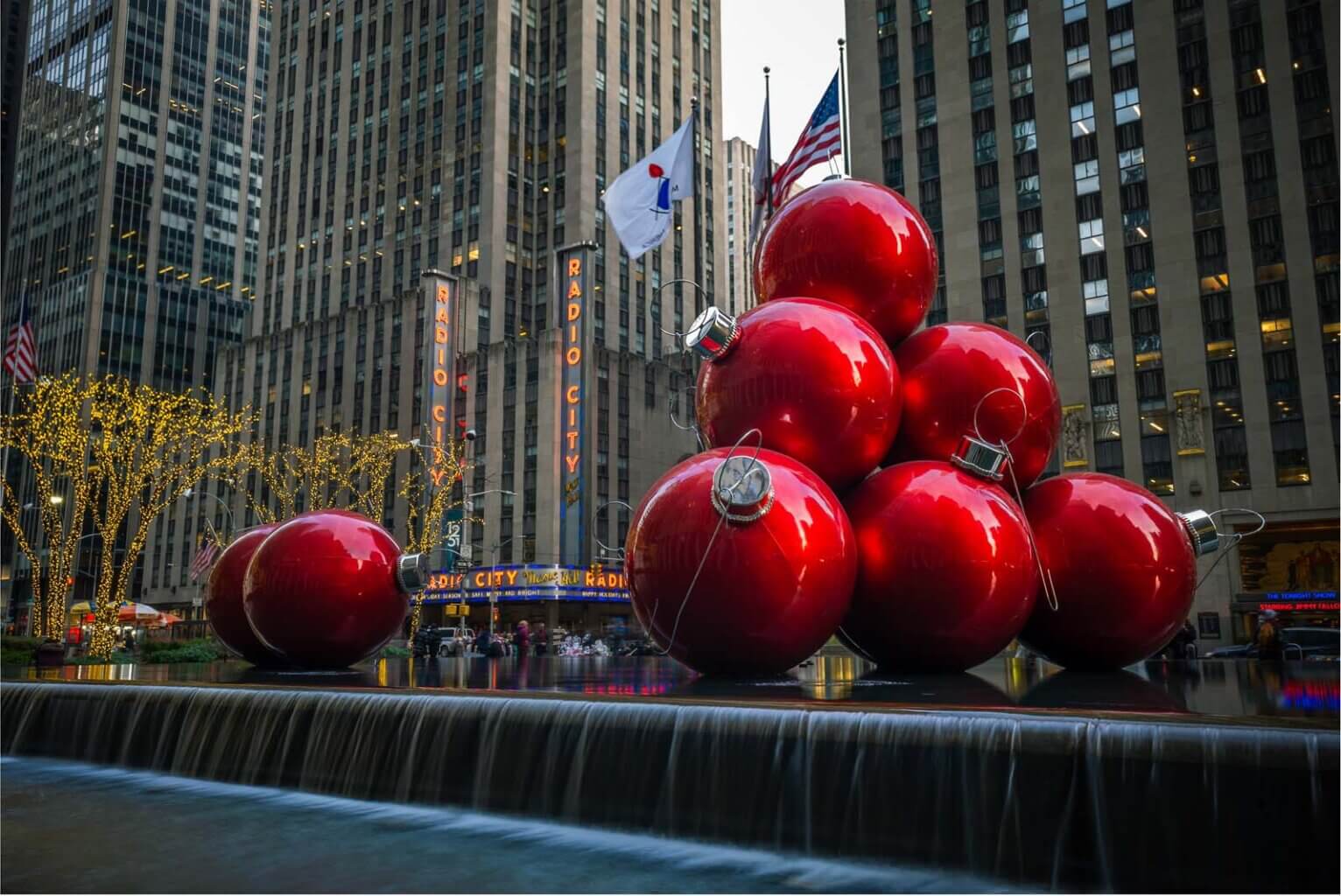 Each year you can find one of the best NYC Christmas photo spots located in front of the 1251 Sixth Avenue building. Right across the street from Radio City Music Hall are the big, red, and beautiful Sixth Avenue Ornaments.
Framed just right, you can capture the ornaments with Radio City Music Hall illuminated in the backdrop—making it one of the most postcard perfect Christmas photo spots in New York!
Nearby, you'll also spot the giant string of colorful Christmas lights and giant candy canes too! I love the larger-than-life holiday ornaments!
The Giant Candy Canes are located just across the way from Radio City Music Hall and next to the MLB flagship store.
Keep in mind that these Sixth Avenue NYC Christmas photo spots can experience high foot traffic! Patience and great angles are the best ways to keep other Christmas-goers out of your frame!
Saks Fifth Avenue Holiday Light Show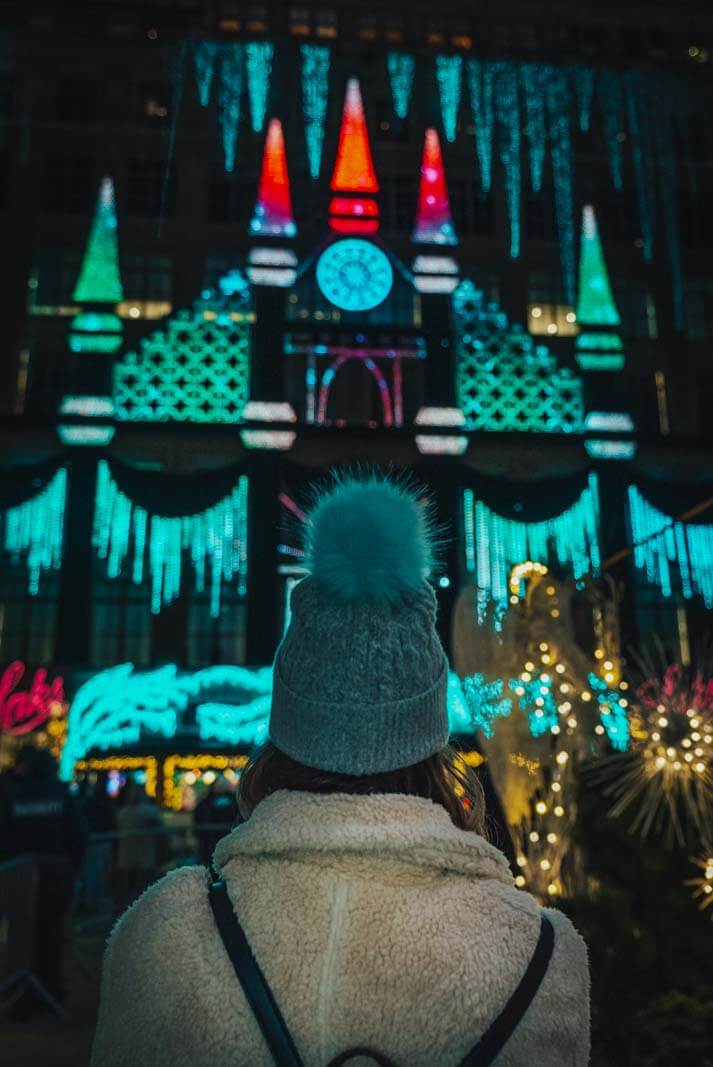 Also found on our guide to the most whimsical things to do in NYC during Christmas, the Saks Fifth Avenue flagship store in Rockefeller Center is going to be one of the best places where to take Christmas photos in New York this Christmas season.
While it can be a bit challenging with the crowds, this one is actually easier later in the night in my opinion when the crowds start thinning out. (Which is also a great time to get the Rockefeller Christmas Tree too!).
Each year, Saks Fifth Avenue puts on a holiday light show projected on the exterior of their flagship department store. Turn around and you're looking at the Channel Gardens and the angels lined up leading to the Rockefeller Christmas tree too! What a location!
From 5 PM to 12 AM daily during the holiday season, you can catch the larger-than-life holiday light show synched to cheery tunes about every 10 minutes, each light show lasts 3-4 minutes and since it happens so frequently you can enjoy the show first then try to get your photos on the next round.
The viewing area can get pretty crowded, so you may have to wait for an opening or if you come later at night it's much easier to capture the scene without as many people!
Washington Square Park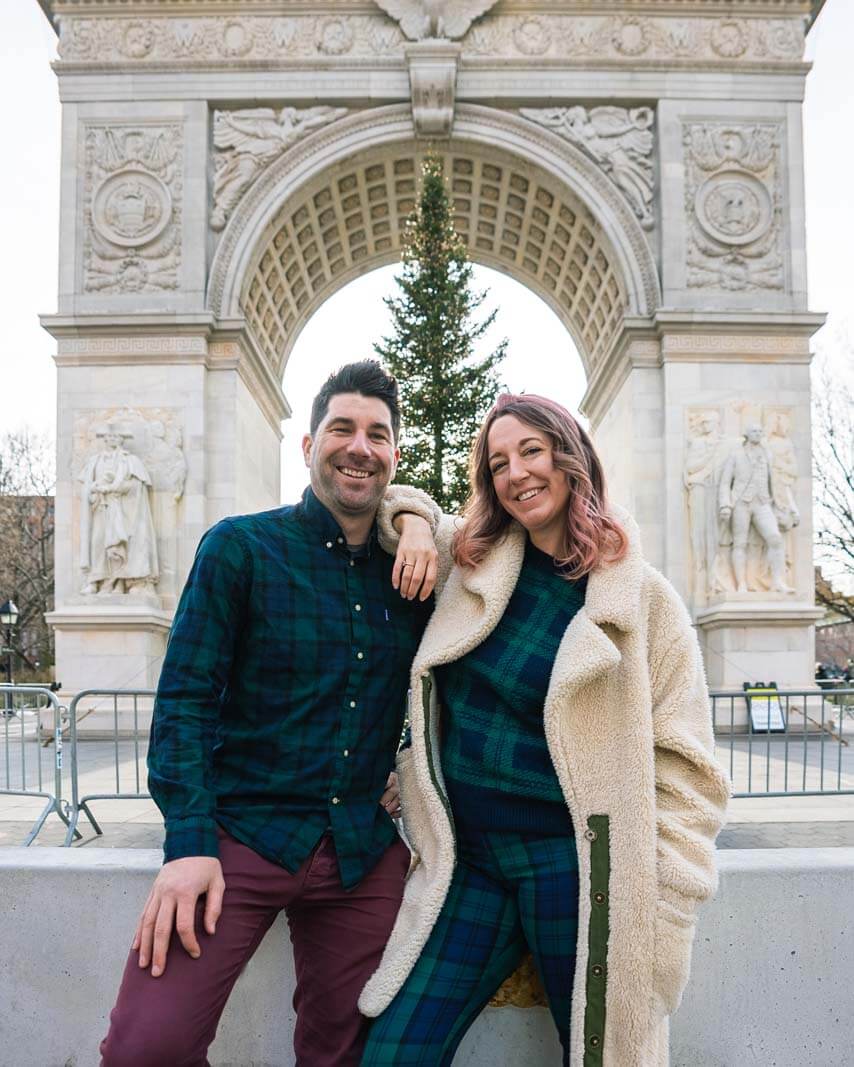 Next on our list of beautiful NYC Christmas photo spots is Washington Square Park in Greenwich Village. Also, home to one of the prettiest Christmas trees in New York, Washington Square Park always makes has something going on too making it a fun stop for people-watching!
The most postcard-worthy photo to capture here includes the gorgeous Christmas tree under the Washington Square Arch. This spot is even more magical if there is a dusting of snow – although we don't always get so lucky for a White Christmas in NYC!
Also, if you happen to be around on Christmas Eve there is an annual Christmas caroling event that you can attend in person to tie in some holiday magic during your Christmas photoshoot!
NYSE Christmas Tree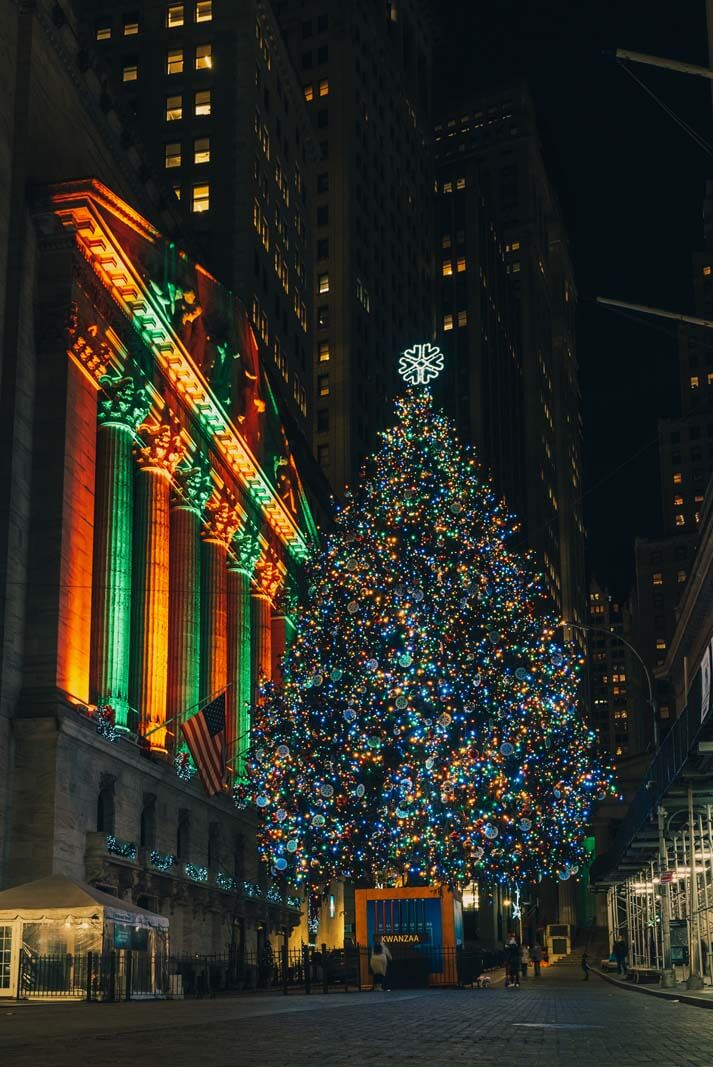 I love heading down to Lower Manhattan during an NYC Christmas itinerary, I know that most people hit the Midtown hotspots, but Lower Manhattan has some great spots for Christmas photos in NYC too!
One of our favorite and prettiest Christmas trees in the city belongs to the New York Stock Exchange. The NYSE tree has been spreading Christmas cheer since 1923 as it towers right next to the financial capital of the world. Better yet, other popular things to do in Lower Manhattan and the Financial District are steps away like the iconic statues like the Charging Bull or Fearless Girl. And if you frame your photo just right, you could get the Fearless Girl and the beautiful tree in the same shot.
This is one of the NYC Christmas photo spots you just can't miss, and afterwards take a stroll down Stone Street or head to Fraunces Tavern for a great dinner in one of the most historic bars in New York as well as their gorgeous holiday decor!
Hudson Yards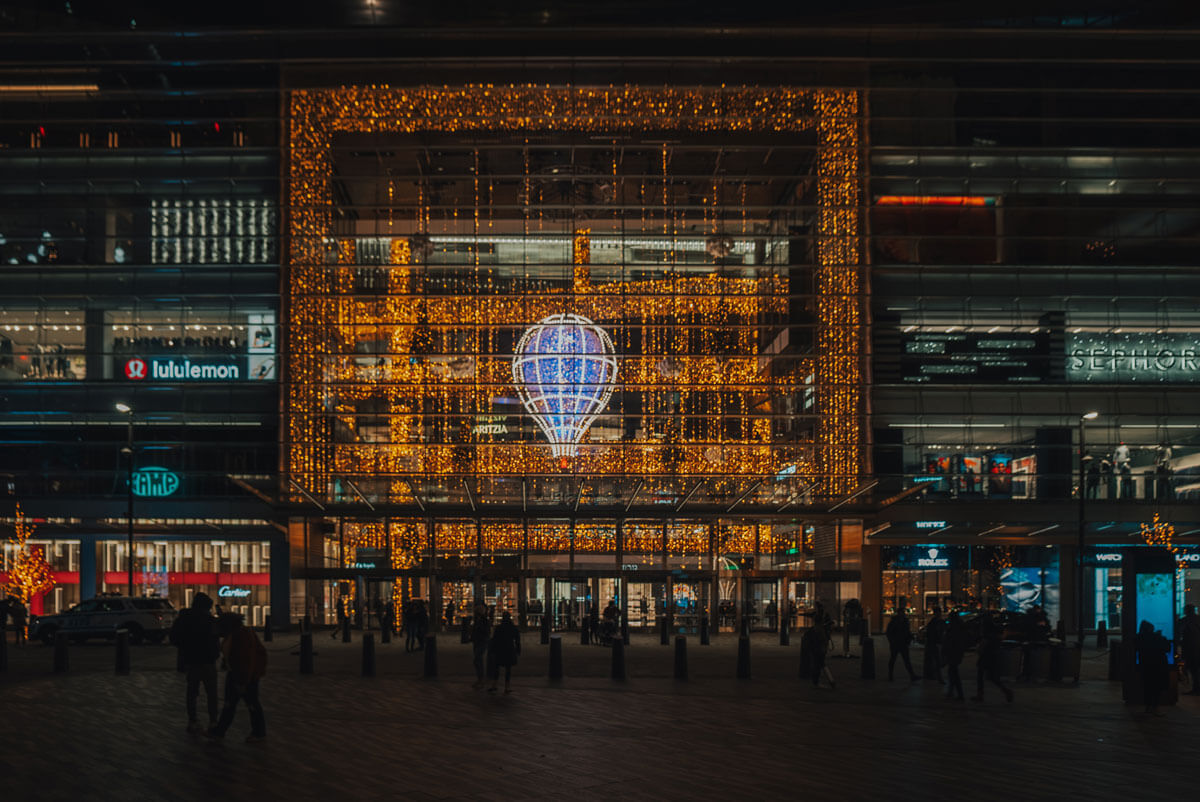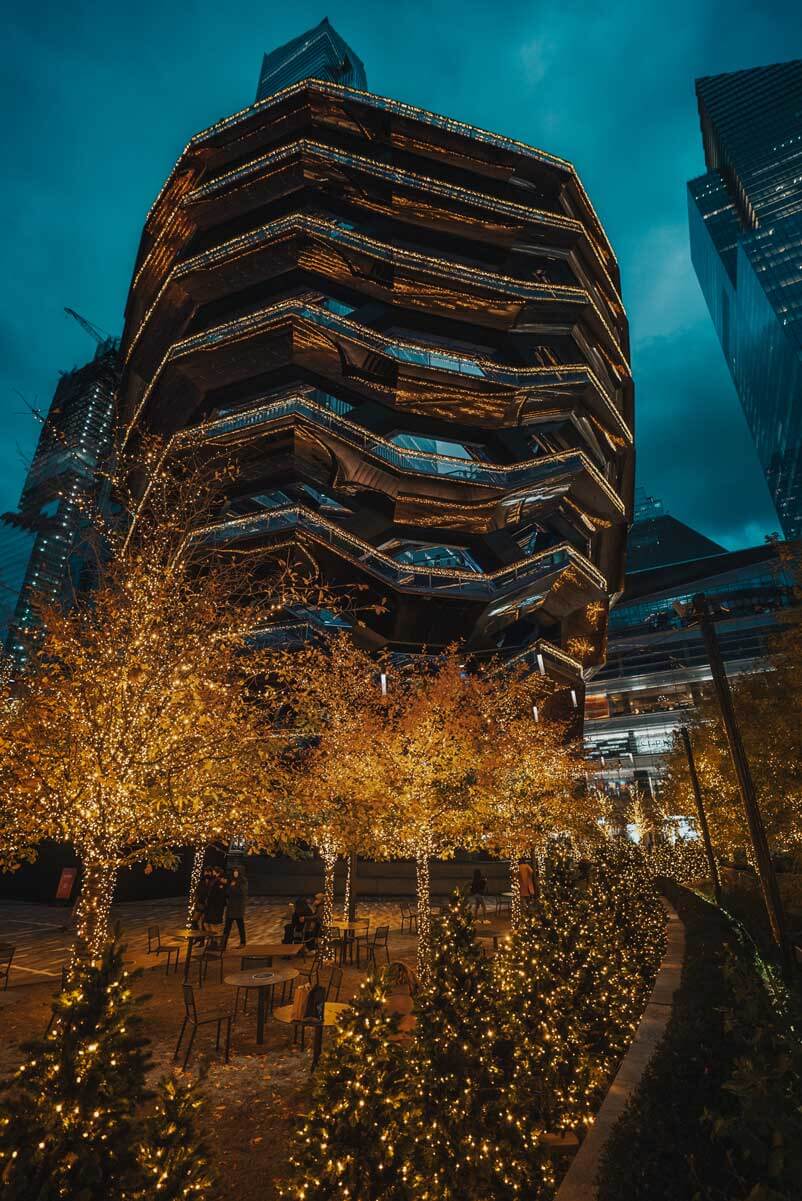 You might have already seen this spot on your Instagram feed. Decked out from top to bottom in over two million gorgeous twinkling lights, sparkling hot air balloons, and whimsical Christmas trees, Hudson Yards is as postcard-perfect as it gets in New York.
Inside the luxury shopping mall and around the Vessel are the NYC Christmas photo spots to check out both indoors and outdoors each year with their whimsical hot air balloon light displays and strings of gold lights all around the trees surrounding the mall making you feel like you've stepped into a magical winter forest.
And a huge bonus that you can use your holiday shopping bags as perfect photo props!
South Street Seaport
Located in Lower Manhattan on the East River waterfront is South Street Seaport, who offers unbeatable views of the Brooklyn Bridge, shopping, dining, and even rooftop ice skating during the holidays. On top of that, you can catch one of the most beautiful trees in the city, perfect for festive pictures as one of the best Christmas photo spots in New York.
Take a stroll down Fulton Street where you'll be greeted with the giant Christmas tree, and adorable storefronts, and when you reach the waterfront, head to the Winterland Ice Rink on Pier 17.
Central Park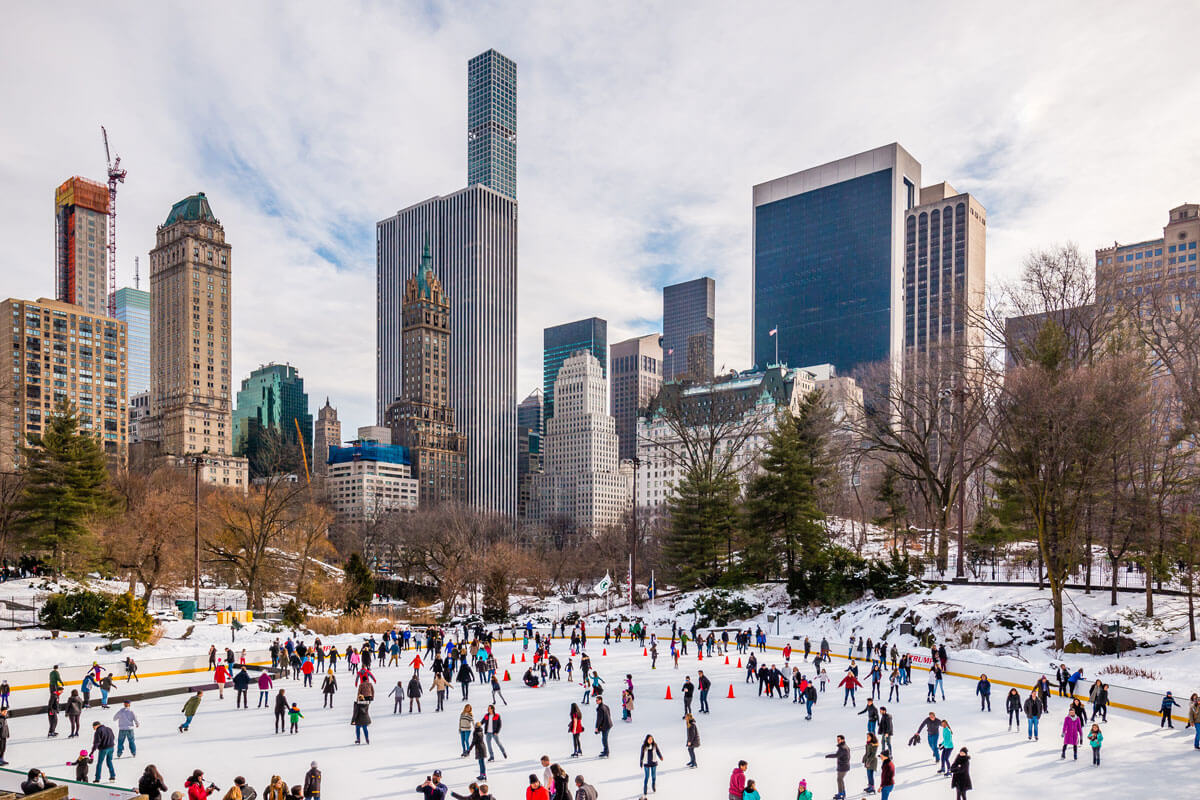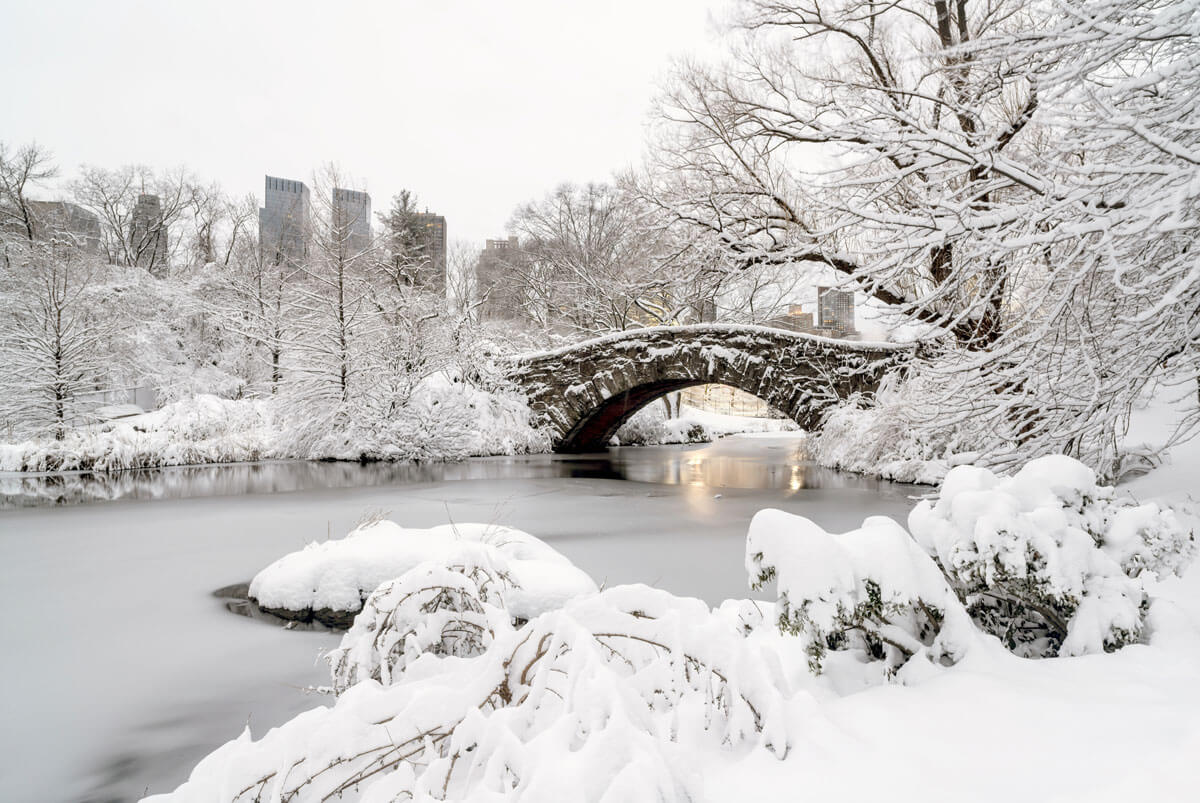 One of the more quintessential, yet magical Christmas photo spots in New York is Central Park. There are so many gorgeous places to visit in Central Park, which becomes extra magical when we do get gifted with a fresh dusting of snow from mother nature along with one of the city's most breathtaking ice-skating rinks, Wollman Rink, you're bound to capture some of the most incredible holiday snapshots this season.
And if there is snow, head to Pinebank Arch Bridge Central Park at West 62nd Street for one of the most iconic Elf filming locations in New York when they got into the snowball fight!
While in Central Park, take a visit to Tavern on the Green—a long-standing NYC restaurant and chic holiday and party venue. And if you're going to be in the city for the holidays, see if you can snag one of their highly coveted reservations for Christmas dinner or New Year's Eve dinner. With their own Christmas tree and enchanting décor, Tavern on the Green is one of the great Christmas photo spots in New York.
And while you're at Central Park getting your holiday photos in New York, head to the Pulitzer Fountain just outside the park near the Plaza Hotel! (Another Kevin McCallister moment) and be sure to head to the Columbus Circle Holiday Market, one of the best holiday markets in NYC!
Fox News Christmas Tree
As I've clearly picked out multiple trees on this guide, there is no shortage of big and beautiful Christmas trees throughout the city and one you just can't miss this Christmas is the Fox News Christmas Tree. This tree also happens to be on Sixth Avenue, along with our beloved oversized Ornaments, Candy Canes, and Radio City Music Hall.
This picture-perfect Christmas tree stands 50 feet tall with over 12,000 ornaments and 340,000 lights and makes for one of the most magical Christmas photo spots in New York.
Needless to say—get busy hitting all the Sixth Avenue NYC Christmas photo spots this holiday season, but there usually are openings to get photos and in my opinion, this Christmas tree is also a great one to photograph during the daytime as well as night.
Bergdorf Goodman Window Displays
The BEST Christmas window displays in New York every season are the Bergdorf Goodman holiday windows. The others are spectacular and all, but nothing quite compares to the artistic and creatives that bring these maximalist windows each year to the windows of Bergdorf Goodman!
The craftsmanship that goes into these displays each year is out of this world. Created with all kinds of different mediums, Bergdorf Goodman holiday displays make for one of the most breathtaking NYC Christmas photo spots!
The one thing you have to keep in mind here is that there can be a glare during the day, I prefer to take these photos at night. Be sure to walk in front of each of the windows too, each one is themed by color and pay close attention to the details, there are so many that go into each and every window.
Holiday Train Show at New York Botanical Garden
One of the most amazing holiday traditions in the city is the annual Holiday Train Show at the New York Botanical Garden in the Bronx. Not only do you get to walk around the winter gardens at the New York Botanical Gardens, but the train show itself is a great Christmas photo spot in New York!
The Holiday Train Show is a must-see event with an impressive scaled-down size train with over 200 famous New York City landmarks decorated for the holidays. To say it's charming is an understatement.
After checking out the Holiday Train Show, make sure to check out NYBG Glow! NYBG Glow might be the most sparkling and magical 1.5 mile walk you've ever taken with plenty of NYC Christmas photo spots along the way.
The Beekman Hotel
One of the most beautiful hotels in the city is set in the Victorian-era Temple Court Building with intricate 19th-century details you just don't find in modern architecture like the atrium that has rays of light that cascade down 9 floors. Now known as the Beekman Hotel, during the holidays they have a gorgeous Christmas tree in their atrium making it one of the prettiest spots to get Christmas photos in New York!
The hotel is also historic, the New York debut of Shakespeare's Hamlet was performed at the Chapel Street Theatre here and creatives like Ralph Waldo Emerson, Mark Twain, Henry David Thoreau, and Edgar Allan Poe are just a few of the notable people who were regulars here.
If you're looking for a classy, elegant place for a photo, this is a great option and stick around for a drink.
Macy's Herald Square
Starting as early as Thanksgiving in NYC, Macy's Herald Square flagship location is one of the best holiday photo spots in New York City!
Not only do they have holiday window displays, but the entrances on both Broadway and 34th Street offer great exterior shots.
I personally love the classic and giant wreaths with red ribbons on the 34th Street entrance, go across the street to get the best vantage point and maybe you'll get a classic yellow cab in the shot. From Herald Square and Broadway you can get this year's holiday window displays along with the fun entrance shot here too.
Better yet, you can do some holiday shopping while you're here and enjoy the interior decor too along with visiting Santa!
Holiday Photo Spots in New York Map:
Where to take Christmas Photos in NYC (Post Summary):
Rockefeller Center
Dyker Heights Christmas Lights
Lotte New York Palace
The Cartier Bow
Bryant Park Winter Village
Rolf's
Llilie's Victorian
Oscar Wilde
Papillion Bistro & Bar
Radio City Music Hall
Giant Christmas Decorations of Sixth Avenue
Saks Fifth Avenue Holiday Lightshow
Washington Square Park
New York Stock Exchange Christmas Tree
Hudson Yards
South Street Seaport
Central Park
Fox News Christmas Tree
Bergdorf Goodman Window Displays
Holiday Train Show at NYBG
The Beekman Hotel
Macy's Herald Square
---
Enjoyed this guide for where to take the best Christmas photos in New York? Bookmark for later!