Heading to Brooklyn and looking for some of the hidden gems in Park Slope? We've got you covered, if you've already been to and discovered all the other best things to do in Park Slope that are already popular, this guide will help you discover some of my personal favorite hidden gems in this beautiful, brownstone filled neighborhood that is one of the most highly coveted neighborhoods to live in the city!
These may not be 'hidden' to locals, but for visitors or people not as familiar with the area, you may want to add a few of these interesting points of interest to your day of exploring! If we missed one of your favorite hidden gems, let us know in the comments below! We love when our readers get involved with sharing some of their favorite spots for others to enjoy!
Be sure to also check out our favorite hidden gems in NYC while you're exploring some of these secret or lesser-known spots in the city!
And while you're in the neighborhood be sure to check out all the best food in Park Slope so you can dine between hunting down these hidden gems!
Grand Prospect Hall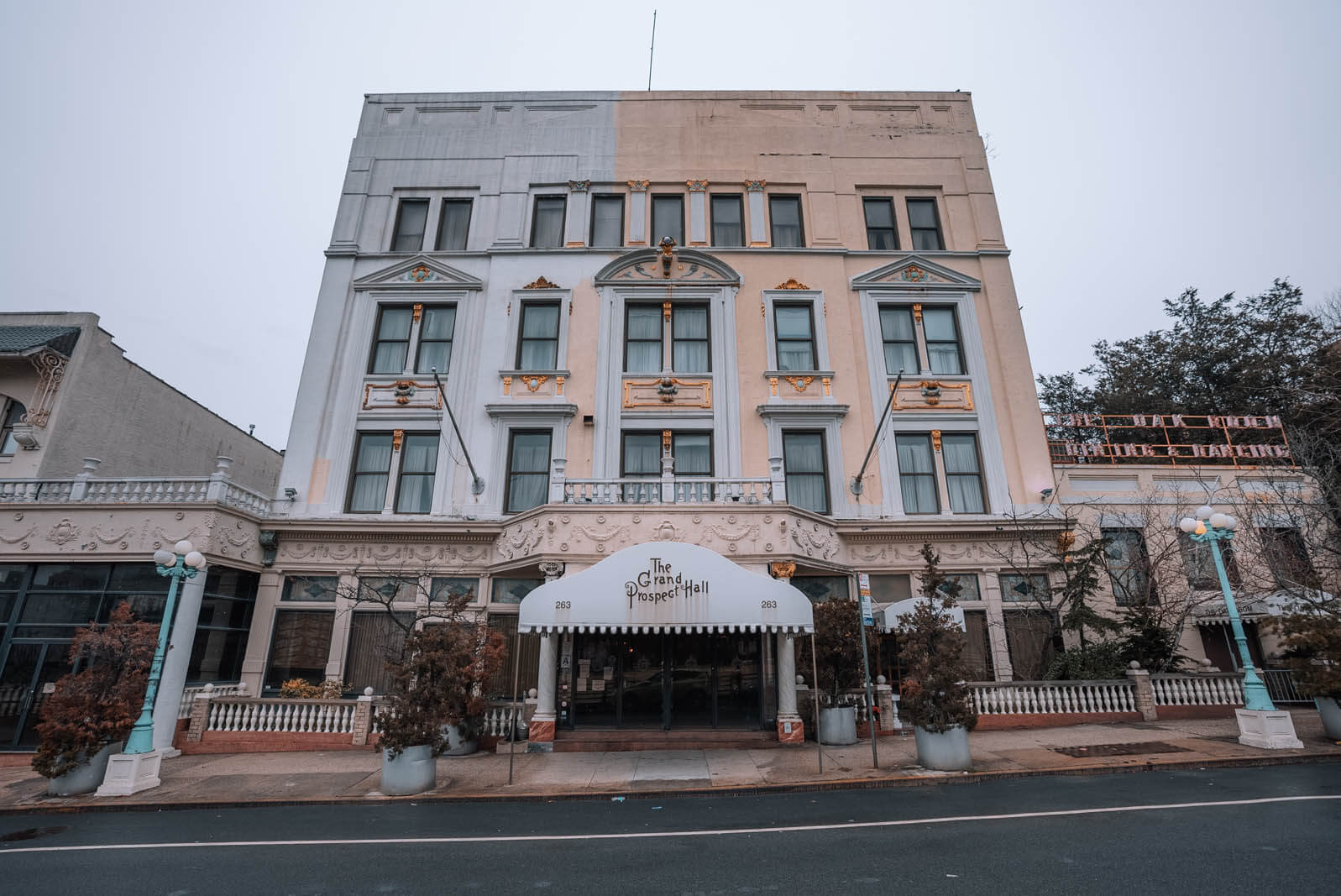 UPDATE: Sadly, this local landmark is undergoing demolition under new ownership.
One interesting hidden gem in Park Slope and one place I am ACHING to visit inside is Grand Prospect Hall located on Prospect Avenue in South Slope. This Victorian venue and banquet hall is a hidden gem because from the appearance on the exterior you wouldn't know how stunning this building is on the inside, although you can get clues and hints by just looking at the entrance and by taking a closer look at the building.
This building dates back to 1892 and the front is in French Renaissance style and has been used since the 1980s as a banquet venue and even a filming location in Brooklyn. Films like Wes Anderson's The Royal Tenenbaums have been filmed here including scenes from The Cotton Club and Prizzi's Honor and even in TV series like Gossip Girl.
Another fun piece of history was that in the 1980s, the owners made a series of low budget commercials that aired multiple times a day on local television stations that are memorable to those who have been Brooklynites for decades, in fact, in 2019 SNL even did a parody of these commercials.
In 2015, the owners opened the Bavarian Beer Garden which was open during the summer months, we hope they open again as we are big fans of German Beer Gardens in Brooklyn! The biergarten is a way to pay homage to this being a place where you'd find a community of German, immigrants including merchants and traders as well as Industrial-era moguls.
This hall was built in Brooklyn's age of 'opulence' according to Grand Prospect Hall's former website as a gathering place and social hang out.
If you get the chance to attend an event here, you're in for a treat as the interior is absolutely stunning. The property has been refurbished and is even listed on the National Register of Historic Places.
Leroy's Place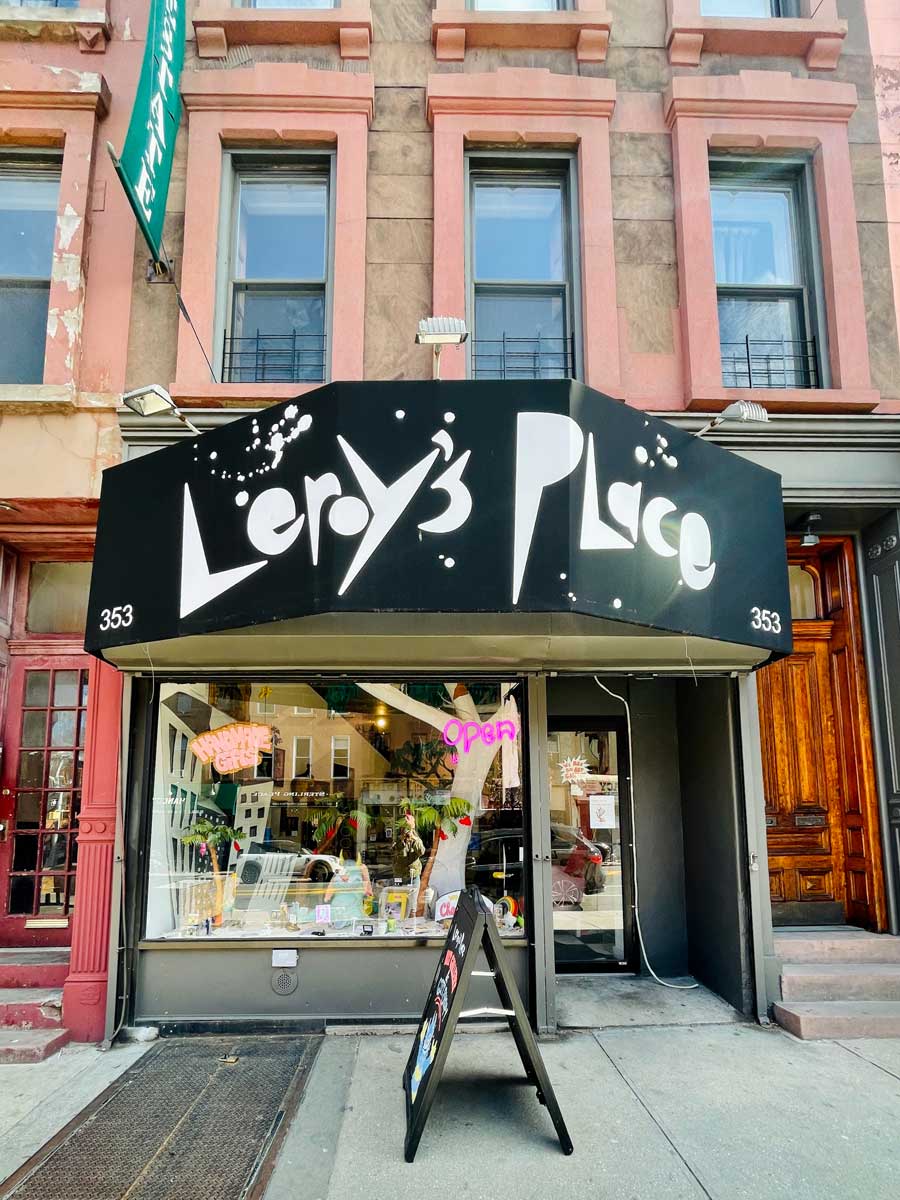 One of the most quirky hidden gems in Park Slope can be found by visiting the whimsical world of Leroy's Place on 7th Avenue. It took me 2 years of living here before walking into their storefront and I am so glad I did but sad I didn't find this sooner!
This gift shop and art gallery features an interactive gallery of puppets you can actually play with, fun artwork, and an imaginative world of not-so-scary monsters created by the artists and owners! Their artwork is 3D and they also have small gifts and paintings for sale.
This is worth a stop and will put a smile even on the grumpiest of days. This is also one of my absolute favorite indie art galleries in Brooklyn!
Interference Archive
Another hidden gem in Park Slope is this fascinating, independent museum that educates visitors on activism history. This community-run library, gallery, and archive have a collection of historical information and artifacts from activism and social movements throughout time.
This educational experience began in a home with a private collection of social movement memorabilia that even Ph.D. students would come to study.
The owners of the Interference Archive were invited to put their collection on public display as a part of an exhibit at the Exit Art Gallery in Manhattan which helped turn a small independent collection into its own museum and education center on activism and social movements.
The Interference Archive is almost completely funded on donations, which are appreciated, but not expected when you visit as they don't have a set admission. Check out the collection which features pieces and artifacts from all over the world.
Barack Obama's Former Brownstone
Another one of our favorites and is actually featured on our favorite hidden gems in Brooklyn is the former brownstone that Barack Obama lived in right here in Park Slope.
Situated near Prospect Park in one of the most coveted locations not only in the city but in the neighborhood, is the former townhouse where President Barack Obama lived in the mid-1980s with his then-time girlfriend on the top floor (3rd floor) during his post-Columbia days (and pre-Michelle days).
This historic brownstone dates to 1903 and since the time of Obama's time living here the house has been turned from a multi-family rental unit to a single-family home in 1994 that sold in 2017 for $4.3 million.
This home and hidden gem in Park Slope can be found at 640 2nd St.
Litchfield Villa
This next hidden gem in Park Slope is actually one of my favorite buildings to walk past when I'm walking along Prospect Park West and Prospect Park. Litchfield Villa, one of the many interesting buildings and things to see in Prospect Park, is this Italianate mansion that dates back to the 1850s and was designed by the famous architect Alexander Jackson Davis.
At the time of its construction, it was a private estate and today it serves as the New York City Department of Parks and Recreation headquarters. There's a pretty lawn right here perfect for a picnic or a game of frisbee as well as access to some of the walking trails to the park.
This is one of our favorite spots to view some of the most beautiful homes in the Park Slope Historic District too, made up of over 1800 historic homes built between 1862 and 1920. You can find beautiful brownstones and row houses facing the park, some of the most expensive and prized real estate for families in NYC.
But that's not all, thanks to our friend Kemi from Musings and Adventures we learned about the spooky paranormal activity that happens here! Apparently, in 1864, a woman used an ouija board to try to communicate with her son who tragically lost his life in the Civil War opening a portal to demons and strange paranormal activity and even resulted in a missing person.
So while you're here, be sure to pay attention to see if you can spot any bizarre activity! If you're a fan of the backstory, check out the history of Prospect Park too.
Puppet Works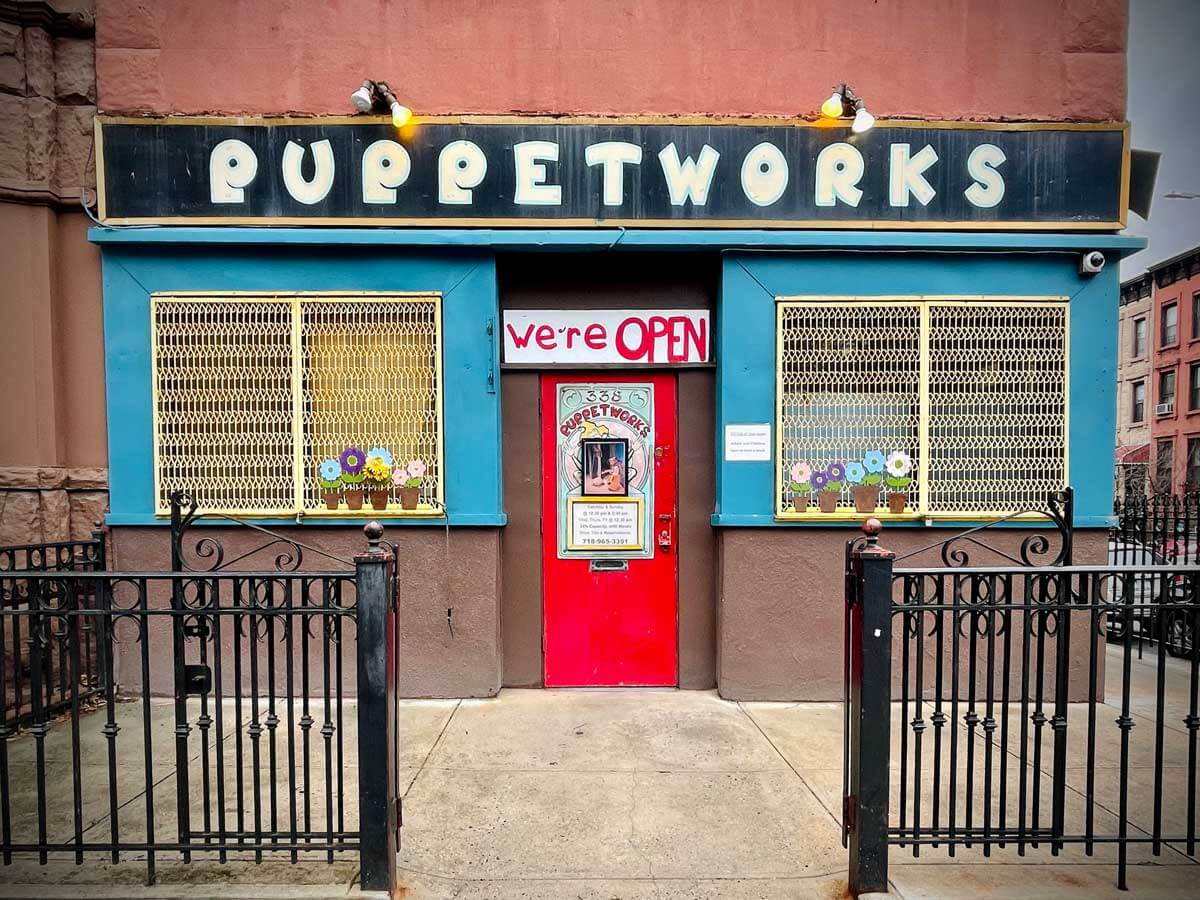 This hidden gem in Park Slope has a fun history and is a great place to take the kids for one of their marionette puppet shows that have been taking place in this location since 1980 by professional puppeteer Nicolas Coppola who was first inspired by a puppet performance as a third-grader at PS 200 right here in Brooklyn.
Before opening Puppet Works, Coppola became a professional puppeteer at the age of 19 with Suzari Marionettes, the same company that inspired him with their performance at his school as a third grader. He went on to continue entertaining with puppet shows even for his fellow troops while serving in the Army and went on to be the Artistic Director to Nicolo Marionettes who toured the US and even had a residency at a Smithsonian Institution in Washington DC in 1976.
In 1980, he started Puppet Works as a non-profit to share his art and craft of puppetry with New York City and even annually did holiday performances at Macy's at Herald Square from 1976-2013.
Coppola has won several awards and received much recognition over his career and Puppet Works still offers Puppet Shows weekly to the public along with frequent shows that are put on for the local schools, just like when he was young.
We recommend planning a visit ahead of time as their shows are not as regular as they once were so you can ensure you catch a show or reserve a group show or private party. Check out their website for upcoming performances as well as ways you can help support their cultural and artistic work.
For more kid-friendly activities, check out our guide to all the best things to do in Brooklyn with kids!
Old Stone House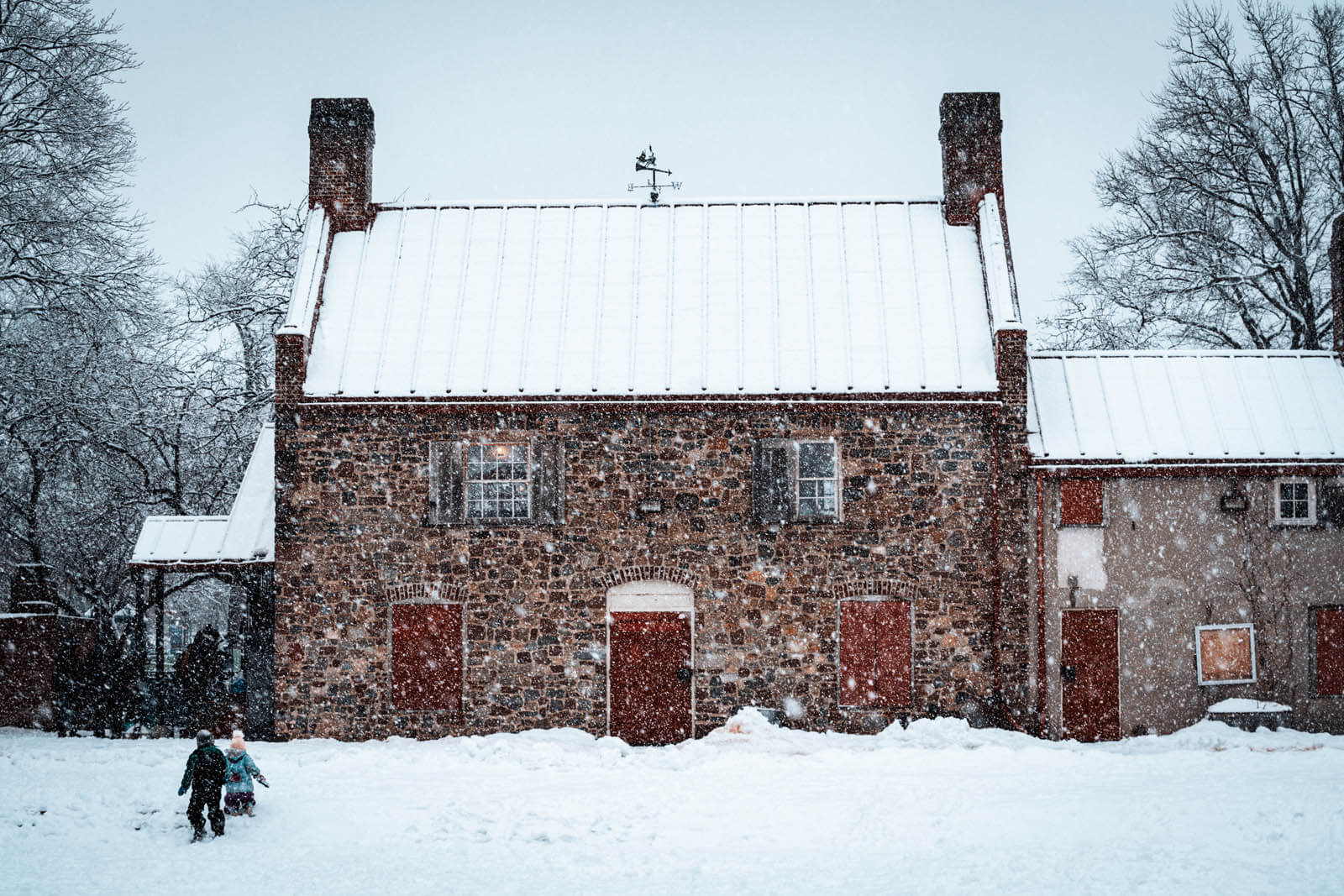 One hidden gem in Park Slope that I had to mention, even though locals know this spot pretty well, is the historic landmark and home that dates back to the Dutch colonization days in the 17th century at the Old Stone House. Located right off of 5th Avenue on the border of the Park Slope and Gowanus neighborhoods is the historic landmark, Old Stone House in Washington Park.
The Old Stone House is a National Register of Historic Places monument and dates back to 1699. The Old Stone House has undergone several restorations, but it was originally a Dutch stone farmhouse owned by Dutch immigrants who farmed the land here and harvested oysters.
The Old Stone House was an integral part of the famous Battle of Brooklyn known officially as the 1776 Battle of Long Island. This was the largest fight in the Revolutionary War on August 27, 1776.
The Old Stone House was the location where the Americans led and commanded the fight against the British and General Charles Cornwallis where the Americans would lose and the British had a victory.
This was the fight that helped the British occupy Brooklyn and Manhattan for seven years. However, during the infamous Battle of Brooklyn George Washington and his troops escaped the defeat to the British to later fight again and win the war.
Also, in more recent history and pop culture, the Old Stone House was used as a clubhouse for what we know today as the Brooklyn Dodgers.
You can visit The Old Stone House on Fridays 3-6 pm, Saturdays & Sundays from 11 am – 4 pm, or by appointment arranged in advance. There are interactive and educational exhibits inside making it one of the best spots the city if you want to learn a bit about the Revolutionary War and history that took place here.
Read this article by Brownstoner for more Revolutionary War sites in Brooklyn, most of which are relatively close or a short walk from the Old Stone House.
Montauk Club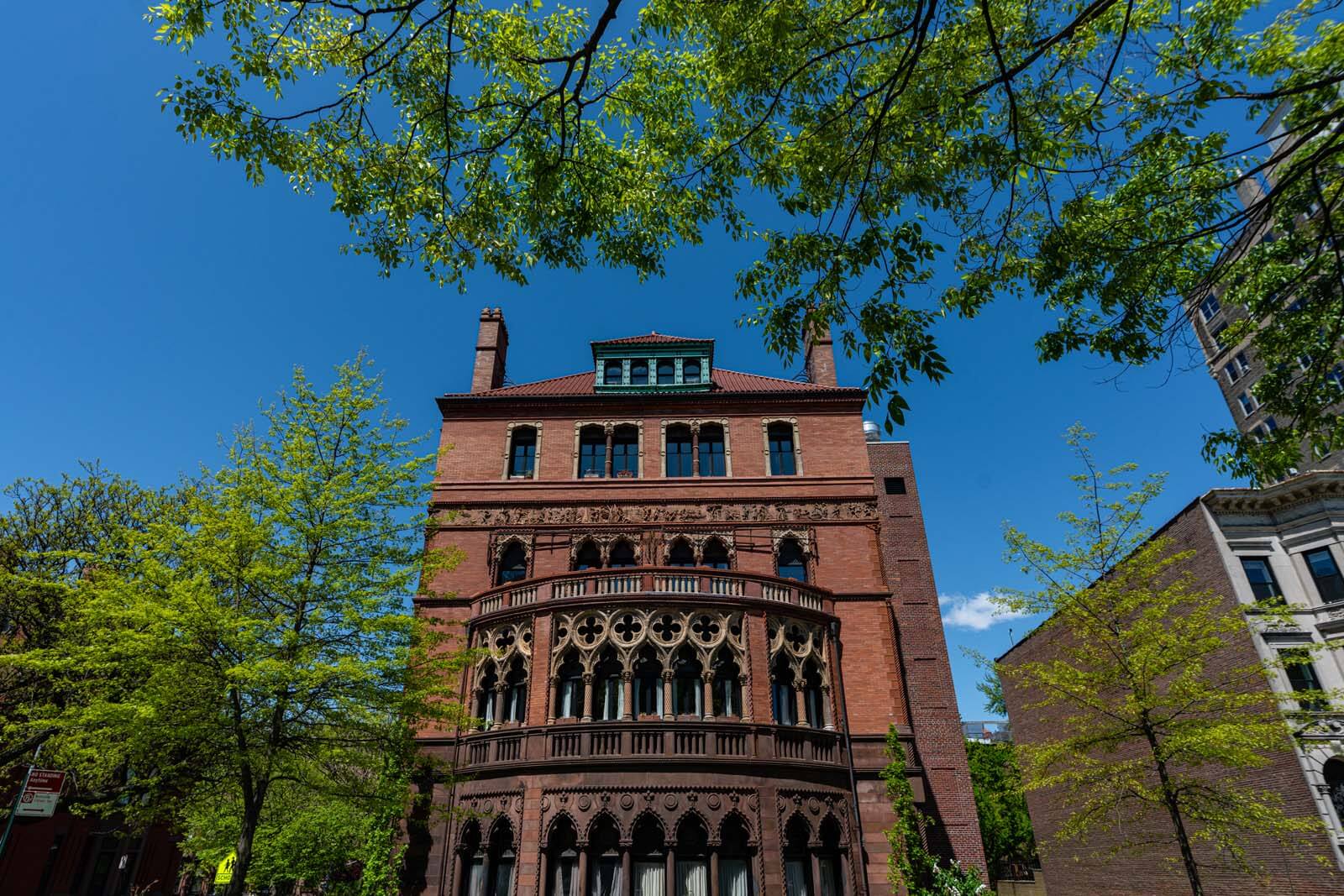 Another cool building and hidden gem in Park Slope is the Montauk Club. This historic venue and 'boys club' is right by Grand Army Plaza and Prospect Park.
The Montauk Club was a social club dates back to 1889 and it started as an exclusive men's social club for the elite. Back then, ladies weren't allowed. Thankfully the times have evolved since then.
Today, the Montauk Club is used as a venue for various events in this one-of-a-kind Venitian Gothic-style building designed by Francis Kimball.
This is also a great spot to host your own event or you can opt to join one of the events on their calendar, including happy hour specials and even the host of a Book Club for members. And now, women are allowed!
If you're a fan of the HBO series Boardwalk Empire, they filmed scenes of the series right here in Brooklyn's Montauk Club!
Lesbian Herstory Archives
Another educational hidden gem in Park Slope is the Lesbian Herstory Archives, a collection of records and memorabilia all around lesbian history and activism in the world. This museum and collection preserves the roots and path that led to the gay liberation movement all housed in a Park Slope townhouse.
I really enjoy the creative play on words as they celebrate the Lesbian experience and 'herstory'.
This independent museum and history archives was created as a result of how difficult it was to find information about lesbian history and culture, so this space was created by lesbians for the public to anyone who wants to educate themselves for academic or personal reasons.
Visit this collection and herstory artifacts at 484 14th Street, just steps away from Prospect Park.