Looking for the best things to do in NYC? We've got you covered.
Ever wanted to visit New York, but the sheer enormity of what to do when you get here stopped you? Ever wanted to move to New York, but the sheer enormity of what to do when you get here stopped you?
Ever lived in New York, but the sheer enormity of what to do outside of your apartment stopped you from doing anything but sitting on your couch?
Well my friend, we can fix that. We are here to take the sheer enormity of cool things to do in NYC and break them down into essential bucket list items, hidden gems, can't-miss cultural institutions, and strong suggestions from passionate locals — all in service of giving you a great place to begin your New York journey and checking out the best NYC attractions and experiences.
Whether you're visiting for the very first time, moving here, or have lived here for years — the best things to do in NYC are the ones that you discover unexpectedly. But the only way to discover what you love about our fair city is by getting outside and checking out what you already know is here, and letting the day take you somewhere new.
3,2,1, break! See you out there!
Don't miss how to spend your time in the city too with our curated itineraries to help make planning a breeze! All of our suggestions are different for each guide, feel free to use them all to customize your trip exploring all the best things to do in NYC!
Table of Contents
Save Money!
Sightseeing to all the must-see places in New York can add up. That's why we have a complete guide to how to enjoy NYC on a budget plus there are ways to see all the best things to do in NYC by getting a bundle discount on an NYC attraction pass.
There are a few different money-saving attraction passes available in NYC that are WORTH every cent if you plan on seeing multiple famous attractions in the city and are perfect for those trying to enjoy NYC on a budget.
These attraction passes are paid upfront for a one-time fee and on your trip they get you into multiple different attractions for free meaning that you save some serious money overall. By purchasing an attraction pass you can save anywhere from 35-45% on your attraction passes and saving you hundreds of dollars on your visit!
CityPASS offers a 3 attraction pass or a 6 attraction pass with over 12 city attractions to choose from including popular observatories like the Empire State Building, The Edge, Top of the Rock, 9/11 Memorial & Museum, Statue of Liberty & Ellis Island, the Guggenheim, and more!
Another great option is the New York Pass which you can purchase anywhere from a 1 Day Pass to a 10 Day Pass that gets you into over 100 attractions. Once you purchase your New York Pass you download the Go City app and use that to get up to 45% savings on popular attractions as well as a few hidden gem attractions ranging from the Empire State Building to the Museum of Ice Cream and many of the NYC experiences mentioned in this guide!
See our full breakdown of the New York Pass and our breakdown of the New York CityPASS to see if it's worth it for your visit to save hundreds of dollars on multiple attractions!
Disclaimer: This post contains affiliates.
NYC Bucket List Items
One World Observatory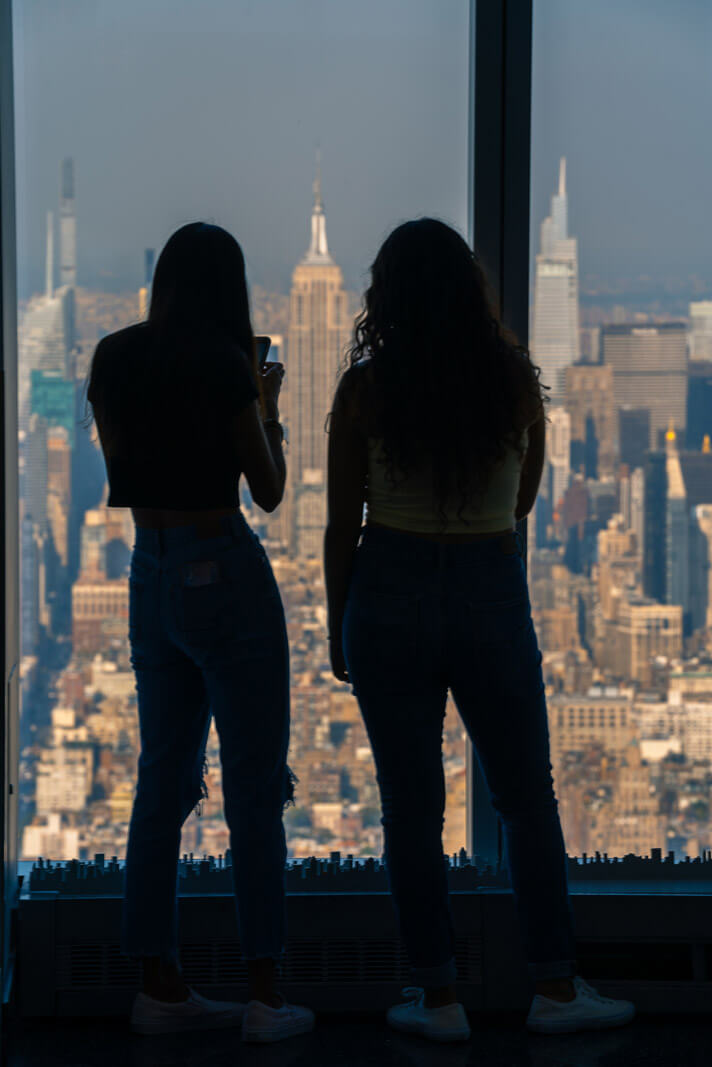 One World Trade Center/285 Fulton Street, New York, NY
One of the most popular places to go in NYC, the One World Observatory is a must-visit on any trip to the city. The two-floor, 125,000 square-foot observatory boasts stunning panoramic news of the Statue of Liberty, New York Harbor, New Jersey, the Hudson River, Brooklyn, and the rest of Manhattan.
The One World Observatory is also home to the largest curved LED light display in the world, featuring a comprehensive world map archiving its over 10 million visitors and counting!
Tickets start at $43 and advance reservations are recommended — and if you're planning on hitting up some of the most well-known New York attractions, it may be worth your while to purchase a New York Pass (mentioned above) and score a bundle discount.
Don't miss out on the observatory — and as many New Yorkers have noted, this would also make an excellent place to propose to someone… also see our breakdown of the best observation decks in NYC to compare and decide which ones you should visit!
Skip the Line Ticket:
This skip-the-line ticket for the One World Trade Center observatory is a great option if you're short on time. Simply book your ticket and choose which option you want, to skip the line straight to the security checkpoint or skip the line and get priority in the security checkpoint. Book here.
Summit One Vanderbilt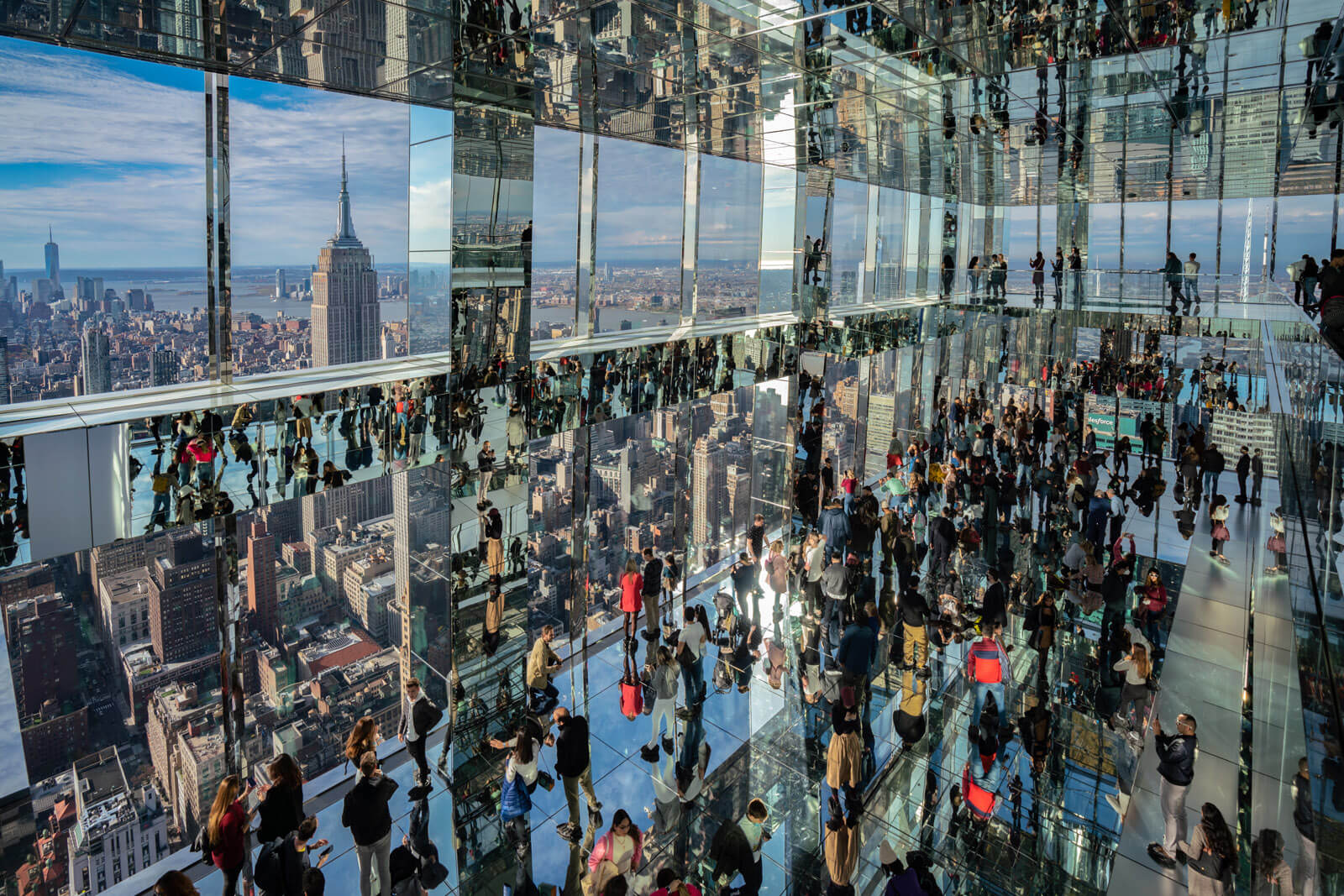 45 E 42nd Street, New York, NY
If you're looking for an equally impressive observatory in Midtown and one of the coolest things to do in NYC, look no further than the Summit One Vanderbilt, located near Grand Central station at 42nd Street between Vanderbilt and Madison Avenue.
The tallest commercial building in the area at 1,401 feet and home to a three-floor observatory on the 91-93rd floors, the Summit One Vanderbilt not only offers nonpareil views of the Empire State Building, the Chrysler Building, lower Manhattan, the World Trade Center and even the Atlantic Ocean (on clear days) but also striking, immersive art exhibits like Yayoi Kusama's Clouds or Kenzo Digital's Air.
Purchase tickets in advance for Summit One Vanderbilt online and top off your visit with a beverage at Danny Meyer's new concept lounge SUMMIT.
Empire State Building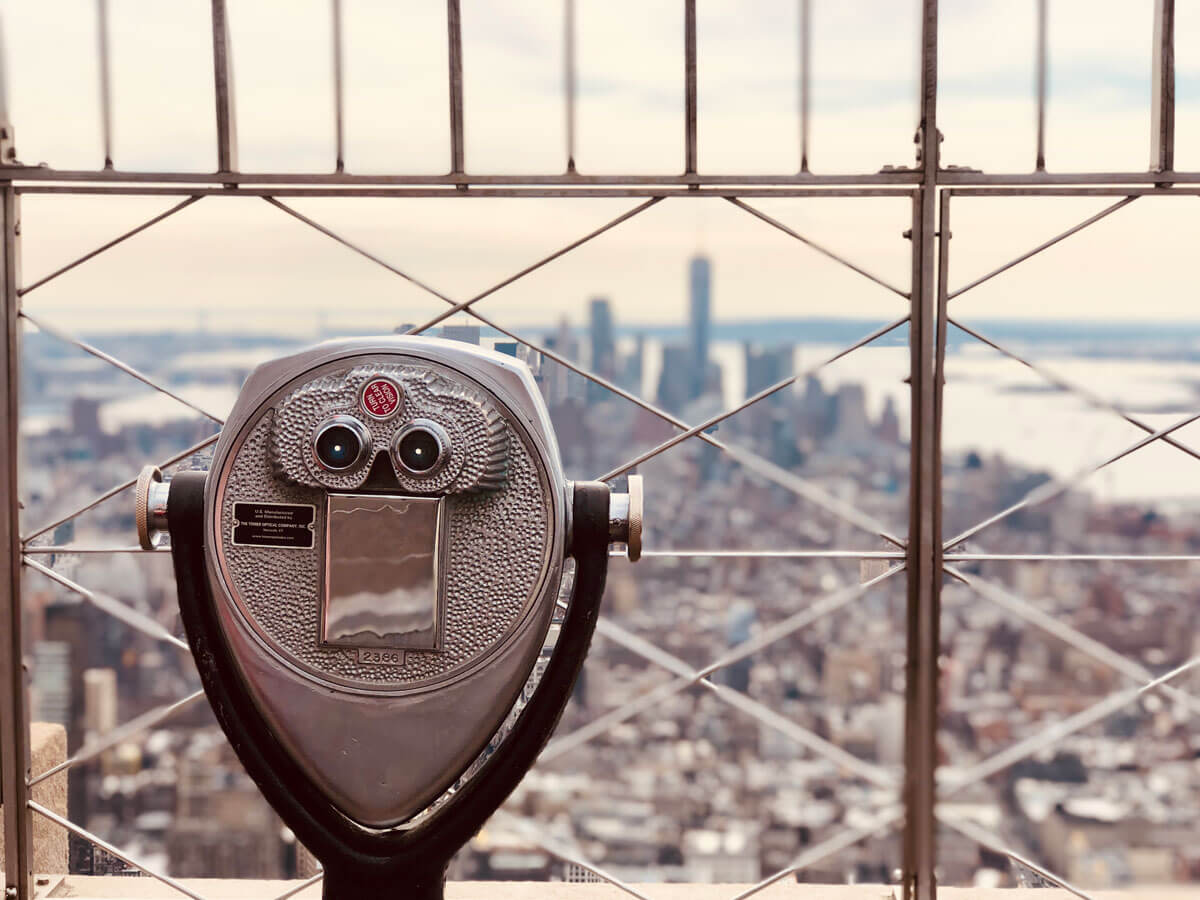 20 W 34th St, New York, NY
Ah yes, the Empire State Building — a must on anyone's New York bucket list, the pivotal location of classic movies filmed in NYC like An Affair to Remember or Sleepless In Seattle, and possibly the most recognizable skyscraper in the world.
Built in 1931 and known for its famous observation decks (located on the 80th, 86th, and 102nd floors), art deco design, and rotating decorative lights, Get your tickets in advance here.
This NYC bucketlist attraction is also available on the New York Pass attraction pass!
Top of the Rock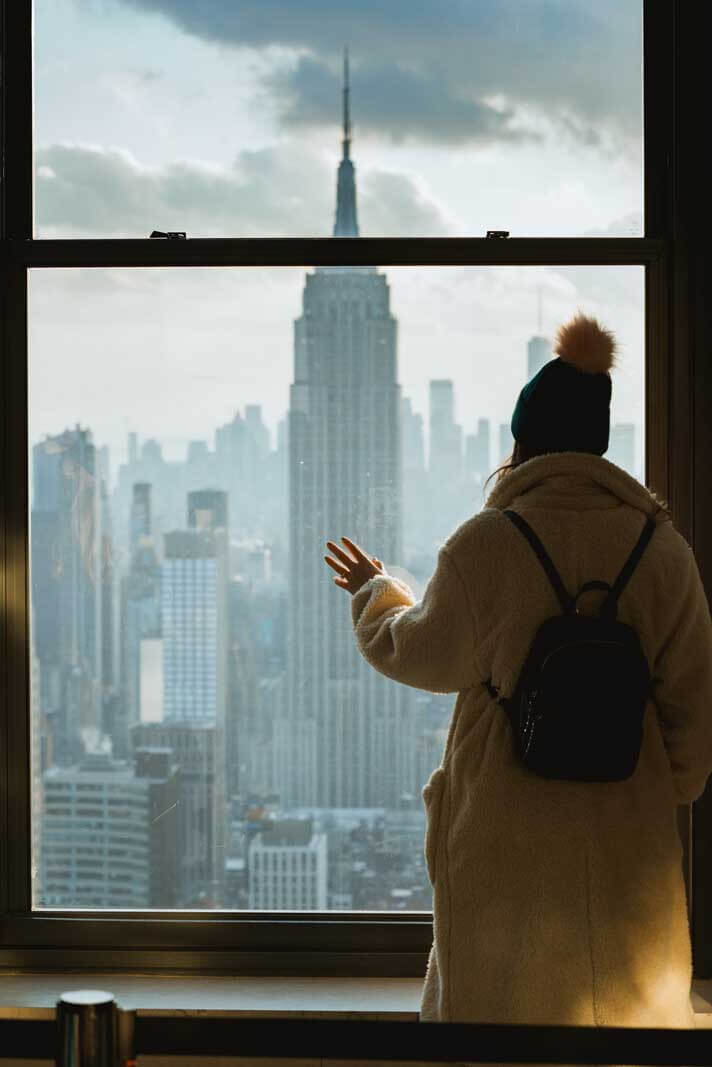 50th Street between 5th and 6th Avenue, New York, NY
Can you hear the 30 Rock theme music playing? Whether or not you're familiar with Rockefeller Center through Liz Lemon and friends, or maybe, a little show called Saturday Night Live, the Top of the Rock at Rockefeller Center is one of the must-see places in New York.
Centered around three observation decks (note that two decks are entirely outdoors), Top of the Rock offers fantastic views of Midtown, including the aforementioned Empire State Building. Join over 3 million yearly visitors by purchasing a ticket in advance to Top of the Rock through their website or bundle up attractions including Top of the Rock with the New York Pass.
The Edge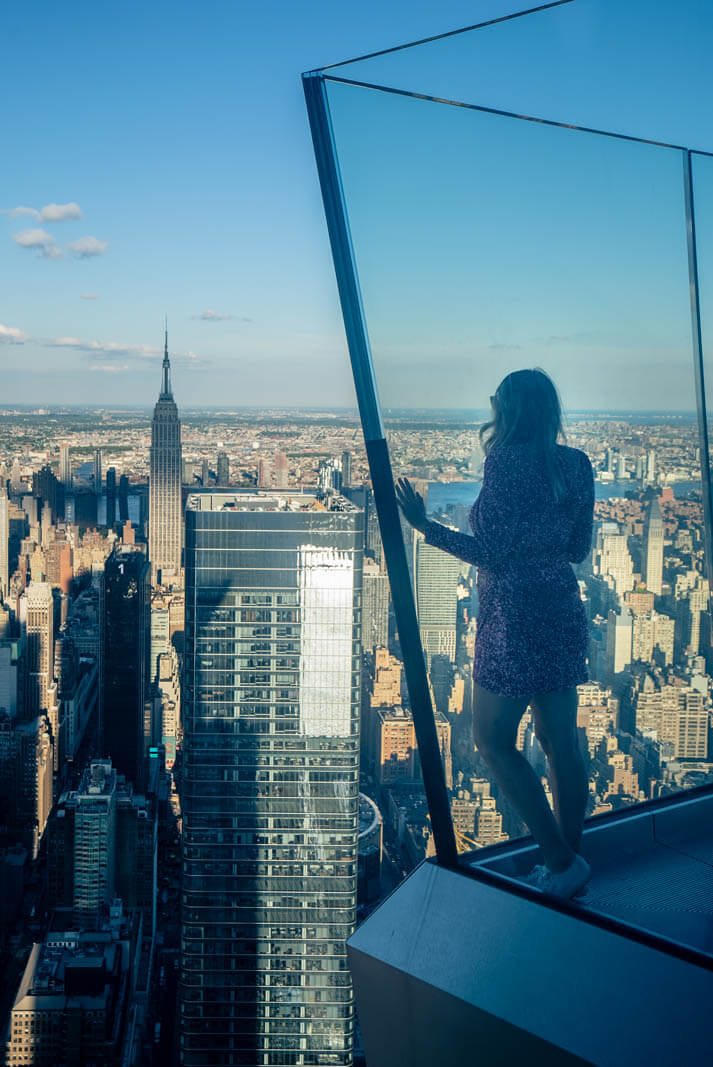 W 33rd St at 10th Ave, New York, NY
One of the newest observation decks in town, the Edge at Hudson Yards claims the title of the "highest outdoor skydeck in the Western Hemisphere" and delivers 360-degree views of the city and surrounding tri-state area.
Located at the Hudson Yards Mall, it's an excellent place to spend an afternoon shopping, taking in a show at The Shed, grabbing a drink at Cedric's, and taking a moment to reflect on the city lights. Tickets for this New York attraction are available to purchase Skip the Line Edge tickets in advance, or bundled with NYC attraction passes with both CityPASS or the New York Pass.
Statue of Liberty & Ellis Island
Two must-see places to visit in New York, the Statue of Liberty and Ellis Island make a great morning or afternoon educational field trip.
Gifted to the US from France in 1886 as a symbol of friendship and a celebration of the abolishment of slavery, The Statue of Liberty was also featured as a display at the World Fair in Paris in 1878.
Its neighbor Ellis Island served for 62 years as the gateway for the over 12 million immigrants who entered the U.S. through its port. Ellis Island and the Statue of Liberty are only accessible via ferry.
Walk around Liberty Island to view the Statue in all its glory (along with views of New York Harbor, Manhattan, Brooklyn, and Staten Island) and be sure to check out its museum for additional context on the statue's journey to America.
Over at the National Immigration Museum at Ellis Island, check out a detailed archive of US immigration from the 1500s to today. If you're combining the Statue of Liberty and Ellis Island with several other attractions, don't forget that you can save money by purchasing bundle access through both CityPASS and the New York Pass!
Ride the Staten Island Ferry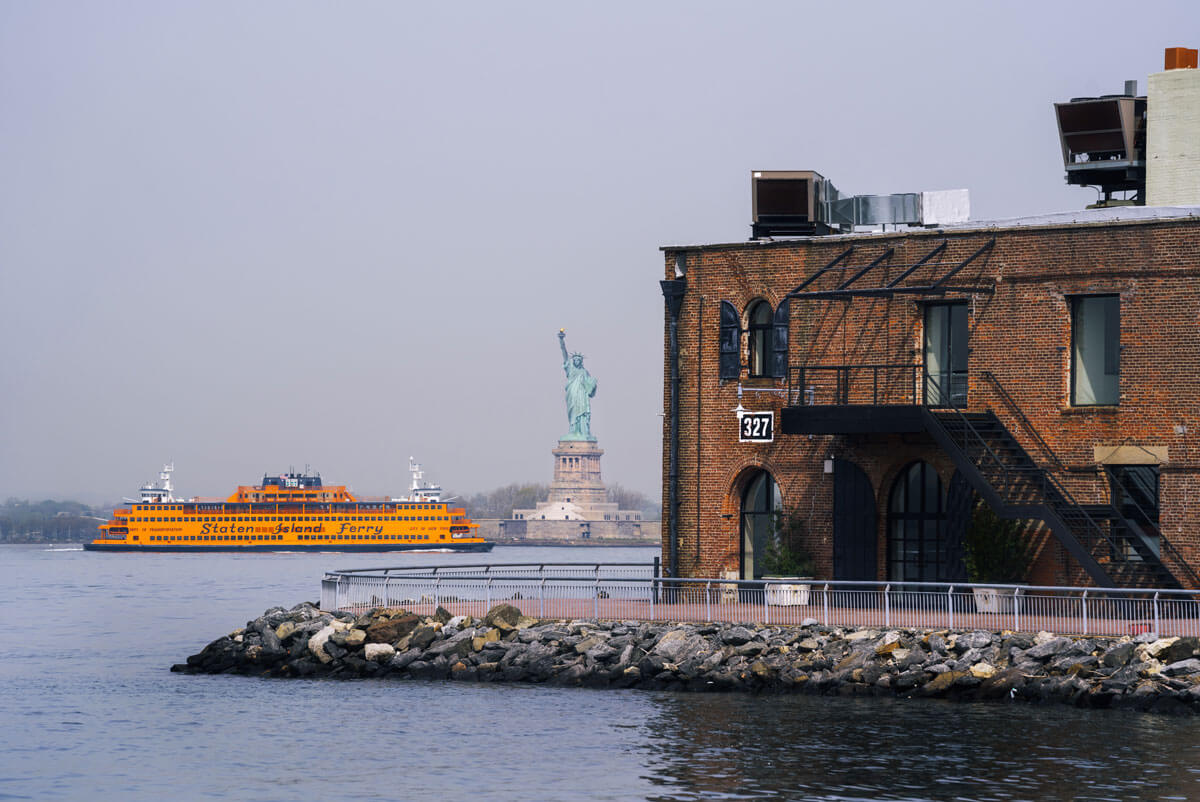 Here's a secret that New Yorkers know and love — the completely free way to check out the best views of the Statue of Liberty is by taking one of most the famous New York attractions, the Staten Island Ferry, boarding from Whitehall Terminal at the southern tip of Manhattan.
In very New York style, the ferries run 24/7 and you're allowed to bring your own alcohol. So grab some Long Island Iced Teas and make your very own DIY cocktail hour — yes, you too can reenact this scene from SATC on your NYC bucket list!
Walk the Brooklyn Bridge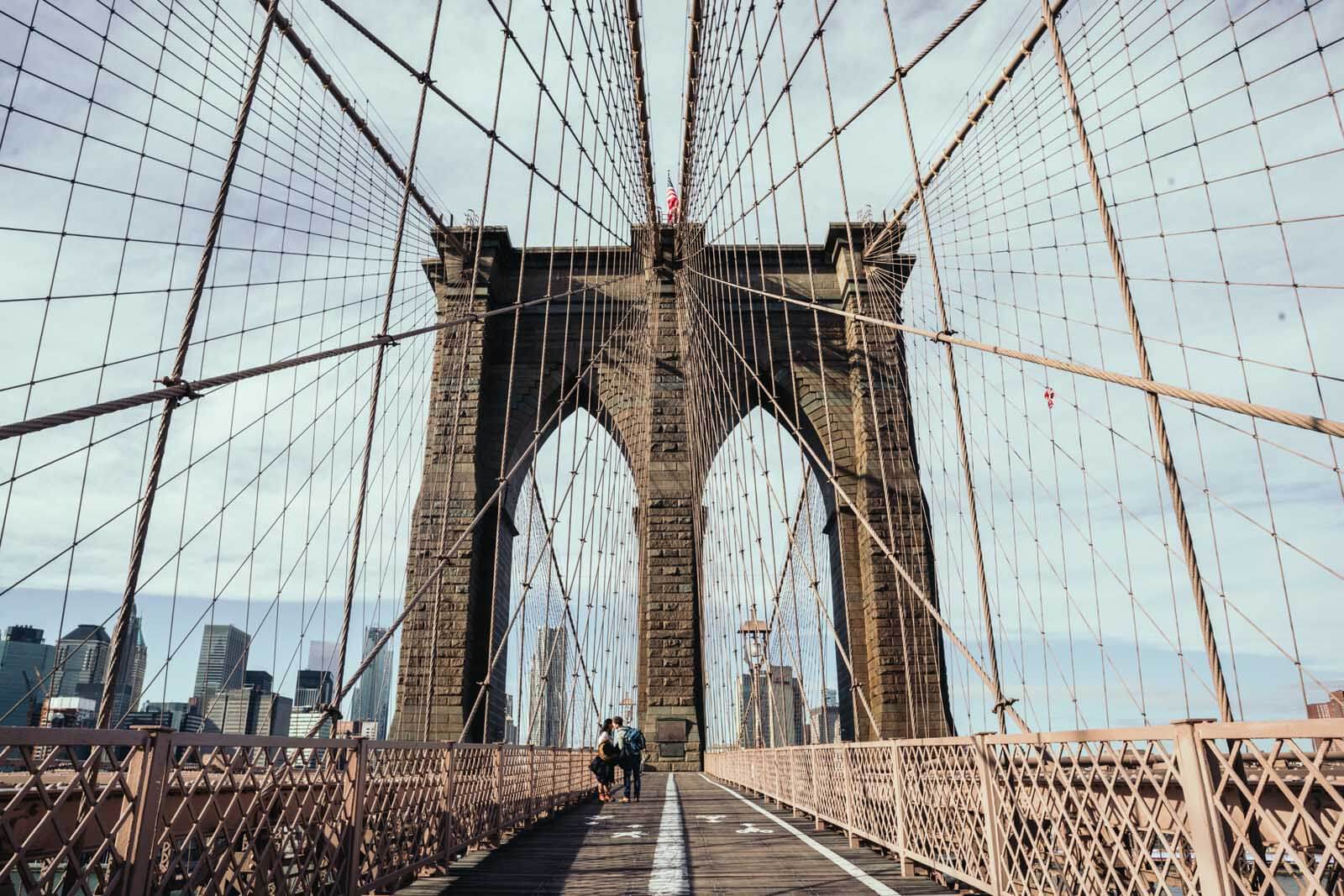 A classic meeting spot referenced across movies, books, plays, and songs, the Brooklyn Bridge is perhaps one of the most recognized landmarks in the world (as well as one of the oldest suspension bridges in the US!).
While you're here, spend a morning walking the Brooklyn Bridge for an idyllic way to take in the East River and cityscape. Since an average of 4,000 to 10,000 pedestrians walk the bridge each day, we recommend going as early as you can muster to maximize your space and serenity — as a bonus, you'll have incredible sunset photo opportunities!
And if completing this New York bucket list item takes you until lunch, stop at Juliana's Pizza on the Brooklyn side of the bridge for a pie!
Times Square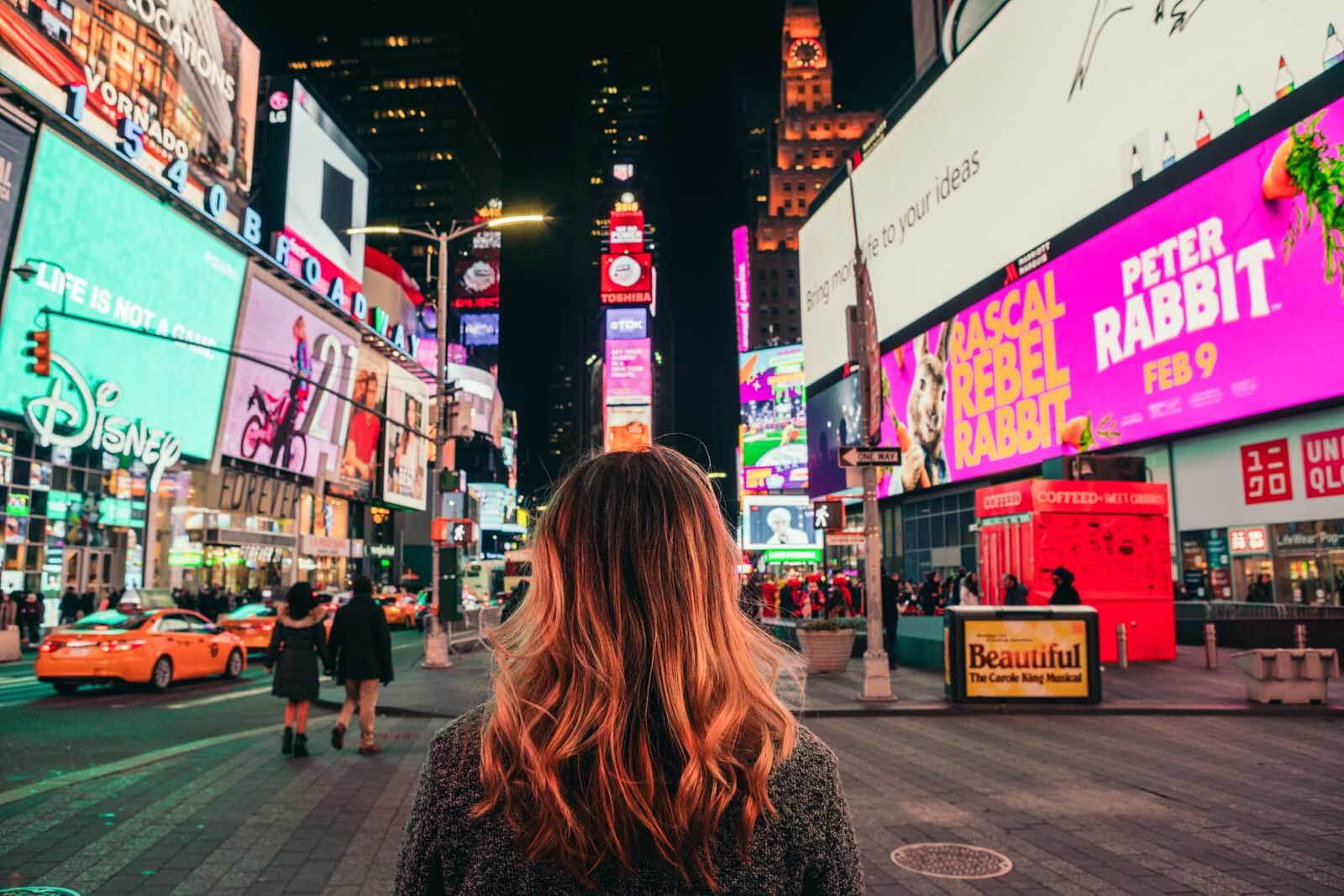 The most highly-trafficked intersection in New York City, Times Square is a carnival of sight and sound. Originally known as Longacre Square, Times Square was renamed after the newly installed New York Times building in 1904.
While visiting Times Square is a must when checking out New York attractions, it can be an overwhelming experience — as with the Brooklyn Bridge, it can be helpful to visit in the morning (and on weekdays) to have a bit of room to take it all in.
Take photos by the red stairs in the center of the plaza, check out the TKTS booth for discounted tickets to a Broadway show, visit underrated gem Los Tacos No.1 (229 W 43rd St) for a snack, and head west to finish your day, cabaret-style at Don't Tell Mama's (343 W 46th St).
See A Broadway Show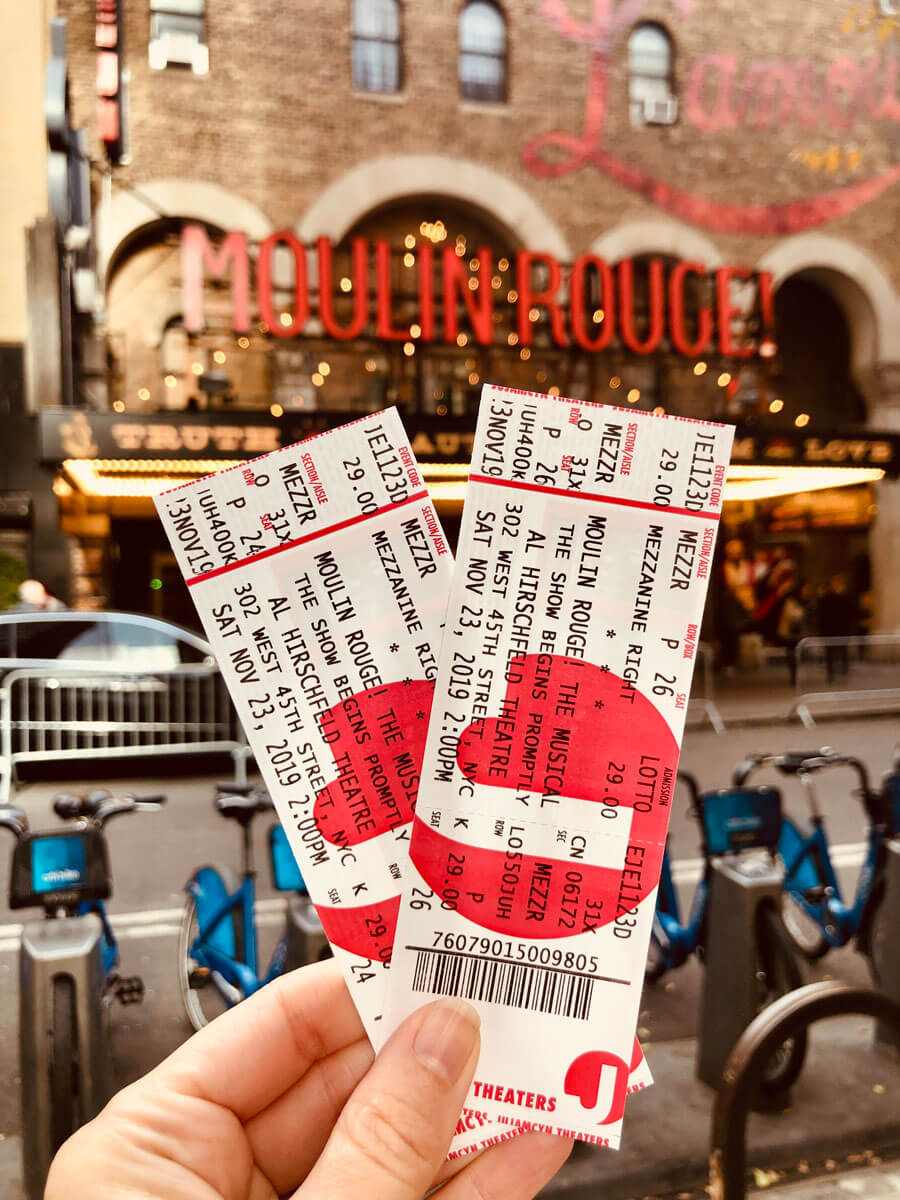 Seeing a Broadway show is a quintessential thing to do in NYC. New and exciting premieres join long-running, seasoned favorites in Midtown's theatrical district.
One of the best ways to purchase tickets is by visiting individual theater box offices, where same-day and future performances are available sans online processing fees. If you're flexible in what you'd like to see and on a budget, visit the aforementioned TKTS booth in the center of Times Square for same-day, half-price tickets (availability varies day-to-day).
Grab a pre-show dinner or post-show drinks at Glass House Tavern (252 W 47th St) for charming, new-American fare in an elevated setting that will complete your glamorous night on the town.
Coney Island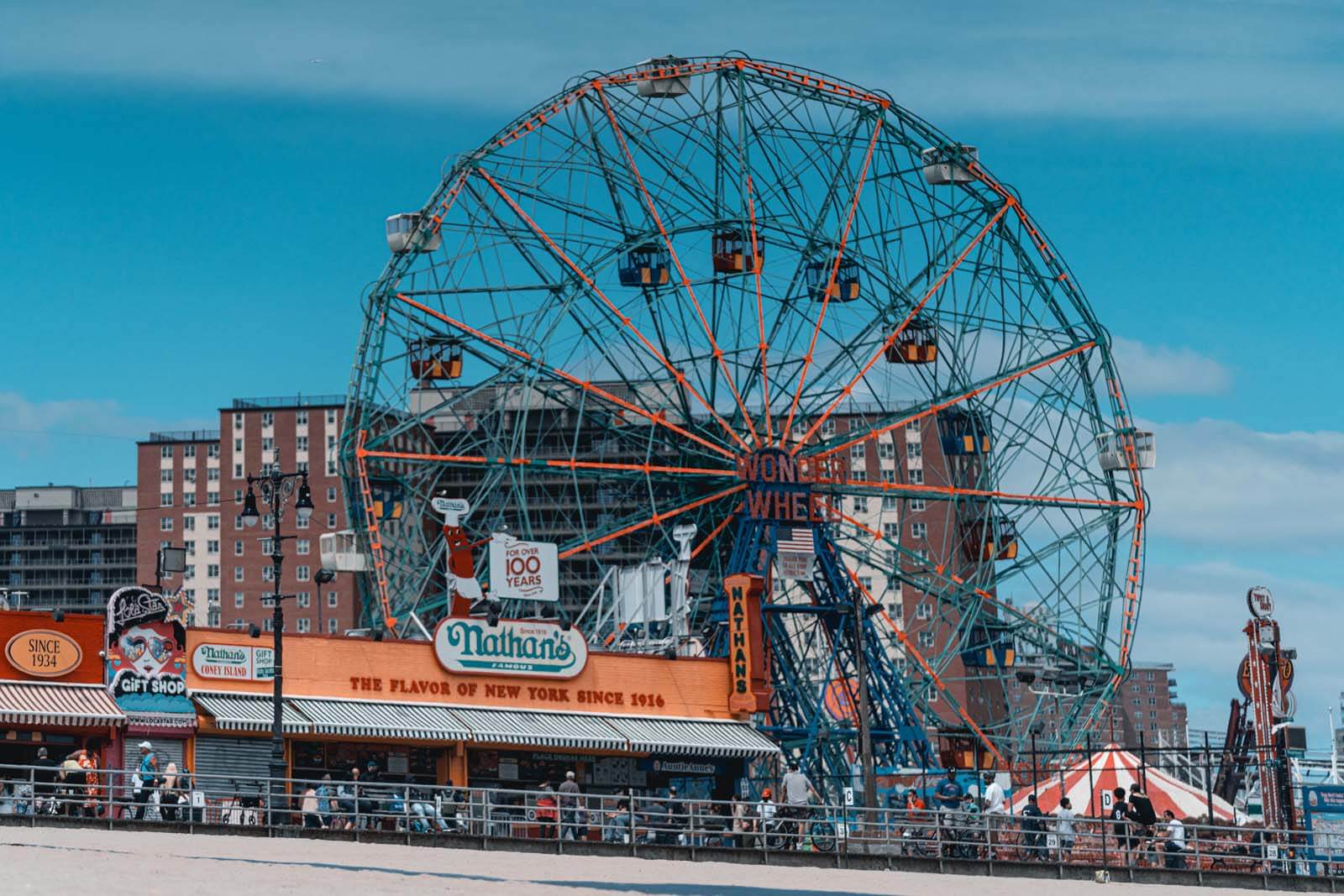 Coney Island is one of the most interesting places in the city (and on Earth??). Spend an entire day exploring the beachfront peninsula of Brooklyn — one of the best places to go in NYC — it's home to an amusement park, arcade, beach boardwalk, aquarium, and of course, the site of the annual Nathan's Famous Hot Dog eating contest.
Ride the Wonder Wheel, check out old-school shop William's Candy, try the Cyclone roller coaster (if you dare!), attend the Mermaid Parade in the summer, people-watch on the boardwalk, and try all of the things to do in Coney Island over the course of a summer's day.
Helicopter Tour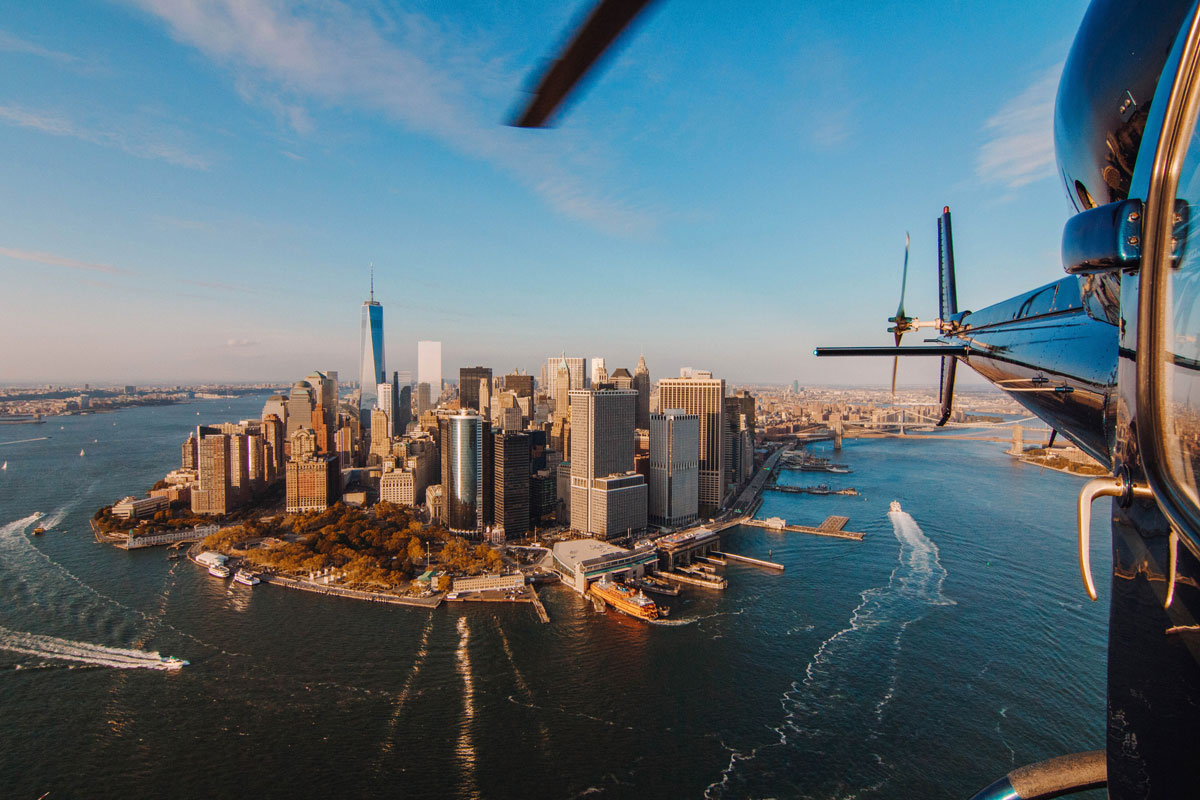 If you're not afraid of heights and want to check out all of your favorite New York attractions, try a helicopter tour of the city for the ultimate birds' eye view journey over the top of Manhattan. Book a 12 to 30 minute ride flying over notable landmarks such as Central Park, Brooklyn Bridge, Hudson River, the Statue of Liberty, the Intrepid Air and Space Museum, Rockefeller Center, South Street Seaport, the Statue of Liberty, and Ellis Island.
There are several awesome options for this! Be sure to read our full guide to best helicopter tours in NYC which breaks down each tour plus the pros and cons!
NYC Food Bucket List
In a completely informal and unscientific survey of everyone I know who lives here, 99% of them say they stay in New York for the food. So please take this data as a reason to try anything and everything the city's culinary scene has to offer!
Murray's Bagels
500 Avenue of the Americas, New York, NY
New Yorkers are extremely passionate about Murray's Bagels, and for good reason. Hand-rolled and kettled boiled, bagels from Murray's were long known for their pillowy, always-untoasted goodness. But in recent years Murray's has changed its tune, offering to toast its famous wares in a (somewhat shocking) announcement.
But whether you toast or don't toast, the quality of Murray's is such that you'll come away happy. Try a sesame bacon egg and cheese sandwich and learn why visiting Murray's is one of the best things to do in New York City.
Ess-a-Bagel
324 1st Avenue At 19th Street, New York, NY
Longtime Murray's rival Ess-a-Bagel is widely known as one of the best bagels in New York City, delighting locals and visitors for over 40 years.
Ess-a-Bagel prides itself on its time-honored, hand-roll bagel construction, evident in its nearly perfect Signature Favorite lox sandwich (slices of nova on a bagel with scallion cream cheese, freshly sliced tomato, lettuce, onion and capers).
But whether you go traditional with a lox sandwich or harken back to your childhood with a pizza bagel (90s kids give me a shout!!), Ess-a-Bagel delivers on its culinary New York bucket list promise.
Bagel Pub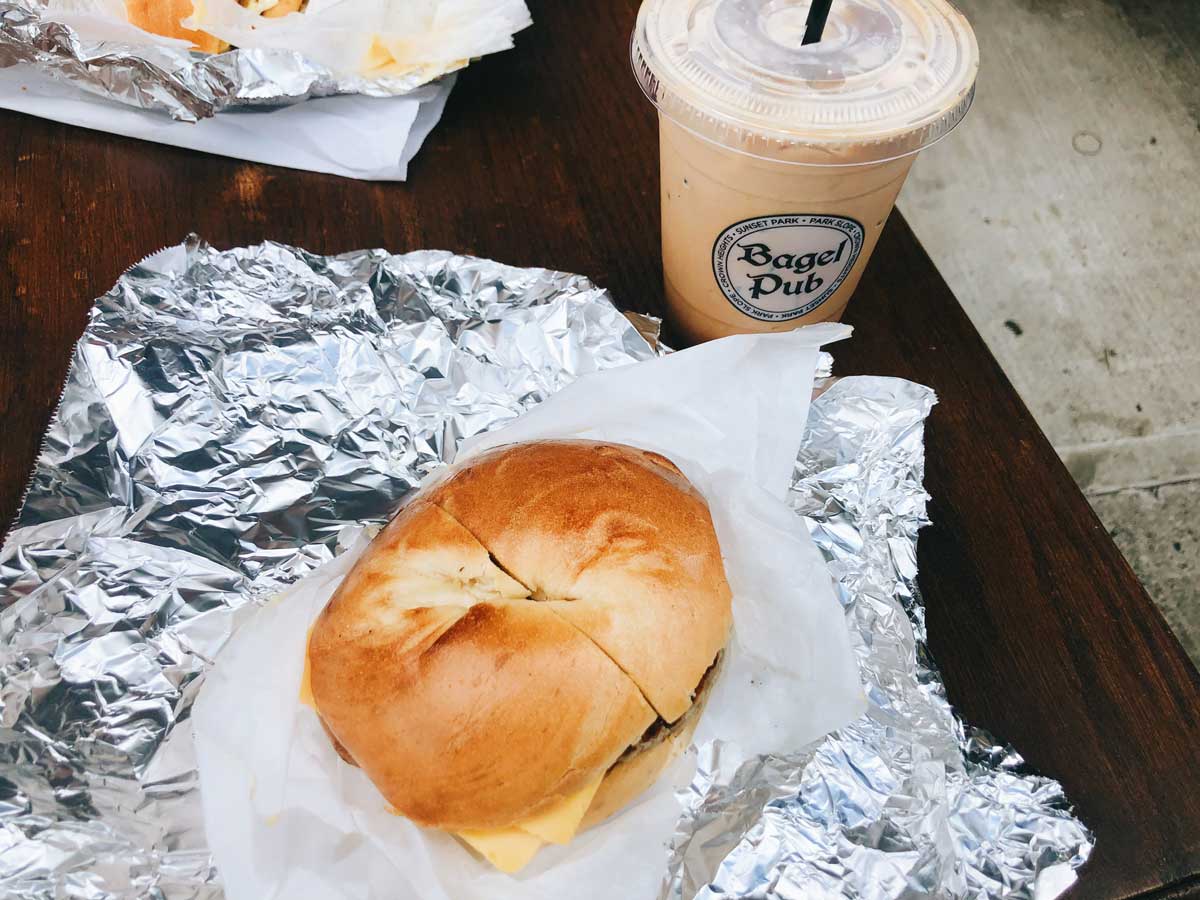 Multiple locations in Brooklyn
Bagel Pub is a YBG staff favorite for good reason — in addition to their top-notch bagel technique (a well-honed balance of chewy/soft), Bagel Pub boasts a delightful variety of sandwich options, including several omelet sandwich options like the Italian Omelet sandwich (Prosciutto di Tarna, Fresh Mozzarella) and the Greek Omelet (Feta cheese and tomatoes), and classics like the Avocado, Bacon, Cheddar, Egg. Throw in one of their high-quality cold brew coffees and you'll quickly see why Bagel Pub is regarded as one of the best bagels in Brooklyn and a must-visit NYC bucket list item.
Smith Street Bagels
202 Smith St, Brooklyn, NY
A landmark of Cobble Hill, Brooklyn, Smith Street Bagels has an incredibly strong breakfast sandwich game. Check out the supremely savory Bacon Chorizo sandwich (Beef bacon, chorizo, cheddar cheese, and jalapeno cheddar cream cheese on a bagel) or the Sirloin steak breakfast sandwich (eggs, sirloin steak, American cheese, and caramelized onion).
If sweet breakfast is more your style, try their walnut raisin or apple spice cream cheese on a plain bagel. In addition to Smith Street Bagels, Cobble Hill itself is one of the coolest places to go in NYC — check out our guide to Cobble Hill, Carroll Gardens, and Boerum Hill here!
H&H Bagels
Many locations in Manhattan (UWS & UES)
Do you live for drama?! How about checking out a bagel place that has its very own scandal-filled memoir??
H&H bagels has had more plot twists than a season of Real Housewives, but regardless of its ups and downs, H&H serves a great bagel. Try an everything toasted with cream cheese while you read up on H&H's storied history as one of the most sought-after New York attractions.
Bagelsmith
Multiple locations in Brooklyn
Located in food-friendly Williamsburg, Bagelsmith is one of the best places to go in NYC for truly well-constructed bagels. Open since 1977, Bagelsmith is beloved by residents and critics alike, frequently winning the Brooklyn Nightlife Awards Best Late Night Food Spot . Sample a garlic bagel with butter before catching a cab home for the night!
Absolute Bagels
2788 Broadway, New York, NY
Nestled uptown near Columbia University, Absolute Bagels is an absolute (sorry, had to) must of New York bucket list items. Known for their freshly-made, hand-rolled bagels and classic spread/sandwich options, Absolute Bagels rightfully claims its place in Food and Wine Magazine as one of the 50 Best Bagels in America. Run, don't walk!!
Joe's Pizza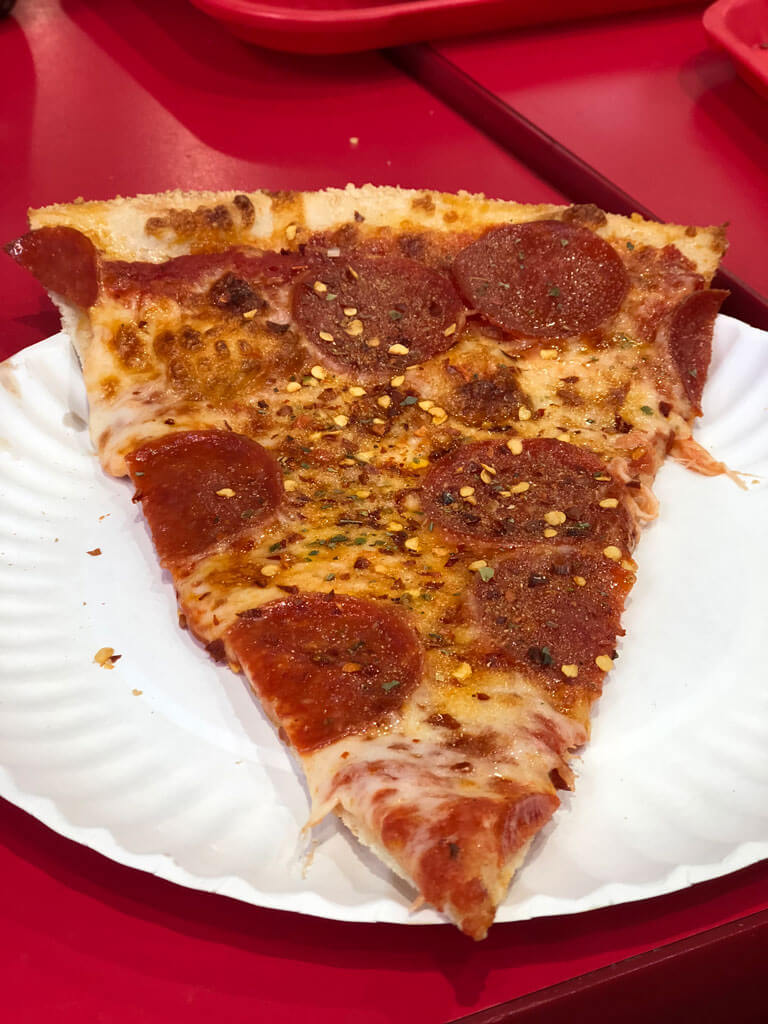 Multiple locations, original: 7 Carmine Street
If you planned your trip specifically to find the best slice of pizza in NYC — make your first stop Joe's. Open since 1975, Joe's focuses on the basics — perfectly constructed slices with high-quality ingredients over trendy techniques.
Frequently lauded as the "Best Pizza in New York" by New York Magazine and one of the 25 "Best Pizzas on Earth" by GQ Magazine, grab a classic cheese or pepperoni slice, a soda, and transport yourself back to another era — Joe's has, and will hopefully always remain one of the best places to go in NYC.
Artichoke Basille's Pizza
Many locations, original: 321 E 14th St
New Yorkers love to wait in line — but only for good reason! And the slices at Artichoke are an excellent reason to invest in a queue. These generously outfitted slices (one slice is really the equivalent of 2 regular pizza slices) are worth any wait — in addition to checking out the eponymous Artichoke slice, try the Vodka slice, the Staten Island (meatballs, ricotta, onion, and ricotta cheese) or the Crab (Crab Sauce, Fresh Mozzarella With a Surimi Stuffing).
So next time you're wondering what to do in NYC, go make friends in line for Artichoke Pizza.
NY Pizza Suprema
413 8th Ave New York, NY
Tucked away in the bustle of Penn Station and 8th Ave, NY Pizza Suprema looks like any other regular slice joint. But don't be fooled — family-owned and operated since 1964, NY Pizza Suprema is a veritable legend among slice joints.
Try everything from their classic cheese to the Vegan Alfredo (macadamia alfredo truffle sauce, vegan mozzarella cheese, spinach, and sauteed sliced onions) for a superior slice experience and one of the best things to do in NYC (especially when you're waiting for that Amtrak!).
L&B Spumoni Gardens
2725 86th St, Brooklyn, NY 11223
Sometimes, the best New York adventures take a little effort. If you're wondering what to see in NYC that's off the beaten path, make a special trip to L&B Spumoni Gardens.
A Bensonhurst landmark, L&B is known worldwide for its pillowy Sicilian pizza slices that have been made with the same techniques since the the1930s. If you're visiting in the winter, grab some square slices before heading over to the nearby Dyker Heights Christmas Lights!
Bleecker Street Pizza
69 Seventh Avenue South
A West Village institution and landmark for over two decades, Bleecker Street is beloved by locals and visitors alike for its proprietary slice recipe (including a secret sauce and specially imported Parmesan Reggiano cheese).
Bleecker Street Pizza is an ideal place to snag a slice before heading to another NYC bucket list attraction — the IFC Center (323 6th Ave), showing blockbusters and indie films for over 15 years!
Scarr's Pizza
22 Orchard Street
A Lower East Side favorite for 70s era ambiance and high-quality slices, Scarr's Pizza is a must-visit among New York attractions. Snag a DJ Clark Kent slice (chicken sausage, garlic, tomato sauce, cheese blend, pecorino romano) and a beer and catch up with friends in their nostalgic, old-school, pizza parlor setting complete with red tray and glass mug detail.
Two Boots
Multiple locations in Manhattan & Brooklyn
New Orleans meets NYC in this Cajun-inspired, creative pizzeria that's served the city for over thirty years. Founded by two indie filmmakers, Two Boots names their slices in cheeky tribute to musical, TV, and movie icons — we recommend the Mel Cooley (sun-dried tomatoes, roasted peppers & basil pesto on a white pie) and The Meg (provolone, parmigiano, ricotta, mozzarella, roasted garlic & oregano) as a start to your Two Boots journey and NYC bucket list.
Joe and Sal's Pizzeria
842 Franklin Ave, Brooklyn & 353 Myrtle Ave, Brooklyn
Even though Joe and Sal's Pizzeria is a relative newcomer to the scene, you'd never know it from their fan-favorite slices, swiftly developing a cult following amongst passionate pizza fans as one of the best slices in the city and a hot New York attraction.
Try a Nonna slice and some buffalo garlic knots (!!) for a well-rounded meal (salads are for tomorrow!!).
Empire Diner
210 10th Ave, New York, NY
If you ask a New Yorker what the best diner in NYC is, you're bound to get a different answer every time. The real answer is — almost every diner in NYC has something special that it brings to the table, whether it's a time-honored sandwich, well-seasoned griddle, or the best coffee in town, NYC diners are the ultimate blend of comfort, convenience, and quality cuisine in the city.
One of these well-loved diners is Empire Diner, open in Chelsea since 1976. Highly recognizable by its old-school, roadside diner look, Empire blends traditional diner fare with updated takes by Chef Jestin Feggan.
Try an egg scramble with cacio e pepe or a 2-patty diner burger with the option of Impossible (vegan) meat before visiting the nearby High Line, one of the best things to do in New York City when it's nice out!
Tom's Restaurant UWS
2880 Broadway, New York, NY 10025
You know it. You love it. It's the diner from Seinfeld!! Tom's is not just the location of a TV show that defined diner culture but a well-loved neighborhood favorite and must visit New York attraction for over 80 years. Grab your own set of friends to try their classic Grilled Cheese, Crispy Chicken Finger Platter, and if you'd like, soup! Yes, soup for you!!
Ellen's Stardust Diner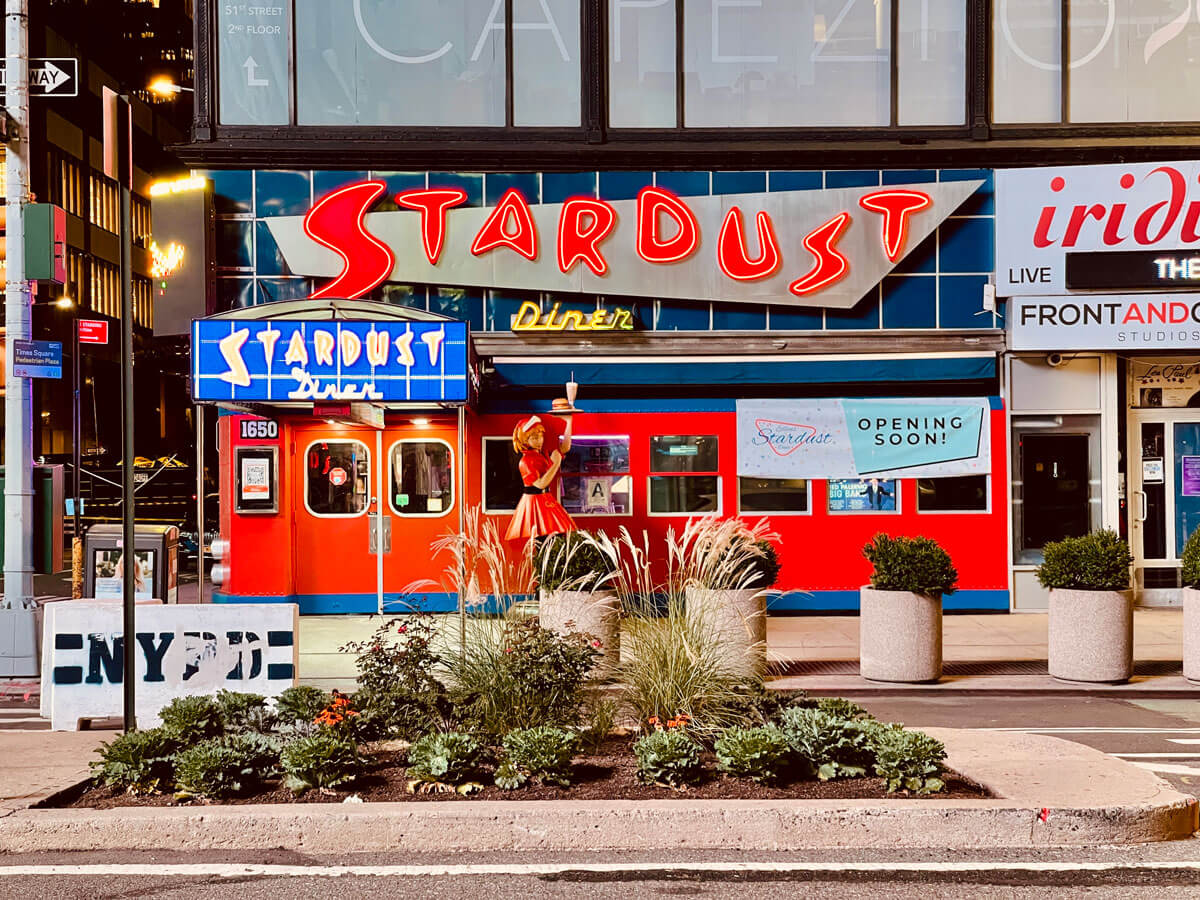 1650 Broadway, New York, NY
If you're wondering what to do in NYC that is a perfect blend of showbiz glamour and diner glory, look no further than Ellen's Stardust Diner. Staffed by the best and brightest NYC performers, Ellen's serves up classic diner dishes with a side of perfectly performed show tunes. Catch a future Tony Award winner and say you saw them when!!
Lexington Candy Shop
1226 Lexington Ave, New York, NY
Lexington Candy Shop is an old-school New York attraction with a cheerful, family-friendly ambiance and delightfully nostalgic offerings. Open since 1925, Lexington Candy specializes in completely homemade floats and egg creams using their proprietary in-house syrups. Split a Root Beer float with a date before hitting up nearby Central Park!
Kellogg's Diner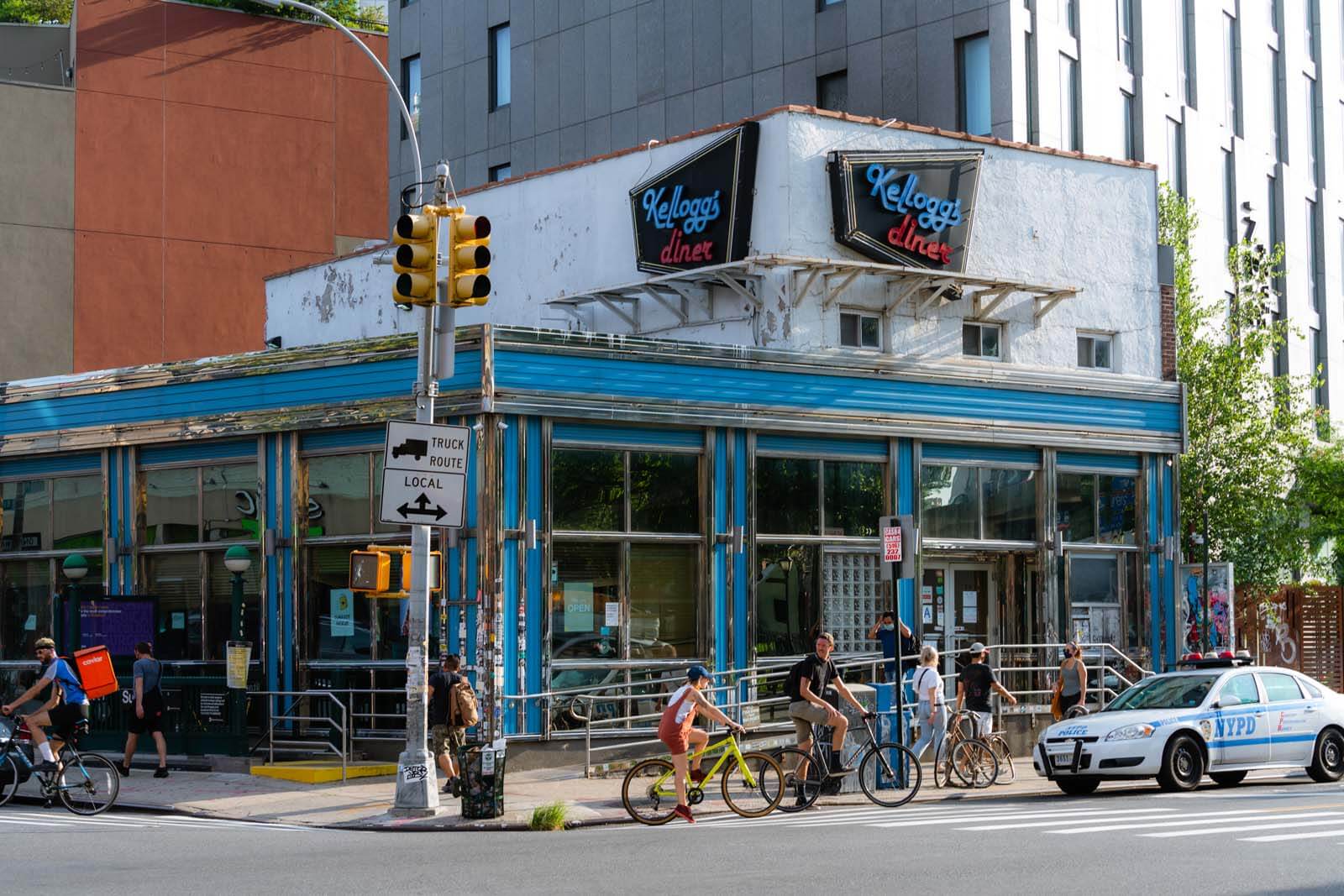 518 Metropolitan Ave, Brooklyn, NY
Kellogg's, open in Williamsburg since 1928, is a revered favorite among Brooklyn diners for its 24-hour offerings of breakfast classics, transcendent burgers, and innovative entrees like the Mac N' Cheese Spinach Pie. Located right above the G train Metropolitan stop, Kellogg's is the best place to end an adventurous night out and one of the best things to do in NYC.
Junior's Restaurant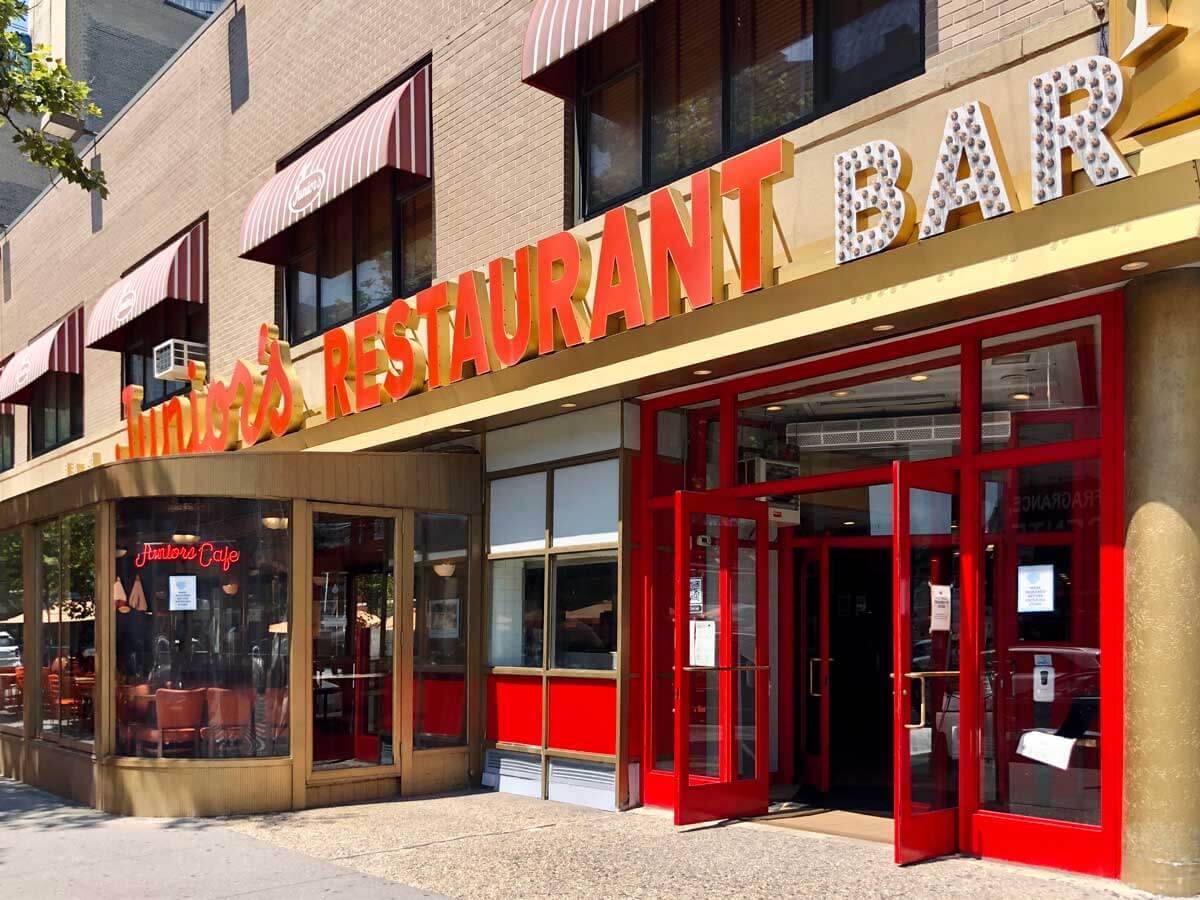 386 Flatbush Ave, Brooklyn, NY
Junior's is not only known as one of the best places to eat cheesecake, but also one of the most iconic places to eat in all of Brooklyn (if you don't have time to travel through boroughs, there are also locations in Manhattan including Times Square!).
The original location, open since 1950 in Downtown Brooklyn, is where their famous cheesecake recipe was developed, long before the Junior's empire would become one of the must-see places in New York.
Grab a slice in-person and order some to be shipped to your friends and family through their distribution on GoldBelly!
Veniero's Pasticceria & Caffe
342 E 11th St, New York, NY
An East Village landmark, Veniero's gives Junior's a run for its money in the cheesecake arms race. Try their chocolate marble cheesecake, or if you're dairy-free, some of their world-famous biscotti! Veniero's also has a charming seating area to enjoy your treats, making it one of the best places to go in NYC for a nostalgic bakery experience.
Eileen's Special Cheesecake
17 Cleveland Place, New York, NY
Eileen's has been serving New York bucket list-worthy cheesecake since 1975. This family-run, women-owned bakery keeps founder Eileen Avenzzano's legacy alive by crafting sumptuous cakes of all flavors and sizes for New Yorkers to cherish. We recommend the salted caramel!
Pasticceria Rocco
243 Bleecker St, New York, NY
This upscale bakery is one of the must-see places in New York for its crustless, sumptuous cheesecake. This family-owned shop has perfected its time-honored recipes, serving equally tasty cheesecake and cannolis. Wash them down with a cappuccino or espresso!
S&S Cheesecake
222 W 238th Street, Bronx NY
Open for over 50 years, S&S Cheesecake in the Bronx is both highly-rated by discerning New Yorkers and the Zagat guide, who note that "if they gave a Nobel Prize for cheesecake" S&S would receive one. Be your own Nobel Prize committee and stop by this NYC bucket list item for a slice or five.
Katz's Delicatessen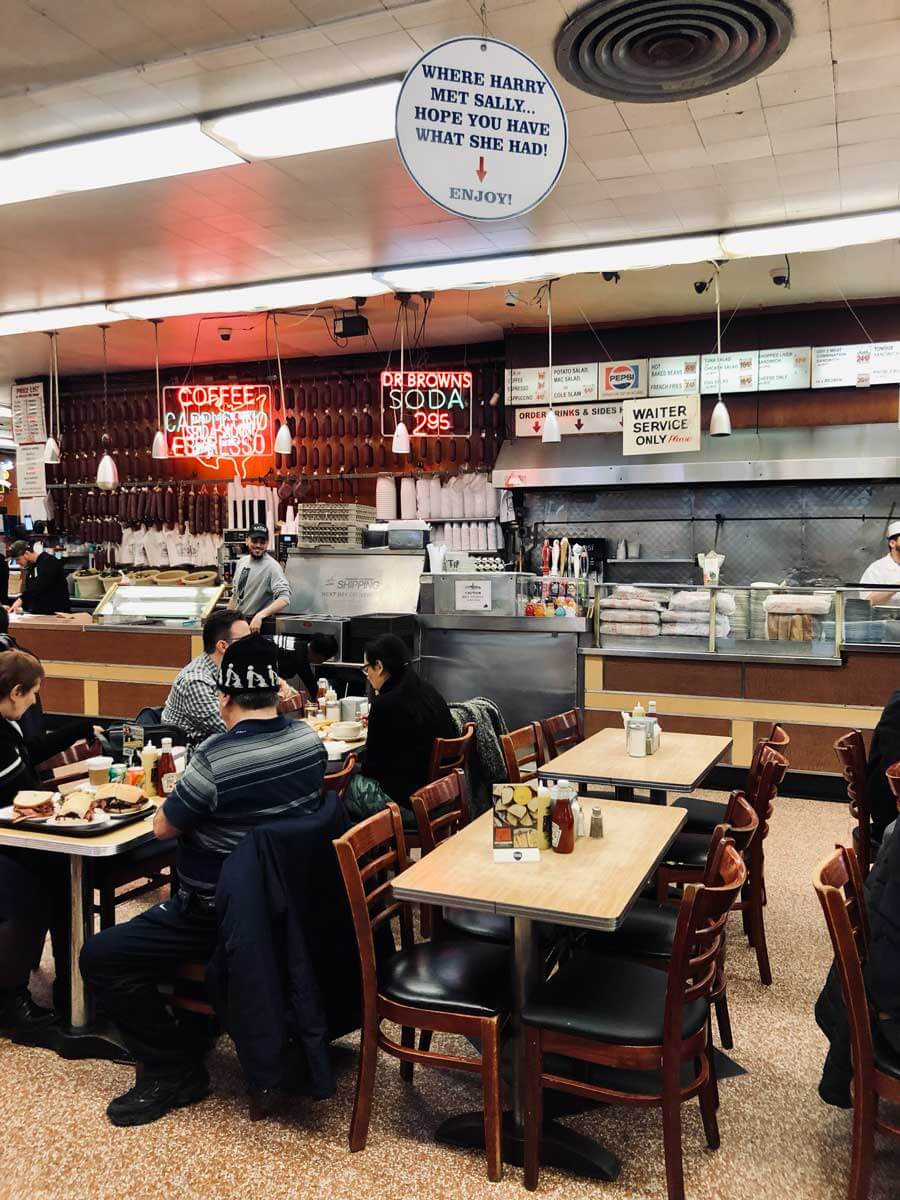 205 E Houston St New York, NY
The one. The only. Katz's — the ultimate Jewish deli. Synonymous with New York in its simultaneous embrace of hospitality and humorous hostility (don't lose your ticket!!!), one of the best things to do in New York City is to order a piled-high pastrami sandwich from Katz's. After all, you'll have what she's having.
Zabar's
2245 Broadway New York, NY
A veritable kingdom of tasty prepared foods, deli slices, cheeses, and bread, Zabar's is a New York legend that also appears in a Nora Ephron movie (she really knew her deli).
While you're there, make sure to pick up a signature orange Zabar's tote bag, so that when people ask you what to do in NYC, you can quickly point them in the right direction!
Russ and Daughters
Many Locations
A perennial YBG favorite for bagels, appetizers, and babka, Russ and Daughters has been open since 1907 and bears the distinction of being the first business in America to be named "& Daughters" rather than "& Sons", thanks to founder Joel Russ and his daughters.
Still family-owned and operated, snag some matzo ball soup, chocolate rugelach and babka, and of course, an everything bagel with lox and schmear at this essential New York attraction.
Shelsky's Of Brooklyn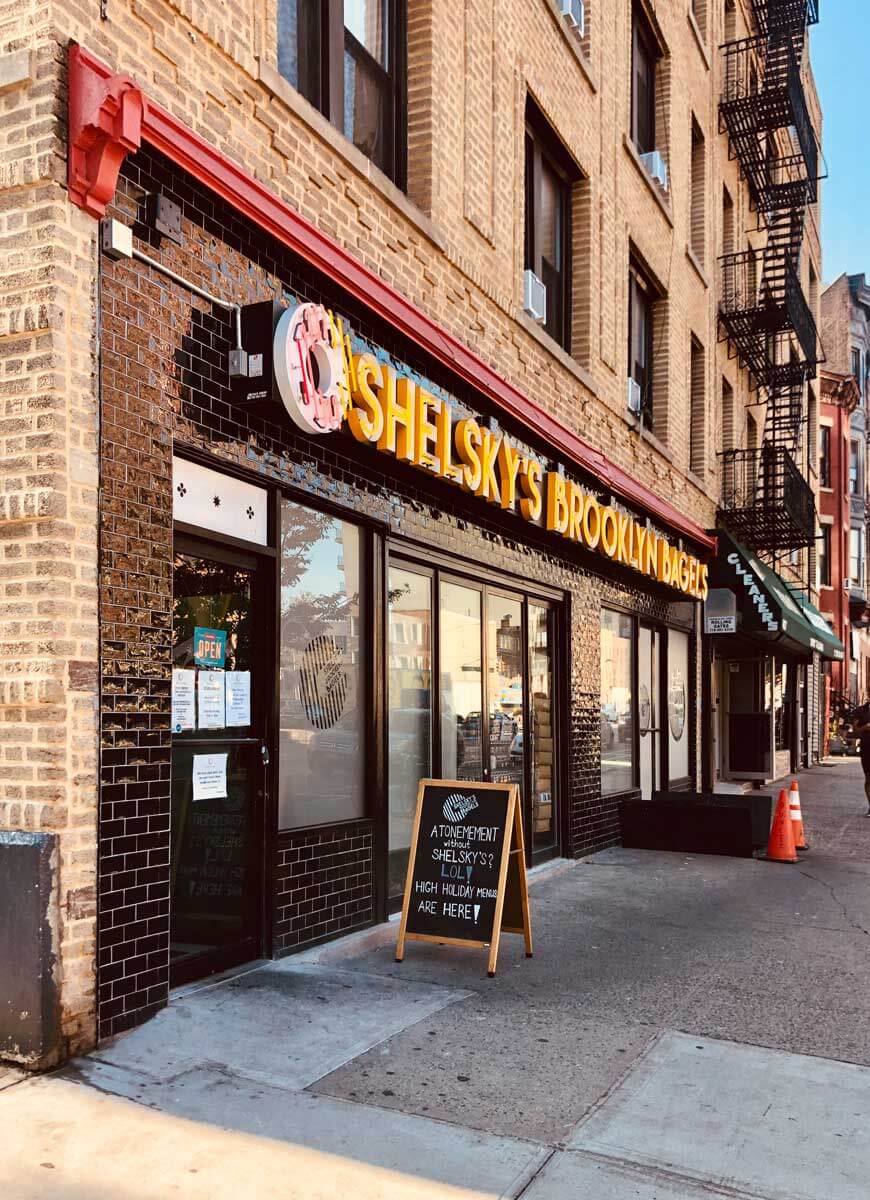 141 Court Street & 453 4th Ave – Brooklyn
Inspired by the Katz's, Zabar's and Russ & Daughters of the world, New York native Peter Shelsky set out to found a new generation of Jewish delicatessens with old-school favorites like whitefish salad and latkes and new-school options like white chocolate and lemon halvah.
Cater your next seder to the nines (or just eat like every day is a holiday) by stopping at Shelsky's, a New York bucket list highlight.
Barney Greengrass
541 Amsterdam Ave New York, NY
Appearing frequently in New York-centric movies and TV shows like Seinfeld, 30 Rock, You've Got Mail, Revolutionary Road, and (essential NYC show Law and Order), Barney Greengrass is more than just a good location. Specializing in a wide range of appetizers including crispy-savory latkes and otherworldly blintzes, Barney Greengrass is "a food store for those who demand the best" and know that it's one of the best places to go in NYC.
Gray's Papaya
2090 Broadway, New York, NY
The flagship Upper West Side location of Gray's Papaya promises "the best hot dog, anywhere" and delicious papaya juice, delivering on both fronts at one of New York's most popular frank joints.
While the UWS outpost is currently the only location still running, the downtown Gray's Papaya once famously appeared in SATC as a late-night celebration meal for one Carrie Bradshaw.
When you too finish your book and are wondering what to do in NYC, head to Gray's for the local special (1 frank and a medium tropical drink) as you wait for your publisher's advance to clear.
Nathan's Famous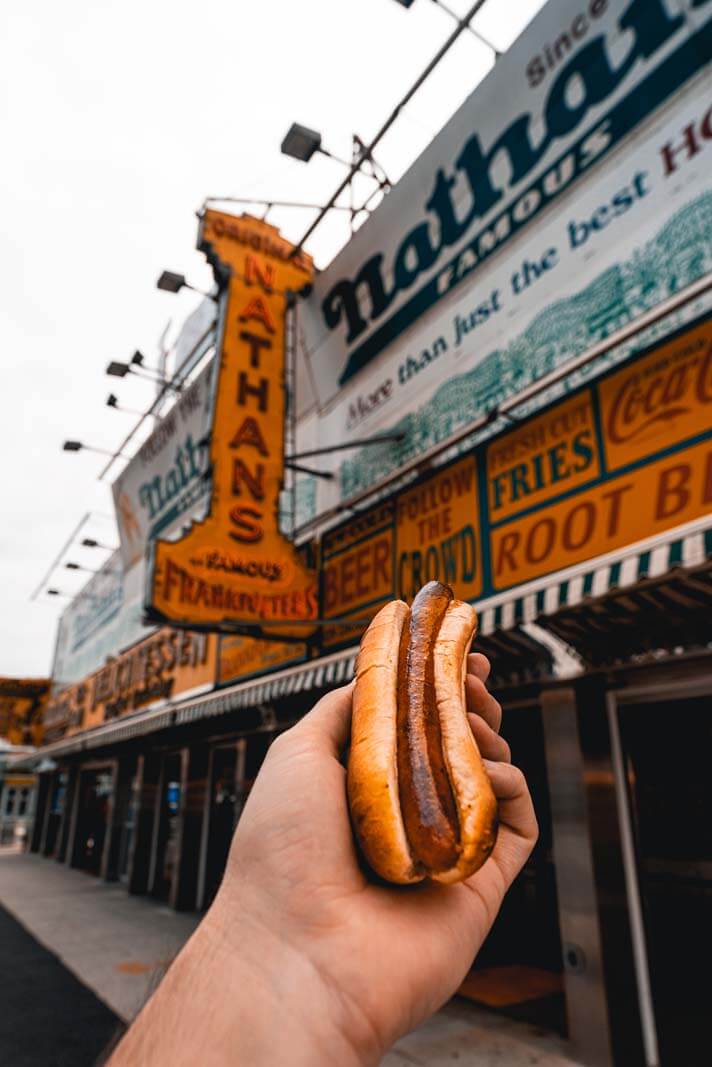 Many locations, original: 1310 Surf Ave, Brooklyn, NY
Remember when we suggested you check out Nathan's Famous Hot Dog Eating Contest on the Coney Island Boardwalk? While the event happens but once a year on July 4th, if you're more of a casual hot dog consumer than Joey Chestnut, you can still try their hot dogs year-round at the Surf Ave location (as well as throughout the city and tri-state area, though the original location bears the most charm).
Load up your 'dogs with sauerkraut and practice your skills for next year's contest at this must-visit spot among New York attractions!
Spritzenhaus33
33 Nassau Ave, Brooklyn, NY
If your favorite kind of hot dog is sausage, be sure to swing by Brooklyn beer hall Spritzenhaus33, a lively, industrial-themed spot with brews, brats, and communal seating. Try a kielbasa made with local polish pork and spices or a chicken sausage with aioli and sundried tomatoes at this culinary New York bucket list gem and one of our favorite Brooklyn biergartens to check out.
Liebman's Deli
552 W 235th St, Bronx, NY
Open since 1953, Liebman's is worth a trip uptown for their perfectly cooked franks, which you are welcome to top with potato salad or coleslaw. While you're at one of the best places to go in NYC, pick up one of their black and white cookies or sweet noodle kugel!
Ben's Delicatessen and Restaurant
209 W 38th St New York, NY
Ben's is another NYC bucket list item — a top-notch Jewish deli with high-quality, classic-yet-innovative hot dogs. Try the Ben's (topped with sauerkraut and your choice of corned beef or pastrami, served with Russian dressing on a baguette) or the Chili dog served on a brioche bun.
The Halal Guys
Many locations, original: W 53rd St and 6th Ave, New York, NY
Opened originally as a small-scale corner hot dog cart in 1990 (and reworked into a halal cart in 1992), the Halal Guys have expanded into a genuine empire, with dozens of locations across the city and nationwide.
Serving up Mediterranean and Middle Eastern halal classics like chicken, gyro, falafel, and rice, if you're wondering what to do in NYC, make friends in the line for the original cart food at 53rd and 6th.
Mamoun's Falafel
119 Macdougal New York, NY
Another veritable legend of New York attractions, the original Mamoun's Falafel has stood in the heart of Greenwich Village since 1971. While Mamoun's well-loved Mediterranean and Middle Eastern classics prepared fresh daily have inspired several other locations, it's worth checking out the flagship location for the jenai sais quoi of the first outpost. We recommend the Bleecker (chicken kebab and falafel).
Yemen Cafe
176 Atlantic Ave & 7130 5th Ave – Brooklyn
The first Yemeni restaurant in the US, Yemen cafe has been delighting Brooklynites since 1986 with traditional halal cuisine. We recommend the baba ghanoush and chicken haneeth for your New York bucket list menu!
Joe's Shanghai Dumplings
46 Bowery New York, NY
If you haven't experienced Joe's Shanghai soup dumplings, now is the time. Visit this Chinatown landmark for the aforementioned dumplings as well as top-notch Hunan pork, Schezuan beef, and smoked fish noodle soup. Finish your meal with a red bean shortcake at one of the tastiest places to go in NYC!
Jongro BBQ
22 W 32nd St, New York, NY
Head to the second floor of this address to find some of the best Korean barbeque in the city and one of the coolest things to do in NYC. Bring some friends to split kimchi scallion pancakes and a marinated beef platter that you can grill to your exact liking.
Sushi Nakazawa
23 Commerce St, New York, NY
Known widely for its executive chef Daisuke Nakazawa's appearance on the Netflix documentary Jiro Dreams of Sushi, Sushi Nakazawa is a destination for Michelin-star omakase for both lunch and dinner. Make this New York attraction your most anticipated dinner reservation!
Delmonico's
56 Beaver St, New York, NY
A mix of gluttony and glamour, steakhouses are synonymous with the city. Make sure to try Delmonico's, open since 1837 (!) and mandatory among must-see places in New York.
Wood-paneled walls, ornate carpenting, wine-colored leather-backed chairs and white linens outfit this extremely traditional steakhouse where several US presidents have dined. As with the many New York observatories, this would be another great place to propose!
Keen's
72 W 36th St, New York, NY
Conveniently located near Macy's, Keen's is an excellent choice on your holiday itinerary. With extremely generous portions of in-house, dry-aged USDA prime beef and a historic collection of churchwarden pipes (and a celebrity-laden pipe club to go with it?!), Keen's is a lively, storied spot on your NYC bucket list not to mention one of the best steakhouses in NYC.
Peter Luger
178 Broadway, Brooklyn, NY
This cash-only, old-school steakhouse open since 1887 and is one of the best steakhouses in the city. We recommend trying the jumbo shrimp cocktail and the single steak with a side of German fried potatoes on your quest to find the tastiest things to do in New York City.
Tavern on the Green
67th Street and Central Park West
While not technically a steakhouse proper, Tavern on the Green is absolutely among the must-see places in New York. Host to scores of fabulous fashion parties, Broadway openings, and galas over the years, Tavern on the Green is where New York goes for a very fancy night out. And yes, the 28 Day Dry-Aged Steak is worth it.
Quality Meats
57 W 58th St New York, NY
When you're celebrating a promotion/new job/sale of your masterpiece, head to Quality Meats, a jaw-droppingly good steakhouse just below Central Park and one of the tastiest places to go in NYC.
Dine on hanger steak with brandied cherries, filet mignon, and yes, tableside truffle-butter service alongside one of the best wine programs in the country. And when temperatures drop, sister restaurant Quality Bistro houses the Nog Shop, an eggnog and holiday cocktail pop-up bar.
Cote
16 W 22nd St, New York, NY
One of the most highly regarded steakhouses in the city, Cote is a Korean-style chophouse specializing in combining the best of Korean BBQ and American steakhouse sensibilities. If you're going with a group, try the Butcher's Feast — a selection of the chef's favorite cuts that are sure to outdo your New York bucket list wishes.
Ferrara's Bakery
195 Grand Street, New York NY
Set in the heart of Little Italy, Ferrara's is your go-to place for all the delights of an Italian bakery and an insanely tasty thing to do in NYC. Open since 1892, Ferrara imports over 200 Italian specialties and recreates such classics as cannolis, rainbow cookies, lobster tails (cream-filled puff pastry, no seafood!), tiramisu, panettone, and cheesecake. Grab a tray of assorted goods to bring home, too!
Court Pastry Shop
298 Court Street, Brooklyn, NY
Court Pastry Shop's classic Sicilian flavors infuse their biscotti, fruitcakes, sfogliatelle, seven-layer cakes, and other treasured baked goods with time-honored quality and tradition in one of Brooklyn's best bakeries. If you visit this New York attraction in the summer, don't forget to try their signature flavored ices!
Zeppola
499 7th Ave, New York, NY
If you're wondering what to do in NYC below 34th street, Chelsea bakery Zeppola is worth checking out! Zeppola is a relative newcomer to some of the older Italian bakeries but still packs a punch with their top-notch pistachio-infused croissants and bomboloni, custard-y tarts, and focaccia. We recommend trying any and all of the bombolonis and taking home some Spinach focaccia for the road!
Museums & Cultural Institutions
Metropolitan Museum of Art
1000 5th Ave, New York, NY
A veritable institution of the global art scene, the Metropolitan Museum of Art is absolutely among the must-see places in New York and one of the best museums in NYC to visit in general.
Founded in 1870, the Met holds over 5,000 years of art from around the world, with exhibits ranging from ancient Egyptian artifacts to contemporary fashion designers. Admission to the Met is $25 and pay-what-you-can for NY, NJ, CT residents, and students.
This museum is also included on both the CityPASS or the New York Pass for those who are bundling up attractions and saving money on attraction passes.
New York Public Library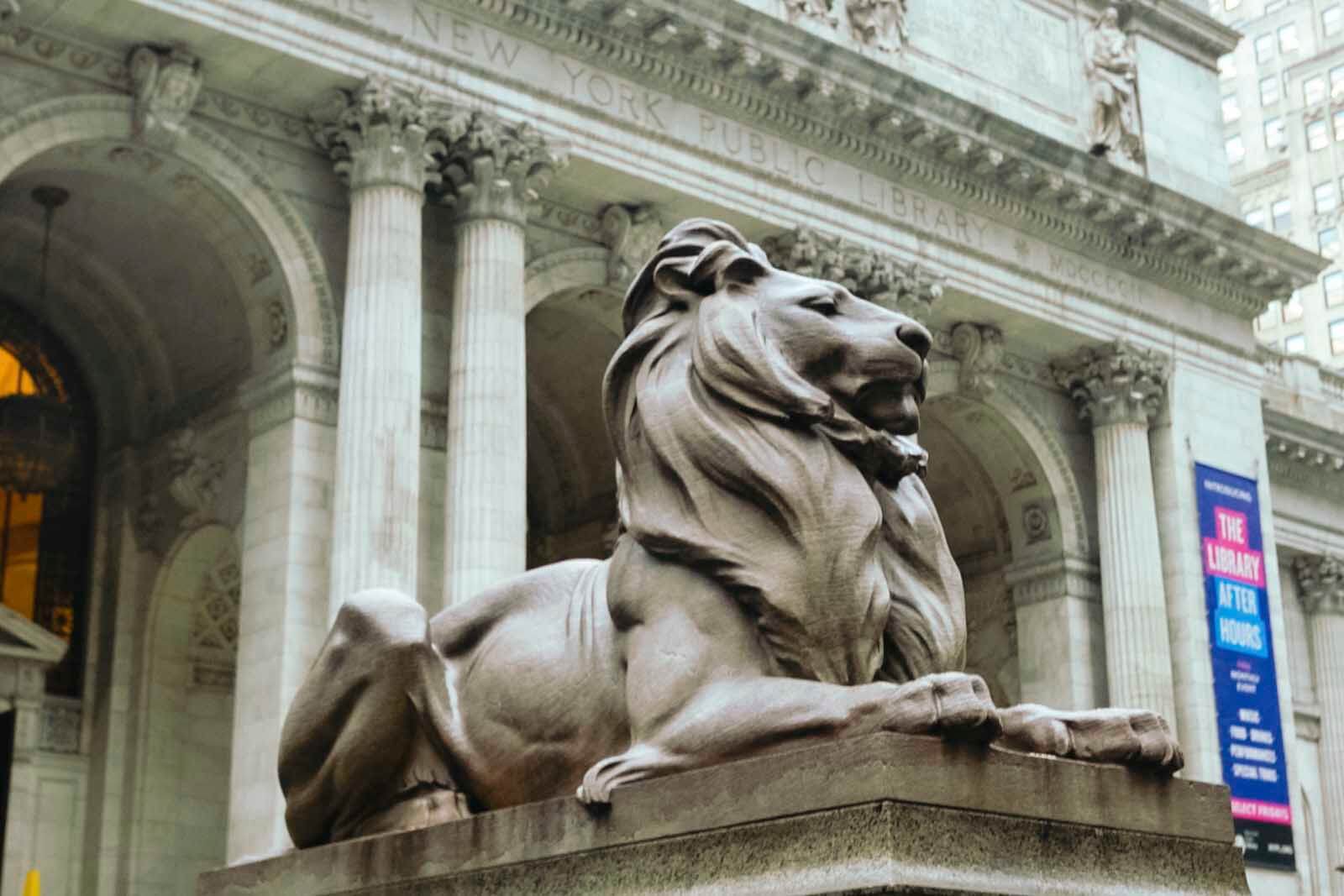 476 5th Ave New York, NY
While the New York Public Library has over 90 locations across the five boroughs, its main branch sits at the Eastern end of Bryant Park.
The Stephen A. Schwarzman Building, built in 1895 as a combination of two libraries, is home not only to four floors titles available to the public but also a significant research collection with nine separate divisions.
In addition to the impressive literary inventory, the building itself is an architectural wonder, built in Beaux-Arts style and featuring two iconic stone lions, known as "Patience" and "Fortitude". If you're wondering what to do in NYC that's both educational and free, look no further than the NYPL!
Solomon R. Guggenheim Museum
1071 5th Ave New York, NY
A beacon of contemporary art, the Guggenheim Museum in NYC is one of several throughout the world (other locations sit in Venice, Bilbao, Abu Dhabi).
Committed to an exchange of ideas and innovation through shared art, the Guggenheim is known not only for its cutting-edge exhibits but also for its structural beauty — the museum's signature spherical, cylindrical building was designed by famed architect Frank Lloyd Wright.
Admission begins at $25 for this New York attraction — but note that once a month the Guggenheim is one of many museums you can visit for free for their Saturday "on the house".
This museum is also included on both the CityPASS or the New York Pass for those who are bundling up attractions and saving money on attraction passes.
Universal Hip Hop Museum
610 Exterior Street, The Bronx
The Universal Hip Museum is dedicated to archiving, preserving, and celebrating the global history of hip hop music and culture, and is one of the most engaging places to go in NYC.
Filled with rotating exhibits, panels, and events celebrating hip hop's past, present, and future, the Universal Hip Hop Museum has a proprietary collection of musical photography and audiovisual archives. Admission to the museum is free!
MoMa
11 West 53rd St, New York, NY
MoMa, also known as the Museum of Modern Art, began in the 1920s as an idea from Abby Rockefeller (wife of the famous John D. Rockefeller) and two friends.
Abby and company rented out a building on 5th Avenue and opened the museum on November 7th, 1929, shortly after the Wall Street Crash. The museum managed to survive to the present day and is now known as one of the largest and most influential modern art museums in the world.
And for even more interactive art and one of the must see places in New York, check out sister museum and performance venue MoMa PS1 (22-25 Jackson Ave, Queens NY).
This museum is also included on both the CityPASS or the New York Pass for those who are bundling up attractions and saving money on attraction passes.
Brooklyn Museum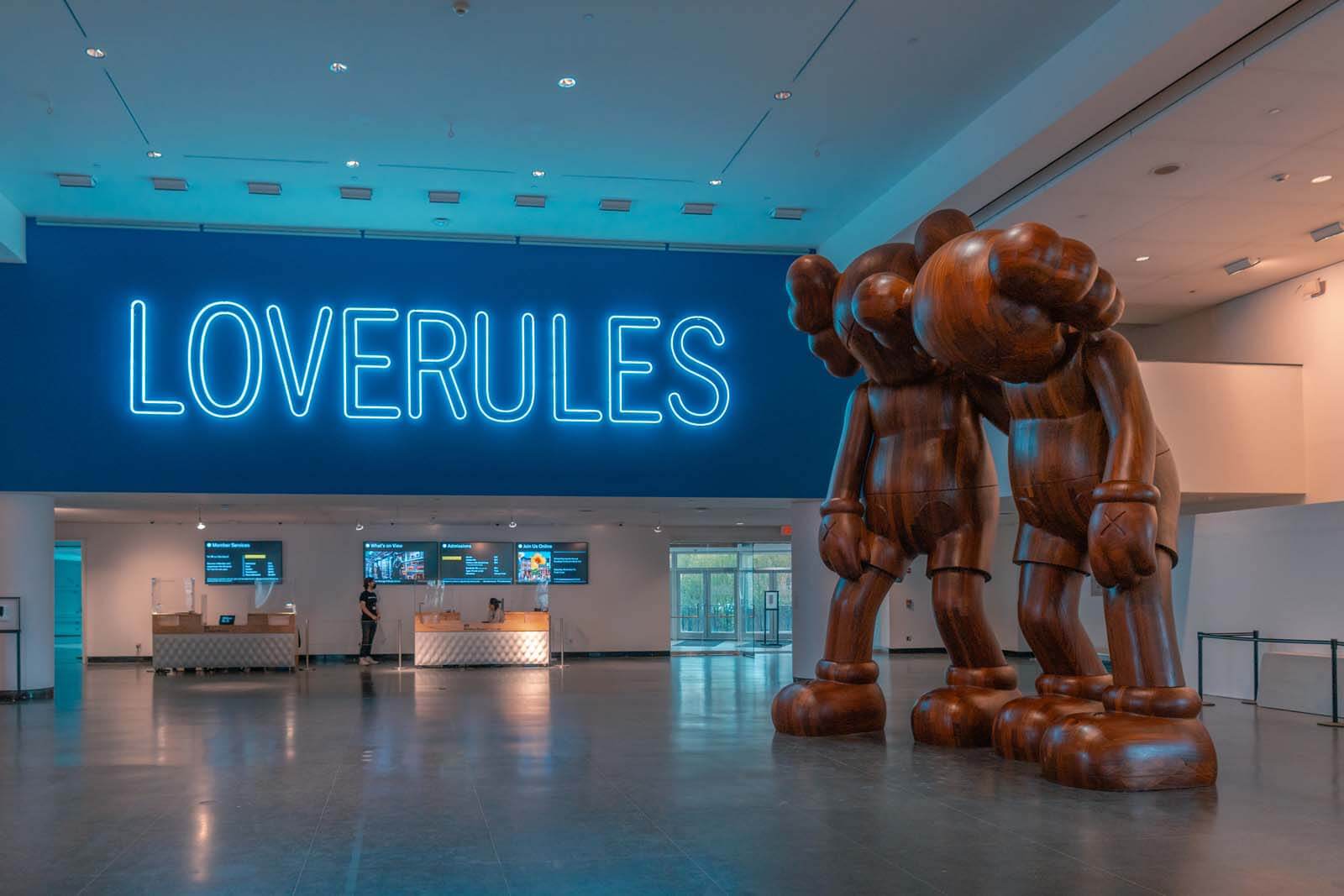 200 Eastern Parkway, Brooklyn NY
Visiting the Brooklyn Museum is a must on your journey through New York cultural institutions — founded in 1897, the museum is a comprehensive collection of classical and contemporary African and Egyptian art, and features such greats as Norman Rockwell, Edward Hopper, Edgar Degas, Georgia O'Keeffe, and Mark Rothko.
The museum also offers free admission on the first Saturday of each month! This is an attraction included on the New York Pass. Located adjacent to the Brooklyn Botanic Garden, visiting both the museum and garden are some of the best things to do in NYC.
Museum of the City of New York
1220 5th Ave New York, NY
Open for almost 100 years, the Museum of the City of New York is the ultimate retrospective on the life and times of the Big Apple. Featuring frequently rotating exhibits on everything from the history of the AIDS crisis to the evolution of Blue Man Group, this cultural institution is one of the coolest places to go in NYC.
Admission is suggested at $22 but is pay-as-you-wish! This is an attraction included on the New York Pass.
The National September 11th Museum and Memorial
180 Greenwich Street, New York, NY
This moving tribute to the day that changed New York forever is equally deeply meaningful and educational, dedicated both to preserving the archival evidence of 9/11 and exploring its continued impact on the world at large.
Advance tickets are required for the museum (also available as part of a New York Pass or CityPASS purchase) and please note that touring the museum, while vitally important and one of the must-see places in New York, can be an emotionally challenging experience.
American Museum of Natural History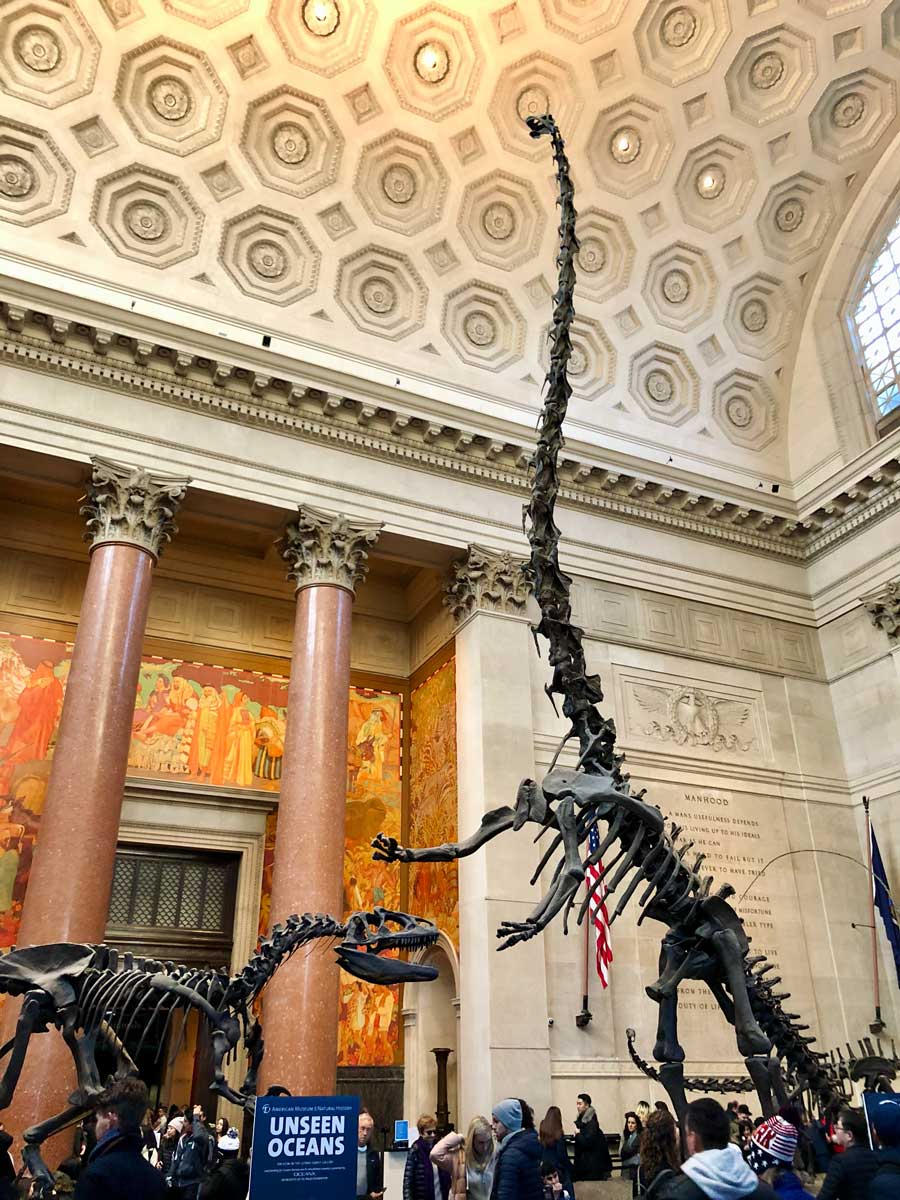 200 Central Park West, New York, NY
Founded in 1869, the American Museum of Natural History is actually a series of 26 interconnected buildings of exhibition halls, the Hayden planetarium, and the library. Featuring 45 permanent exhibits and a frequently rotating series of scientific and anthropological collections, the museum is an educational New York bucket list item and the site of many New York-centric books, movies, and TV (shout to Catcher in the Rye fans!) And of course, don't forget to visit the dinosaurs while you're there!
This museum is also included on both the CityPASS or the New York Pass for those who are bundling up attractions and saving money on attraction passes.
This is also a great option for what to do in NYC with kids too!
The Tenement Museum
103 Orchard St, New York, NY
Preserving the long legacy of the American immigration experience, the Tenement Museum is one of the must-see places in New York.
The museum itself is built as a recreation of the Lower East Side tenements and features historic tours of the recreated sites as well as the surrounding neighborhood. Admission is $30 and group tours are available.
Museum of the Chinese in America
215 Centre St, New York, NY
This Museum of the Chinese in America is a New York attraction dedicated to archiving, celebrating, and exploring the experiences of Chinese and other AAPI immigrants through a rotating series of exhibits that connect the past to present, and the local community to the global diaspora. General admission is $12 and residents of Chinatown and Two Bridges can visit for free.
The Jewish Museum
1109 5th Ave New York, NY
Founded in 1904, the Jewish Museum is one of the oldest to archive the intersection of Jewish art and culture and the first in America.
Documenting over 4,000 years of the diaspora, the museum contains over 30,000 works of art, media, and artifacts as well as robust educational programming. Admission is $18. Wondering what to do in NYC around Hanukkah or the High Holidays? The Jewish Museum offers special programming and family holiday activities each year!
El Museo Del Barrio
1230 5th Ave New York, NY
Known as "New York's leading Latino cultural institution", El Museo Del Barrio is a celebration of the artistry and history of the Latinx, Caribbean, and Latin American peoples.
With exhibitions ranging from the New York Puerto Rican Experience of the 1970s to a collection of optical illusion-themed pieces from Latinx artists, El Museo Del Barrio is one of the most engaging places to go in NYC.
Admission is pay-what-you-wish or it's included on the New York Pass.
National Museum of the American Indian
1 Bowling Green New York, NY
Dedicated to highlighting the experiences and contributions of the Indigenous people, the National Museum of the American Indian is one of the must-see places in New York and is run by Chavez Lamar, an Indigenous scholar and member of the San Felipe Pueblo tribe.
The National Museum of the American Indian houses a significant collection of art works, artifacts, and public performances, film festivals, and symposiums detailing the history of North America's first people. Admission is free!
Albertine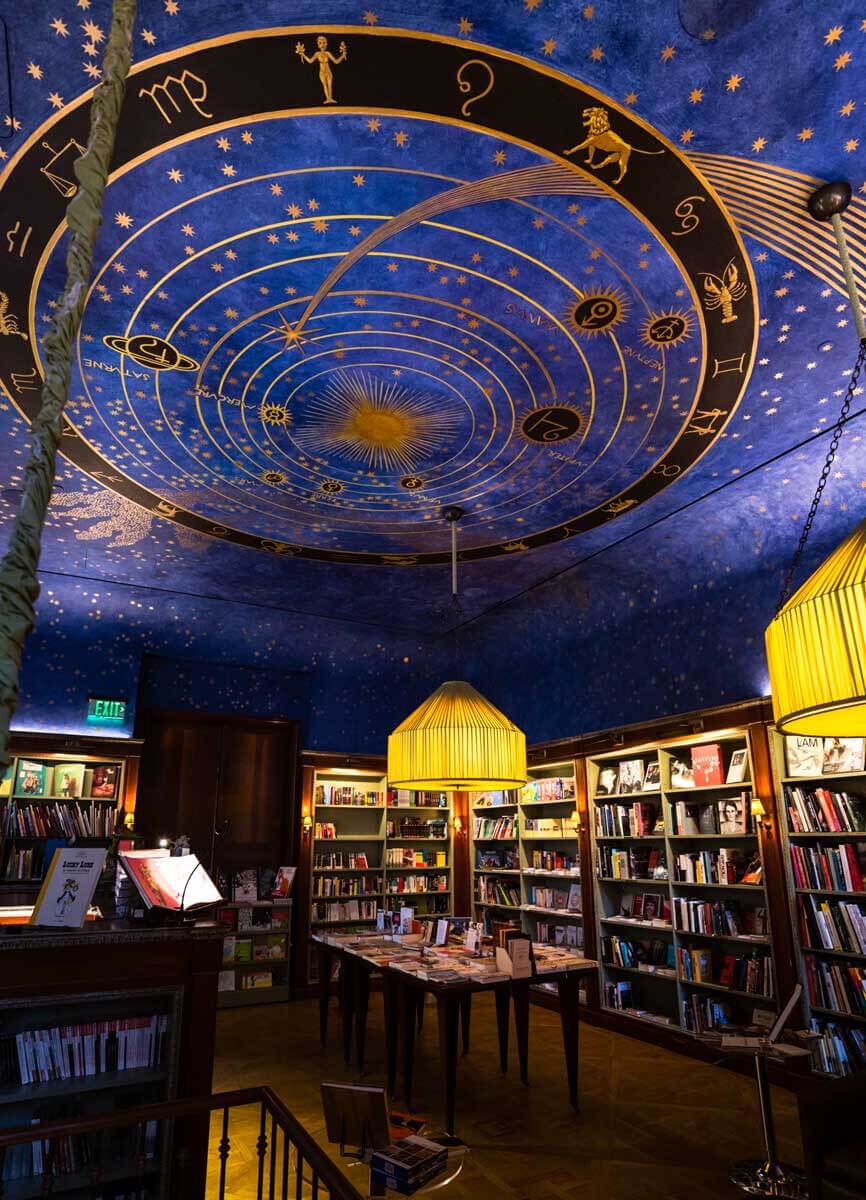 972 5th Ave New York, NY
While it may look like a museum, this stunningly-outfitted bookstore adjacent to the French Embassy has artifacts fully available for purchase — the store's exclusive collection of over 14,000 titles in French and English.
And don't forget (while you're on your New York bucket list journey) to snap a photo of its hand-painted constellation mural modeled after the ceiling of a German villa!
The Strand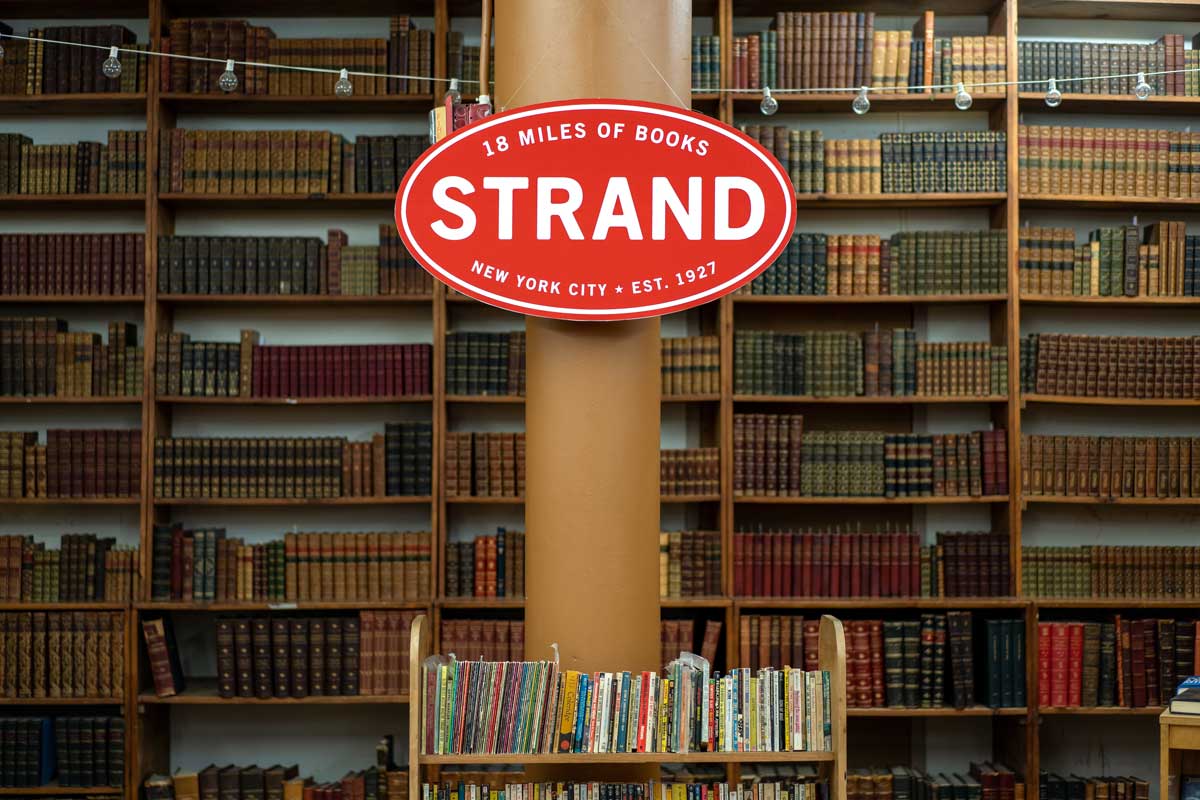 828 Broadway, New York NY
Open for over 90 years, the Strand is one of New York's best independent bookstores and a Union Square cultural institution.
Filled to the brim with stacks upon stacks of new and used titles, a legendary sidewalk cart collection, signature tote bags, and knowledgeable staff, visiting the Strand is one of the coolest things to do in NYC and a way to support local, independent booksellers.
McNally Jackson Independent Booksellers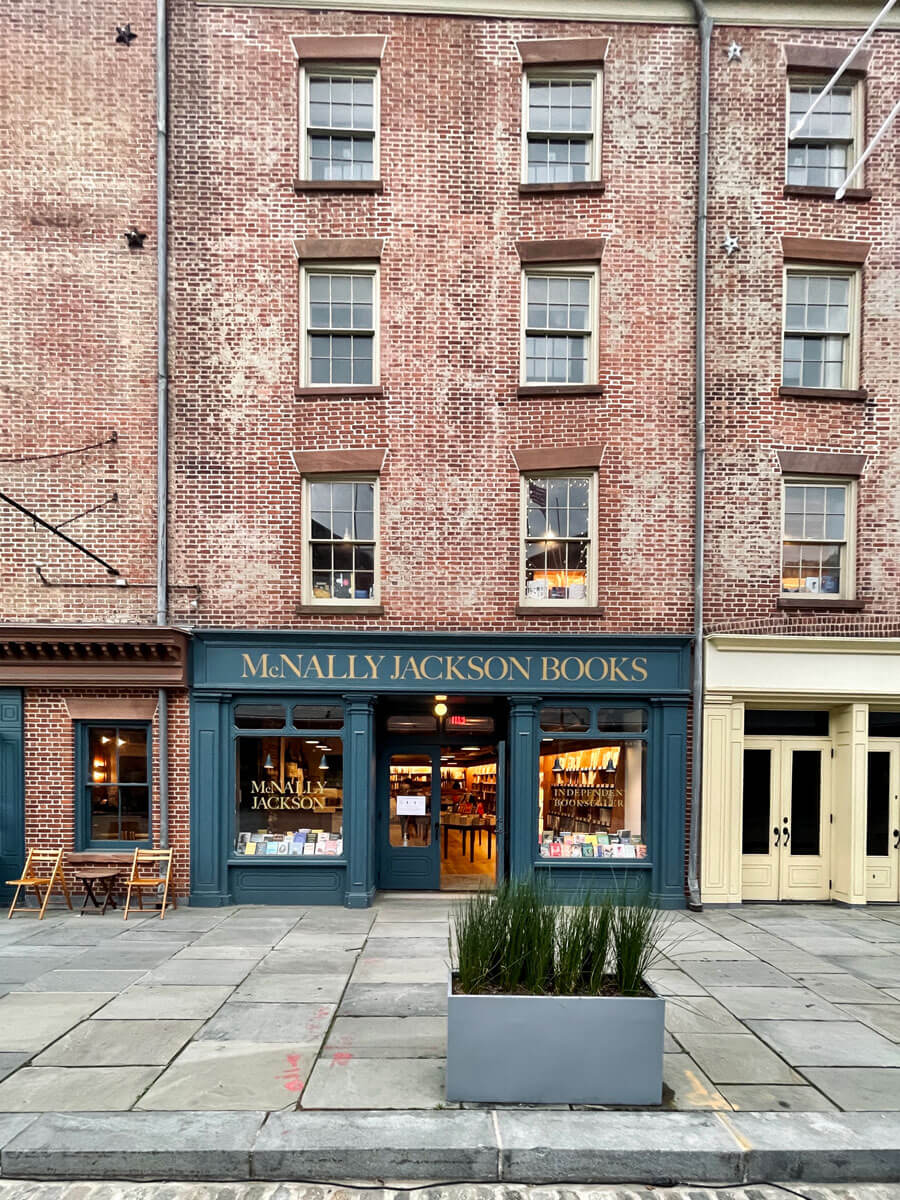 Many locations
This independent shop from former editor Sarah McNally is well-known for its charming cafe environment, writing workshops, exclusive author events and book signings, and its recent expansion into publishing rare and out-of-print books. Wondering what to do in NYC on a rainy day? Buy a book, order a latte and pull up a chair at McNally Jackson for a perfect afternoon!
Cafe Con Libros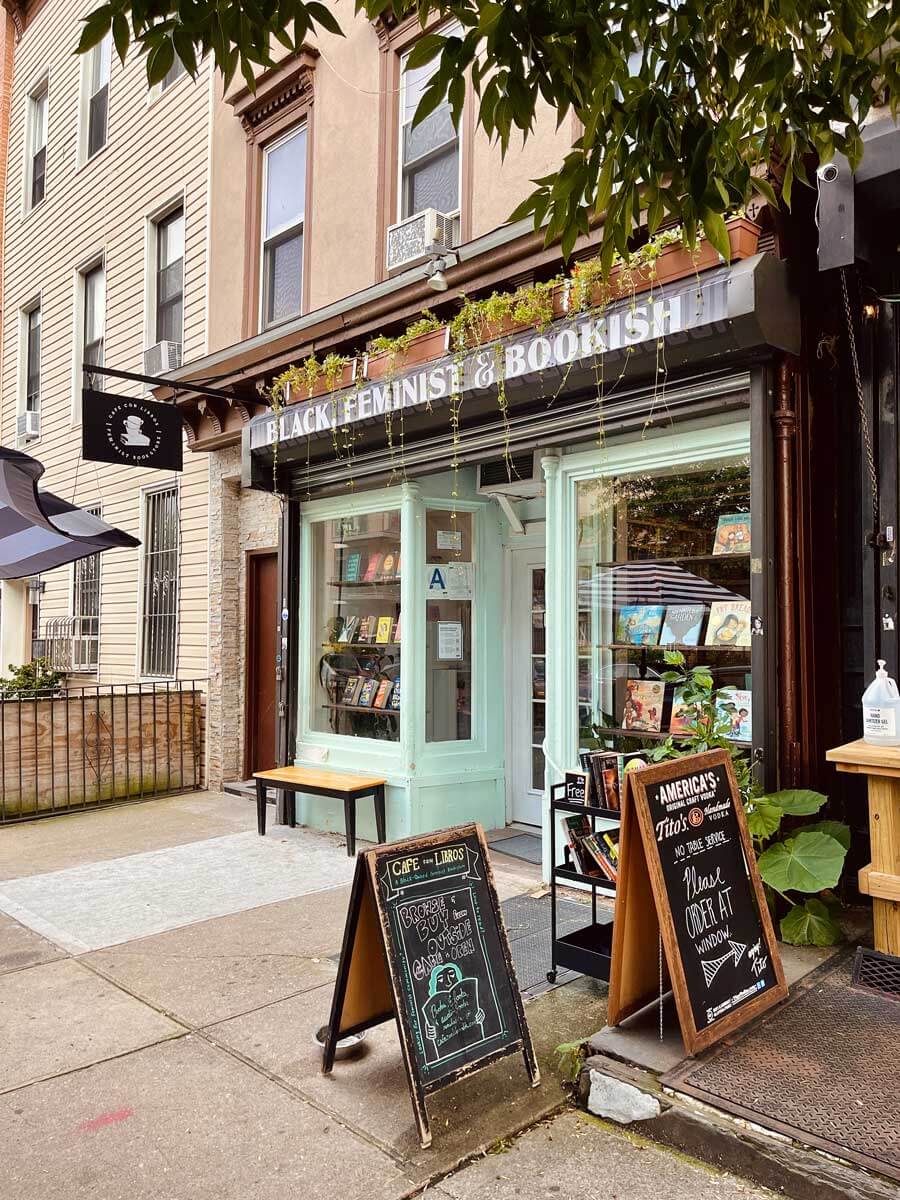 724 Prospect Place, Brooklyn, NY
This woman-of-color-owned, intersectional feminist bookshop and coffee cafe offers not only a wide variety of titles but also a monthly staff-curated feminist book and Irving Coffee coffee subscription and same-day local book delivery.
Cafe Con Libros is one of the most thoughtful and community-minded places to go in New York for diverse literature representative of the city's writers!
Books Are Magic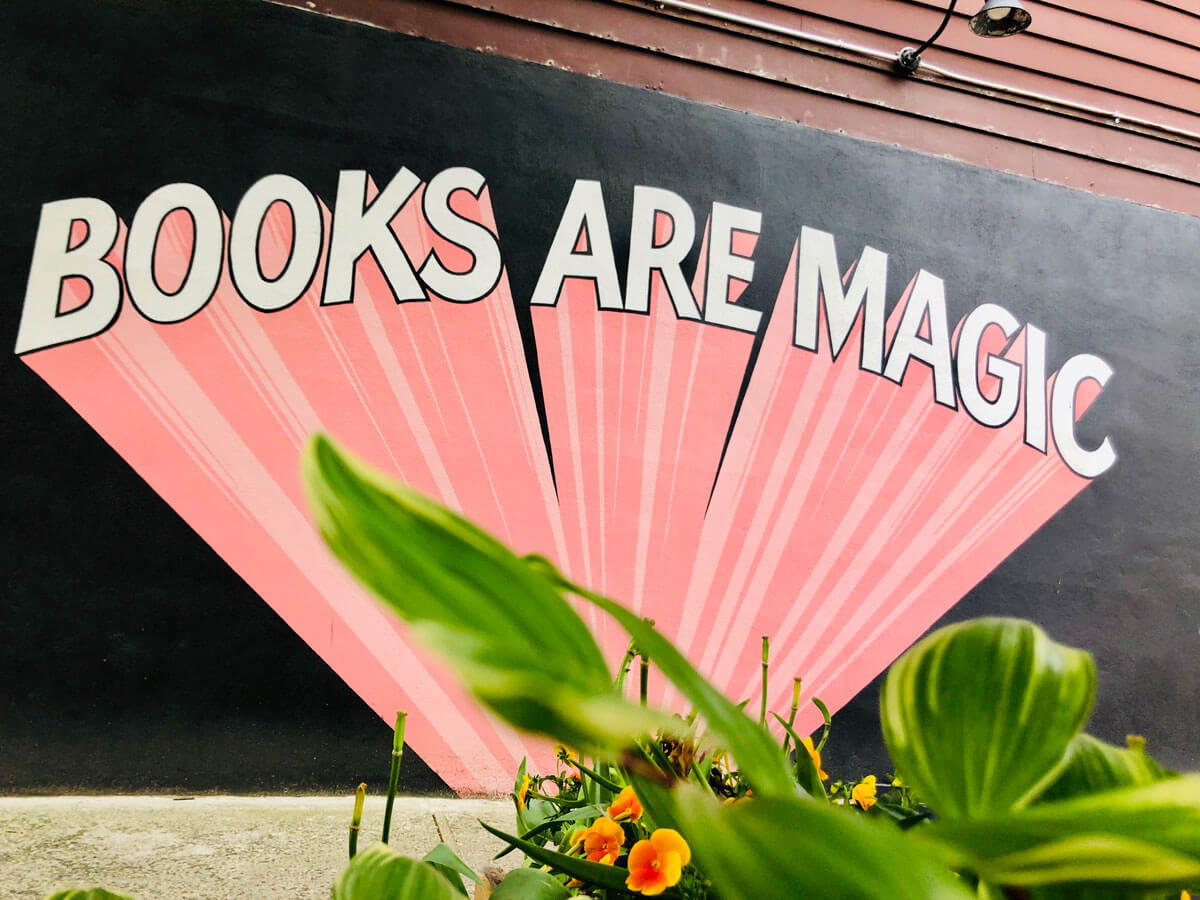 225 Smith St, Brooklyn, NY
Owned and operated by bestselling author Emma Straub, Books Are Magic is one of the best independent bookstores in Brooklyn and the city at-large.
Specializing in author talkback panels, book signings, and interviews, Books Are Magic is a New York attraction worth checking out while you're spending the day in the charming neighborhood of Cobble Hill.
The Lit Bar
131 Alexander Ave, Bronx NY
The Bronx's only independent bookstore, proprietor Noëlle Santos has created a haven of well-curated literary collections and wine. Visit this New York bucket list item for exclusive author events, community, and expertly and artfully organized titles!
NYC's Street Art
One of the best ways to experience completely free art in New York City is by checking out its robust street art culture!
Bushwick Collective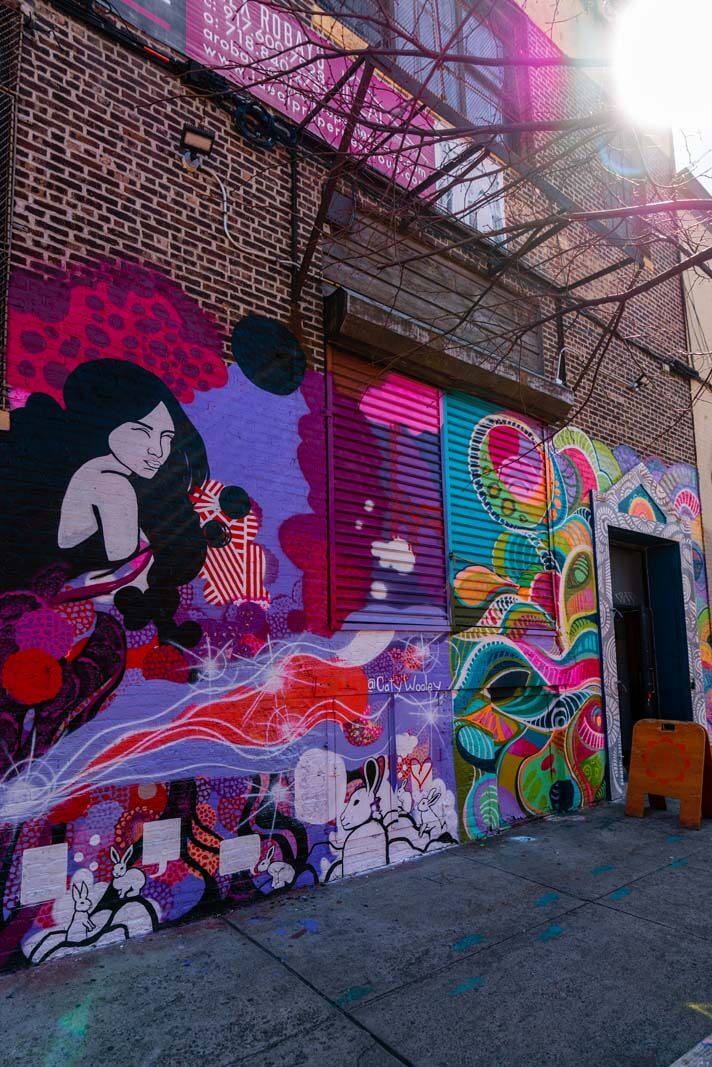 Troutman Street Between Irving and Cypress Ave, Brooklyn, NY
One of the best places to go in NYC for street art is the Bushwick Collective — featuring artists from around the world, the collective was started in 2011 by Joe Ficalora as a way to add open-air murals to the industrial neighborhood. If you're visiting in the summer, the Bushwick Collective holds a yearly Block Party where new murals are created and celebrated!
DUMBO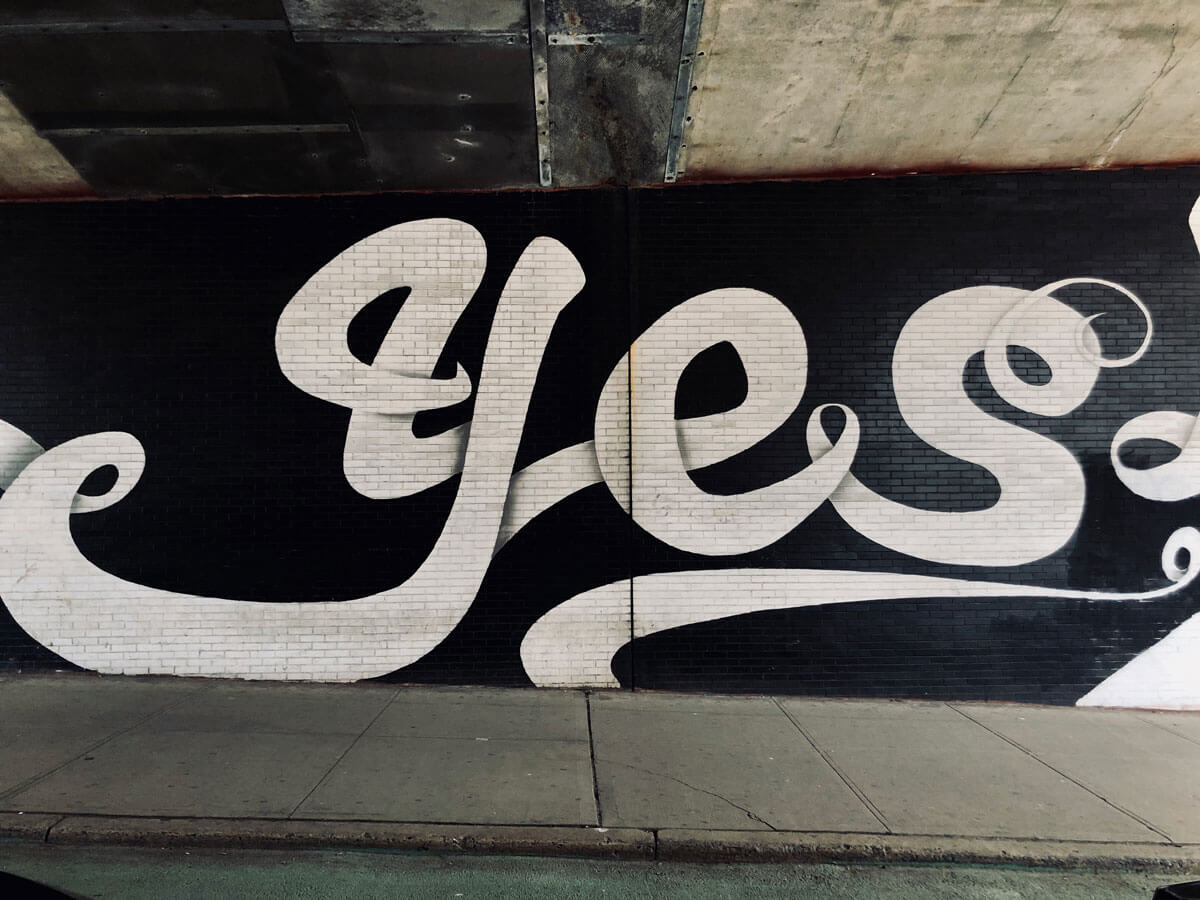 Downtown Brooklyn is also one of the must-see places in New York for street art, with plenty of public exhibitions and installations around the Brooklyn and Manhattan Bridges and older, refurbished industrial buildings.
In DUMBO near the Brooklyn Queens Expressway, four blocks have been dedicated to murals alone, featuring artists like Eltono, MOMO, CAM, Faith47, Shepard Fairey, and Yuko Shizimu.
Industry City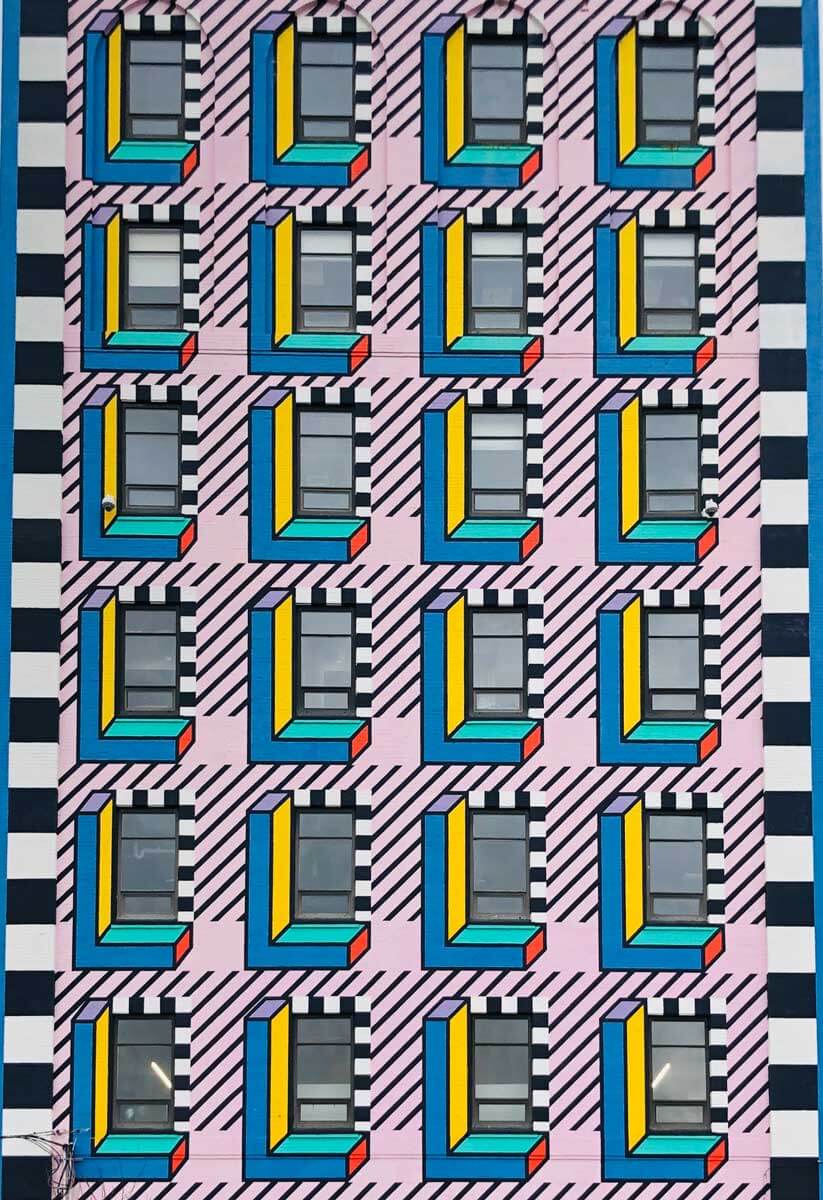 220 36th St, Brooklyn, NY
Sunset Park's industrial complex-turned shopping, dining, and event hub is also one of the best New York attractions for checking out street art. Featuring local Brooklyn artists and visiting painters.
Not to mention there are plenty of activities to do here including shopping and dining. See our full guide to Industry City to plan your visit – trust us, it's worth it!
Find all of Kobra's Murals
A great New York bucket list activity for those who love a challenge, see if you can find all of the Brazilian street artist Eduardo Kobra's murals around town! If you need a hint, here's a map!
The Museum of Street Art
189 Bowery, New York, NY
A love letter to the city's street art and artists, MoSA is one of the coolest places to go in NYC. The museum recreates some of the magic of the legendary 5 Pointz Queens graffiti mecca, reuniting 20 of its artists to collaborate on a new shared canvas.
Parks & Outdoors
Central Park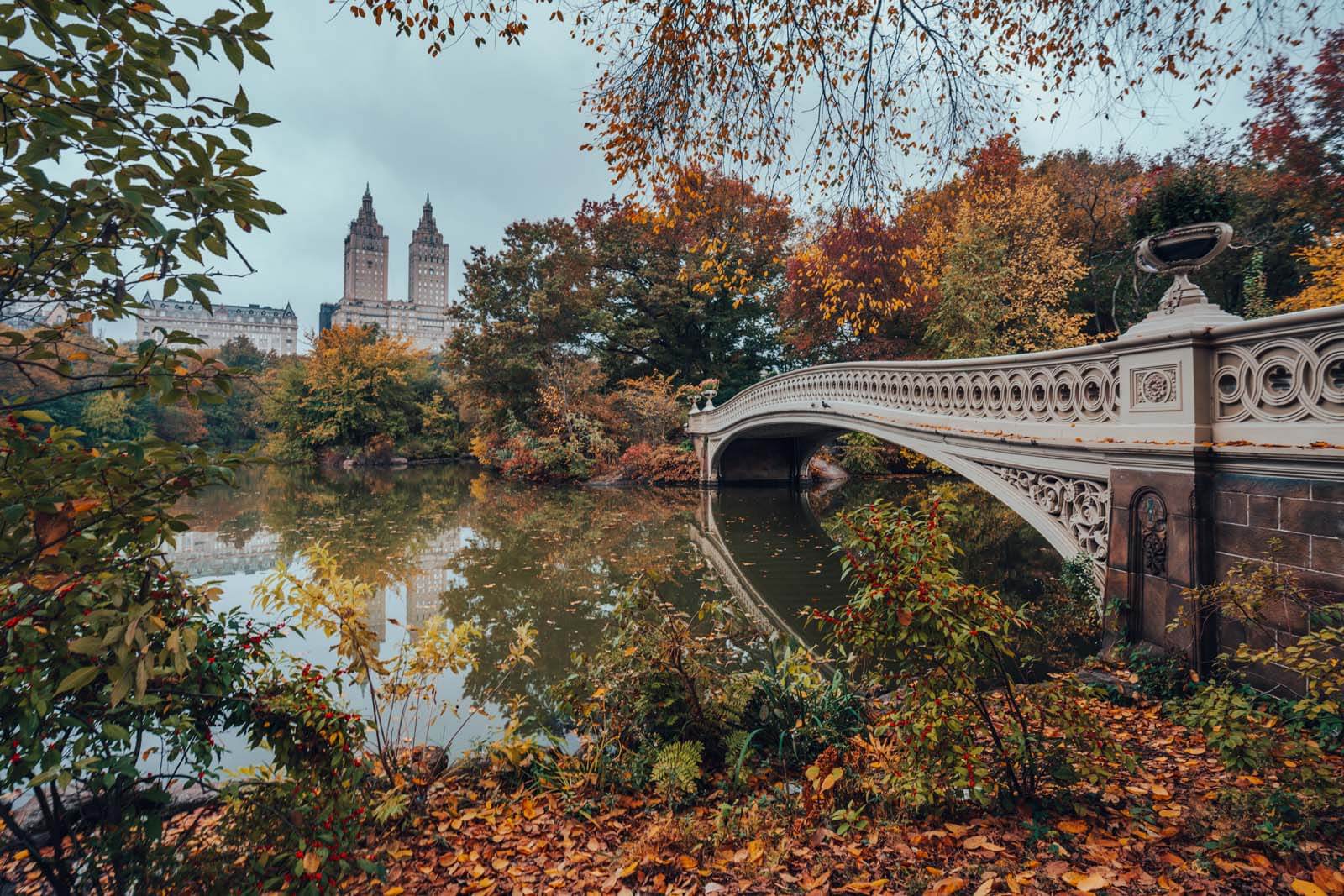 Likely the most well-known of all outdoor New York attractions, Central Park is the city's playground, picnic area, wedding location, sports field, and pivotal meeting point.
Designed by famed architect Frederick Law Olmstead, the park opened in 1858 and remains the city's fifth-largest park and the most filmed location in the world.
While you may have heard of Strawberry Fields, there are lesser-known several hidden gems in Central Park — including a castle (!!), an elusive museum rooftop, and an artifact from the 1500s. Take the time to plan an adventure off the beaten path and learn some NYC trivia in the process!
Fort Tryon Park and The Met Cloisters
Nestled at nearly the end of Manhattan, Fort Tryon Park and the Cloisters are an underrated jewel in the city's greenscape. Wondering what to see in NYC? Take the A train to 190th Street and you'll almost immediately be greeted by breathtaking views of the Hudson River at the entrance to Fort Tryon Park (insider tip, if you can visit at sunset, you won't regret it!).
Stroll into the park itself and you'll find another hidden gem — the Met Cloisters. Constructed in the 1930s from pieces of real European medieval architecture, this museum is dedicated to religious art and artifacts from as early as the 1100s. Check it out for an uptown adventure!
Prospect Park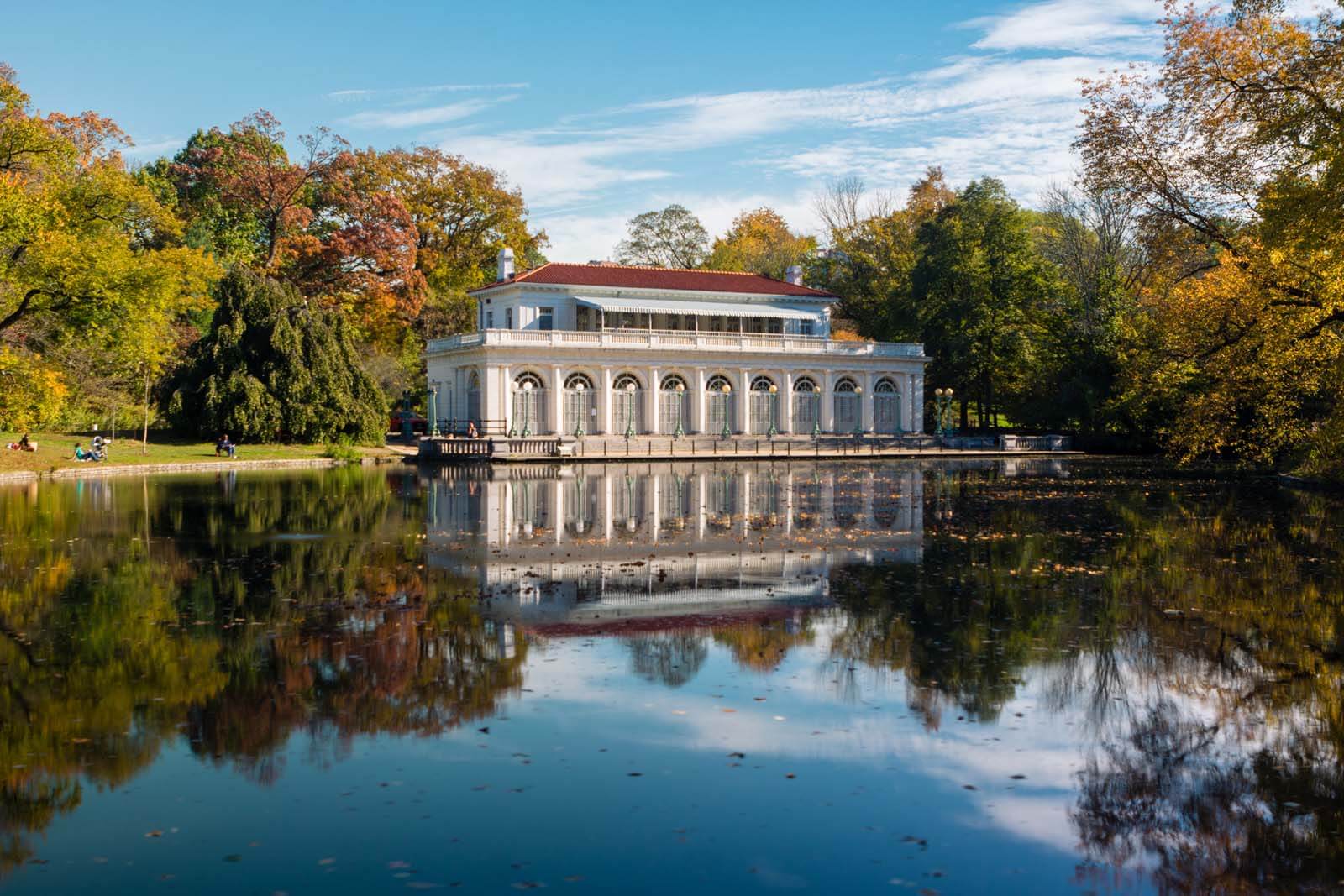 One of Brooklyn's largest parks, Prospect Park is 585 acres of green space, farmers markets, concerts, ice skating, roller skating, and even a zoo.
Visiting Prospect Park is one of the coolest things to do in NYC, simply for the variety of options it presents — check out the Lefferts Historic House, the Boathouse, snap a few photos or visit the farmer's market at Grand Army Plaza, or enjoy a concert at the bandshell.
And don't forget, you're adjacent to some of the coolest neighborhoods in Brooklyn if you want to stay nearby.
Green-Wood Cemetery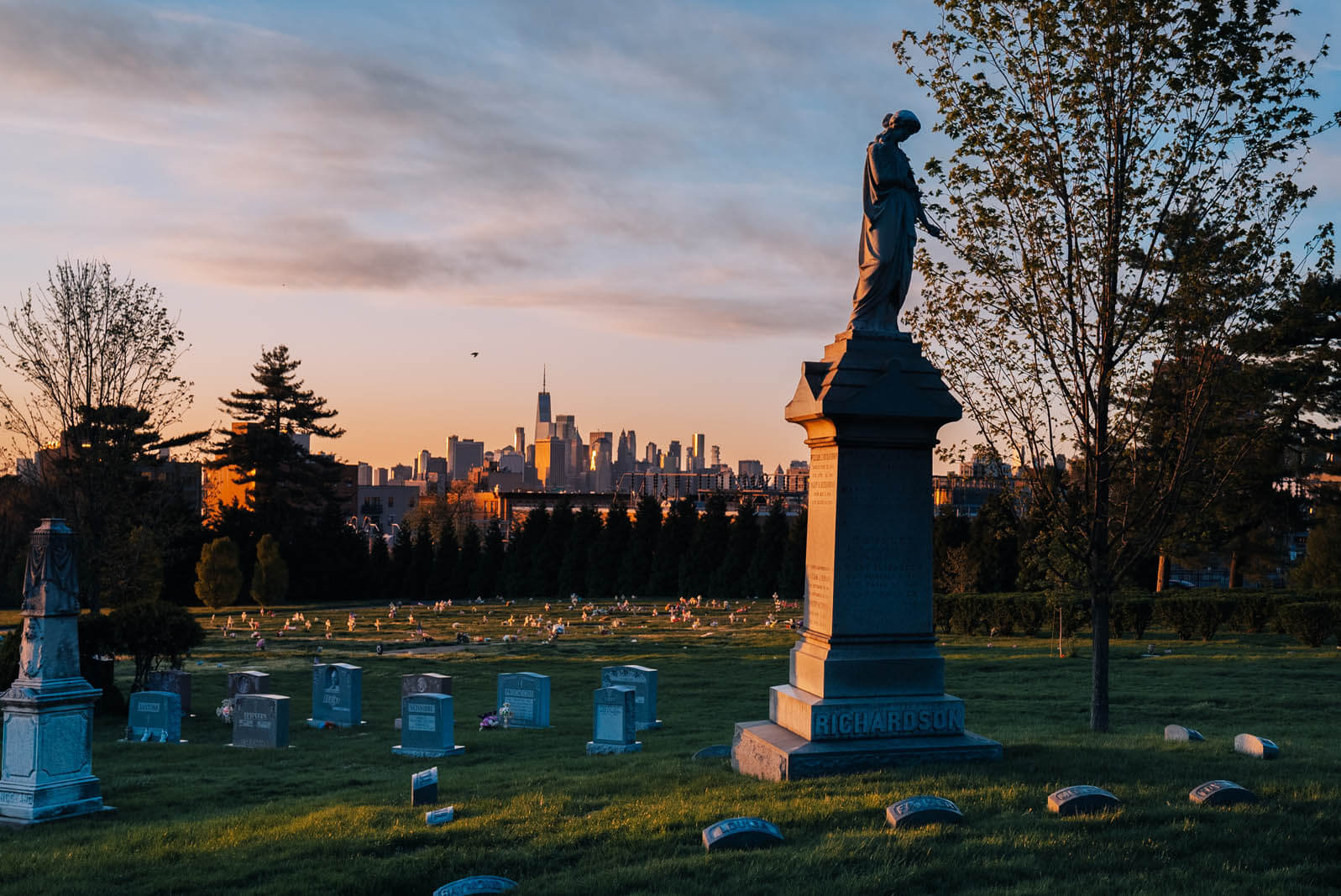 While visiting a cemetery may seem an odd choice for your vacation, Brooklyn's Green-Wood Cemetery is one of the must-visit places to go in NYC.
Built in 1883 and modeled after Paris's Pere Lachaise Cemetery, London's Highgate Cemetery of London, and Boston's Mount Auburn Cemetery, Green-Wood Cemetery features artful tombstones, gardens, sculptures, and mausoleums dedicated to its over 560,000 residents.
Stop by for a respectful visit to the chapel and cemetery, where as the New York Times once put it, "It is the ambition of New Yorker to live upon Fifth Avenue, to take his airing in the Central Park, and to sleep with his fathers in Green-Wood."
Bryant Park
Bordered by the New York Public Library, Bryant Park is home to a wide variety of seasonal community activities and is a welcome respite from the cacophony of Midtown.
Check out movies and concerts in the summer and fall, and the Bryant Park Bank of America Winter Village in the winter — a New York bucket list item if you're here for the holidays!
Brooklyn Bridge Park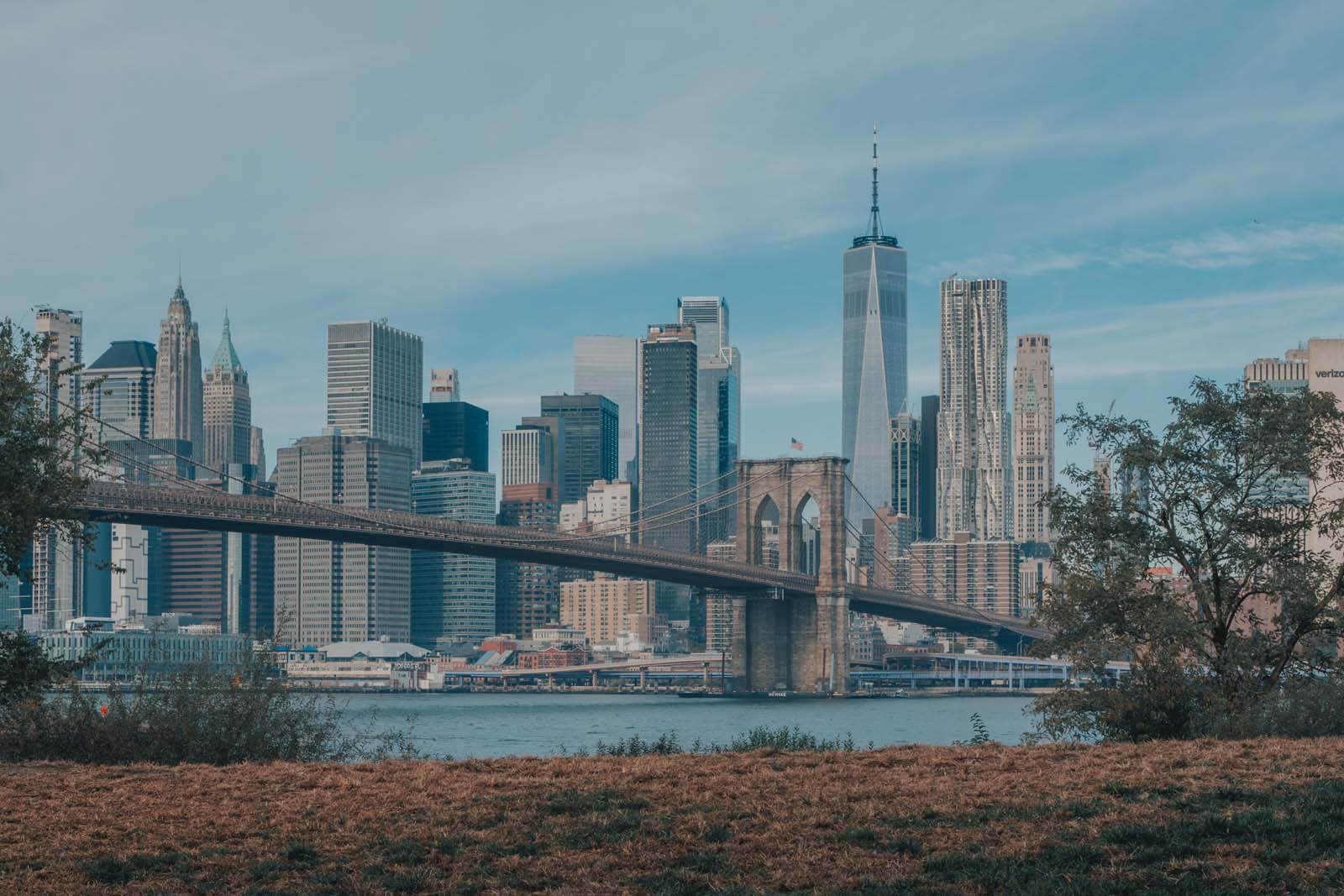 Once you've walked over the Brooklyn Bridge, be sure to check out Brooklyn Bridge Park, a waterfront greenspace that sits at the edge of DUMBO and Brooklyn Heights.
One the site of a ferry landing in 1600s, Brooklyn Bridge Park is now one of the must-see places in New York for its art installations, water playground, piers with views of Manhattan's skyline (and of course, the Manhattan and Brooklyn Bridge), and even a carousel.
Check them all out and then finish your day at the swanky River Café, a Michelin-starred fine dining spot open since 1977.
High Line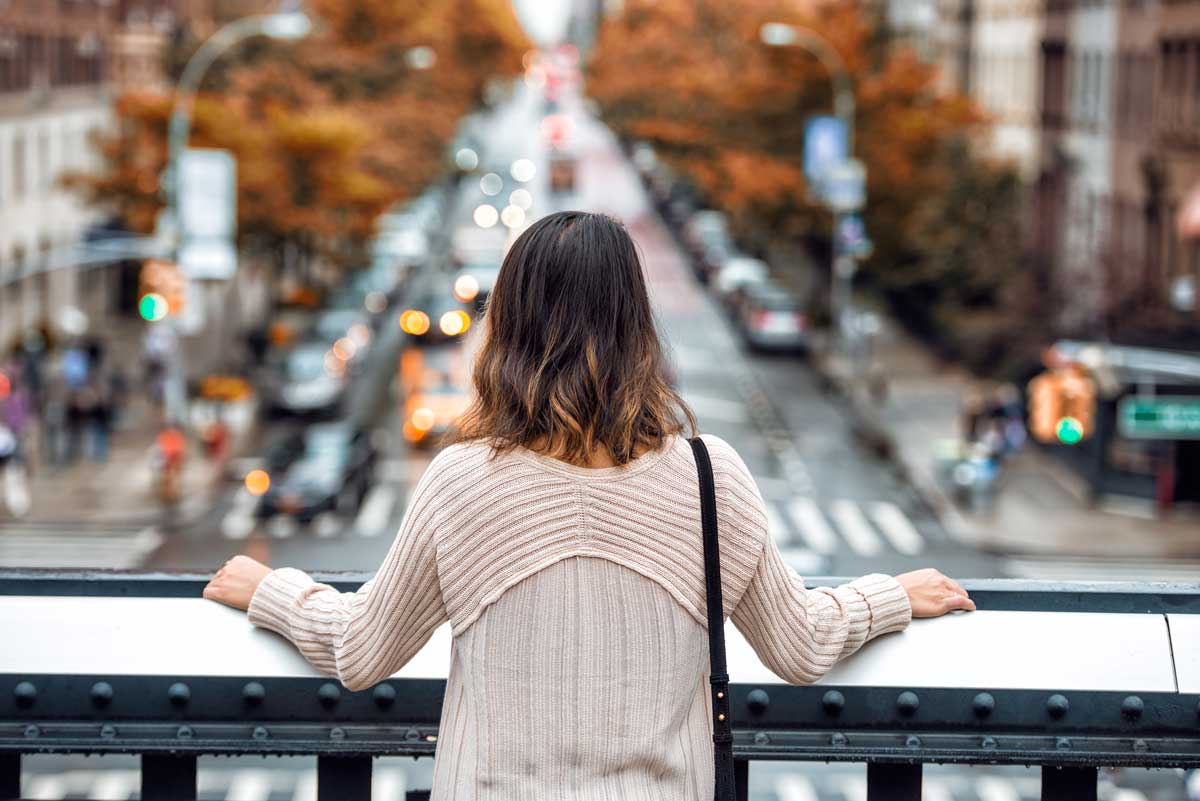 Built on nearly a mile and a half of elevated rail tracks, the High Line is one of the coolest places to go in NYC for great Hudson River views, rotating art exhibits, events, and yes, staring into the apartment windows of the many glass-walled luxury buildings that adjoin it (I swear I'm not a stalker, I just love real estate).
Once you've walked the line, pop out to visit Chelsea Market, an indoor retail complex filled with independent New York vendors and food!
New York Botanical Garden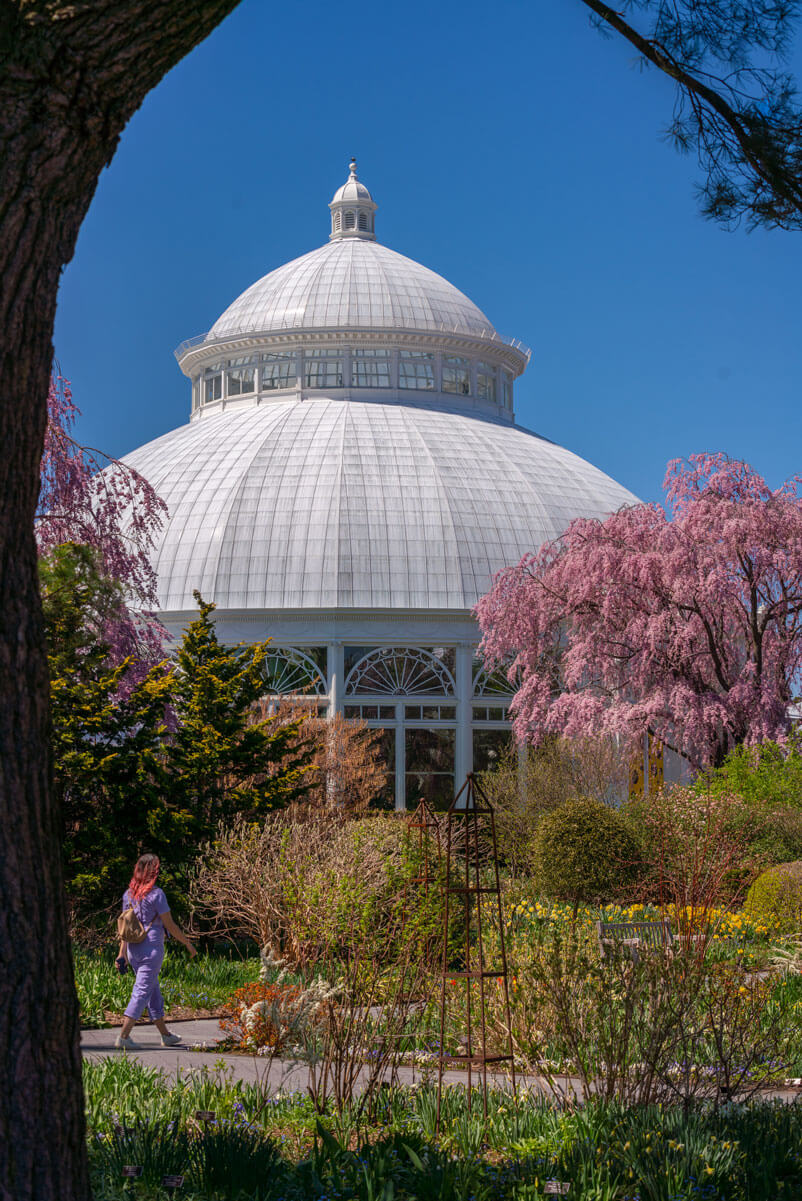 A 250-acre spectacle of over one million living plants, the New York Botanical Garden is a true oasis. Walk through the many themed outdoor gardens or venture into the Enid A. Haupt Conservatory to check out some spectacular greenhouse flowers. The NYBG also frequently hosts stunning, large-scale visiting artist installations, with previous exhibits from Yayoi Kusama and Dale Chihuly.
Wondering what to see in NYC when it's cold? Check out the NYBG's annual holiday train show, GLOW light display, and holiday market!
Brooklyn Botanic Garden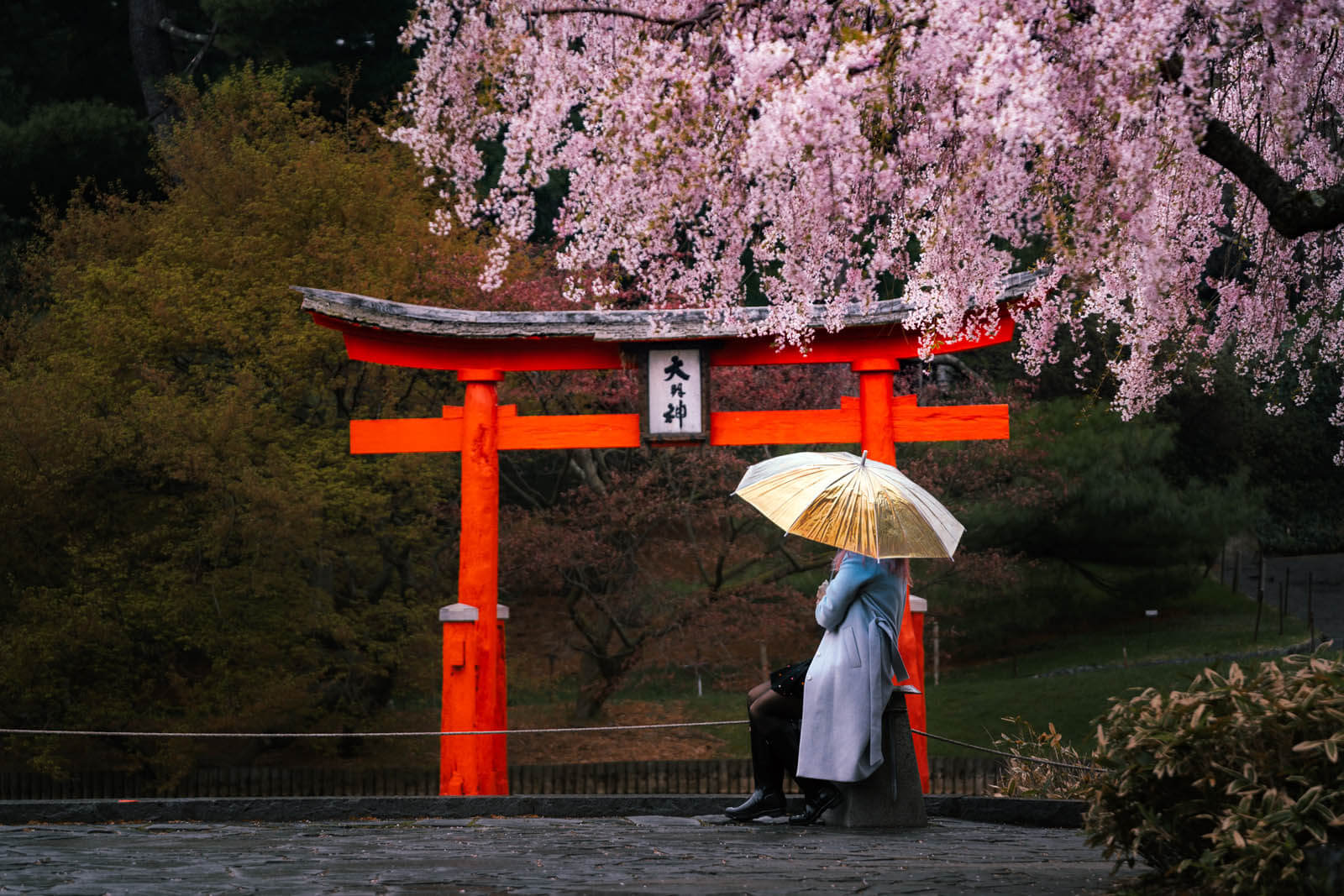 Dating back to 1910, the Brooklyn Botanic Garden is home to over 14,000 plants and conveniently adjacent to Prospect Park. Visit the garden to check out its Japanese cherry blossom festival, a desert pavilion, interactive children's garden, bonsai museum and more!
The BBG is also home to many community events, galas, and weddings — its Palm House atrium is an absolutely breathtaking space at night! Don't miss this New York bucket list item — and if someone invites you to their wedding at the BBG — be sure to RSVP yes!
Governors Island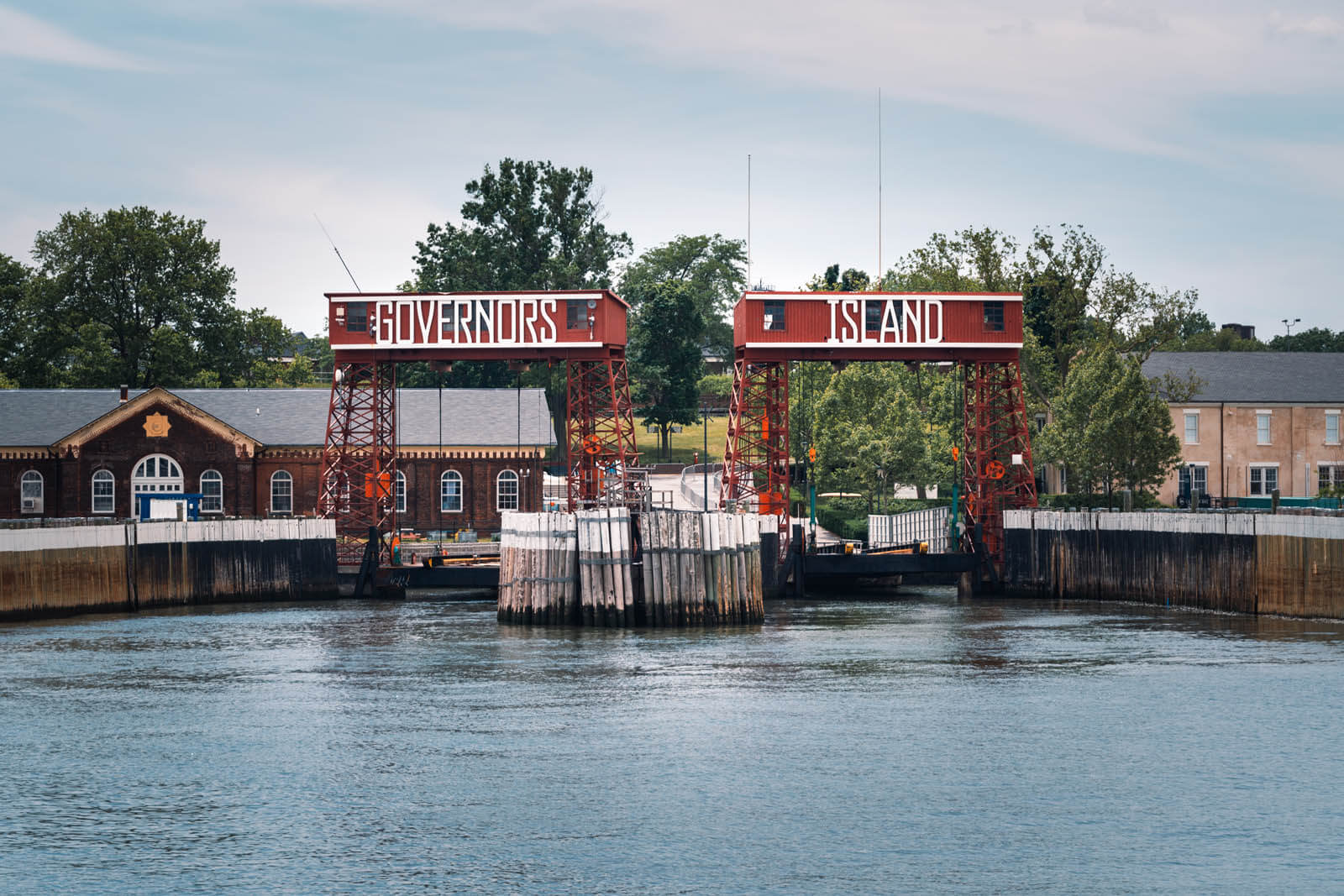 Wondering what to do in NYC to feel like you're distinctly somewhere else? Check out Governors Island, a public park accessible by ferry built off of what was once a military headquarters and housing site.
Governors Island offers unobstructed views of Lower Manhattan and the New York Harbor (including the Statue of Liberty), vibrant greenscapes and paths for walking, biking, and pedal cart-ing (all available for rent!), rotating art installations, food trucks, and even glamping. See, we told you Governors Island feels like no other place in NYC!! Glamp for yourself and find out.
Washington Square Park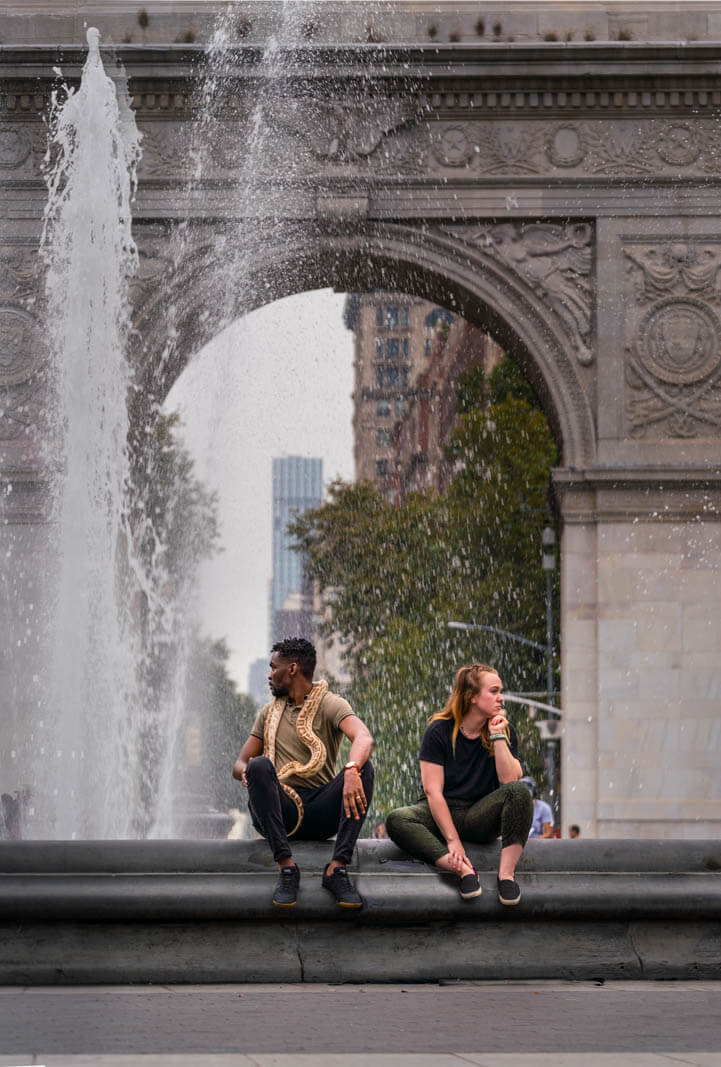 Washington Square Park is a palace so creative, even its bio on the NYC Parks Dept. website is jazzed up: "A marsh. A cemetery. A parade ground. A gathering spot for avant-garde artists. A battleground for chess enthusiasts. A playground for canines and children.
Washington Square Park has served various roles for its community throughout the years, adapting to meet its needs." And indeed, Washington Square Park is all these things and more, linking Greenwich Village, the West Village, and NoHo together in one vibrant (sometimes raucous) outdoor party.
The site of protests and concerts, NYU graduations (back in the day!) and parades, the park under the arch is a location and sometimes a plot point in countless movies, TV shows, and books for a reason — it's got that ultimate New York feeling. Make it a must-see on your New York bucket list!
Madison Square Park
Home to the original Shake Shack (yes, Shake Shack used to be the place to wait in line), rotating art installations, a beautiful fountain, and surrounded by some of the best eats in town (Gramercy Tavern, 11 Madison, Eataly, Milk Bar), visiting Madison Square Park is one of the best things to do in NYC.
And for locals, Madison Square Park even has a community food scrap drop-off bin to promote composting — we love to see it!
Little Island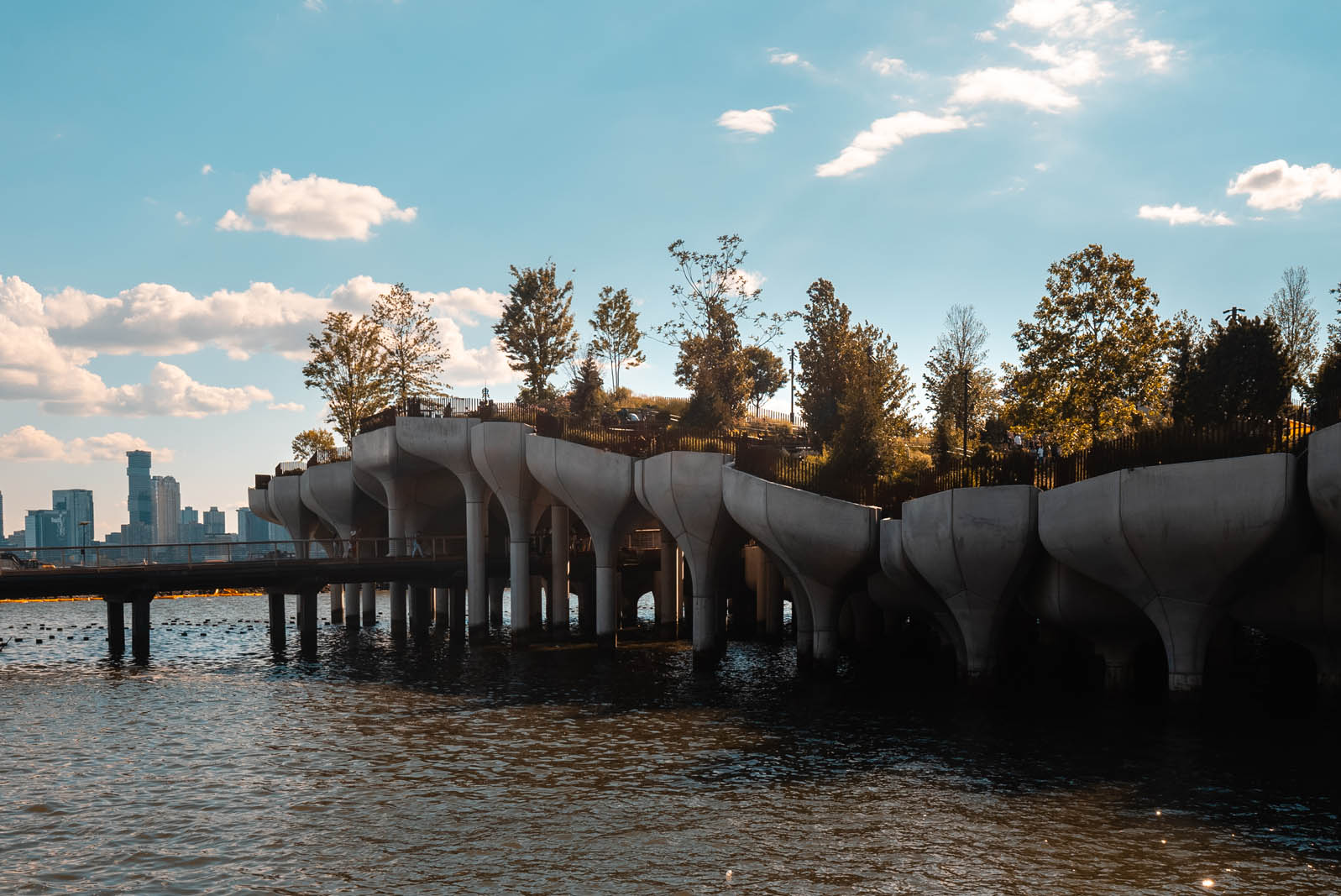 One of New York's newest parks, Little Island is technically a pier-meets-park space, designed as a series of sloping paths, small gardens, and an event/performance space, the Little Island is meant to expand upon Hudson River Park's green space and provide an intersection of nature and art.
This New York attraction has quickly become a favorite for locals and visitors alike as a perfect afternoon getaway.
Unique Things to do in NYC
Entertainment
Comedy Cellar
117 Macdougal St, New York, NY
Open for almost forty years, the Comedy Cellar in Greenwich Village (conveniently adjacent to Washington Square Park) is known for launching the careers of countless stars (including Jon Stewart, Amy Schumer, Robin Williams, Patton Oswalt, and Chris Rock). The Comedy Cellar is absolutely one of the must-see places in New York for the best comedians of today and tomorrow.
Gotham Comedy Club
208 W 23rd St, New York, NY
Another club known for its celebrity appearances, Gotham Comedy Club in Chelsea has hosted the likes of Jerry Seinfeld, Rosie O'Donnell, Lewis Black, and more, as well as served as the filming location for the reality show Last Comic Standing (little known fact, Amy Schumer competed in but did not win Last Comic Standing!).
Visiting Gotham Comedy Club is one of the coolest things to do in NYC, and any night is a good night to go — I once went to see a friend perform in a newcomers showcase and in the middle of the evening, Jim Gaffigan strolled onstage and performed a set. NBD!
The Tiny Cupboard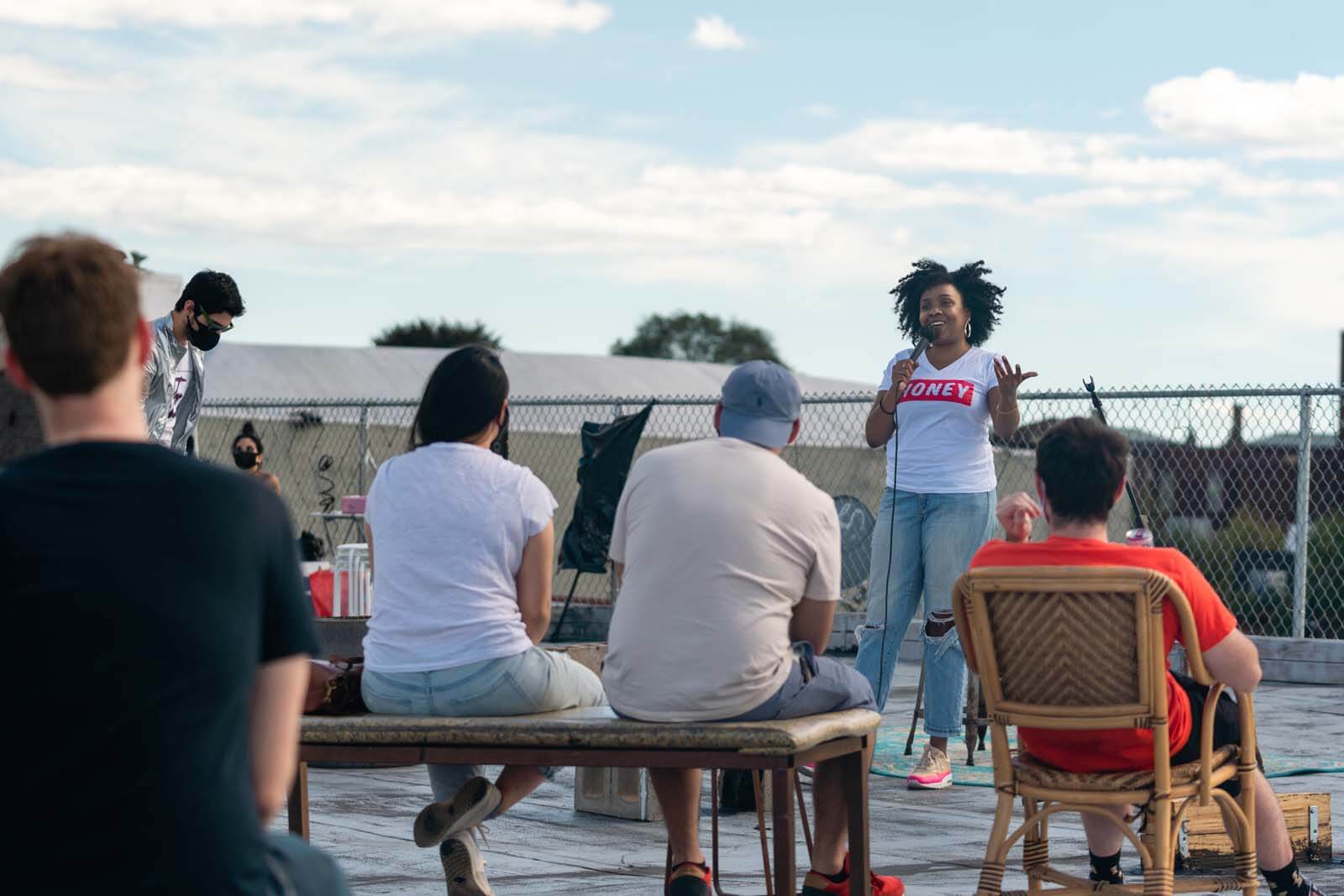 10 Cooper St, Brooklyn NY
Looking for comedy clubs in Brooklyn? Check out The Tiny Cupboard, an indie-speakeasy-comedy-club producing experimental comedy, music, and performances from the inside of what they lovingly call an indoor pink comedy church, as well as a rooftop venue! Check out this New York attraction for the freshest new comedy acts, and if you're feeling brave, try an open mic night!
Brooklyn Underground Comedy
Multiple locations
Brooklyn Underground Comedy, produced by NY-based comedians Rachel Lander and Laura Sogar, runs pop-up shows throughout Williamsburg and Crown Heights (be sure to check their Instagram page for show lineup and venue announcements) jam-packed with exciting, talented up-and-coming comedians that you'll recognize (or soon will recognize) on your TV.
Make visiting a pop-up show a priority on your New York bucket list to catch some of the most creative performers on the scene.
Filming Location Scavenger Hunt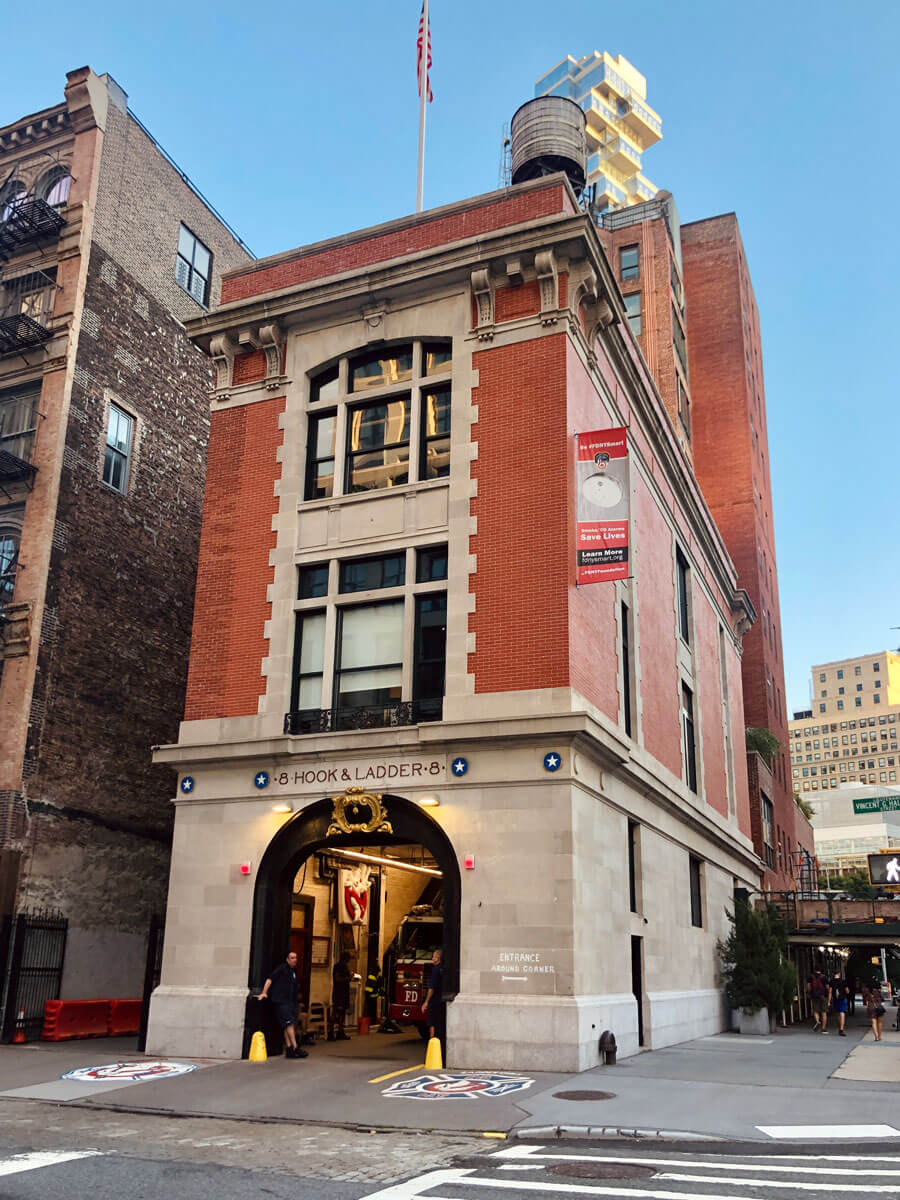 You know it when you see it — a "New York" movie or TV show that looks suspiciously like a soundstage in LA or…Vancouver. Accept no substitutes and root out some of the iconic locations of the New York Movies and TV that did bother to shoot in the city — it's one of the coolest things to do in NYC.
And so, as we begin our scavenger hunt, I ask you…who you gonna call? Grab your proton back and head back to the NYPL (476 5th Ave) to recreate pivotal scenes from 1984's Ghostbusters. After you've busted the ghosts at the library, jet over to Firehouse Hook & Ladder Company 8 (14 N Moore St), the headquarters of the crew.
Less than a decade later, Kevin McAllister found himself lost in New York City in Home Alone 2. Hit up the Plaza Hotel (768 5th Ave), Radio City Music Hall (1260 6th Ave), Battery Park, the Statue of Liberty, and yes, our friend the Empire Diner (210 10th Ave) to recreate Kevin's journey.
While legendary TV show The Sopranos did mostly shoot on location in New Jersey, the characters did frequently move in and out of NYC. Walk below the Brooklyn Bridge where Tony took meetings with Johnny Sack and grab a drink at the Mulberry Street Bar (176 Mulberry St) where the NY families plotted against Tony. Just keep your back to the wall.
For a bit of lighter fare, head to the West Village and check out the exterior of the Friends apartment (90 Bedford St). A bit of trivia, Friends is one of the aforementioned shows that filmed in LA! I see you, soundstage!
If you dream of disco, check out the opening location of 1977's Saturday Night Fever at Lenny's Pizza (1969 86th St Brooklyn).
While you're checking out filming locations in Brooklyn, be sure to visit Stuyvesant Ave. between Lexington Ave. and Quincy St, where director Spike Lee filmed the entirety of 1989's Do the Right Thing.
Stay in the borough and check out many of Abby and Ilana's hangouts in Broad City — rollerskate in Prospect Park, shop Beacon's Closet in Greenpoint, walk by the Carroll Street Bridge, shop Green Hill Co-op in Clinton Hill, and of course, the Whole Foods in Gowanus.
While we're on iconic TV comedies, be sure to visit 66 Perry Street, aka Carrie Bradshaw's brownstone facade in Sex and the City (though the show did pretend the building was located on the Upper East Side). You can also hit up the Central Park Boathouse, but try not to fall into the pond like Carrie and Mr. Big. And if you try to sneak into the Soho House (29-35 9th Ave), don't do it. Samantha already tried!
Feeling romantic? Make sure to stop by our previously mentioned food favorites Katz's and Zabar's, both of which serve as locations in When Harry Met Sally and You've Got Mail. And while we're on the Meg Ryan RomCom empire, as you know — Sleepless in Seattle does end at the Empire State Building.
Taking the Staten Island Ferry? Check out 110 Longfellow Ave, the location of the legendary opening of The Godfather, or head to Brooklyn Heights's Hotel St George (100 Henry St), meeting place of famed characters Luca Brasi and Virgil Sollozzo.
Epic Views of NYC
In addition to all the observation decks mentioned earlier in this guide for unbelievable things to do in NYC and New York bucket list.
And to upgrade your NYC sunset moment — how about adding a negroni into the mix? One of the best things to do in NYC is to hit up one of the many chic rooftop bars in New York that the city has to offer, sip some brews with friends, and watch the sunset over the greatest city in the world.
Or, if you want to wake up with a Manhattan sunrise, I have the ultimate list of hotels New York hotels with a view. We mention a few of our favorites! Note that you can also stay at the aforementioned rooftop bar picks!
Here are some of the best must-see places in New York for views.
Take in the View at the DUMBO Waterfront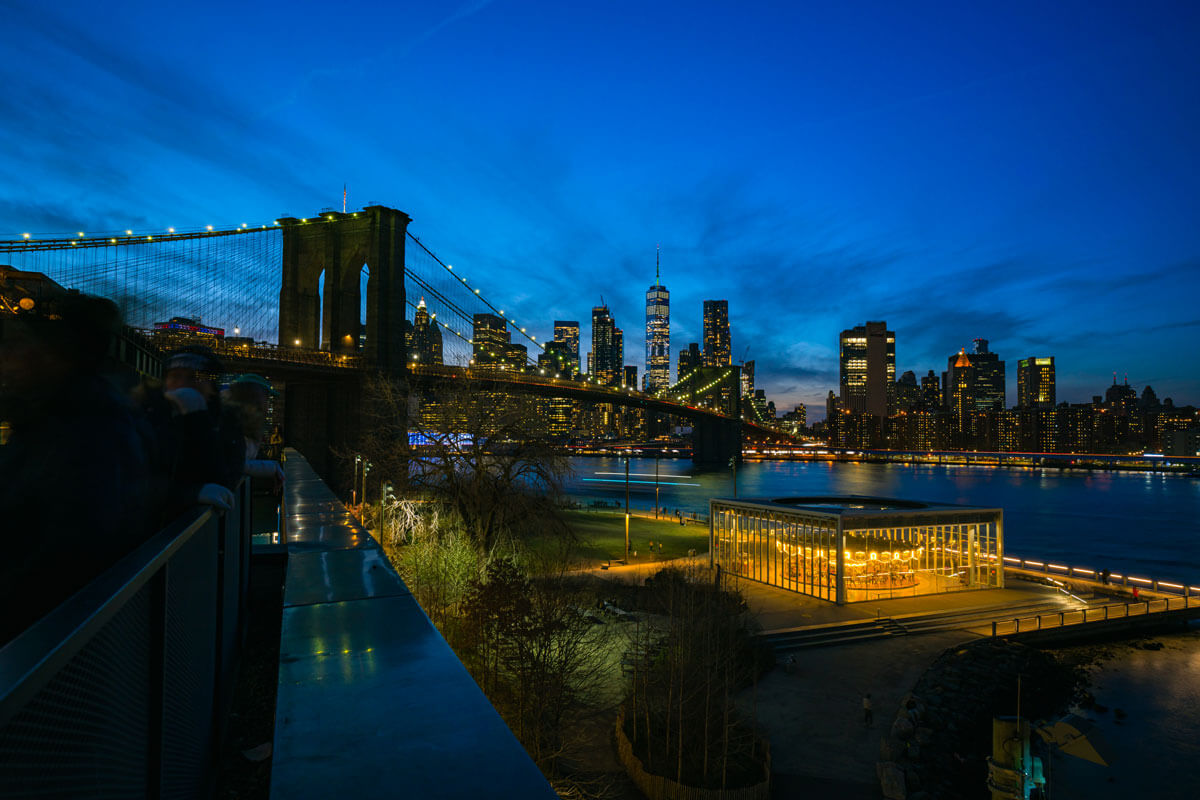 Taking in the sunset over the East River is an absolute NYC bucket list item — some of the best views are from the Time Out Market rooftop at Brooklyn's Empire Stores (55 Water St, Brooklyn).
This retail complex built from an 1800s-era cargo warehouse has a nearly unknown rooftop area that is open to the public. Climb up the stairs to see unobstructed views of the Manhattan skyline before checking out one of the center's many New York-brand food and beverage franchises (Fornino, Jacob's Pickles, Pat La Freida, and Sugar Hill Creamery to name a few!).
Another excellent option to catch the sunset (or sunrise, if you're ambitious!) is the aforementioned Brooklyn Bridge Park!
Westlight at the William Vale Hotel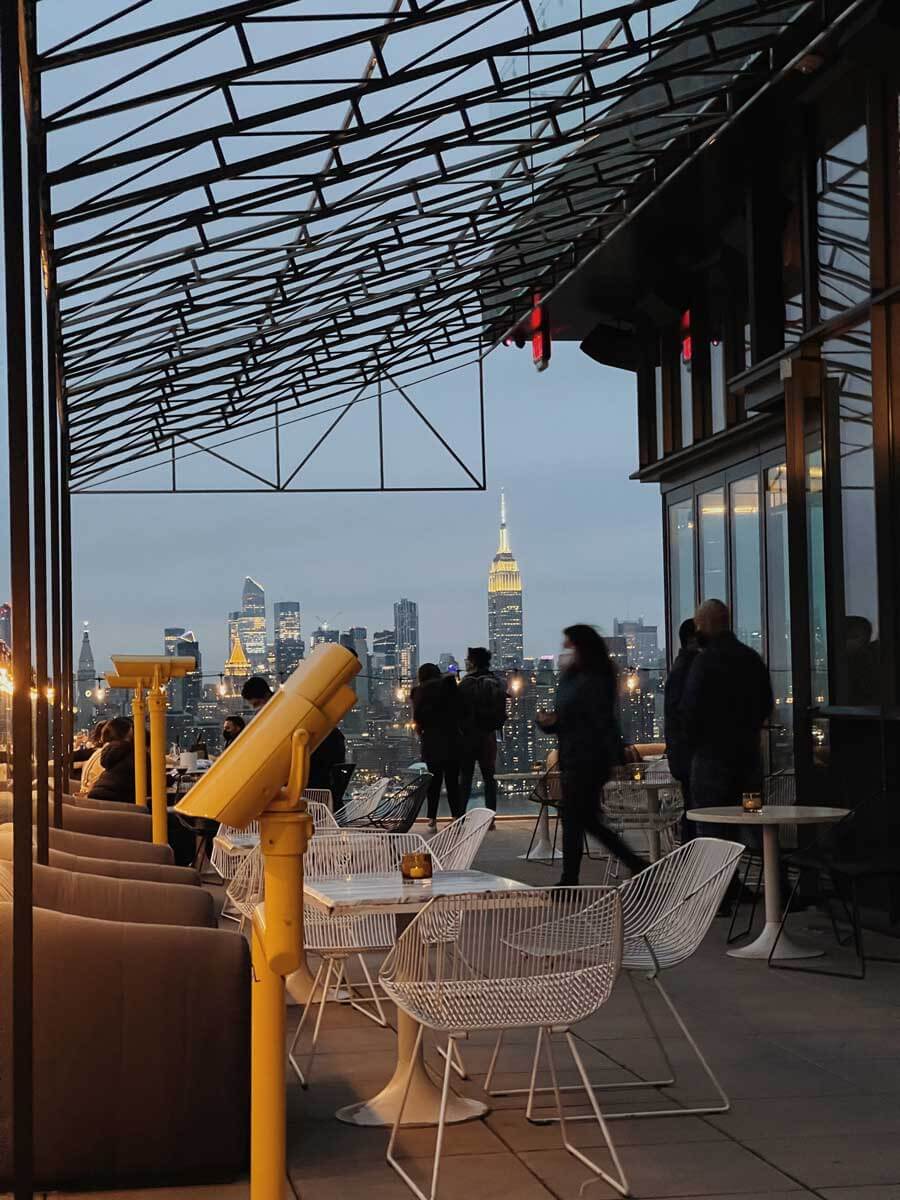 111 N12th St Brooklyn NY
Spectacular, unobstructed views abound from this New York bucket list spot, known for a panoramic vista of the city skyline, creative, curated cocktails, and bites.
Try the Lala Punch (Cazadores Reposado, Lillet Rosé, Pomegranate, Almond, Winter Spices) or the Five Spice Negroni (Boatyard Gin, Antica Formula, Campari, 5 Spice) and split some shrimp dumplings and spiced chicken empanadas as you look out on the twinkling lights of the city.
1 Hotel/ Harriet's Rooftop and Lounge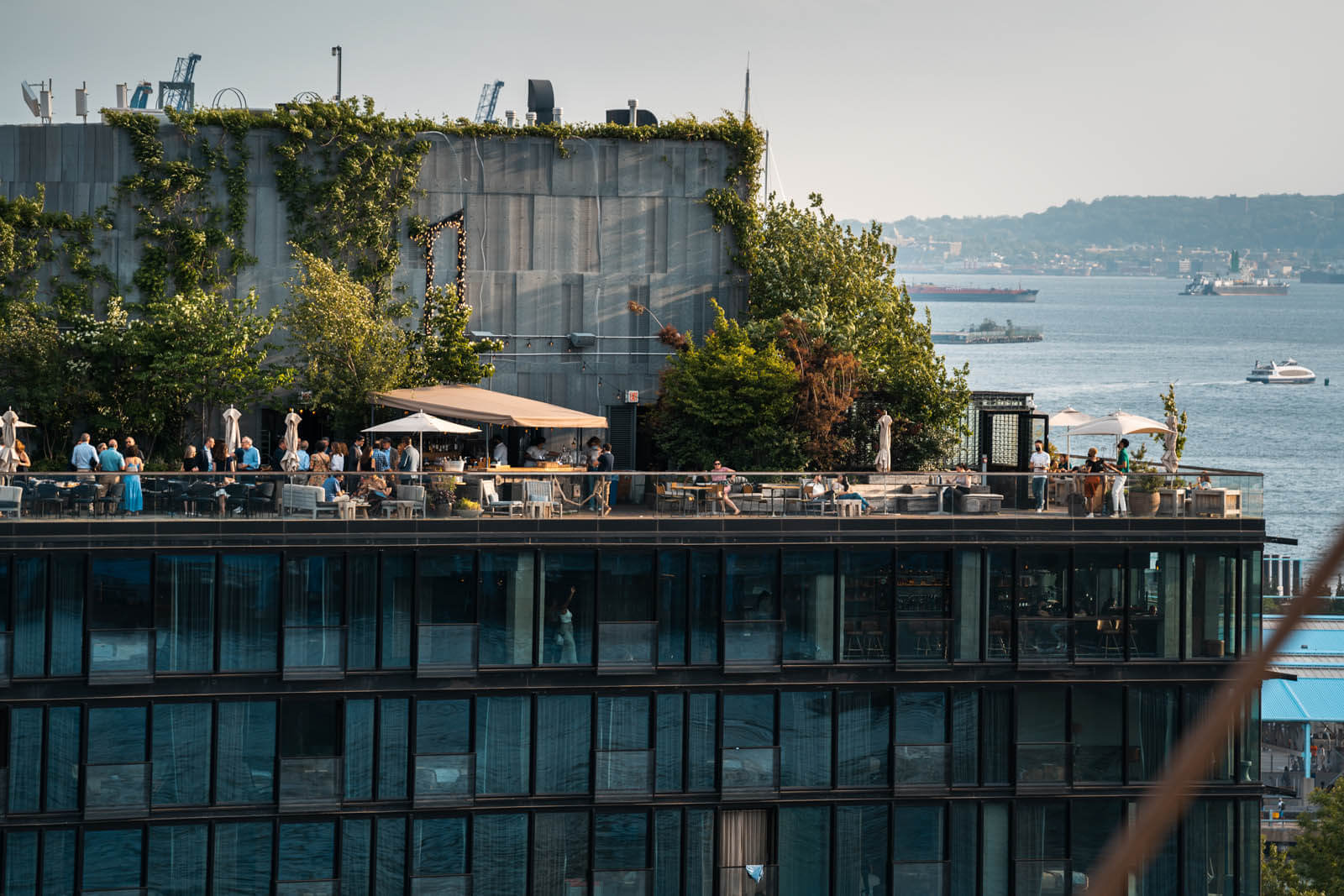 60 Furman St Brooklyn NY
If you're in DUMBO and can't get enough of the view from Empire Stores, head over to the 1 Hotel and its open-air terrace and indoor bar, Harriet's Rooftop.
Harriet's is a great place to go in NYC for phenomenal waterfront views and an Al Pastor (pineapple-infused tequila, Grand Marnier, lime, serrano bitters, and garnished with a dehydrated pineapple slice).
Refinery Rooftop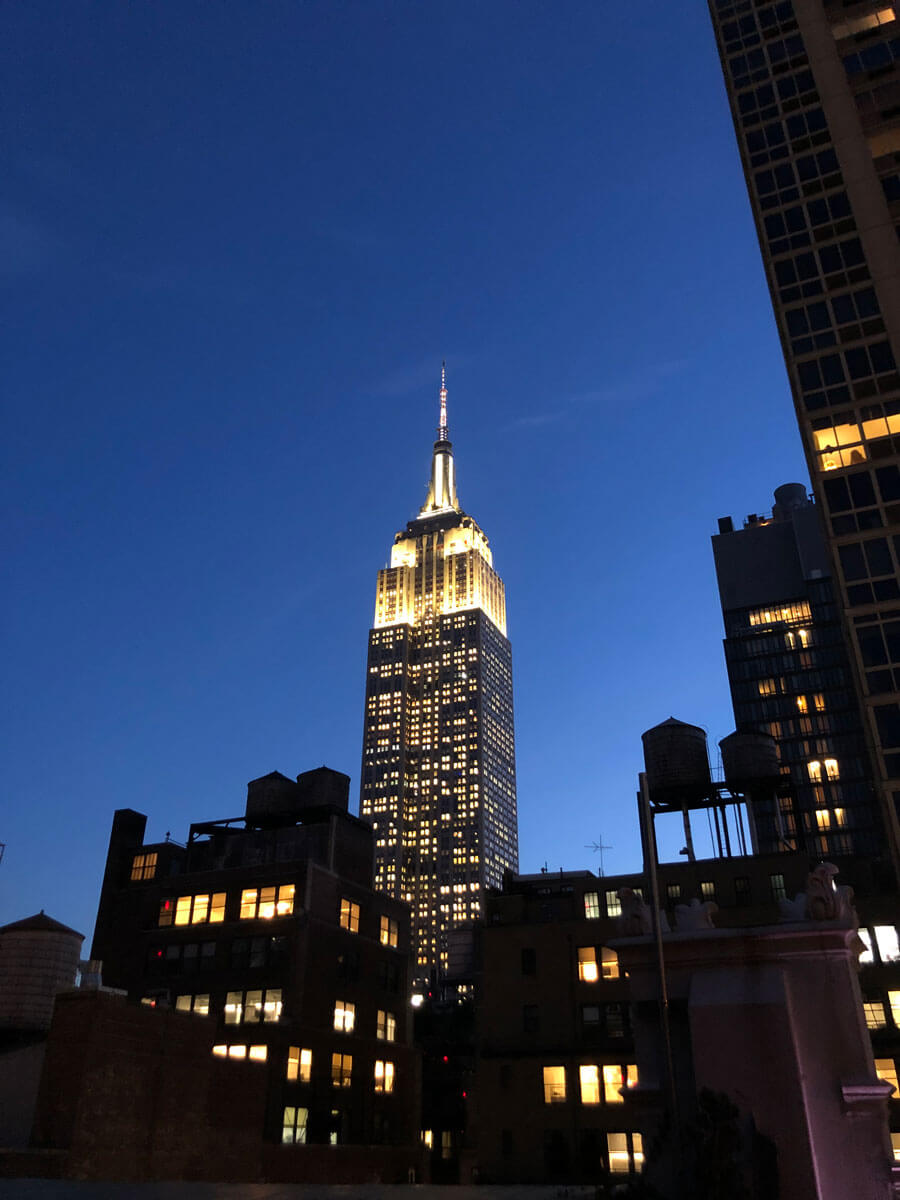 63 W 38th St New York, NY
Sitting atop the Refinery Hotel is its well-loved rooftop bar, featuring clear views of the Empire State Building and bespoke cocktails. Wondering what to do in NYC when temperatures rise? Try a Luster (gin, cucumber, lime, simple syrup) and some chips and guac at Refinery for a perfect summer Friday (turn on that OOO reply!).
Mr. Purple
180 Orchard Street New York, NY
The crown jewel atop hip LES Indigo Hotel, Mr. Purple is a raucous, raging good time any night of the week. Walk on the wild side with a Apple Jack Sazerack (Jameson whiskey, applejack & allspice dram with absinthe spray) or a Bee Sharp (ketel one vodka, ancho reyes, hellfire bitters), and dance the night away with views of Lower Manhattan — after all, staying up all night is one of the mandatory things to do in NYC before you leave.
The Dominick Hotel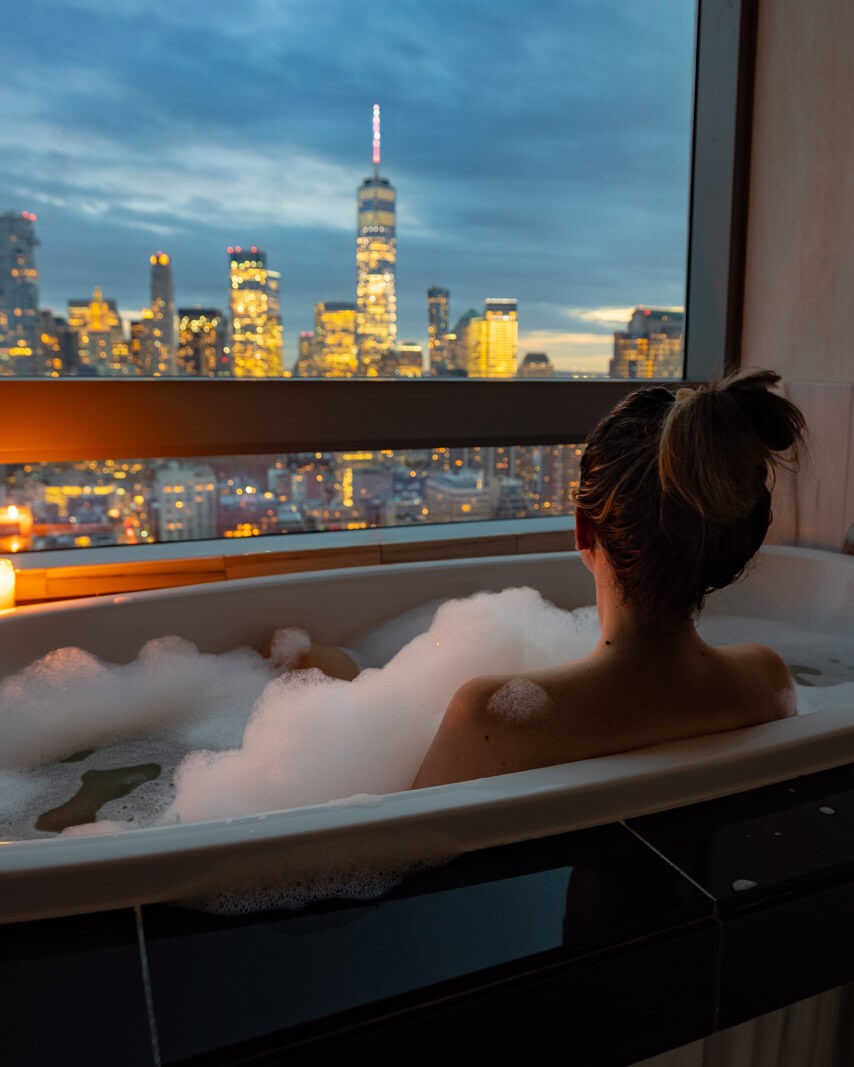 246 Spring St, New York, NY
Nestled in the heart of SoHo amongst galleries and high-end boutiques, The Dominick Hotel is a sleek luxury hotel and one of the must-see places to visit in NYC.
Check out views of the Hudson River, Lower Manhattan, The Chrysler Building, and Empire State Building from their floor-to-ceiling windows – the 9th through 15th floor rooms and Eastern facing 16-23rd floor rooms face Hudson Square, while the North/West/South facing 16-23rd floor rooms face the NYC Skyline and South SoHo. There is also a seventh-floor terrace which is seasonally open for swimming with the skyline! Book here.
W New York Times Square
1567 Broadway New York
One slightly chiller way to take in the lights of Times Square is to stay in a hotel with a view of Midtown's brightest billboards. Try a night at the W Times Square Hotel in their "Cool" room or a "Marvelous" room for direct views of Times Square.
If you have a pet with you and they also enjoy a good view, take them with you — the W is one of very few pet-friendly accommodations among New York attractions! Book here.
The New York EDITION
5 Madison Ave, New York
The New York EDITION is a smartly outfitted modern, minimalist hotel located on the Eastern side of Madison Square Park. Wake up views of the Empire State Building, the Chrysler Building, and of course, Madison Square Park — it's also conveniently walkable to Chelsea, Gramercy, Union Square, the East Village, and NoMad (North of Madison Sq. Park, for the unfamiliar).
Wondering what to do that's super local? Grab dinner at legendary 11 Madison Park (across the street) for a Michelin-starred (and newly planted-based) luxury meal! Book here.
The Standard High Line
848 Washington St, New York
The Standard High Line captures a glamorous, glitzy, eccentric corner of downtown that is among the must-visit places to see in NYC. Check into The Standard for truly phenomenal views of the lower Manhattan skyline, the Hudson River, and New Jersey (all rooms have a great city view but the best can be found in the Superior King and Deluxe King and Queen rooms).
The best spots to catch a sunset are the Top of the Standard, the glossy, art deco top-floor restaurant and lounge, and of course, the bacchanalian rooftop, Le Bain. Book here.
What to See in NYC Like A Local
Spend a day in Red Hook
Traveling to Red Hook can feel like taking a vacation to a seaside Rhode Island town (until of course, you check out its great views of the Statue of Liberty at Louis J Valentino Park and Pier!!).
Things to do in Red Hook? Complete your New York bucket list and check out local artists at the free Pioneer Works Museum, have a picnic at Erie Basin Park (or go shopping at IKEA!!), explore the record stores, vintage shops, wine stores, and restaurants of Van Brunt St, and end your day digging into Hometown BBQ (454 Van Brunt St) or playing cornhole at Brooklyn Crab (24 Reed St). And don't forget to have a nightcap at Sunny's (253 Conover St), open since the 1890s!
Visit the Brooklyn Heights Promenade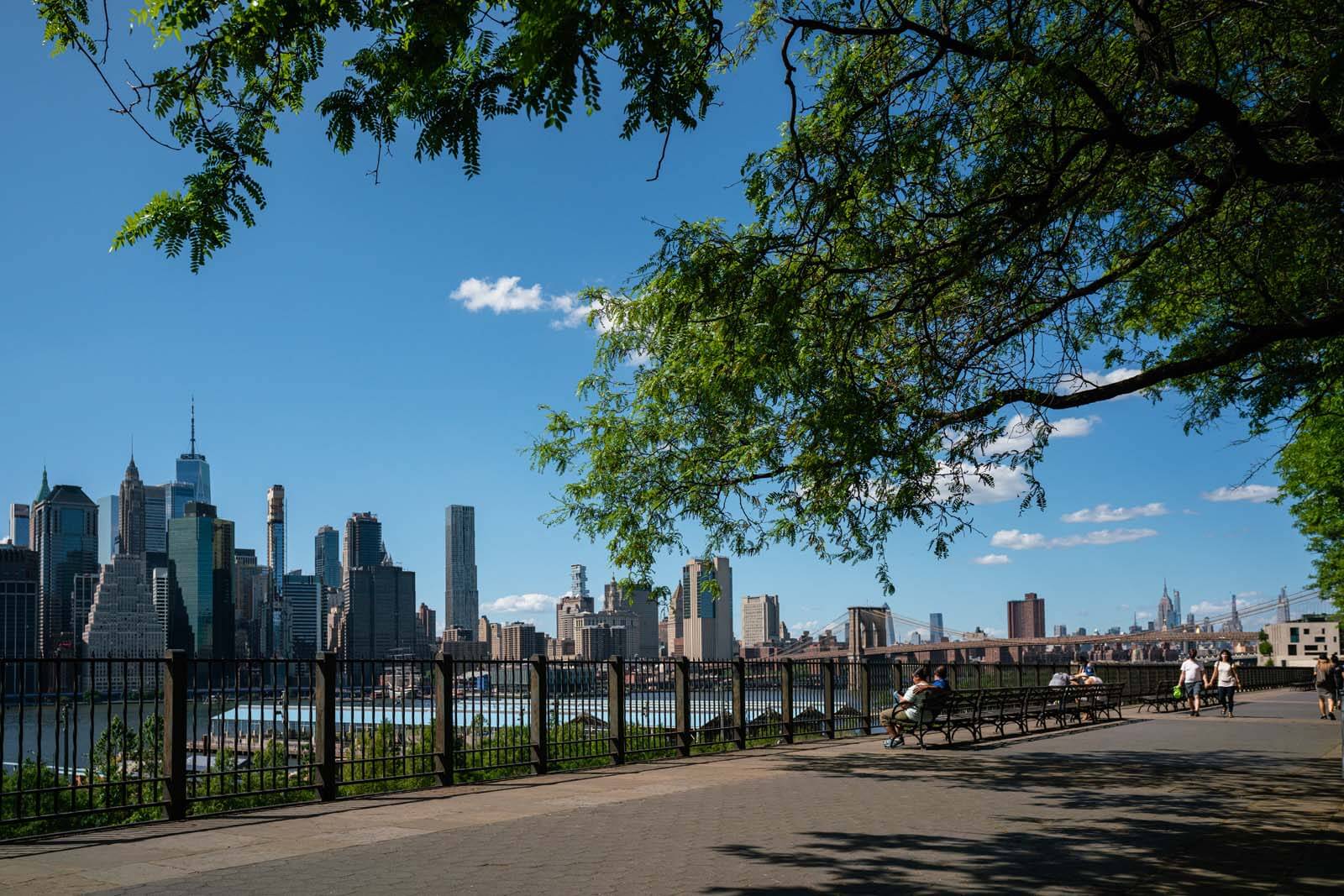 Spanning the end of the Brooklyn Bridge to the waterfront's Pier 6, Brooklyn Heights is a historic, tony residential neighborhood with insane views of Manhattan, gorgeous brownstones, and plenty of things to do in Brooklyn Heights that make this neighborhood worth checking out.
Stroll along the Brooklyn Heights Promenade at sunset for incredible views of the East River, and be sure to visit Squibb Park Bridge — connecting visitors to Brooklyn Heights to Pier 1 and Brooklyn Bridge Park, while also offering beautiful views of the World Trade Center and skyline!
Love to browse real estate? One of the coolest things to do in NYC is to walk through the neighborhood's "fruit streets", home to some of its best and oldest pre-Civil War architecture as well as a fun urban legend about spiteful street signage. While you're in the area, swing by Truman Capote's old house and have a beer at Montero's!
Union Hall
702 Union St Brooklyn, NY
Ever dream of visiting a bar that's also a concert hall, theatre, comedy club, and bocce court? Make that dream a reality by checking out Union Hall, a Park Slope performance venue, bar, and yes, bocce court. Union Hall's varied programming ranges from musical medleys to stand up to experimental theatre, and their upstairs bar and bocce court are a great place to hang out with a cocktail before or after the show. Wondering what to see in NYC? The answer is a little bit of everything at Union Hall!
The Public Theatre
425 Lafayette St, New York
Originators of little-shows-that-could like Hamilton and A Chorus Line, The Public Theatre is one of the must-see places in NYC for new and exciting theatrical works. Check out shows at their main stage, or visit adjacent Joe's Pub for exclusive cabarets and concerts from some of the boldest names in theatre!
The Joyce
175 8th Ave New York
If you're a fan of dance, the Joyce should definitely be on your NYC bucket list — known as a beacon of contemporary dance since 1982, the Joyce hosts over 400 domestic and international companies in touring and resident performances.
Marie's Crisis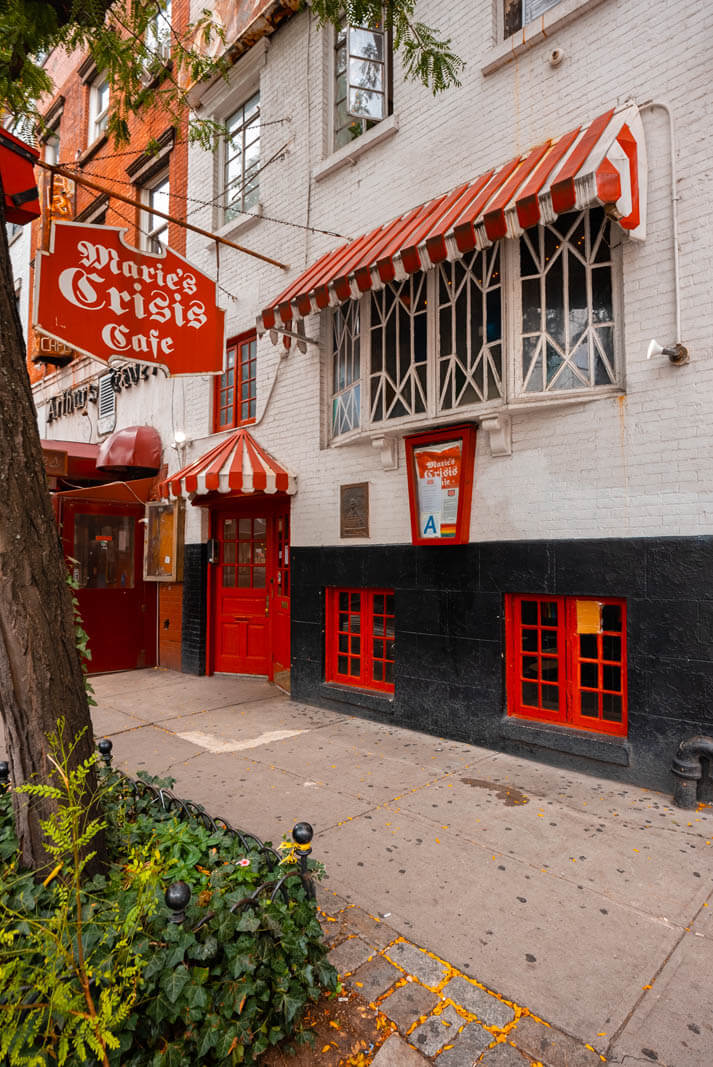 59 Grove St, New York NY
Warm up your pipes, it's time to sing (and dance, if you have room!) at Marie's Crisis, one of the coolest things to do in NYC. This tiny, subterranean piano bar has been open for decades, serving up group sing-alongs to your favorite show tunes, with occasional surprise sets from off-duty Broadway stars.
Morrison Hotel Gallery
116 Prince St #2, New York
When you want to know what to see in NYC, head directly to the Morrison Hotel Gallery. This intimate, second floor space is a proprietary collection of the world's foremost musical photography, featuring iconic portraits of everyone from Bowie to the Beastie Boys in Brooklyn. Be prepared to be tempted to buy…everything!
---
We hope this list will serve you well for years to come…after all, in NYC, there is always something new to try! Happy exploring!
---
About our Guest Author
Sarah Beling is a playwright, New Yorker, and passionate food enthusiast who is always looking for her next meal. You can find her in an NYC park, enjoying a chopped cheese sandwich and reading about NYC's best new places to eat.
---
Enjoyed this guide to the best things to do in NYC and New York City? Or perhaps you found a few more things to add to your New York bucket list! Bookmark this guide for later or share the love below on Pinterest!