Planning a New York Christmas trip itinerary? You've come to the right place! There's an overwhelming amount of festive things happening in the city this time of year (in a good way), but let's be honest, it can be hard to choose how to pick what to include on your New York Christmas trip!
So, we have this handy itinerary curated by a local who LOVES the holiday festivities.
Sometimes a song puts an image of a place in your head so powerful that it plays constantly in your psyche. One day you visit said place and the fantasy immediately dissolves, leaving you to wish you'd stayed far away, content to wander through your imagination of what it should be.
Well, I'm here to give you some good news. Christmas in New York is JUST AS IT CLAIMS TO BE in the song Silver Bells, and in pretty much every other city-centric holiday carol.
It really is an ephemeral time of year where the city shines and people really are dressed in holiday style, meeting smile after smile. There is a distinctly joyful, bustling energy around town, and the soft lighting of holiday decorations casts a benevolent glow on even the most quotidian of city blocks.
Pop-ups and special events transform ordinary public spaces into communal pockets of revelry and celebration. Concert and performance setlists default to seasonal favorites with friendly singalongs. Free light shows and displays abound, and the smell of roasted candied walnuts from street carts waft through the air.
There's a reason they were able to convince Susan that Santa is real in Miracle on 34th Street – New York City at Christmas will convince you of the existence of magic. If there's one time of year I recommend you visit, it's for a New York Christmas trip, plus don't miss catching all the best Christmas movies in NYC before your trip too!
This New York Christmas itinerary focuses on a few different key points of interest:
holiday performances
light shows
pop-up markets with seasonal vendors
meals and snacks at establishments that decorate for NYC Christmas (or simply feel seasonal to winter)
a few well-decorated Christmas trees in NYC.
We've included options for staying in Manhattan, as well as venturing to Brooklyn, the Bronx, and Queens. There are so many holiday adventures that you may want to return year after year, but take this guide as a primer for your first NYC Christmas itinerary.
Also, something to keep in mind when planning your New York Christmas trip, this is the busiest time of year to be in the city, we highly advise making reservations for all the sit-down restaurants, booking your tickets to shows in advance, and securing your hotels in advance!
And if you find yourself here on the actual holiday, check out our guide to the best things to do in NYC on Christmas Day as certain things may be closed on the actual holiday and our guide covers what's open!
Disclaimer: this post contains affiliate links
New York Christmas Itinerary
NYC Christmas Itinerary: Day 1
Christmas Themed Brunch
You've just arrived on your New York Christmas trip of a lifetime, and you're looking for festive things to do that will immediately put you in the holiday spirit – where should you go first?
Look no further than a brunch at Lillie's Victorian Establishment (13 E 17th St), a cheerful and well-loved pub in Union Square. Lillie's is a friendly and fun place to dine any time of the year, but is particularly festive during the holiday season – the already cozy yet ornate space gets decked out head to toe in festive adornments that surround you with cheer.
Split a classic Bagel Board (with all of the NYC fixings!) and some mixed berry pancakes with your dining companions in a setting packed to the gills with holiday joy (and if you're here earlier in the season, it must be noted that they also decorate for Halloween!).
There is also a fantastic Lillie's location in Times Square (249 W 49th St) with equally gorgeous holiday decor – their weekend menu features brunch, but may be a great fit if you're not an early riser and are looking to stay in the midtown area.
*Since Lillie's only does brunch on the weekends, feel free to adjust this part of your NYC Christmas trip to fit your itinerary!
Bryant Park Winter Village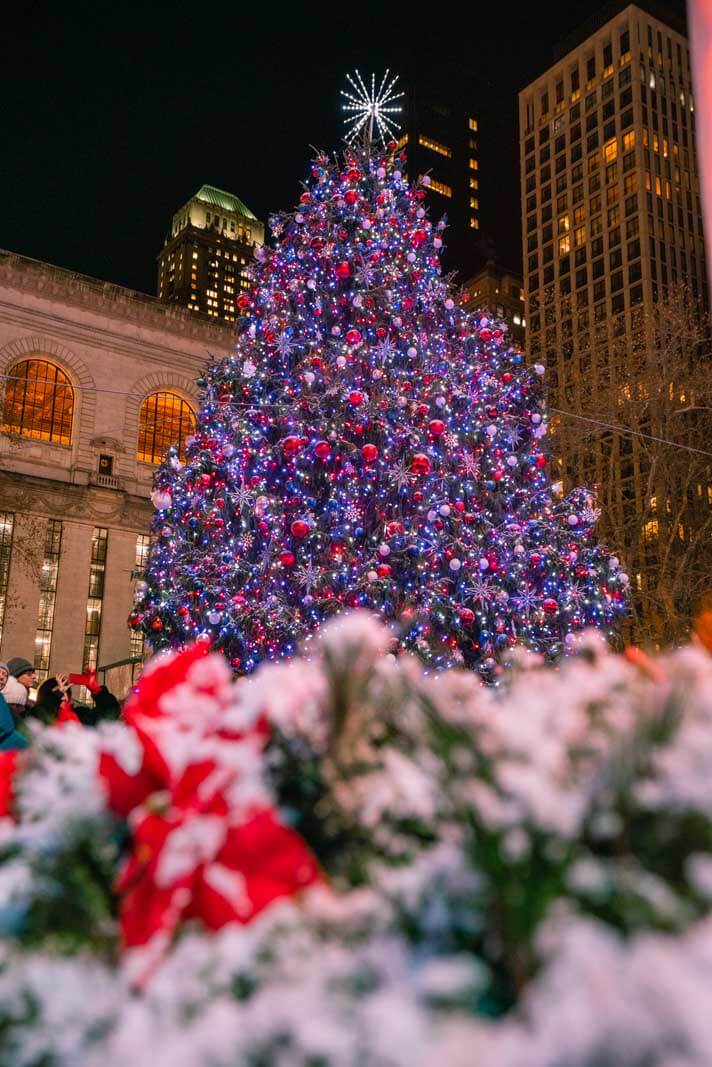 Next up on your New York Christmas itinerary is the wonderful Bryant Park Winter Village (42nd Street and 6th Ave). Centered around a free (!) skating rink in the center of the park, the winter village features a wide variety of unique holiday vendors selling everything from artisan clothes and jewelry to specialty food and drink.
Shop here for uncommon gifts for your friends and family while you sip on some of the city's finest hot chocolate!
There are also often pop-up sit-down restaurants and cafes, housed in magical, clear bubble cottages where you can dine with a view of the Empire State Building and midtown Manhattan dressed up in holiday splendor!
As far as Christmas activities NYC has to offer, you can't beat the joyful energy and bang-for-your-buck of Bryant Park Winter Village!
The Plaza Hotel
While you're in Midtown and looking for more NYC Christmas options, make your next stop afternoon tea at The Plaza Hotel (5th Avenue at, Central Park S), a longtime holiday favorite for visitors and New Yorkers alike.
Open for over 100 years, the Palm Court Room at the Plaza Hotel is an elaborately and elegantly outfitted restaurant year-round, but it truly comes alive during the holiday season. Decorated to the nines in old-school NYC Christmas style, the Plaza serves up a special holiday tea menu that includes classic English tea cucumber sandwiches, ham-and gruyere sandwiches, and chicken salad, as well as a mouth-wateringly tasty selection of luxurious pastries, tarts, and scones. Live out your "Eloise at The Plaza" dreams and lightly caffeinate yourself for the rest of your NYC Christmas itinerary with a relaxing hour at the Palm Court.
Holiday Window Displays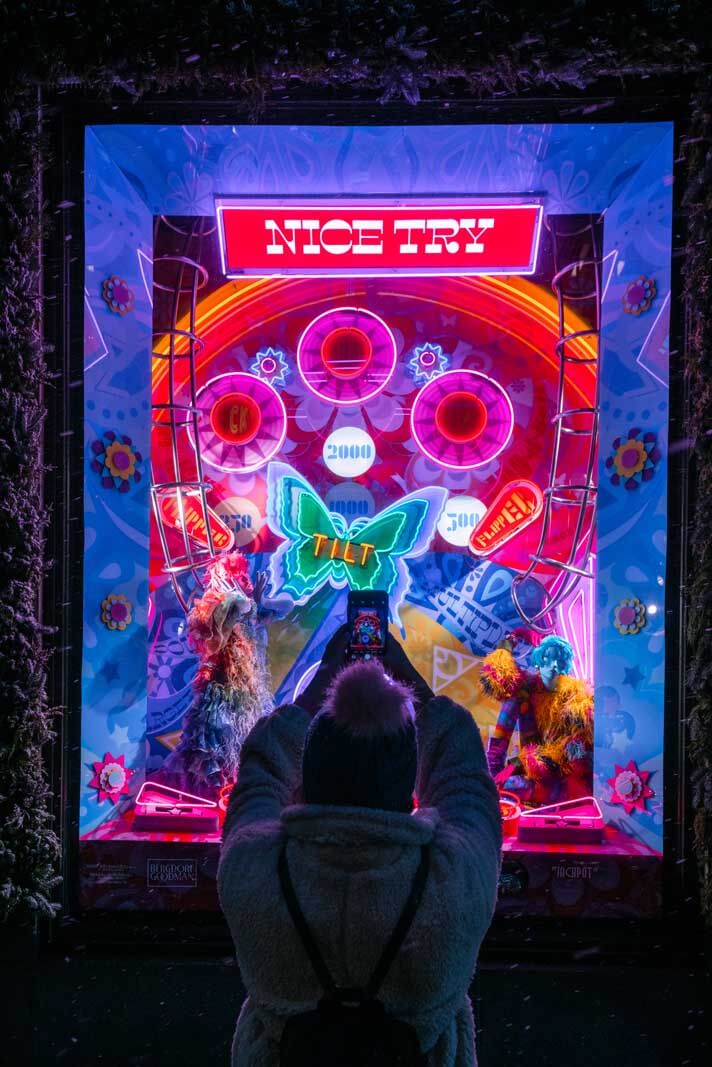 Now that you've rested for a bit, it's time to stroll and check out the legendary NYC Christmas window displays of 5th Avenue, the surrounding shopping area, and Rockefeller Center, all of which are well-loved activities in New York during Christmas!
Start by walking near Bloomingdales on 59th Street, easily recognizable by its retro signage and prominent black and white checkered flooring within. If it's cold, take a stroll through the store itself, which usually styles the store thoroughly in holiday cheer, but if you prefer to stay outside, the window displays themselves are also artfully fashioned for the season.
Work your way South and West to 5th Ave and 58th Street where the glamorous displays at Louis Vuitton, Van Cleef and Arpels, and Bergdorf Goodman are perennial New York Christmas trip favorites.
Continue downtown past Salvatore Ferragamo and Cartier to Rockefeller Center, where you can not only find one of the world's most famous Christmas trees (be aware that many others will also be visiting!!), but a variety of great window displays in the immediate Rockefeller center area (Saks 5th Avenue, Tiffany, and LEGO – the LEGO store is brand new, but other locations are known for their year-round magnificent displays, and I expect this location to be no different!!).
Continue further down to 34th Street (and West to 6th Ave.) to the flagship Macy's at Herald Square (151 W 34th St). In addition to being the centerpiece of the annual Macy's Thanksgiving Day parade (and kickoff to the holiday season, which Thanksgiving in NYC is also a magical time to visit) Macy's and its holiday village and window displays are some of the most cherished NYC Christmas activities.
If you are interested in visiting Santa, Miracle on 34th Street-style, be sure to build in time to meet the man of the hour – visiting Santaland is one of the most popular Christmas activities NYC has to offer.
Dinner
After front-loading your step-count on your New York Christmas trip, you must be hungry! When you've finished at Macy's, pop into the fabled Keens Steakhouse (72 W 36th St). Opened in 1885, Keens has been serving up USDA prime-grade, dry-aged steaks to delighted New Yorkers for centuries.
Once a mainstay for actors, playwrights, producers, and journalists in the (now-defunct) Herald Square Theatre District, Keens was known as a place to see and be seen, and enjoy top-notch meats and seafood (note that at Keens there are some great vegetable-forward dishes like the wedge and Caesar salads, carrots and brown sugar, roasted seasonal vegetables, and charred shishito peppers – but if you are vegan or vegetarian you may want to try nearby spectacular vegan sushi joint Beyond Sushi instead [134 W 37th St]).
While Keens is not specifically a Christmas-themed restaurant, the James Beard Award-winning haunt has a wonderfully "wintery" vibe and cozy, wood-paneled atmosphere to warm up with Oysters Rockefeller, a Chateaubriand Steak for two, and a few glasses of Pinot Noir making it one of the best steakhouses in NYC to dine at.
Rockettes Christmas Spectacular at Radio City Music Hall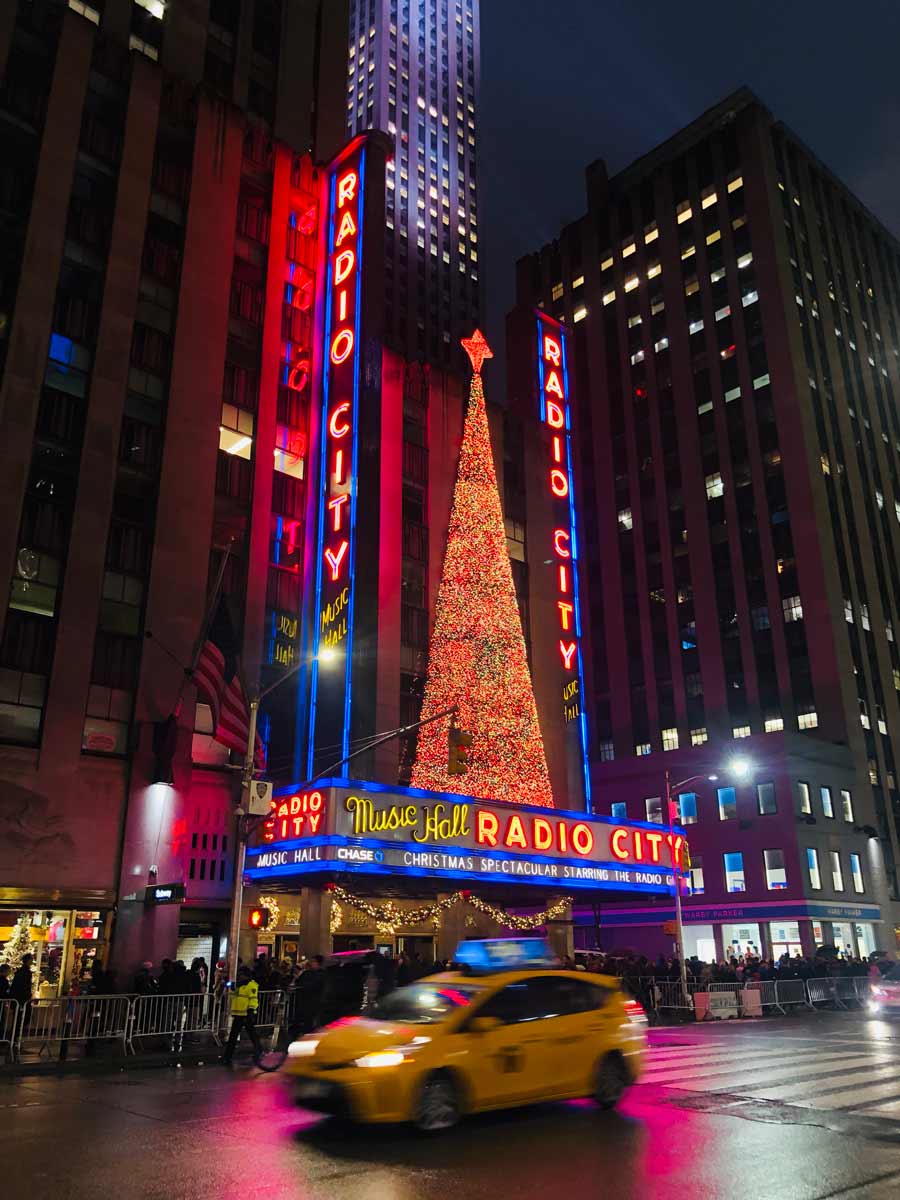 After you've refueled at Keens, head back up 6th Ave. to Radio City Music Hall to see The Christmas Spectacular Starring The Rockettes! The Radio City Spectacular has been an NYC Christmas tradition since 1933, and consistently delights audiences with perennial favorite numbers "The Parade of the Wooden Soldiers" and the Living Nativity (The Living Nativity also features live camels! Who you may see taking a walk break with their handlers on 6th ave!!).
Precise and impressive technical dancing is infused with the sheer joy and excitement of the hardest working performers in show business – making The Radio City Spectacular one of the must-try things to check out on your New York City Christmas trip. You'll even see Santa again (he moves around town quickly)!
Be sure to book this experience in advance as this is one of the most popular shows and one of the most famous things to do in NYC this time of year!
You can get tickets for the Radio City Christmas Spectacular on SeatGeek, and when you add our promo code BROOKLYNGUIDE to your SeatGeek account, you receive $20 off your first ticket purchase.
(We receive a small commission at no extra cost to you)
Night Cap at 230 Fifth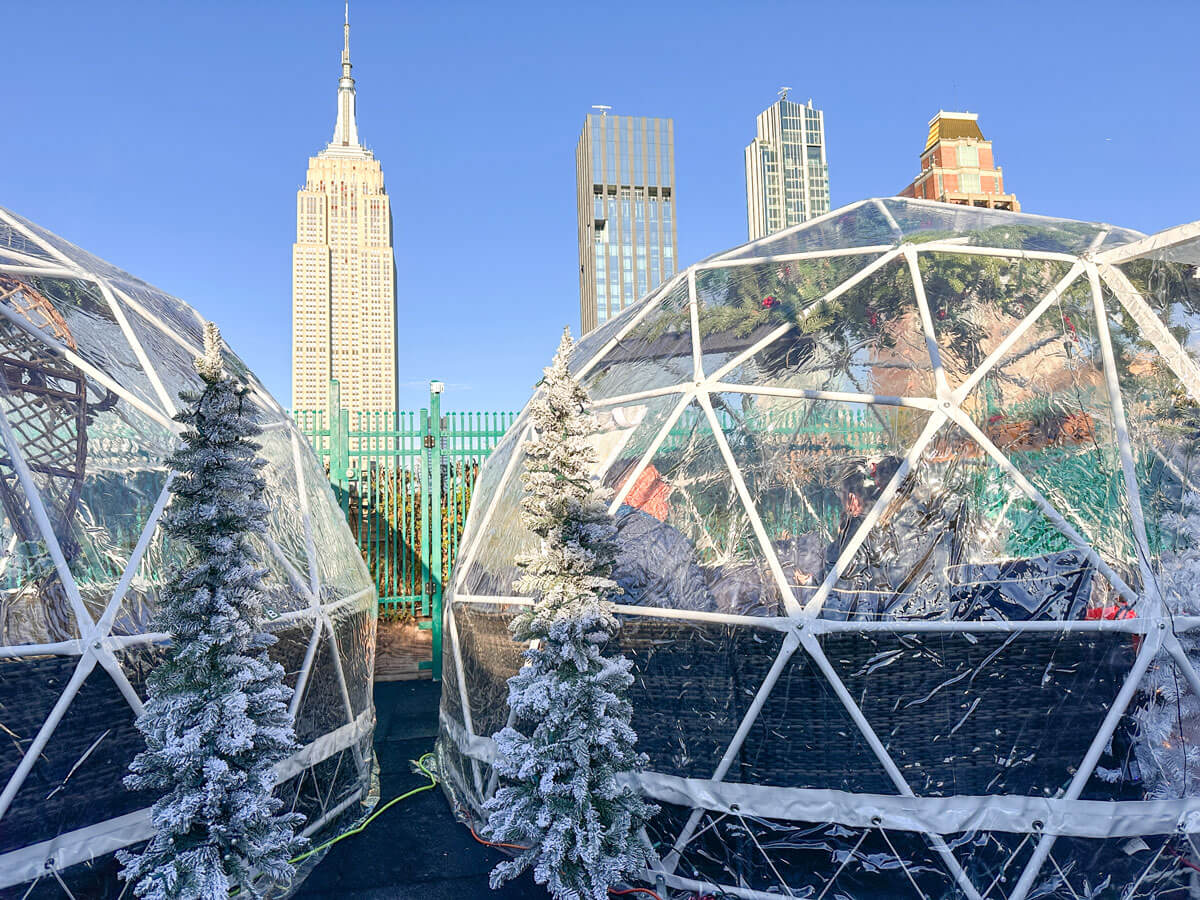 Before you end the first day of your New York Christmas itinerary, be sure to swing by 230 Fifth's rooftop igloo bar (230 5th Ave), one of the best rooftop bars in NYC and best Christmas bars in NYC! Enjoy spiced mulled wine, hot chocolate (boozy or as-is!), and apple-pie themed cocktails all in your own private (heated!) bubble looking out onto the twinkling nighttime cityscape.
There are even recurring holiday-themed light shows to watch as you relax and recap your day! Note that the rooftop gets busy, and I recommend making a reservation for your party.
If you walk in and there's a wait, there are, however, complimentary robes to wear while hanging out on the open rooftop. After you've enjoyed a nightcap, head back to your hotel and get plenty of rest for the second day of your NYC Christmas itinerary!
NYC Christmas Itinerary: Day 2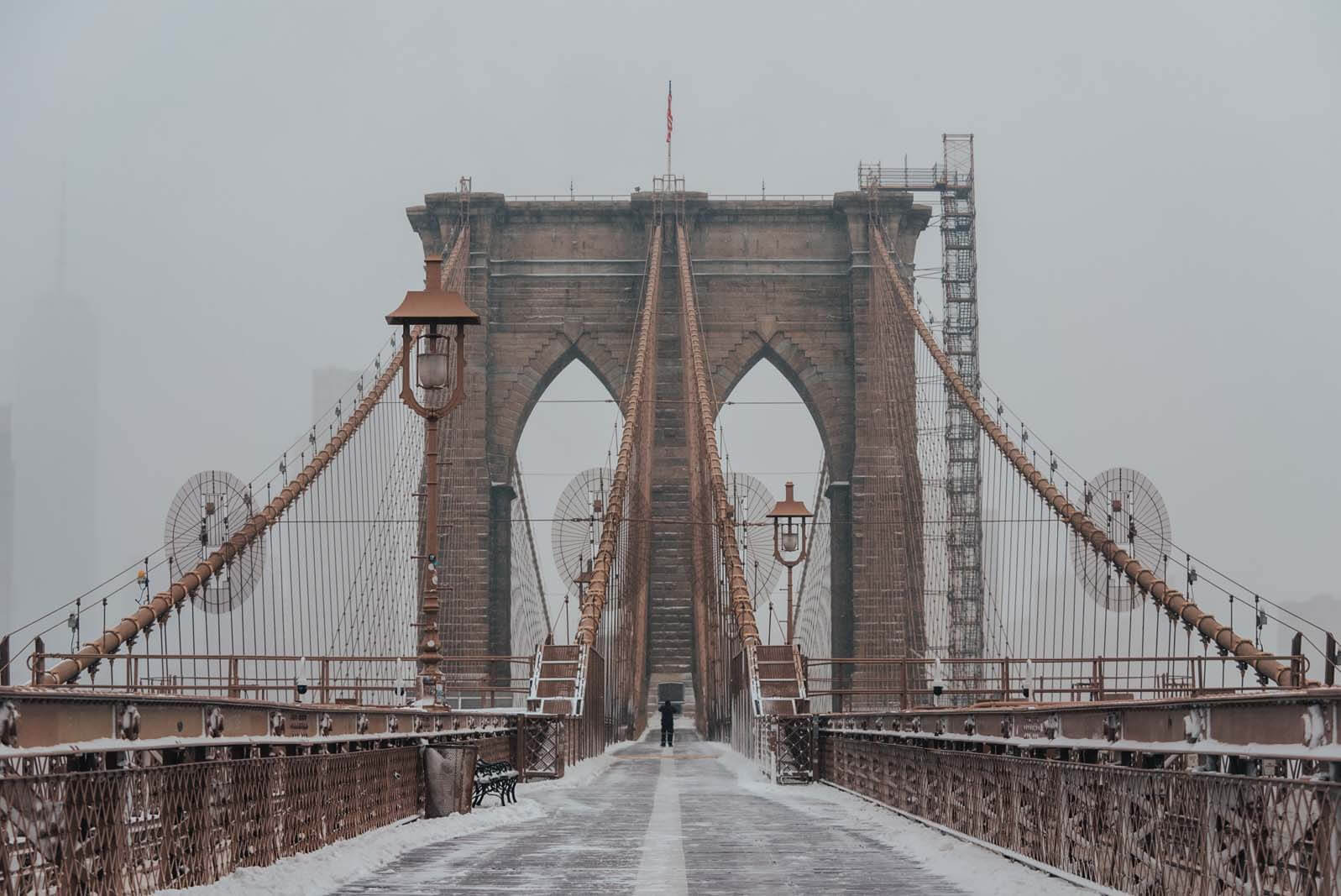 Holiday Themed Breakfast
Good morning! It's Day 2 of your New York Christmas trip, and we're starting out in Brooklyn! The first stop on your day's journey is brunch at Sunday in Brooklyn (348 Wythe Ave), a Williamsburg hotspot serving up mouth-watering hazelnut and brown butter stacks of pancakes, savory shakshuka, comforting grain bowls, and perfectly fluffy egg scrambles.
Sunday in Brooklyn is a fantastic choice year-round but acquires extra splendor during the holiday season when they transform themselves into a cozy ski chalet pop-up known as Snowday in Brooklyn – if you're up for a brunch cocktail, try a Frost Bite (Mezcal, Gin, Pisco, Green Chartreuse, White Creme De Cacao, Peppermint Oil) and take in the warm, welcoming atmosphere.
Holiday Shopping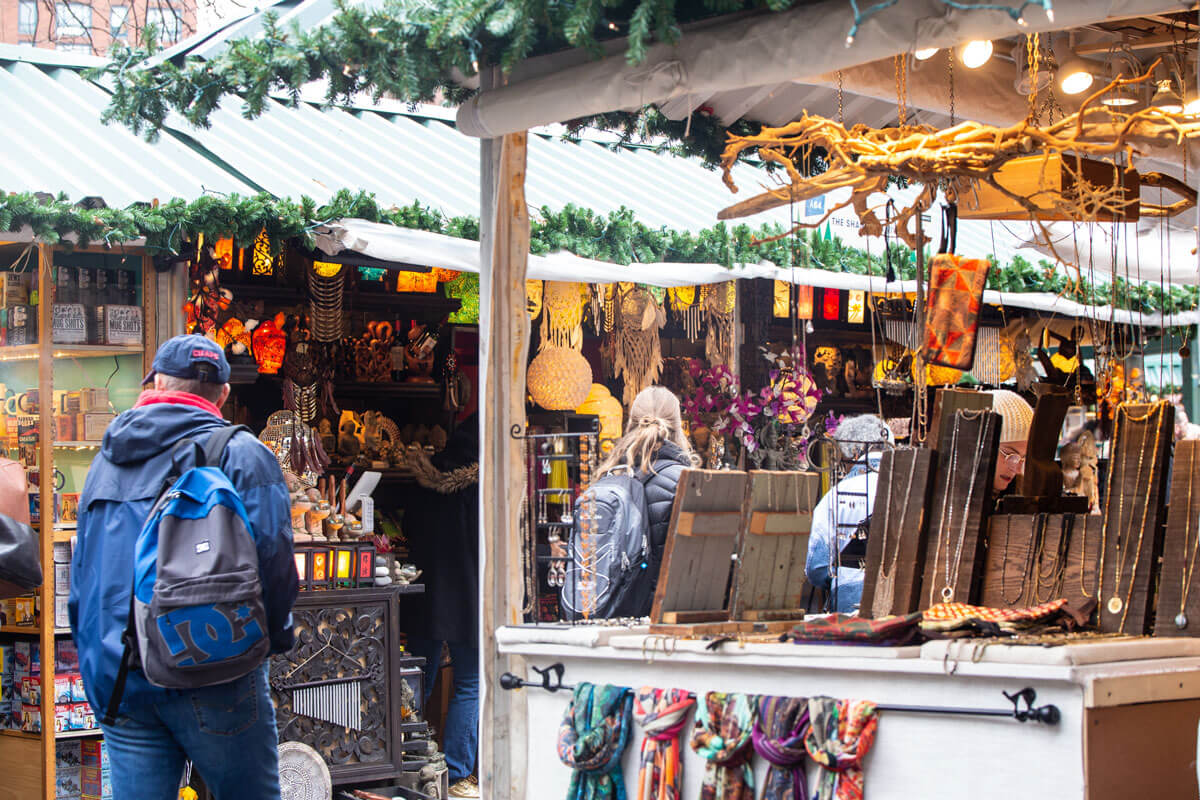 After you've conquered that impossibly beautiful stack of pancakes, walk it off at the Brooklyn Flea (80 Pearl St) – while usually open seasonally through October, they hold a holiday pop-up shop weekends 10 AM-4 PM (I would advise checking their Instagram account for any weather-related changes in hours of operation).
Browse unique vintage finds and artisan, thoughtfully-made goods for even your most hard-to-please friends and family – and don't forget to pick up a few treats for yourself, too!
Need a snack to sustain you while shopping? Wander over to nearby Dawn's Til Dusk (33 Main St) for snacks both savory and sweet – I recommend the vanilla, chocolate, and red velvet "Spiky Cupcakes".
And if by chance you're in town for more than a few days and are looking to pick up a fresh Christmas tree in the heart of the city, they are available nearby in a seasonal pop-up by 81 Washington Street – several Vermont farms post-up with spruce trees and bottles of maple syrup (a lighter option in case you are just here for a few days and don't want to schlep a tree around town)!
Are you still struggling to find that one elusive gift for someone in your life? Fear not, there are more holiday markets ahead on your NYC Christmas itinerary!
Hop on the train or hail a cab to the Union Square Holiday Market (E 14th St), an evergreen favorite option for things to add to your NYC Christmas itinerary. Located around the periphery of the park in the same spot as the Union Square Greenmarket the rest of the year (be sure to check the greenmarket out before or after the holiday season!)
The Union Square Holiday Market has a large variety of crafted gifts, limited edition NYC-themed merch, and specialty foods, not to mention one of the best Christmas markets in NYC!
Support local, independent businesses and delight your family and friends with highly personalized trinkets from your time in the city.
Christmas Themed Lunch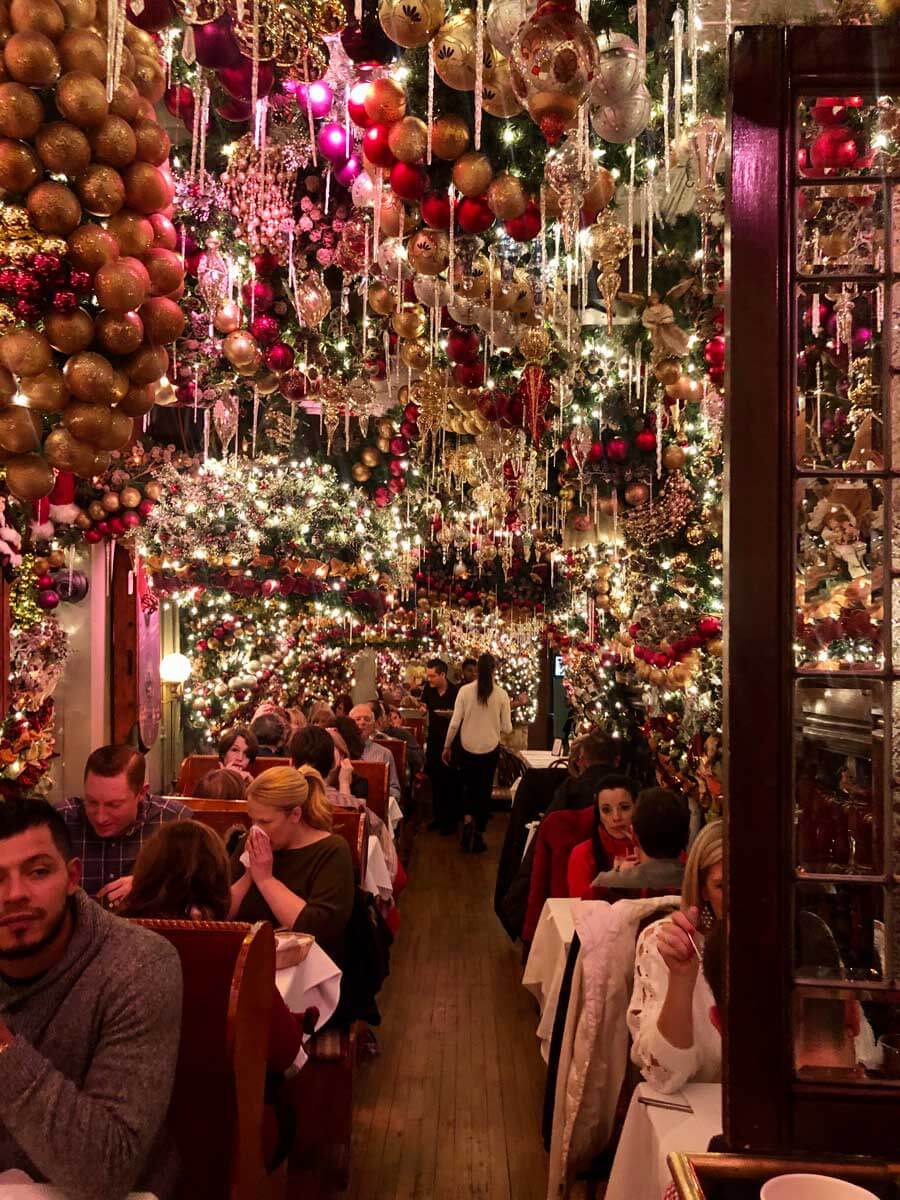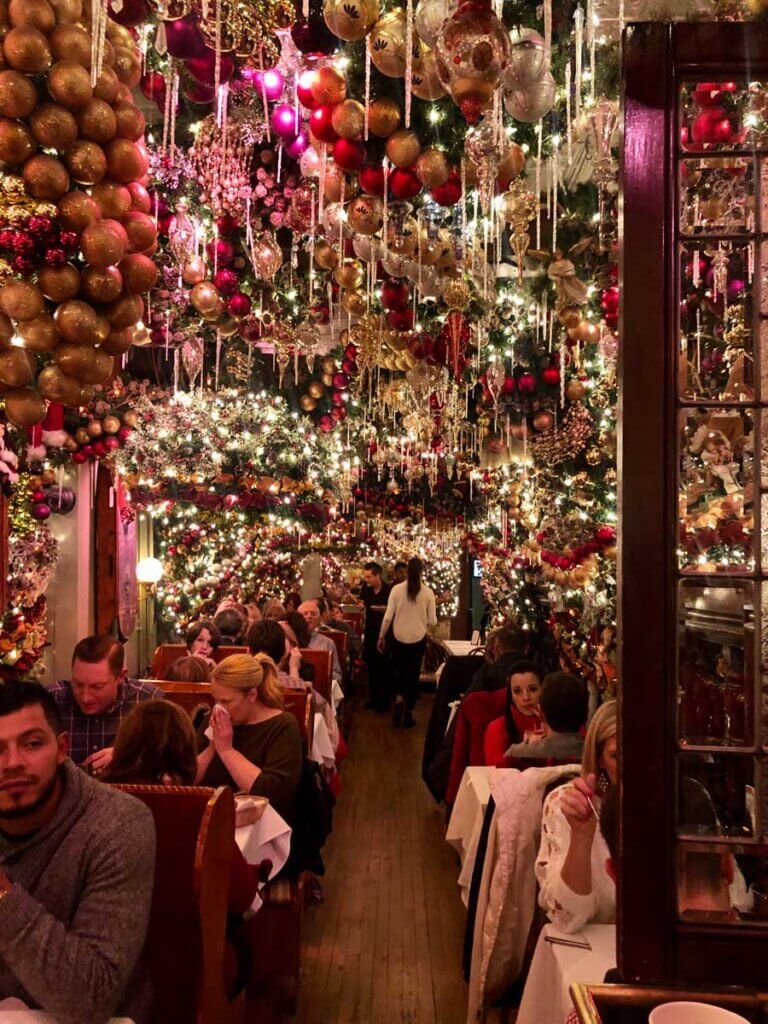 It's a fact universally known that shopping makes you hungry – stay in the holiday spirit and take the time to refuel at Rolf's (281 3rd Ave,), a snug and welcoming German restaurant known for its absolute dedication to the Christmas spirit.
Enjoy schnitzel, bratwurst, potatoes and sauerkraut under a twinkling canopy of holiday lights, ornaments, and a few Kris Kringle statuettes for good measure.
Be aware that a holiday stop at Rolf's is one of many New Yorkers' must-visit NYC Christmas spots, so it's wise to make a reservation to guarantee your spot!
These are not easy to get, so if you don't get one, consider heading uptown to the original P.J. Clarke's location at 915 3rd Avenue for lunch. This historic location is one of the few remaining old New York establishments (that dates back to 1884) in this area! Not only do they have some festive decor up, but their burgers and food are fantastic and you'll be a tad bit closer to your next suggestion on this NYC Christmas itinerary!
Holiday Show at Lincoln Center
After Rolf's, head back uptown to drop off your gift haul, and then make your way over to Lincoln Center for a matinee of the holiday classic, The Nutcracker (Lincoln Center Plaza). Put on by the world-class New York City Ballet, The Nutcracker is a joyful, effervescent tale (based on the story by E.T.A Hoffman) of a young girl and her favorite toy that comes to life (it's kind of the original Toy Story, IMO!).
Confectionery-themed dances featuring pirouetting candy canes and sugarplums, a sweeping score, and a very speedy runtime make the ballet a perfect afternoon for the whole family, and one of the best Christmas activities NYC has to offer.
The Nutcracker is an incredibly popular holiday outing, so I recommend buying tickets in advance if possible.
You can get tickets for the Nutcracker on SeatGeek, and when you add our promo code BROOKLYNGUIDE to your SeatGeek account, you receive $20 off your first ticket purchase.
(We receive a small commission at no extra cost to you)
Dinner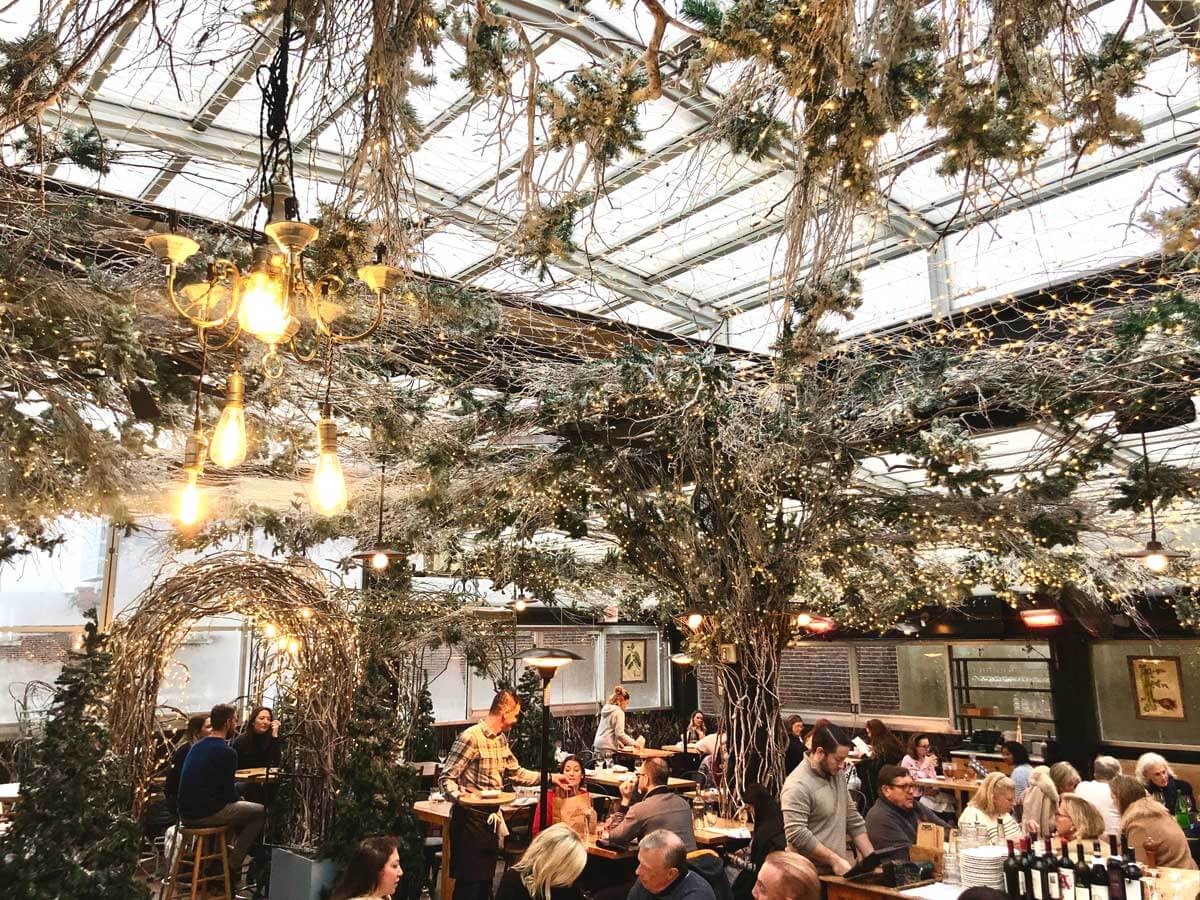 Now that you've had a little time off of your feet, jeté down to cocktail hour and dinner at Eataly's Serra Alpina Rooftop (200 5th Ave). This year-round rooftop transforms into a scene out of a wintry Italian forest, complete with special warm cocktails and constantly updated seasonal fare.
Serra frequently picks a local farm to highlight and cook produce from, and their dishes are a fantastic blend of traditional Italian cooking methods and the flavors of New York and Tri-State area farm goods.
Enjoying handmade pasta in a snow-themed (but heated!) wonderland is certainly one of the most festive places to dine during your New York Christmas trip!
Holiday Pop-Up Bars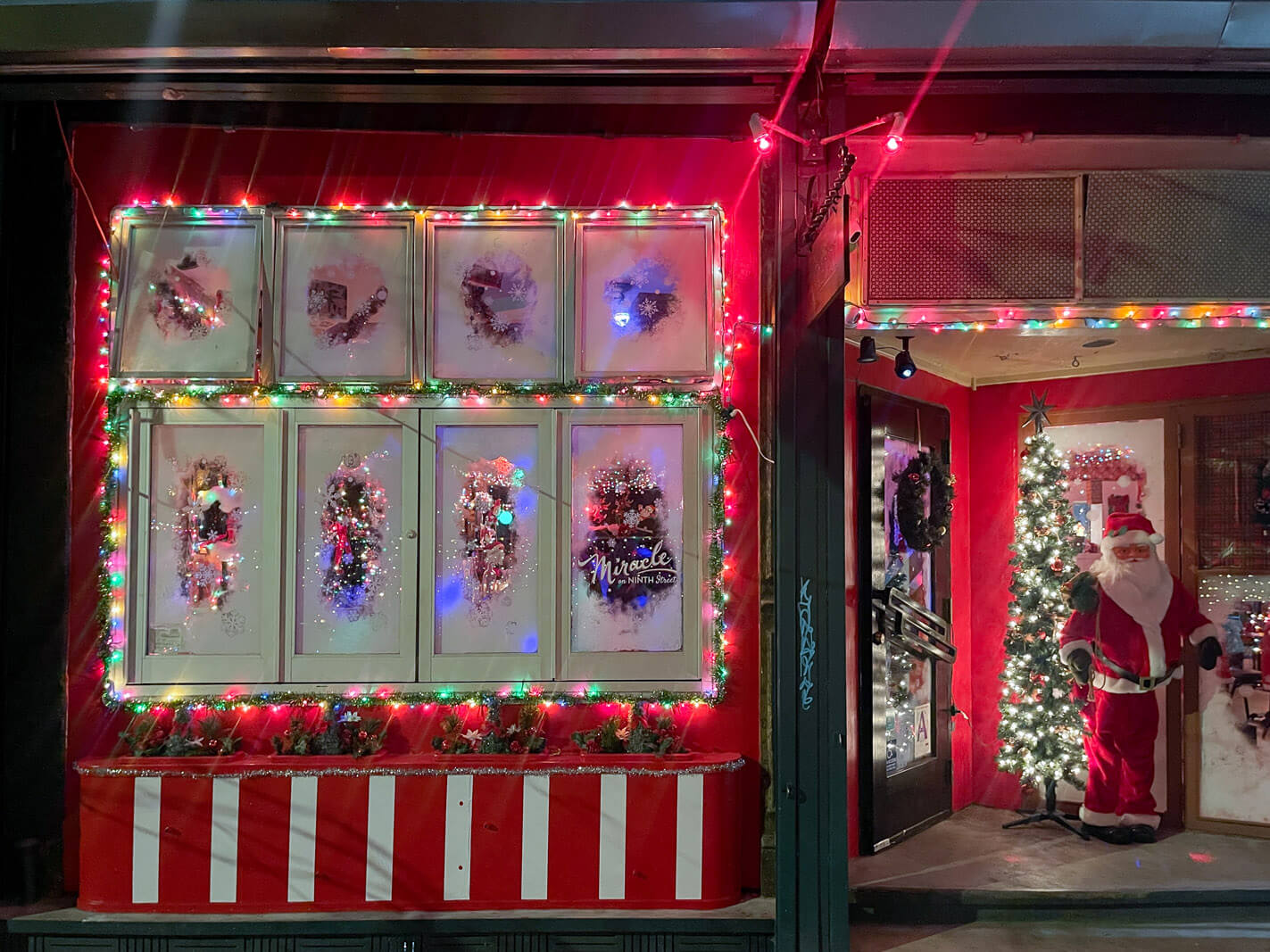 After your laid-back dinner it's time to let loose and rock around that Christmas tree at one of the city's many holiday pop-up bars in NYC. Bar locations do change from year to year, but the folks at Miracle on 9th Street consistently deliver seasonal magic at The Cabinet (​​649 E 9th St), a lively mezcal-focused cocktail bar that hosts a holiday party with kitschy, 50s-style decor.
The vibe at Cabinet is that of the friendly, reunion-style party that happens when you and all your friends are home for the holidays – catch up with friends in town or make new ones over a "Christmapolitan" (Vodka, elderflower, dry vermouth, spiced cranberry sauce, rosemary, lime, absinthe mist) while you dance it out to "Run Run Rudolph".
Did you go to bed last night before hitting up 230 Fifth, or are you looking for one of the clubbier Christmas activities NYC has to offer? Slink downtown to the Après Ski rooftop pop-up at night time hotspot Mr. Purple (180 Orchard St 15th floor).
Mr. Purple teams up with Veuve Clicquot to deliver chic, faux-fur furniture accented snowglobes where you can sip champagne (Veuve, of course) and snack on fondue while wrapped in luxurious blankets surrounded by the delightfully off-kilter signature Mr. Purple decor.
Snowglobes fill up quickly, and it's best to make a reservation for your party. If you'd rather stay indoors or prefer to walk in, the indoor bar section of Mr. Purple is a glitzy, stylish place year round to get into the holiday spirit and features spectacular views of the city below.
And if you want to fall back into bed directly after your night on the town, staying at the Hotel Indigo (in which Mr. Purple resides) is always an option! Rest up, there are many more activities for your New York Christmas trip itinerary for tomorrow!
Also, our guide to the best Christmas themed restaurants and bars can help you pick other options if you wanted to see your other options!
NYC Christmas Itinerary: Day 3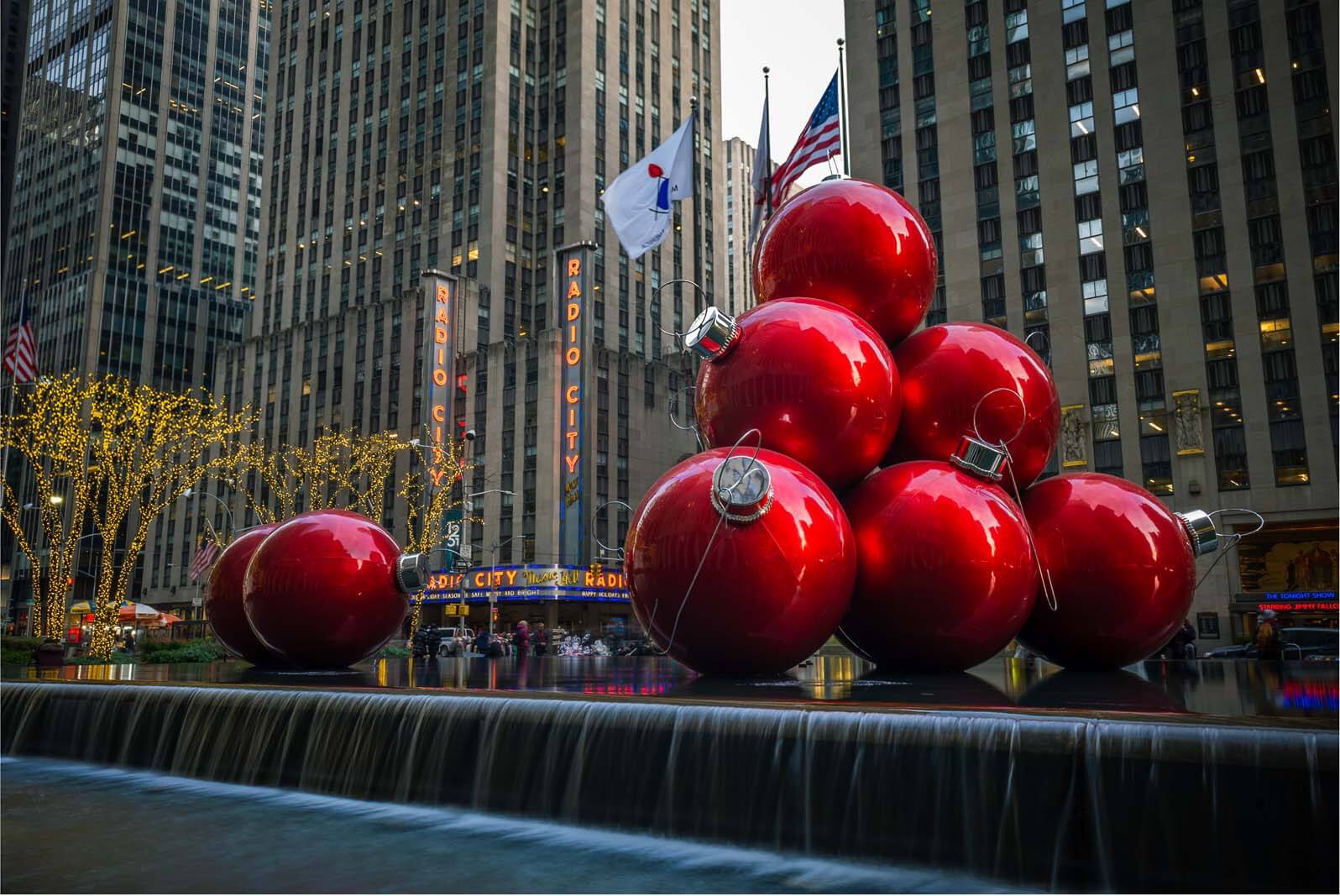 Breakfast
Somehow we've gotten to the last day of your New York Christmas trip – but don't worry, we'll pack as much holiday cheer in as possible! Today begins uptown and concludes with a choose-your-own-adventure option to stay uptown or head out to the Bronx!
In my humble opinion, the NYC Christmas season (and winter in general) is the unofficial season of Baked Goods, so let's start the day out with a few of the city's best.
Head to Breads Bakery (1890 Broadway), which among other accolades was named one of the "25 Bakeries Around the World You Need to See Before You Die" by Buzzfeed.
Add a little Chanukah flavor into your NYC Christmas itinerary by trying their pillowy and rich Chocolate Babka (the Cinnamon flavor is wonderful as well!), or try the flaky tenderness of the Palmier cookie.
Looking for savory? Breads offers a tasty Parmesan cookie (filled with parmesan and gouda cheese and topped with sesame and nigella) as well savory pastries like the Spinach Bureka (puff pastry filled with spinach and feta).
If you are a cookie monster, look no further than Levain Bakery (multiple locations, the closest open location to Breads is 351 Amsterdam Ave).
This world-famous joint is known for their massive, baked-just-enough cookies that have crunch on the outside and a melted, gooey core inside.
My personal favorite is the oatmeal raisin – which yes, I know is controversial among chocolate chip fans out there, but please trust me and try at least one oatmeal raisin – I've never had a more buttery, perfect cookie of the same kind anywhere else.
And yes, while you're there you should absolutely try their chocolate chip (and double chocolate) varieties! If you simply can't eat another cookie but want a little something sweet, Levain is also the perfect place to grab a hot chocolate – their Valrhona hot chocolate is rich and comforting.
NYC Holiday Markets
You've been in the city for three days, and you still haven't found a gift for your most hard-to-please relative – fear not, I've got one more holiday market for you! Check out nearby Columbus Circle Holiday Market (Columbus Cir &, Central Park S) for even more unique gifts and trinkets (from over 100 vendors!) for your loved ones.
Central Park Ice Skating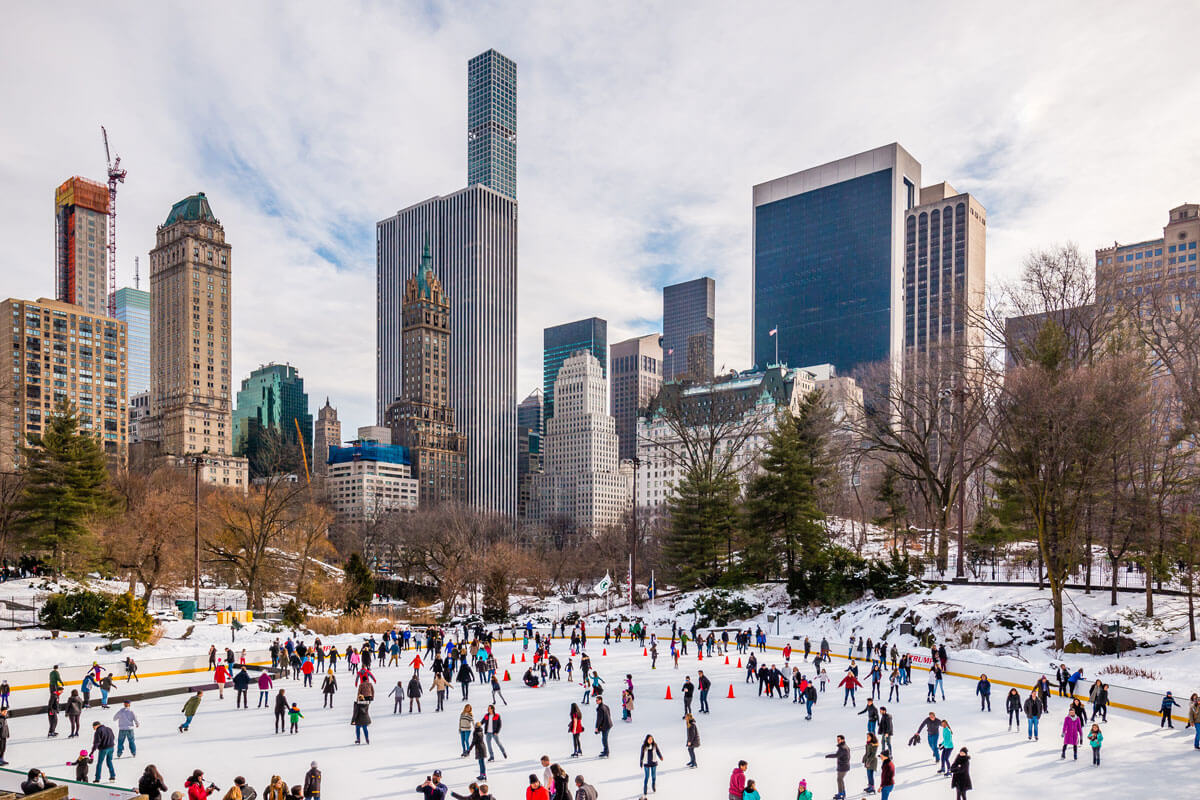 While you're in the park, walk over to Wollman Skating Rink to watch (or join!) skaters gliding together, surrounded by beautiful views of the city (830 5th Ave).
Wollman does require admission ($19 for adults, $11 for kids on weekends, with skate rentals available for $10) but even if skating's not your thing, it's a nice place to take in the holiday scene and one of the best spots for ice skating in NYC.
Lunch
Continuing your streak of enjoying Central Park (undoubtedly one of the best places to visit during the holidays and any time of the year!), head over for lunch at Tavern on the Green (Central Park West and W 67th St).
Opened in 1934 (and briefly closed, but revived in 2014!), Tavern on the Green is a classic, Old-New York joint famous for housing gatherings of prominent New Yorkers for decades.
It's the frequent site of Broadway opening night parties and fundraising galas, and brims with the energy of socializing New Yorkers and visitors alike. Tavern on the Green comes alive every holiday season with elaborate decorations, the highlight of which is a twenty-foot tree adorned with lights and over two-thousand ornaments that sits perched in the entryway rotunda of the restaurant.
Marvel over the tree and then head in for a delicious holiday brunch of classic New York eggs benedict, brioche french toast, or smoked bacon and scrambled egg pizza!
Make a reservation for this spot if you want to dine here during your New York Christmas itinerary!
Afternoon Christmas Sightseeing & Activities
After your Central Park brunch, you have two options on your New York Christmas itinerary: stay uptown for the day, or travel to the Bronx for further adventures!
We'll start with the local option. After you've visited Tavern on the Green's tree, check out another fantastic area tree by heading east to the New York Lotte Palace (455 Madison Ave). This incredibly ornate tree is a favorite for wintertime photo-ops (maybe you can sneak in next year's Christmas card photo here!).
It can be a popular spot and a bit crowded, so I advise going before it's dark – the tree is just as spectacular and it will be easier to snag a spot to take photos! The day time is great to get photos too, this is one of the most popular spots for where to take Christmas photos in New York with couples and families!
While you're over by the New York Lotte Palace, check out nearby King Cole Bar (2 E 55th St) housed in the St. Regis Hotel. King Cole Bar is known for its iconic mural by Maxfield Parrish (commissioned by famous New Yorker John Jacob Astor) and for being the first bar to serve a Bloody Mary (known to them as the Red Snapper).
Additionally, the King Cole bar appears in many iconic New York movies like The Devil Wears Prada, and my personal favorite movie of all time, The First Wives Club (full disclosure that First Wives is not a Christmas movie but it will warm your heart!).
Enjoy a Red Snapper or a wintery and comforting glass of red wine as you relax and recap your morning spent shopping, skating, and dining!
If it's chilly out and you're hoping to check out another indoor spot, visit the lights at the Shops at Columbus Circle (10 Columbus Cir), one of the most low key and relaxing Christmas activities NYC has to offer.
Wander among the shops under a beautiful series of snowflake light display shows set to Christmas songs that play every afternoon from 4 to 7PM! Pick up a gift or two for yourself while enjoying the soothing lights and sounds of Christmas in the city.
Dinner
You've officially shopped until you dropped – put your bags down and head for holiday dinner at the Consulate (519 Columbus Ave), a delightful Upper West Side restaurant that highlights the cuisines of different countries with a monthly rotating menu.
The Consulate also offers a permanent selection of French / New American cuisine with dishes like short rib cavatelli, roasted chicken, and mussels. The restaurant is elegantly decorated each holiday season and serves warm seasonal classics to complement the time of year.
Be sure to make a reservation, as the Consulate is popular year-round but is especially popular among locals as one of the best places to enjoy a meal during your New York Christmas trip!
After Dinner Holiday Show
Let's cap off your uptown New York Christmas itinerary with one more holiday performance! One popular option is the holiday concert series at hallowed Carnegie Hall (881 7th Ave).
Headliners vary, but generally, most performers and groups end up doing a few holiday classics if showing during December!
Check the website for local listings and ticket information, it's best to purchase tickets ahead of time. Another great option is to check out the Lincoln Center Holiday Jazz Concerts (in the same building as The Shops at Columbus Circle, 10 Columbus Cir), one of the most joyful Christmas activities NYC has to offer!
Enjoy big-band beats and smooth jazz covers of Christmastime classics in a glass-backed, intimate setting overlooking Central Park and the cityscape on the last evening of your holiday weekend.
Alternate Afternoon Option for Your NYC Christmas Itinerary
If you spent the morning uptown and decided that the Bronx wing of holiday festivities is for you, pick up here!
Grab a cab (or take the D train from Columbus Circle to Fordham Road and walk over) to New York's famous Arthur Avenue. A historically Italian American enclave, this thoroughfare is decked out in holiday cheer and the perfect place to stroll and pick up some rainbow holiday cookies and an espresso (try the Madonia Brothers Bakery at 2348 Arthur Ave, Bronx or the Morrone Pastry Shop 2349 Arthur Ave, Bronx).
There are so many Italian markets (try the Arthur Avenue Retail Market for holiday goods at 2344 Arthur Ave, Bronx,) and bakeries that it would be easy to wander until dinnertime, in which case there are plenty of incredible restaurants with holiday fare (some places even serve a seasonal, special Italian "Feast of the Seven Fishes" for the holidays!).
Two Christmas time (and year-round!) favorites of mine are Mario's (2342 Arthur Ave, Bronx) and Enzo's (2342 Arthur Ave, Bronx).
After dinner on Arthur Ave., you have a few options. One of the most famous New York Christmas traditions is to check out The New York Botanical Garden (2900 Southern Blvd). The lush and verdant gardens transform into a winter wonderland with several holiday programs: The Holiday Train Show and the NYBG GLOW.
The Holiday Train show is an intricate and joyous showcase of amazingly detailed replicas of over 175 New York buildings and train stations – all crafted with natural materials like pine cones, seeds, and acorns.
It's housed in the (heated!) Enid A. Haupt Conservatory and takes about an hour to enjoy the full exhibit. Advance tickets are required, so be sure to plan ahead if you'd like to check it out!
Another select option is the NYBG GLOW, a glittering holiday light showcase that is one of the best night time activities during the holidays. Wander the illuminated garden grounds on a 1.5 mile stroll with a hot chocolate and snack for a truly peaceful evening. The NYBG GLOW exhibit is available on select dates, be sure to check out the NYBG website to see if a date coincides with your visit.
Another fantastic Bronx option is the nearby Holiday Light Show at the Bronx Zoo (2300 Southern Blvd, Bronx). This seasonal display is composed of over 260 intricate, animal-themed illuminated lanterns and timed light shows throughout the zoo's exhibits.
There are also select educational performances which are great for younger folks! I also must shout out the unexpectedly delicious hot chocolate at the Bronx Zoo – it's great for especially cold evenings! After the zoo, grab a cab back to your hotel and put your feet up after your marathon holiday weekend!
EXTRA TIME on your New York Christmas Trip?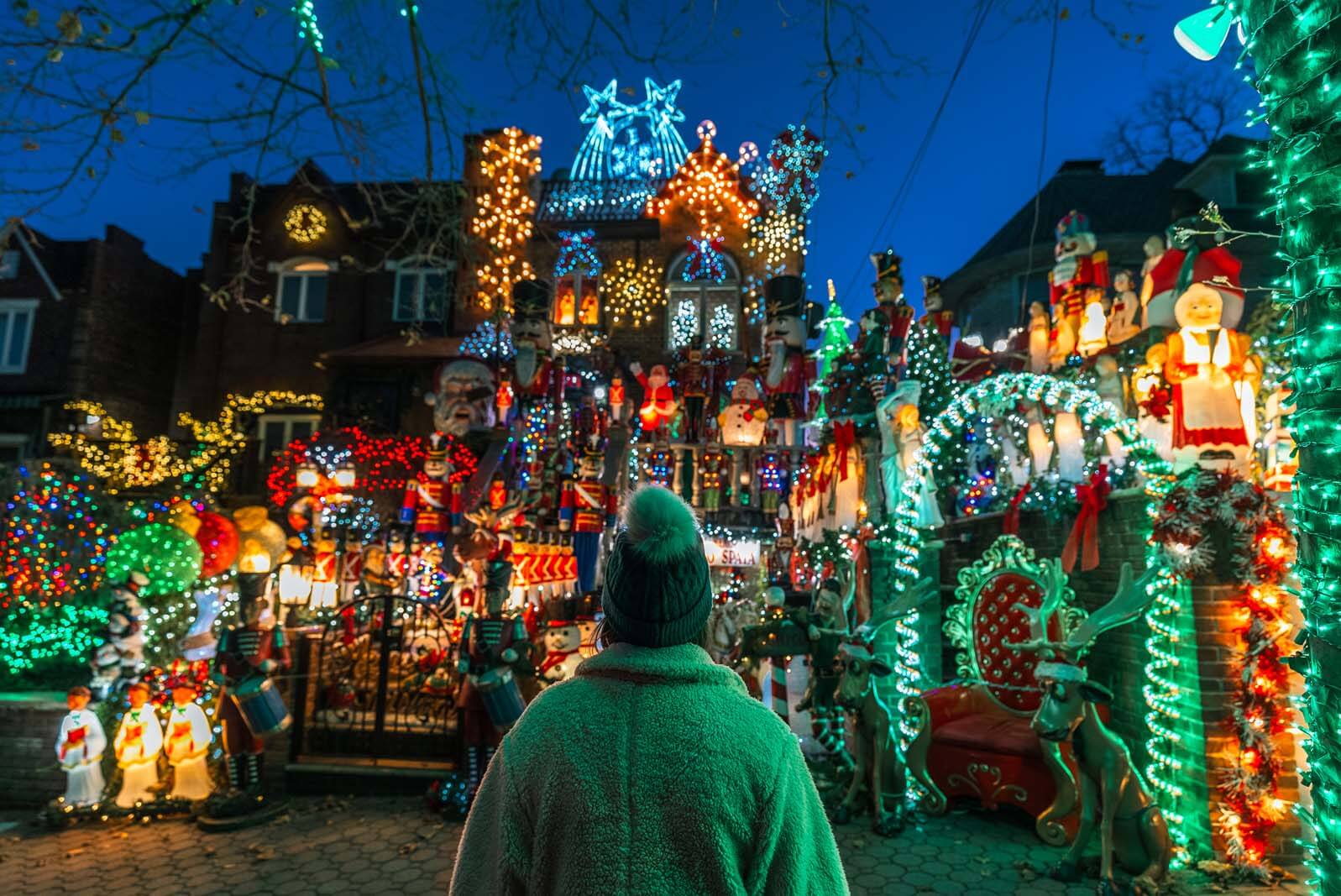 Extra time on your holiday weekend and New York Christmas Trip? Here are a few other fantastic options for your New York City Christmas trip!
If you are up for a slightly longer subway trip outside of Manhattan, be sure to check out Dyker Heights Christmas lights in this beautiful Brooklyn neighborhood! The residential displays here are some of the best Christmas lights in NYC!
To get there, take the R train to the 86th Street station or the D train to the 79th Street station. You can also snag a cab, or drive – though be warned, parking is hard to find nearby so the subway may be your best option!
The residents of Dyker Heights have been faithfully decorating their houses in (very) high-wattage holiday style for over three decades from the day after Thanksgiving to New Year's Eve! Lights on 10th-12th Avenue and 83rd-86th streets turn on from dusk and stay on until 10PM.
Be sure to bundle up and bring a warm beverage or pick one up at nearby Twist Coffee (7824 12th Avenue). Heading to Dyker Heights is one of the most famous places to see holiday lights in the country, but is a full-on adventure in itself – check out our detailed guide of tips and tricks here Dyker Heights Christmas Lights guide.
Another wonderful option if you have an extra day is the Queens County Farm Museum Winter Light Festival (73-50 Little Neck Pkwy, Queens).
Located on the border of Long Island and Queens, the best way to get here is to grab a cab or take the E train to Union Turnpike, followed by a quick jaunt on the Q46 bus.
If you have a car available, there is generally neighborhood parking available, and the Queens County Farm offers event parking.
The Queens County Farm is a fully-functional and colonial-era farm that is a fantastic place to visit year-round, and the holiday season is no exception. The Farm transforms into an illuminated park with elaborate farm-animal, agricultural, and holiday-themed lanterns to wander through.
Advance tickets are required, and the farm runs from November 25th through January 2nd – don't miss a chance to check it out!
If you're looking for more gorgeous holiday displays head to Brookfield Place in Lower Manhattan, Hudson Yards around the Vessel and inside the mall, and Industry City in Brooklyn.
---
New York City offers an infinite number of ways to make cherished holiday memories – you can sleep well at the end of your weekend knowing that while you certainly made the most of your time, many of these experiences and landmarks will reappear like magic every holiday season!
We hope you've enjoyed this collection of the best things to do in NYC in December to add to your New York Christmas trip itinerary and plan your next visit soon!
Where to Stay during your New York Christmas trip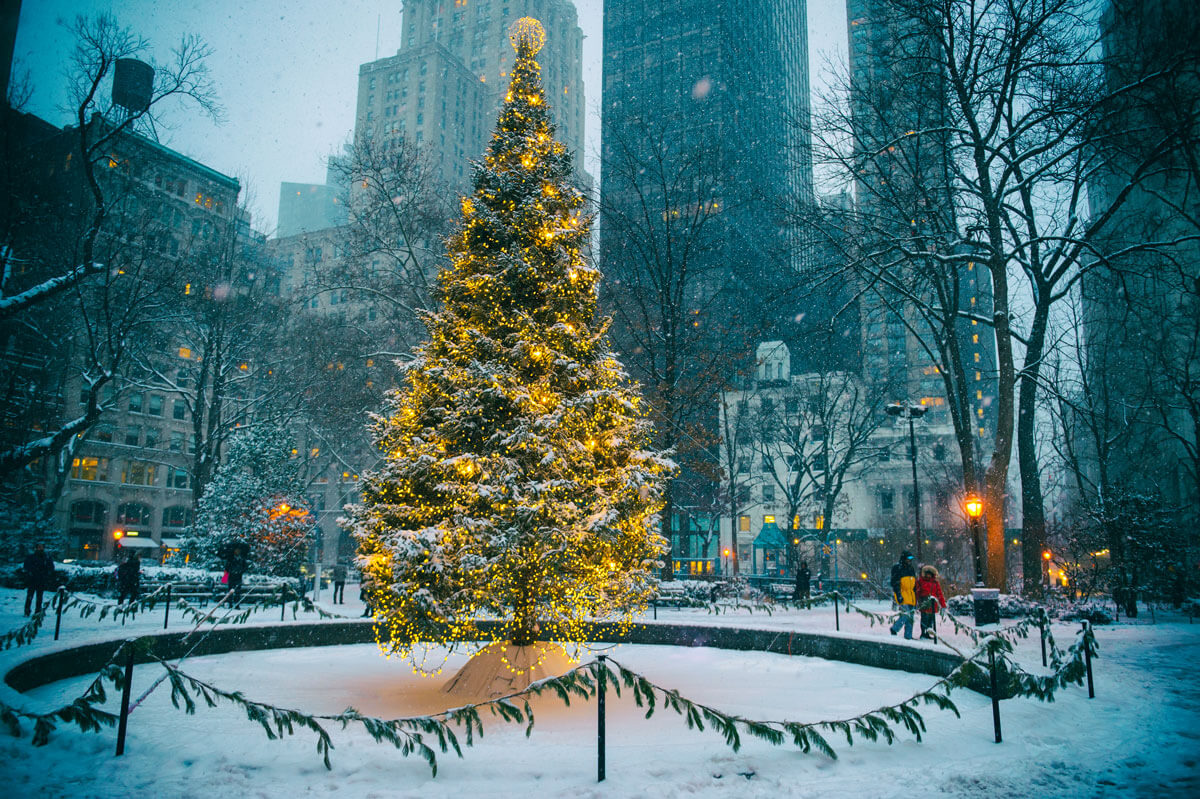 There are so many great hotels in NYC with views, themed hotels, and hotels for any style of traveler or budget for your NYC Christmas trip and itinerary.
Also, there are plenty of amazing places to stay in Brooklyn too with incredible views of the skyline and easy to get around from!
These are just a few of the recommended hotels to check out during your stay or use the booking map below to help you find a hotel in the area you want to stay in by budget.
Since the holiday season is an especially popular time to visit the city, we recommend securing your hotel stay in advance!
1 Hotel Brooklyn Bridge
60 Furman Street, Brooklyn Heights
1 Hotel Brooklyn Bridge, a stunning waterfront hotel in Brooklyn with incredible views of the East River, Manhattan skyline, Statue of Liberty, and Freedom Tower.
1 Hotel Brooklyn Bridge not only prides itself on its sleek and upscale design but its commitment to sustainability, as the hotel is made of reclaimed materials and employs the use of low-energy LED lights, smart heating/cooling, carbon offsets, and an irrigation system that uses reclaimed rainwater for its landscaping.
In addition to floor-to-ceiling windowed rooms with views of the Brooklyn Bridge and East River (ask for the Liberty King or Bridge King rooms), hotel guests and visitors can enjoy spectacular vistas from Harriet's Rooftop Bar (an open-air patio overlooking the water and one of the best rooftop bars in Brooklyn), Harriet's Lounge (a classic cocktail bar with full-walled window views of the bridge and passing ferries), and the Osprey (a New American restaurant specializing in farm-to-table cuisine with views of the verdant hotel patio and Brooklyn Bridge Park).
And until the East River is clean enough to swim in (don't hold your breath), the 1 Hotel's rooftop pool is an ideal place to cool off with a cocktail and enjoy the view. Book here.
Refinery Hotel
63 W 38th St, Midtown
One of the most centrally convenient locations for picking where to stay in the city is in Midtown and better yet, getting a room with a view is even better and increases your chances when you're around this area.
Your secret weapon in planning a New York meetup is the hotel rooftop bar, and Refinery Rooftop at the Refinery Hotel is one of the ideal places to meet among NYC hotels with the best views (if also staying there, ask for a Studio King with Empire Views room for the most direct vista).
The Refinery Hotel is housed in the historic 1912 Colony Arcade Building, and its stylish, industrial fixtures reflect an old-school-meets-contemporary vibe.
The Refinery Hotel features several great food and drink options, with live jazz at lobby bar Winnie's, ribeye and soft-shell crabs at restaurant Parker & Quinn, and of course, innovative cocktails at the spectacular Refinery Rooftop.
Featuring views of the Empire State Building, the Refinery Rooftop is the perfect place to hold your birthday party or friend meetup, with convenient access to Midtown trains and offices.
Order a round of Empire Palomas (mezcal, pomp & whimsy, simple syrup, grapefruit juice) and toast to a night of celebrating with friends and the New York skyline. Book here.
Beekman Hotel
123 Nassau Street, Lower Manhattan
Hidden away in the heart of the Lower East Side, the Beekman Hotel is a unique landmark that's been converted to one of the most gorgeous hotels in NYC.
The building itself was built in 1882, it was tragically boarded up in 1940 and left empty for decades. Because of its long hibernation and vacancy the building just sat for those decades almost frozen in time pretty much leaving the entire property restored and untouched.
The luxury hotelier group Thompson Hotels unveiled the Beekman Hotel in 2016 and now it's one of the most stylish and coolest hotels in NYC.
The heart of the Beekman Hotel is the atrium with a pyramid-topped skylight, which illuminates 9 cascading floors below into the hotel bar. Intricately detailed cast ironwork covers railings and ceilings. In the lobby, you are met with creamy marble, emerald-green pillars, and a Persian rug-wrapped welcome center.
Visit the Temple Court Restaurant with al a carte or 5-course tasting menu, or enjoy the Temple Court on 10- intimate wisteria-covered dining on the West Terrace. Have a drink on a velvet couch in The Bar Room at Temple Court, a Victorian-era bar underneath the Atrium. Book here.
Is New York worth visiting at Christmas?
Yes, New York is worth visiting at Christmas. The city's iconic decorations, holiday markets, ice skating rinks, and festive events create a magical atmosphere. It's a memorable experience with a unique holiday charm.
How to plan a Christmas trip in NYC?
To plan a Christmas trip in NYC, start with a list of must-see attractions, book accommodations in advance, and check for holiday events and secure those tickets. Consider making popular restaurant reservations in advance. This is the most popular time of year to visit NYC.
How long to spend in New York at Christmas?
A 3-5 day trip to New York at Christmas is ideal to fully enjoy the festive season. It allows time for major attractions, holiday displays, shopping, and experiencing the city's holiday magic.
How cold is New York at Christmas time?
New York at Christmas can be very cold, with temperatures ranging from -1°C to 4°C (30°F to 40°F). Dress warmly for outdoor activities, as it's often chilly with potential snowfall.
Is New York Christmassy in November?
New York starts to feel Christmassy in late November with the onset of holiday decorations and events, but the festive atmosphere intensifies in December. Late November provides a milder and less crowded experience, but things go in full swing the first week of December.
---
About our Guest Author
Sarah Beling is a playwright, New Yorker, and passionate food enthusiast who is always looking for her next meal. You can find her in an NYC park, enjoying a chopped cheese sandwich and reading about NYC's best new places to eat.
---
If you found this New York Christmas itinerary helpful consider bookmarking for later or share the love on Pinterest!
Also, if you're in the holiday spirit and want some great themed gifts check out our guide to the best NYC Christmas ornaments and NYC snowglobes to get someone something special this season! Also, check out the best NYC souvenirs which are the perfect gift any time of the year!
And if you need help planning what to wear in NYC in winter, we have an entire packing list dedicated to this very subject!