Check out all the best things to do at Coney Island, the history-rich neighborhood and entertainment district that's charmed American for well over a century!
From being home to some of the most world-famous rides, restaurants, and attractions, see why New Yorkers have been flocking to this seaside entertainment destination since the 19th century.
But first, where is Coney Island?
Coney Island is located in the southwestern part of Brooklyn on a peninsula in the Atlantic Ocean. The actual neighborhood of Coney Island's boundaries are Manhattan Beach, parts of Brighton Beach to its East, the Lower New York Bay to the South & West, parts of Sea Gate to the West, and Gravesend to the North.
See our easy to follow directions to Coney Island to help you plan your trip!
Before or after your trip be sure to check out all these movies filmed in Coney Island too so you can see America's favorite amusement park at home too!
Brief History of Coney Island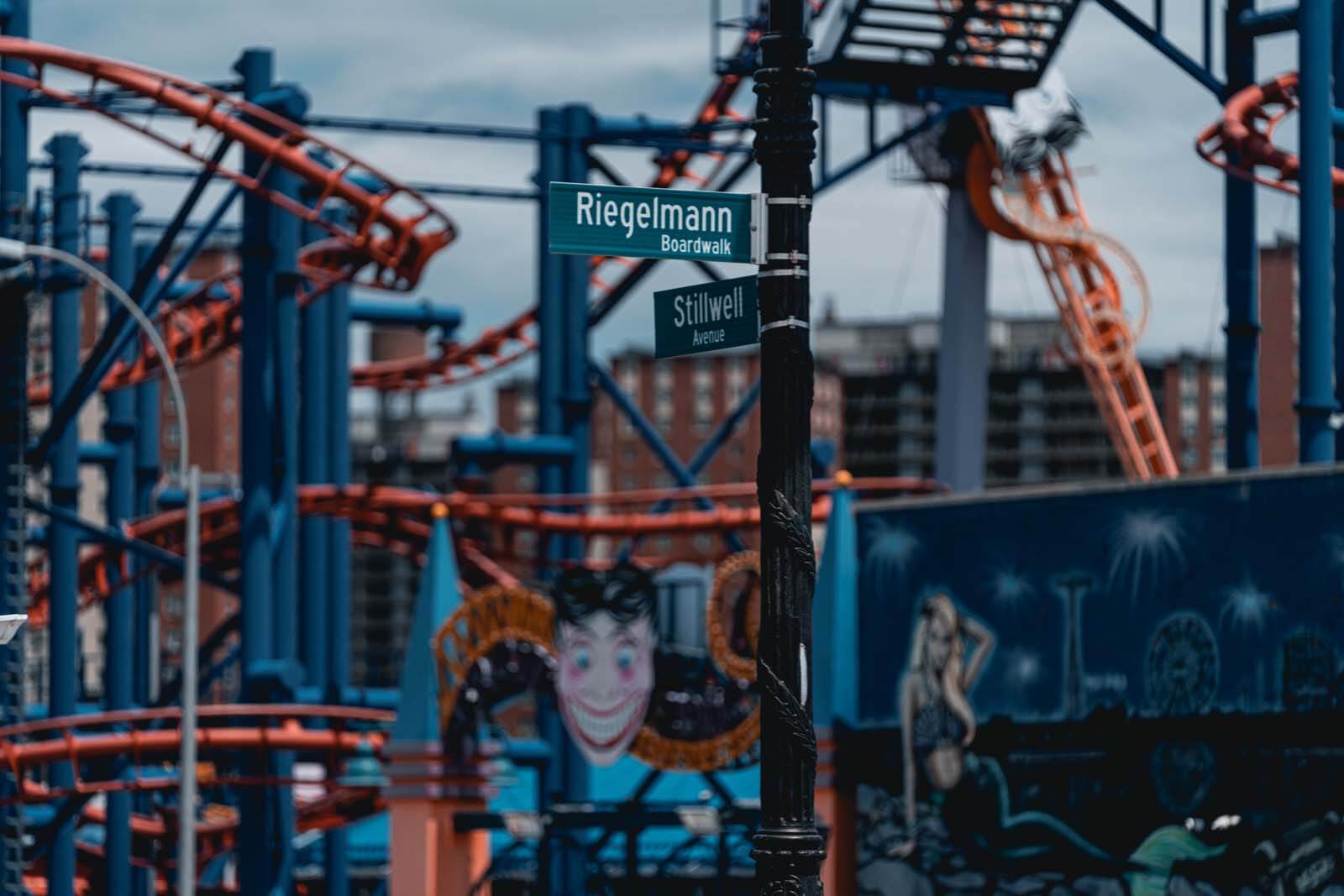 Coney Island wasn't always an entertainment mecca. Originally, Coney Island an actual island before the land was literally filled and it became a peninsula. Coney Island wasn't always a part of Brooklyn either believe it or not.
By the mid-19th century, Coney Island caught the eyes of developers who evolved this waterfront prime real estate into a seaside resort and amusement park.
Coney Island was the perfect location for a seaside resort town because of its location to Manhattan and the city of Brooklyn, which gave the feeling of being far away without actually having to travel a long distance and gained popularity among tourists in the 1830s-1840s.
Coney Island started seeing major development in the 1840s and at that time it was an actual island that wasn't connected to the mainland.
By 1847, ferry services opened up which made Coney Island more accessible to the middle class and another 20 years later more people were able to come to enjoy Coney Island as the railways were serving this area making it easier than ever to get to Coney Island and giving more access than ever to different social classes.
And by 1869, when the Brooklyn Bridge was built it became even easier for day-trippers from the city and the tenements to visit all the fun you find at Coney Island and that hot summer beach break from the city.
A corrupt official who was taking kickbacks basically was the reason behind the large boom in the development of resorts, even despite local opinion that the waterfront area should remain more preserved.
This wouldn't be the only nefarious activity that Coney Island would see. There was alot of Gang activity here, brothels, pickpockets and a place well known for losing your money. The first walled off, admission entrance amusement park was actually the Sea Lion Park to keep out 'undesirables' which were the pickpockets and thieves, so by paying an admission, people felt safe within the walls and could let their guards down a bit while enjoying all the thrills.
The first ride at Coney Island was a hand-carved carousel built in 1876 with the Seaside Aquarium opening soon after. The first roller coaster not only in Coney Island but in the United States opened up here in 1884. The rollercoaster was called the Switchback Railway and at the time it cost $.05 to ride.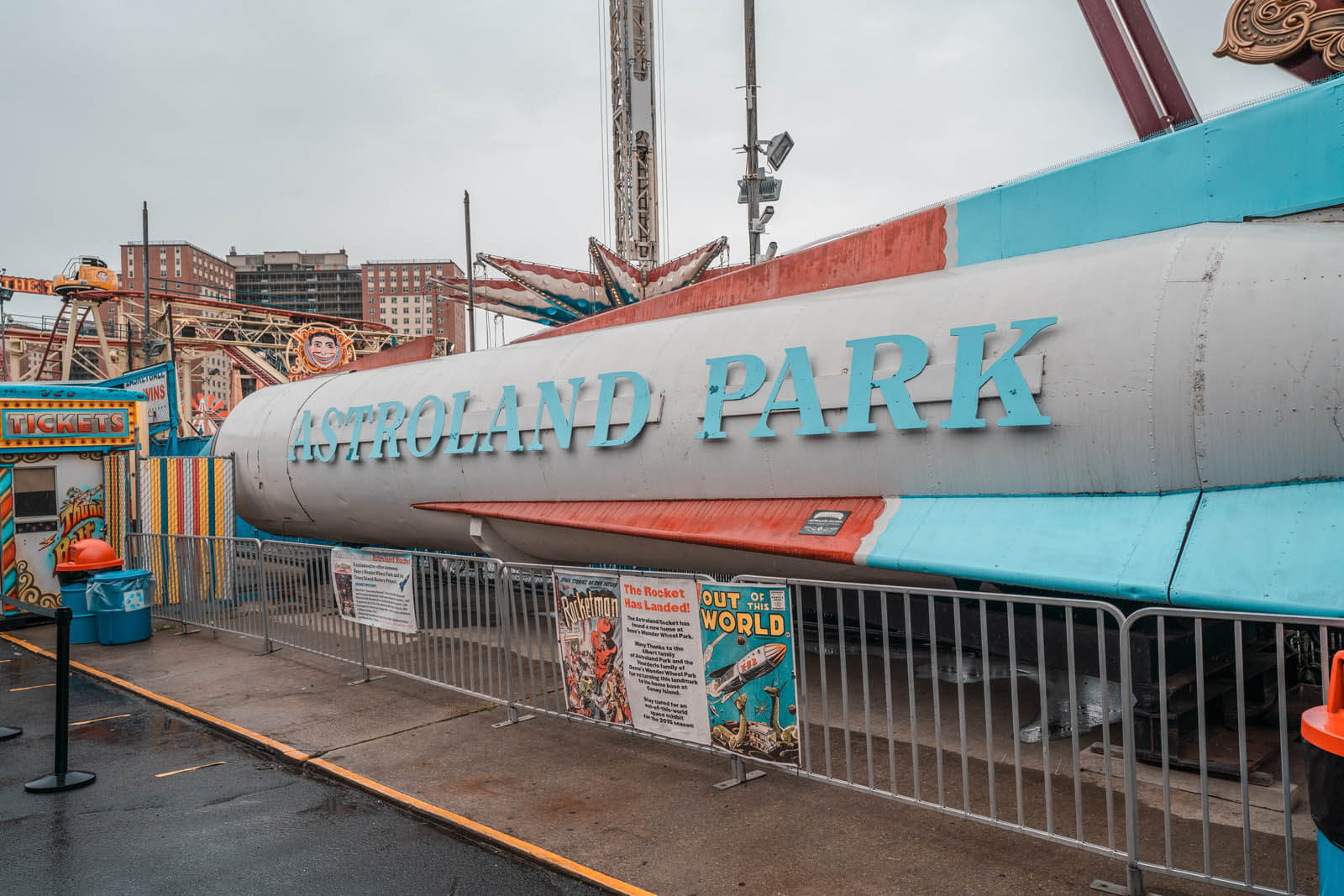 To follow were the horse-racing tracks and additional amusement parks. The three historic amusement parks of this time were the Steeplechase Park, Dreamland, and Luna Park (replacing the Sea Lion Park) which offered several rides and attractions, some very bizarre and some that wouldn't really go over well in history today.
By 1919, after the opening of Stillwell Avenue Station, Coney Island would see sometimes over a million people on the busiest of summer days which caused a bit of resentment for long time residents of the city who didn't like sharing their seaside resort escape with the influx of visitors.
The influx of visitors meant that there were great opportunities for eateries to feed mass amounts. Believe it or not, the iconic Nathan's Famous original hot dog location was not the first hot dog seller on the boardwalk of Coney Island, Feltman's which was started in 1867 by German immigrant Charles Feltman had a hot dog pushcart and is considered the father or inventor of the hot dog on a bun! This quick meal was a great way to feed the masses.
In 1920, the famous Wonder Wheel was opened followed by the Riegelmann Boardwalk in 1923 with an introduction to even more roller coasters.
Until after World War II, Coney Island was the largest Amusement Park in the country.
Unfortunately, the 20th century came with more challenges than the Great Depression. Pretty much all of the amusement parks saw great or complete destruction due to fires. Steeplechase Park burnt down in 1907 and had to be completely rebuilt and Dreamland burnt down in 1911 and was never rebuilt. Another huge fire happened in 1932 displacing at least 1000 people leaving them homeless. And the giant Elephantine Colossus burnt to the ground.
The park has seen dramatic changes over the years from fires, rebuilds, and new parks like AstroLand being introduced in 1962 which permanently closed with the exception of one ride, Cyclone, which is in the Luna Park we know today (that's actually a new park that was named to honor the original Luna Park).
There is alot more to unload on the history of Coney Island, so we recommend reading these resources about the history of Coney Island and even how the Trump family has been involved in the history of the park and what some would say the demise of this classic American park in this piece.
Fun Fact: in 1849, author Herman Melville wrote Moby-Dick on Coney Island, and in 1850 Henry Clay & Daniel Webster discussed the Missouri Compromise here!
Things to do in Coney Island
Most of the things to do in Coney Island mentioned in this guide are seasonal. The amusement parks and restaurants along the boardwalk are open each year between Easter and Halloween typically.
However, some of the Coney Island attractions mentioned are open year-round including the New York Aquarium, the original Nathan's Famous on Surf & Stillwell, and iconic staples like William's Candy.
Even if you visit off-season, you will have a cool experience of having the boardwalk pretty quiet with less visitors and still be able to see iconic landmarks of Coney Island like Deno's Wonder Wheel, Cyclone Roller coaster, and more even though you won't be able to ride the rides.
Visiting off-season is still a fun experience, but a different one so prepare yourself in advance and be aware of when you're planning to visit so your expectations are met!
Deno's Wonder Wheel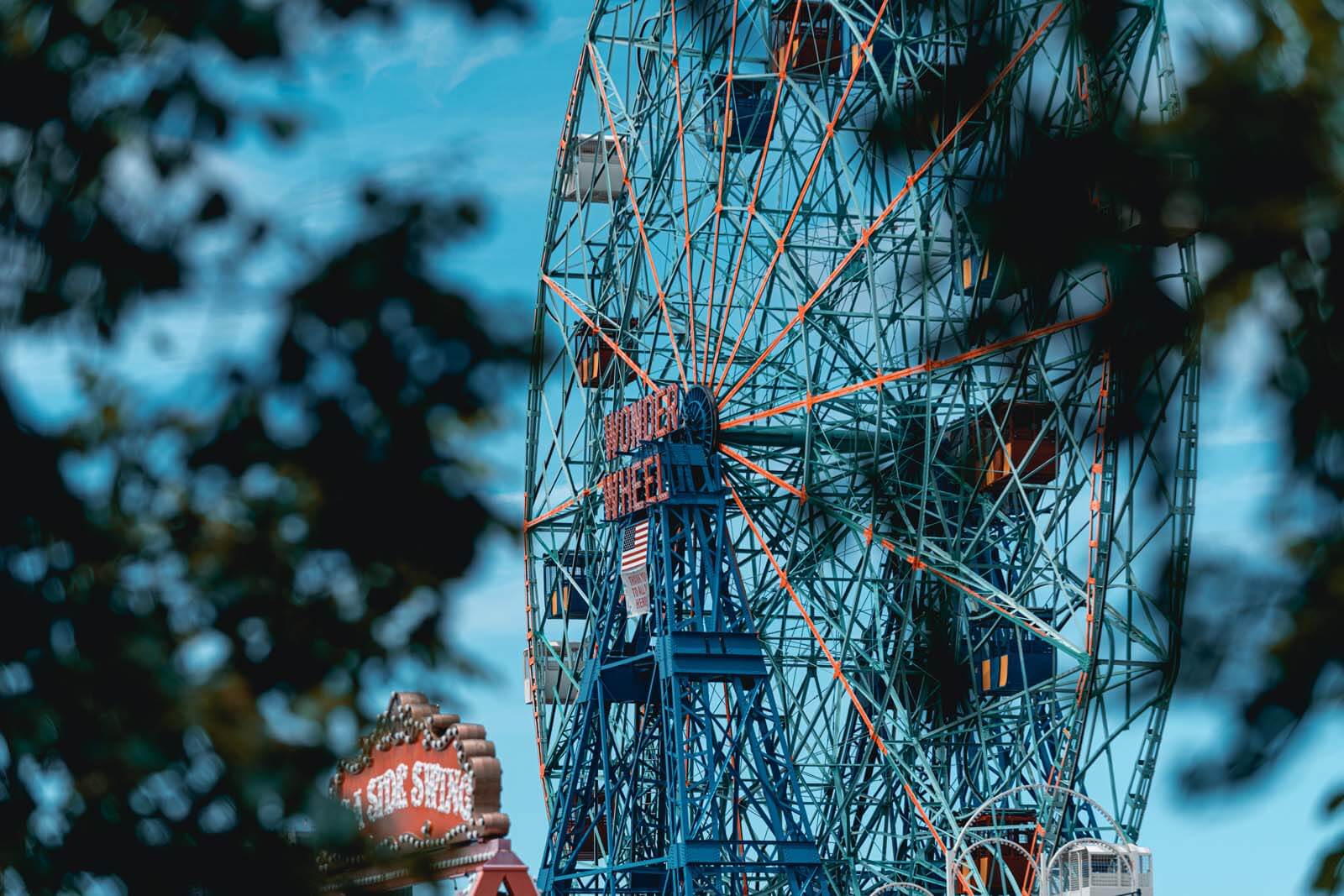 One of the most iconic things to do at Coney Island is visit one of the most recognizable structures throughout the history of Coney Island and NYC.
Deno's Wonder Wheel is not only the giant and historic Ferris wheel, but also it's own amusement park, Deno's Wonder Wheel Amusement Park. Featuring five adult thrill rides and 16 kiddie rides there's fun to be had here no matter what your age is and extremely family-friendly.
The main Coney Island attraction here though is the Wonder Wheel, a 150-ft (that's equivalent to ~15 stories) Ferris wheel built in 1920. From atop the historic landmark, you can get great views of the seaside views, Riegelmann Boardwalk, and the rest of Coney Island attractions!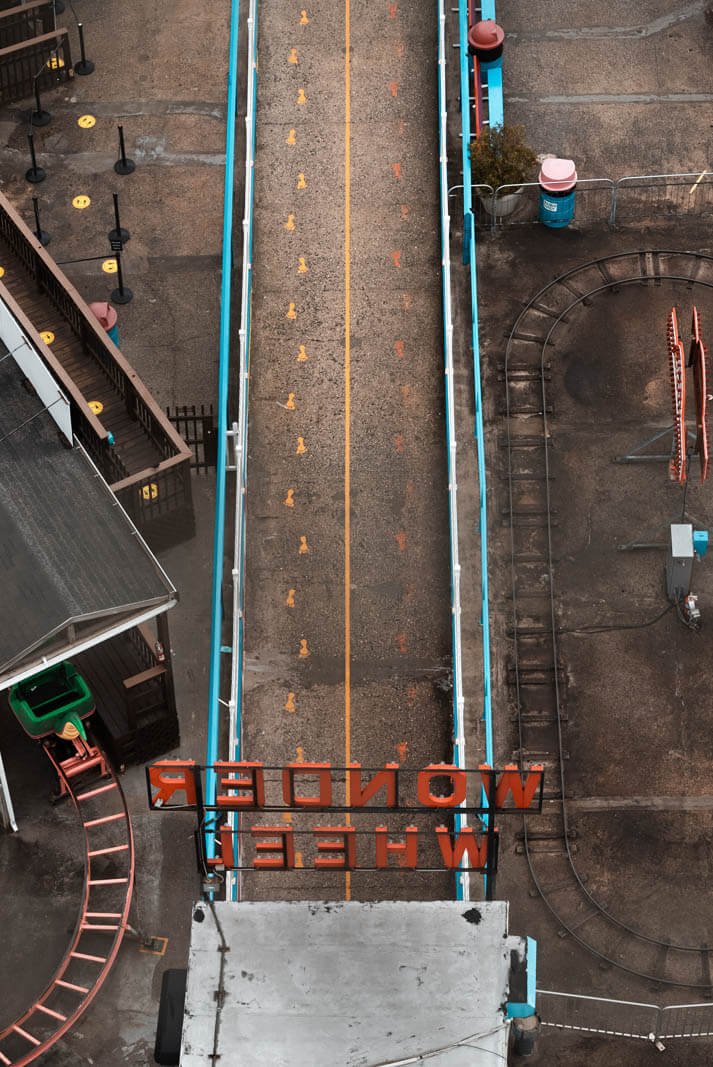 Besides being a fun ride, the Wonder Wheel has an interesting history. Originally named the "Dip-the-Dip," the ride not only moves in a rotation but also has 16 swinging cars that slide on a track towards the center of the Wonder Wheel, making it an Eccentric Ferris Wheel, and became its own amusement park in 1983.
The Wonder Wheel is so iconic that it's actually inspired other Ferris Wheels and there are exact replicas at Dreamland in Yokohama (which was also the name of a previous amusement park here in Coney Island) and Disney's California Adventure.
The Wonder Wheel is also no stranger to Hollywood and been featured not only in several films and tv shows but also in advertisements and even music videos.
Fun Fact: In the 100 year history of the Wonder Wheel there have been 0 accidents/incidents. Only one time the Wonder Wheel stopped with passengers aboard during the 1977 great New York City blackout. There was a hand crank so the operator could safely get passengers off the ride!
Luna Park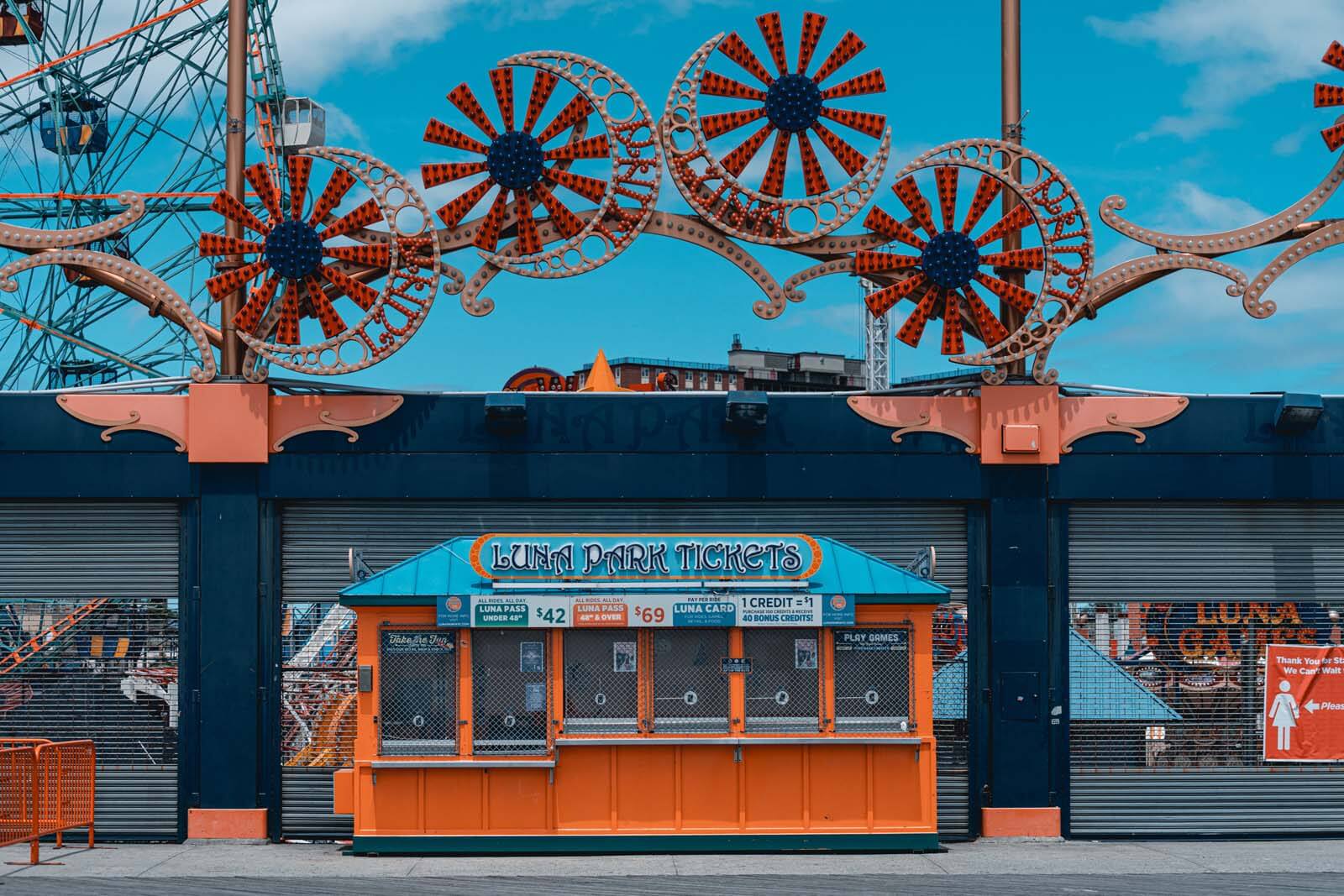 Another one of the best things to do at Coney Island and best Coney Island activities is visit Luna Park! Believe it or not, this amusement park isn't the original Luna Park which opened in 1903 until 1944.
This Luna Park was opened in 2010 and named after the historic original Luna Park and contains many of the historic rides and Coney Island attractions including the Coney Island Cyclone.
The park is located on the site of AstroLand that operated at Coney Island from the years of 1962 to 2008 and Dreamland which operated from 1904 to 1911.
There are currently 28 rides and 13 carnival games as well as food options!
Fun Fact: The Coney Island Cyclone is a wooden rollercoaster dating all the way back to 1927, it was refurbished in the 1970s and still operates today!
Feltman's – A Hot Dog Memory
One of the most unmissable things to do at Coney Island is eat a famous and original Coney Island hot dog! No, it's not Nathan's Famous surprisingly! Feltman's is home to the inventor of what we know as the hot dog on a bun. (Depending on who you ask)
Unfortunately, this Feltman's location no longer exists, but it's such a staple to the history and hot dog wars of Coney Island we wanted to include it still because you can actually still order or shop Feltman's! To try Feltman's be sure to check their stockists to see where you can find them or order directly from their website.
Be sure to also learn about the history of Feltman's to appreciate this original gem of Coney Island and its history.
Charles Feltman was a German immigrant who operated a pushcart selling food to the masses that flocked to Coney Island in 1867. By 1869, Feltman put the frank in a special warm long bun that was easy to eat on the street. He called this the Coney Island red hot, later to be called a hot dog and it was wildly popular selling up to 40,000 a day!
The original Feltman's closed in 1954, but in 2015 Michael Quinn brought back the historic boardwalk's original hotdog to the boardwalk reviving the brand at a location near where the original was. However, in 2019 Feltman's lost its location and now you can only buy their hot dogs in the store and make them at home yourself.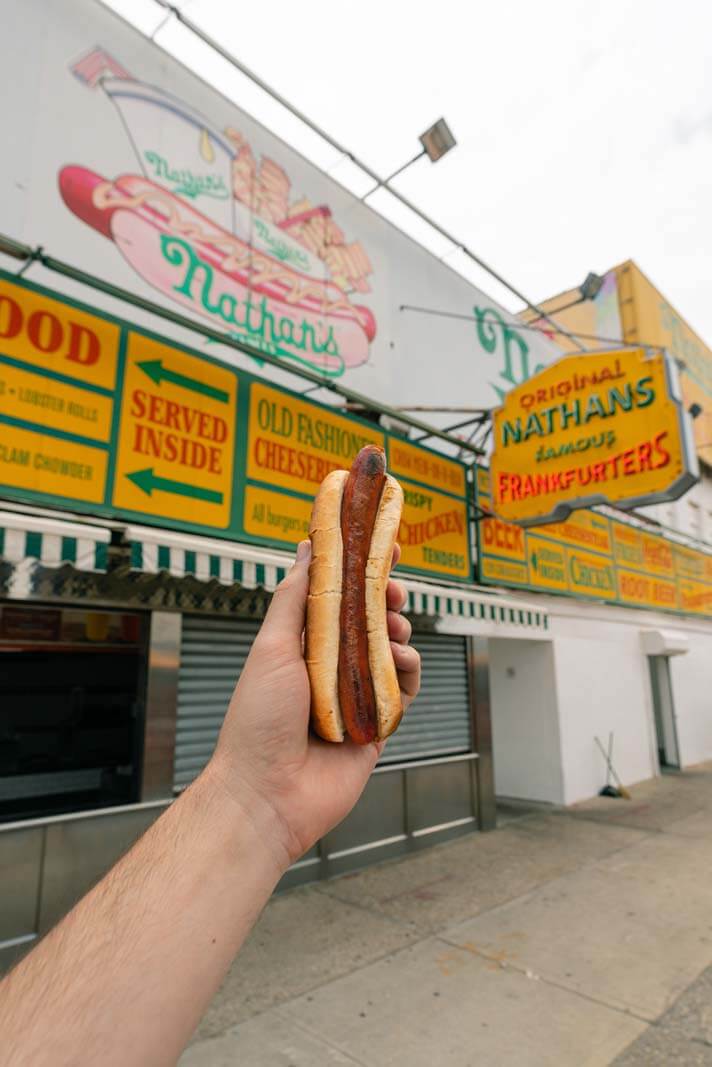 Alright, this is where things get interesting in the hotdog battles of Coney Island. One of the most popular things to do in Coney Island is eat one of the world-renowned Nathan's Famous hot dogs!
But first, let's dive into the interesting history of this Coney Island activity! Nathan Handwerker, aka Nathan of Nathan's Famous, was working for Feltman's as a roll slicer before he decided to make his own fortune selling his own hot dogs to feed the crowds of people who flocked to Coney Island in 1916.
Feltman's sold his hot dogs for 10 cents and Nathan undercut him by selling his dogs at half the price for only 5 cents each! This resulted in him becoming the most successful and iconic Coney Island hot dog seller which evolved into a huge brand nationwide continuing to this day and one of the most iconic places to eat in Brooklyn.
While there were rumors of the quality of those half-off dogs and other strange marketing gimmicks and publicity stunts including a dead whale, the rumors were just that and possibly started by his former employer who was disgruntled about his new competition undercutting him or another theory is that customers were just suspicious at how inexpensive those hot dogs were.
That didn't stop their success, this Coney Island attraction has well over a thousand locations including international locations, is sold at Major League Baseball stadiums, and are for sale in supermarkets all over the world.
The original Nathan's Famous hot dog stand was on the original site from opening in 1916 to 2012. Hurricane Sandy caused severe damage in 2012 which needed repair. The original site is on the corner of Surf and Stillwell Avenues with a second location on the boardwalk.
Nathan's Famous Hot Dog Eating Contest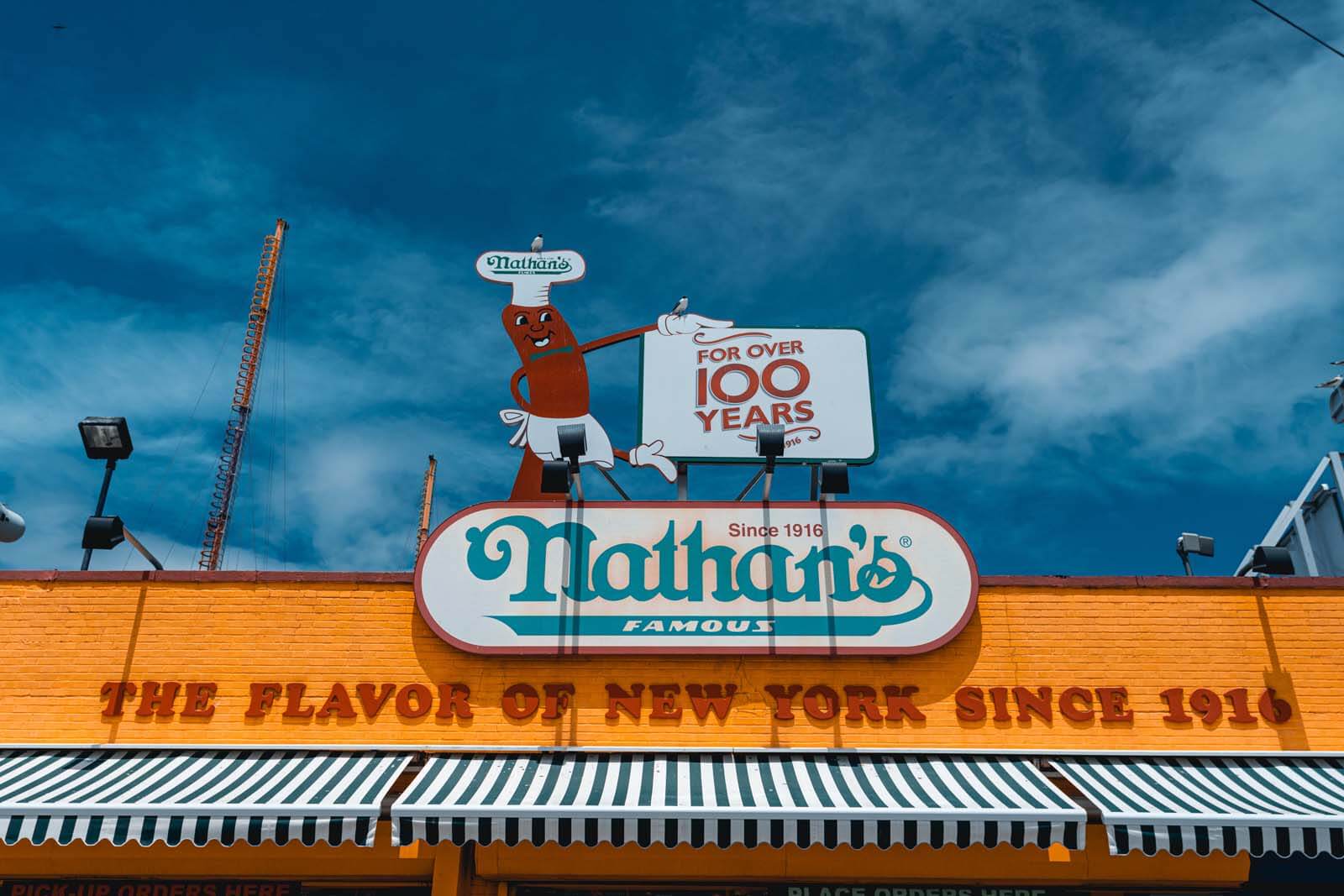 Another one of the most popular Coney Island attractions is the annual Nathan's Hot Dog Eating Contest that takes place every year on the 4th of July and is televised.
The contest was said to have happened for years before dating all the way back to 1916 but it became an 'official' event in 1972.
It is said that in 1916, Mortimer Matzm the promoter for Nathan's at that time wanted to settle an argument between four immigrants on who was the most patriotic in a hot dog eating contest.
If you're familiar with Nathan's Famous and their marketing tactics over their history, this should come to no surprise, and it was actually debunked in 2010 that it was just another publicity stunt by Mortimer Matz and there's no evidence that the contest ever took place in 1916.
It is said the hot dog eating contest became an annual event since with the exception of the year 1941 as a protest to the war in Europe and 1971 due to political unrest in the US.
The contest became one of the most famous things to do in Coney Island annually even if you're not there since you can watch it on television on ESPN!
Fun Fact: The current record holder is still Joey Chestnut for eating 75 hotdogs in 2020.
Riegelmann Boardwalk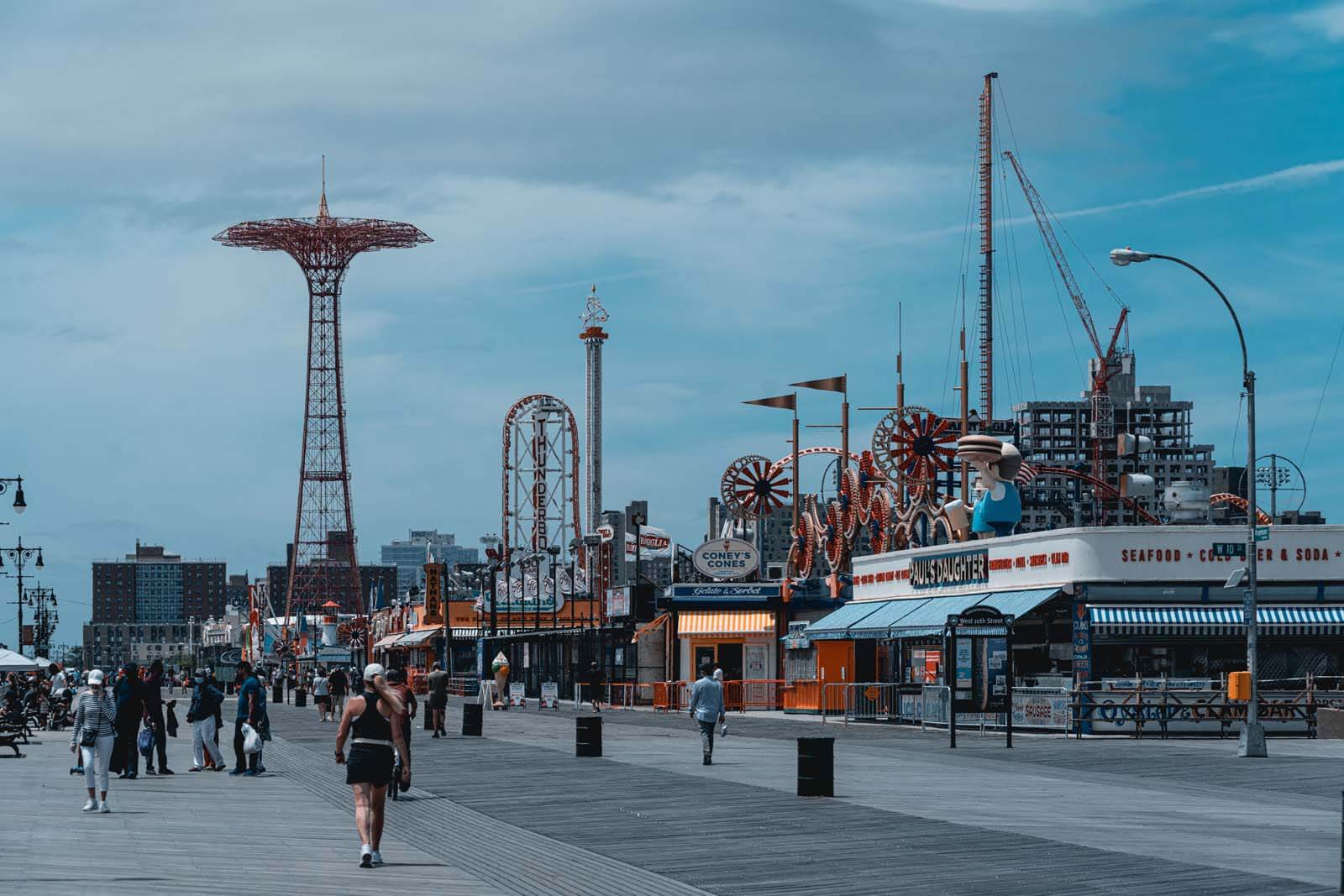 Another one of the most iconic things to do in Coney Island that is pretty unmissable if you're visiting is the Riegelmann Boardwalk, aka the Coney Island Boardwalk.
The wooden plank boardwalk is 2.7 miles long-running on the southern shore of Coney Island connecting the amusement parks and Coney Island attractions as well as the waterfront and is a New York City designated landmark.
The Coney Island boardwalk also connects to the Steeplechase Pier near the original site of the historic Steeplechase Park and is the only remaining pier on Coney Island beach. The pier dates back to 1904 and is where you can get the best panoramic view of Coney Island.
Coney Island Beach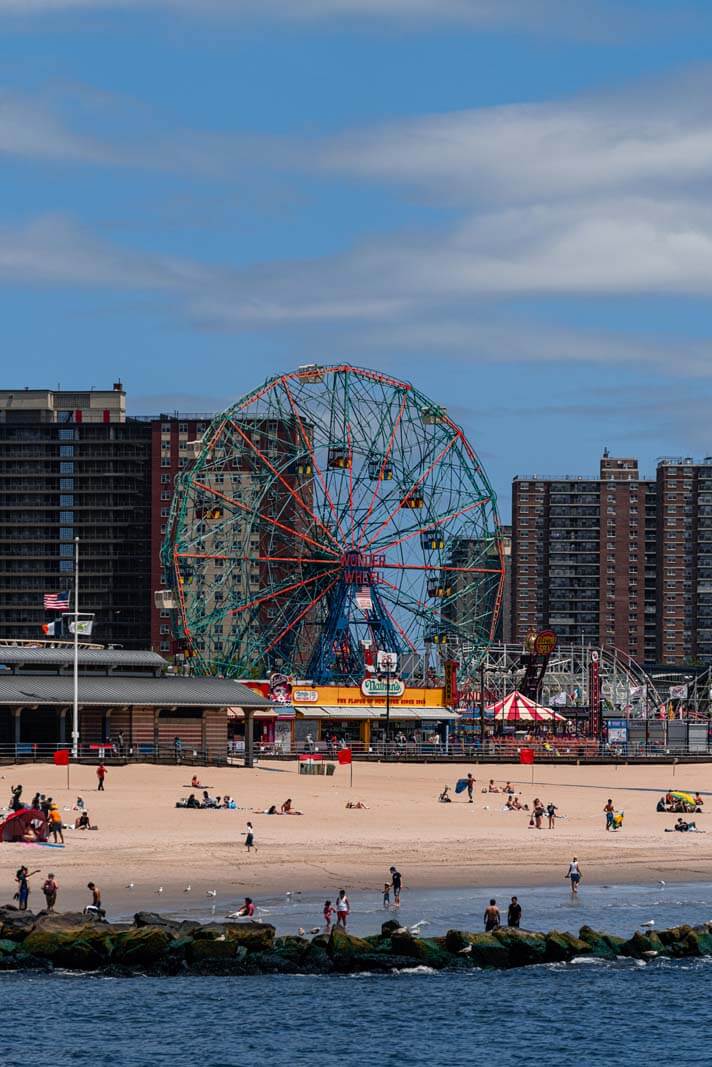 One of the best things to do at Coney Island is enjoy the actual beach. It's hard to imagine beaches in New York City, but one of the most popular of all the beaches in Brooklyn to visit, due to all the Coney Island activities is right here in Coney Island.
Coney Island beach is 3 miles of sandy beaches and shoreline perfect for sunbathing, swimming, beach volleyball, and other fun beach bum activities all just steps away from all the fun at the boardwalk and amusement parks.
The beach runs from West 37th Street to Manhattan Beach, then entire Riegelmann Boardwalk also runs along Coney Island Beach.
Note that the beach and boardwalk are open to the public year-round from 6 am to 9 pm. Lifeguards are on duty during the summer season from Memorial Day to Labor Day weekend.
Coney Island Museum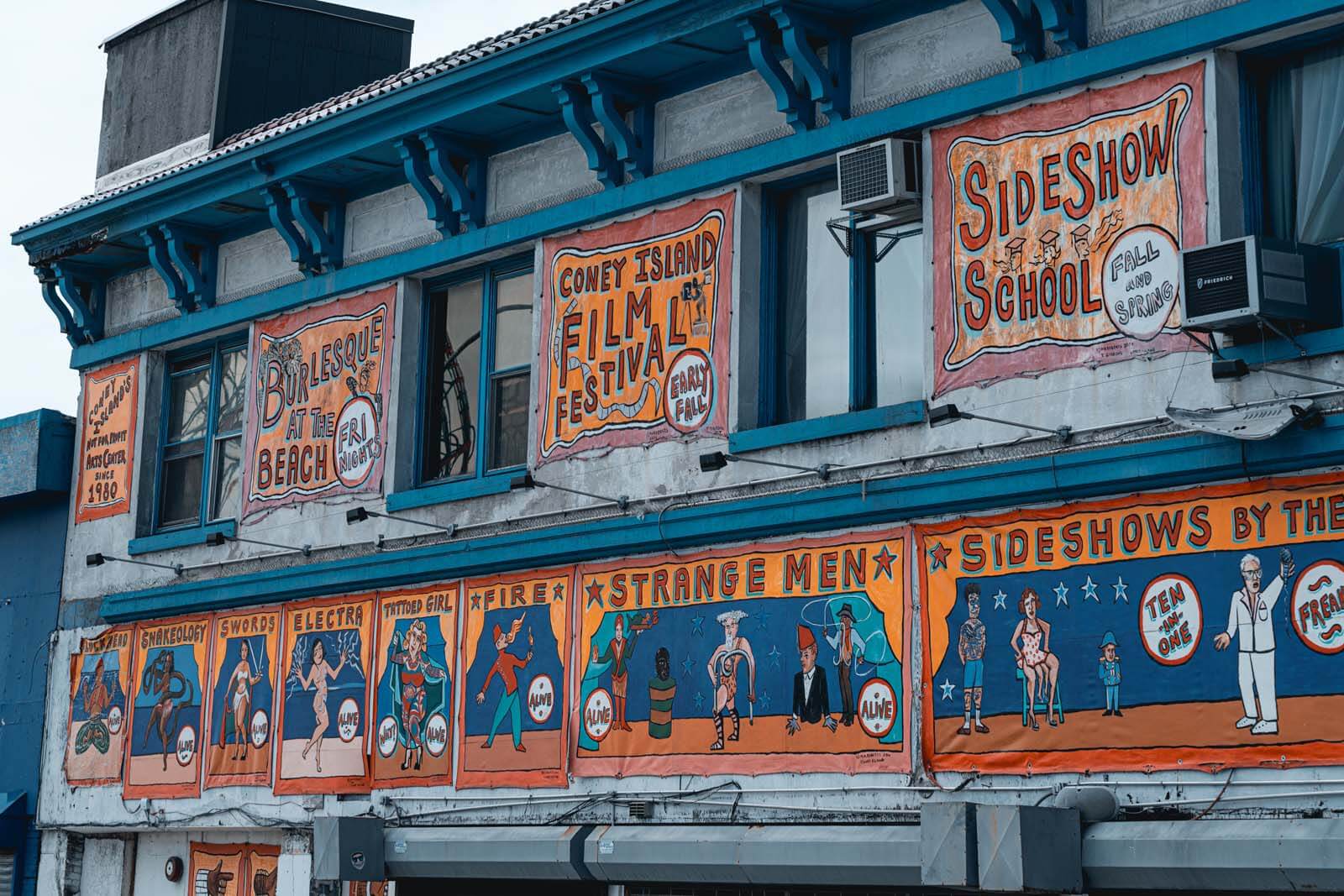 Want to learn about the history of all the Coney Island attractions? The Coney Island Museum is the only accredited institution in the world singularly dedicated to preserving and interpreting the history of the Coney Island amusement district starting with the early days of this city escape and fun land.
The Coney Island Museum has a permanent collection of over 5,000 items from photographs, paintings, amusement related items, architectural elements, and vintage signs from over the years.
They even have archives that are used as a critical resource for scholars studying the history of American recreation and popular culture from the nineteenth century forward.
This is a great break from the boardwalk to explore the past of all the things to do at Coney Island throughout history as well as the culture and influences it had on the city.
It's only $5 for adults and $3 for children and seniors to visit, one of the most fun museums in Brooklyn.
Open Saturdays (12 – 5) & Sundays ( 2- 5) Labor Day – Mid June, open Mid June – Labor Day on Wednesdays – Saturday from 12 – 6 and on Sundays from 2 -6.
New York Aquarium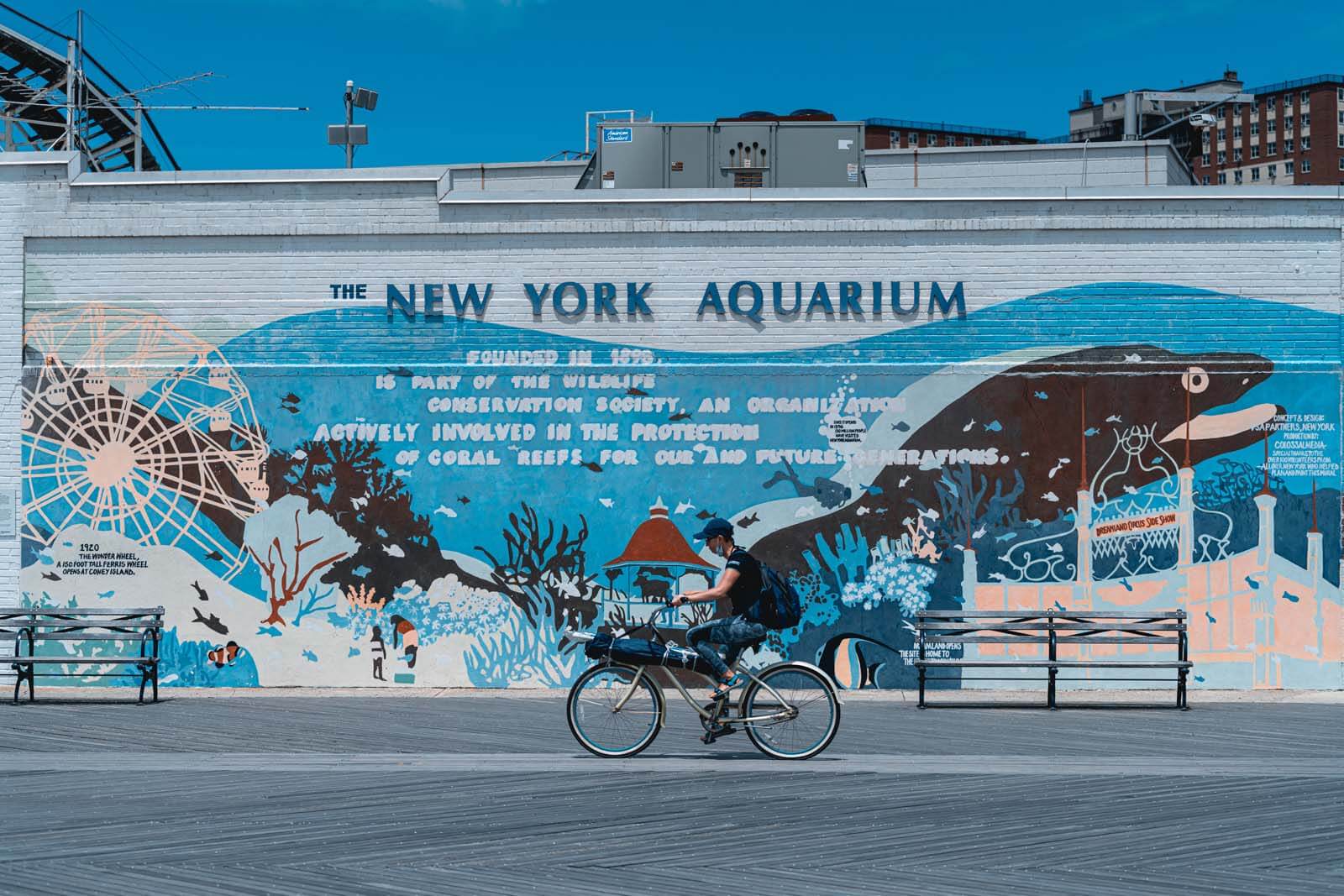 Another one of the best things to do in Coney Island is visit the New York Aquarium often also referred to as the Coney Island Aquarium. This is the oldest continually open aquarium in the country right here on the Coney Island boardwalk!
The aquarium actually was first housed at Battery Park in Manhattan dating back to 1896 but moved to the current location at Coney Island in 1957. The current site where the New York Aquarium is today was where one of the historic original theme parks of Coney Island was located, Dreamland.
The most popular exhibit and Coney Island attraction here is the Ocean Wonders: Sharks! tank that gets visitors inches away from just under 20 different species of sharks.
Besides being a place to see marine life up close, the New York Aquarium also is heavily invested and involved in conservation programs as well as educational programs for visitors.
Friday Night Fireworks
Another favorite tradition and thing to do at Coney Island is enjoy the weekly Friday night firework show that's free to the public or anyone at Coney Island.
The firework show is usually between the 3rd week of June through the end of August and happens every Friday night weather permitting.
Where's the best spot to see the fireworks? We recommend viewing from the boardwalk or beach! The show typically lasts 30 minutes from 9:30 pm to 10 pm.
Williams Candy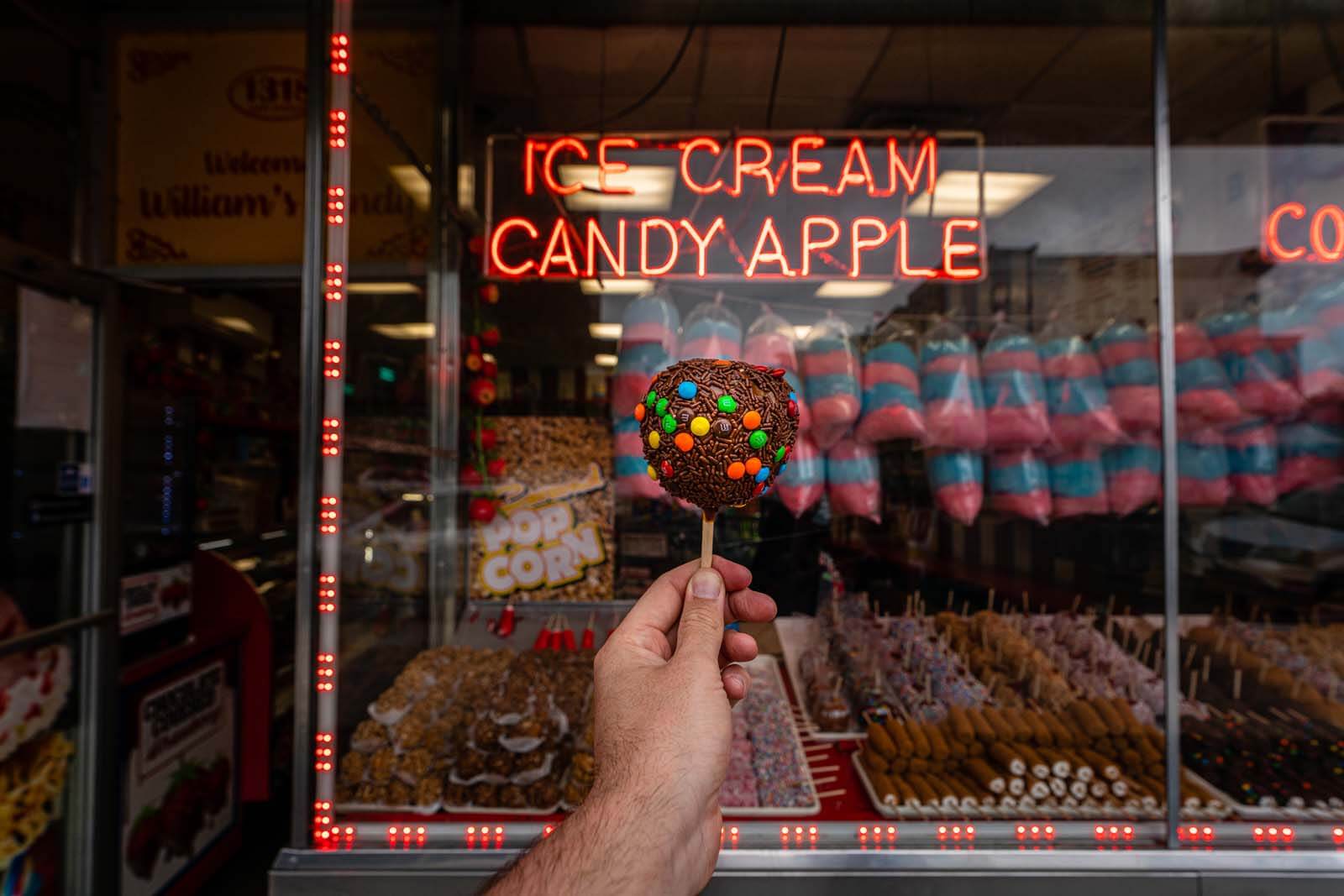 Did all these fun Coney Island activities give you a sweet tooth? There's something about sweets and amusement parks that go hand in hand.
You can find your sugar rush at Williams Candy on Surf Ave which sells every iconic amusement park sweet from cotton candy, soft-serve ice cream, popcorn, marshmallow treats, and their famous candy apples in their old fashioned, family-run candy shop that has become a landmark of Coney Island that's been serving the park go-ers and Coney Island community for over 80 years.
While many of the businesses close offseason, Williams Candy actually stays open all year long! Plus those candy and caramel apples make for an amazing Coney Island photography prop!
Coney Island Circus Sideshow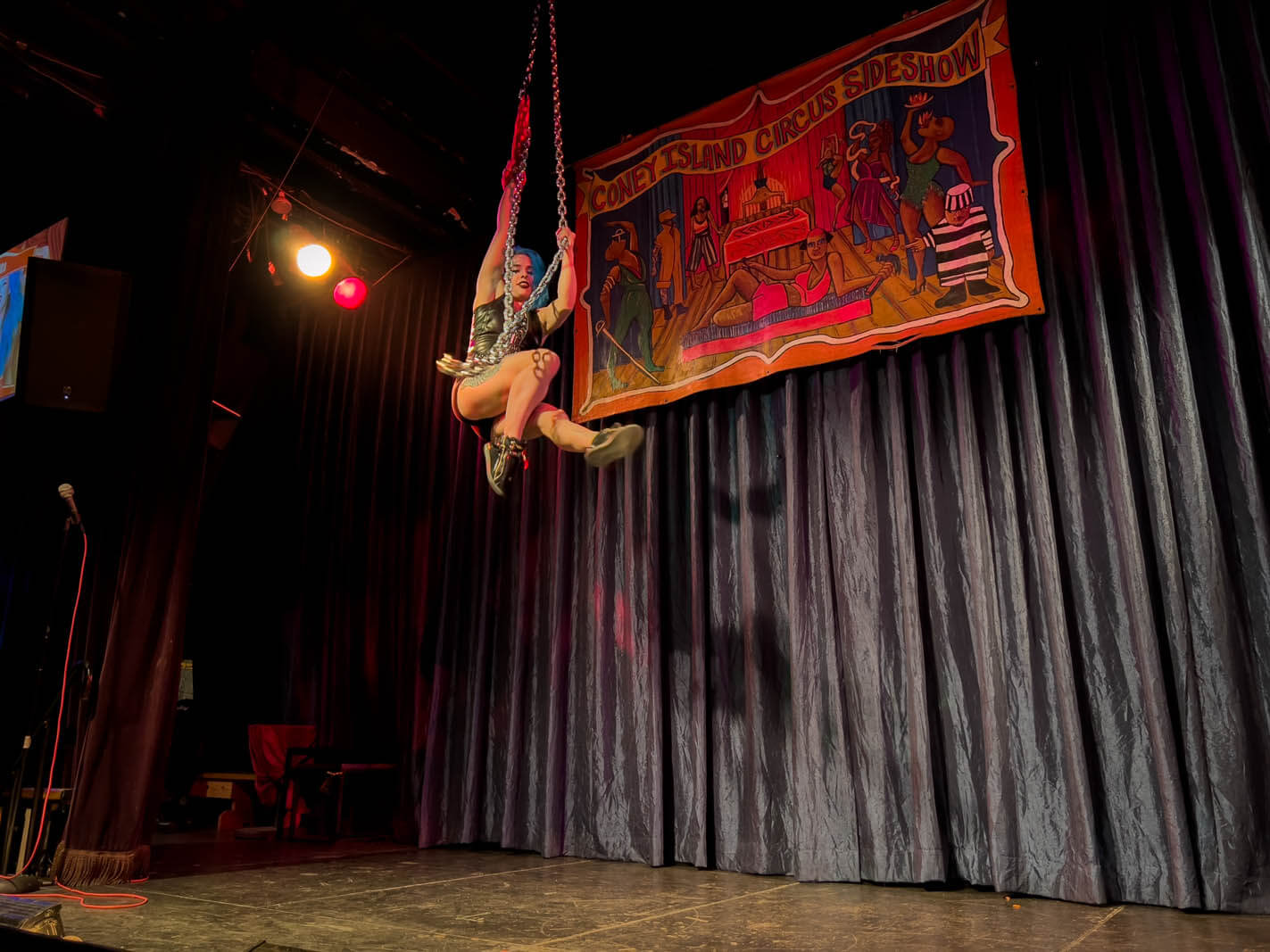 One of the most unique and surprising things to do at Coney Island is the Coney Island Circus Sideshow! This is a modern-day take with a full cast of performers on circus sideshow spectacles filled with wonders, curiosities, sideshows, and tricks from sword swallowing to fire eaters and other bizarre talents and performances.
This sounds hokey, but don't be fooled this is fun entertainment option from talented performers and artists.
The tradition of sideshows and performances like this date back to the 1800s in NYC well into the 20th century with ties to P.T Barnum. It wasn't uncommon to find these types of shows at amusement parks and traveling circuses that were made wildly popular from World Fair expos.
In the 1960s, these types of performances saw a sharp decline due to outcry from those accusing these carnivals and showrunners of exploitation of disabled performers as well as the socio-economic climate of the time.
The shows typically are around 45 minutes long and have 10 acts with various performances in a traditional ten in one circus sideshow. The show runs continuously so if you walk in 10 minutes late you can hang around for the first 10 minutes of the next performance.
The Coney Island Circus Sideshow prides itself on being the first professional not for profit theater wholly dedicated to keeping the American sideshow tradition alive and is one of the most unique to Coney Island activities you can find.
Shows run from 1 pm to 7 pm and admission is $12.
Also, keep an eye out for the sideshow cat that is often spotted walking through the performances and hanging out at the bar. Just a part of the fam.
Coney Island Mermaid Parade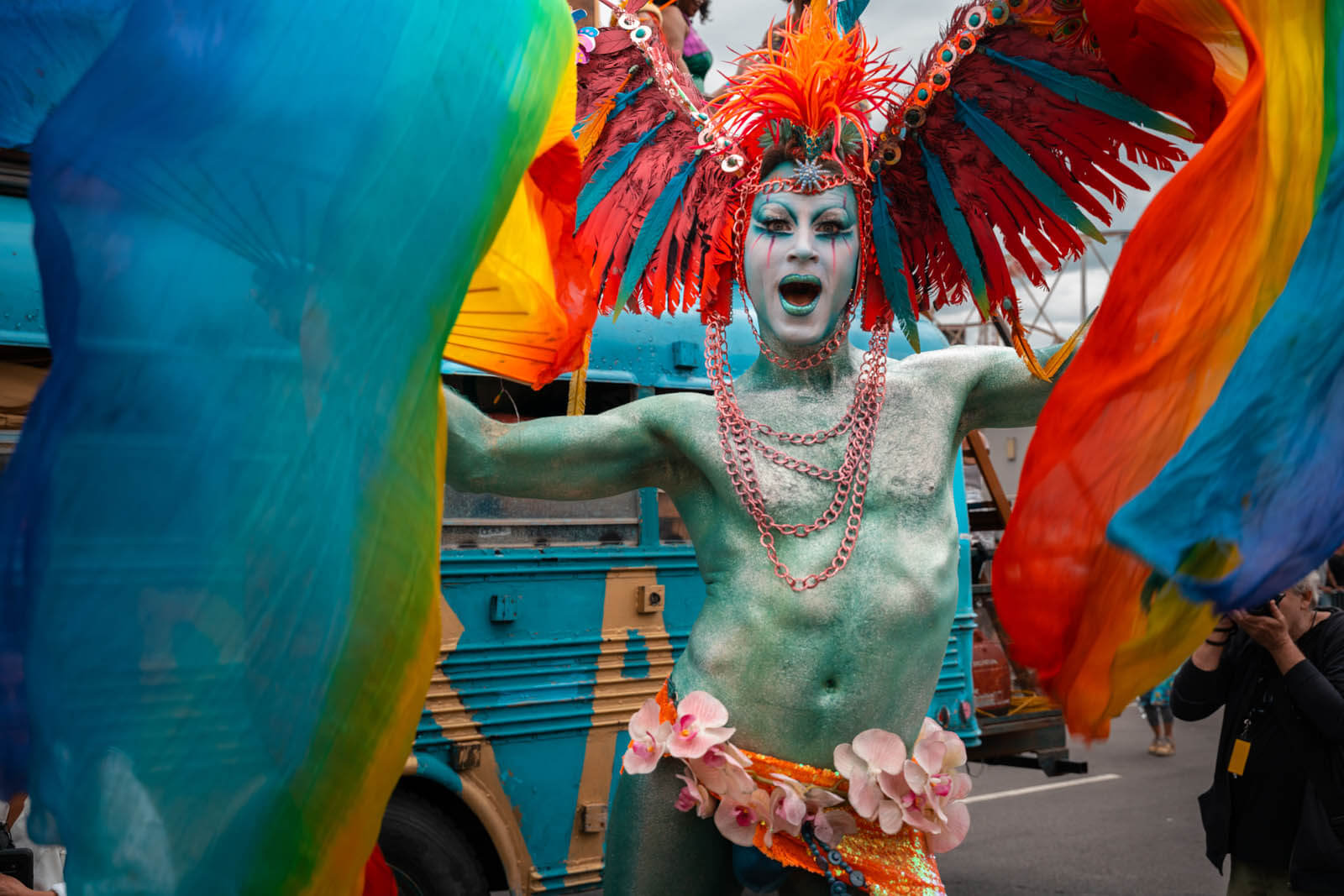 Another one of the most unique Coney Island attractions and things to do is the annual Coney Island Mermaid Parade! This eclectic parade is as fun as it sounds celebrating the start of the summer season with thousands of participants dressed as mermaids and mermen along with festive parade floats.
Held each year in June on the closest Saturday to the summer solstice rain or shine, the Mermaid Parade is the country's largest art parade.
The parade was inspired by the Coney Island Mardi Gras celebrations and parades from the 1900s. The first Mermaid Parade started in 1983 and each year had crowning and featuring its own King Neptune and Queen Mermaid.
Most of the Kings and Queens are no strangers to the entertainment industry, in 1999 Queen Latifah was the Queen Mermaid and in 2004 Moby was King Neptune to name a few.
If you plan ahead you can also book tickets to the fun afterparty, The Mermaid Ball. But we will warn you, tickets typically sell out as this has become one of the most fun and sought after events for mermaid lovers here in Brooklyn.
Fun Fact: After the devastating damage of Hurricane Sandy, the Mermaid Parade was almost canceled in 2013 due to lack of funding. However, the community and die-hard fans were able to raise $117,000 on Kickstarter and resurrect the parade and festivities!
Coney Island Brewery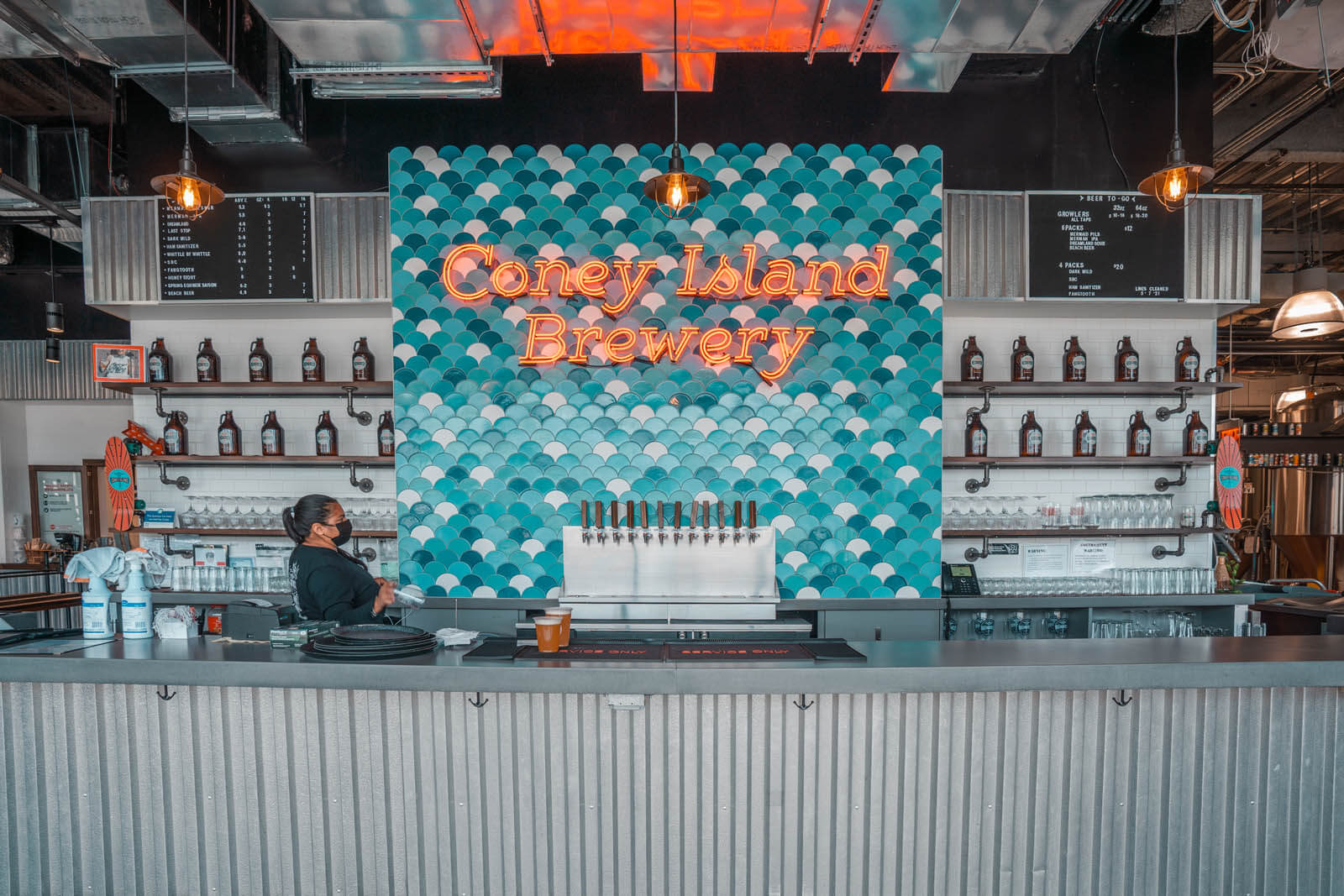 Calling all beer lovers! This is one of the best things to do in Coney Island for you! What better way to cool off from a hot day at the beach or amusement park than with a refreshing local craft brew?
Coney Island Brewery is one of the best breweries in Brooklyn with their spacious taproom and unique limited release beers as well as their famous Mermaid Pilsner and Mermaid IPA.
Their original location was inside the historic building that used to house the Coney Island attraction, the Freakatorium until Hurricane Sandy caused detrimental damage to not only the brewery but a lot of the boardwalk and historic Coney Island activities.
In 2015, they built their big new beautiful location near the original site. This is one of the few breweries in the city where you can also tour the facility, and the tours are for free!
Coney Island Art Walls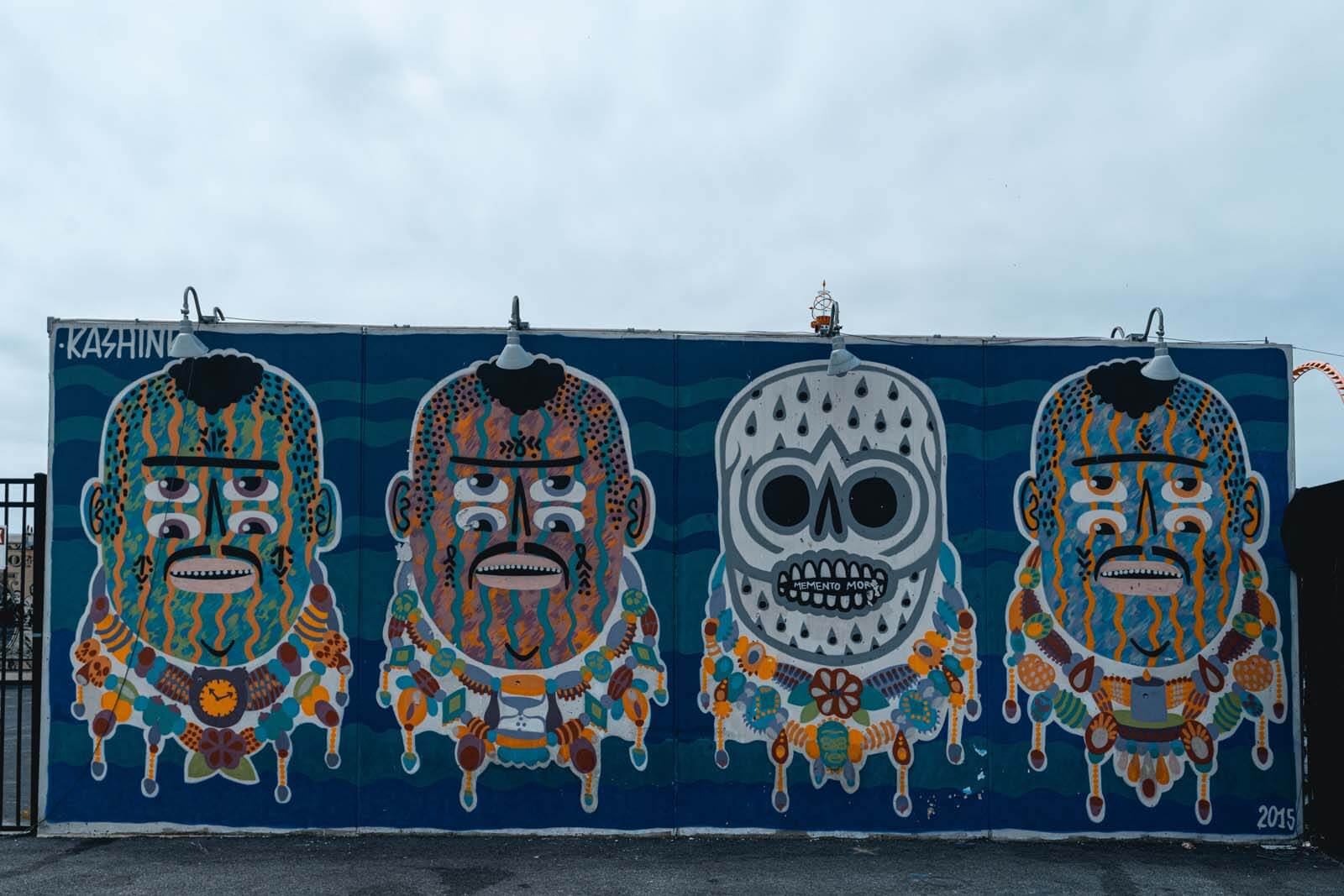 Do you love street art as much as we do? The Coney Island Art Walls are an outdoor museum of murals and street art featuring over 30 artists from all over the world each year. Each year the art walls change, so there's reason to come back to this Coney Island attraction year after year.
Located in the heart of all the best things to do in Coney Island right by the boardwalk and beach you can find some of the colorful art installations that are free to the public.
Ford Amphitheater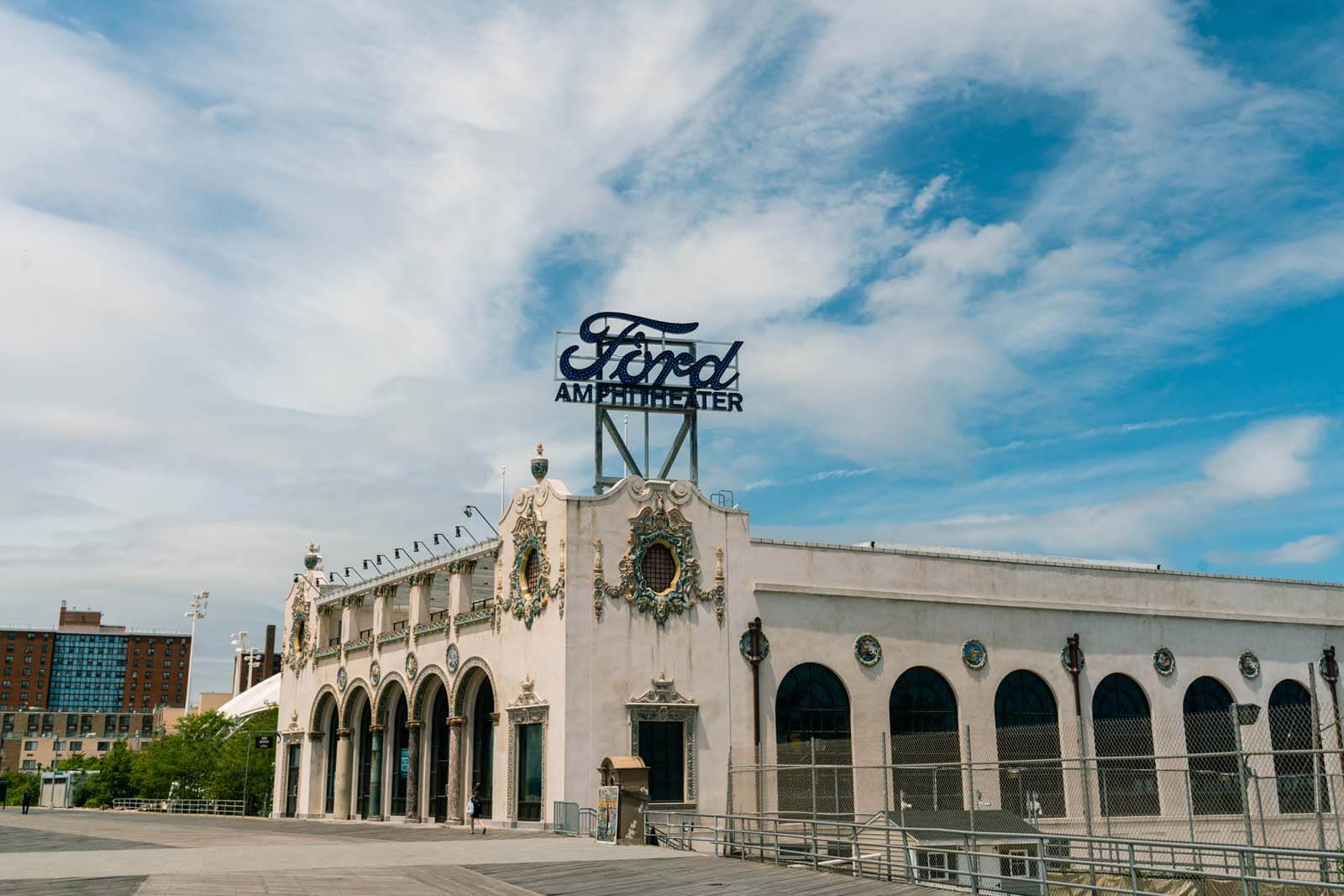 Another one of the best things to do at Coney Island along the boardwalk is catch a live performance at the covered open-air entertainment venue, Ford Amphitheater.
All performances held here go on, rain or shine.
The amphitheater opened in 2015 on the location of the historic Childs Restaurant on the Coney Island boardwalk. The restaurant dates back to 1923, there are regular concessions at Ford Amphitheater but the coolest place to grab a drink is at the amazing rooftop bar.
You can visit the La Tombola restaurant which is on-site for incredible rooftop bar views of the Atlantic Ocean. Inside the restaurant, you can admire the details as this space was restored to its former glory in 2017. The design is a cool juxtaposition of nautically themed motifs and Spanish Colonial architecture styles.
Besides having a cool rooftop lounge with views, the inside is home to one of the longest bars in Brooklyn and one of our favorite hidden gems in Coney Island.
Totonno's Pizza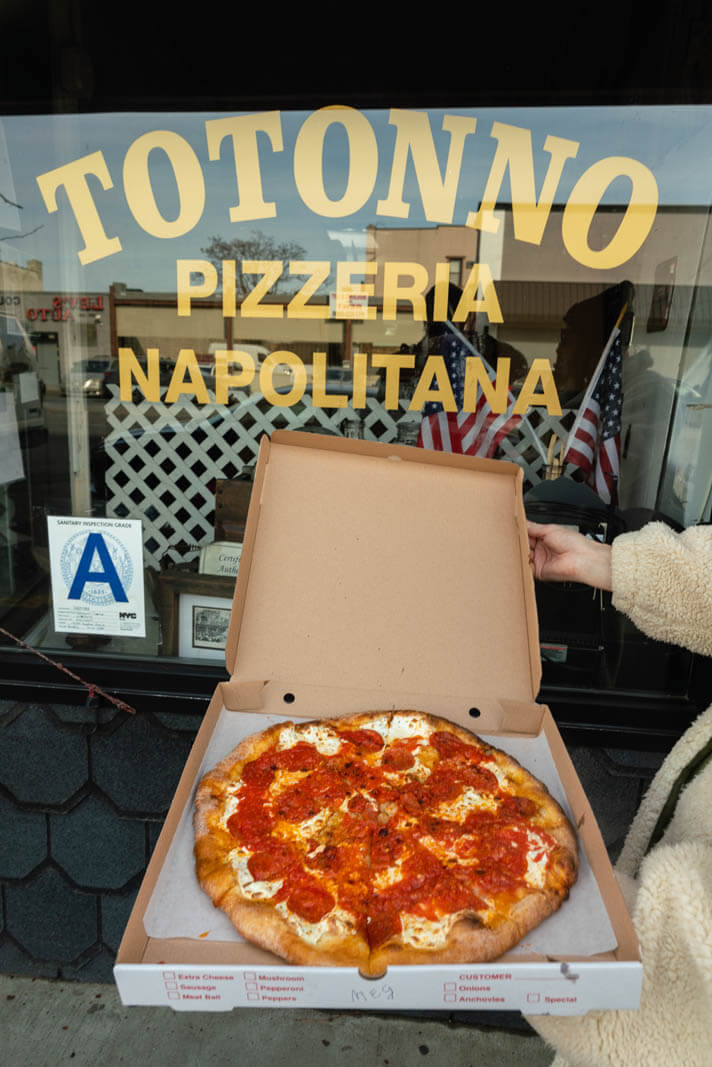 Another one of the best things to do in Coney Island is check out another one of the neighborhood's most famous foodie spots that has been featured on TV shows like Ugly Delicious and Somebody Feed Phil!
Totonno's pizza was started by Antonio Pero, a former employee at the famous Lombardi's in Manhattan's Little Italy dating back to 1905 and the first pizzeria in the US!
In 1924, Pero left Lombardi's to start his own pizzeria here in Coney Island where the coal fire oven pizza here has been made the same since its opening day.
The Coney Island hot dogs are awesome and all, but you can split up your meals by enjoying some of the best pizza in Brooklyn and best pizza in NYC by enjoying one of your Coney Island meals at Totonno's!
Coney Island History Project & Walking Tour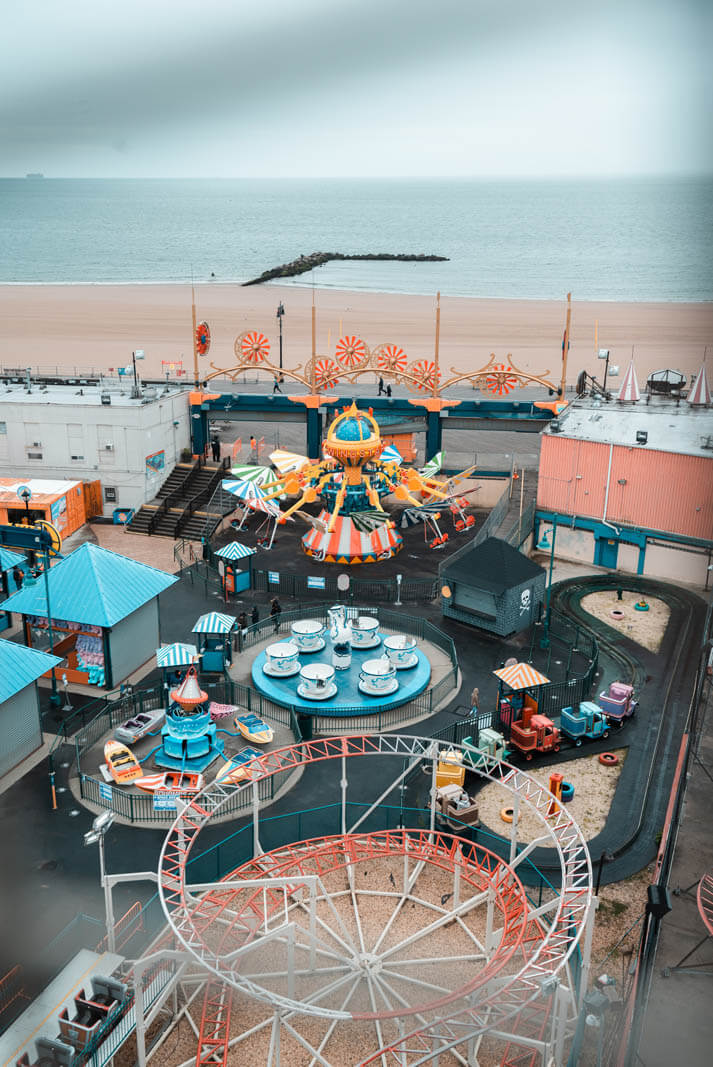 If you're anything like us and enjoy deep-diving into the fascinating history of all the best Coney Island attractions and evolution of this neighborhood you will want to stop by the Coney Island History Project to check out their various exhibitions, archives, photos, and even ask Mr. Coney Island himself any burning questions you might have about Coney Island!
The Coney Island History Project is a non-profit educational program and documentation of the history of the neighborhood throughout the collections here and is free to the public.
Better yet, they offer walking tours year-round, so even if you're visiting off-season you can still come to Coney Island and learn about the history. You can buy tickets in advance for $25, reservations are required in order to join a tour! So be sure to plan ahead!
Brooklyn Cyclones game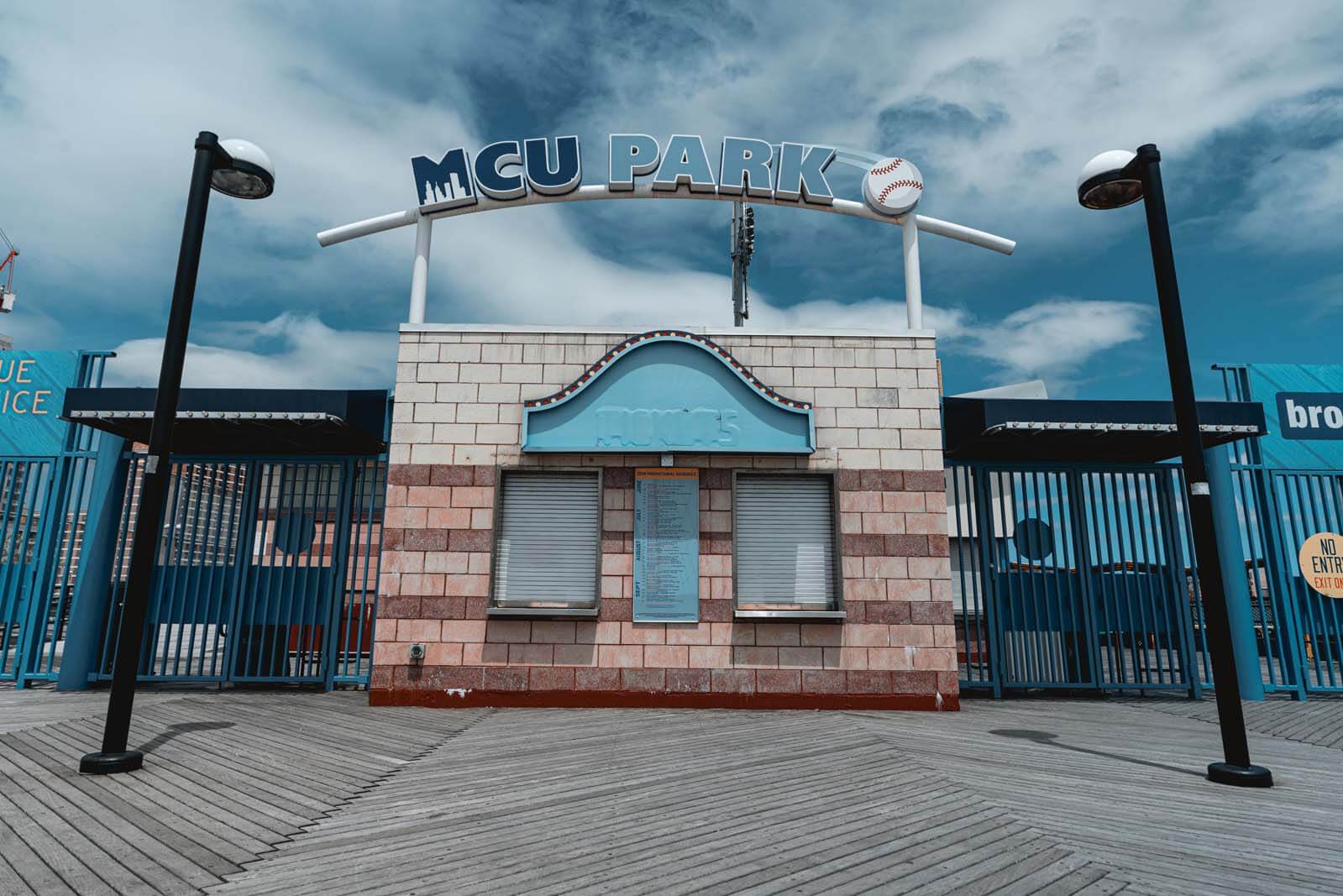 Another one of the best things to do at Coney Island is check out one of the local, minor league baseball games! The Brooklyn Cyclones are actually named after the famous Cyclone rollercoaster and play at MCU Park, which is on the original location of the historic Steeplechase Park.
Enjoy a game while eating one of Nathan's Famous hot dogs which are served at the park. Hot dogs have a long-standing history with baseball and American culture, which is why you can find it here as a Coney Island local specialty!
As a matter of fact, the MLB even designated Nathan's Famous as their official 'hot dog.'
Abe Stark Skating Arena
One of the most fun Coney Island activities and best ice skating rinks in Brooklyn is located on the boardwalk! This is more of a locals spot since Coney Island doesn't see as many visitors in the winter months since this rink operates from the months of October through March.
But don't let that dissuade you from visiting, there are plenty of Coney Island winter activities to enjoy!
Named after a three-term Brooklyn borough president who served throughout the 1950s and 1960s who was so loved by his community he was nicknamed, "Mr. Brooklyn."
Here at this Brooklyn ice rink, you can find public ice skating sessions, private lessons, ice skating classes, hockey and more.
This is a great activity to add on if you're visiting all the best things to do in Coney Island off season!
Brighton Beach & Neighborhood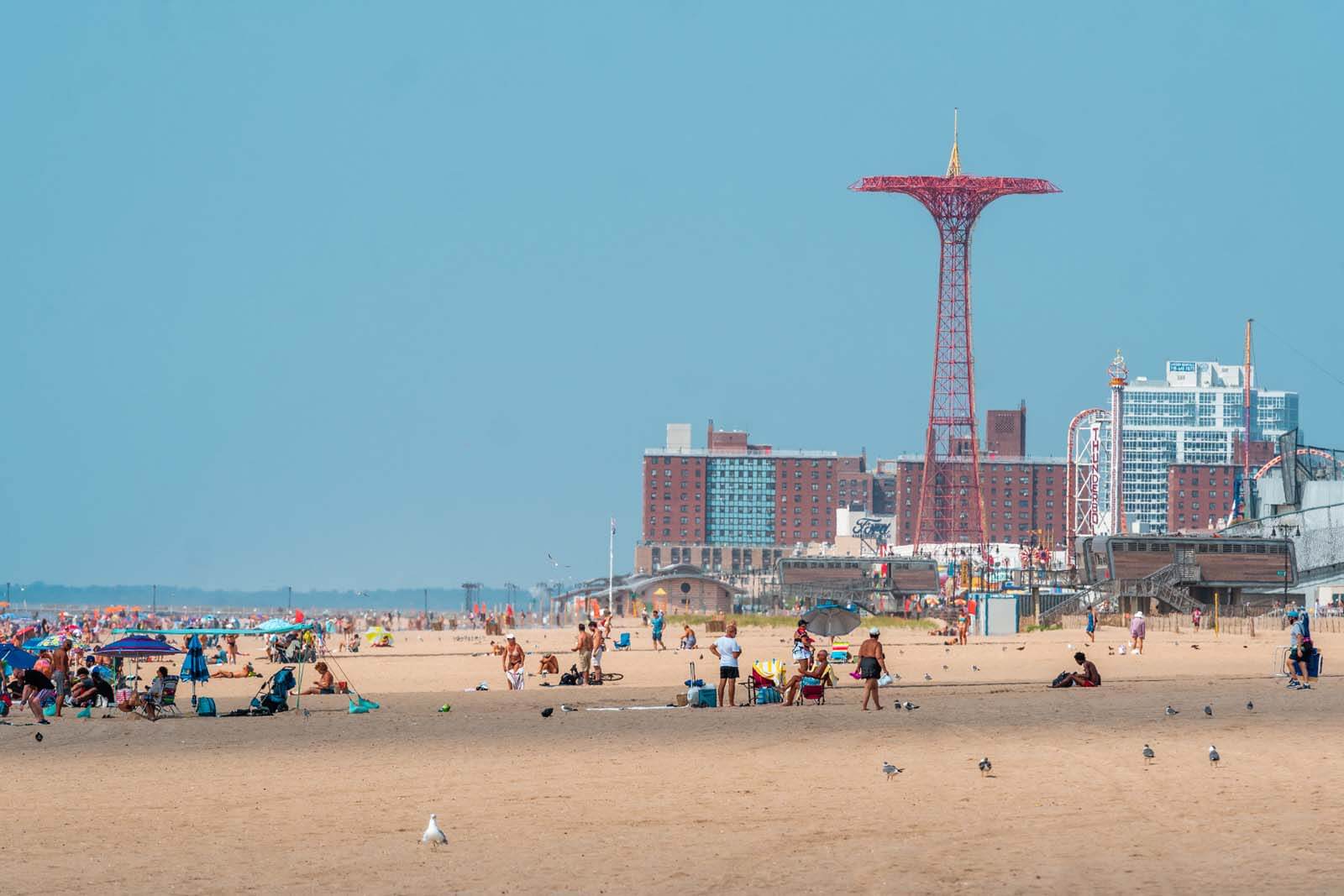 One of the best things to do at Coney Island is visit neighboring Brighton Beach. Surrounded by Coney Island, Brighton Beach is home to not only more gorgeous waterfront property but also home to "Little Odessa," a Russian and Eastern European enlcave with tons of great restaurants and shops.
The neighborhood is still home to a large Russian-speaking community that are generationally tied to the neighborhood from the ancestors' immigration. Many of the signs are even in Cyrillic.
Whether you're looking for a slightly less crowded and more relaxed beach to hang out on in the summer or one of the culturally rich neighborhoods that makes NYC a true melting pot, you can find it here at Brighton Beach.
We recommend checking out the food at Brighton Bazaar, enjoying some vodka at Volna, and strolling through the different shops during your first trip to Little Odessa.
Manhattan Beach
Another one of the best beaches to visit in Brooklyn and best things to do at Coney Island is visit Manhattan Beach located on the opposite end of Brighton Beach.
Manhattan Beach is another residential neighborhood and home to the more quiet shores of Manhattan Beach's shoreline. If you're looking for fun at all the Coney Island attractions then looking for some more peaceful places to relax, this is one of them.
Getting to Coney Island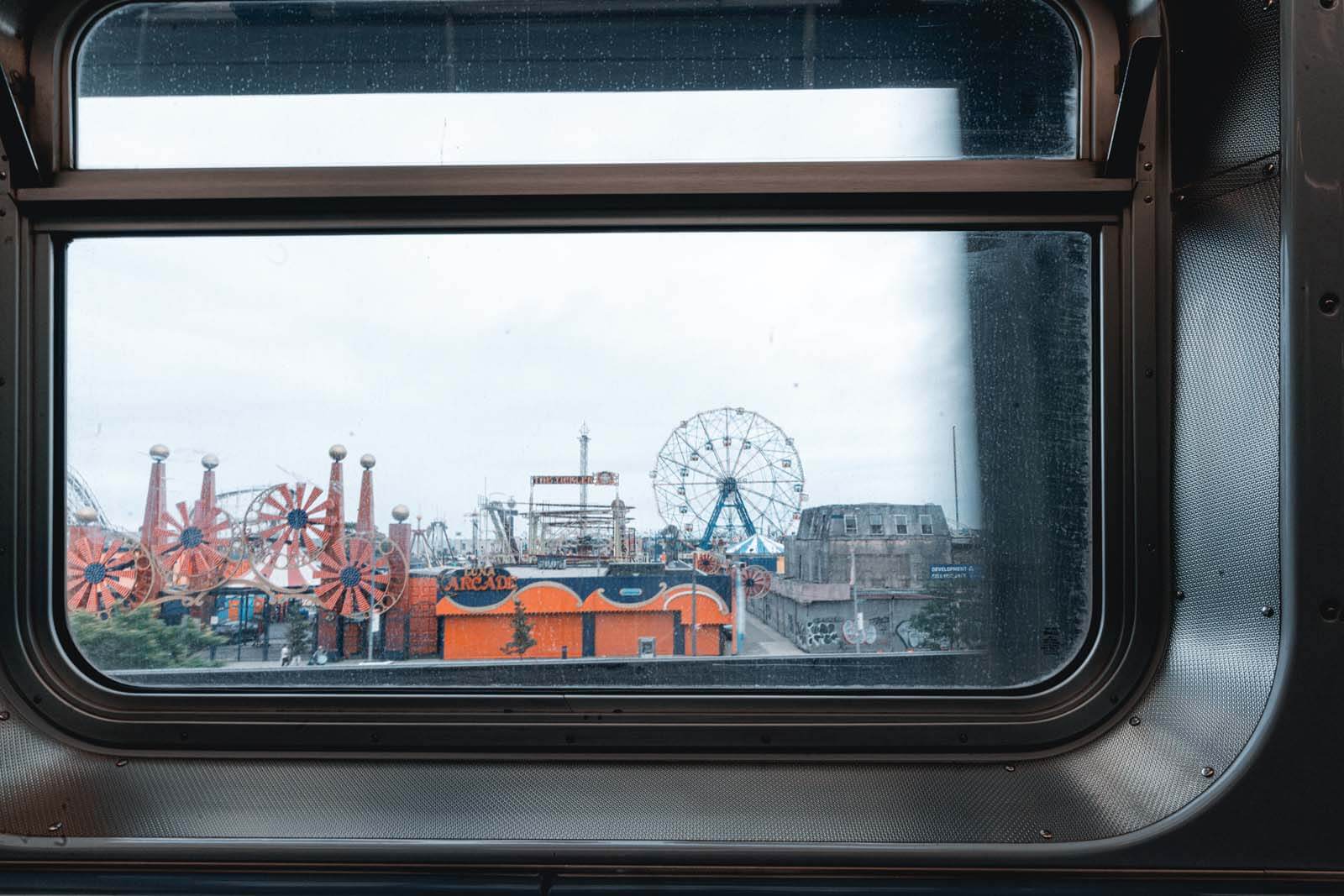 Getting to all the best things to do in Coney Island couldn't be easier by car or subway.
If you're coming by car, there are several parking options but be prepared during the summer months this could be more challenging as everyone and their uncle flocks here in the summer months. You can park on the public streets for free if you can find a spot, if not there are plenty of parking lots for a fee you can park at for the day.
To get to Coney Island by subway, which is our recommended way to go, which takes around 60 minutes from Times Square as a reference point or around 30-45 minutes from Downtown Brooklyn.
The main subway stop servicing Coney Island is the Coney Island- Stillwell Avenue Station.
This subway services the D, F, N & Q lines.
Starting in 2021, the NYC ferry is going to open a route via Pier 11 in Lower Manhattan to Coney Island making only one stop in between at Bay Ridge and will take around 37 minutes total.
Tips for Visiting Coney Island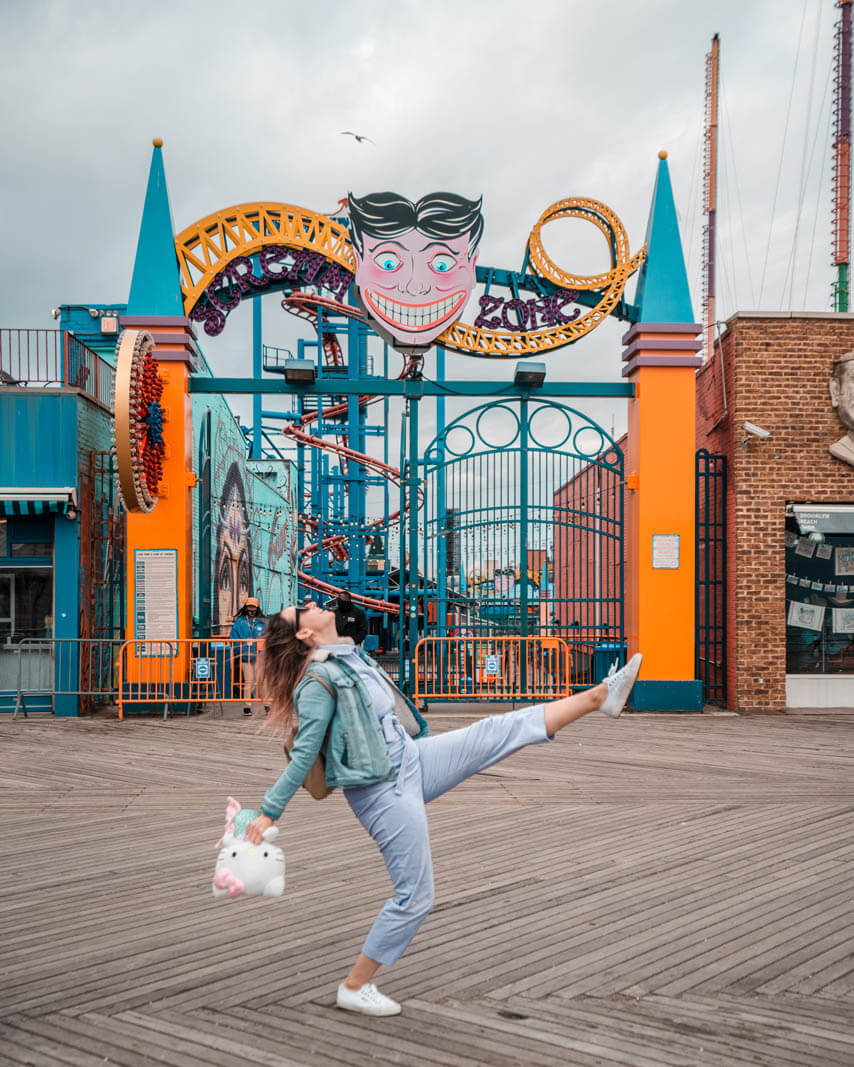 The best time to enjoy all the Coney Island attractions is the famed summer season typically from the end of Spring through Fall.
The Coney Island attractions and amusement parks officially open in early April through Halloween.
However, restaurants and other Coney Island activities in the neighborhoods are open year-round since this is a neighborhood to residents as well. If you're not prioritizing going to the amusement parks you can easily visit offseason for a completely different experience with less crowds.
If you do plan on visiting the beach off-season be prepared as there are only lifeguards on duty from Memorial Day through Labor Day weekend.
---
Looking for where to stay in Brooklyn during your visit? See our entire guide by neighborhood and budget to help you pick the best area to stay in.
Liked this guide on the best things to do at Coney Island and all the best Coney Island attractions? Bookmark for later or share the love below on Pinterest!