Wondering the best way or how to visit the Statue of Liberty? We have you covered in this full, easy to follow guide plus great Statue of Liberty tips to consider before your trip to make visiting a popular tourist attraction and iconic symbol of the United States easy, interesting, and memorable instead of frustrating and confusing plus you don't want to fall for any common scams in NYC!
We have put together our best tips for your Statue of Liberty visit as well as all the information you need to know in order to plan your trip including ferry information, ticket information, where to go, and how long you will need to plan for your Statue of Liberty visit!
Also, be sure to check out the best Statue of Liberty viewpoints around NYC for more incredible spots to see Lady Liberty shine in all her glory!
Facts About the Statue of Liberty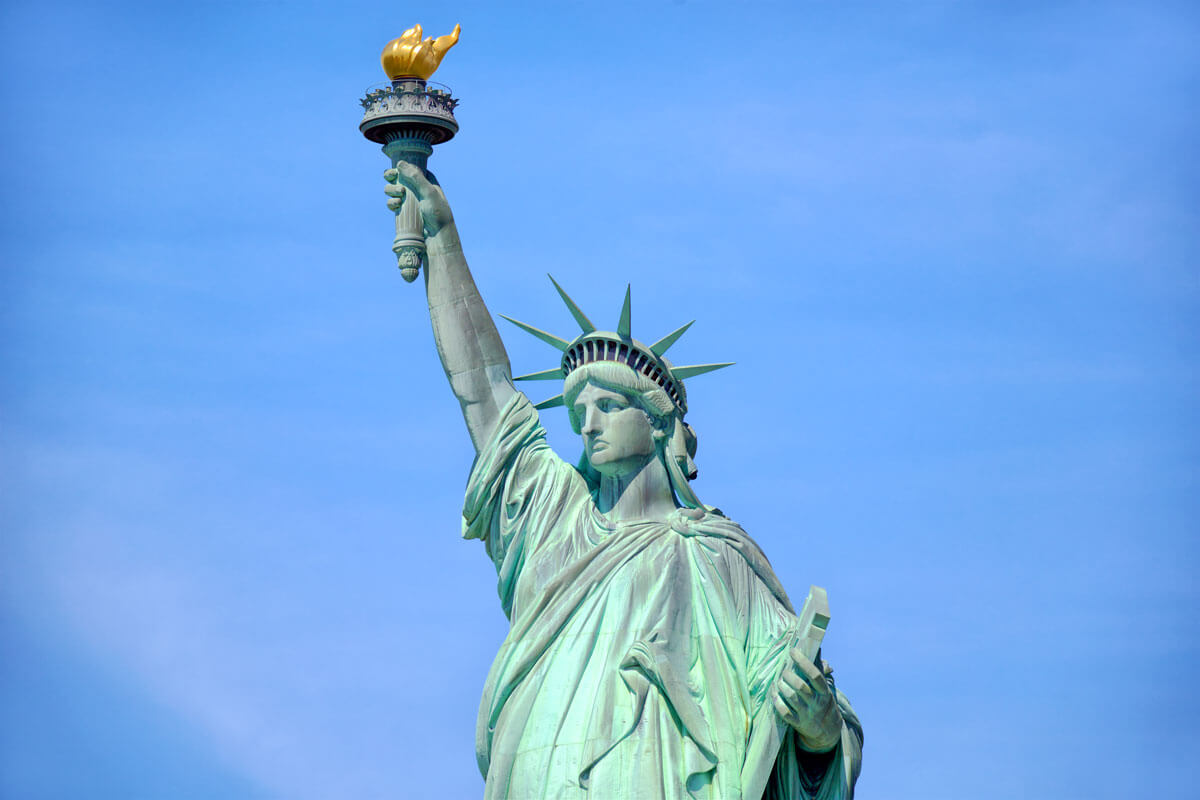 Before your Statue of Liberty, visit be sure to brush up on some interesting facts about Lady Liberty, Ellis Island, and this historic monument!
The Statue of Liberty's official name is actually Liberty Enlightening the World.
The Statue of Liberty was gifted to the United States from France in 1886 to represent the close relationship between the two nations, the head of the statue was on display in 1878 at the World Fair in Paris. The statue was a gift to celebrate the nation's new independence and the abolishment of slavery.
The Statue of Liberty represents the Roman goddess of freedom known as Libertas.
Lady Liberty holds a torch and a tablet with the date July 4, 1776, America's Declaration of Independence inscribed on it in Roman Numerals.
During its cross-Atlantic voyage to the United States, the Statue of Liberty was disassembled into 350 pieces and packed in 214 crates arriving in the New York Harbor on June 17, 1885.
The island was used for centuries by the Lenape Native Americans and was a major source of food for them as well as the Dutch colonizers. The US Army made the island a military post in 1807.
To visit the crown, known as the Pedestal you will have to climb 354 stairs and are greeted with views through the 25 windows in the crown.
The crown has 7 spikes which represent the 7 oceans and 7 continents of the world.
The statue is made of an iron infrastructure with a copper exterior that has oxidized over time and turned to the green color we see today which actually protects the statue from damage.
Gustave Eiffel designed the Eiffel Tower helped design the Statue of Liberty's 'spine' made of 4 iron columns supporting a metal framework that holds the copper skin.
The Statue of Liberty's torch was replaced in 1984 with a new torch made of copper covered with 24 karat gold leaf.
The Statue of Liberty became a symbol of immigration and the American dream during the 19th century when a surge of immigrants came to the United States through New York Harbor, the Statue of Liberty was one of the first things they saw when arriving to the United States.
During the years of 1886-1902, the Statue of Liberty also was used as a lighthouse reaching light up to 24 miles away!
In high winds of over 50 mph the Statue of Liberty can sway up to 3 inches!
How to Visit the Statue of Liberty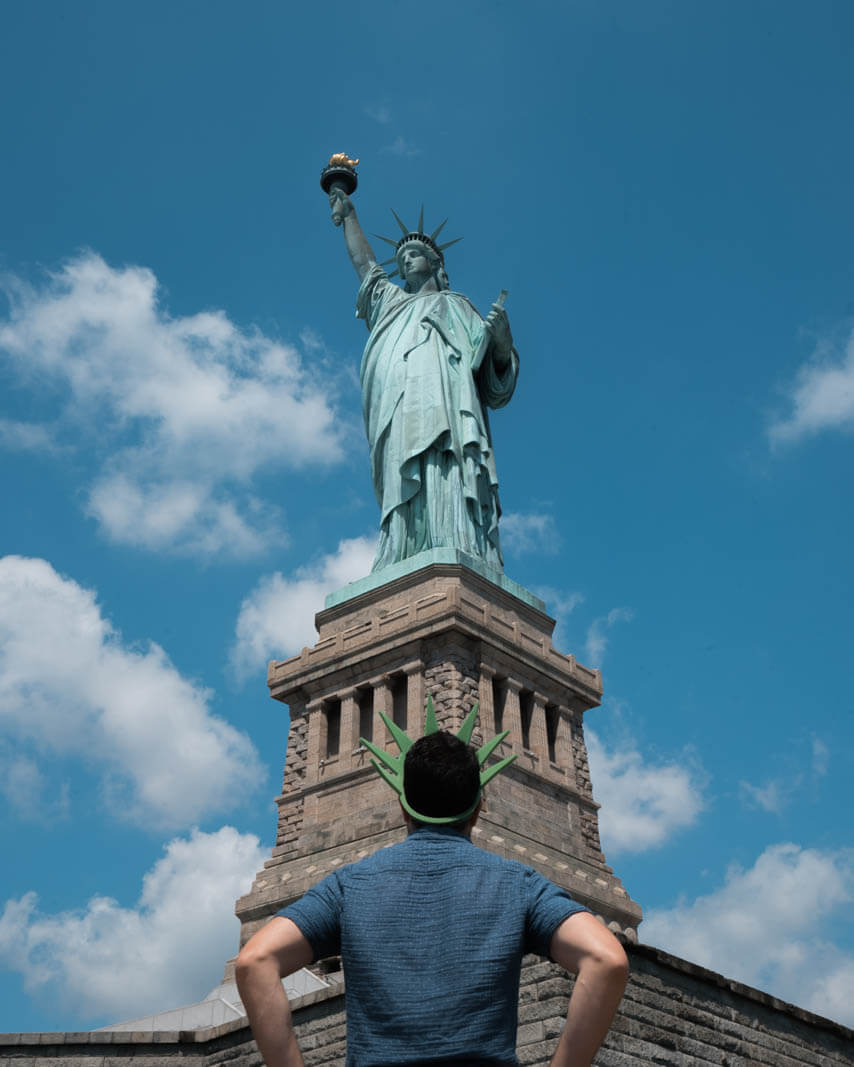 Once you've decided to make the trip to visit the Statue of Liberty, your first step to planning the perfect visit is to plan how you'll get there. To reach Liberty Island, where Lady Liberty stands in all her glory, you'll need to take a ferry.
If you're planning your Statue of Liberty visit from Manhattan, you can board the ferry from Battery Park. If you're heading down from the East Side of the city, you can reach Battery Park by taking FDR Drive South and exiting at 1 South Ferry Battery Park, or by taking Westside Highway South (NY State 9A) to Battery Park if you're traveling from the West Side.
However, keep in mind that parking around The Battery can be somewhat of a nightmare, so you may want to opt for public transit if possible.
If your group is able to take public transportation for your visit, you can hop on the M15 bus towards South Ferry if you're coming from the East Side, or the M6 bus towards South Ferry if you're starting from the West Side.
If you prefer to travel underground, you can either take a Local 1 train to South Ferry, an Express 4 or 5 to Bowling Green, or a Local R or W to Whitehall Street Station.
If your trip is starting from across the Hudson in New Jersey, you can board the ferry from Liberty State Park, which is accessible from the New Jersey Turnpike exit 14-B. There is parking available from this departure location for a fee, making it the better option if your group is traveling by car.
If you're taking public transit in New Jersey, you can take the Hudson-Bergen Light Rail to the Liberty State Park Station, walk about a mile down Audrey Zapp Drive to the ticket office near the CRRNJ Terminal.
Once you've gotten your tickets (if you haven't purchased them ahead of time) and gone through the security area, you're a short 0.3 mile walk away from the ferry gangway from which the ferry will depart. This transit option does involve a good amount of walking, so if there is any concern about accessibility for your party, driving or taking a taxi or rideshare may be a better option.
If you've got time to spare and want to take in as many sights as possible, you can also take a ferry from the Liberty Landing Ferry Service World Financial Terminal in New York to get to Liberty State Park for departure to Liberty Island.
If you've gone ahead and purchased your tickets for your trip to the Statue of Liberty, you'll get $2 off your ferry ride to the departure destination!
After you've decided on the best way to travel to the statue, you can plan what all you want to do and see during your visit.
All ferry tickets to Liberty Island, from either the New York or New Jersey departure location, are round-trip tickets and also include a ferry ride to Ellis Island, where you can visit the Immigration Museum and learn about the historic immigration port.
All tickets also include an audio tour and a Ranger-led tour of Liberty Island. The audio tour is a great way to tour the grounds and museums at your own pace while still receiving interesting information.
The included audio tour is available in Arabic, English, French, German, Hindi, Italian, Japanese, Korean, Mandarin, Portuguese, Russian and Spanish. Ranger tours are also included in all tickets, which you can take advantage of if you want a more structured tour of the grounds.
These tours include information on the history of the statue and information on its construction. If you're planning your trip a little further in advance, the interior may be open to the public in time for your visit, in which case you'll need to decide if you want to take the trek up to the crown, visit the Pedestal Museum, or take the Ellis Island hard hat tour, as these decisions will impact what tickets you'll need to purchase for your visit.
Statue of Liberty Tickets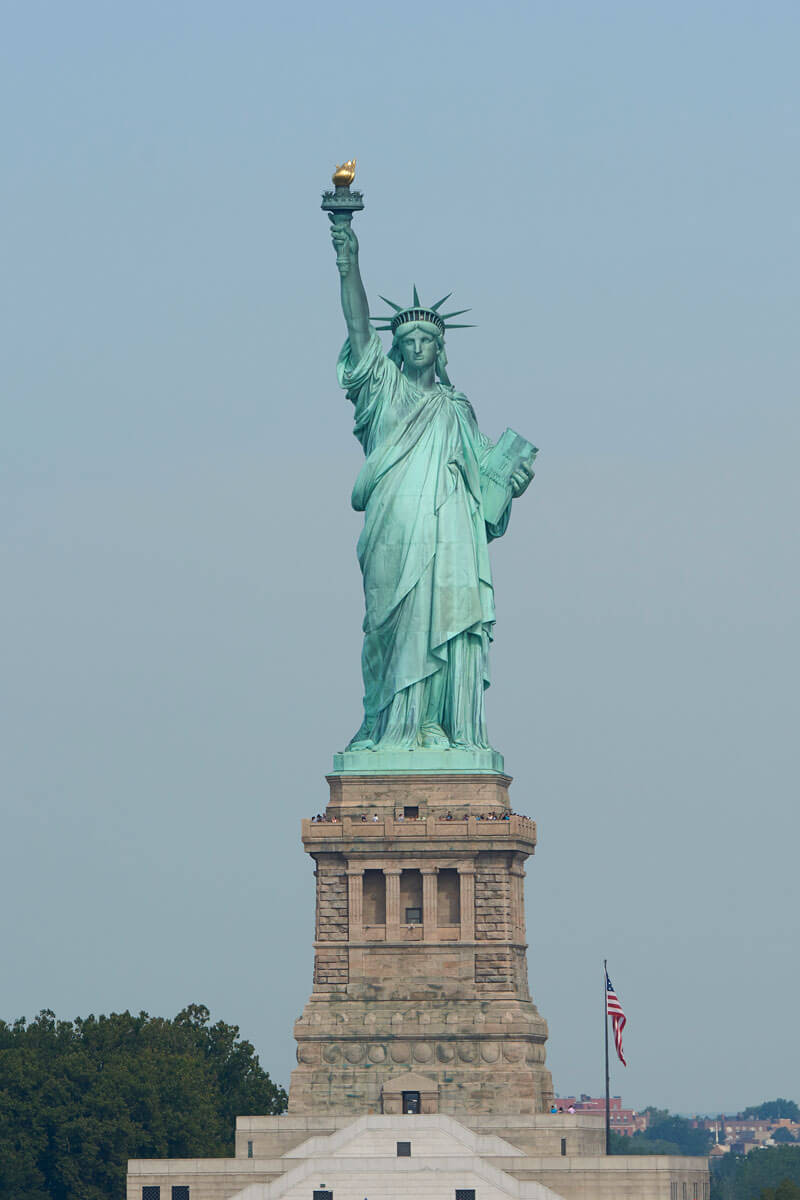 You can purchase your tickets for either departure site here. After selecting the type of tickets, you'll choose your starting destination, as well as the date, time, and quantities of tickets you'll be purchasing. Tickets are available for any day of the week and for times between 9:00 am and 3:00 pm.
The Reserve Tickets (the only option currently available) include the ferry ride to Liberty Island, the ferry ride to Ellis Island, the ferry ride back to either New Jersey or Manhattan, an audio tour, and Ranger tours.
These tickets are $19.50 for adults ages 13-61, $9.00 for children ages 4-12, and $14.00 for seniors ages 62 and up. If you're bringing along a little pal that is 3 or younger, you do not need to purchase tickets for these visitors.
When choosing a time for your tickets, keep in mind that you are not purchasing tickets for a specific ferry departure at that scheduled time.
Instead, these time intervals are the time in which your party will be admitted to the security area of your departure destination, so keep this in mind if you're planning a jam-packed day of exploring.
If you are interested in a professional tour guide you'll need to purchase those tickets separately. There are various options to choose from, depending on what you and your group want to get out of your visit to the Statue of Liberty.
We recommend booking in advance, check out these great options for visiting the Statue of Liberty with a tour:
Alternatively, if you plan on enjoying more NYC experiences and tours you can get a New York City attraction pass which can save you hundreds of dollars by making a one time purchase for a pass that gets you into multiple city attractions including visiting the Statue of Liberty and Ellis Island.
CityPASS offers a 3 attraction pass or a 6 attraction pass with over 12 city attractions to choose from including the Statue of Liberty and Ellis Island ferry passes, Empire State Building, and more!
Another great option is the New York Pass which you can purchase anywhere from a 1 Day Pass to a 10 Day Pass that gets you into over 100 attractions. Once you purchase your New York Pass you download the Go City app and use it to gain access to attractions including the Statue of Liberty and Ellis Island.
See our full breakdown of the New York Pass and our breakdown of the New York CityPASS to see if it's worth it for your visit to save hundreds of dollars on multiple attractions!
What to Expect at Your Statue of Liberty Visit
Although you'll be purchasing a timed ticket, you and your travel companions will want to plan on arriving at your departure destination at least 30 minutes prior to the time indicated on your ticket.
The time on your ticket indicates the time that your party will be admitted to go through security. Since you're visiting a National Park and historical landmark, security is pretty tight, so plan ahead to ensure everyone in your group will make it through security seamlessly and without having any personal items confiscated.
Once you've successfully made it through the security procedures, you can prepare to board the ferry and cruise along to your visit to the statue and Ellis Island. Ferries depart every 20-35 minutes, giving you plenty of time to make sure little ones use the bathroom on land, but not too long that you're waiting forever before boarding.
All ferries are wheelchair accessible, and service animals and authorized guides are welcome aboard as well. There are bathrooms located on board all ferries, so if you or the kids missed the opportunity before departing, you can still take a bathroom break before reaching Liberty Island or Ellis Island. While there are bathrooms available on both islands, it may take some searching and walking to reach them.
Each leg of the ferry ride takes about 15 minutes. If you are planning on taking advantage of seeing both the Liberty Island and Ellis Island grounds, you will want to block out at least 5-6 hours for your trip.
If you plan on passing up Ellis Island and instead choosing just to visit the Statue of Liberty, you should still allow 2-3 hours to ensure you have enough time to enjoy your visit and make sure you take the ferry back to Lower Manhattan instead of the ferry to Ellis Island.
If you've purchased tickets to visit the interior of the pedestal, the Pedestal Museum, the crown, or the Ellis Island hard hat tour, plan to spend closer to the estimated 5-6 hours to make sure you're getting your money's worth and allowing enough time to take in as much as possible.
If you are visiting once the interior of the statue is reopened, there is no additional fee to enter the pedestal and visit the Pedestal Museum, but you do have to reserve specific tickets to do so.
If you are planning to visit the crown of the statue, it is an extra $3 per visitor, in addition to the standard ferry ticket price. Keep in mind that the crown access is not available to visitors under 4, so plan accordingly if you're bringing along little adventurers.
If you are wanting to partake in the Ellis Island hard hat tour, you'll have to pay an extra $40 per visitor, and the tour is limited to those who are ages 13 and up. Keep in mind that if you're visiting during the hotter months and plan on attending the hard hat tour that open-toed shoes and sandals are not permitted on the tour.
Tips for Visiting Ellis Island
The most common way to visit the Statue of Liberty and Ellis Island is first visit Liberty Island, then taking the ferry from Liberty Island to Ellis Island.
You will want to plan on spending a few hours here to really enjoy the exhibits and museum here depending on how deep you want to dive into the history of this historic port that over 12 million immigrants passed through!
The most difficult part of planning the entire day around the Statue of Liberty and Ellis Island is planning meals as you have limited options once you've begun your day. Ellis Island does have the Ellis Island Cafe where you can buy something to hold you over until you get back to Manhattan.
Liberty Island also has the Statue of Liberty Crown Cafe if you need a bite to eat here too.
Don't miss the last ferry back to Manhattan! You will want to check and ask on the day of your visit, but typically the last ferry back to Manhattan is around 3:30 pm.
If you're hoping to look up your ancestors who may have passed through Ellis Island on their journey to a new life in the United States records you can do so by finding the computers where you can pay a small fee to access their database and archives, this fee is usually around $8. If you run short on time, you can also do this part later at home from your computer too.
Statue of Liberty Visit Tips
While there is no wrong way to visit Lady Liberty, following these Statue of Liberty tips can help you and your party get the most out of your time.
If you want to save the time you have on the Liberty Island grounds, you can purchase souvenirs and snacks on any of the ferries. This can save some valuable time not waiting in line at the gift shops on the islands.
There are also food options on the island, but they can be a bit pricey and could cause you to have to spend some of your time waiting in line. Pack some food for your visit and enjoy the views of Manhattan from Liberty Island with a picnic and a camera.
Make sure you're dressed for whatever Mother Nature may throw at you on your trip. You'll be spending most of the day outdoors, so be sure to come with SPF and water, as well as any layers you may need to stay warm. You'll be doing a lot of walking, so make sure you've got comfortable shoes.
If you aren't a big planner, you can buy tickets at your departure location, however, if you want to get the most out of your time and Statue of Liberty visit, it's best to buy tickets in advance. This will allow you to head straight to security and skip the ticket line. It will also allow you more time to weigh your options and to decide on which ticket options and attractions are best for you and your group.
If you're going to wing it, beware of people selling unauthorized, invalid, or crazy expensive tickets around Battery Park.
Another thing to keep in mind when deciding which ticket options to choose, remember that accessing the crown requires visitors to climb steps. So although the ferries are all accessible, visiting the crown is not a good option for groups with mobility or accessibility concerns.
As previously mentioned, Ranger-led tours are included in all tickets. These tours lead visitors around Liberty Island, and begin at the flagpole on the island. These tours are informative and great for all ages, making them a great choice for groups with kids and history buffs alike. They take about 30-45 minutes, so take this into account when planning out how you will spend your time during your visit.
When planning on when to visit the Statue of Liberty, take into account how busy it can get. If you're looking to beat the crowds, try to purchase tickets for a weekday, and early in the day.
If you have flexibility in the time of year you're able to visit, opt for spring, fall, or winter, when there are fewer visitors and smaller crowds. Not only will this save your group time with shorter lines, but it will also give you more opportunities for photos that are not obstructed by other groups of tourists.
---
For more amazing views of the Statue of Liberty, be sure to check out our full guide for what to do at Governors Island.
What to Pack for NYC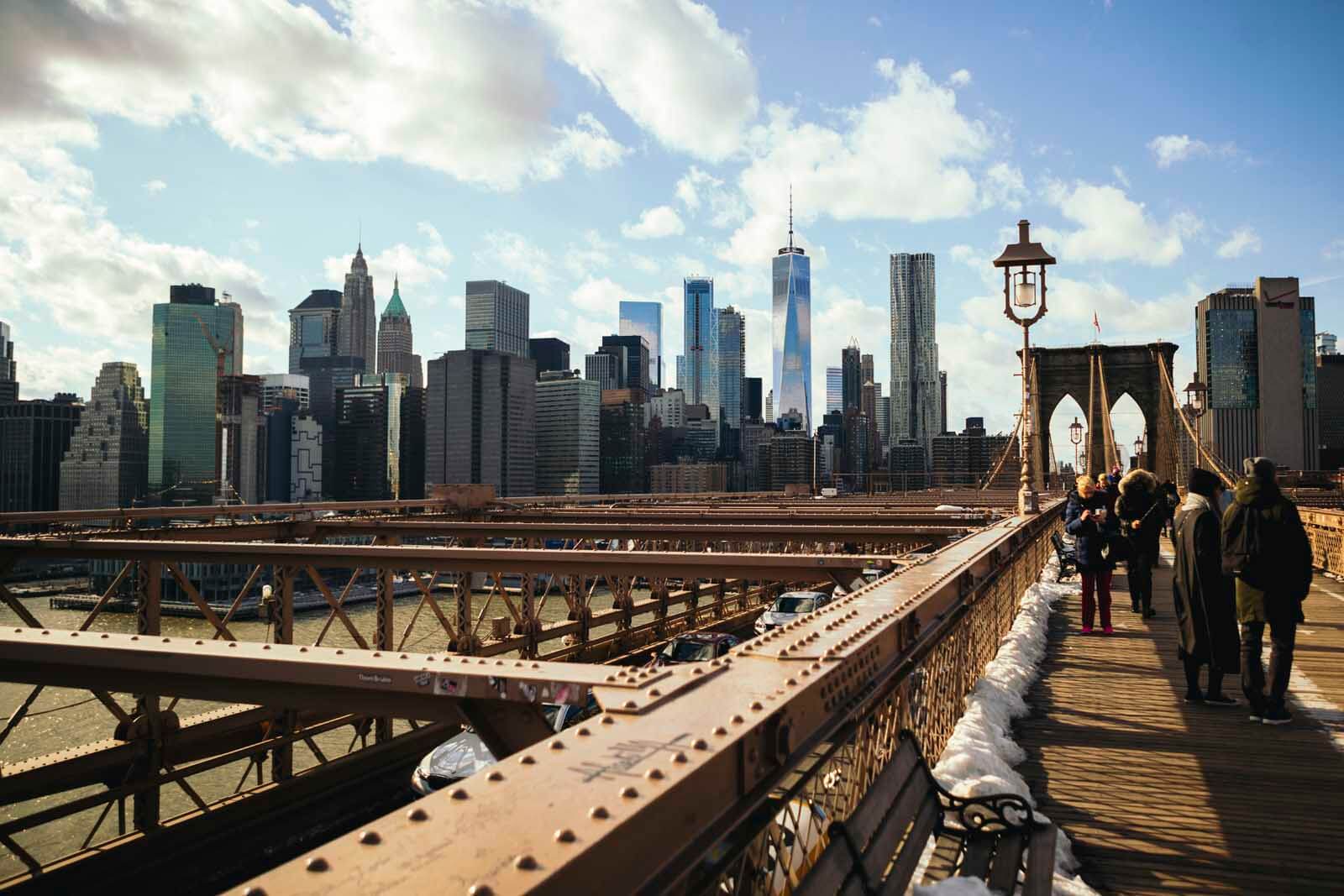 See our full what to pack for Brooklyn guide for more ideas!
This Pacsafe Shoulder Bagslings over your body and is the perfect size to carry your day essentials while exploring Brooklyn. This lightweight bag has anti-theft features so you can enjoy Brooklyn with ease of mind with Pacsafe's anti-theft patent products whether you're in a crowded area or on the subway.
This Pacsafe Anti-theft Backpack is another essential for Brooklyn or any city trip. This backpack has a patented anti-theft design with lockable zippers and slash-proof material in this sleek and comfortable designed backpack.
Avoid high tech thieves with this 15 pack of RFID blocking sleeves that doesn't require you to buy a special travel wallet, you can carry your favorite purse, wallet, or backpack by simply putting your credit cards and sensitive information in these RFID blocking sleeves.
Upgrade your wallet with this RFID Blocking Wallet by Pacsafe is the perfect pick. Always have your identification, bank cards, and credit cards protected from high tech thieves with this RFID blocking wallet in this sleek and slim design.
One of the best ways to keep valuables safe when you travel is this Portable Safe by Pacsafe. This is ideal when you're hotel has a safe that is too small for your belongings, with it's sleek and compact design so it doesn't take up much space in your luggage offering maximum security with its stainless steel wire mesh covered in a piece of cut-resistant canvas fabric. You simply lock this portable safe to a secure fixture in your hotel room when you leave.
This iPhone crossbody case is perfect for sightseeing as you can easily grab your phone for that perfect photo moment on the fly as well as keep your phone secured to your body and safe from pickpockets!
We recommend Allbirds Women's Wool Runner as well as the Allbirds Men's Wool Runner for an everyday walking shoe that's breathable, comfortable, and feels like you're walking on clouds. Your back and feet will thank us later, plus they are all the rage in the city at the moment.
A good reusable water bottle is one of the best things you can have in your day bag or on you at all times, plus New York City has some of the best drinking water in the country, cut back on single-use plastic and have a good reusable water bottle for your trip.
Don't leave the house without a good power bank. Don't spoil your fun exploring all the fun neighborhoods and things to see in Brooklyn by having your battery die on you. If you're anything like me you'll be using your phone to take photos, navigate, and post to social media while you're exploring.
When it comes to the city, this weather is not forgiving and you don't want to get caught out and about in the rain without an umbrella. That's why we recommend this compact wind resistant travel umbrella for what to pack for Brooklyn.
Are you a sensitive sleeper? A good pair of earplugsare essential for your Brooklyn or city trip, especially if you're not from a big city.
---
Liked this guide on how to visit the Statue of Liberty and all of our Statue of Liberty tips? Bookmark for later or share the love below on Pinterest.