Wondering what to do on Governors Island? We have you covered in this complete guide to all of Governors Island points of interest plus how to visit this incredible city attraction and historic landmark located in the New York Harbor across from Brooklyn on the Buttermilk Channel and across from Manhattan by 800 yards.
From incredible views of the New York Harbor and unobstructed views of some of the city's best landmarks like the Statue of Liberty and the WTC and Lower Manhattan, you won't want to miss this gorgeous and peaceful spot in the city.
In this guide we will cover the history of Governors Island, how to get to Governors Island and all the best things to do on Governors Island when you get to this Brooklyn bucket list destination!
We recommend using this guide so you can plan ahead to make sure you not only schedule the right amount of time, or who knows you might fall as in love as we did and want to spend the night at their luxury camping retreat on the island!
History of Governors Island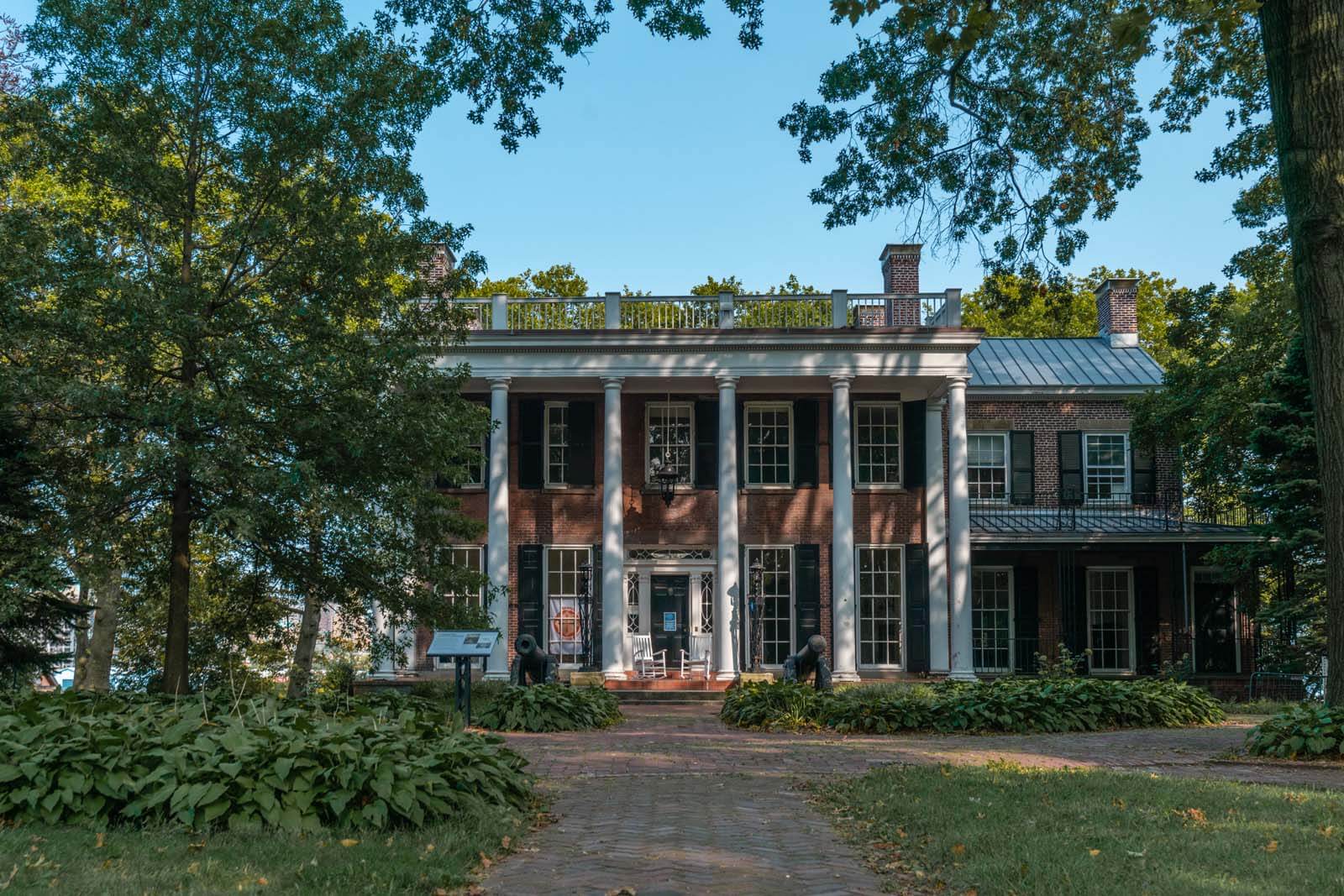 Before exploring the best of what to do at Governors Island and all their amazing points of interest, we are going to cover a brief history of this historic landmark in the city that was used by the US military from the early days of the American Revolution until its final use in 1996 by the U.S. Coast Guard.
Well before colonization, the Lenape Native American inhabited the island and called it Pagganuck which translates to "Nut Island," as the island had different nut trees including chestnut, oak, and hickory. This was a great grounds for fishing and was used by the Lenape community seasonally.
In 1624, Dutch colonizers from the Dutch West India Company arrived to New Amsterdam and camped on the island rather than mainland Manhattan. In 1637, Wouter Van Twiller of the Dutch West India Company purchased the land from the Lenape, while he used it for personal use, the Dutch government forcefully took the island away a year later.
By 1664, when British colonization took place and renamed New Amsterdam to New York, they took over the island and the city. Within a decade of this, New York and the island would switch back and forth between British and Dutch occupation/rulership.
In 1669, under the British, the Island was renamed to Governors Island from the original translated meaning of Nut Island by the Lenape people.
During the American Revolution, in June 1775, the British were forced out of occupying the land and fled to Canada before trying to attempt to take over the city including Governors Island.
During this time, the continental forces made their fortifications on Governors Island to help thwart attacks by the British Navy. However, during the infamous Battle of Brooklyn, or the Battle of Long Island as some refer to, the British Army beat General George Washington and his troops forcing them to leave Long Island and Governors Island and the British occupied both as their headquarters for the rest of the Revolution until the end of the Revolutionary War in 1783.
After this, Governors Island was used for coastal defense and military use.
Fast forward to the American Civil War in 1861-1865, Governors Island was still in use by the military and rather than use for defense, the island was used for barracks for Union soldiers as well as a Confederate prison in both Fort Jay and Castle Williams.
After the Civil War, in the 1870s, in a campaign to attract men into joining the Army as career choice, the U.S. Army built the gorgeous and large homes of Colonels Row and Nolan Park to entice men into joining as many believed that this wasn't a viable career choice because of low pay, poor housing, and not much room for growth not to mention risk.
By the 20th century, the island started to see some changes during city-wide excavation. The south side of the Island was filled increasing the size by 69 acres.
During World War I, the first act of the war on the United States side of armed services, the men stationed on Governors Island sized all cruise ships and ship terminals in the Hudson River that were German-owned before used to send a majority of the 2 million soldiers from the US to France to fight in the war.
The Island would also be used as a crucial headquarters for the U.S. military through World War II as well including the initial planning efforts for D Day in Normandy in 1944.
Fast forward to the 1960s, the U.S. Army developed more building more barracks and housing on the island before they left and it became a U.S. Coast Guard post in 1966 and would remain until 1996 when an end of the military use of the Island would ensue.
The same year the rest of the Island would join the southern area of the Island which was designated as a National Historic District in 1985.
President Bill Clinton in 2001 designated the area around Fort Jay and Castle Williams as a national monument which is looked after by the National Parks Service before opening up for public use in 2003.
How to Get to Governors Island & Useful Information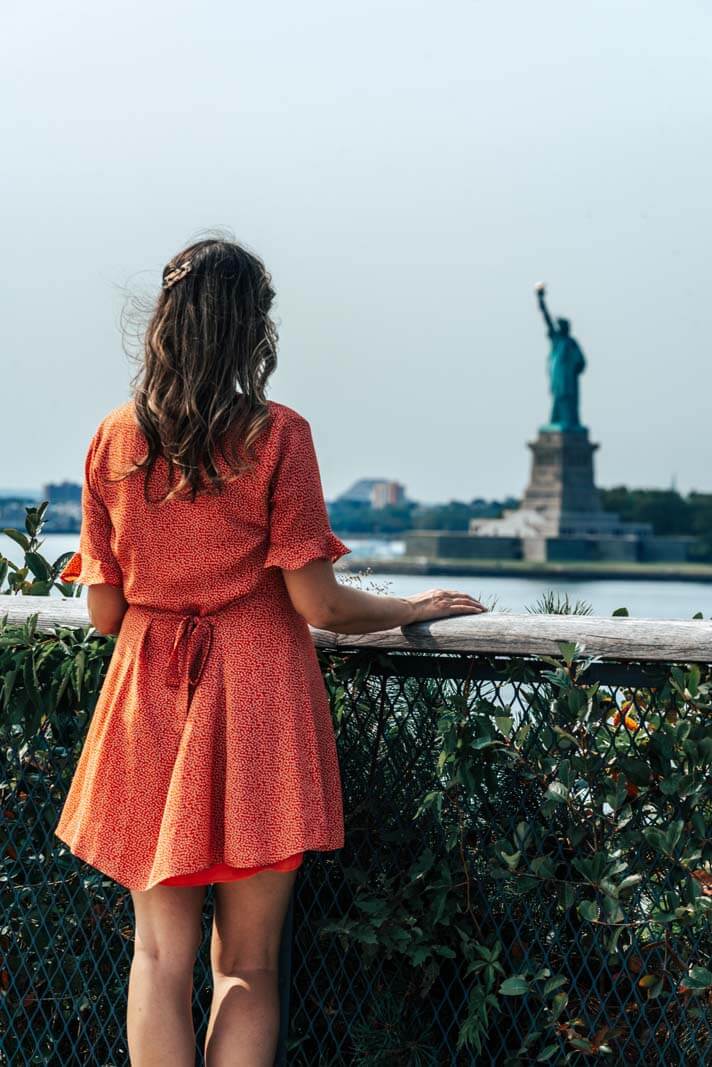 You can visit Governors Island now ALL YEAR LONG! This is exciting because, before 2021, you could only visit during the warmer month seasons, typically the season for visitation is May 1 through October 31. So, yay!
Getting to Governors Island: the Ferry to Governors Island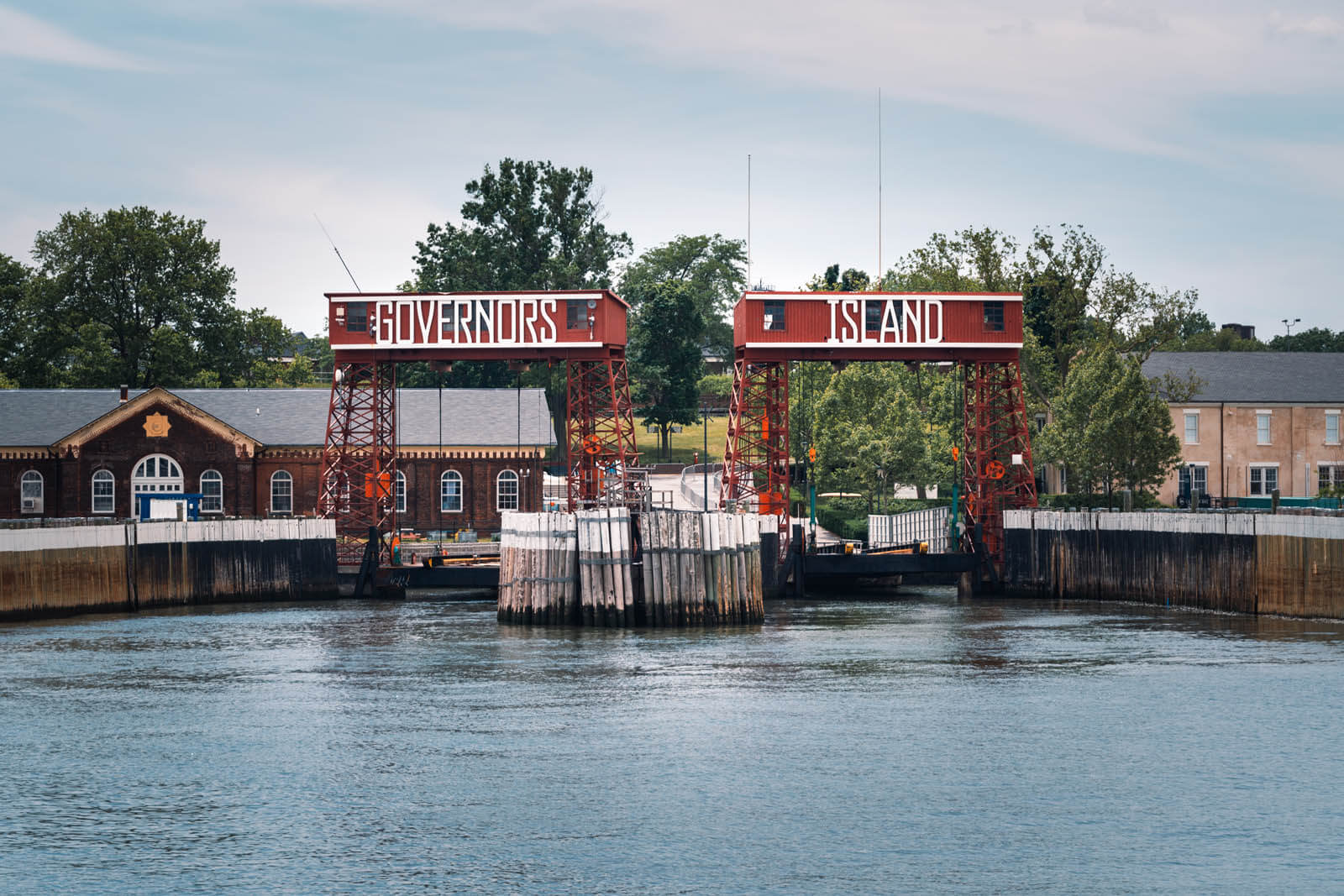 You might be wondering how to get to Governors Island, which couldn't actually be easier. There is a ferry service that connects Governors Island to Manhattan and Brooklyn along with the regular NYC Water Taxi that services the island.
To get to Governors Island by the Governors Island Ferry, the main departing point is the ferry in Lower Manhattan at The Battery Maritime Building (BMB Terminal) at 10 South Street.
The Governors Island ferry departs from two spots in Brooklyn on weekends only The Brooklyn ferries include Red Hook/Atlantic Basin Terminal at the intersection of Pioneer & Conover Streets and the Pier 6 Ferry in Brooklyn Bridge Park in Brooklyn Heights.
Another option is to take the South Brooklyn Ferry Route on the NYC Ferry, another arm of public transportation in the city in addition to the subway and metro bus. This is a convenient option that connects more areas of the city as far as Bay Ridge in Brooklyn to Dumbo stopping at Governors Island. You can buy tickets for the NYC ferry using their app.
The official Governors Island ferries (The Battery Maritime Building in Lower Manhattan, Pier 6 at Brooklyn Bridge Park, and Red Hook Atlantic Basin Terminal) run approximately every 20 minutes. As of 2023, the Lower Manhattan ferry terminal runs ferries daily and the Brooklyn ferries only operate on the weekends.
The ferry ride is quick, less than 10 minutes from Lower Manhattan, and around the same if not less from the Brooklyn terminals. Most of the journey is spent leaving and parking at the terminals.
You can bring your own bike, however, you have to make sure you select that ticket option when you purchase your tickets even though currently there is no extra charge for this, there is limited space so you need to reserve your spot for a stroller/bicycle!
You will want to check timetables and even book your tickets in advance on the ferry website.
You will need to arrive at your departing ferry at least 15-30 minutes prior to departure to get in line and make sure you make your ferry. The ferry closes boarding 5 minutes before the scheduled departure time.
Tickets are $4 and passengers can go for FREE on Saturdays and Sundays before noon! And all ferries are accessible friendly. You'll need to have tickets purchased before you board the ferry. You can buy them online in advance (which is recommended during peak times like the summer weekends) or you can buy tickets at the terminal in person at the kiosks.
Because of how affordable getting to Governor's Island is, this is one of our favorite cheap things to do in Brooklyn!
Food & Drink on Governors Island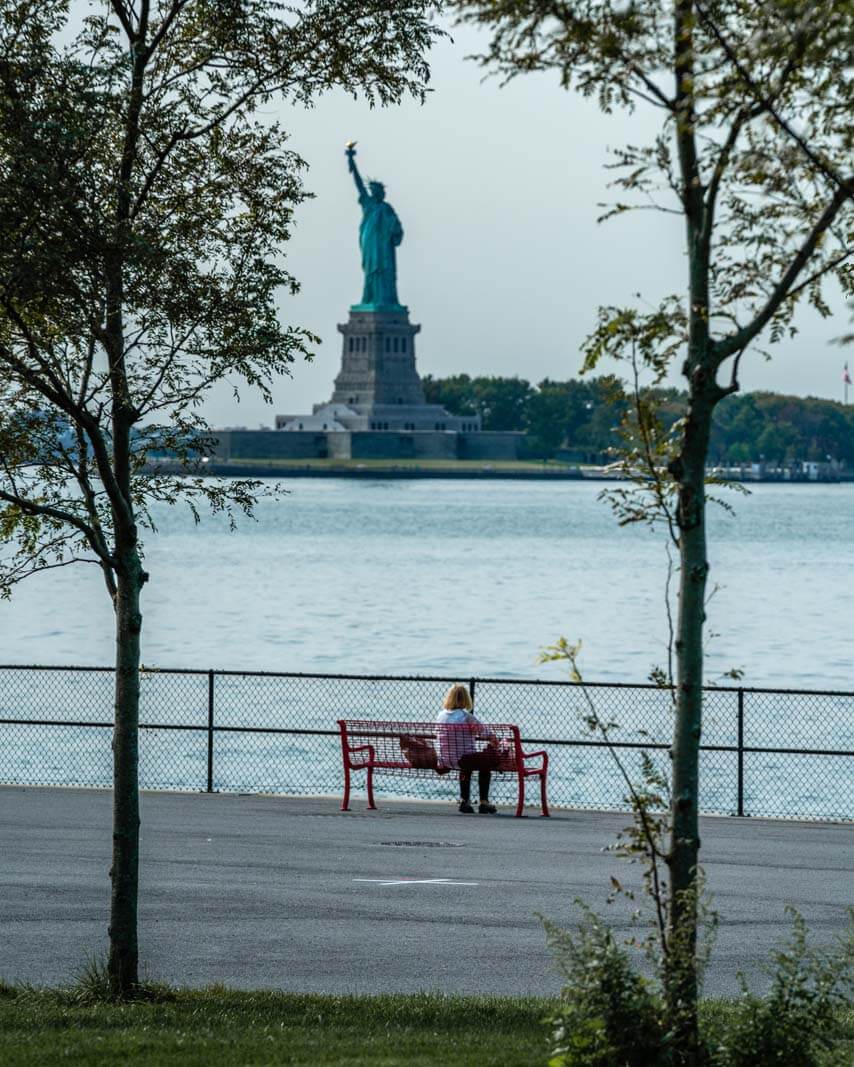 While you can totally bring your own picnic, there are SEVERAL amazing picnic spots on Governors Island, we recommend also taking a glance at all the amazing food options available once you're here while enjoying all the best things to do on Governors Island!
At Soisson's Landing, where the ferry arrives and departs from, you can find the waterfront Island Oyster restaurant that was nominated for a James Beard Foundation award in 2019, serving summer cuisine, tropical drinks, and offering stunning views! Closed Mondays-Wednesdays
Another option here that's open daily is Taco Vista with more waterfront views and a great menu full of tacos, beer, margaritas, and more.
Don't miss Gitano Island at Pershing Hall just a few steps away from Soisson's Landing. Gitano, which has a locations in Tulum, Mexico and hot spots like Miami, brings the flavors and jungle vibes of Tulum here to NYC. This gorgeous Mexican eatery is the perfect day club in the summer with outdoor lounge chairs and seating.
The food is also fantastic which is perfect for grabbing a meal and hanging out under the jungle disco ball or a spot to grab a cocktail before exploring the rest of the best things to do on Governors Island!
At Liggett Terrace inland on Governors Island, you can find a few more great options:
Joe Coffee is an NYC staple with its original location being in Greenwich Village, they have a small stand here available serving up quality cups of coffee and drinks plus small light baked goods. Open Fridays – Sundays.
Tokyo Drumstick offers East Asian options, Little Eva's grills up burgers and fish, and Fauzia's Heaven Delights offers Jamaican fusion cuisine like jerk chicken.
Makina Cafe offers Ethiopian cuisine on Governors Island run by the first Eritrean-American female entrepreneur in NYC. They offer healthy dishes with a vegan and vegetarian-friendly menu. Weekends only
Three's Brewing & The Meat Hook paired together to bring you a little beer garden right here on Governors island along with bites from the popular butcher shop. Threes Brewing is one of the best breweries in Brooklyn and you can enjoy the flavors right here including a specialty beer only available at Governors Island! Open Friday – Sunday
There are a few more dining options on Governors Island in Colonel's Row including:
Pizza Yard serves up PIZZA for anyone craving a NY classic! Enjoy their gourmet Neapolitan and Roman-style wood-fired pizzas. Open Thursday – Sunday Plus a classic Carvel Ice Cream Truck!
There are a few more options at the Western Promenade of Governors Island, aka the scenic part of the island that faces the Statue of Liberty to choose from:
Sea Biscuit serves up the same style of cuisine as Little Eva's and they are an outpost of the original restaurant serving up shareable plates along with cocktails and killer views. Open weekends only
Three Peaks Lodge is a part of the Governors Island Collective Retreat luxury camping property with some of the most majestic views of the Statue of Liberty and Lower Manhattan. You can find lovely seasonal dishes, cocktails. and even brunch on the weekends. We recommend making a reservation during popular times like sunset/weekends. Open Daily during summer season.
Check out Carreau Club on King Avenue for craft beer, cocktails, and sandwiches while you play a game of the French boules sport pétanque on King Avenue. We love their Brooklyn location in Industry City!
Governors Island Events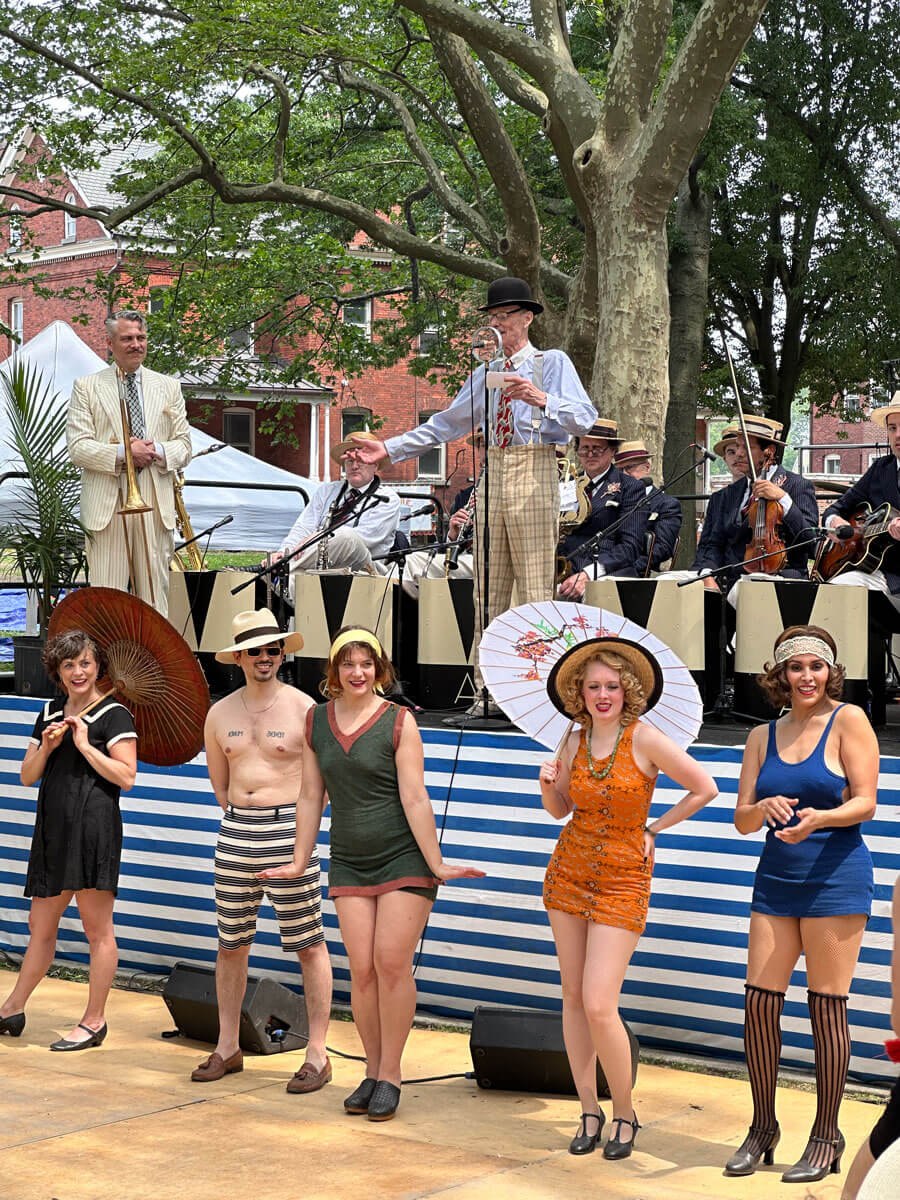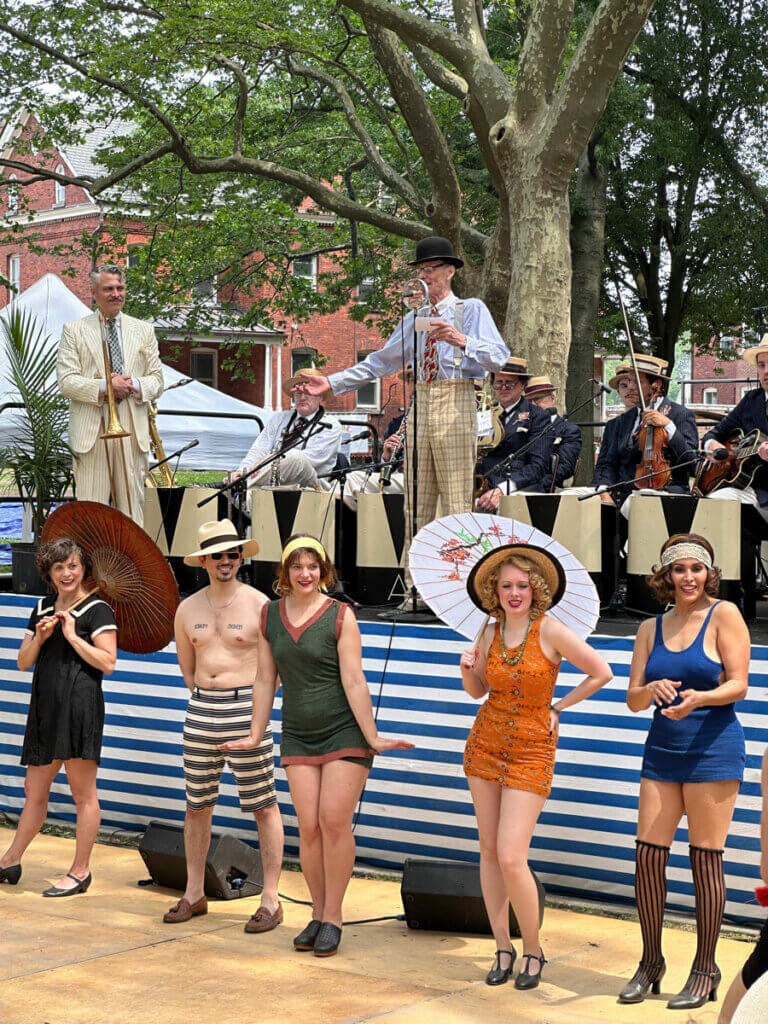 Some of the best ideas for what to do at Governors Island include checking out to see if there are any upcoming events during your visit. Each year, some of the best things to do at Governors Island are enjoy the summer of events that take place on the island!
My personal favorite event that takes place here is the Jazz Age Lawn Party in June and August! This 1920s-themed party is a ticketed event and REALLY fun. You'll want to wear your 1920s best and join for a full day of fun from live jazz music performances, dancing contests, and my favorite was the bathing beauties contest!
In the fall, Governors Island offers festive fun with pumpkins, art markets, and other fun activities.
In the winter, you can enjoy the Winter Village at Governors Island as well as ice skating, sledding, and warming up next to fire pits.
You can find the current events here.
Bike Rentals on Governors Island
While getting around to all the best things to do on Governors Island can be done on foot easily, many opt to get around quicker by bicycle.
There are a few options for bicycles on Governors Island, you can bring your own across on the ferry, use the 3 Citibike stations on Governors Island, or rent bicycles and surrey's from Blazing Saddles.
You can find Blazing Saddles bicycle and surrey rentals that are fun for the whole family or groups of people between Castle Williams and Colonels Row, just a few minutes walk from the ferry terminal when you get dropped off. Choose from beach cruisers, road bikes, scooters, tandem bikes, and pedal cars that sit a few people.
There is actually a free rental program that Blazing Saddles offers on weekdays, you can get a free one hour rental on the beach cruiser bicycle between the hours of 10 am to noon. You will have to contact them at least a week in advance to secure your free 1-hour bicycle rental!
Another great option is using the Citibike stations around the island. If you already have the app this is really convenient and you can either buy a single ride or a day pass. The only annoying part about Citibike is you need to re-dock your bike every 30 minutes or they start charging you extra.
There are 3 docking stations on the island including one right at the ferry terminal, we didn't really like riding around on a timer and having to get back to a docking station, so we recommend perhaps getting a rental to get a lay of the land checking out all the best Governors Island points of interest then one you redock you can do the rest of the island by foot!
Best Things to do on Governors Island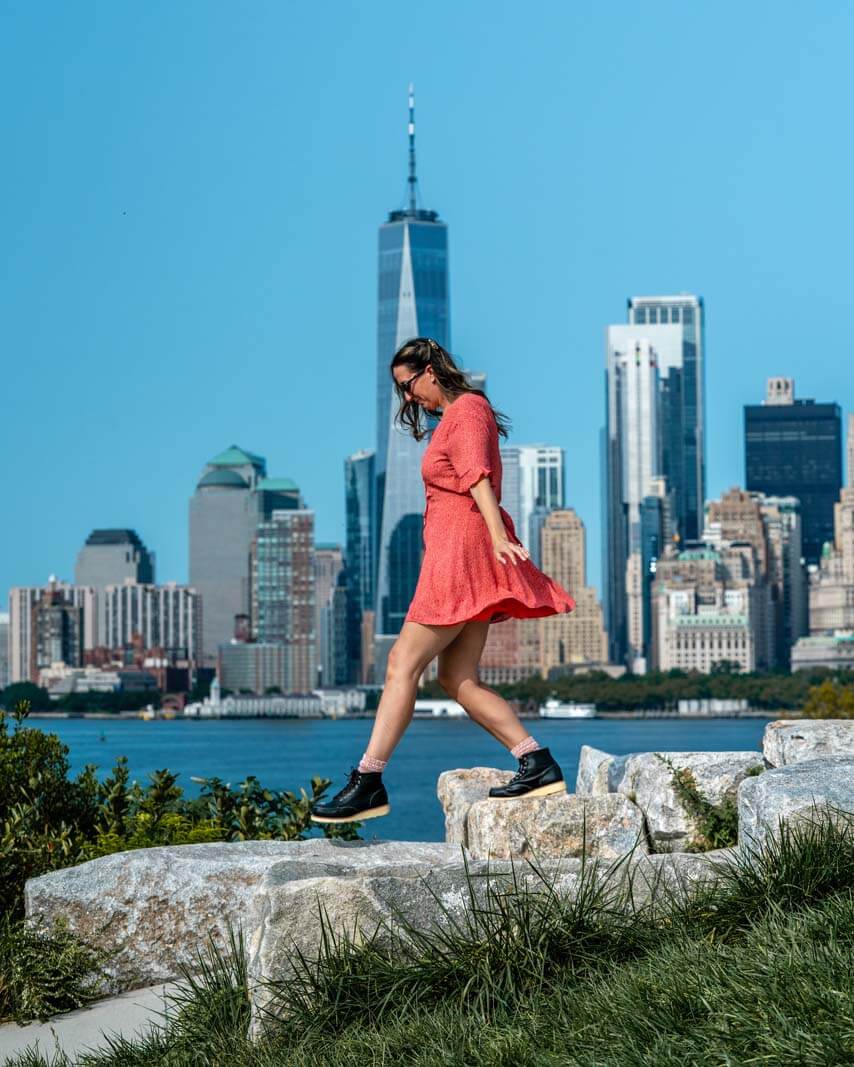 It's good to check out all the best Governors Island points of interest and best things to do at Governors Island before your visit so you can plan how much time to spend on the island. From art installations, walks/short hikes, eating out or picnicking to name a few, there are many things to check out while you're here!
Walk Through Liggett Terrace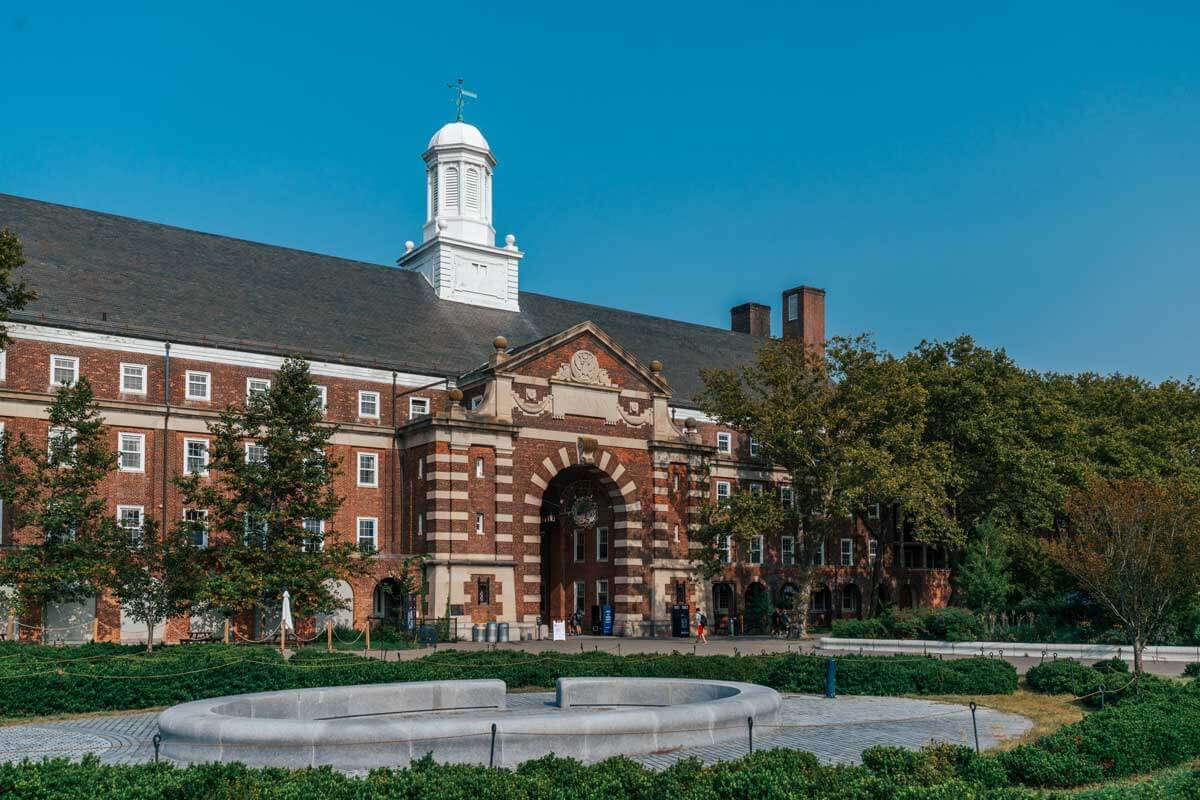 One of the island's historic spots and best things to do at Governors Island is visit Liggett Terrace, the shite of Ligget Hall a former 4.5 story barrack building home to more art installations, food trucks, and areas to picnic and photograph.
The current art installation that draws visitors as a Governors Island point of interest is Never Comes Tomorrow by artist by Jacob Hashimoto, and overhead art installation as you walk through the Liggett Hall archway.
Governors Island Artist Residency
One of the best things to check out and what to do at Governors Island is explore the art scene. Each year, Governors Island brings new artists in on their Island Artist Residency program. The artist live and work on the island in the former military housing on the island including homes in Colonel's Row and Nolan Park.
Some of these are open to the public to visit, be sure to check out their current artists in residency and what you can visit during your time exploring all the best things to at Governors Island.
Explore Colonels Row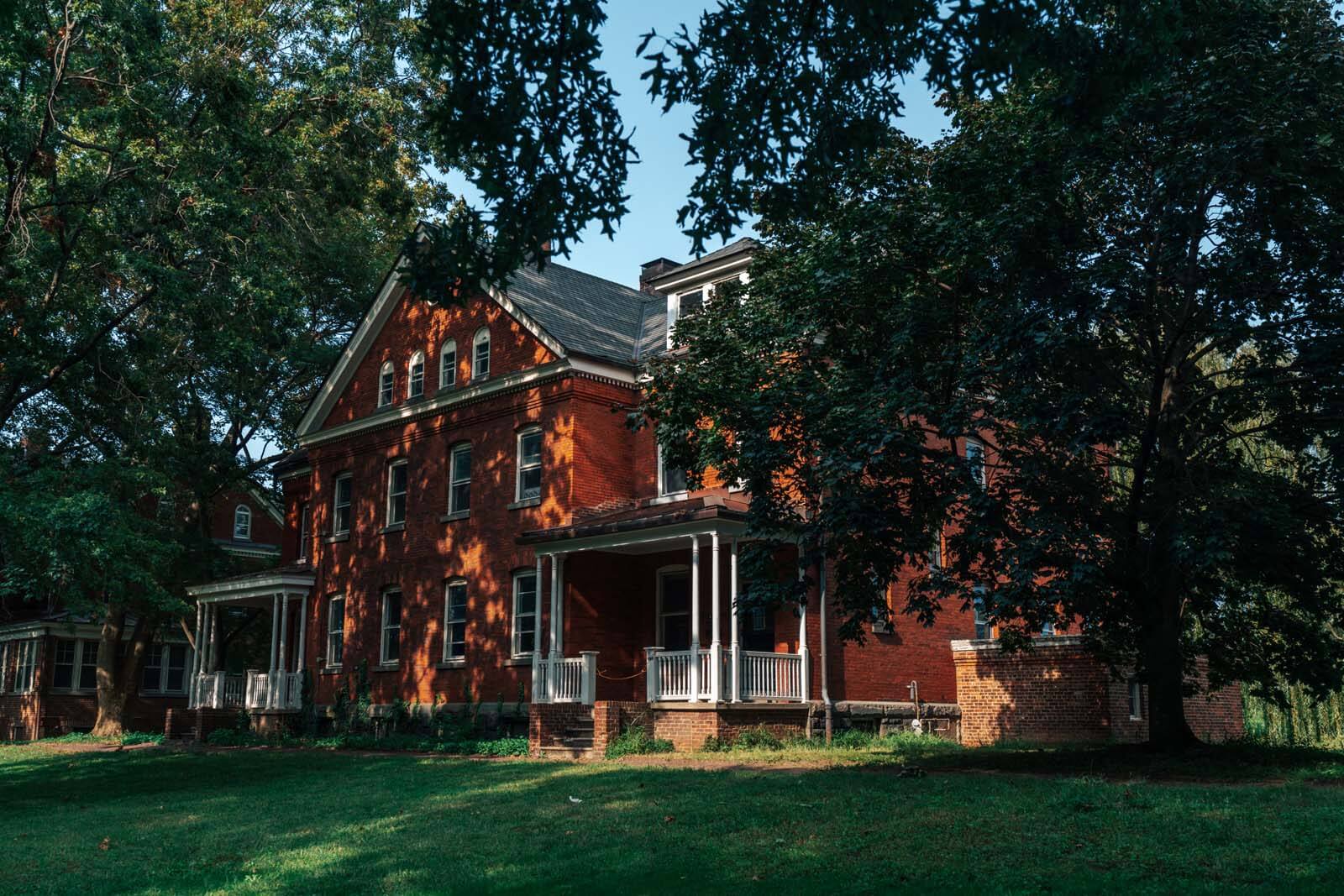 One of the most interesting areas to explore and Governors Island points of interest is the historic Colonels Row. This is a group of 8 historic brick houses that were built by the United States Army between 1893-1917.
This area was also known as Regimental Row and Brick Row and was where some of the highest ranking officers on the island lived.
At the time these gorgeous brick homes were built, joining the Army wasn't one of the most desirable career choices of that time due to the poor housing, low pay, and risk. At the turn of the century, the Army wanted to attract more people and entice people to want to raise in ranks with these big, beautiful homes as a way to entice people to see where they could go in the Army.
You can also find a few of the food options on the island over here!
Nolan Park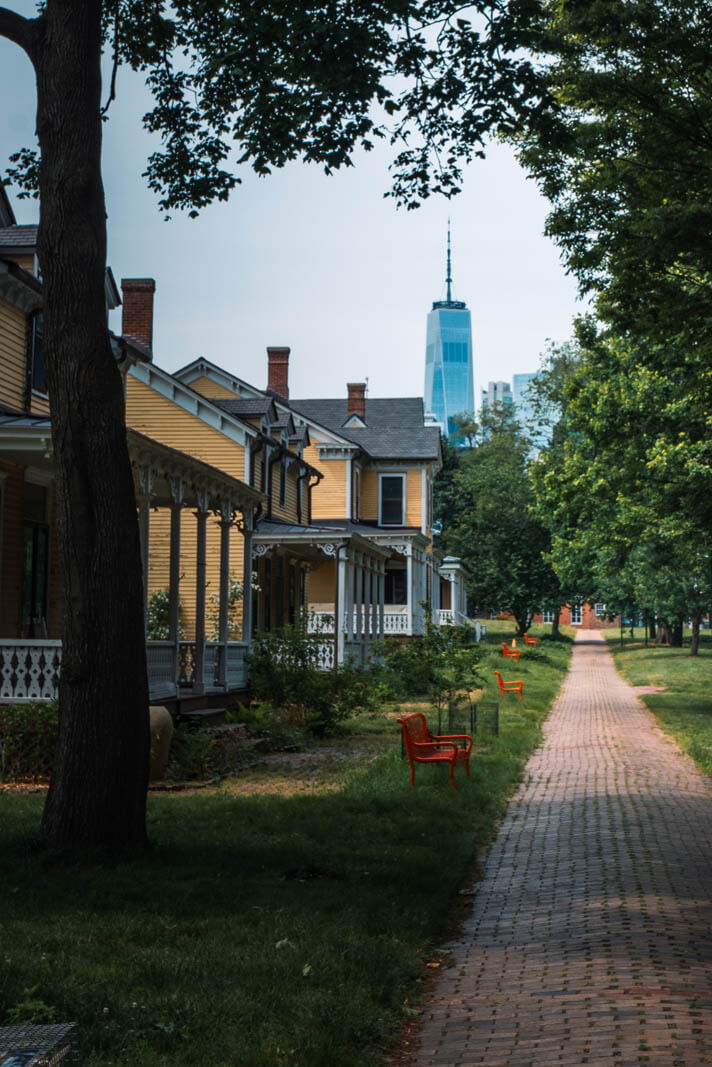 Another historic Governors Island point of interest and one of our favorite areas to explore was Nolan Park, where you can find the pretty rows of yellow houses from the 19th century used for housing for the military officers.
Here you can find 14 beautiful yellow homes with a pretty wooded area with trees that are over 100 years old that feels like its own small community, park, and their very own chapel.
This is where many of the artists who are in residency here stay and some of installations you can visit inside. You can find the current exhibits here.
Fort Jay
One of the best things to do at Governors Island if you're a history buff or interested in military history is visit Fort Jay. This fort is in the shape of a star and is the oldest existing defensive structure on the island making it one of the most fascinating Governors Island points of interest to discover.
Named after the founding member of the Federalist Party and Founding Father, John Jay, this star-shaped fort was built in 1794 to defend the New York Bay.
Formerly known as Nutten Island, this site was crucial in the American Revolution when defending NYC and eventually was taken over by the British during the war. It wasn't until a decade after the British occupation until the foundations of the current structure we see today were built on this historic site.
Between this site and Castle Williams, they make up Governors Island National Monument, one of the historic national parks in New York City.
Castle Williams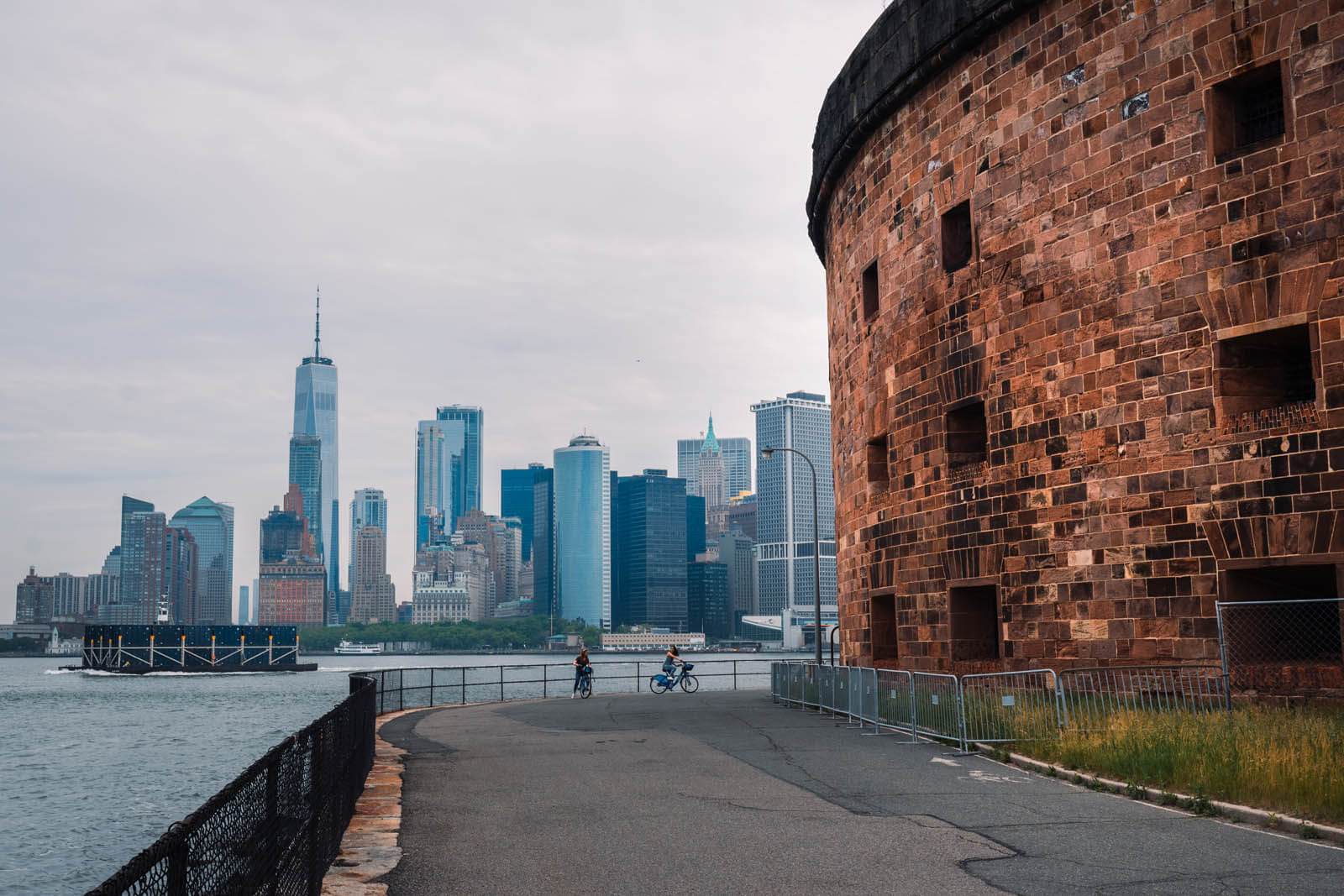 Another historic Governors Island point of interest that makes up Governors Island National Monument along with Fort Jay is Castle Williams.
Castle Williams is another fortification on the island used to protect New York Harbor against a naval attack. This fort is in a circular shape and made of red sandstone.
Built between 1807 – 1811, Castle Williams is one of the oldest structures on the island and was one of many in a series of forts that were designed to protect New York Harbor.
After being used as a prison, in 1996 when the Coast Guard arrived to Governors Island they considered destroying the castle. Instead, they ended up using the existing structure as a community center, meeting space, museum, nursery, and art studio space. The structure was also in use and has a history during the Civil War.
Be sure to check out our guide to all the most enchanting castles in New York!
Personally, I love the little lawn here next to Castle Williams as it offers a great view of Lower Manhattan and the World Trade Center. It's one of our picks for best picnic spots in NYC thanks to this stunning view!
The May Room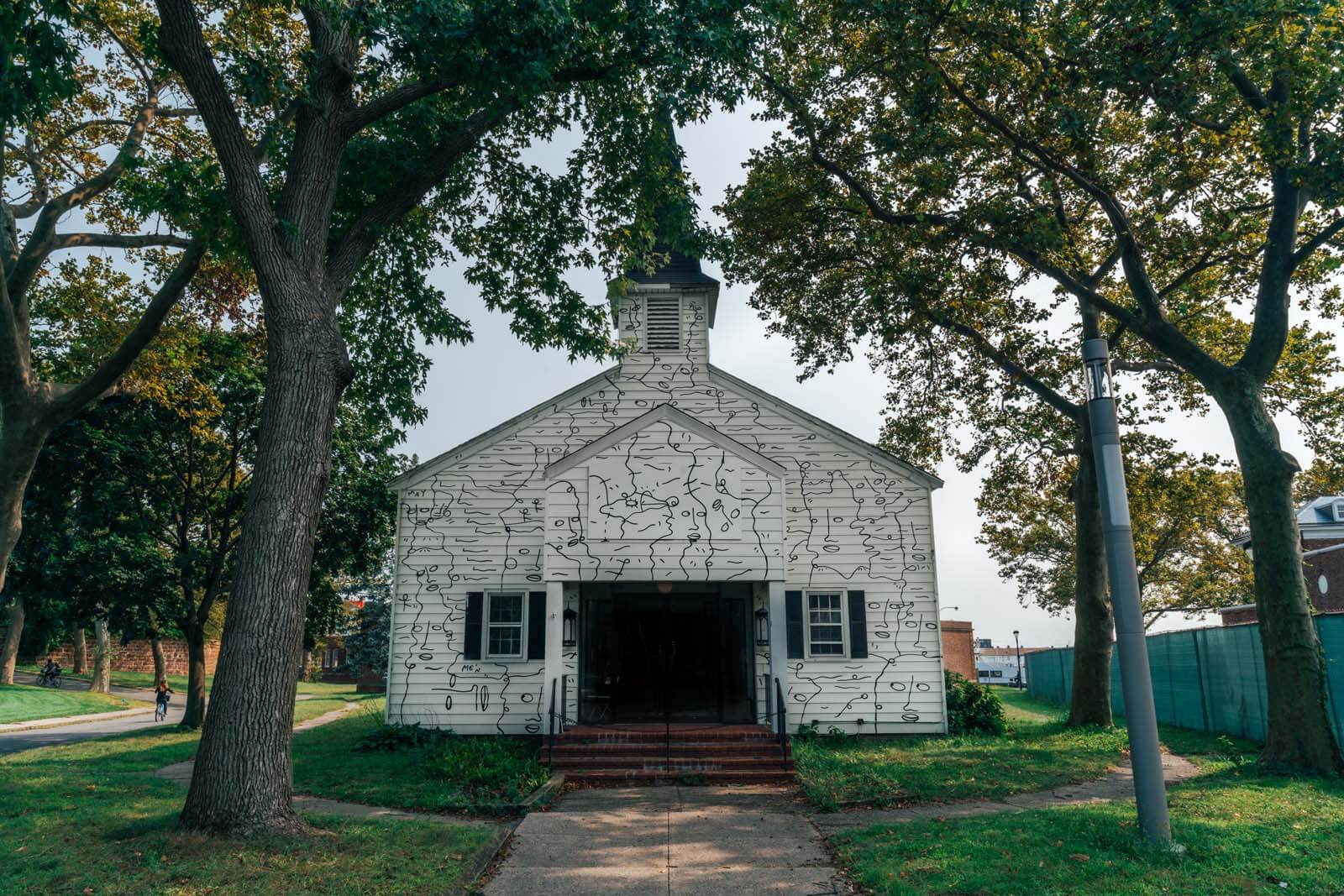 One of the best things to do at Governors Island is explore the different art installations in the former military community buildings. One not to be missed is The May Room by artist Shantell Martin in and on the outside of the Our Lady Star of the Sea chapel building.
This Governors Island point of interest is both an indoor and outdoor attraction. Artist, Martin decorated the exterior of the 1942 Catholic chapel in her signature white and black drawings.
On the interior, there is another installation including custom furniture that are in the shape of the alphabet so you can spell out words and allow visitors to interact with this installation. Thanks to this project, the chapel's nave was restored and reopened to the public for the first time since 1996.
This chapel was opened during WWII and in use until 1996 until the U.S. Coast Guard stopped all operations on Governors Island. Left abandoned basically since 1996, this is the first use of the building since.
Relax at Hammock Grove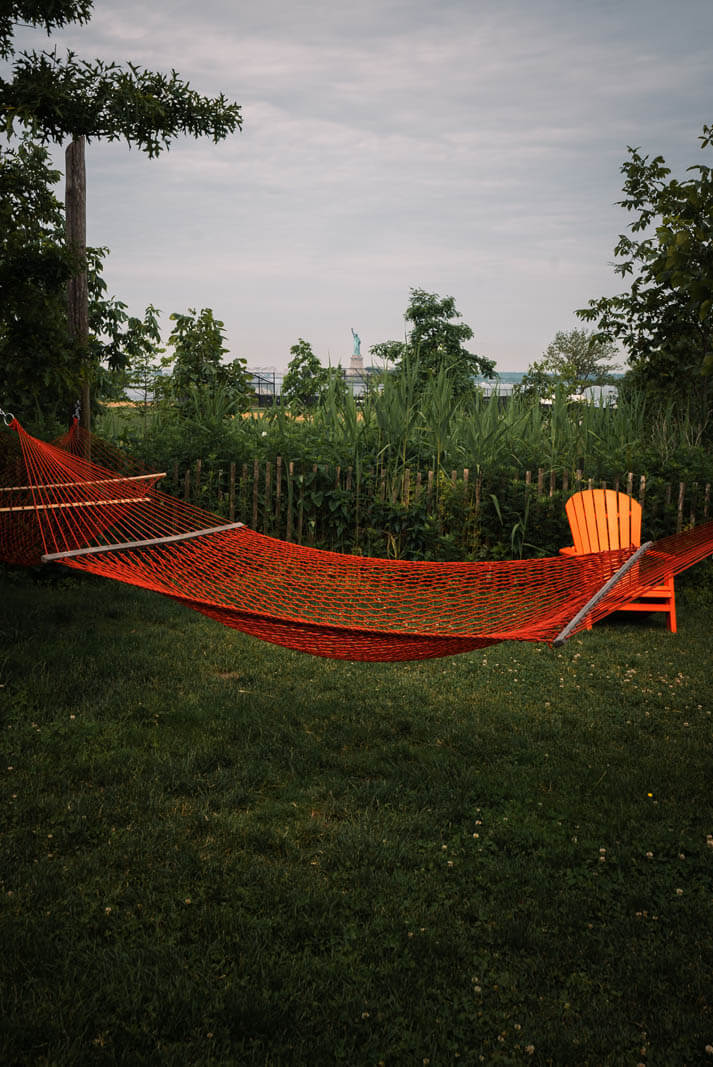 One of the best things to do at Governors Island if you want to relax is head to Hammock Grove where you can find the field with views of the Statue of Liberty and the NYC city skyline from one of the many red hammocks here.
This is a great post picnic or lunch spot. Bring a book and enjoy one of the most serene points of interest on Governors Island!
Also, walk along the pathways around the hammocks and you might even catch a glimpse to the resident sheep who graze the little fenced-in meadows in the area!
The Hills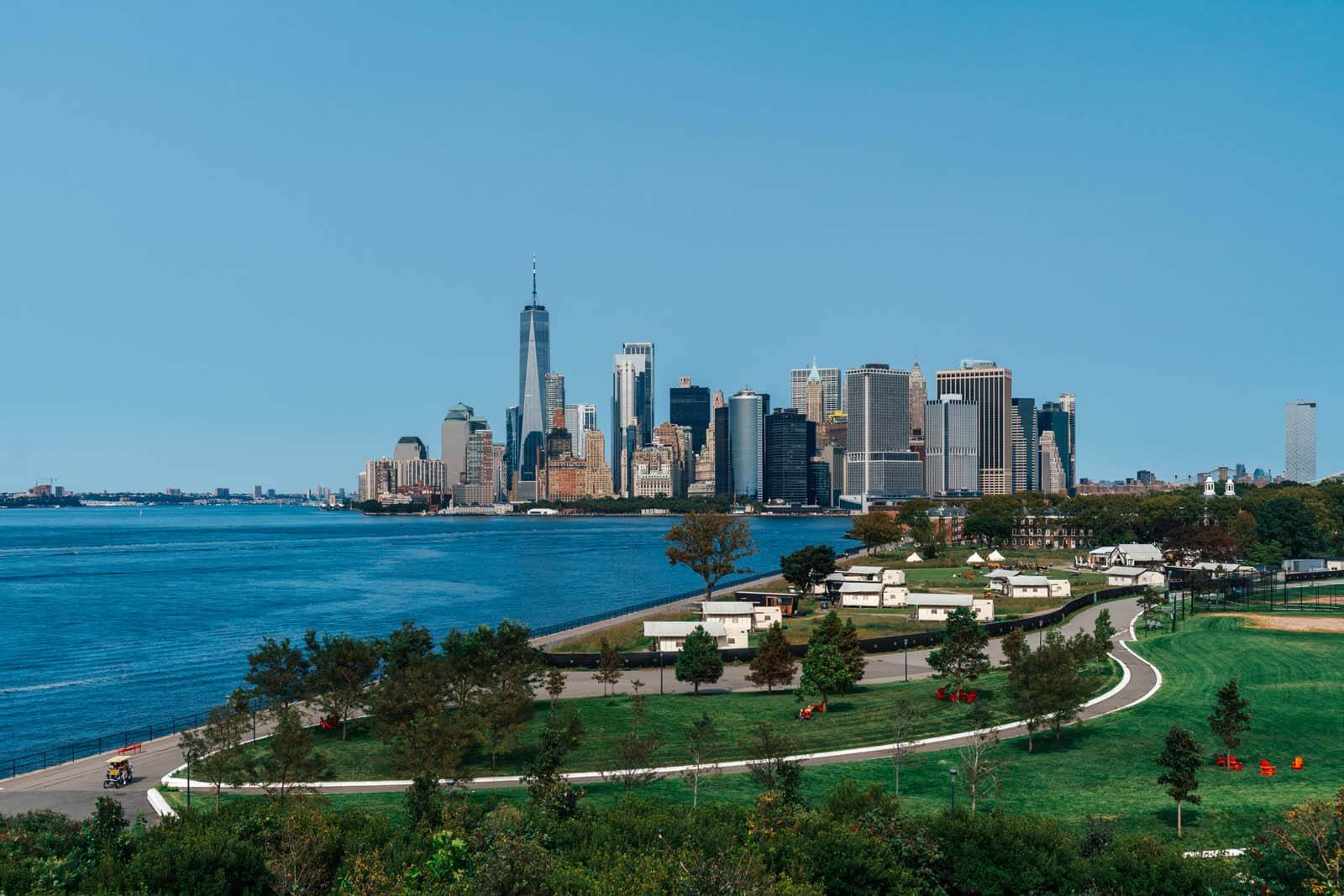 If you want to take in unforgettable unobstructed views of the Statue of Liberty and amazing views of Lower Manhattan's skyline visiting The Hills section is what to do at Governors Island for you.
The Hills also serve as a type of installation on the island through landscape architecture. The highest point is 70 feet above sea level and where you can get the best views.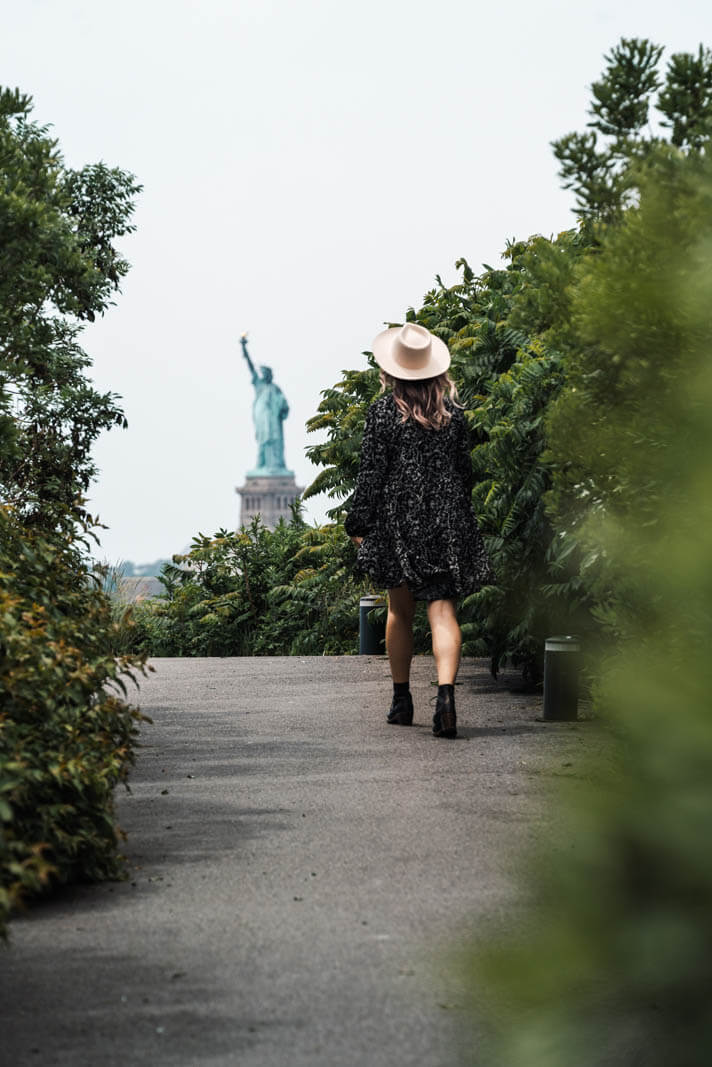 Hike up the snaking path or cut right up using the rocks that can be used as a natural staircase to the top for unbeatable views of the New York Harbor, skyline, and Lady Liberty.
Don't miss the views from the pathway though, change your angle or route you take up and down because each area offers different vantage points!
Slide Hill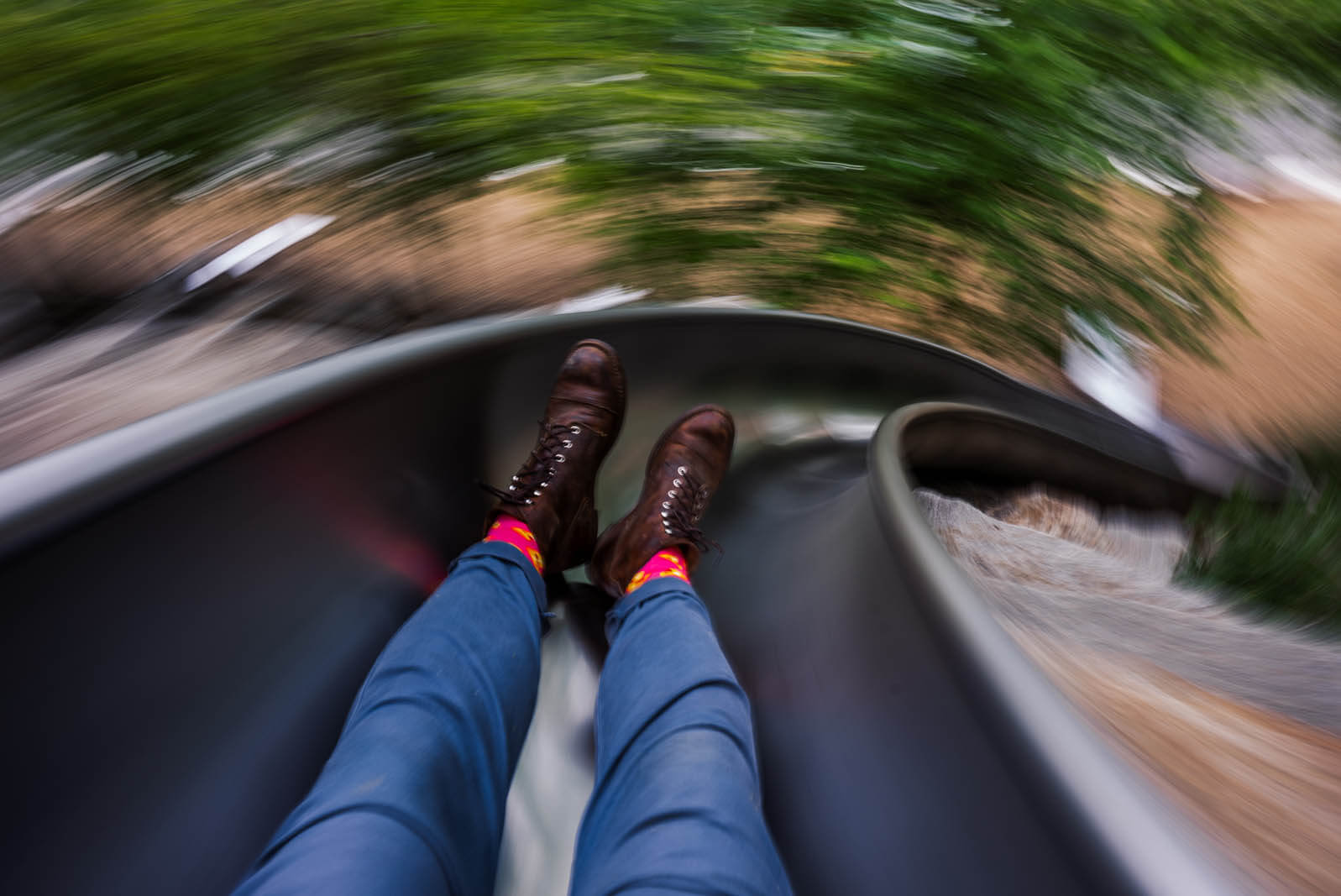 One of the best things to do at Governors Island nearby the Hills is find Slide Hill!! There are four different slides built into the back of the hill ranging in size and are fun for all ages, seriously we are in our mid-30s and enjoyed the action!
Climb up the stone steps and head down the slide, the longest slide, which is the longest slide in NYC is 57 feet long!
Bike Around the Island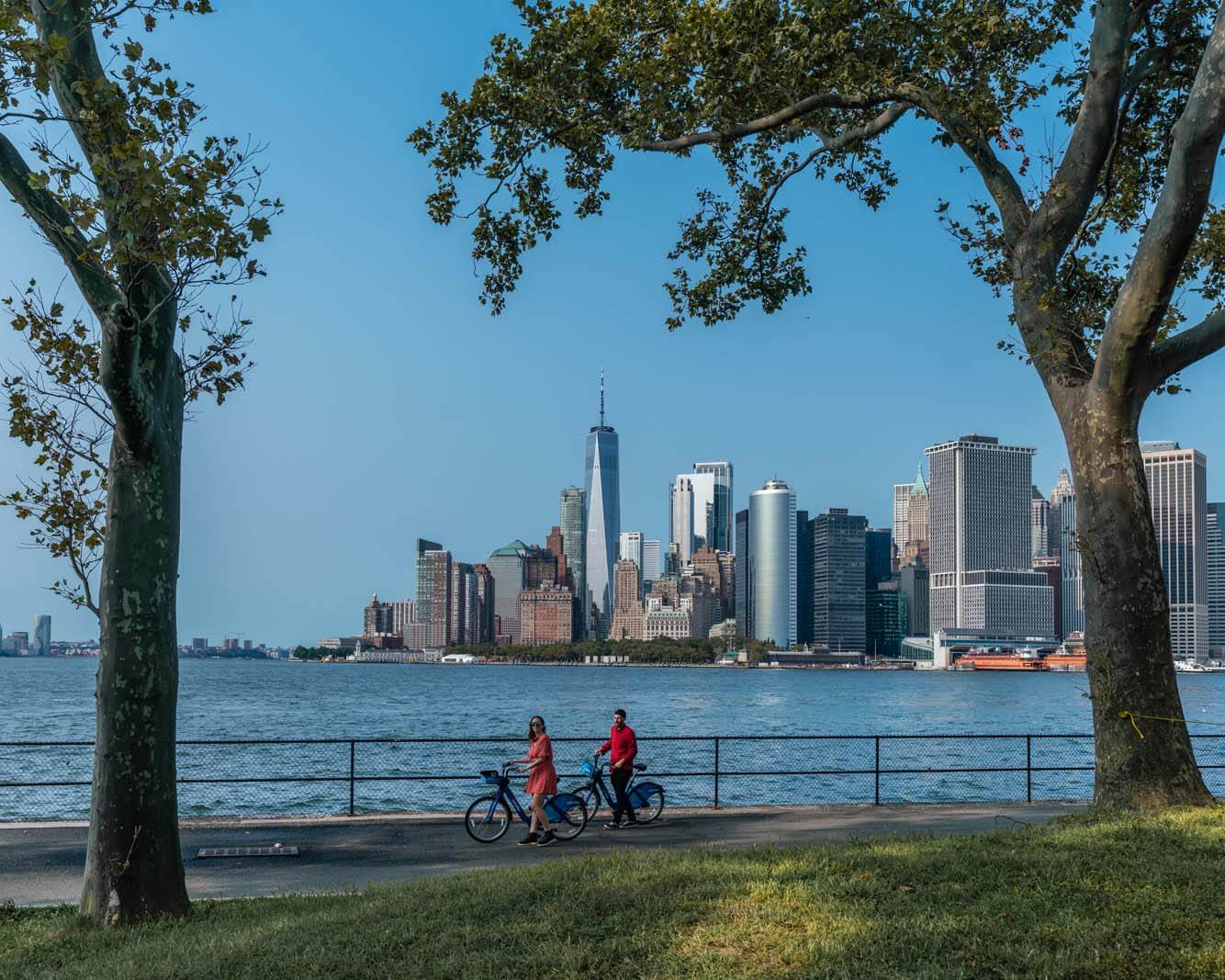 Undoubtedly one of the best things to do at Governors Island is to explore the island by bike! As mentioned earlier in this guide, you can bring your own bike across on the ferry or there are options for renting a bike for solo riders or for multiple riders or you can do short 30 minute rentals using the 3 different Citi Bike rental stations on the island.
The island doesn't take long to bike around, so if you're using the Citi Bikes be sure to time your stops around having to re-dock the bikes, one of my only gripes about Citibike, every 30 minutes or you will be charged extra, even if you do a day pass.
All the Governors Island points of interest are easily walkable, but there's something about riding a bike here and enjoying the views while pedaling that's nice too!
Enjoy a Picnic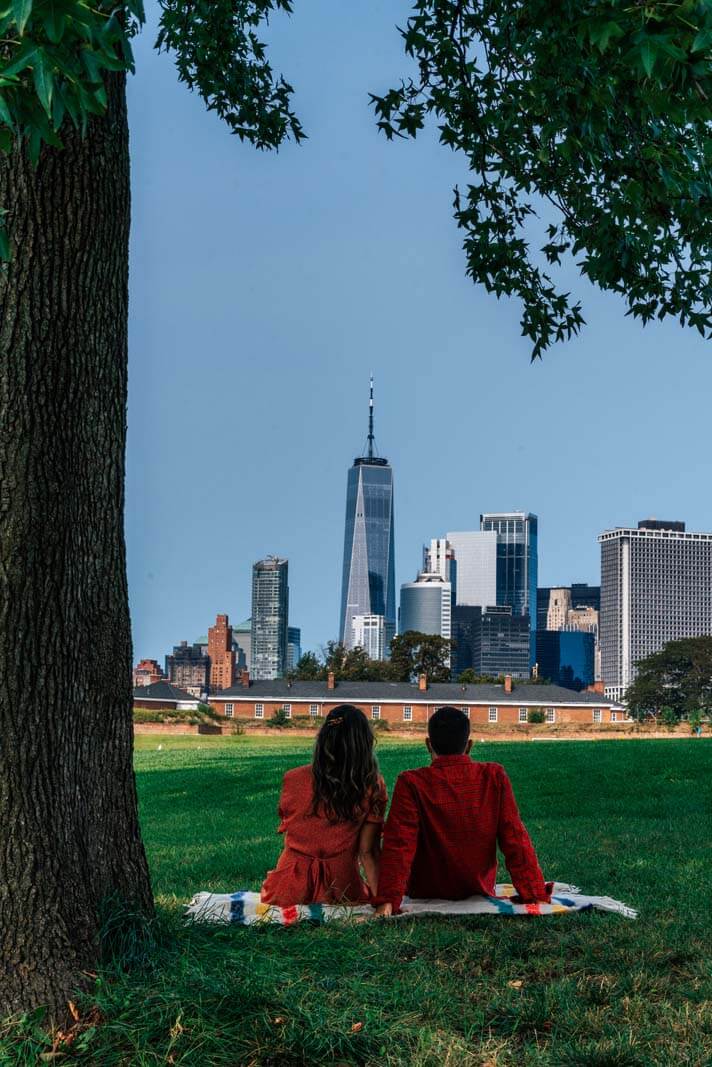 While there are tons of amazing food options on Governors Island, one of the best ideas for what to do is bring your own picnic and enjoy one of the many different quiet spots you can find on the grassy fields here with views for a picnic!
With lawns facing the World Trade Center and lower Manhattan by Fort Jay and Castle Williams to the large openings with views of the Statue of Liberty!
And you can always bring your own picnic blanket, buy food from one of the many vendors on the island and pop up pretty much anywhere for an amazing time!
This is also a great spot for a date! Be sure to read more of our favorite date ideas in NYC for more inspiration!
QCNY Spa Governors Island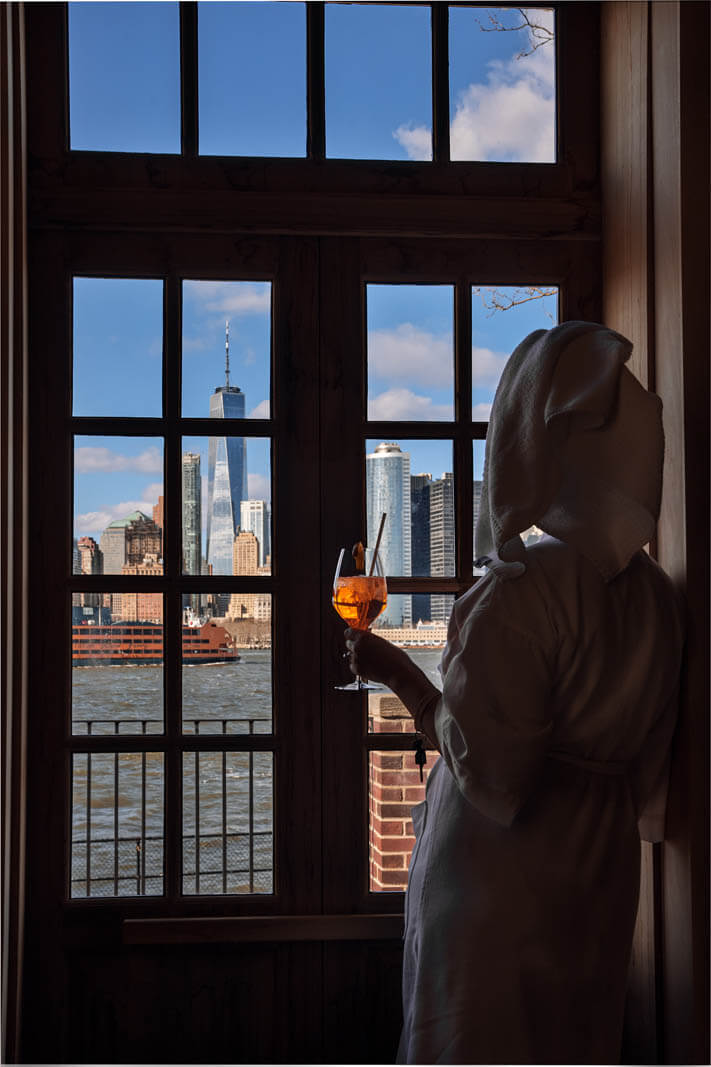 One of the most incredible things to do at Governors Island is enjoy a day at the spa. Located in former military barracks, this luxury spa is the perfect way to pamper yourself. Complete with several themed saunas, steam rooms, and relaxation rooms not to mention heated outdoor pools overlooking the Lower Manhattan skyline with a front-row view of the World Trade Center.
As a matter of fact, many of the relaxation rooms and themed saunas have views too! Some of the themes include a fall park sauna, skyline sauna, and an upside down relaxation room.
Some other features worth mentioning are the Vichy showers, foot baths, and complimentary snacks in the bistro area where you can also purchase food and beverage.
Because of how many places there are to relax here plus food and drink, it's easy to spend an entire day at the spa. If you do plan on doing this, be sure to bring a book (if you don't have one be sure to hit up one of the many independent bookshops in NYC on your way).
You'll want to reserve a time in advance so when you arrive, you can just sit back and enjoy your much-deserved relaxation break.
Stay overnight Glamping in Style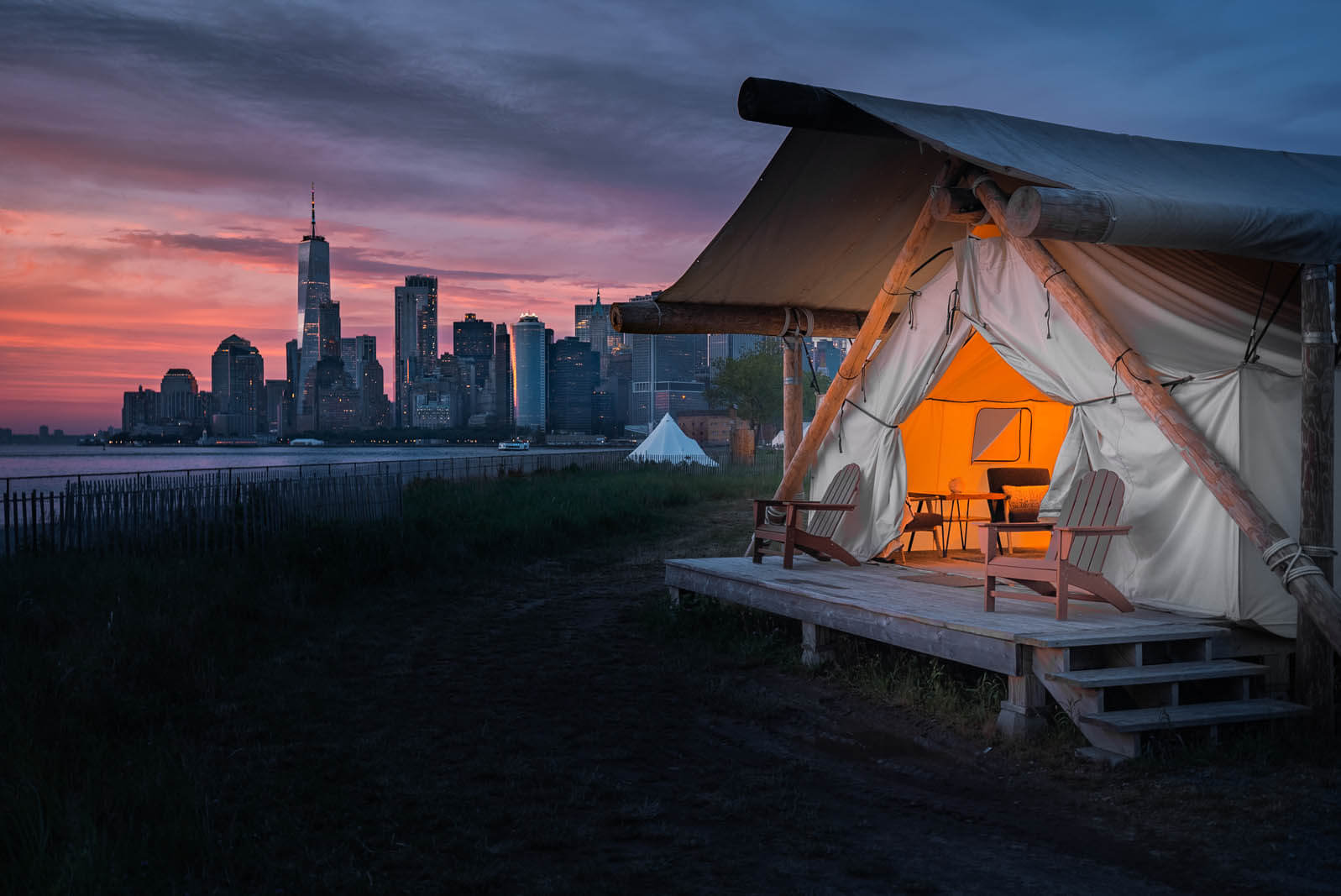 One of the best ways to experience all the best things to do at Governors Island is by actually staying the night! Collective Retreats has a luxury glamping at Governors Island experience here that you will want to check out before planning your visit!
Imagine waking up in your luxury glamping tent with views of the Statue of Liberty or the World Trade Center.
This island retreat crossed with luxury camping in on Governors Island is a wonderfully unique escape that feels secluded and is quiet even though you're in the city and one of the best NYC hotels with a view the city has to offer!
There are three types of accommodation, which all include an in-tent continental breakfast, air conditioning, designer furnishings, and full electricity.
The Outlook Shelter is top of the range, an elegant wooden structure with a private terrace, private en-suite windowed bathroom with a soaking tub opening onto another private terrace with views onto the Statue of Liberty. The King bed sleeps two people and an additional Double can be requested for a surcharge to sleep four in total.
The luxurious Summit Tents boast private waterfront decks with island views and come complete with a personal in-suite bathroom. The rustic tents sleep two with an option of a King or Double Twin beds, a rollaway bed is available for a surcharge.
Journey Tents invite you into a chic communal setting with modern luxuries. The attended shared bathroom is cleaned after each use and within the tents there are Queen or Double Twin beds.
Being a guest here means you have access to a water taxi that can bring you back and forth to the city, both Manhattan and Brooklyn if you wish to do some sightseeing. However, you might be tempted to just stay on the island during your stay since there's so many amazing Governors Island points of interest to check out.
In the evening, you can hang out and make s'mores by the fire, enjoy the unbelievable city views, and we highly recommend doing dinner at least once at the restaurant on-site!
Also, you don't have to stay here to enjoy the views and property, you can make a reservation at their restaurant at the Three Peaks Lodge! Book Now at: Booking.com |  Hotels.com | Expedia.com
Have a Heyday at The Yard
Calling all kids! One of the best things to do at Governors Island with kids is check out The Yard, a free adventure playground for kids!
What's even better is that this place is only for kids! With the exception of playworkers, only kids are allowed in the area! This is a hands-on, adventure area where kids can play, build, or destroy loose materials provided here.
There are actually two areas of The Yard, there is an area parents are allowed to accompany kids under 5 years old, but the kids between the ages fo 5 and 19 are free to roam the hands on area and enjoy exploring with the tools and materials available here.
To prepare, you'll have to sign an online waiver and make sure your kids arrive with closed toe shoes for safety.
---
Top Things to do at Governors Island (Post Summary):
Walk Through Liggett Terrace
Governors Island Artist Residency
Explore Colonel's Row
Nolan Park
Fort Jay
Castle Williams
The May Room
Relax at Hammock Grove
The Hills
Slide Hill
Bike Around the Island
Enjoy a Picnic
QCNY Spa
Stay Overnight Glamping in Style
Have a Heyday at the Yard
---
Is Governors Island worth visiting?
Yes, Governors Island is worth visiting for its stunning views of the Manhattan skyline, historic sites, recreational activities, public art installations, and unique events and programming throughout the year!
How long does it take to visit Governors Island?
You can take as little as a few hours to an entire day to visit Governors Island! We recommend planning a few hours to enjoy the island.
Is Governors Island walkable?
Yes, all the best things to do on Governors Island are within walking distance! It takes around 20 minutes to walk the length of the island and you can rent bikes if you'd like to get around quicker.
What is Governors Island famous for?
Governors Island is famous for its rich history, being a former military base and now a popular public park. It offers stunning views, historic sites, unique events, and recreational activities for visitors to enjoy.
Is Governors Island free to visit?
Yes, Governors Island is free to visit! You only have to pay a few dollars to get here by ferry, which is free by the Governors Island Ferry on weekends before noon.
Liked this post on the best things and what to do at Governors Island and all the best Governors Island points of interest. Bookmark for later or share the love below on Pinterest.