Looking for movies filmed in Coney Island or Coney Island filming locations? This guide has you covered and be sure to also check out our guide to filming locations in Brooklyn to see more.
Whether you're looking for inspiration before a trip, missing the city, or just a fan of Coney Island and stories made here, this list has a range of genres from period pieces, romance, thrillers, and just good old cult classic Coney Island movies and tv shows!
So grab your popcorn and get streaming. All of these movies are available on Amazon Prime, if you don't already have Amazon Prime you can get a free 30-day trial by following this link.
And if you have an upcoming trip to Brooklyn, check out our guide to best things to do at Coney Island and Coney Island hidden gems!
About the Author
Eric Garner is a Brooklyn-based writer who was raised down south who loves talking about film, TV, hip-hop, and fashion.
Coney Island Movies
Brooklyn (2015)
Set in 1950s Brooklyn, this romantic period drama is about Eilis, a young girl who leaves her hometown in Ireland to pursue a new life in Brooklyn, New York.
At one point in our heroine's journey and one of our favorite films based in Brooklyn, we see her love interest (Tony) take her on a date at none other than Coney Island. It's always nice to see Coney Island in movies and it's from this scene we get a great view of the beach. The Wonder Wheel can be seen in the background as well.
If you're looking for Coney Island movies this is a good place to start. Brooklyn is a subtle, but rewarding story that will be relatable to anyone who's made the move from small town to the big city! Watch Brooklyn here
Wonder Wheel (2017)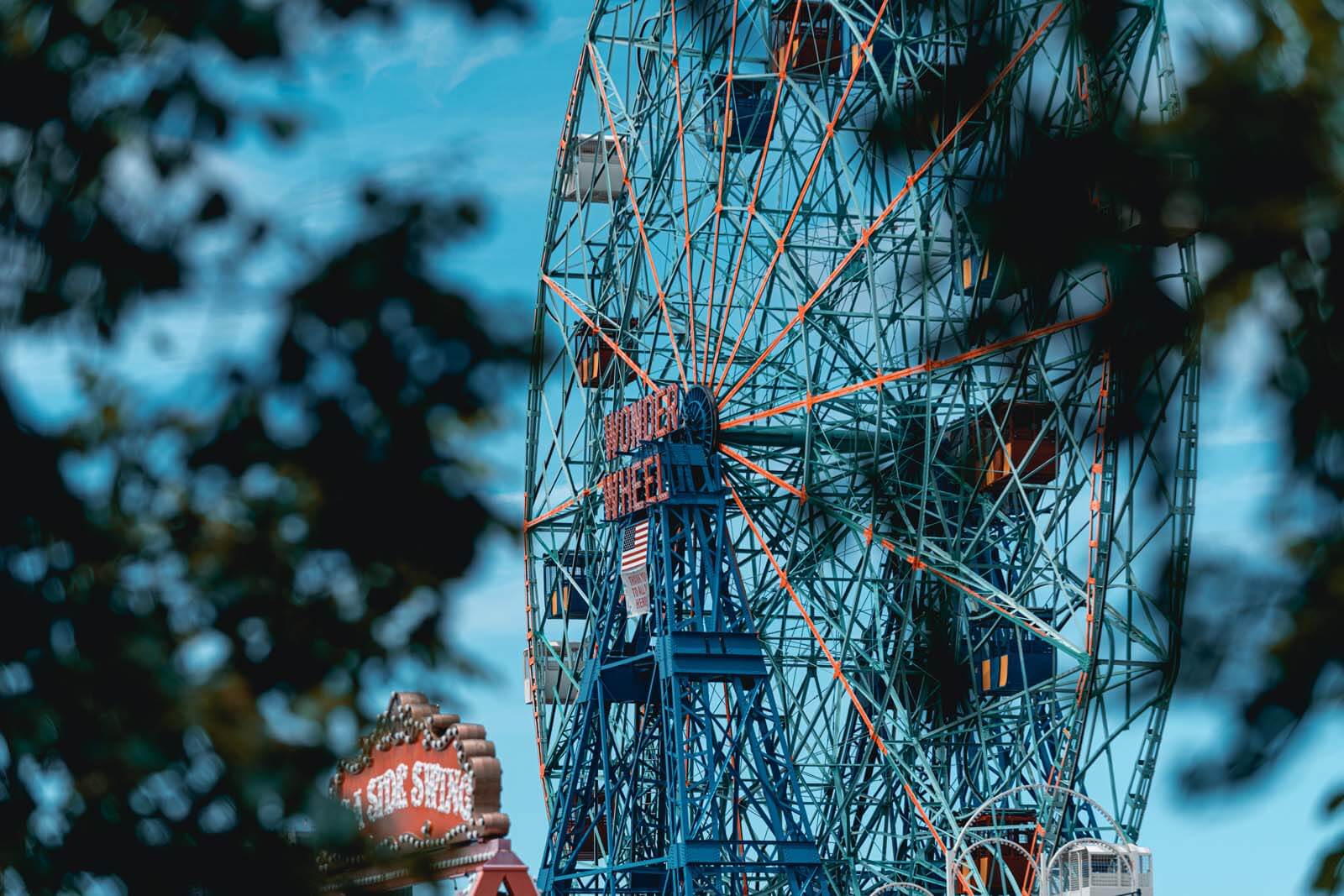 Following up one period drama with another—Wonder Wheel follows a carousel operator, his second wife, his estranged daughter and a lifeguard whose messy lives all become interconnected. Set in the 1950s, most of Wonder Wheel's runtime is dedicated to Coney Island and contains a lot of Coney Island filming locations. It's rare we get this time dedicated to Coney Island in movies, but this film treats us to a very intimate view of the amusement park.
As far as movies filmed in Coney Island go, this one is pretty good. While certain plot elements could potentially be irritating for some, Kate Winslet's performance is the stand out here; making Wonder Wheel truly an engaging watch! Watch Wonder Wheel here
Requiem for a Dream (2000)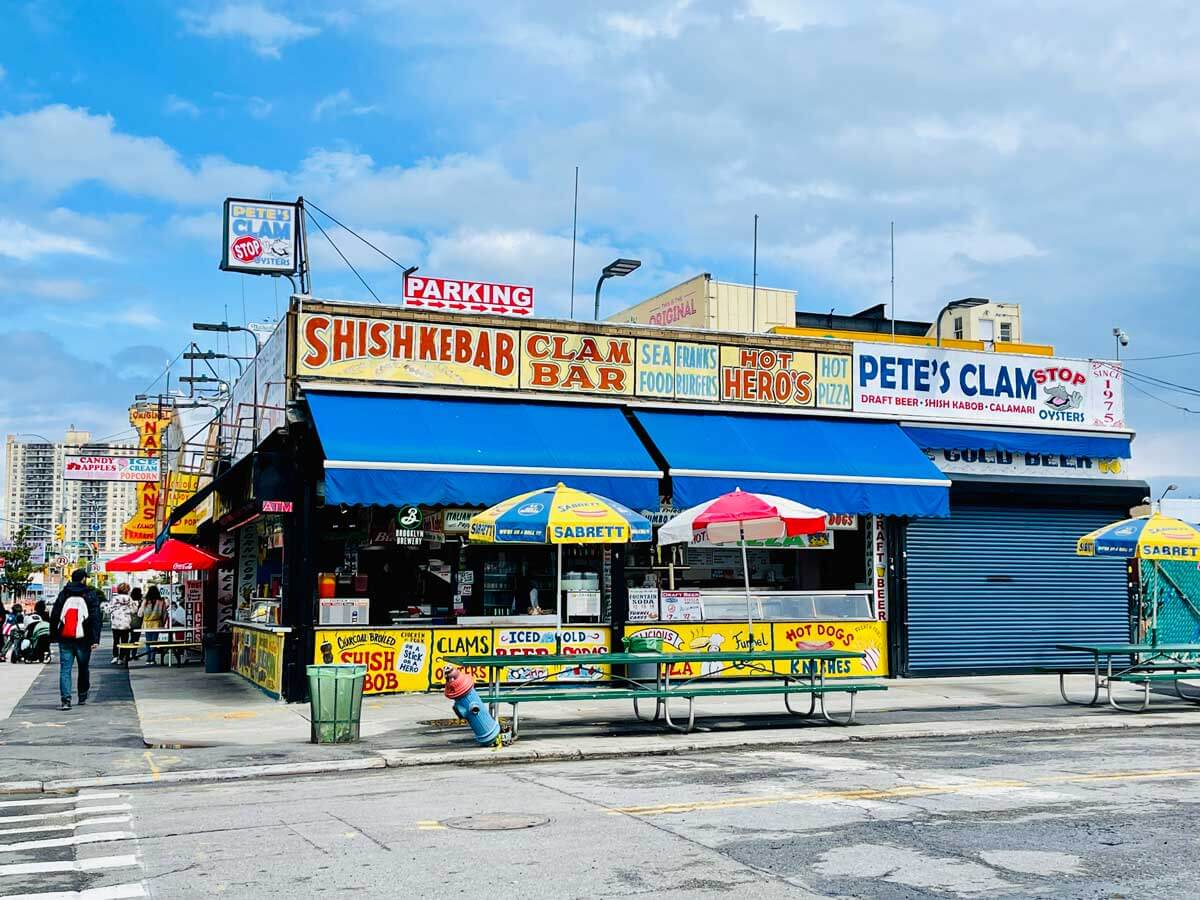 One of the most intense psychological dramas of its era, 2000's Requiem for a Dream follows four Coney Island locals as their substance abuse takes them on a dangerous and destructive path. Being that the characters are locals, the movie contains many Coney Island filming locations.
Growing up in Brighton Beach himself, director Darren Aronofsky knew the area very well. One memorably vivid dream sequence occurs at Steeplechase Pier, and was filmed between West 16th and West 19th Streets.
Requiem is one of the best Coney Island movies out there. It takes a disturbing and immersive look at addiction and drug abuse and it will be an experience most viewers won't forget! Watch Requiem for a Dream here
Brighton Beach Memoirs (1986)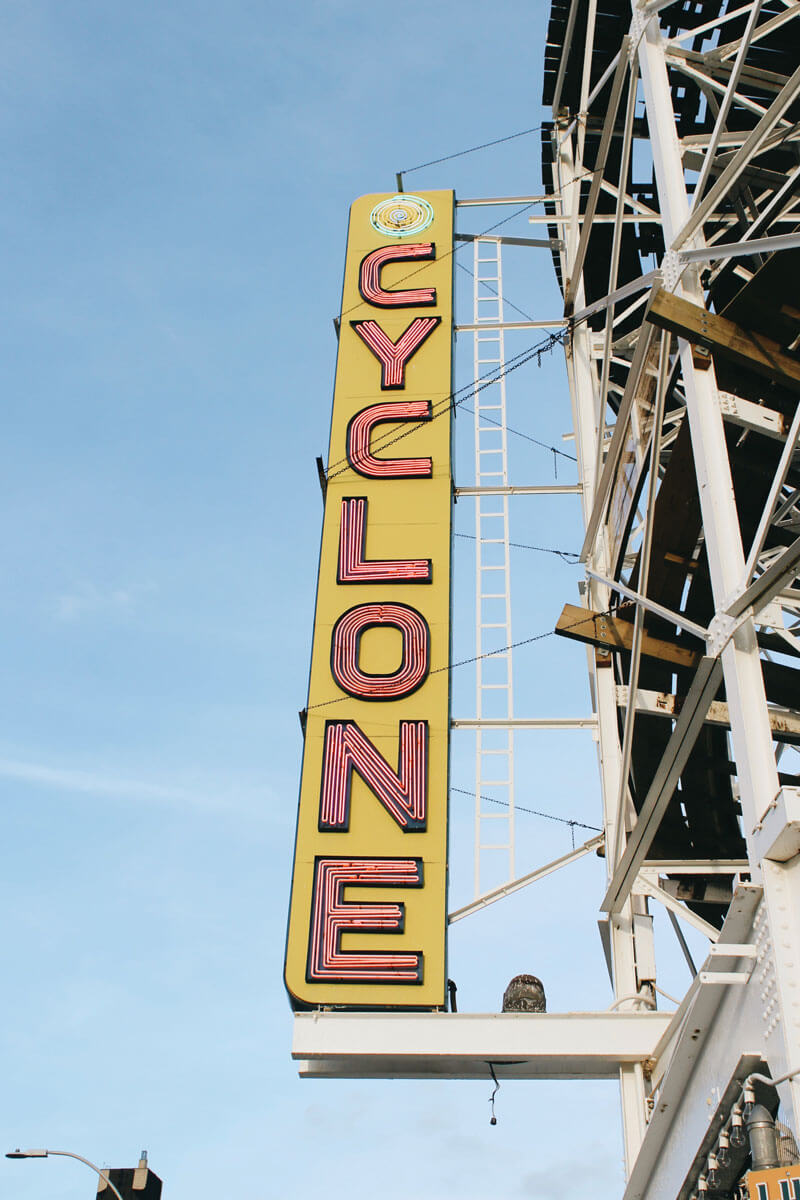 Brighton Beach Memoirs is a coming of age comedy is about a polish-Jewish American teen living in a crowded Brighton Beach house. Set during the Great Depression, takes us through many areas of 1930s Brooklyn including Coney Island. This film gives audiences a cool opportunity to see Coney Island in movies.
At one point in the film two boys are seen talking on a street corner, and it's in this scene that we can clearly see the Coney Island Cyclone roller coaster in the background.
Brighton Beach Memoirs gives us a both funny and heartwarming look at puberty and teenage life. It's also very accurately depicts City life. Definitely check this one out, when you get the chance! Watch Brighton Beach Memoirs Here
The Warriors (1979)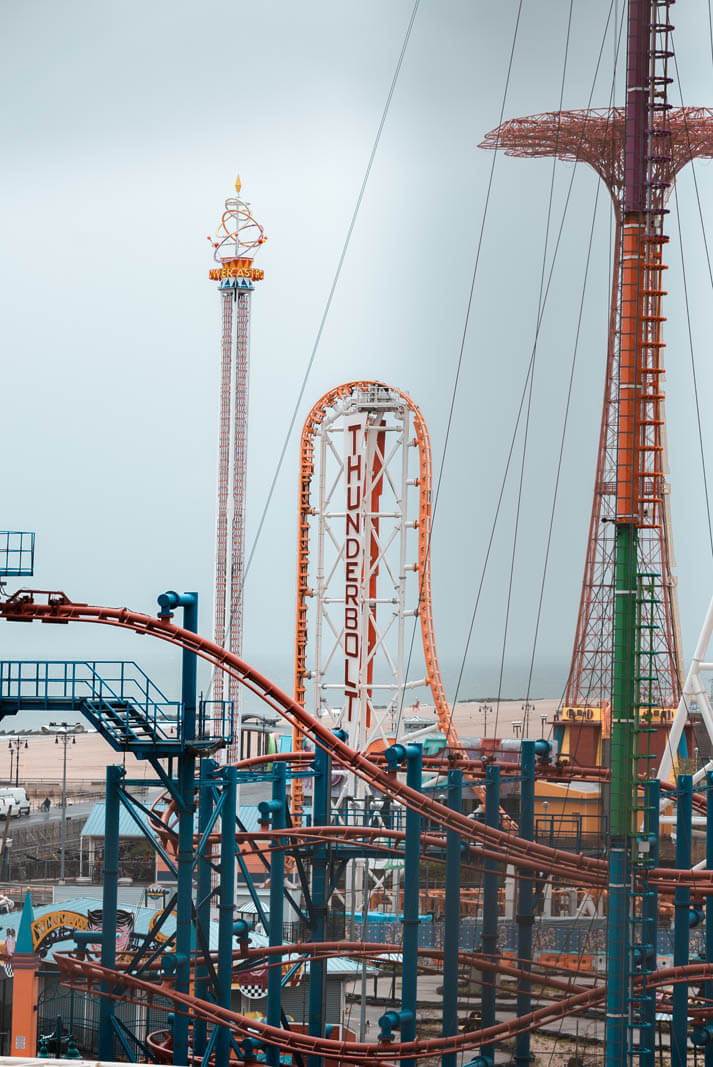 Warriors is a 1979 action-thriller about a war waged between two New York street gangs after one gang's leader is murdered. Set in late 1970s New York, this stylish story was filmed all throughout the city.
Being that Coney Island is the end goal for our heroes, this movie has quite a few Coney Island filming locations. The film's climax is set there and several of the amusement park's attractions including the Thunderbolt and the Tornado can be seen in the background.
Movies filmed in Coney Island are rarely this Gritty or violent. Warriors is a surreal experience meant to be enjoyed by all! Watch The Warriors here
Two Weeks Notice (2002)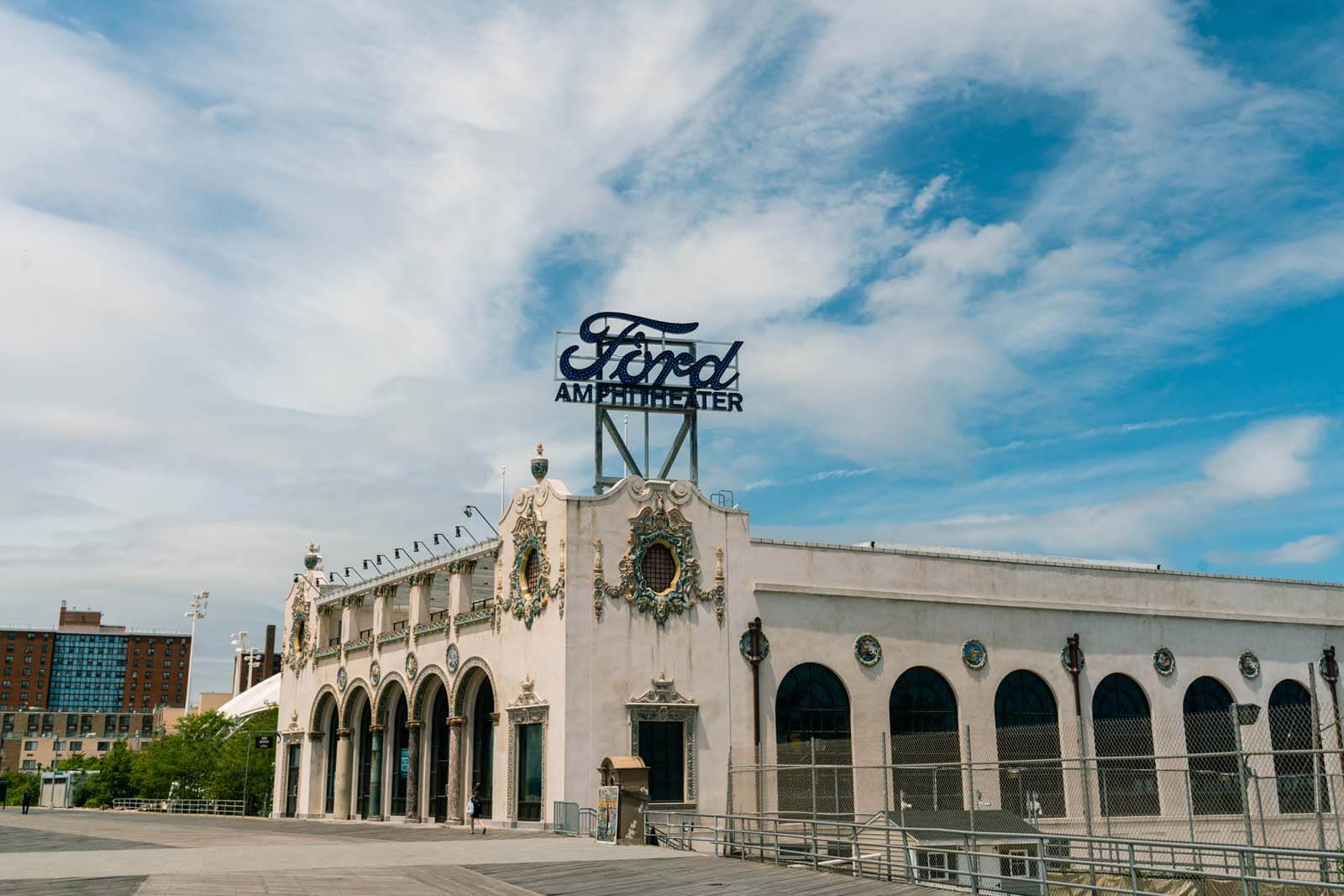 This romantic comedy follows a successful lawyer, who after giving her two weeks' notice begins to develop feelings of jealousy towards her soon-to-be replacement.
This 2002 movie is set in New York City. The Coney Island community center (Located at West 21st Street) depicted in the film, in reality, was a Childs Restaurant. This is one of the few Coney Island filming locations you won't be able to see because the place has since been closed down, today the building is the Ford Amphitheater which has the beautiful La Tombola restaurant on the rooftop.
Two Weeks Notice may be the most easy going of the Coney Island movies on this list. Although somewhat predictable, Hugh Grant and Sandra Bullock's charming performances make this film an enjoyable watch! Watch Two Weeks Notice Here
The Wiz (1978)
A twist on the Wizard of Oz, 1978's Wiz is a family musical about a schoolteacher who gets magically sent to a fantasy land. The fictional land depicted in the story a reimagined version of New York, which is where the entirety of the film was shot.
As far getting see Coney Island in movies go, we get to see the amusement park pretty early in this story. The scene where Tin-man (Michael Jackson) makes his first appearance was shot in Coney Island and the Cyclone can be seen in the background.
With so many charming African-American performers such as Michael Jackson, Diana Ross, & Richard Pryor it's hard not to enjoy this family flick! Watch The Wiz Here
Beaches (1988)
Beaches is a 1988 drama-comedy that follows two childhood friends and their enduring relationship throughout the decades. Atlantic City, where the two leads meet as kids, was actually filmed in Coney Island.
Movies filmed in Coney Island usually set in the amusement park, but not here. Still—you will be able to recognize the Coney Island style restaurants and stands in the background. While not the most blatant example of Coney Island movies, the park is still used in a pivotal part of the story.
This movie is a funny tear-jerker that celebrates the value of friendship and it's well worth the watch! Watch Beaches Here
The Lords of Flatbush (1978)
This coming-of-age drama follows two members of a Brooklyn street gang (The Lords) who decide to pursue romance instead of violence. Set in 1950s Brooklyn, The Lords of Flatbush contains a few Coney Island filming locations. As with most instances where we see Coney Island in movies, many of the park's rollercoasters, as well as its boardwalk, can be seen throughout the film.
Brimming with 1950s nostalgia, this late 70s hit would serve as a launching pad for many of its young stars. Watch The Lords of Flatbush Here
Uptown Girls (2003)
Starring the late Brittany Murphy, this comedy-drama centers on an immature twenty-something woman and daughter of a rock star who begins working as a nanny for a mature 8-year-old girl.
Set in New York, this comedy is filled with moving and touching scenes. In one particular scene, the two leads are seen sharing a vulnerable moment while riding the teacups at Coney Island.
This 2003 comedy found a great pair in the two leads (Brittany Murphy and Dakota Fanning) and it's from them the movie derives most of its charm. Watch Uptown Girls Here
Men in Black 3 (2012)
10 years after the second film, Men in Black 3 was released and the story follows agent K who travels back in time to prevent his partner from being assassinated. This said assassination is set to occur in 1969 at Coney Island, giving this story a few Coney Island filming locations.
As with other movies filmed in Coney Island, we treated to a great view of the boardwalk. Also, the Wonder Wheel can also be seen as well.
Of all the Coney Island movies, this 2012 sci-fi action comedy is probably one of the most fun. It's a highly entertaining entry in the franchise that manages to capture some of the essence that made the original so captivating.
Anyone who is fan of the first Men in Black films should definitely give this a watch! Watch Men In Black 3 Here
A.I. (2001)
Set in a futuristic world, A.I. is a sci-fi drama is about an artificial boy who is programmed to have human emotions. Stanley Kubrick was originally set to direct the film, but he eventually passed it off to Steven Spielberg.
In one sequence the film depicts ruins of New York. Not only are areas like Rockefeller Center, but Coney Island as well. At one point near the film's midsection the protagonist gets trapped due to the Wonder Wheel falling on the vehicle he was in.
Spielberg takes an optimistic approach rarely seen from movies filmed in Coney Island, and it's all the more better for it! Watch AI Here
Cloverfield (2008)
Following up with another sci-fi classic, 2008's Cloverfield follows a group of New York residents fighting for survival once a giant monster begins terrorizing their city. Set in New York City, portions of the film were shot in Coney Island; and both the Wonder Wheel and B&B Carousel can be seen.
Using a Blair Witch Project-esque approach to giant creature movies, Cloverfield is a fast paced and well executed sci-fi/thriller—and necessary viewing for genre fans! Watch Cloverfield Here
Annie Hall (1977)
This 1977 classic solidified Woody Allen as one of the best directors in Hollywood. Annie Hall stars Woody Allen as an exaggerated version of his real life persona, telling the audience the events that led to his break up with the titular female lead.
The story begins by transporting us to Coney Island where the protagonist grew up. The scene depicts his childhood where he describes living in a house right under a Coney Island rollercoaster—showing the house rumble as the coaster is running.
Not only is this film of the most honest portrayals of human relationships, but it is also endlessly funny. One of the most inventive and creative films of the 70s, Annie Hall is arguably Woody's best work to date and an essential watch! Watch Annie Hall Here
Angel Heart (1987)
This 1987 neo-noir psychological horror follows Mickey Rourke as a private investigator, hired to find singer named Johnny Favorite.
Set in New York City, this nightmarish tale shows us good deal of the city. In one particular scene, where the lead searches for a woman called Madam Zora, we get an up close look at a rundown version of Coney Island.
A satisfyingly haunting story where nothing is as what it seems, Angel Heart succeeds as the stylish noir it presents itself to be! Watch Angel Heart Here
Coney Island TV Shows
Marvelous Mrs. Maisel (Season 4)
This period comedy-drama debuted in 2017 to critical acclaim and centers on a housewife who decides to pursue standup comedy in the late 1950s New York.
Marvelous Mrs. Maisel manages to be both whimsical and plausible in equal measure. The series shows off many parts of New York City (including Greenwich Village) throughout its run—but it appears that the show's fourth season will be exploring Coney Island a bit. Pictures can be found online with the star passing through the boardwalk and standing in front of the Wonder Wheel.
Strong performances, sharp writing, and witty dialogue make this underrated gem a series not to miss! Watch Marvelous Mrs Maisel Here
Mr. Robot (2015-2019)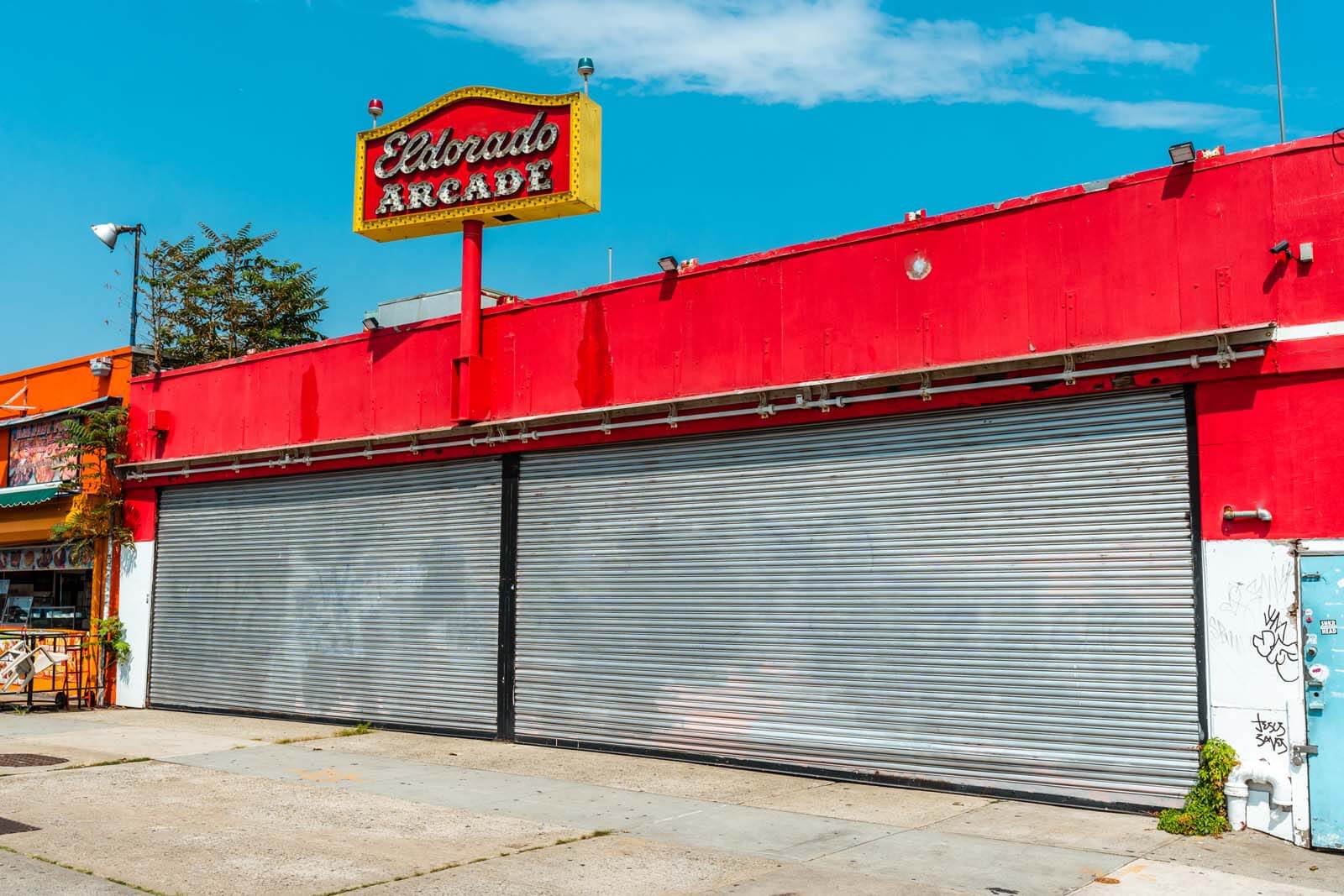 Speaking of underrated gems, Mr. Robot is arguably the most underrated TV show of the 2010s. This psychological thriller follows Elliot, a super hacker who joins a secret society called "fsociety" that aims to take down a big corporation.
The fictional society's headquarters should look pretty familiar to New York viewers. It is located in Coney Island at the Eldorado Arcade, and the scenes taking place there were all shot at the amusement park.
Channeling rebellious movies like Fight Club; this show is provocative, suspenseful, and above all else entertaining. If you haven't already, check this show out! Watch Mr Robot Here
Flight Attendant (2020-)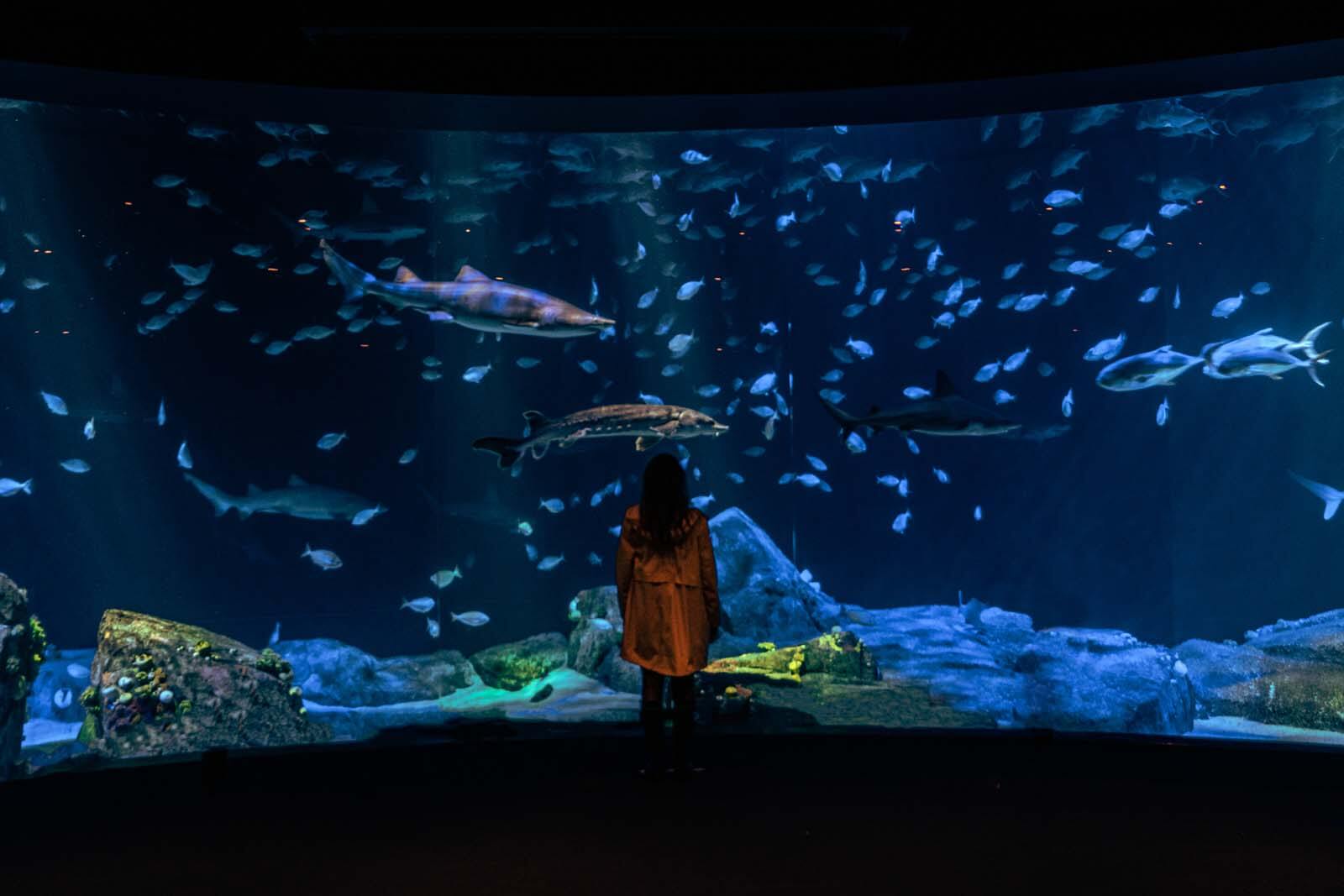 Based on the novel of the same name, The Flight Attendant is a thriller comedy-drama about an alcoholic flight attendant who wakes up in a hotel bed next to a dead man with no recollection of what happened.
The investigation that follows takes us to New York City, and while there our heroine is seen visiting her family and going to the New York Aquarium which is in Coney Island.
With its comedic approach to a well-worn genre, The Flight Attendant is a much welcome change of pace for mystery-thriller fans!
Girls (2012-2017)
This popular comedy series follows the lives and experiences of four twenty-something girl, and ran for 6 seasons before the 2017 conclusion. This show takes place in New York City, and the show's fifth season takes us to Coney Island.
The characters Jessa and Adam go on a date at Luna Park where their mutual attraction is on full display.
Its raw humor and realistic take on female relationships garnered a lot critical praise and comparisons to Sex in the City. Anyone who's a fan of insightful and real depictions of New York life should definitely check this show out! Watch Girls Here