Heading to NYC and looking for some of the hidden gems in Coney Island? We've got you covered, if you've already been to and discovered all the other best things to do in Coney Island that are already popular like hanging out at the beach and visiting one of the most famous amusement parks and boardwalks in the world!
This guide will help you discover some of my personal favorite hidden gems in this historic fun land and haven for over a century.
These may not be 'hidden' to locals, but for visitors or people not as familiar with the area, you may want to add a few of these points of interest to your day of exploring! If we missed one of your favorite hidden gems, let us know in the comments below! We love when our readers get involved with sharing some of their favorite spots for others to enjoy!
And if you love finding lesser-known spots and landmarks with a fascinating backstory, check out the rest of our favorite hidden gems in Brooklyn and fascinating hidden gems in NYC.
Unique & Unusual Things to do in Coney Island
Grandmothers Predictions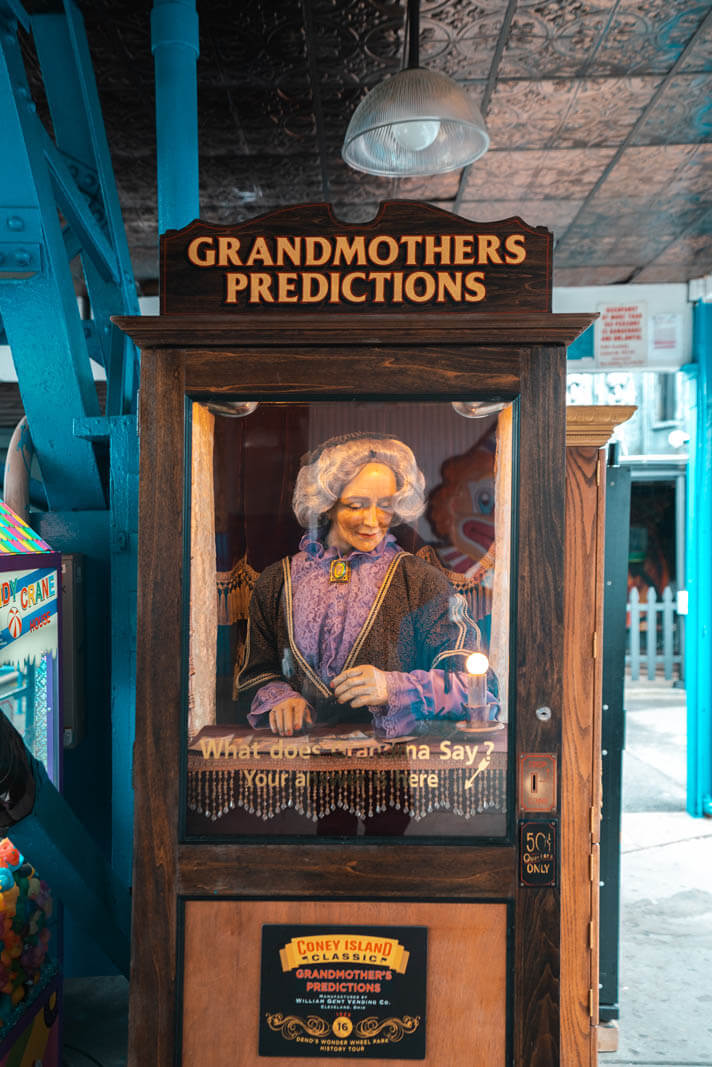 Located in Deno's Wonder Wheel Park under the Wonder Wheel is one of the most unique things and hidden gems at Coney Island! Grandmother's Predictions is a rare, antique fortune-telling machine located next to Zoltar, the household name of old school fortune-telling machines who also was a star in the 1988 Tom Hanks film, Big. (the Zoltar used in the film was in Rye, New York not Coney Island though).
Historians believe the rare Grandmother was built around 1929 and brought to this location in Coney Island in the 1930s where she has remained since with the exception of a restoration that took place after Hurricane Sandy ravaged the city in 2012.
Grandmother is an antique collector's dream, this is one of the few machines that actually requires quarters, the arcade directly across from Grandmother requires a pre-loaded game card so be sure to bring 2 quarters to get one of "Grandmother's Prophesies" printed on a yellow card, the original price was just 10 cents, but Grandmother has to deal with inflation too.
Your prophecy will include a little poem with a prediction and a few lucky numbers!
Eldorado AutoSkooter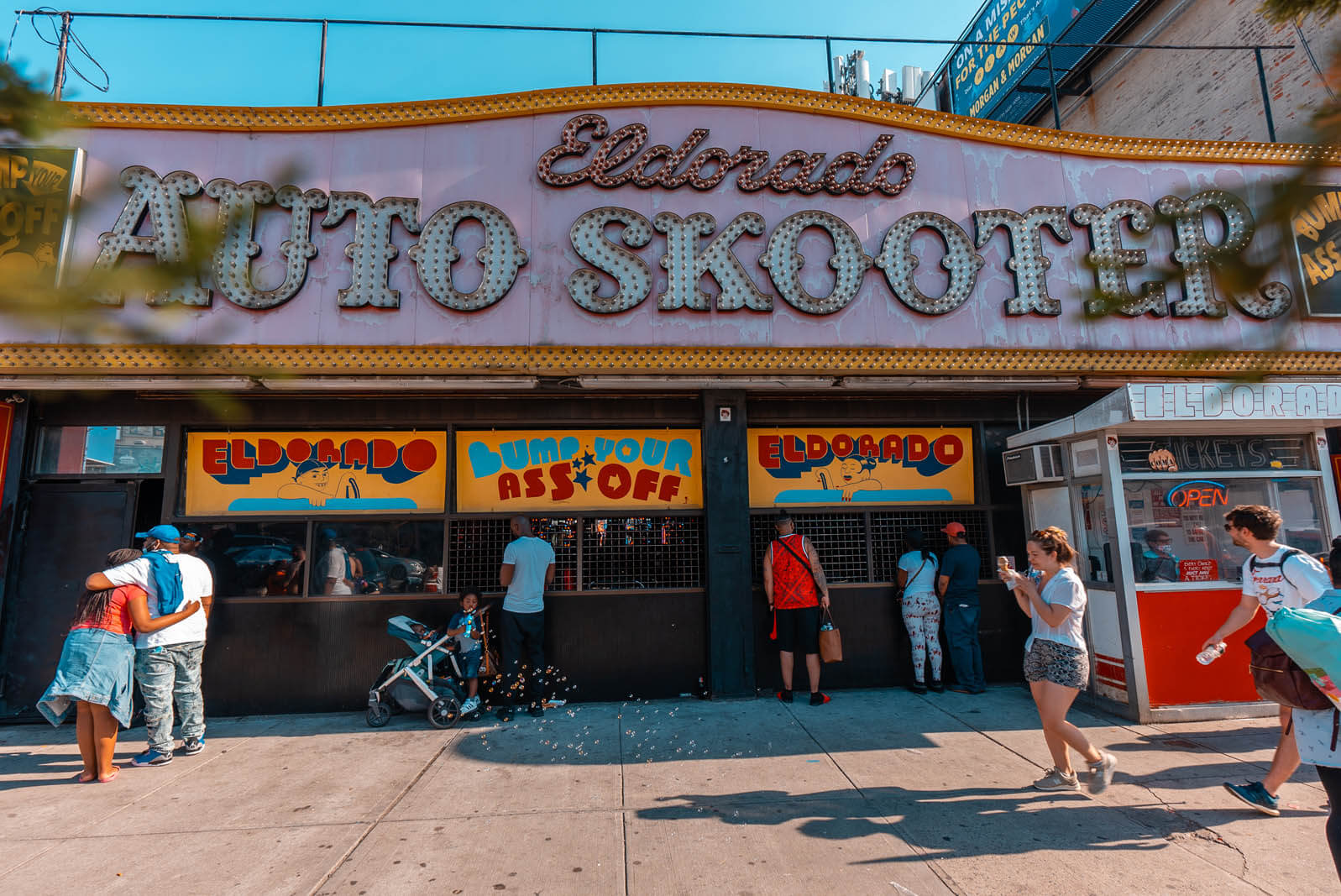 Eldorado Auto Skooter is one of the best hidden gems in Coney Island for a few reasons! Besides having a laser blasting bumper car ride with DJs blasting music, this spot has been one of the most beloved staples to Coney Island since 1973, used as a filming location, and features signage by a local artist not to mention there's an arcade here too!
This iconic bumper car spot actually did see a few exchanges in ownership and brief closures, but like a Phoenix, this classic ride keeps rising from the ashes and continues to be one of the most fun attractions for adults.
The speakers here are newsworthy as they were installed and set up by those who helped bring the disco parties at Studio 54 to life and those who used to frequent Studio 54 were no strangers to Eldorado Auto Skooter! They also are known to throw legendary New Year's Eve parties too!
Local Brooklyn artist, Steve Powers of ESPO's Art World designed the Bump Your Ass Off signs and t-shirts. Powers has a gallery and studio on 4th Ave in Boerum Hill which is one of our favorite indie art galleries in Brooklyn and he even had a solo exhibit feature at the Brooklyn Museum for 2015-2016 titled: Coney Island is Still a Dreamland: To a Seagull, featuring signs and art by himself and other collaborators paying homage to Coney Island.
Powers also was the curator behind the collective of 25 artists that made up The Dreamland Artist Club. These artists sort of came in and gave Coney Island a custom makeover to rides, signs, and attractions here while still keeping the aesthetic and tradition of hand-painted signage that's been present at Coney Island since the beginning of time.
The signs are pretty fun and the arcade features old-school carnival games like skeeball which makes a fun stop while exploring Coney Island.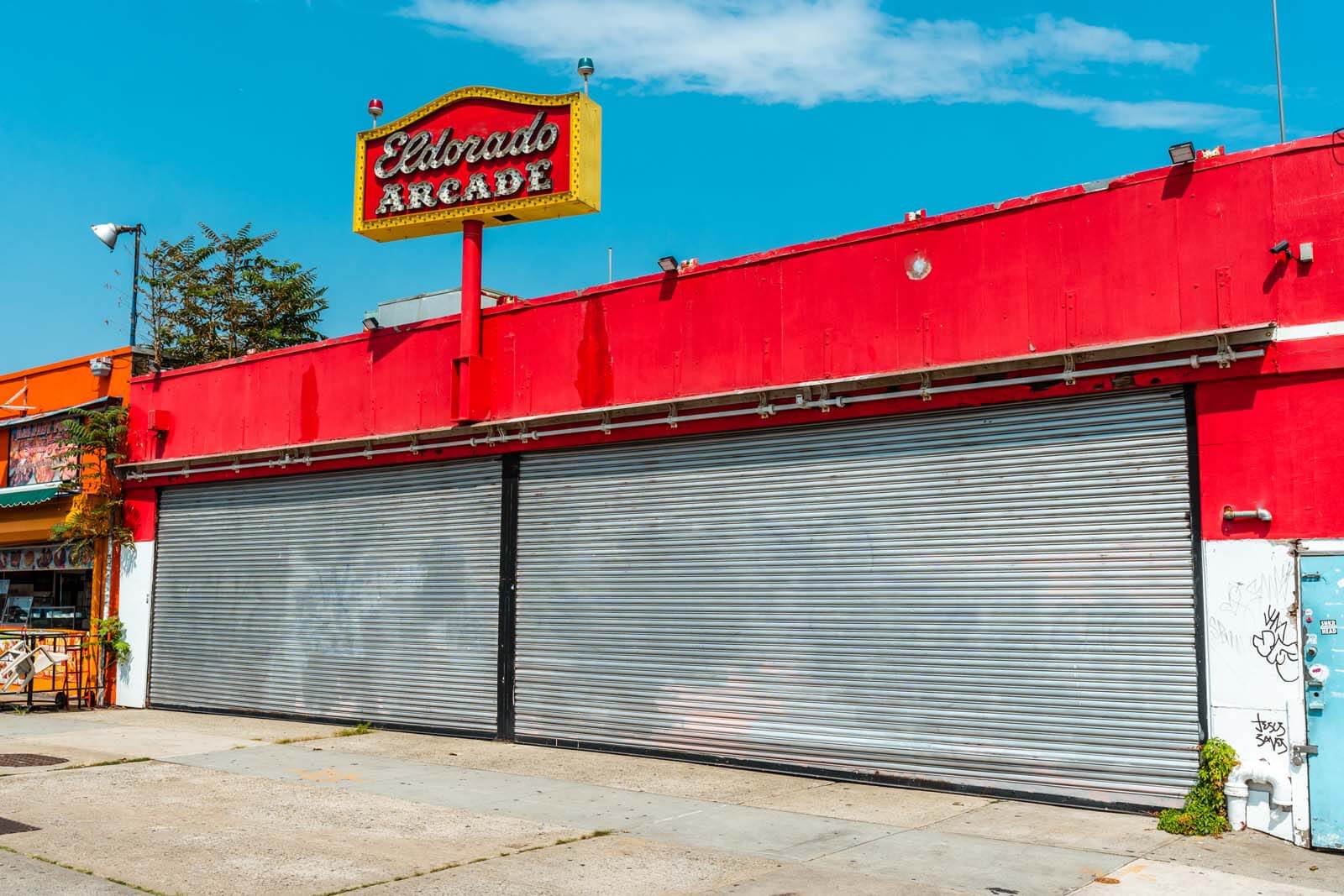 Last but not least, Eldorado Auto Skooter was a famous Brooklyn filming location in the hit TV series Mr. Robot starring Christina Slater and Rami Malek. The arcade was used as the secret HQ for fsociety in the tv show sets in Coney Island.
Astroland Rocket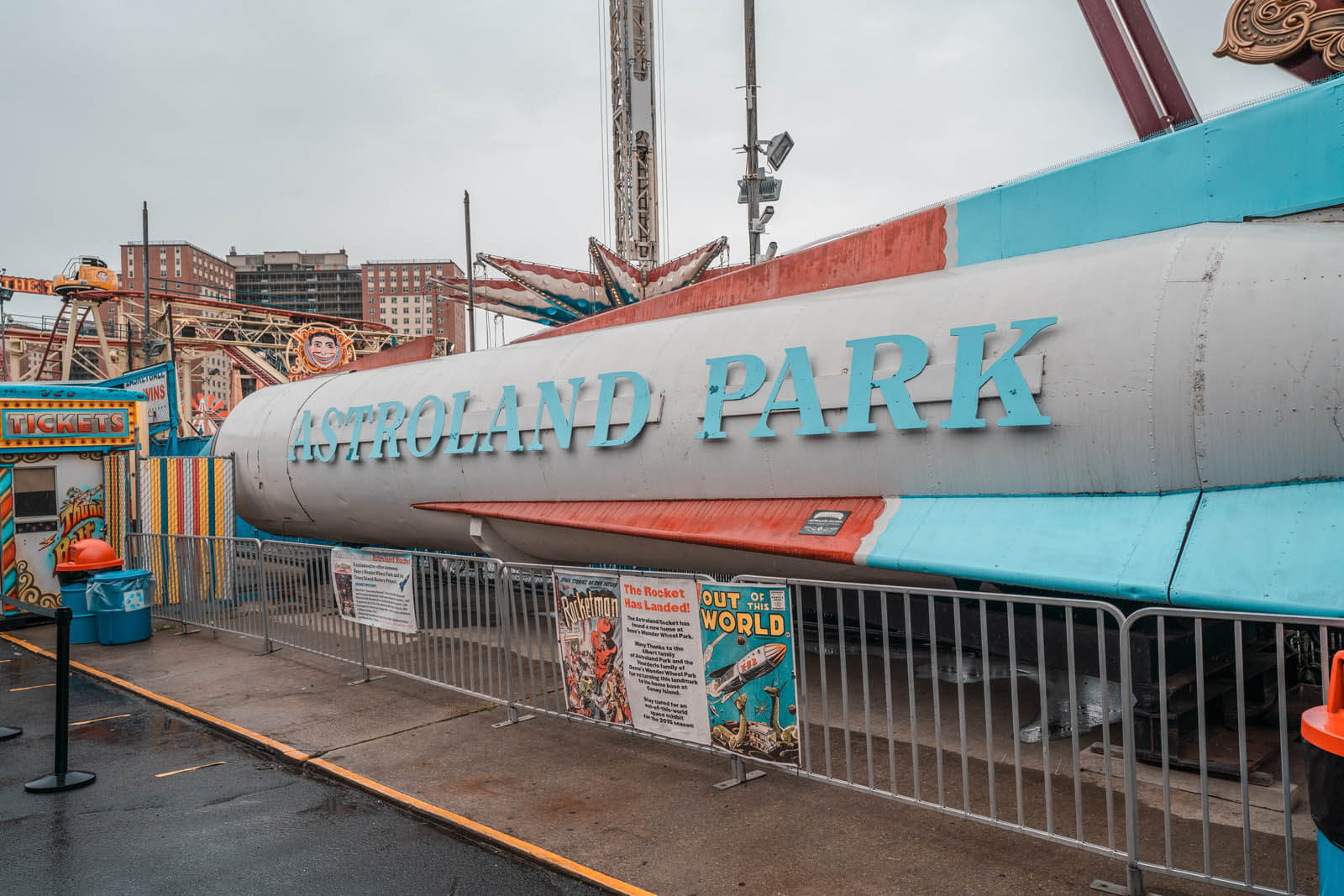 Another historic hidden gem in Coney Island you can find is the Astroland Rocket found next to the Wonder Wheel at Deno's Wonder Wheel Amuseument Park. For those unfamiliar with the history of Coney Island, Astroland was one of several amusement parks that were here at Coney Island that operated from 1962 to 2008.
This particular theme park was built as a 'space-age' themed theme park at the time of its opening in the 1960s. The 1960s were a time known for the space race and man landing on the moon in 1969, so this theme was all the craze during this period.
Although, as the decades came and went, this was definitely not up to speed to modern space exploration and this theme park felt more of a fun, kitschy attraction than anything else since our space programs were beyond the advancement of what the 1960s thought 'space-age' was and would be. And no one would have ever imagined the shape of the space rocket Jeff Bezos took to space…
In 1975, the Cyclone wooden rollercoaster which opened in 1927 and is one of the oldest continuously operating rollercoasters in the world to this day was a part of Astroland Park (today the Cyclone is a part of Luna Park).
You can visit the Astroland Rocket at Deno's Wonder Wheel Park, but the site of the actual Astroland Park is actual where present-day Luna Park is and has been since 2010. Luna Park re-used the same name as one of the original Coney Island parks making the timeline of names and parks a little confusing to first-time visitors.
The Astroland Rocket was one of the first simulator rides every in amusement parks. This ride gave visitors a imaginary journey through space at the height of the Space Race and is one of the few surviving examples left of these rides from this period. The ride showed footage of rockets while the seats would shake.
A few years after the park closed, Deno's Wonder Wheel Park and Coney Island History Project brought the Astroland Rocket back to Coney Island for display. The rocket was badly damaged during Hurricane Sandy in 2012 and kept at Staten Island until it returned to Coney Island in 2014.
Coney Island Circus Sideshow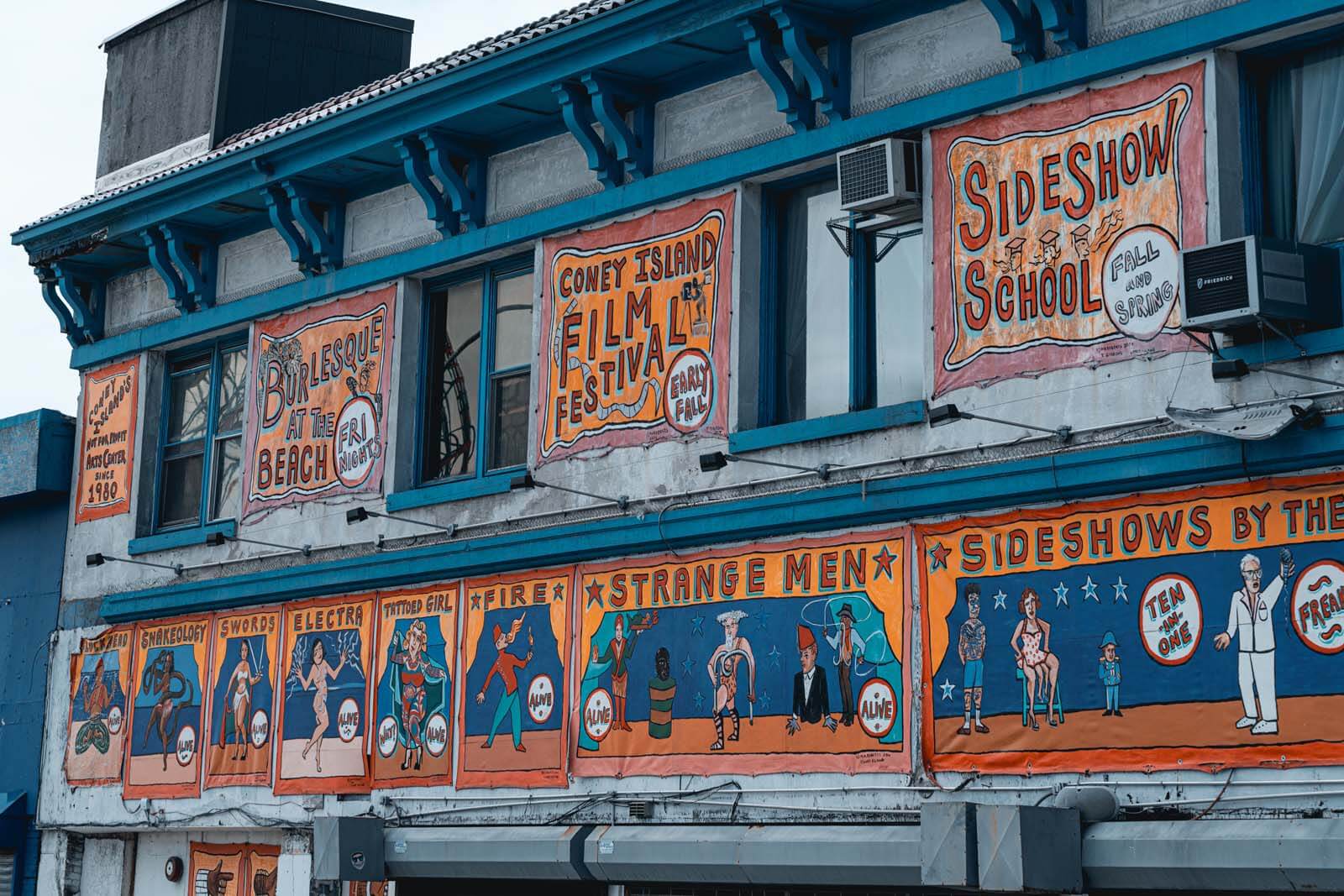 One of the most unique things to do at Coney Island is the Coney Island Circus Sideshow! Known as Sideshows by the Seashore, this is the last permanently housed non-profit venue in the United States where you can witness a 10 in 1 circus sideshow featuring a talented cast performing tricks, curiosities, sideshows, and wonders!
This is one of those places where you can actually witness the sideshow performances that have been depicted in Hollywood your entire life!
The tradition of sideshows and performances like this date back to the 1800s in NYC well into the 20th century with ties to P.T Barnum. It wasn't uncommon to find these types of shows at amusement parks and traveling circuses that were made wildly popular from World Fair expos.
In the 1960s, these types of performances saw a sharp decline due to outcry from those accusing these carnivals and showrunners of exploitation of disabled performers as well as the socio-economic climate of the time.
The shows typically are around 45 minutes long and have 10 acts with various performances in a traditional 10 in 1 circus sideshow. The show runs continuously so if you walk in 10 minutes late you can hang around for the first 10 minutes of the next performance.
Shows run from 1 pm to 7 pm and admission is $12. See the latest cast and showtimes here.
They also have a sideshow school if you want to learn some of the best circus tricks and sideshows from stunts like glass walking and sword swallowing to fire breathing!
Coney Island Museum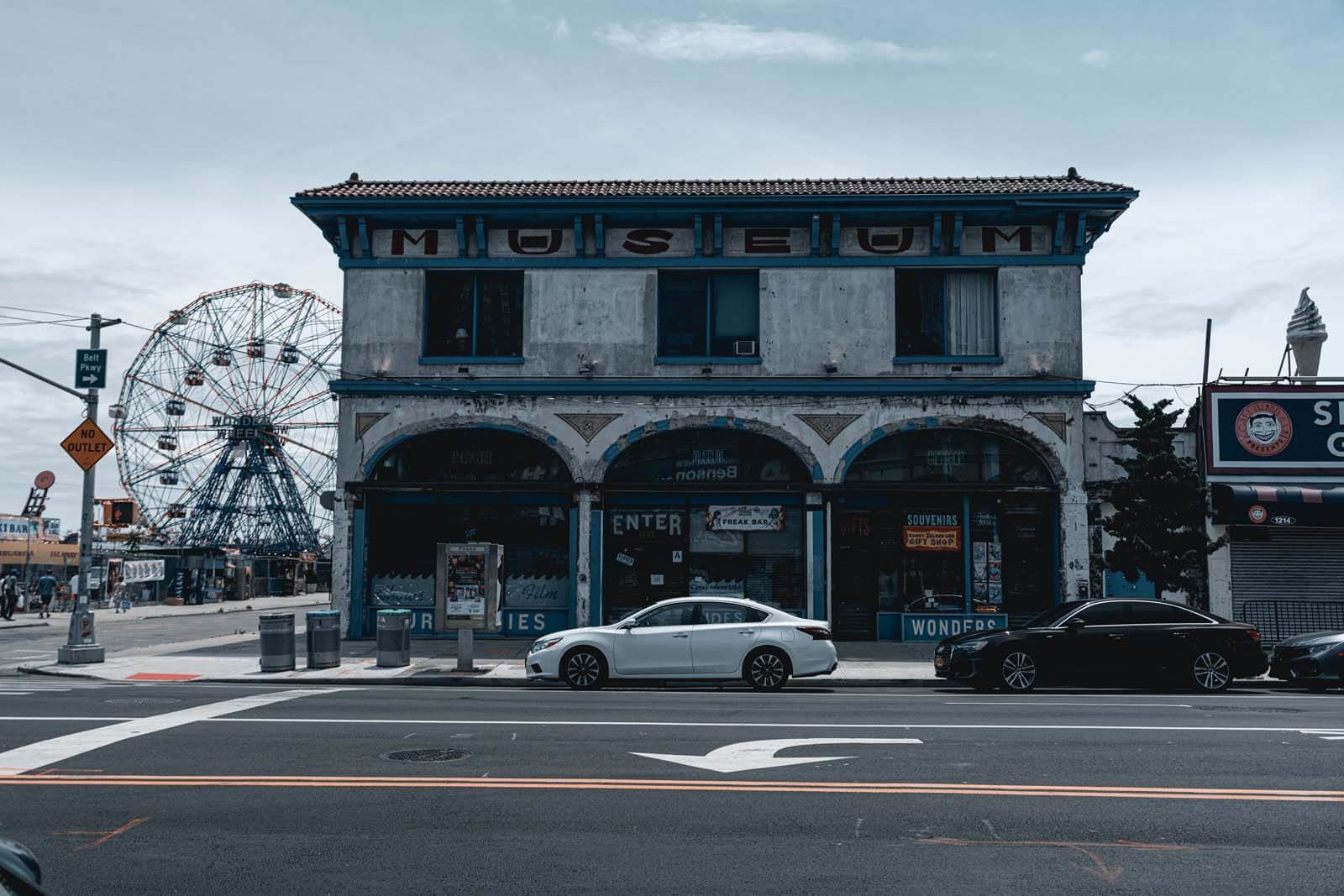 Want to learn about the history of all the Coney Island attractions? The Coney Island Museum is the only accredited institution in the world singularly dedicated to preserving and interpreting the history of the Coney Island amusement district starting with the early days of this city escape and fun land and better yet? The location is in the heart of Coney Island but its easy to miss if you don't realize its there which is why we included it as one of our favorite hidden gems in Coney Island!
The Coney Island Museum has a permanent collection of over 5,000 items from photographs, paintings, amusement-related items, architectural elements, and vintage signs from over the years.
They even have archives that are used as a critical resource for scholars studying the history of American recreation and popular culture from the 19th century forward.
It's only $5 for adults and $3 for children and seniors to visit, one of the most fun museums in Brooklyn.
Open Saturdays (12 – 5) & Sundays ( 2- 5) Labor Day – Mid June, open Mid June – Labor Day on Wednesdays – Saturday from 12 – 6 and on Sundays from 2 -6.
Stillwell Avenue Station
This is more of a fun fact rather than a unique thing to do in Coney Island or hidden gem, but Coney Island-Stillwell Avenue Station, aka Coney Island Terminal which operates the D, F, N, & Q subway lines is one of the largest elevated transportation terminals in the world!
This station has eight tracks on four island platforms that tower over the streets. This station opened in 1919 to help give access to this popular summer resort area to New Yorkers. The opening of the Coney Island Terminal became a critical transportation hub that would only end up costing a nickel and made this part of the city accessible to more social classes and is how Coney Island got the nickname, The Nickel Empire since it only cost that much to get here.
The train tickets were actually 10 cents in 1919. When the Culver Line extension opened in 1920 the fare went down to 5 cents which made this area more accessible and affordable to many in the city.
Coney Island Lighthouse
View this post on Instagram
This next Coney Island hidden gem is one many don't know about. Did you know Coney Island has a lighthouse? We aren't talking about the one on the top of the roof at Salt & Sizzle on Riegelmann Boardwalk, but an actual light station along the shore?
If you hadn't heard of it, don't feel bad as its not actually near the Coney Island most visitors know along the boardwalk, beach, and amusement parks.
The 70 foot lighthouse is actually located over by Seagate Park in Sea Gate on the west side of Coney Island overlooking the New York Harbor. The lighthouse's official name is Coney Island Light but is also known as Nortons Point Light.
This historic steel skeletal light station dates back to 1890 but the tower you see today is from 1920 and continues to operate. It wasn't until 1989 though that this lighthouse operation was made automated. Frank Schubert was the local who was the last light housekeeper as well as the last civilian lighthouse keeper in the United States!
Throg's Neck in the Bronx actually had an exact replica of this lighthouse which only lasted from 1890 to 1906 because the Army determined it to be an obstruction to Fort Schuyler.
See Some of the Original Riegelmann Boardwalk
This is one of my personal favorite Coney Island hidden gems because it's hidden in plain sight! Ruby's Bar & Grill, located on one of the most highly trafficked areas of the Riegelmann Boardwalk, aka Coney Island Boardwalk is the oldest bar and grill on the boardwalk to this day!
This restaurant boardwalk space and location dates back to 1934 when it was the Hebrew National Deli and Bar. Ruby's took over the space in 1972 and have had it since and is family-owned and operated with indoor and outdoor seating.
We recommend taking a stroll around the interior where you can find vintage photos and memorabilia from Coney Island's past including sections of the original 1920s wooden boardwalk hanging on the walls above you as well as part of the wood was re-used to make the bar and tables in addition to the ceiling and walls.
The historic boardwalk stretches 2.7 miles along the shores of Coney Island and dates back to 1923. The boardwalk was made of wooden planks in a chevron pattern that connects the amusement parks, restaurants, beaches, and pier.
Since 1923, the historic boardwalk has seen several expansions from its original design as well as restoration and repairs throughout the 20th and 21st centuries. There was even an attempt to repair the boardwalk with concrete but that was denied and since 2018, Riegelmann Boardwalk is a city landmark.
Since the boardwalk you'll be walking on isn't the 'original' due to wear and tear of wood from not only heavy use but also from natural elements it's pretty incredible that a staple restaurant on the boardwalk was able to preserve the legacy of the original boardwalk by putting it on display in their location for visitors to see!
This is definitely one of the most unique things to do at Coney Island so don't miss it!
Visit the Shark Tunnel at the New York Aquarium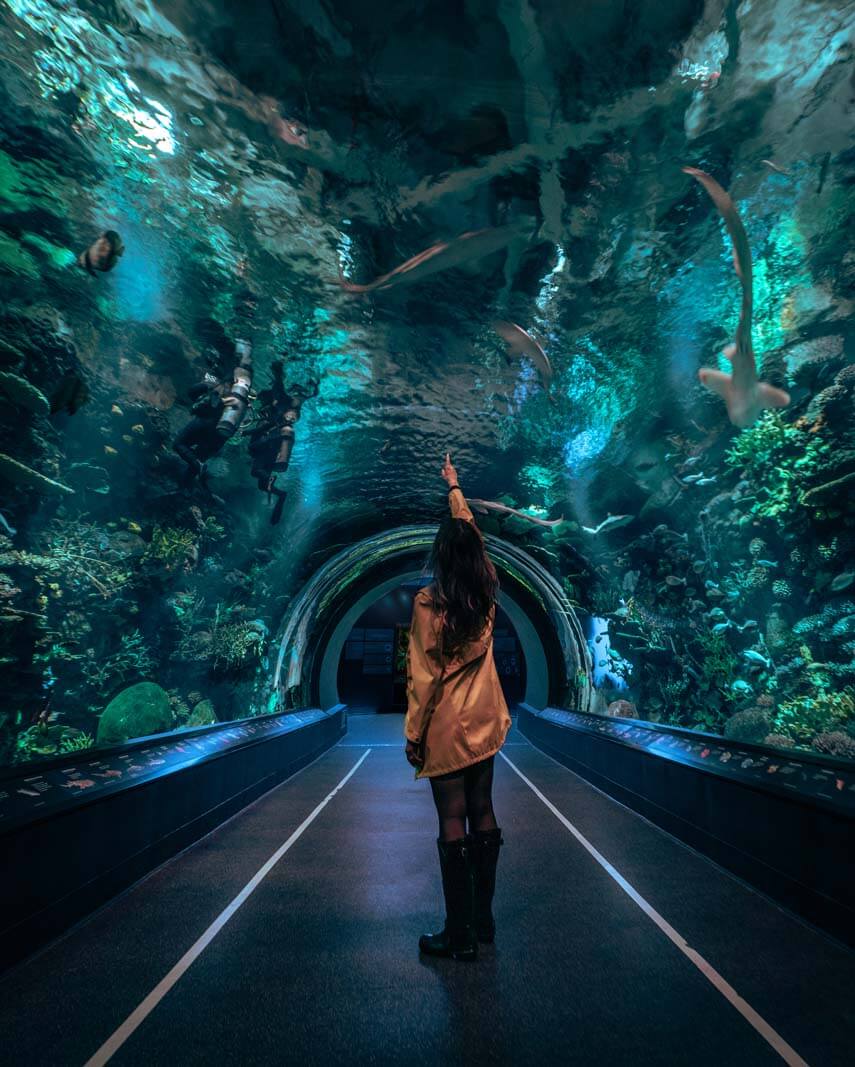 Another one of the most unique things to do at Coney Island and hidden gems can be found at the oldest continuous running aquarium in the United States! The New York Aquarium on Riegelmann Boardwalk is one of the best spots to visit in the area year round! Unlike other Coney Island attractions that are only open seasonally, the aquarium is open every season and honestly, it's pretty cool to see Coney Island in winter since it's so quiet and empty.
The New York Aquarium was originally located at Castle Garden in Battery Park in Manhattan since 1896 but was moved to its Coney Island location in 1957 where it still is to this day and is operated by the Wildlife Conservation Society (WCS).
So what makes this aquarium a Coney Island hidden gem? Well for starters it's the oldest aquarium in the US as already mentioned but the star attraction is the Ocean Wonders: Sharks! exhibit where visitors can walk through a tunnel as 18 different species of sharks, rays, sea turtles, and fish swim next to you and overhead.
Continue to the tank known as the Canyon's Edge where you can gaze in wonder up close to more sandbar sharks, rough tail stingrays, and sand tiger sharks as they swim by you.
Child's Restaurant
View this post on Instagram
The Ford Amphitheater on Riegelmann Boardwalk is one of the coolest structures that still stands in Brooklyn. The building itself dates back to 1923 and originally housed the Childs Building which is a designated historic landmark that was originally one of the locations of the Childs Restaurant chain.
The building has a Spanish Colonial architecture style with nautical-themed details that you want to pay attention to, the details are really beautiful. The building was restored to its former glory after years of being passed from tenant to tenant as well as periods of dormancy and barely any upkeep.
Today, the amphitheater is a performance venue as well as re-opening Child's Restaurant in the summer of 2022 (with was briefly La Tombola restaurant) which has a gorgeous rooftop lounge with Atlantic Ocean views on one side and the towering Steeplechase Parachute Jump tower on the other.
Inside you can find the beautiful restoration work with a modern twist while still paying homage to Coney Island.
Another fun fact, this bar is home to one of the longest bars in Brooklyn!
---
Did we miss one of your favorite unusual things to do in Coney Island or hidden gems in Coney Island? Let us know in the comments below! We love discovering new places!