Looking for the best old school Italian red sauce restaurants in Brooklyn? If so, this guide is for you. Is there anything more satisfying than a giant plate of perfectly al dente pasta and a great red wine? No, my friends, there is not. And while the most authentic way to experience Italian cuisine is to, well, visit Italy, it cannot be denied that Italian-American cuisine — often colloquially known as "red sauce" is an essential part of the Big Apple's long-standing connection with the Stivale (the boot!).
Emanating primarily from the traditions of Southern Italian cooking, red sauce eateries became a staple of New York's culinary landscape in the late 19th and early 20th century, when many Italian immigrants settled in Brooklyn neighborhoods like Bensonhurst, Carroll Gardens, Bay Ridge, and Williamsburg.
Over time, rising commercial rents and flighty food trends have cost some their businesses, but there are still quite a few decades- and century-old family-owned eateries producing the same time-honored and truly delicious dishes that regulars come back for again and again.
So, how do you spot an old-school Italian restaurant among the plethora of Mediterranean cuisine available in our fair city? While there are variations on the theme, here are a few key markers.
Look for white tablecloths, or decor that evokes the early to mid-twentieth century — as the saying goes, if it ain't broke… Keep an eye out for celebrity-autographed headshots and photo ops — if it was good enough for Frank Sinatra, it's good enough for you!!
There are likely many passionate regulars who have been eating there for years — and may be very willing to give out recommendations! If not, your servers have often been with the restaurant for nearly as long as it's been open and will have plenty of (very) honest opinions!
The wine pours will be generous, as will the portions. The dishes? Shareable. And don't forget to carry cash — a few of the joints mentioned below far outdate the invention of the credit card.
Let's get ready to live la dolce vita and try them all — every day is the Feast of San Gennaro in NYC!
Best Old-School Italian in Brooklyn
Michael's of Brooklyn
View this post on Instagram
2929 Avenue R, Marine Park
A frequent hangout for political power players and passionate locals since 1964, Michael's is one of the best Brooklyn Italian restaurants to see and be seen while you dive into a perfectly al dente plate of pasta.
Enjoy appetizers like the Mini Meatballs and Ricotta or Fried Calamari before moving on to the pasta Alla Michael's (Shrimp and Clams in a Light Tomato Sauce) or a Chicken Francese.
And if you're clamoring for more, be sure to take home some of the restaurant's signature jarred red sauce to recreate your own old-school Italian restaurant in Brooklyn from anywhere! Keep an eye out, you can find these in many local grocery shops or Italian grocery shops in Brooklyn!
Bamonte's
View this post on Instagram
32 Withers St, Williamsburg
Do not skip out on visiting Bamonte's, one of the absolute best red sauce Italian restaurants in Brooklyn, and best restaurants in Williamsburg — open for over a century, this old-school joint has the veritable checklist of features you're looking for on your parmigiana journey: white tablecloths and mid-century dining room decor, servers in tuxedos with a heavy wine pour, signed portraits of celebrity patrons lining the walls, and extremely shareable portions of your favorite Italian-American classics. Try the perfectly al dente homemade Cheese Ravioli, Penne ala Vodka, and the Chicken Parmigiana.
Ferdinando's Focacceria
View this post on Instagram
151 Union St, Columbia Street Waterfront District
Nearly as old as Bamonte's, Fernando's is the oldest Sicilian joint in the entire city and a must on your survey of old-school Italian restaurants in Brooklyn located in the small, charming neighborhood of Columbia Street Waterfront District.
If you're looking for the most bang for your buck, their gigantic Arancina Special (rice ball) is a savory, creamy, flavorful delight, stuffed with ground beef and peas, fried to a perfect crisp, and generously coated in the restaurant's signature sauce — it could, frankly, make a meal on its own!
We also recommend the Penne, Broccoli Rabe, and Sausage, and to finish out your meal of some of the Best Italian in Brooklyn with a homemade Cannoli.
Frost Restaurant
View this post on Instagram
193 Frost St, Williamsburg
Open since 1959, this Brooklyn Italian restaurant specializes in seafood-forward dishes, including the fantastic Clam Sauce Linguine and Zuppa di Mussels. But fear not — if seafood isn't your thing, there are plenty of excellent red sauce Italian in Brooklyn favorites to enjoy, including mouth-watering garlic bread, Steak Pizzaiola, and Stuffed Shells.
Don't forget their well-curated wine menu featuring varietals from both Italy and California!
L&B Spumoni Gardens
View this post on Instagram

2725 86th St, Gravesend
Beloved citywide for their pillowy, square Sicilian slices, L&B Spumoni Gardens serves up some of the best Italian in Brooklyn (and best pizza in Brooklyn) with their time-honored pie recipes.
This casual sit-down joint is an ideal place to split a giant Sicilian Pie, a plate of broccoli rabe — and be sure to save room for the homemade spumoni, a multi-layered gelato of chocolate, pistacchio, and cremolata. Seasonal tip!
Stop by L&B during the holidays to fuel up before heading to the Christmas lights of Dyker Heights!
Gargiulo's Restaurant
View this post on Instagram
2911 W 15th St, Coney Island
Serving Coney Island since 1907 (and owned by the Russo family for over 50 years), Gargiuio's is absolutely one of the best Italian restaurants in Brooklyn, beloved by locals and visitors alike for its elegant ambiance and reliably tasty red sauce classics.
Don't miss out on the Baked Clams, the Stuffed Artichoke, Beef Braciola, or fresh whole Lobster. And for those planning a party, Gargiulo's is well-versed in catering for a crowd — a wedding that serves Venetian pastries is our kind of party!
Frankies 457 Spuntino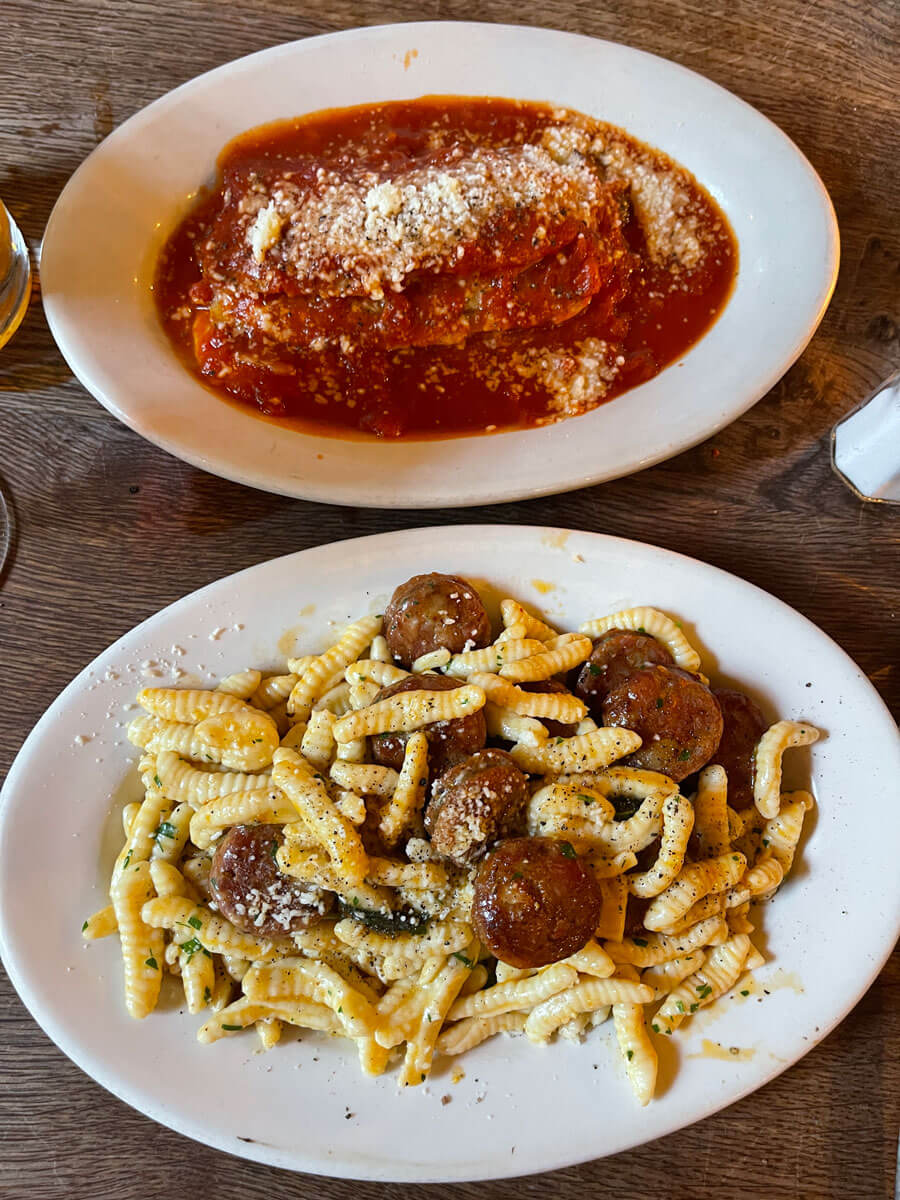 457 Court Street, Carroll Gardens
Let's address one thing up front — Frankies 457 is way, way, newer than most of the red sauce Italian in Brooklyn spots we've covered thus far. That being said, despite being a young whippersnapper among older stalwarts, Frankies 457 absolutely embodies the homey, convivial ambiance of a place open for centuries.
We love the Tomato-braised Short Rib and Polenta, the Cavatelli with Hot Sausage and Brown Sage Butter, Eggplant Marinara with Pecorino, the Meatball is a classic, and the Gnocchi Marinara with Fresh Ricotta, and the Tiramisu for dessert!
Also, don't sleep on Frank's Wine Bar next door or F&F Pizza, which are all under the umbrella of the same ownership and all offer great Italian in Brooklyn, not to mention some of the best restaurants in Carroll Gardens and best restaurants in Brooklyn to try.
Vinny's
View this post on Instagram
295 Smith St, Carroll Gardens
This luncheonette-style, family-owned Carroll Gardens spot definitely deserves a place on our best Italian in Brooklyn list — try a bowl of their Pasta e Fagioli or Tortellini in Brodo for lunch, or go all out and get the Manicotti Bolognese or Chicken Piccata for dinner.
This is also an ideal place to bring gluten-free friends and family, as Vinny's now offers alternative options in many of their dishes!
Sam's
View this post on Instagram
238 Court St, Cobble Hill
A must among old school Italian restaurants in Brooklyn, Sam's is the kind of place that luxuriates in knowing exactly what its customers want, with no need to bend or change to fit current trends.
Open since 1930 and run for decades by the Migliaccio family, Sam's consistently turns out great pizza and the kind of ambiance that feels like it should be in a movie — which, it turns out, is often the case, as everything from The Marvelous Mrs. Maisel to Law and Order has filmed there. Try the Sausage and Ricotta Cheese Pizza and keep an eye out for famous faces.
Joe's of Avenue U
View this post on Instagram
287 Avenue U, Gravesend
When looking for red sauce Italian in Brooklyn, Joe's is a clear choice for plentiful portions of Sicilian cuisine (specifically from Palermo). Pull up to the old-school red diner booths and order a hearty Lasagna, Chicken Parm Sandwich, Sicilian-style Codfish, or Fried Calamari.
And if it's soccer season, be sure to wear your pink and black to cheer on Palermo's soccer club, to which there are loving collages sprinkled throughout the restaurant!
Don Peppe's
View this post on Instagram
135-58 Lefferts Blvd, South Ozone Park, Queens
Technically, this is not a red sauce Italian spot in Brooklyn, but in Ozone Park, Queens. If you have a car, what does it matter? We cheated and included it anyway.
You know you've hit a true red sauce Italian gem when there are no reservations, only cash accepted, and the bill comes in a handwritten check. Don Peppe's of Ozone Park is such a place, known for its convivial ambiance, antipasto salad (hand-tossed and dressed tableside!), Baked Clams, Beef Braciola, and generous, family-style pasta dishes. Adding to the old-school Italian restaurant in Brooklyn vibe? A glass-encased dessert display. Get the cheesecake! This is a perfect spot on the to or from way to JFK.
Da Nonna Rosa
View this post on Instagram
140 7th Avenue, Park Slope
While the ground floor of Da Nonna Rosa appears to be a straightforward slice shop, beyond its pizzeria entryway lies a classic Brooklyn Italian restaurant with all of the red sauce trappings you could dream of.
Order up Nonna's Special Salad (Romaine, Chopped Tomatoes, Cucumbers, Provolone, Fresh Mozzarella, Crostini, Italian Vinaigrette), a Neapolitan Pizza, Lasagna, or a Spaghetti Carbonara to share with an extremely reasonably priced bottle of wine. Mangia!
Sotto Voce
View this post on Instagram
225 7th Ave, Park Slope
A low-key corner joint that houses some of the best Italian in Brooklyn (and one of the best restaurants in Park Slope), Sotto Voce is known for their house-made Spaghetti Aglio e Olio, Fettucine Bolognese and delectable gelato.
While they generally offer a full array of year-round classics, the old school Italian restaurant in Brooklyn also curates great seasonal holiday menus like their date-friendly Valentine's Day specials, Mother's Day brunch, or lobster-forward New Year's tasting menu — the perfect way to ring in a new year if you ask us!
Marco Polo
View this post on Instagram
345 Court Street, Carroll Gardens
A local favorite open for nearly 40 years in the heart of Carroll Gardens, Marco Polo is a romantic Brooklyn Italian restaurant that is everything you want in a red sauce joint. White tablecloths and stained glass ceiling accents? Check. Homemade Mozzarella and Prosciutto? Check. Fried Artichoke with aioli? Check. Lobster Ravioli? Check. Agnolotti with Butter and Sage? Check. Don't forget to try the Affogato!
La Locanda
432 Graham Ave, Williamsburg
Family-owned and operated for nearly three decades, La Locanda is one of the best red sauce Italian restaurants in Brooklyn where owners Cono and Maria Colombo still start each day preparing the eatery's specials.
Try the hot antipasto plate (eggplant rollatini, stuffed mushrooms, baked clam, and shrimp), the linguine della Nonna (Pasta with shrimp, broccoli di rapa, garlic, and pepperoncino), and the Agnellotti Bolognese. On the run? Grab a superb Chicken Parmigiana sandwich to go!
Nostro
View this post on Instagram
710 5th Avenue, Greenwood Heights
A tiny storefront that would be easy to miss, Nostro is a hidden Greenwood Heights/South Slope gem of Brooklyn Italian restaurants. We recommend the Canneloni Ricotta (homemade pasta filled with ricotta and spinach topped with mar and mozzarella) or the Lasagna Bolognese (Homemade pasta layered with beef and pork bolognese and bechamel sauce) and splitting the crostini burrata!
All of their dishes are perfectly paired with your own bottle of wine as they are BYOB friendly!
Il Posto
View this post on Instagram
7409 Avenue U, Bergen Beach
Another Avenue U gem, Il Posto is an excellent traditional Southern Italian restaurant, featuring hits such as Pasta Puttanesca, Tortellini Alla Panna, and Shrimp Scampi. Adding to Il Posto's red sauce Italian in Brooklyn vibe are their live summer music nights, featuring crooners and comedians that will take you back in time!
Baci
View this post on Instagram
8424 Third Avenue, Bay Ridge
With locations in Staten Island and Bay Ridge, Baci is one of the best Italian Restaurants in Brooklyn with hits like Pappardelle Bolognese, Risotto Pascatore (clams, mussels, shrimp, octopus, calamari), and Chicken Francese.
Baci also incorporates new takes on old favorites, like their Italian Egg Rolls made of risotto, sausage, sun-dried tomatoes, broccoli rabe, and tomato basil sauce. They also have a full raw bar!
Mariella
View this post on Instagram
492 6th Avenue, Park Slope
Designed to resemble an old-world trattoria, Mariella is one of the best Italian restaurants in Brooklyn with a cozy, friendly ambiance. Focused on sourcing local, organic ingredients for their traditional Southern Italian cuisine, try the Polpette al Ragu or the Risotto of the Day!
al di la Trattoria
View this post on Instagram
248 5th Avenue, Park Slope
Owned and operated by husband and wife team Emiliano Coppa and Chef Anna Klinger for nearly 25 years, al di la Trattoria is some of the best Italian in Brooklyn — proven by their Michelin rave reviews and New York Times accolades!
While their menu is rooted more in Northern than Southern Italian cooking, we've still included it on the list for its time-honored traditional recipes like the Ricotta Tortelli, Tagliatelle Al Ragu, and Saltimbocca Alla Romana. Be sure to top off your meal with a Creme Fraiche Panna Cotta!
Gersi
View this post on Instagram
316 Court Street, Carroll Gardens
Another modern take on the classic Brooklyn Italian eatery, the popular Gersi has perfected the art of well-made, comforting classics — like their Spaghetti Limone, Orecchiette with Broccoli Rabe and Sausage, and of course, Chicken Parmigiana. We also recommend their citrus and fennel salad and their Negroni!
Enoteca
View this post on Instagram
347 Court Street, Carroll Gardens
Enoteca describes itself as a wine library, to which we say — sign us up for the book club. Aside from their prolific vino selection, we recommend checking out their house-made pastas, brick oven Prosciutto, Zucchini, Imported Bufala pizza, or the famous Volcano (Half Calzone stuffed with Ricotta, Mozzarella, & Spicy Soppressatta, Half Pizza with Tomato, Mozzarella, Olives, & 'Nduja).
---
About Guest Author
Sarah Beling is a playwright, New Yorker, and passionate food enthusiast who is always looking for her next meal. You can find her in an NYC park, enjoying a chopped cheese sandwich and reading about NYC's best new places to eat.
---
Did we miss your favorite Italian red sauce restaurants in Brooklyn? Let us know in the comments below!