Planning a visit to the New York Aquarium, aka the Brooklyn Aquarium or the Coney Island Aquarium? You've come to the right place. We have put together a very detailed guide of everything you need to know before visiting New York Aquarium in Coney Island, Brooklyn.
The New York Aquarium is the oldest continuous running aquarium in the United States! The original location of the now Brooklyn aquarium was actually at Castle Garden in Battery Park in Manhattan. It opened at this location in 1896 and moved to the Coney Island aquarium location on Riegelmann Boardwalk in 1957.
The New York Aquarium is operated by the Wildlife Conservation Society, or WCS like other zoos in the city including Prospect Park Zoo.
The Wildlife Conservation Society's mission is to save wildlife and wild environments through conservation programs, education, science programs, and inviting people to value nature. The Coney Island aquarium also runs the New York Seascape program which is a local conservation program designed to restore a healthy environment and populations of New York waters and species.
The New York Aquarium is on 14 acres and has 266 species of aquatic animals as well as exhibits to explore. We recommend planning at least a minimum of 90 minutes for your visit to this Brooklyn aquarium to enjoy all of the exhibits.
This guide to the New York Aquarium will cover all the important information you need to know before your visit to help you plan and prepare for an incredible day at this Brooklyn Aquarium, one of the best things to do in Brooklyn!
IMPORTANT VISITATION UPDATE:
To visit this Coney Island aquarium you will need to make an online reservation and ticket purchase in advance since they are limiting the capacity for the safety of its visitors and to control crowd management. Even annual members need to reserve a time and date in advance.
You can only visit by purchasing a ticket in advance, there will be no ticket sales available in person on arrival. You can arrive within 60 minutes after your scheduled visit.
Table of Contents
New York Aquarium: Location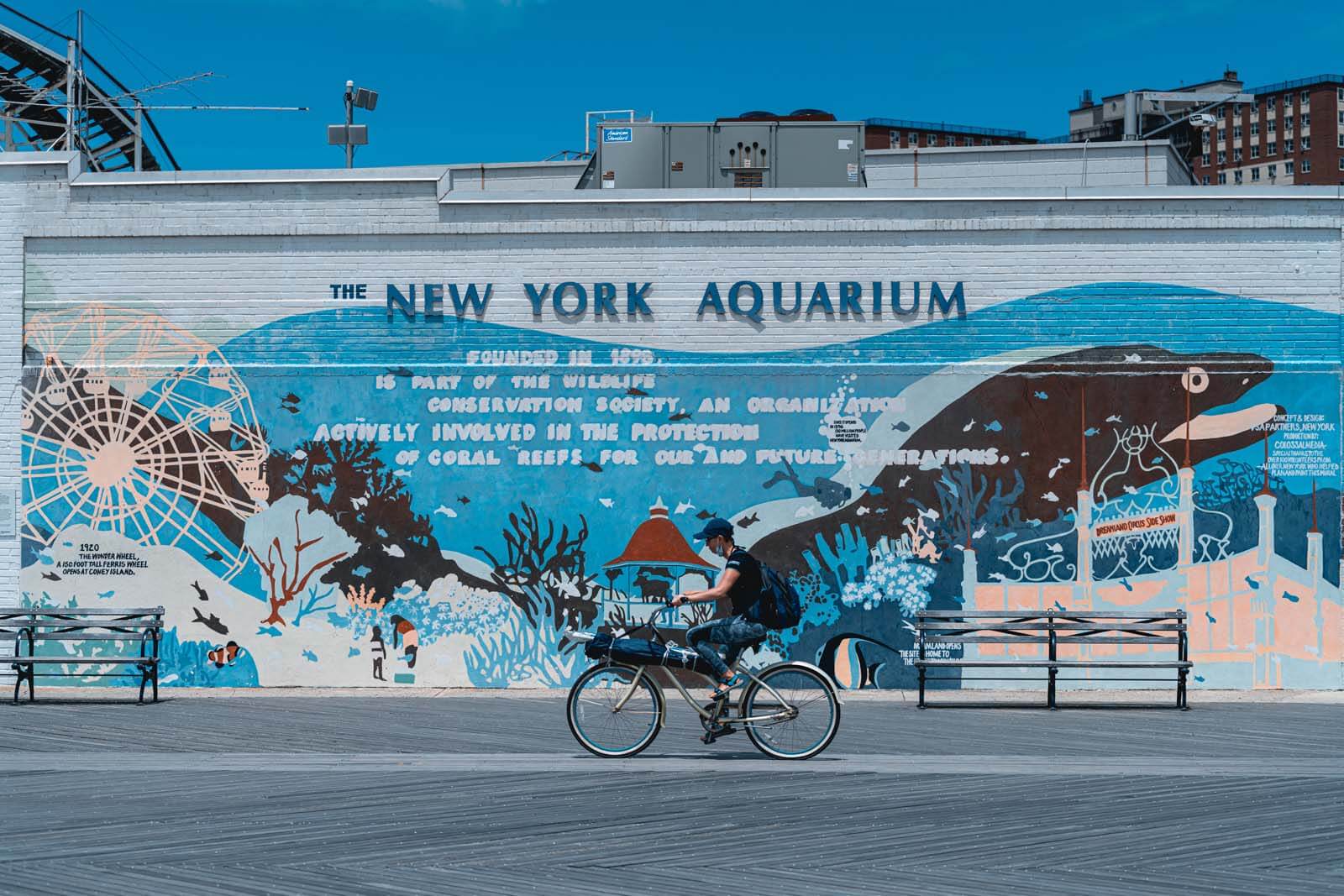 The New York Aquarium or Coney Island Aquarium is located at 602 Surf Avenue in Coney Island on Riegelmann Boardwalk, close next to all the best things to do in Coney Island on the historic boardwalk.
The nearest subway stops that service the surrounding area of the New York Aquarium are:
West 8th Street Station (F, Q lines)
Coney Island-Stillwell Avenue Station (N, D lines) *handicap accessible
Neptune Avenue Station (F line)
We also have a full guide on how to get to Coney Island with easy to follow directions you will want to check out especially if you want to explore more of the area, famous boardwalk and beach before or after your visit.
Read Next: Best Museums in Brooklyn
New York Aquarium: Admission
Regular Brooklyn aquarium admission is currently:
Adult

(ages 13 & over) –

$26.95
Senior Citizens

(65 & over with ID) –

$24.95
Children under 3-12

– $22.95
Special Coney Island aquarium admission:
The New York Aquarium at Coney Island offers reduced admission tickets available for Wednesday afternoons. These reduced ticket rates are available each week on Mondays at 3:00 pm. There is a maximum of 4 tickets per order.
Brooklyn Aquarium admission for Members:
You can become a member of the New York Aquarium which means you are a member of the WCS, The Wildlife Conservation Society that will give you free admission to all four New York City Zoos and the New York Aquarium in Coney Island.
You pay an annual fee depending on which level you pick which varies by price and perks including admission to all zoos and aquarium for different size families or individuals, discounts to events at all of these places, discounts on food and retail in the parks, free Bronx Zoo parking if you visit that Zoo among other perks.
If you're wanting to contribute to more of the conservation efforts as a conservation patron, you can also donate more money and in the addition of getting the perks of being a member, you also get opportunities to meet the conservationists and specialists from the various programs with an insider look of WCS and their efforts along with special tours.
If you choose to do so, you can also get recognition for your donation. Learn more about the membership options, conservation options, and gifting this for a friend on their website.
New York Aquarium: Hours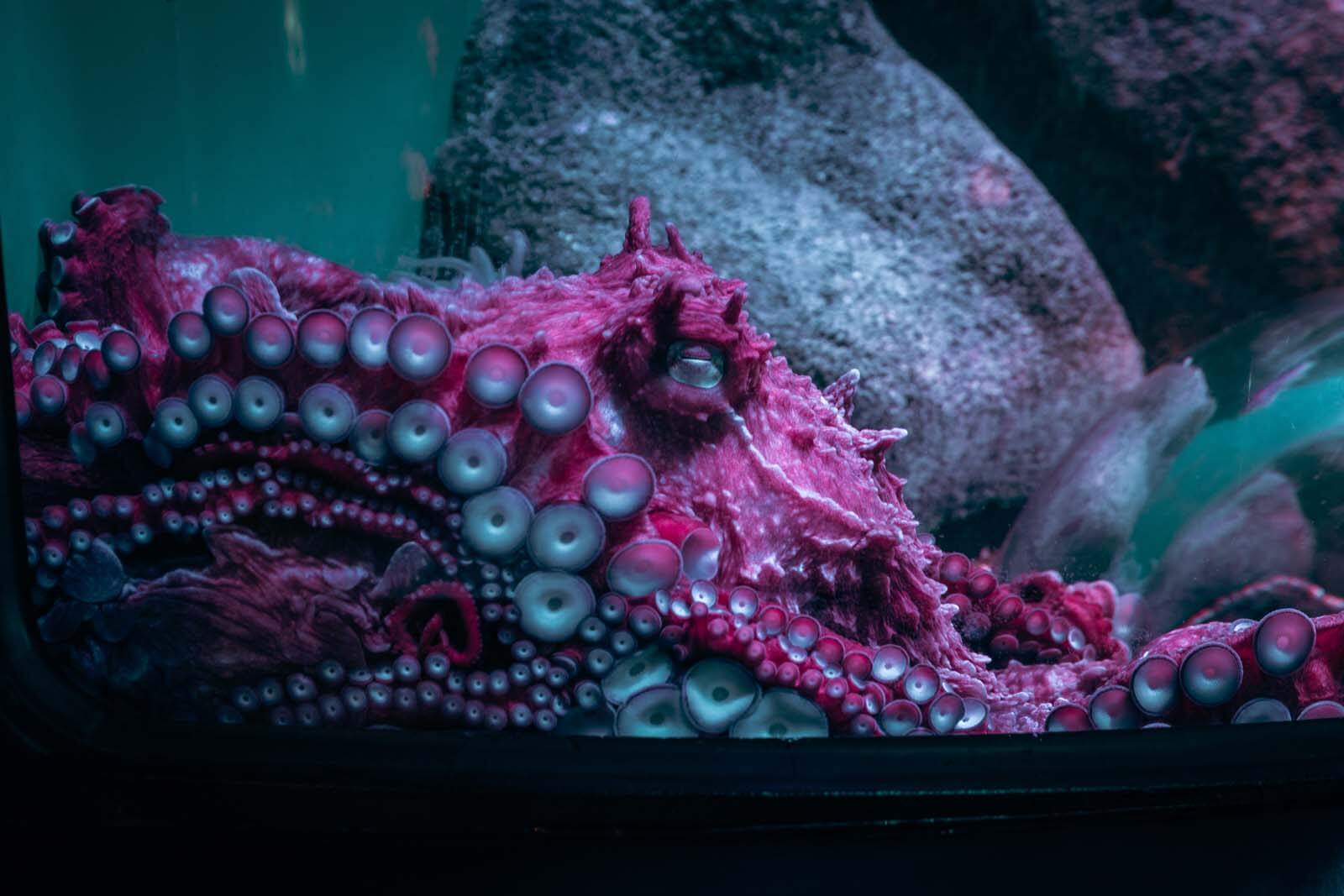 The Brooklyn aquarium hours vary depending on the time of year and have a cut off time every day for last possible entry.
From November through March the aquarium opens at 10:00 am and allows last entry at 3:30 pm with a closing time of 4:30 pm.
From April through the end of October, the aquarium opens at 10:00 and the last entry is at 4:00 pm with a closing time of 5:00 pm.
Always double-check their hours of operation if you happen to be falling on the shoulder of any of these dates!
New York Aquarium: Parking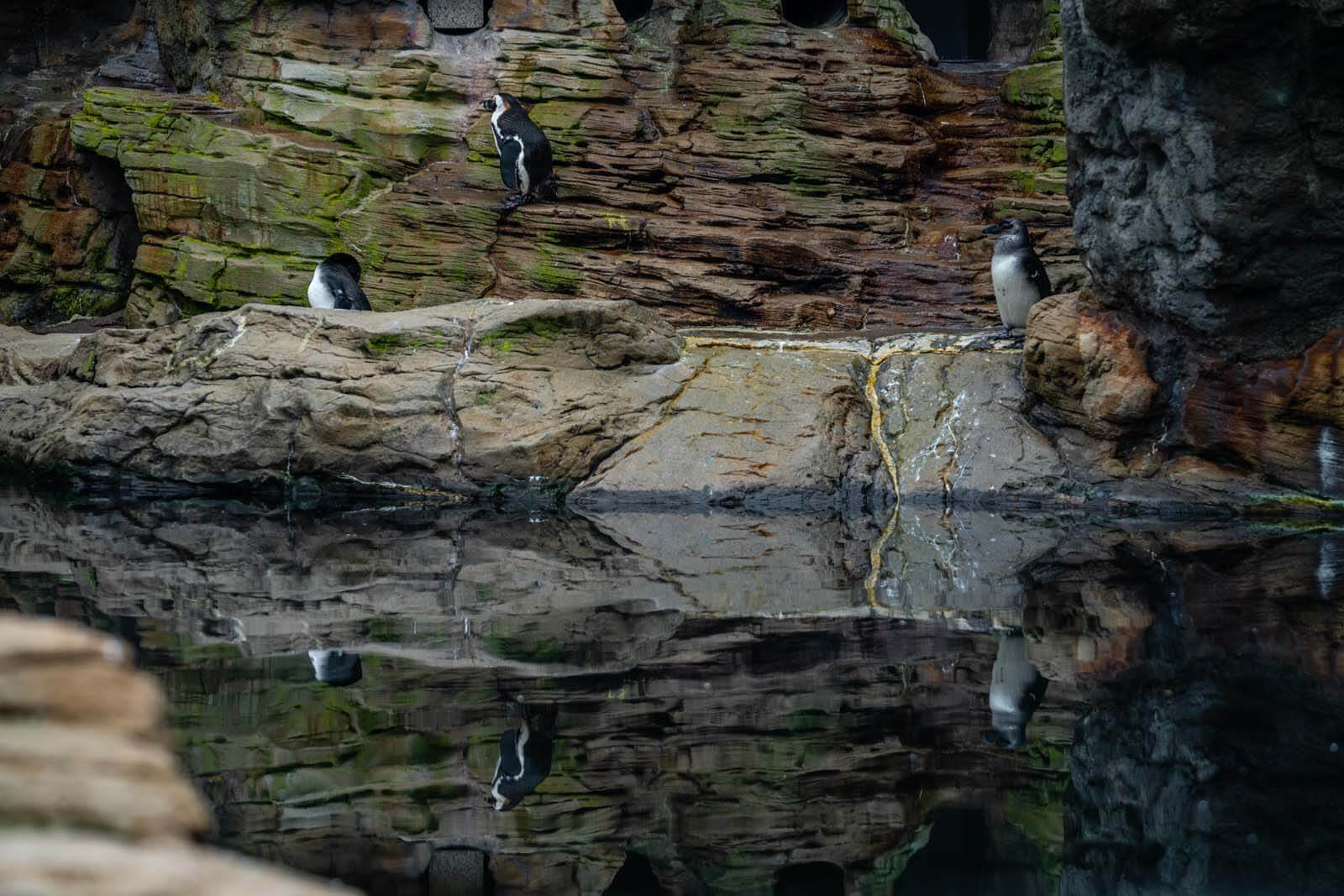 If you're driving you're going to need to know all about New York Aquarium parking and the best place to leave your car while you enjoy a fun time exploring all the marine life and even extended time if you plan on exploring more of what Coney Island has to offer.
The most convenient parking for the Brooklyn aquarium is their parking lot which opens at 9:30 am, 30 minutes prior to opening. Parking here is not free though, for non-members you will be charged $18 for the first 3 hours, $25 for 3-4 hours, and a maximum of $40 for anything 4 hours and up.
If you're a WCS member at the premium and conservation supporter level then the first 3 hours of parking at the Coney Island aquarium are FREE! The rates are $10 for 3-4 hours and a maximum of $20 for 4 hours and up. WCS members at the levels of conservation fellow and above have completely free parking.
There are other parking options too for Coney Island since walking distances aren't too bad. You can find (if you're lucky) free parking on the street, metered parking that's around $2 for 2 hours max, as well as paid parking lots around Coney Island.
Free parking on the streets can be hard to get if you're not coming first thing in the morning or visiting during peak summer season.
There are several pay lots including MCU Park that's about a 15-minute walk from the aquarium straight down the boardwalk.
Keep in mind if you do metered parking that many have time limits and/or may require you to return to feed the meter more money or move your car.
Another great option suggested by some visitors is to park at surrounding subway stations.
New York Aquarium: Things to See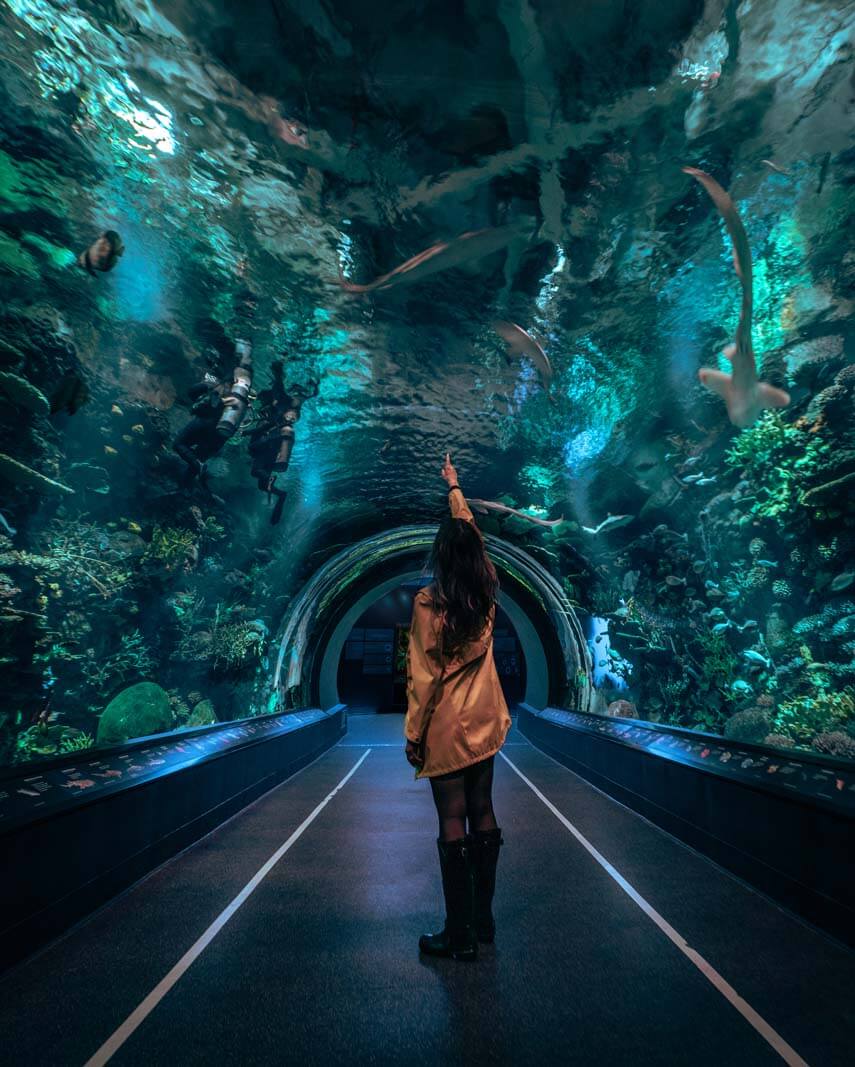 We recommend going over and getting familiar with all the different attractions, exhibits, and things to see at the New York Aquarium has to offer. Exhibits occasionally change, so if you've visited in the past there's a good chance you might be treated with something completely new at the Coney Island Aquarium!
Here are the current exhibits and experiences you can find at the Brooklyn aquarium:
Sea Cliffs
The Sea Cliffs are an outdoor exhibit at the New York Aquarium which features outdoor enclosures mimicking the rocky shores along the oceans. This is where you can find different outdoor rocky shores exhibits with penguins, sea otters, sea lions, and seals.
If you're lucky you will get here right around feeding time to see all these marine animals at the Coney Island aquarium at their most active time of the day.
Ocean Wonders: Sharks!
This is my personal favorite thing to do at New York Aquarium! This indoor exhibit takes you through a tunnel surrounded by coral reefs and 115 different species including 18 different species of sharks and rays, sea turtles, fish and more!
Right after you enter this exhibit, you will approach a tunnel that you walk through where you can look up and side to side where all the different sharks, rays, sea turtles, and fish will swim around and above you. Be sure to spend a few moments here and just watch as the scene is ever-changing.
After you go through the tunnel, you will go through a series of other aquarium tanks with other fish and educational stops teaching visitors all about sharks and how they breathe, live, breed, move, and how close they live to NYC!
Before you leave, you will be rewarded with one giant glass wall separating you between another tank called the Canyon's Edge where you can stare and gaze at the sandbar sharks, rough tail stingrays, and sand tiger sharks as they swim by you. This is one of our favorite picks for unusual and unique things to do at Coney Island!
Aquatheater
This next attraction at the New York Aquarium is outdoor and weather permitting, you will want to check the schedule for the day of your visit to see their different interactive demonstrations between the trainers and the California sea lions.
This is completely outdoor and there is stadium-style bench seating, there also are wheelchair friendly areas. Be sure to be prepared to sit directly in the sun on a hot summer day with a hat and sunscreen!
Conservation Hall
Another one of the highlights and not to be missed exhibits at the New York Aquarium is Conservation Hall where you can find native marine species from three very different regions of the world including the freshwater Great Lakes of Africa, and Brazil's flooded rainforest, and the Pacific Ocean's Coral Triangle.
The exhibit is also where you can find Glover's Reef, which is home to over 100 aquatic species from the three regions mentioned above as well as fish and coral native to the Belize Barrier Reef that was introduced the Coney Island aquarium in 2011.
There are interactive kiosks and information around the exhibits educating visitors on the environmental threats facing coral reefs including pollution and climate change as well as what marine conservationists work are doing around the world to save fragile underwater environments like these.
Spineless
Another fun exhibit to check out at the New York Aquarium is Spineless, the world of underwater invertebrates including different species of jellyfish that are mesmerizing to watch, giant Japanese spider crabs, a giant Pacific octopus, and cuttlefish to name a few highlights.
This is one of the newest additions to the Brooklyn aquarium and absolutely hypnotizing and calming to watch the jellies float around.
---
The 4-D Theater, a Wild Encounter, PlayQuarium, and the Sea Otter Feedings are currently unavailable due to the circumstances of 2020.
New York Aquarium Tips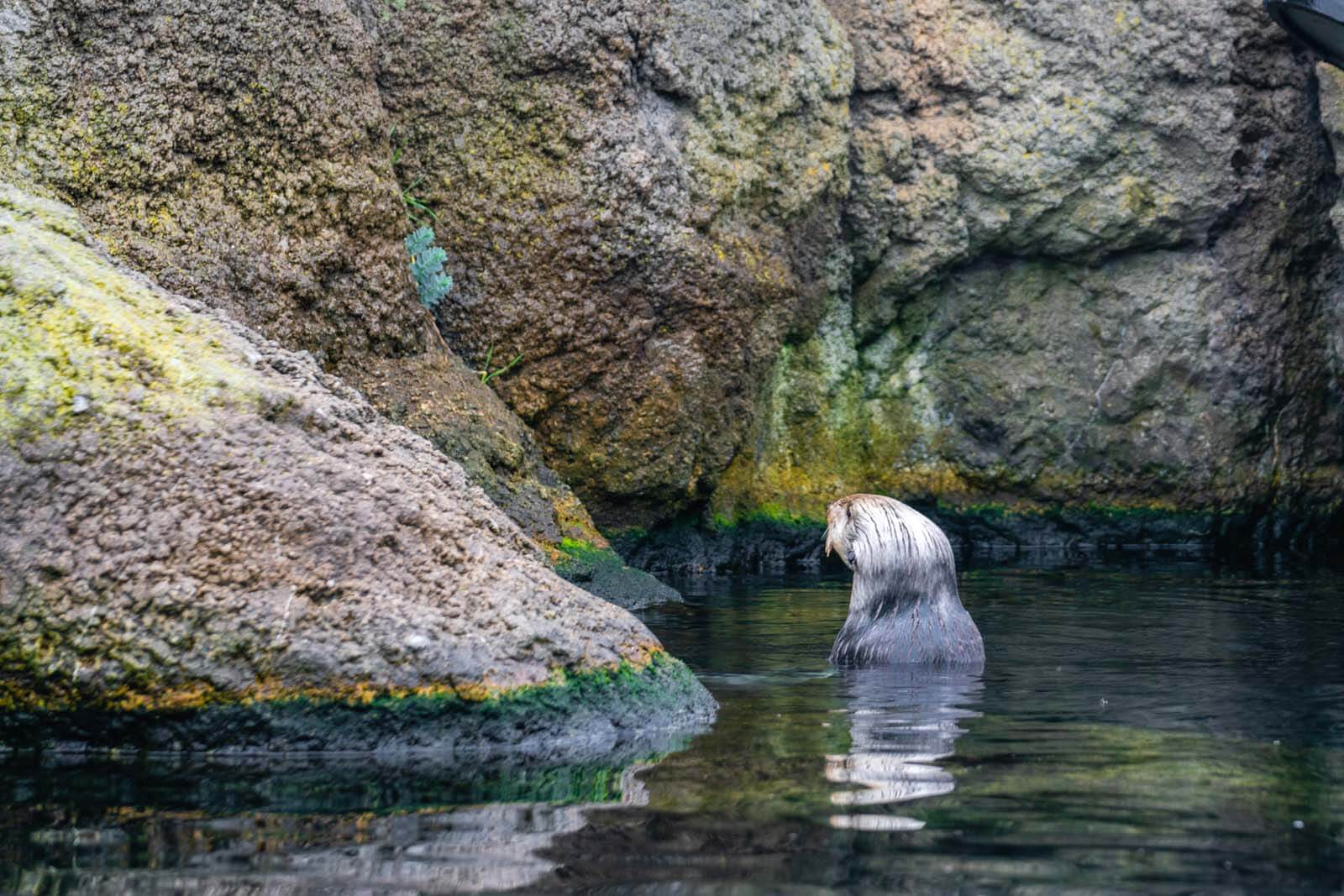 Check out some of these important New York Aquarium & Coney Island Aquarium and information that you will want to know before your visit!
We recommend planning a full 1.5 – 2 hours to enjoy at the Brooklyn aquarium, depending on how much time you spend at each exhibit or you might want to catch the feedings or trainer sessions they have daily.
Some of the outdoor trainer sessions are canceled due to rain, however, the rest of the exhibits are open rain or shine.
There are food options once you're inside the Coney Island Aquarium, there are food trucks and other options. Sometimes in the rain, they do not open some of the outdoor vendors. The Coney Island boardwalk has tons of options for eating as well unless you visit after Coney Island amusement park closes for the season at the end of October.
If you are here during the offseason, Nathan's Original and other restaurants on Surf Avenue are open year-round.
Wheelchairs are available on a first-come-first-serve basis, they ask to hold a $20 deposit that will be returned once the wheelchair is returned.
Strollers are available for rent too. A single stroller costs $10 to rent and a double stroller costs $15 to rent during your visit.
Even though many of the exhibits at the Coney Island aquarium are outdoors, smoking is prohibited everywhere.
Feeding or touching marine life is absolutely prohibited to ensure the health and safety of all creatures under the Brooklyn aquarium's care.
Bicycles, scooters, and skateboards are not allowed inside the aquarium. If you have a bicycle, it will need to be parked outside on one of the surrounding bicycle racks. If you're planning a trip to the beach before or after, leave your beach supplies in the car as they are not allowed in the Brooklyn aquarium property.
Only working service animals that are in accordance with the American with Disabilities Act are allowed.
Please do not bring tripods into the aquarium.
We recommend bringing a backpack or daypack so your hands are free. See our Brooklyn packing list for some other great options for what to bring on your trip.
We also recommend checking out our Coney Island winter guide as this attraction is open year-round and its also a great time to visit Coney Island without the crowds!
What To Do Near the Coney Island Aquarium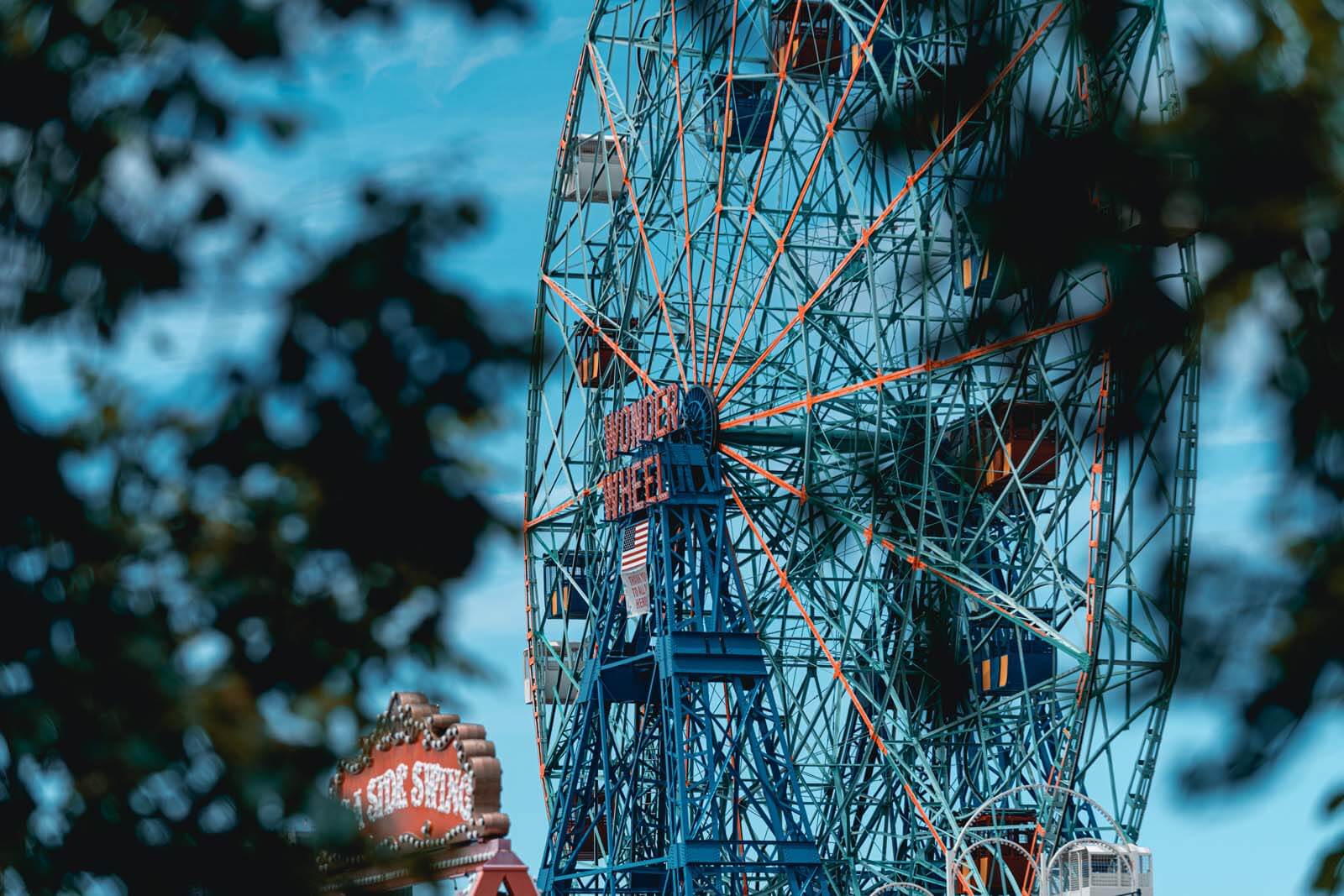 Deno's Wonder Wheel & Luna Park
Combine your visit to the New York Aquarium with the legendary and famous amusement parks of Coney Island including Luna Park and Deno's Wonder Wheel!
The season usually lasts from Easter to Halloween each year! If you happen to visit off-season, don't worry you will not only experience less crowds but you can still see many of the famous attractions and rides from the empty boardwalk like the Wonder Wheel, Cyclone Roller coaster, and more!
Be sure to check out our guide to the best Coney Island Instagram spots too!
Riegelmann Boardwalk
Riegelmann Boardwalk, aka the Coney Island Boardwalk, is a MUST when visiting the Coney Island aquarium, especially since you're right here. The wooden plank boardwalk is 2.7 miles long-running on the southern shore of Coney Island connecting the amusement park, shops, eateries, and is a New York City designated landmark.
MCU Park
After your visit to the New York Aquarium, check out a Brooklyn Cyclones minor league baseball game at MCU Park!
Coney Island Beach
While you're here visit one of the most popular of all the beaches in Brooklyn! Yes, it does get a little crowded in the summer, but this is one of those timeless NYC activities and gathering place for over a century in the warmer months!
Enjoy 3 miles of sandy beaches and shoreline for swimming, sunbathing, playing volleyball, and other beach day activities!
The beach runs from West 37th Street to Manhattan Beach, then entire Riegelmann Boardwalk also runs along Coney Island Beach.
Note that the beach and boardwalk are open to the public year-round from 6 am to 9 pm. Lifeguards are on duty during the summer season from Memorial Day to Labor Day weekend. And if you have beach supplies, you will have to keep them in the car or somewhere else as they are not allowed in the New York Aquarium.
Brighton Beach
Check out the neighboring beach and community of Brighton Beach! This neighborhood is home to a large Russian-speaking community that is generationally tied to the neighborhood from the ancestors' immigration. Many of the signs are even in Cyrillic.
The beaches are typically slightly less crowded even in the summer months here and honestly, it feels like you're in another world here as its a very culturally rich neighborhood full fo Russian restaurants and shops to explore.
---
Found this guide to everything you need to know about visiting the New York Aquarium aka the Brooklyn Aquarium or Coney Island helpful? Bookmark for later or share the love below on Pinterest.