One of the best things to do when visiting the city is check out all the incredible museums. There are TONS of museums in Brooklyn, not to mention tons of famous museums in NYC to check out and today we are going to cover some of the best ones in the borough of Brooklyn so you can decide which museums to explore and visit on your visit.
From museums in Brooklyn around art, history, to children's museums and unique museums there are plenty to choose from and something for everyone in addition to being home to a great collection of independent art galleries in Brooklyn.
Best Museums in Brooklyn
BROOKLYN MUSEUM
Prospect Heights
The Brooklyn Museum is one of the top museums in Brooklyn for art enthusiasts. Home to 1.5 million pieces of work, this museum is located next to the Brooklyn Botanic Garden and near all the best things to do in Prospect Park.
One of the amazing things about this museum in Brooklyn is that it is the 3rd largest museum in all of New York City. The Brooklyn Museum has notable permanent collections from all over the world. The best part? Each collection is arranged by geographic location, time period, or culture.
Some of the more popular areas contain the Arts of the Pacific Islands, Egyptian, Arts of the Islamic World, Arts of Africa, American Art, and European art collections.
There are many famous artists on display some of which include Georgia O'Keeffe, Edward Hopper, Edgar Degas, Mark Rothko, and Norman Rockwell.
Closed Mondays and Tuesdays.
The first Saturday of every month there is free admission from 5-7 pm plus special exhibitions! You can't just show up though, you need to reserve a ticket online in advance. Read our guide to free museums in NYC to learn about more museums that have free days or no entry fee!
Get tickets here or get the New York Pass which gets you access to 100+ attractions, including this one, for up to 10 days or up to 45% off savings on normal admission prices all with this mobile pass!
BROOKLYN HISTORICAL SOCIETY
Brooklyn Heights & DUMBO
The Brooklyn Historical Society is the best museum in Brooklyn to learn more about the history of the borough.
Throughout this museum, you are able to examine the 400-year history of Brooklyn. You can do this through their educational center which includes history related to Brooklyn and the people who have lived here over the years.
Besides having many great resources such as a library, archive, and information all over the museum, this entire Brooklyn museum is housed in a beautiful landmark Romanesque Revival building.
There are two locations in Brooklyn, with the main location in Brooklyn Heights and an additional location in DUMBO.
$10 admission is suggested for adults. Children and students with an ID are always free.
Closed Mondays and Tuesdays.
NEW YORK AQUARIUM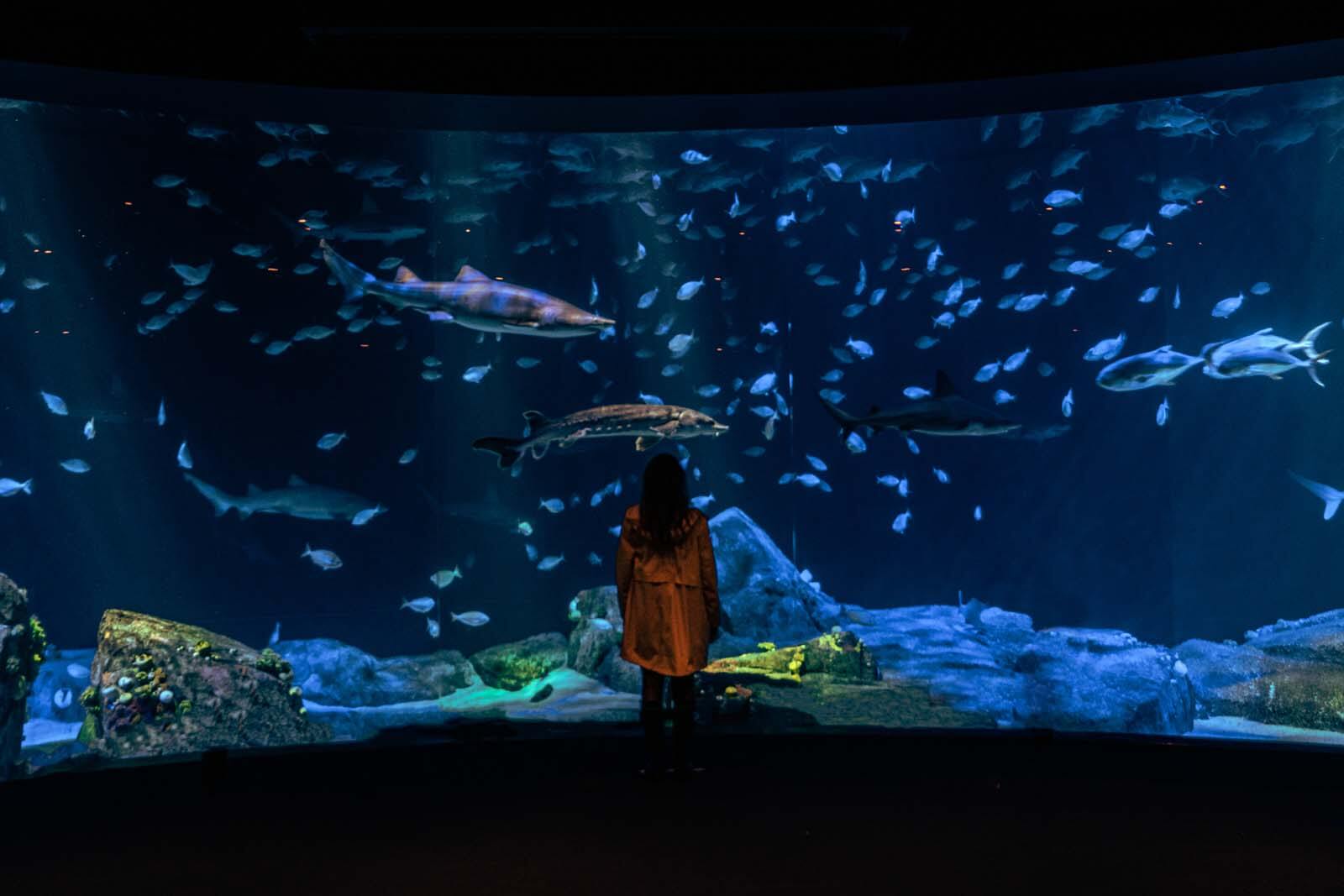 Coney Island
If you're looking for a museum in Brooklyn with over 266 species of marine life, the New York Aquarium is located right on the boardwalk of Coney Island and is the perfect spot for marine lovers.
Not only will you learn about the different species that live at the aquarium, you will gain more knowledge about environmental issues surrounding our ocean and its wildlife.
Be sure to check out their famous giant octopus and other marvelous mammals!
The New York Aquarium's main mission is to save wildlife through conservation programs, managed by the Wildlife Conservation Society. This is possible through education and scientific efforts, whose main focus is towards a healthier marine life for New York's waters.
Be sure to also check out all the best things to do in Coney Island while you're here!
Admission is $29.95 for adults and $24.95 for children. Open 7 days a week, closes early during winter hours, be sure to read our entire guide to the New York Aquarium to plan your visit.
NEW YORK TRANSIT MUSEUM
Downtown Brooklyn & Brooklyn Heights
Another amazing museum in Brooklyn is the New York Transit Museum in Downtown Brooklyn. This historic Court Street subway station has been made into a transit museum that shows the history of public transportation from the past to the present day. Spanning a full city block, this Brooklyn Museum is one of the most interesting educational sites in the neighborhood.
At the New York Transit Museum, you can explore the technology and design of NYC's main mode of transportation. Visitors can climb aboard the 20 different subways and elevated cars that date back to as early as 1907, as well as view exhibits showing the history and future of NYC transit.
Their main exhibit, Ticket to Ride, shows how fare collection has changed over the years through photographs and objects such as far collection boxes. In this exhibit, you can view the equipment used and gain a better understanding of what happens after you pay the fare.
Also, check out their exhibit, Moving the Millions, that highlights the major events that have changed the development of North America's largest form of transportation
Get your tickets here or get the New York Pass which gets you access to 100+ attractions, including this one, for up to 10 days or up to 45% off savings on normal admission prices all with this mobile pass!.
PROSPECT PARK ZOO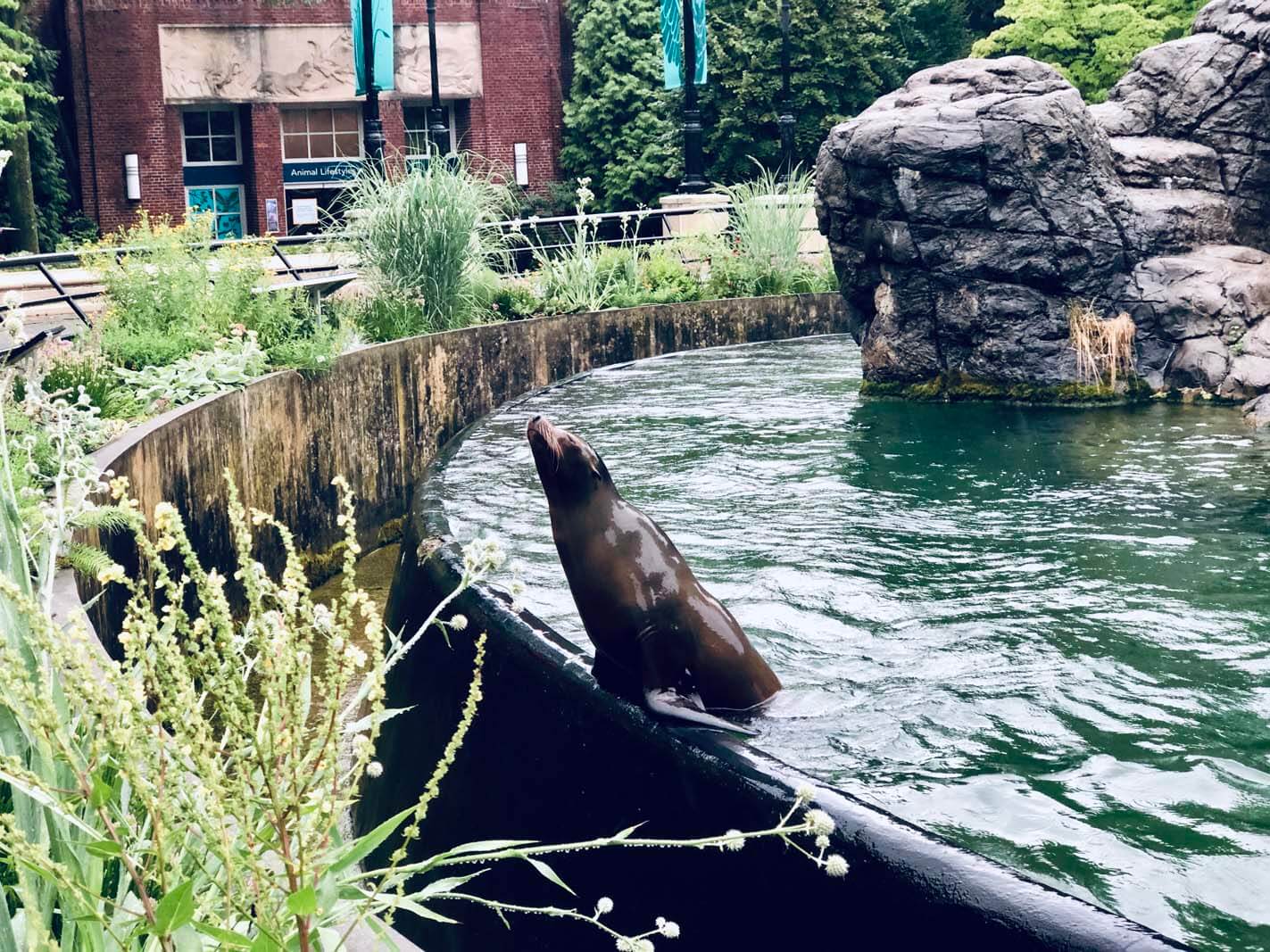 Located off Flatbush Ave. on the eastern side of Prospect Park, the Prospect Park Zoo is another extraordinary Brooklyn museum. This animal kingdom is home to hundreds of animals and almost 200 different species that you can explore in both indoor and outdoor exhibits.
Check out the red pandas along Discovery Trail, sit near the Sea Lion Court and watch the sea lions play, or become friends with a baboon at the Animal Lifestyles exhibit!
The Prospect Park Zoo is also operated by the Wildlife Conservation Society and has a primary mission of protecting endangered species.
Admission is $9.95 for adults and $6.95 for children, children 2 and under are free. Open 7 days a week.
THE CITY RELIQUARY MUSEUM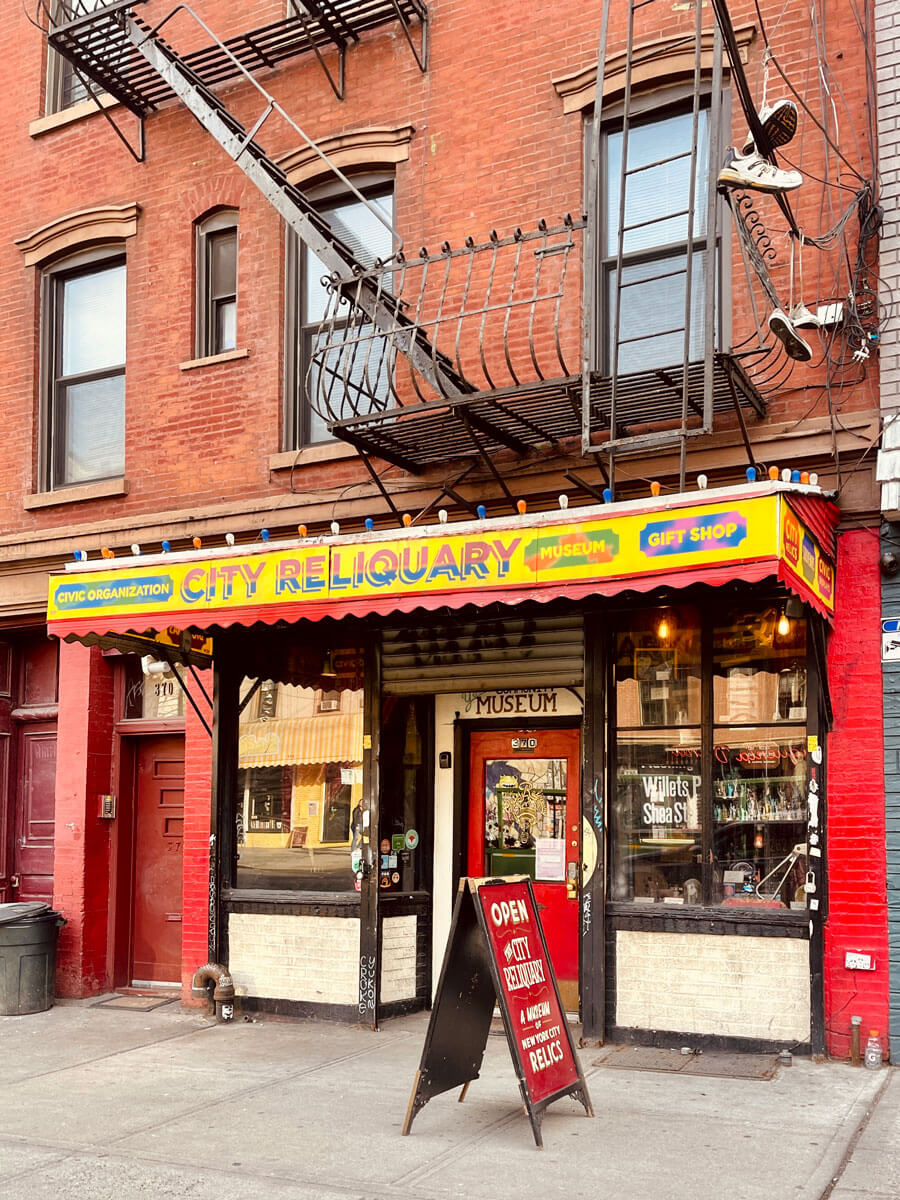 Williamsburg
If the history of New York City excites you, the City Reliquary Museum is a true hidden gem in Williamsburg. This is a community-run museum that highlights all things NYC! It is also one of the best museums in Brooklyn to learn more about the history of the boroughs.
This Brooklyn museum began in 2002 as a window display created by founder Dave Herman. You can find just about anything related to the city here including old postcards, building fragments, and other amazing artifacts.
Be sure to check out not one, but all of their exhibits! From their permanent collections, community collections, and rotating exhibits, you'll be able to learn all about the history of New York City and connect yourself to the lives of everyone who has passed through.
You can find this museum in the Williamsburg neighborhood of Brooklyn, located at 370 Metropolitan Avenue.
Admission is $7 for adults, $5 for students, seniors, and children. Open only Thursdays through Sundays.
BROOKLYN NAVY YARD CENTER AT BLDG 92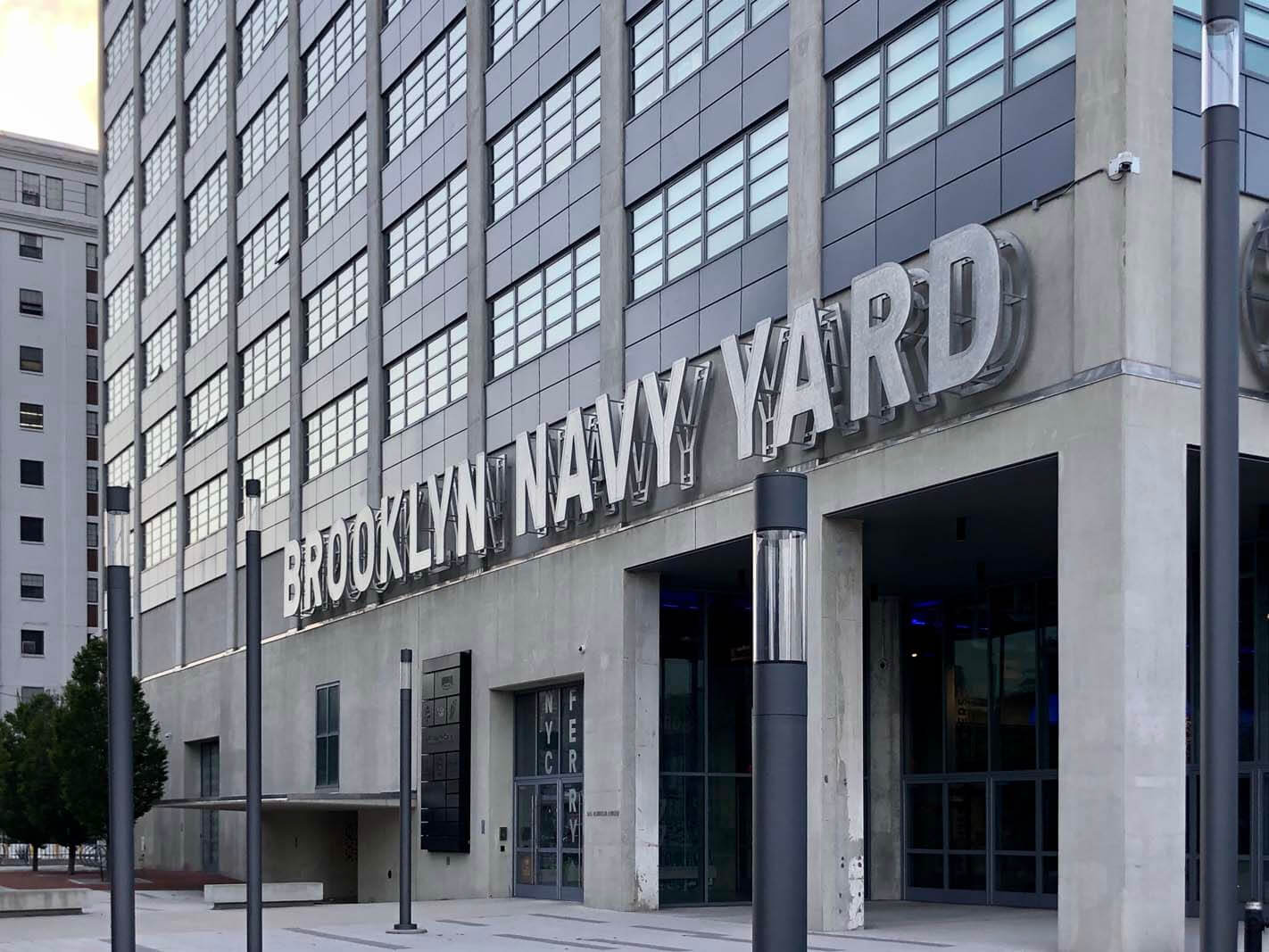 Right on the Brooklyn waterfront holds an old Marine Commander's residence. This restored space is home to many exhibits, tours, educational programs, and archives that show the history of one of the country's first naval shipyards.
This historic location was used as an industrial facility by the NAvy for over 160 years. Today, it is used by many of New York City's green businesses as well as other manufacturers.
Inside Building 92, you will learn about the past of the Navy Yard and about current efforts to use the space while also creating future plans for the property.
Make sure to visit the shop that sells products manufactured right on site! From food to art to other decor you can find just about anything made right on the Yard.
Admission is free to explore the different exhibits inside Building 92, there are also different tours you can join priced between $18-$30 a person. Closed Mondays & Tuesdays.
PIONEER WORKS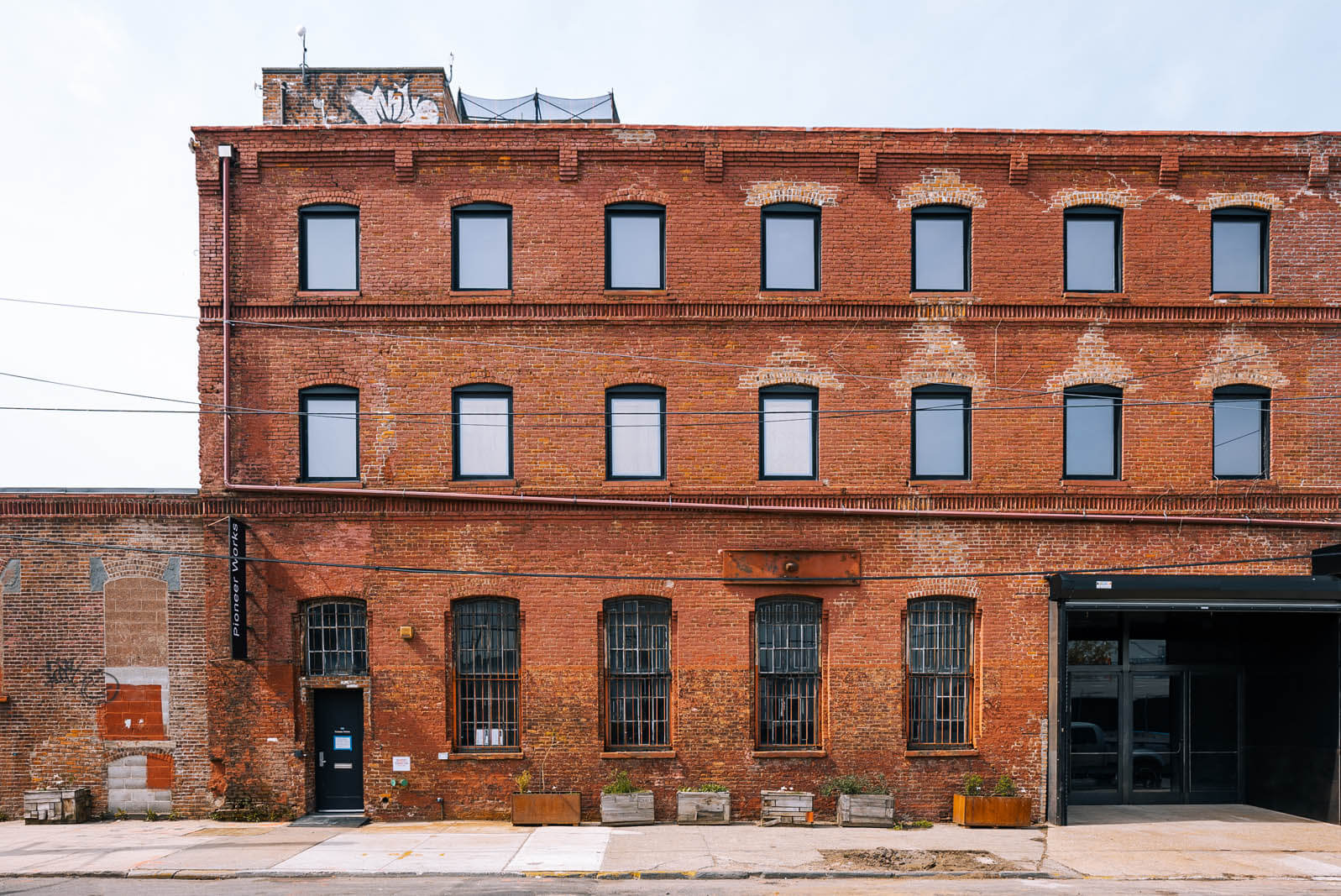 Red Hook
One of the coolest museums in Brooklyn is Pioneer Works located in Red Hook. Although it isn't well known, this Brooklyn museum is the best under the radar spots in NYC.
This museum gets its name from the historical building it originated from, Pioneer Iron Works. The building, which was built in 1866, was used for creating railroad tracks and other iron products.
This not-for-profit cultural center is focused entirely on the arts and sciences that encourage the freedom and space artist's need to create.
In this Brooklyn Museum, you can explore the work done by others through the exhibits, or you can take your very own class to explore the artist within yourself!
Admission is free and is closed on Mondays & Tuesday.
WATERFRONT BARGE MUSEUM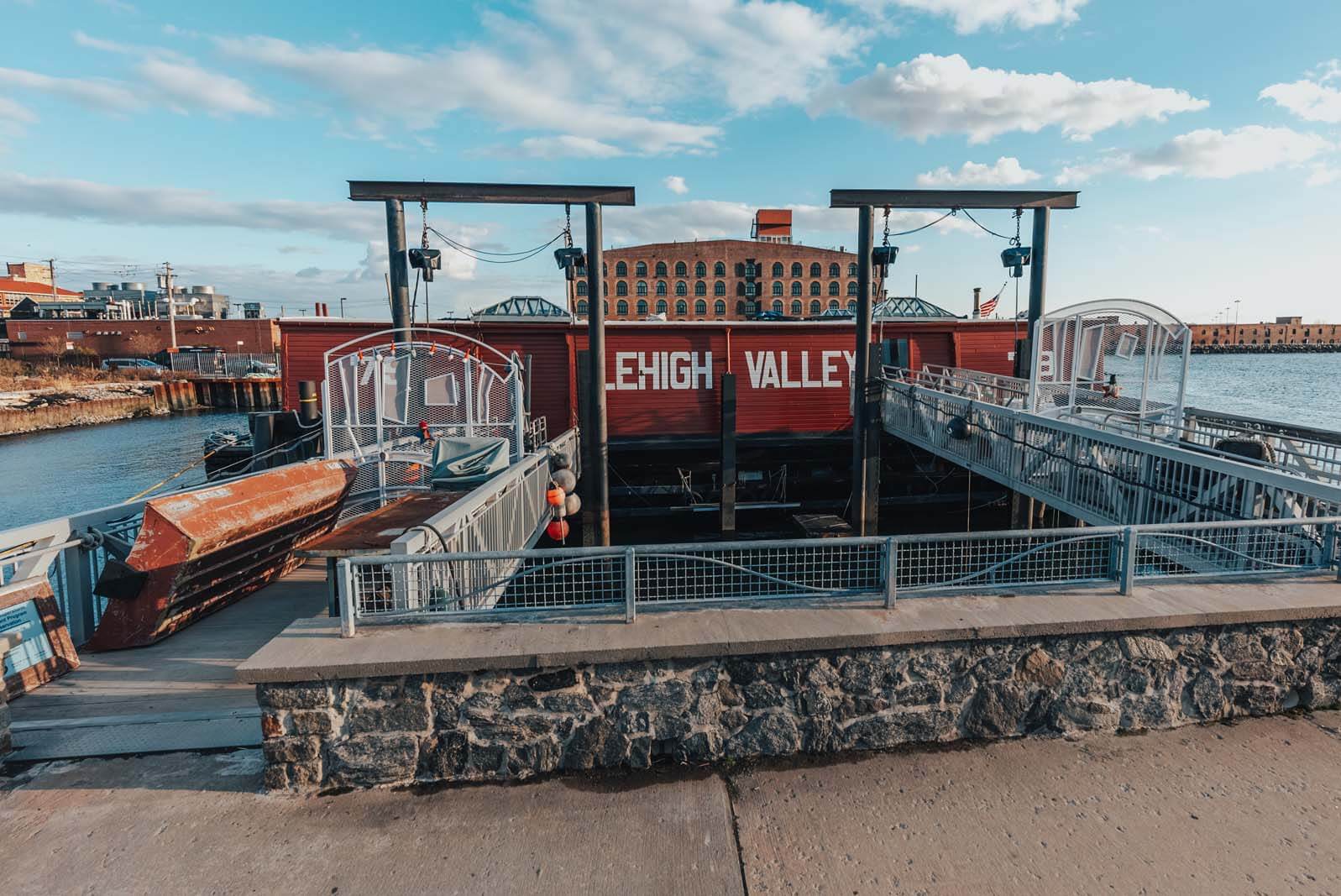 Red Hook
Another historical museum in Brooklyn along the waterfront is the Waterfront Barge Museum. Also known as the Waterfront Museum and Showboat Barge, this Brooklyn museum is the main historic preservation to the New York Harbor.
The Waterfront Barge Museum protects the heritage of New York City's waterfront by playing an important role in the economy, providing history of the passageway, and hosting recreational sports.
There are a number of different exhibits and displays housed here, making it one of the best museums in Brooklyn. From wooden barges, tugboats, and other historic boats, the waterfront is tied to many historic modes of transportations. You can also find the Lehigh Valley Railroad Barge Number 79 here, a well-known preserved Hudson River Railroad Barge.
Admission is free, typically open on Thursdays & Sundays with limited hours. There are seasonal closures so be sure to check before your visit.
This is one of the best free museums in NYC! Be sure to read our full guide to learn about more!
HARBOR DEFENSE MUSEUM
Bay Ridge
If the city's maritime history is of interest to you, the Harbor Defense Museum is the perfect museum in Brooklyn to learn about the history of the city's coastal defense.
From the Revolutionary War to World War II, the military was able to protect the city by water from vicious attacks. Here you can learn how these strategies and tactics helped save the New York Harbor.
This historic museum in Brooklyn holds relics detailing the past of the New York Harbor such as canons, uniforms, maps, weapons, and other military artifacts that protected the city from seaward invasion.
Free admission, closed on Sundays & Mondays.
INTERFERENCE ARCHIVE
Park Slope
Looking for a community-run museum in Brooklyn? The Interference Archive was created by the community and is run by a group of volunteers. This library, gallery, and archive were made to educate and provide historical information around activism and social movements.
This museum in Brooklyn was originally started in a home with a private collection of social movement memorabilia. The owners were invited to put their collection on public display as part of an exhibit at the Exit Art Gallery in Manhattan and was then made into its own museum.
Some of the exhibitions have included matters related to climate change, racial injustice, and education. The cool part? Almost half of its current artifacts and memorabilia are from outside of the US! It's also one of our picks for best things to do in Park Slope!
There is no admission, but donations are appreciated. Open on Thursdays through Sundays.
CONEY ISLAND MUSEUM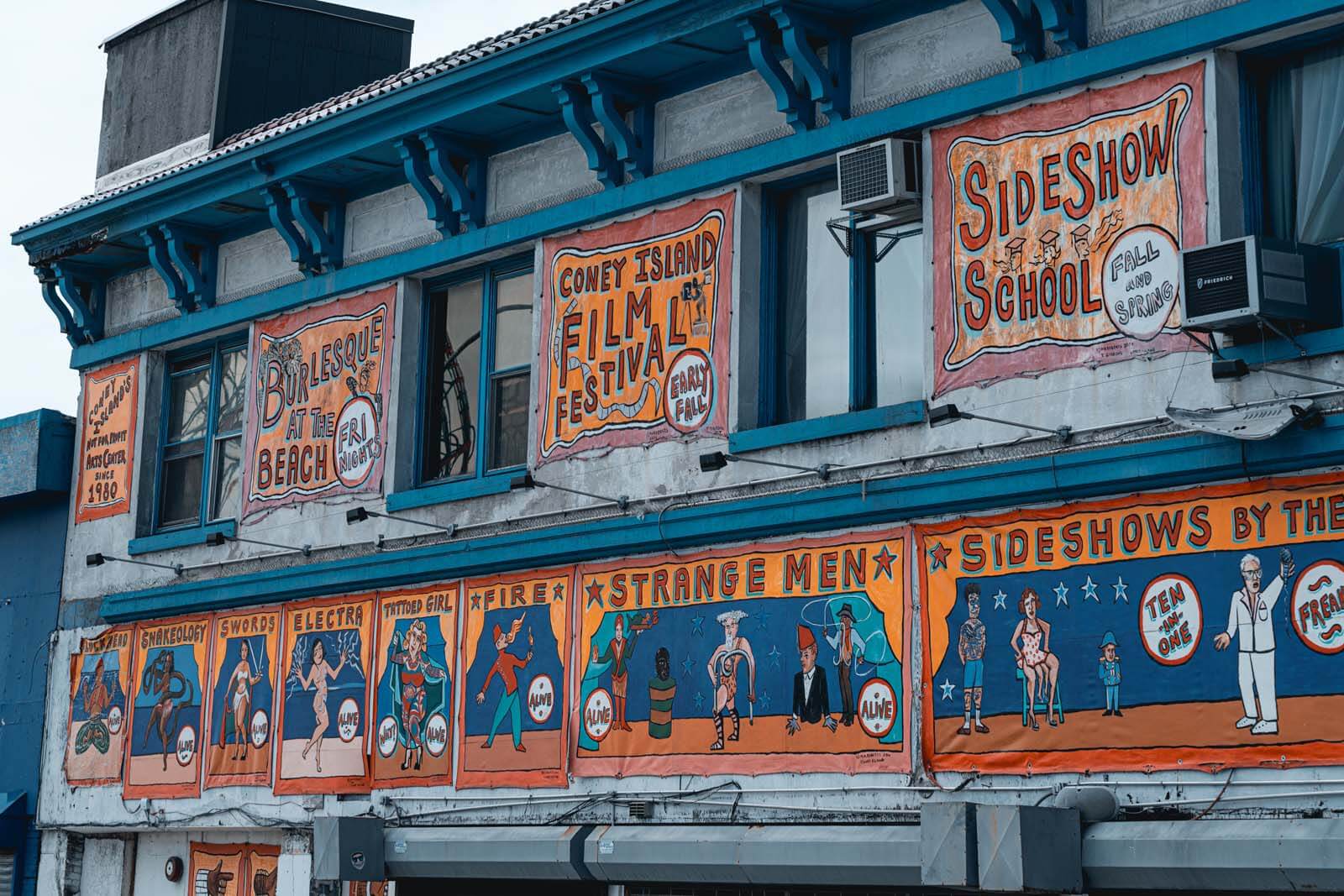 Coney Island
Another fun museum in Brooklyn is the Coney Island Museum. Located at Coney Island, their focus is solely on the history of the famous boardwalk and beach of Coney Island. Here you find all sorts of historical germs from the world-famous beachfront amusement park.
Walking through the exhibits you are able to see the crazy furniture mirror, retired vintage bumper cars, lost and found items from beachgoers, and other fun items from Coney Island's history.
Another fun exhibit is the "Five Cents to Dreamland," which is in partnership with the New York Transit Museum, another pick for best museums in Brooklyn. This exhibit shows the past of the visitors that came to Coney Island and paid five accents to get there via subway system.
This is one of our favorite Coney Island hidden gems too along with the Circus Sideshow that takes place in the same building!
Admission is $5 for adults and $3 for children, open Saturdays (12 – 5) & Sundays ( 2- 5) Labor Day – Mid June, open Mid June – Labor Day on Wednesdays – Saturday from 12 – 6 and on Sundays from 2 -6.
BROOKLYN BOTANIC GARDEN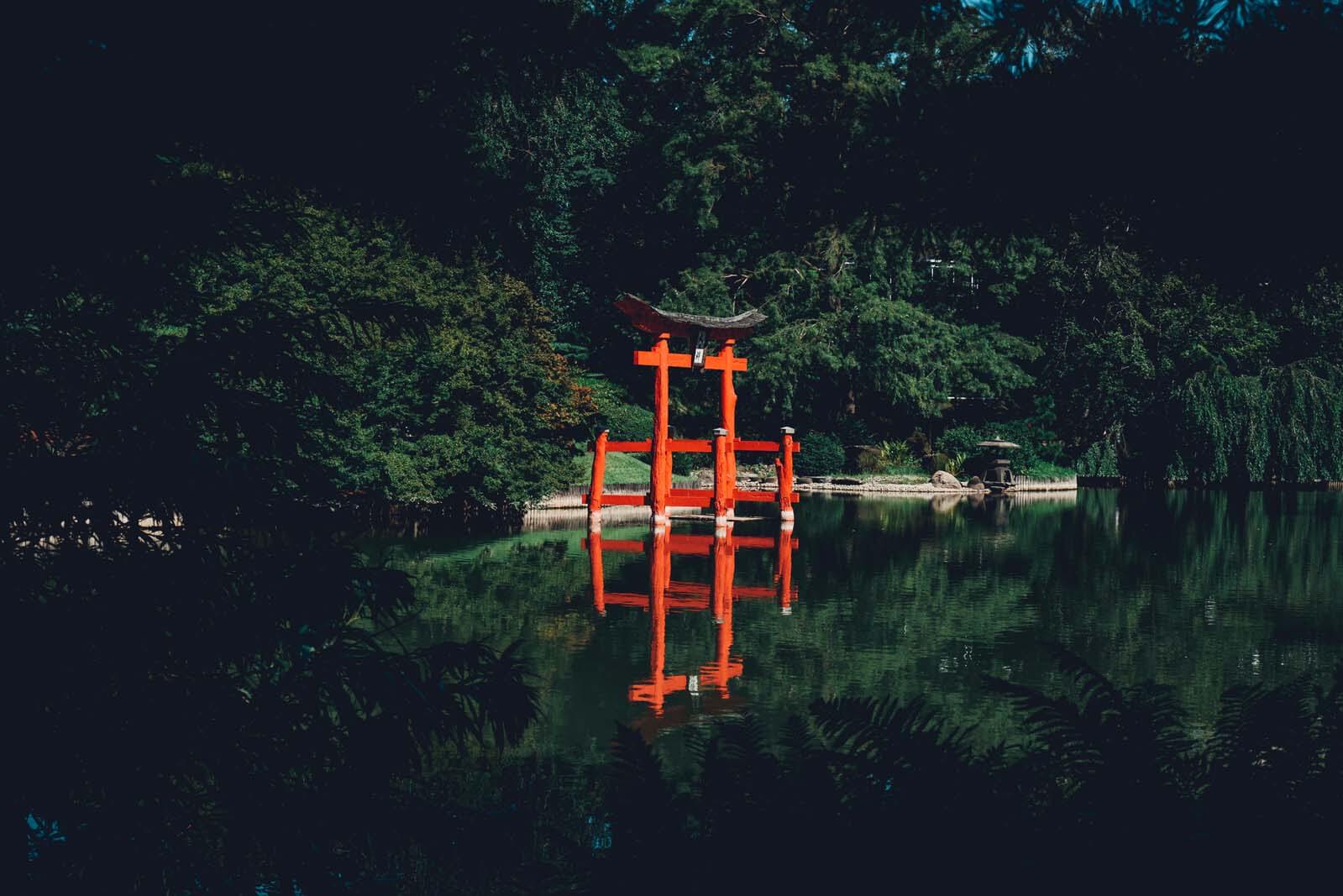 Prospect Heights
This gorgeous Brooklyn garden is made up of 52-acres and over 14,000 kinds of plants and collections from all over the world. This museum in Brooklyn has various gardens throughout the Brooklyn Botanic that date back to 1910 and were first known as Institute Park.
The Flora Garden was the first garden with many to follow throughout the next thirty years.
Many of the rocks found here are boulders that were left behind by melting glaciers at the end of the last Ice Age. They were found during the construction of the garden and some even have signage on them indicating their unique history.
There are many different exhibits and collections here, but one of the most impressive areas in the Brooklyn Botanic Garden is the Aquatic House and Orchid Collection.
You can find a large collection of tropical and subtropical aquatic plants from around the world that thrive in wetter environments. In this collection, you will find over 6,000 orchids with over 1,000 species represented. The 300 lb tiger orchid is by far the most impressive!
This special indoor greenhouse exhibit also has a gorgeous cascading waterfall surrounded by rocks that plunge into a pool.
Depending on how much time you spend at each garden, we recommend planning a full 2.5-3 hours to enjoy all this museum in Brooklyn has to offer.
The Brooklyn Botanic Garden has three main entrances including 150 Eastern Parkway, 455 Flatbush Avenue, and 990 Washington Avenue.
Admission free on Tuesdays, other days it's $15 for adults, $8 for seniors and students with IDs, free for children under 12. Closed Mondays.
Get the New York Pass which gets you access to 100+ attractions, including this one, for up to 10 days or up to 45% off savings on normal admission prices all with this mobile pass!
MUSEUM OF FOOD AND DRINK (MOFAD)
Prospect Heights
Looking for a museum that brings food and drink to life? Try a taste at this sweet museum in Brooklyn. With exhibits you can taste, touch, and smell, MOFAD will change the way you think about food and drinks and one of the best things to do in Brooklyn!
The museum's main purpose is to show the ways food and drinks impact our culture and lifestyle. With a great combination of learning and experience, you can learn all the techniques that make a great chef. You can even sample the cuisines at a mini-kitchen bar!
You can plan to stay 2 hours here, but if you pair it with a trip to the Brooklyn Brewing Co. it makes for a stomach-filled afternoon in the Williamsburg neighborhood of Brooklyn!
This Brooklyn museum is located at 62 Bayard Street, right across from McCarren Park.
JEWISH CHILDREN'S MUSEUM
Crown Heights
This is a great educational and cultural museum in Brooklyn aimed towards educating children. With a number of exhibitions and programs, children are able to learn in an educational and entertaining way that keeps them interested.
While reading the famous biblical stories and exploring the many traditions of Jewish history, visitors can expect to see an increased interest in the culture and create a better understanding of the Jewish community.
Their computer training labs provide a technological outlet for modern children and offer creative workshops, as well as an arts and crafts center.
While educational, children can also expect to have an endless amount of fun at this museum in Brooklyn. They can pretend to shop for groceries, jump into the Noah's Ark ball pit, and climb onto a giant challah loaf!
This Brooklyn museum is very inclusive and welcomes all children and parents regardless of their faith and background in an effort to gain a greater awareness of the Jewish heritage.
The Jewish Children's Museum is located at 792 Eastern PKWY.
Admissions is $15 for adults and children and $12 for seniors. Children under 2 years old are free. Closed Friday and Saturdays.
OLD STONE HOUSE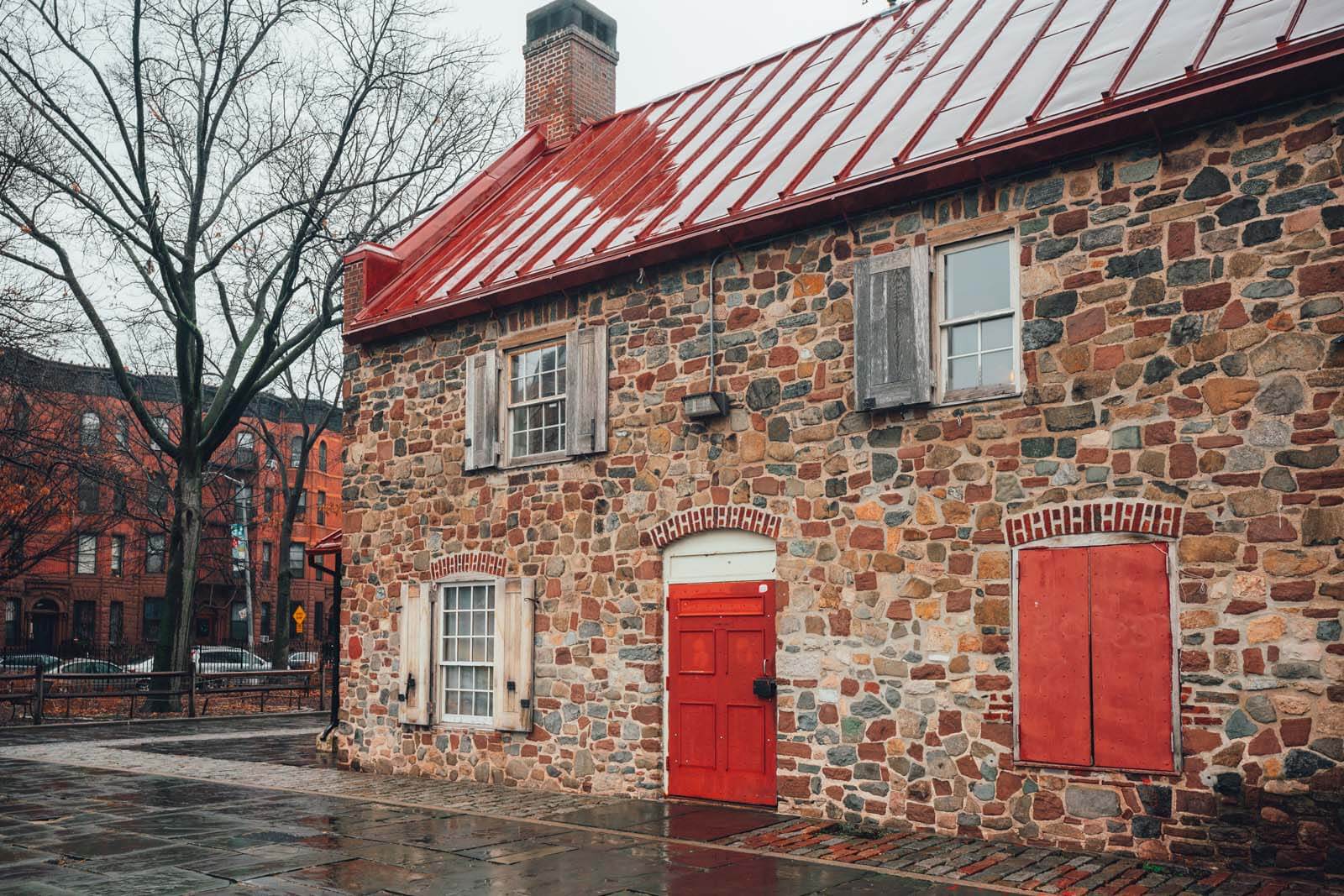 Park Slope
The Old Stone House is a museum in Brooklyn that is listed on the National Register of Historic Places. It is a restored version of a Dutch stone farmhouse and has been an iconic visitation site for the people of Brooklyn.
This museum has played a vital role in teaching New York's schoolchildren the history of the Battle of Brooklyn by providing programs that combine hands-on activities and other educational approaches that involve investigation and problem-solving.
Their main exhibit, Witness to War, is a self-guided exhibit that tells the story of the Revolutionary Era in Brooklyn from 1776 until 1783. With many different themed areas, visitors are able to explore the history, battle tactics, and understand how much of an impact the war had on today's world.
This Brooklyn museum also holds original exhibits attached to the past and present of the borough, which can be found in their second floor Great Room.
If you happen to go on a Sunday, you can check out their farmers' market, open 10am – 4pm all year long!
You can find the Old Stone House in the center of the beautiful Washington Park which is located at 336 Third Street, between 4th and 5th Avenues and 3rd and 4th Streets.
LEFFERTS HISTORIC HOUSE
Prospect Lefferts Gardens, Crown Heights
Another historic museum in Brooklyn is located in Prospect Park. The Lefferts Historic House which was built by a Dutch immigrant family in 1783 is now a preserved historical site.
Before the house was given to the city of New York for preservation, it lasted 4 generations in the Leffert's family and was used mostly for farming around the area of Flatbush.
The house was given to the city of New York because of the rapid growth and urbanization of Brooklyn. To keep it preserved, it would need to be moved 6 blocks from the original location to Prospect Park.
It is now an awesome museum in Brooklyn with exhibits and artifacts that showcase the life of a Brooklyn family in the 19th century.
HOUSE OF WAX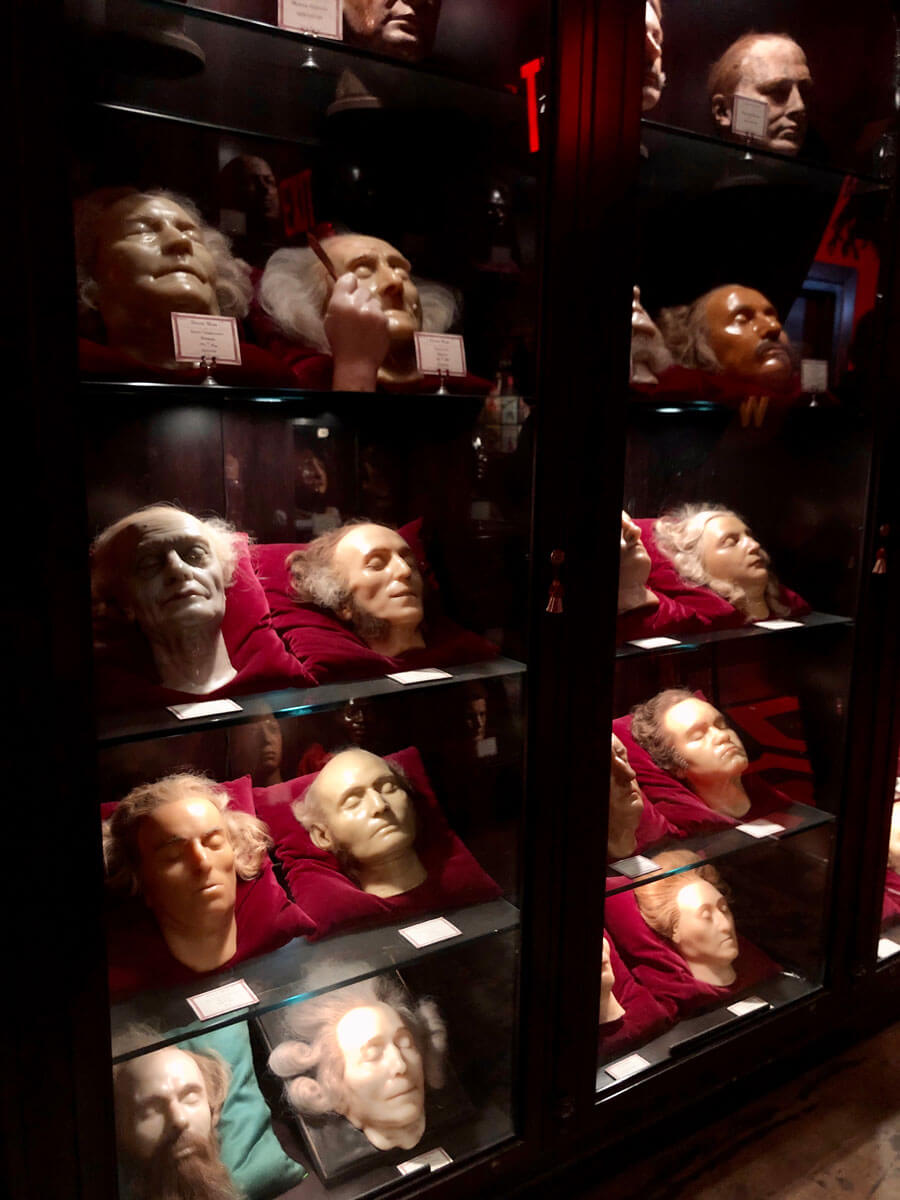 Downtown Brooklyn
Another one of our favorite museums in Brooklyn that's a bit macabre is the House of Wax. This hidden gem is one of the greatest places to visit in the borough.
Residing right here in Downtown Brooklyn, the House of Wax is exactly what it sounds like, a place where you can see a rare wax collection that was called Castan's Panopticum from Berlin.
Although it is considered to be a smaller exhibit, it gets a lot cooler with their cocktail bar! Their bar has an extensive draft menu. It is the perfect spot to grab a drink with your date!
This museum in Brooklyn is located on the first floor of the Alamo Drafthouse, so you can easily plan a movie with an aftershow drink!
LIVING TORAH MUSEUM
Kensington
Want to expand your knowledge on Orthodox Jewish museums? Check out this museum in Brooklyn that opened in 2002 and had 600,000 visitors within the first twelve years!
Founded by Shaul Shimon Deutsch, the Living Torah Museum was created to present authentic ancient artifacts to those wanting to better understand the Torah.
They have 4 main sections of the museum that exhibit items from the biblical period. The Torah Times, Mishna, 39 Melabos, and their newest addition, the Great Torah.
Visitors to this museum in Brooklyn can better understand the heritage by learning about the lives of the greatest Torah scholars.
You can find the Living Torah Museum located at 1601 41st Street in Brooklyn.
THE MUSEUM OF CONTEMPORARY AFRICAN DIASPORAN ARTS
Downtown Brooklyn
The Museum of Contemporary African Diasporan Arts also known as MoCADA is the first museum of its kind to open up in NYC.
This museum in Brooklyn has a goal of introducing people to the African cultural traditions that may have gotten lost during the Trans Atlantic Slave Trade.
They do this through visual and performing arts in a completely immersive and cultural education center.
MoCADA is also known for discussions based on social and political issues relating to the African Diaspora and the continuous evolution of culture.
At this educational museum in Brooklyn, you can join a guided tour, private tour, or visit on your own.
Admission is $8 for adults.
BROOKLYN CHILDREN'S MUSEUM
Crown Heights
One of the best museums in Brooklyn is the first children's museum in the United States (and maybe even worldwide) dating back to 1899! The Brooklyn Children's Museum, located in Crown Heights in a brightly colored building, is fun for kids of all ages.
There are interactive, hands-on educational exhibits for children featuring a collection of over 30,000 historical artifacts that are fascinating even for parents. The exhibits feature different cultures from across the globe, science, and nature.
One of the most fun, hands-on exhibits here is the In World Brooklyn section where children can play in a kid-sized replica of Brooklyn. This is where kids can play and pretend to live and work in small-scale businesses here from the corner bodega to bakery! This exhibit is designed to foster a greater understanding and appreciation of the world cultures found in Brooklyn while getting to act out roles in these adorable storefronts!
On a nice day, make your way to the rooftop terrace to also play on The Nest, an outdoor installation that also serves as a jungle gym.
In addition to being a fun spot to bring the kids for a day, this was also the first green museum in NYC!
---
Liked this post on the best museums in Brooklyn? Bookmark for later or share the love below on Pinterest!