Looking for some awesome options for weekend trips from NYC? As someone who likes to take weekend breaks from the city several times throughout the year, I got you.
As much as we all love New York City, sometimes it's nice to escape from these busy streets and high energy. Whether you're looking for romantic getaways from NYC or just one of those New York weekend breaks that are so necessary every now and then, I've got you covered.
With our complete guide to weekend getaways from NYC, all within 4-6 hours driving distance from here, you will be ready to book your trips.
Under all of the weekend getaways from NYC I mention whether or not the destination is accessible using public transportation, while many of these New York weekend breaks are accessible by public transportation if you plan on exploring all of the wonderful things we recommend to do you will probably be most comfortable renting a car, we recommend checking out the best rates using Expedia.com.
Read our guide to the best Airbnbs in New York including cabins, lake houses, cottages, treehouses, & more including many of the locations mentioned in this guide to help you plan the ultimate weekend getaway from NYC!
Disclaimer: This post contains affiliate links.
The Best New York Weekend Breaks
Catskills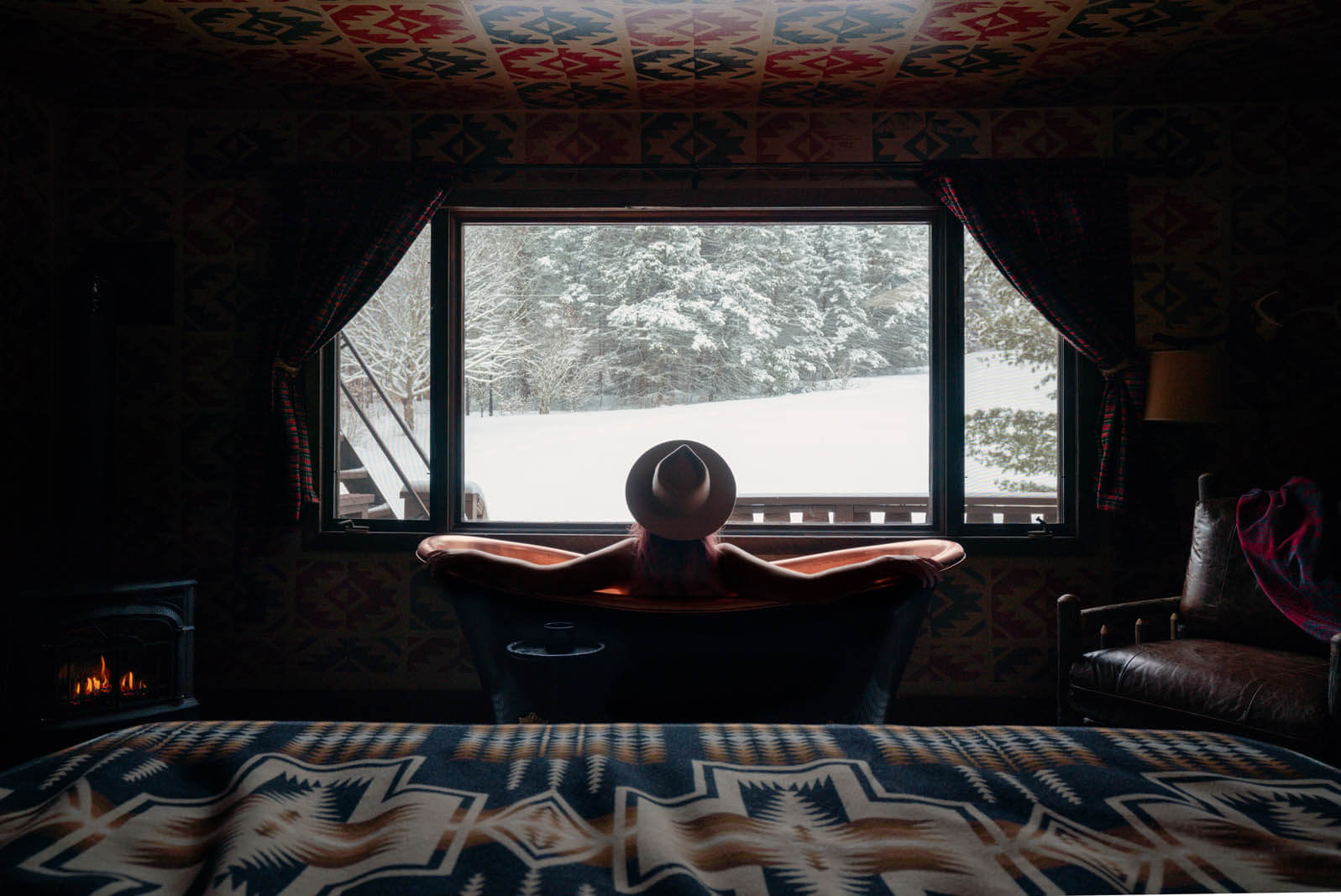 If you're looking for the complete opposite of city life, head to the Catskills for a mountain getaway in any of the many incredible towns anytime of year as this is a great all-season getaway.
In the summer you're greeted with plenty of lakes, rivers, and mountain activities. In the fall you're surrounded by the impressive fall foliage, scenic drives, hikes, and gorgeous stays. In the winter you can take advantage of all the slopes in the region and have romantic cabin stays. And in the spring you can explore the cool, historic towns and foodie scene – or why not combine all of these activities in any visit!
There are so many cool weekend getaways from NYC in the Catskills and being only around 2 hours drive from New York, this makes one of the best weekend roads trips from NYC any time of year that just never gets old, no two visits are the same.
Since this region includes many towns and destinations, a few of our top Catskills weekend trip from NYC picks include:
Phoenicia – this cool town has great restaurants and shops to check out. You'll want to drive around and check out spots like the World's Largest Kaleidoscope, enjoy a spa day at Emerson Resort and Spa, and visit the nearby town of Woodstock.
Woodstock – speaking of Woodstock, this is another great place to base if you're looking for a really cool downtown full of galleries, shops, and great places to eat. There are also great hikes nearby at Overlook Mountain, a Buddhist temple and retreat, plus you can take a drive to Opus 40 to view the outdoor sculpture park.
Roxbury – stay a 'night' at the Roxbury, or a weekend getaway from NYC that's a fun-themed experience! This themed hotel is a destination on its own and they have two properties, one of which is located next to Stratton Falls. In the winter you can also ski at nearby Plattekill Mountain.
See the rest of our weekend getaways in the Catskills for more ideas and more information on planning the perfect weekend trip from NYC!
Top Pick For Where to stay in the Catskills:
Are you ready to put up an OOO message like you mean it? Head to Urban Cowboy Lodge, a picturesque, 68-acre wilderness resort where the Esopus Creek runs through the property and there is very little cell phone service and no TV. Unwind with a cocktail in one of their clawfoot tubs or play a board game by the fire. That status report meeting can wait!!!
Read Next: Enchanting Castles in New York
Adirondacks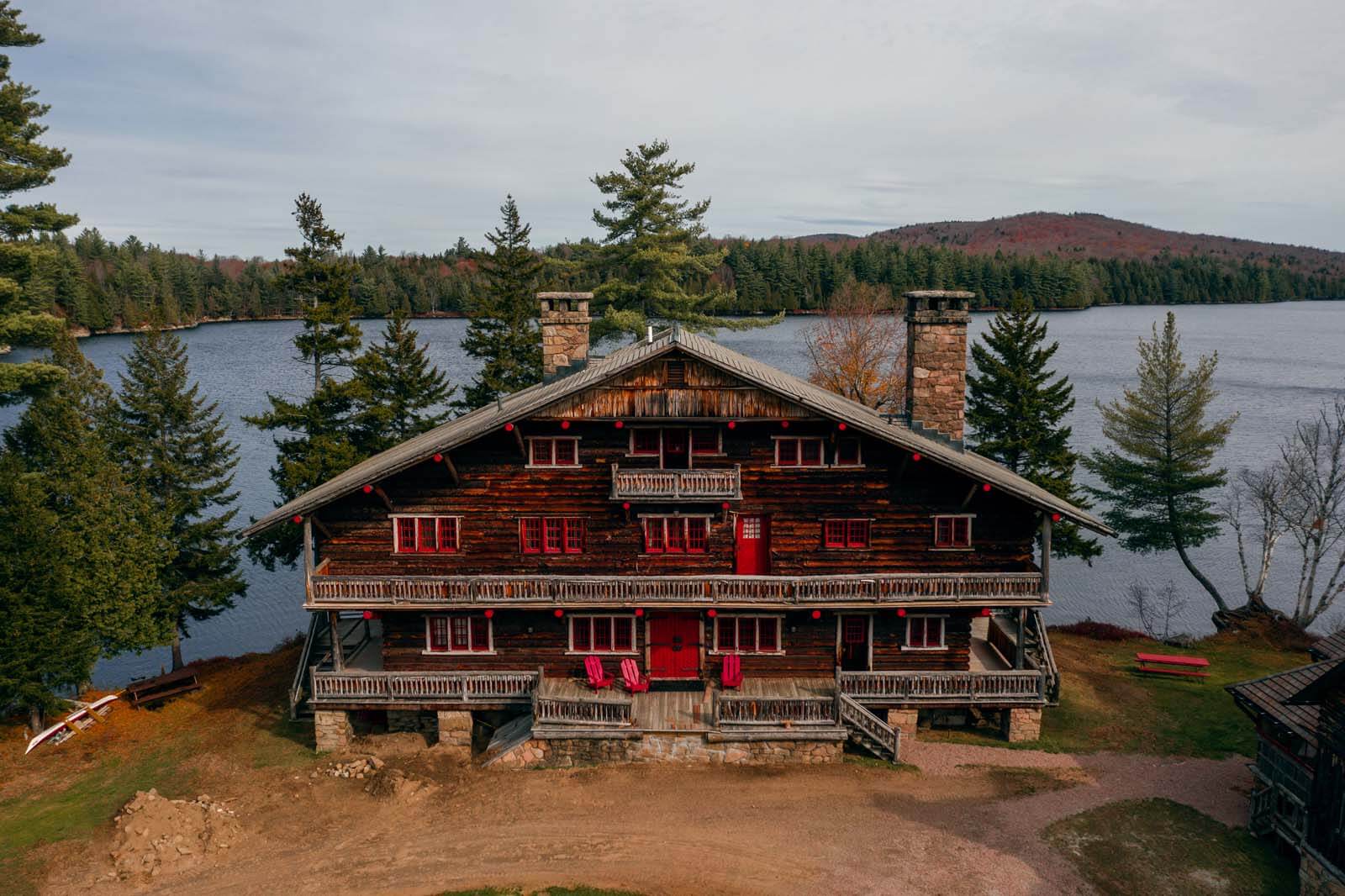 Similar to the outdoorsy getaway in the Catskills, the Adirondack Mountains are also a refreshing escape from city life and one of the most popular options for city-goers as a weekend trip from NYC.
Located in the northeastern part of New York, the Adirondacks are accessible by train from NYC, we would recommend renting a car since it'll cut your travel time in half, literally and you'll also want to have a car to explore.
A train could take 10+ hours and driving takes just over 5, not to mention once you're here you'll want the freedom to explore as many of the things to do and see here are spread out.
If you are looking for an experience beyond the mountains, the Adirondacks is the place to go. As expected, there are opportunities for hiking, biking, and exploring, but there are so many more awesome things to check out during your getaway including white water rafting in the warmer months, ski resorts in the winter months (good enough to host the winter Olympics not once but twice!), museums, hiking year round, craft breweries, wineries, distilleries & more, plus tons of really beautiful towns to check out!
Any time of the year, this is a wonderful place for weekend getaways from NYC. This is a great getaway any season, in the summer you have fun hiking and lake activities, the fall brings beautiful foliage, there are an endless amount of winter sports and activities to enjoy especially around Lake Placid where the winter Olympics were held twice, and in the spring you have a slew of attractions to enjoy as well.
While this area is spread out, these are our top two choices for a weekend trip from NYC in the Adirondacks:
Lake George – full of outdoor activities like kayaking, whitewater rafting, horseback riding, camping, boating, and even more opportunities for family fun. Be sure to take a scenic tour by a historic boat on the lake, check out all the dining and shopping plus lake views downtown, be sure to check out the brewery in Bolton Landing, and if you're up for fun check out one of the many mini golf courses here! Don't forget about the opportunities either.
Lake Placid –The perfect outdoorsy mountain getaway and weekend trips from NYC with so many adventurous opportunities for fun. Be sure to visit the Lake Placid Olympics Museum, which honors the 1932 and 1980 Winter Olympics that took place there! Visit Mirror Lake, no matter the season especially in the winter when it freezes over and you can walk on it! Be sure to take a scenic drive and visit the enchanting waterfalls of Ausable Chasm nearby too.
Where to stay in the Adirondacks:
One of the most famous places to stay in the Adirondacks and best weekend trips from NYC any season is located on an island in Lake George. The luxurious and famous Sagamore Hotel is a premier destination and property was named by Architectural Digest as being one of the most beautiful hotels in the Adirondacks as well as being an official AAA Four Diamond recipient.
This hotel dates back to the 1880s and is designated as a National Register of Historic Places. Stay in one of their condos, standard rooms, luxury suites, or a private lodge overlooking the gorgeous Lake George. Book here.
Finger Lakes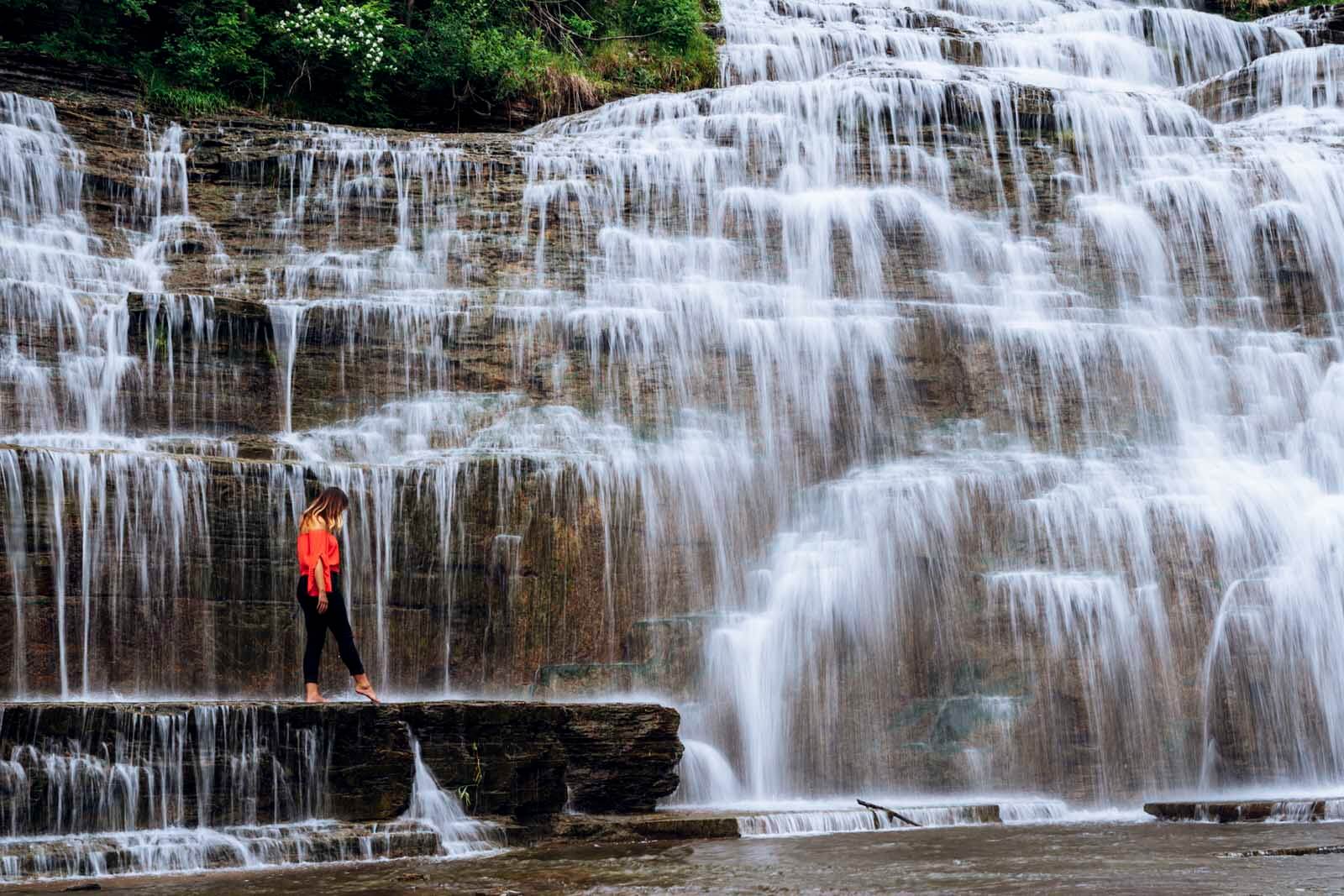 There are so many amazing things you can do during your weekend getaway from NYC to the Finger Lakes, which is a beautiful place to visit in the northeastern part of New York. Famous for its wine and scenery, including its waterfalls, gorges, state parks, and lakes, this spot has become a great place for weekend trips from NYC.
From the city, any New Yorker can get to the Finger Lakes in less than 6 hours! The bus travels from NYC to Geneva, NY and then all you have to do is take a rideshare or cab for a few miles! However, this trip is best done by renting a car. Weekend getaways from NYC are much better when you have the freedom to make stops in an area as vast and spread out as the Finger Lakes.
As far as how to spend your time when you get there, this is another one of those outdoorsy regions with so much to do as well as great places to base for your weekend getaways like a romantic vacation rental around Keuka Lake or Seneca Lake, a girls weekend in Ithaca, and an action-packed city escape to Rochester to name a few ideas.
This region deserves a lot more attention and when you see the beauty of all the 11 lakes, waterfalls, and surrounding scenery, to the small towns, and all of the Finger Lakes attractions you'll understand why.
If you love the adventures of alcohol when vacationing, this is your place! The Finger Lakes has over 100 wineries and over 75 craft breweries. Bottoms up!
In addition to the wine and beer tasting opportunities, you can check out some of the best state parks, hiking trails, historic sites, museums, and more.
There is also no lack of waterfalls in this region. To check out some of the best waterfalls you will want to plan a visit Ithaca, Watkins Glen State Park, Letchworth State Park, and others!
You won't want to miss out on this countryside escape from NYC and all the amazing things to do in the Finger Lakes, you'll need to make multiple trips!
Where to stay in the Finger Lakes:
We highly recommend booking a charming romantic cottage in the Finger Lakes right on the water for you weekend trip from NYC! We love this spot on Seneca Lake, the heart of two of the area's wine trails, both the Seneca Lake Wine Trail and the Keuka Lake Wine Trail making for the perfect romantic getaway from NYC. Book Now on VRBO.
Niagara Falls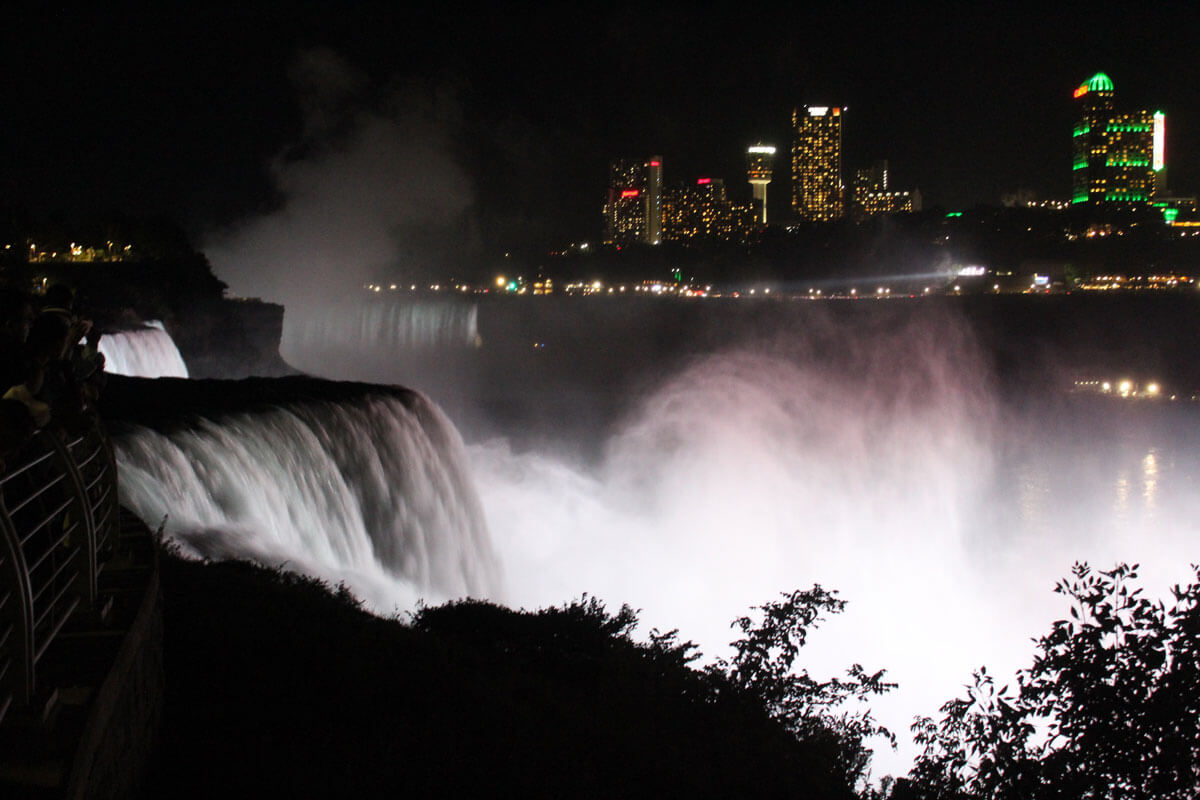 Niagara Falls is a gem you won't want to overlook when planning your weekend getaways from NYC. Niagara Falls is a city in western New York not far from Buffalo, NY. Wondering how to get there from NYC?
The most efficient way is by car, but if you aren't opposed to a 9-10 hour bus or train ride, that could be a more affordable option! Definitely explore other options if renting a car is not in your weekend getaways from NYC budget.
Obviously, the greatest attraction in Niagara Falls is the group of three gorgeous and natural waterfalls that border the United States and Canada.
There are many options of vantage points to soak in this natural wonder.
The highly recommended Maid of the Mist boat tour seems to be the best thing you can do while visiting the Falls. This tour gives visitors an amazing experience from the base of the Falls and they've actually been doing this tour since the 1840s! Be prepared to get look like you went for a swim, you will get wet! But you'll also get some awesome pictures in your poncho.
In addition to the Maid of the Mist, you can see the falls from observation towers, helicopters, and even caves!
Come prepared with your passport if you feel the urge to visit the Canadian side of the Falls! Check out the Niagara Fallsview Casino for a drink, some gambling, or shopping!
Niagara Falls is a perfect destination for New York weekend breaks!
Where to stay at Niagara Falls:
There are many hotels on the New York side of the falls, but the best options for accommodation in our opinion is on the Canadian side as many hotels offer waterfall views! We recommend getting a room with a view of Niagara Falls at Hotel Sheraton on the Falls.
Washington DC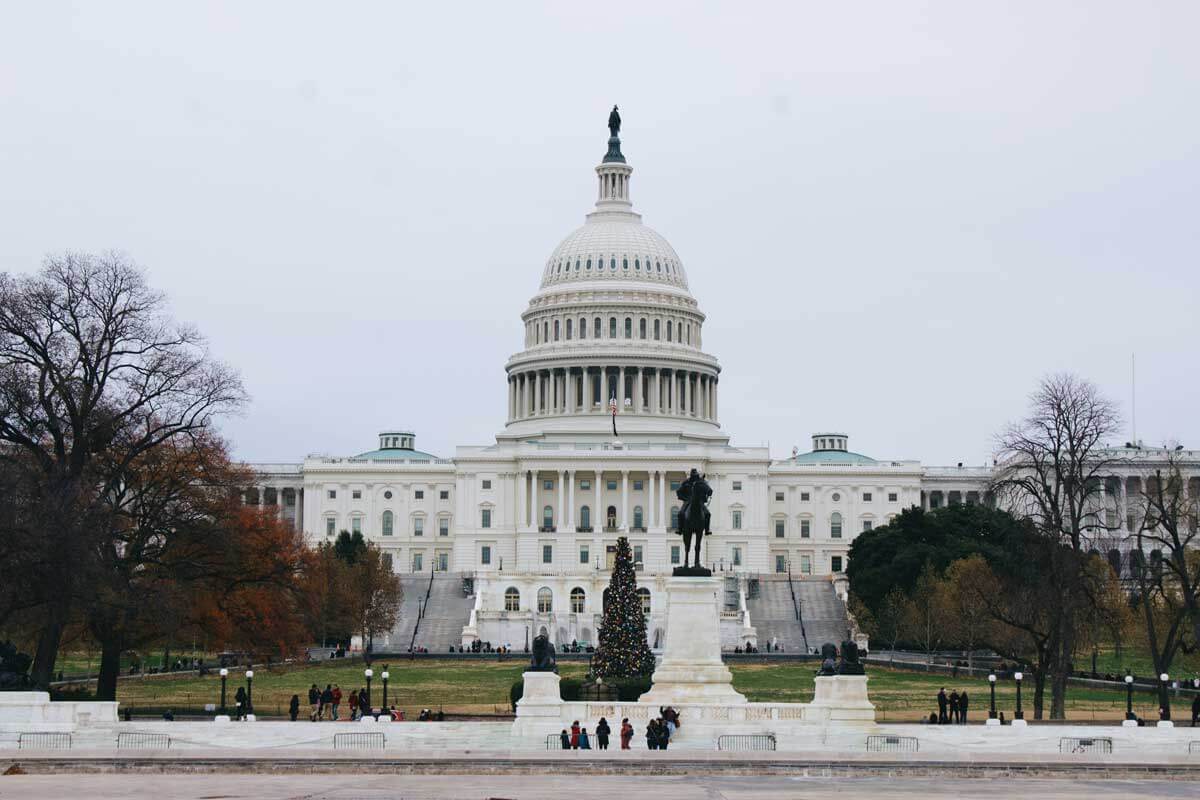 While planning one of your weekend trips from NYC, you should definitely consider exploring the country's capital and all the historic landmarks, museums, and more!
While there are the obvious things to see like the Lincoln Memorial and The White House, there is so much more to see in DC!
One of the best ways to learn the lay of the land is by checking out some of the great tours to get to learn about the history and different landmarks!
Not too long ago, I was a first-timer in Washington DC. My boyfriend and I took a segway tour of the entire area! We rented segways from Bike and Roll DC and got a full lesson on how to properly ride them before we took off!
This was the most fun and efficient way to see DC. You ride all over and stop at all the greatest attractions and monuments for a photo op and a brief history lesson. When you finish the tour, you will have plenty of time to explore museums, restaurants, shopping areas, and more!
If you'd prefer a different kind of tour, here a variety of amazing tours you can take during your getaway!
Where to Stay in Washington DC:
While spending a weekend or short stay in Washington DC we recommend picking a hotel with a great location close to all the amazing attractions in the city. We recommend the 4-star Grand Hyatt Washington for its location and gorgeous hotel property.
Jersey Shore, New Jersey
Forget everything you think you may know about Jersey Shore-based on the "reality" show on MTV. The Jersey Shore refers to the 120+ miles of gorgeous Atlantic coastline along the state of New Jersey. Many of these beaches are packed with boardwalks, amusement parks, amazing food, and definitely a good time.
There are over 40 different towns along this coast, and while that sounds like too many options, just know you can never really go wrong if you're on the beach.
A very popular spot along the Jersey Shore is Atlantic City. Visiting Atlantic City is a really common spot for weekend getaways from NYC because there is just so much to do in this beach city.
Atlantic City is known for its iconic boardwalk, multiple casinos and nightclubs, and expansive beaches!
So definitely keep this in mind when planning your getaway, but if Atlantic City isn't what you're looking for, here are some of the other awesome spots along the Jersey Shore:
Point Pleasant Beach
Beach Haven on Long Beach Island
Ocean City
Wildwood
Cape May
Getting to the Jersey Shore by car takes a brief hour and a half or so! There are also trains you can take via NJ Transit!
Where to Stay at the Jersey Shore:
We recommend heading to Atlantic City if it's your first time to the Jersey Shore on the ocean and next to the historic boardwalk! We recommend going all out and staying at the upscale and luxury 5-star Ocean Casino Resort.
Cooperstown
Cooperstown, New York is located in central New York and is easily accessible for weekend getaways from NYC. Travelers can rent a car and get there in just under 4 hours by driving or travel by train or bus and get there in 6-7 hours.
Cooperstown is definitely a town that thrives on baseball and many tourists that love the sport gather here to visit the famous National Baseball Hall of Fame and Museum, which was established in 1939.
This museum has brought baseball fans from all across the country and it actually resurrected the city of Cooperstown after being hit by the Great Depression.
In addition to the Hall of Fame, many people visit Cooperstown for its Doubleday Field, the "Original Baseball Diamond of America," which officially opened in 1920 and to this day families from all over the nation come here to watch their children play in youth baseball tournaments.
While you're visiting, check out Mickey's Place. This shop has every baseball cap you could imagine, along with tons of vintage collectibles, baseball cards, personalized bats, and more.
Other than baseball, visitors can get their brew on by taking tours or joining tastings of Belgian-style beers at Ommegang Brewery in Cooperstown.
The city is also lined with plenty of awesome restaurants and bars. A little town packed with so much to see and do.
Where to Stay in Cooperstown:
One of the best ways to spend in a charming town in New York is by staying at a B&B, a home away from home. We recommend the elegant Landmark Inn set in a 19th century home with a gorgeous maple tree-lined driveway and just a 10-minute walk to the hall of fame!
Philadelphia, Pennsylvania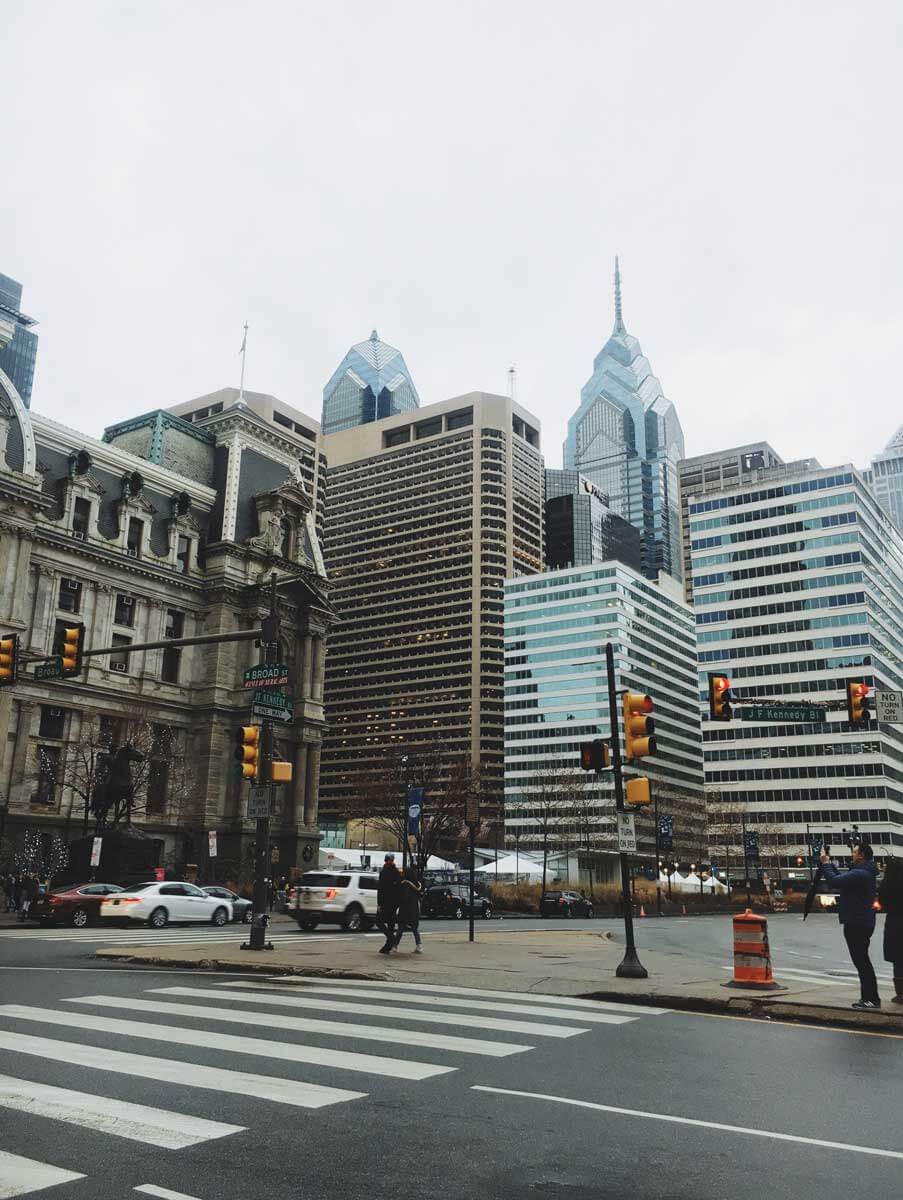 This is a spot you just can't leave off your weekend trips from NYC list. And luckily for you, Philadelphia is easily accessible by trains leaving from Penn Station.
Philadelphia is not only rich with American history, it is an amazing tourist attraction that everyone should experience!
Philadelphia was founded by William Penn in 1682 and is home to the Liberty Bell, which is the famous symbol of American Independence. Today the Bell is located in the Liberty Bell Center and it is apart of Independence National Historical Park. It is a great tourist attraction and definitely something visitors should check out during their trip.
One thing you must do when visiting Philly is getting cheesesteaks from two of Philly's most epic steak spots, Pat's and Geno's. You may have heard of these famous eateries, which have known to be somewhat of rivals in the cheesesteak business. A locals tip I've learned since my boyfriend is from Philly, is to get a cheesesteak from each spot and split them so you each get one half from Pat's and one half from Geno's.
One of my personal favorite things to do in Philly is visiting Penn's Landing! This is an area along the Delaware River Waterfront and depending on the season, it offers so many awesome things to do! My recommendation is hanging out in Spruce Street Harbor Park to grab a couple beers, lounge in the amazing hammocks, and have some great eats.
My last recommendation is a MUST when in Philly. The best photo op and way to remember your weekend getaway will be by posing with the famous Rocky statue and posing on the Rocky Steps at the Philadelphia Art Museum!
This is easily one of my favorite cities and there's so much more to do! Some other places to check out are the Reading Terminal Market, the famous LOVE Sculpture, Philadelphia's Magic Gardens, Benjamin Franklin Parkway, and Boathouse Row to name a few.
Where to Stay in Philadelphia:
For a weekend trip from NYC to Philadelphia, you will want to stay close to all the best attractions. We recommend staying at the Hyatt Centric Center City Philadelphia to be in the heart of Rittenhouse Square.
Hudson Valley
Located in Westchester County in the scenic Hudson Valley along the Hudson River, you can find many attractions, homes, and one of America's best towns to explore on a your weekend getaways from NYC.
This historic location is definitely worth visiting all year round, but it is most popular in the fall season because of the Sleepy Hollow folklore.
Sleepy Hollow and Tarrytown in Hudson Valley, are nationally known to be one of the most haunted towns and a great attraction for those interested in paranormal tourism. These Hudson Valley towns have had a spooky mystique dating back to the 1600s and Dutch settlement days.
If you haven't heard of Sleepy Hollow, it is tied to Irving's literary classic that is considered one of the first popular pieces of American literature to be famous internationally. But beyond the Sleepy Hollow attractions around the Headless Horseman and Ichabod Crane, there are many things to do here that may not be so spooky.
Hudson Valley is also known for its beautiful farmland and vineyards, which can make for lovely romantic getaways from NYC for you and your partner!
Visitors can also expect a perfect climate for getting active! It's a great location for hiking, biking, golf, hunting, water activities, and even hot air ballooning!
Needless to say, whether you're looking for a spooky visit or not, you will have a full itinerary while visiting Hudson Valley.
It's also accessible by subways and trains from NYC and only takes an hour and a half to get there! I'm already planning my trip! Don't miss popular day hikes near NYC here in the Hudson Valley too!
Where to Stay in the Hudson Valley:
What better way to spend a holiday or weekend getaway from NYC than in a castle? The Hudson Valley is known for its elaborate manors, mansions, and castles so why not stay in one! The Castle Hotel & Spa overlooks the scenic Hudson Valley and is a member of the Small Luxury Hotels of the World and Historic Hotels of America.
Burlington, Vermont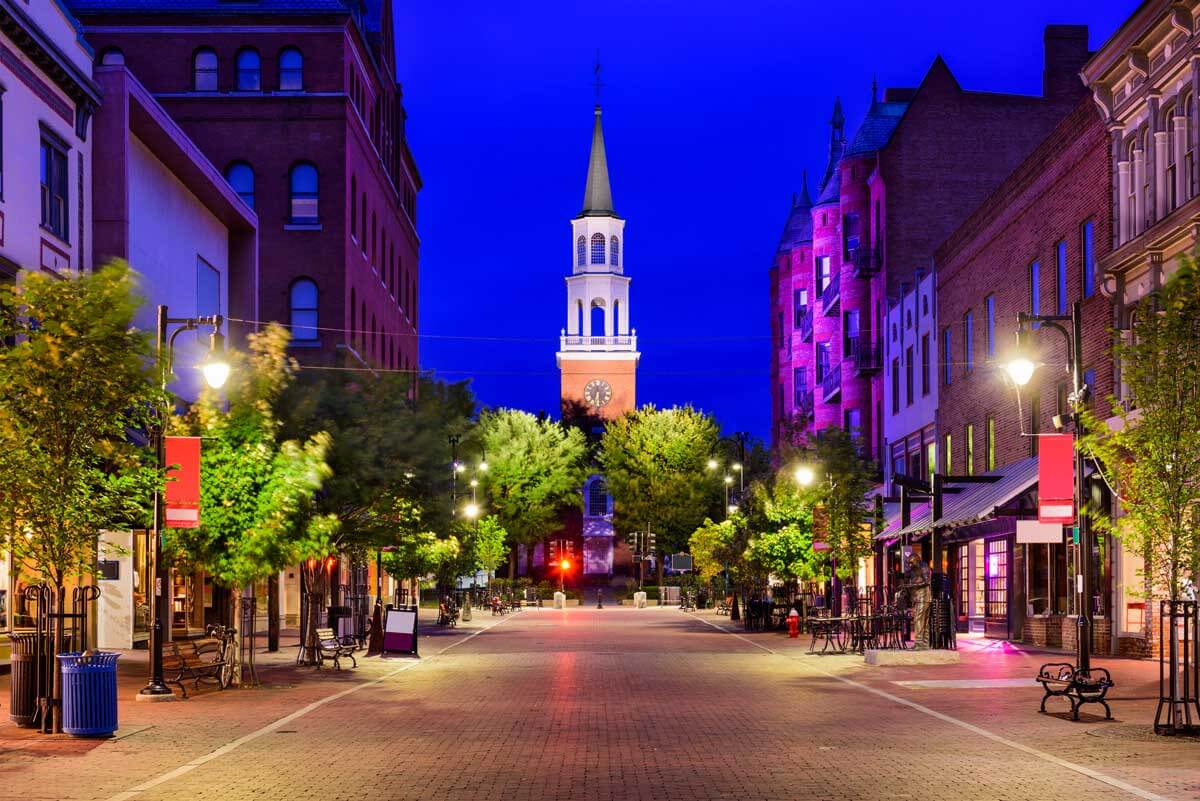 New England is so much more than Boston. If you're looking for an artsy city to spend a weekend, you should consider Vermont! We'll fill you in on why Burlington, Vermont is the next place you should add to your list of weekend getaways from NYC.
Burlington is Vermont's biggest city with its population of just over 40,000 and yet it is an amazing tourist attraction. There are so many things to do here and a weekend is a perfect amount of time to enjoy them.
While you're visiting Burlington, how about dinner and a show? Burlington is packed with awesome restaurants, like American Flatbread, and then catch a show at Flynn Theatre!
I would say the main attraction is visiting Downtown Burlington and Church Street. This area gets pretty busy on the weekends with everything from buskers, street performers, and more.
There are tons of small shops to check out along Church Street! Most of them are small, independently-owned places, by now you should know that we love to support local businesses.
In addition to the shopping, you will have a surplus of options for restaurants, they even set up inviting patios along the street if you're visiting in the warmer months. Eating outdoors on Church Street is a great experience that we highly recommend!
Also located on Church Street is Ben & Jerry's (yes actual Ben and Jerry's)! If you've still got room after all the amazing eats in Burlington, consider grabbing a scoop from this well-known ice cream shop's original location.
The best way to get here is definitely by car! Unless you're up for a 9-hour bus or train ride!
Where to Stay in Burlington:
The Hilton Garden Inn Burlington Downtown is one of the best locations in Burlington just a block away from Church Street, and across from City Hall Park meaning this is one of the most convenient locations for sightseeing!
Boston, Massachusetts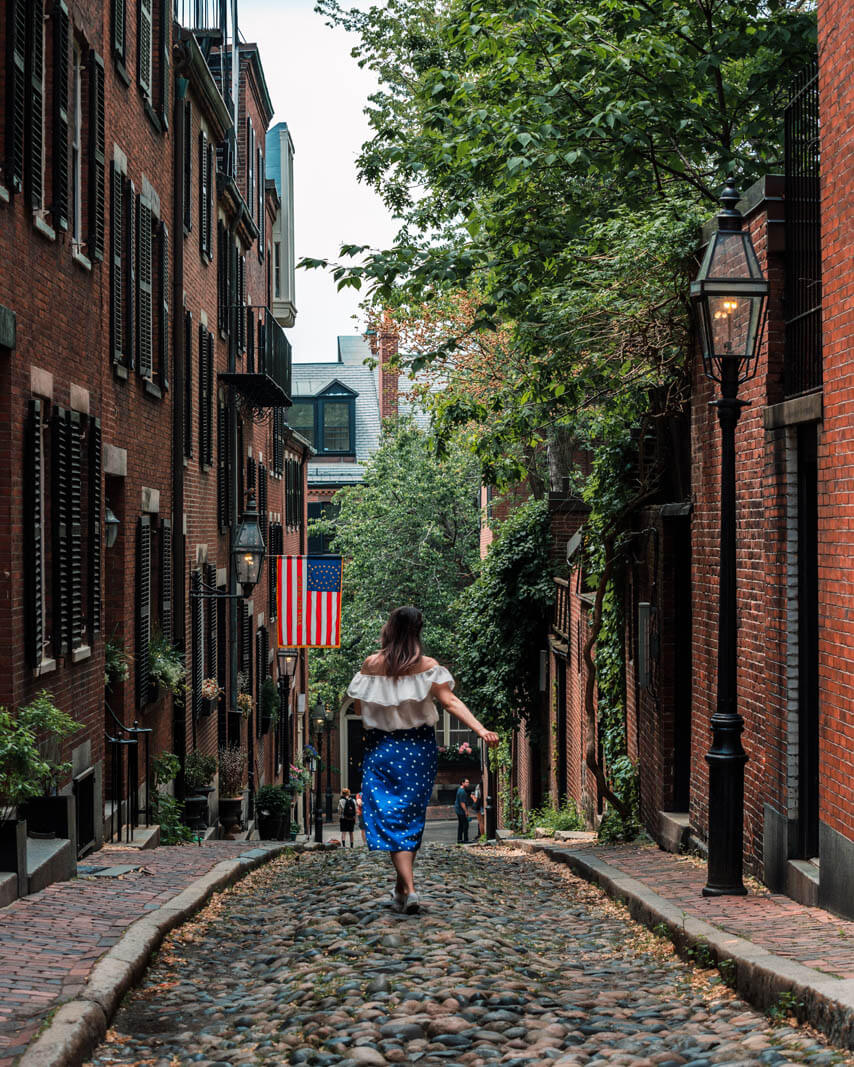 There are so many amazing things to do in Boston, which will have you already planning another one of your weekend getaways from NYC.
First and foremost, if you're any kind of a baseball fan, Fenway Park would be number one on my list of things to see in Boston! Home to the Boston Red Socks (I know we love the Yankees and Mets, but just trust me), Fenway Park is the oldest active park in MLB and it's also home to the famous Green Monster! This field has also hosted the World Series 11 times!
Boston is also full of so many awesome museums and tours to check out on your visit, like the Museum of Fine Arts, the Boston Tea Party Ships & Museum, JFK Presidential Museum & Library, the Paul Revere House, and more!
Check out historic landmarks that date to the earliest days of the Revolutionary War along the 2.5 mile Freedom Trail starting at Boston Common and ending at Bunker Hill not to mention grabbing food at Quincy Market and grabbing a beer at some of the most historic pubs and taverns in the country at the Green Dragon Tavern, Bell in Hand Tavern, and Union Oyster House.
If you want to get some awesome views of Boston, we recommend the Skywalk Observatory, which is the city's only observation deck, or a take a gorgeous cruise around the Boston Harbor!
The best thing about a weekend getaway to Boston is that is relatively easy to get there by bus or train, no need for a car! From Penn Station, a train could get you to Boston in just under 4 hours, which is an incredibly scenic journey!
Where to Stay in Boston:
An amazing 4-star property in a historic landmark building near Haymarket is the gorgeous Boxer Hotel.
Newport, Rhode Island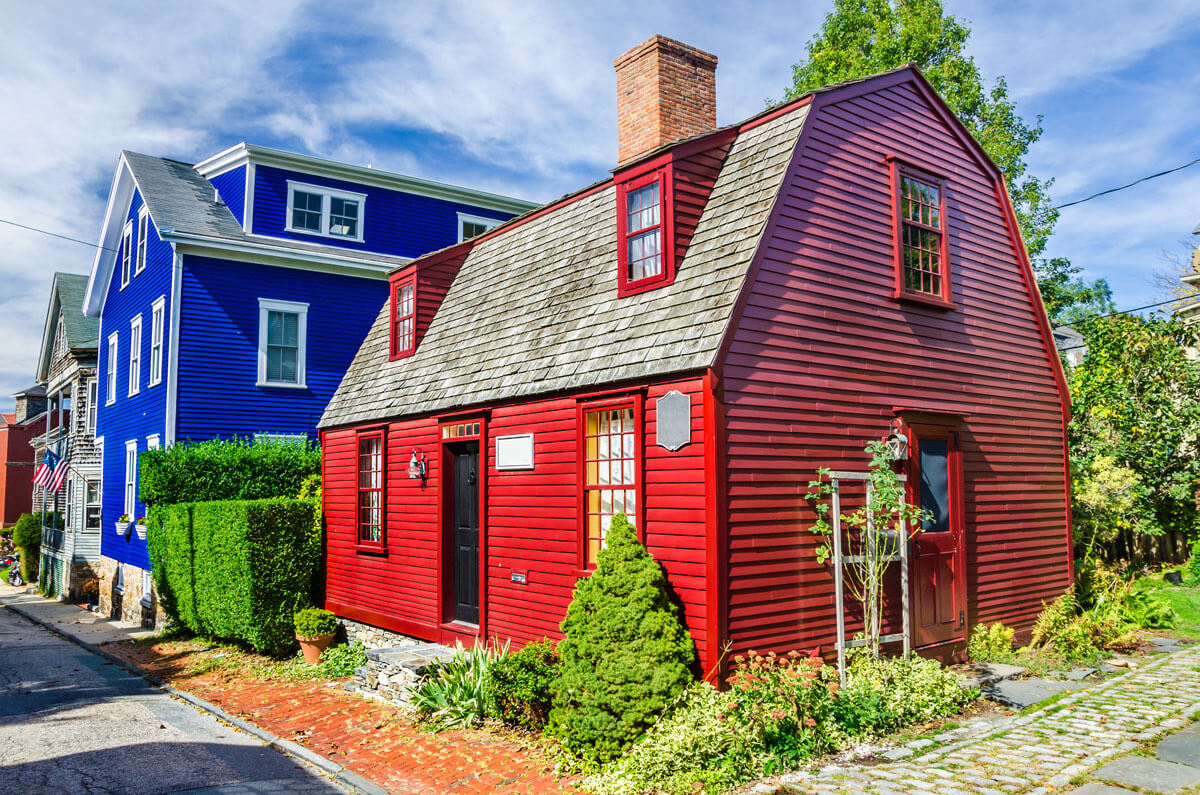 Looking for a small island getaway from NYC? Next time you are planning one of those New York weekend breaks, consider Newport! This small town of just 11 square miles surprisingly has so much to see.
Newport is actually known for its many beautiful mansions, which for the most part are owned by the Preservation Society of Newport County. During your visit, you can purchase tickets to take a tour of some of the most famous Newport Mansions! If you don't mind spending time on your feet, you could even do the Cliff Walk, where you can see famous mansions and lots of ocean.
And that's not all for the tours, visitors can take gorgeous sailing tours, helicopter tours, and historic tours!
You can't go wrong with a sunset sail full of beautiful beaches and lighthouses or some historic walking tours that'll show you some of the oldest government buildings and colonial homes that date back to the 1600s!
Some other great points of interest are Bowen's Wharf, Newport Art Museum, International Tennis Hall of Fame, and so much more.
Another great thing about choosing Newport, RI for one of your weekend getaways from NYC is that it is accessible by both bus and train for affordable prices! Travelers can take a train from Penn Station to Providence Amtrak Station and then transfer to a bus for the last hour of the trip!
Where to Stay in Newport:
One of the most gorgeous and unique stays is at the luxurious Cliffside Inn located in an 1876 mansion. This cozy B&B is an elegant stay perfect for a romantic weekend getaway from NYC.
Annapolis, Maryland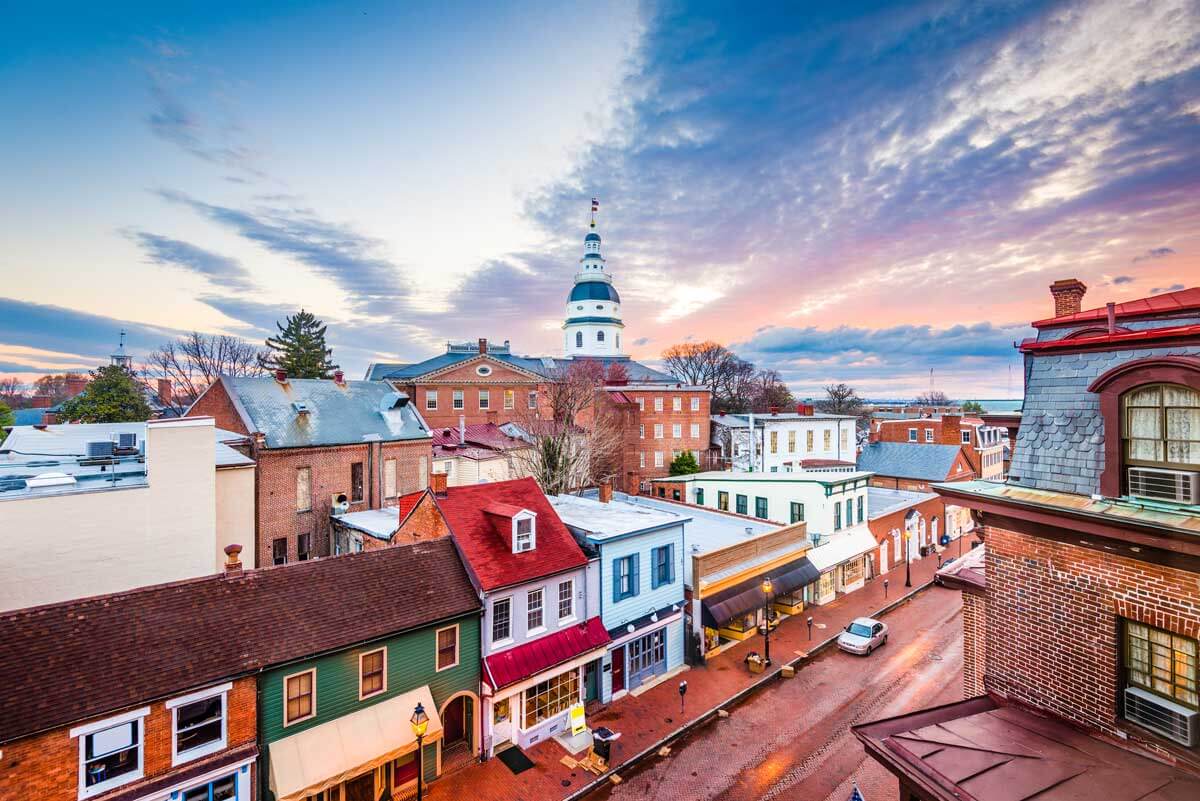 Ready for more history and tours? The capital city of Maryland has a ton of can't miss tours and more that you'll need to consider when planning your weekend trips from NYC.
The greatest attraction in Annapolis is the United States Naval Academy. This is also one of the awesome free things to do in Annapolis, visitors can take a free self-guided tour of the Academy Museum and learn all about the history of the Navy!
In terms of tours, set sail in the Sailing Capital of the World. Annapolis is surrounded by the Chesapeake Bay and four other rivers, which makes for a gorgeous sailing experience available through a variety of tours.
Another free attraction in Annapolis is located on Main Street. This is where visitors can take a stroll to see restaurants, shops, historic landmarks, art, and it's even where you'll find the nightlife in Annapolis.
Some other great sites to see in Annapolis include the William Paca House & Garden, Annapolis Maritime Museum & Park, Maryland State House, and Ego Valley to name a few.
With a few transfers on a train that leaves from Penn Station, you could get to Annapolis from NYC in just under 5 hours!
Where to Stay in Annapolis:
The Annapolis Waterfront Hotel is one of the best options to stay during your weekend getaway from NYC here in Annapolis. Overlooking Annapolis Harbor, this beautiful hotel is next to many of the main attractions including the United States Naval Academy.
Pocono Mountains
Another amazing mountain escape from NYC is located in the Poconos, a mountainous region in Pennsylvania. This destination would definitely qualify as one of the romantic getaways from NYC.
The Poconos has been a relaxing escape for people all over the northeast since the early 1900s. And as one could imagine, it is another one of our getaway spots that is full of amazing outdoor activities, known for their ski slopes!
Beyond the woods though, the Poconos is well known for outstanding entertainment with live theater and concert performances. There are also a variety of historical museums, libraries, and other landmarks to check out in the Pocono area.
Even further the Poconos offer a wide variety of restaurants, shops, and even some brewpubs! Getting away from the city definitely calls for a toast or two!
The best part about visiting the Poconos from NYC is that it is only a short bus ride away and it's very affordable! One of our top picks for towns to check out in the Poconos includes Jim Thorpe, which offers a scenic train ride through the Lehigh Gorge.
Where to Stay in the Pocono Mountains:
Mountain getaways deserve a secluded cabin in the forest! That's why we recommend this gorgeous cabin complete with a hot tub and surrounded by nothing but nature.
The Hamptons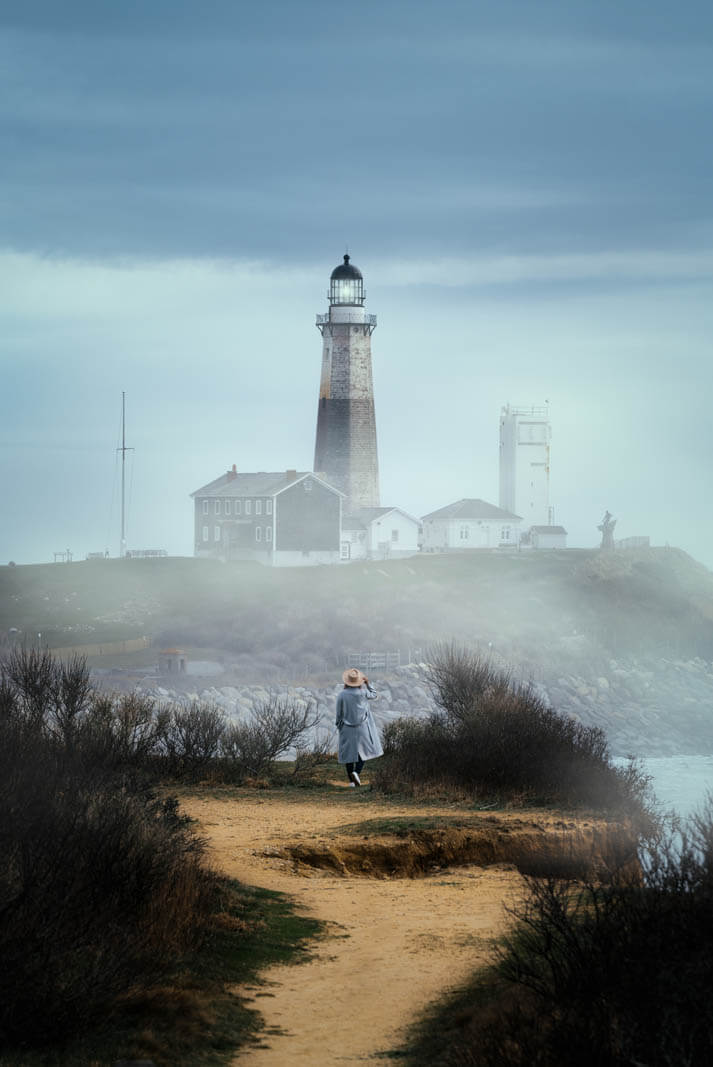 If you're a lifelong New Yorker, maybe you've already visited the Hamptons, but you should never rule it out when planning your weekend trips from NYC.
A popular escape from New York City, the Hamptons are located on Long Island, it takes around 2 hours to get there by car, but there are many options for how to get from NYC to the Hamptons as well as how to get from NYC to Montauk even if you don't have a car making it a very popular weekend trip from NYC due to convenience since there are bus, train, and even air options directly from the city.
Something to keep in mind while visiting the Hamptons is that everything is a little on the expensive side, after all this is where some of the richest people in the world live and Long Island is home to some of the most expensive real estate in the country.
But you can never go wrong with spending your entire weekend on the beach, Cooper's Beach is said to be one of the best beaches in the Hamptons! While summer is the most popular season to go, you actually get quite a different and relaxing experience by visiting off-season or shoulder season. Not everything is open, but you can still enjoy the beach, hikes, and hang out like the locals.
Additionally, the Hamptons have some pretty awesome attractions to offer. For example, couples can escape from the city to experience some lovely wine and beer tasting as well as a trip to cultural institutions like the Parrish Art Museum.
A visit to the Hamptons is easily one of the best romantic getaways from NYC and if you're looking to unwind with your significant other, this could be your place!
If you have less time, a day trip to the Hamptons is also an option even if you don't have a car.
Where to Stay in the Hamptons:
The Surf Lodge is one of the most popular hangout spots in Montauk for live music and celebrity sightings. The rooms are chic and minimal located right on Fort Pond. Be sure to stay the night for a Sunday Session!
Pittsburgh, Pennsylvania
Another easy weekend getaway from NYC is Pittsburgh, Pennsylvania! As a baseball fan, of course, the first thing on my list for a trip to Pittsburgh would be to visit PNC Park, which is widely known as one of the most beautiful ballparks in the country. Not only do you get to watch a Pirates game, fans can see the Pittsburgh skyline and the Roberto Clemente bridge, which is actually named after a former Pirates player.
As far as sports go, Pittsburgh is also home to the Penguins of the NHL, and the Steelers of the NFL, which are great games to go to in Pittsburgh.
When visiting a big city you may be overwhelmed with the amount of things to do, and we're here to help!
One of the best areas for shops, restaurants, and nightlife is in Pittsburgh's Market Square. There are always events going on here too, like outdoor yoga, farmers markets, and more!
Pittsburgh has a variety of brew tours, museums, and parks to keep you busy during your wonderful getaway.
If you're not up for the six-hour drive, you can certainly take a bus or train. It may add a couple hours to your travel time but it would also save some money on a rental car!
Where to Stay in Pittsburgh:
For a great hotel downtown, we recommend the Fairmont Pittsburgh for a comfortable and luxurious stay at this 5-star property in a great location for exploring all the best things to do.
Cape Cod, Massachusetts
Since we haven't covered many spots in Massachusetts, next on our list is a perfect seaside destination just southeast of Boston.
Cape Cod is a gorgeous peninsula that has much to offer its tourists. This is another lovely and relaxing beach spot, many people visit to escape from the city.
The best way to unwind from the hustle and bustle of the city is to take a nap on the white-sand beaches, check out some of the beautiful lighthouses, go whale watching, and even go island hopping.
Cape Cod is also known for its nearby islands of Nantucket and Martha's Vineyard, which are great tourist spots.
Nantucket is just about 30 miles south of Cape Cod and is a lovely place to visit if you don't have a car. Most people get around by renting bikes, taking ferries, or walking. This island is full of history, museums, and beaches.
Martha's Vineyard is just 5 miles from Cape Cod and it's a little different than the Cape and Nantucket. Although Martha's Vineyard is a relaxed island, it also has some very high-end art galleries and awesome boutiques.
Needless to say, you'll be overwhelmed with the amount of things to do during your trip to Cape Cod.
When planning weekend getaways from NYC to Cape Cod, it is probably best to rent a car since the train and bus options can be quite tricky.
Where to Stay in Cape Cod:
A gorgeous stay at the Winstead Inn & Resort is the perfect place to base while exploring all the incredible offerings not only in Cape Cod but the surrounding activities and towns to visit too. This breathtaking property feels more like a luxury B&B to be your home away from home during this weekend getaway from NYC.
Hershey, Pennsylvania
Hershey is a town just east of Harrisburg, the capital of Pennsylvania. This town may sound familiar because it is the home of the The Hershey Company, which is one reason for chocolate lovers to plan their weekend getaways from NYC here!
One of Hershey's greatest attractions is Hersheypark. Interestingly, Hersheypark was created by Milton S. Hershey as an area for employees from the Chocolate Factory to relax. It is now a massive amusement park that includes all kinds of thrill rides, a water park, a zoo, and even Chocolatetown!
Chocolate enthusiasts should take advantage of the free tours at the Hershey's Chocolate World Attraction. Try exclusive chocolatey treats and check out their one-of-a-kind souvenirs.
Another famous attraction in Hershey is the Hershey Gardens, which is 23 acres of beautiful botanical gardens full of gorgeous flowers, trees, and shrubs.
Visitors should also absolutely check out The Hershey Story Museum. This museum takes tourists through the life of Mr. Hershey and his famous chocolate company. The museum offers a very interactive experience for youngsters.
Since Hershey is only about a 3 hour drive from NYC, it might be the best option to rent a vehicle considering both train and buses nearly double the travel time.
Where to Stay in Hershey:
A great option for where to stay in Hershey is the Holiday Inn Express Hershey which has a great pool for the warmer months and a great location for exploring all the lovely attractions in the area!
Baltimore, Maryland
Just 40 miles from Washington DC, Baltimore is another major city full of history and things to do and see.
In terms of history, visitors can check out Fort McHenry National Monument and Historic Shrine, which is mostly known for its role in the War of 1812. Visitors can learn more about the role Baltimore played in significant battles and history, such as the Battle of Baltimore and ultimately the development of our country's national anthem, "The Star Spangled Banner."
If this interests you, check out Star Spangled Banner National Historic Trail! Activities on this trail include hiking, biking, boating, and more!
Additionally, Baltimore is a great sports city. Home of the Baltimore Orioles or the MLB and the Baltimore Ravens of the NFL, these stadiums are some attractions tourists should absolutely add to their list of things to do while visiting Baltimore.
This area is also full of a variety of museums. One attraction visitors can check out is Edgar Allan Poe's House & Museum, which is a huge attraction considering Poe spent his early life in Baltimore and he was also buried there. Tourists can also check out his grave. Fun fact: the Baltimore Ravens name was inspired by Poe's famous poem The Raven.
For great views of Baltimore, tourists can check out the Top of the World Observation Level!
Downtown Baltimore is also known for its great entertainment, pubs, restaurants, and more, but the most charming area of the city to explore is the historic Fells Point.
A great reason to visit Baltimore for weekend getaways from NYC is that it is another destination that doesn't require a car! Both buses and trains will get travelers from NYC to Baltimore in about 3 hours!
Where to Stay in Baltimore:
We recommend staying in the most charming and historic neighborhood of Fells Point right on the harbor. We can't recommend enough the iconic historic 5-star Sagamore Pendry Baltimore or the Inn at Henderson's Wharf.
Greenwich, Connecticut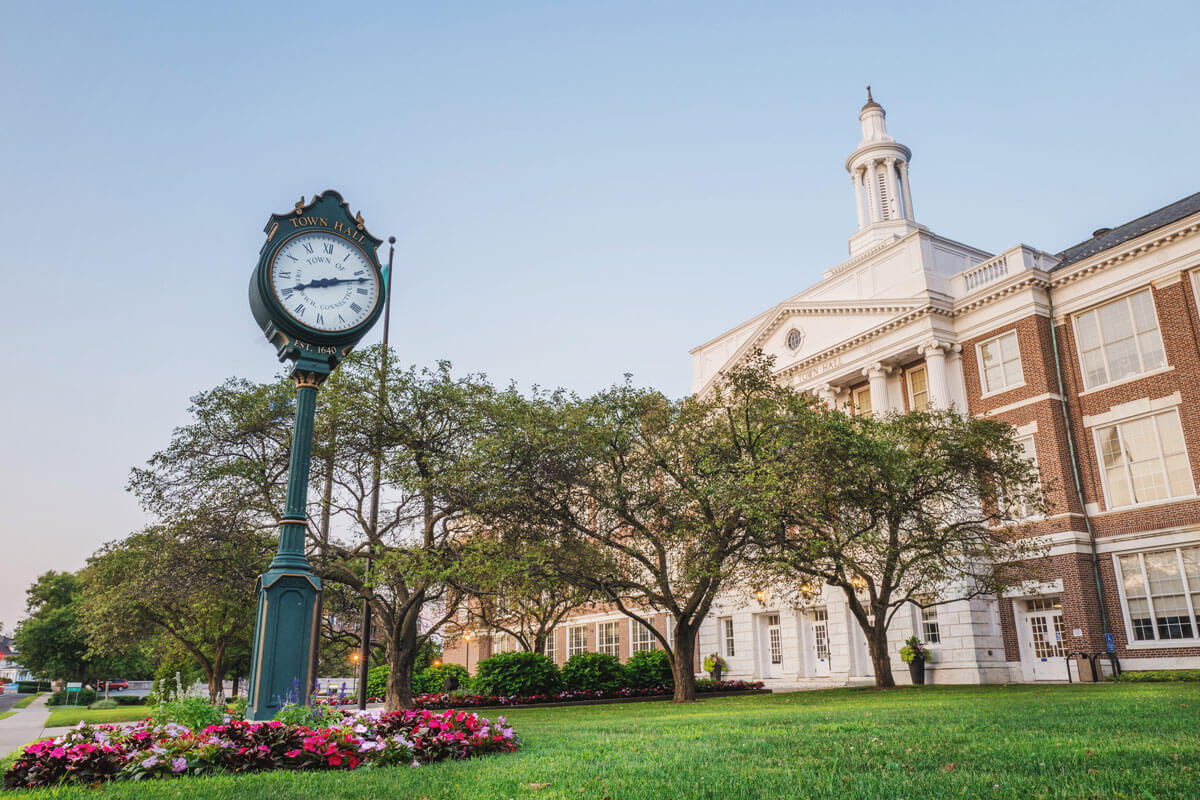 Connecticut's first appearance on our list, but definitely not a destination to be overlooked is Greenwich, one of the best weekend trips from NYC.
This beautiful small town is a lovely tourist destination, especially for those who are coming from the city. There are many things packed into this Gold Coast town. Greenwich is an upscale city that offers dining, shopping, museums, beaches, and more.
Some attractions to check out during your getaway include the Bruce Museum, Greenwich Polo Club, Donald M. Kendall Sculpture Gardens, Greenwich Avenue, and Audubon Center to name a few.
Greenwich, CT is easily accessible and incredibly affordable by bus and train, considering it is just over 30 miles outside of the city. This makes it a great contender for weekend trips from NYC.
Where to Stay in Greenwich:
A great location and beautiful property to enjoy all the wonderful things to do around Greenwich is a stay at the Hyatt Regency Greenwich.
Portland, Maine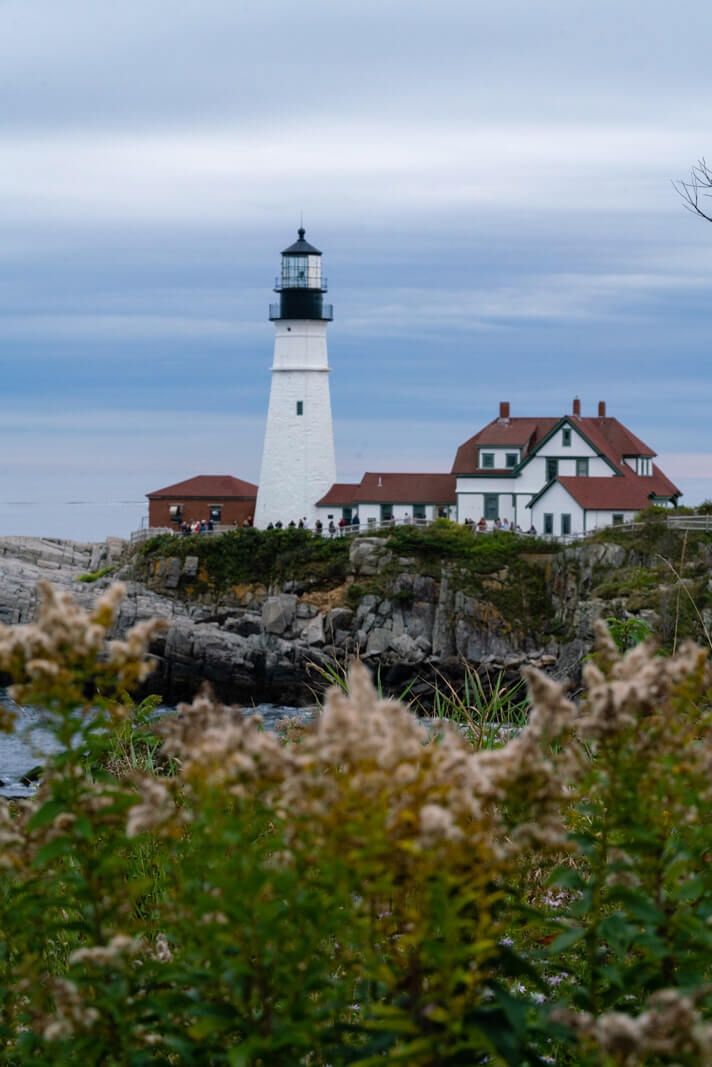 One of the most beautiful coastal weekend trips from NYC is Portland, Maine. What's awesome about this weekend getaway from NYC is that you have the option to take the train from Penn Station or you can drive in around 5 hours.
Portland has a gorgeous coastal downtown, which you'll want to spend time exploring every block of the cobbled lanes in Old Port. There are also several lighthouses to visit, including Portland Head Light, which is one of the most photographed lighthouses in the country, or take a day trip to one of the islands in Casco Bay.
Don't miss your fill on seafood including lobster rolls and the many breweries downtown too! There are so many amazing things to do in Portland, which is why it's one of the best weekend trips from NYC.
Where to Stay in Portland, Maine
Canopy by Hilton Portland Waterfront has an incredible location off of Commercial Street in Old Port which is just steps away from many of the amazing places to visit in Portland. Plus the hotel has an incredible rooftop restaurant you'll wan to have a sunset cocktail and even dinner at!
The Berkshires
One of the best weekend getaways from NYC is the gorgeous region known as the Berkshires in Western Massachusetts. This popular weekend escape for New Yorkers is known for its famous performing arts scene with popular venues like Jacob's Pillow and Tanglewood as well as the Williamstown Theatre Festival.
There are several performing arts venues in addition to those and museums like MASS MoCA in North Adams, the Norman Rockwell Museum in Stockbridge, and Herman Melville's Arrowhead home near Pittsfield to name a few of the many cultural institutions here.
You can also find several luxury wellness retreats, Gilded Age mansions, a great food scene, wine tasting at wineries like Balderdash Cellars and of course you can't forget the outdoor recreational opportunities.
The Appalachian Trail actually traverses the Berkshires, so if you can't swing taking months of to hike this gorgeous range, you can hop on and do a shorter trek. You can also witness the beauty of Mount Greylock, the tallest peak in the state of Massachusetts, and hike around the Pittsfield State Forest.
The Berkshires are around a 3 hour drive from NYC and there are opportunities to take the Amtrak train up from Penn Station to Pittsfield with a connection through Albany. While you can easily enjoy a fun weekend getaway from NYC here without a car if you plan to stay in the town of Pittsfield, we do recommend having a car so you can explore.
Where to Stay in the Berkshires:
One of the best places to base yourself in the Berkshires would be central county in the cultural town of Pittsfield. Hotel on North is a unique boutique hotel that ties into the history and culture of this destination. Each of the rooms are individually designed and decorated, and if you're looking for something extra special, be sure to book the Library Suite where you can sleep in your own personal library!
---
Enjoyed this guide to all the best weekend getaways from NYC and amazing New York weekend breaks? Bookmark for later or share the love below on Pinterest.