Looking for the perfect DUMBO cafe to stop in and grab a little pick me up while you're exploring all the amazing things to do in DUMBO? DUMBO is full of amazing food and drink options, and here are the DUMBO cafes for any kind of scenario you could possibly be in.
Whether you find yourself wanting to dine in or take your coffee and pastries on the go, the DUMBO coffee scene has got you covered. Check out these cafes we can't stop raving about, which happen to be some of the best coffee shops in Brooklyn!
Brooklyn Roasting Company
View this post on Instagram
Brooklyn Roasting Company is the place to go if you're looking to have a casual business meeting, sit back and respond to emails, or to have good conversation with friends. This DUMBO coffee shop is also BRC's espresso lab and roasting headquarters.
Take a seat on their vintage couches or enjoy the number one perk of BRC, the location. Brooklyn Roasting Company says, "Our 25 Jay Street location is just steps away from the DUMBO Waterfront, making it a scenic backyard to an exceptional cup of coffee."
Also, take home a bag of their coffee beans, it's one of the best Brooklyn souvenirs money can buy for any coffee lover in your life or the office!
This location is open Monday-Friday 6:30 AM-7 PM and Saturday-Sunday 7 AM-7 PM.
FEED Shop & Cafe
Another amazing DUMBO coffee shop and store is FEED in Empire Stores. Stop by FEED for a lot more than just a cup of coffee. It began in 2007 as a company on a mission to improve worldwide hunger that impacts more than 795 million people, especially in schools across the globe.
The FEED shop & cafe in DUMBO is the first retail store, which allows people to be more active in FEED's mission to give back.
This experience allows you to buy merchandise all worth a certain amount of meals toward hungry students!
This DUMBO cafe offers the people in New York an opportunity to sit back, relax, and impact the world while getting a cup of coffee and a pastry.
Located in Empire Stores at 55 Water St, FEED is open Monday-Saturday 8 AM-7 PM and Sunday 8 AM-6 PM.
Read Next: The Best Instagram Spots in DUMBO
Bluestone Lane
View this post on Instagram
Bluestone Lane is the perfect spot for coffee in DUMBO to go if you're looking for a professional and sophisticated environment with a food and bev combo for everyone.
This DUMBO coffee shop is the first Bluestone Lane to cross the bridge from Manhattan! Stop by for signature cocktails using Bluestone's own espresso, health-oriented food options, and a wide variety of coffee drinks.
Bluestone has a sleek yet inviting look, a place for a business meet up or a place to catch up on work.
Check it out on 55 Prospect St Monday-Friday 7:30 AM-5 PM and Saturday-Sunday 8 AM-5 PM.
Read Next: Best DUMBO Bars to Check Out
One Girl Cookies
View this post on Instagram
Take a seat in the window of One Girl Cookies or take a coffee and pastry down to the waterfront. This cafe is a short walk from all the beautiful sights of DUMBO.
Perfect for a pick-me-up coffee drink, all the delicious pastries you hate to love, and even some breakfast and lunch options and famous for their sweets.
Find this DUMBO coffee shop at 33 Main Street open Monday-Friday 8 AM-6 PM and Saturday-Sunday 9 AM-6 PM.
Almondine
View this post on Instagram
You will not regret stopping by this adorable French bakery and cafe in DUMBO. Almondine is the DUMBO cafe you've been searching for.
Pair your coffee with can't miss pastries, sweets, and even lunch specials. This DUMBO cafe offers gluten and nut sensitive options, which is a huge bonus for people with dietary restrictions but love their sweets (like me!) While you're here, pick up some freshly baked bread cooked "the traditional way."
Almondine isn't the most spacious cafe, but that shouldn't keep you from stopping by and grabbing a sweet and coffee to go!
Located at 85 Water St. This DUMBO coffee shop is open Monday-Saturday 7:30 AM-6:30 PM and Sunday 9 AM-6 PM.
Usagi
View this post on Instagram
You won't want to miss this cool DUMBO coffee shop during your trip to Brooklyn. Usagi [ooh-sah-ghee] is a Japanese cafe strives for much more than just any ordinary coffee and breakfast pastry.
Usagi has combined the experience of an art gallery, a cafe, and a retail store into a one-stop shop in DUMBO. The layout of their space allows for frequent reconfiguration and new work to be displayed!
This DUMBO cafe offers freshly brewed coffee, tea, obento, a common Japanese cuisine, and more.
Find this one of a kind experience at 163 Plymouth St open Monday-Friday 8 AM-6 PM and Sunday 11 AM-5 PM. Closed on Saturday.
Starbucks
View this post on Instagram
If you can't get out of your comfort zone when it comes to coffee, don't worry. There's a Starbucks on just about every corner in NYC including Brooklyn.
Lucky for you, there are two Starbucks cafes in DUMBO. Visit the 11 Old Fulton location for your classic Pike Place roast or specialty drinks and enjoy the view of the Ferry Fulton Landing and the beautiful Manhattan skyline.
Take a seat inside or take your treats to go. The DUMBO coffee shop on Old Fulton is open Monday-Saturday 6:30 AM-6:30 PM and Sunday 7 AM-6:30 PM.
Jacques Torres
View this post on Instagram
Famous for their chocolatey treats, don't underestimate the deliciousness that is their popular hot chocolate. Try a wicked hot chocolate or stick to the basics, either way, Jacques Torres has something to get you through your day in DUMBO.
Although this DUMBO cafe is mainly known for its extravagant sweets, it also serves the DUMBO community as a little pick me up cafe. Grab a cookie or a croissant and hit the next destination on your list!
Also, if you're a fan of the Netflix series Nailed It, Jacques Torres, a master pastry chef and chocolatier, himself is the head judge on the show!
Find this DUMBO coffee shop at 66 Water St open Monday-Saturday 9 AM-8 PM and Sunday 10 AM-6 PM.
Archway Cafe
View this post on Instagram
The Archway Cafe has everything we look for in a perfect cafe in DUMBO. From a sleek and clean look and style on the interior to a full mouth watering breakfast menu, this DUMBO cafe has everything you need and more.
Archway Cafe has seating if you're looking to unwind and enjoy a bite, or you can take a smoothie, a DUMBO coffee, or a Maple Lemonade on the road.
If you're on to go, don't forget to pair one of their unique drinks with a coconut brownie or a croissant!
Find this amazing DUMBO cafe at 57B Pearl St open Monday-Friday 8 AM-9 PM and Saturday-Sunday 8 AM-7 PM.
Read Next: 100+ Awesome Things to do in Brooklyn
Butler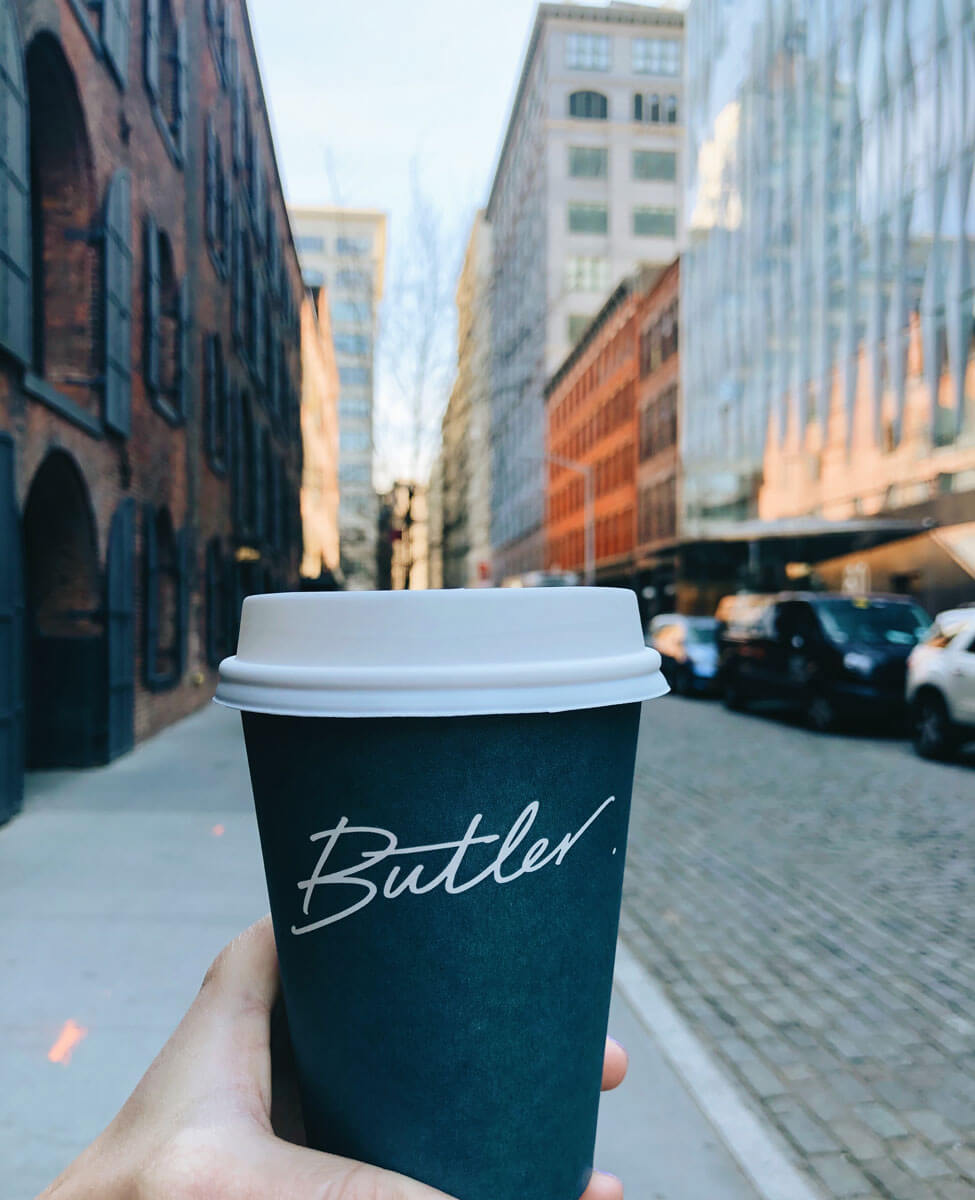 Butler, a bakeshop and espresso bar is proudly serving Brooklyn in only two locations, and we're over the moon that they chose DUMBO.
The aesthetic of this DUMBO cafe is enough to get us through their door and everything they have to offer is what gets us to take a seat and stay awhile.
Enjoy their breakfast and lunch menus or snack on a petite french toast or triple chocolate croissant from their pastries & desserts menu. Pair any sweet or savory treat with one of their delicious coffee drinks. They also are one of the best spots for brunch in DUMBO!
Stop in to this beautiful DUMBO cafe at 40 Water St, open Monday-Friday 7 AM-6 PM and Saturday-Sunday 8 AM-6 PM.
P.S. Butler also has more locations and is one of our picks for best Williamsburg coffee shops too for those exploring more Brooklyn neighborhoods!
La Bagel Delight
View this post on Instagram
If you're looking for something quick and filling, La Bagel Delight is your perfect pit stop. Snag a cup of coffee and one of their can't miss bagel sandwiches or bagels with any of their specialty cream cheeses!
Located at 104 Front St, this DUMBO coffee shop has easy access to the beautiful waterfront. Take your meal on the go and enjoy the views! La Bagel
La Bagel Delight is open Monday-Saturday 6 AM-5 PM and Sunday 6 AM-4 PM.
Read Next: Best Bagels in Brooklyn
Bread and Spread
View this post on Instagram
Nothing is better than all-day breakfast sandwiches. Get to Bread and Spread for coffee, pastries, can't miss breakfast sandwiches, and most of all an unbeatable location.
This DUMBO cafe is tucked away in a tiny location but attracts loyal customers for its dedication to the community. Come here to feel welcomed into the DUMBO family by the staff and get in touch with Brooklyn a little bit more not to mention this is one of the best sandwich spots in Brooklyn!
With two locations on Front St, find Bread and Spread at 147 and 151 Front St open Monday-Friday 8 AM-7:30 PM and Saturday-Sunday 8 AM-5:30 PM.
---
Love finding the best of the foodie scene everywhere you go? Be sure to check out the best restaurants in DUMBO for more amazing food options as well as our guide to the best Time Out Market New York restaurants!
---
Did we miss any DUMBO cafes that deserve to be on this list? Let us know in the comments below or bookmark for later!