Looking for the perfect DUMBO cafe to stop in and grab a little pick me up while you're exploring all the amazing things to do in DUMBO? DUMBO is full of amazing food and drink options, and here are the DUMBO cafes for any kind of scenario you could possibly be in.
Whether you find yourself wanting to dine in or take your coffee and pastries on the go, the DUMBO coffee scene has got you covered. Check out these cafes we can't stop raving about, which happen to be some of the best coffee shops in Brooklyn!
Great Cafes in DUMBO
% Arabica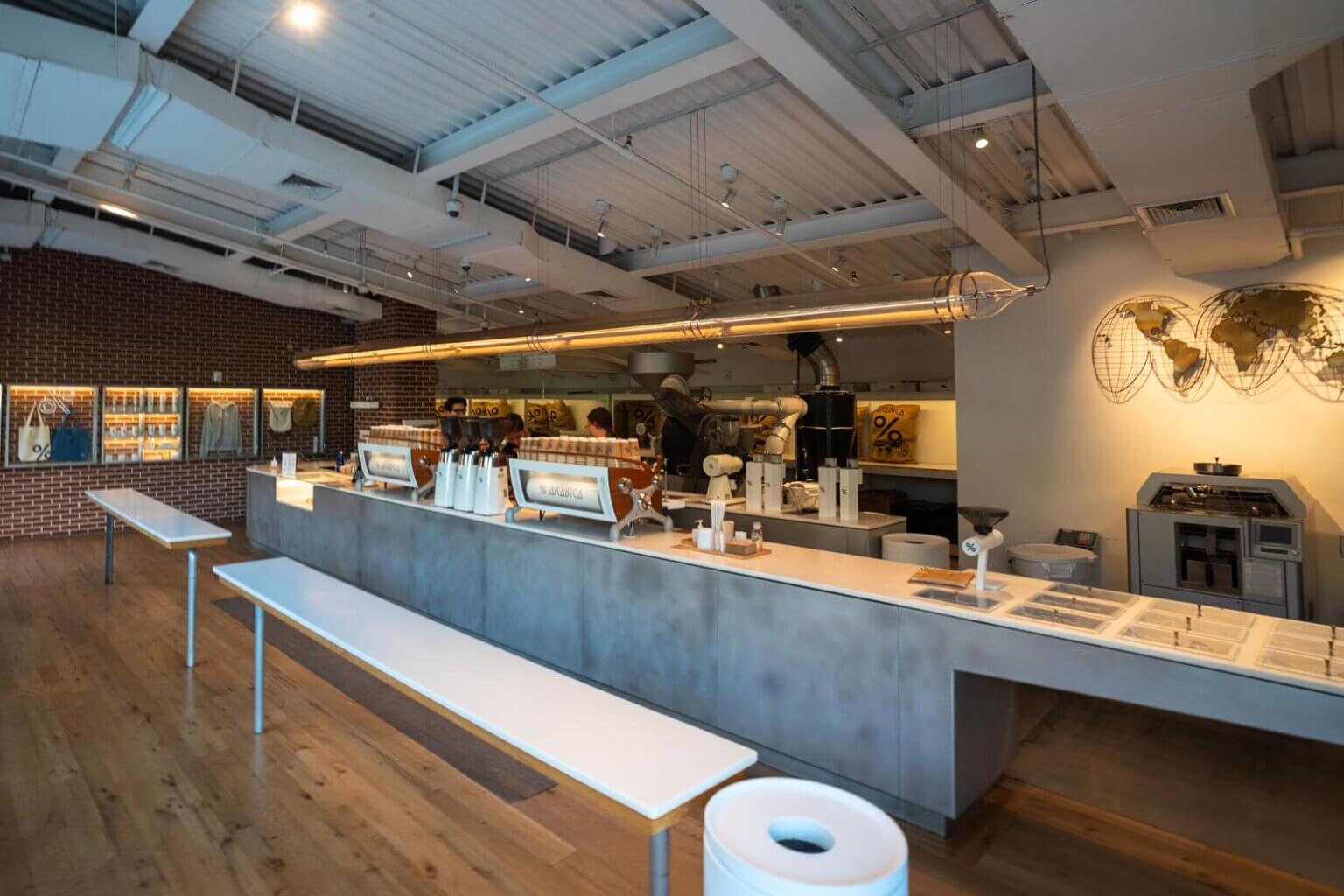 Address: 20 Old Fulton Street
Not only does % Arabica have one of the best views of the Brooklyn Bridge, it also has some incredible coffee. This Japanese-based coffee shop serves up some quality cups of coffee. So good, I have been known to go out of my way to stop to get their specialty Kyoto Latte, a traditional latte with a subtle added sweetness.
Like so many other places on this list, the coffee is amazing and it is a great space to work or gather with friends. Make sure to also try their pastries!
% Arabica is open every day from early till early evening. If you get lucky, grab the window seat that has a direct view of the Brooklyn Bridge. Otherwise, they have indoor and outdoor seating available at one of the best cafes in DUMBO.
Bluestone Lane
Address: 55 Prospect Street
For all coffee enthusiasts (or coffee snobs) this is one of the best DUMBO cafes for you. I didn't realize Australian coffee culture is a serious thing and also didn't realize that when Aussies visit New York City, they really despise American coffee! While we know there are some seriously good coffee shops in Brooklyn and great coffee shops in New York City, apparently they have a specific taste they're looking for and Bluestone Lane has got it.
This DUMBO coffee shop is the first Bluestone Lane to cross the bridge from Manhattan! They specialize in espresso-based coffee drinks using only the highest of quality beans from sustainable and ethical suppliers.
This is also where you can get some great, fresh food featuring items like brekkie bowls and baked eggs. Oh, and apparently Bluestone Lane helped popularize avocado toast in the US?! Apparently, the history of avocado toast is a heated debate and we aren't quite sure who is responsible for making it so popular in the US, but Australian cafes apparently have their hand somehow in the mix.
Better yet, what makes Bluestone Lane one of the best coffee shops in DUMBO is that it has a great set up for working, a business meet up, or taking a much needed break from exploring all the best things to do in DUMBO.
Read Next: Best DUMBO Bars to Check Out
Almondine
Address: 85 Water Street
You will not regret stopping by this adorable French bakery and cafe in DUMBO. The space is small and intimate, tucked away on on a seemingly quiet little spot on Water Street.
Pair your coffee with their unbelievably delicious pastries, sweets, and even lunch specials. This DUMBO cafe offers gluten and nut-sensitive options, which is a huge bonus for people with dietary restrictions but love their sweets (like me!) While you're here, pick up some freshly baked bread cooked "the traditional way."
Almondine isn't the most spacious cafe, but that shouldn't keep you from stopping by and grabbing a sweet and coffee to go!
Usagi
Address: 163 Plymouth Street
If you're looking for a more elevated cafe in DUMBO, this is one you'll want to check out. Easily one of the coolest coffee shops in DUMBO is Usagi [ooh-sah-ghee], a Japanese cafe that strives for much more than just any ordinary coffee and breakfast pastry.
Tucked away from the main touristy attractions in DUMBO, Usagi has combined the experience of an art gallery, a cafe, and a retail store into a one-stop shop in DUMBO. The layout of their space allows for frequent reconfiguration and new work to be displayed!
This DUMBO cafe offers freshly brewed coffee roasted by 95 RPM, Ippodo teas from Kyoto, obento, a common Japanese cuisine, and more.
Jacques Torres
Address: 66 Water Street
Famous for their chocolatey treats, don't underestimate the deliciousness that is their popular hot chocolate. Maybe you've heard of Jacques Torres or this famous French pastry chef and chocolatier sounds or seems familiar, that's because he has been featured on multiple television shows including being a judge on Netflix's Nailed It! competition show!
This DUMBO cafe is known for its wickedly delicious hot chocolate. While you're here you can also grab some of their world-famous gourmet chocolates whether you're eating them here or taking them home for someone you love!
Archway Cafe
Address: 57B Pearl Street
The Archway Cafe has everything we look for in a perfect cafe in DUMBO. From a sleek industrial chic style on the interior to a full mouth-watering breakfast menu, this DUMBO cafe has everything you need and more.
Archway Cafe has seating if you're looking to unwind and enjoy a bite, or you can take a smoothie, a DUMBO coffee, or a Maple Lemonade on the road.
If you're on to go, don't forget to pair one of their unique drinks with a coconut brownie or a croissant!
Read Next: 100+ Awesome Things to do in Brooklyn
Butler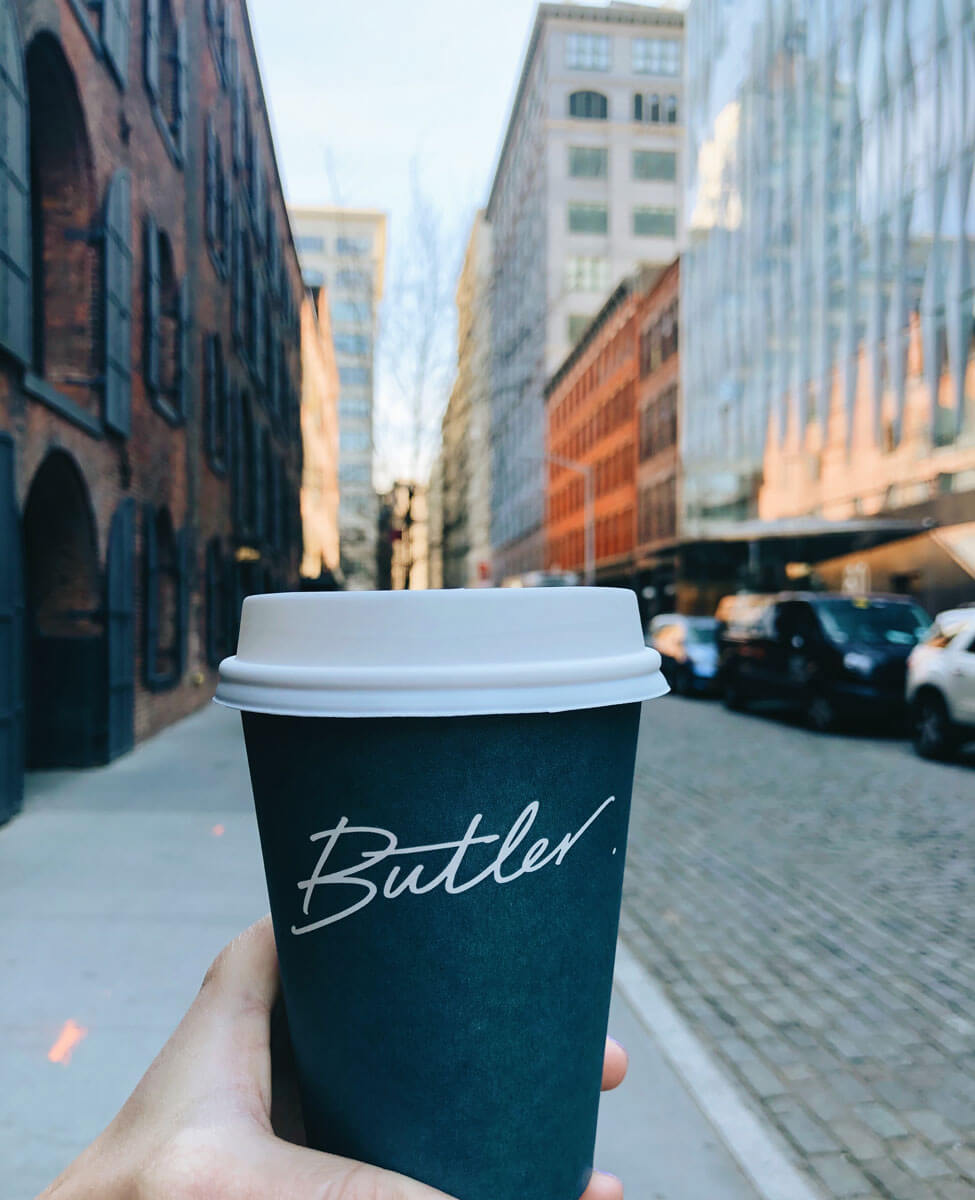 Address: 40 Water Street
Ahh, one of my personal favorite coffee shops in DUMBO is this little corner spot. Butler, a bakeshop and espresso bar is proudly serving Brooklyn in three locations, and we're over the moon that they have a DUMBO cafe location.
The aesthetic of this DUMBO cafe is enough to get us through their door and everything they have to offer is what gets us to take a seat and stay awhile.
Enjoy their breakfast and lunch menus or snack on a petite french toast or triple chocolate croissant from their pastries & desserts menu. Pair any sweet or savory treat with one of their delicious coffee drinks. They also are one of the best spots for brunch in DUMBO!
They also have the cutest cups for photos. I love grabbing a cup and walking around Brooklyn Bridge Park with. my hot drink.
P.S. Butler also has more locations and is one of our picks for best Williamsburg coffee shops too for those exploring more Brooklyn neighborhoods!
La Bagel Delight
Address: 104 Front Street
This isn't necessarily the best coffee in DUMBO, but it does sell coffee and something else really important that you should have if you're visiting Brooklyn, BAGELS!
La Bagel Delight has some great bagels whether you're looking for a classic bagel sandwich or a bagel smothered in flavored cream cheese. There's something so satisfying about have bagel shop coffee paired with your bagel.
Grab your bagel and cup of joe to go and head to a bench in Brooklyn Bridge Park and take in those great skyline views!
Read Next: Best Bagels in Brooklyn
Bread and Spread
Address: 151 Front Street
Nothing is better than all-day breakfast sandwiches or a great hearty sandwich. Get to Bread and Spread for coffee, pastries, can't miss sandwiches, and most of all an unbeatable location.
This DUMBO cafe is tucked away in a tiny location but attracts customers for its amazing sandwiches (oh and they have coffee of course).
This cafe is more about it's food than coffee we must admit, but if you want a one stop shop for a great breakfast plus a coffee, this is it. This is also one of the best sandwich spots in Brooklyn!
Cha Cha Matcha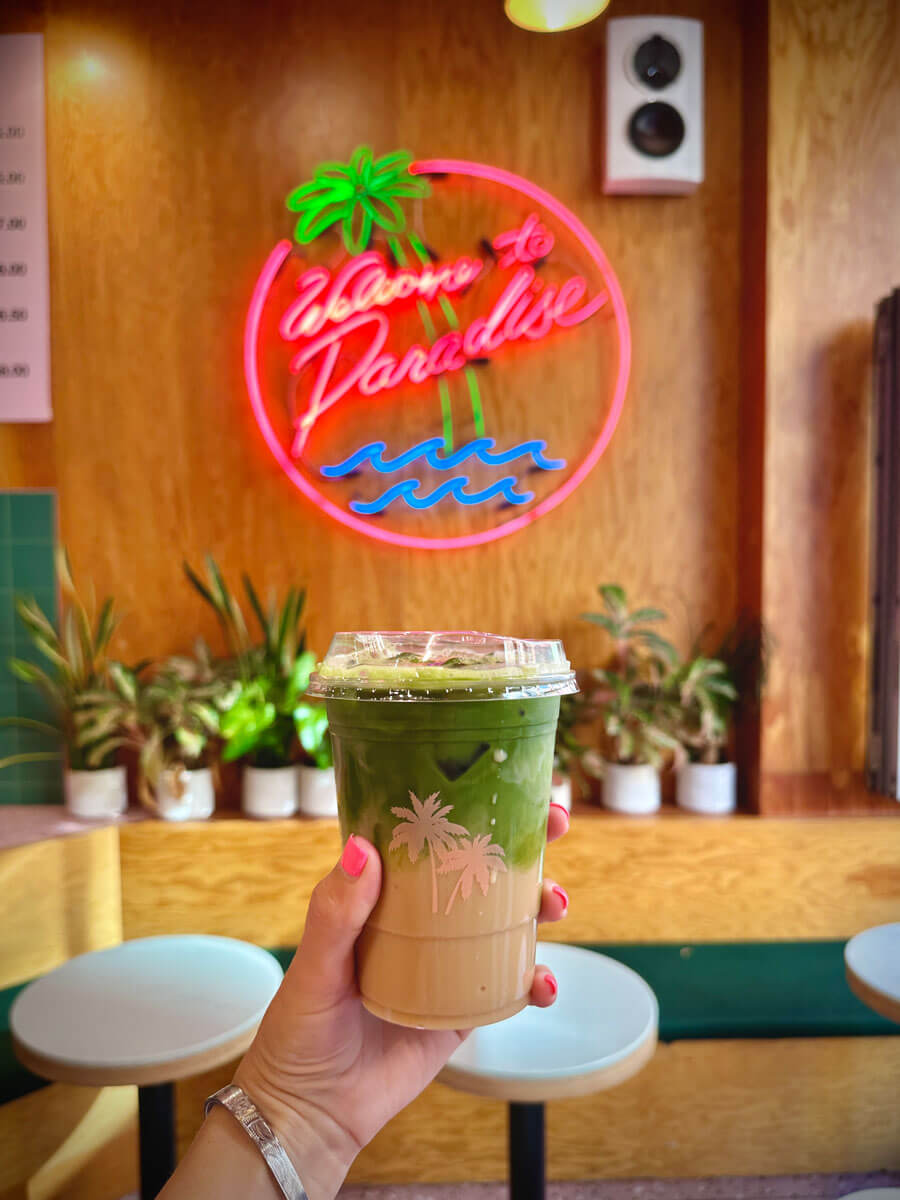 Address: 55 Water Street
The ever-so-popular Cha Cha Matcha has made its way to DUMBO! If you haven't already seen their photogenic aesthetics on IG already, then color me surprised! They have playful branding with the colors of pink and a tropical leafy green with fun matcha drinks!
In fact, Cha Cha Matcha is renowned for its focus on matcha, a finely ground green tea powder that's popular in Japanese culture. They offer a wide range of matcha-based beverages and treats and they are delicious (and beautiful to look at).
Located within the Empire Stores building (where TimeOut Market New York is located) on the ground floor, you'll find Cha Cha Matcha's newest outpost.
Their lattes are famous, I love their iced lattes. Their matcha chai is heaven. They also feature Nitro Matcha on draft (the coconut milk is so good with this).
And if that wasn't enough, Cha Cha Matcha offers a creative menu beyond traditional matcha lattes, including matcha-infused soft-serve ice cream, pastries, and snacks, often with a playful twist.
Best Coffee & Cafes in DUMBO (Post Summary):
% Arabica
Blustone Lane
Almandine
Usagi
Jacques Torres
Archway Cafe
Butler
La Bagel Delight
Bread and Spread
Cha Cha Matcha
---
Love finding the best of the foodie scene everywhere you go? Be sure to check out the best restaurants in DUMBO for more amazing food options as well as our guide to the best Time Out Market New York restaurants!
Did we miss any DUMBO cafes that deserve to be on this list? Let us know in the comments below or bookmark for later!