Looking to visit the Bushwick Collective and all the amazing Bushwick street art and murals? We've got you covered in this one-stop guide featuring how to get to the Bushwick art collective, where to find all the Bushwick graffiti and murals, where to find more Bushwick street art, and what to do nearby including food – one of our favorite things to do in Brooklyn and recommendations for visitors who love street art!
This neighborhood is teeming with creative spaces and places and if you stick around there's a great nightlife scene!
The Bushwick Collective started in 2012 and in its early years this area did have work done by legendary names in the street art world from Blek le Rat to Banksy, Shepard Fairey, ROA, and other famous local Brooklyn artists like Sara Erenthal whose work you can see all throughout the city.
See why this is one of our favorite Brooklyn walks and use this guide to help you plan your visit to the Bushwick Collective, one of the best spots for Brooklyn street art.
About Bushwick Collective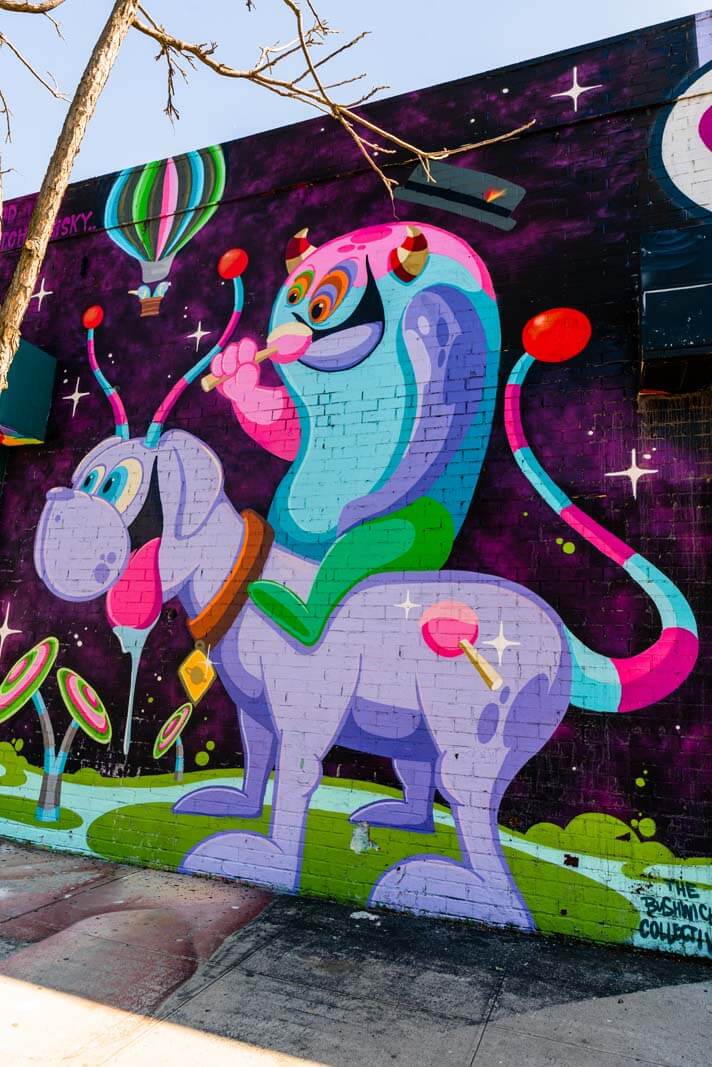 The Bushwick Collective is a living breathing art collective in Bushwick, Brooklyn in NYC. This creative array of Bushwick art was conceived and created by Bushwick native, Joe Ficalora, with its first mural surfacing in 2011.
It has since attracted talented artists from all over the world and fabulously showcases first-rate street art by the creators. The genesis of this Bushwick Collective is quite the story, as the founder came of age in the 1980s, during a time when the Bushwick area was known for high crime rates.
Having suffered the losses of both of his parents, Joe wanted to revive himself and his neighborhood and thus transformed it into an open-air gallery for everyone to enjoy and help him cope with his painful memories.
What a testament to the power of art. Come relish at the Bushwick art collective, featuring Bushwick murals from some of our favorite street artists.
Annual Bushwick Collective Block Party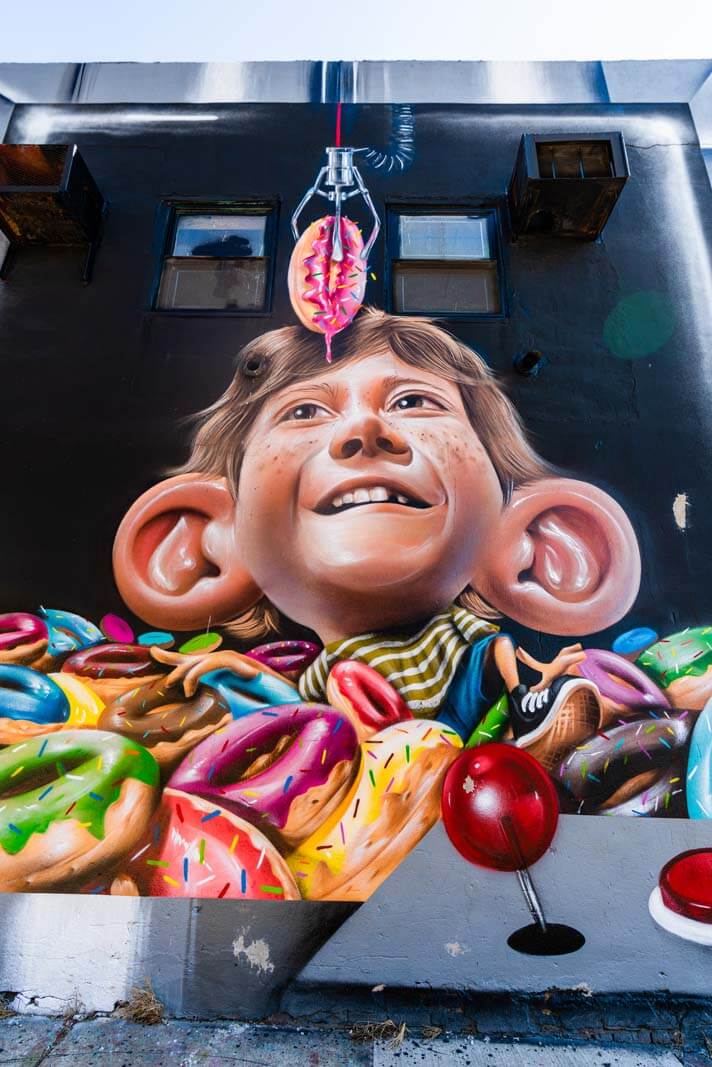 The Bushwick Collective Block party is an annual art event in Bushwick, Brooklyn. World-renowned local, national, and international artists are invited to showcase their creations during this community-enriching event.
The annual block party has been hosted every June since 2012, with the exception of 2020, and features new artists every year.
Just as artists line the walls with their colorful depictions, musicians fill the air with the sound of their live performances. Visitors should come prepared with cash in their pockets as the street becomes a massive merchant market for jewelry, prints, and custom clothing, designed by the various artisans.
There is something for everyone as this event ties together talented Bushwick graffiti, street art, music, food from trucks and local vendors, and of course, a wonderful sense of community.
Culture is contagious and Bushwick Collective's block party has since inspired more Bushwick murals to pop up around the area – even walls that are not officially a part of the Bushwick Collective have been filled with colorful and vibrant works of art.
What's even more incredible is that street art in nature is not permanent, and therefore fresh new murals are constantly being added annually – and in real-time!
Thus, this makes visiting the Bushwick art collective great year-round. Fresh Bushwick graffiti next to never-before-seen Bushwick street art makes for a truly remarkable experience.
The Bushwick street art collective brings about a wide range of artists, with varying talents and backgrounds. Some of the biggest names whose work either is or has been on display at the Bushwick Collective include Monks Art, Adam Fu, and Daisey Freedman to name a few.
Monks's Bushwick murals are colorfully provoking depictions of wildlife that are often personified to take on comedic forms. Adam Fu is a Brooklyn-based neon wizard who specializes in luminous Bushwick graffiti of various designs.
If you like art that is a bit edgy, Daisey Freedman's Bushwick art features spookily creative pieces. Below is a list of artists and their social tags for anyone interested in checking out their work.
Some of the current artists you can find featured on the many Bushwick murals are:
Monks Art (@themonks_ on Instagram)
Adam Fu (@adamfu on Instagram)
Daisey Freedman (@freakotrophic on Instagram)
Marco Santini (@_marco_santini_ on Instagram)
Sipros Naberezny (@sipros_sipros on Instagram)
Michel Velt (@michelvelt on Instagram)
Natasha May Platt (@surfaceoofbeauty on Instagram)
Golden (@golden305 on Instagram)
Mr. B Baby (@mrbbaby on Instagram)
Subway doodle (@subwaydoodle on Instagram)
& MANY more
Bushwick Collective Location & Tips for Visiting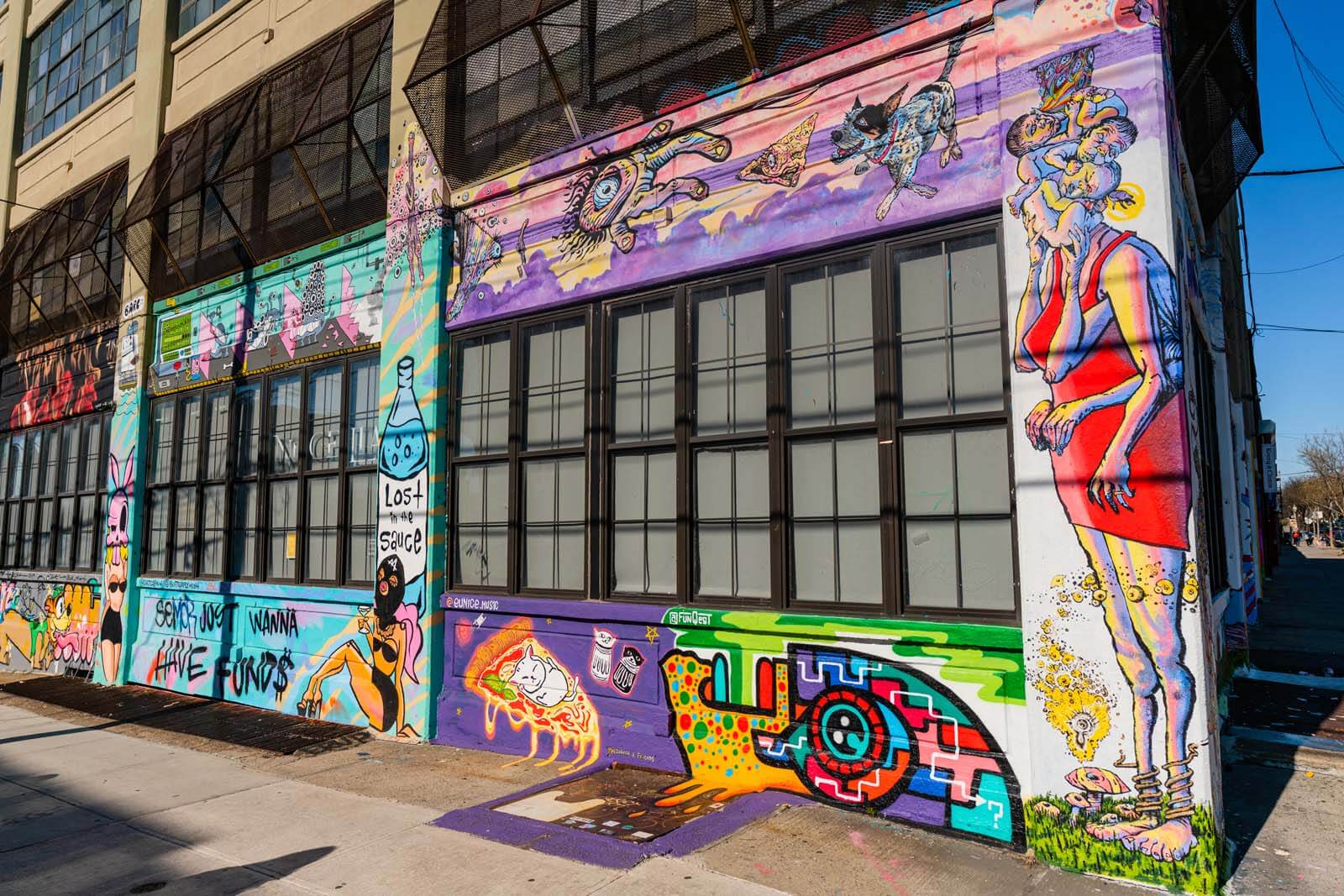 The Bushwick Collective is located in the New York City borough of Brooklyn, right off of Flushing Avenue. The best route involves taking the L line of the subway train to the Jefferson Street station. This is a great starting point for your adventure.
Once arrived, you are free to explore the walls of art independently or via a paid, guided tour from a local tour agency. While most tour companies charge a fee for their walking tours, some operate on a pay-what-you-like model like Free Tours by Foot.
In order to get the best out of your Bushwick Collective trip plan at least an hour if not longer to just mosey around and walk up and down the streets.
You can find most of the murals along Troutman Street between Irving Avenue and Cypress Avenue, there are more along Starr Street too.
As I said, it's best to just walk up and down the streets, make sure you check both sides and peek around as there are some tucked away! There is also a group of street art around the block of Moore Street, White Street, Siegel Street, and Bogart Street.
If you are looking for a particular artist or piece of work, follow Bushwick Collective's official page on Instagram (@thebushwickcollective) for additional insights.
How to Get to the Bushwick Collective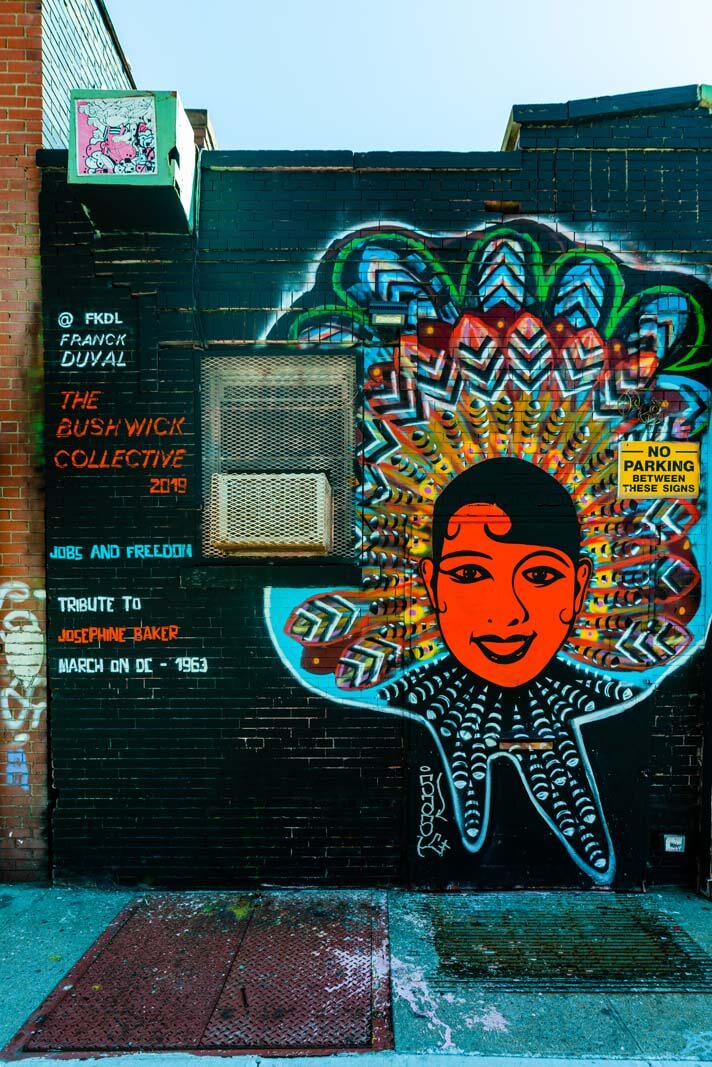 The Bushwick Collective is easily accessible using the subway. Visitors using public transportation will be happy to hear that the street art gallery is a short 7-minute walk from the nearest train station, located off of Jefferson Street (L train).
To arrive, take the L subway to Jefferson Street station, which is 7 stops out of the borough of Manhattan if you're coming from this way. The L line can be picked up at any station along 14th Street. If you take 14th Street – Union Square station, the travel time will be under 20 minutes.
If you are coming from Midtown or Downtown Manhattan, the travel time is a bit longer at 25-40 minutes, to allow for the transition to a different subway line. Bushwick Collective is right outside the Jefferson Street station, so you will have no trouble finding a starting point for the walking tour.
The Bushwick graffiti will guide your path through the colorfully decorated walls. In the event that this route is not available (due to construction, weather, etc.), you may take the subway's M line to Myrtle-Wyckoff Avenue station before heading to Starr Street.
Alternatively, you can also take the L line to Jefferson Street from here, which will take about a half hour or so.
More Bushwick Street Art
For those who haven't quite got their fill of Bushwick street art, there are more Bushwick murals by Maria Hernandez Park. This 7-acre municipal park is located between Knickerbocker Avenue from the southwest to Irving Avenue on the northeast, and Starr Street from the northwest to Suydam Street on the southeast.
Many more Bushwick murals can be seen by taking Knickerbocker Avenue towards East Williamsburg. Additionally, there are more notable murals that can be found around the Bushwick/East Williamsburg border, near the L subway line's stop at Morgan Avenue.
Visitors will be happy to see that the vibrant pieces on display are not limited to the strip of the Bushwick art collective. If you're wanting to see more than Bushwick street art, head over to see the street art in Williamsburg who also has a great scene and isn't too far away.
Another option, a little further south in Brooklyn is checking out the many commissioned murals at Industry City in Sunset Park.
Nearby the Bushwick Collective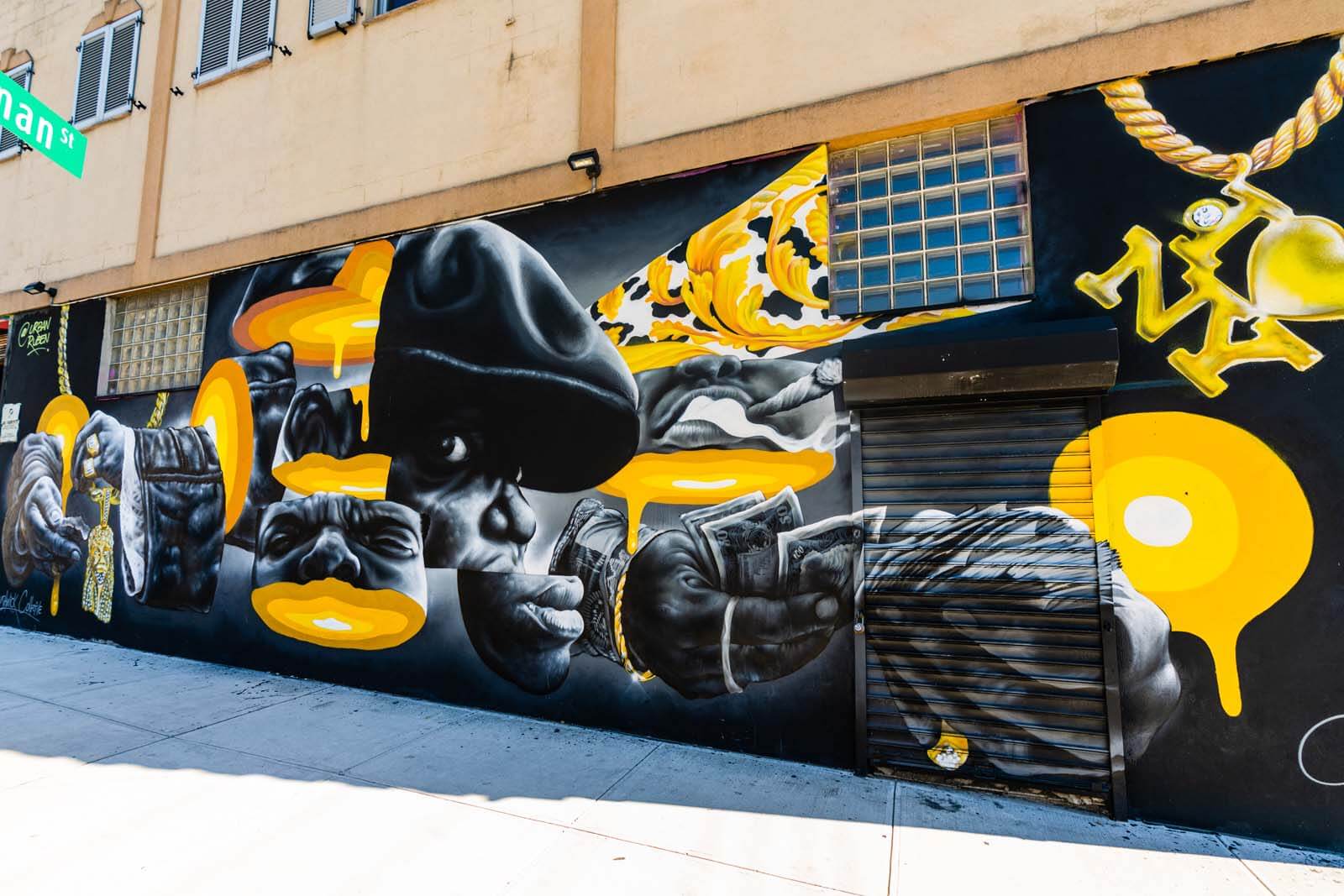 We recommend sticking around after exploring all the Bushwick art and murals in addition to the Bushwick Collective to check out the best things to do in Bushwick as well as enjoy a meal here!
Don't miss the amazing thrift shops in Bushwick too if you're into shopping second-hand treasures!
If you're coming in the afternoon you also might want to stick around for the epic nightlife scene in this neighborhood.
Maria Hernandez Park
After your tour of the Bushwick street art and Bushwick graffiti, head over to Bushwick's largest community park, Maria Hernandez Park, one of the best parks in Brooklyn.
Known as the neighborhood's center of public life, this greenspace is always bustling with activities. Visitors may enter this park, nearby to the Bushwick art, at any corner as each entrance leads to a circular plaza, often used for events.
If you've brought the kiddos along, your best bet would be to enter at the corner of Knickerbocker Avenue, where a rainbow-colored playground with a large play area awaits.
Other areas of the park allow for recreational sports such as volleyball, basketball, and handball. There is even an asphalt little league yard equipped with a workout area for anyone in need of a pop-up gym.
For the furry friends, enter at Willoughby Avenue, where your pup can frolic through the large dog runs.
Bushwick Food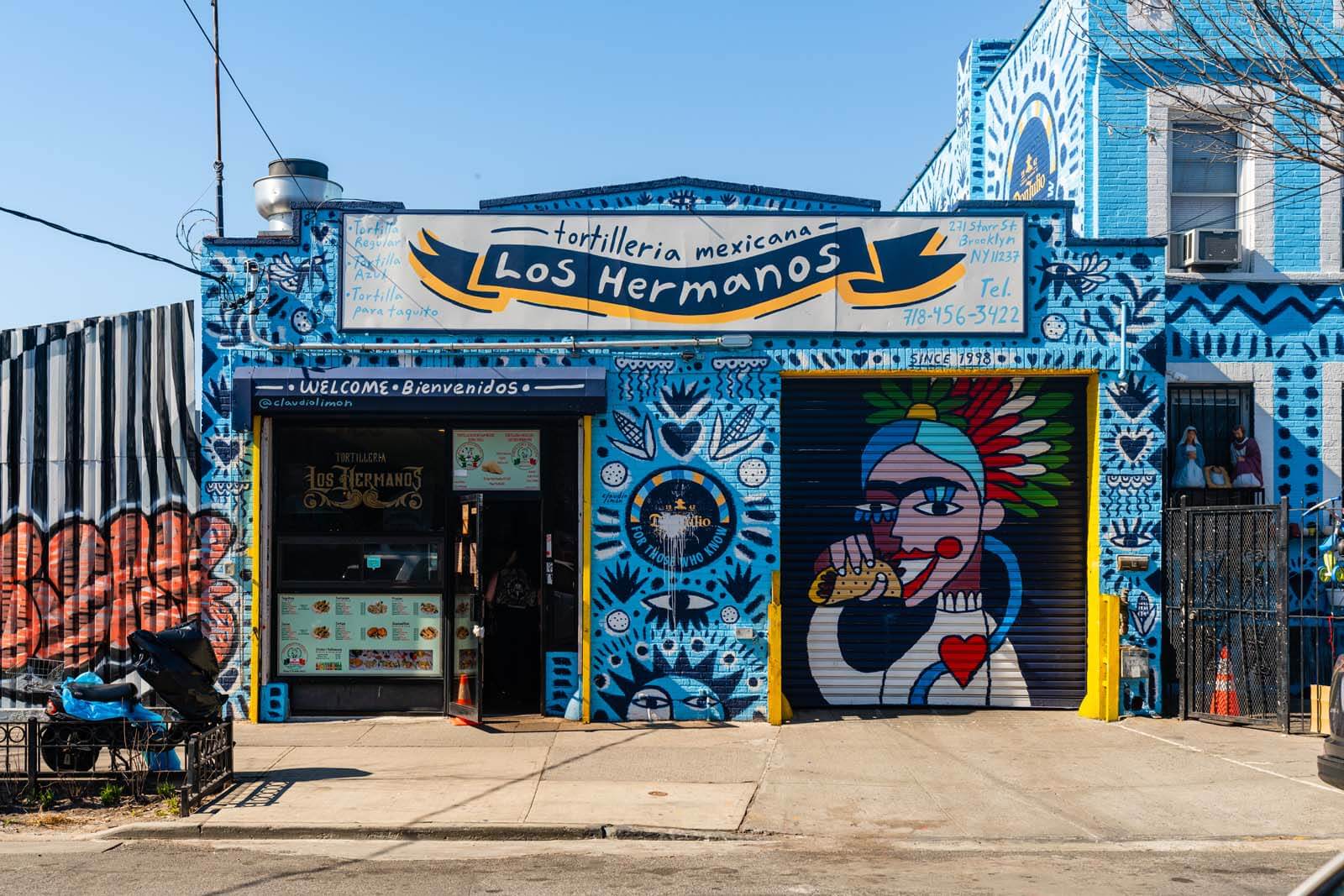 Bushwick art isn't the only thing this colorful neighborhood has to offer. Calling all foodies – plenty of restaurants share the space or line the border of the Bushwick street art.
There are no shortage of new awesome eateries popping up and NYC famous spots like Roberta's but what makes Bushwick's food scene so special are all the influences from the Hispanic and Latin American communities that lived here before the gentrification of the neighborhood.
Here are some of the top recommendations for what to do in Bushwick for foodies exploring the roots of this neighborhood through your tastebuds.
For those who favor a spicy flavor, you're in luck as there are plenty of spots with a menu for you. Tortilleria Mexicanas Los Hermanos sports a lively exterior that is darn near impossible to miss, and a tasty interior with fresh tortillas that taste just as good plain as they do fried into tostadas. This is also one of our picks for the best tacos in Brooklyn.
La Isla Cuchifritos offers a Puerto Rican cuisine, and yes that includes all sorts of fried foods, but we recommend the cucharitos.
Craving unbeatable tacos? Try Taqueria El Fogon, dubbed as the neighborhood's taco haven. Visitors boast about their homemade salsa, which according to frequenters, is poured over just about every dish they serve.
Rico Pollo is great for the taste buds and the wallet and offer a Dominican-inspired menu.
If spice just isn't your thing, don't worry as the legendary Roberta's serves up wood-fired Neapolitan-style pies in their garage all day long and is one of the most famous spots for pizza in Brooklyn. Visitors beware – the lines can be quite lengthy during the day, so prepare for at least a 1-hour wait.
What could be a more perfect way to kill some time than to scroll through your fresh camera roll of your favorite Bushwick art pieces?
Syndicated Bar Theatre Kitchen
If none of the prior food stops fit your fancy, consider an evening at the Syndicated Theatre for a dinner and show, located close by to the Bushwick art collective.
Enjoy old cinema and cult classics while you sip on cider and scarf down sandwiches, salads, and snacks. Be sure to check out their happy hour, which is Monday through Friday from 5-7 pm.
Whether you're watching the show in their 60-seat, indoor theatre, or from their sidewalk cinema, their full-service offerings are sure to please. Visitors should know that while the indoor theatre requires prior reservation of tickets, the sidewalk cinema operates on a first-come, first-serve basis. Don't wait, buy your tickets in advance before they're sold out!
Tiny Cupboard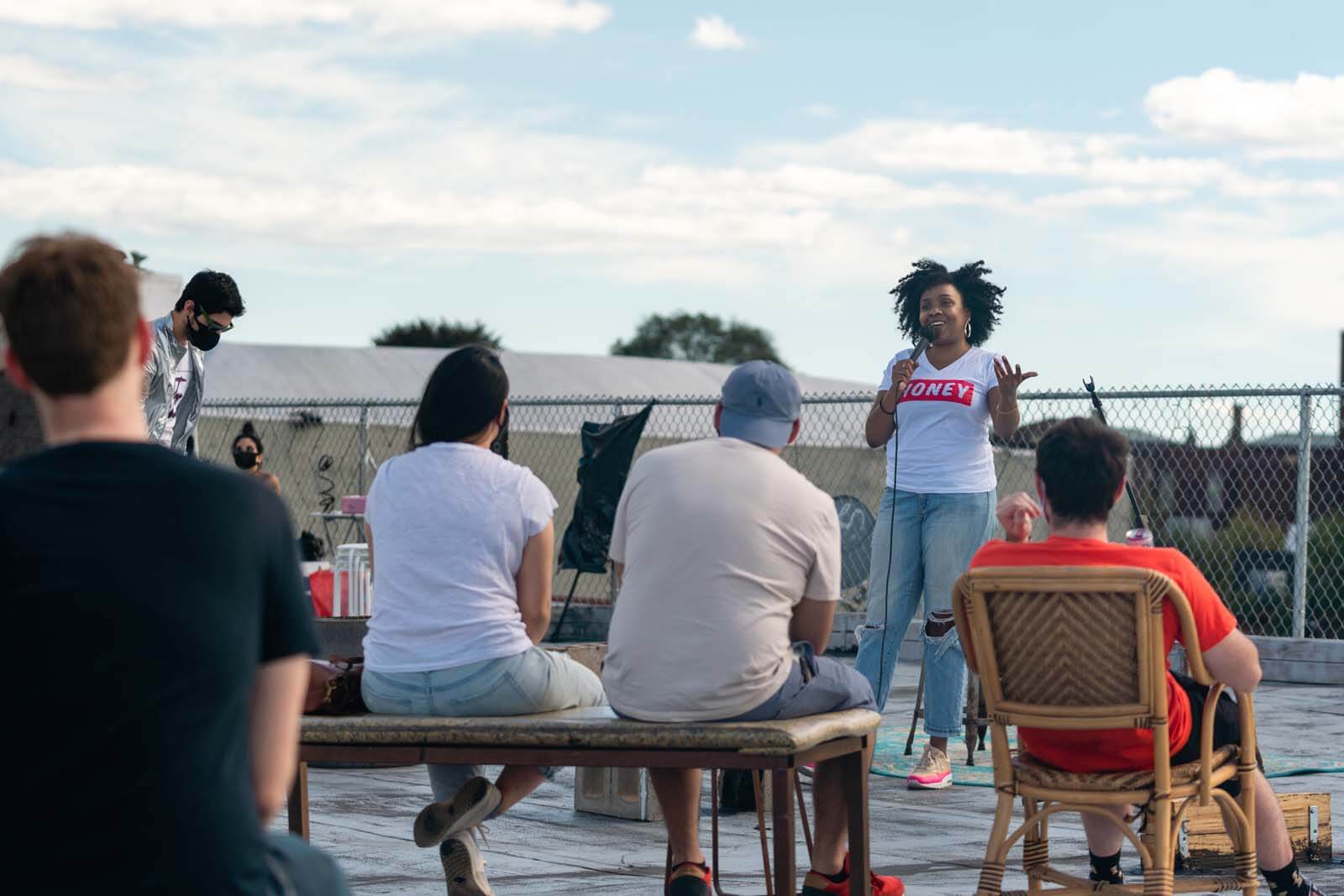 Looking for some laughs? If so, the Tiny Cupboard is an awesome Brooklyn comedy venue worth checking out and one I attend regularly! This underground/overground performance space, nestled nearby to the Bushwick art collective, showcases stand-up comedy shows on a rooftop venue, located on the border of East Bushwick and Bed-Stuy.
The Tiny Cupboard comprises a tiny art studio, comedy church, and that large rooftop space. The company prides itself in hosting culturally enriching, intimate events and those who care to share in this comedic ambiance should sign up for their email newsletters or follow on Instagram to stay on top of their upcoming events.
Those who wish to test out their talents on stage should hang around on Tuesdays, Wednesdays, and Thursdays, where open mic releases inhibitions from all who enter. Don't forget to support the cause by grabbing a piece of their awesome merch on your way out!
---
Found this guide to the Bushwick Collective and Bushwick street art helpful? Bookmark for later or share the love below on Pinterest.