Looking for the best brunch in Crown Heights? You've come to the right place! Crown Heights is consistently one of my favorite neighborhoods for great brunch in Brooklyn and one of my favorite neighborhoods for just a good time in general. I lived off Franklin Avenue and even since then, the neighborhood continues to add delicious options for food, drinks, local boutiques, and delicious coffee shops.
Crown Heights is also one of the most centrally located neighborhoods in Brooklyn and seems to be fairly easy to get to from all other Brooklyn spots (except unfortunately Williamsburg and Greenpoint).
Whether you are a Crown Heights local or just visiting, this guide will provide you with all the best places for Crown Heights brunch. Use this as an excuse to spend the day strolling through hitting up all the best things to do in Crown Heights too.
Amazing Crown Heights Brunch Spots
Winner on Franklin
Address: 747 Franklin Avenue
There are no words to describe my love for the Winner location in Park Slope. Not only do they have the best chocolate chip cookie I've ever had (yes, even better than Levain), but they also can master every cuisine possible from pastries to sandwiches to Japanese to Italian. It's impossible to put Winner into a specific category so let's just say that it is one of the best restaurants in New York and also one of the best places to eat brunch in Crown Heights.
Literally anything your order for breakfast, lunch or dinner is going to be life-changing. Order all the pastries if you're here for breakfast and if you need something savory, the breakfast sandwich or breakfast burrito is a solid option. For lunch/brunch, they change their sandwiches pretty often but I have yet to find one that isn't incredible.
Whatever you do, take home a loaf of sourdough and buy them out on chocolate chip cookies.
Winner on Franklin offers indoor and outdoor dining and has a takeout window, which is always a plus in my book for when you have your fur friend and can't run inside. Reservations are accepted and they are open every day from early till late.
Daughter
Address: 1090 St Johns Place
Daughter is one of the most aesthetically pleasing places in Brooklyn that makes you feel like you're in the middle of an adobe house in New Mexico. Besides being an aesthetically pleasing hangout, they also donate 10% of their profits, and have incredible baked goods and delicious coffee drinks, making this a great spot for brunch in Crown Heights, if you're looking for something on the lighter side.
For items in the pastry family, the cinnamon roll, buttermilk biscuit, and banana bread are some of my favorites for Crown Heights brunch. They also have some vegan and gluten free pastry options if that is more your style. The coffee is also delicious and they have a nice variety of good wine to choose from.
Daughter has both indoor and outdoor seating but also offers takeaway and delivery.
Oxalis
Address: 791 Washington Avenue
There's always something special about a place that offers a prix fixe brunch menu and only offers it one day a week. Add that with a very aesthetically pleasing environment with minimalist decor and is filled with plants and those reasons are why Oxalis is one of my favorite spots for brunch in Crown Heights.
The menu changes each week but always consists of an egg dish, a starch, a vegetable or a salad and some sort of dessert item/sweet item with inspiration from different ingredients and different regional cuisines. They are also able to meet almost all dietary restrictions, which is always an added bonus.
The sides seem to remain pretty similar throughout so don't skip out on ordering a couple of those. I'm not usually a bacon person but tried the bacon once here and now there is no turning back.
Oxalis accepts reservations and offers both indoor and outdoor seating.
Gueros
Address: 605 Prospect Place
Gueros not only has some of my favorite tacos in New York, they also have true, authentic, Tex-Mex-inspired queso aka melted cheese, and some of the best brunch in Crown Heights.
Gueros is small inside with a few tables indoors and a couple more outdoors. Reservations are not accepted but the food is consistently good taken away or ordered for delivery. Order lots of tacos, obviously get the queso, guacamole, and salsa and if you have a lot of friends or just want some leftovers, the nachos are amazing.
There are several tacos to choose from but they aren't huge so you can try multiple. You can't come to Crown Heights brunch and not order the breakfast tacos so make sure you order at least a couple for yourself. They also have a great fried avocado and jalapeno taco for vegetarians and if you want some meat, make sure to get the carnitas or al pastor.
Bagel Pub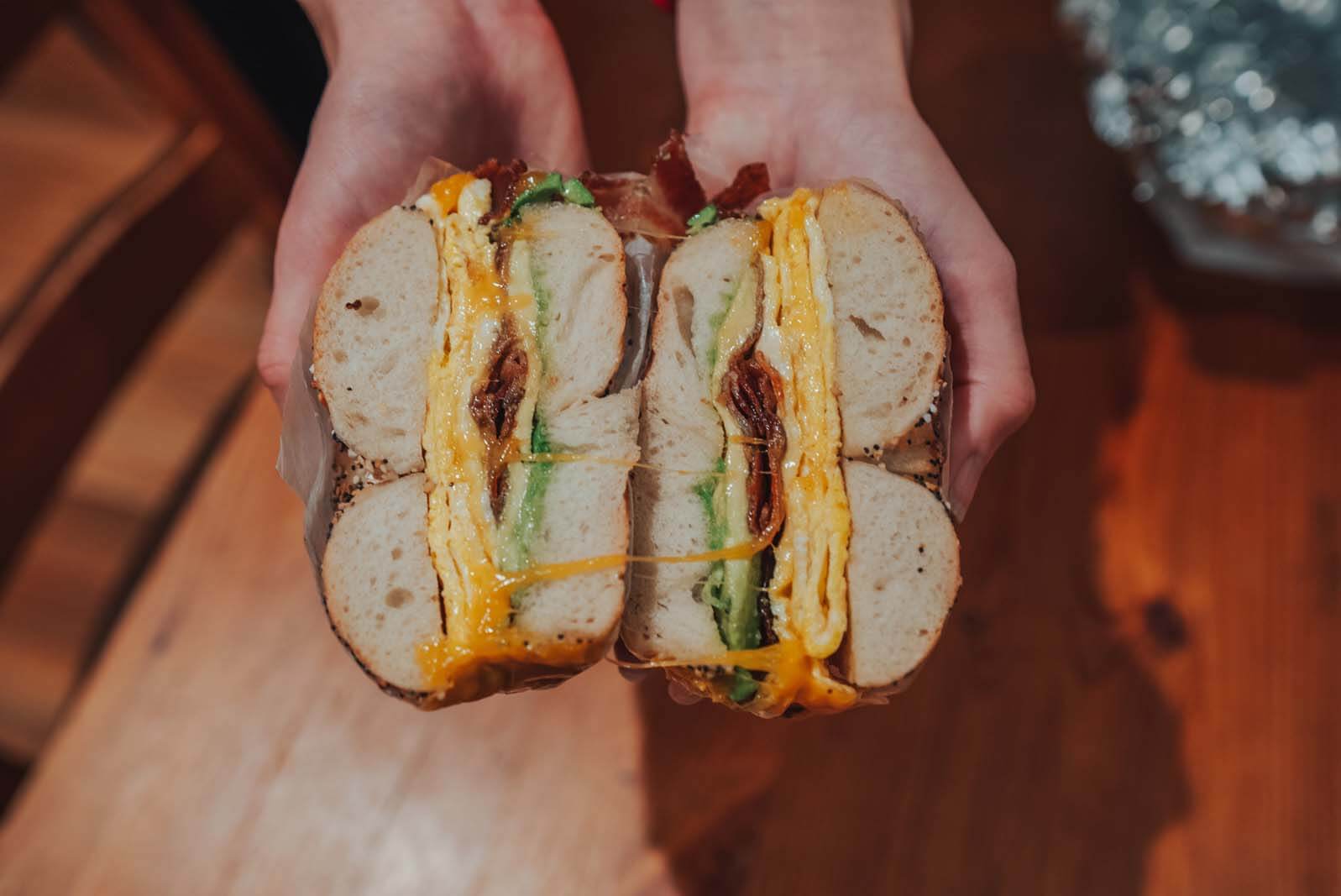 Address: 775 Franklin Avenue
While Bagel Pub is not local to Crown Heights, this is still my favorite location and one the best spots for bagels in Brooklyn. It is also one of the first places I found in New York that actually had a blueberry bagel, which is a big win in my eyes.
Bagel Pub gets very busy on the weekends, usually around 11 AM, so I definitely recommend ordering ahead of time. They have all of your typical brunch bagel needs but my obvious go to is the blueberry bagel with plain cream cheese.
If you want more of a breakfast sandwich, you clearly can't go wrong with bacon, egg, and cheese. They also have several creative options for cream cheese and you can add about any topping you want to your bagel sandwich.
Bagel Pub has limited indoor seating and has a few benches outside. They do not accept reservations but is one of the best places for brunch in Crown Heights and is definitely worth visiting.
Colina Cuervo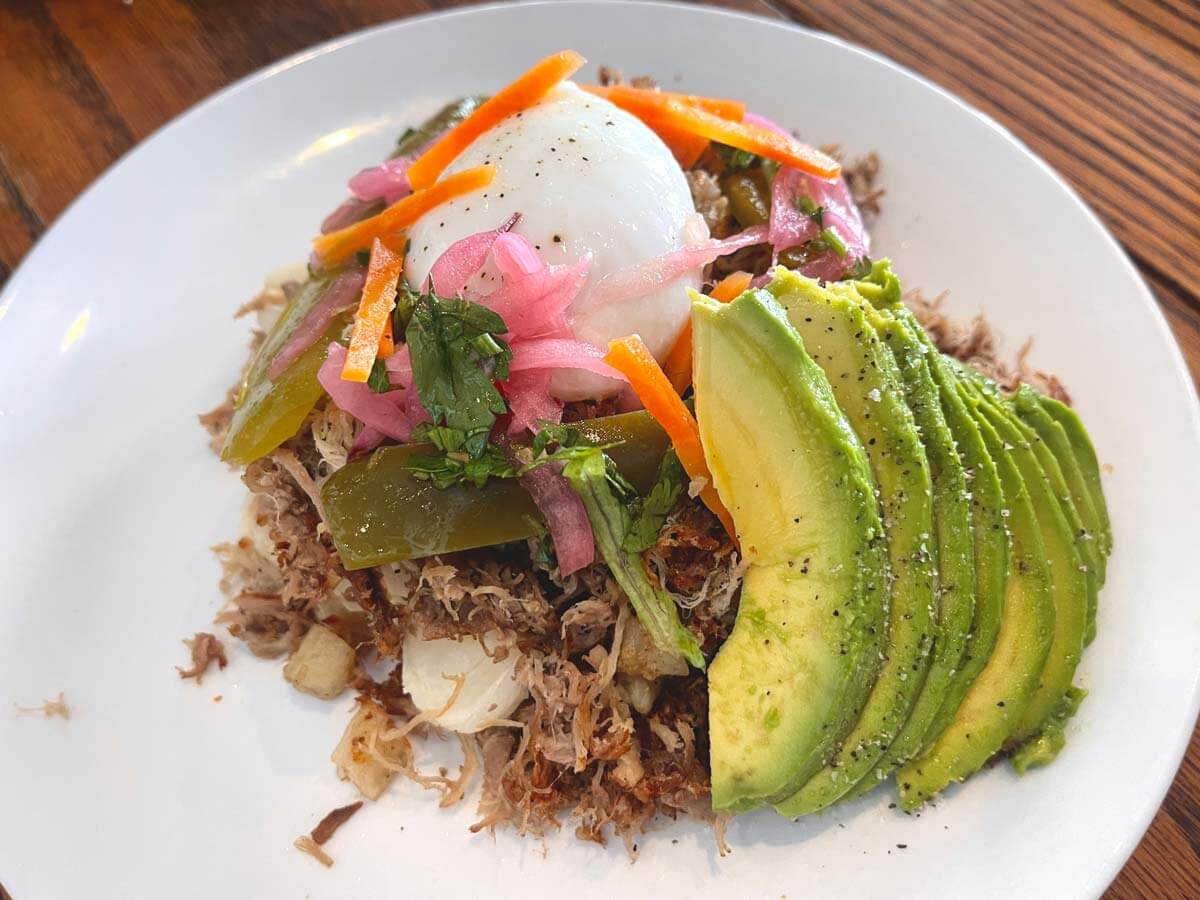 Address: 759 Nostrand Avenue
Colina Cuervo is always busy, no matter what time of day or what day of the week, which is a clear sign this place is good and makes this a great place to brunch in Crown Heights. They are open early to late, truly making this an all-day cafe in Crown Heights perfect any time of day.
The menu has everything from light salads and chicken soup, to pancakes to tortas, to some seriously delicious tacos. There are only two tacos on the menu so why not get both? The chorizo tacos are filled with potatoes, eggs and cheese and the juice from the chorizo makes this combination one of my favorite tacos in the city. The other tacos are cochinita pibil tacos, also consisting of delicious meat, pickled onions and cilantro.
Not feeling tacos? The buttermilk pancakes and chicken soup are two of my other favorite menu items.
As I mentioned above, Colonia Cuervo gets busy so come early and come with friends because you're going to want to share a lot of things.
Aita Trattoria
Address: 798A Franklin Avenue
Aita Trattoria just has consistently delicious food and really pleases everyone I've ever taken here. The sister restaurant to Aita in Clinton Hill (another one of my favorite spots for brunch), Aita Trattoria continues to be at the top of the list for the best food in New York and one of the best places for brunch in Crown Heights.
My favorite thing about the brunch menu at Aita Trattoria is that they offer a single pancake. I find it so frustrating that more places don't do this because who doesn't want just a small bite of something sweet to go with their brunch but often finds it a commitment to order an entire plate of pancakes as your only entree. Maybe that's just me but regardless, Aita Trattoria defies the odds of brunch standards.
In addition to the pancake, don't skip out on their pasta. It's what they're known for. Any will be fantastic but the best are the ravioli cacio e pepe and the spaghetti carbonara. If you want something a little more "brunchy," go with the blueberry buttermilk pancakes (if you're a full plate of sweets for dessert person), the shrimp hash or the frittata.
Aita has both indoor and outdoor dining, the outdoor dining being warm and cozy for any time of year. The indoor is small and charming with wooden tables, lots of candles and a beautiful bar, so you really can't go wrong with either option. They accept reservations for both indoor and outdoor dining and have brunch on the weekends.
Trinidad Golden Place Restaurant
Address: 788 Nostrand Avenue
Trinidad Golden Place Restaurant has some of my favorite baked goods and Trinidadian-style Chinese dishes in New York. Unfortunately (and fortunately for them), I'm not alone in this because no matter what time of day, there is always a line out the door for this place.
Obviously, start with some pastries/baked goods and even if you don't want to eat them right away, save them for dessert or the next day. There are several choices but the best is the raisin bread, coconut roll and the sweet bread. The doubles can also not be skipped and the goat roti is a must. The Trinidadian-style Chinese dishes are great as well.
The line moves fast so be ready to order when you get up there. They are also cash only, have limited indoor seating but make for a great spot to grab something to go.
La Ñapa
Address: 656 Nostrand Avenue
Another place with great vibes, minimalist decor, and delicious food is La Ñapa. From the outside, it looks like your neighborhood coffee shop but inside they have a market with groceries, wine, beer, and all sorts of other homemade delicious things.
In addition to the market, they have some of my favorite tapas and one of the best brunches in Crown Heights. While they specialize in arepas, blue corn tamales, and chicharron, the croquetas, patatas bravas, and tacos are some of my other favorite things to eat here.
Since it is a tapas restaurant, the plates are small, meaning you should order multiple. Your only problem is going to be limiting how many you want to order because there are so many great options to choose from.
La Ñapa has indoor and outdoor seating and is open every day but Monday for a late Crown Heights brunch. They do not accept reservations.
Barboncino Pizza
Address: 781 Franklin Avenue
Hands down one of the best Neapolitan brick-oven pizza places in New York and some of the best food in Crown Heights is Barboncino Pizza. It's been around for years and there is a reason that it is always busy, not to mention they have some of the best brunch pizzas around, not to mention one of the best places for pizza in Brooklyn.
There truly isn't a bad thing on the menu (trust me, I've tried almost all of them) but I always love coming for brunch because pizza on eggs just works really, really well. The pancetta, egg and cheese is the best and can also be served meatless.
They also have all the traditional pizzas on the menu as well, which you can't go wrong with. Also, don't miss drizzling Mike's Hot Honey on the pizza here either!
If you're feeling like you want something pretty sweet, go with the nutella calzone with bananas or try one of the pizza frittatas for something different.
Barboncino does not take reservations but has both indoor and outdoor seating. The wait is generally pretty quick but there are plenty of bars around Franklin Avenue to kill time if you have to wait.
The Ryerson
Address: 698 Nostrand Avenue
Just like so many places in Brooklyn, The Ryerson specializes in soul food and they do it really well. Not to mention they also have a great wooden bar and a beautiful outdoor garden, making this one of the best brunch spots in Crown Heights.
The menu is big so it's really easy to please everyone. The drinks are also super affordable so it makes for a great place for a large group. As far as food goes, stick with the classics including the Nashville hot chicken biscuit, the hash or biscuits and gravy. If you aren't feeling lunch, they serve all their other food all day with several different ways to have incredible fried chicken.
The Ryerson accepts reservations and is open for weekend Crown Heights brunch. They have both indoor and outdoor seating but opt for the garden out back if possible.
Tom's Restaurant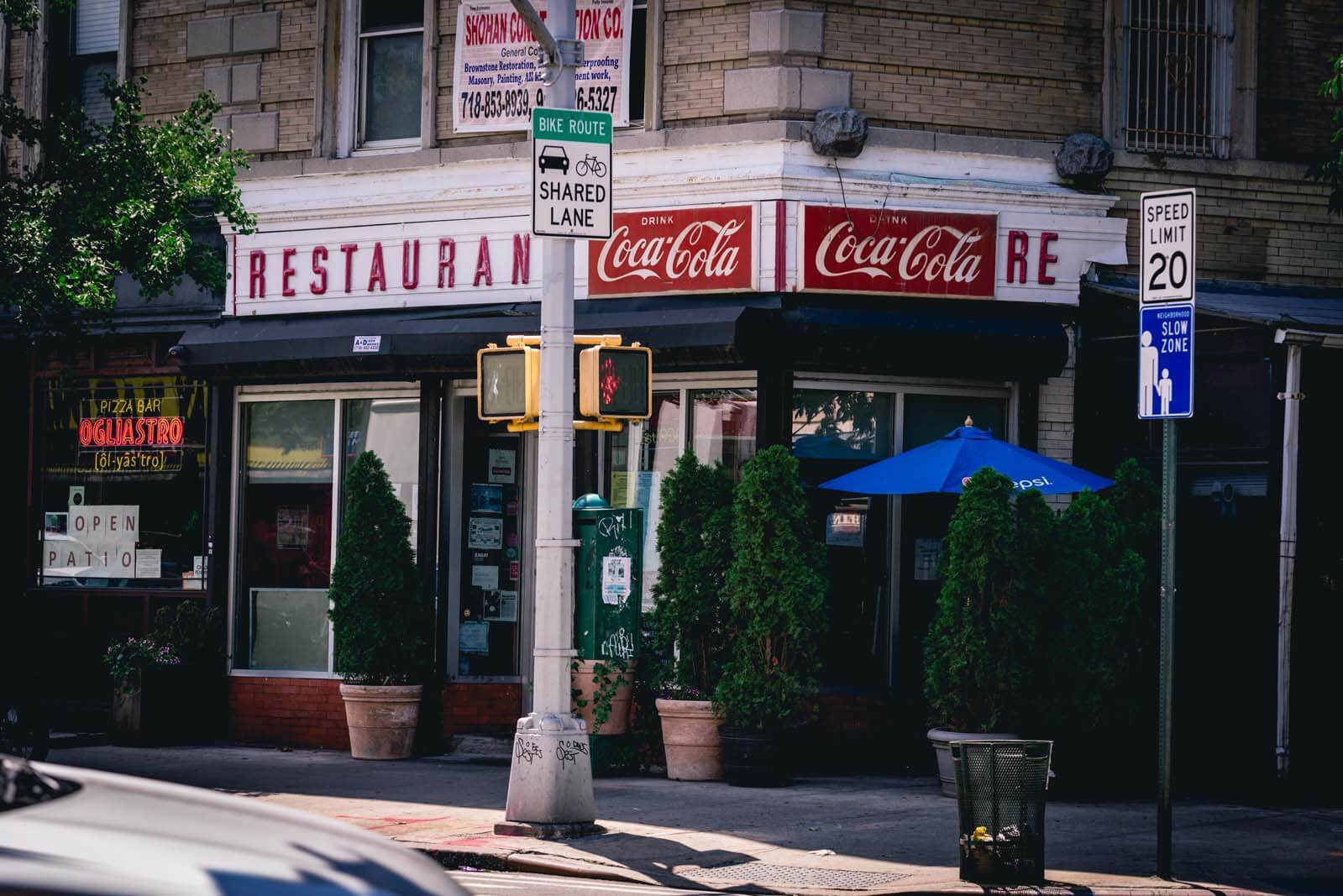 Address: 782 Washington Avenue
Tom's Restaurant is technically on the border of Crown Heights and Prospect Heights but it's so good that it's worth going a little outside of that invisible line separating the two.
Tom's is your traditional diner but does food so much better than other traditional diners, it's actually one of the best old-school diners in Brooklyn. They serve breakfast all day and really anything you want to order is going to be great. I obviously stick with the pancakes and some sort of egg dish as my go to and it never disappoints.
Tom's does not take reservations but opens early. They offer both indoor and outdoor dining.
Agi's Counter
Address: 818 Franklin Avenue
If I lived in Crown Heights, Agi's Counter would be a place I would be visiting at least 3 times a week. It is Hungarian-inspired and takes roots from the owner's grandmother, whose photo is proudly displayed in the restaurant. It is also a daytime cafe making for some delicious Crown Heights brunch.
The reason I originally came to Agi's was for the alpine cheddar sandwich, This is also one of the reasons why I keep coming back. They also have some incredible pastries and delicious takes on Jewish-American deli sandwiches.
While Agi's is an easy place to grab and go, they have a great atmosphere and a great place to sit and chat, catch up with friends or just simply brunch alone. They have both indoor and outdoor seating, accept reservations and while they have brunch items Wednesday – Sunday (they are closed Monday and Tuesday), they offer a special brunch menu on Saturdays and Sundays.
Chavela's
Address: 736 Franklin Avenue
Hands down, one of the best restaurants in Crown Heights that's great anytime of day, including brunch is Chavela's. This Mexican restaurant not only has a colorful, fun setting and ambiance, but a menu stacked with incredible brunchy items ranging from tacos to amazing chilaquiles and enchiladas you'll be dreaming about smothered in a verde salsa. My favorite dish has to be the chili relleno, but it's a tough call – there's so many great options here – hence why it's one of the best spots for Crown Heights brunch.
Oh, and don't forget an order of the queso fundido and a round of margaritas for the table!
Chavela's is walk-in only and can get busy. They have both indoor and outdoor dining and the bar is the perfect place for solo dining. So note to self: get there early or expect to wait with a margarita in hand.
Bien Cuit
Address: 721 Franklin Avenue
Bien Cuit is one of those bakeries that never disappoints. No matter what time of day, you can pop in and the pastries will be just as delicious whether they were just out of the oven or whether they'd been sitting there for hours which is why Bien Cuit is one of the best places to brunch in Crown Heights.
The chocolate croissants at Bien Cuit are some of the best around. They're perfectly flaky and have just the right amount of chocolate to croissant ratio. If you do want something other than a pastry, Bien Cuit also has incredible sandwiches and quiches along with some amazing desserts. You can also grab a loaf of bread to take home later.
Bien Cuit is the perfect place for a leisurely brunch with friends in their great back patio where you feel like you might be transported to Paris as you enjoy coffee and croissants all day long. Reservations are not accepted but they do have both indoor and outdoor dining.
---
Best Spots for Brunch in Crown Heights (Post Summary):
Winner on Franklin
Daughter
Oxalis
Gueros
Bagel Pub
Colina Cuervo
Aita Trattoria
Trinidad Golden Place
La Ñapa
Barboncino Pizza
The Ryerson
Tom's Restaurant
Agi's Counter
Chavela's
Bien Cuit
---
About Our Guest Author
Molly Royce – Originally from Oklahoma, I moved to NYC for grad school and have had a hard time wanting to leave ever since. There really is no better borough than Brooklyn where I live with my boyfriend and our black lab, Frankie. There's no greater city in the world and I can't wait to share my love of the city, eating, and drinking with all of you.