Looking for the best Christmas markets in NYC? We've got you covered in this full guide to exploring the holiday markets in NYC across the boroughs plus tips and tricks for visiting (including recommendations for things to do nearby).
Let's face the facts – it is easier to do your holiday shopping online. Step one, you are bombarded with ads and emails selected for you by the ever-present Algorithm™ (featuring limited-time offers!).
Step two, you succumb to said ads and/or email coupons and visit the site.
Step three, you order your items.
Step four, your items are delivered and you move on with your life.
But, hear me out. There's something a little bit…soulless about it all. And don't get me wrong, I love the ability to order paper towels or shampoo at midnight as much as the next person, but – try as it might, the Algorithm™ only thinks it knows you.
And yes, while I sometimes receive terrifyingly accurate ads directed at a 30-something who loves matcha and delicate jewelry, I often wonder what I haven't discovered due to my constantly filtered and narrowly directed online experience.
And when it comes to holiday shopping for my family and friends, there's something to be said for discovering the perfect gift in a completely unexpected place. Somewhere out there, there is a unique, thoughtful gift for my hardest-to-please relative – it's on a shelf in a small independent store or holiday market, just waiting to be discovered. (PS we love local independent stores, check out the best boutiques in Brooklyn for holiday shopping too!)
So, while I'm not advocating for ditching online shopping entirely, I do recommend checking out the many holiday markets in NYC.
And what's more, not only do New York Christmas markets offer a fantastic, one-stop shop for all of your varied gift needs, but also a cheery, seasonal ambiance that turns shopping from an errand into an adventure.
Many markets serve up festive food and drink and some are even located next to the city's most popular seasonal activities. We've gathered a list of the city's best holiday markets in all five boroughs – from the small pop-ups with exclusive indie finds to annual large-scale markets that are an event in their own right. We even have indoor markets for shopping during the occasional December snowstorm!
So let's put our computers down (for a bit!), throw on our comfiest holiday sweaters, grab a hot mulled cider or two, and jaunt around the best Christmas markets in New York City in December. It's a guaranteed way to get into the holiday spirit and maybe pick up a gift for yourself, too!
Holiday Markets in NYC – MANHATTAN
Bryant Park Winter Village
If you find yourself in New York during Christmas, you'll want to wander to Midtown East, home to many of the city's most revered holiday landmarks. Just a stone's throw from Rockefeller Center and its Christmas tree, the holiday window displays along 5th Ave., and Radio City Music Hall is the Bank of America Winter Village at Bryant Park (42nd Street and 6th Ave), a whimsical jewel box of a market in Bryant Park and the New York Public Library.
Surrounding a 17,000 square-foot ice rink with free skating, the winter village features dozens of artisan kiosks offering distinctive gifts ranging from jewelry to children's toys to holiday candies.
Past vendors have included local favorites like Wafels and Dinges, Saratoga Olive Oil, Max Brenner Chocolate, and Hell's Kitchen Hot Sauce. If you're getting hungry reading these, don't despair – there are lots of options for on-site food and drink, including the Amazon Prime Lounge (spiked hot chocolate!) and the Rinkside Bar by Bailey's.
Skate a little, drink a little (if you want to skate, I'd stick to that order!), and shop a lot for the finest small business and local-brand finds at one of the best Christmas markets in New York City.
Grand Central Holiday Fair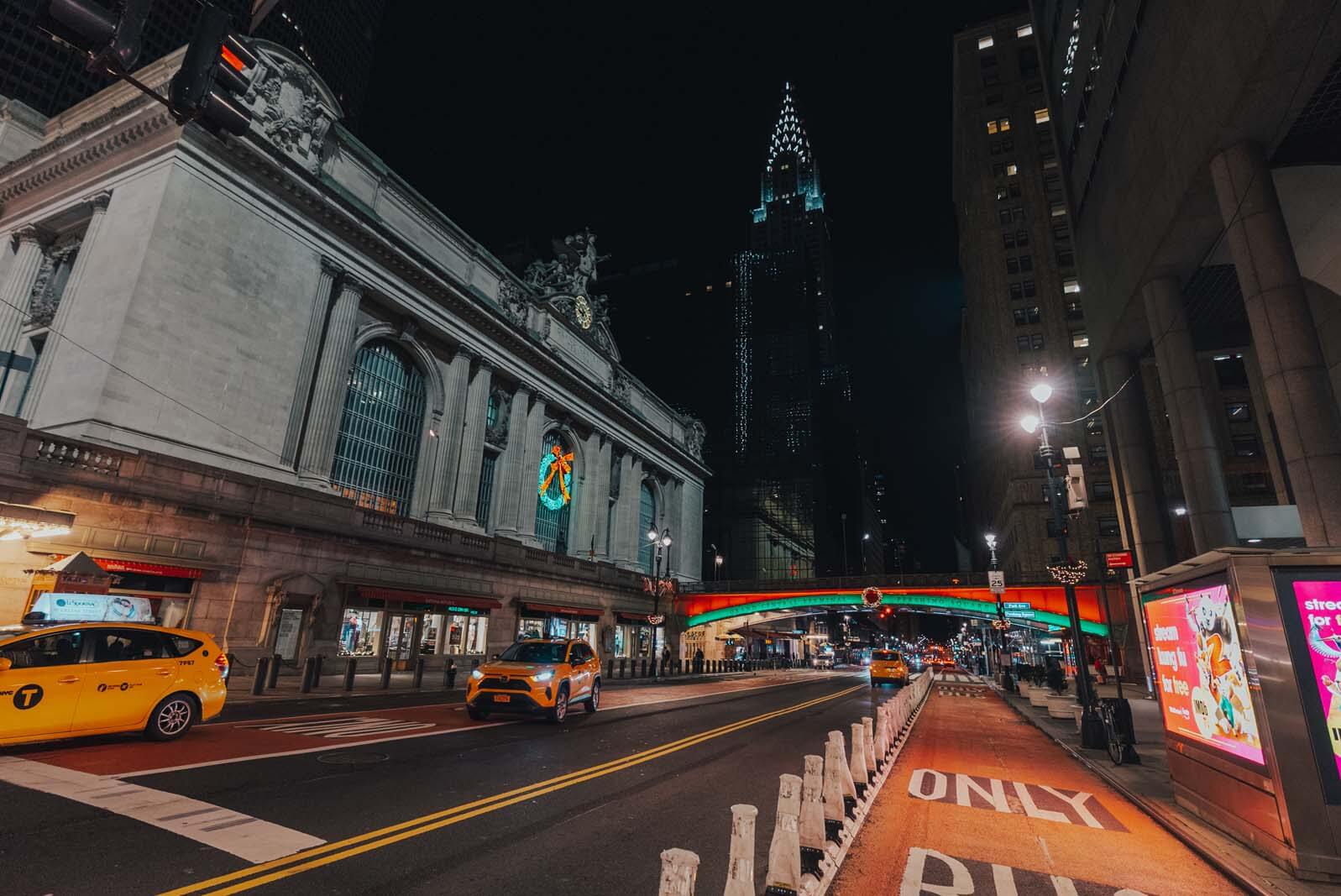 A few blocks south of the Bank of America Winter Village at Bryant Park is another one of the best New York Christmas markets at the Grand Central Holiday Fair located in, you guessed it, the train station itself.
Now before you say "I'd really rather not battle commuters on my way to find the holiday spirit" – Grand Central is by far the most beautiful train station in the city (and possibly America? Don't @ me, I haven't been everywhere).
The terminal itself is recognized as a landmark in the National Register of Historic Places and is known for its sweeping archways and windowed halls (frequently featured in film and TV!). The holiday fair is held in Vanderbilt Hall, known historically as the main waiting area for trains and for its magnificent, four-tier, 132-bulb chandeliers that light its walls.
The Grand Central Holiday Fair is one of the best Christmas markets in NYC due to its wide variety of vendors, beautiful ambiance, and convenience to transportation!
Not to mention, it's indoors and heated! It's the perfect place to snag a gift on your way in or out of town, or do a little shopping for yourself before heading to visit relatives!
And in addition to the many treats offered at the holiday fair, you'll find even more delights at the venerable Grand Central Oyster Bar, open since 1913.
Glamorously refuel yourself with a martini and shrimp cocktail after shopping at one of the best Christmas markets in NYC!
Garment District Holiday Market
Around the corner from Bryant Park and Grand Central is the historic Garment District, known for its long-held reputation as the city's epicenter of clothing design and tailoring.
The best fabrics, buttons, beads, and trimmings can still be found in the area (ranging approximately from 34th to 42nd Street from 5th to 9th Avenue), and it's also home to many of Broadway's foremost costume-design houses.
What many don't know is that there is one of the best New York holiday markets hidden amongst the bundles of material. The Garment District Holiday Market (Broadway between 40th and 41st Street) is a cozy gem of a thoroughfare, featuring neighborhood favorites like crispy rice from Joon, La Sonrisa empanadas, and of course, garment-themed goodies for all of your friends and family!
There are even a smattering of festive mannequins sprinkled throughout the stands as a homage to the area. Check it out after hitting up Macy's on your way to Grand Central/Bryant Park!
Columbus Circle Holiday Market
After you've conquered the New York Christmas markets of Midtown, keep working your way up to Central Park and 8th Avenue, where you'll find the Columbus Circle Holiday Market. This yearly pop-up from Urbanspace is one of the best Christmas markets in NYC, and is well-known for its gift stalls featuring artisan foods, jewelry, home goods, and clothing that would make perfect gifts for everyone on your list.
Past vendors include Dough Doughnuts (creators of some of the most mouth-watering, sumptuous donuts that put Dunkin' to shame), Brooklyn pizza icon Roberta's, the Fairy Lights Factory (jaunty twinkling lights and home decor galore!), and Pook Canada (cozy knit clothes from the Great North).
Check out this holiday market in NYC before heading to nearby Lincoln Center for a performance of The Nutcracker, to Wollman Rink in Central Park for some of the best wintertime ice skating in NYC, or to direct neighbor The Shops at Columbus Circle for even more shopping options and best holiday window displays in NYC.
The Turnstyle Underground Market
Maybe you've braved a long subway ride to a friend's holiday party and you don't have time to pop up above ground for a gift. Good news! The Columbus Circle 1/A/B/C/D train station has an extensive, delightful holiday market in NYC for you that is entirely underground and within the station.
The Turnstyle Underground Market is a fantastic choice year-round for last minute gifts (a special shoutout to Kit's Underground Wine + Spirits for providing me with many a host gift!), and they feature specific seasonal offerings throughout November and December.
A particularly great feature is the frequent pop-up kiosks featuring wreaths, holly, and poinsettias perfect for bringing home some cheer or to your next holiday party. There are a wide variety of donuts and baked goods available in transport-friendly gift wrap packaging (hello, Salted Baked Goods Brooklyn!) as well as holiday gift-friendly stores like LUSH, known for their seasonal bath bombs and gift sets.
So stay underground, stay warm, and snag any last-minute needs at Turnstyle before you catch a transfer!
Upper West Side Grand Bazaar
After you've visited Turnstyle, take the (1 or B/C train) uptown to the Upper West Side Grand Bazaar (100 West 77th Street), a longtime neighborhood favorite of New York Christmas markets.
The Grand Bazaar was founded in 1982 as a school fundraiser and has maintained its mission nearly forty years later, donating 100% of its profits to public schools to fund classroom essentials and arts programs.
The Grand Bazaar is set up over 43,000 square feet on 77th street, with both indoor and outdoor booths. The holiday market runs on Sundays during the holiday season (be sure to check their social media for exact times and weather updates) and is the perfect place to pick up gifts from small, independent vendors while supporting NYC schools.
Past vendors include The Lobster Studio (crustacean-themed greeting cards, stationery, and gifts), Daivia (hand-crafted slippers), and Sweets by Ang (delectable cupcakes).
When you've had your shopping fill, check out the nearby American Museum of Natural History (200 Central Park West), home to a yearly non-denominational seasonal origami tree (and also featured in our guide to winter holidays in NYC!).
Chelsea Flea
Is there someone in your life who loves hard-to-find, unique items? Thrifting? Estate sales? Further downtown, there is a New York holiday market that fits the bill – check out the Chelsea Flea (29 West 25th Street), a year-round market focused on high-quality vintage and antique goods, architectural salvage, and collectibles.
Held on Saturdays and Sundays, the Chelsea Flea is particularly popular around the holidays. Rifle through bins upon bins of fantastic costume jewelry for your stylish cousin, or pick up the perfect holiday wrap for your chic grandma.
While you're there, browse vintage furniture (attention Elder Millennials, there are a lot of great mid-century modern finds!) for your own place or donate goods of your own to give back over the holiday season.
When you're shopped out, head over to French bakery Maman (conveniently located across the street!) for a seasonal gingerbread latte or hot chocolate!
Union Square Holiday Market
A short walk from the Chelsea Flea is one of the best Christmas markets in New York City – the iconic Union Square Holiday Market (Union Sq. Park West).
The market at Union Square was named one of the best holiday markets in the country by Time Out and boasts over 160 vendors in categories ranging from artisan bacon to fine jewelry.
Grab some honey-truffle hot sauce from The Truffleist or a framed vintage map of the city from local business Pageant Print Shop (be sure to check the UrbanSpace website for exact vendors year-to-year).
While you're in Union Square, be sure to visit nearby Lillie's Victorian Establishment (13 East 17th Street) for a completely decked-out, cheer-filled holiday brunch and one of the best Christmas themed restaurants in NYC.
3rd and B'zaar
Are you hoping to impress your Gen-Z cousin at the yearly gift swap? Have a friend or family member who is always ahead of the trend curve? 3rd and B'zaar (191 East 3rd Street and Ave. B) should be your new go-to New York Christmas market!
This eclectic, artistic holiday pop-up shop features over 30 local independent vendors and is known for everything from up-cycled jewelry and clothing, to one-of-a-kind paintings, hand-painted leather jackets, and specialty soy candles.
Pick up distinctive gifts before heading to nearby favorites Clinton Street Baking Company (4 Clinton Street) for truly phenomenal pancakes or Root and Bone (200 East 3rd Street) for Southern comfort food at its best.
Holiday Market at the Oculus
View this post on Instagram
Down in the Financial District, the Holiday Market at the Oculus (Church Street and the World Trade Center) is one of the best Christmas markets in New York City.
The Oculus is a year-round shopping center and train station (in addition to several subway lines the New Jersey PATH train also stops here!) featuring several high-end national brands as well as more local vendors, all housed in a striking oval gallery.
During the holidays, the Oculus is beautifully lit and festively decorated and the main thoroughfare is filled with kiosks that serve seasonal goodies. It's a very picturesque spot to sip hot chocolate and browse! This is another solid option for when the weather outside is frightful.
Holiday Markets in NYC – BROOKLYN
Holiday Handmade Cavalcade
Over at the Brooklyn Historical Society, the NY Handmade Collective has set up a fantastic Holiday Handmade Cavalcade (128 Pierrepont Street, Brooklyn).
This nonprofit is dedicated to developing a local artisan community and fostering small businesses through mentoring and resources, and their holiday market is an excellent way to support them.
Shop for hand-crafted jewelry, home goods, pottery, and specialty soaps at one of the best Christmas markets in New York City and meet the artisans behind the treats.
Holiday Handmade Cavalcade also has an outpost in Manhattan's Chelsea Market (14th street and 9th Ave.) if you're sticking to one borough!
Renegade Craft Fair
Sunset Park's Industry City (220 36th St, Brooklyn) is known as a "city within a city" – built on 35 acres of space within 16 repurposed industrial buildings from the 1800s, it's known year-round for its many shops, restaurants, art exhibits, and events (one recommendation is to check out the highly-regarded Japan Village, a recreation of a Japanese food hall with specialty food stores and a beautiful courtyard!).
During the holidays, Industry City offers seasonal goods and events (like cookie decorating!) as well as the Renegade Craft Fair, an indoor pop-up featuring over 150 independent vendors, food, and live music performances! Stop by Industry City's pop-up for one of the best New York holiday markets on your way to check out the legendary neighborhood Christmas Lights at Dyker Heights (a short 15 minute cab-ride away!).
Brooklyn Flea
In DUMBO (short for Down Under the Manhattan Bridge Overpass) the year-round Brooklyn Flea (80 Pearl Street, Brooklyn) decks the bridge with boughs of holly for several Sundays of holiday fun. In addition to hosting a yearly tree and menorah lighting (be sure to check their social media for exact times), the Brooklyn Flea offers artisan and vintage goods for all of your shopping needs.
Past vendors include Jessica DeCarlo jewelry, Olsen's Organics (small-batch sauces, marinades and dressings), Louise Goods (handmade leather wallets), and Vintage NYC pennants!
After checking out the Brooklyn Flea, grab a slice at nearby pizza joint Juliana's (19 Old Fulton Street), featured in our Best Pizza in Dumbo Guide!
The Makers Show at City Point
Honestly, I would tell you to go to City Point (445 Albee Square W, Brooklyn) for its secret-gem Trader Joe's location alone. But, in addition to the usual treasures of the TJ's holiday frozen-food aisle, City Point boasts a wonderful holiday market in NYC – The Makers Show is a market committed to promoting businesses owned by BIPOC, LGBTQIA+, women, and other underrepresented individuals that sets up shop for the holiday season at City Point.
Decorate cookies with local favorite One Girl Cookies, shoot your own holiday music video, and check out rotating independent vendors selling everything from woven home goods to small-batch skincare while you support local economies and diverse business owners!
After your immersive shopping experience, head over to one of our other City Point favorites – the Alamo Drafthouse movie theater for a bite and a show, one of our favorite movie theaters in Brooklyn.
Holiday Markets in NYC – THE BRONX
Bronx Museum of the Arts Holiday Market
The Bronx Museum of the Arts has long been known as a cultural touchstone of the borough, with cutting-edge contemporary art exhibits, community and educational programming, and artist development for over 50 years.
The revered museum holds a yearly Bronx Museum of the Arts Holiday Market (1040 Grand Concourse, Bronx) in collaboration with local organizations like the South Bronx Farmers Market and Bronx Beer Hall.
In addition to a wide variety of local and independent artisan finds (past vendors have included the Bronx's only independent bookstore, The Lit.Bar, Whoopies Miniature Dessert Co., and Port Morris Distillery), this New York Christmas market hosts Santa meet and greets, performances by local artists, face-painting, and crafting activities.
After you've finished shopping, spend an evening at the Bronx Zoo Holiday Lights, a fun-for-all-ages light show and seasonal festival!
Bronx Night Market Holiday Pop-Up at NYBG
View this post on Instagram
The New York Botanical Garden (2900 Southern Boulevard) is a fantastic, all-season attraction for New Yorkers and tourists alike. The sprawling, 250-acre garden established in 1891 is a national historic landmark and home to over one million plants, all housed in a variety of specialty gardens and horticultural exhibits. During the holidays the NYBG goes all out, hosting their annual holiday train show and NYBG Glow, where the gardens and conservatories are festively lit up as a glittering winter wonderland.
In addition to these two banner events, the NYBG hosts the Bronx Night Market Holiday Pop-Up, showcasing some of the city's tastiest vendors.
Past participants have included Tacos El Guero, Harlem Seafood Soul, The BX Burger Co., and Tris Pies. Try one of the tastiest Christmas markets in NYC in one of New York's most well-curated green spaces!
Third Avenue Holiday Market
The Third Avenue Holiday Market (2817 3rd Ave., Bronx) is another excellent choice among holiday markets in NYC. This 10,000 square-foot space promotes local artists, businesses, farmers, and food and beverage purveyors in a festive market setting perfect for strolling and taking in the joy of the season.
Pick up goods from the South Bronx Farmers Market, some merch from local urban farmers Bronx Chicks, hot sauce from The Bronx Hot Sauce Company, or a bow tie from Twist by Vee.
While you're in the area, be sure to visit the nearby Universal Hip Hop Museum (610 Exterior Street, Bronx) an equally educational and stylish museum celebrating the history, cultural reach, and future of hip hop as a global musical movement.
Holiday Markets in NYC – QUEENS
Queens Craft Brigade
Year-round organization Queens Craft Brigade (check their Instagram for rotating addresses) holds themed, seasonal markets dedicated to showcasing artists exclusively from the borough – and it's definitely worth a visit to their winter seasonal offering.
One of the best Christmas markets in NYC, Queens Craft Brigade hosts local vendors like Bench Flour Bakers (incredible pastries!), Camille at the Wheel (stunning pottery), Paige's Candle Co. (handmade vegan soy wax candles), Golden Lab Bookshop, and and Rymoji (hand-illustrated jaunty, pop-culture themed stickers!).
QCB has also hosted on-site crafting events with artisans who make custom designs – the perfect way to create a completely one-of-a-kind gift for your loved one!
Holiday Markets in NYC – STATEN ISLAND
The Empire Outlets
View this post on Instagram
Right off of the Staten Island Ferry is one of the most festive New York holiday markets around – the holiday pop-up market at The Empire Outlets (55 Richmond Terrace, Staten Island)! This festive hub hosts a Christmas tree lighting, visits with Santa, a Christmas tree market, and even a winter lantern festival!
The outlets are decked out with 70,000 glittering lights and over a thousand feet of garland to get you into the spirit of the season as you shop the biggest name designers at a discount – as a long time outlet shopper I recommend visiting as a way to get the best bang for your holiday buck!
---
So shop 'til you drop, and let us know your favorite New York holiday markets in the comments!
---
About our Guest Author
Sarah Beling is a playwright, New Yorker, and passionate food enthusiast who is always looking for her next meal. You can find her in an NYC park, enjoying a chopped cheese sandwich and reading about NYC's best new places to eat.