Death. Taxes. Daylight savings. They come for us all. One day, you're enjoying the sunset over the Hudson with friends, a cocktail in hand. The next day, it's pitch black outside at 4:30 PM and the wind is whipping your face as you trudge down a long avenue block with your overly-ambitious armload of groceries.
It's enough to send even the most resilient among us into a seasonal depression. Luckily, I have a cure!
Yes, it's true. While I haven't solved Death or Taxes, I do have the cure for Daylight Savings in New York City – all you have to do is celebrate the winter holidays in NYC!
There are so many excellent winter adventures here that by the time you've visited your last seasonal pop-up bar or market, it'll nearly be spring.
Grab some friends and spend an afternoon skating in one of the city's many public ice rinks, then snag spiked hot chocolates in a private cabin pop-up restaurant covered in faux-snow!
Meet your family at the world's largest Menorah for a ceremonial lighting, complete with live music and latkes! Celebrate Kwanzaa with dance performances and a live DJ set! Observe the solstice with a rejuvenating winter hike and ritual celebration at the NY Open Center! Visit the best Christmas light displays in NYC!
The possibilities are endless. The best part? Activities in NYC during the holidays range from low-key to all-out bacchanal, completely free to celebratory splurge, and perhaps most importantly, outdoor and indoor options are available throughout town.
Tailor your seasonal merrymaking to the crowd, budget, and weather for the perfect holiday get-together.
We've rounded up a list of the best ways to spend the holidays in NYC across the five boroughs. You'll find a wide variety of food and beverage-related pop-ups, seasonal shopping holiday markets, limited-run performances, community gatherings, and public decorations that serve as cherished annual celebrations.
Be sure to check individual event websites and social media for annual dates and times! And another insider tip: many of the below events are extremely popular among the over 8 million people who live in the city and the many more that visit for the holidays in NYC – it's always a good idea to check if an event or activity requires timed reservations or advance tickets to ensure that you get the most out of your time.
So go forth, bundle up, and take back your Daylight Savings Time as Winter Holiday Time! I'll get back to you with my solution for Taxes.
Holidays in NYC
HANUKKAH
Hanukkah, a winter Jewish holiday known also as the Festival of Lights, acknowledges the rededication of the Second Temple of Jerusalem, lit up miraculously for eight nights with one night's supply of oil.
Traditionally observed sometime in the months of November or December (the Jewish calendar has a nineteen-year cycle that sometimes includes a leap month, thus accounting for the variation of holiday dates!), Hanukkah is celebrated with the lighting of the menorah (a religious candelabra) over the course of eight nights as well as the enjoyment of oil-themed foods like latkes (potato pancakes) and sufganiyot (fried, jelly-filled donuts).
The presence of a vibrant Jewish community in New York means that there are a plethora of Hanukkah-related activities around town, from public menorah lightings to seasonal latke festivals and Hanukkah dinner menus to raucous experiential Hanukkah-themed parties!
Choose your own adventure and don't forget to bring me some gelt (chocolate coins)!
Menorahs in NYC
One of the loveliest, most meaningful ways to spend Hanukkah in NYC is to attend one of the many community menorah lightings throughout the city.
Many menorah lightings include live music and food – a great way to spend time connecting with the larger network of Jewish people in NYC!
The two largest menorahs (in the world!) sit at the dual Grand Army Plazas (Flatbush Ave, Brooklyn and Midtown Manhattan by Central Park South and 5th Avenue).
These 32-foot tall, 4,000-pound steel menorahs are lit each evening of Hanukkah in conjunction with live music, latkes, and much jubilation. Visit the NYC GO website for exact lighting times (they coincide with the sunset but are slightly earlier and later on Fridays and Saturdays to accommodate for Shabbat, the Jewish day of rest).
Uptown, the Fort Tryon Jewish Center at the top of Manhattan holds an annual Heights Lights parade, guiding neighbors from Fort Tryon Park to nearby Bennett Park with electric menorahs and song.
Even further uptown in the Bronx, there are two prominent menorah lightings – the Bell Tower Park lighting ceremony in the Riverdale section of the borough (W. 239th St. &, Riverdale Ave, Bronx) is a banner event for the neighborhood, featuring performances and food provided by the Chabad of Riverdale.
Further southeast in Morris Park, there's a yearly celebration put on by the Bronx Jewish Community Council in Loreto Park (Haight Ave, Bronx, NY).
Further downtown, visit the Chabad House Bowery's celebration at Washington Square Park (5th Ave and Washington Square Park).
In Queens, Kew Gardens' Queens Borough Hall is the site of another fantastic menorah lighting (120-55 Queens Blvd, Queens). Looking to squeeze in some holiday shopping before a menorah lighting ceremony?
Check out the gathering at the Staten Island Mall (2655 Richmond Ave, Staten Island). There is also a well-attended ceremony at Staten Island Borough Hall (10 Richmond Terrace, Staten Island).
Hanukkah Cuisine
If you haven't already filled up on latkes at one of the menorah lighting ceremonies, be sure to check out some of NYC's world-famous delicatessens and appetizing stores, known year-round for their traditional Jewish cuisine but also for their seasonal offerings throughout various holidays.
What's the difference between an appetizing store and a delicatessen? Appetizing stores, which became prominent in the late 1800s and early 1900s, are known for selling prepared foods such as smoked fish, cream cheese, spreads, bagels, breads, pickled items and other Ashkenazi specialties, excluding meat.
Kosher delicatessens are known for providing meat products, sans dairy. While many modern appetizing stores and delis have expanded beyond these parameters, it's a fun fact to trot out at your next Hanukkah gathering! Anyway, on to the eats.
Some of our favorite Hanukkah cuisines comes from the Canadian-influenced Mile End Deli (97 Hoyt Street, Brooklyn). This love-letter to the Jewish delicatessens of Montreal's Mile End neighborhood specializes in traditional Ashkenazi cuisine fused with the flavors of Montreal (read: Chicken Schnitzel Poutine).
Mile End also delivers a fantastic annual Hanukkah menu – past treats have included schnitzel fingers, latkes with a creative variety of toppings (applesauce, sour cream, lemon-herb and caviar creme fraiche, whitefish mousse, chopped liver, and smoked salmon!), sufganiyot, hot dogs in blankets, braised brisket in jus, and roasted za'atar chicken. Pick up a full meal the next time you're asked to host on the fly or just want to impress your family, "Doubtfire"-style.
Another legend of the Jewish food scene is Zabar's (2245 Broadway). Founded in 1934 as a small stall in a farmer's market, the Zabar's family has grown the humble brand into a veritable Upper West Side empire.
Go to Zabar's for their wide variety of excellently prepared deli foods and coffee (fun fact, their stores were some of the first to carry the Wigomat drip coffee machines!), stay for their Hanukkah-themed gift baskets, featuring an insulated basket known as the Lot A Latkes Box as well as their always fantastic latkes, rugelach (chocolate and cinnamon are both delicious), and gelt. Pick up an orange Zabar's mug and be ready for the holidays in NYC!
While you're on the Upper West Side, stroll over to Breads Bakery (1890 Broadway – they also have a Union Square location at 18 E. 16th street and one on the Upper East Side at 1294 3rd Avenue), a fantastic spot year-round for sweet and savory challah, babka, and flourless chocolate cake.
During Hanukkah, Breads offers a seasonal menu of mouth-watering jelly-filled donuts in an assortment of filling flavors – local strawberry jam (the traditional sufganiyot filling), as well as Nutella, coconut-lime, and yuzu-infused custard innovations!
We'd be remiss not to mention Russ & Daughters on our holiday roundup (179 E Houston Street). This world-class appetizing store on the Lower East Side has been serving up top-notch Hanukkah cuisine for more than 100 years.
Family owned and operated to this day, Russ & Daughters is famous not only for their incredible small-batch latkes and seasonally available sufganiyot, but also for being the first business in America to list themselves as "& Daughters" after founder Joel Russ named his daughters as full partners in the business (badass!!).
During Hanukkah, the staff at Russ and Daughters invites guests to join them in lighting the menorah each evening, a lovely annual tradition that sparks communal celebration in the neighborhood. Check out their social media for other Hanukkah events and giveaways, as well as their substantial catering options!
More Hanukkah Celebrations
After you've filled up on Hanukkah treats, check out some of the city's yearly celebrations! The Brooklyn Museum (200 Eastern Pkwy, Brooklyn, just a few blocks from the menorah lighting at Grand Army Plaza!) holds a well-loved annual Latke Festival that features over 20 gourmet flavors of the essential Hanukkah food.
A panel of judges decides who will win the ultimate latke of the year, but in our opinion, everyone wins when you get to sample 20 latkes.
On the wilder side is the annual A Very House of Yes Hanukkah party (2 Wyckoff Ave, Brooklyn) – for the uninitiated, the House of Yes is a Brooklyn-based club featuring some of the best aerial, drag, and musical performers in town in rotating programs!
The annual gathering features a DJ set, the aforementioned aerial performers and, don't worry, a candle lighting ceremony to keep things the tiniest bit traditional!
If you're looking for a slightly lower-key cocktail, be sure to visit Miracle on 9th Street (The Cabinet, 649 E 9th St), one of the best holiday pop-up bars in NYC that prominently features a decked out, blue and white, dreidel-dripped Hanukkah corner.
There are many seasonal drinks to enjoy, but we are partial to the Dreidel Dreidel Dreidel made with chocolate gelt-infused tequila, Pedro Ximinez sherry, maple syrup, and black walnut bitters. Try enough of them and you'll be emboldened to ask the bartender to play Adam Sandler's seasonal classic, "The Hanukkah Song".
Looking for even more ways to celebrate Hanukkah in the city? Check out our detailed guide to Celebrating Hanukkah in NYC.
KWANZAA
Originating in 1966, Kwanzaa is observed December 26th through January 1st and celebrates the vibrancy of African American culture.
Professor of African American studies and Kwanzaa creator Maulana Karenga stated his goal was to "give Blacks an alternative to the existing holiday and give Blacks an opportunity to celebrate themselves and their history, rather than simply imitate the practice of the dominant society", naming Kwanzaa after the Swahili phrase "matunda ya kwanza" (first fruits).
Kwanzaa is centered around seven principles of African heritage:
Umoja (Unity): To strive for and to maintain unity in the family, community, nation, and race.
Kujichagulia (Self-Determination): To define and name ourselves, as well as to create and speak for ourselves.
Ujima (Collective Work and Responsibility): To build and maintain our community together and make our brothers' and sisters' problems our problems and to solve them together.
Ujamaa (Cooperative economics): To build and maintain our own stores, shops, and other businesses and to profit from them together.
Nia (Purpose): To make our collective vocation the building and developing of our community in order to restore our people to their traditional greatness.
Kuumba (Creativity): To do always as much as we can, in the way we can, in order to leave our community more beautiful and beneficial than we inherited it.
Imani (Faith): To believe with all our hearts in our people, our parents, our teachers, our leaders, and the righteousness and victory of our struggle.
Kwanzaa is celebrated by lighting the Kinara, a candelabra containing seven candles representative of the holiday's principles. Families decorate the household with the colors of the African flag (red, green, and black) and kente cloth (traditional fabric originating from Ghana), share libations from the Kikombe cha Umoja (unity cup), thank their ancestors and lay out offerings of abundance in the form of fruits and vegetables, reflect on the Pan-African principles, dine in a communal feast on the 6th day, and sometimes enjoy traditional African drumming or musical performance.
Kwanzaa in NYC
There are a variety of wonderful annual Kwanzaa options for celebrating the holidays in NYC – one of the most prominent displays in the city is the Kwanzaa Kinara set out each year on December 26th in front of the New York Stock Exchange (11 Wall St).
There is also a daily Kinara lighting nearby in City Hall Park (Broadway & Chambers St) hosted by the office of the mayor of New York.
Kwanzaa Cuisine
While the traditional cuisine of Kwanzaa varies by family, many include Pan-African cuisine as well as soul food at their holiday feast tables. If you're looking for excellent Pan-African cuisine, run, don't walk to Voilà Afrique (844 2nd Ave), a fantastic restaurant near the United Nations specializing in Ghanaian and Ethiopian fare.
Owner George Quainoo and chef Margarete Duncan pay homage to their respective home countries with a menu full of treats– be sure to try the Jollof Rice (cooked in traditional tomato stew), chicken suya (spiced chicken kebab stew), peanut-butter goat stew, pounded yam, and plantain fufu.
Another wonderful option for Nigerian fare is Brooklyn Suya (717 Franklin Ave, Brooklyn). Chef Folusho Adeyemo and Chef Hema Agwu, otherwise known as The Suya Guy, team up to create delectable bowls of suya (a mix of peanuts, aromatics, and peppers) as the star ingredient.
Create your own bowls made with a choice of steak, chicken, shrimp, salmon, tofu, or eggplant, a base of kale or rice, and add-ons like plantains and eggs for hearty and nourishing holiday takeout! And if you're hosting a Kwanzaa gathering, Brooklyn Suya offers catering!
If you're looking for a soul food-filled Kwanzaa feast in NYC during the holidays, there are many phenomenal options in the city. One must-visit is Sylvia's Harlem Restaurant (328 Malcolm X Blvd), a neighborhood mainstay since 1962.
Still owned and operated by the children and grandchildren of founder Sylvia Woods, Sylvia's is known for its top-notch soul food and celebrity clientele (past guests have included Whoopi Goldberg, Nelson Mandela, Barack Obama, Bruno Mars, and Bernie Sanders).
Be sure to try their famous BBQ ribs, fried chicken and waffles, potato salad, cornbread, and phenomenal sweet potato pie. Sylvia's also offers a customizable catering menu for your next feast!
Another tasty choice for soul food nearby is Melba's Harlem (300 W 114th St), founded by former Sylvia's employee Melba Wilson. Melba took her experience working at Sylvia's, Rosa Mexicano, and Windows on the World and created her own unique brand of new American soul food served in a warm and inviting atmosphere.
Make sure to sample their seasonally appropriate fried catfish and eggnog waffles, wine-braised short ribs, lemon and honey chicken tenders, and spring rolls.
Melba's has a creative cocktail program featuring hits like the Rose in Harlem (Alizé Rosé, Tequila, Triple Sec, Sour mix) and Melba's Hit Harlem Iced Tea (Sweet Tea Vodka, Rum, Tequila, Gin, Triple Sec, Sour Mix, and Coke). We also recommend the eggnog waffle with strawberry butter as dessert or a late brunch meal!
Brooklyn's Peaches (393 Lewis Ave, Brooklyn) is a newcomer relative to Sylvia's and Melba's, yet we predict they'll be delighting guests for years to come.
Peaches offers up lovingly prepared soul food classics like their St. Louis spare ribs, cornmeal-crusted catfish, grits and shrimp (served with mushrooms, scallions, and white wine), crab cake sandwich, and jumbo shrimp po' boy sandwich. Don't forget to share a plate of their smoked chicken and sausage gumbo!
More Kwanzaa Celebrations
After you've dined to your heart's delight, head over to the Apollo Theater (253 W 125th St), a legendary music and performance venue since 1934. Added to the National Register of Historic Places in 1983, the Apollo is a landmark venue for Black performers and has launched the careers of such legends as Billie Holiday, Pearl Bailey, Sammy Davis Jr., James Brown & The Famous Flames, King Curtis, Diana Ross & The Supremes, Parliament-Funkadelic, Wilson Pickett, The Miracles, Gladys Knight & the Pips, Stephanie Mills, Dionne Warwick, The Jackson 5, Patti Austin, Patti LaBelle, Marvin Gaye, Luther Vandross, Stevie Wonder, Aretha Franklin, Ben E. King, The Isley Brothers, Lauryn Hill, and Sarah Vaughan.
The Apollo is also known for its venerable Amateur Night, in which newcomers are allowed to compete for a $20,000 prize in front of a discerning audience that immediately evaluates their performance with cheers or boos – in which the unlucky performers are swept offstage. High stakes!
The Apollo hosts a yearly Kwanzaa: A Regeneration Celebration featuring notable dance companies (past featured acts include Forces of Nature Dance Theater) along with percussion, modern and African dance, and other live music.
Another great option for celebrating the holidays in NYC is to visit the Brooklyn Children's Museum (145 Brooklyn Ave, Brooklyn) for their annual Kwanzaa celebration!
This museum in Brooklyn features new activities for each day of the holiday corresponding to the seven principles – past activities have included djembe drum classes, pottery classes, performances by the Asase Yaa Cultural Arts Foundation African American Dance Theater, community mural painting, programming on Caribbean folk drumming, and Jamaican folk tale performances.
Over at the Jamaica Performing Arts Center (153-10 Jamaica Avenue, Queens), the annual Queens Kwanzaa celebration is an excellent venue for Pan-African dance performances, partnering with the Queensborough Community College Dance program to feature acts such as Rhythm N Dance, Ebony Oasis and the Kofago Dance Ensemble in a vibrant celebration of the holiday.
In the Bronx, the annual Parkchester Celebration of Kwanzaa is held at St. Helena's Church (1315 Olmstead Avenue, Bronx). The event is centered around the fifth principle of Nia (purpose), and features performances and speakers in dedication to "a commitment to the COLLECTIVE VOCATION of building, developing, and defending our community, its culture and history in order to regain our historical initiative and greatness".
The annual Kwanzaa Crawl is a fantastic and festive way to celebrate Kwanzaa and support Black-owned businesses over the course of the holiday. Covering over 40 bars across Harlem and Brooklyn, it's an extremely popular event – be sure to purchase tickets in advance!
CHRISTMAS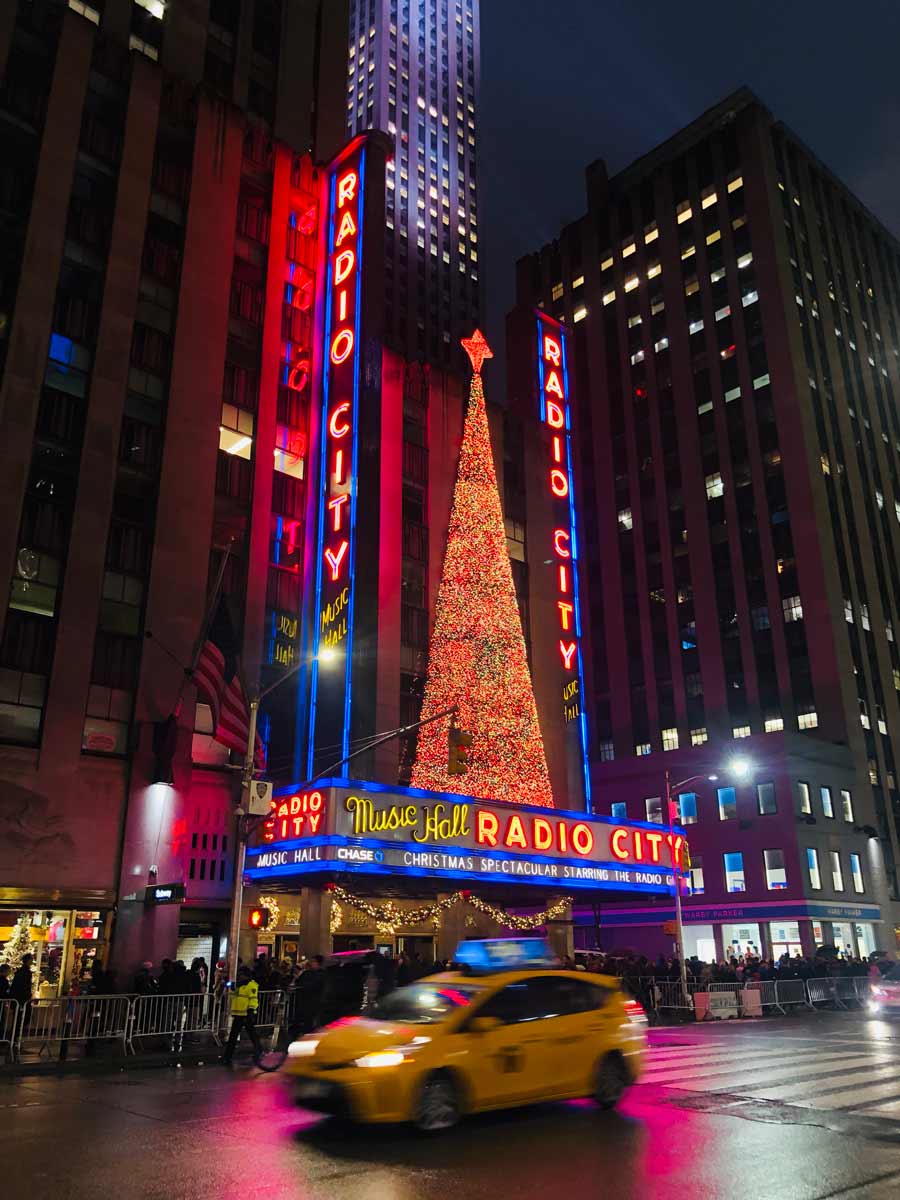 Christmas is celebrated annually on December 24th and 25th to commemorate the birth of Jesus Christ. Varying sects of Christianity additionally observe the Advent season (approximately the Sunday after Thanksgiving through Christmas Eve) as well as the Twelve Days of Christmas (beginning December 25th and running through January 6th, also known as Three Kings Day or the Epiphany).
While there are many different ways to observe and celebrate Christmas, the advent season has led to a modern-day embrace of a Christmas season running approximately from the day after Thanksgiving through New Year's Day.
In addition to religious services on Christmas Eve and Christmas Day, families gather to exchange gifts, enjoy Christmas cookies (shoutout to my grandma's time-honored recipe!), and decorate Christmas trees.
New York is quite the Christmas town, and celebrating the holidays in NYC is made easy by the wide variety of activities, performances, displays, markets, and restaurants that are rockin' around the Christmas tree.
There are so many Christmas-themed options and things to do in NYC during Christmas, that it's worthwhile to focus on a category you want to explore (Bars! Window displays! The Rockettes! Ice Skating!) or an area you'd like to spend the day in –– Midtown and the Upper West Side in particular have a high concentration of holiday activities!
Christmas Activities in NYC
You may choose to spend a full day wandering around the many holiday window displays in NYC.
Macy's (151 W 34th St) is probably the most well-known holiday window display in town, not to mention the annual Macy's Thanksgiving Day Parade, and their holiday windows don't disappoint. They also have an elaborate indoor winter wonderland where you can meet Santa!
I love the light show at Saks (611 5th Ave) which not only displays beautiful couture clothes in elaborate themes but also puts on a daily light show in which glittering LED bulbs dance across the entirety of the venerable Saks building.
Another favorite is Bergdorf Goodman (754 5th Ave), where a team of over 100 develops the intricately crafted, color-themed displays over the course of the ten months leading up to the holiday season. Check out their incredibly detailed odes to New York (one past theme was a collection of artful renditions of famous NYC buildings!) before heading over to the Plaza Hotel (5th Ave at Central Park South) for afternoon Christmas tea in their beautiful Palm Court room.
Or venture east to New York Lotte Palace (455 Madison Ave) for a look at their glitzy and highly photographable tree! For a full run-down of all of the fantastic Christmas trees in NYC.
Christmas Events
While you're in Midtown, don't miss out on a trip to see the Christmas Spectacular Starring the Radio City Rockettes (1260 6th Ave)! A Christmas tradition for over eight decades featuring crowd-pleasing precision dance numbers like the "Parade of the Wooden Soldier" and "The Living Nativity" (which, by the way, features live animals! Those camels are superstars!).
In addition to the Christmas Spectacular, the New York City Ballet's annual production of The Nutcracker (Lincoln Center Plaza) is the perfect way to get into the spirit of the winter holidays in NYC.
The overture gets me every time! And if you're more film inclined, why not go on a walking tour of some of the most famous Elf filming locations in NYC? Spoiler alert, many of them are conveniently located in Midtown!
And while we're at it, how can we forget some of the other classic NYC Christmas movies and their filming locations? Plus you can chase down Kevin's footsteps here in the city by checking out the best Home Alone 2 New York filming locations too!
Do you enjoy the serenity of listening to a holiday music playlist while walking among Christmas lights? In addition to the many window displays around town, be sure to check out some of the best holiday light displays, period.
We absolutely must recommend making the trek to Brooklyn for the Dyker Heights Christmas lights, an annual neighborhood showing of full-wattage holiday splendor. One of my favorite parts about the Dyker Heights lights is that it isn't an established official event – just a group of neighbors who started decorating their yards and houses with elaborate Christmas displays grand enough to attract visitors from all over the world for over thirty years!
Would you like to celebrate the winter holidays in NYC off the beaten path? Take the Staten Island Ferry to the St. George Theatre's Annual Christmas Show (35 Hyatt St, Staten Island), a rollicking, jolly pageant featuring over 100 all-volunteer performers, including the famous Staten Island dancing Richmondettes and performances from prominent Staten Island figures.
Back in Manhattan, 80s cult-movie legend John Waters visits NYC for his yearly A John Waters Christmas tour (venues vary, it's wise to search each year for exact dates/times).
His show log line says it best: "Bad little boys and girls and everybody in between and beyond, will be thrilled to take a sleigh-ride-of-sleaze down the slopes of good taste and over the ski jump of religious beliefs to a snow drift of candy cane anarchy."
It must be noted that this show isn't meant for children! On that subject, juuuust over the river in Jersey City is performance artist Taylor Mac's Annual Holiday Sauce, a jubilant, subversive holiday review noted by the New York Times as "a perfect pick-me-up for those with an intolerance to the season's usual high-fructose content".
Over in Chelsea at the Joyce Theatre, you can catch legendary drag ballet company Les Ballets Trockadero de Monte Carlo (175 8th Ave) in their holiday residency of performances.
Or head over to Brooklyn for Company XIV's Nutcracker Rouge (383 Troutman St, Brooklyn) for more drag, aerial, and multidisciplinary dance takes on the holiday classic.
Christmas Cuisine
Hungry after catching a show? There are a plethora of Christmas-themed restaurants and bars in NYC during the holidays.
A must on the list is Rolf's (281 3rd Ave), the quintessential Christmas-themed restaurant that as a bonus includes fantastic German food (try the schnitzel!). Rolf's is such a popular choice that we always recommend making reservations in advance.
Another favorite is The Ho Ho Holiday Lounge at The Springs (224 Franklin St, Brooklyn), a Brooklyn spot known for its kitschy, jolly decor and its own Christmas tree farm in the backyard patio!
If you're near the Rockefeller Center Christmas Tree and craving a jaunty cocktail experience, head to the 230 Fifth Rooftop Bar (230 5th Ave)'s winter igloos to enjoy seasonal cocktails (think spiced mulled wine and Almond Joy/Malibu Rum-infused hot chocolate!).
Another wonderful rooftop option is the annual Clicquot Chalet at downtown darling Mr. Purple (180 Orchard St.). Mr. Purple's funky, fashionable vibe takes on a seasonal après ski-chalet setting, complete with reservable private bubbles featuring buckets of Veuve Clicquot and faux-fur throws to lounge on.
Named one of the best cocktail bars in America by Thrillist, the holiday Sleyenda pop-up at Leyenda Brooklyn is the perfect place for a low-key Christmas meetup with fantastic Pan-Latin cuisine and Mexican Hot Chocolate (221 Smith St, Brooklyn).
Or, head to SoHo's Arlo Hotel (231 Hudson Street) to their reservable private courtyard cabins, complete with cocktails and faux-snow!
Looking for a romantic Christmas date spot? Check out The Polo Bar (1 East 55th St.), a warm, wood-paneled, leather-boothed, lush restaurant from – you guessed it – Ralph Lauren. The Polo Bar isn't a holiday pop-up per say, but it does feel quite wintry and seasonal to Christmas.
Try the Ralph's Corned Beef Sandwich, or enjoy shrimp cocktail and martinis as your meal!
Speaking of martinis, another excellently festive bar is Oscar Wilde in NoMad (45 West 27th St.). Already ornately outfitted in the style of its namesake, Oscar Wilde is joyously decorated for Christmas and the perfect place to toast the winter holidays in NYC with friends.
Looking for one-stop shopping for all of your loved ones? In addition to many year-round flagship stores and boutiques, NYC offers up several comprehensive seasonal holiday markets that are great for both active shopping and casual browsing.
Check out The Union Square Holiday Market, Columbus Circle Holiday Market, and of course, the Bank of America Winter Village at Bryant Park.
The Union Square and Columbus Circle holiday markets are comprehensive in their own right – full of unique, artisan gifts and vendors from around the world – but the Bank of America Winter Village at Bryant Park can be made into a full-day experience.
Shop the market, enjoy a hot chocolate cocktail at the Amazon Prime lounge, ice skate at the rink at Bryant Park, and take in the magic of the city at Christmas time. Speaking of ice skating, there are tons of excellent rinks around town to get your winter sport fix!
Check out our comprehensive guide to the best ice rinks in NYC – from uptown with views of Central Park, to downtown with views of The Statue of Liberty, and everything in between.
Do you love to follow directions? Are you overwhelmed by the vast number of Christmas activities in the city? Then our New York Christmas Trip itinerary is for you! Follow our 3-day guide with some of our favorite activities from the above (and many more!) organized into a multi-day tour. Deck those halls!!
NON-DENOMINATIONAL WINTER ACTIVITIES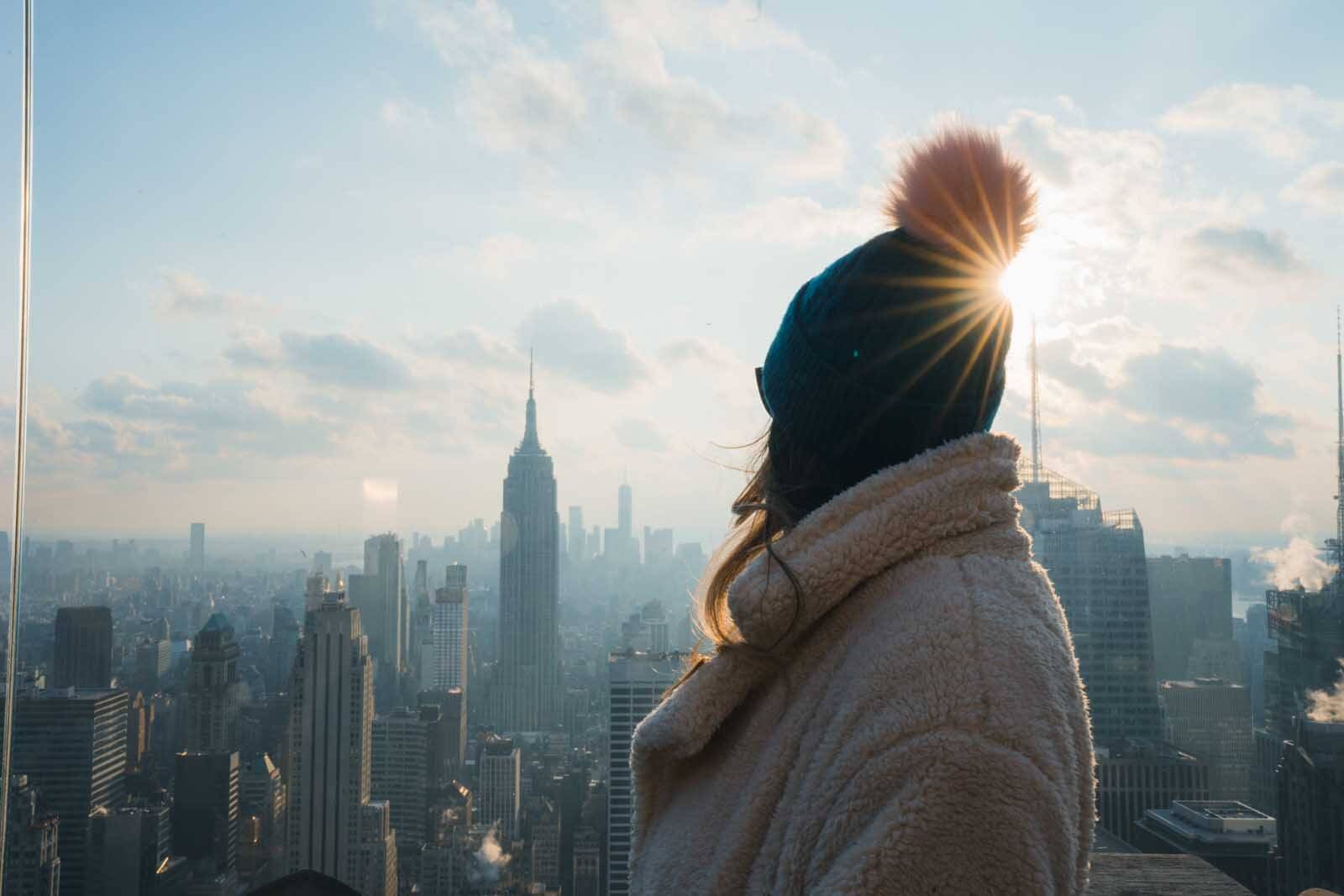 In addition to the many activities geared towards specific religious holidays in NYC, there are plenty of non-denominational options for winter fun! After all, winter runs through March 20th (ugh), so there's plenty of time for non-holiday specific merriment.
Check out the annual NYC Winter Jazzfest, a marathon of concerts held over ten days, at twelves venues, featuring over 500 musicians.
Jazzfest aims to celebrate "music as a living entity, wherein history collides with the future in every note" with jam-packed lineups that run into the early hours of the morning. While Jazzfest usually runs in mid-January, be sure to check their website for exact dates, ticket, and venue information.
The stylish William Vale Hotel (111 North 12th St.), one of the best places to stay in Brooklyn is known for its sleek and lively rooftop bar, Westlight. Westlight, one of the best rooftop bars in NYC, features breathtaking views of the city and East River along with inventive, well-balanced cocktails and bites.
Westlight builds out a yearly Winter Village complete with a sky-high, sustainably built ice skating rink! And if you're looking for a rink crawl in Brooklyn, check out our comprehensive guide to Brooklyn ice rinks. If you choose to visit the Winter Village, be sure to make reservations ahead of time to secure your place to skate among the skyscrapers!
The winter solstice, which usually falls on December 21st or 22nd in the Northern Hemisphere, marks the day when the Earth's poles are tilted farthest away from the sun and also marks the beginning of winter (officially).
Celebrate this season of transition at The New York Open Center, a long-running holistic urban spiritual center dedicated to fostering a "harmonious relationship between ourselves, each other and the planet" for all New Yorkers.
The New York Open Center Solstice program centers on meditation, reflection, and conception of our hopes and dreams for the year and the spring season ahead. It's the perfect way to take a break from the frenetic energy of NYC during the holidays, take stock of the year, and ground yourself for a new one.
Looking for a more musical solstice program? Paul Winter's Annual Solstice Celebration (non-denominational, but held at the cathedral of St. John the Divine at 1047 Amsterdam Ave) features performances from the Paul Winter consort (cellist Eugene Friesen; double-reed master Paul McCandless; keyboardists Paul Halley and Paul Sullivan; flutist Rhonda Larson; bassist Eliot Wadopian; drummers Jamey Haddad and Ted Moore; percussionists Glen Velez and Café, and gospel singer Theresa Thomason) and aims to celebrate multiculturalism, unity, healing, hope, and renewal.
Looking for an easy and restorative activity to pair with your solstice reflection? Try a (relatively short) hike through Inwood Hill Park at the top of Manhattan.
Inwood Hill's hiking ridges, hills, and valleys are thanks to the remnants of shifting prehistoric glaciers! Another fantastic option is Van Cortlandt Park, the third-largest park in New York City and more than a thousand acres of ridges and valleys. The rangers at Van Cortlandt park even offer a yearly guided solstice hike culminating in a campfire celebration!
Over at the American Museum of Natural History (200 Central Park West), a yearly non-denominational origami tree is displayed throughout the holiday season. The 13-foot tree, a tradition since the 1970s, is handcrafted with origami figures from local, national, and international artists and pays tribute to exhibits in the museum.
Recent themes have included odes to the hall of gems and minerals and of course, references to the iconic Tyrannosaurus rex permanently displayed at the museum.
Has all of this cheery merriment got you down? Would you prefer to display an aluminum pole in your home as holiday decor? Would you like to gather with friends and family to air your grievances and compete in Feats of Strength?
Then Festivus, the iconic fictional-turned-factual holiday created in New York-centric sitcom "Seinfeld" may be for you! And where better to celebrate Festivus than in the city it was conceived? A number of NYC bars host annual Seinfeld Trivia Extravaganza and Airing of Grievances parties!
Venues vary each year, but past locations have included The Chelsea Bell (316 8th Avenue), Granny Annie's Bar and Kitchen (425 Main St., Roosevelt Island) and Slattery's Midtown Pub (8 East 36th St.).
And while we're here, we must mention perhaps the most popular non-denominational winter holiday out there – New Year's Eve! While there are many, many options for ringing in the new year in NYC, here are a few excellent ways to celebrate.
Does the idea of standing outside in Times Square for multiple hours sound a little too cold for you? While there's always a chance we'll have temperate weather on December 31st, a fabulously festive and indoor option is to check out the New Year's Eve concert at the New York Philharmonic (10 Lincoln Center Plaza), featuring frequent boldfaced guest stars and the excellence of NYC's premier orchestra.
Down to brave the weather? The annual New Year's Eve Cruise (Pier 83) with hors d'oeuvres, a DJ, and prime views of the NYE fireworks!
Brooklyn Bowl (61 Wythe Ave. Brooklyn), a music-venue-meets-bar-meets-bowling-alley empire hosts a New Year's party/concert (with a lineup that varies year-to-year) that is the perfect blend of New Year's Eve dance party and casual bowling hangout. Pro-tip – reserve a bowling lane for the best views of the performance with room to dance and bowl!
---
We hope you've enjoyed this guide to NYC during the holidays – be sure to let us know what other gems you discover along the way, and we'll meet you there! Stay warm and stay festive, friends!
About our Guest Author
Sarah Beling is a playwright, New Yorker, and passionate food enthusiast who is always looking for her next meal. You can find her in an NYC park, enjoying a chopped cheese sandwich and reading about NYC's best new places to eat.
---
Be sure to also check out all the best things to do in NYC in winter for more fun happenings around the city plus other winter celebrations like Lunar New Year.