Wondering what to wear in New York in summer? We got you. You've been planning for months — researching all of the best things to do in NYC during the summer, famous NYC foods to try, and fun-filled outdoor activities to fill your next trip to the Big Apple.
But even after you've bought your flight, stalked Resy night and day to snag that table at Carbone, and nabbed tickets to a Broadway show — one task remains packing. If you're anything like me when I travel, you've left your New York summer packing list to the last minute, and are stressing over what to wear so that you don't look like a tourist.
The good news? As someone who has lived here for the better part of the last two decades, I can tell you firsthand: anything goes. New Yorkers wear anything and everything. Despite what you might have heard elsewhere, there is no such thing as looking like a tourist — unless, of course, you're unprepared for the weather (or are blocking the sidewalk).
That's where we come in –– we're breaking down what to wear in NYC in summer so that you can feel prepared for any weather, activity, and occasion. Read on to organize your suitcase with ease and leave the hard decisions — like where to find the best New York pizza — for when you get here! Happy trails!
Disclaimer: This post contains commissionable links.
New York's Average Summer Weather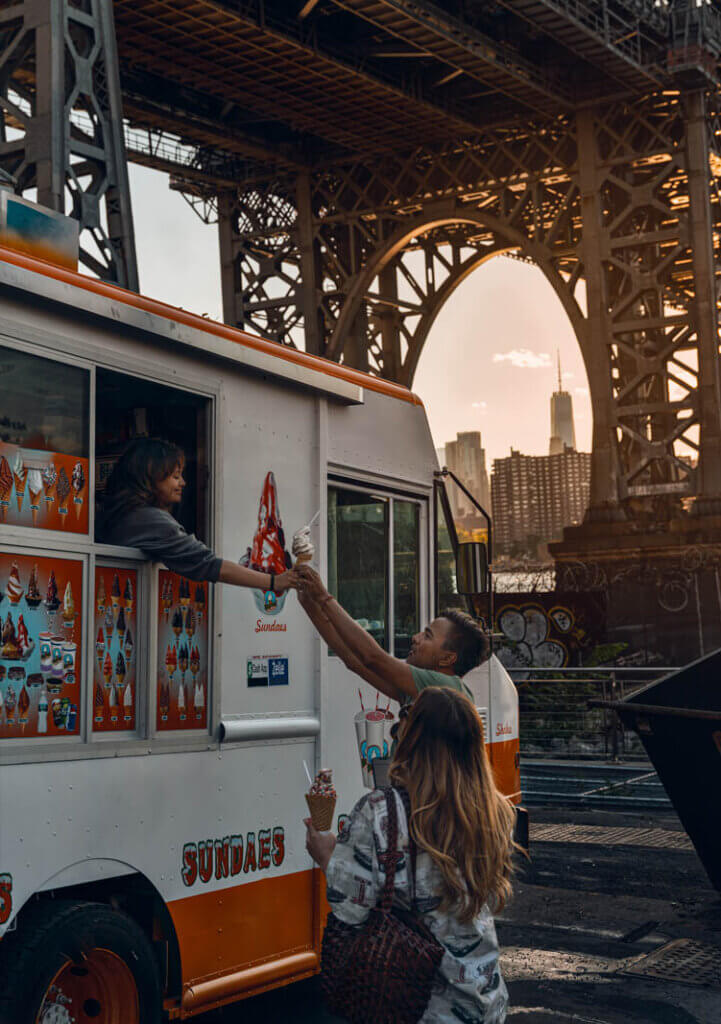 While New York is still a place where you can experience all four seasons, summer has recently extended its stay from mid-May to as late as early October.
That said if you're wondering what to put on your packing list for NYC in summer, the month of your trip matters.
If you're headed to the city in May or June, the weather is likely to be warm (between 65-80ish degrees Fahrenheit) but midler than say, July/August, when walking around town is generally — I won't sugarcoat it — a sweaty experience (between 70-95ish degrees Fahrenheit). September is also usually pretty warm, though generally less humid and breezier than the peak of summer (between 70-80ish degrees Fahrenheit).
The best advice for what to wear in New York in summer is to be prepared with light (!) layers. While it's unlikely you'll need a really heavy sweatshirt (save for a rainy day in May or June), you'll want to pack a few items that you can throw on while traversing between the effects of our urban heat island and the joy of indoor air conditioning.
On a micro-level, plan your NYC packing list for summer to account for the neighborhoods you'll be visiting. Midtown is full of tall skyscrapers that lock in the summer heat, while a stroll through the shaded trails of Central Park or by the Hudson River will feel noticeably cooler.
For this reason, your best bet is to have a few easily portable layers to take you from one activity to the next!
New York Packing List for Summer
The Go-Tos for What to Wear in NYC in Summer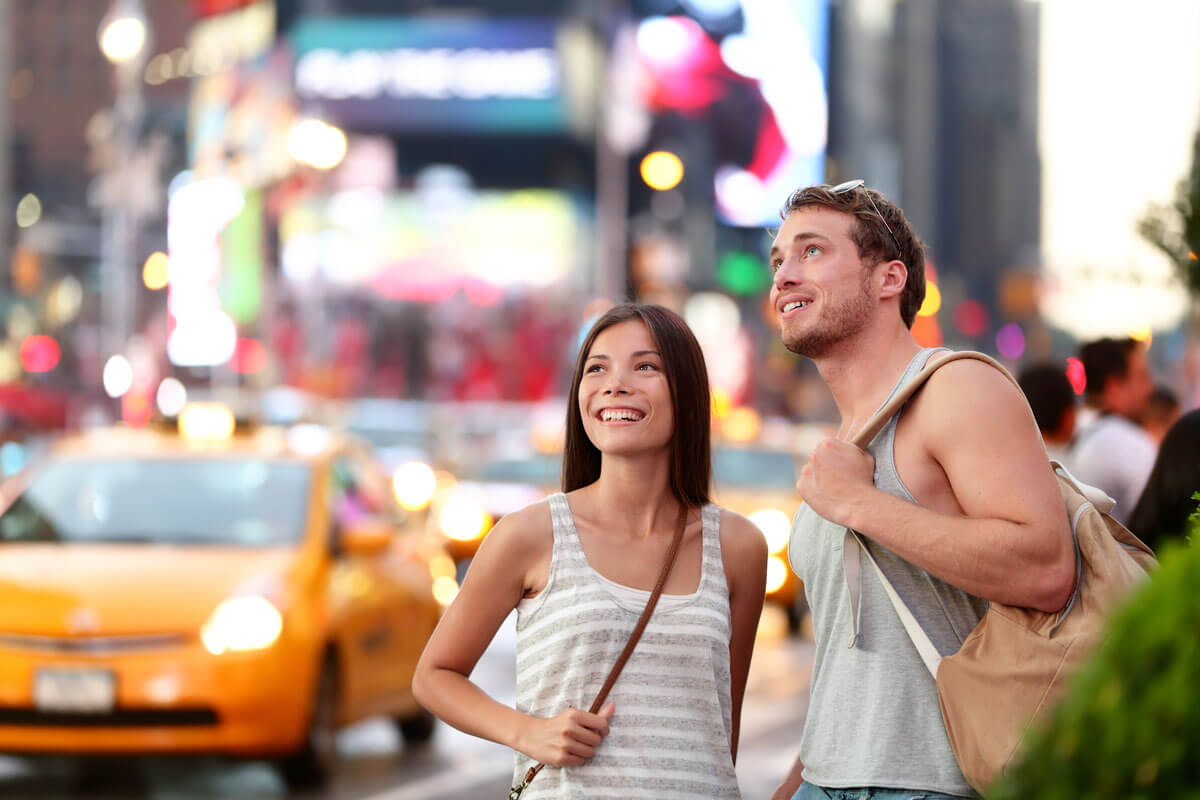 Now, assuming that you've packed your own pajamas, undergarments, and toiletries (please choose your own adventure here!!) it's time to break down what to wear in New York in summer.
One thing I've learned about living in New York is that you are often out all day — if you're hoping to see a lot of the city, it's likely that you'll be away from your hotel for at least half of the day.
Your New York packing list for summer should include clothes that can easily take you between brunch, a museum, a park stroll, a rooftop happy hour, and a Broadway show.
My ten cents? The secret to your New York summer packing list is monochromatic, breathable sets — think cotton or linen pants/top sets, shorts and button-up shirts, or one-piece rompers and jumpsuits.
For a more casual New York City itinerary, bodysuits or t-shirts and jean shorts work well, while you may want to throw in a comfortable midi- or maxi-dress if you're headed to something slightly more formal later on.
A bonus tip on the t-shirt front — a fun way to commemorate your trip and rock some New Yorker style is to buy some merch from your favorite local business. There are dozens of famous delis, bakeries, and bookshops ready and waiting! Not to mention we have some awesome vintage and thrift stores in NYC.
The good news about deciding what to wear in NYC in summer is that in general, New York is a more casual place in the warmer months — it's simply too warm to be super gussied up. Unless you're dining at a restaurant that demands suit jackets, it's very likely that a day-to-night ensemble will work.
If you are making a pit stop to change before going out at night and want to wear a dress, the most used item in my NYC packing list for summer is the humble slip dress.
Dress it up with some jewelry or a comfortable block heel, or keep it casual with sneakers or flat sandals. If you prefer a pant look, try a wide-leg linen trouser or shorts with a crop tank or t-shirt!
The last step of your go-to look should be adding a light summer layer — while my jean jacket gets a ton of use between May and October, a light linen or cotton blazer, oversized button-up, or (very) lightweight sweater to throw on in air conditioning or if there is (hopefully) a light breeze at night.
What To Wear When It's Really, Really Hot in NYC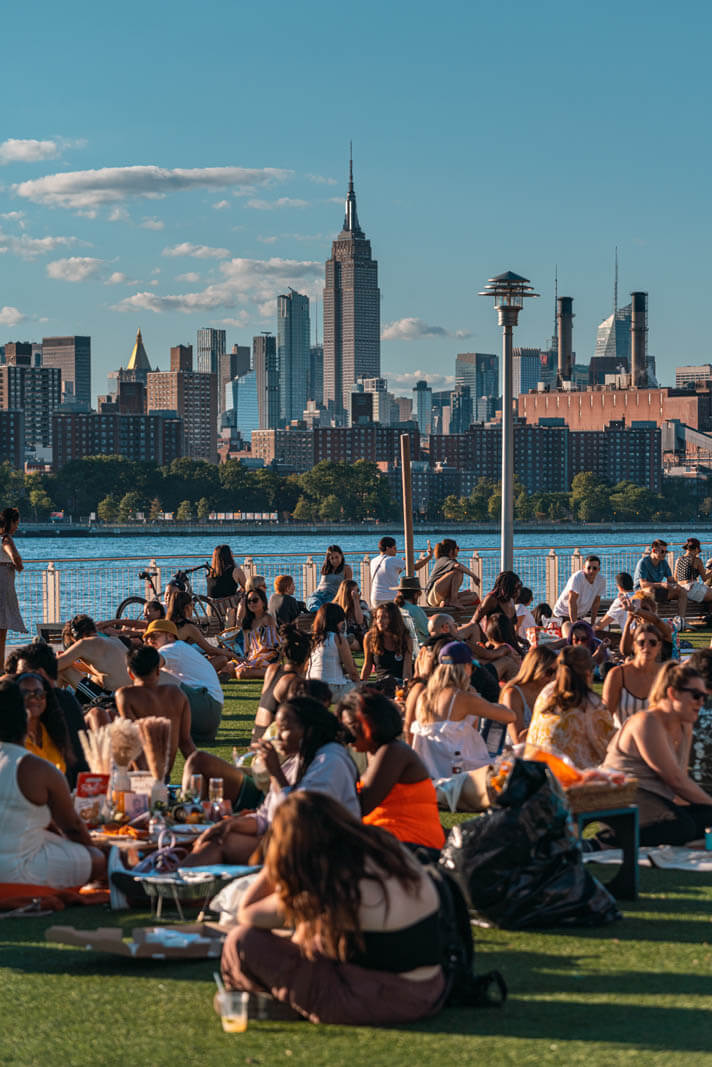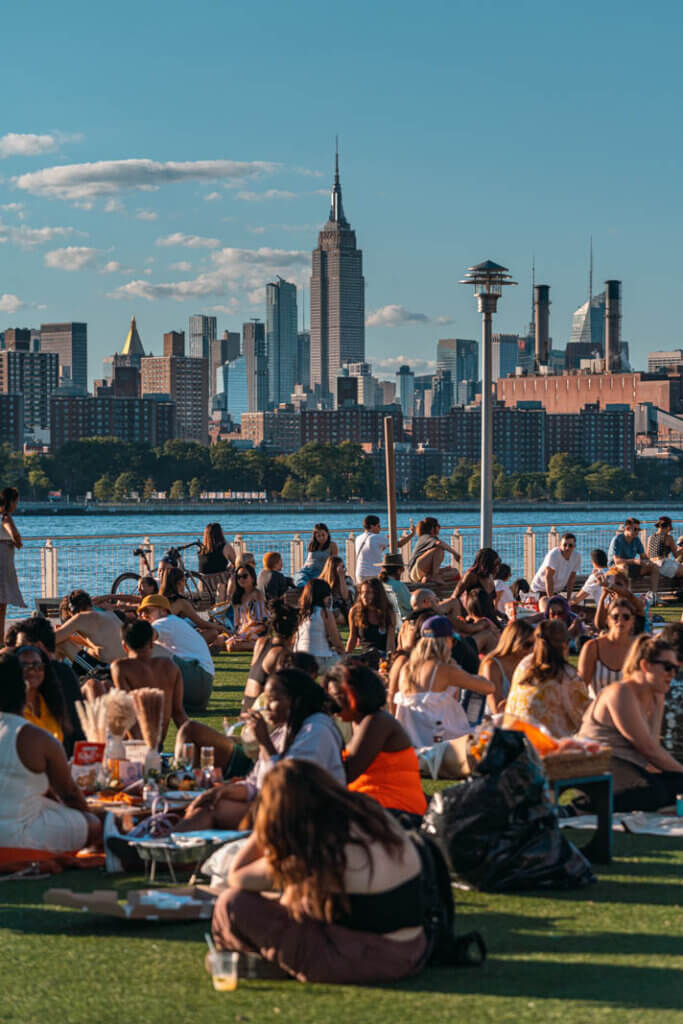 "It's ten-thousand degrees, and I don't want to wear real clothes!" you cry. I hear you. While it's fun to plan a few lewks in your packing list for NYC in summer, the reality is that there is a chance that you'll be visiting the city when it feels a little bit like walking through a frying pan.
If you're stressing out over your New York packing list for summer on the surface of the sun, we have the solution: chic activewear.
And by chic, I really mean whatever activewear you want to rock — when summer hits its peak here, New Yorkers are all united by the fact that we walk and take the subway and need to stay as cool as possible. And all of a sudden, we are all athletes! Ha.
Personally, the invention of exercise dresses with built-in shorts has changed my life, but your New York summer packing list should include the activewear you like best — a great way to look put together in activewear is to rock a matching activewear set or the frequently-sported track short and a white t-shirt combination.
But in the end, I don't want to be too prescriptive here — your New York packing list for summer should keep you feeling comfortable and confident above all else — it's too hot to feel like you're wearing something you'd never don otherwise.
If things get really, really, really hot, you also have the option of checking out the city's beaches. Throw a swimsuit in your suitcase for any impromptu trips to Coney Island or the Rockaways, and keep an eye out for sharks…
New York Summer Packing Accessories
If you're wondering what to wear in NYC in summer, your accessories game is perhaps the most important of all.
First and foremost, let's talk shoes — your NYC packing list for summer should always, always include sneakers. Sneakers are the lifeblood of New York City summers! We're a city that never sleeps because we are walking around — a lot.
Sneaker culture is very strong in NYC, and while you can certainly take this opportunity to rock your most prized limited-edition Nike, any sneaker — from "Dad shoes" to classic white Keds — will work for your packing list for NYC in summer along with any of the most comfortable walking shoes for travel. You'll be on your feet more than you can imagine.
While you could likely get away with only packing a sneaker (save for dining somewhere super fancy!), you may also want to bring a few additional options. Sandals with straps are a great choice for walking around, because frankly, you don't want your foot to slip out of a flip-flop and meet the not-exactly-clean sidewalks of the Big Apple.
If you want to dress things up, a loafer or a block heel work well, though I wouldn't recommend wearing them if you'll be out all day.
If the weather is a little cooler and you're wondering what to wear in New York in summer that isn't a sneaker, sandal, or loafer, a fun option is to try a combat boot to add a little edge to your look — however, they will take up a lot of room in your suitcase, so I'd advise not bringing them unless it looks temperate enough to wear them a few times!
Your New York summer packing list should also include at least one hat — if you're going to be out all day, you'll want a little bit of built-in shade!
A baseball hat is not only an easy, timeless accessory, but it won't take up a ton of space in your suitcase (after all, I've already advised you to bring lots of layers… which you'll need room for). If baseball hats aren't your thing, an easily foldable or packable sun hat works too!
Your packing list for NYC in summer should also include at least one set of sunglasses — though if you forget them, there are quite a few places to snag a new pair!
While we're at it, if you're wondering what to wear in New York in summer, sunscreen should be at the top of your list. Even though you're not (necessarily) sitting on the beach, walking around all day will certainly expose you to plenty of UV rays.
I'd recommend bringing some travel-sized spray or liquid sunscreen to apply at the beginning of the day and a handy sunscreen stick for reapplication.
When it comes to bags, your New York summer packing list should include a few options. For day-to-night itineraries in more casual settings, a lightweight backpack is an excellent way to have everything you need for the day without sacrificing your shoulder to the cause.
If you are out for a shorter amount of time, a tote bag works well, too — New Yorkers love their tote bags, and there's always the opportunity to pick up some merch from your favorite business, restaurant, or cultural institution!
If you're out for a shorter period of time or walking long distances and want to pack light, it's helpful to stay hands-free by putting a crossbody purse or a crossbody belt bag on your NYC packing list for summer. Believe me, you don't want to walk across the Brooklyn Bridge with a giant purse.
When it comes to rain jackets and umbrellas, summer weather in New York can change quickly — I don't recommend bringing anything too hefty on your NYC packing list for summer, but a small travel umbrella and a lightweight, foldable rain shell are great to keep in your bag if there's any chance of rain.
Given the heat, you'll want to stay properly hydrated — and though you can certainly purchase water bottles out in the world, you will save money if you carry a water bottle.
After all, New York City tap water is some of the best in the country and many public institutions have water fountains! If you don't want to haul a large reusable bottle around all day, a collapsible water bottle is a good option to stay cool and travel light.
If there's one accessory I'd recommend on your NYC packing list for summer above all else — it's a portable phone charger. When you're out all day, taking photos, and videos, and using GPS maps to navigate the city, your battery will drain fast.
Whether it's a plug-in brick or a magnetic case attachment, a portable phone charger will save you time (you don't want to waste precious vacation hours sitting by an outlet somewhere) and money (those portable chargers at souvenir shops are always overpriced!).
Whether you have every minute planned or your only plan is to wander the grid, I hope that this list is a helpful starter for what to wear in New York in summer.
And regardless of whether you follow it to T, use some of it, or scoff, "that's not what I want to wear at all", I support you — after all, the most important part of dressing like a New Yorker is being yourself!
Your NYC Summer Packing Checklist:
Linen Shorts
Linen Button-Up Shirts
Linen Trouser
Crop Tank
Bodysuit
T-shirts
Jean shorts
Jumpsuit/romper
Long dress
Midi dress
Mini dress
Jean Jacket
Lightweight Sweater
Button-Up Shirt
Linen Blazer
Exercise dress
Activewear sets
Track shorts
Swimsuit
Sneakers
Sandals with straps
Block heel (optional)
Loafer (optional)
Combat boot (optional)
Baseball hat or sun hat
Sunglasses
Sunscreen
Backpack
Tote bag
Cross-body purse
Cross-body belt bag
Small travel umbrella
Foldable Rain Shell/ Rain Jacket
Water Bottle
Portable phone charger
---
About Guest Author
Sarah Beling is a playwright, New Yorker, and passionate food enthusiast who is always looking for her next meal. You can find her in an NYC park, enjoying a chopped cheese sandwich and reading about NYC's best new places to eat.
---
Enjoyed this guide for what to wear in New York in summer? Bookmark for later!
PSST…while you're here. Do you need help planning your New York City trip? Check out a few of our helpful guides!