Explore all the best things to do in Brooklyn Heights, one of the most coveted neighborhoods in the city and the America's first suburb teeming with gorgeous architecture and historic landmarks.
It's also one of the most desirable neighborhoods to live in, enjoy the views from, take a stroll through, visit, photograph, eat in, grab a drink, well you get the idea. It's great for everything.
There's so much packaged here that it can make figuring out what to do in Brooklyn Heights a bit overwhelming. Have no fear, your Brooklyn Guide is here and after reading this article you'll know a lot of really fun history, as well be able to pick out the best things to do in Brooklyn Heights for your trip. Whether it's your first time or your fifteenth.
Did you know that Brooklyn Heights was almost lost due to construction and new development?
In 1965 people fought to get the neighborhood designated as a national historic landmark, recognized as an NYC landmark, and added to the National Register of Historic Places making it forever protected so we can enjoy all of the amazing things to do in Brooklyn Heights with historic landmarks preserved!
Where is Brooklyn Heights?
Brooklyn Heights is a residential neighborhood boasting arguably the best views of the city in all of New York. Spanning from the end of Brooklyn Bridge, all the way to Pier 6 in Brooklyn Bridge Park.
This has been a prominent part of Brooklyn since 1834. Featuring 684 brownstones that pre-date the civil war with stunning views overlooking the East River, the Lower Manhattan skyline, and the Brooklyn Bridge.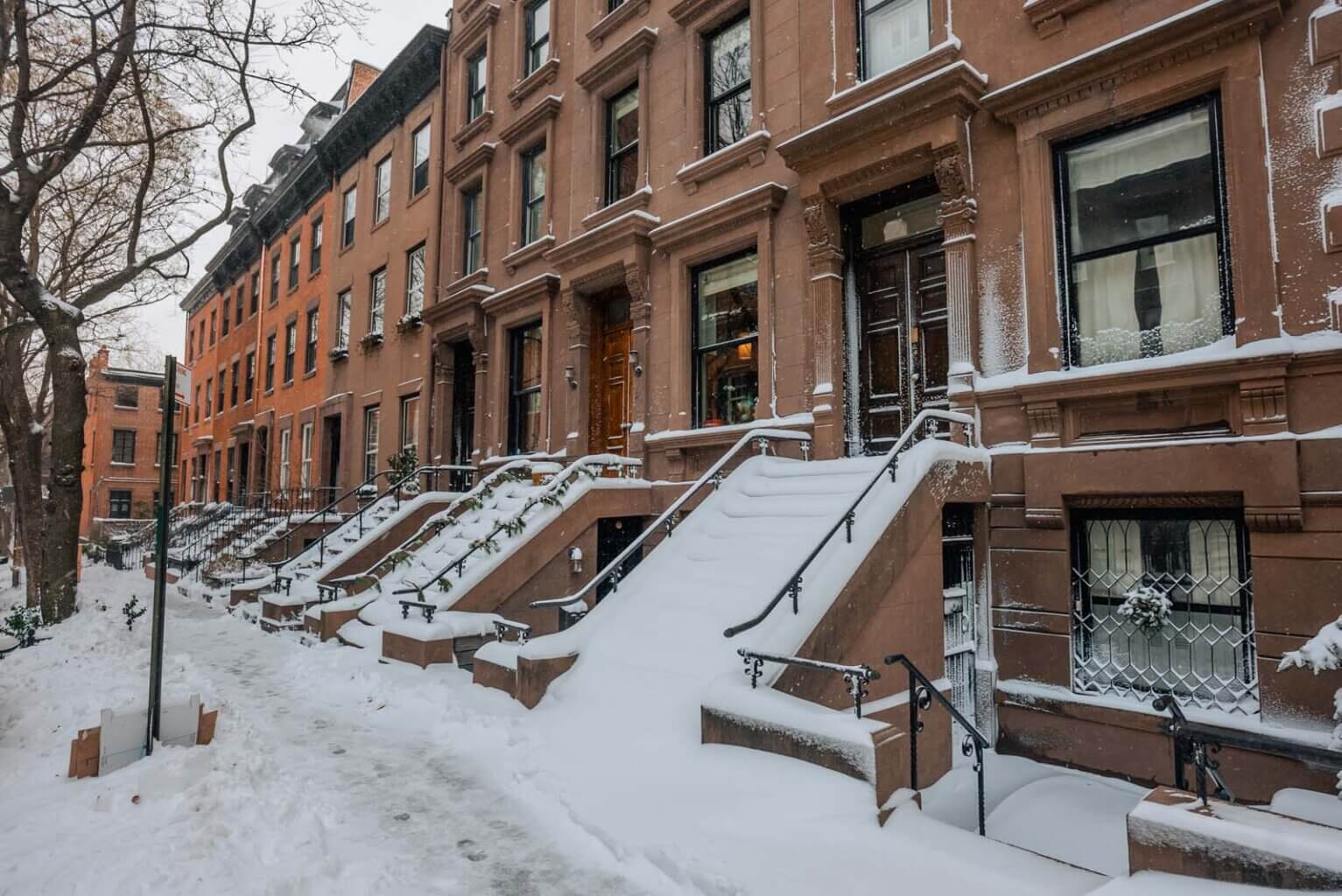 A Brief History of Brooklyn Heights
Historically Brooklyn Heights is believed to be where the native Lenape Native Americans lived before being colonized by Dutch settlers in the 17th century.
A lot of Brooklyn Heights as we know it was built in the 1800s when wealthy ship merchants who used the shores to import goods from all over the world built their mansions here.
But in the 1940s-50s, it was almost destroyed because city planners wanted to create the Brooklyn-Queens Expressway (BQE) and turn the brownstones and townhomes into luxury apartments.
Luckily the architect Percival Goodman created a plan to preserve the community, create the Brooklyn Heights Promenade, and over 25,000 New Yorkers staunchly supported his proposal.
If wasn't for Mr. Goodman, there might not even be a Brooklyn Heights guide to write.
What to do in Brooklyn Heights
Brooklyn Heights Promenade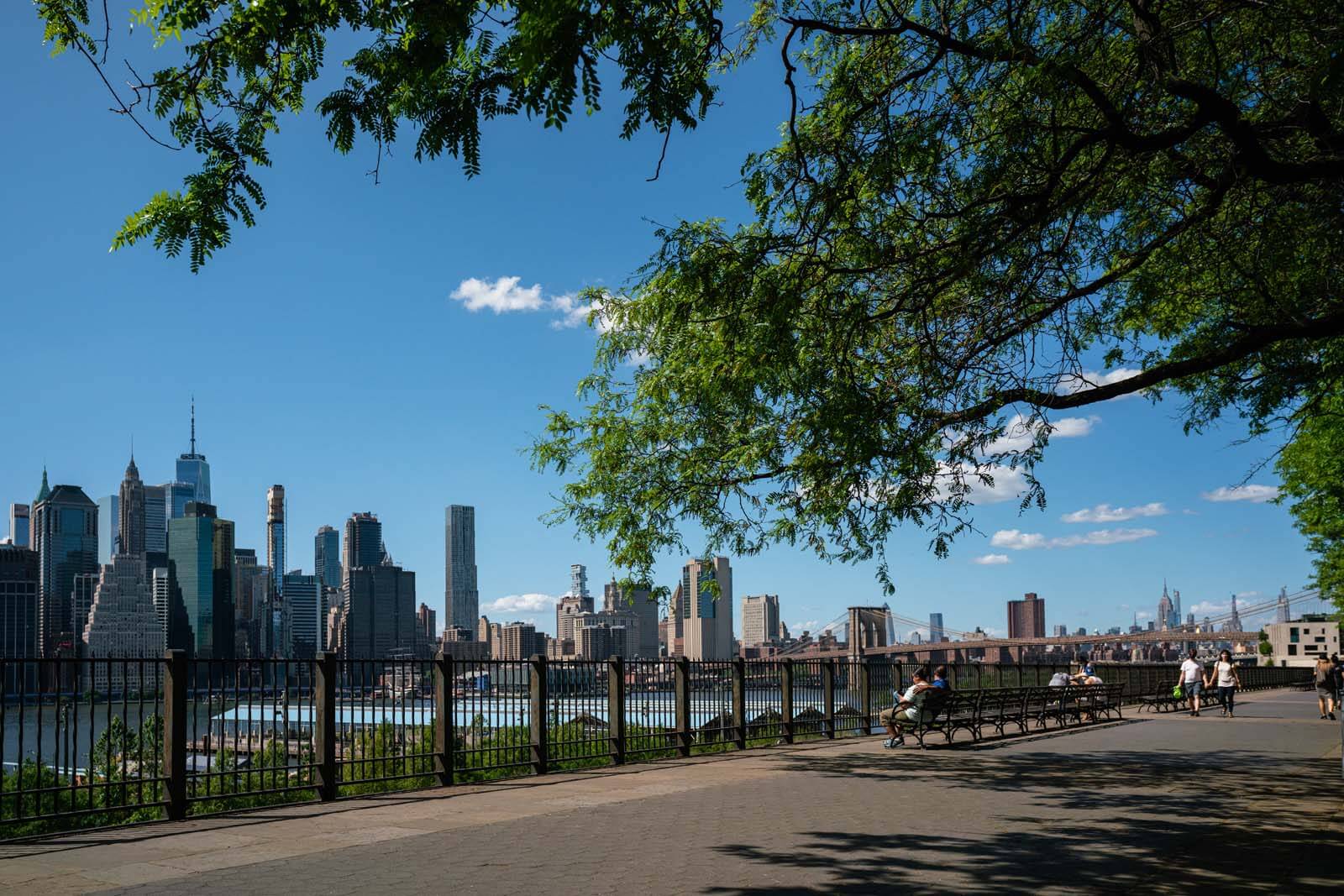 Arguably the best thing to do in Brooklyn Heights is to enjoy the panoramic views that Mr. Goodman worked so hard for. I mean just look at that. This is one of the best spots in the city for views of Lower Manhattan and the Brooklyn Bridge.
If you are a morning person, grab a cup of coffee and a croissant and sit on one of the benches, I recommend Joe Coffee on 102 Hicks St personally, it's one of the best coffee shops in Brooklyn. It's a great way to game plan the rest of your day and watch the city wake up.
Any time of day is perfect to visit as you have 180-degree views of the city. But if you're looking for that amazing photo, try visiting at sunrise or sunset for some dramatic colors as this is one of the best Brooklyn views of Manhattan.
The scene changes beautifully with the seasons. During the spring it's lush and green, while during fall the tree-lined canopy gets a beautiful orange and yellow look. If you're lucky during the winter you can see it covered in snow and during the fourth of July, it's a perfect place to watch the fireworks on the East River. And every season, this is one of the best sunset spots in Brooklyn!
This is also one of our picks for the best Instagram spots in Brooklyn.
Brooklyn Historical Society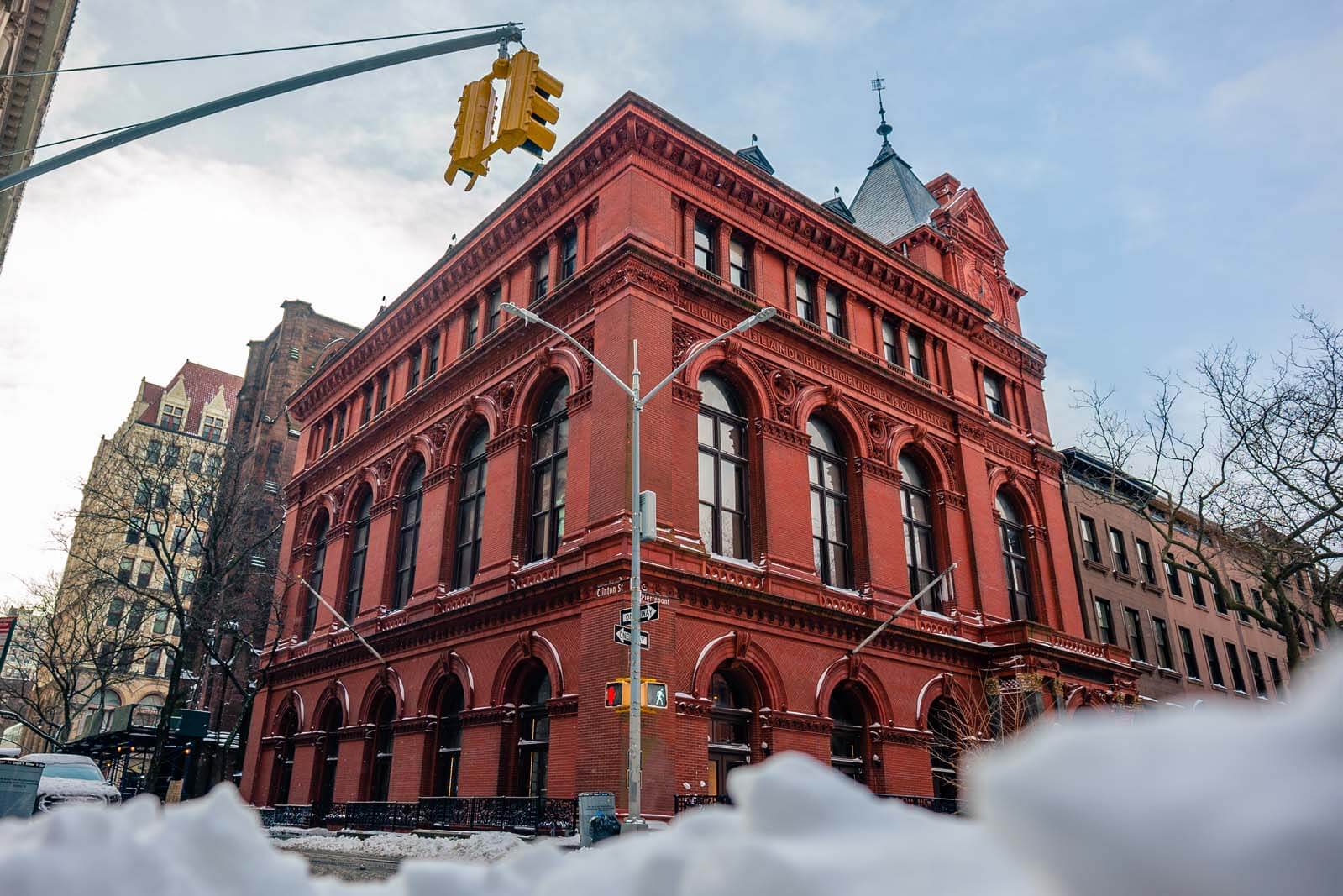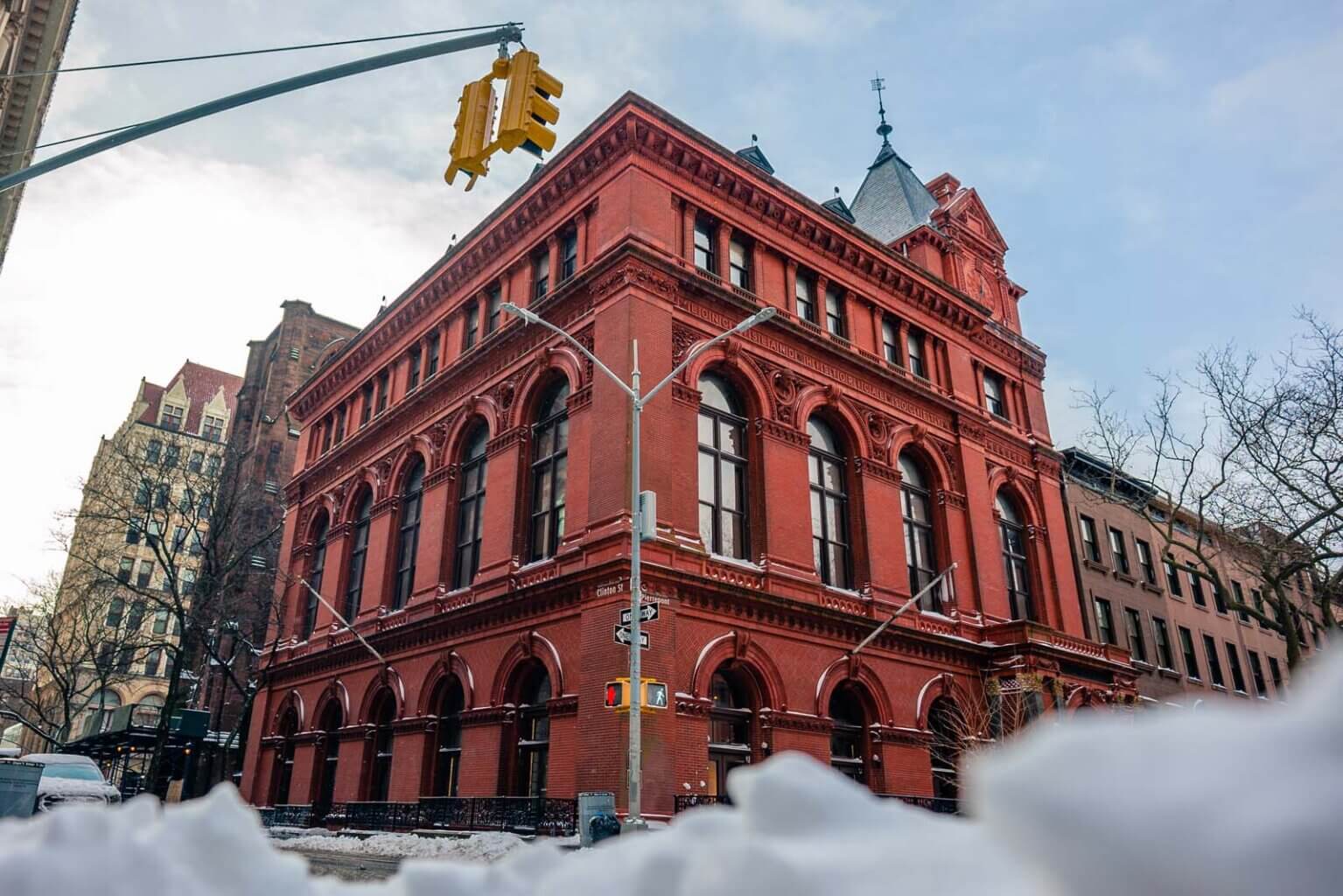 128 Pierrepont St, Brooklyn, NY 11201
If history is your jam, this is one of the best things to do in Brooklyn Heights. The Brooklyn Historical Society. Founded in 1863 and designed by George Post, This terra cotta building is basically a museum of Brooklyn's 400-year history located in Brooklyn Heights. Its mission is to preserve, protect, and share Brooklyn's rich history with locals and the world.
It hosts events, art exhibitions, and even has a podcast. It's also in one of the most beautiful buildings in all of Brooklyn so if you're in the neighborhood you will definitely won't want to miss it.
They host a very fun Free Friday every month, where visitors are allowed free entry for a series of lectures, shows, events, and activities that are free from 5-9 pm on Fridays.
New York Transit Museum
Boerum Place and Schermerhorn Street, 718-694-1600
See and learn how mass transportation has altered and created New York City as we know it today in one of our favorite museums in Brooklyn.
Founded in 1976, NYTM lives underground in a 1936 subway station that is 60,000 square feet. There are 20 beautiful intact vintage trains from other eras, as well as see iconic photographs of the construction and the people who built them. As well as stories about the brave people who helped build them.
Spanning almost a full city block, NYTM has something for everyone whether you love vintage subway and trolley cars, have kids, or just want to take some pictures with rare and beautiful subway cars this is a great option especially during the summer if you need a break from the heat or find yourself caught in some snow.
Fruit Streets
One of the most beautiful places to take a stroll and where you can oooh and ahhh at gorgeous architecture are the "Fruit Streets" of Brooklyn Heights.
The Fruit streets are Pineapple, Orange, and Cranberry streets located just off the Promenade. These streets are famous for their architecture, having many of the 684 historic pre-Civil War brownstones of Brooklyn Heights built here. This is a great place to admire the architecture.
Depending on your flair for drama the streets are named one of two ways.
The more dramatic and unlikely story is that Lady Middagh, whom Middagh Street is named after, was so annoyed that the streets were named after all the aristocratic families.
So at night she'd rip down the signs and put fruit names up and did this until the city caved in and had all the aristocratic names but hers removed. Yup totally plausible.
That version of history has made it into children's books and while it's definitely entertaining the reality is the Hicks brothers who owned most of the land designated the streets as ways to promote what they sold and where you could buy it.
Making it much more logical that you could buy oranges on Orange Street etc. Here's a video in which you can actually see the maps that predate Middagh and the city streets all named and planned out well ahead of time.
Below is a map from 1806 that was recovered that shows the plans for the street names and most of the construction began in the 1820s which would indicate that these have always been the names.
Oldest House in Brooklyn Heights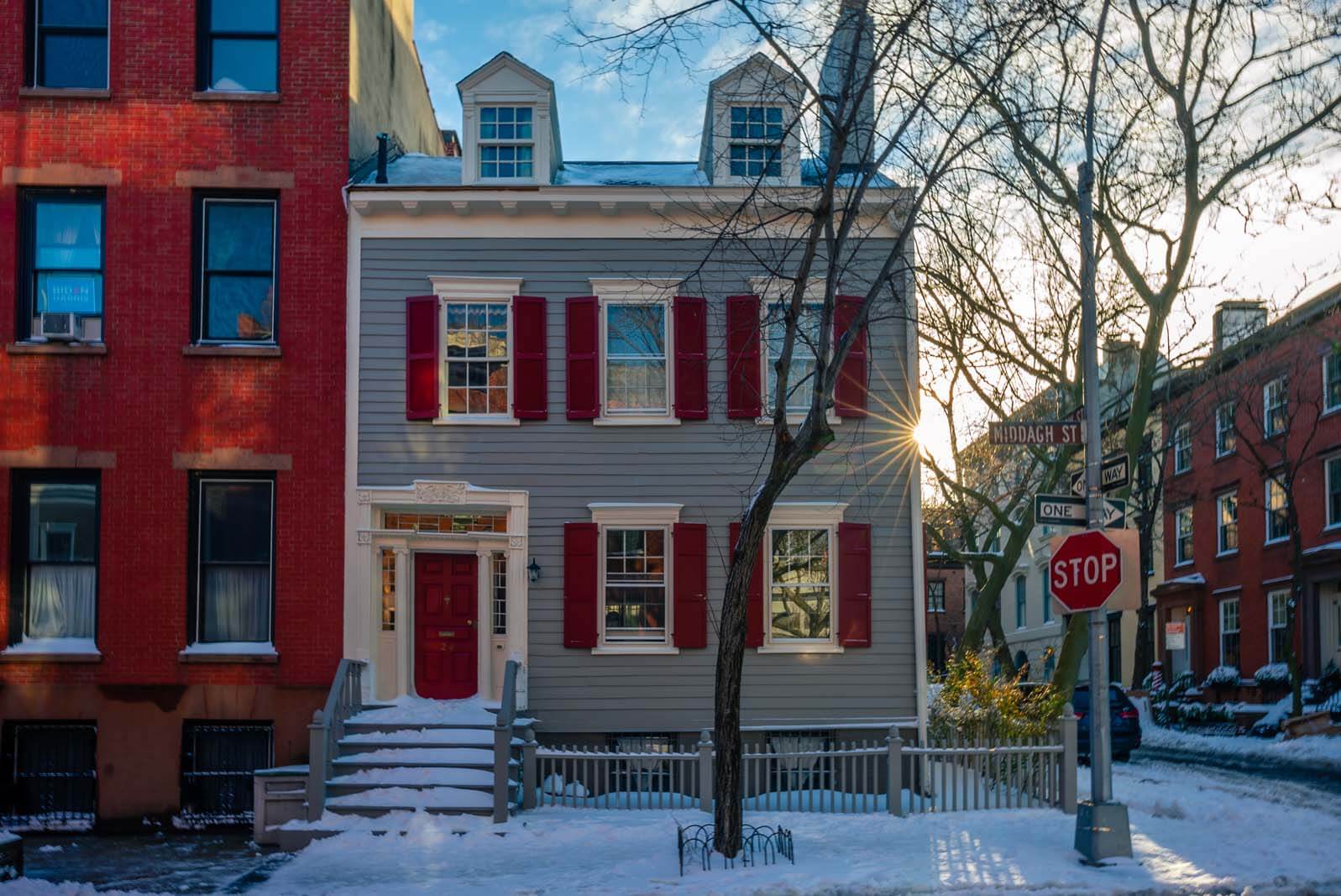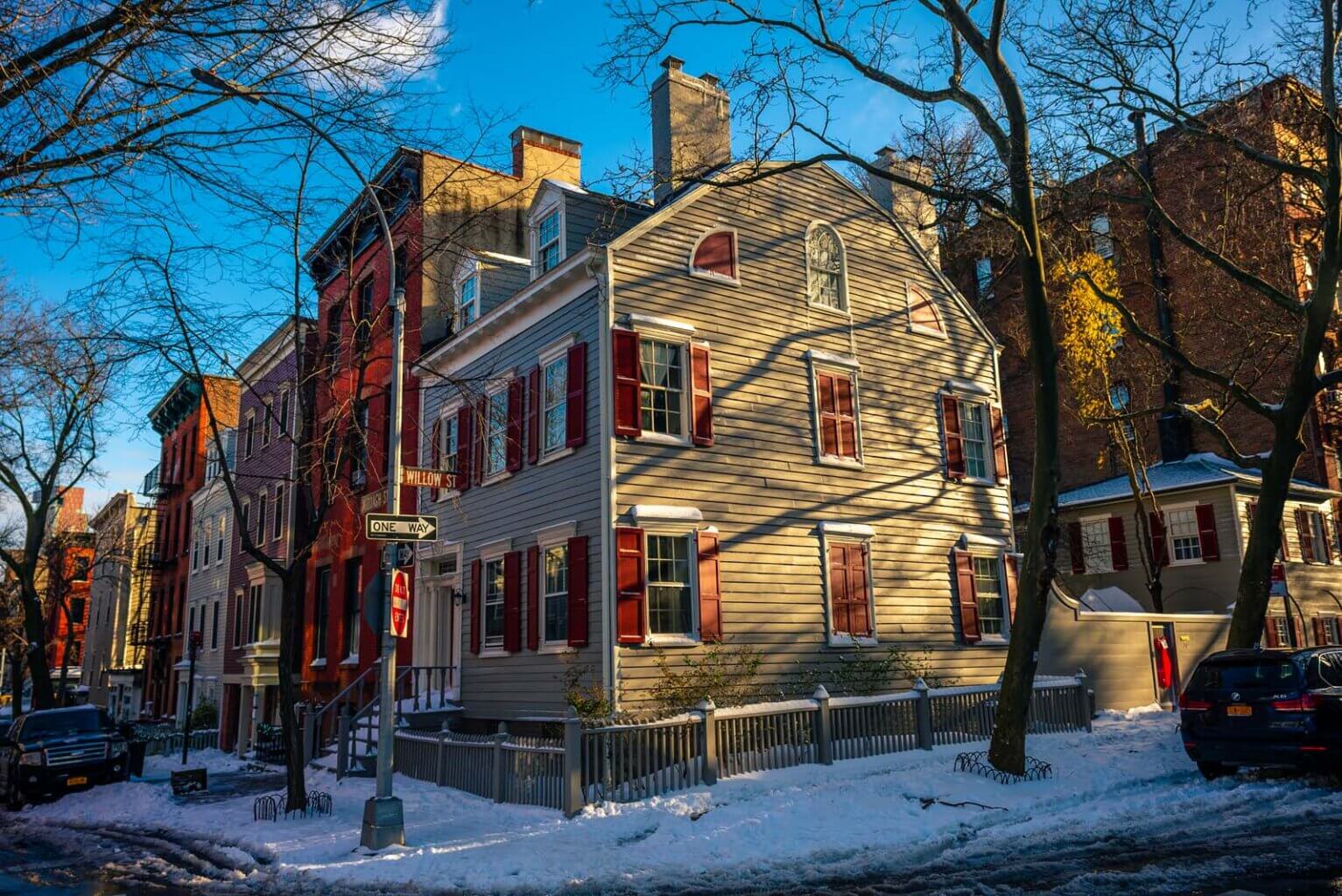 It's history and architecture like this oldest house in Brooklyn Heights that makes this one of the best walks in Brooklyn.
Like a lot of remains from the 1800s in Brooklyn, the details aren't 100% verifiable and this house is no different. But it does appear to be the oldest house in Brooklyn Heights with a pretty fun history.
Believed to been built between the 1790s and 1829 and possibly began as a tavern but got converted into a home. Since the early history of the home is so mysterious the owners have started a tradition of giving each other all the original materials and blueprints from the 1800s to each other as a sort of passing of the torch.
Fun fact, in 1870 there was an ad out to rent the 10 bedroom home for 1,000 a year! Now you couldn't even get a room in the house for $1,000 a month.
Truman Capote's House
70 Willow Street
Another fun thing to do in Brooklyn Heights for history and movie buffs is track down the home of Truman Capote, a famous novelist, playwright, short story writer, actor, and screenwriter that called this neighborhood his home.
Located on Willow Street, Capote lived in the basement of this beautiful home. This is where he found the inspiration to write both Breakfast at Tiffany's as well as in Cold Blood. It's right off the promenade and on Willow street so it's definitely worth a quick visit!
Moonstruck House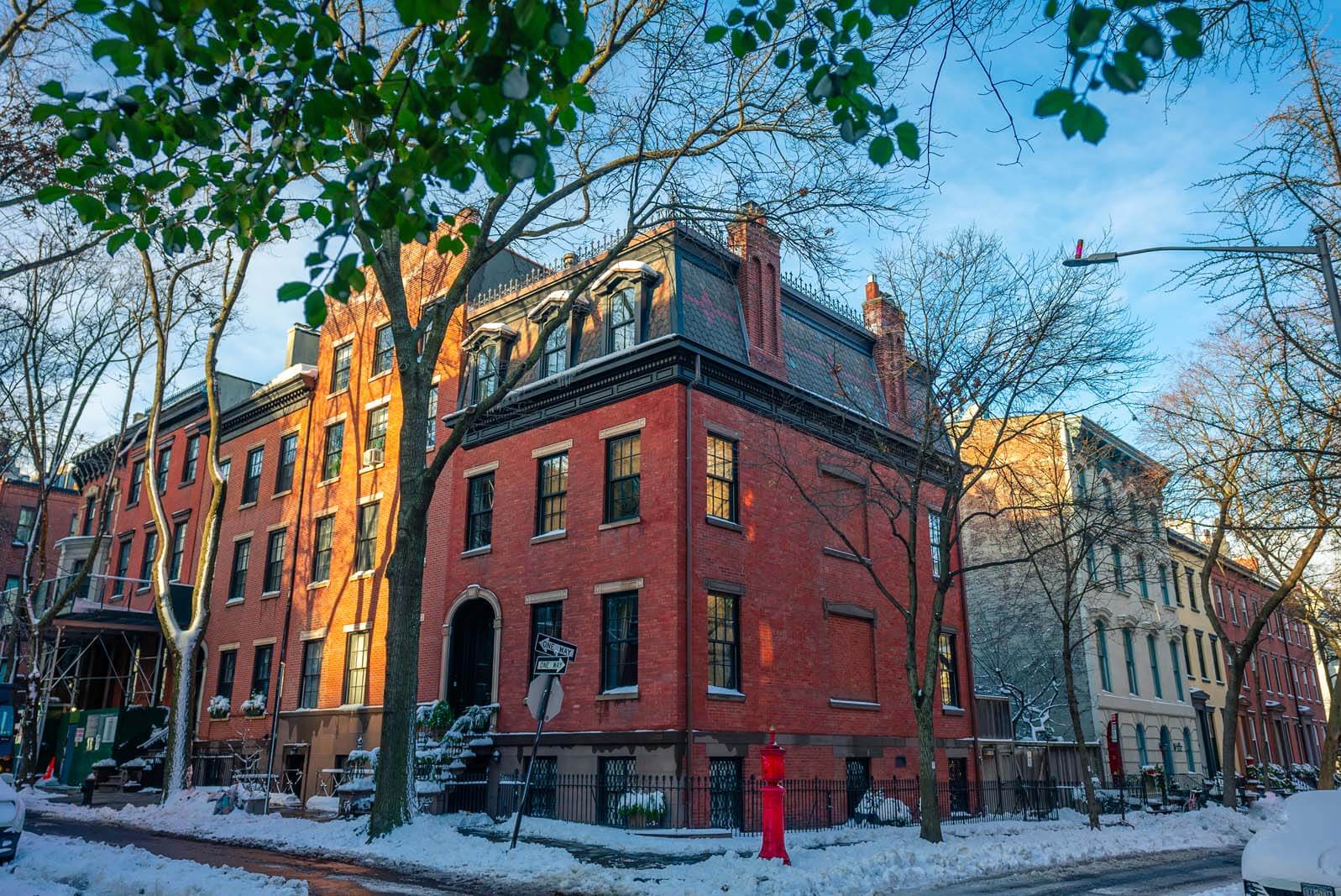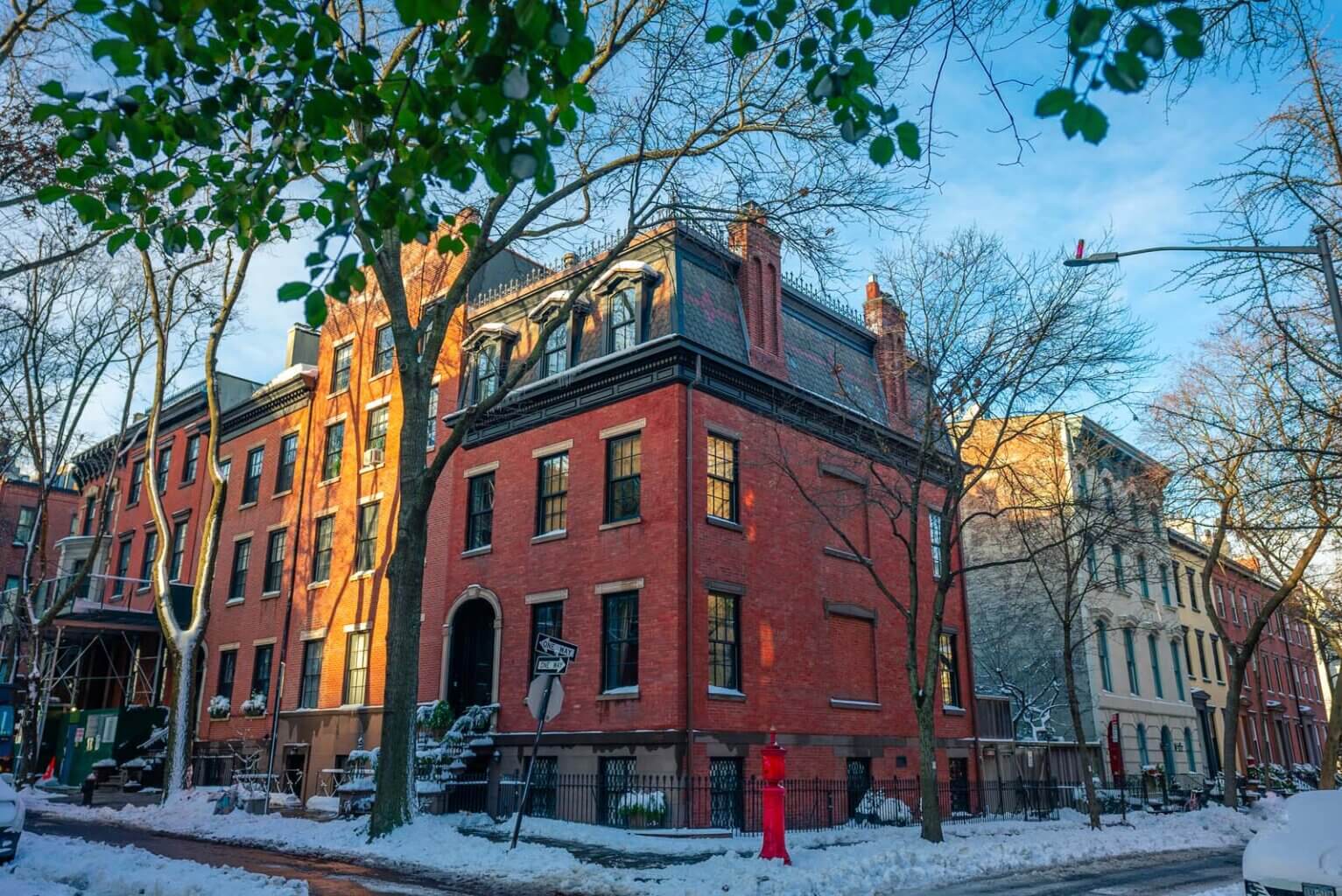 If you're a fan of hunting down famous filming locations or the legendary Cher, then this is one of the best things to do in Brooklyn Heights for you!
Located on the corner of Cranberry and Willow Streets is the Moonstruck House, one of the stars of the cult classic 1987 film Moonstruck, one of the best movies set in Brooklyn. This was Cher's house in the film and there is a small plaque out front saying the house was built in 1833.
This is a really fun one to swing by on your walk through the neighborhood. Be sure to see our guide to the best filming locations in Brooklyn for more fun spots to check out!
Hotel St George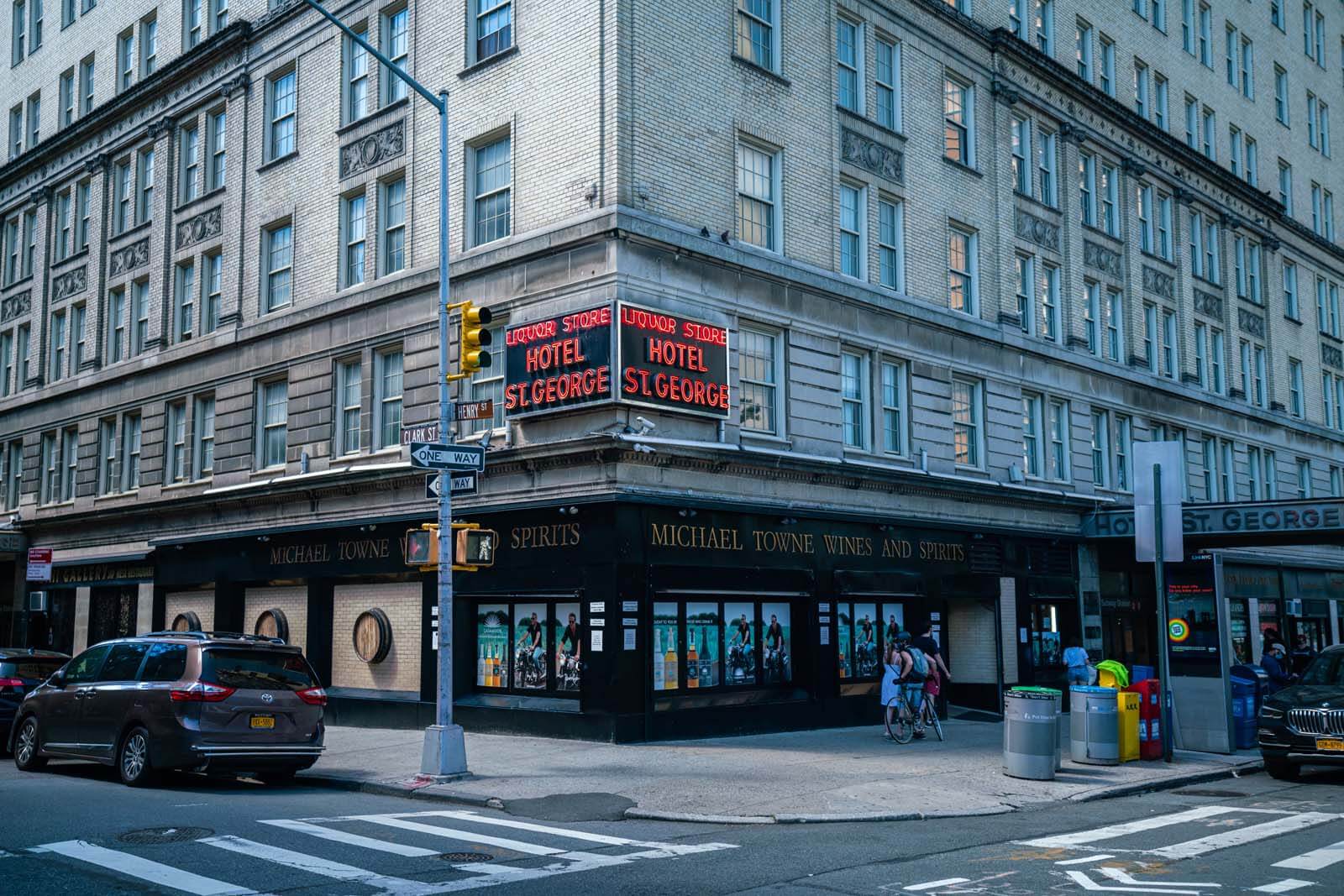 Another filming location and thing to do in Brooklyn Heights is make a quick stop at Hotel St. George. This historic spot was once the largest hotel in NYC and was made up of 8 buildings constructed between 1885 and 1929.
The hotel was posh and became a hotspot for the who's who in NYC becoming a frequent spot for people like Presidents Roosevelt and Truman, Truman Capote, Duke Ellington, and many more that liked to visit its Egyptian Nightclub or one of the 17 ballrooms in the hotel.
This was also a filming location for the Godfather, in the 1972 film the meeting between the two characters Luca Brasi and Virgil Sollozzo took place in the lobby bar here.
Hotel St. George quickly earned a reputation for being open to gay men and by the 1940s through the 1970s and many of its clientele were gay, you can learn more about the LGBTQ history here.
Unfortunately, in 1995 a fire broke out destroying a lot of the properties, and while the main facade remains unchanged because of its historical status. A lot of the interior has changed and many of the buildings have been sold off and or converted into apartments.
The current building still has 30 floors and 275 rooms in which to stay and is conveniently located at the Clark Street subway stop making this a perfect place to grab a drink and get ready to go wherever your next destination is.
Plymouth Church
This church located on Orange Street was notable and key player in New York City's underground railroad activity. Plymouth Church was built only a few years before the American Civil War in 1847 and became known as the "Grand Central Depot" for the Underground Railroad.
Henry Ward Beecher was a leader in NYC during the Underground Railroad as he was a famous anti-slavery preacher at Plymouth Church who helped those escaping slavery to the north seek refuge in the hidden and tunnel-like passages in the church's basement.
Sometimes the church does offer tours, so it's worth checking before your visit!
Montague Street

Another interesting area to visit in Brooklyn Heights where you can find shops and restaurants and more beautiful architecture is up and down Montague Street.
Montague Street, which sadly isn't named after the Capulets and Montagues from Shakespeare's Romeo & Juliet, but instead a nod to Hezekia Pierrepont.
Pierrepont who also has a street named after him had a British relative named Lady Montagu. Without the E. We aren't sure why they misspelled it but hey.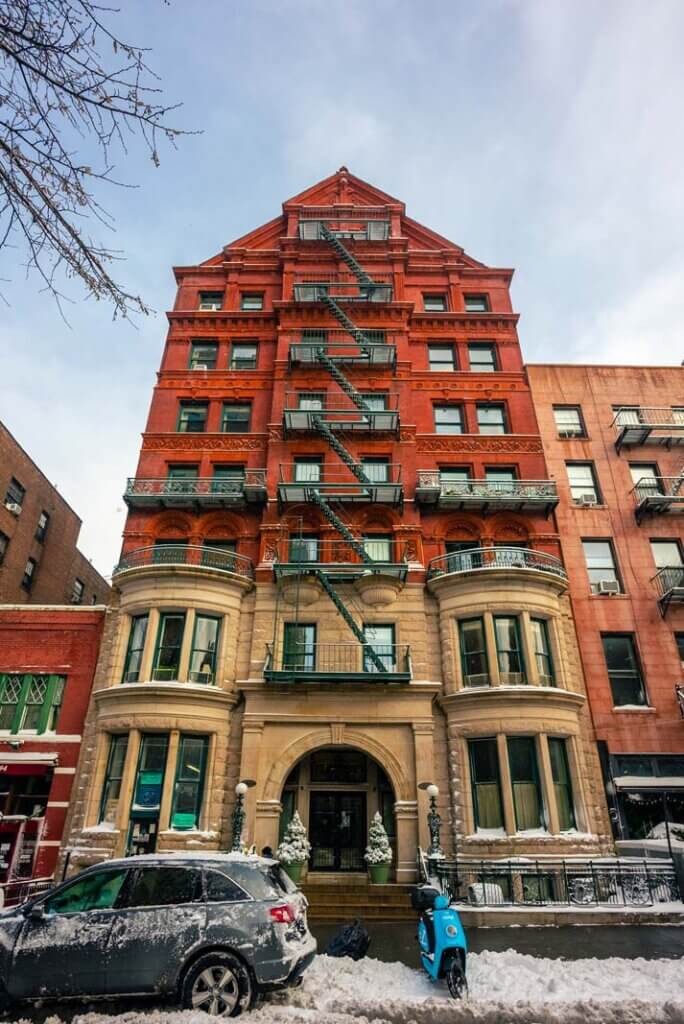 This street is rich with history and is kind of a Main Street as there are boutique eateries. It's also located next to the Brooklyn Borough Hall, which was the city hall when Brooklyn and Manhattan were still separate cities.
Due to the location and proximity to the former 'city hall' this was considered Brooklyn's quote-unquote Main Street.
What's bizarre about this street is that historically many of the shops have had a high turnover rate and shops and restaurants have had a difficult time getting business on this street. So if you see something you like while meandering through here, consider making a purchase and preventing this area from being lined with Starbucks and Applebee's.
Montero's

Another historic gem and thing to do in Brooklyn Heights is swing by Montero's. Located on the southern edge of Brooklyn Heights on Atlantic Avenue, Montero's is an old vintage bar that has been open since 1939 (some sources say 1945).
If you are looking for a one of a kind dive for a drink, and a bit of local culture Montero's is what to do in Brooklyn Heights and one of the last remaining longshoremen bars in the city.
Their cool vintage neon sign has been a backdrop for many fashion and photo shoots, even with Twiggy. But this bar's clientele were the seafarers and longshoremen from around the world. The sailors who'd come into the port here had a strong affection for the place, and as a gift would give Pilar Montero (the owner) little nautical-themed gifts that the sailors would carve, or make during their months at sea.
This is how the bar evolved into having a nautical theme as the owner would decorate the place with her gifts from her loyal patrons.
After sailors came and went Brooklynites came here for their dive bar appeal and a throwback to their humble roots as most places became overpriced fancy cocktails starting at $15. Here you could still grab a beer, or a cocktail without breaking the bank.
Sadly Pilar passed away in 2012 at the age of 90 but her son Pepe Montero runs the place continuing the tradition.
In 2016 Pepe Montero offered to put up the place for sale. On the condition that whoever buys, buys the entire block, with six other buildings and owners for a cool $56,000,000. Roughly seven million per building and three times the asking price!
The future is uncertain with this hidden gem in Brooklyn Heights so if you're nearby grab a drink while you can.
Grimaldi's or Juliana's Pizza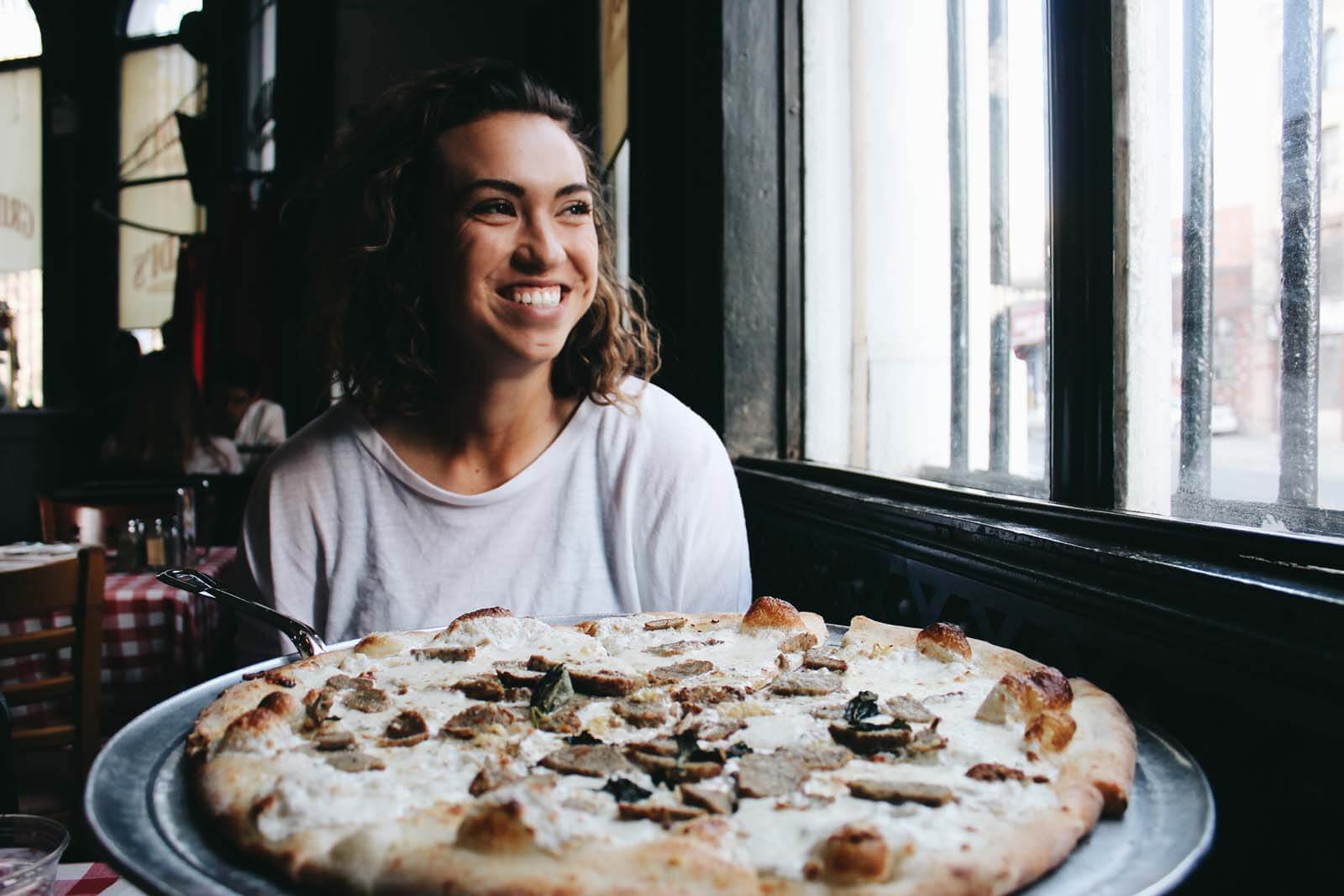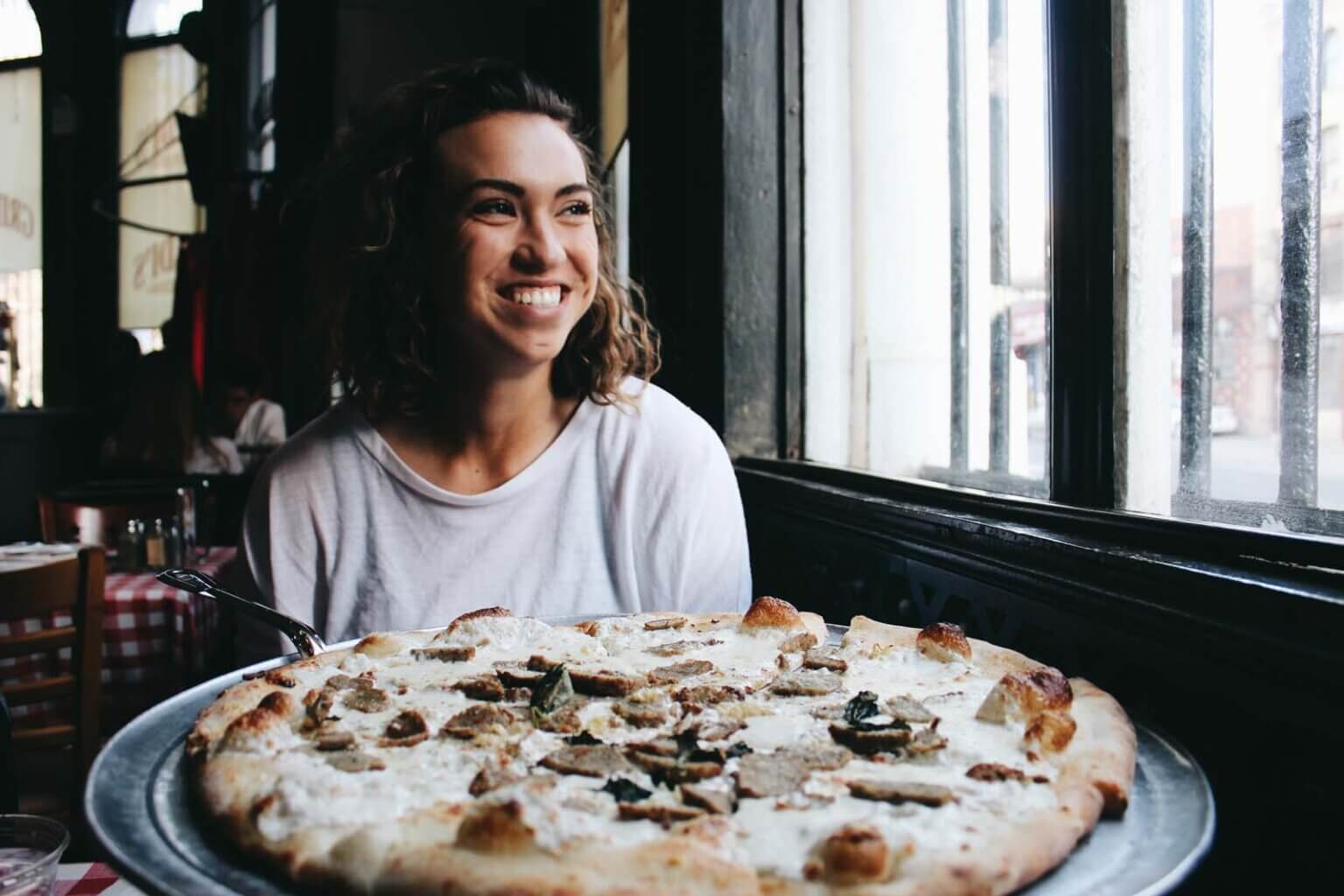 After exploring all the historic things to do in Brooklyn Heights, chances are you're going to build up an appetite! One of my best recommendations for where to eat around this neighborhood is the legendary Grimaldi's pizzeria, one of the best places for pizza in Brooklyn and in NYC.
This coal oven pizza restaurant that immediately wove itself into the fabric of Brooklyn and New York when it opened in 1990 for having arguably the best pizza in the city.
And to continue the theme with all of our historic things and what to see in Brooklyn Heights, Grimaldi's also has an interesting backstory. Patsy Grimaldi, the original founder, learned how to make a classic pie at age 10 at Patsy's Pizzeria in 1941 at his uncle's legendary restaurant in Italian Harlem.
When Grimaldi got older, he wanted to start his own pizzeria in Manhattan, although there was a slight hiccup. He strongly believed the best pizzas were made in a coal-fired brick oven and by the time he wanted to start his own pizzeria, those had been outlawed in Manhattan meaning he had to open shop here in Brooklyn where those ovens were still allowed.
Just under a decade in, Grimaldi made a name for himself offering one of the most iconic places to eat in Brooklyn and famous pizza spots in the city and retired selling the uber-successful Grimaldi's franchise to Frank Ciolli, a restaurateur in the city.
The new owner lost the lease to the original Grimaldi's location and had to move next door. Here's where the plot twist happens!
Grimaldi missed the business and came out of retirement the next year and was able to not only snatch up the original Grimaldi's location he opened and sold off, but he started a new pizzeria called Juliana's which some argue is the better pizza.
Because of this and the turf wars over the original building, there is some competition between the two pizzerias, one having the legendary name and the other being in the original location with the original man behind the legend.
Which one is better? Well, that's for you to determine, many people are split. Just know that both places are popular and you can't buy pizza by the slice here, only by the whole pie. Grimaldi's is also cash only.
Also, if you're into pizza, Dellarocco's on Hicks Street serves up delicious wood-fired Neapolitan style pizza that's also one of the best places to get pizza in Brooklyn and easier to get a table at than Juliana's and Grimaldi's.
Ample Hills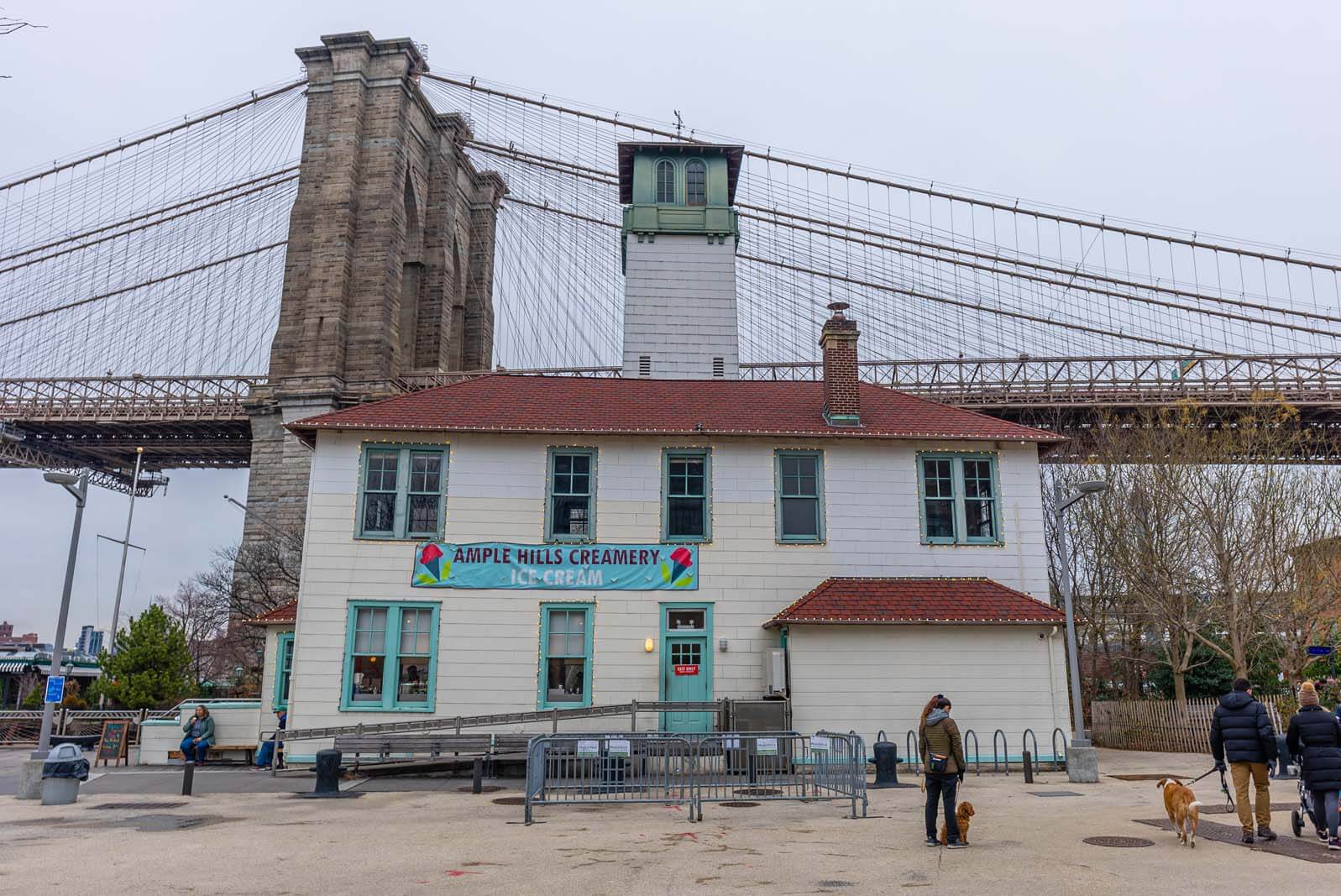 One of the best things to do in Brooklyn if you have a sweet tooth is head to Ample Hills for some delicious ice cream!
Ample Hills is a local ice cream shop that started in Brooklyn and got its name from Walt Whitman's Crossing Brooklyn Ferry where he says "I too lived in Brooklyn, of ample hills, was mine;"…for those who do not know, Walt Whitman lived in Brooklyn and has alot of landmarks and drew alot of inspiration for his work from his time living in the city.
What's amazing is the Ample Hills has a location on the Fulton Ferry Landing which is a touching tribute to Whitman with the name and the location.
Each flavor is completely unique and tries to tell a story tying in the local history plus it was also named the best ice cream in America in 2015. If you are nearby, give a scoop a try!
Be sure to also explore the rest of the Walt Whitman Brooklyn sites too to trace the steps of this literary giant that once lived in Brooklyn.
Sahadi's
A New York institution since 1898 Sahadi's moved its flagship store to Atlantic avenue in 1948. Three generations and continuing strong, the Sahadi's are originally from Lebanon and sell Middle Eastern food items you can't find at your average grocery store.
From high-quality spices, coffee, cheese, and everything in between they also have gourmet chefs that offer delicious food already prepared or for take-out. Sahadi's is a food lovers' paradise.
Brooklyn Cat Cafe
MEEEOW! Calling all cat lovers, this is one of the best things to do in Brooklyn Heights for you!
The Brooklyn Cat cafe is NYC's only non-profit cat cafe and doubles as an adoption center. What better pick me up than some coffee and kittens?!
I mean what else do we need to say. This place is friggin Purrrrecious so if you like cats this is your spot, if not well take a stroll over to our earlier pick for what to do in Brooklyn Heights, walk on over from Montague St to the Fruit Streets for some pretty building peeping.
Fulton Ferry Landing
Refurbished and re-opened in 1997 Fulton Ferry Landing is made up of 15 buildings built between 1830-1895. This is another historic thing to do in Brooklyn Heights located on the city's waterfront with epic views of Manhattan, the Brooklyn Bridge, and the Manhattan Bridge.
This is one of the most historic spots in Brooklyn being the location of the first ferry service on the East River between Manhattan and Brooklyn dating back to 1642.
This is also another Walt Whitman historic stop too being the inspiration for his famous poem, "Crossing the Brooklyn Ferry."
Today you can even use the ferry service here as this is the DUMBO stop.
Fulton Ferry Landing also is home to many Brooklyn treasures such as Pier One, Brooklyn Bridge Park, the Eagle Warehouse, and food staples like Grimaldi's, Ample Hills, Luke Lobsters, and more.
Brooklyn Bridge Park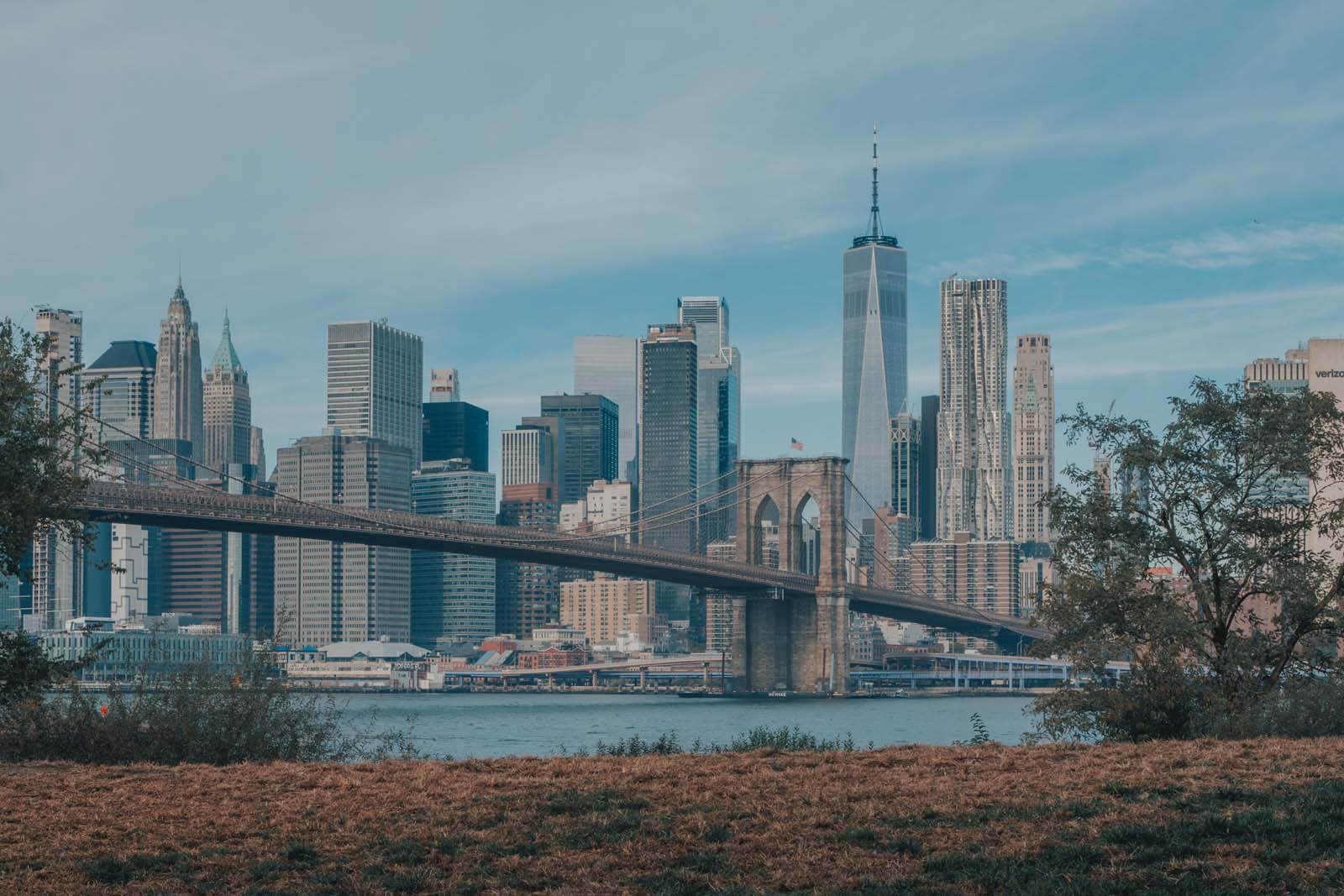 Another one of the best things to do in Brooklyn Heights that is shared with DUMBO is the waterfront Brooklyn Bridge Park. This 85-acre park stretches along the waterfront of Brooklyn Heights under the Promenade where the Piers are to just north of the Manhattan Bridge.
Brooklyn Bridge Park offers some of the best views juxtaposing the skyscrapers of Manhattan with the neighborhoods of Brooklyn and what we consider the best view in the city.
This is also an amazing place for not only photography but also one of the best picnic spots in Brooklyn as you've got a prime location for views of the Manhattan Bridge, Brooklyn Bridge, and NYC city skyline.
But besides views, Brooklyn Bridge Park has every activity imaginable, see our guide for everything to do at Brooklyn Bridge Park to learn more.
Everything from running, fishing, basketball, ping pong, roller skating, kayaking. If you want options for what to do in Brooklyn Heights. Brooklyn Bridge Park has all the options.
This is a great spot to try to plan your lunch or dinner around because of the amazing restaurants and the Time Out Market.
It's also a great location to get to if you want to try walking across the Brooklyn Bridge.
Bargemusic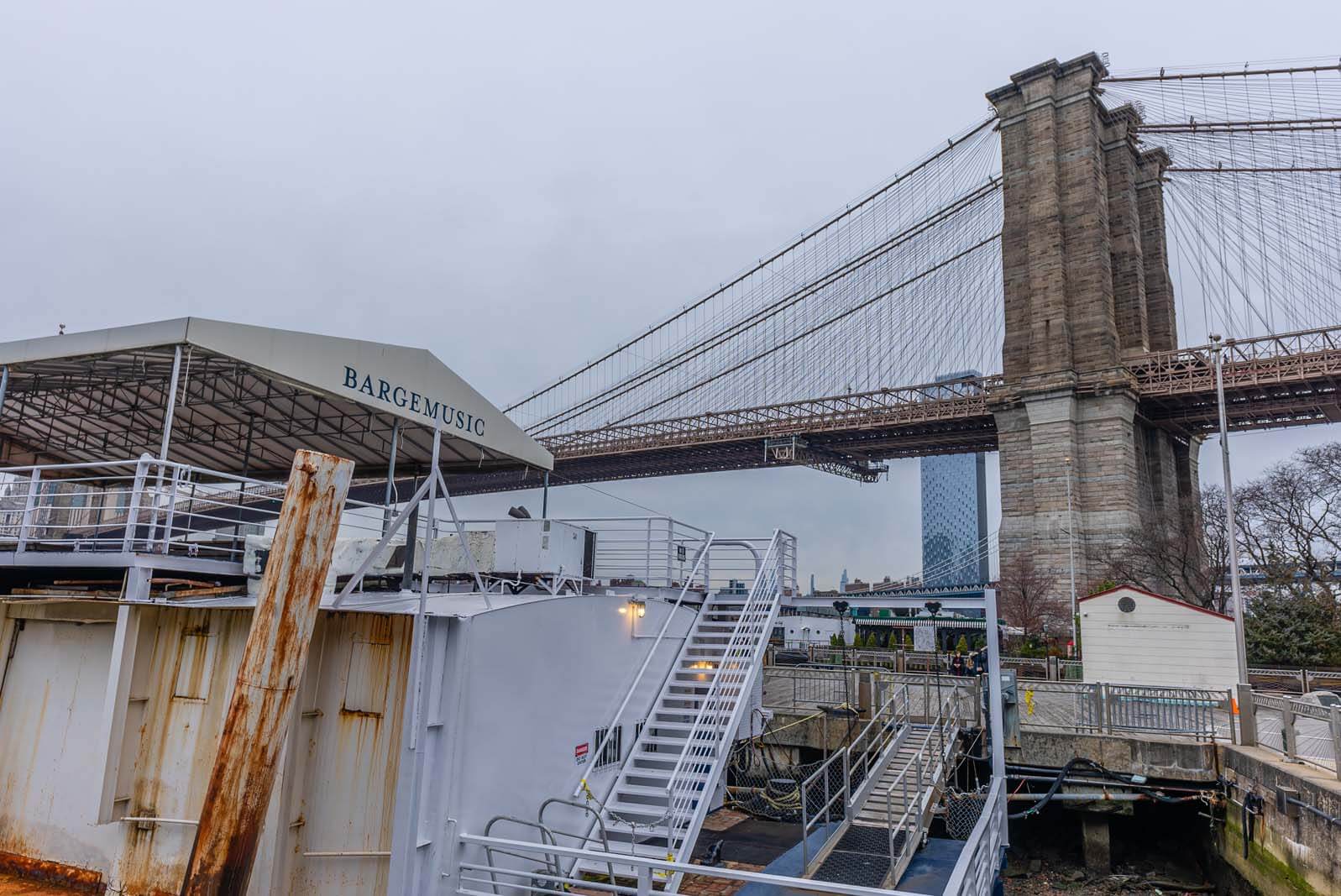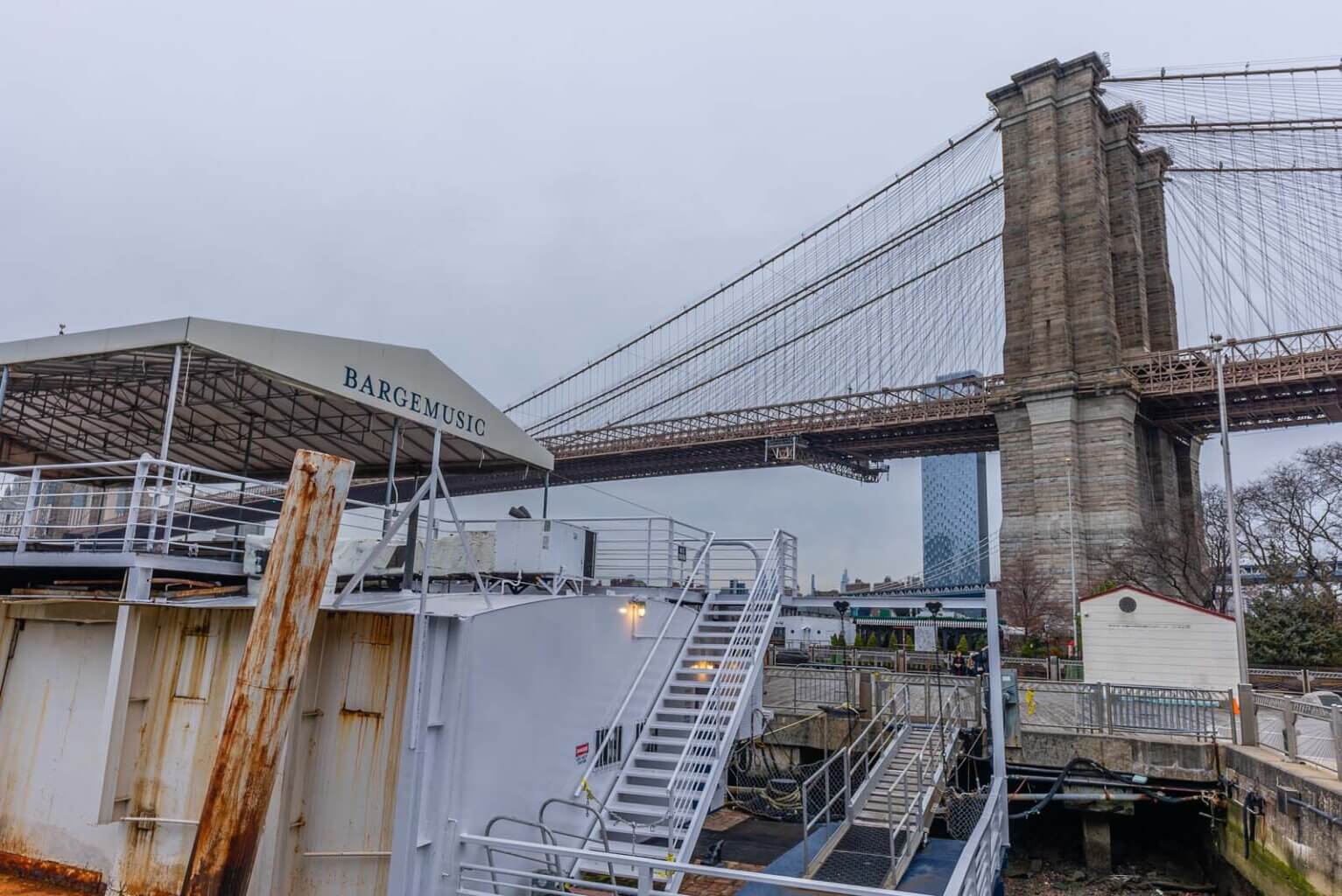 Calling all music lovers, docked right next to the Fulton Ferry Landing is Bargemusic, one of the best things to do in Brooklyn Heights just due to its sheer uniqueness.
Boasting up and coming as well as famous musicians playing music while you overlook the NYC skyline from this cool floating music venue.
Be sure to check out Bargemusic to see when their next waterfront performance is.
Harriet's Rooftop Bar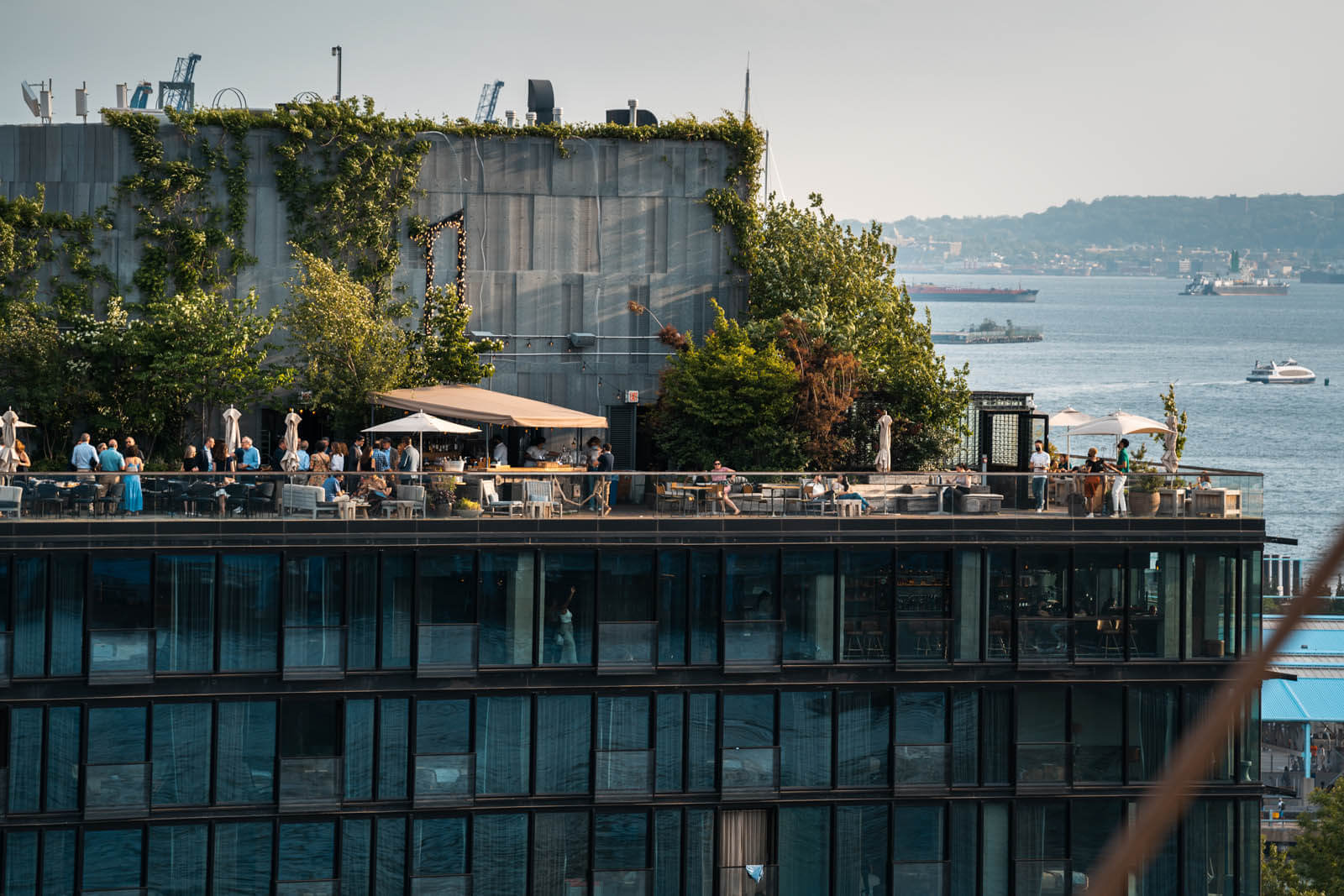 If cocktails and views is more your thing than while you're here or making your way to walk the Brooklyn Bridge, head over to Harriett's Rooftop bar, one of the best rooftop bars in DUMBO and worth mentioning since its technically in Brooklyn Heights.
Open year-round with indoor seating during the winter this 10th-floor bar offers stunning views set to a live DJ playing ambient music to enjoy while you relax and soak in some of the best views of the city.
Be sure to also check out more of the best rooftop restaurants and bars in NYC in our full guide!
A Novel Kitchen
Brooklyn Heights
One of the most interesting independent book shops in Brooklyn is located right here in Brooklyn Heights on Atlantic Avenue. A Novel Kitchen is a bookstore, a restaurant, and a record store in one of the coolest combinations the city has to offer!
Local restaurant owners lost their former business and by happenchance, through a note that was left on their car with a dent, they were connected to the owner of Better Read Than Dead, a local used bookseller. They formed a friendship and also included the head of Academy Records, one of the best record shops in Brooklyn, to bring a unique trifecta of all three in one space.
Mews and Carriage Houses of Brooklyn Heights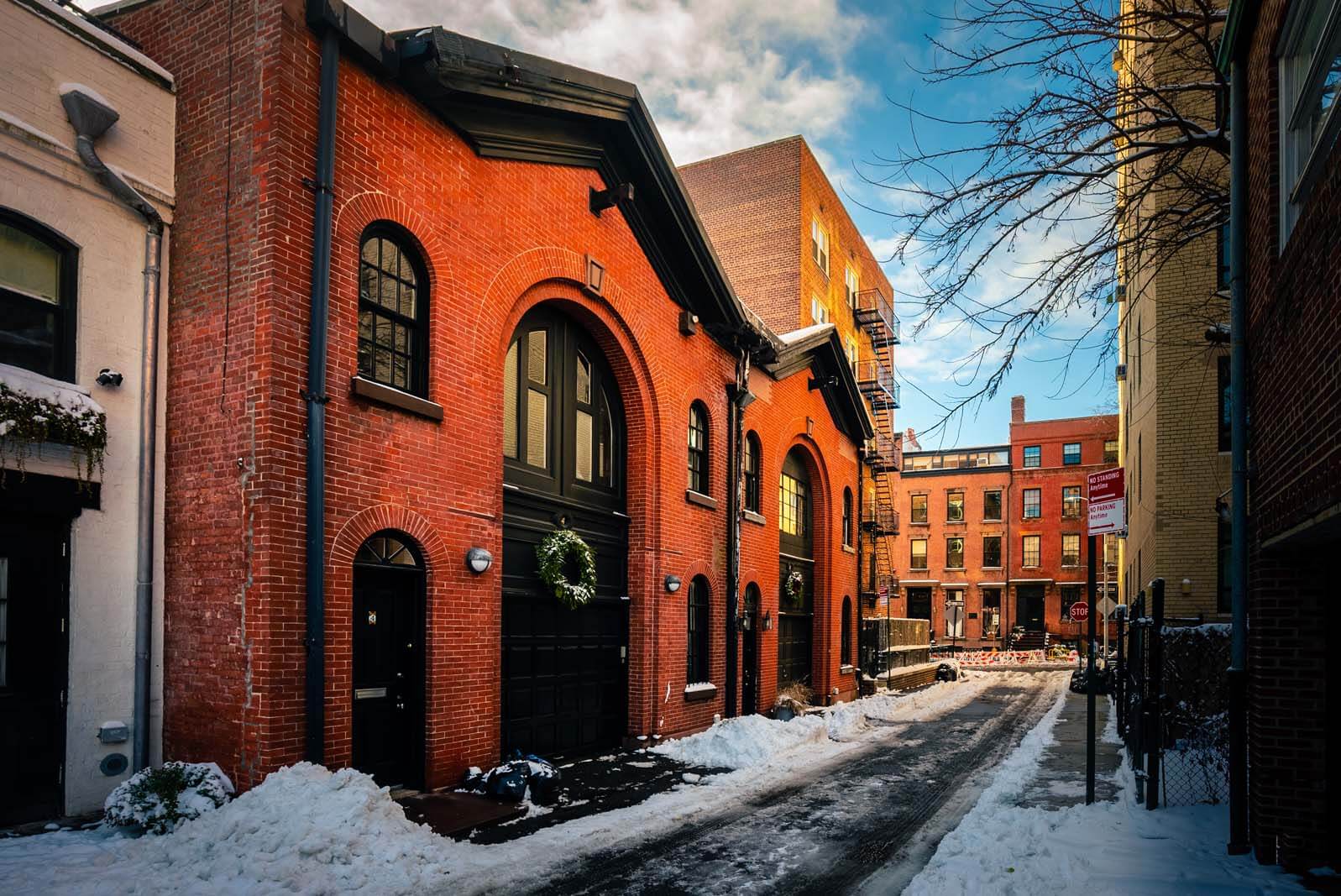 Taking a detour back to architecture lovers you will love to take a stroll and find all of the Mews, Carriage, and Row-houses nestled in Brooklyn Heights like an easter egg hunt and one of our favorite hidden gems in Brooklyn. These are some of the oldest homes in all of Brooklyn, which means they're some of the oldest homes in the United States. How cool is that?
These houses were once 'carriage houses' for horses and have been since converted into luxury townhouses that are each worth millions of dollars in real estate and are some of the most coveted homes to own in the city due to their historic charm.
You may happen to stumble upon a few of these hidden alleys and courts as you're exploring what to do in Brooklyn Heights and architecture peeping, but in case you need a little guidance we recommend heading down Grace Court Alley off Hicks St, Hunts Lane off of Henry Street, and College Place off of Love Lane.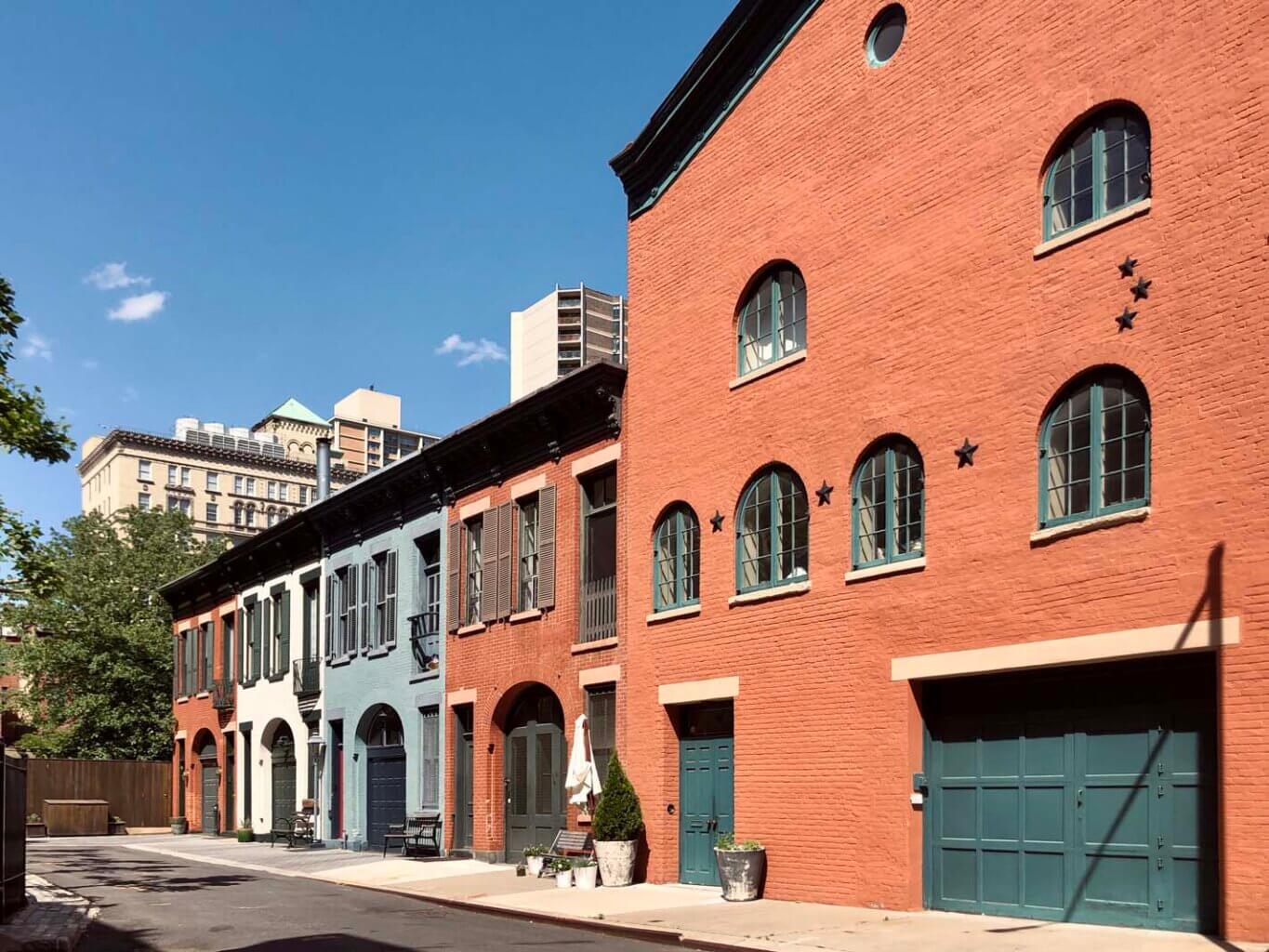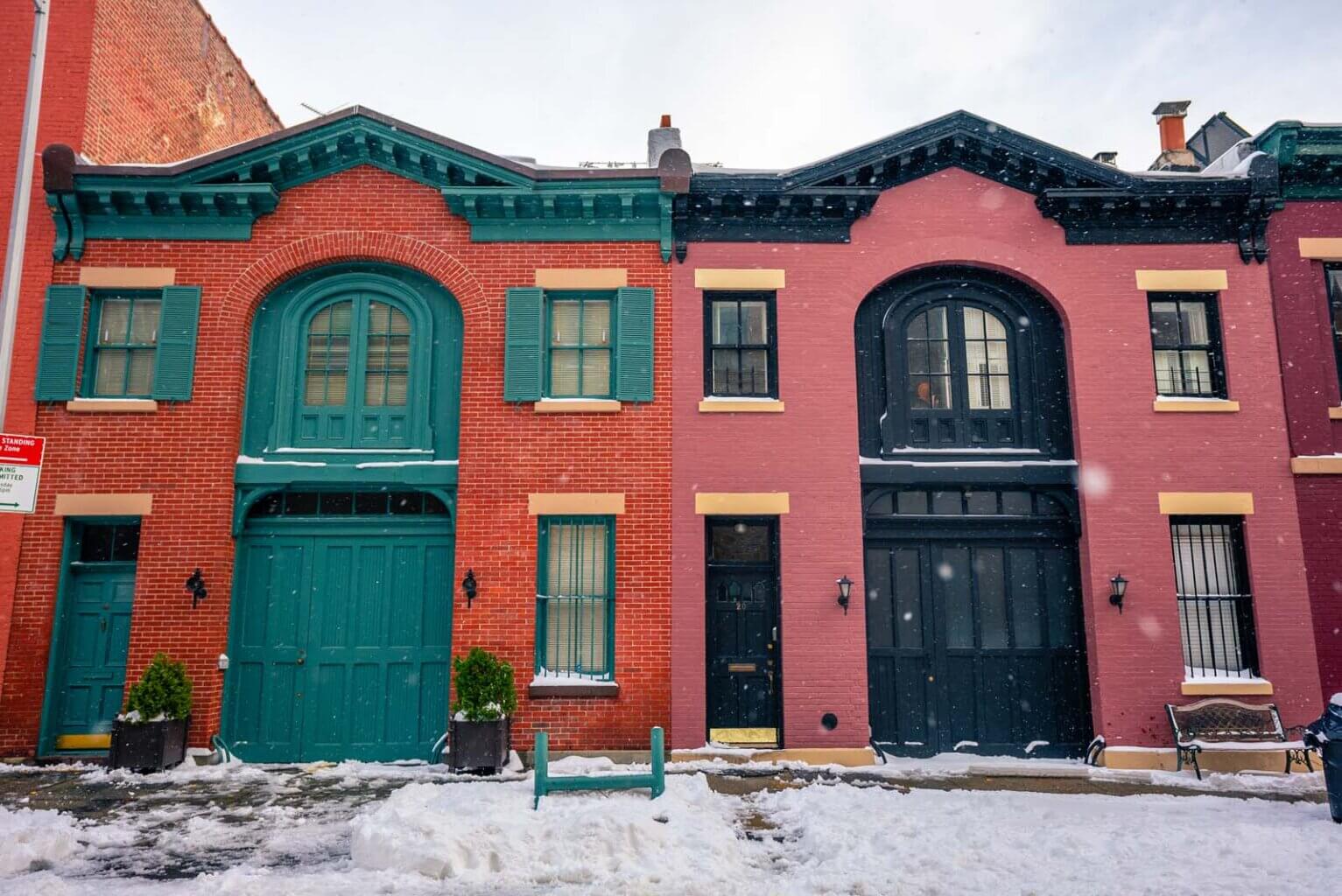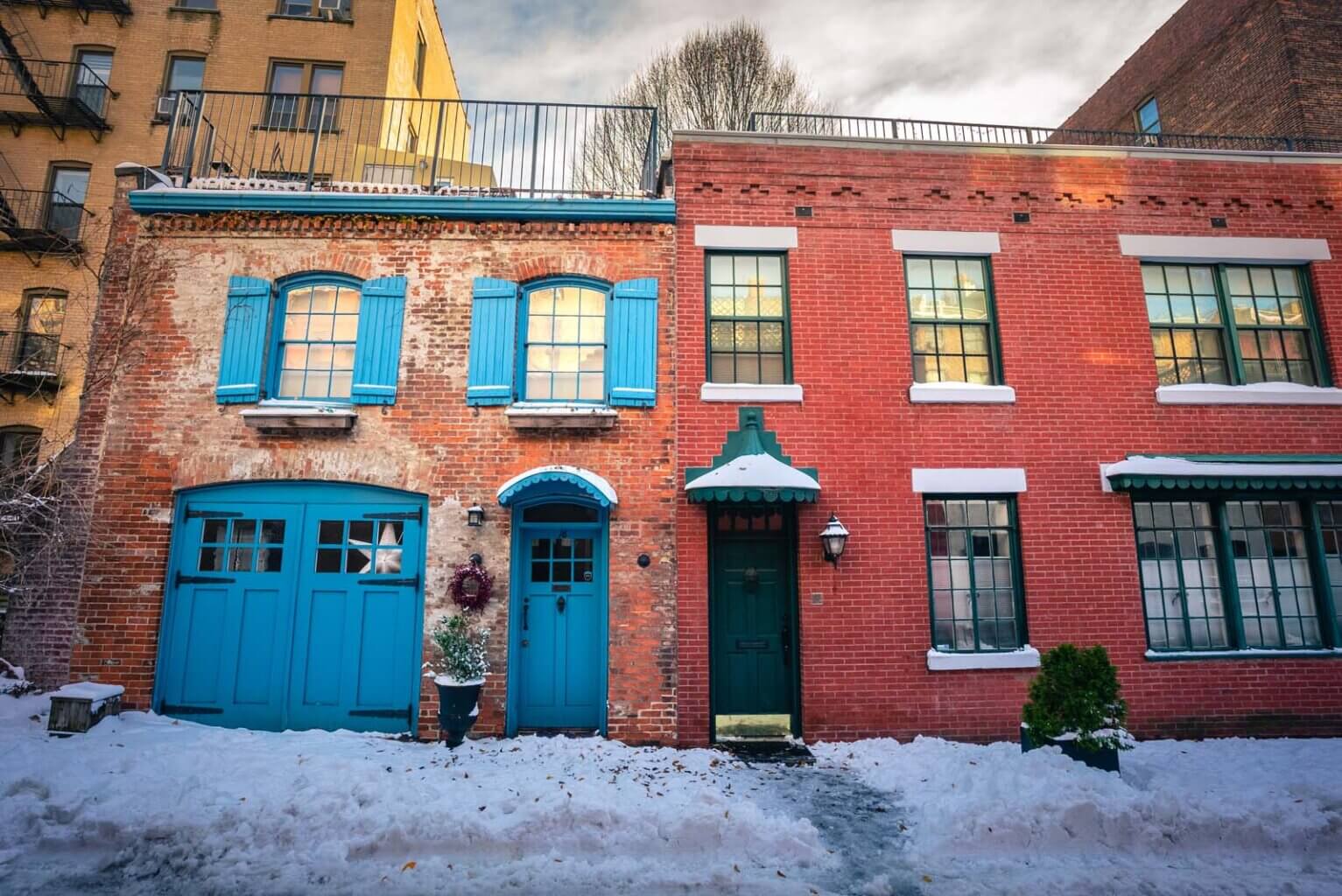 Getting Around Brooklyn Heights
Getting around to all the best things to do in Brookyn Heights couldn't be easier. Using the subway you can access the neighborhood at these stops.
Borough Hall/Court Street Station (2, 3, 4, 5, R lines)
High Street – Brooklyn Bridge Station (A, C lines)
Clark Street Station (2, 3 lines)
I recommend starting from the Court Street station. This way you can walk along Montague Street and enter the Promenade at Union Hall.
This way you get to enjoy all the architecture, see the Mews, the views, and everything in between. You'll be making your way to the Fulton Ferry Landing/Brooklyn Bridge Park which is a great place to rest and grab a bite to eat.
Things to do Nearby Brooklyn Heights
DUMBO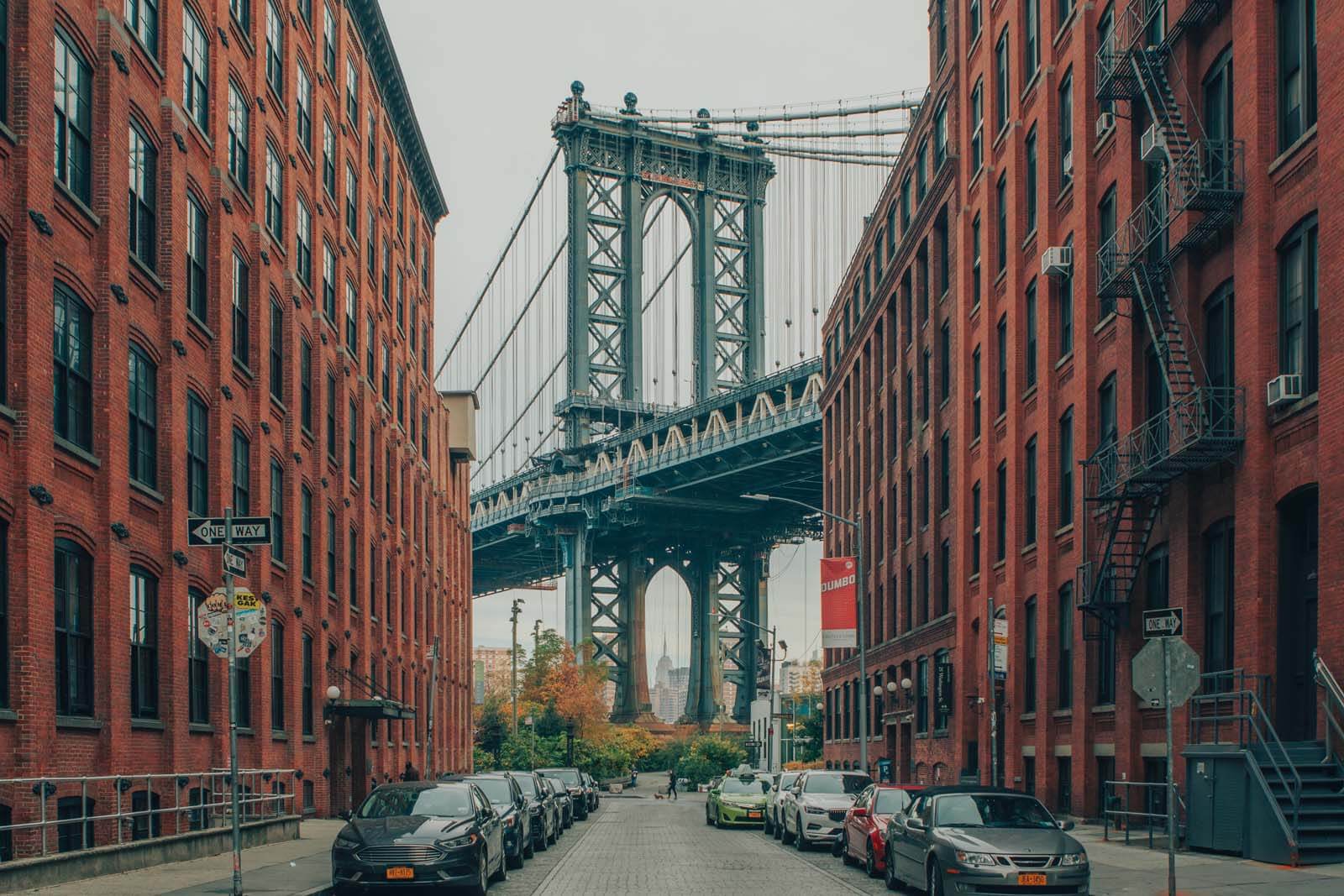 Right next door to Brooklyn Heights is DUMBO, which shares a few attractions like Brooklyn Bridge Park and the Fulton Ferry Landing attractions.
This neighborhood is not named after the cartoon elephant, but rather is an acronym for Down Under the Manhattan Bridge Overpass, you can read all about what DUMBO means here though.
DUMBO is a great place to spend time in and this popular neighborhood has arguably the best views of all of NYC. This neighborhood is pretty well known and popular among tourists and people who walk across the Brooklyn Bridge get dumped off here and as we mentioned, the views are famous here.
One of our favorite breweries in Brooklyn is here, Randolph Brewing who has a killer rooftop with views as well as the dining options and views from Time Out Market.
Be sure to read our full guide for the best things to do in DUMBO to make sure you don't miss anything!
Downtown Brooklyn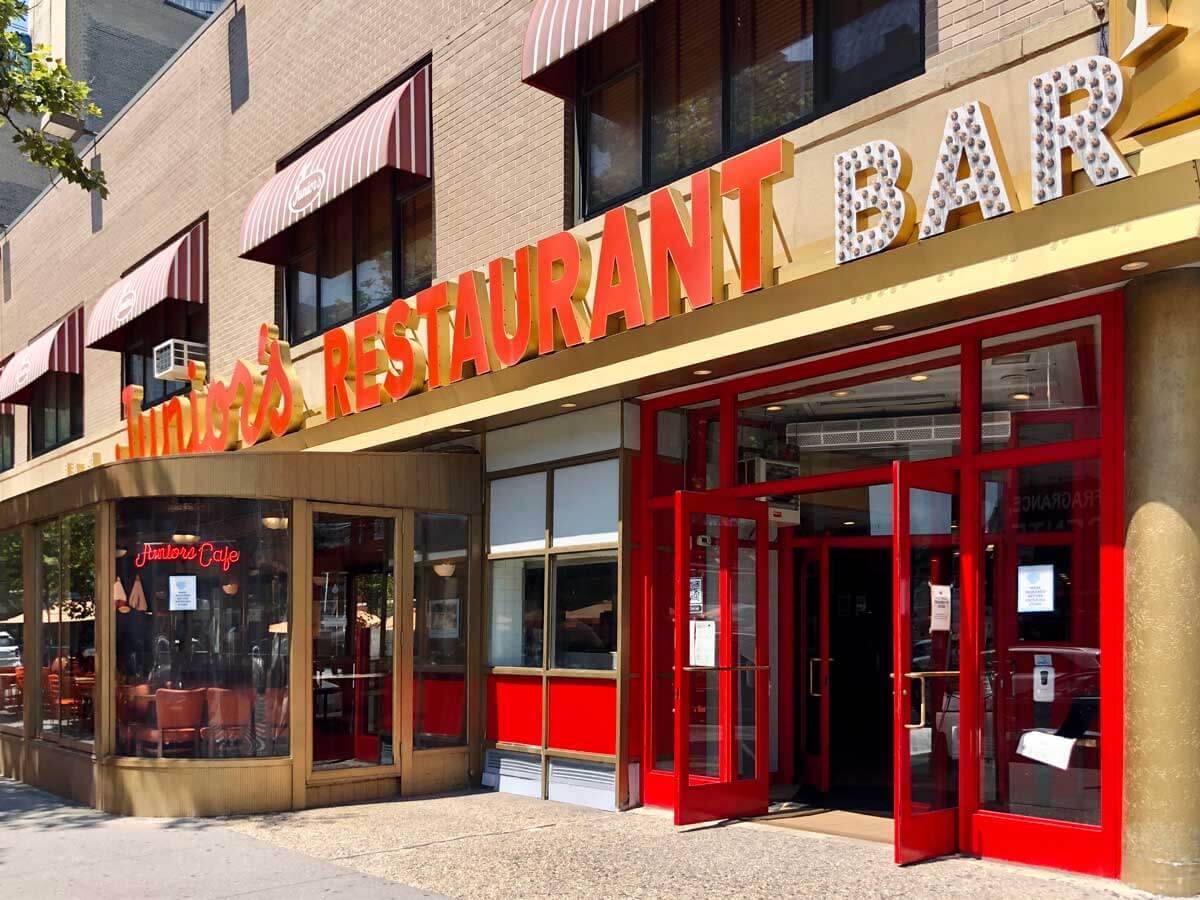 Downtown Brooklyn is now known as a great spot for where stay in Brooklyn because of its central location, proximity to popular venues like Barclay's, Atlantic Terminal, BAM, the Brooklyn Tabernacle Choir, restaurants, and universities.
Nearby you have Long Island University and New York University flooding the area with students, and all the can't miss things to do in Downtown Brooklyn!
Don't miss Dekalb Market at City Point either for their market hall full of 40 vendors with different food and drink options! Just around the corner is the famous Junior's Restaurant where you have to get a slice of their signature cheesecake.
Cobble Hill/Carroll Gardens/Boerum Hill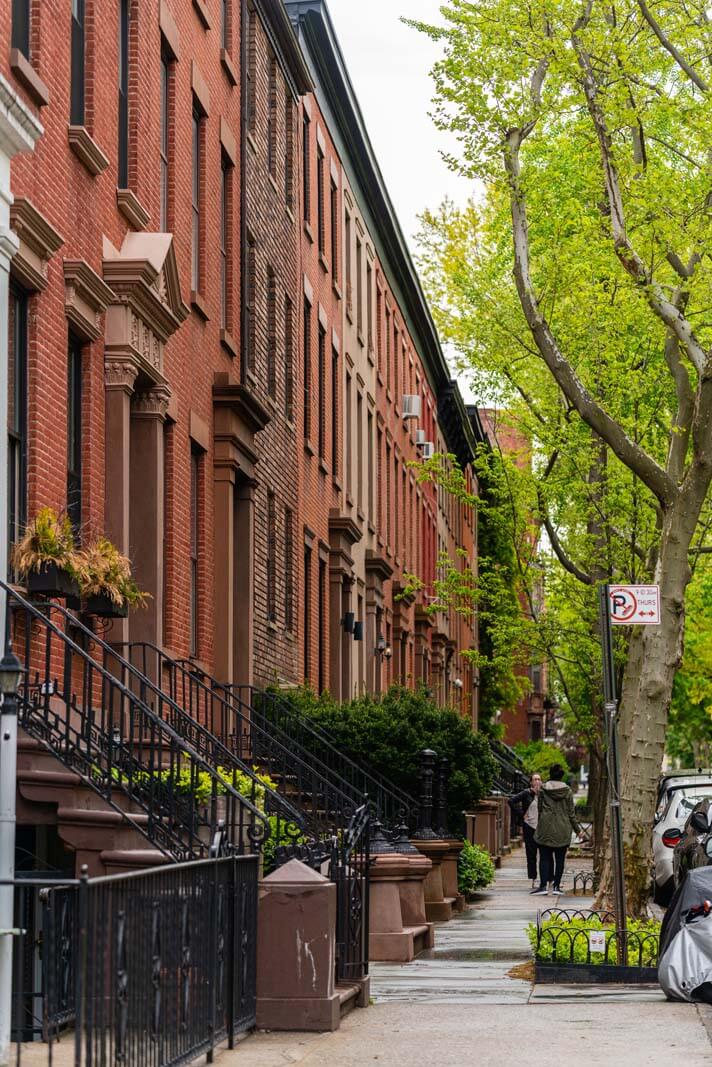 Right next to Brooklyn Heights are three more residential neighborhoods that are equally as beautiful and together known as BoCoCa (yea, that name is strange but it is shorter). Cobble Hill, Carroll Gardens, and Boerum Hill are filled with gorgeous brownstones and offer great dining and shopping at independently owned shops.
This personally is one of my favorite areas to go for a walk and grab a bite to eat. Henry Street is pretty and has some restaurant options, but you get into the larger selection of great restaurants and cool boutiques when you go down Court Street and Smith Street.
See our full guide to best things to do in Carroll Gardens for more ideas.
Where to Stay in Brooklyn Heights
New York Marriott at Brooklyn Bridge
A great place to stay in Brooklyn Heights with a convenient location connected by just about every subway line making it easy to get to and from. This Brooklyn Heights hotel option also has a rooftop with panoramic views of the city and a short walk to the entrance of the Brooklyn Bridge.
Book Now on Booking.com | Compare Prices for Later on Hotels.com | See Rates on Expedia.com
$$$ 1 Hotel Brooklyn Bridge
As mentioned earlier, this hotel is the home to Harriet's Rooftop & Lounge, a pick for what to do in Brooklyn Heights with one of the most stunning and spectacular views of the city and rooftop pool.
1 Hotel offers both Brooklyn and skyline views, which ultimately determine the cost of your stay. This is one of the finest properties and locations to stay in Brooklyn.
This 5-star hotel comes equipped with a bar/lounge, room service, complimentary wifi, and industrial-chic rooms.
Book Now on Booking.com | Compare Prices for Later on Hotels.com | See Rates on Expedia.com
$ The Tillary Hotel
The Tillary is located right between the action in Downtown Brooklyn and all the beauty in DUMBO and Brooklyn Heights which makes it a great location for exploring all the best things to do in Brooklyn Heights and the nearby exciting neighborhoods. Enjoy your view of the Manhattan Bridge right outside your hotel.
The Tillary provides a café, a bar, and even an outdoor terrace. The Tillary also offers complimentary wifi, 24/7 from desk, and soundproof windows (which can be a huge help when staying in NYC) with stylish rooms offering designer toiletries and fine Italian linens.
Besides having incredible views, you can find a great lobby lounge and beer garden here for a fantastic spot to hang out steps away from your room.
There is parking on the property as well for an added fee.
Book Now on Booking.com | Compare Prices for Later on Hotels.com | See Rates on Expedia.com
---
Enjoyed this guide for what to do in Brooklyn Heights? Bookmark for later or share the love below on Pinterest!