Looking for the best things to do during Thanksgiving in NYC? We got you. While this is one of the biggest holidays of the year, you'll be surprised at how many attractions and things are happening in New York on Thanksgiving (including the week before and after the holiday) to add to your trip!
This is literally the kick-off of the holiday season in the city, which is without a doubt the most magical time of year to visit! There's a reason why the city attracts over 5 million visitors annually during this festive and joyous season!
This guide is going to cover all the best New York City Thanksgiving activities from where to make your reservation for your Thanksgiving feast to things to do on Thanksgiving Day in New York City including all the holiday fun happening the week of before and after Thanksgiving Day.
Plus we cover a few secrets and local tips for how to witness the famous Macy's Thanksgiving Day Parade in person!
Average Weather in NYC at Thanksgiving
In November and around Thanksgiving in NYC temperatures start to really cool down with an average of lows of 42°F and an average high of 55°F meaning you'll want to bring extra layers and jackets accordingly.
This is especially important if you plan on waking up early to enjoy the annual Macy's Thanksgiving Day Parade in person!
If you're still not sure how to dress, check both our guides to what to wear in NYC in the fall and what to wear in NYC in the winter. The weather could go either way! It's best to check the weather again a day before your visit!
Things to do in NYC at Thanksgiving
Macy's Thanksgiving Day Parade Balloon Inflation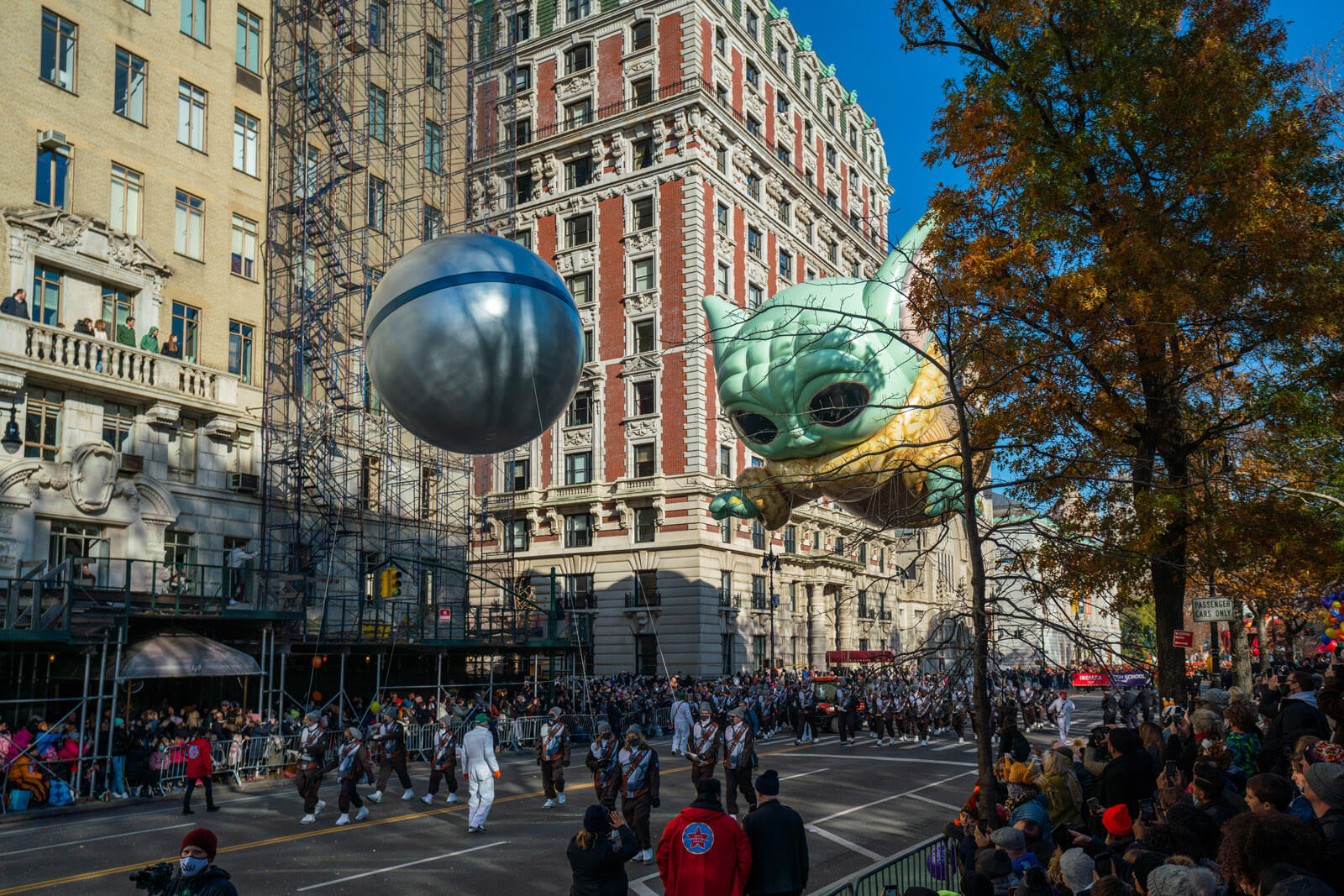 Day Before Thanksgiving in NYC
Did you know that the Thanksgiving Day Parade balloons must now be able to fold down into 12' x 8' boxes, in order to be transported through the Lincoln Tunnel from the Macy's Parade Studio in New Jersey? Each balloon requires 90 handlers, each weighing a minimum of 120 pounds!
One of the best things to do during Thanksgiving in NYC is be a spectator the day before the Macy's Thanksgiving Day Parade when the balloons are being inflated and you can see them slowly come to life and prepare for the parade day festivities. This has been a holiday tradition since 1927!
This takes place on the streets surrounding the Museum of Natural History on the Upper West Side (at Columbus Avenue at W 77th) the Wednesday before Thanksgiving Day (and the parade) from 12 PM to 6 PM.
Spectators are welcome and you can see the famous balloons inflate and how they are carefully held under nets with sandbags to weigh them down until the next morning.
Macy's Thanksgiving Day Parade
Thanksgiving Morning in NYC
One of the most famous events and things to do in NYC is attend the Macy's Thanksgiving Day Parade! This annual Thanksgiving parade is the world's largest parade presented by the timeless Macy's Department Store at Herald Square kicking of the holiday season in New York City.
On the morning of Thanksgiving day in NYC the three-hour broadcasted parade starts on the Upper West Side and ends right outside of the Macy's department store at Herald Square with the larger than life floats, famous character balloons like Snoopy, performances, and special celebrity appearances and performers.
The parade starts at 9 AM on Thanksgiving Day in New York City. The parade route starts at 77th Street along Central Park West to Columbus Circle, it then goes along Central Park South to 6th Avenue, then it turns down 6th Avenue to 34th Street where it continues until it reaches Macy's at Herald Square.
If you plan on attending in person, unless you are a family or friend of a Macy's employee and can snag a ticket for the bench seating, you'll have to find a viewing spot along the route. Don't worry, this isn't as crazy as it sounds, you just have to plan to go early!
To get a good viewing spot, you'll want to arrive around 6:00-6:30 AM along the edges of the parade route. The parade's duration will also depend on where you stand as if you're closer to the starting point, you'll see the final float with Santa Claus before the folks at Macy's at Herald Square.
For in-person spectators, the NYC Thanksgiving Day Parade lasts 90-minutes from the first to last float. They stretch it out to three hours for the TV broadcasting to include all the musical and celebrity performances.
One of the best spots to view the parade in person is along Central Park West (between 61st and 72nd streets) and keep in mind that the crowds are much larger towards Macy's since that's where many of the performances happen.
Here are some general tips for attending the Thanksgiving Day Parade:
You'll want to dress warm! It will be much colder early in the morning when you get your spot. Be sure to wear thick, warm socks, layers including a thick winter jacket, have gloves, and you may even want to bring a blanket to wrap up in as you won't be moving around alot.
Bring snacks and water. You'll be in one spot for hours. If you're with a group it will be easier to have one person leave and come back to your spot. We saw people leaving to grab hot coffee and hot cocoa for the group and take turns going to the bathroom.
Have a buddy or friend with you so one can hold your spot while the other finds a bathroom or goes on a hot cocoa run at a nearby cafe. Speaking of, you'll want to download the Lulu app ahead of time to help you find the nearest restroom or check out this website which has a map of NYC restrooms. Plan your snack/drinks around the bathroom visits and be patient as it may take a long time to get back to your spot.
Alternatively, if crowds and standing around in the cold are not for you, tune in on the live broadcast from the comfort of your home or if you're in the city spring for an NYC hotel with a view!
Thanksgiving Dinner in NYC
Visiting NYC at Thanksgiving wouldn't be complete without a feast! While some restaurants close to observe the holiday, there are plenty of restaurants in NYC at Thanksgiving that stay open for dinner. If you are visiting NYC at Thanksgiving though, you'll want to plan this meal, especially in advance and secure a reservation!
One of the best things to do in NYC at Thanksgiving is to enjoy the Thanksgiving Day feast at Tavern on the Green (W 67th Street in Central Park) a classic, Old-New York joint famous for housing gatherings of prominent New Yorkers for decades in Central Park! Each year they do a 5-course dinner special, but as this is one of the most highly coveted Thanksgiving feasts in the city, you'll need to make a reservation well in advance.
Carmine's (200 W 44th St) is one of the most famous Italian restaurants in the city that offers a classic Thanksgiving Day feast. The restaurant is famous for being 'family-style' and Thanksgiving Day is no different where they offer guests an 18-pound roast turkey with all the trimmings.
If you're looking to dine at one of the best steakhouses in NYC, consider booking your Thanksgiving feast at Keen's Steakhouse (72 W 36th St) where they offer a multi-course, classic American Thanksgiving Day Dinner for guests.
Bubby's (120 Hudson St) in TriBeCa in Lower Manhattan serves a traditional Thanksgiving Day Feast with their turkeys coming from a local farm in Upstate New York.
Osprey (60 Furman St) at 1 Hotel Brooklyn Bridge offers a 4-course lunch and dinner special on Thanksgiving Day in DUMBO/Brooklyn Heights.
One If By Land, Two If By Sea (17 Barrow St) not only offers service on Thanksgiving Day but it's a set in a historic building that was once the site of Aaron Burr's carriage house and actor Steve McQueen even rented out the apartment on the upper level!
Speaking of historic venues, Fraunces Tavern (54 Pearl St) in the Financial District offers a 3-course prix fixe Thanksgiving dinner for guests in one of the oldest taverns in New York (dating back to 1762) and is where not only Founding Fathers would hang out and have a drink but where George Washington gave his farewell address to his Continental Army. Without a doubt, this is always one of my favorite places to go in the city and better yet you can spend a special holiday here too.
Boucherie, a popular French brasserie with four locations in Manhattan offers Thanksgiving Day lunch and dinner.
Visiting Chinatown is also a great way to spend Thanksgiving in New York as many of the restaurants stay open on the holiday. If you're not sure where to eat, a few of our favorites include Joe's Shanghai (46 Bowery St) and Great N.Y. Noodletown (28 Bowery St).
Bryant Park Winter Village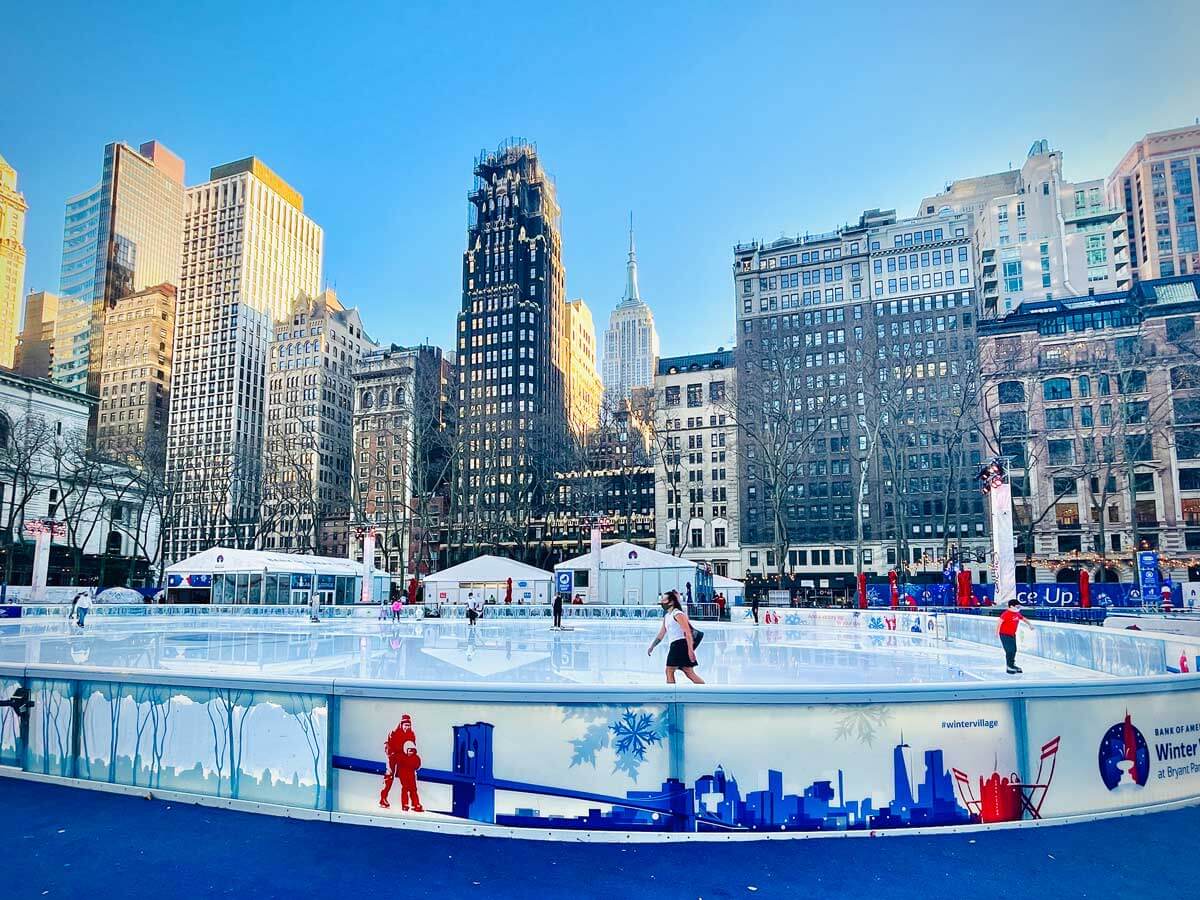 While many of the Christmas markets in the city start after Thanksgiving, the Bryant Park Winter Village starts setting up a bit earlier than the rest usually starting at the very tail end of October meaning that when you're visiting NYC at Thanksgiving you'll have the opportunity to check out all the fun here!
Located in Midtown East at Bryant Park, nestled up next to the New York Public Library, which you absolutely need to visit to see the original Winnie the Pooh and friends in the Treasures Collection and take a free tour to the Rose Reading Room, is the famous winter village that includes a whimsical holiday market with vendors selling all kinds of gifts and goodies, outdoor bars, winter igloo dining, an ice rink, and other fun festive activities to enjoy!
Surrounding a 17,000 square-foot ice rink with free skating (you just have to rent your skates unless you have your own), the winter village features dozens of artisan kiosks offering distinctive gifts ranging from jewelry to children's toys to holiday candies.
There are ample options for on-site food and drink, including inside The Lodge if you need a break from the outside cold. You can also book a private cozy igloo for you and your family or friends.
This is without a doubt one of the most beloved things to do in NYC at Christmas time and one of the best ice rinks in NYC too!
Start Celebrating Christmas (Holiday Displays & Christmas Bars)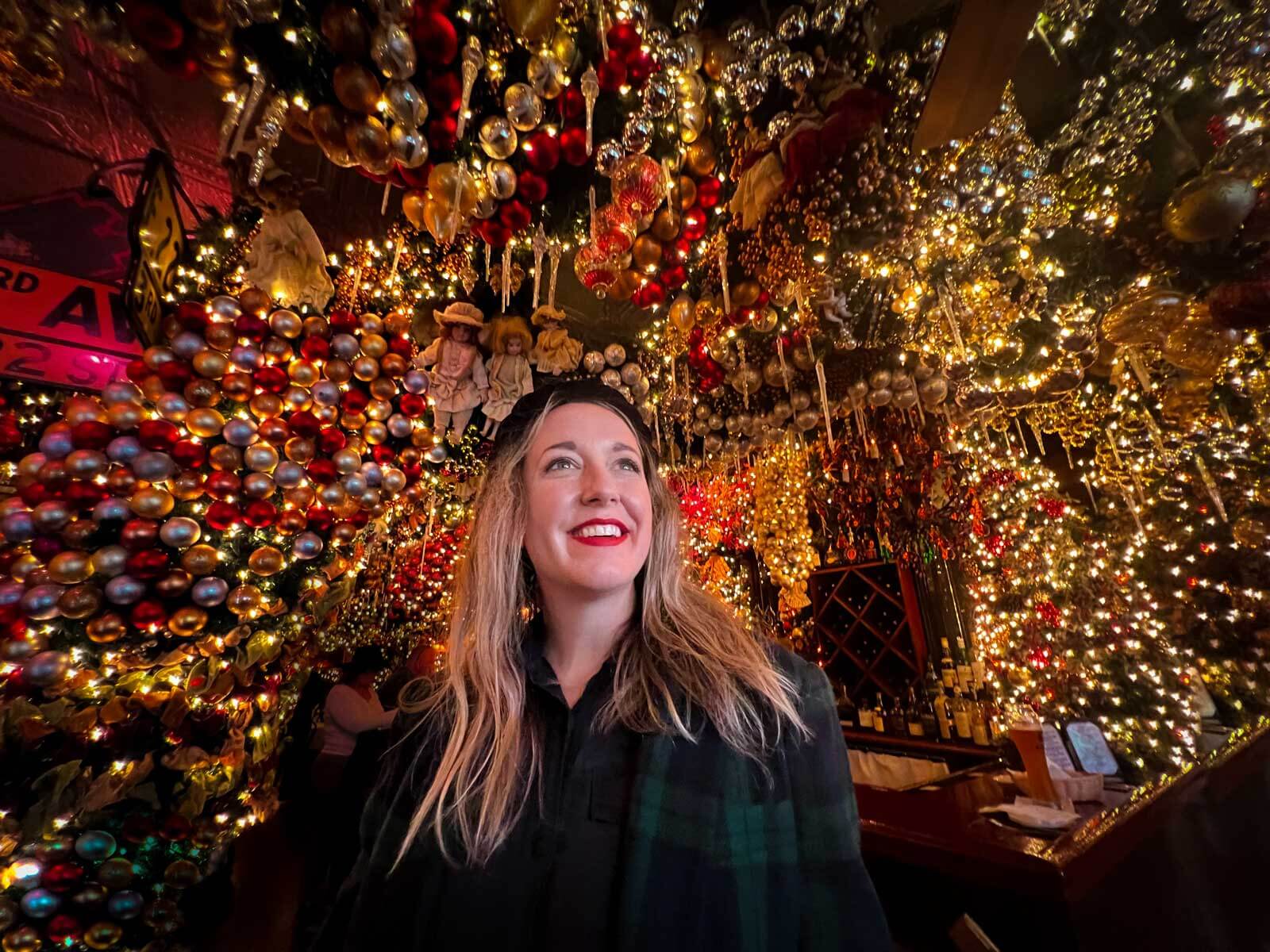 What's great about Thanksgiving in NYC is that it's the kick-off to the holiday season, which is the most whimsical and magical time of year to come to the city on a vacation. There are so many awesome things to do in this time of year you could build a whole week in New York City itinerary around all the festivities (we do have a New York Christmas trip itinerary too), but if you're visiting New York at Thanksgiving you might be able to see some of the earlier holiday displays!
The most famous Christmas trees in New York City don't start going up until closer to December unfortunately, but you can start to see some of the department stores' holiday displays and shops around the city prepare for the season!
As a matter of fact, some restaurants are already decked out for the season! Be sure to make a visit to Rolf's German Restaurant (281 3rd Ave) for a drink at the bar, lunch, or dinner as this is probably the most famous Christmas bar in NYC!
Each year the restaurant is covered floor to ceiling in holiday decorations from thousands of ornaments dangling from the ceiling to (creepy) dolls and other festive decor in every square inch of the restaurant! It's definitely a must if you've never been! 
If you come right when they open for lunch you have a chance to squeeze in a the bar without a reservation or long wait. Otherwise, you can try your luck at making a reservation – but they don't have the best system in place to take all the calls they get as this is a VERY popular holiday spot starting at the end of October – just in time during your NYC Thanksgiving trip!
Pete's Tavern (128 E 18th St) also gets its holiday lights up early and is a great place to have a drink in a decorated, historic bar on your NYC Thanksgiving trip!
Head to Saks Fifth Avenue Holiday Light Show which typically starts Thanksgiving week in NYC! Witness an illuminated and mesmerizing LED light show 10 stories high synchronized to festive music every ten minutes from 4:35 to 11:35 PM daily! Better yet, this is completely free to enjoy and one of the best holiday light displays in New York City to check out!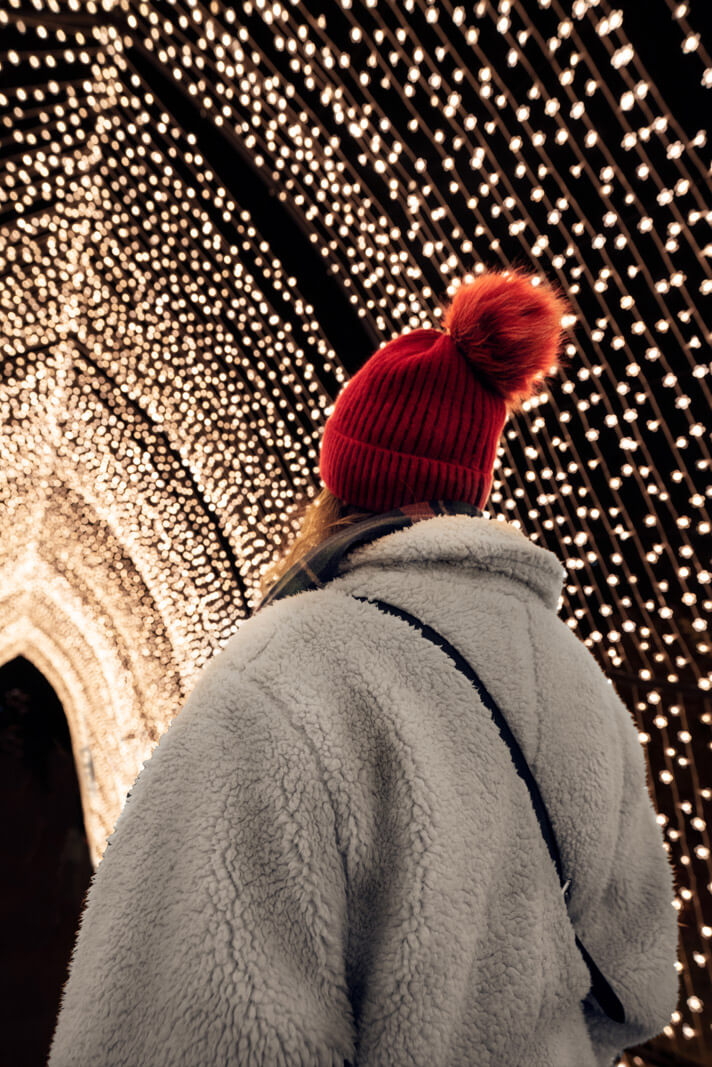 Starting the day after Thanksgiving in NYC, you can witness the Holiday Luminaries at Brookfield Place in Battery Park City in the Financial District of Lower Manhattan. Inside this upscale shopping complex, you can stand under the glowing 650 lanterns hanging from the ceiling. The visual show is synchronized to music as each lantern changes color and intensity to the music.
Starting the week of Thanksgiving you can visit Brooklyn Botanic Gardens for their annual holiday Lightscape extravaganza. Take a walk through the illuminated gardens after-dark where you'll experience over one million lights on display synched to music along with art installations from different artists in this mesmerizing experience (typically starting the weekend before Thanksgiving in New York).
The Nutcracker Ballet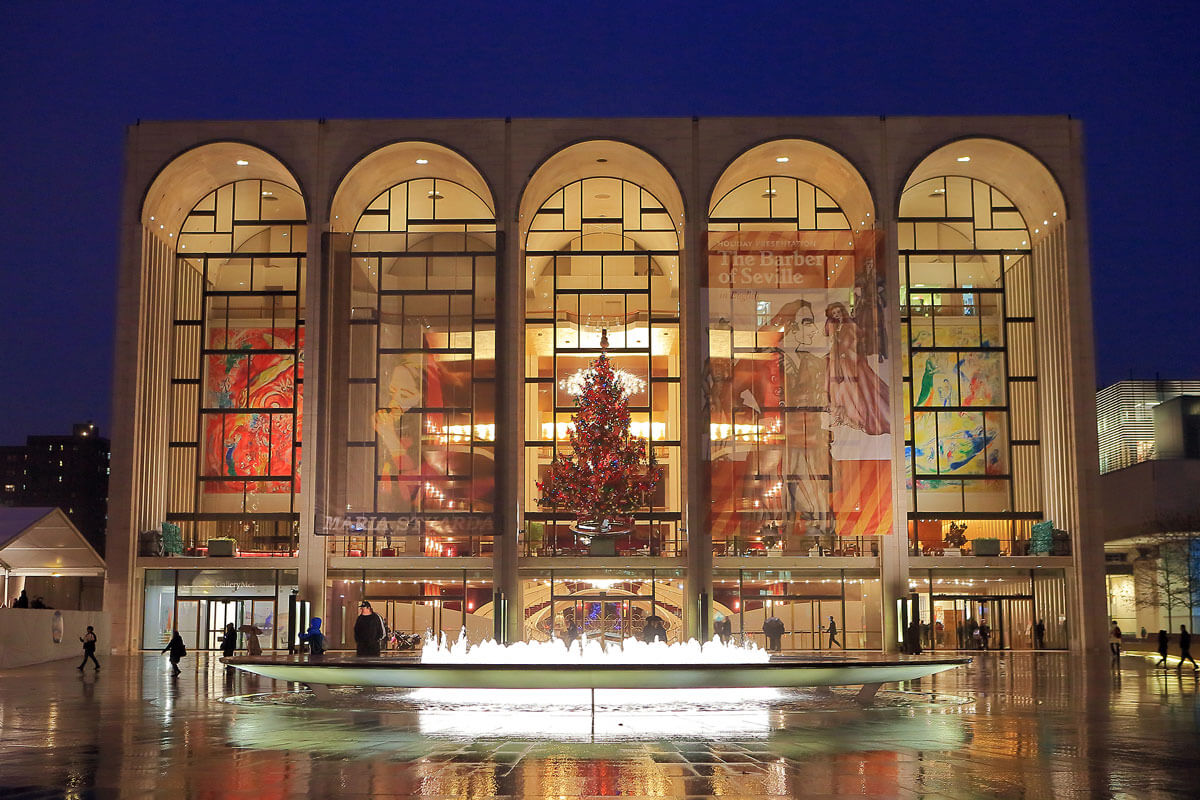 If you're visiting NYC at Thanksgiving, be sure to stay an extra few days for all the holiday events that start after Thanksgiving Day. One example of that is seeing The Nutcracker Ballet performed by the world-famous New York City Ballet at the Lincoln Center.
The first performance is the Friday after Thanksgiving and they continue through the holiday season.
You can get tickets for the Nutcracker on SeatGeek, and when you add our promo code BROOKLYNGUIDE to your SeatGeek account, you receive $20 off your first ticket purchase.
(We receive a small commission at no extra cost to you)
Radio City Christmas Spectacular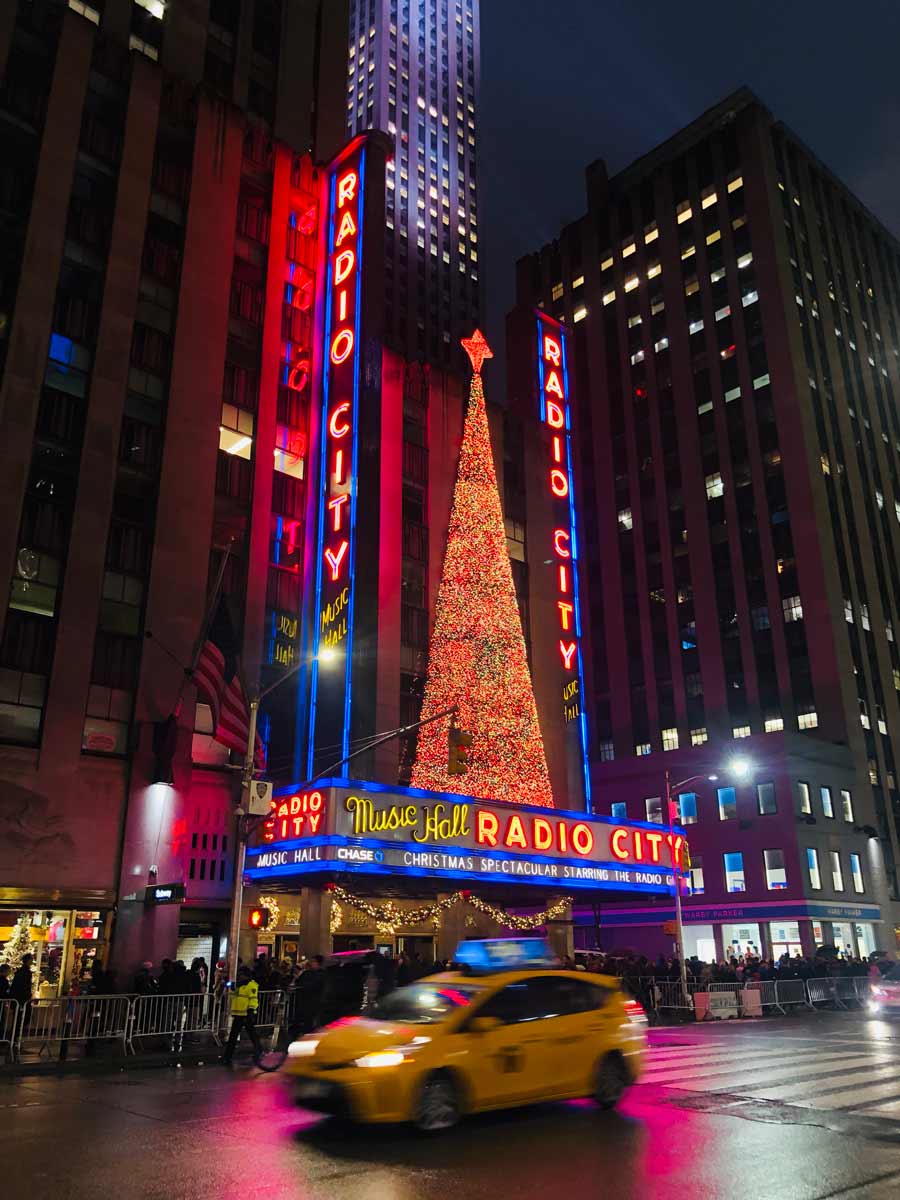 Starting the week of and easy addition to your New York City Thanksgiving trip is seeing the classic and most famous annual holiday performances by none other than the Rockettes at Radio City Music Hall! They typically have shows starting a few days before Thanksgiving and are in high demand, so you'll want to secure your tickets!
The Radio City Christmas Spectacular has been a tradition since 1933 at none other than the famous Radio City Music Hall, which also gets decked out for the holidays too! And you'll get to witness some of the most popular numbers in person including "The Parade of the Wooden Soldiers" and the Living Nativity (The Living Nativity also features live camels! Who you may see taking a walk break with their handlers on 6th Avenue).
Plus, Santa makes a surprise visit at the end! You can get tickets for the Radio City Christmas Spectacular on SeatGeek, and when you add our promo code BROOKLYNGUIDE to your SeatGeek account, you receive $20 off your first ticket purchase.
(We receive a small commission at no extra cost to you)
Holiday Train Show at New York Botanical Garden
Another great addition to your New York City Thanksgiving trip and a holiday favorite is making a visit to the New York Botanical Garden in The Bronx for their annual Holiday Train Show where the lush and verdant gardens transform into a winter wonderland.
The Holiday Train Show is an impressive and magical showcase of detailed replicas of New York City and train stations inside the Enid A. Haupt Conservatory (which is great if it's extra cold during Thanksgiving in NYC as it's indoors).
Also, while you're here you can check out NYBG GLOW, a holiday light showcase where guests can stroll through the glowing garden grounds on a 1.5 mile pathway. You can even grab a hot chocolate for the way!
You'll need to secure tickets in advance, be sure to check out the NYBG website to check out dates, times, and purchase tickets.
And while you're in the Bronx, make a trip to the Bronx Zoo for their holiday lights! The Holiday Light Show opens the same time as NYBG Glow and the Holiday Train Show, usually early Thanksgiving week meaning it's an easy addition to your NYC Thanksgiving activities! See hundreds of animal-themed lanterns and light shows around the zoo! Get your tickets in advance here.
Try Pumpkin Flavored Goodies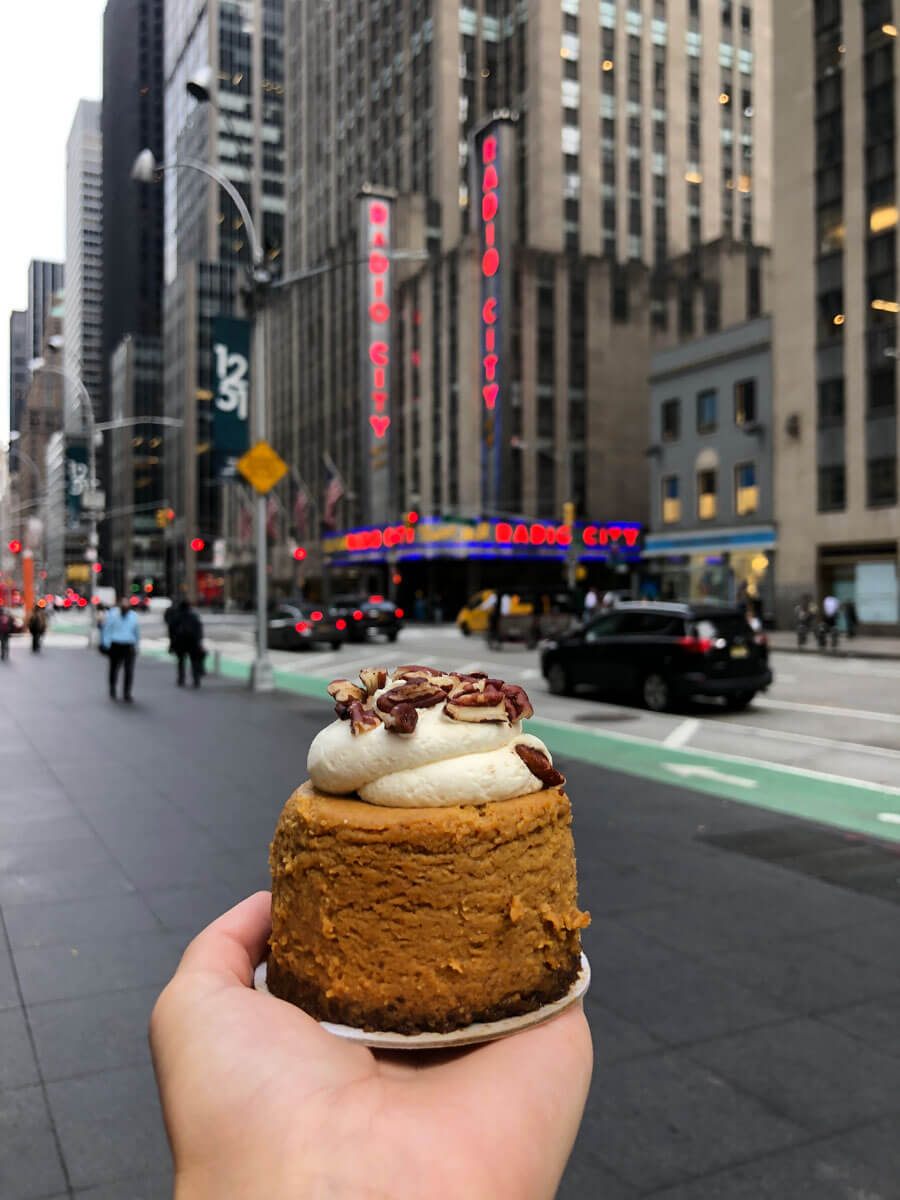 Starting as a staple in your fall diet are all the goodies that are pumpkin spice flavored which time up perfectly for Thanksgiving in NYC as pumpkin pie and pumpkin-flavored goodies are a traditional dessert on this joyous holiday.
Lucky for you there are several great places to grab a pumpkin-flavored treat and dessert (including most of the NYC Thanksgiving dinners mentioned above which often include a classic pumpkin pie dessert option). For those looking for other pumpkin-flavored goodies, you're in luck!
First, don't want to miss is the famous Magnolia Bakery well known for its banana pudding. During the fall, they not only have pumpkin cheesecake but pumpkin spice pudding that is as heavenly as it sounds!
The Little Cupcake Bakeshop, known for its amazing cupcakes and cakes (whole or by the slice) have a pumpkin spice flavor in the fall that you won't want to miss!
For donut fans, The Doughnut Plant offers two types of pumpkin spice donuts including a cake donut and a regular yeast-based donut topped with a glaze and spiced pumpkin seeds or pepitas!
One Girl Cookies is well known for their sweet treats and for pumpkin spice lovers you have to try their signature pumpkin whoopie pies!
Chip City Cookies has a pumpkin spice latte cookie made with warm spices and oozing with espresso dulce de leche on the inside!
City Cakes has one of the BEST cookies in the world. Hands down. And during this festive time of year they offer a pumpkindoodle pie cookie flavor! YUM! This flavor combines their signature Sugardoodle (a sugary snickerdoodle) base with pumpkin pie cream cheese filling! Oh, and each cookie is a half a pound!
Ice Skating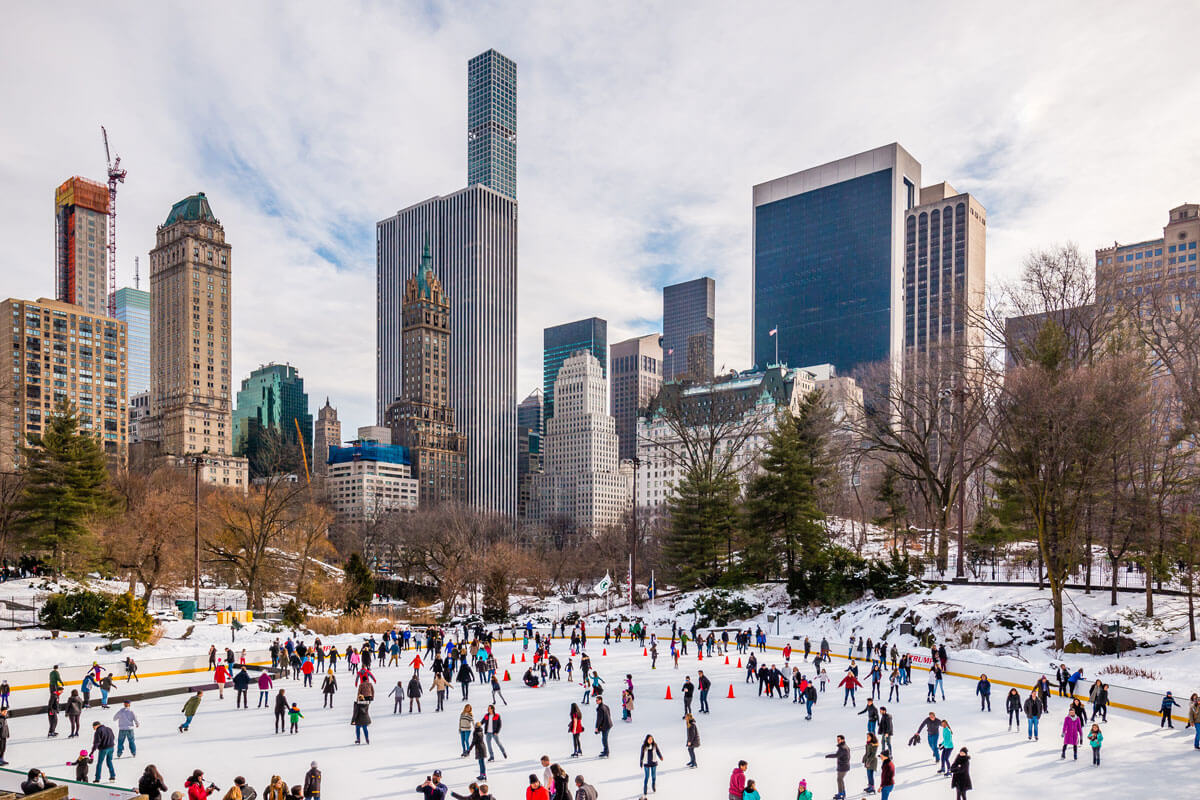 One of the best things to enjoy around the holidays, including Thanksgiving in New York, and best things to do in winter in NYC is enjoy ice skating at one of the many incredible rinks in the city.
During Thanksgiving week you can stop by two of the best ice rinks in NYC, the ice rink at Bryant Park Winter Village and the famous Wollman Skating Rink in Central Park, where you can feel just like Kevin in Home Alone 2: Lost In New York as this was a filming location at one of the most iconic scenes!
The Bryant Park Winter Village ice rink is completely free! Well, if you have your own skates, otherwise you can rent those and a skate aide if you have a youngster who needs some help.
If you're visiting New York at Thanksgiving you absolutely need to take a post-feast stroll through Central Park and while you're doing that, make your way to the Wollman Skating Rink to join in on the fun or at least be a spectator with a backdrop of the city and skyline!
Wollman Rink does require admission ($19 for adults, $11 for kids on weekends, with skate rentals available for $10) but even if you're not ice skating, it's a fun place to watch and soak in the holiday spirit!
Glide at Brooklyn Bridge Park offers one of the most unique ice skating rinks in the city located underneath the historic Brooklyn Bridge with skyline views! They open mid-November and are open on Thanksgiving Day!
QCNY Spa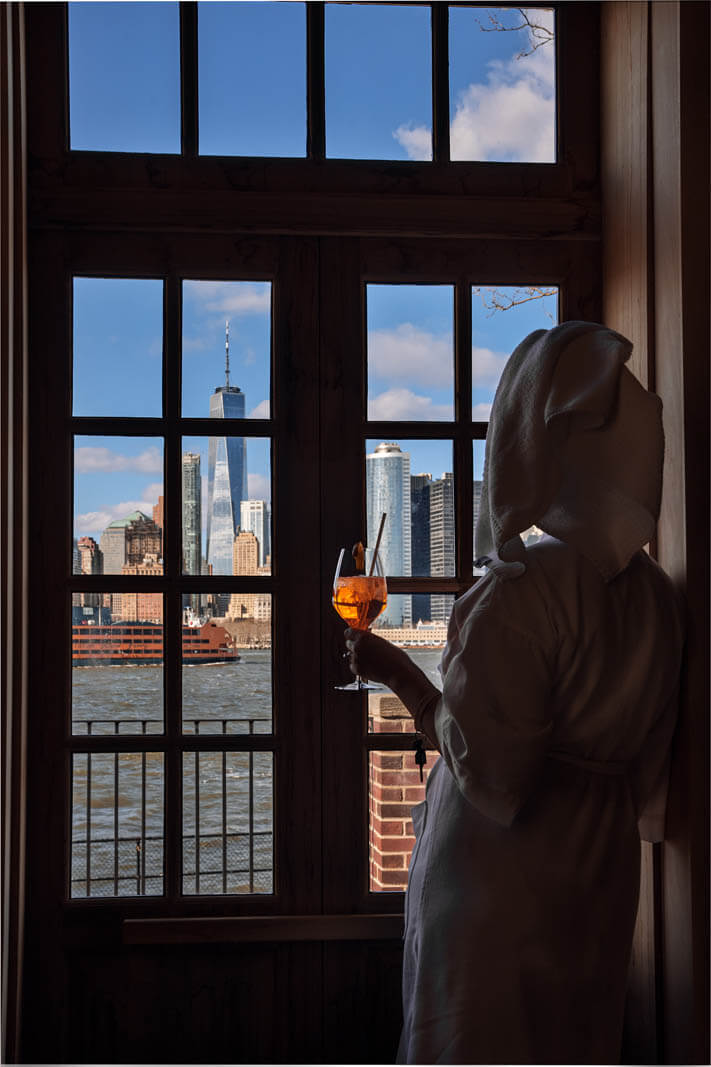 Do the holidays stress you out? You're not alone. Thanksgiving can be a very stressful day for some but luckily there's a great option for soaking away your stress at QCNY Spa at Governors Island in the New York Harbor!
Open on all the holidays! Yes, they are open on Thanksgiving Day (they just closer earlier than usual at 6 PM rather than 10 PM). Take the ferry over to Governors Island and enjoy a day at the spa. Your day pass includes all-day access to their heated outdoor pool with views of the city skyline, themed saunas, relaxation rooms, steambaths and steam rooms, plus they have food and drinks on site!
You'll want to book your reservation in advance because let's be real, the holidays are a stressful time so I imagine others may have the same idea!
Visit A Famous NYC Attraction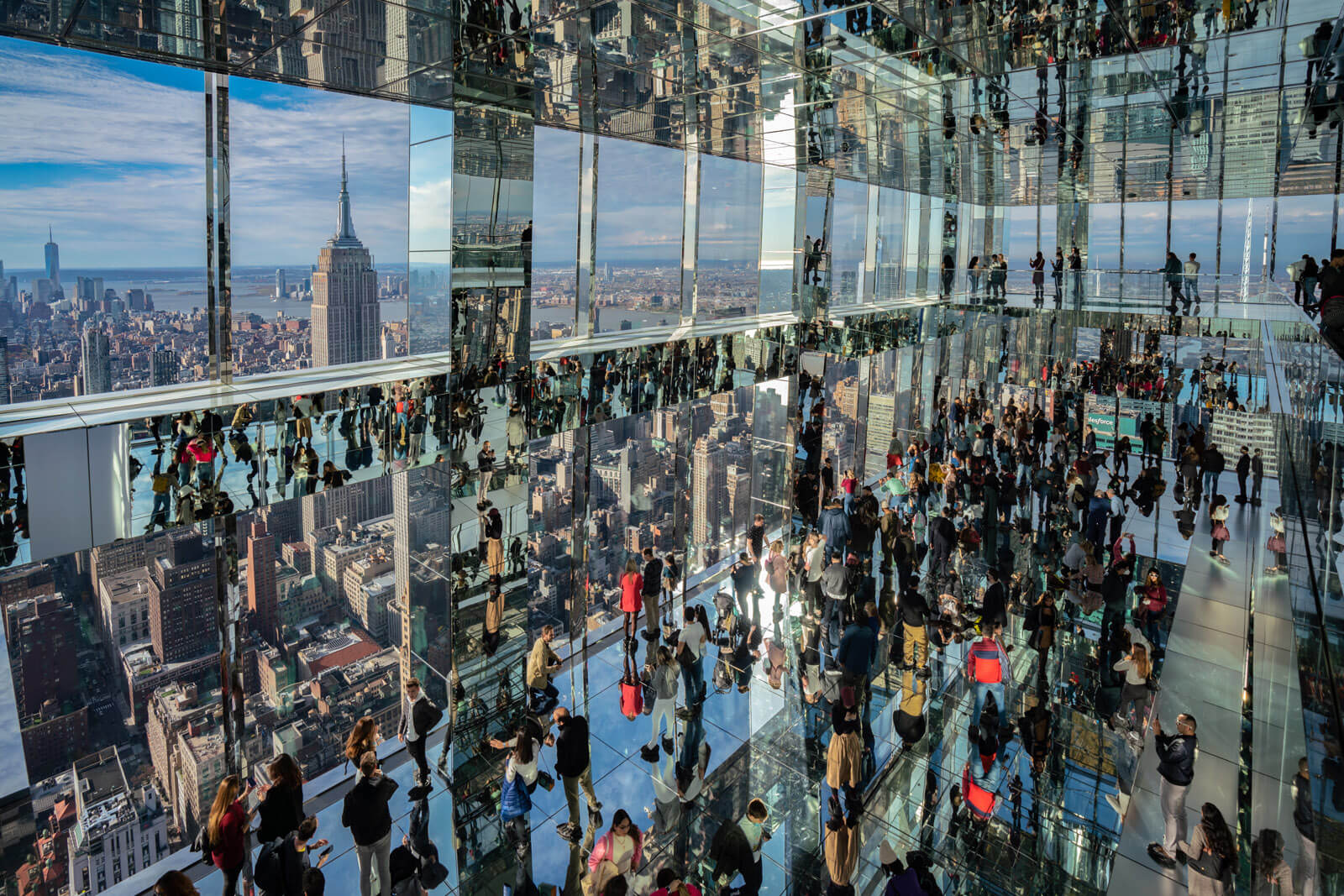 There are several NYC experiences and attractions you can visit around Thanksgiving Day, but since the actual Thanksgiving Day is an observed federal holiday, many places are closed. However, there are a few popular attractions that you'd be surprised to learn are actually open on the holiday that you can check out.
For example, some of the best observation decks in NYC are open on Thanksgiving Day where you can be on top of the city, literally, with some of the best views money can buy including the Empire State Building, One World Observatory, the Edge at Hudson Yards, Top of the Rock, and Summit One Vanderbilt!
Other popular attractions you can still enjoy on the holidays include Hop-On-Hop-Off Bus Tours and visiting Central Park Zoo!
If you plan on enjoying one of these popular spots and NYC Thanksgiving attractions, we recommend checking the hours as they may vary on the holiday day and book your tickets in advance to secure your reservation.
Dyker Heights Christmas Lights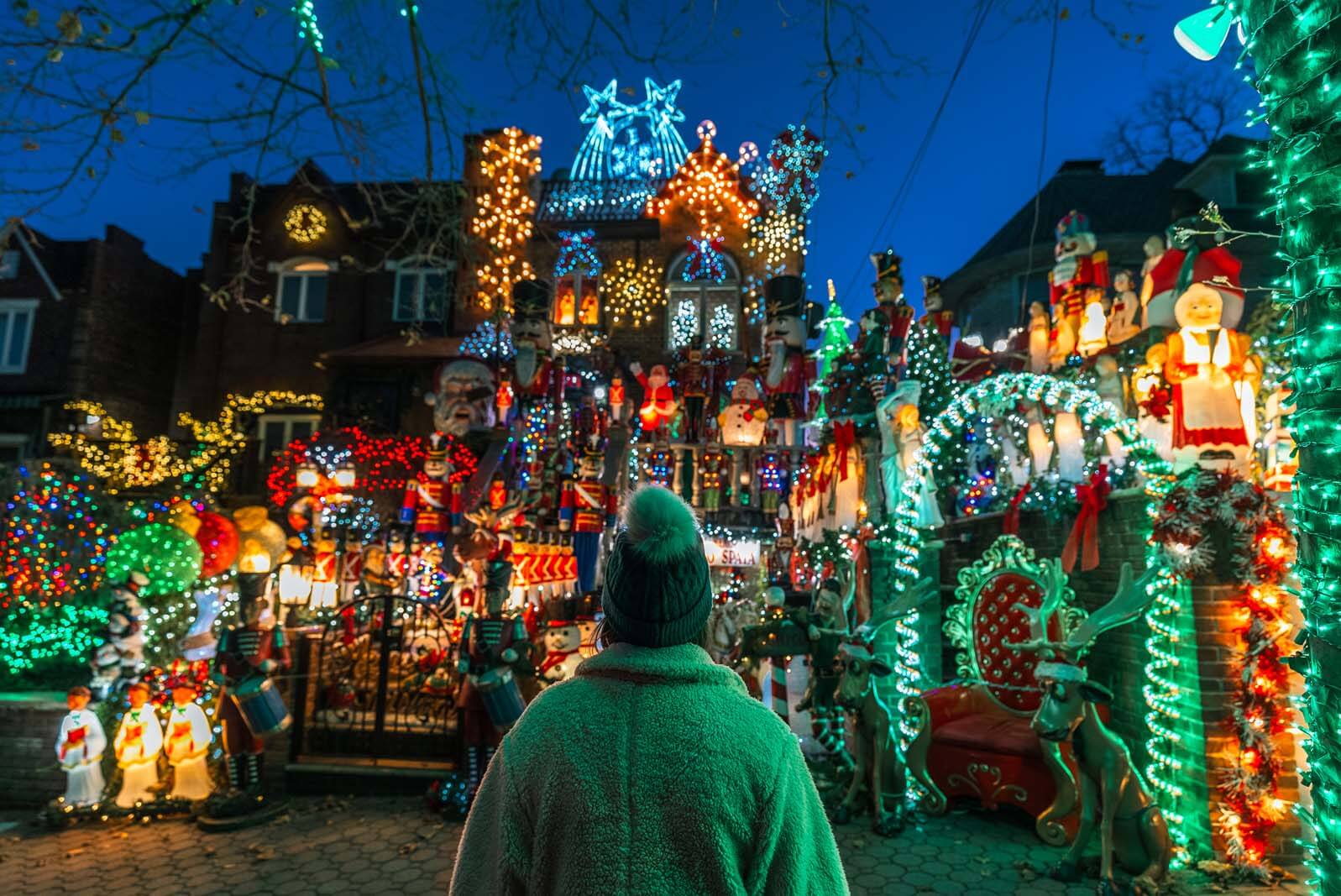 If you're visiting NYC at Thanksgiving time one of the BEST spots for Christmas lights in NYC is located in a South Brooklyn neighborhood and worth the trip!
The neighborhood of Dyker Heights in Brooklyn is home to huge homes and neighbors who unofficially compete for the best over-the-top holiday light displays! It feels right out of a holiday movie!
While not everyone will have their light displays complete on Thanksgiving in NYC, some will have started to put their lights up and you can witness some of the most impressive home holiday displays!
If you plan on visiting on you're own, check out our full guide to the Dyker Heights Christmas Lights which includes more in-depth information on the best houses to see and where they're at. A majority of the displays are 10th-12th Avenues and 83rd-86th Streets turn on from dusk and stay on until 10PM.
To get there, take the R train to the 86th Street station or the D train to the 79th street station. You can also snag a cab, or drive – though be warned, parking is hard to find nearby so the subway may be your best option!
Bundle up and head to Twist Coffee (7824 12th Avenue) for a hot drink and if you're looking for a sweet treat stop by Tasty Pastry Shoppe (8216 13th Avenue) which has festive holiday cookies and classic Italian bakery desserts!
And if you don't want to make the journey out here on your own, you can join a Dyker Heights Lights tour that includes transportation from Manhattan. Your driver will pick you up from Midtown and drop you off with your guide in Dyker Heights where you will check out all the festivities. Before you finish, this Dyker Heights Christmas Lights tour has a bonus stop at the Brooklyn Bridge so you can get a photo of the city skyline twinkling at night before ending your magical evening! Book your tickets here.
Tips for visiting NYC at Thanksgiving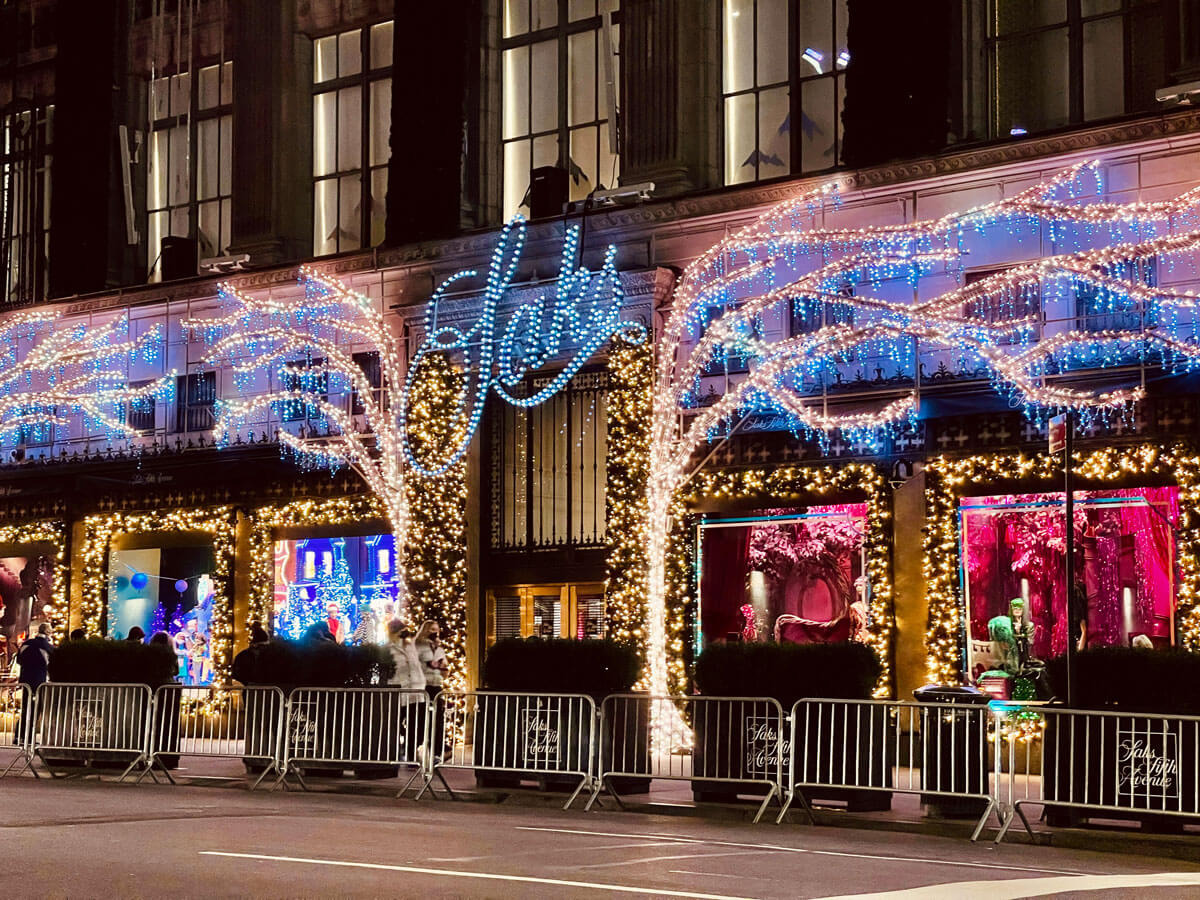 So now we covered all the best things to do during Thanksgiving in New York City, now it's time for the tips! If you've never visited this time of year (or this is your first New York City trip) we recommend starting with the basics like how to avoid popular NYC scams, especially in tourist hot spots like Times Square.
If you're looking for more ideas to include in your New York Thanksgiving trip, check out our New York City itinerary for 5 days and 3 days! We also have a full-week itinerary for NYC too.
If you're planning on seeing a show on Broadway, which you should, be aware they don't do shows on Thanksgiving Day, but you can plan around the holidays. See our full guide for how to see a show on Broadway including how to get discount tickets.
It's much harder to plan a New York Thanksgiving trip last minute as this is a popular time of year to visit. It's not impossible, but you might have less options and the options you do have are pricier. That's why we recommend booking your hotels in advance and securing reservations for restaurants and attractions in advance too.
While many things are open on Thanksgiving Day in NYC, keep in mind this is a huge holiday and some things will be closed including stores, restaurants, and attractions. It's best to check in advance if you're planning on exploring on Thanksgiving Day to see what the holiday hours are for specific places – or plan to visit around Thanksgiving Day and you're good.
As mentioned, this is a busy time of year for tourists to visit the city. Things may be more crowded so prepare yourself for that and come with some extra patience.
The weather in New York City at Thanksgiving can vary, bring layers. If you're attending the Macy's Thanksgiving Day Parade you're going to have an early morning wake up call when it's still dark and you'll want to dress VERY warm and maybe even bring a blanket as once you pick your spot to view the parade, you'll likely be there for a few hours before the parade starts and won't be moving – so you'll get cold!
If you plan on doing this, bring hand warmers, gloves, a blanket, have warm socks and proper shoes/winter boots, and a warm winter coat.
Keep in mind that certain areas of NYC, like walking between skyscrapers, can create a wind tunnel. Also, when you're visiting spots along the Hudson River or waterfronts of NYC it gets extra chilly! If you plan on doing popular activities like walking the Brooklyn Bridge or visiting the High Line or Hudson Yards, prepare for extra wind and wear or have extra layers to keep you warm.
Last but not least, you'll be doing a lot more walking than you could ever imagine. Wear comfortable walking shoes!
What to do in NYC at Thanksgiving (Post Summary):
Macy's Thanksgiving Day Parade Balloon Inflation
Macy's Thanksgiving Day Parade
Thanksgiving Dinner in NYC
Bryant Park Winter Village
Start Celebrating Christmas (Holiday Displays & Christmas Bars)
The Nutcracker Ballet
Holiday Train Show at New York Botanical Garden
Try Pumpkin Flavored Goodies
Ice Skating
QCNY Spa
Visit a Famous NYC Attraction
Dyker Heights Christmas Lights
---

What can I do on Thanksgiving in New York City?
On Thanksgiving in New York City, you can watch the Macy's Thanksgiving Day Parade, enjoy a traditional holiday meal, visit iconic attractions like Central Park and Times Square, or visit an observation deck. Many restaurants offer special Thanksgiving dinners.

Is Thanksgiving a good time to visit NYC?
Thanksgiving is a great time to visit NYC, with the Macy's Parade and festive atmosphere. While it can be crowded, the holiday charm, special events, and seasonal decorations make it a unique and memorable experience.

Are things open in New York during Thanksgiving?
On Thanksgiving Day, many businesses, including restaurants, are open, but it's advisable to make reservations for meals. However, some attractions and stores may be closed or have limited hours, so it's best to check in advance.

What is the most famous thing to do in New York on Thanksgiving Day?
The most famous thing to do in New York on Thanksgiving Day is watching the Macy's Thanksgiving Day Parade in person, a tradition featuring giant balloons, floats, and performances, attracting millions of viewers along the parade route and on TV.
Is NYC crowded during Thanksgiving?
Yes, New York City can be crowded during Thanksgiving, especially around popular attractions like the Macy's Parade route. Visitors from around the world come to experience the holiday festivities, leading to increased crowds around those specific attractions, but you'll find less crowds in other areas of the city since many people spend the holiday with family.
Are NYC subways open on Thanksgiving?
Yes, New York City subways typically run on Thanksgiving Day, but with limited service and altered schedules. Travelers should check the official MTA website or app for specific holiday subway service information.
Is everywhere closed on Thanksgiving in New York City?
Not everywhere is closed on Thanksgiving in New York City. In fact, many restaurants, some attractions, and essential services remain open. However, some businesses and institutions may have limited hours or be closed for the holiday.
Where to eat on Thanksgiving Day in NYC?
On Thanksgiving Day in NYC, you can dine at traditional restaurants like Balthazar, Tavern on the Green, or enjoy special holiday menus at various places. Reservations are required for Thanksgiving day set meals. You'll want to check ahead for each establishment.
Found this guide to the best things to do during Thanksgiving in NYC helpful? Bookmark this guide for later and enjoy your trip!!