Looking for all the best things to do in Lower Manhattan? We got you. Lower Manhattan, sometimes considered downtown NYC, is not only some of the oldest parts of the United States and New York City dating back to when Dutch settlers started colonization here in the 1600s.
But it's important to note, before colonization and the arrival of European settlers, everywhere including Lower Manhattan in modern-day New York City was inhabited first by the Lenape people.
While this is a buzzing area for business and office workers during the week, there are several Lower Manhattan attractions that attract tourists and New Yorkers to check out. From historic sites, cool bars and restaurants, great views, museums, and more – this guide will cover all the best things to do in Lower Manhattan, an area that definitely should be included on your New York City itinerary!
But first, what is considered Lower Manhattan or Downtown NYC? The easiest delineation is considered anything below 14th Street on the island of Manhattan.
This includes the following popular neighborhoods (check here for a full list of Lower Manhattan neighborhoods):
Financial District aka FiDi or Wall Street
East Village
Greenwich Village which includes the West Village
SoHo
NoHo
Tribeca
Little Italy
Chinatown
Civic Center
Battery Park City
Best Lower Manhattan Attractions
One World Observatory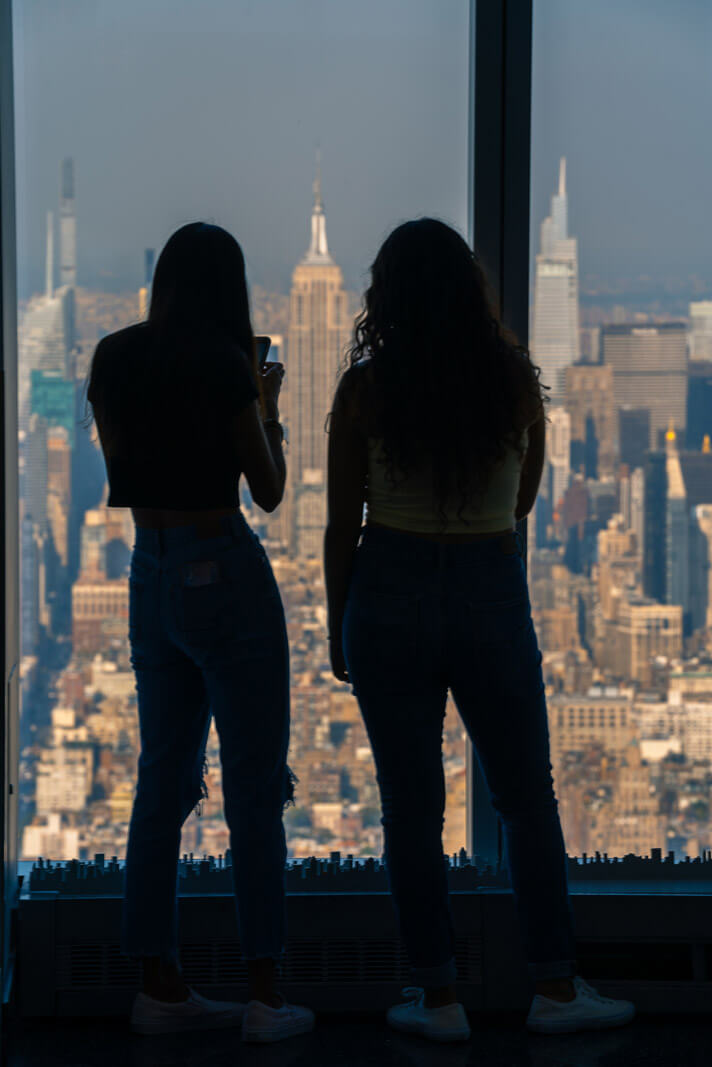 Address: 117 West Street, Financial District
One of the best Lower Manhattan attractions is the One World Observatory, the tallest building in the Western Hemisphere at the World Trade Center in the Financial District.
This is without a doubt one of the best observation decks in NYC and offers 360 views of the city, including great views of the city skyline, Brooklyn Bridge, Statue of Liberty, and New York Harbor from their indoor observation area – which also makes it friendly to visit for any season in the city! Better yet, this is an entirely indoor observatory so this is great during the winter or a perfect rainy day activity in NYC. (unless it's too hazy you may want to save it for another day)
Also, you can enjoy a unique dining experience at the 7th tallest building in the world too! Be sure to snag a reservation at ONE Dine at the top of One World Observatory for lunch or dinner on top of the city! You can only visit as guests of One World Observatory, so don't miss this opportunity!
Booking ahead of time for the One World Observatory is the best way to secure tickets to this popular attraction.
9/11 Memorial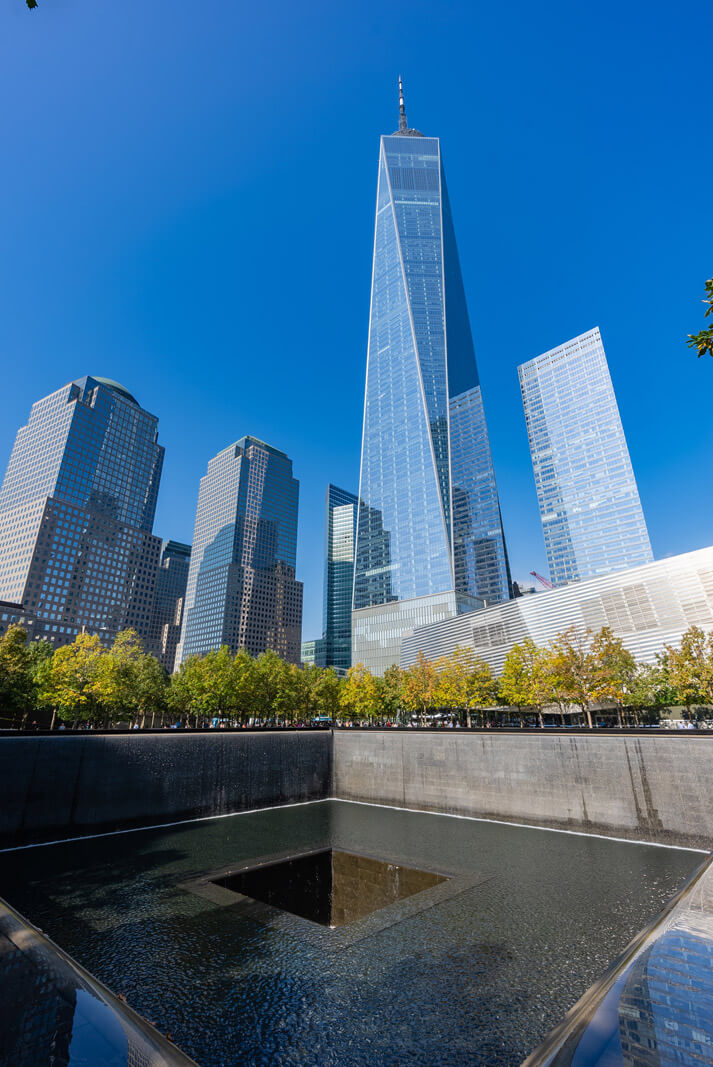 Address: 180 Greenwich Street, Financial District
One way to spend time in downtown NYC is to pay respects and visit the 9/11 Memorial. This memorial has a large free area that anyone can visit. This area, which was the former site of the Twin Towers, has the names of those who passed away in the tragedy and the terrorist attack in 2001 including the victims of the World Trade Center site, Pentagon, and Shanksville, Pennsylvania site.
If you want to learn more about 9/11 and its ongoing significance, you might want to consider getting a ticket to the 9/11 Museum. This way, you'll be able to explore the indoor museum, and you can even participate in a guided walking tour.
Statue of Liberty
One of the most popular things to do in Lower Manhattan is to visit the Statue of Liberty, one of the most iconic symbols of New York City and the United States of America.
The Statue of Liberty is located on Liberty Island, to visit you have to purchase tickets in advance. Keep in mind, you'll want to plan visiting earlier in the day as the ferry that departs from Manhattan is at 3:30 PM and the last entrance to the pedestal is at 3:30 PM. However, the last ferry leaving the Statue of Liberty is 6:30 PM, so if you do catch the last ferry over you have a few hours to enjoy both the Statue of Liberty and Ellis Island.
Speaking of, when you purchase your ticket it includes entrance to Ellis Island too, the busiest immigrant inspection and processing station in the history of the United States more than 12 million immigrants came through on their journey to the United States. There are also exhibits and a full museum here as well as the ability to look up any of your relatives that may have passed through Ellis Island, if you're short on time though you can do this using their online database from home too.
We recommend looking into tour options too including the Statue of Liberty with Pedestal Access & Ellis Island Tour with a professional licensed guide on a 4-hour tour.
Alternatively, if you don't have time or missed the ferry, you can get a stellar view of the Statue of Liberty from Battery Park in Lower Manhattan too!
Visit Battery Park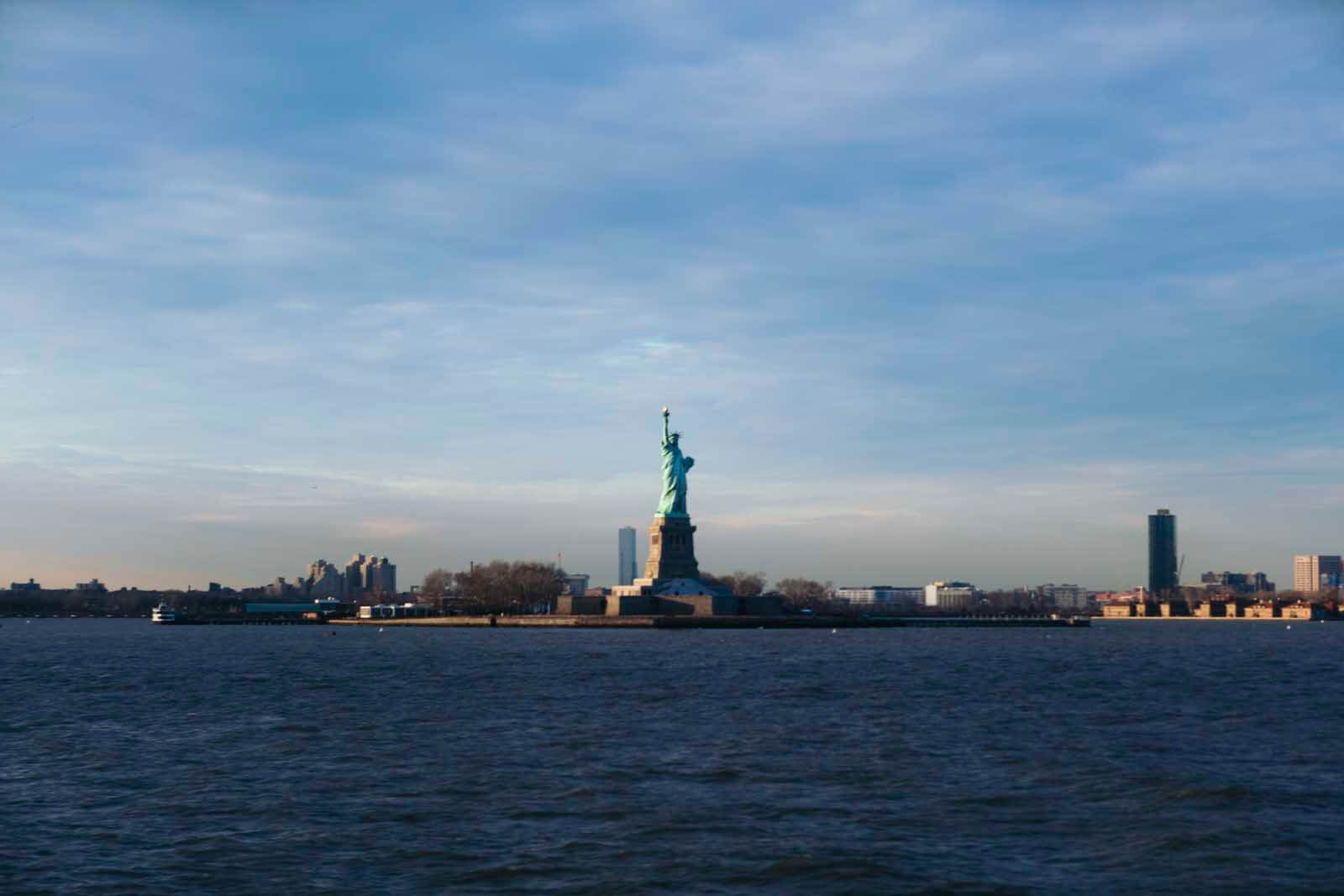 Financial District
Battery Park is a 25-acre park on the southern tip of Manhattan. This park is great for riding bikes, having a picnic, or just admiring the view! It's also great for catching a free view of the Statue of Liberty, especially if you're not able to visit it on the trip at any other time!
If you find yourself here, be sure to check out SeaGlass Carousel. This is a whimsical, underwater, and fish-themed carousel that's one of the best things to do in NYC with kids!
Battery Park also has several memorials, including the East Coast Memorial, which is one of the most famous and noticeable spots in the entire park and serves as a memorial and reminder of the 4,601 missing American servicemen who lost their lives in combat in World War II in the Atlantic Ocean.
New York Stock Exchange & The Fearless Girl Statue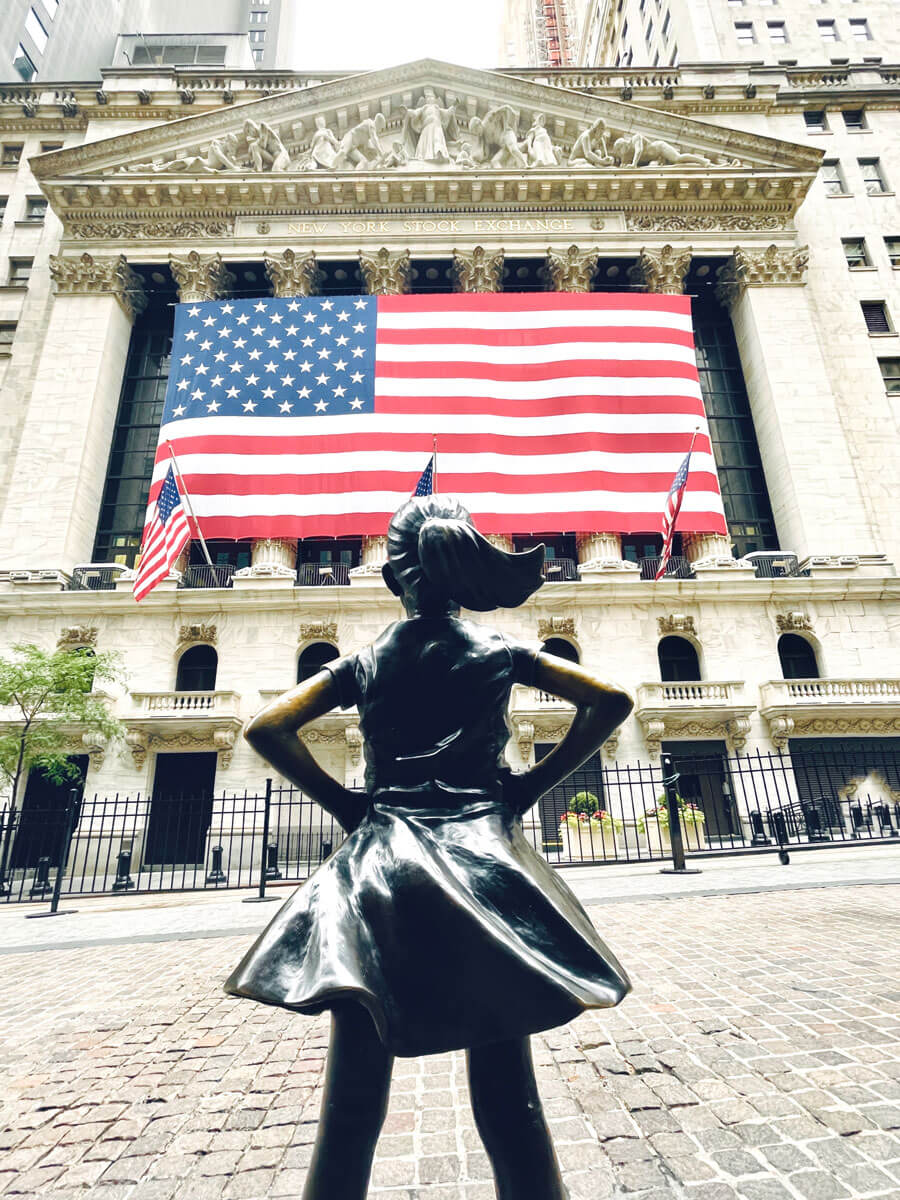 Address: 11 Wall Street, Financial District
No trip to downtown NYC is complete without visiting the New York Stock Exchange. Located on Wall Street, the NYSE is home to the world's largest stock exchange in the Financial District.
Right across from the NYSE is The Fearless Girl Statue. This famous bronze sculpture by artist Kristen Visbal is of a girl that was originally made to promote a higher representation of women in the corporate world.
The Wall Street Charging Bull
Address: 75 Wall Street, Financial District
Right next to the NYSE and The Fearless Girl Statue is The Wall Street Charging Bull. Located at Bowling Green, this bronze statue is one of the most famous landmarks in the city. It was originally made to celebrate NYC's prosperity! Remember that there is usually always a line to get a photo with this sculpture.
Lombardi's Pizza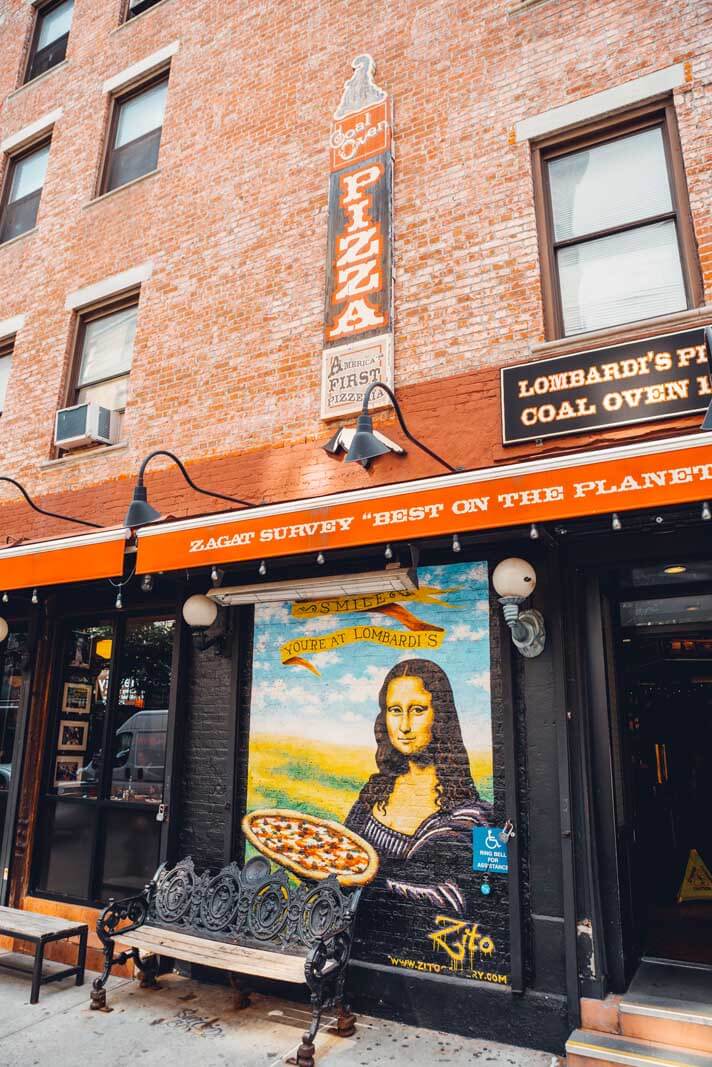 Address: 32 Spring Street, Nolita
If you're a foodie, one of the best things to do in Lower Manhattan is to go to Lombardi's Pizza in the downtown NYC neighborhood of NoLita.
Lombardi's Pizza was the first pizza restaurant in the United States! Now known as the birthplace of American-Italian pizza, this restaurant has been serving coal-fired, thin-crust pizzas since 1905 by Gennaro Lombardi who hailed from Naples making the some of the city's best pizza to this day topped with only the finest ingredients.
This place is legendary and one of the only few remaining places in Manhattan you can get coal-oven pizza as environmental regulations in the city. As a matter of fact, Lombardi's has a larger influence on the pizza scene in NYC than one might think, I personally love this article by Grubstreet about the feuding pizza dynasties in the city, which you'll spot many of the best pizza restaurants in New York City on here and how they are connected to the original Lombardi's.
Katz Delicatessen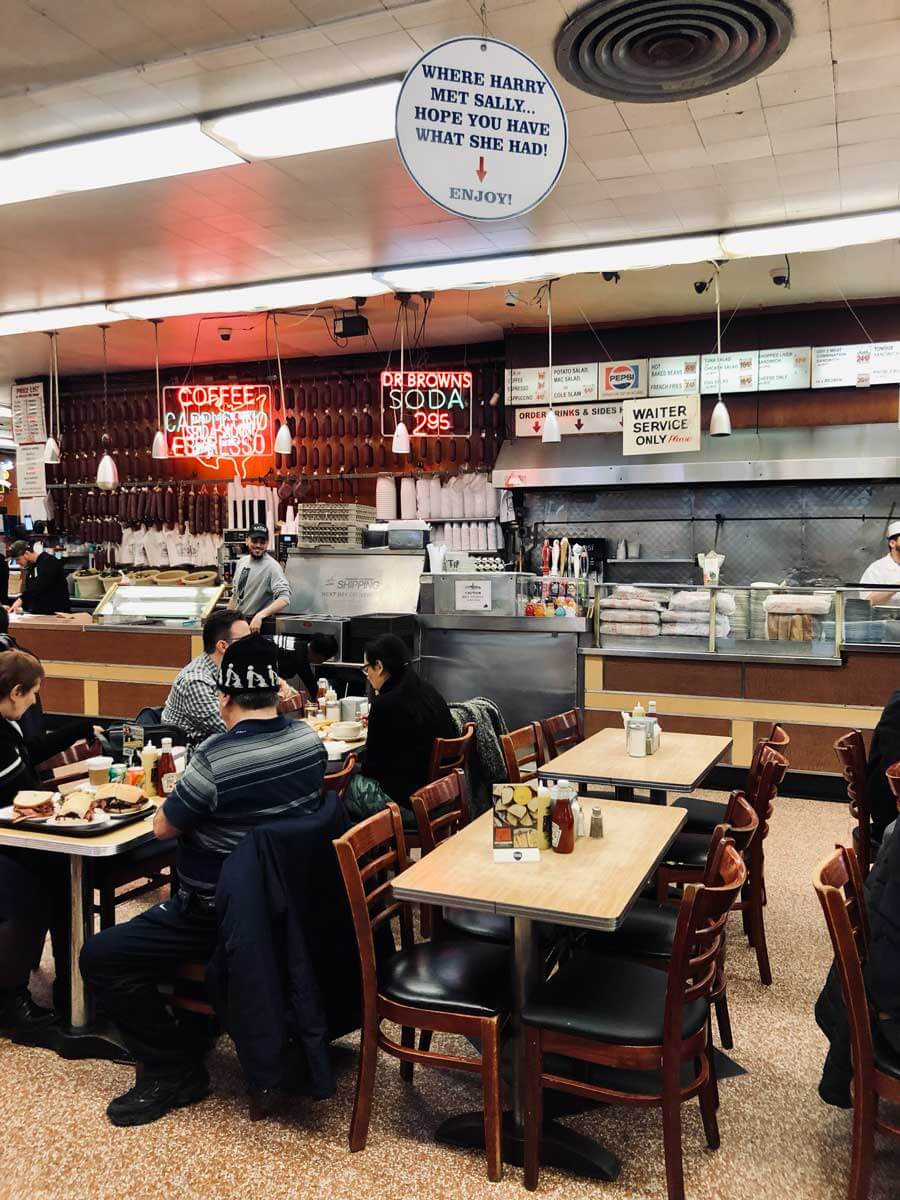 Address: 205 East Houston Street, Lower East Side
Another famous restaurant in Lower Manhattan worth checking out is Katz Delicatessen. Located on the Lower East Side, this historic old-school deli has been serving super tall sandwiches since 1888. In fact, they claim to be New York's first deli ever!
Katz Deli is famous for its classic Jewish deli sandwiches like pastrami and corned beef. It's also an infamous NYC filming location for When Harry Met Sally! In fact, you can sit in the booth that was seen in the movie since it's marked with a special sign.
Fraunces Tavern
Address: 54 Pearl Street, Financial District
Fraunces Tavern is one of the oldest bars in NYC, this historic tavern was established in 1762! Today, Fraunces Tavern is still one of the most popular historic bars in the country. If only the walls could talk here, this is where the country's founding fathers would drink, the last location where Alexander Hamilton was seen alive before his infamous duel with Aaron Burr (who was also spotted that night, and where George Washington gave his farewell address to his continental army.
Located in the Financial District, this pub serves great food and has live music on the weekends. There is also the upstairs piano bar too.
During the day, you can also visit the Fraunces Tavern Museum which has exhibitions and education around the American Revolution housed in upstairs of the tavern.
Stone Street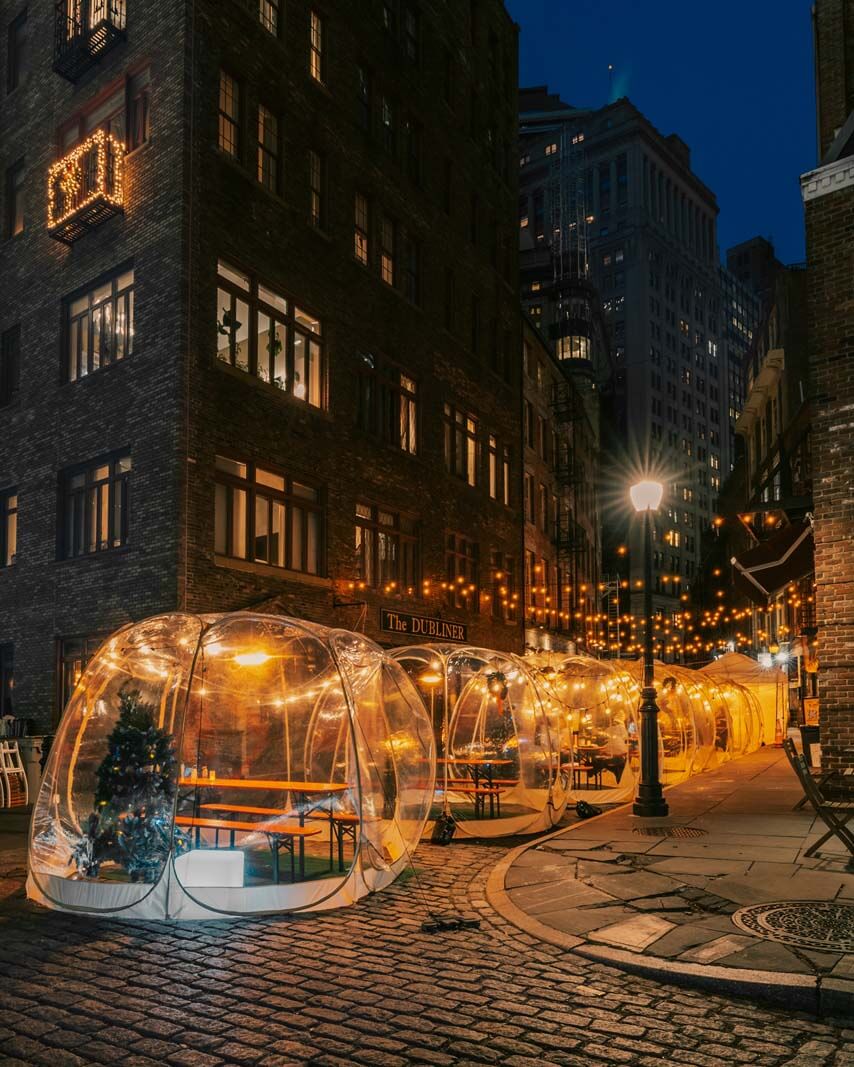 Address: Stone Street between Whitehall Street and Hanover Square
Another great spot in the Financial District is Stone Street. This short, cobblestone street is one of the oldest in NYC! This street was one of the first to be paved with cobblestones in 1794.
Historic Stone Street is now a pedestrian-only street that's dotted with restaurants and bars, which is a great place to grab a bite or drink and take a break from exploring all the great Lower Manhattan attractions.
Since this is one of the oldest streets in the history of the United States, you can imagine there is a lot of history that took place here. In fact, it's a designated historic district and we highly encourage those who are inquisitive or interested in the history of the area to join a tour, like the Story of Hamilton Walking Tour which takes a walk down Stone Street as at the site of a parking garage down here was where Hamilton practiced law.
Staten Island Ferry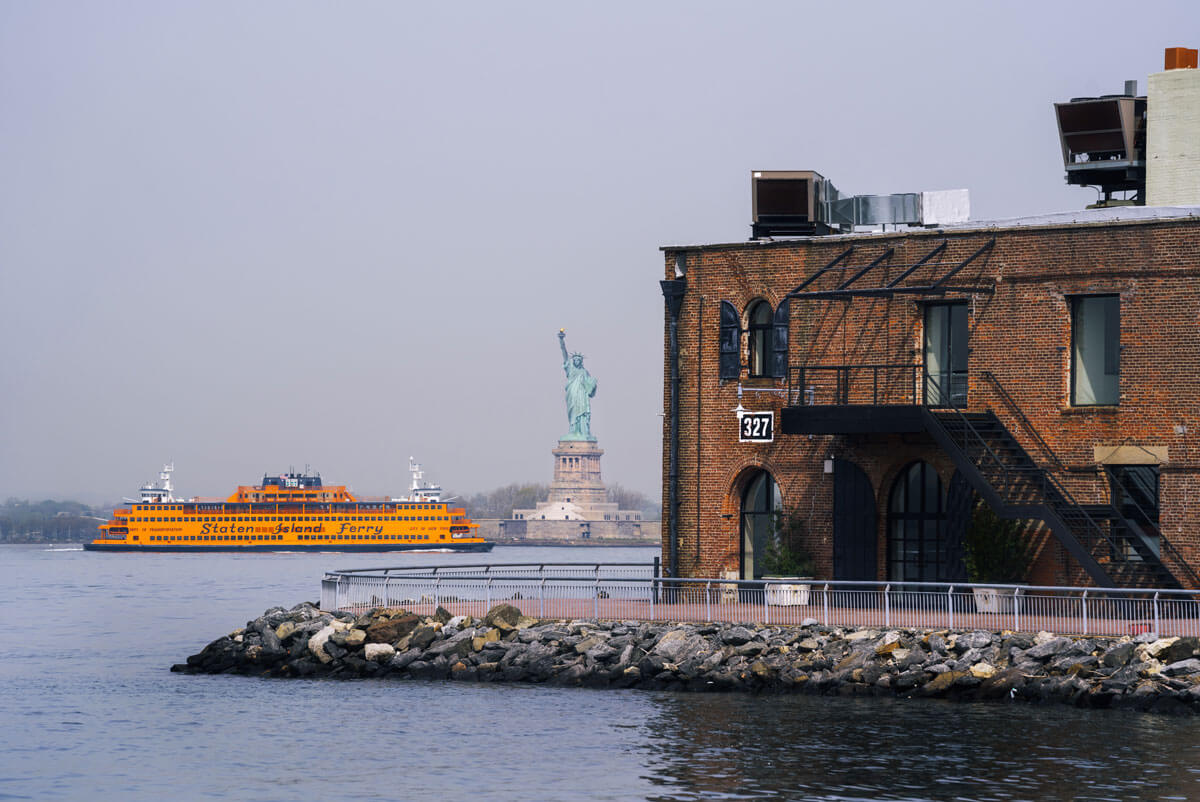 Address: 4 Whitehall Street, Financial District
One of the best free things to do in NYC in Lower Manhattan is taking a ride on the Staten Island Ferry! By taking the Staten Island Ferry, you can get one of the best up close and free views of the Statue of Liberty, and you can even BYOB! So be sure to stop at a mart to grab a beer or you can grab one in Whitehall Terminal where the ferry departs in downtown Manhattan.
Another great thing about the Staten Island Ferry is that it runs 24 hours a day and a new trip happens every 15-20 minutes, so if you're looking for something to do last minute, this is a great option.
Head outside once you're on the ferry to catch a beautiful unobstructed view of Lady Liberty, be sure to also admire the Lower Manhattan skyline as you take off for Staten Island too. You'll arrive to St. George's Terminal once you're at Staten Island. You'll have to quickly disembark and hurry to catch the next ferry that's leaving.
If you miss it, don't worry your wait will be no more than 15-20 minutes, plus you can say you hung out in Staten Island. If you're looking for something to do in Staten Island before heading back to Manhattan, consider walking around 13 minutes to Postcards, a September 11th Memorial dedicated to the 274 Staten Island residents who lost their lives in the 2001 attacks as well as the 1993 World Trade Center bombing.
Visit Governors Island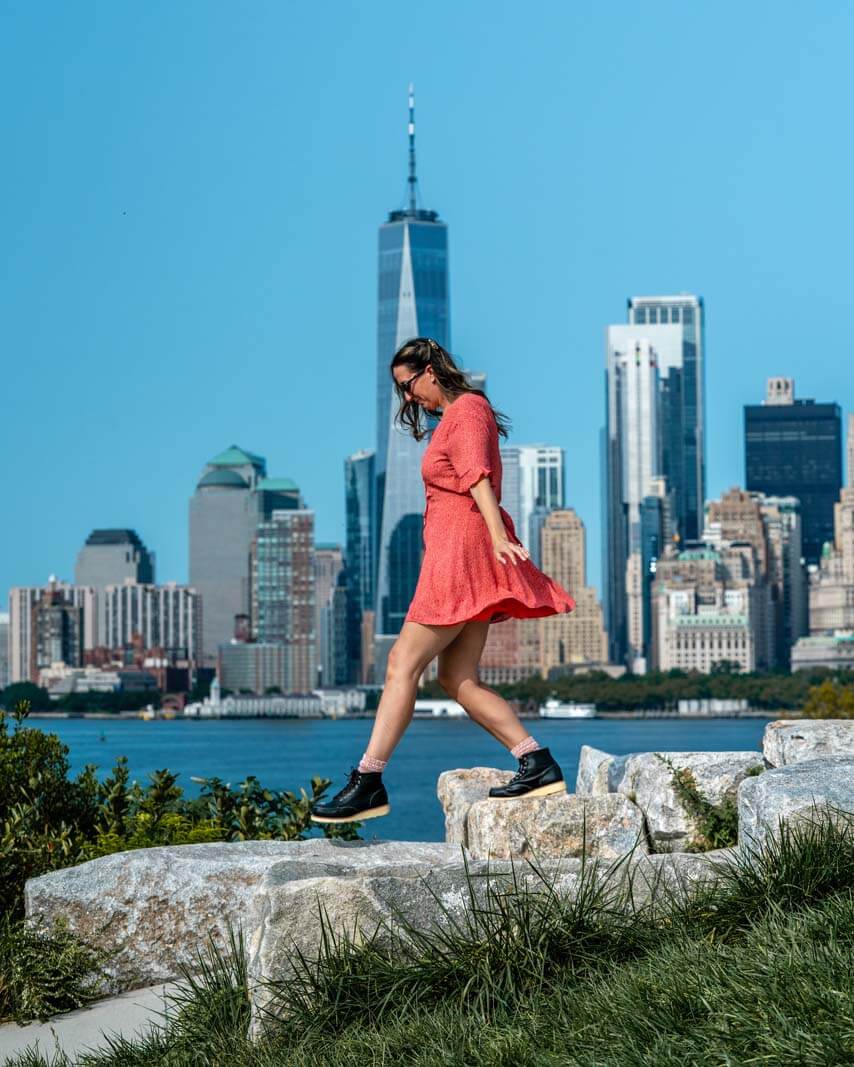 Address: Battery Maritime Building, 10 South Street, Financial District
One of the best things to do in Lower Manhattan is use this opportunity to catch a ride on the Governors Island Ferry at the Battery Maritime Building in downtown NYC. In recent years, Governors Island opened year-round, which used to be open seasonally and is an awesome place to spend the day!
This former military base island located in New York Harbor between Brooklyn and Manhattan is now a public park. There are so many amazing things to do at Governors Island from dining with a view of the city, renting bikes to ride around the island, enjoying one of the most epic spa days in New York with skyline views, to glamping on Governors Island where you can wake up to views of the Statue of Liberty and the One World Trade.
Speaking of the views, you'll want to adventure around the island as there are several great unobstructed vantage points of the Statue of Liberty, which is the closest you'll get on land without actually being on Liberty Island as well as the Lower Manhattan skyline.
Many of the former military barracks and living quarters are now artist residencies, which when they're open you can go inside and see what each artist is working on which is pretty unique! Even one of the chapels that was a part of the military base has been transformed into a permanent art installation known as the May Room by artist Shantell Martin.
What's awesome is you can spend as little or as much time here as you want and it's really easy to catch the Governors Island ferry or the NYC ferry to and from the island.
Ghostbusters Firehouse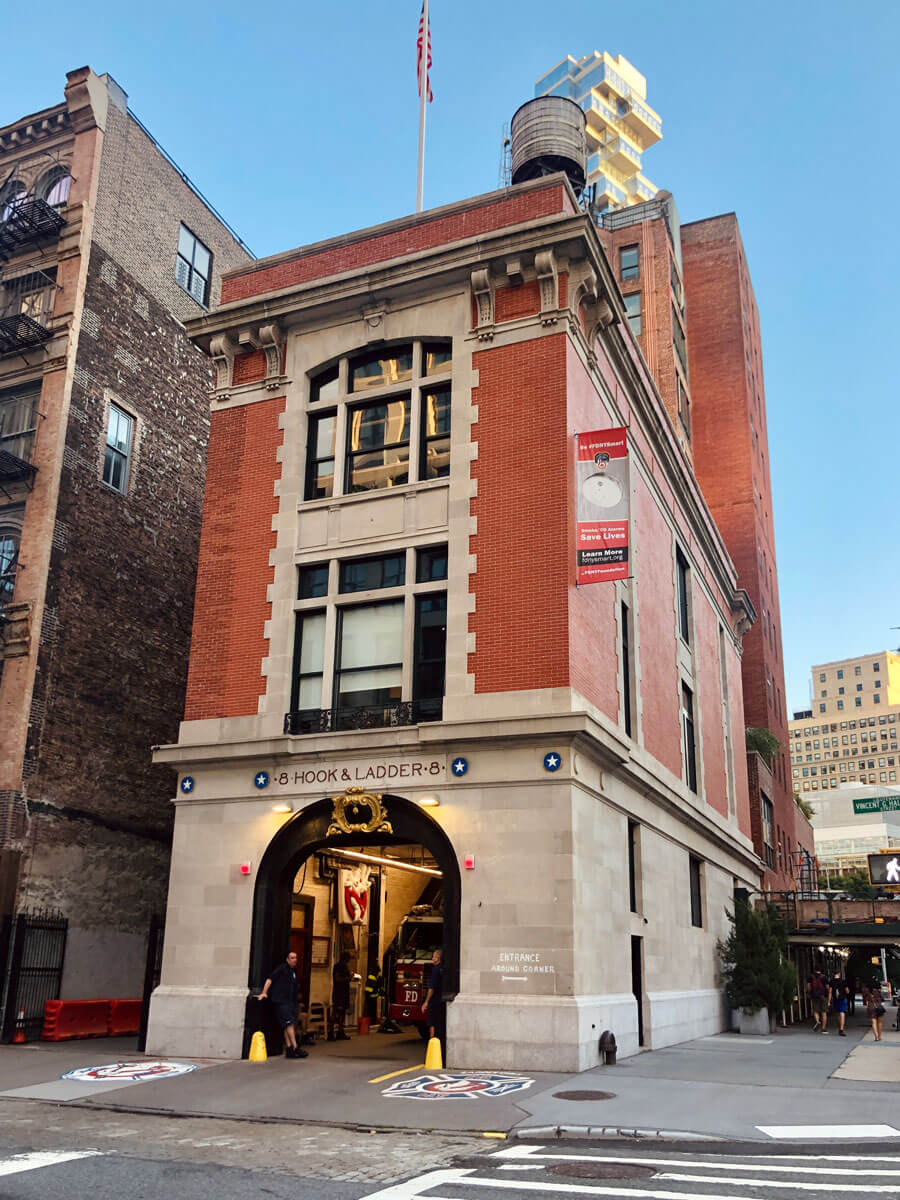 Address: 14 N Moore St, Tribeca
One of the coolest Lower Manhattan attractions is the Ghostbuster's Firehouse! Located in TriBeCa, you can check out the exterior of this 1903 Beaux-Arts firehouse as it's one of the greatest NYC filming locations of all time. Hook & Ladder Company 8 is still an operational firehouse, so be sure to not get in the way of any firefighters who might be on the go, not to mention the firefighters at FDNY 8 were some of the first responders on 9/11.
This attraction won't be hard to miss since they have ghostbusters painted on the sidewalk right outside and a sign in the window fully embracing and paying homage to this cult classic film.
AIRE Ancient Baths
View this post on Instagram
Address: 88 Franklin Street, Tribeca
AIRE Ancient Baths is a great place to escape the hustle and bustle of the city for a full-on relaxation and wellness experience. If you want a luxury day at the spa, AIRE is the place for you. Here, you can indulge in various holistic treatments like relaxing in a Himalayan salt room or getting a massage.
Located in a former textile factory from 1883, AIRE has a dark, relaxing atmosphere that is perfect for meditating and enjoying yourself. Here, you can find lots of great couples packages, individual treatments, and various thermal baths making it one of the best spas in NYC.
African Burial Ground National Monument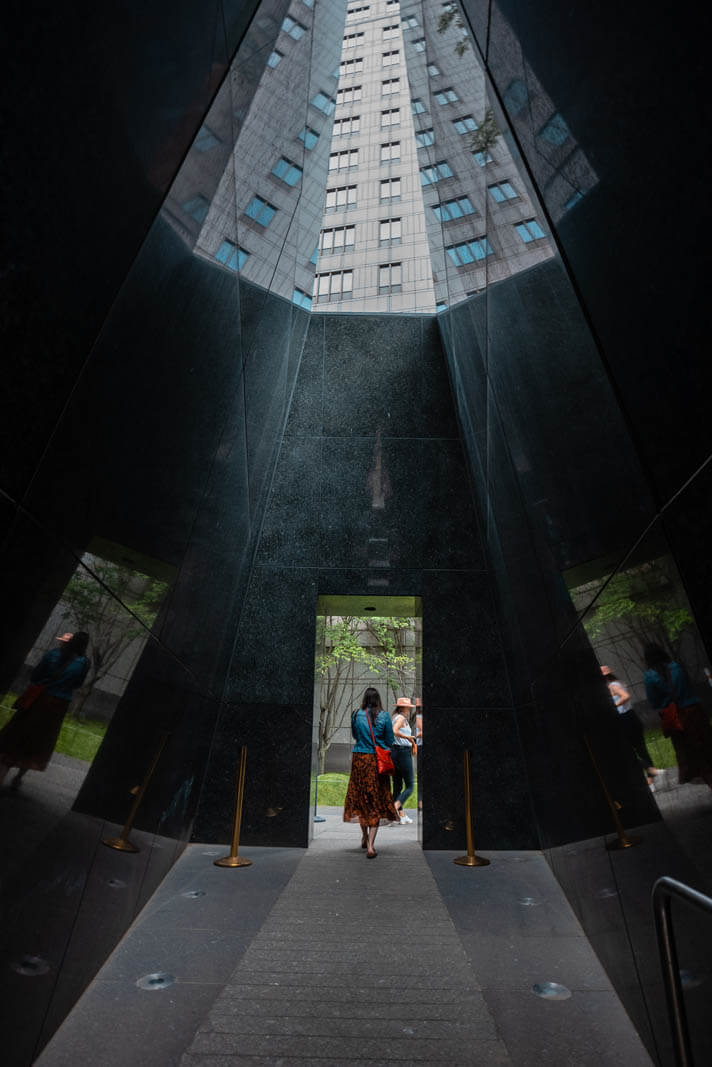 Address: 290 Broadway, Civic Center
One of the most important Lower Manhattan attractions is the African Burial Ground National Monument. This monument was a part of the African American Freedom Trail. Today, it serves to remind us of the contributions of the free and enslaved Africans in Manhattan in the 17th and 18th centuries.
This monument has an interactive visitor's center, impactful artwork, and an outdoor memorial to the burial ground. There is no fee to visit.
Be sure to check out more of the stops on the NYC Freedom Trail in Lower Manhattan too.
Oculus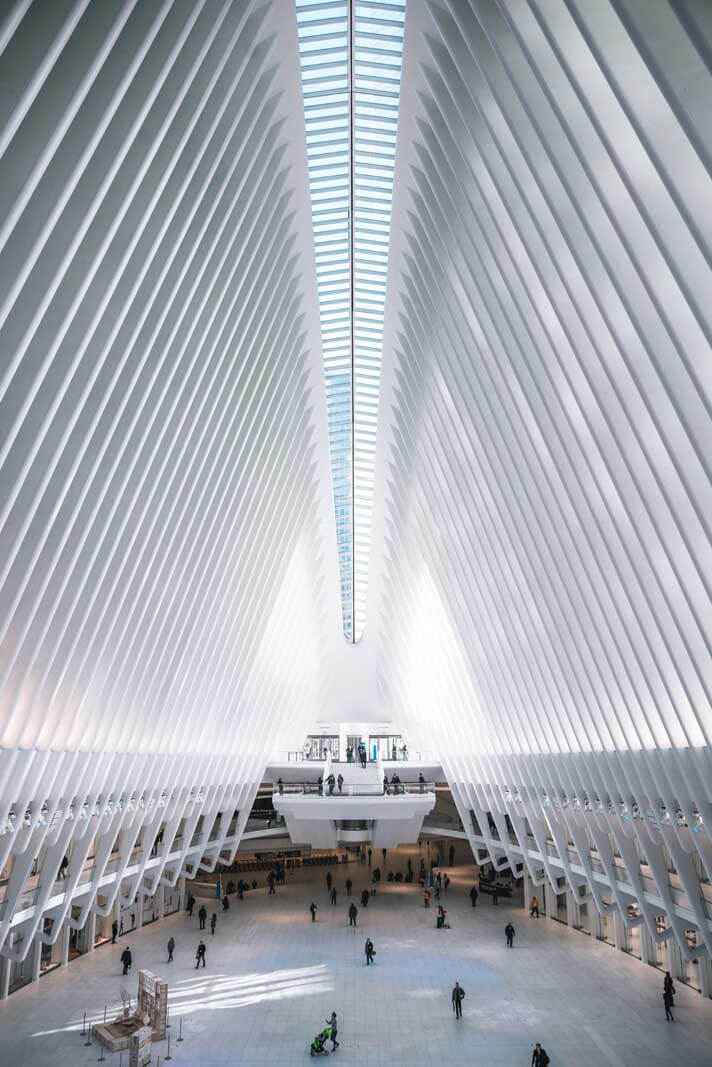 Address: 185 Greenwich Street, Financial District
Oculus is a shopping mall and transportation hub located at the World Trade Center. Its impressive interior and lively outdoor beer garden are just a few of the reasons why so many people stop here while sightseeing at Lower Manhattan attractions.
Inside, you'll find tons of shops in this Westfield Shopping mall as well as 12 subway lines and the PATH train to New Jersey.
Outside, you'll find several larger-than-life colorful murals and Oculus Beer Garden open seasonally (early April through the end of November).
Even though Oculus has great outdoor areas, it's also the perfect place in downtown NYC to go when the weather is bad, and you want to hang out indoors or catch a break from the cold in winter.
Comedy Cellar
Address: 117 MacDougal Street, Greenwich Village
One of the most iconic things to do in Lower Manhattan is visit a comedy club, which some of the best are located in Greenwich Village including Comedy Cellar. Comedy Cellar is one of the most famous comedy clubs in the country! In addition to their multiple nightly shows and lineups, many top comedians do surprise drop-ins.
Comedy Cellar is centrally located on a lively block that's great for bar hopping or grabbing a quick bite. However, keep in mind that Comedy Cellar does have a two-item minimum on food or drinks in addition to your ticket cost, but it's easy to do while you're enjoying the show.
Because Comedy Cellar is so popular, it's recommended that you get tickets in advance since many of the shows there sell out. However, you can always try to wait in line and get in on standby, it's best to head to the entrance an hour before the show and ask the bouncer if you can get on the stand-by list.
Comedy Cellar also has sister locations in Greenwich Village just steps away for more shows too including the Black Fat Pussycat and the Village Underground.
Washington Square Park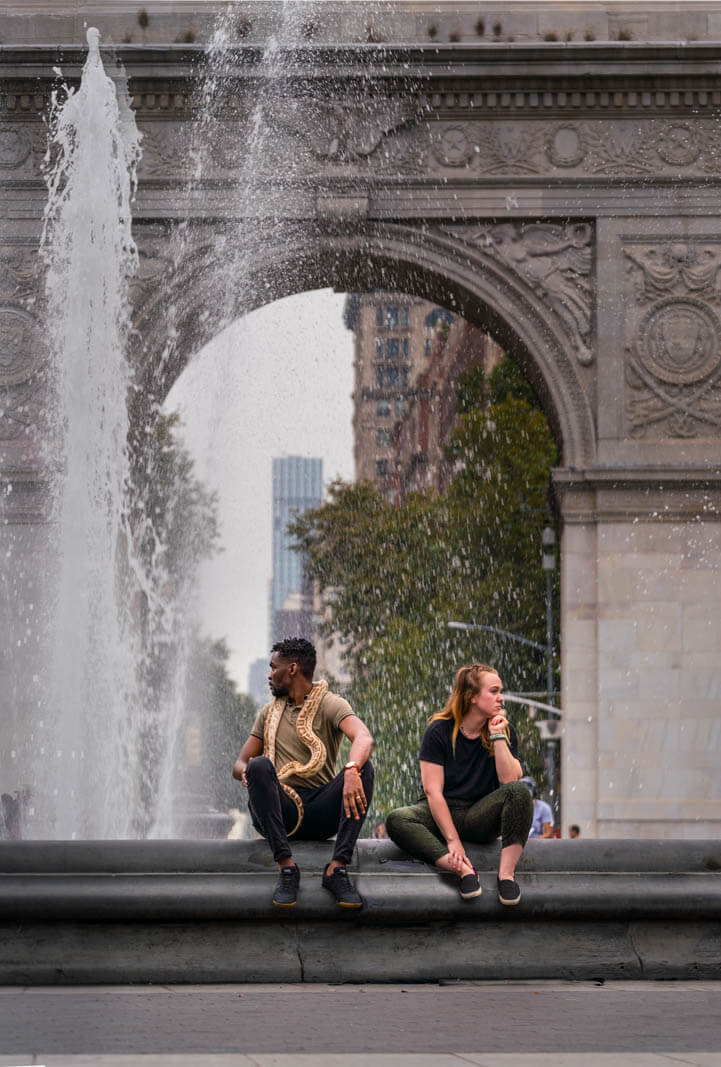 Address: Washington Square, Greenwich Village
Another awesome spot to visit in Greenwich Village is Washington Square Park. This iconic Downtown NYC park is perfect for people-watching. It's also great to grab some to-go food and pop on a bench here since it's surrounded by great restaurants and coffee shops!
Many NYU students hang out here since the campus surrounds the park. You'll find all types of performers just about any day of the week, rain or shine here near the infamous arch and fountain. If you plan on visiting during a nice day, you can expect it to be pretty crowded.
Washington Square Park is also home to the historic landmark of the Washington Square Arch! This marble memorial arch was created in 1895 and had statues of George Washington added in the 1910s. It's rumored to be one of the most haunted spots in NYC too.
Be sure to check out the vantage point from both sides of the arch too as it perfectly frames the One World Trade from one side and the Empire State Building from the other side.
Famous Filming Locations of Greenwich Village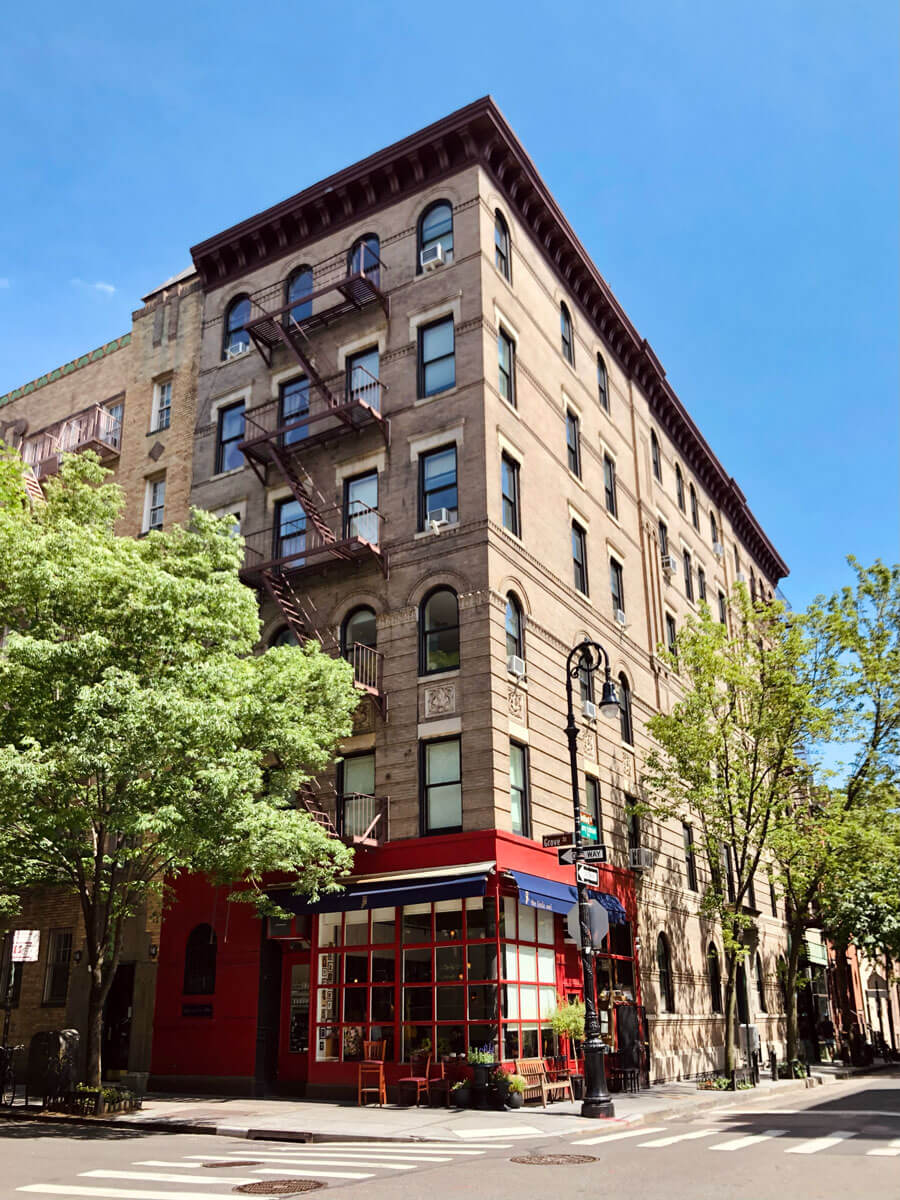 The West Village and Greenwich Village have many famous filming locations that are free to check out! For instance, you can see the exterior shots that were used for the Friends' apartment at 90 Bedford Street in the West Village.
Just a few blocks away, you can also visit the stairs that lead up to Carrie Bradshaw's apartment at 66 Perry Street!
Don Draper, from Mad Men, had his bachelor pad at 104 Waverly Place.
In general, this is a beautiful neighborhood to just walk around or grab an outdoor table at a cafe or restaurant here. It's not uncommon to spot celebrities in this neighborhood too.
Trinity Church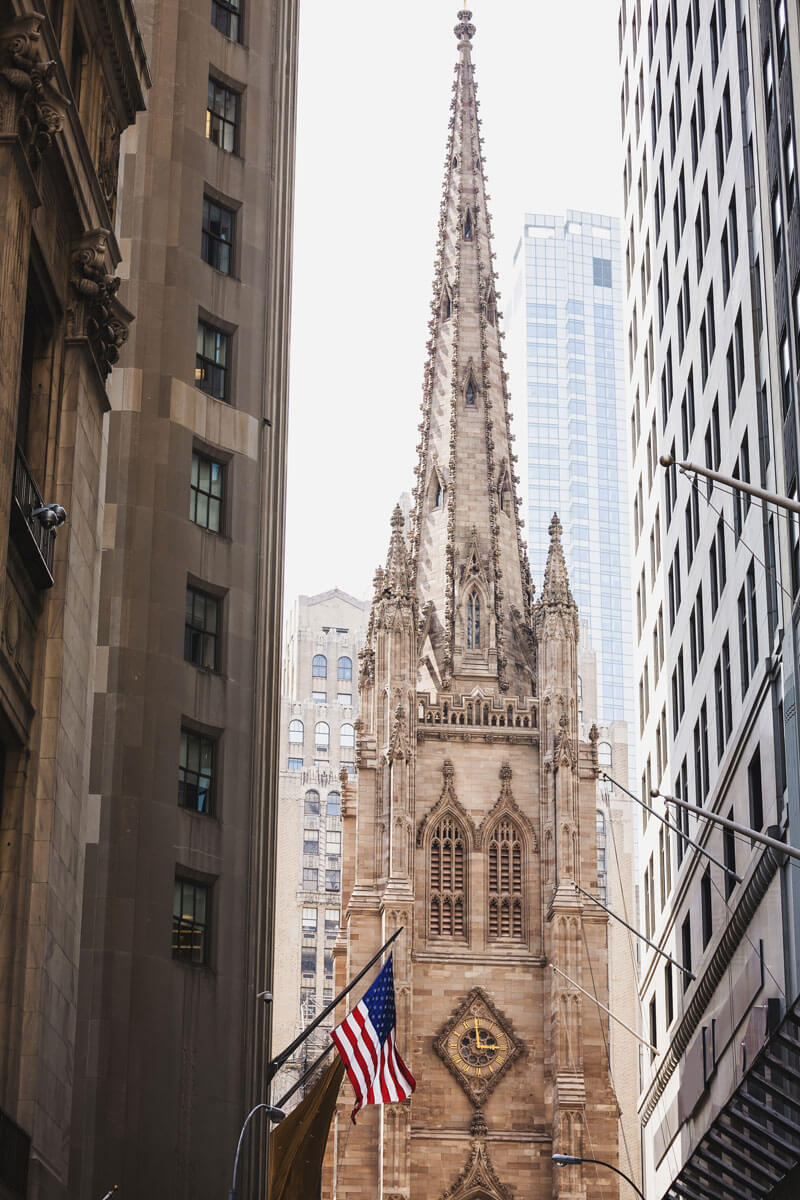 Address: 89 Broadway, Financial District
If you like learning about NYC's fascinating history, one of the best things to do in Lower Manhattan is to visit Trinity Church. Located in the Financial District, this historic church was one of the first examples of Neo-Gothic architecture in the country. It also has a graveyard that has Alexander Hamilton's tombstone along with his wife, Eliza Schuyler.
The Story of Hamilton Walking Tour includes a visit to the Trinity Church and other nearby attractions; it's a great way to learn about the history from a professional guide!
This Lower Manhattan attraction is also a historic site, you can visit inside the church daily along with the churchyard. Visitors are required to go through the security and safety check to enter.
Whitney Museum of American Art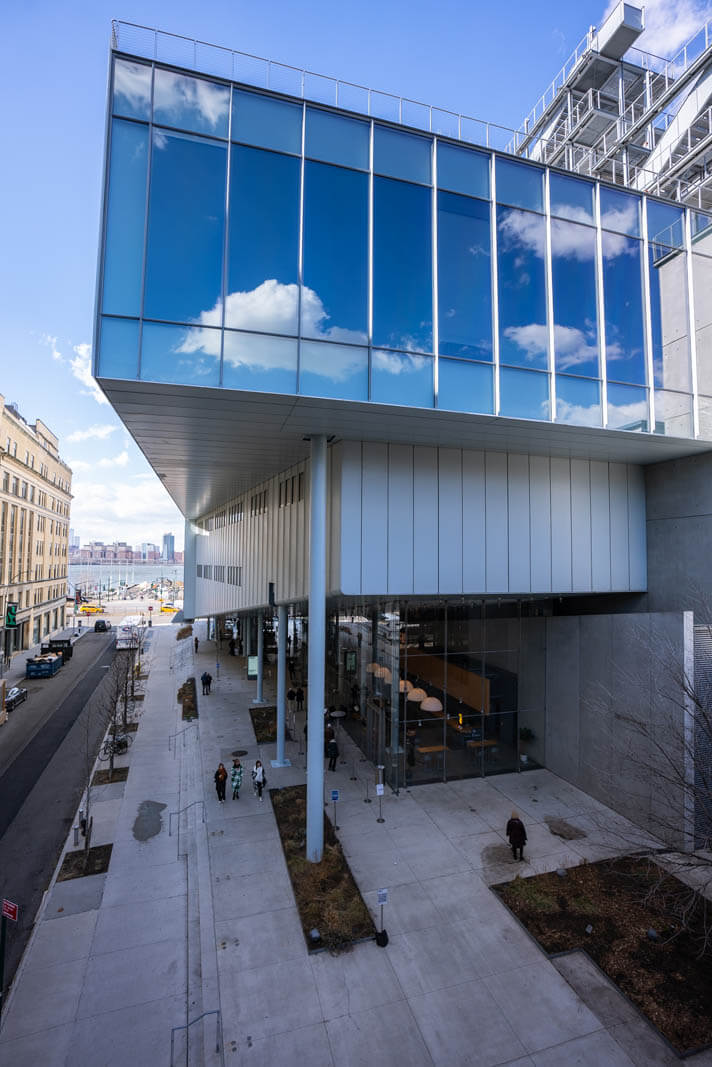 Address: 99 Gansevoort Street, Meatpacking District/West Village
The Whitney Museum of American Art is an art museum in the Meatpacking District and one of the best museums in NYC to visit. This museum has many fascinating art and media exhibits. It's also near the High Line, an elevated greenway where you can walk around and enjoy the views of the Hudson River.
If you're visiting The Whitney, it's best to get a ticket ahead of time online to ensure that you have a slot booked. On Fridays, this museum is pay what you wish from 7-9 PM (advance ticket required).
The Whitney has tons of outdoor exhibits that are great for viewing at sunset. There is also a shop inside that's perfect for merchandise, souvenirs, and books.
The Stonewall Inn & National Monument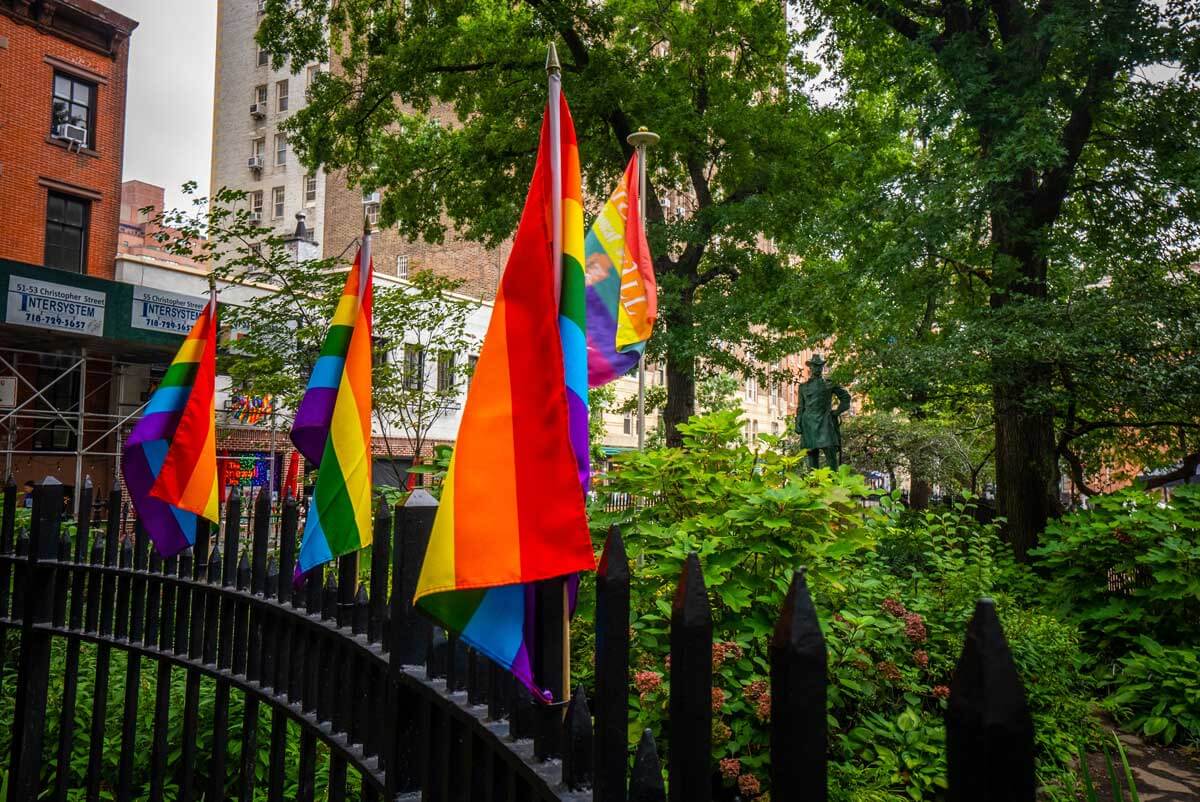 Address: 53 Christopher Street, Greenwich Village
The Stonewall Inn is a gay bar and National Historic Landmark in Greenwich Village that served as a refuge for the LGBT community in the 1960s. This is where the historic Stonewall uprising took place, including the 1969 riots that was a pivotal and key turning point in the gay rights movement.
Across the street in the small Christopher Park is the Stonewall Inn National Monument which is overseen by the National Parks department.
Museum of Jewish Heritage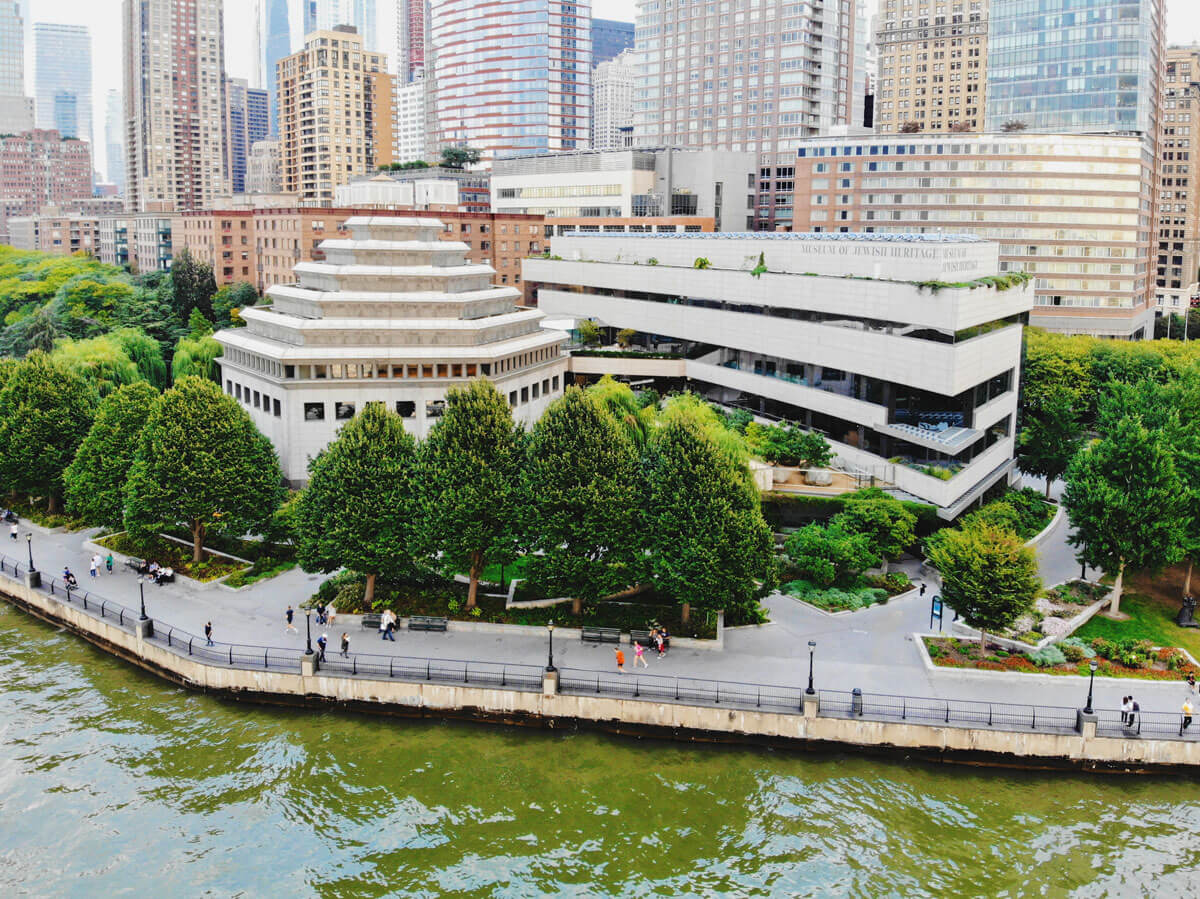 Address: 36 Battery Place, Financial District
The Museum of Jewish Heritage is a living memorial to the Holocaust. Located in Battery Park, this museum has tons of educational exhibitions about 20th and 21st-century Jewish life as well as exhibits that will allow you to learn more about the victims of the Holocaust.
This museum constantly has new installations coming out, including immersive exhibits using features like virtual reality. The museum is educational and a harrowing reminder of this terrible time in history. Keep in mind this is more of a somber experience, but still important and a reminder of the consequences of social injustice and discrimination, which is still very relevant today.
This museum also has a cafe on site and views of the Hudson River, New York Harbor, and Statue of Liberty from the upper floors.
National Museum of the American Indian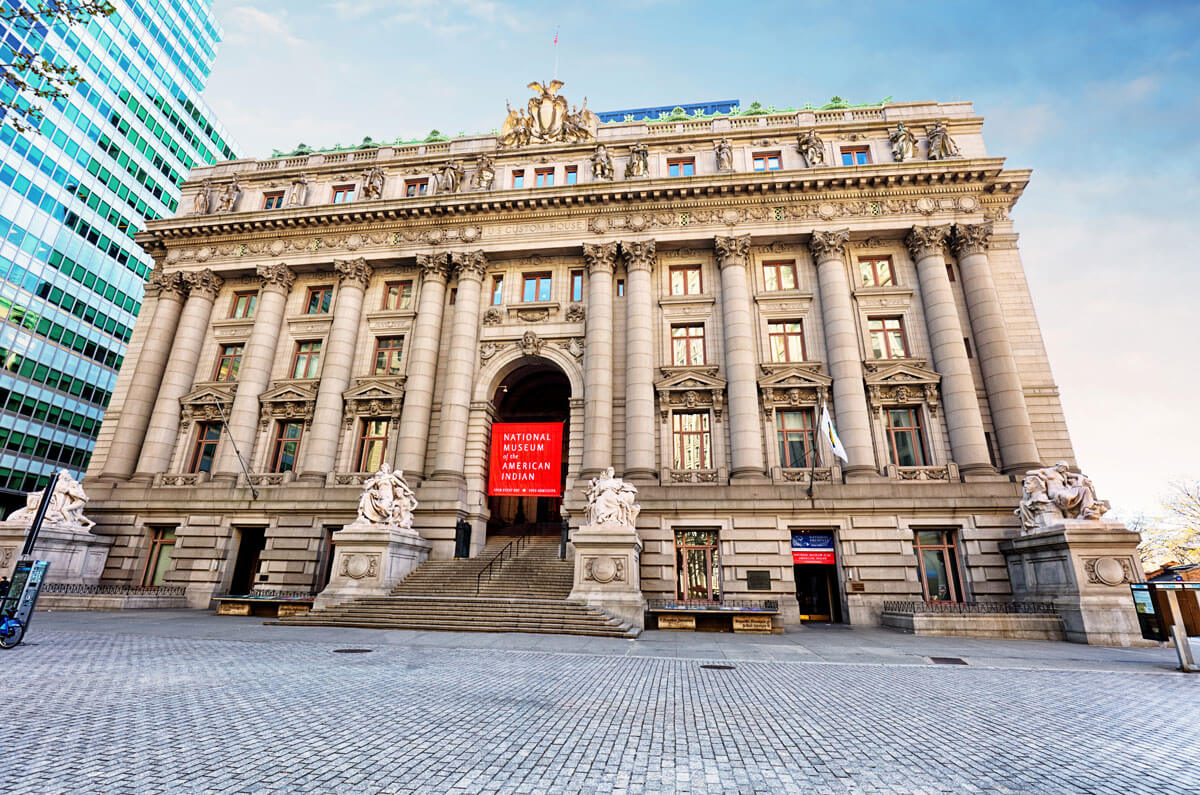 Address: 1 Bowling Green, Financial District
Another one of the best things to do in Lower Manhattan is to visit the National Museum of the American Indian, one of two Smithsonian Museums in New York.
Located in a former Alexander Hamilton Customs House, this free museum has several interactive displays and Native American artifacts that date to 12,000 years as well as exhibits and educational programming around the history and culture of indigenous people in North America.
The museum is also located across from the oldest park in the city, Bowling Green Park as well as near the Charging Bull and many other Lower Manhattan attractions.
South Street Seaport
Address: Where Fulton Street meets the East River
South Street Seaport is a great place where you can stroll through the cobblestone streets and stop by the cafes, shops, museums, and restaurants in this charming historic district that features some of the oldest architecture in downtown Manhattan.
This neighborhood and historic district is definitely a juxtaposition of old and new. The architecture alone is worth visiting as there are several 19th-century storefronts and mercantile that house all the charming businesses here. To learn more about the history of this area, be sure to pay a visit to the South Street Seaport Museum which has permanent and rotating exhibits.
You can also visit Pier 17 and enjoy the views of the Brooklyn Bridge and Brooklyn skyline from across the East River.
Although South Street was heavily damaged by Hurricane Sandy, it has since undergone intensive restoration and is now a great place to spend the afternoon, especially when it's nice outside!
Eat Your Way Through Chinatown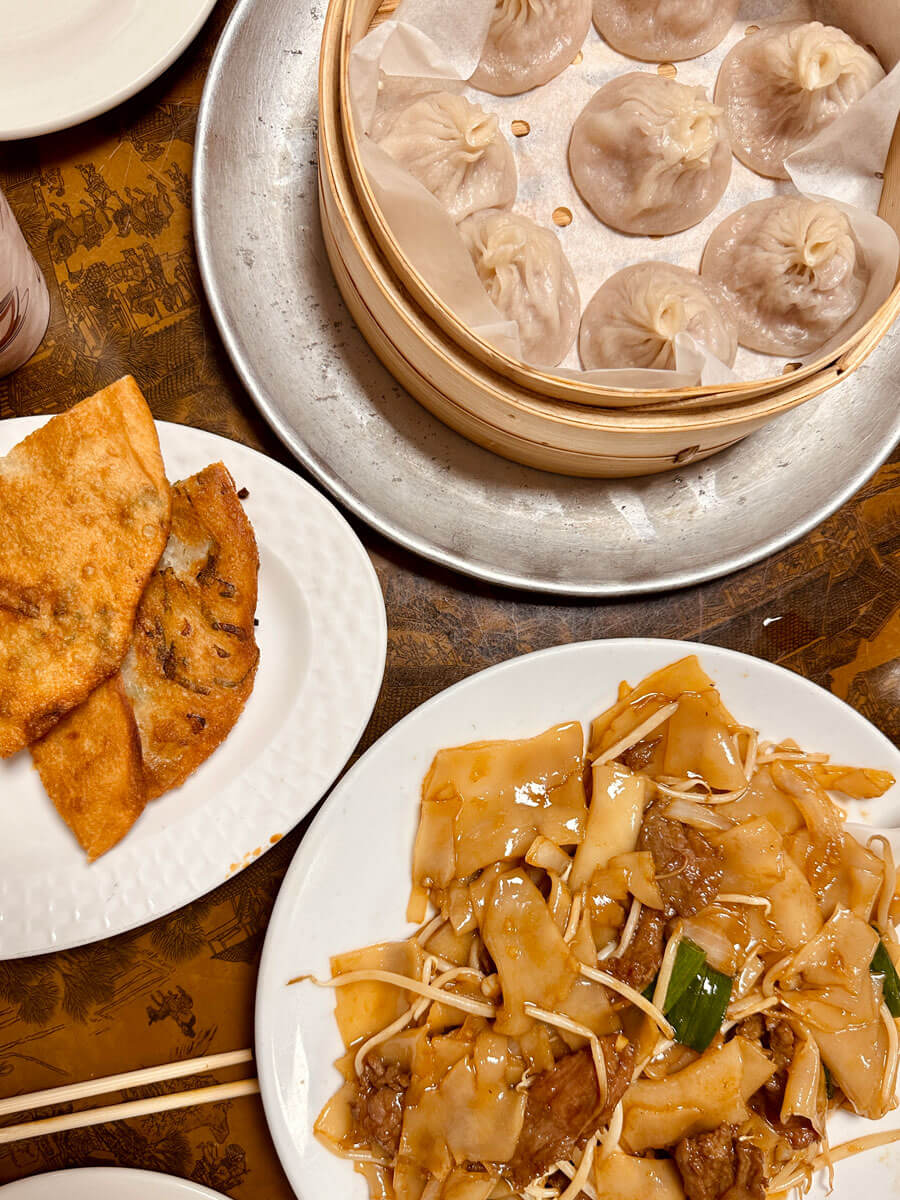 One of the best things to do in Lower Manhattan is spending an afternoon in Chinatown, starting by eating here as there are SO many incredible spots to dine here and a foodie hotspot.
Not only is this neighborhood home to one of the largest Asian-American populations in the country, but it's also one of the most historic neighborhoods in the city.
Some of the best Chinese food can be found at Tasty Hand Pulled Noodles, Joe's Shanghai, Xi'an Famous Foods, and Peking Duck House, and Deluxe Green Bo just to name a few. Visit Nam Wah Tea Parlor, the oldest Dim Sum restaurant in the city too. Follow up by visiting the many bakeries and bubble tea shops for a sweet treat.
Keep in mind that many Chinatown restaurants are cash-only, so have some handy. Another awesome thing about eating in Chinatown is that somehow, unlike everywhere else in the city, they have managed to be some of the most affordable meals in New York City (and delicious).
Also, one of the best things to do in NYC in February is attending the Lunar New Year celebrations in Chinatown, which is not to be missed if you're visiting in the winter!
Museum of Chinese in America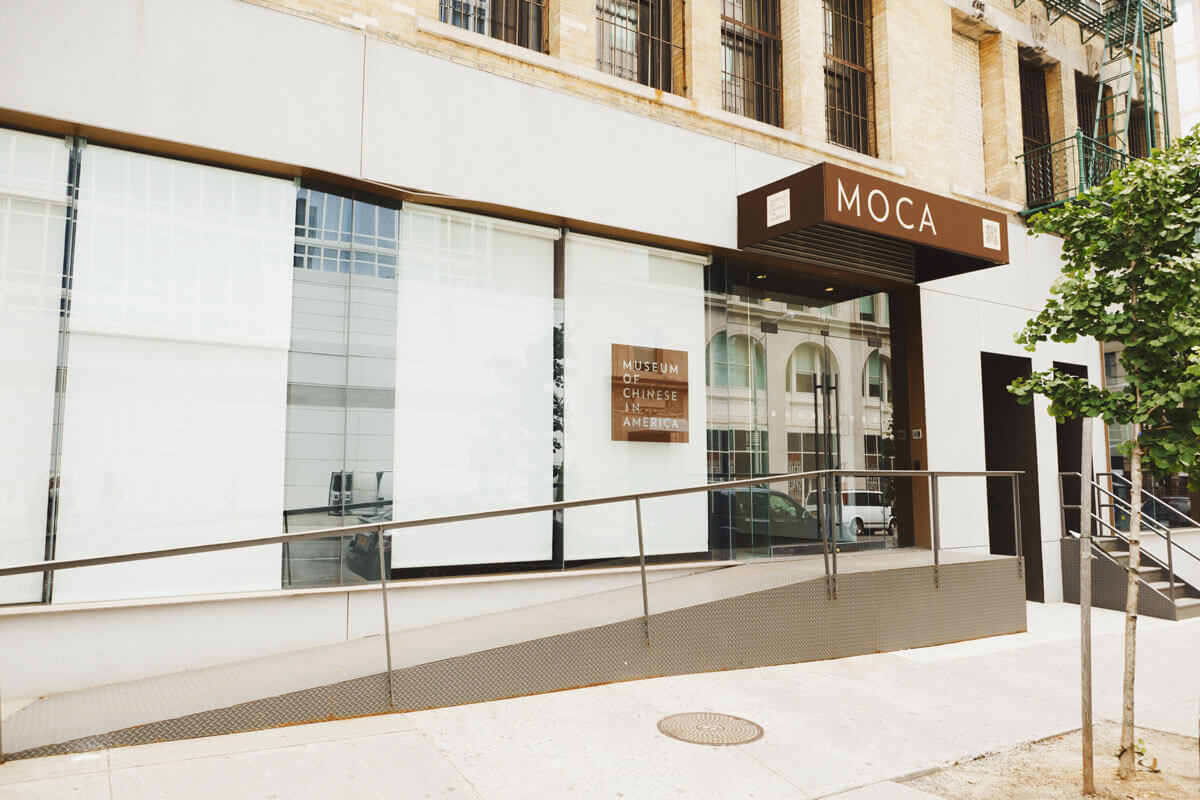 Address: 215 Centre Street, Chinatown/Little Italy
Another one of the best things to do in Lower Manhattan is to visit the Museum of Chinese in America. This Chinese American history museum focuses on telling the untold stories of Chinese immigrants.
This museum has three permanent galleries and many rotating exhibitions. Through these galleries, exhibits, and public programs, guests can learn about Chinese American food, music, history, fashion, and more.
Tenement Museum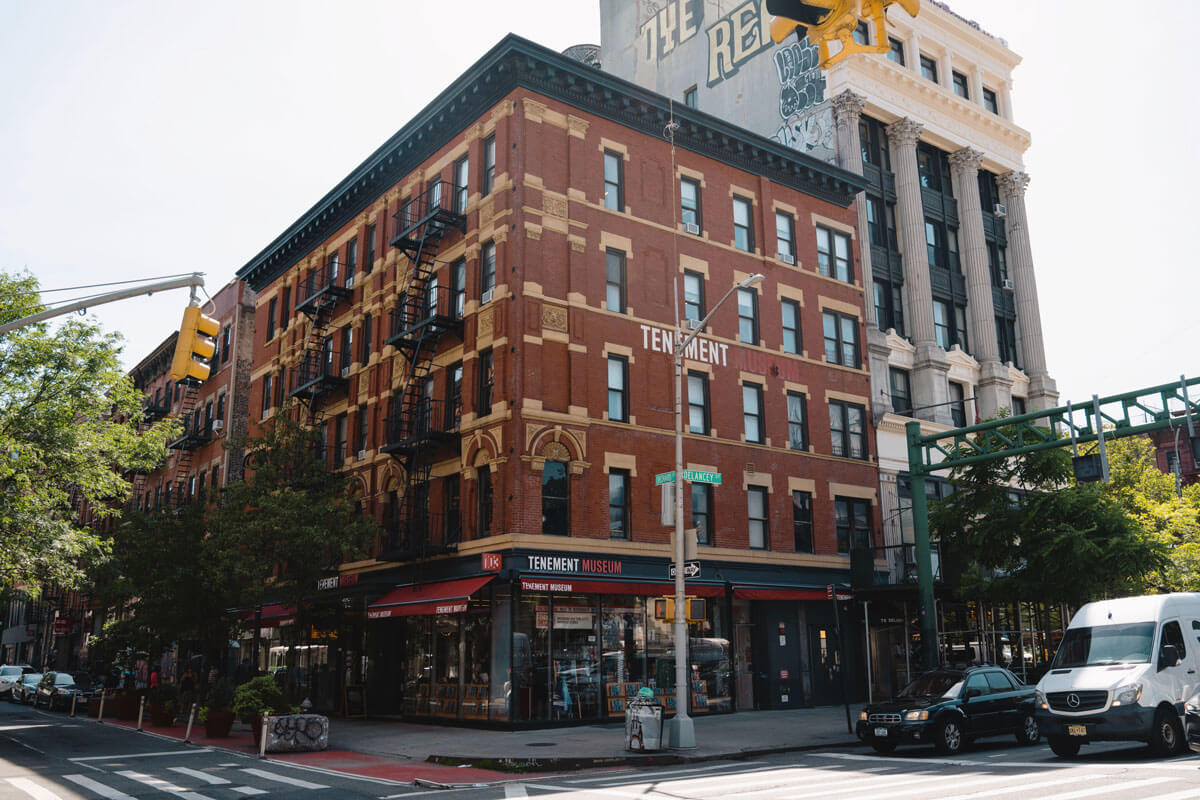 Address: 97 & 103 Orchard Street, Lower East Side
The Tenement Museum is a National Historic Site on the Lower East Side. By visiting this downtown NYC attraction, you'll get a glimpse into the history and see the real tenement buildings and what immigrants' lives were like in NYC in the 19th century.
The Tenement Museum has several options, best booked in advance as this is a popular experience. There are two historic tenement buildings that are a part of the museum, the rooms that are available to visit on tours showcase what living conditions and life were like through the stories of real immigrants.
The two buildings were home to nearly 15,000 people from over 20 countries spanning the 1860s-2011. The goal of the museum is to showcase the stories and historical perspectives of the immigrant experience and promote tolerance, which is still relevant today.
There are two types of tours to take, walking tours of the neighborhood or guided tours through the tenement apartments. There are 6 different apartment tours you can choose from, if you're having a hard time choosing which to try first, 100 Years Apart features two apartments a century apart and the stories of the two different immigrant women and their lives showcasing the similarities in their struggles, hopes, and survival as new residents to New York City and the United States of America.
The walking tours take you around the Lower East Side neighborhood with a guide and historian. There are currently four different options for the walking tours which feature different narratives and experiences of the people who lived in the neighborhood.
Brookfield Place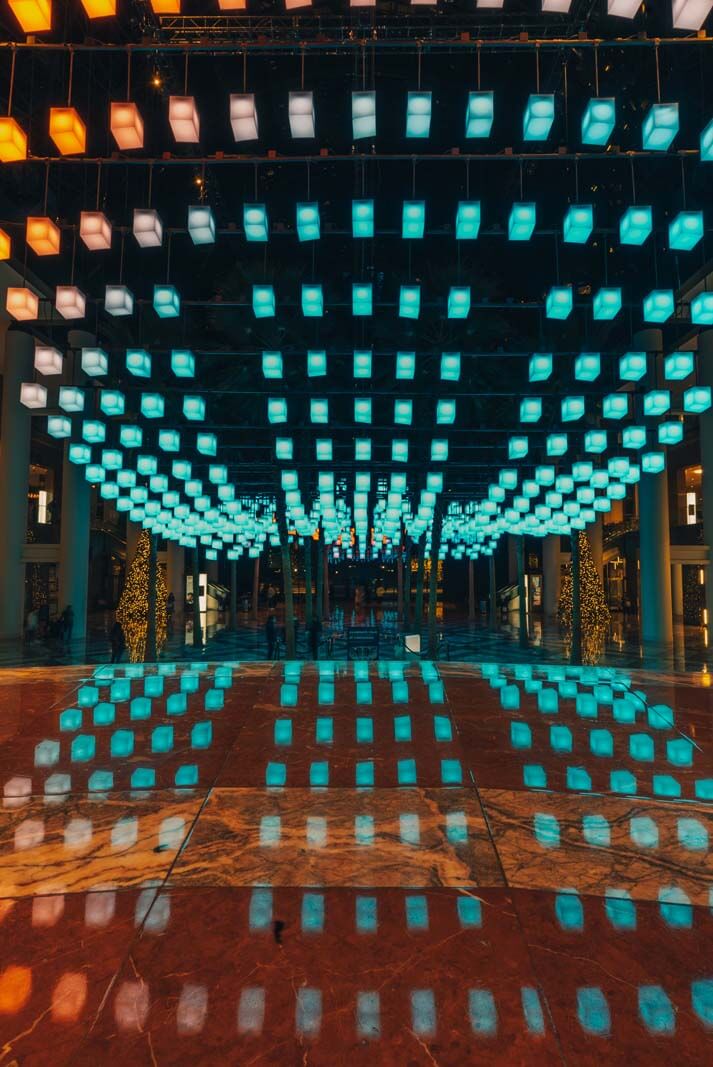 Address: 230 Vessey Street, Financial District
Another one of the best Lower Manhattan attractions is Brookfield Place. This high-end and luxury shopping mall is one of the best places to visit to get in the holiday spirit! Here, you can watch their illuminated light show during the holiday season and see some of the best Christmas lights in the city.
The Rink at Brookfield Place is an ice skating rink here along the Hudson River that also makes for another fun winter activity.
It's worth taking a lap around Brookfield Place even if you're not in the mood to shop designer labels, there are great restrooms and facilities to use here while exploring all the best things to do in Lower Manhattan and there are also more dining options available here if you're looking for a quick place to grab a bite to eat.
McSorley's Old Ale House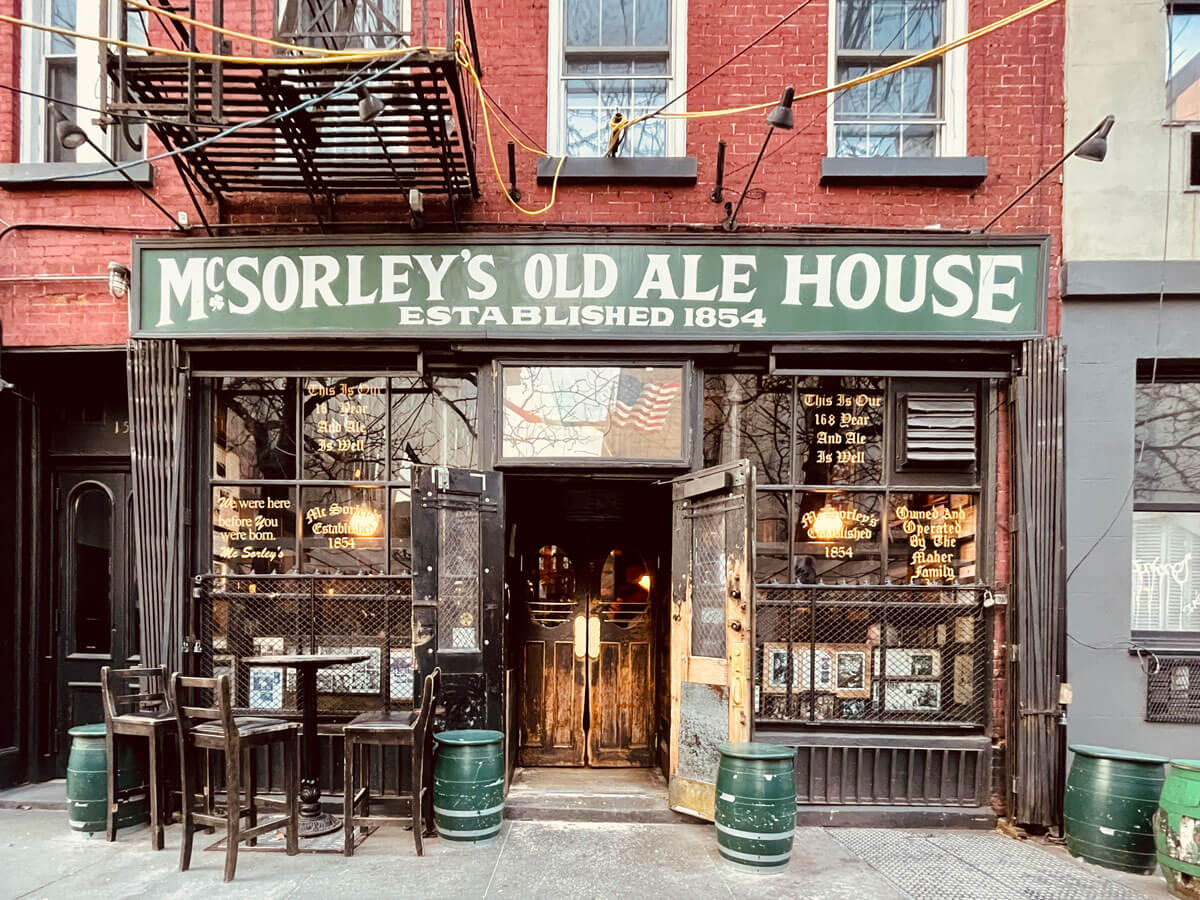 Address: 15 East 7th Street, East Village
One of the most famous historic bars in the is McSorely's Ale House, established in 1854 and the oldest Irish Pub in New York. Known for its great beer, this Lower Manhattan attraction was originally an Irish working man's saloon located in the East Village.
The entire bar is covered floor to ceiling with old memorabilia that hasn't been removed since 1910! Many of these items even have stories behind them, like the wishbones hanging above the bar were supposedly hung there by soldiers going off to WWI to be taken back down when they returned, the ones that are left hanging are said to be by those who did not return sadly.
There's a lot of history tied to this historic establishment, including prohibition-era stories where they served 'near beer' which was low enough in alcohol content it was considered legal. This was also one of the last 'men-only' establishments that wouldn't allow women in until they were forced to do so in 1970…
Today, any gender can visit and expect sawdust on the floor and a no-frills feel here. At this ale house, you'll have a choice between light or dark ale, the only two beers they have. You can also indulge in their chicken, burgers, hot dogs, and french fries. Just keep in mind, it's cash-only here!
Speakeasies of LES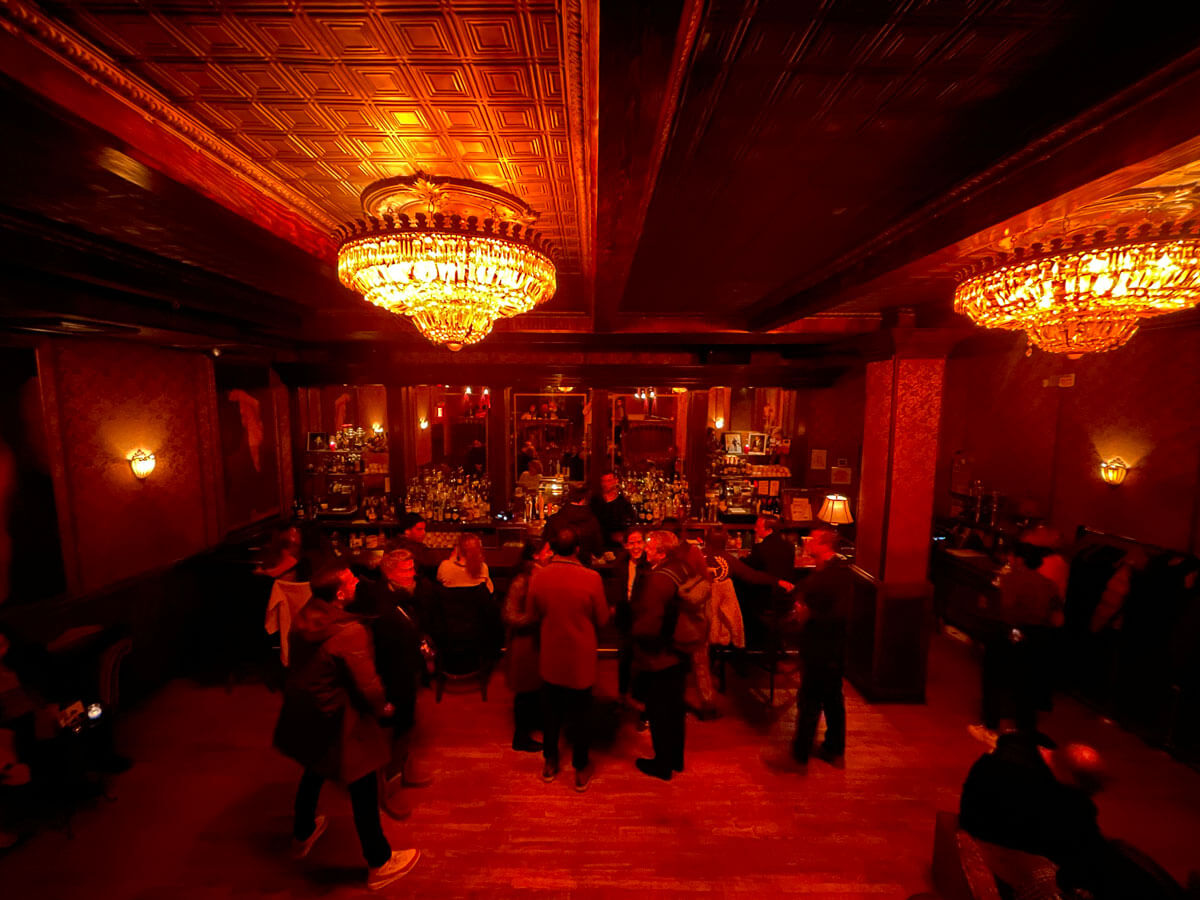 The Lower East Side is loaded with prohibition-era history and speakeasies! If you find yourself in the neighborhood, be sure to check out The Back Room. This speakeasy was running during the prohibition and was a favorite of the gangsters of the roaring 20s, including Lucky Luciano, Bugsy Siegel, and Meyer Lansky.
Another place worth visiting is Attaboy, a speakeasy in a trendy industrial space with tons of celebrity sightings!
Another to be sure to check out the famous Beauty & Essex. The entrance of this speakeasy looks like a pawn shop, but as you make your way through the space, you'll be able to enter the lively restaurant and lounge for great American food and creative cocktails.
Check out all of our favorite speakeasies in NYC for more ideas!
Walk the Brooklyn Bridge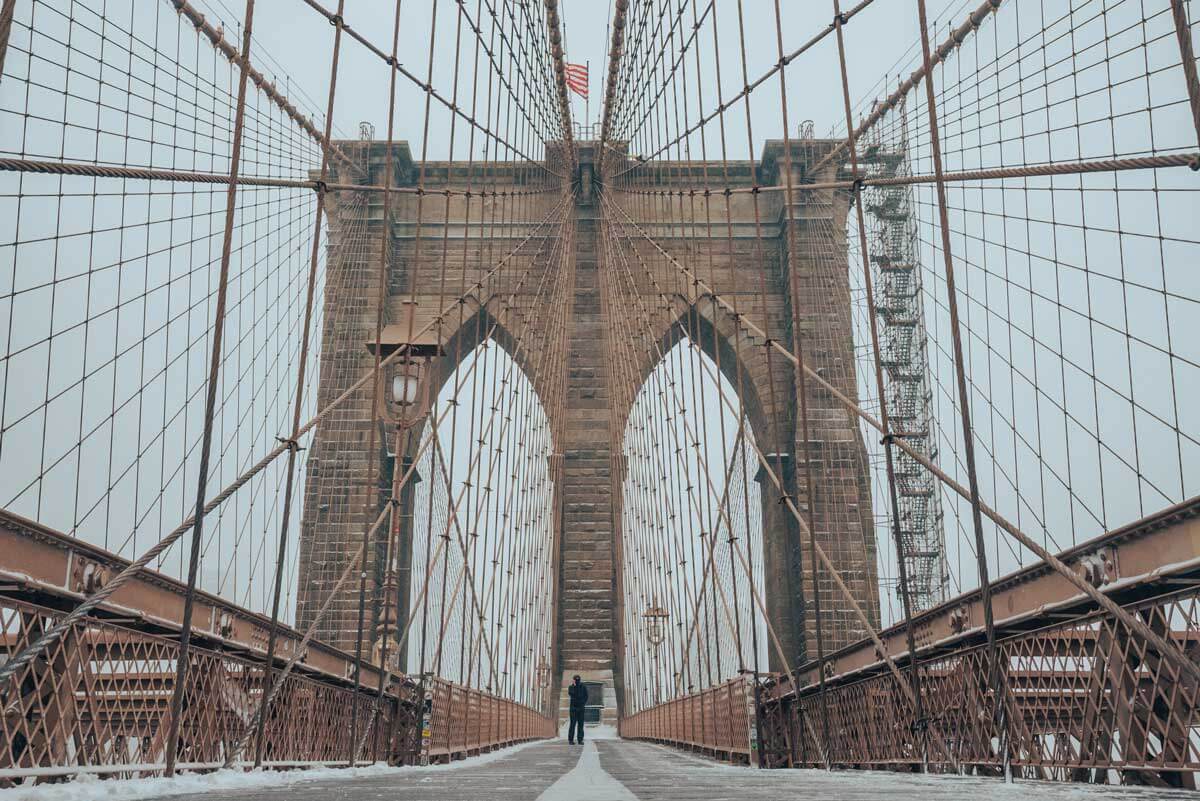 Walking the Brooklyn Bridge is one of the most quintessential things to do in New York City! Since this is such a popular activity, be prepared for large crowds, especially if it's a nice sunny day, holidays, or weekends.
The entire Brooklyn Bridge takes about 30-40 minutes to walk depending on how many photo breaks you take or how crowded it is. If you really want the best photo opportunities, it's best to start on the Brooklyn side so you can see the skyline in the background the entire time.
You'll exit (or enter) the Brooklyn Bridge at City Hall in Lower Manhattan.
Grand Banks
View this post on Instagram
Address: Pier 25, Hudson River, Tribeca
Grand Banks is a fantastic seasonal oyster bar on the historic ship Sherman Zwicker at Pier 25 on the Hudson River in Lower Manhattan.
Typically opening for the season in late April or early May (depending on the type of spring we're having) through the end of fall, you'll want to snag a reservation on the deck for fresh oysters and drinks accompanied by fantastic views of the skyline and Hudson River.
This is without a doubt one of the best waterfront restaurants in the city and the perfect place to be at sunset.
Candlelight Catacombs Tour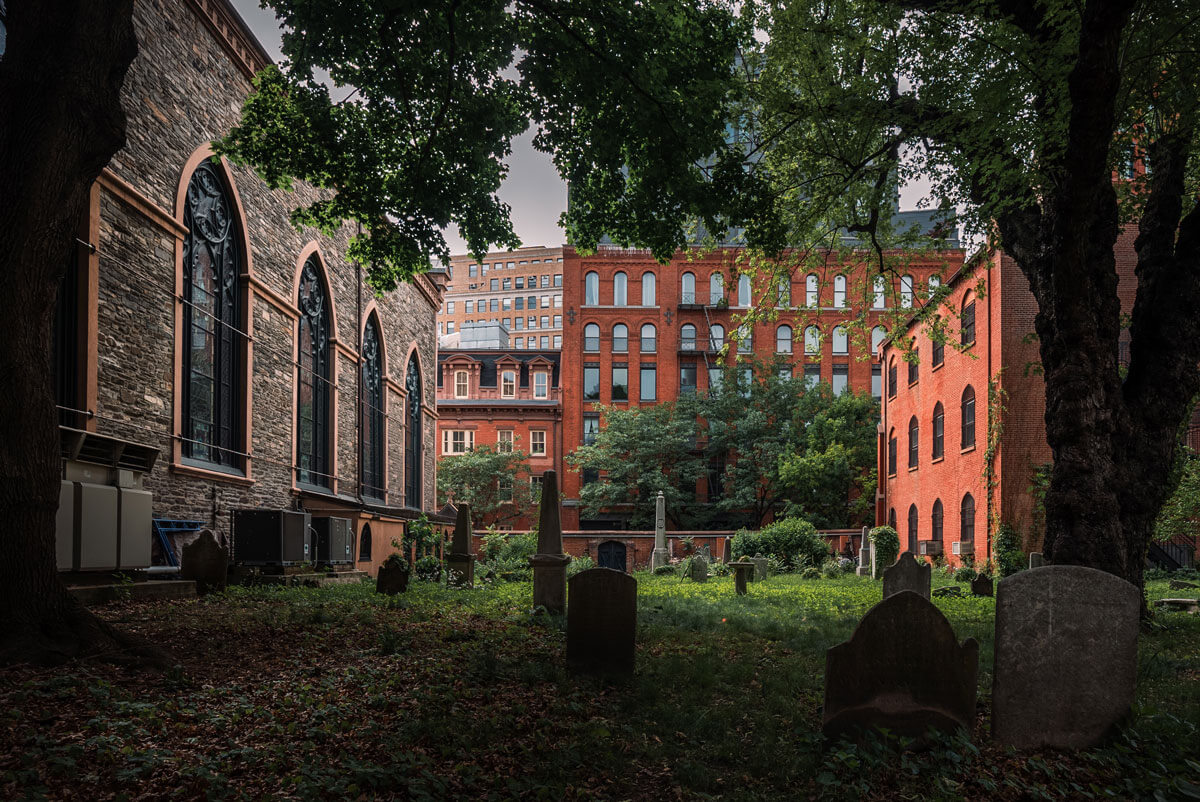 Address: 263 Mulberry Street, Nolita
One of the best downtown NYC tours is the Catacombs by Candlelight tour at the Basilica of Old St. Patrick's Cathedral in Nolita. This is actually the oldest St. Patrick's Cathedral in the city and is the official held seat of the Roman Catholic Archdiocese of New York until the other. Yep, that's right the more famous St. Patrick's Cathedral in Midtown on 5th Avenue opened in 1879 (64 years after Old St. Patrick's was built).
The Catacombs by Candlelight tour takes you through a 90-minute guided journey through the catacombs, the organ, and the cemetery – all of which are off-limits to the public. Along the journey, you'll learn about the Gangs of New York (another Scorsese film based on true events) and other secrets of NYC!
You'll also learn about the cathedral and some of New York City's most fascinating historical events, and you'll be able to see where the baptism scene of The Godfather was filmed!
Then at the very end of your tour, you will get a candle to explore the catacombs of the prominent Catholic families of NYC including the Delmonico's of the famous steakhouse! Book your Catacombs by Candlelight tour here.
Jackie Robinson Museum
View this post on Instagram
Address: 75 Varick Street, Hudson Square
The Jackie Robinson Museum, which took 14 years to complete is a museum that celebrates the legacy of Jackie Robinson, his greatest achievements, and how they all fit into American history.
The Jackie Robinson Museum focuses on the issues that still challenge our society today, including racial, economic, and social equality. If you're into history, baseball, and/or iconic American figures, visiting this museum is a perfect downtown NYC activity for you!
The New Museum
View this post on Instagram
Address: 235 Bowery Street, Lower East Side
Visiting The New Museum is another one of the best things to do in Lower Manhattan.. This internationally renowned contemporary art museum is on the Lower East Side, near many great restaurants and bars! (Like Freeman's, Ray's, Loreley Beer Garden, Russ & Daughters, and Katz Deli to name a few).
The New Museum has over 6,000 exhibition pieces featuring the work of contemporary artists who haven't had much exposure. They often have fun events too like book launches, trivia nights, and artist talks too.
The 7th-floor terrace is not to be missed when you visit.