Believe it or not, February in NYC is a great time to be in the city. February is home to some of the city's exciting annual events and a great time to visit NYC on a budget as the holiday peak tourist season has passed and this is a slower time of year for tourism – which means you get to enjoy some of the best NYC attractions and experiences without the crowds.
Not to mention there are exciting events and winter activities from celebrating the Lunar New Year, unique heated outdoor dining options, and shopping local to gift that Valentine in your life. These are just a few of the exciting things to do in NYC in February.
This article is to help springboard some ideas to make sure you have a great time in NYC this February.
Some businesses respond by swapping out all the Christmas and holiday lights with Valentine's day themed décor, food, and events as well making February in NYC a little bit more whimsical than it already is. Don't miss our full guide for the best things to do for Valentine's Day in NYC too!
New York in February Weather
February in NYC can be a bit tricky to prepare for if you're not coming from a similar climate. On average it's in the low 40's F (5C) with approximately 17 days of sunny or partly sunny days which is great. But the other 11 days are typically either a bit rainy and sometimes you might get bit of snow (if you're lucky as snow is WAY more beautiful than cold, rainy days in the city).
With that in mind be sure to bring layers. We recommend some lightweight layers, mittens or gloves, a winter hat, as well as some comfortable boots that can get wet along with a solid winter jacket.
If you plan on hanging out by any of the waterfront areas like along the Hudson River, East River, or planning on doing any sightseeing by boat, walking across the Brooklyn Bridge (without crowds!), visiting some of the best parks in NYC, or any other outdoor activity, or just happen to be walking in the shadows of the buildings with a little breeze that you are prepared to wear enough layers. The nip in the air can surprise you!
Things to do in NYC in February
Name A Roach for an Ex at the Bronx Zoo
Let's start off by prefacing that February is full of romantic things to do in NYC as it's the month of Valentine's Day. If you are feeling blue this Valentine's don't worry we've got you covered.
By far and away the most non-romantic things to do in New York in February is naming a roach for your ex at the Bronx Zoo. I mean, unless your Valentine loves roaches. You can even get embroidered beanies, socks, and an adorable card of your roach.
I just love the fact that this is a thing and has been since 2011. What's funny is that this has always been a thing for your 'ex' but as of recently the Bronx Zoo has rebranded this to give to your actual Valentine, so do a temperature check in your relationship if this is something you plan on doing.
Lunar New Year Celebrations in Chinatown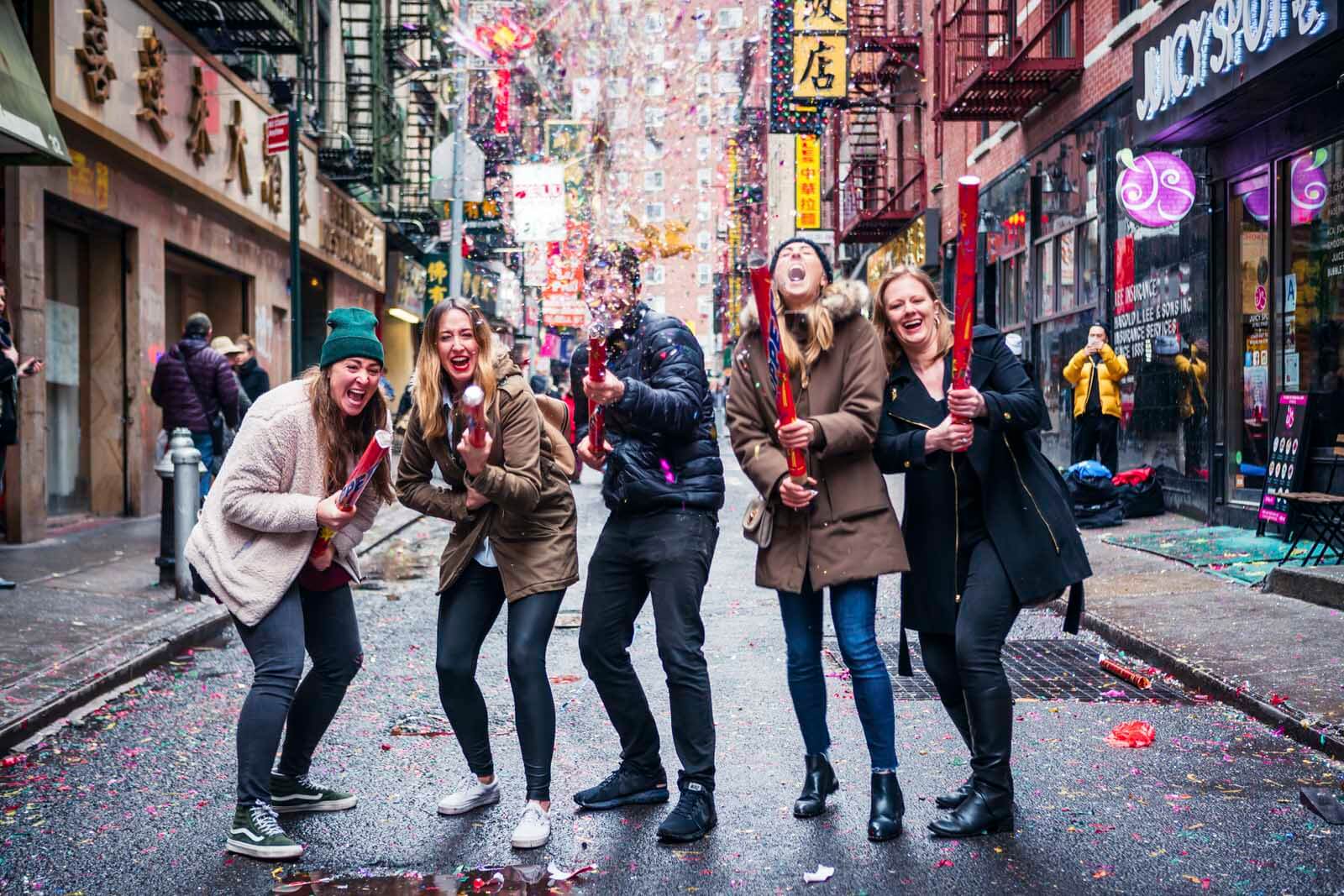 Every February in NYC you can celebrate the Lunar New Year in Chinatown to celebrate the beginning of the lunar calendar celebrated throughout various parts of Asia.
The most popular and well-known Lunar New Years Festivals are the two that take place in Manhattan's Chinatown: New Year's Day Firecracker Ceremony and Cultural Festival and Lunar New Year Parade and Festival.
This is where Chinatown comes to life and you can find all kinds of fun gifts, food, and even personal confetti blasters to add to the exciting parade as it passes by with its lion and dragon dances, floats, live performances, and more!
Keep in mind these dates fluctuate year to year as they are based on the lunar calendar and sometimes does happen to fall on late January! And with that being said, if you want to spread the love throughout the city during Lunar New Year consider also visiting Sunset Park in Brooklyn and Flushing in Queens.
New York Fashion Week
Another annual event that takes place in February is the New York Fashion Week where all the mainstays of American fashion get together for five days and release designers unveil their highly anticipated fall collections. Take a look at the calendar to see what's in store this year.
While getting access to attend fashion week, whether you're looking to go in February or in September, is another story unless you're connected to the industry. That is unless you know how to snag tickets. There are a few ways, one is to get open-to-the-public tickets directly from NYFW, another is by checking out Eventbrite and seeing if there are any listed there, and last, follow and brands that you're already a fan of that might have pop-up events or any fun happenings going on during NYFW.
There's also this fun New York Fashion Week experience where you can book tickets to attend multiple events ranging from General Admission to special VIP experiences.
Catch a Basketball Game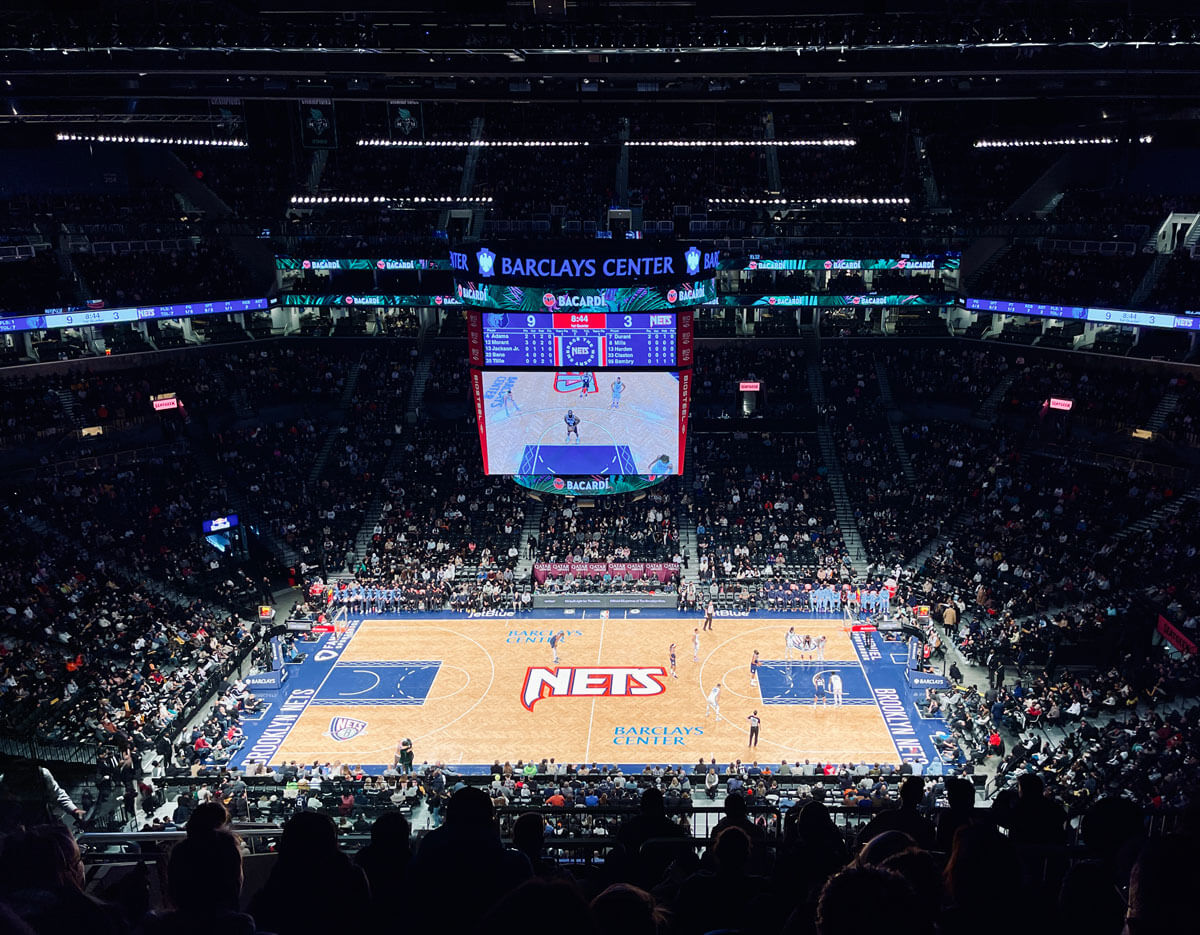 If you're a basketball fan then you're in luck, you have two great choices for basketball in NYC.
If you're in Manhattan you should definitely catch a game at the iconic Madison Square Garden to cheer on the Knicks. There's a good chance to catch a glimpse of Knicks superfan and famous Brooklynite Spike Lee along with other celebrities who are huge fans of the Knicks.
If you're staying in Brooklyn or just an NBA junkie, Barclays Center in Downtown Brooklyn is another great choice to catch the Nets as they are one of the best teams in the NBA, and our favorite team but we might be biased.
And plan your pre or post-event by checking out the best places to eat near Barclays Center just a short walk away! There are so many incredible food options, so take a local's recommendation from our guide.
---
SeatGeek, a popular ticket search engine that makes finding tickets to sporting events, concerts, and many other live events in NYC quick and easy.
When you add our promo code BROOKLYNGUIDE to your SeatGeek account, you receive $20 off your first ticket purchase.
(We receive a small commission at no extra cost to you)
---
NYC Restaurant Week
It's no doubt that New York City is one of the best destinations for food on the planet. Better yet, if you're visiting New York in February you can attend the highly anticipated semi-annual NYC restaurant week (which starts in January) continues until mid-February.
Participating restaurants offer two-course lunch and three-course dinner options in some of the best restaurants across all five boroughs at a steeply discounted special price for the event.
Keep in mind that participating restaurants do the special dining and menus for restaurant week Mondays through Fridays with a few participating on Sundays. Reservations are highly encouraged.
Shop for Something Special for Your Valentine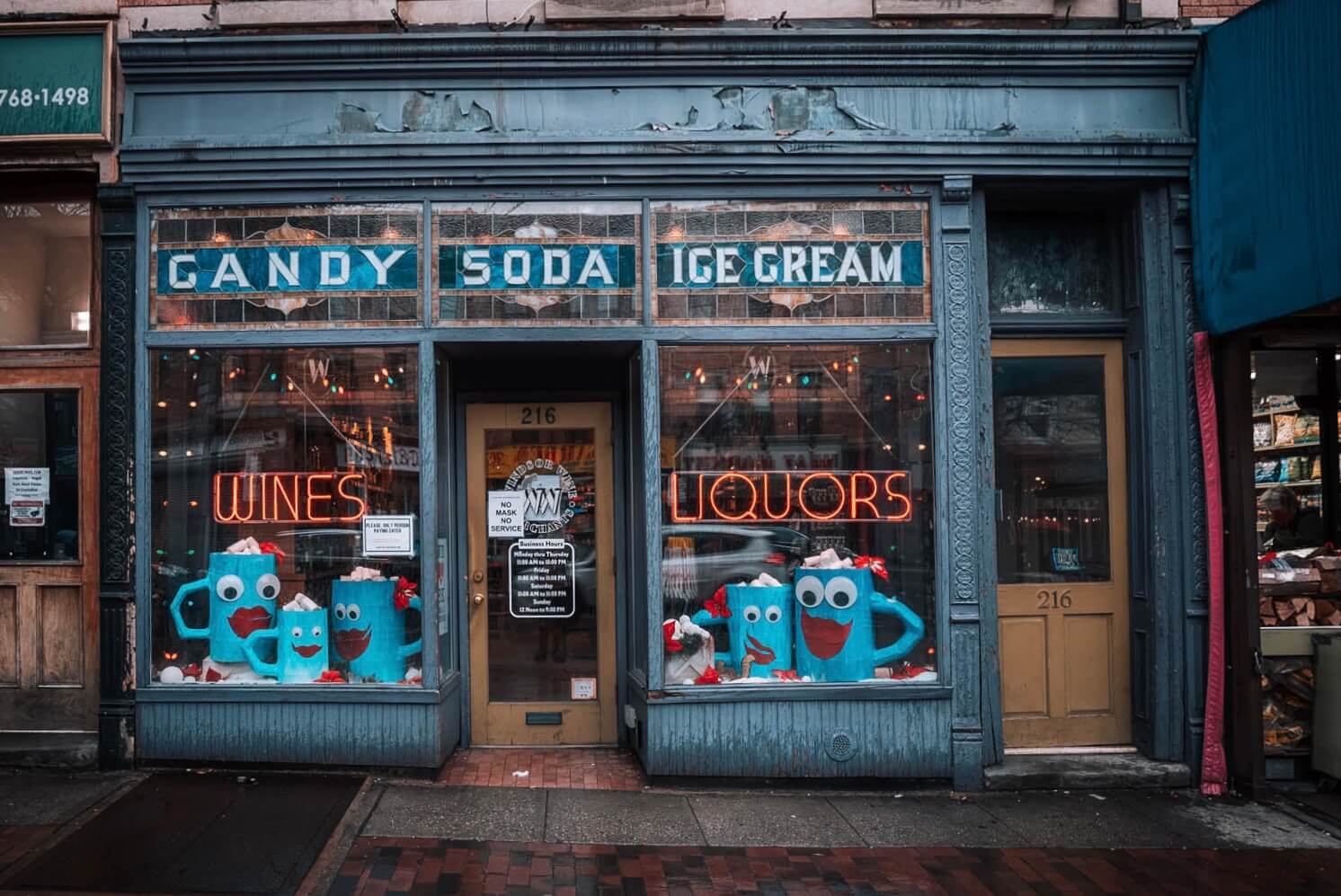 Show your Valentine that you really care about them all while showing our local businesses and independent shops you care about them too this Valentine's Day!
One of the best things to do in the first half of February in NYC is to be sure to take care of all your Valentine's Day needs across all five boroughs. As you can tell by the name of our site, we are biased. Be sure to check out our guides for your go to guide for celebrating Valentine's Day in Brooklyn covering everything you can think of from chocolates to booze, to fun and unique dates spots as well as the best gift stores in Brooklyn to support our small, local businesses that make shopping such a unique experience here!
Governors Island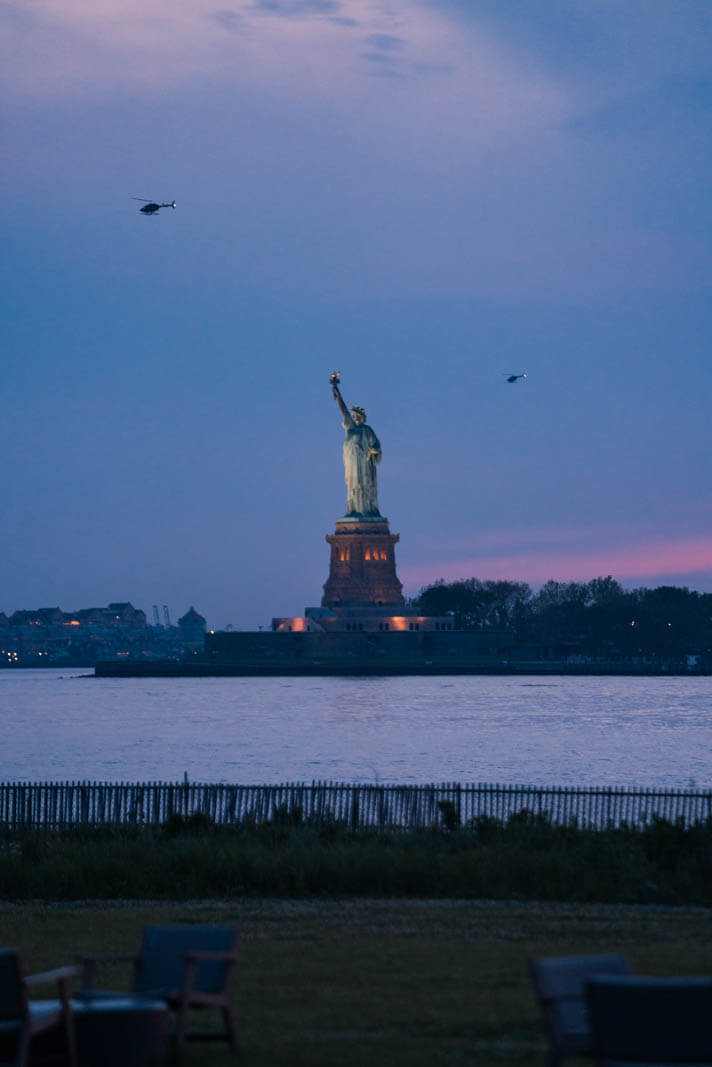 One of our absolute favorite places in NYC is Governors Island located in the New York Harbor, this former military base is one of the best recreational, historic, and public spaces for visitors and locals to enjoy!
The small island and former military base offer some of the best panoramic views of lower Manhattan, the Statue of Liberty, New Jersey, Brooklyn, and Staten Island.
From 2006 to 2021 the city allowed visitors seasonally from May until October offering recreational activities and space to enjoy the island's biking trails, walking trails, restaurants, resident artists, hammocks, playgrounds with fun slides, sports fields, and some of the most amazing unobstructed views of Lower Manhattan and the Statue of Liberty.
In 2021 it was announced that Governors Island would be available to visit all year long making it a truly unique destination to visit during winter (or February in NYC!) with pop-up events and winter-themed activities like ice skating. Not to mention the glorious QCNY Spa open year-round.
We have an entire guide dedicated to all the best things to do at Governors Island which is only a $3 ferry ride for adults (free for kids under 12 and seniors over 65).
And besides the views, the history is fascinating. Long before colonization and its use as a military base, the island and the land on it was used by the Lenape to gather nuts, its original name was Paggank or "nut island." Its name was changed under British occupation and was used as an American military base from 1794 until 1995.
New York Aquarium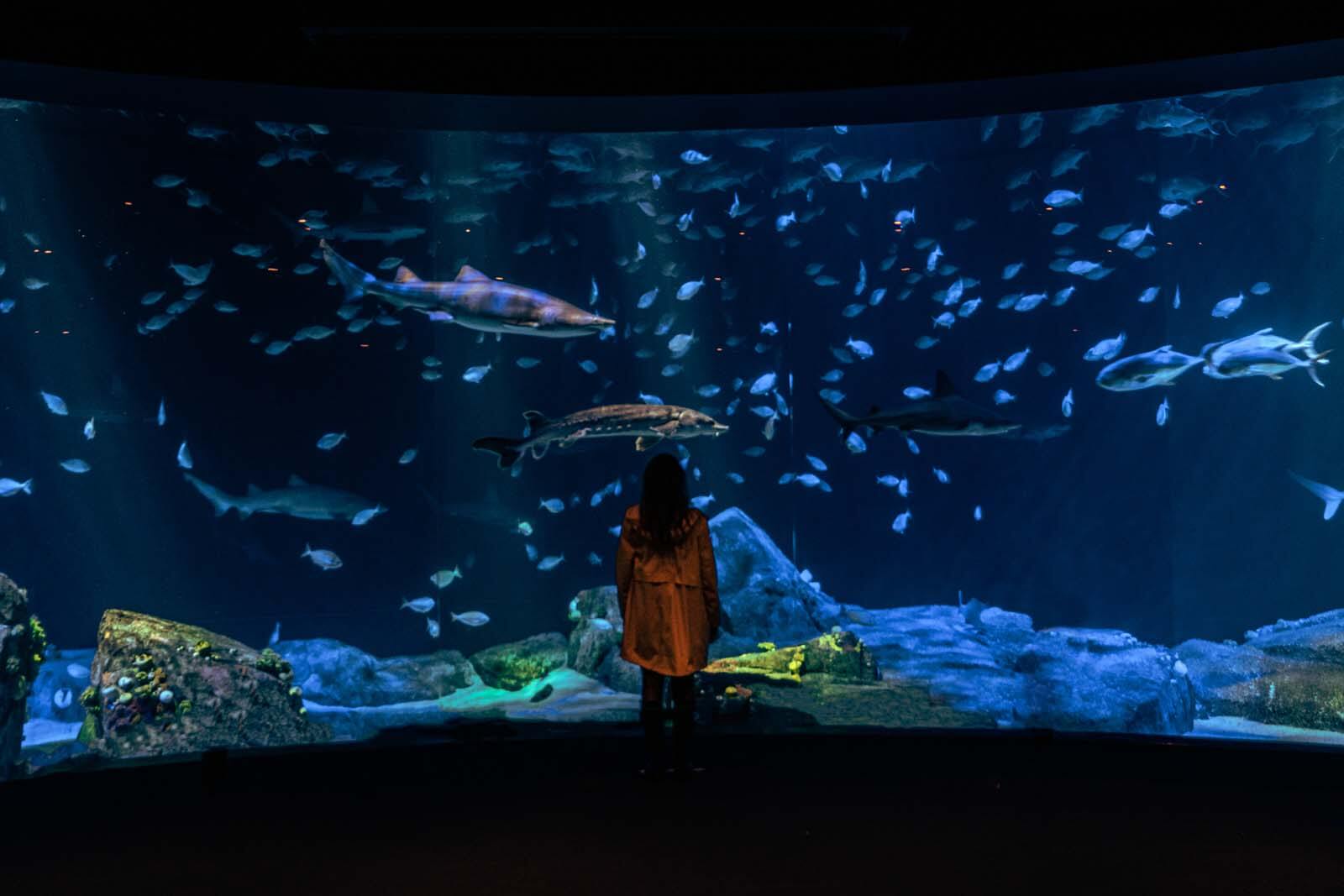 Another one of my favorite things to do in New York in February is visit the New York Aquarium on the historic Coney Island Rieggleman Boardwalk!
This was always a fun date, especially off the popular summer season when visitors flock to all the fun things to do in Coney Island like ride the Wonder Wheel and lounge at the beach, visiting in February means there are a lot fewer people to share all the wonders that the aquarium has to offer like their glass tunnel you can walk through as sharks swim above your head.
And thanks to the Hollywood heartthrob Michael B. Jordan who rented out the entire aquarium for a private date for Lori Harvey for helping spread the word that the New York Aquarium is a great date spot!
Open from 10 am to 4:30 pm, read our full guide on everything you need to know about visiting the New York Aquarium at Coney Island to help you prepare for your visit. This is a fun day date, for more date ideas check out our guide for romantic date ideas in NYC.
Ice Skating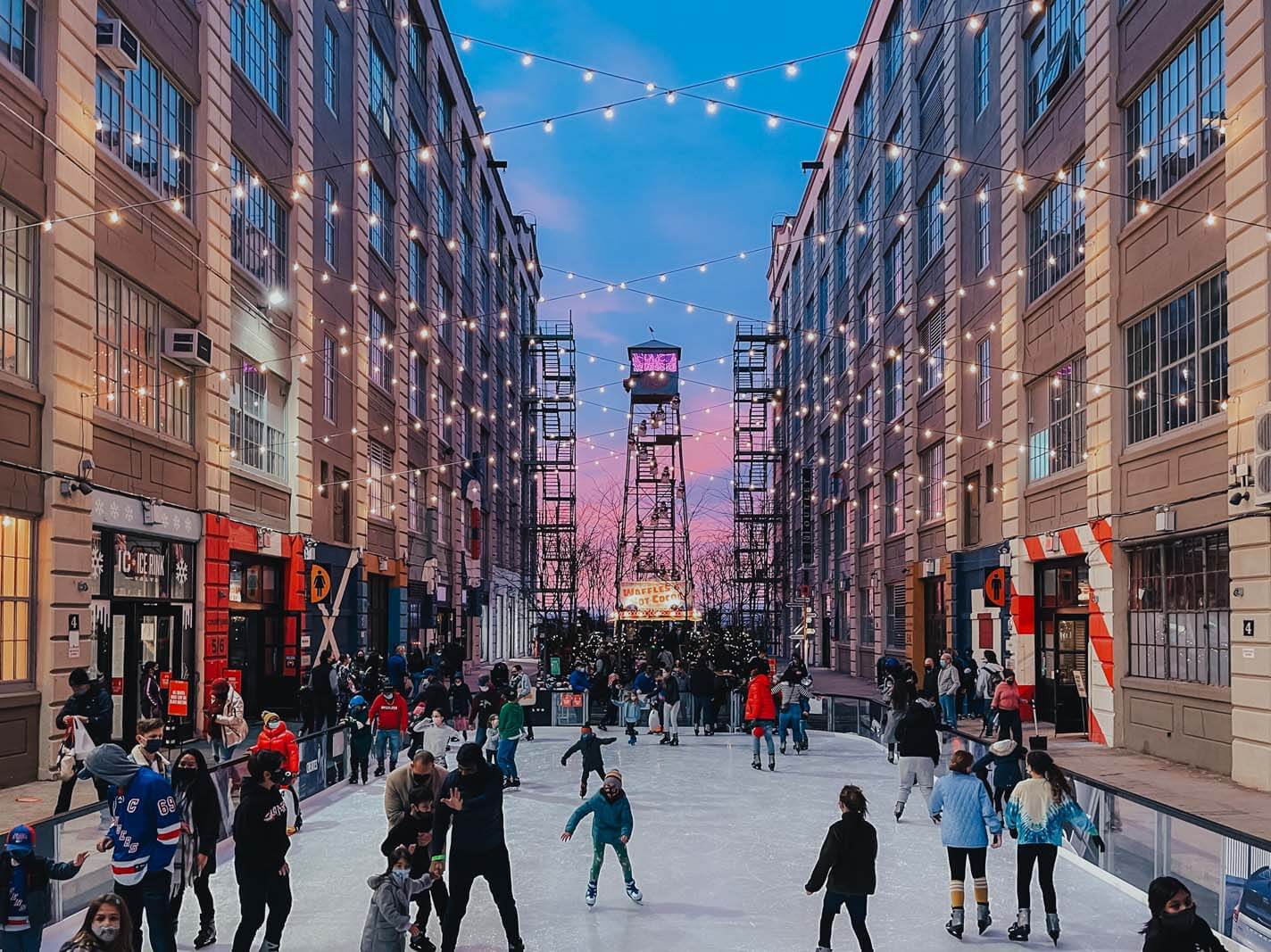 Ice skating is one of the best things to do in New York in February because it's kind of a shoulder season in terms of tourists, so you get fewer crowds at some of the city's most popular ice skating rinks.
Of course, everyone knows about the iconic ice-skating rink at Rockefeller Plaza but since the tree will be down it might be worth heading to Bryant Park where you can also grab a drink at the Lodge and enjoy other shopping and eating activities while the Winter Village is still set up.
Other notable places to go ice skating are the Wollman Rink in Central Park and enjoy a leisurely stroll through some of the best spots and hidden gems in Central Park pre or post ice skating.
Chelsea Piers has an indoor sky rink that is open year-round as well as multiple options for ice skating in Brooklyn like Prospect Park and the rooftop at William Vale hotel in Williamsburg with skyline views.
Hit up the Museums
While not unique to just February in New York, hitting up the best museums in NYC is perfect this time of year again because event the city's most frequently visited museums like the American Museum of Natural History and Metropolitan Museum of Art have significantly fewer people visiting off-season.
Some of the other most notable museums include MoMa, the Frank Lloyd Wright-designed Guggenheim, the Brooklyn Museum, and many more. Speaking of, there are plenty of cool museums in Brooklyn to check out too.
PSST Want to Save Money?
There are a few different money-saving attraction passes available in NYC that are WORTH every cent if you plan on seeing multiple famous attractions in the city including the museums!
These attraction passes are paid upfront for a one-time fee and on your trip they get you into multiple different attractions for free meaning that you save some serious money overall. By purchasing an attraction pass you can save anywhere from 35-45% on your attraction and saving you hundreds of dollars on your visit!
This is good for anyone who wants to do a lot of sightseeing in a few days or week, and as we mentioned some of the best things to do in New York in February is take advantage of the awesome tourist attractions the city has to offer without the crowds!
CityPASS offers a 3 attraction pass or a 6 attraction pass with over 12 city attractions to choose from including popular observatories like the Empire State Building, The Edge, Top of the Rock, 9/11 Memorial & Museum, Statue of Liberty & Ellis Island, the Guggenheim, and more!
Another great option is the New York Pass which you can purchase anywhere from a 1 Day Pass to a 10 Day Pass that gets you into over 100 attractions. Once you purchase your New York Pass you download the Go City app and use that to get up to 45% savings on popular attractions as well as a few hidden gem attractions ranging from the Empire State Building to museums and MANY more.
See our full breakdown of the New York Pass and our breakdown of the New York CityPASS to see if it's worth it for your visit to save hundreds of dollars on multiple attractions!
Igloo Dining in NYC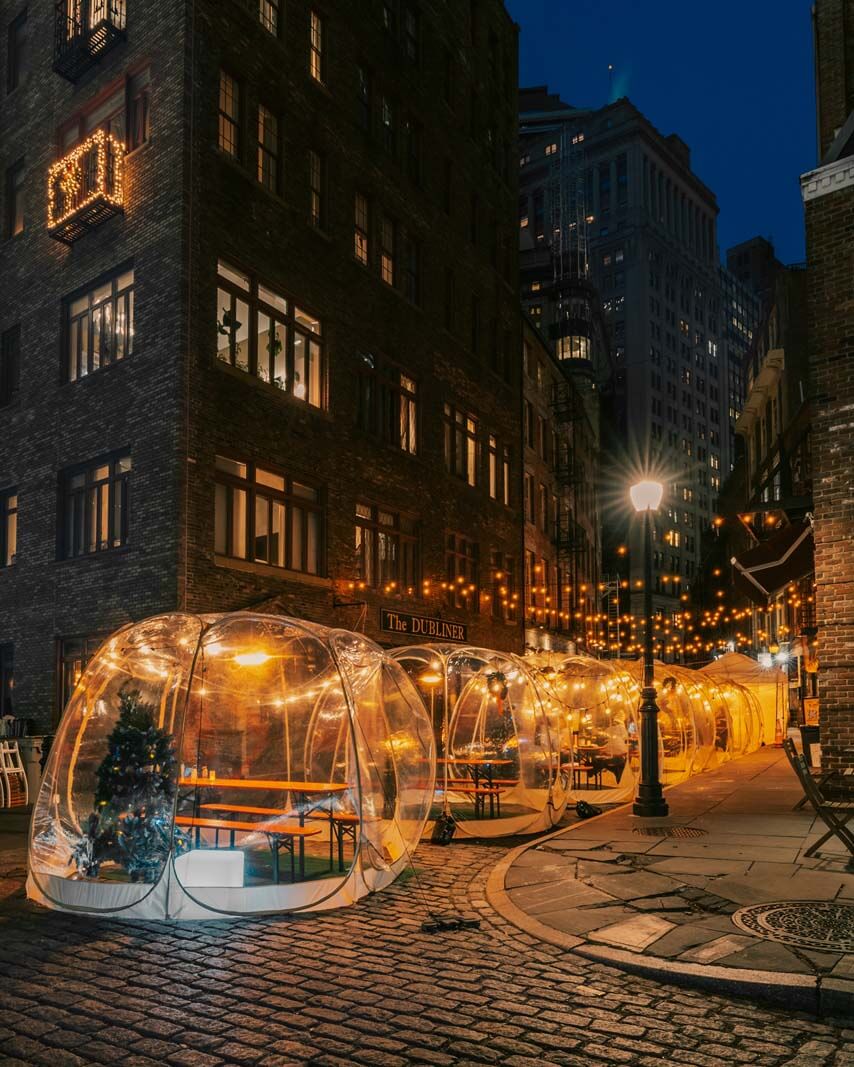 New York in February means you're going to be greeted with colder temps, but that doesn't mean there's a shortage of great heated outdoor dining options all throughout the city along with options for igloo dining around the city.
230 Fifth (230 Fifth Ave) features some of the best rooftop restaurants in NYC while The Greens, located at The Rooftop of Pier 17 (89 South St), gives lucky couples a warm and cozy view of the skyline. Both of these options require a reservation and a fee.
Another fun option located on one of the oldest streets in the city is Route 66 Smokehouse (46 Stone Street) for some beautiful ground-level winter igloos for you and your partner to enjoy!
Industry City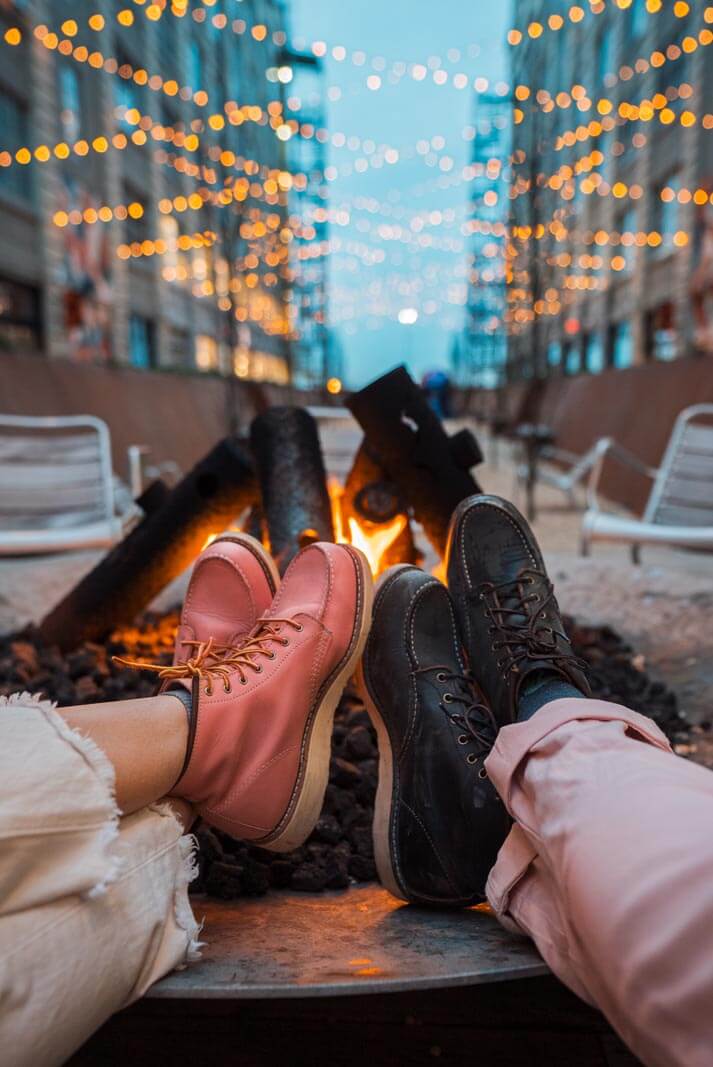 Industry City is a one-stop-shop and hang out spot full of great eateries, bars, heated outdoor dining, ice skating, entertainment, shopping, boutiques, cafes, and art installations sprawling over 35 acres of repurposed industrial Brooklyn warehouse buildings in Sunset Park.
Each major holiday Industry City invites artists come in and deck out the place with festive decor including Valentine's Day! And speaking of that, this is one of the best things to do in NYC in February because of all the Valentines Day friendly offerings the have from Li-Lac Chocolates where you can literally watch them make the chocolate in front of your eyes and get some for your Valentine, shop for something unique from the several boutiques and creators who have spaces here, or come for a cozy hot drink by the fire pits.
Cozy up with a Book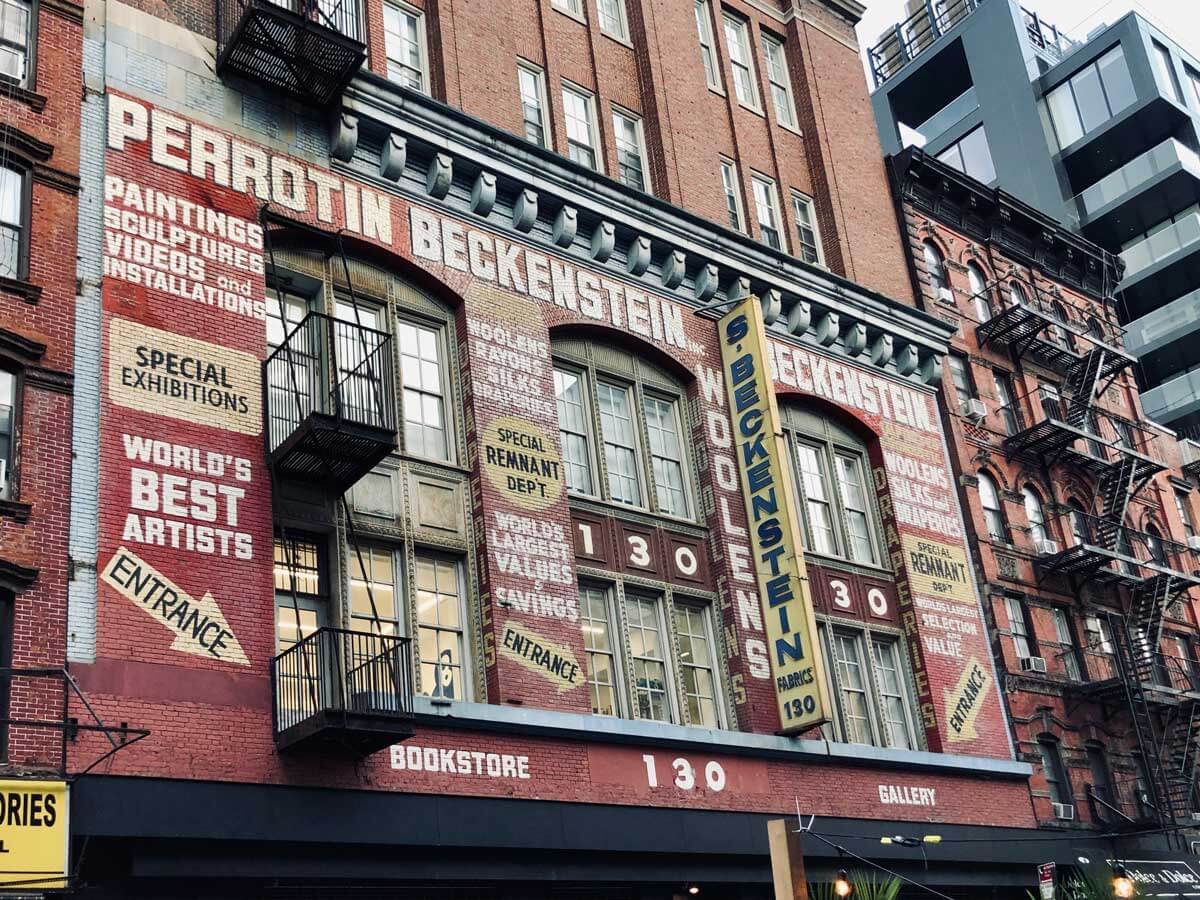 Sometimes all you really need is some you time and a good book. Which is why cozying up with a book from one of our many incredible independent bookshops in NYC and independent book shops in Brooklyn is one of the best things to do in NYC in February!
There's no better way to spend an extra chilly winter day than cozying up with a good book, which also makes great Valentine's Day gifts too!
Enjoy a Spa Day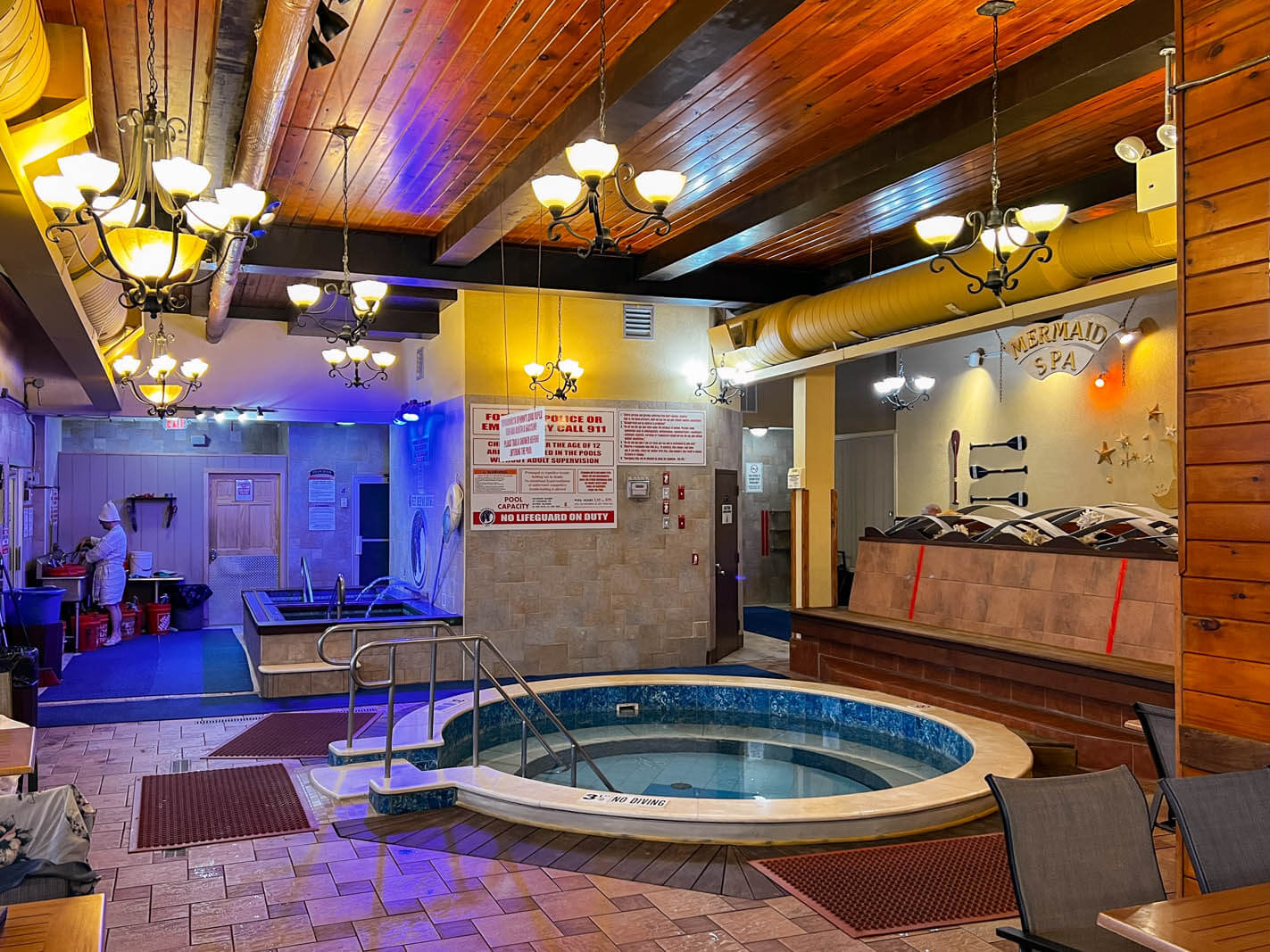 One of the best things to do in NYC in February when the weather is cold is to warm up and enjoy some winter wellness by treating yourself to a spa day or spa treatment. There are many great spas in NYC, here are a few of our favorites.
QCNY Spa: One of the absolute best spas in the city with over 20 different spa experiences located on Governors Island. Better yet, their heated outdoor pools offer some of the best views of the iconic New York City skyline and are open year-round! General admission gives you access to the entire spa. There are also special add-on treatments like massages for an extra fee.
World Spa: This massive spa in Midwood, Brooklyn features three levels of saunas, baths, and treatment rooms from across the globe. Plus, they're all stunning, and they also have massages, treatments, and private lounges.
Mermaid Spa: Mermaid Spa in Coney Island is a Russian bathhouse that's actually best known for its amazing Slovakian food. Explore their different temperatures baths, dry spas, ice pools, and more. They also have a Turkish hammam and offer body scrubs as well as classic Russian platza massages.
Great Jones Spa: Head to NoHo to relax for the day at the Great Jones Spa. Everyone loves the beautiful Water Lounge with its waterfall and lounge chairs. You also have access to different Jacuzzis, ice plunges, steam rooms, and more. And the spa offers a long menu of skin and body treatments, massages, and waxing services for guests.
---
What's your favorite thing to do in New York in February? Let us know in the comments below and most importantly stay warm this February in NYC!