Brooklyn sunsets offer some of the most beautiful views of anywhere in the world, I might be biased though as a locally based photographer.
So what makes Brooklyn sunsets so special you ask? For visitors, it's the panoramic vistas featuring Manhattan and boasting some of the most iconic buildings and landmarks in the world that serve as a reminder that you are actually in New York and damn is it beautiful.
But for those of us who have the pleasure of those living here. Brooklyn sunsets rule because they are almost always accompanied by some great food, a place to grab a drink, a nearby art exhibit, or a subway or Citibike ride to get to wherever the heck you got to get to next.
So whether you're here to take photos or just looking for a romantic date spot in NYC with a view and sunset, we've got you covered.
Do yourself a favor and bookmark this page so you can access it easily the next time your out with your camera, want a nice place to relax and enjoy the view, or coming up with a new date idea.
Brooklyn Sunset Times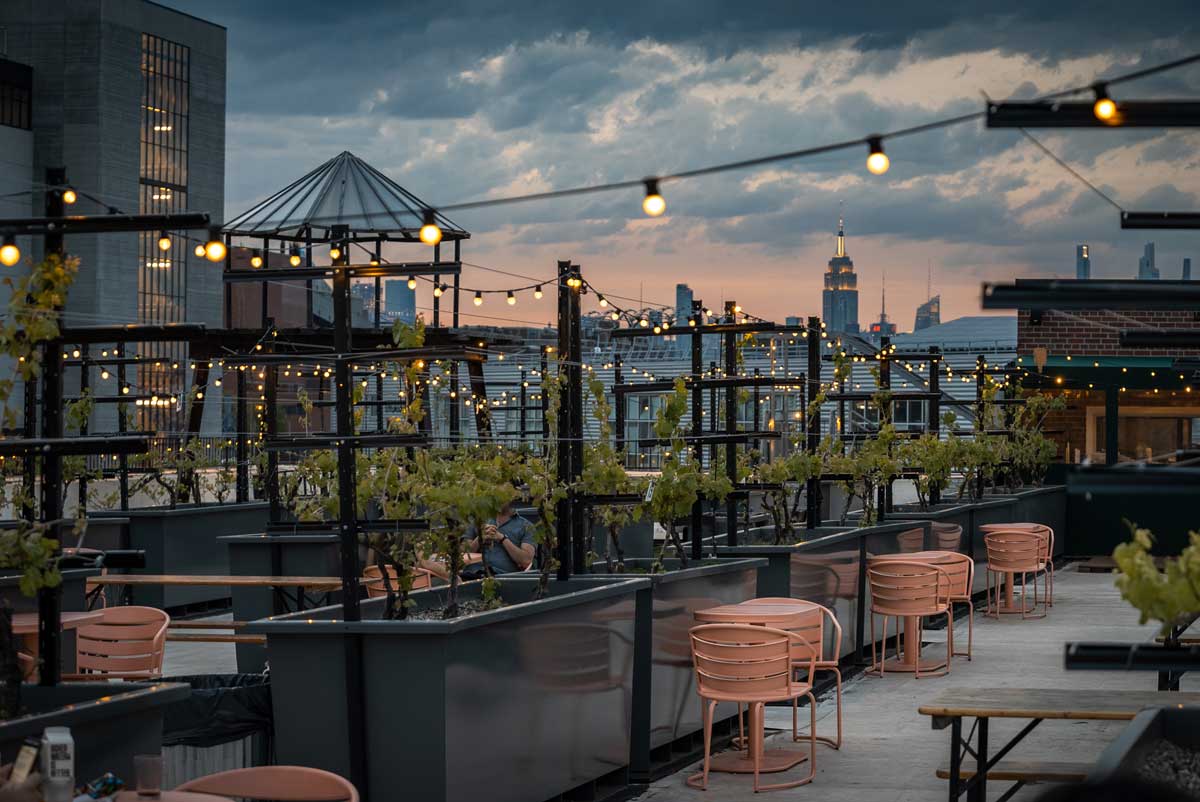 Unless you are a photographer or videographer you might not pay attention to just how much the sunset time changes every day. Did you know that the sun changes by one minute each day and can set as early as 4:30 pm and as late as 8:30 pm? That's a huge difference luckily it's really easy nowadays to figure out.
From November to March the sun sets early. In November It starts as early as 4:40 pm and creeps up to as late as 6:00 pm by March 13th.
Once Daylight savings kicks in on March 14th the sunset begins at 7:00 pm and climbs to as late as 8:31 pm during the summer months of June and July. August through November the Brooklyn sunset time slowly retreats from 8:00 pm to 5:45 pm before switching back to earlier sunsets.
A great free resource to check the Brooklyn Sunset time is this site. It has a daily forecast and even an annual forecast so you can plan in advance.
If you are like me and a photographer/creator, I recommend the paid app Photopills. It allows pin-point precision on where the sun, moon, and even stars will be and you can plan out your photos accordingly.
If you're trying to take photos, you will want to make sure that you come before the Brooklyn sunset time to get set up and make sure you have a spot. If you're coming for a date, perhaps plan a pre-sunset drink or dinner (depending on time of year) so that you don't miss the sunset!
If you're hoping to catch the sunset from dinner, check out our DUMBO restaurants with a view so you can just sit back and enjoy your dinner with a free show from the sun!
Brooklyn Sunset Spots
Alright so now that we got the timing and sunset season out of the way let's talk about the best Brooklyn Sunset Spots!
Brooklyn Bridge
Of course, it's no surprise that Brooklyn Bridge is one of the best locations for a Brooklyn sunset and it's one that I constantly visit whether I just want a gorgeous view on a walk with my wife or I want to get some photos.
A stroll and walk across the Brooklyn Bridge is just pure magic, especially during sunset. There are 8 million people who live in NYC and use this to get home after work not to mention this is one of the most iconic landmarks in the city popular with visitors, so do everyone a favor and stay the heck out of the bike lane unless you're riding a bike!
The Brooklyn Bridge at sunset offers many cool angles and vantage points to photograph from too. Have fun snapping away here. My favorite angles are from the Brooklyn side looking towards Manhattan with the skyline in the backdrop, that way you get the lower Manhattan skyline in your photos.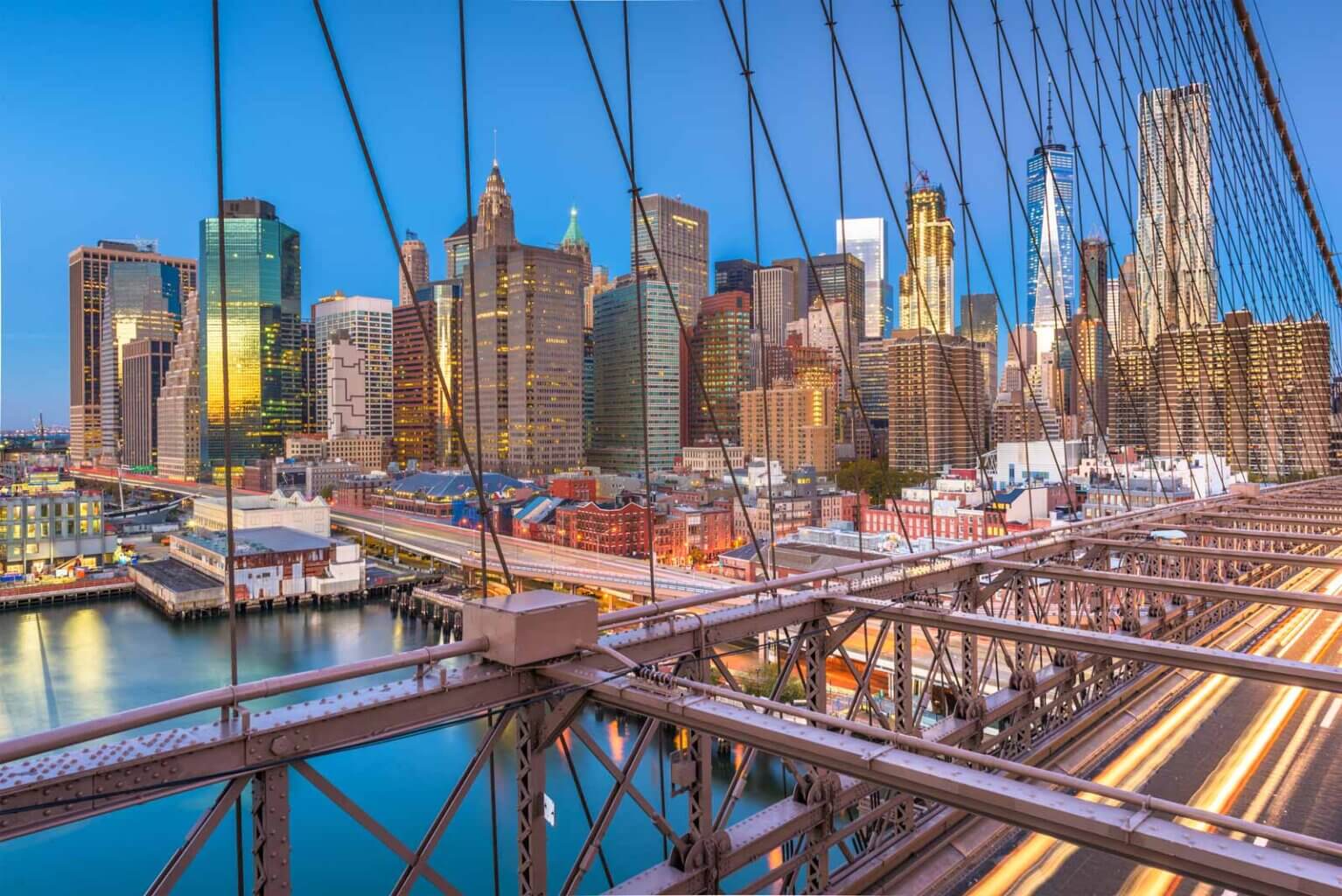 Not sure which way you're coming from? Here's a guide to walking the Brooklyn Bridge. If you're staying on the Brooklyn side we created a foodie's guide to the best restaurants in DUMBO.
Photographers Tip: For a shot like the one above bring a wide-angle lens. Anything between 12-20mm should be perfect.
DUMBO Waterfront
Another amazing sunset spot to check out right next to the Brooklyn Bridge is from the Brooklyn waterfront in DUMBO and the Brooklyn Bridge Park, one of the best parks in Brooklyn that offers the best-unobstructed views of the NYC city skyline!
You get the sweeping panoramas of the city, both the Brooklyn Bridge and the Manhattan Bridge, and the World Trade Center in the background as well as rocks, water, and Jane's Carousel all in the foreground if you're in Brooklyn Bridge Park between the two bridges.
Even though this spot is filled with people every day due to the popularity of this trendy neighborhood with a good view, it's big enough that there's plenty of space to share and spread out.
From the DUMBO waterfront between the two bridges along Brooklyn Bridge Park towards Brooklyn Heights, you can find plenty of open space and grass belts make it a great spot to picnic in Brooklyn or grab a pizza from any one of the best spots for pizza in DUMBO to eat while enjoying this epic sunset viewing spot!
Photographers Tip: I like taking photos like the one above from Pebble Beach.
Time Out Market Roof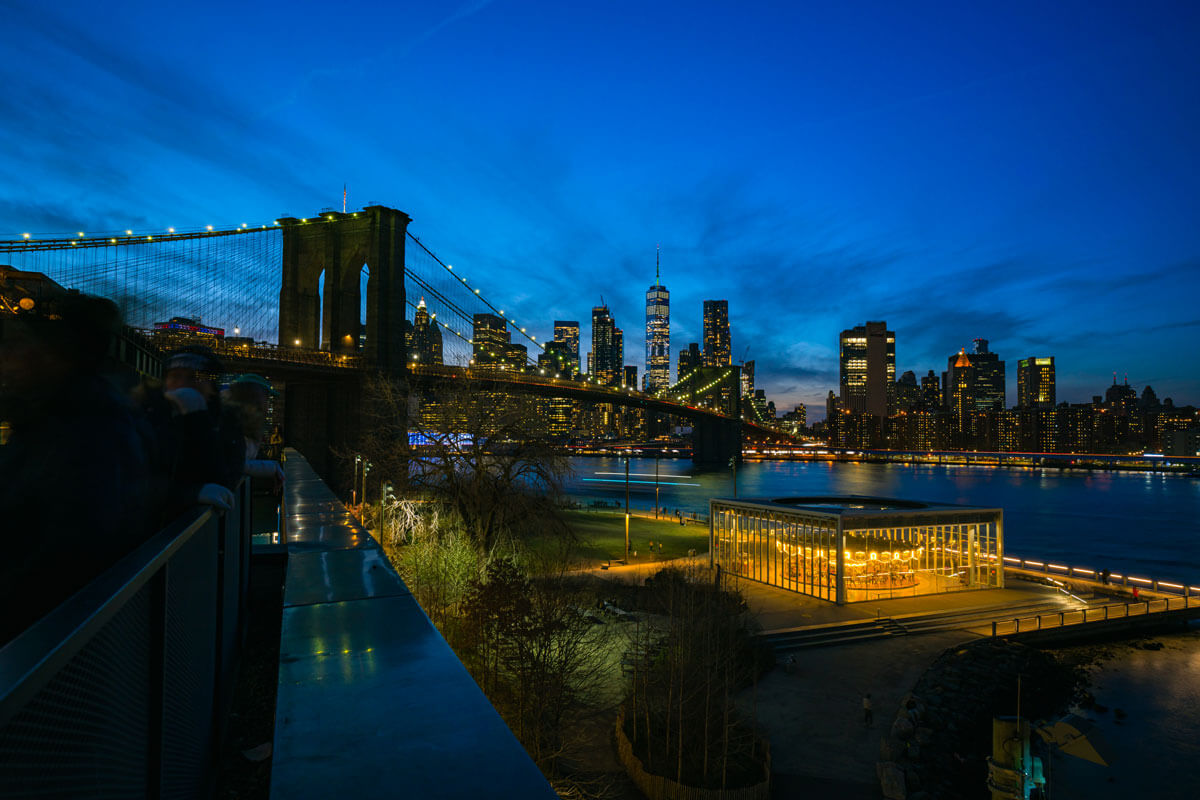 Brooklyn Bridge Park at sunset and the Brooklyn Bridge at sunset are pretty well known and popular on their own, but did you also know that you can hop on the roof at the Time Out Market New York and get the same waterfront view overlooking the NYC city skyline, Brooklyn Bridge, and Manhattan Bridge but just at a higher vantage point?
Head to the 4th floor of Time Out Market in the Empire Stores building in DUMBO or use the outdoor staircase (in the entrance to Empire Stores on the East River side) to walk up the flights of stairs to one of the best rooftop views in NYC and Brooklyn sunset spot!
Once you get to the top there are a few different areas you can walk around to get a slightly different angle and there are some areas you can sit and enjoy the view near the rooftop entrance to the Time Out Market.
The best part about this sunset spot is your steps away from grabbing dinner or drinks here before or after the sun sets.
Photographers Tip: I like to get here a bit early and sit on the bench. So I bring a tripod and set it up on the ledge (seen in the photo above.) This way I can sit back and enjoy the sunset with a seat!
Brooklyn Bridge Park (By the Piers)
I know we already included the section of Brooklyn Bridge Park right along the DUMBO waterfront between the Brooklyn Bridge and Manhattan Bridge, but there's a whole section of the Brooklyn Bridge Park that continues past the Brooklyn Bridge that's just as beautiful and a great Brooklyn sunset spot — which is why its one of the best parks in NYC, there are endless views!
The Brooklyn Bridge Piers is a great spot for people watching as there are soccer, tennis, and basketball courts where you can watch your favorite sport as the city shifts gears. There are even ping pong tables and other fun games you can play which make it the perfect place to take a date for a stroll.
It's also a pretty decent walk so if you wanted to take a stroll along the water and watch people while the sun is setting. That's a great way to bring in the night, also check out more of the best riverfront piers in New York City for more great sunset spots!
Randolph Brewing Rooftop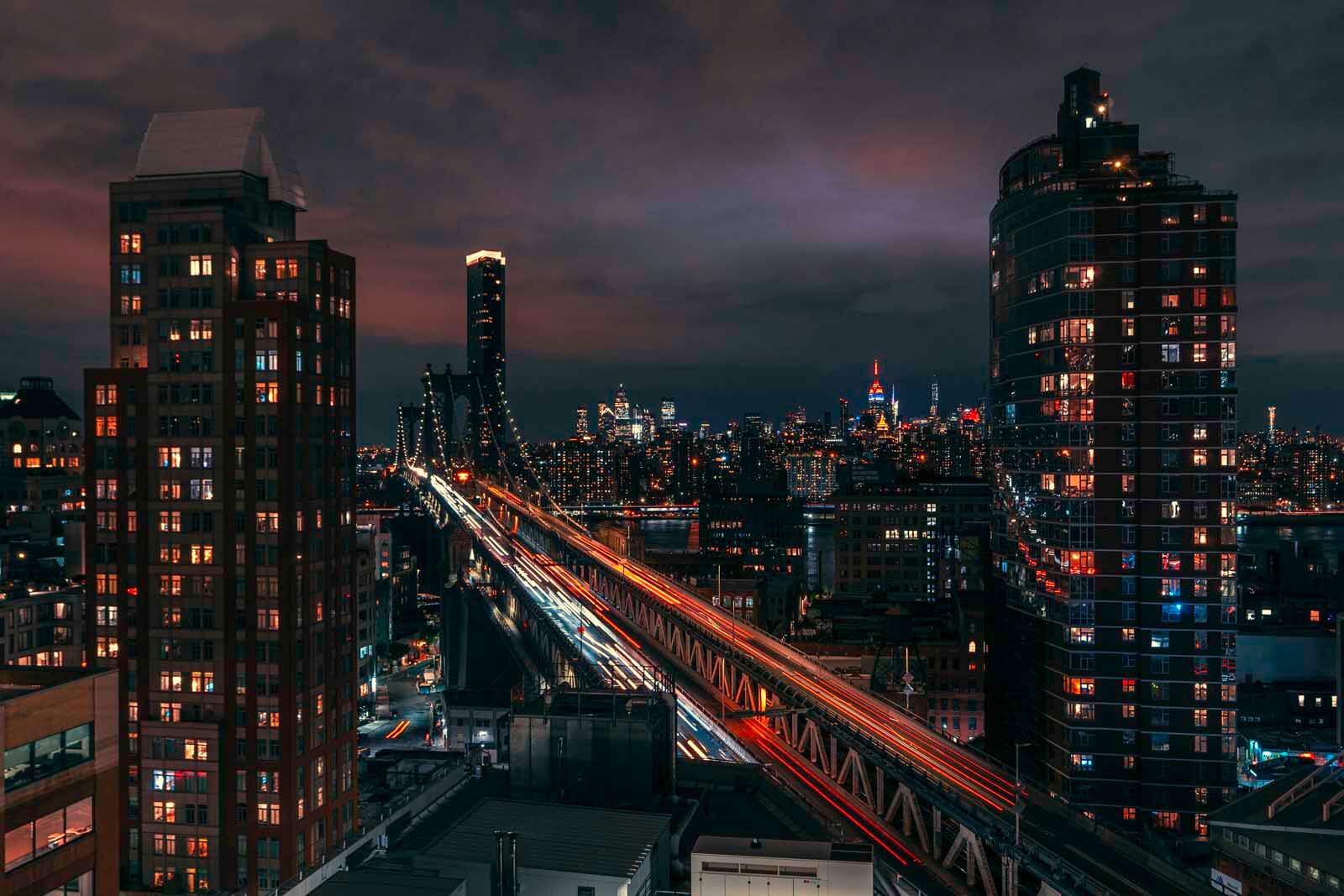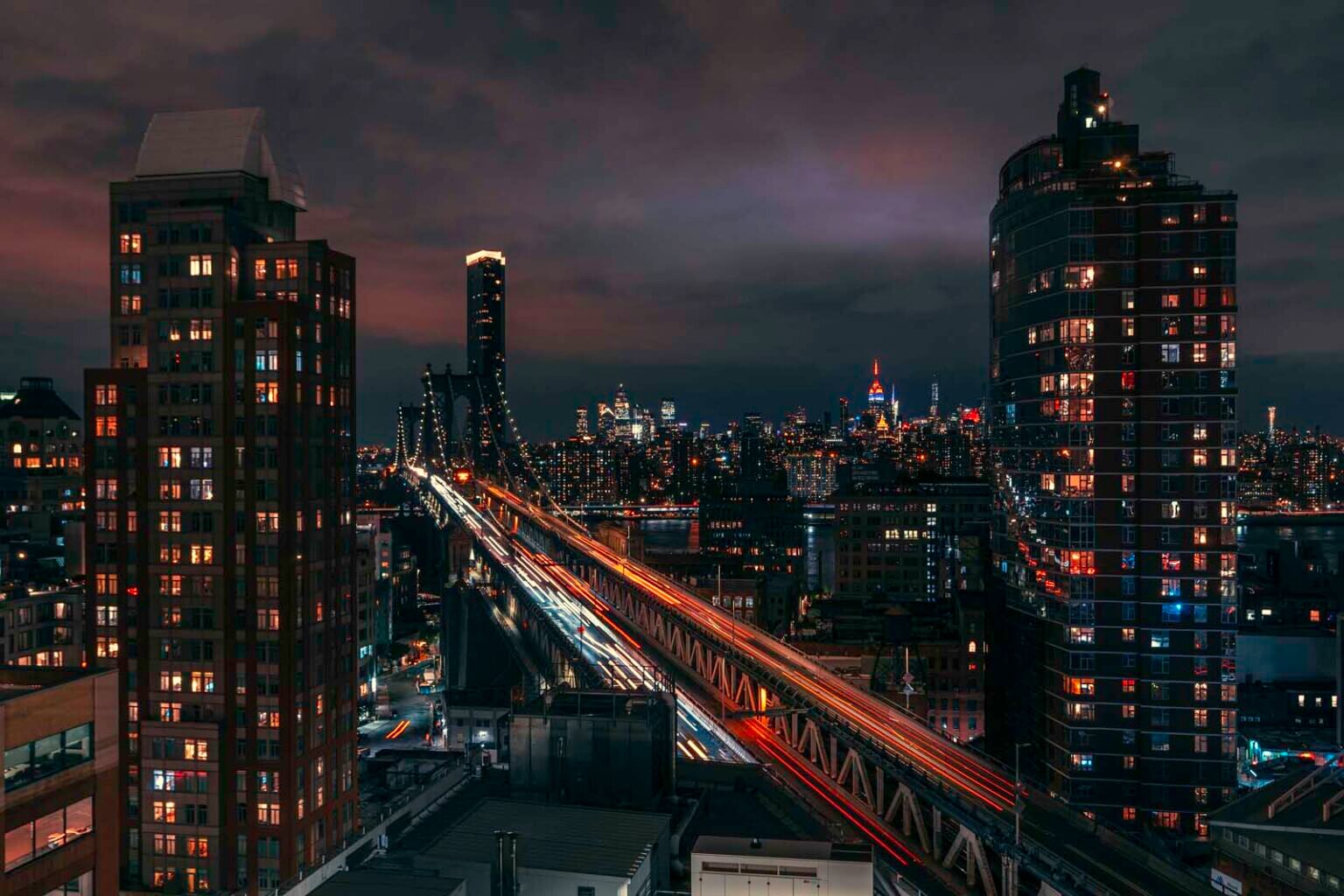 I am always a huge fan, especially in the city, to try and get rooftop access for a birds-eye view of the city, waterfront, and iconic landmarks. There are a few great rooftop bars in DUMBO worthy of sunset chasing, I honestly can't think of a better way to end a day or enjoy a beautiful Brooklyn sunset by chasing it down with a craft beer.
Randolph Beer in DUMBO has a gorgeous rooftop location that gives a great view of the city skyline and the Manhattan Bridge.
Not only is Randolph Beer one of our favorite breweries in Brooklyn, but you can also eat dinner and enjoy the sunset on the roof. It can get crowded on the weekends so plan ahead unless you don't mind standing.
The views from Randolph are really great because you also get to see some of the traffic lights from this vantage point along with the views of Manhattan and the bridge.
For more amazing views from high in the sky check out our guide to the best rooftop bars in NYC!
Brooklyn Heights Promenade
One of my favorite places in all of Brooklyn of course is one of the best sunset locations in the city, plus there are quite a few cool hidden gems in Brooklyn Heights too.
Boasting views of the Brooklyn Bridge, Manhattan skyline, Statue of Liberty, traffic, people at Brooklyn Bridge Park below, and everything in between can be found at the Brooklyn Heights Promenade.
What's even better about this sunset spot in Brooklyn is that there are tons of benches along the entire promenade so you can relax and soak in the views if you've been walking a lot.
While you're here, head to the northernmost part of the Promenade, if you continue down the street you run into a tiny park called "Squibb Park" that has this stunning walkway that slowly descends down to Brooklyn Bridge Park that is also a great photography location or just one of the many romantic walks in Brooklyn, especially at sundown.
Once you get to the bottom of the walkway, look to your left and head towards the water. There are more benches to sit on and enjoy the view you see below!
Sunset Park
Sunset Park is more residential and lesser-known to visitors, but locals love this neighborhood because of all the dining scenes, its close to the water and Industry City, and the views from the park with the same name as the neighborhood Sunset Park is absolutely stunning.
What I love here is all of the best of Brooklyn in one spot. You get the park where you can walk, sit, or picnic at. You get to see a lot of Brooklyn brownstones as well as remnants of how industrial Brooklyn was with the juxtaposition of the Manhattan and NYC skyline.
This is actually one of my favorite, quiet spots to go and take a timelapse since there is ample space and plenty of benches and areas to sit at, it's one of the lesser known spots to travelers visiting Brooklyn.
This is a great spot to bring your own picnic for your sunset viewing or if you want to do a post-sunset meal you can head down 5th Avenue towards Park Slope for plenty of dining options or head to Industry City where there are tons of options to eat, drink, entertainment, and shopping.
And while this sunset spot in Brooklyn seems far removed from the others, it's conveniently located about a half of a block from the R train making it easy to get in and out.
Rooftop Reds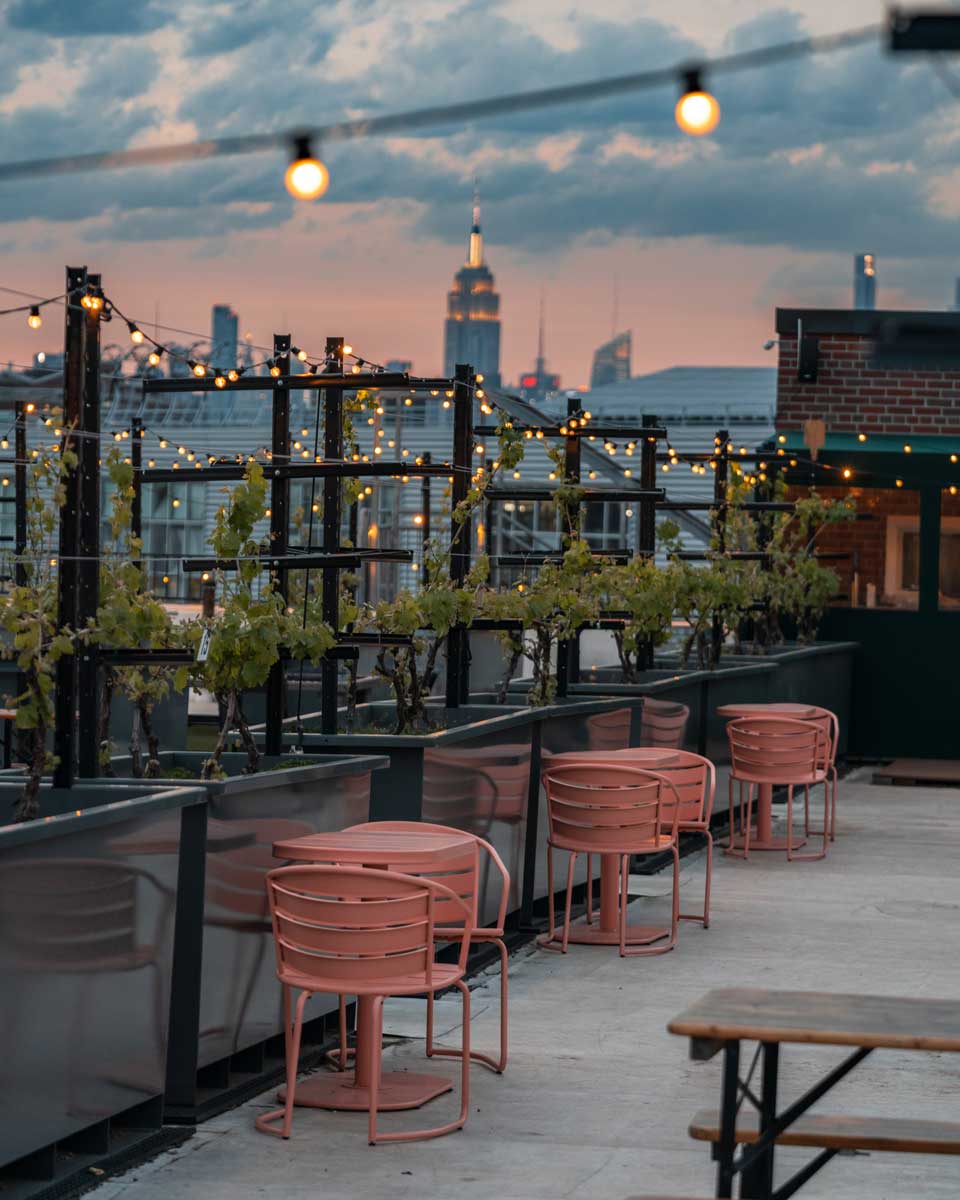 One of our favorite spots for sunsets in Brooklyn is wine tasting from the first rooftop vineyard at Rooftop Reds in Navy Yard. This is one of the best rooftop bars in Brooklyn and requires a reservation for any visit. This is a seasonal location, so you won't be able to catch a Brooklyn sunset here in the winter.
Check what time sunset is happening during the time of your visit and plan your reservation at least 30 minutes prior to sunset time so you can really enjoy the magical views of the Empire State Building and the colors of the sky at sunset while sipping on wine or enjoying your tasting flight.
Photos From the Ferry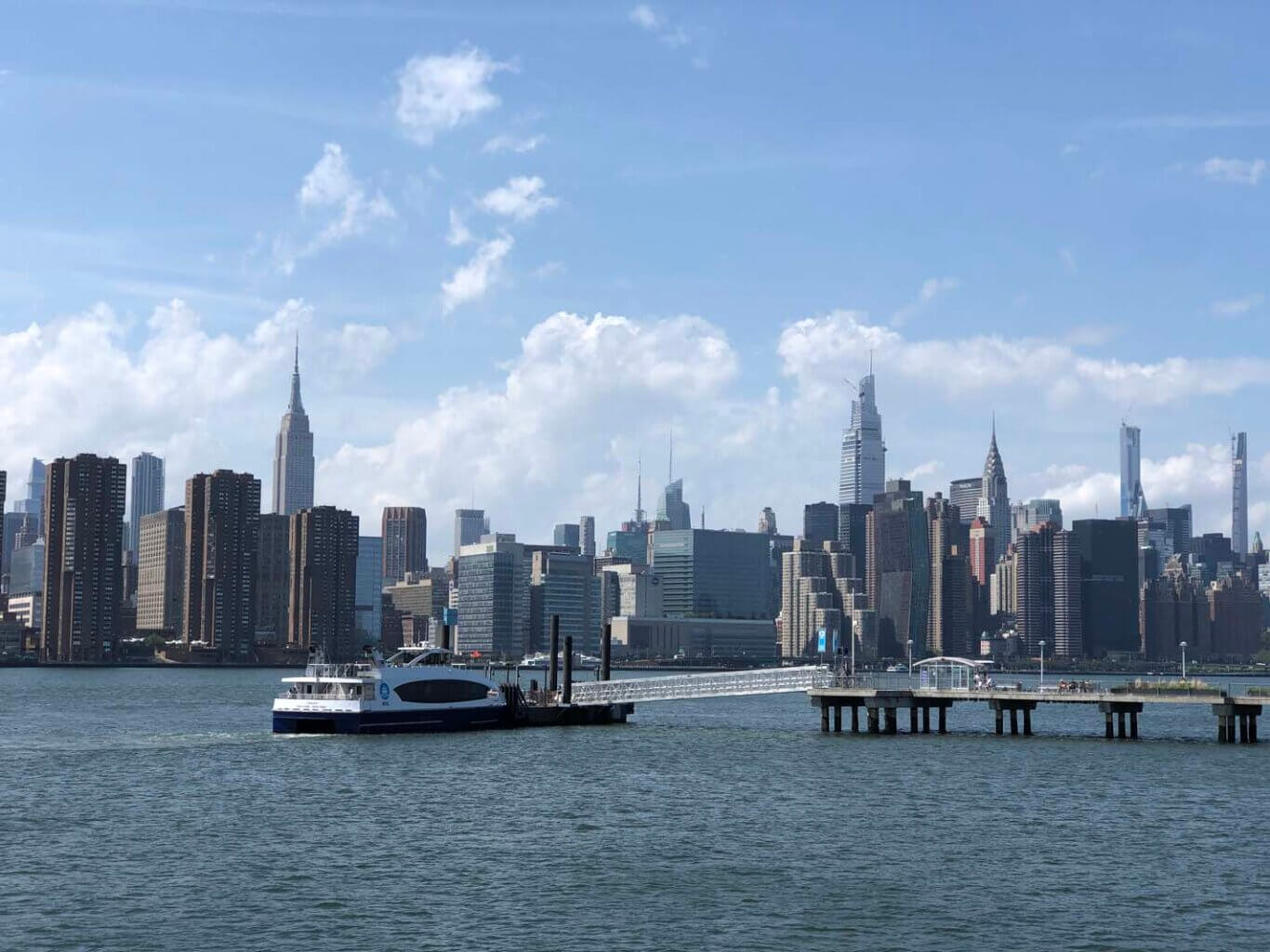 One thing I actually always forget about is that we have a water taxi that runs along the East River and in the New York Harbor! If you need to get to any of the waterfront neighborhoods in Brooklyn, you should always check to see if the ferry services the area because that could be your fastest transportation option.
Transportation tips aside, the ferries are also a great place to see those epic Brooklyn sunsets!
You can get a great image during the summer coming from the Rockaways to Brooklyn Army Terminal. Another option would be the East River water taxi running from Williamsburg towards DUMBO, and the IKEA Ferry that gets on just outside of the IKEA in Red Hook.
If you plan any of the ferry rides at sunset, be sure to plan your route accordingly with the time, the IKEA ferry for example is a pretty quick ride so you don't want to plan your romantic Brooklyn sunset or photo and wind up off the boat before the sun sets!
See more of the best Manhattan views from Brooklyn.
William Vale Hotel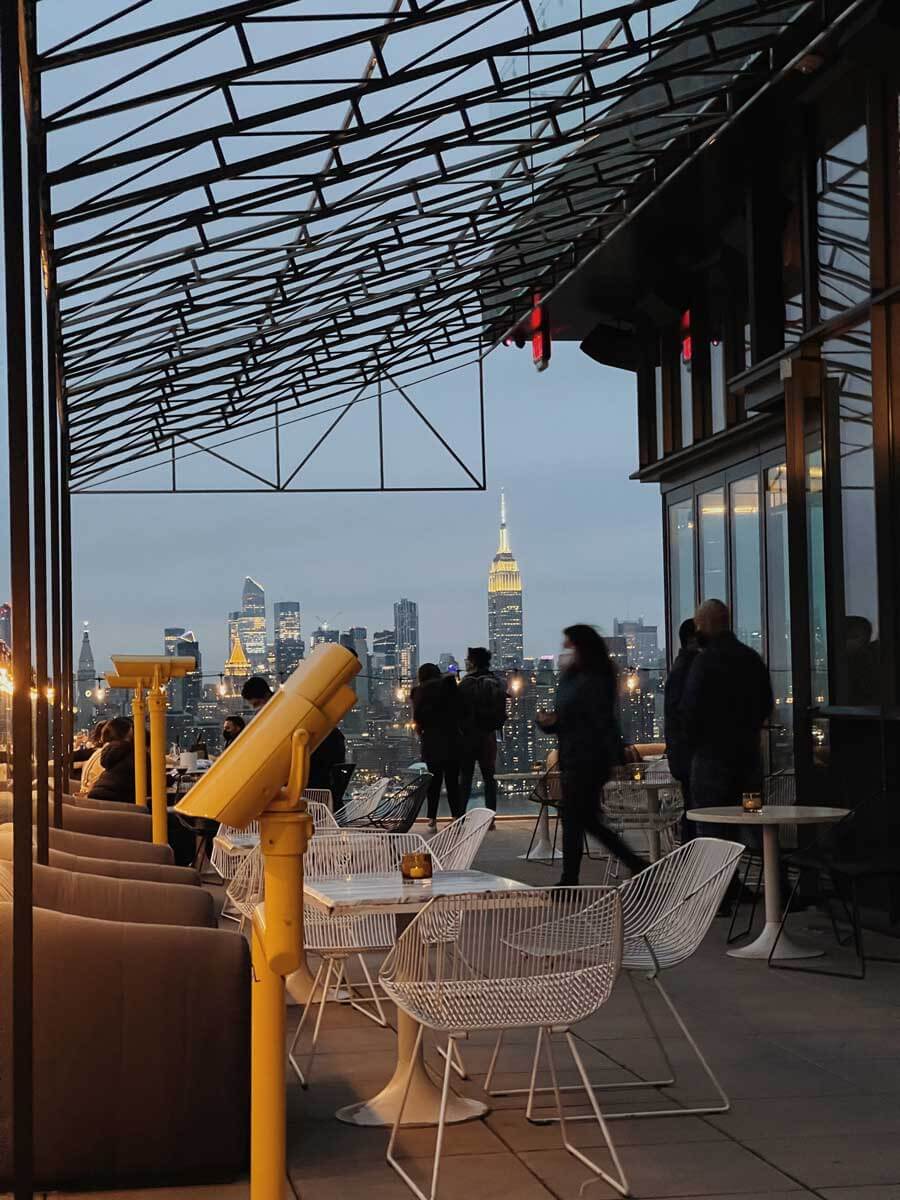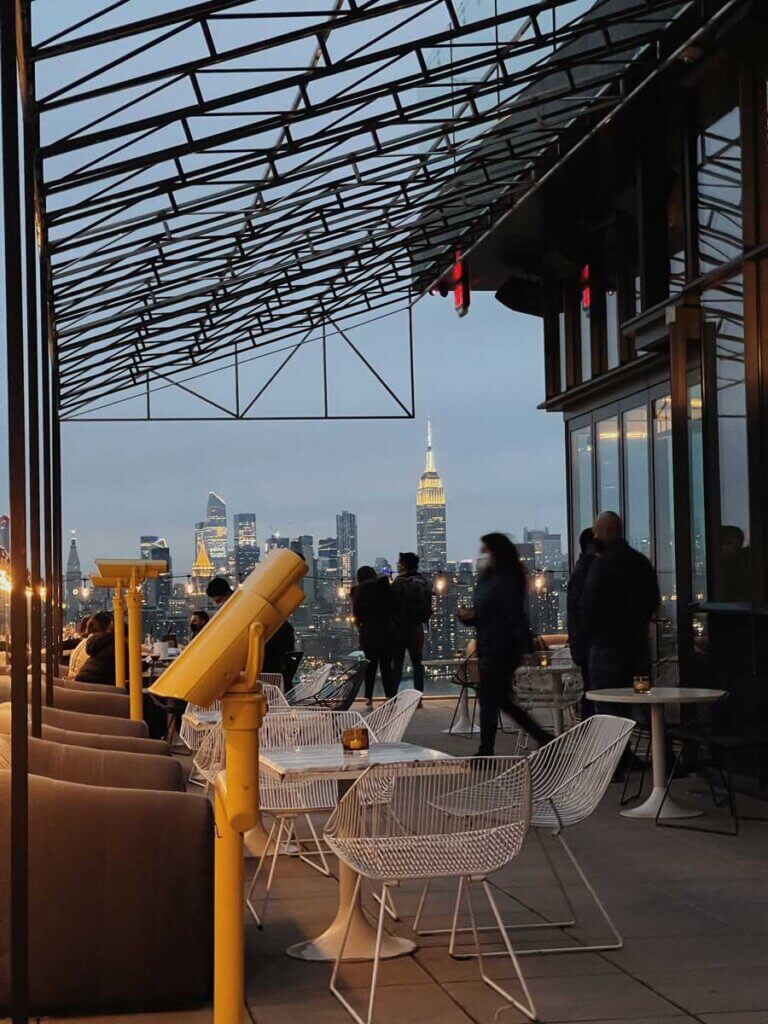 One of the best places to stay in Brooklyn is the beautiful, luxury William Vale Hotel in Williamsburg that opened in 2016 and also happens to be one of the best spots to plan to be at for a Brooklyn sunset from their rooftop bar and restaurant Westlight.
From the 23rd floor you get 360 degree panoramas of the city as well as a cool space to eat, drink, relax, have a date, or catch up with friends.
There are even those tourist binoculars you can use if you're feeling like getting a closer look. This is one of the best rooftop bars in Williamsburg, you will want to be sure to make a reservation in advance if you want a seat outside because these can get pretty competitive, especially in the summer and weekends.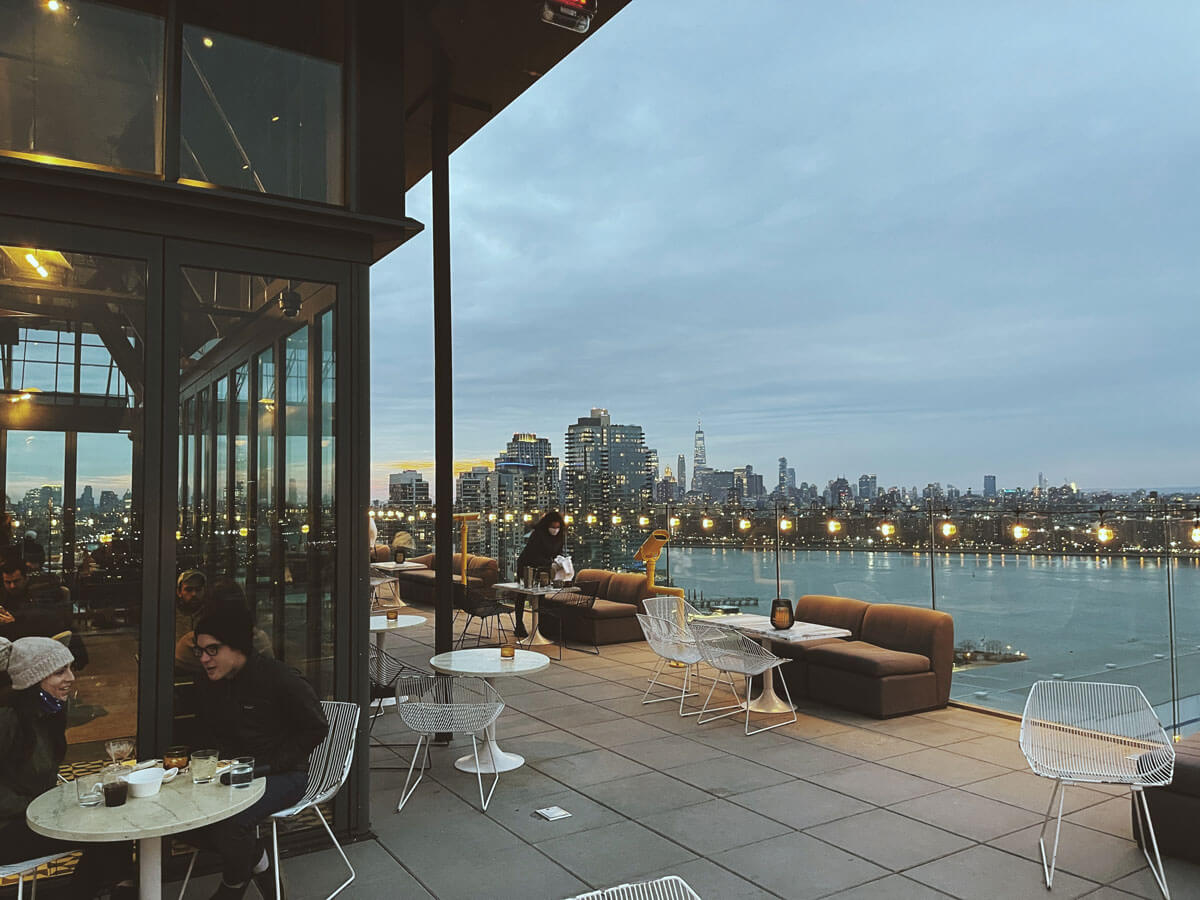 Domino Park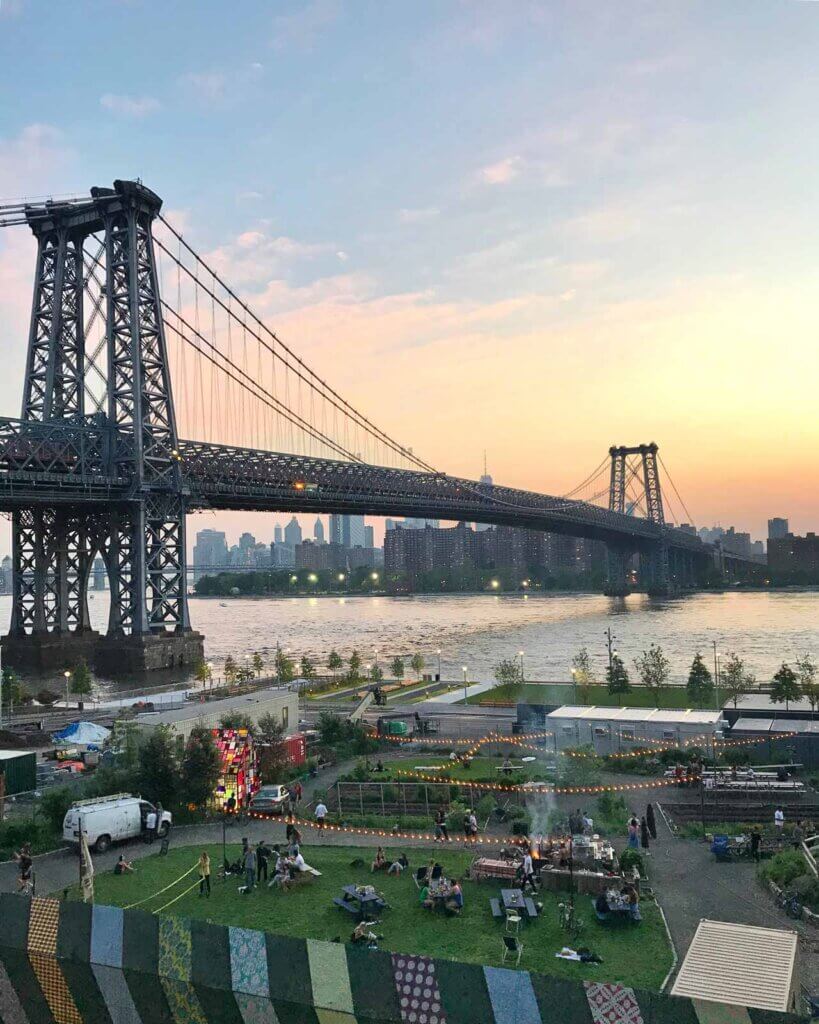 Another great waterfront sunset location and best things to do in Williamsburg is at Domino Park along the East River overlooking Midtown, the Williamsburg Bridge, and One World Trade Center off in the distance.
This is one of the more popular parks because Williamsburg is a happening spot in the city and the unobstructed views of Manhattan are hard to beat. Besides awesome views, this is a unique park since its located at the site of the former Domino Sugar Refinery and built around the industrial ruins.
There are plenty of green patches of lawn to set up a cozy sunset viewing spot on, benches, tables, and plenty of standing room. Some other bonuses that make Domino Park great are they have super clean bathrooms and are right next to many different food options including one of our favorites, Mekelburg's who has a grocery section and a restaurant section that you can get takeaway to bring to the park.
Alternatively, there's a Tacocina located in Domino Park where you can get a drink and some tacos to enjoy the view with.
Louis Valentino Jr Park
Located on the waterfront of Red Hook, Louis Valentino Jr. Park offers one of the best Brooklyn sunset spots in the city that won't be nearly as crowded as some of the others mentioned on this guide like in DUMBO or Williamsburg.
The Red Hook waterfront features a front-row seat to two iconic landmarks, the Statue of Liberty as well as the view of Lower Manhattan. Enjoy the Statue of Liberty views from the pier or the patches of lawn along the park.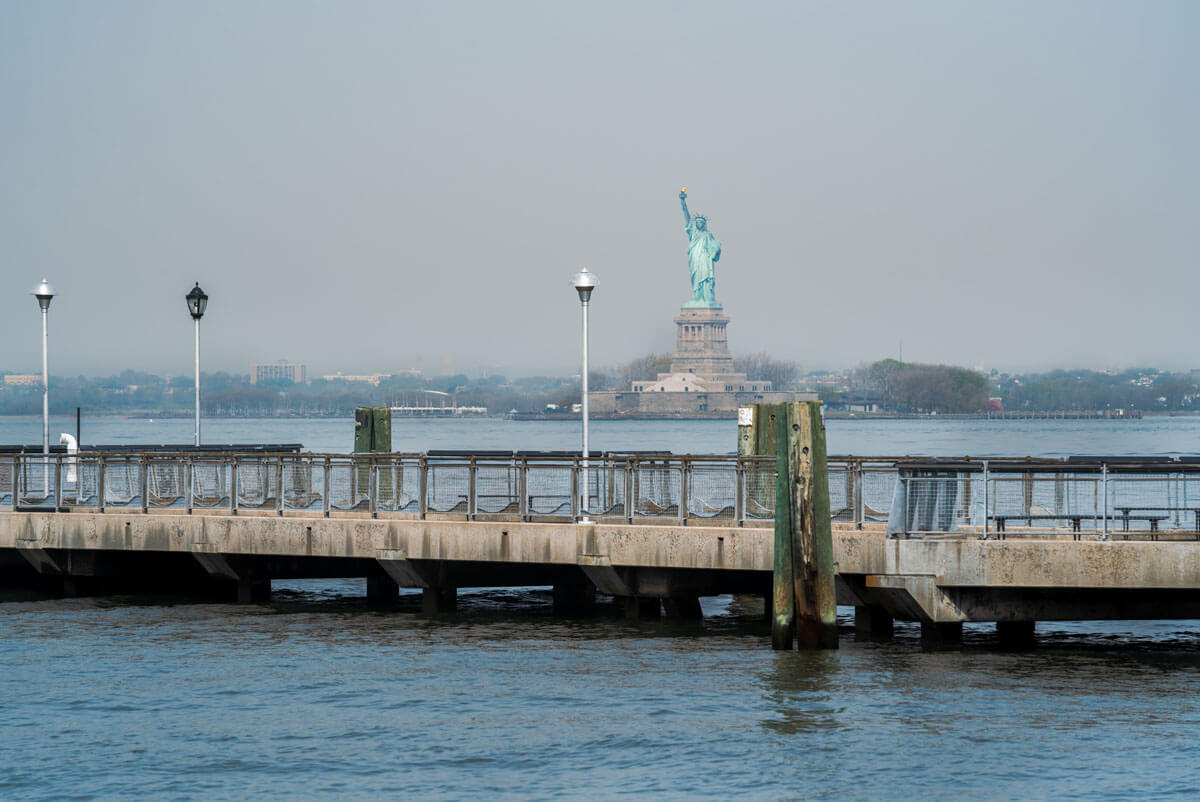 Less than a 5 minute walk away by the Food Bazaar is an old abandoned street trolley from 1951 nestled between the waterfront and an industrial warehouse that also makes for great photos and is one of our favorite hidden gems in Brooklyn.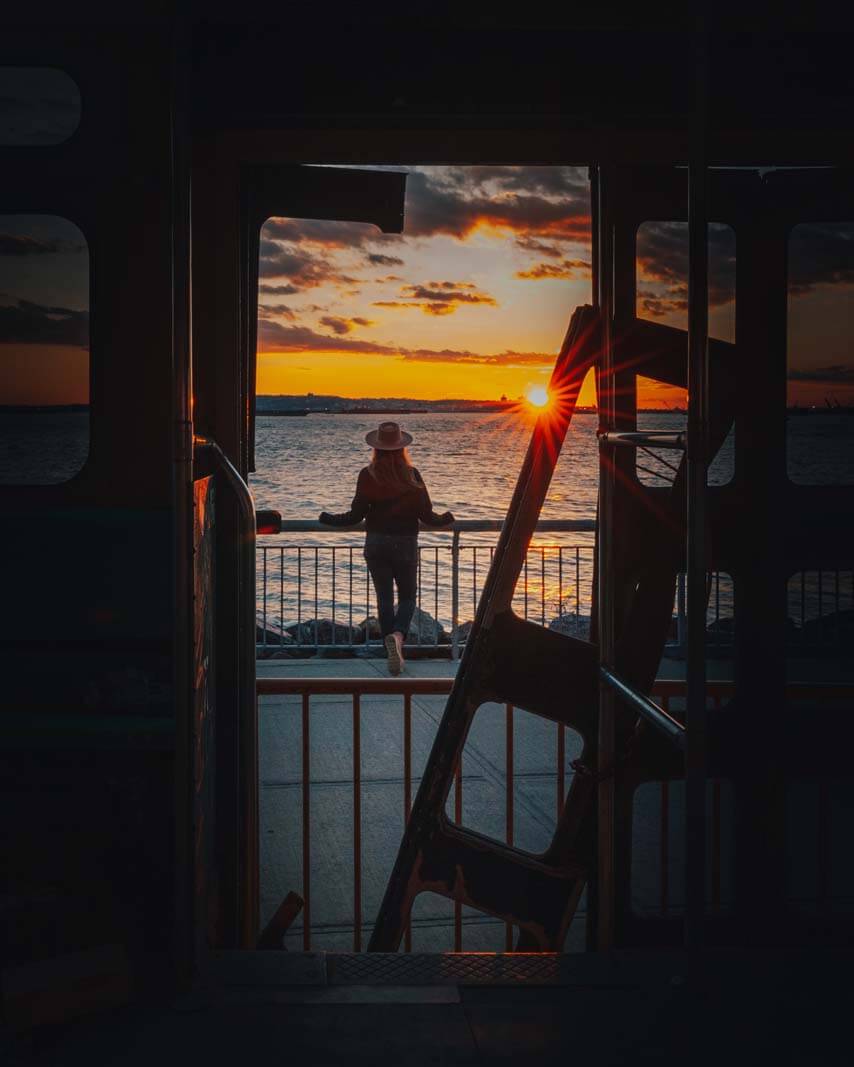 This is the last remaining trolley from the ambitious project to bring trolley car transportation to Red Hook and attempt to popularize the 'trolley lines' in Brooklyn as a mode of public transport that would run from Red Hook to Downtown Brooklyn!
Red Hook also has a few other great spots, if you're hoping for dinner you could also head over to the Brooklyn Crab which has a sun deck and outdoor dining area that's elevated so you get the sweeping views while chomping on some delicious seafood, or check out all the amazing foodie options in our neighborhood guide to what to do in Red Hook for more options.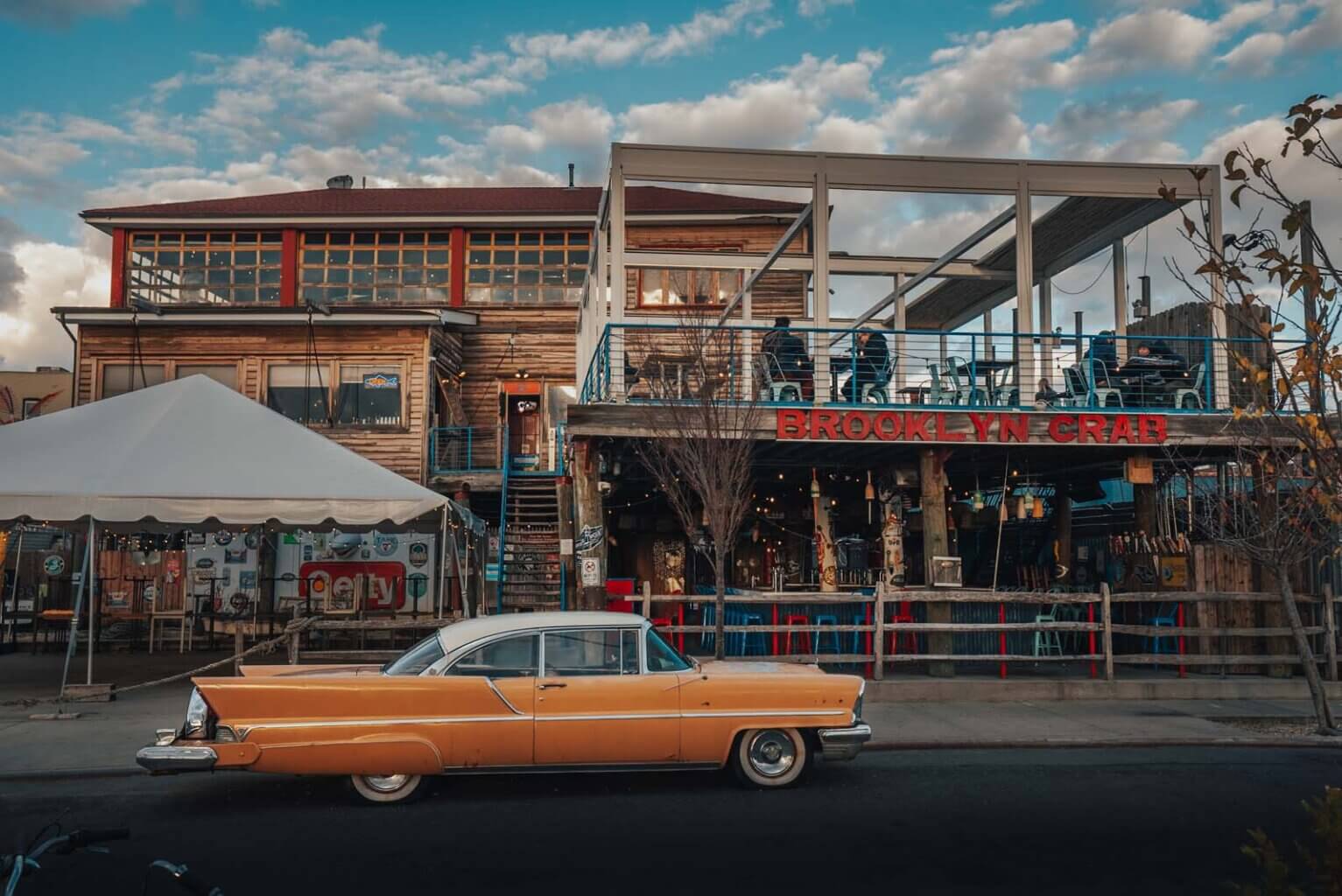 Old Glory Lookout
Head further south in Brooklyn for our next sunset spot worth checking out! The Old Glory Lookout in Bay Ridge near Owl's Head Park is another one of the best Brooklyn sunset locations for not only photographers but for anyone looking for a scenic walk.
From this spot in one direction you have great views of Lower Manhattan and One World Trade Center and in the opposite direction you have views of the Verrazzano Narrows Bridge, one of the most famous bridges in NYC.
This is a lovely place for a stroll, there are public bathrooms just a two-minute walk north on the right from Old Glory Lookout too which makes this spot great if you want to picnic along the waterfront walkway on the many benches below or if you want to head to Owls Head Park for a picnic before the sunset.
Photography Brooklyn Sunset Locations
These last three Brooklyn sunset locations are geared more specifically at photographers and content creators looking for some unique vantage points in Brooklyn, which is my jam.
Smith & 9th St Station
The elevated subway stop at Smith & 9th Street is one of my favorite hidden gems in Gowanus and also is one of my absolute favorite sunset spots in Brooklyn. Partly because I live so close but also because it's a really great vantage point of Lower Manhattan and the subway tracks which make for great leading lines and just a really cool composition for a photo all from the platform of this subway.
You'll have to swipe your MetroCard to get in, so be prepared if you're not using the subway to have to pay like you would be to get up here.
There are quite a few vantage points worth checking out. If you're on the Manhattan-bound side of the platform and look straight out you can see 1 Hanson Place (the Downtown Brooklyn clock tower building) at Atlantic Avenue among sweeping views of the city.
Looking to the left you get the subway train as well as Lower Manhattan featured above. Meanwhile, if you over to the Bay Ridge bound side and turnaround you can get a great view of the subway train coming at with the Manhattan skyline coming at you!
This spot is versatile when it comes to photography, and better yet you're in between a few great spots for food and drinks! You have great options in Gowanus but this subway stop is also between Carroll Gardens and Park Slope which have TONS of amazing food and drink spots too all within a 10-15 minute walk.
Marcy Ave Station
Another great elevated subway station to photograph from during the sunset is the Marcy Avenue Station in Williamsburg, Hewes Ave is also a similar vantage point. This sunset photography spot in Brooklyn offers views of the tracks, Williamsburg Bridge, and the dome to Weylin, formerly the Williamsburgh Savings Bank.
There's something I love about how contrasting the dome is with the frame of the Williamsburg Bridge and all the other repeating patterns that can be found here.
At sunset, this place is absolutely beautiful and if you plan on doing any long exposure shooting, you will need a sturdy tripod because of all the train traffic can cause a shake. I also recommend using a longer lens if you have it.
From here you can easily hop on the subway to leave or you can head down to grab dinner at any of the amazing restaurants in Williamsburg.
Verrazano Bridge
View this post on Instagram
My last favorite sunset spot in Brooklyn, especially for photographers, is the Verrazano Narrows Bridge in Bay Ridge. This is one of the few locations in the city where you're allowed to operate a drone too if you have your FAA drone license only. If you can check all those boxes, the best-recommended spot to fly your drone is from Dahlgren Place.
There is a small green patch with no cars that allows you to get a great view of the Verrazano Bridge from above. Fly responsibly and with FAA rules. You can see updated rules here.
---
Did we miss your favorite place to watch a sunset in Brooklyn? Let us know in the comments below and we will check it out!
Or if you enjoyed this post to the best Brooklyn sunset spots? Bookmark for later or share the love below on Pinterest!